Value-for-money Western food at Salt

Old Airport Road Food Centre has been in operation since the early 1970s, and is marked as one of Singapore's oldest and largest hawker centres. Overtime, it has had the chance to collect a handful of popular stalls that keep customers coming back for more – and Salt is one of them.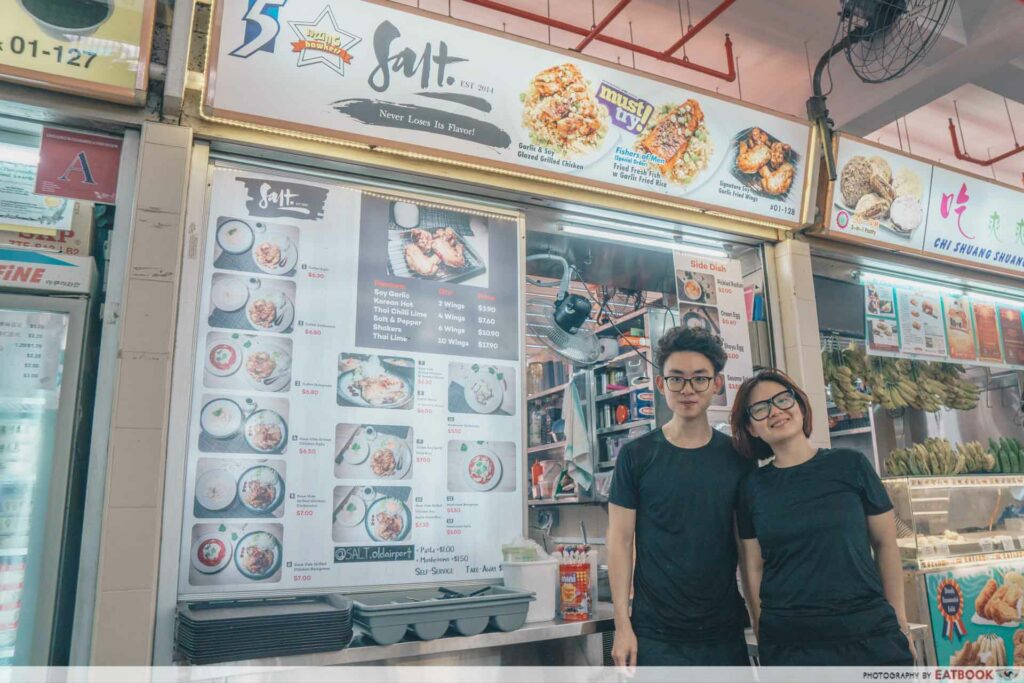 Started by Ngoo siblings, Naomi and Kenny, in 2016, Salt serves affordable Western fare that is simple yet delicious. The stall was formerly known as 'Momo Fries', but was renamed 'Salt' last year. I've heard numerous praises about the stall, so I was excited to finally get a chance to taste their food. 
Food at Salt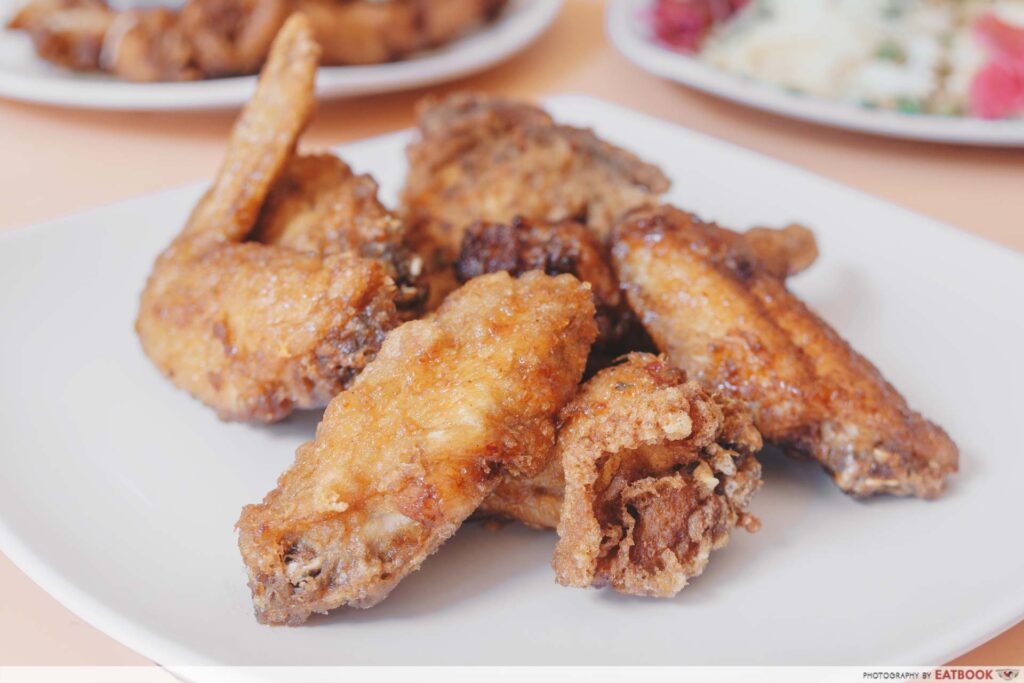 They are known for their chicken wings, which come in four different flavours – Soy Garlic, Korean Hot Thai Chilli Lime, Salt & Pepper Shakers and Thai Lime.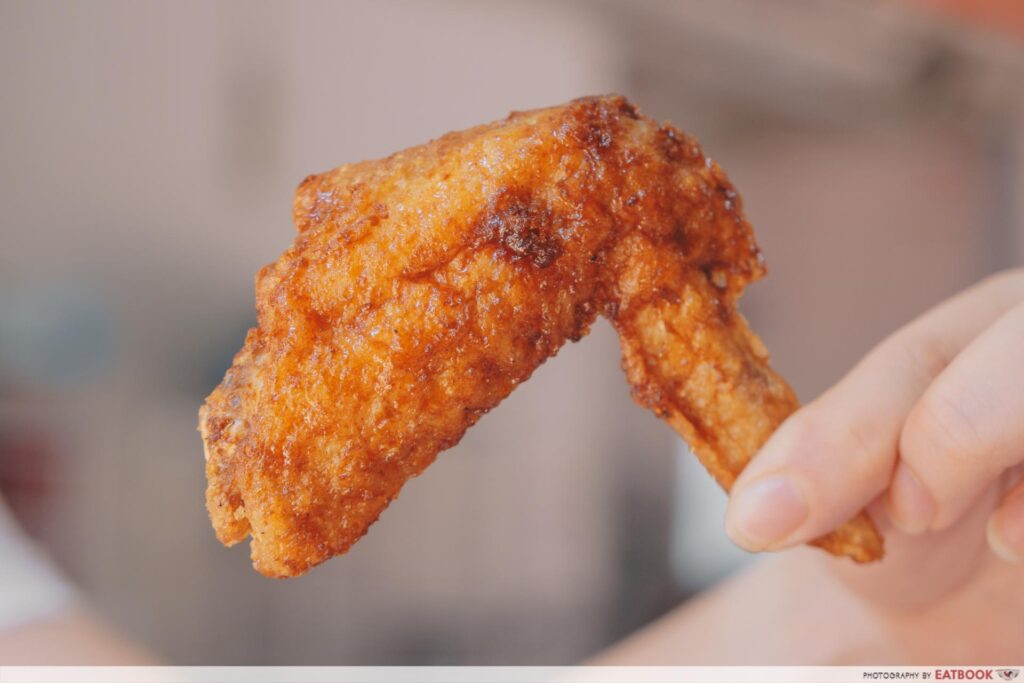 We decided to get all to try. I was expecting a strong garlic flavour to come through but the Soy Garlic flavour was rather mild. There was a hint of soya sauce taste, and is a safe option for those who prefer to stick to classic flavours.
The Korean Hot Thai Chilli Lime had the same intense spice as the aglio olio, as it possibly used the same spices. The sauce left the wing slightly sticky, and is a close rendition to Korean wings. Unfortunately, there was almost no flavour of lime here.
The Salt & Pepper Shakers was pretty basic, literally featuring the flavours of salt and pepper. I would skip this the next time I'm here.
I would recommend going for their Thai Lime chicken wings. The tartness of the lime and the saltiness from the wings complemented each other well. What I liked best was that there was a slight heat to these wings, but definitely not as punchy as the Korean Hot Thai Chilli Lime.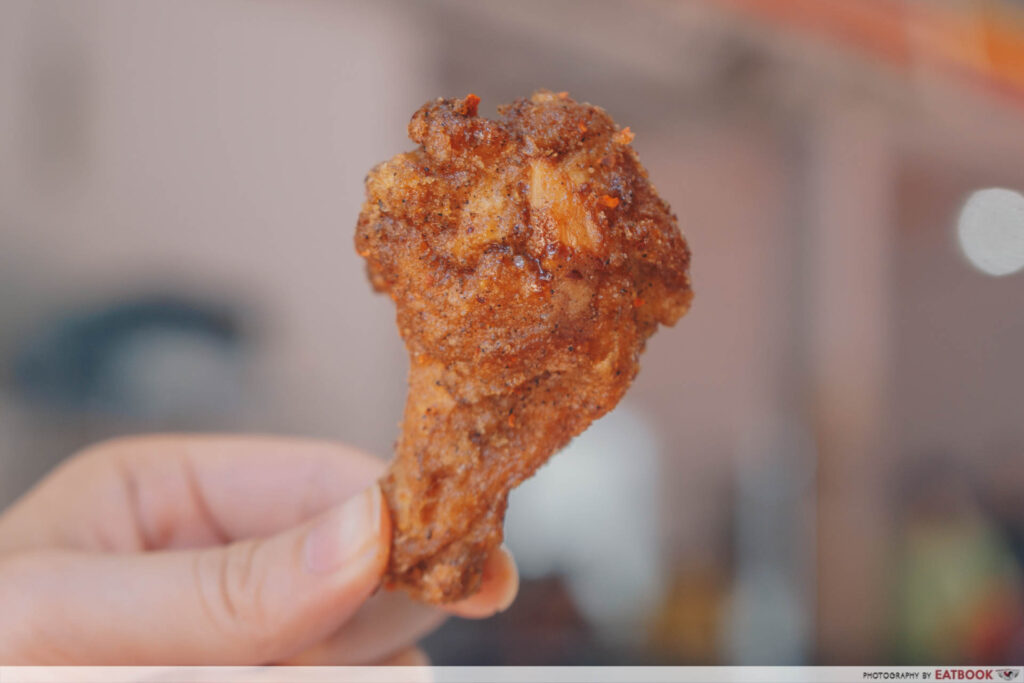 Every set of chicken wings come with a wing and a drumstick. All wing orders come in pairs. You can order two wings for $3.90, four wings for $7.60, six wings for $10.90 and ten wings for $17.90.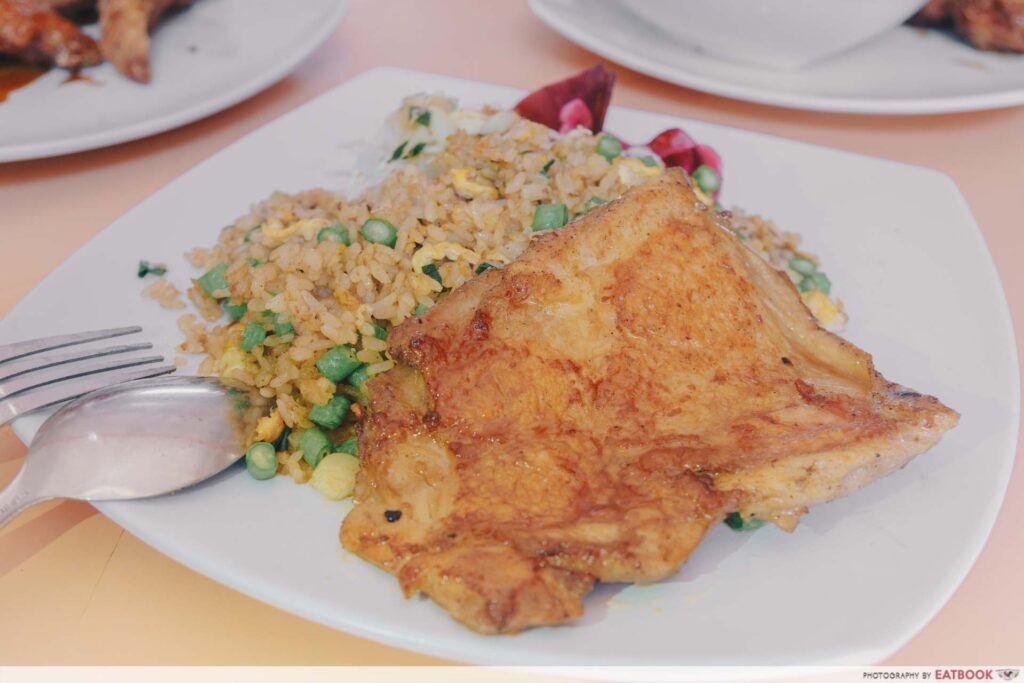 The Agape Chicken Garlic Fried Rice ($7.80) is a newly added item on the menu. This dish is similar to their Sous Vide Grilled Chicken Soy Garlic Fried Rice ($7.30), and the only difference is the addition of long beans into the garlic fried rice.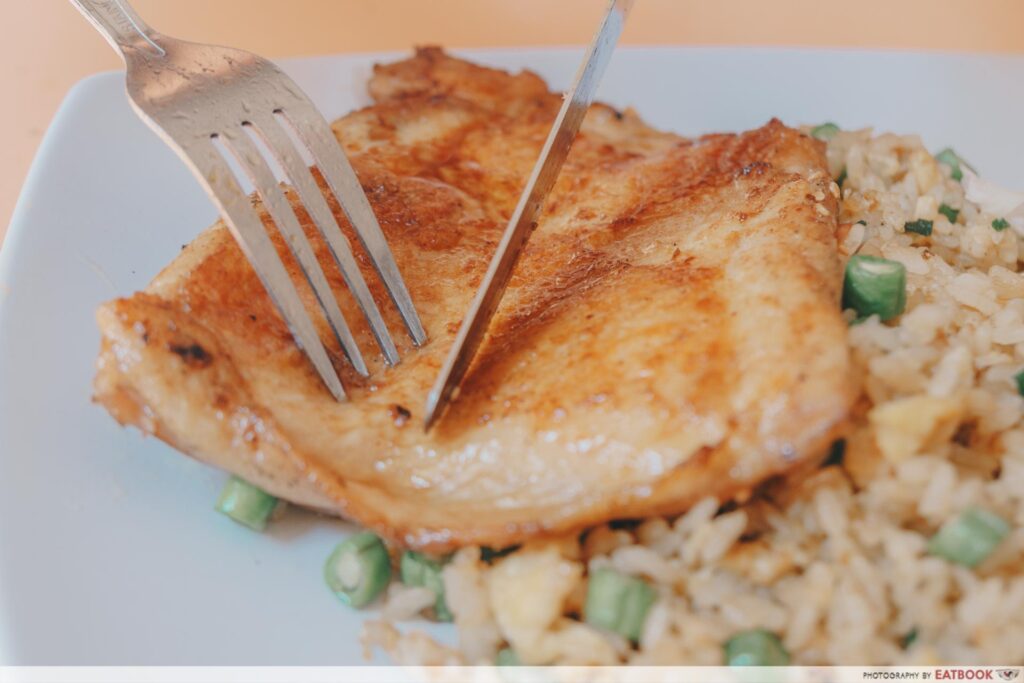 The crusty skin of the chicken had a glistening exterior. It was easy to cut into the meat and I instantly knew it was going to be tender.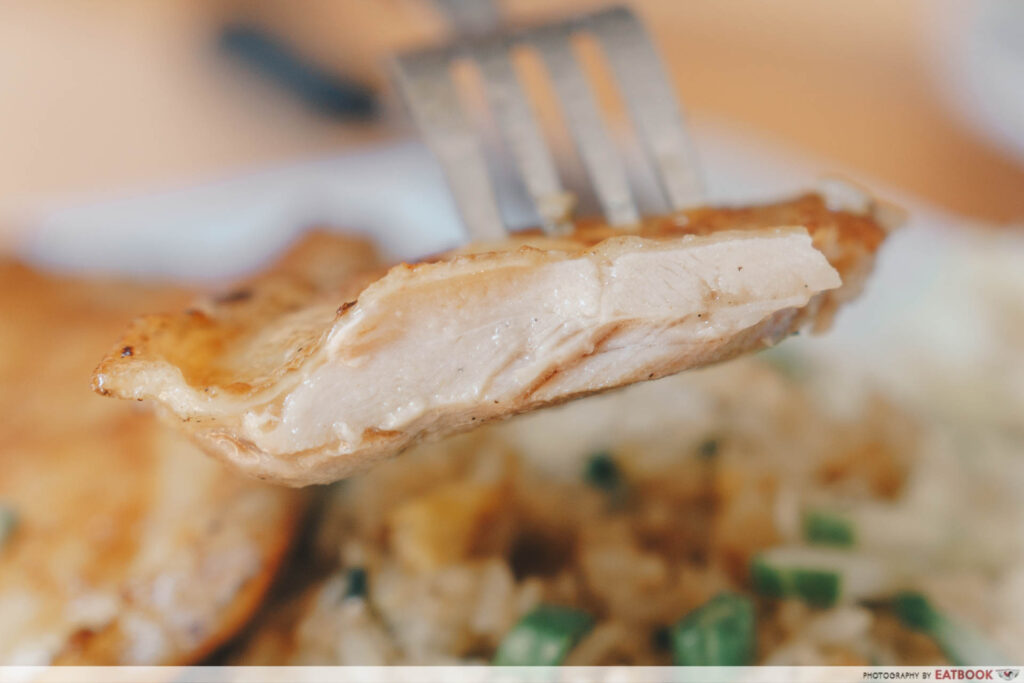 Though the meat may have been pounded a little too thin, I was still impressed by how juicy and succulent the meat within was. I liked that the lean meat was flavourful and easy to tear apart. It was seasoned lightly with salt and pepper, and did not overpower the original taste of chicken.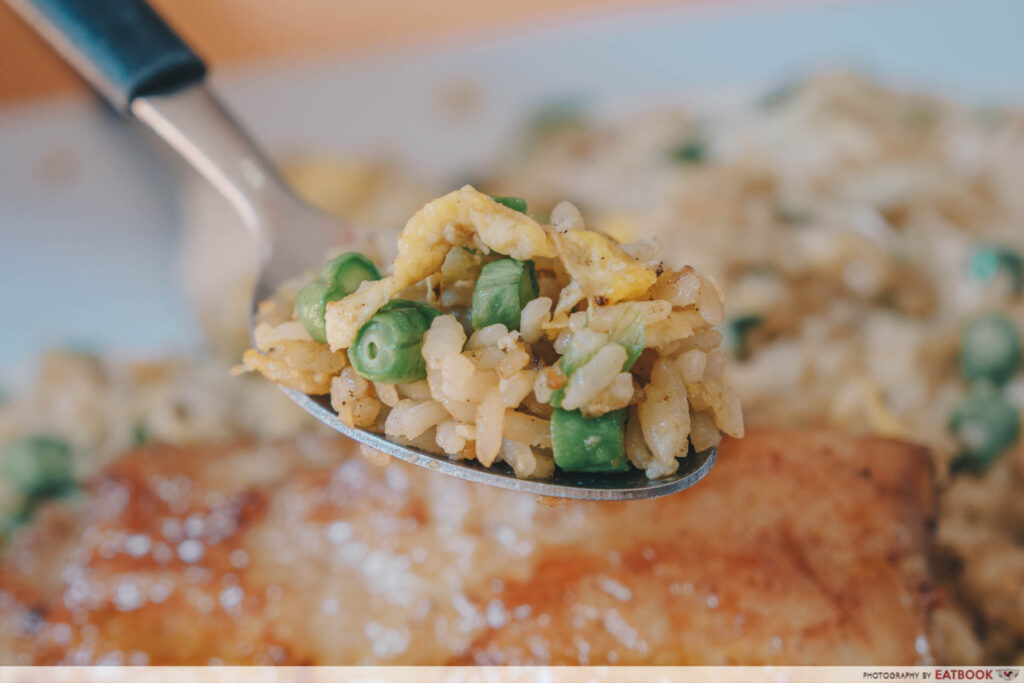 The fried rice is claimed by the owners to be a favourite among the elderly folks who frequent this place. Upon biting into it, I could see why, with its slightly sweet yet salty aroma. On top of that, the long beans added a fresh crunch to the otherwise one-dimensional fried rice.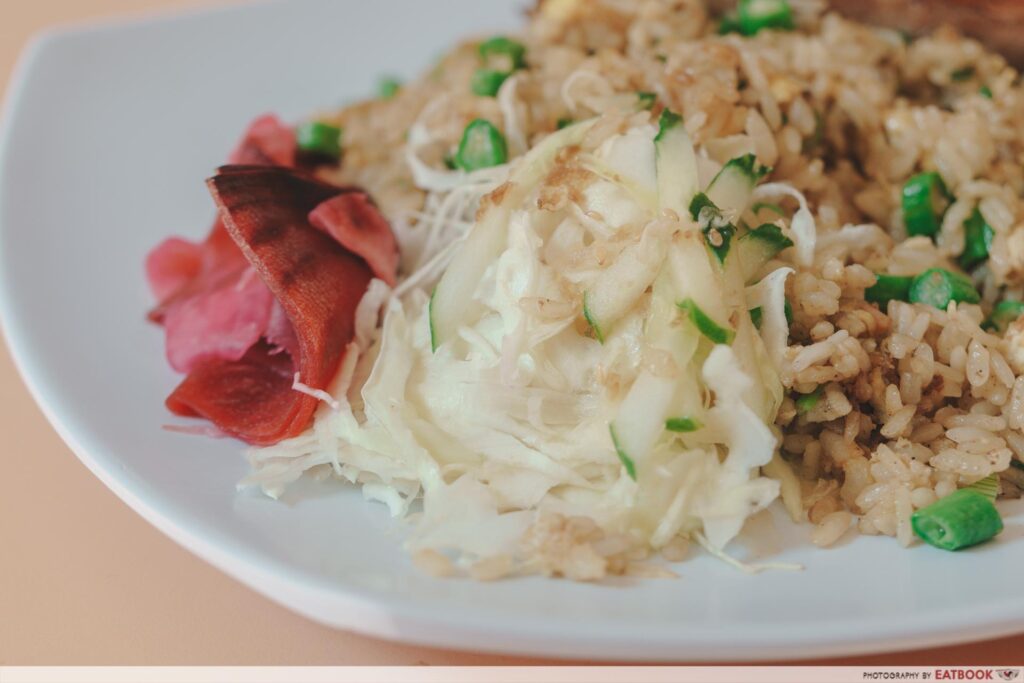 Each order comes with a side of Pickled Radish and Sesame Salad. The sides were nothing to shout about, but did help cut through any greasiness found in the dish.
An order of Cutlet Aglio ($6.80) comes with two pieces of crispy fried chicken and a huge plate of aglio olio.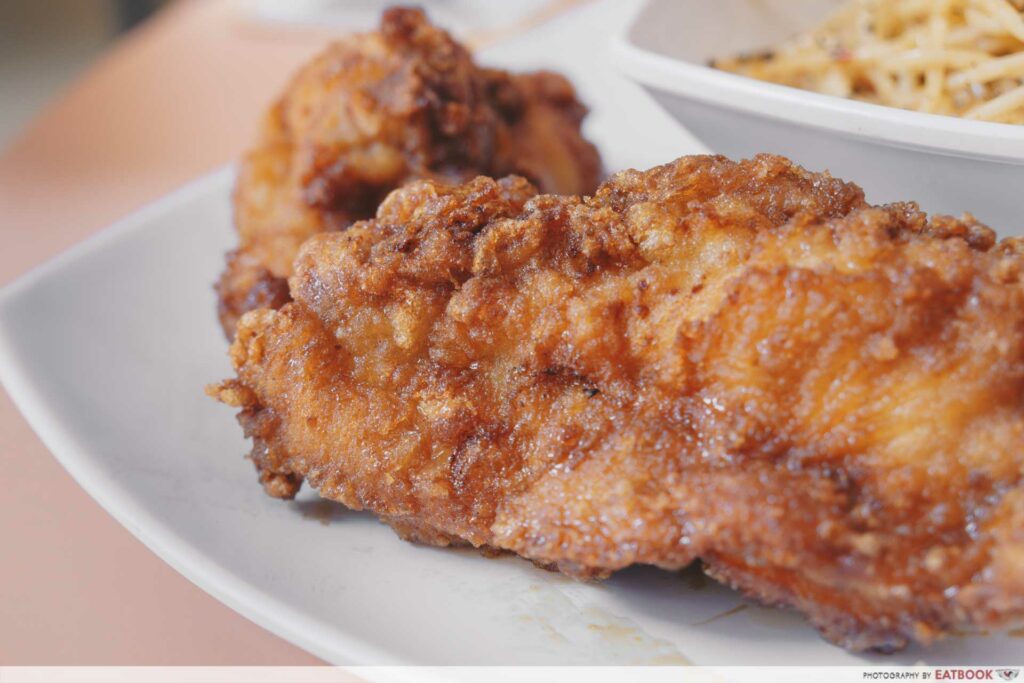 The chicken was fried to a nice golden brown. At first glance, the skin looked crisp, and I was expecting a good crunch when I bite into it.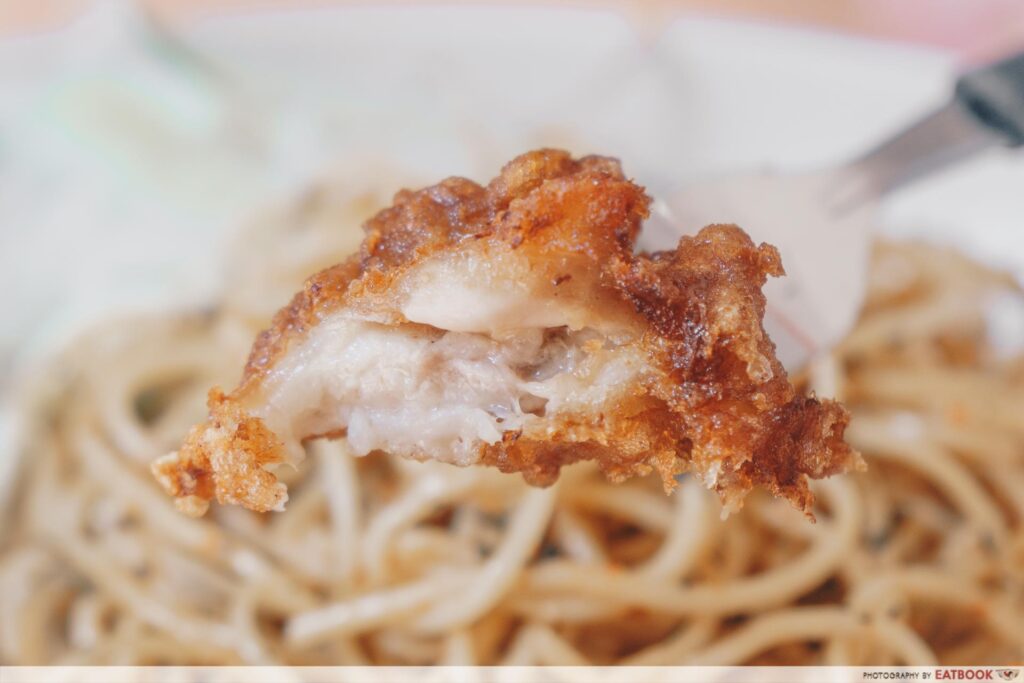 Indeed, the skin did not disappoint. The meat within was moist and packed with umami flavour. This reminded me of Japanese karaage. Compared to the grilled chicken, I'd say that the fried chicken definitely wins.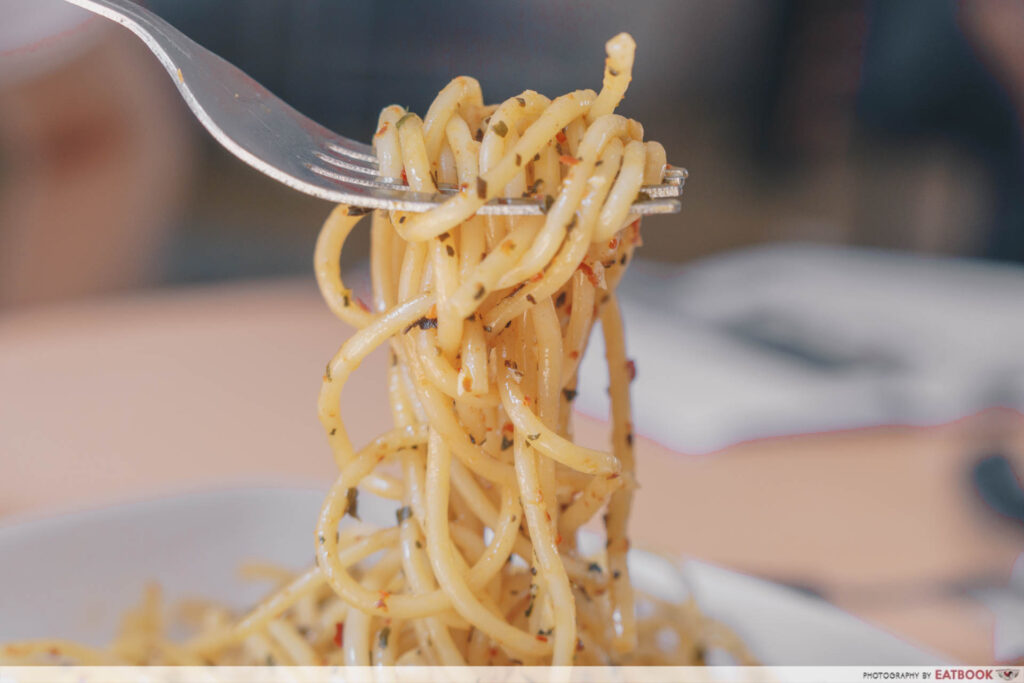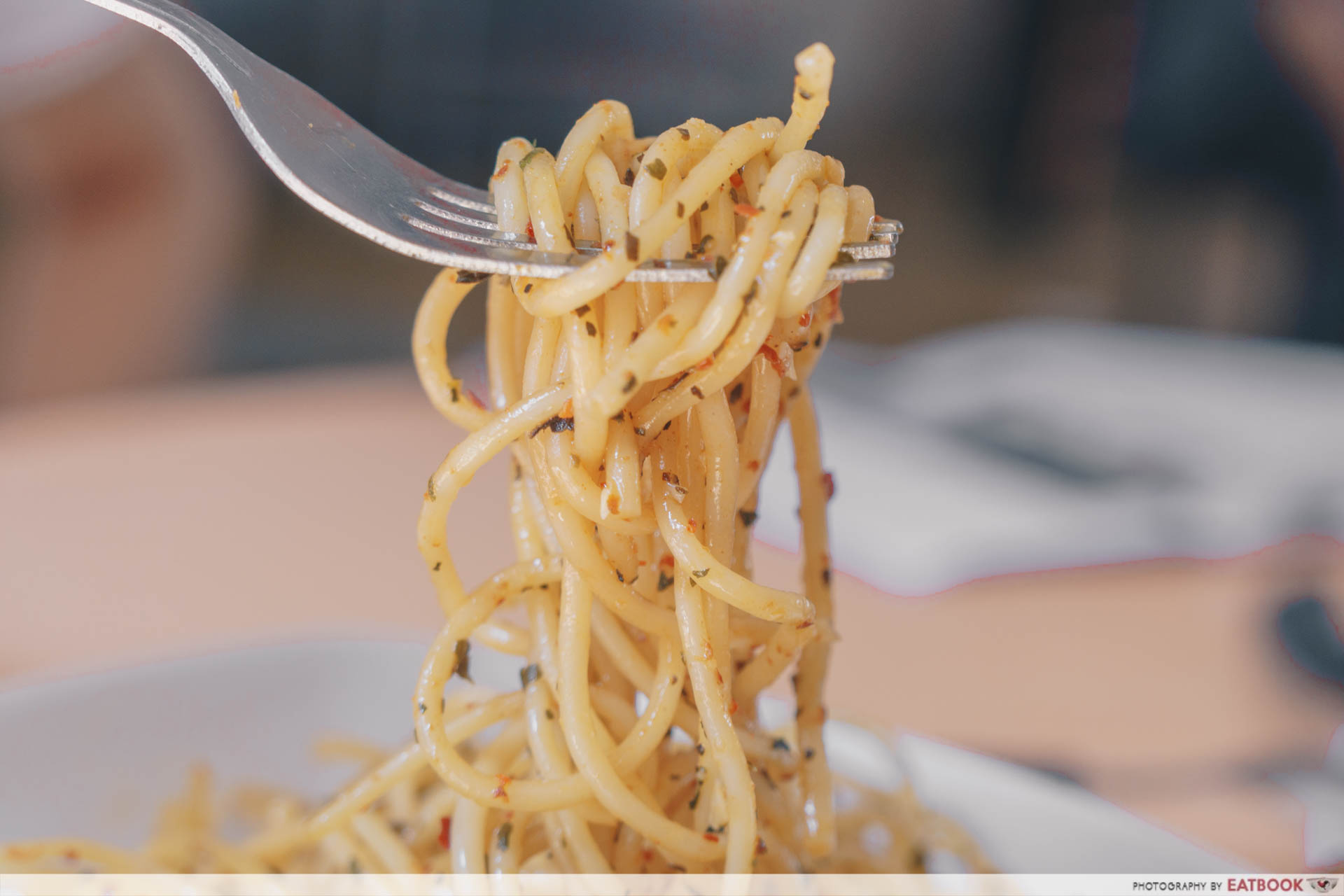 Beware, this aglio olio may look tame, but there is a fiery chilli kick to it. A few bites into this and I was left scrambling for a drink. For those who cannot take spicy food, I recommend going for their creamy carbonara instead for the same price.
Having the chicken and spaghetti in one bite gave a good balance of spicy and salty flavours. As someone who loves a little kick in my food, this was a pleasant combination.
Ambience at Salt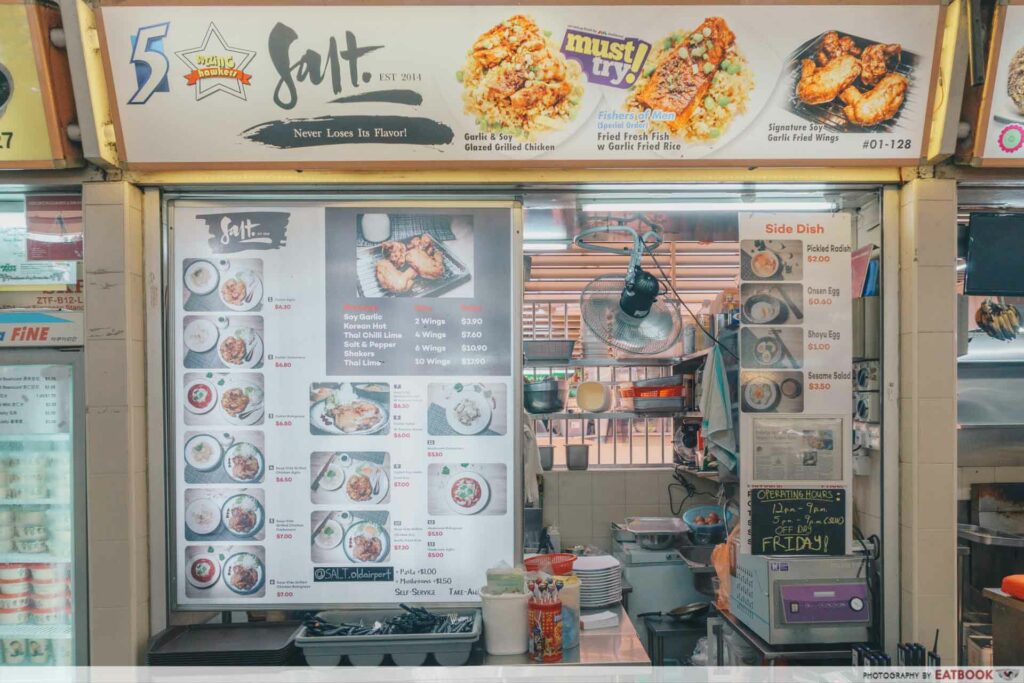 Located in Old Airport Road Food Centre, Salt is a humble hawker stall that resides at the back row of the food centre. We went down during lunch time and as each dish was cooked and prepared to order, we had to wait about 10 to 15 minutes for our food to arrive. I recommend going down after peak periods to avoid the lunch crowds.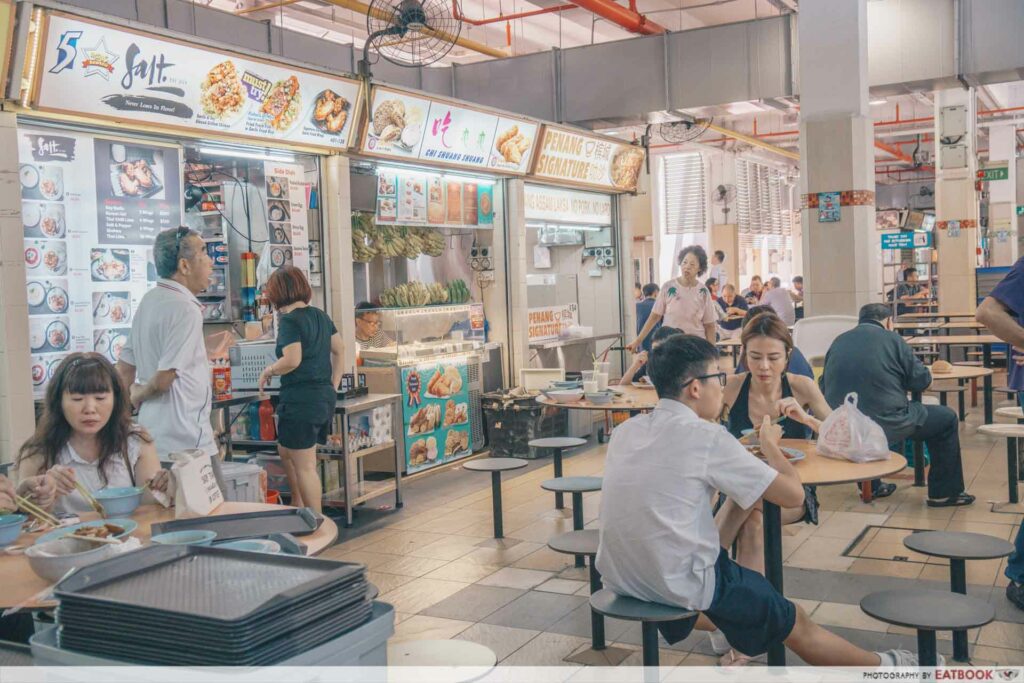 The seating area is no different from any other food court. The space was clean and brightly lit. However, it can get a little stuffy as the fans were scattered around certain points. You can choose to sit nearer to the open air area for more ventilation.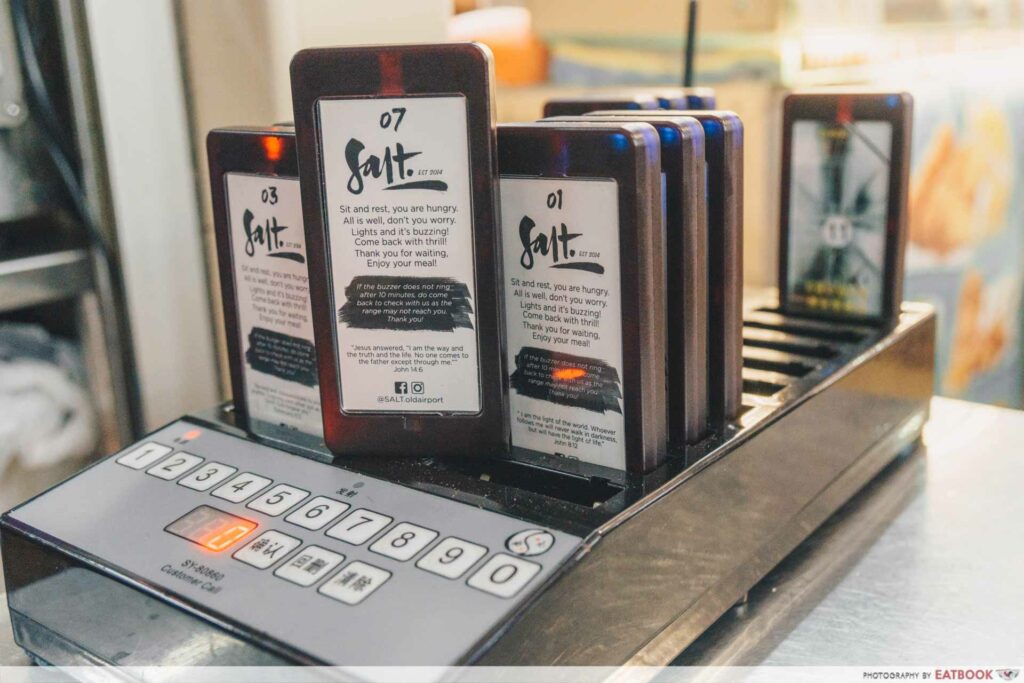 After ordering your food, you'll be given an electronic buzzer to inform you that your dish is ready for collection. Even though the food may take awhile, you don't have to stand around keeping wait!
The verdict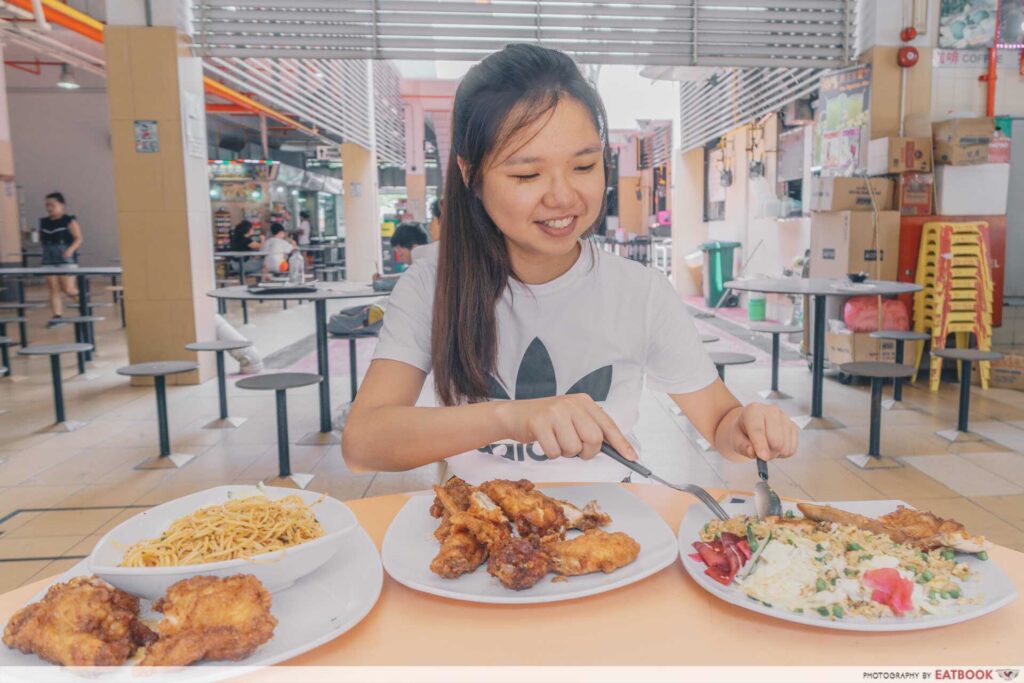 Salt features simple and honest Western fare. Food here is value-for-money and affordable, with most of their mains under $7. In fact, the tender and juicy chicken here is enough to make me want to come back to try their other dishes.
Salt is adding a salmon option into their menu to cater to those who are not a fan of chicken but still want some good Western food. They are constantly thinking of new items to add to their menu to entice customers to come back for more.
For more food here, you can check out other Old Airport Food Centre Stalls! Or if you're looking for more more Western delights, you can check out our list of Western hawker food stalls.
Address: 51 Old Airport Road, #01-128, Old Airport Road Food Centre, Singapore 390051
Opening hours: Mon-Thur 12pm to 9pm, Sat 12pm to 9pm, Sun 5pm to 9pm
Tel: 9488 1116
Website
SALT is not halal-certified.
Photos taken by Ho Jing Yi.
This is an independent review by Eatbook.sg.
Summary
Pros
– Tender and juicy chicken
– Generous portions
Cons
– Underwhelming sides
Recommended Dishes: Cutlet Aglio ($6.80), Thai Lime Chicken Wings (two for $3.90)
Opening Hours:
Mon-Thur 12pm to 9pm, Sat 12pm to 9pm, Sun 5pm to 9pm
Address: 51 Old Airport Road, #01-128, Old Airport Road Food Centre, Singapore 390051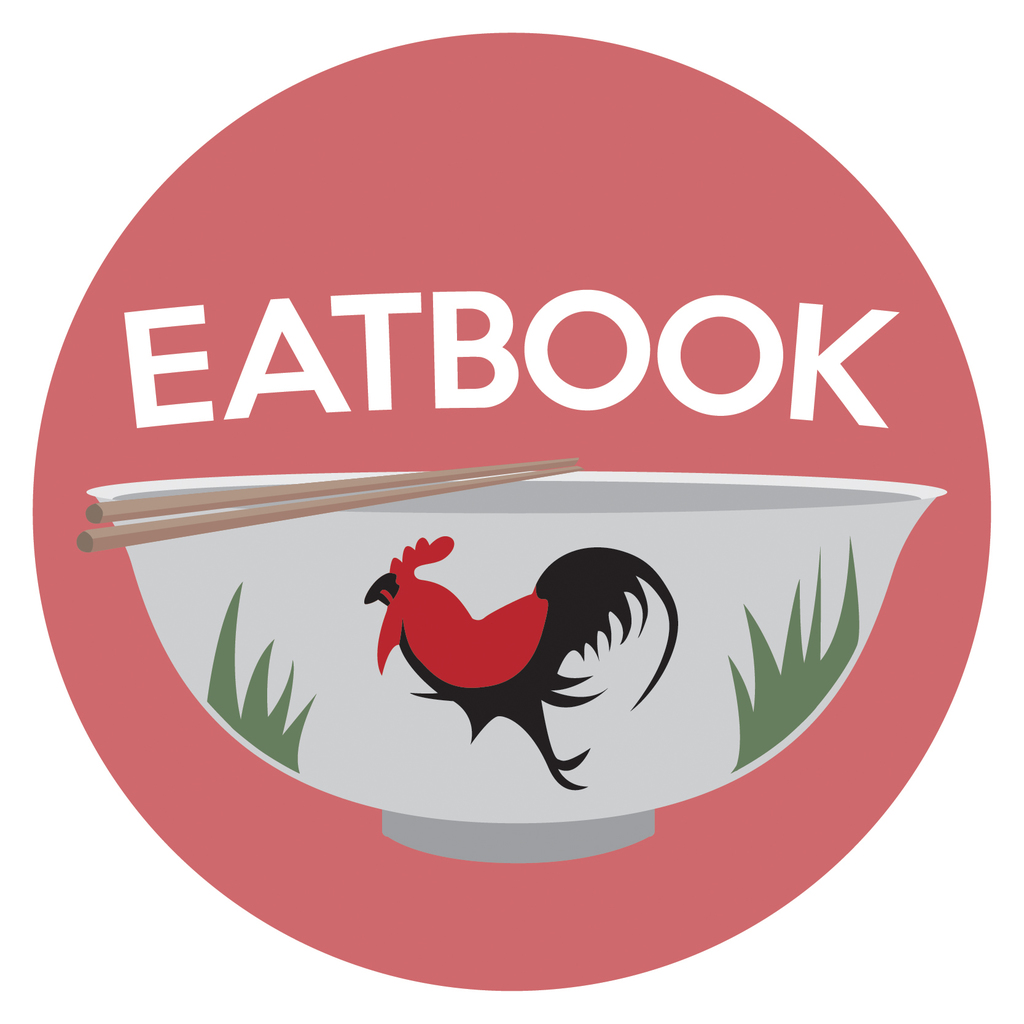 Drop us your email so you won't miss the latest news.