Arnold's Fried Chicken takes fried chicken to a whole new level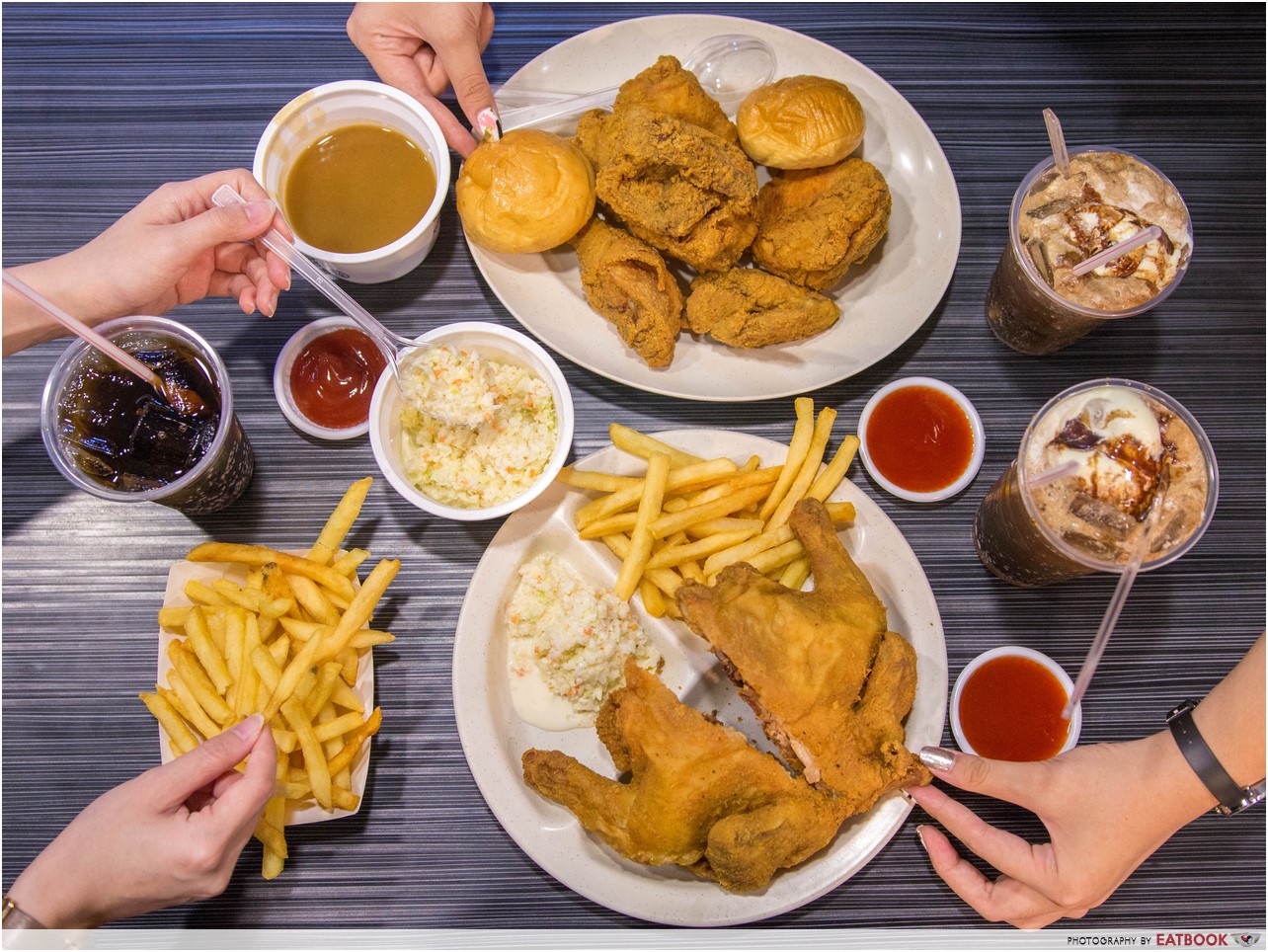 I know how passionate people can get when they talk about fried chicken, because I'm one of them. Growing up with fast food joints that are only minutes away from home, my mom would often bring back buckets of fried chicken for dinner. To my young self, fried chicken is a big part of life.
As much as I would like to blame fried chicken for landing me in my school's TAF club, I often reminisce the good times when my fambam and I crowded around the television, holding up pieces of fried chicken and glasses of soda. If you're a big fried chicken fan like me or wish to relieve those childhood days, Arnold's Fried Chicken might just send you back to those times.
Food at Arnold's Fried Chicken 

After ordering your meal, you'll be handed a buzzer. We waited for about 15 minutes before collecting our food at the restaurant's kitchen window.
My inner carnivore was excited to dive right into our Spring Chicken Set ($12.80). A whole chicken was deep fried and served together with a heap of coleslaw and a handful of fries in this set. All orders of chicken at Arnold's are fried a la minute and served hot and fresh, so be careful not to burn your fingers while tearing the juicy chicken apart!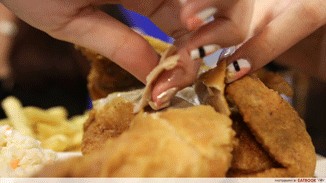 Initially, I made a bet with my colleagues that the chicken will either be dry or not thoroughly cooked. I just wasn't convinced the restaurant could keep the meat juicy and succulent after deep-frying the entire chicken on its own.
Boy was I proven wrong. One bite was enough to seal my love for Arnold's fried chicken. The meat was fall-off-the-bone tender, and so incredibly moist. Don't be embarrassed to gobble down the whole chicken by yourself; I won't judge because I did the same!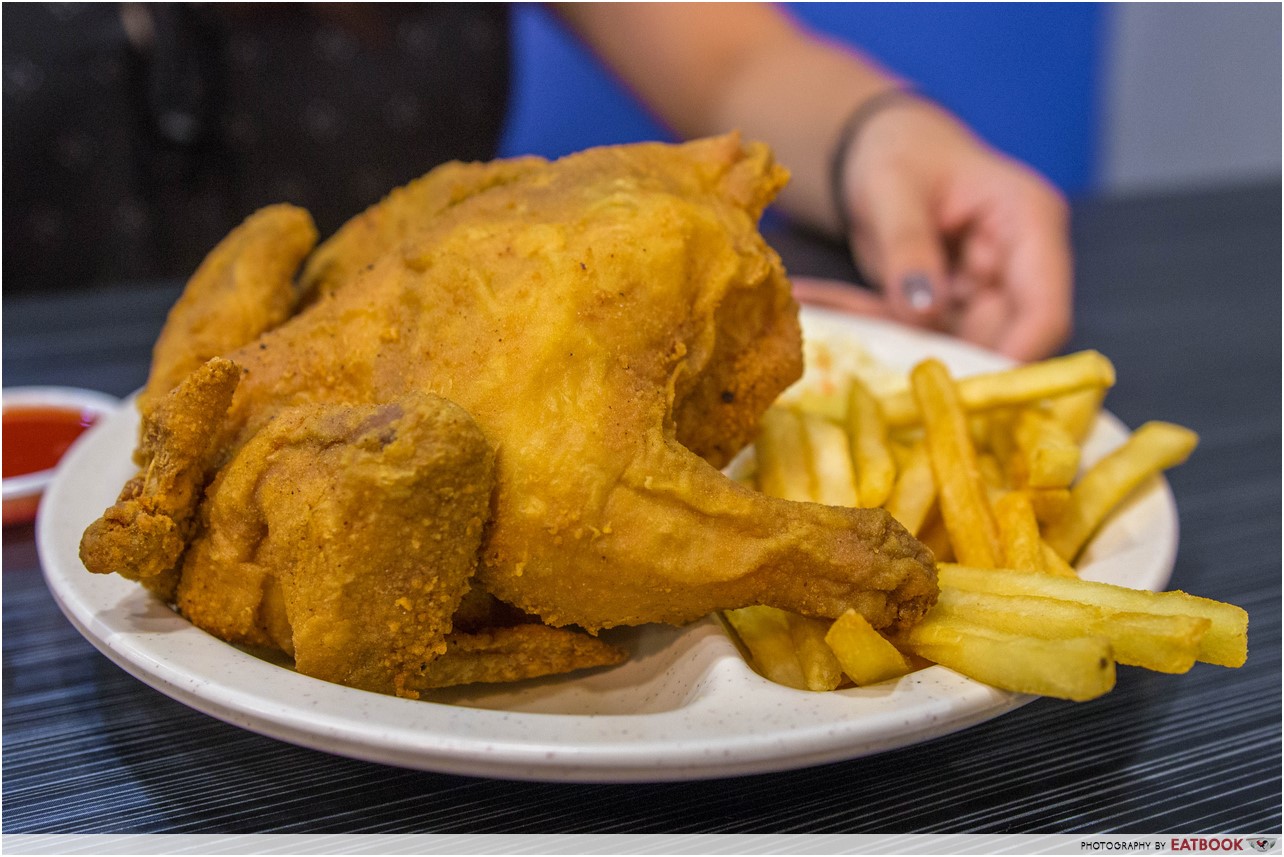 The chicken was huge considering its price. Those with a heavier palate may find it a little under-seasoned, but for me, it's classic fried chicken done right.
The only downside for me was the coleslaw. After having my mind blown by how delectable the chicken was, a small part of me expected the coleslaw to be on par. Sadly, it tasted rather bland and mediocre. The fries, on the other hand, were thick-cut and nicely seasoned.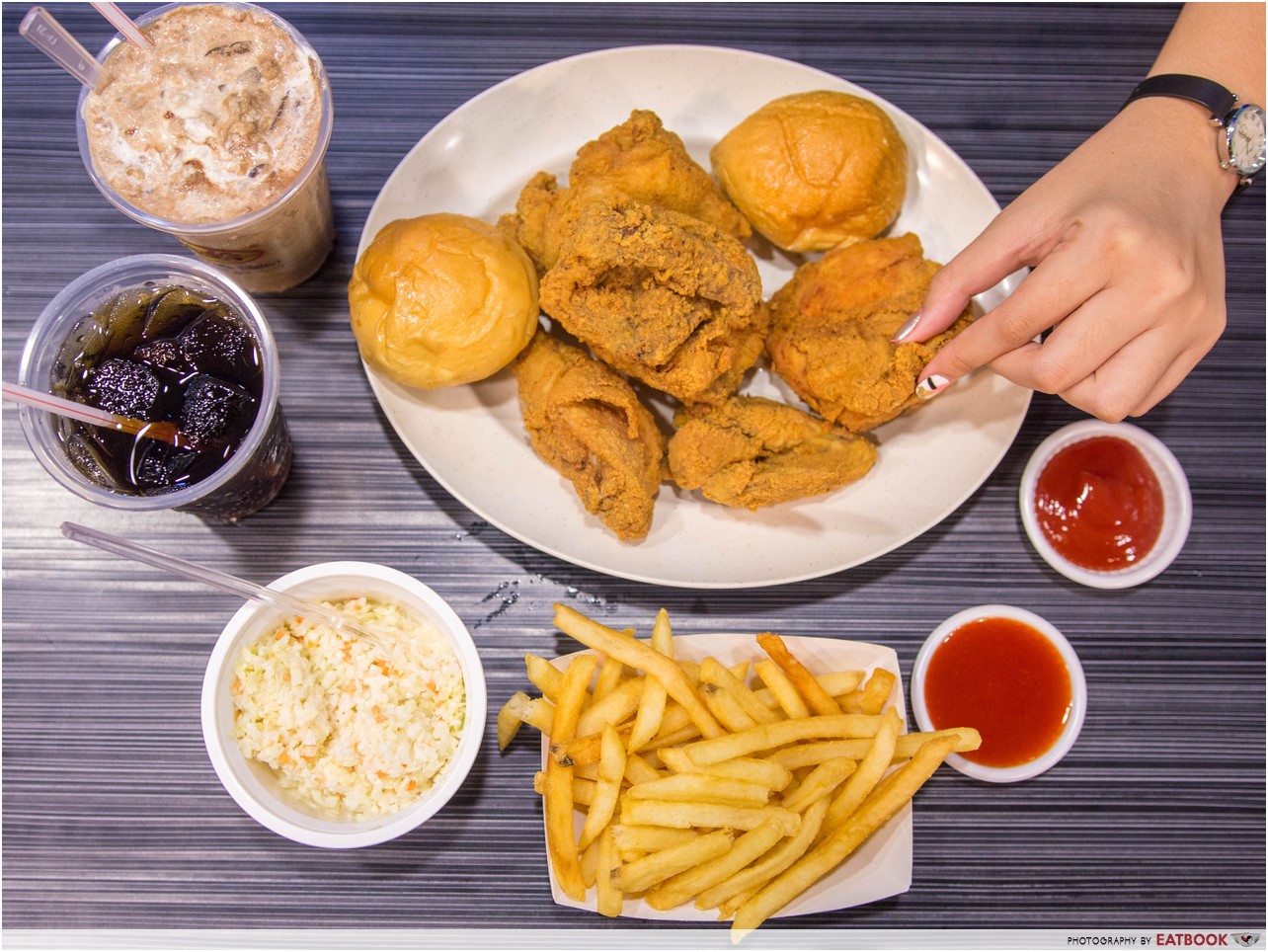 After devouring a whole chicken, I was stoked for what's to come. 2 Person Combo Meal ($24.80) is fit for either two people or one hangry soul. It comes with five pieces of fried chicken, two fried buns, one coleslaw, a plate of straight-cut fries, and two regular-sized soft drinks.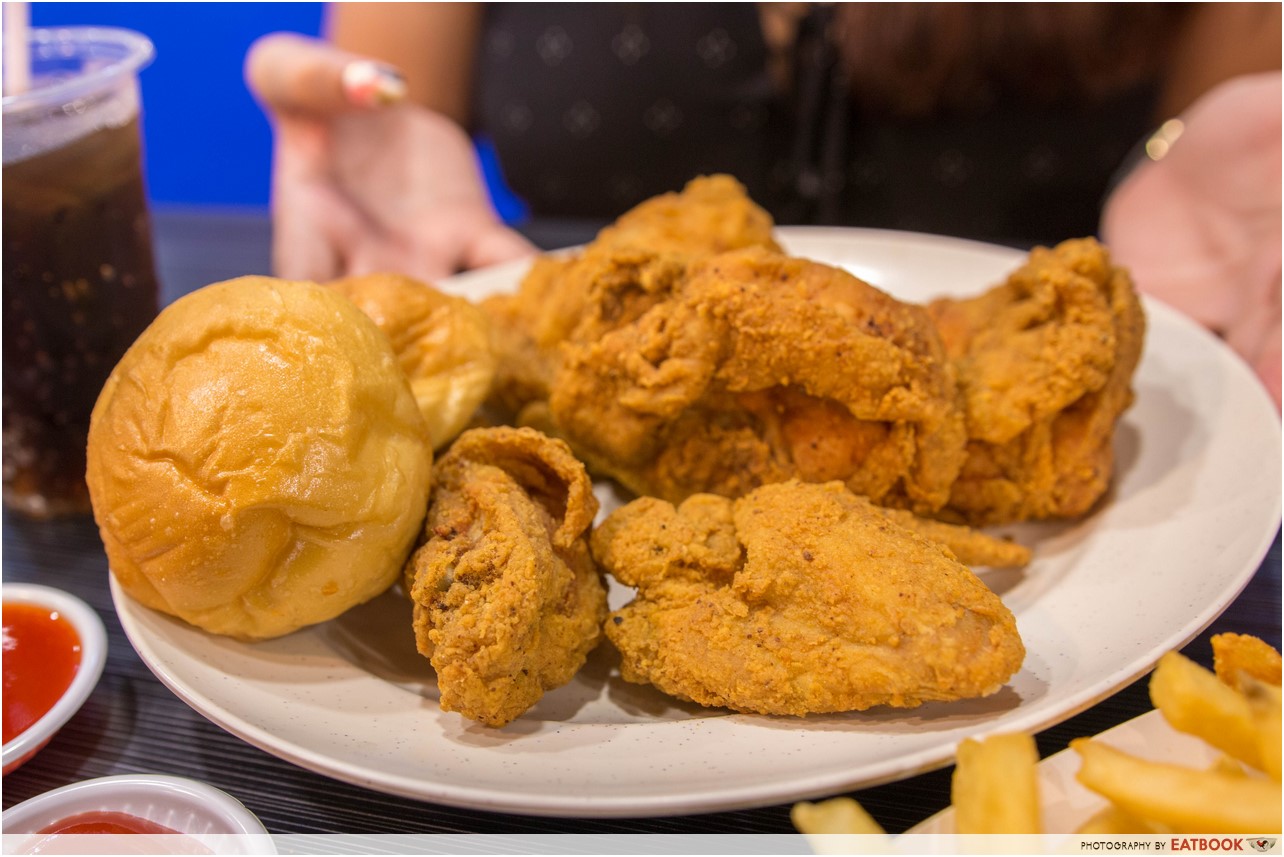 Having eaten plenty of fried chicken all my life, I've grown to realise what makes a good piece of fried chicken. Many fried chicken places tend to focus on perfecting a well-spiced crust more than the meat itself. By doing so, it strikes an imbalance in terms of flavour once you get rid of the crust, since it's the only thing it has going for it.
Arnold's marinates their chicken overnight and this process tenderises the chicken and allows the marinade to flavour the meat, giving an extra oomph to it.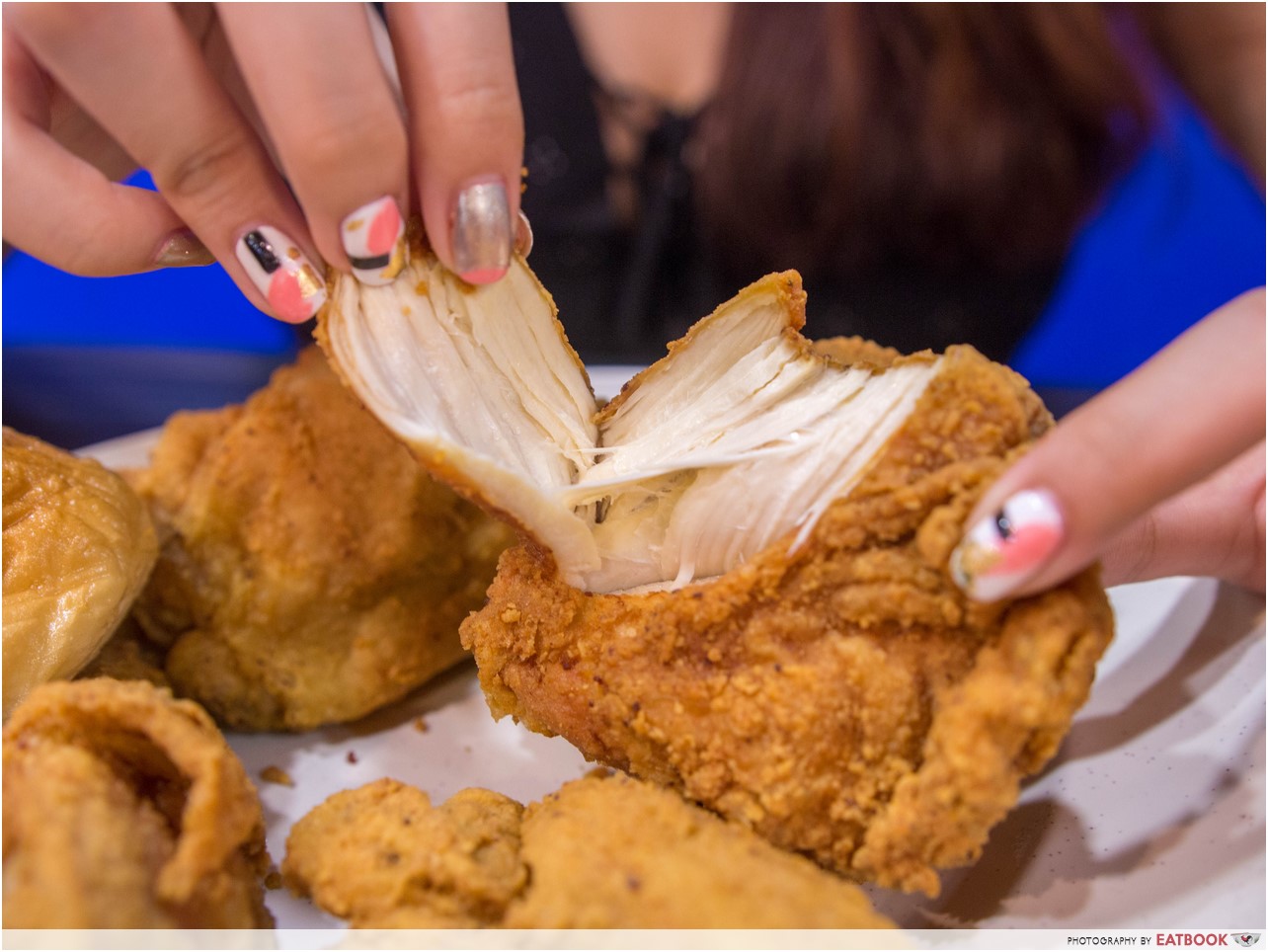 Every piece of the chicken, even the breast, was juicy and flavourful. Together with the coating of batter, each bite was succulent and tasty.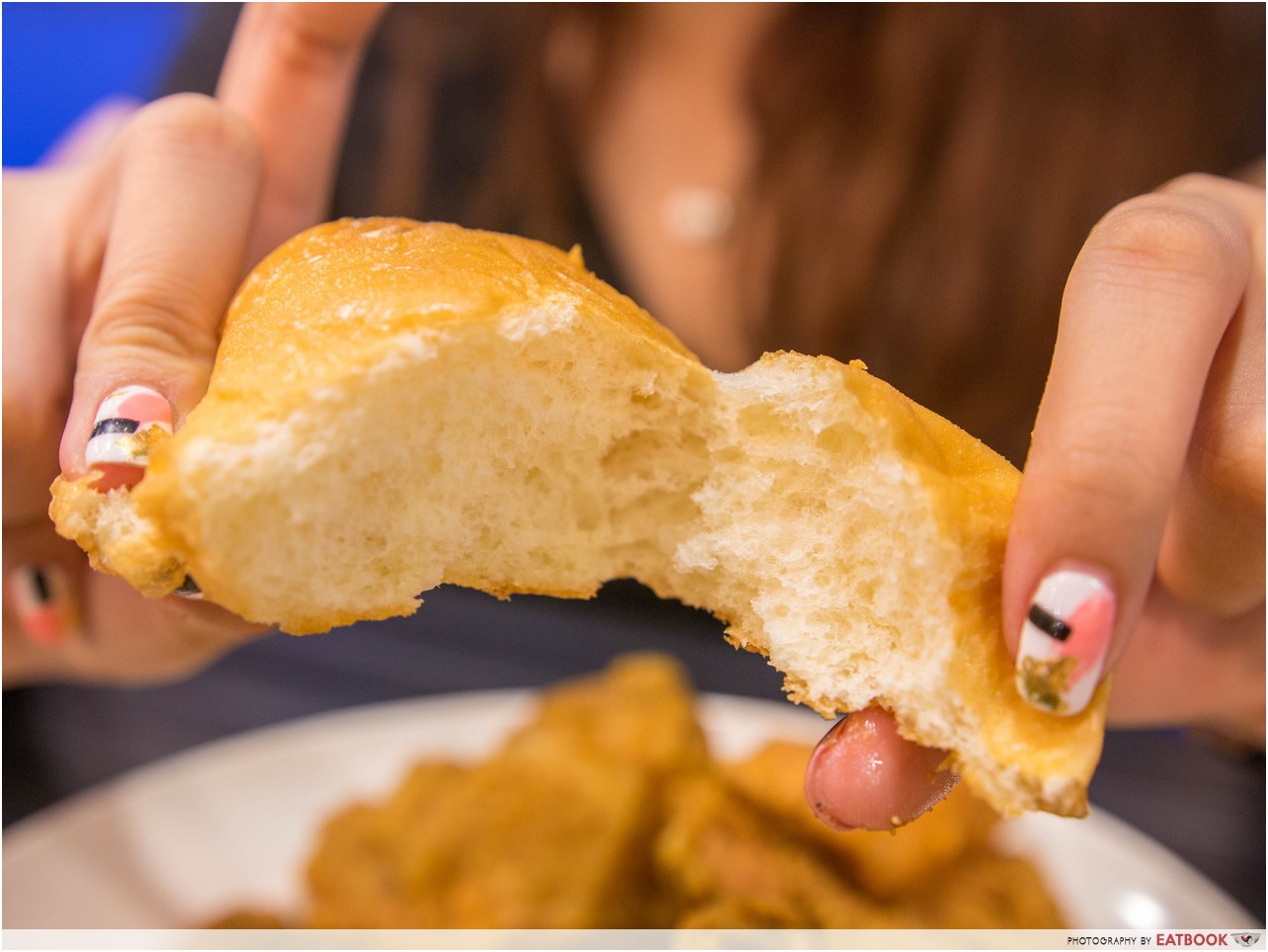 This is what made me a die-hard fan of Arnold's. Their pillowy deep-fried buns had a crispy outer layer, similar to those golden mantou buns you'll get at a Chinese restaurant. The buns were surprisingly sweet, great for those who are fans of sweet-savoury dishes.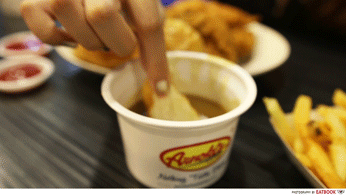 Instead of dipping your buns or chicken into ketchup or chilli, dunk them into a bowl of Gravy ($1.20) to amp up the flavour. I was told that their gravy is made by reducing chicken stock. This savoury, sweet, and umami dip was crazy addictive!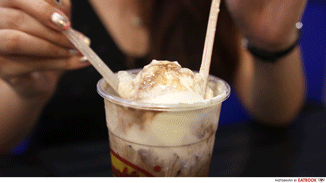 Wash down all that fried chicken by topping up $1.30 to make your drink a Coke Float.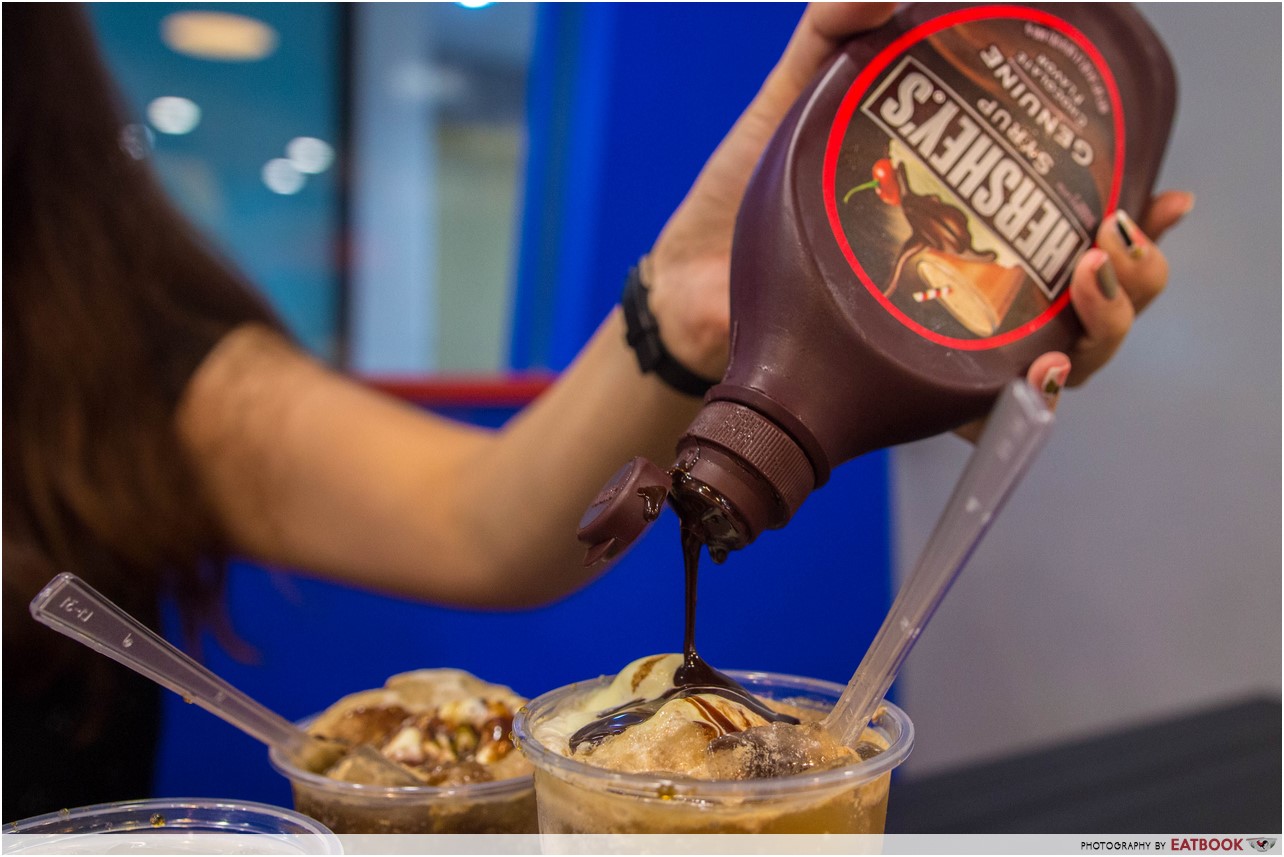 You can even satisfy your inner chocoholic by requesting for a swirl of Hershey's chocolate syrup on your coke float for free!
Ambience at Arnold's Fried Chicken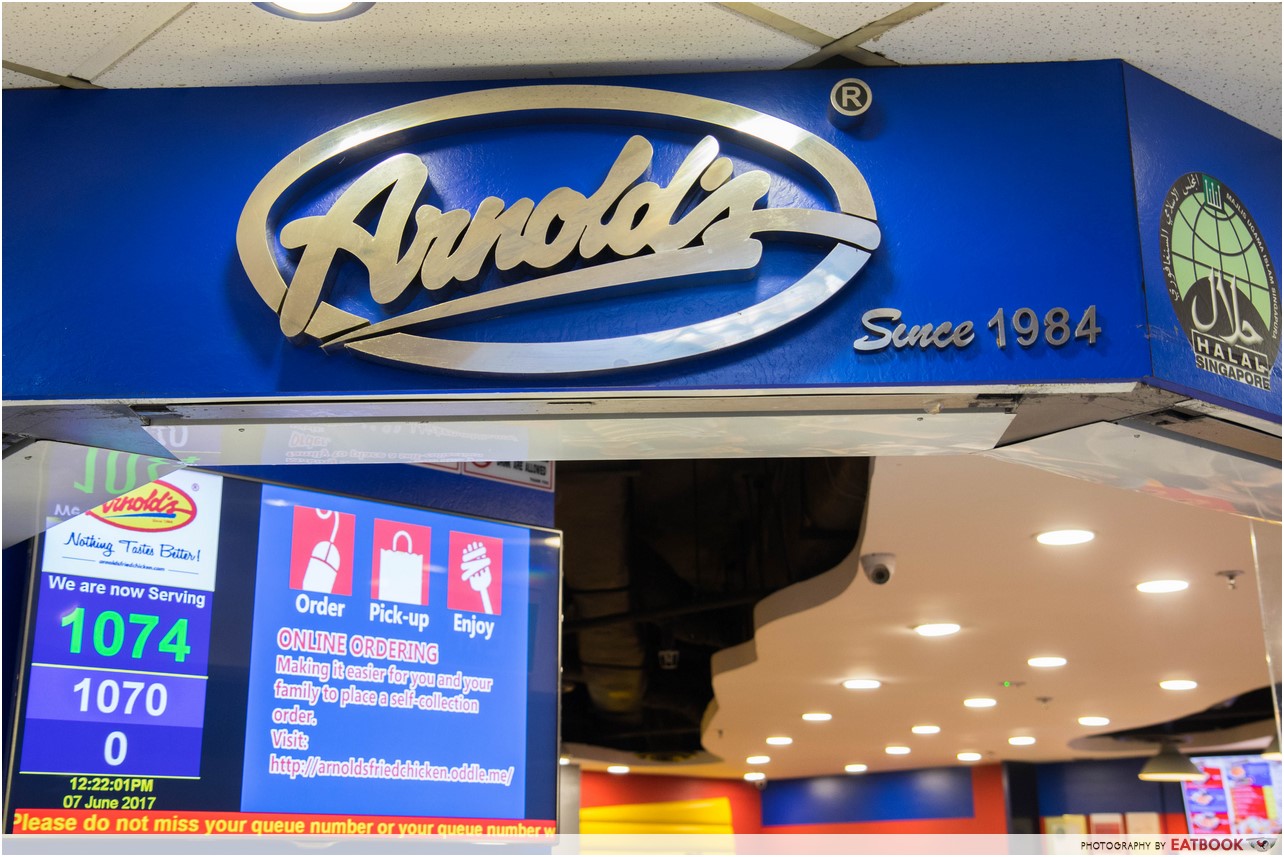 Opened for over 33 years, Arnold's has amassed a loyal following over the decades. This place is tucked away in a corner on the second floor of City Plaza, so make sure to keep your eyes open or you might just walk past it.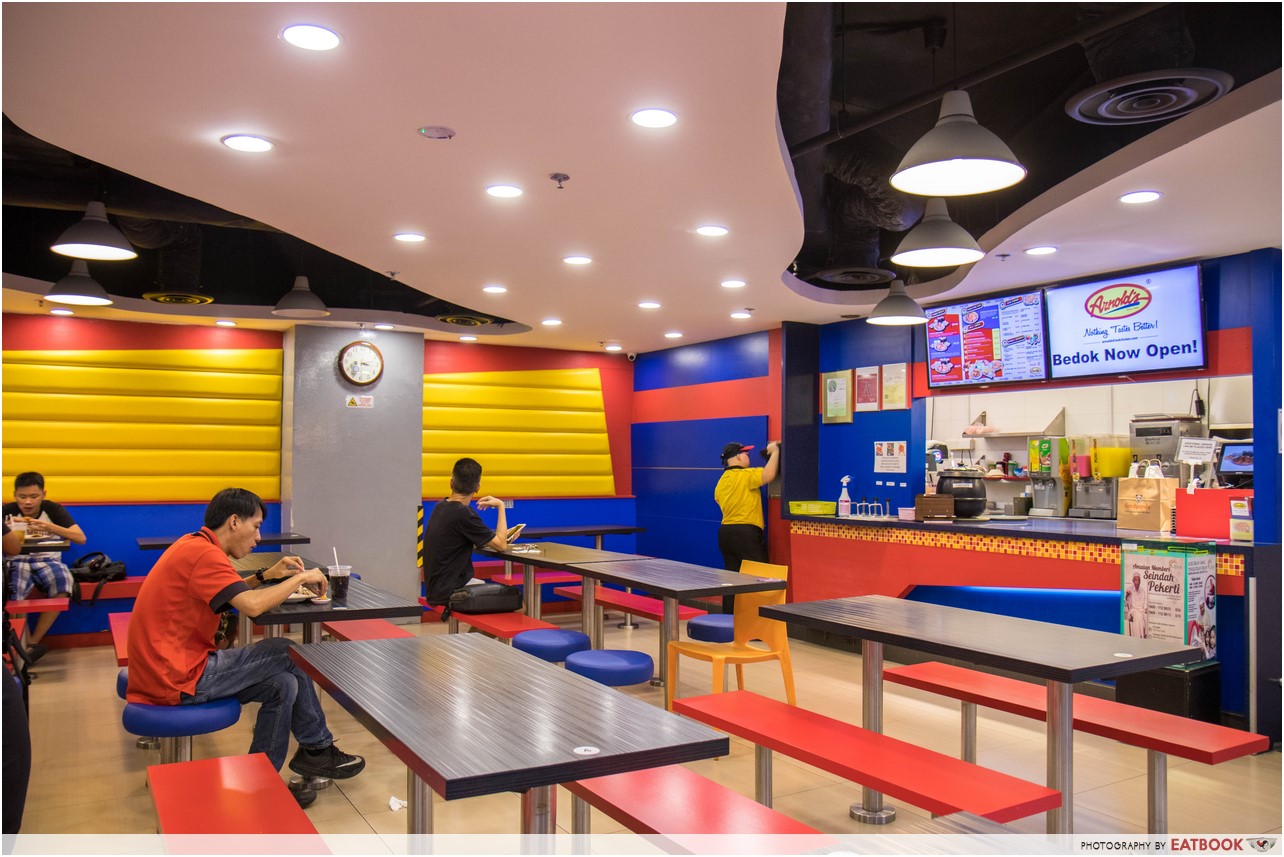 Arnold's is decorated in bright colours and was well lit. We were able to get a table after a 10-minute wait when we visited at around 12pm on a weekday. There are a few buses from Paya Lebar MRT Station that can take you to this restaurant. Alternatively, you could walk to City Plaza from the MRT Station in about 10 minutes.
The verdict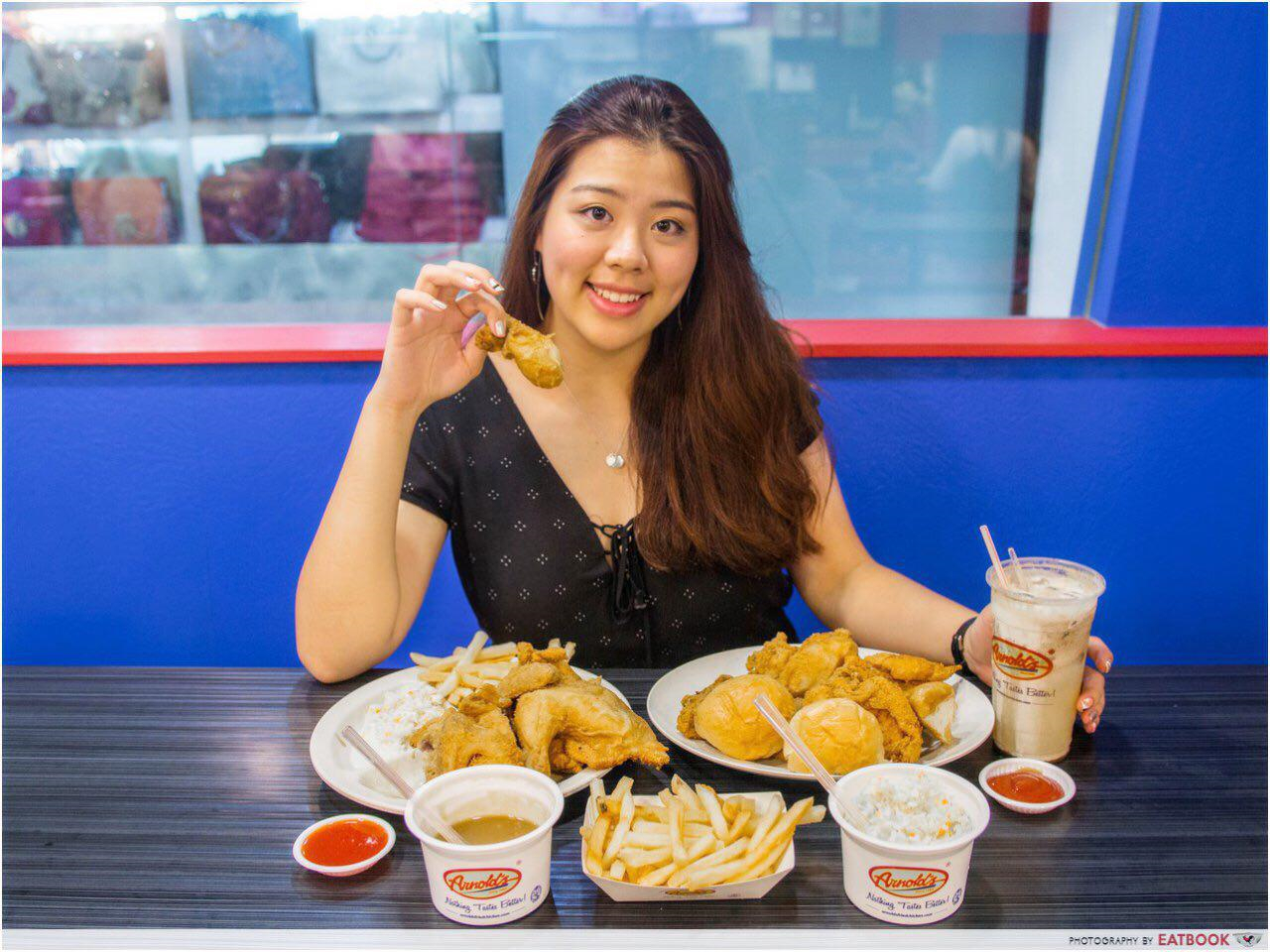 Crispy on the outside and juicy on the inside, the fried chicken at Arnold's definitely went beyond my expectations. It's a great place to get your fried chicken fix without breaking the bank! Fried chicken fans, check out these cheap and good fried chicken places too!
Address: 810 Geylang Road, #02-99, City Plaza, Singapore 409286
Opening hours: Daily 11am to 9:45pm
Tel: 6746 2372
Website | Full list of outlets
Arnold's Fried Chicken is halal-certified.
This is an independent review by Eatbook.sg.
Summary
Pros
– Delicious food
– Affordable
Cons
– Limited seats
– May get crowded during peak hours
Recommended Dishes: Spring Chicken Set ($12.80), Fried Bun ($0.60)
Operating Hours:
Daily 11am to 9:45pm
Tel:
6746 2372
Address: 810 Geylang Road, #02-99, City Plaza, Singapore 409286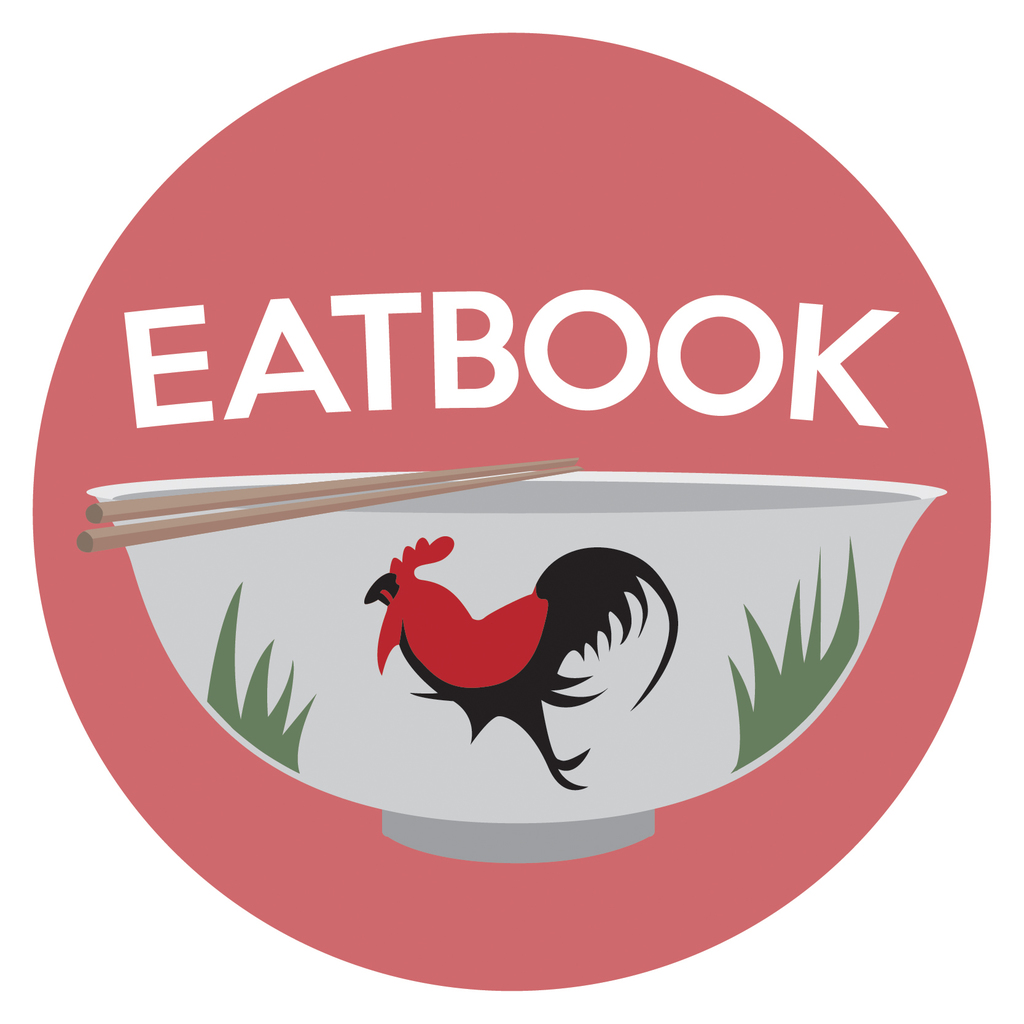 Drop us your email so you won't miss the latest news.