---
Fried Chicken WIN-gs
---
My favourite part about every visit to IKEA is nomming on their chicken wings after dreaming up my ideal home, and I'm sure it's not just me. There's something irresistible about fried chicken; the combination of crispy skin and juicy meat bursting with flavour sparks some sort of magic. Besides trendy – though sometimes indistinguishable – Korean fried chicken restaurants and the usual fast food chains, here are 10 places to get your fried chicken fix.
---
1. Eng Kee Fried Chicken Wings
---
If its enticing golden colour and crusty edges aren't telling enough, let me say this: the skin of these fried chicken wings ($1.20 each) from Eng Kee Fried Chicken Wings are shatteringly crisp. You'll be wishing you could just order the addictive fried chicken skin on its own. People with heavier palates may find the meat a little underseasoned, but that's worth overlooking for how well they are fried.
Address: 117 Commonwealth Drive, #01-711, Singapore 140117
Opening hours: Sun-Fri 12pm to 10:30pm
Tel: 9233 9330 / 9636 7362
---
2. Jerry's BBQ & Grill
---
Before salted egg found itself slathered over everything, saucy chicken wings usually brought to mind buffalo wings with their spicy warmth and sour tang. Jerry's BBQ & Grill is one of the classic places to visit for The Most Talked-About Buffalo Wing. Whether you're an adventurous lover of spicy food or someone who prefers not to torture your taste buds, Jerry's has you covered. You can choose from six levels of spiciness ranging from L1 Smokin' ($14.95++ for six pieces) to L6 Jerry's Insanity 6x (19.95++ for six pieces).
Check out where else to get spiciest chicken wings in Singapore to put your taste buds to the test.
Address: 277 Jalan Kayu, Singapore 799505
Opening hours: Daily 12pm to 11:30pm
Tel: 6484 0151
Website
---
3. The Beast
---
The Beast's Fried Chicken and Waffles ($20++) is at once a golden beauty and a beast of a serving. Marinated in buttermilk, the thick steak of chicken is juicy and coated in a light, crumbly crust. The waffles have a firm outer crust which suits the savoury nature of this dish, though it lacks any distinct flavour of its own. Drizzle The Beast's bourbon maple syrup for added sweetness tempered by a bit of bitter alcohol. Fried chicken purists can also enjoy Southern Fried Chicken ($20++) on its own.
Address: 17 Jalan Klapa, Singapore 199329
Opening hours: Mon-Wed 5pm to 12am, Thur-Fri 5pm to 1am, Sat 5pm to 12am, Sun 10am to 5pm
Tel: 6295 0017
Website
Menu
---
4. Two Wings
---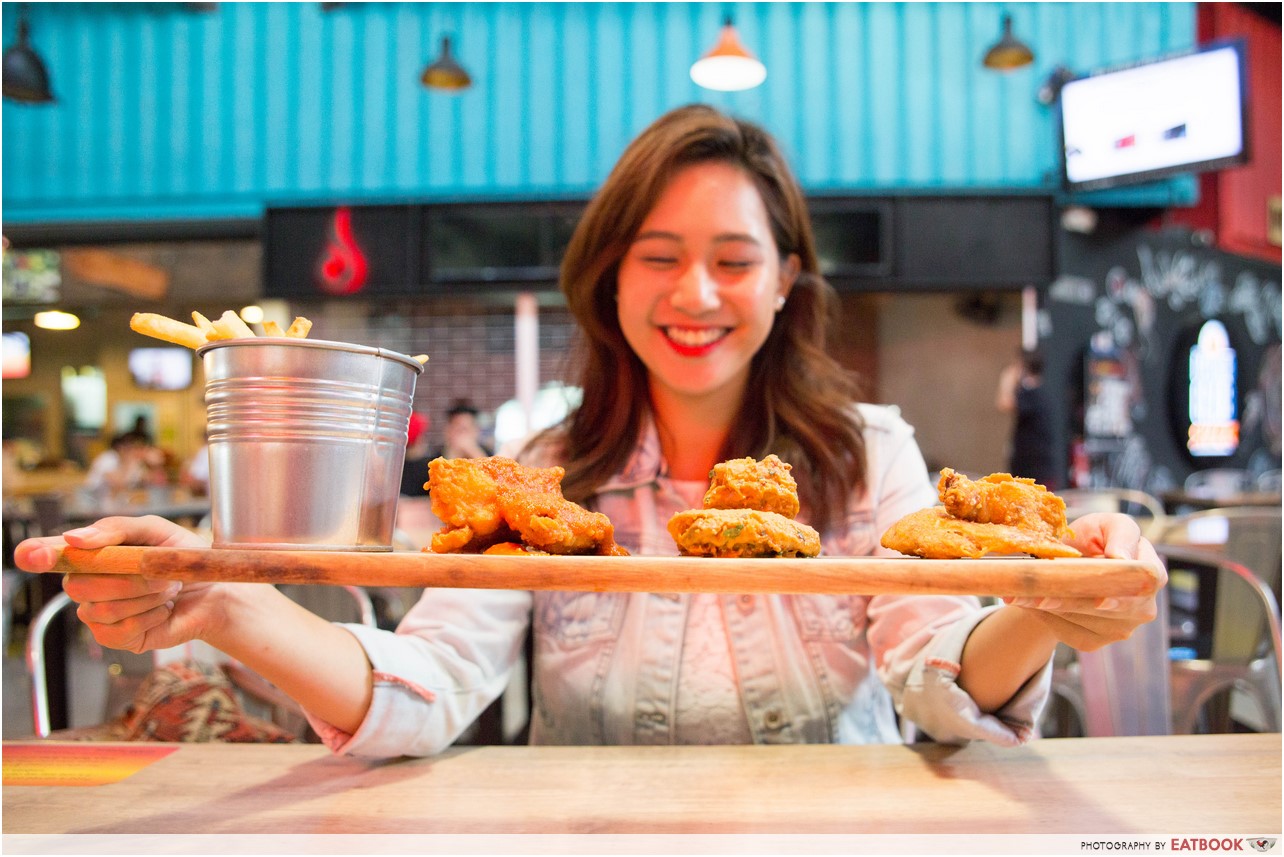 Two Wings' recipe takes regular fried chicken wings from any coffee shop a step further. Off the bat, you'll notice their Chicken Wings ($8.50 for four, $12.50 for six, $24 for 12 pieces) are larger than average as they're specially imported from Brazil. The wings' meaty flavour is enhanced by hints of spices and herbs from an overnight marination. Two Wings also serves Chilli Crab Wings and Salted Egg Yolk Wings for the same price, or you can just opt for the regular Heritage Wings that go best with their zesty, garlicky house-made chilli sauce.  
Address:  73A Ayer Rajah Crescent, #01-30, Timbre+ JTC LaunchPad @ one-north, 139957
Opening hours: Daily 11am to 10pm
Tel: 9667 0368
Website
Full list of outlets
---
5. As-Shifaa Cafe

---
People have different ideas on what makes good chicken rice – some prioritise the rice, others the meat, and some are bent on chilli sauce being the make-or-break. As-Shifaa Cafe's Nasi Ayam ($4.50) hits the right notes on all of them and satisfies just about every kind of chicken rice critic. You can choose between breast and thigh meat, and the batter coating the meat is solid but tears apart easily to reveal succulent flesh. You must have the chicken with their fragrant sambal, which is on the sweeter side and reminiscent of sambal ikan bilis.
Address: 304 Orchard Road, #06-52, Lucky Plaza, Singapore 238863
Opening hours: Mon-Sat 11am to 4pm
Tel: 9383 0329
Website
---
6. Ban Leong Wah Hoe Seafood
---
Har cheong gai is a classic zi char order. Most places have delicious renditions, but Ban Leong Wah Hoe Seafood's Har Cheong Gai ($8) is a stand-out. With a rich prawn paste marinade, crackling coating, and juicy bite, it's an addictive snack especially when eaten piping hot. These wings are so tasty they hold their own against the restaurant's star dishes such as chilli crab and black pepper crab.
Address: 122 Casuarina Road, Singapore 579510
Opening hours: Daily 5pm to 1:30am
Tel: 6452 2824
---
7. Yan Fried Bee Hoon

---
Remember the photo of PM Lee joining a queue at a hawker centre that went viral? Yan Fried Bee Hoon is the reason behind that. These PM-approved chicken wings ($1.20 each) tick all the boxes to make them some of the best fried chicken wings around with their delicate crust and moist meat. Plus, it's incredibly affordable too. Be warned of the ever-present queue, but on the bright side, that means your chicken wings will always be fresh out of the wok since the uncle has to churn them out so frequently.
Address: 85 Redhill Lane, #01-19, Redhill Lane Block 85 Food Centre, Singapore 150085
Opening hours: Tue-Fri 1pm to 9pm
---
8. No. 5 Emerald Hill

---
Chicken wings are one of the best bar bites if the mouth-watering fried chicken and beer combo that appears in so many K-dramas is any indication. Those not caught up in the K-mania can seek solace at No. 5 Emerald Hill for a pairing of Prawn Paste Chicken ($12+) with one of their classic martinis. Their chicken is packed with flavour from a marinade of shrimp paste and Chinese cooking wine.
Address: 5 Emerald Hill Road, Singapore 229289
Opening hours: Mon-Thur 12pm to 2am, Fri-Sat 12pm to 3am, Sun 5pm to 2am
Tel: 6732 0818
Website
---
9. Holland Village XO Fish Head Bee Hun Restaurant
---
Besides their namesake XO Fish Head Bee Hoon ($7/$12/$15/$20/$25-30) that is full of chunky fish slices, come to Holland Village XO Fish Head Bee Hun Restaurant for their wok hei-heavy San Lou Hor Fun ($6/$10/$15/$20/$25-30) and, of course, their Prawn Paste Chicken ($8). These wings are flavourful without being overly salty, and a squeeze of lime over them just makes it more compelling to reach for another piece, or really another five.
Address: 19A Dover Crescent, #01-05, Jumbo Coffee House, Singapore 131019
Opening hours: Daily 11:30am to 2pm, 5pm to 11pm
Tel: 6778 3691
---
10. Lola's Cafe
---
Despite the number of cafes that have popped up across the island, you'll still find resilient crowds outside Lola's Cafe queuing for their tasty fare. To go with your brunch specials, order a plate of Honey Paprika Crispy Wings ($10) that nicely balances the sugary honey with a bit of heat from paprika. Don't be embarrassed to mop up every bit of the sauce left on the platter – we won't judge.
Address: 5/7 Simon Road, Singapore 545893
Opening hours: Sun-Thur 10am to 11:30pm, Fri-Sat 10am to 12am
Tel: 6284 0349
Website
Menu
---
#T.G.I.Fry-day
---
Fried chicken is a crowd pleaser, so be sure to jio your friends to try out the eateries on this list. There can never be too much fried chicken and we're always on the lookout. Let us know where your favourite place to have fried chicken is by leaving a comment below.