Tipsy Panda at Woodlands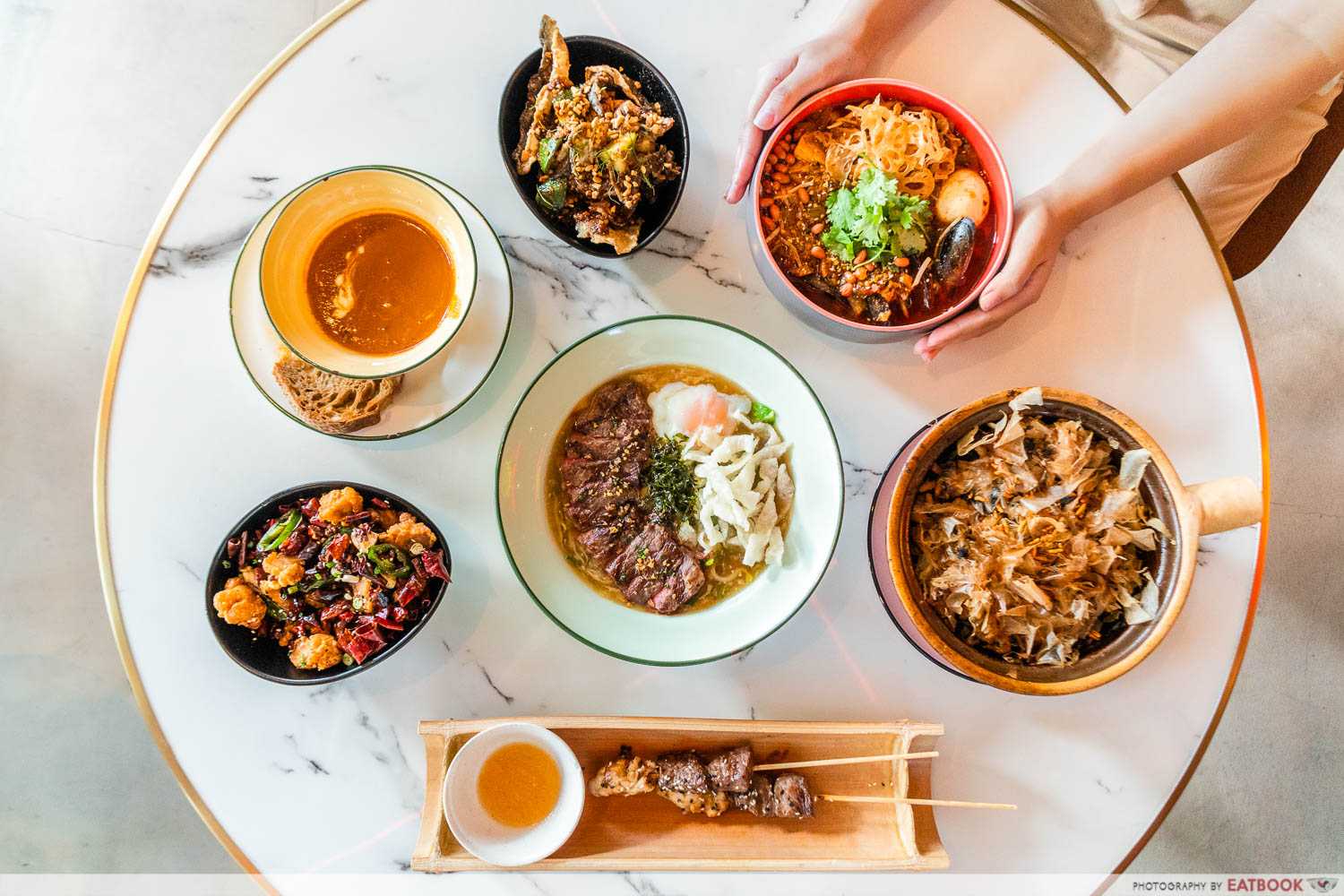 Tipsy Collective is a multi-concept group with a handful of dining concepts in Singapore, including the popular tropical-themed Tipsy Flamingo at Raffles City. Tipsy Panda, located in Woodlands, is another new addition to the list, serving Asian fusion dishes including moonlight truffle beef hor fun, mala noodles, steak and more.
Food at Tipsy Panda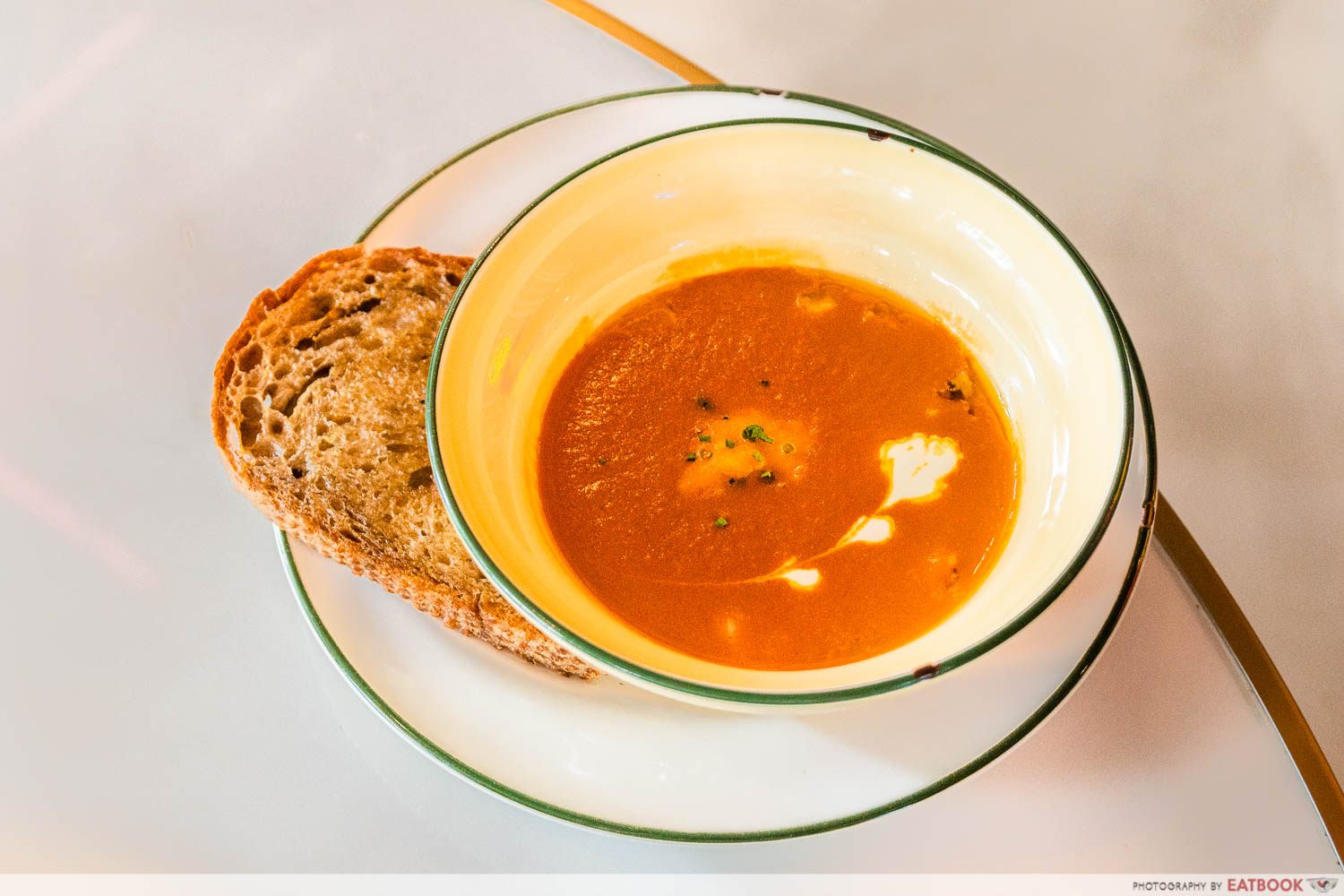 Our first course was the Lobster Bisque ($14++). Aside from lobster pieces, the bisque also included prawns, mussels, and uni.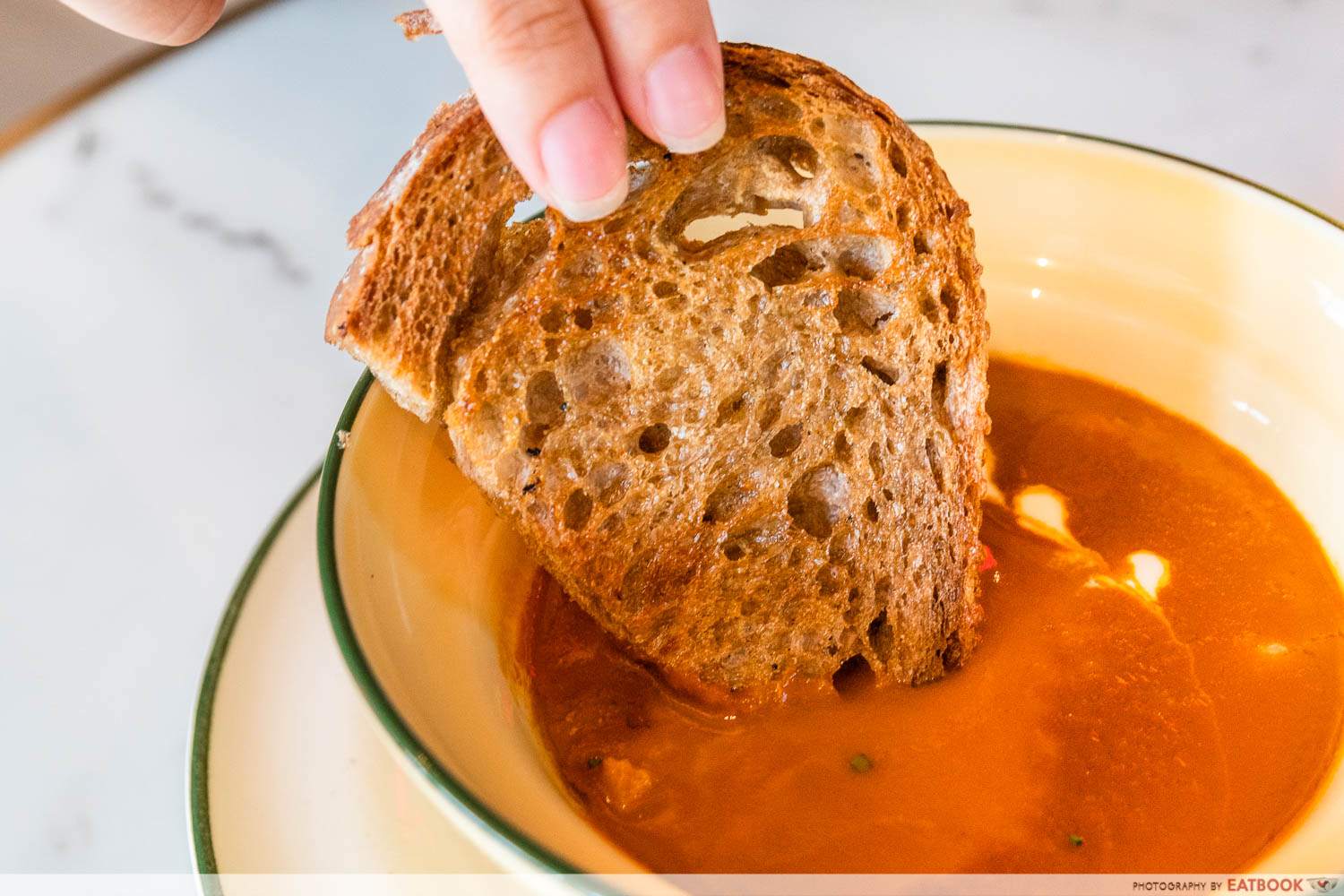 Personally, the flavours were a little intense, but for those who enjoy seafood, this dish might appeal to you. The bisque was also served with a toasted slice of bread to soak up all the strong seafood flavours.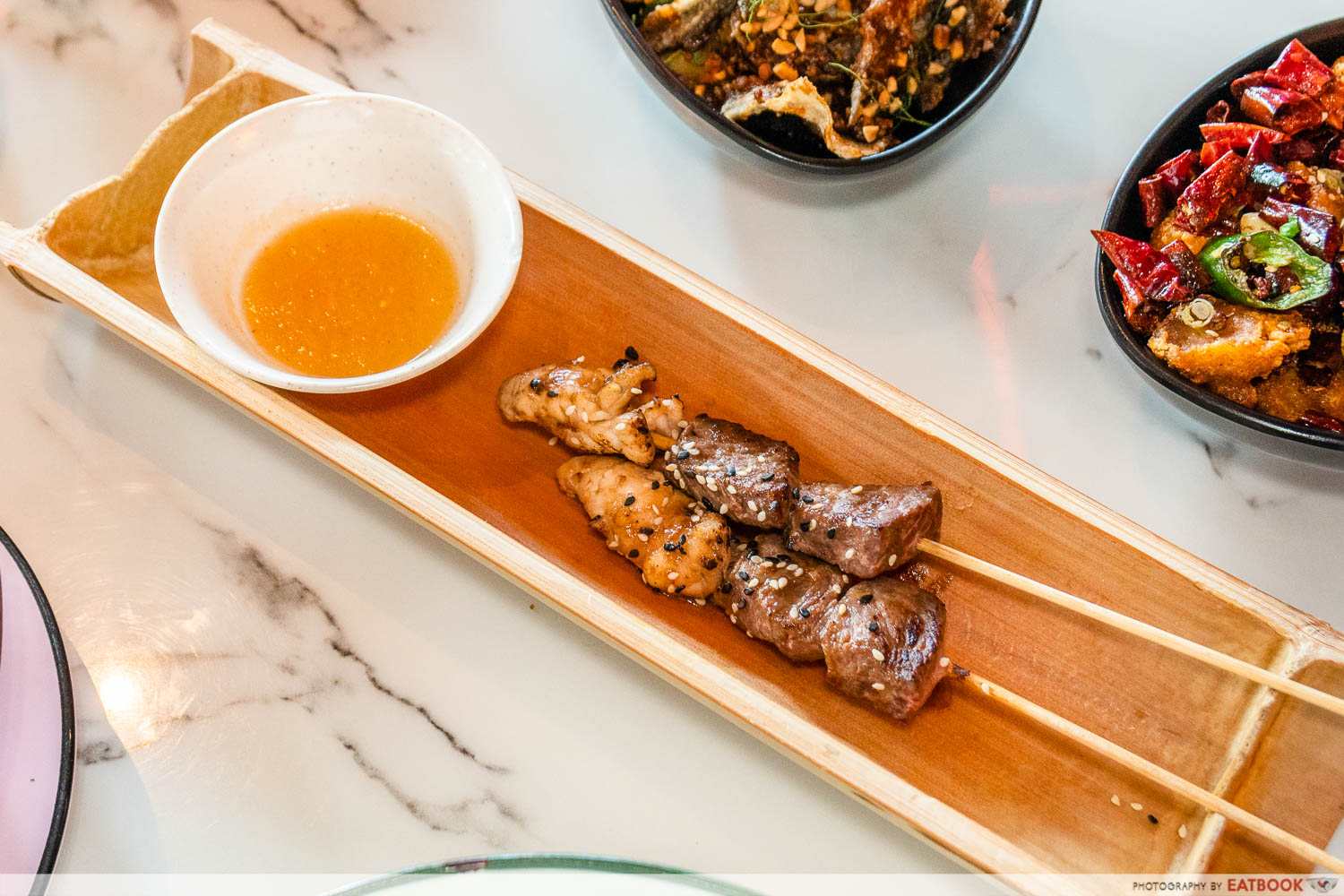 We also ordered the Steak & Lobster ($11++), served in a satay stick alongside a garlic dipping sauce. The beef and lobster were both grilled to tender perfection. There was also a smoky taste, which went well with the garlic dipping sauce. However, I felt that this starter was rather pricey.
As Tipsy Panda is a bar concept restaurant, they serve sides that go well with alcoholic drinks. You can pick any two side dishes and pay only $18++. We got the Crispy Fish Skin with Rojak Dressing and Szechuan Mala Karaage. 
The fish skin came in a reasonable portion, but unfortunately, it was no longer crispy after our lengthy shoot. While they were generous with the rojak dressing, it was a little too sweet for me. Nonetheless, I thought that it was a clever idea to switch up the components of a traditional rojak by using fish skin as an alternative. 
Lim Bo Fruit Rojak Review: Malaysian-Style Fruit Rojak With 40 Years Of History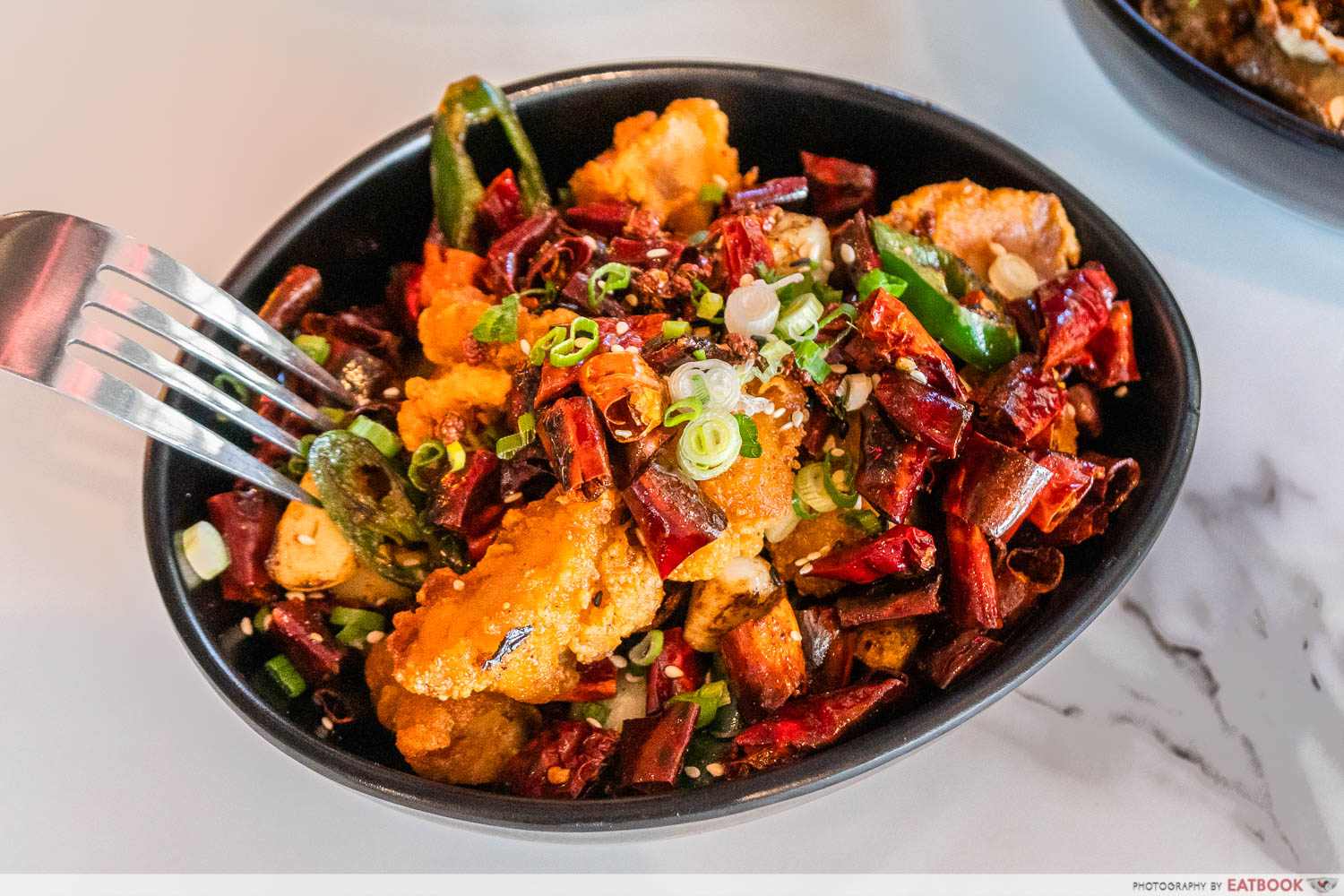 My favourite, on the other hand, was the karaage. Each piece of chicken was heavily marinated with mala seasonings, rendering tender, juicy, and flavourful meat. Although it was a little too salty for me, I can see how this would be a good side dish to pair with an alcoholic drink.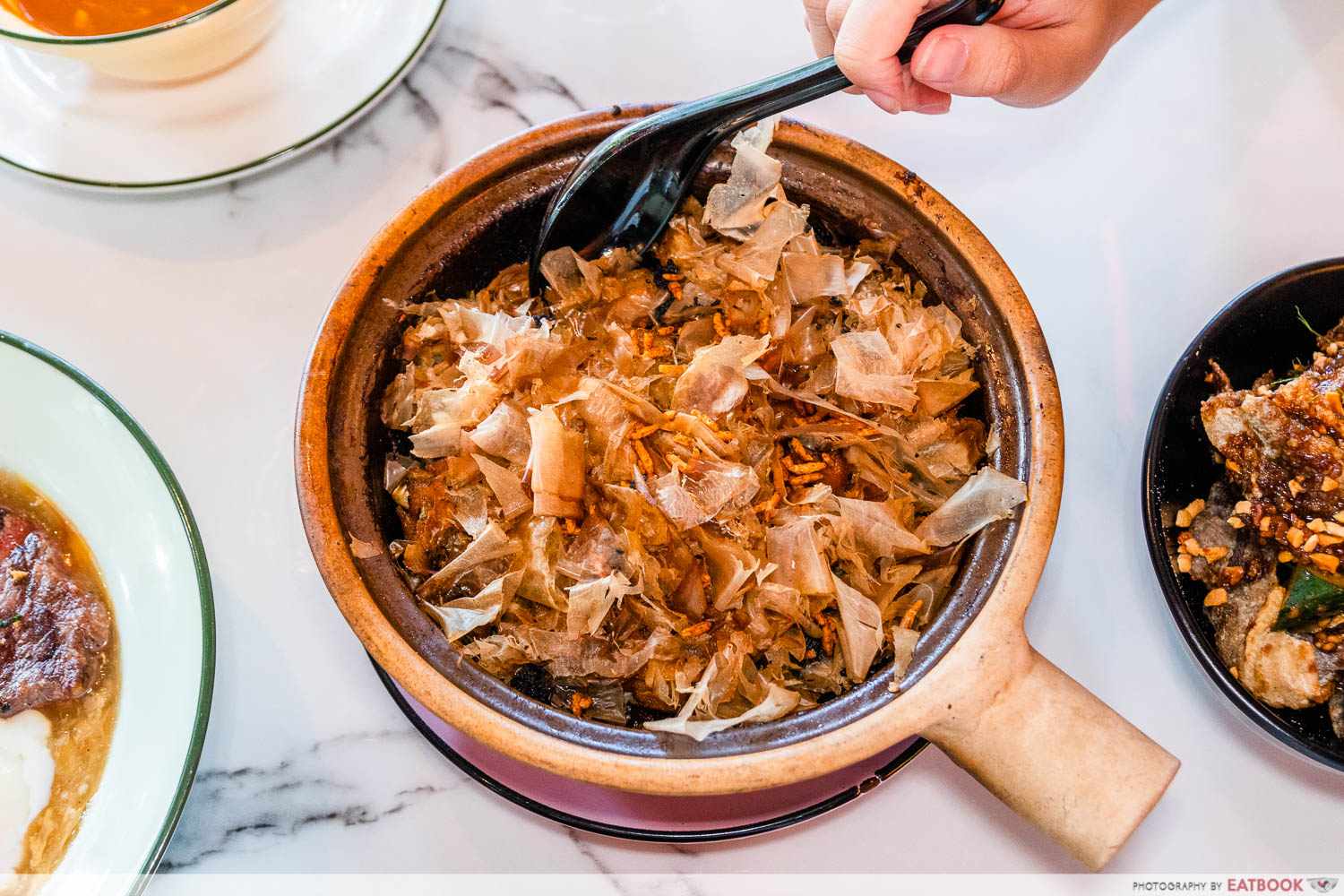 We ordered the Anago Claypot Rice with Bonito Flakes & Spicy Gochujang Rice Puff ($32) as one of our main courses. The portion was huge; I assumed it could be shared among two to three people. The claypot rice was infused with anago, also known as salt-water eel, and topped with bonito flakes and spicy gochujang rice puffs.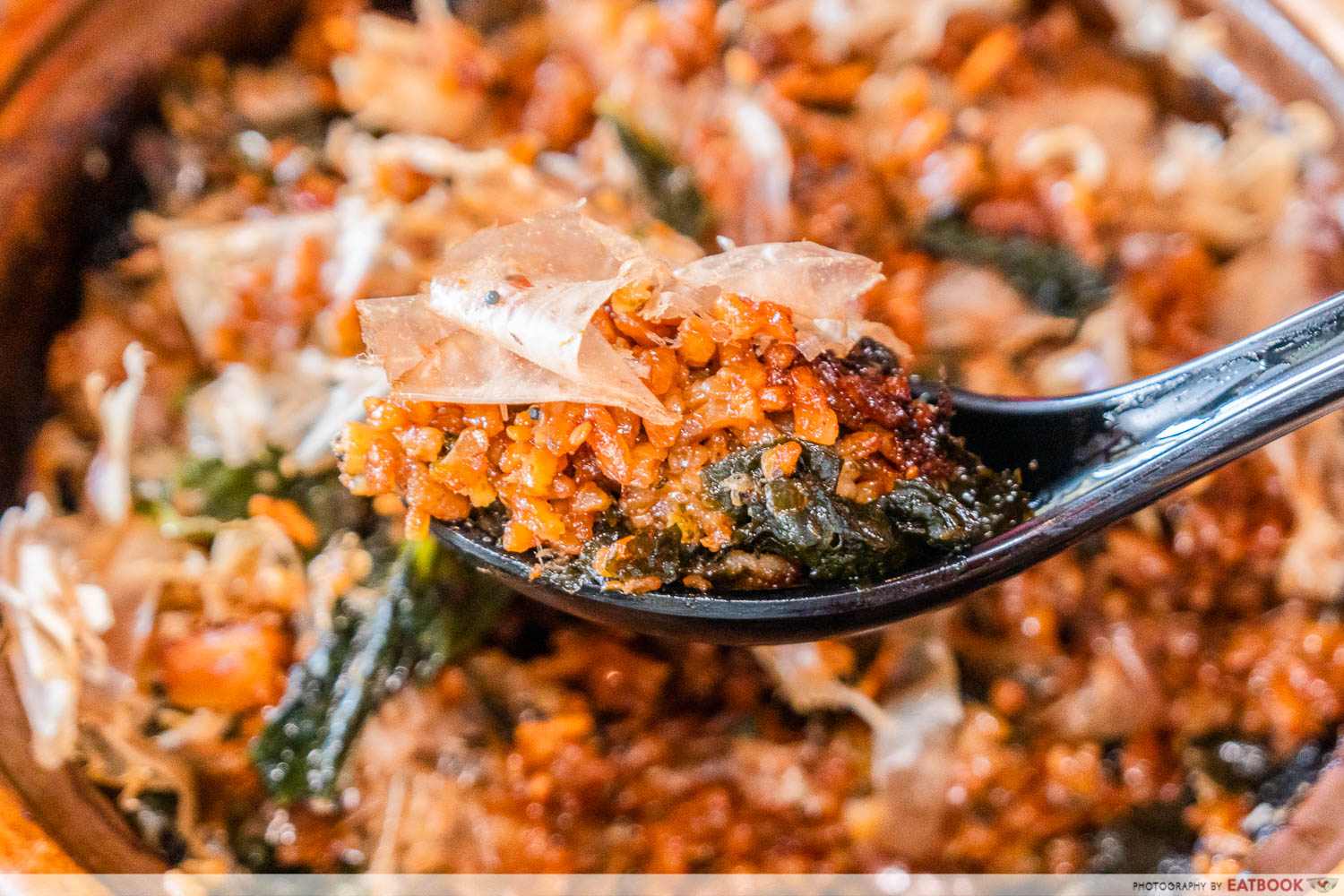 The bonito flakes brought a touch of sweetness to the savoury anago-infused rice. The rice puffs added a bit more texture as well, but since this dish was already packed with flavours, we couldn't really taste the rice puffs.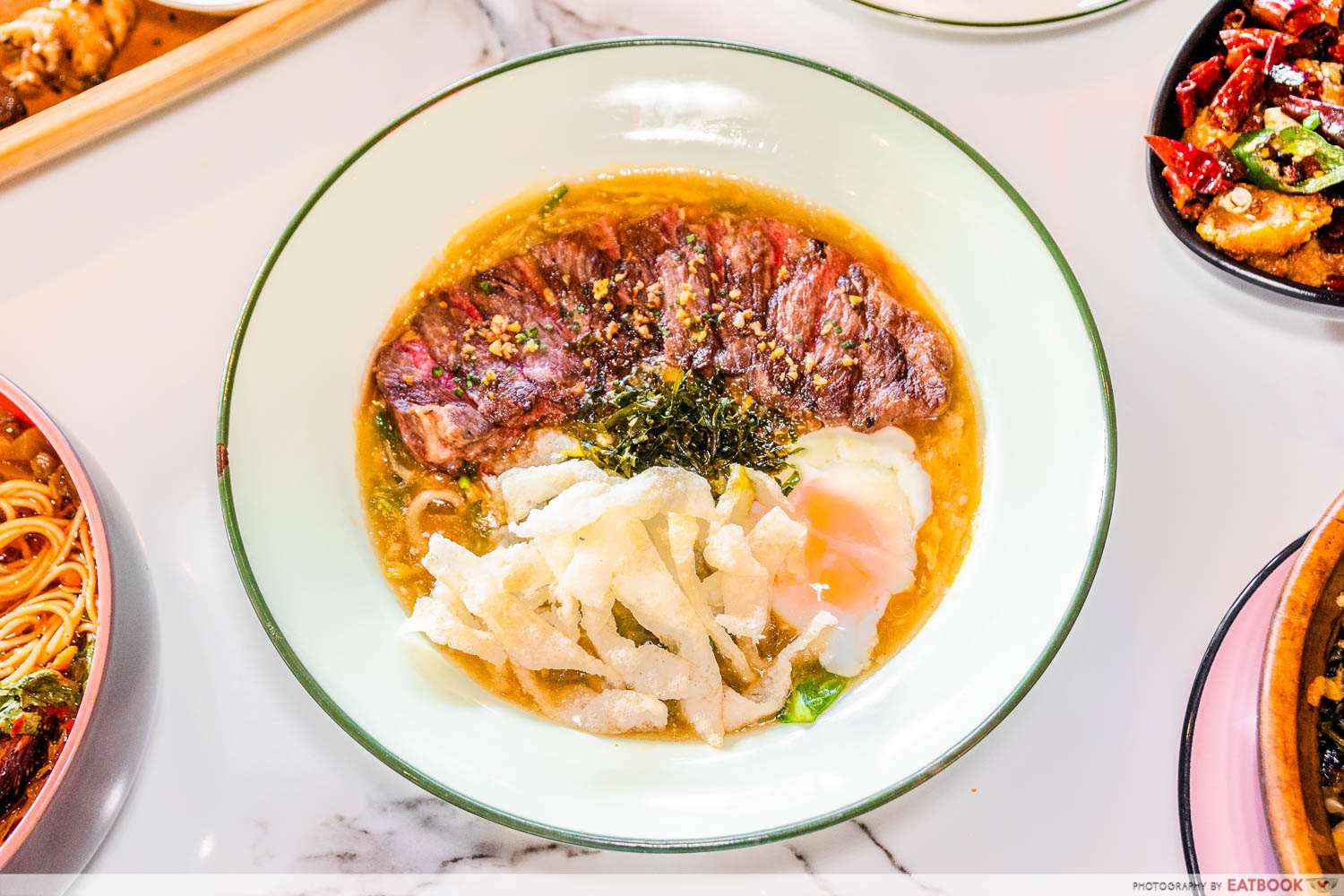 When the Moonlight Truffle Beef Hor Fun ($23) was brought to our table, we got a whiff of the truffle fragrance right away as it was quite strong. This dish contains beef, but it is also available with grilled chicken if you prefer. Unlike the usual moonlight beef hor fun, which includes a raw egg yolk in the centre of the dish, this version featured a soft-boiled egg on the side instead.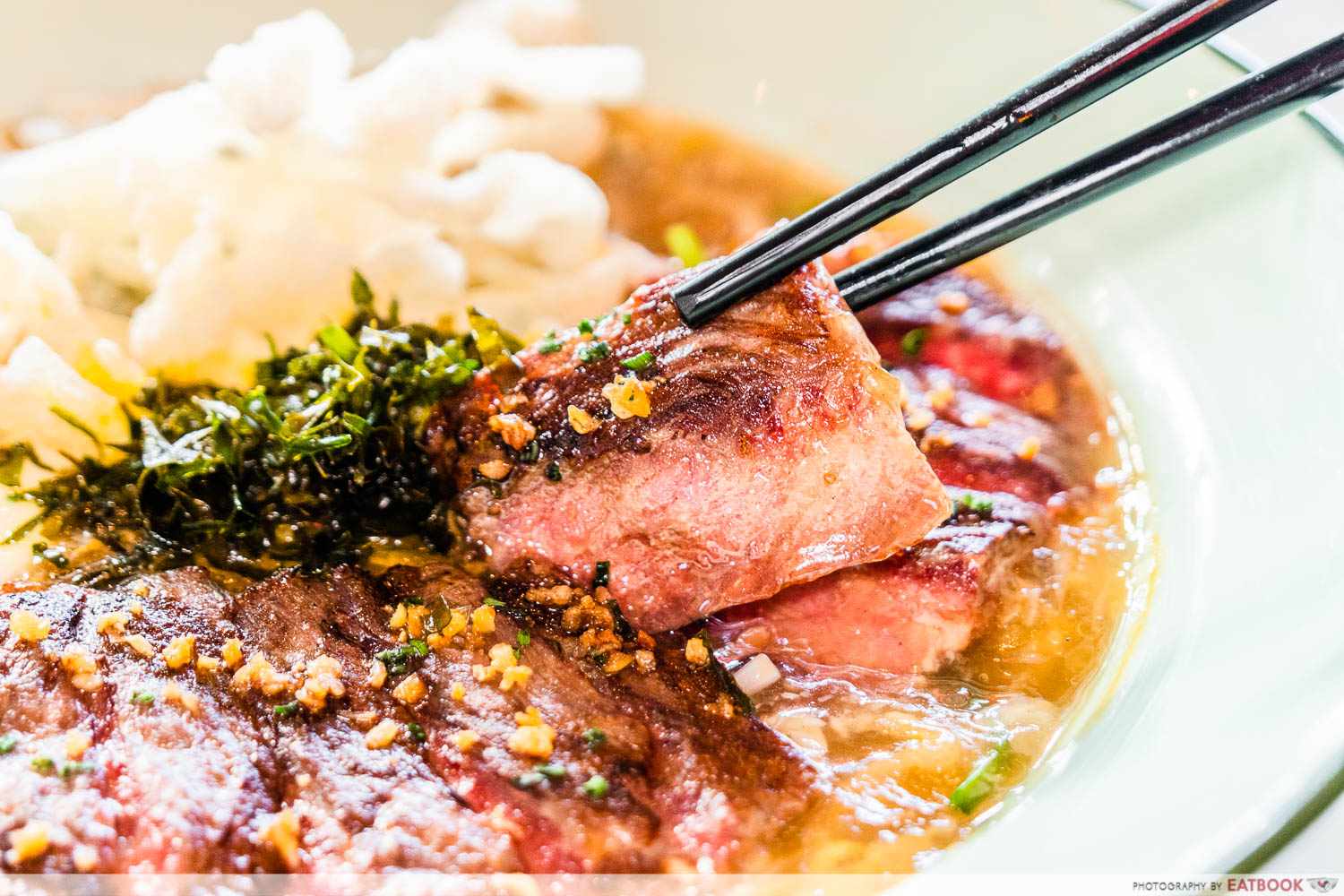 On top of the hor fun, there was a rice noodle crisp, but it became soggy after our long shoot. The beef, which was tender and succulent with a slightly pinkish centre, complemented the truffle-infused hor fun, adding flavour to the dish.
Kuroshiro Review: New Hawker Stall Selling Cheap White Curry Rice From Only $5 At Marsiling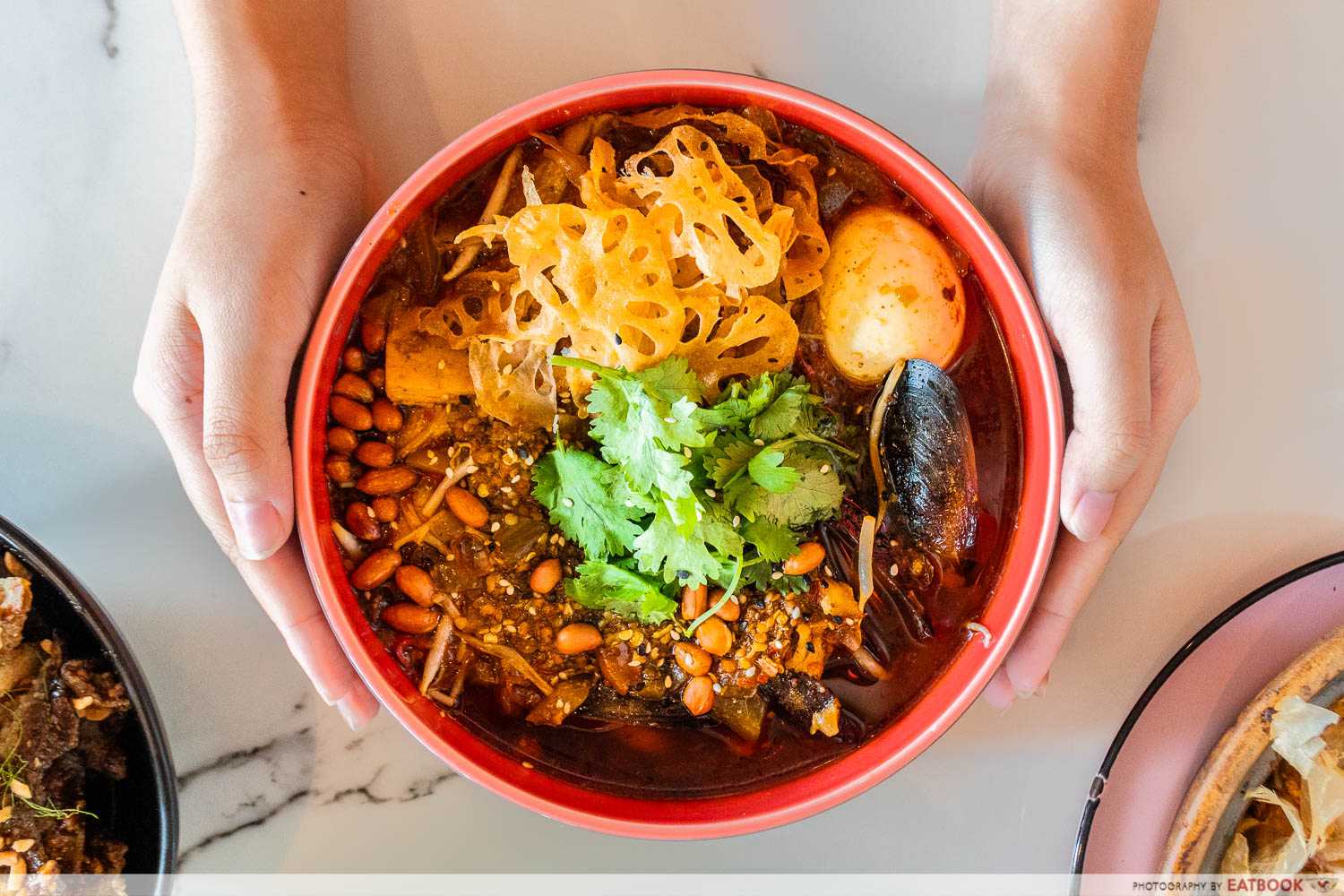 As fans of spicy food, we also got the Mala Szechuan Panda Noodles ($23). There are three levels of spice to choose from—level one, level two, and level three. We went with level three as both my colleague and I can handle spice. The dish was brimming with ingredients such as ramen noodles, seafood, and crispy lotus root.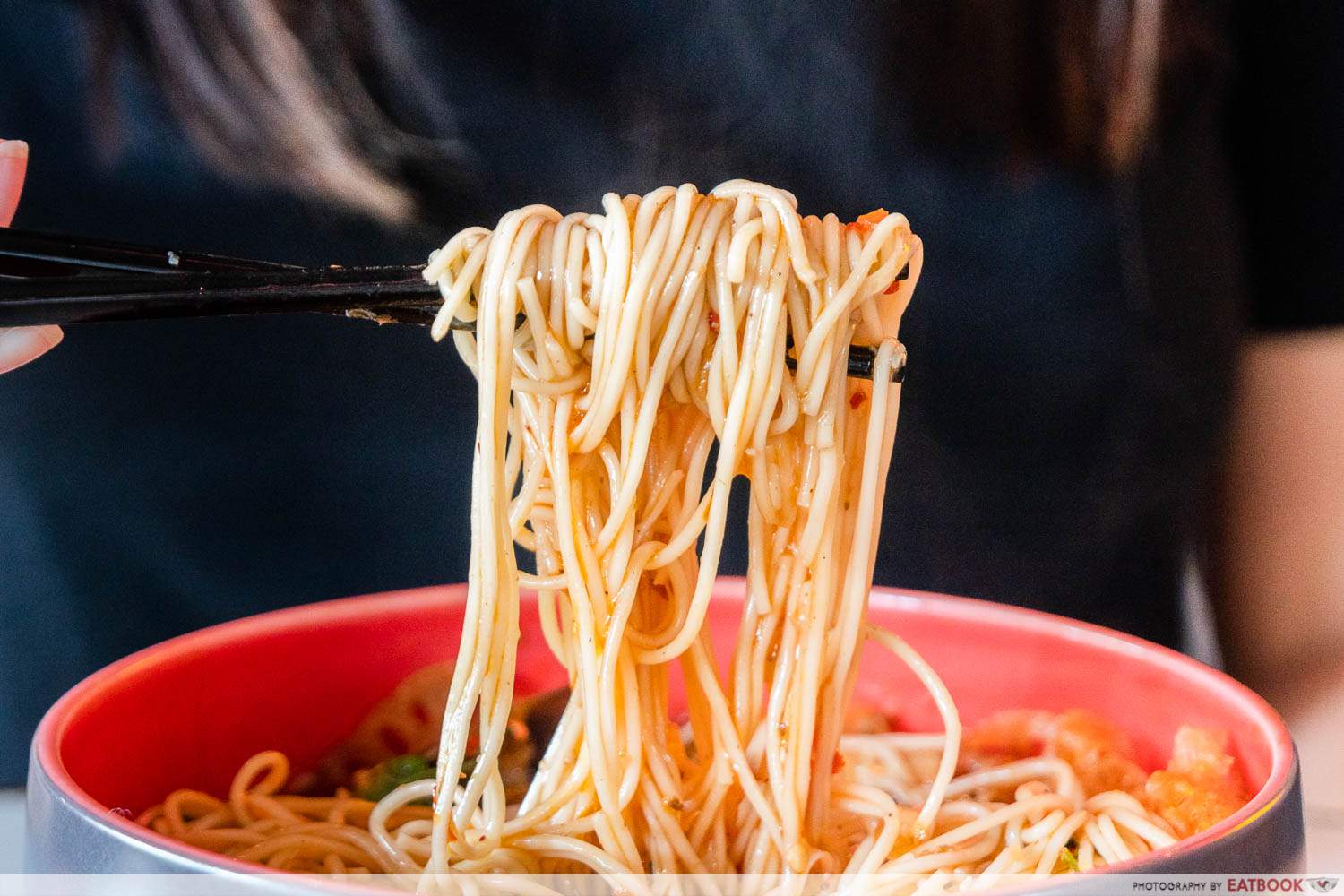 As compared to regular mala, which tends to be spicy at first with a numbing sensation at the end, this dish was instead the reverse. The ramen noodles were cooked to al dente, which went well with the spicy broth. The portion size was also quite large, making it an excellent dish for sharing.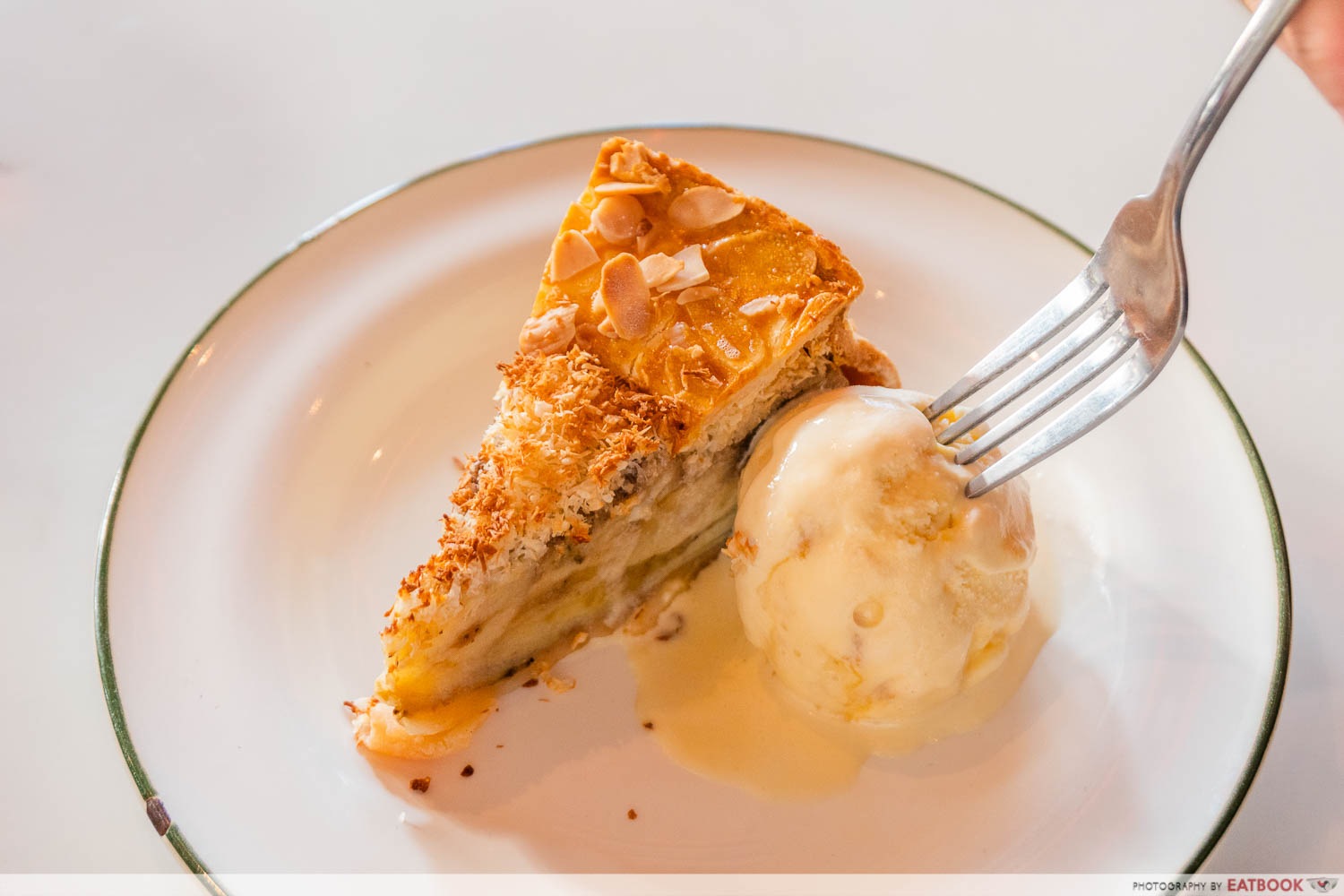 We finished our meal with their Housemade Banana Pie ($14), which was highly recommended by the staff. According to them, the pie is baked fresh every day and there is only a limited quantity available each time.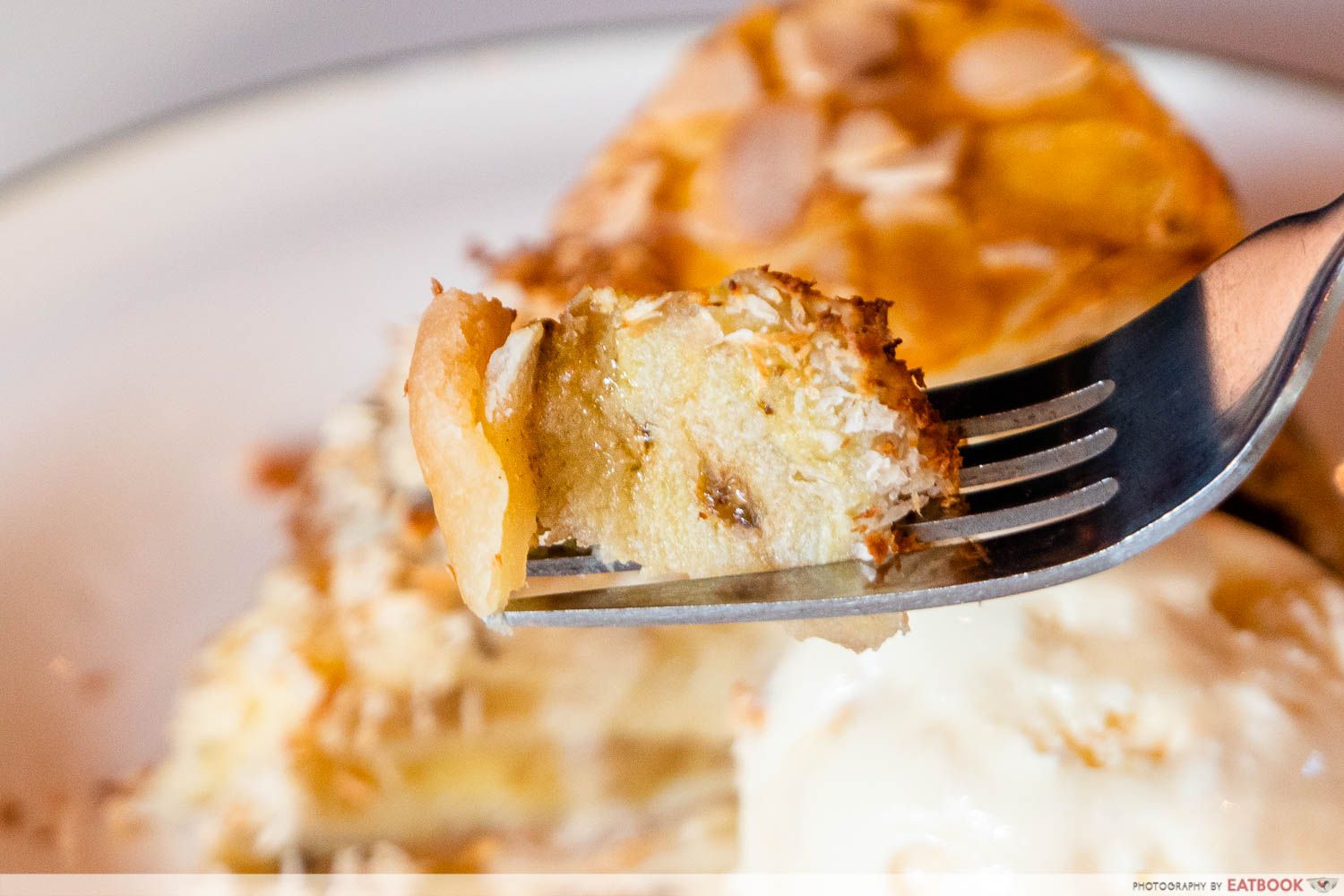 The banana pie was served with a scoop of ice cream and topped with grated coconut and almond flakes. There were chunks of banana in the pie, which were thankfully not mushy so there was still some bite. It also wasn't overly sweet, and the buttery base added a pleasant hint of savouriness.
Ambience at Tipsy Panda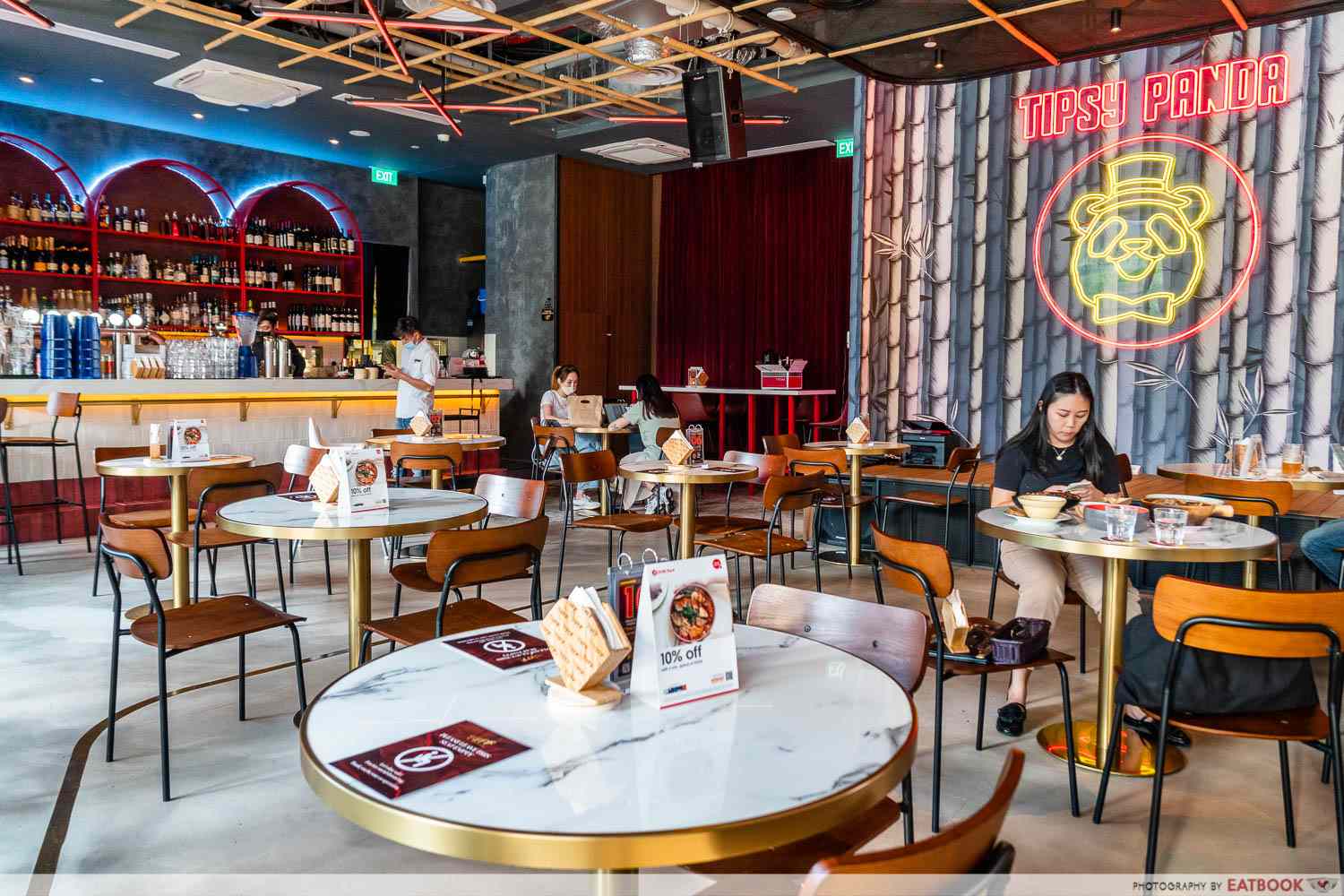 Tipsy Panda is located at Woods Square, which is a five minutes walk from Woodlands MRT Station. The restaurant is easily identified by its neon pink signage, and the spacious dining area makes it an ideal place to gather with a group of friends.
We were there for a late lunch, so there wasn't a crowd. However, as the evening approached, there were quite a few people queuing up to get into the restaurant. I anticipate that this place will be crowded during dinner time, so be sure to arrive early if you plan to dine here.
The verdict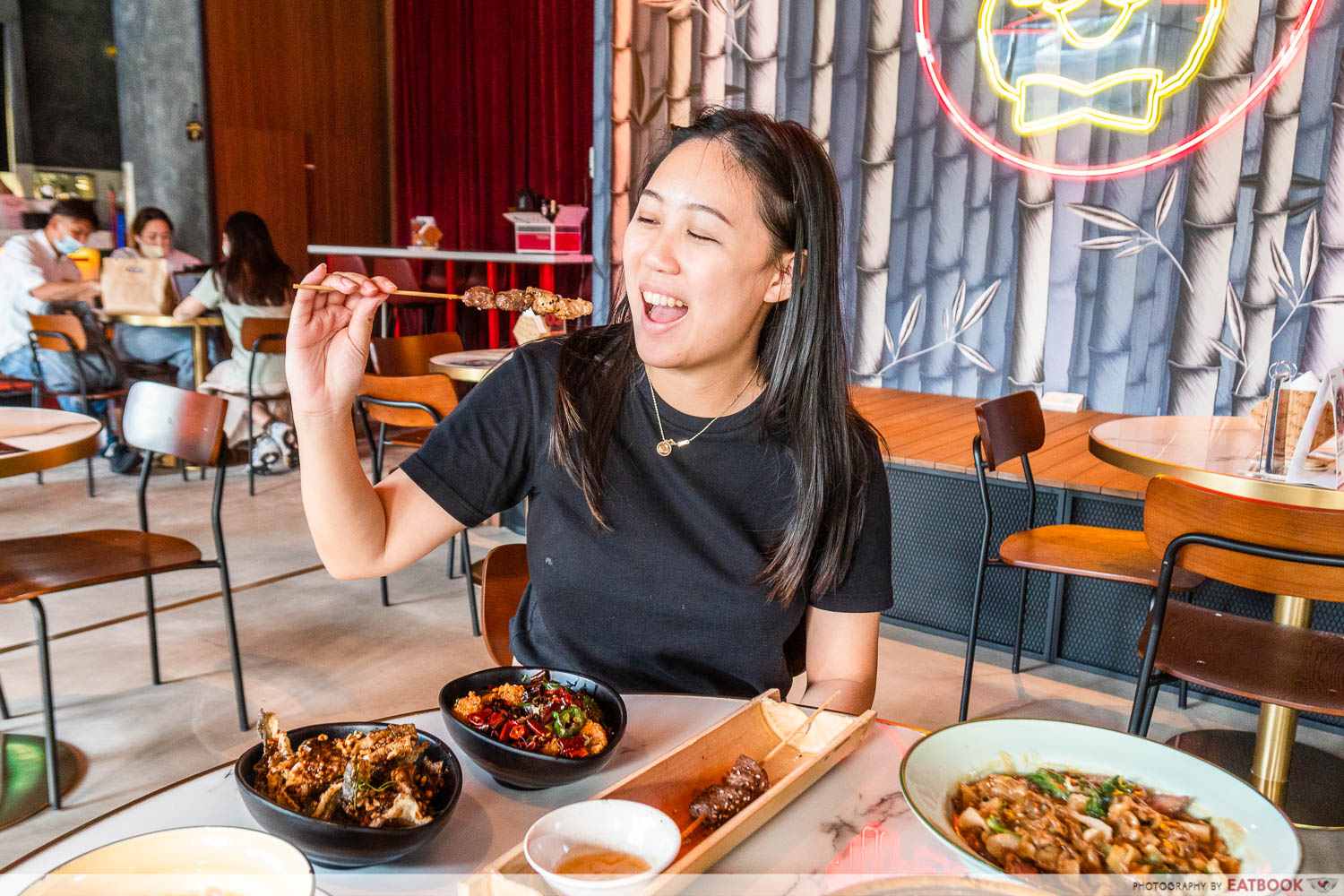 Be prepared to splurge as the majority of the items are priced from $10. Most of the items we tried impressed me, though some were a little pricey. However, given the quality of the food, I felt that the prices were justifiable. Overall, it's a great place to hang out with a group of friends, and I can see myself returning here again.
If you're looking for more food recommendations around Woodlands, check out our Burgerprek review for burgers topped with sambal. You can also read our Ma Ma Spin Pot review for conveyor belt hotpot.
Ma Ma Spin Pot Review: Garden-Themed Conveyor Belt Hot Pot At Woodlands From $5++
Address: 6 Woodlands Square, #01-01, Singapore 737737
Opening hours: Daily 12pm to 10:30pm
Tel: 8028 1580
Website
Tipsy Panda is not a halal-certified eatery.
Photos taken by Tan Zi Hui.
This was a media tasting at Tipsy Panda.
Tipsy Panda Review: Mala Chicken Karaage, Moonlight Truffle Beef Hor Fun And More At Woodlands
Tipsy Panda Review: Mala Chicken Karaage, Moonlight Truffle Beef Hor Fun And More At Woodlands -

8/10
Summary
Pros
– Accessible location
– Rice and noodle dishes were well-executed
Cons
– Steep price
Recommended dishes: Anago Claypot Rice with Bonito Flakes & Spicy Gochujang Rice Puff ($32), Housemade Banana Pie ($14)
Opening hours: Daily 12pm to 10:30pm
Address: 6 Woodlands Square, #01-01, Singapore 737737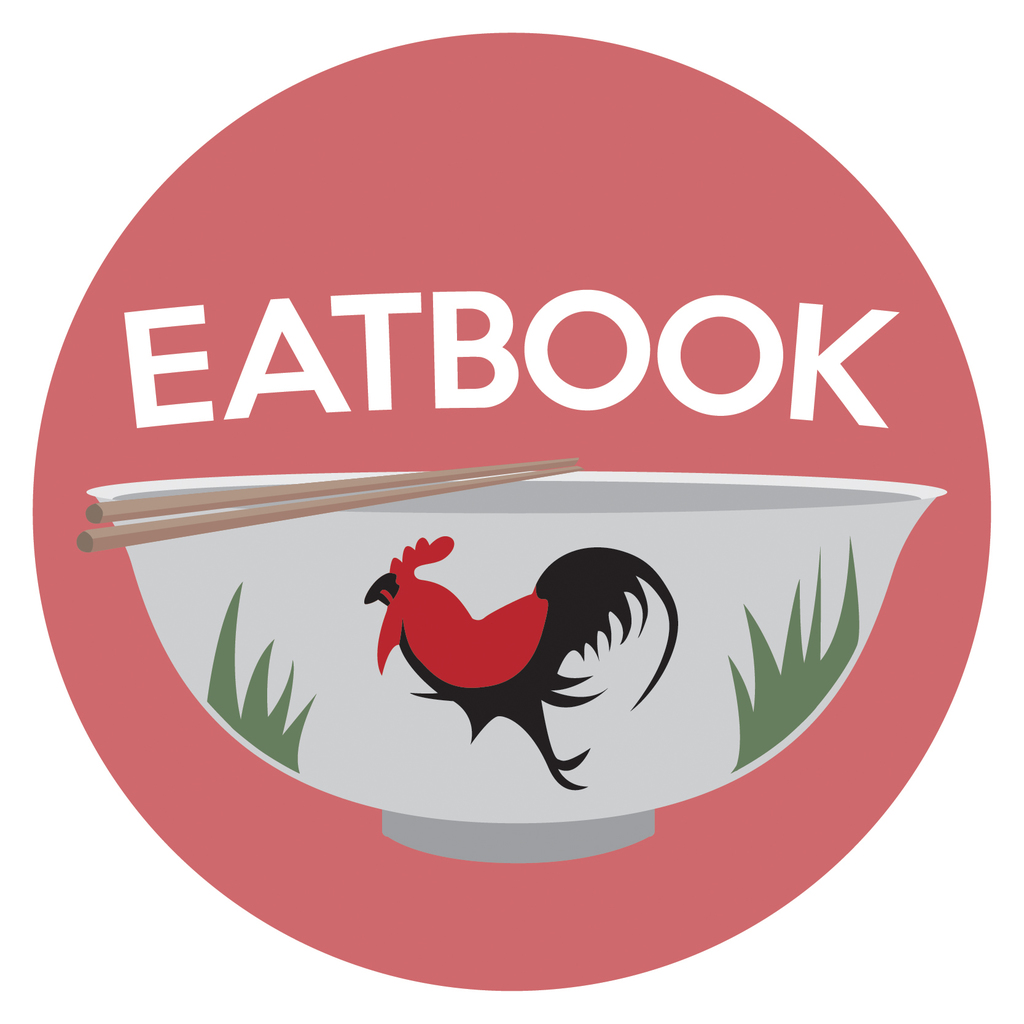 Drop us your email so you won't miss the latest news.