Tipsy Flamingo at Raffles City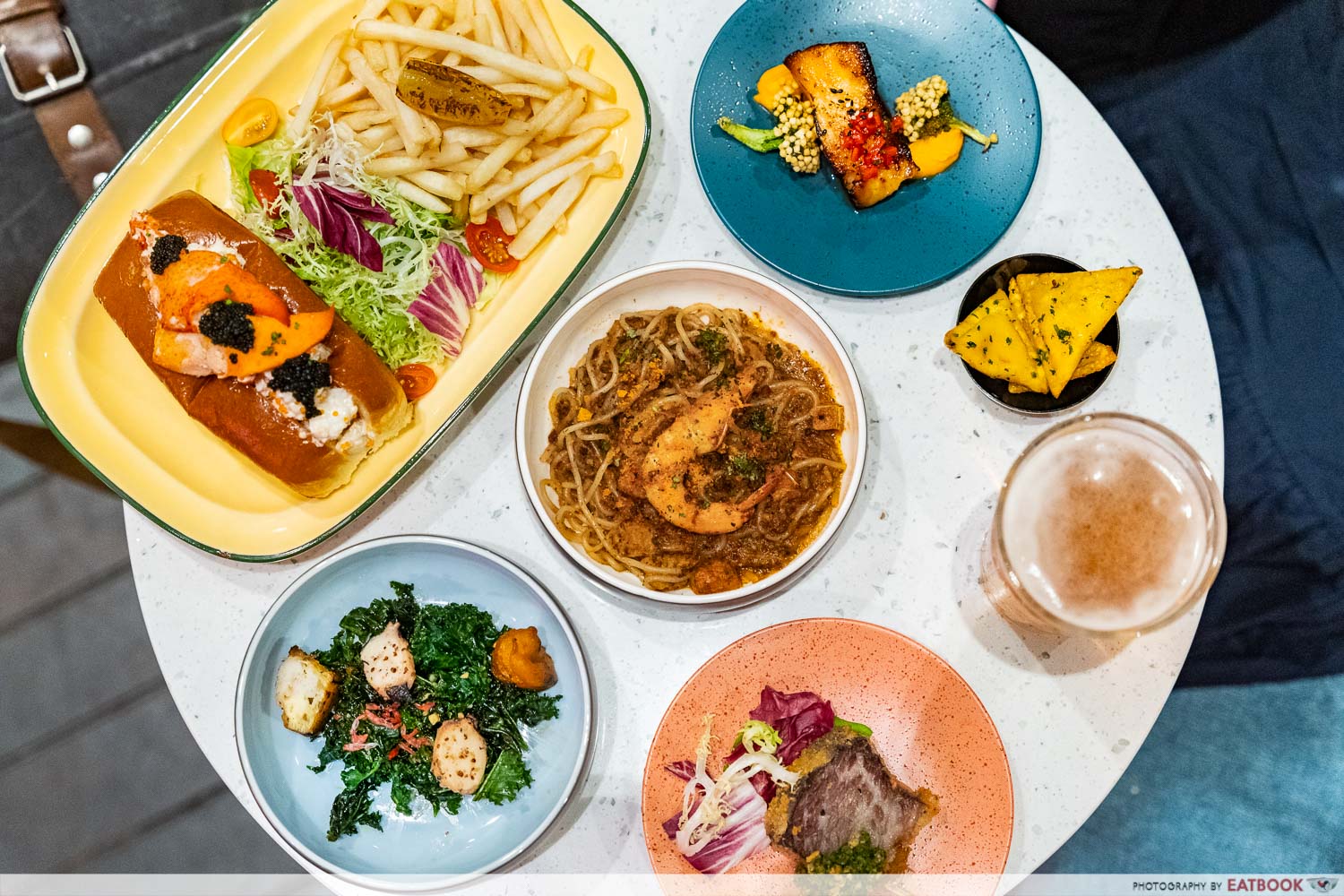 All decked out in a signature pink, the poolside-themed bar, Tipsy Flamingo, is the hottest talk of the town thanks to its bright neon storefront, extensive menu, and selection of artisanal cocktails. In collaboration with celebrity sweethearts Pierre Png and Andrea De Cruz, multi-concept group Tipsy Collective has just opened its doors to their latest addition at Raffles City today. 
Food at Tipsy Flamingo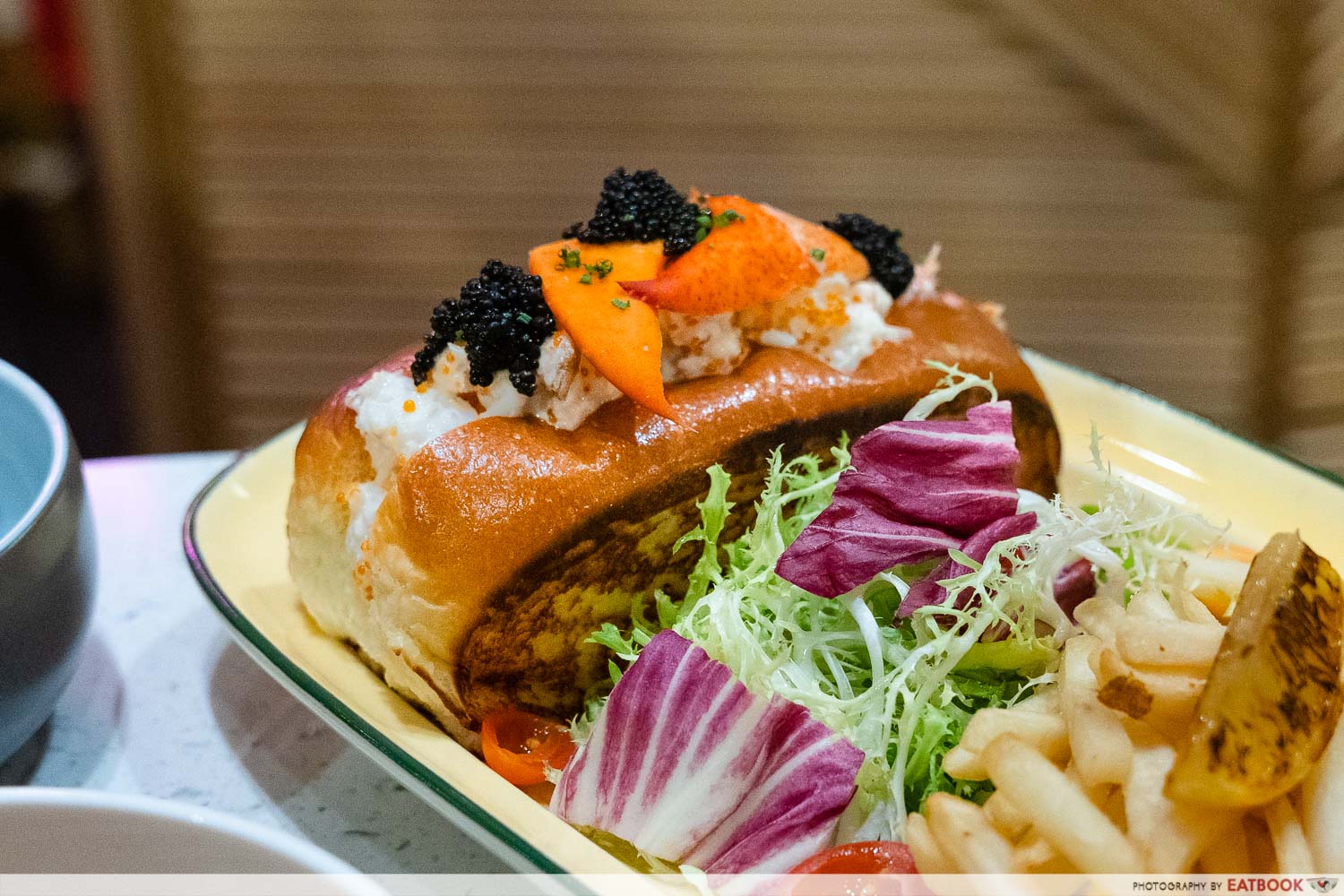 Going hand in hand with the pool-side vibes, the easy—but atas—combo of bread and seafood seems to be found across the signature dishes at Tipsy Flamingo. We started off with Tipsy's Lobster & Crabmeat Roll ($29++), which came with a mesclun salad and truffle fries.
The roll came with three succulent chunks of lobster claws atop, as well as a sprinkle of smoked herring caviar that complemented the fresh, juicy meat.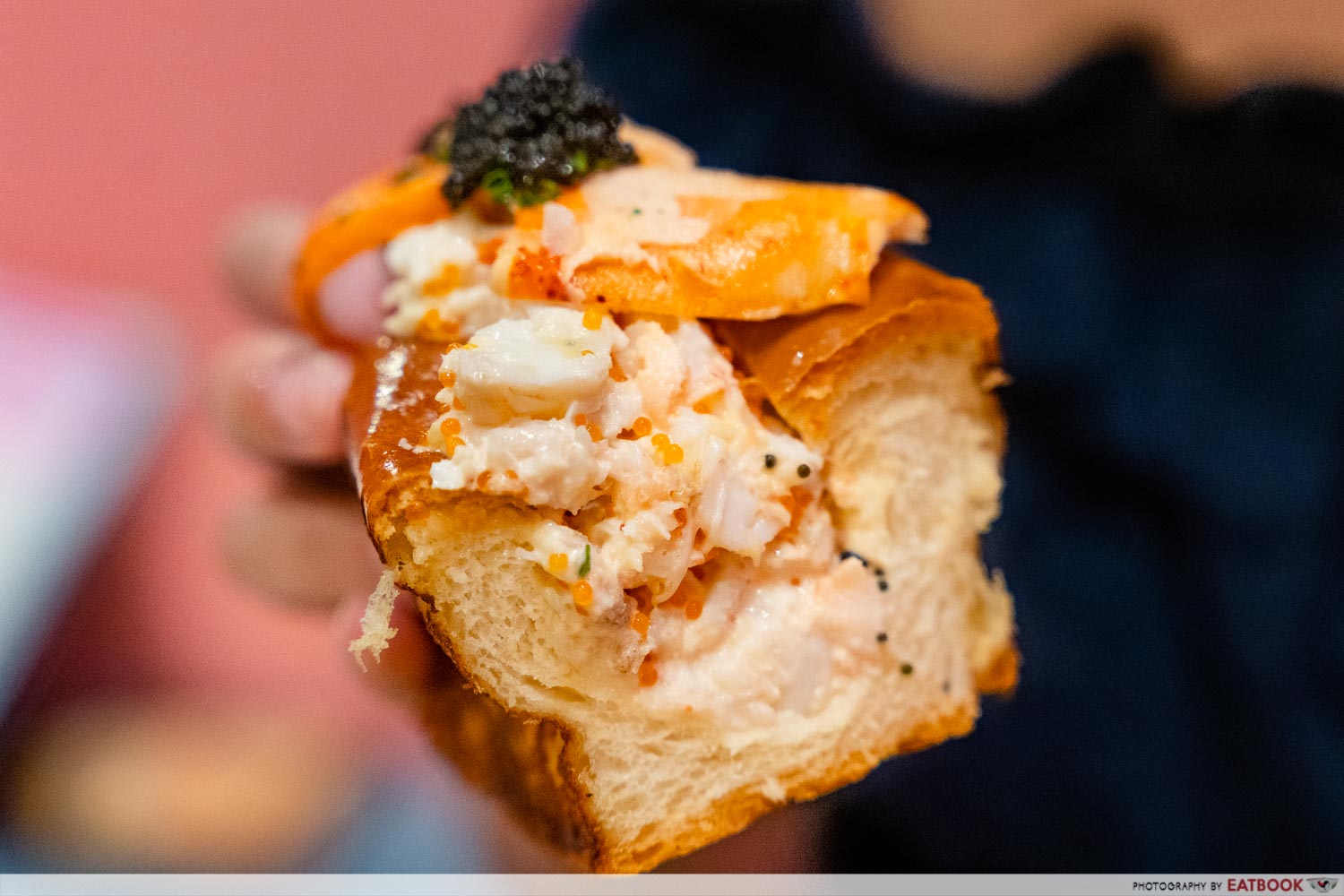 Sandwiched between soft and buttery brioche buns, there was also a heaping portion of shredded crab meat with a rich mayonnaise dressing. The unctuous dressing successfully brought out the natural sweetness of the crab meat, making every bite decadent. 
With a Burger & Lobster outlet just a stone's throw away, I couldn't help but compare the two. The lobster roll set with fries at Burger & Lobster will set you back $6++ more than the one at Tipsy Flamingo, but instead of a crab mayo filling, you're getting purely lobster dressed in a simple butter sauce. 
Another must-try that's friendlier on the wallet is Tipsy's Ebi Katsu Sando ($18++). Also served between heavily toasted brioche slices, the panko-crusted prawn cutlet is paired with a slaw on each side. The deep-fried cutlet was crunchy on the outside, and the king prawns was nice and springy on the inside. The creamy and mildly spicy mentaiko also added much-needed warmth and depth to the sandwich. 
This is one I highly recommend, as the price is right and the flavours are on point.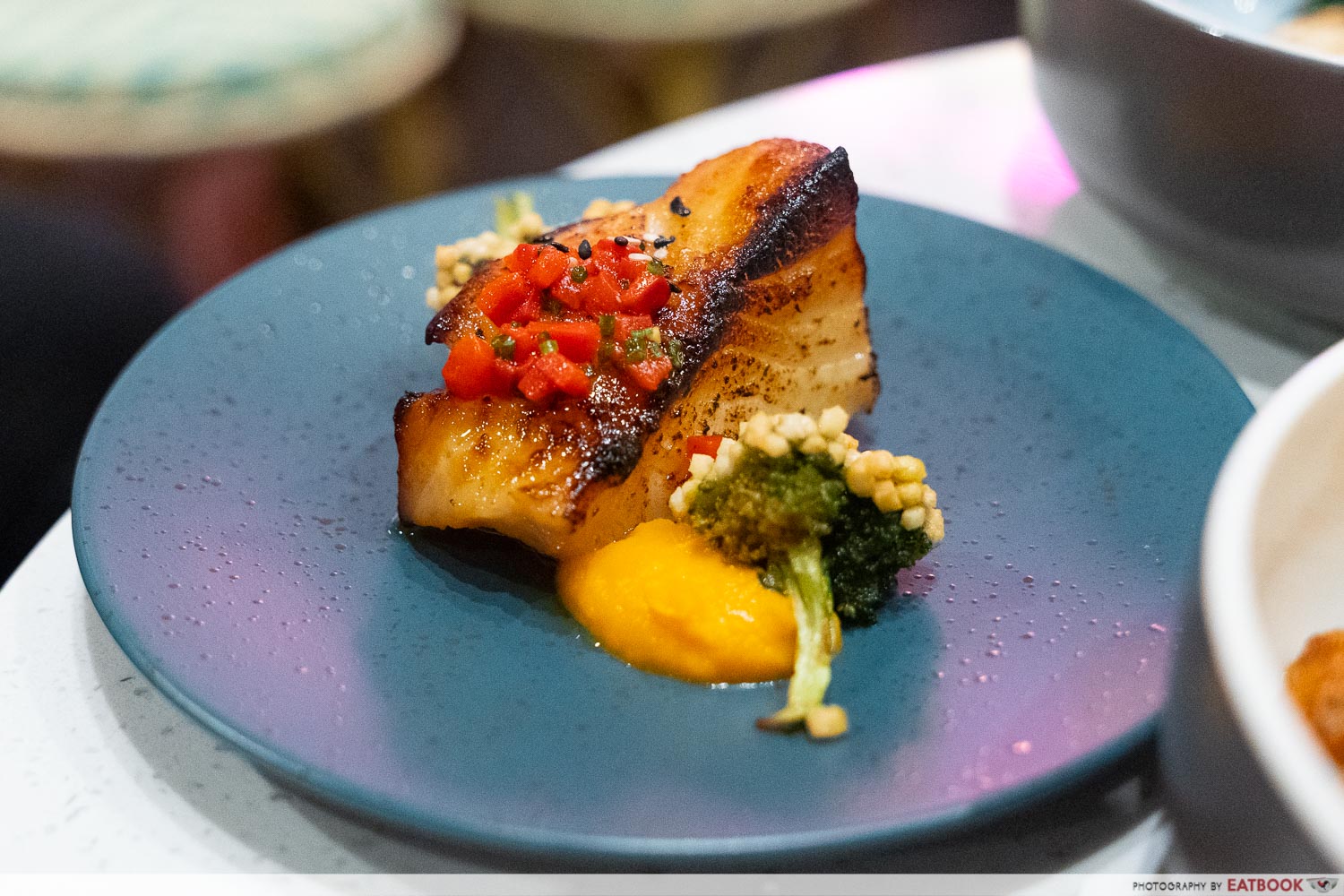 If you're looking for something to share, order from 'Flamboyant Mains' on the menu, which features another of my favourites from the bunch—the Baked Miso Codfish with Pumpkin Foam ($34++). Do note that the fish in the picture is just a tasting portion, as the dish itself is much bigger than what was served at the media tasting!
This codfish came thicc with a double 'c' and each mouthful of it was a bliss of sweet umaminess. The cod is first marinated with red miso, and baked till a delicious caramelised sear forms, thanks to the Maillard reaction. What makes it shine even more are the dollops of sweet pumpkin foam dotted around the plate as well.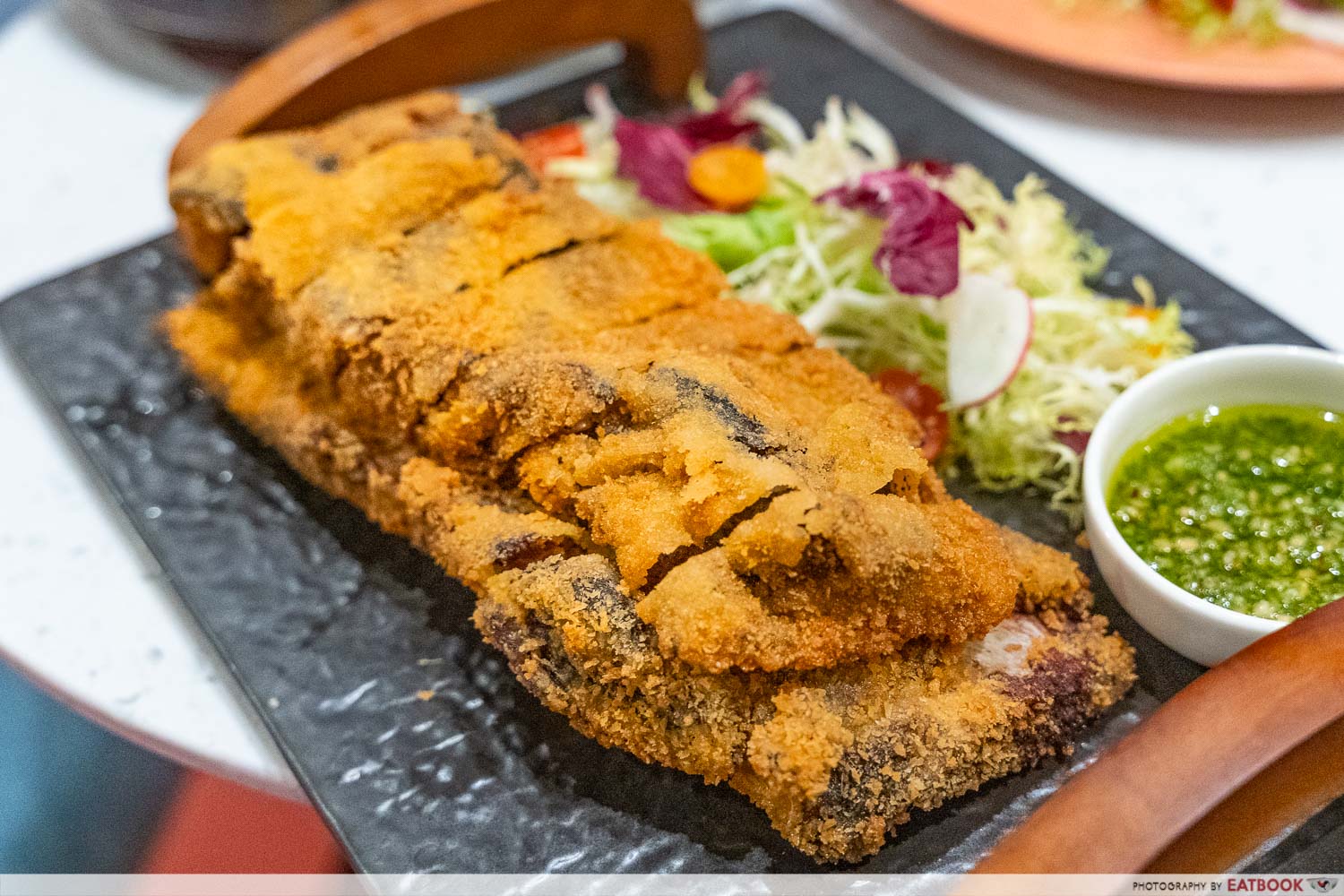 Those who enjoy fattier cuts of beef will be in for a treat with their Fried Beef Rib ($60++ for 650g). The huge slab is marbled throughout and sports a really crunchy layer of batter after deep frying. While the dish was a tad too indulgent for me, I really appreciated the Gremolata sauce on the side, as it provided a fresh respite of parsley and lemon from the greasy protein.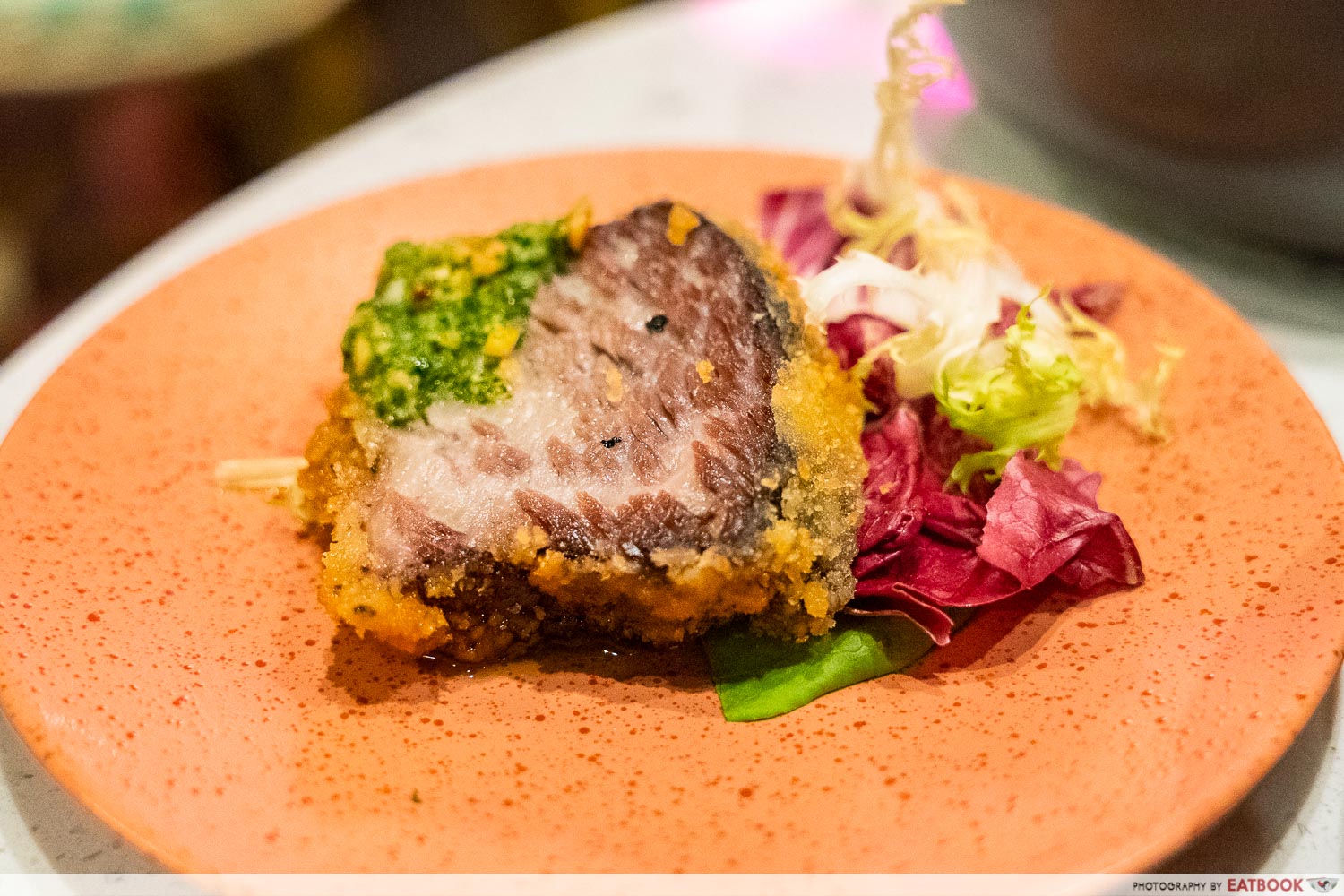 That being said, the beef slices were surprisingly tender and juicy, like a carnivore's dream come true.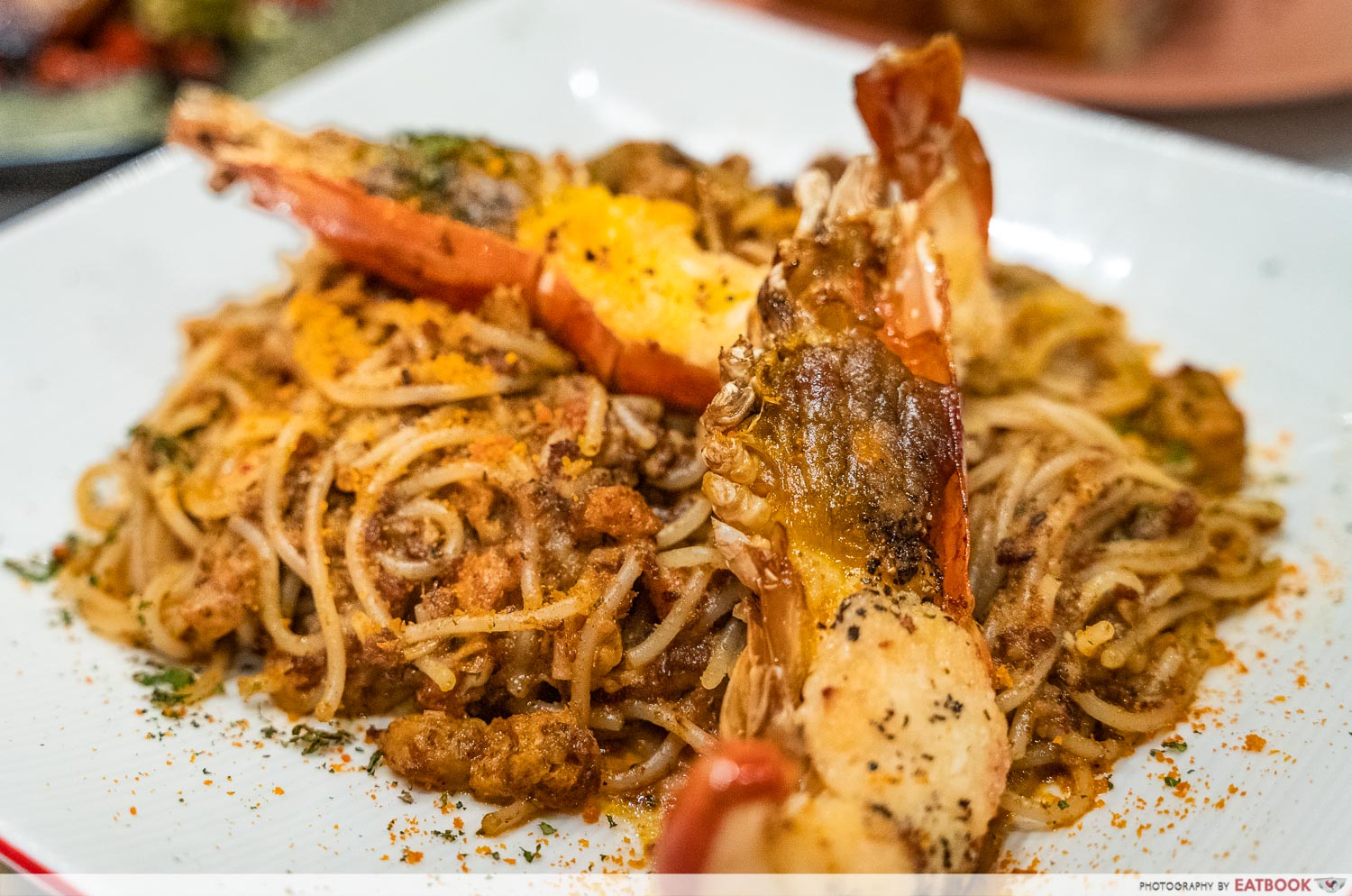 To pay homage to Pierre Png's international break on Crazy Rich Asians, you can also try noodle mains such as Qi Si (Cheese) Hokkien Mee ($23++), Truffle Moonlight Hor Fun ($23++), and Dry Laksa With Prawn ($23++) that are classy spins on local favourites at Tipsy Flamingo.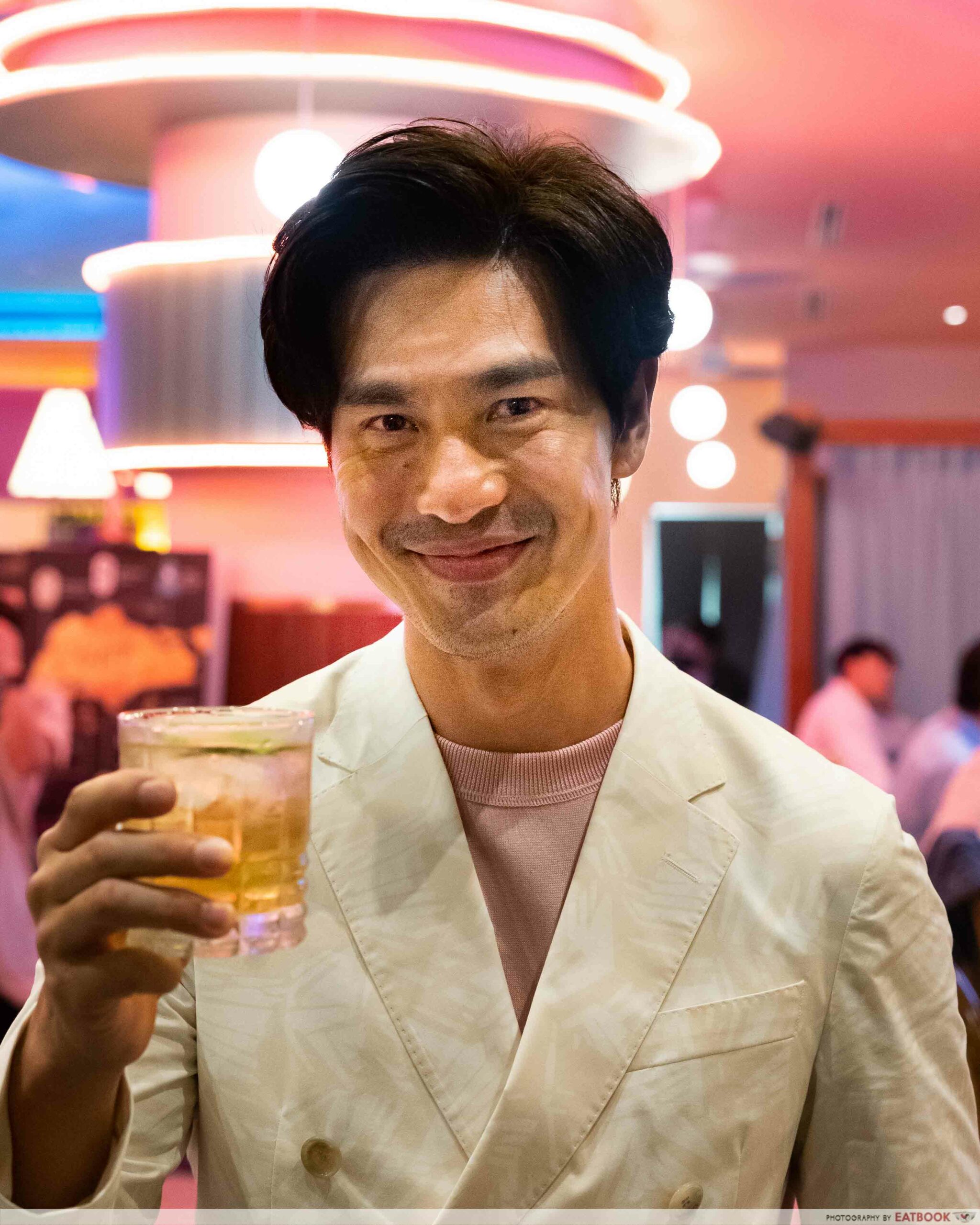 The chill ambience also makes for a great place to wind down after work along with Pierre's special creation, the Steady Pom P-P ($18++). This hand-shaken gin cocktail was a balance of sweet and aromatic, with honey and peach bitters for a refreshing drink. 
Ambience at Tipsy Flamingo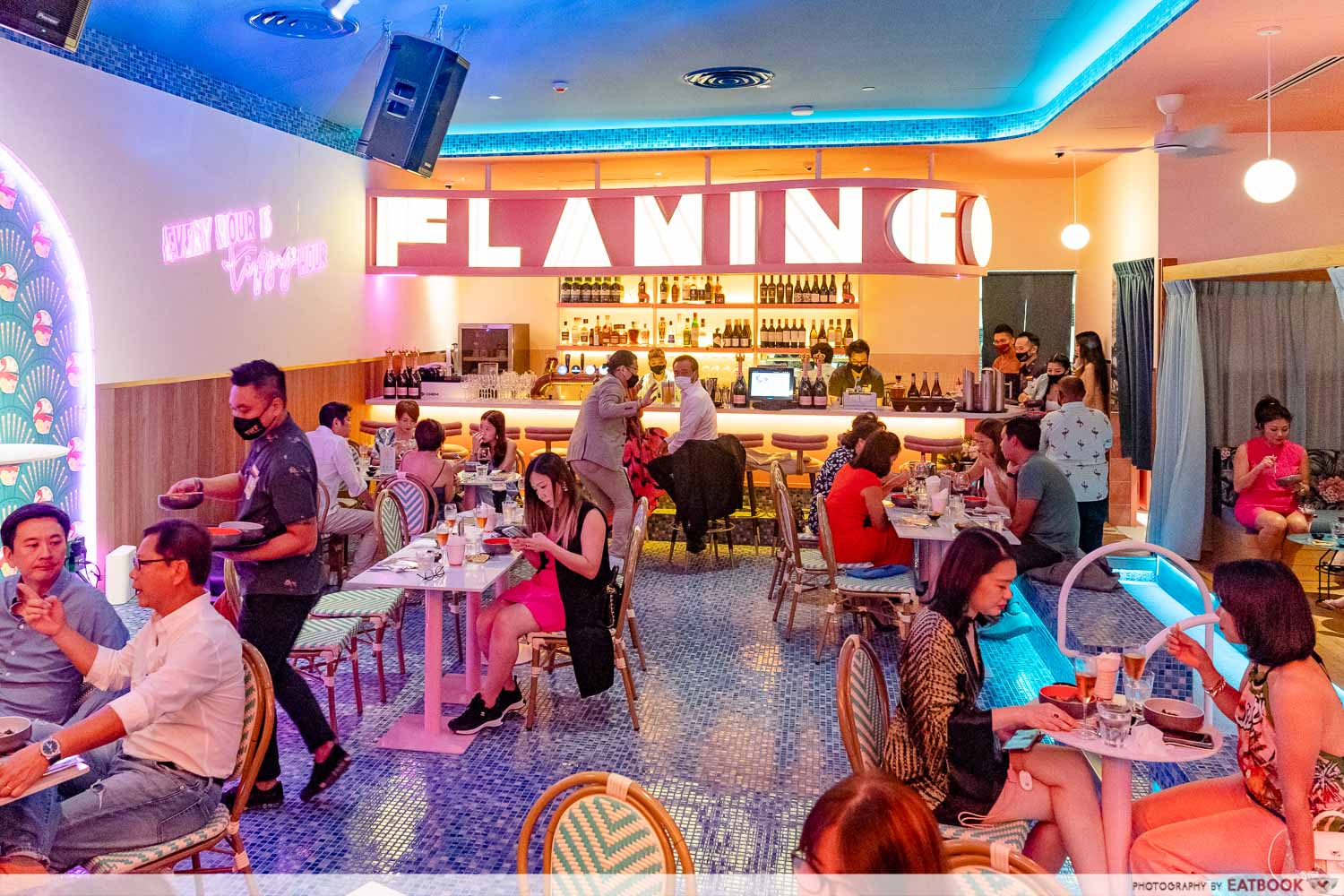 Things that I got reminded of when I stepped into Tipsy Flamingo were: The Grand Budapest Hotel film by Wes Anderson, and the Stylenanda pink pool cafe in Seoul, Korea. The restaurant is intricately designed, featuring mosaic tiles and a light beam on the ceiling to replicate the reflection of an indoor pool, cabanas as a seating area to remind you of Bali, and lush baby pink seats for that mid-century modern chic vibes. 
The verdict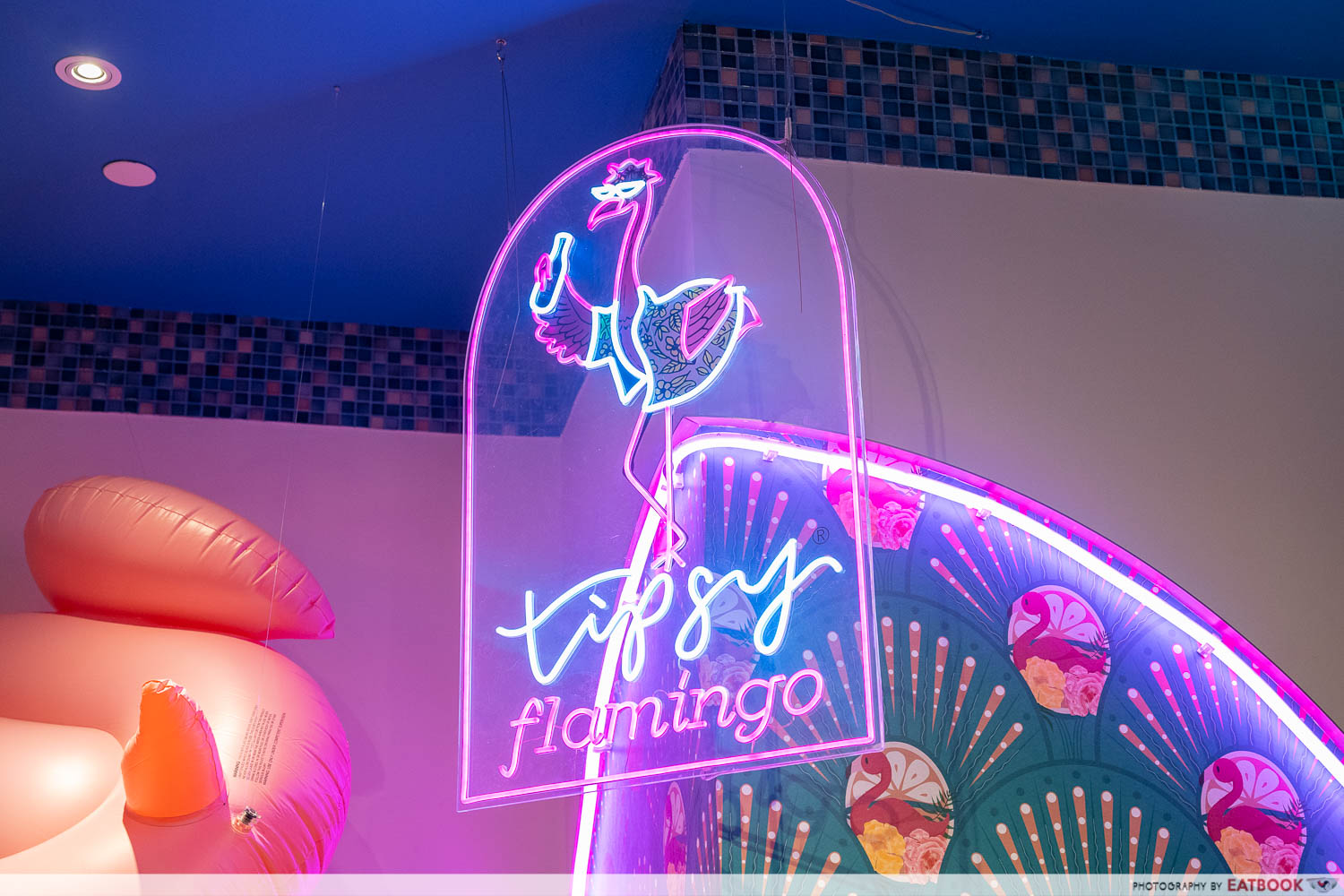 It is obvious that tedious and detailed planning went not only into the ambience of the restaurant, but also the food and the staff as well. Not your typical run-off-the-mill restaurant-chain outlet, Tipsy Flamingo boasts well-executed dishes with more hits than misses for us. The only thing to note is to come only after payday, as the nosh here doesn't come cheap!
If you're looking for more eats around City Hall, check out our guide to CHIJMES food places for pretty cafes, minimalist craft beer bars, and Michelin-starred ramen. There's also our Cafe Kuriko review for purple sweet potato Mont Blanc and a unique truffle soya milk udon. 
Address: 252 North Bridge Road, #01-17A, Raffles City Shopping Centre, Singapore 179103
Opening hours: Daily 12pm to 10:30pm
Tel: 9010 0348
Website
Tipsy Flamingo is not a halal-certified eatery.
Photos taken by Maverick Chua and edited by Melvin Mak.
This was a media tasting at Tipsy Flamingo
Tipsy Flamingo Review: Actor Pierre Png's Wes Anderson-Style Bar Featuring Lobster Rolls And Fried Beef Rib
Summary
Pros
– Well-seasoned food
– Generous portions
– Great service staff
– Aesthetic ambience
Cons
– Slightly pricey
Recommended dishes: Tipsy's Ebi Katsu Sando ($18++), Baked Miso Codfish with Pumpkin Foam ($34++)
Opening hours: Daily 12pm to 10:30pm
Address: 252 North Bridge Road, #01-17A, Raffles City Shopping Centre, Singapore 179103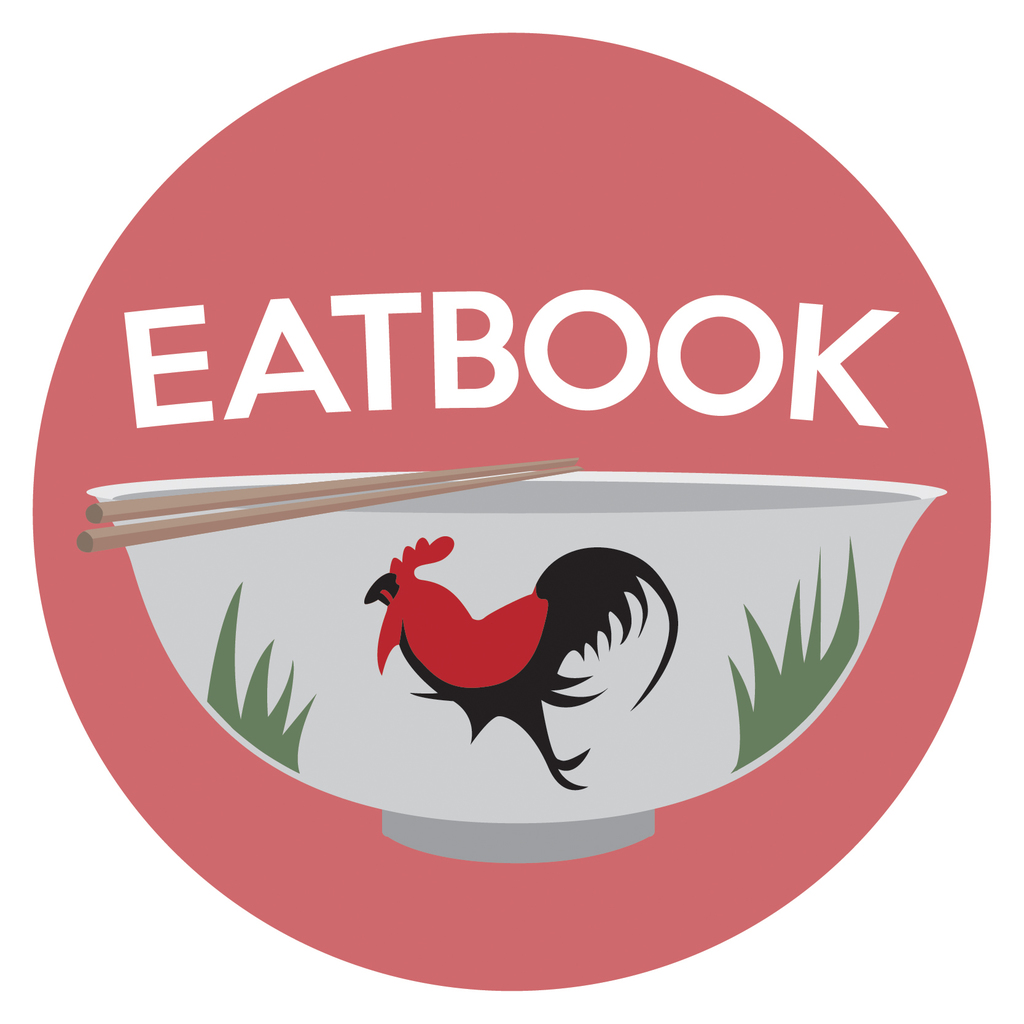 Drop us your email so you won't miss the latest news.