Cafe Kuriko in Funan Mall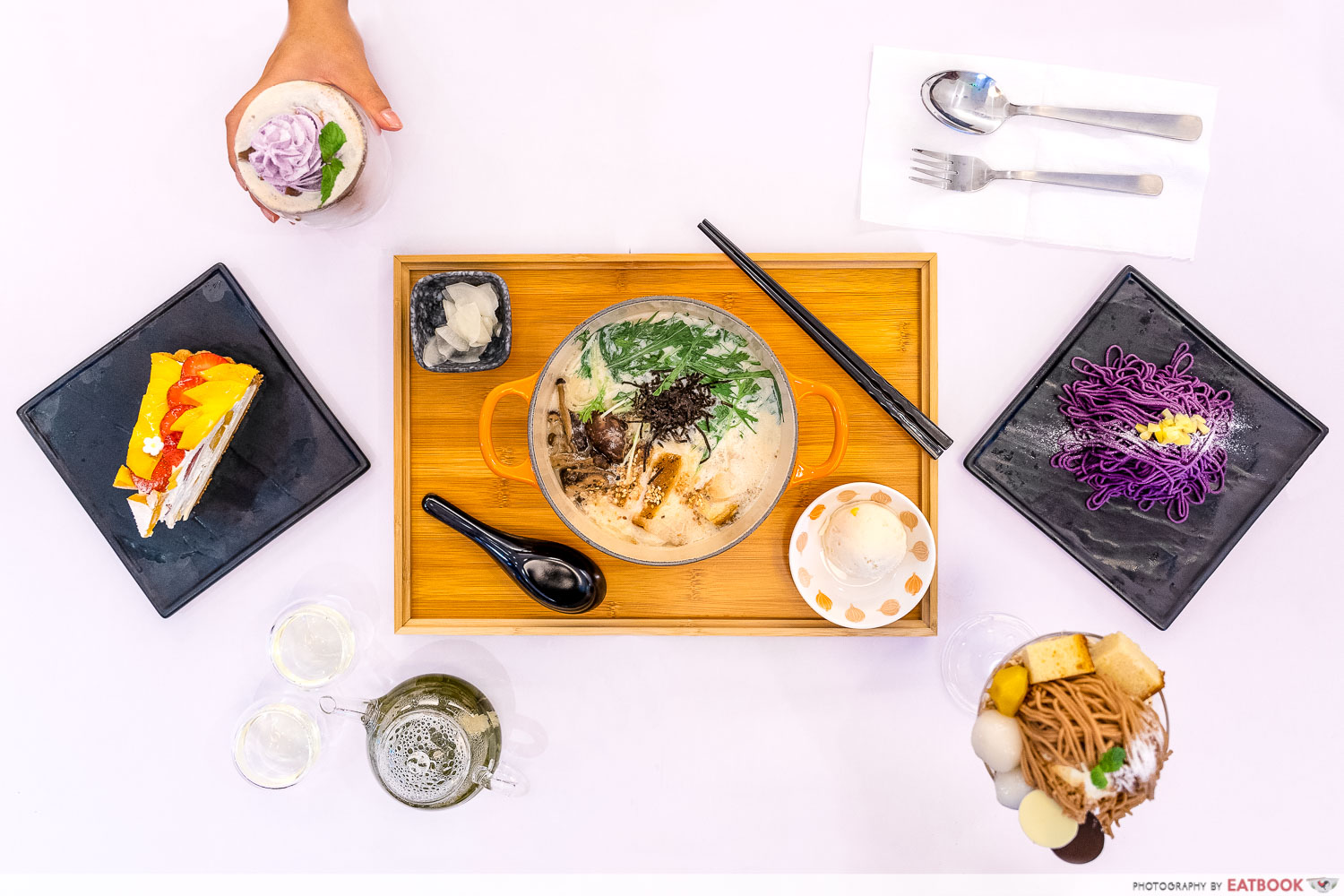 Whilst not a native Japanese confection, Mont Blanc, or Mont-Blanc aux Marrons as it's traditionally called in France, nowhere else is it as well-loved as it is in Japan. Almost every sweets shop there, and even the humble konbini, has its own take on the chestnut-laden pastry. It's not so common a sight in Singapore, so when I heard that it was a signature at Japanese Cafe Kuriko in Funan Mall, I knew I had to pay them a visit to relive fun times in the Land of the Rising Sun.
Sen-ryo Review: Famous Japanese Restaurant In ION, With Luxe Bentos From Just $15.80++
Food at Cafe Kuriko
Mont Blanc-making at Cafe Kuriko is a spectacle, headlined by a pump that dispenses threads of purple sweet potato cream or waguri puree, made from a variety of Japanese chestnut. Each pastry is made to order, and half the fun is in watching the strings of puree fall in soft layers on your pastry. Finished with a dusting of powdered sugar, the pastry's resemblance to the Alpine peak it's named after is clear.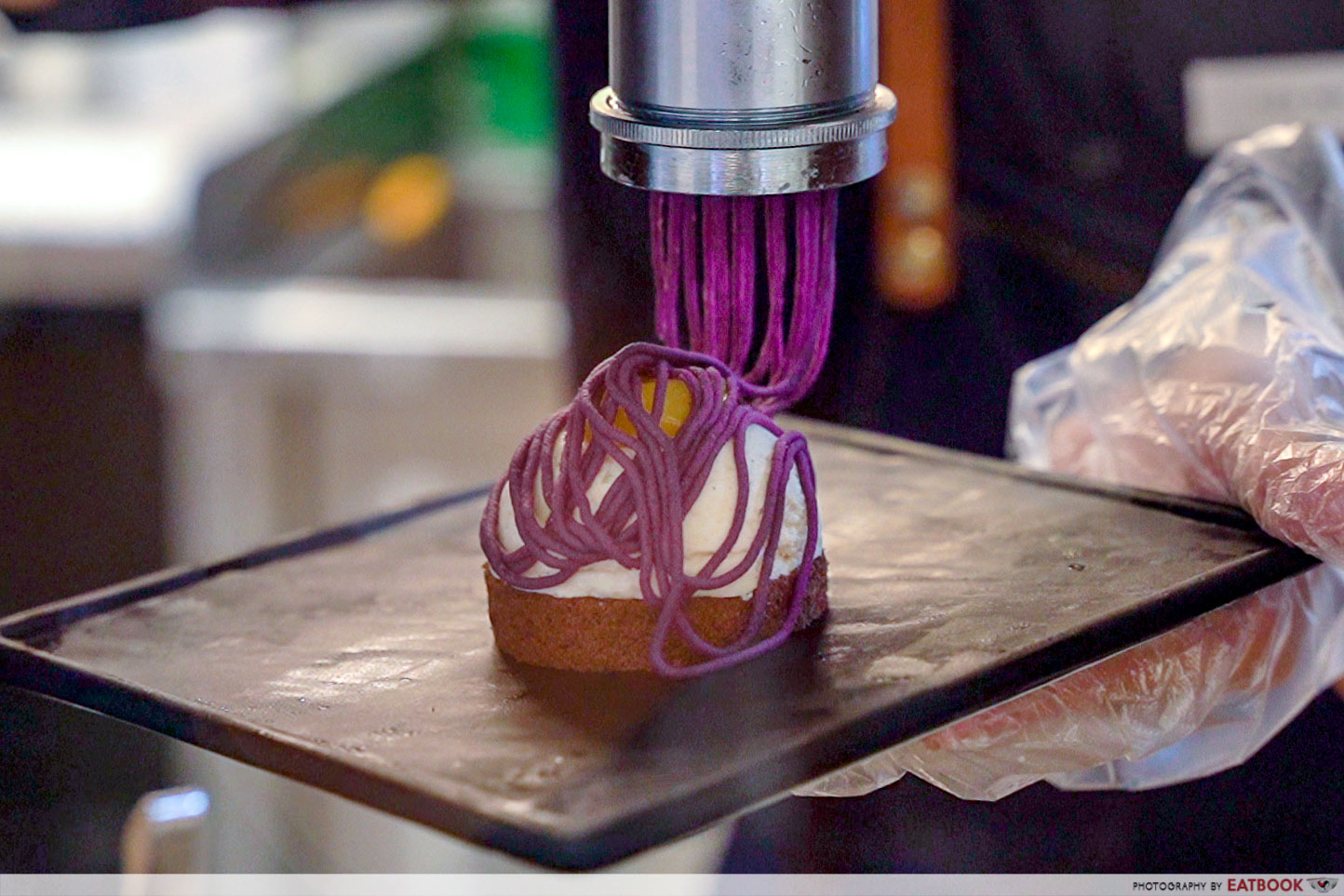 You get to customise your Mont Blanc here—choose from a base of chestnut or cheese, and then decide if you want to go for chestnut puree or purple sweet potato puree. Whatever your choice, it's priced at $13.90++. Do note, though, that there is a slight touch of alcohol in the waguri, though it's not discernable.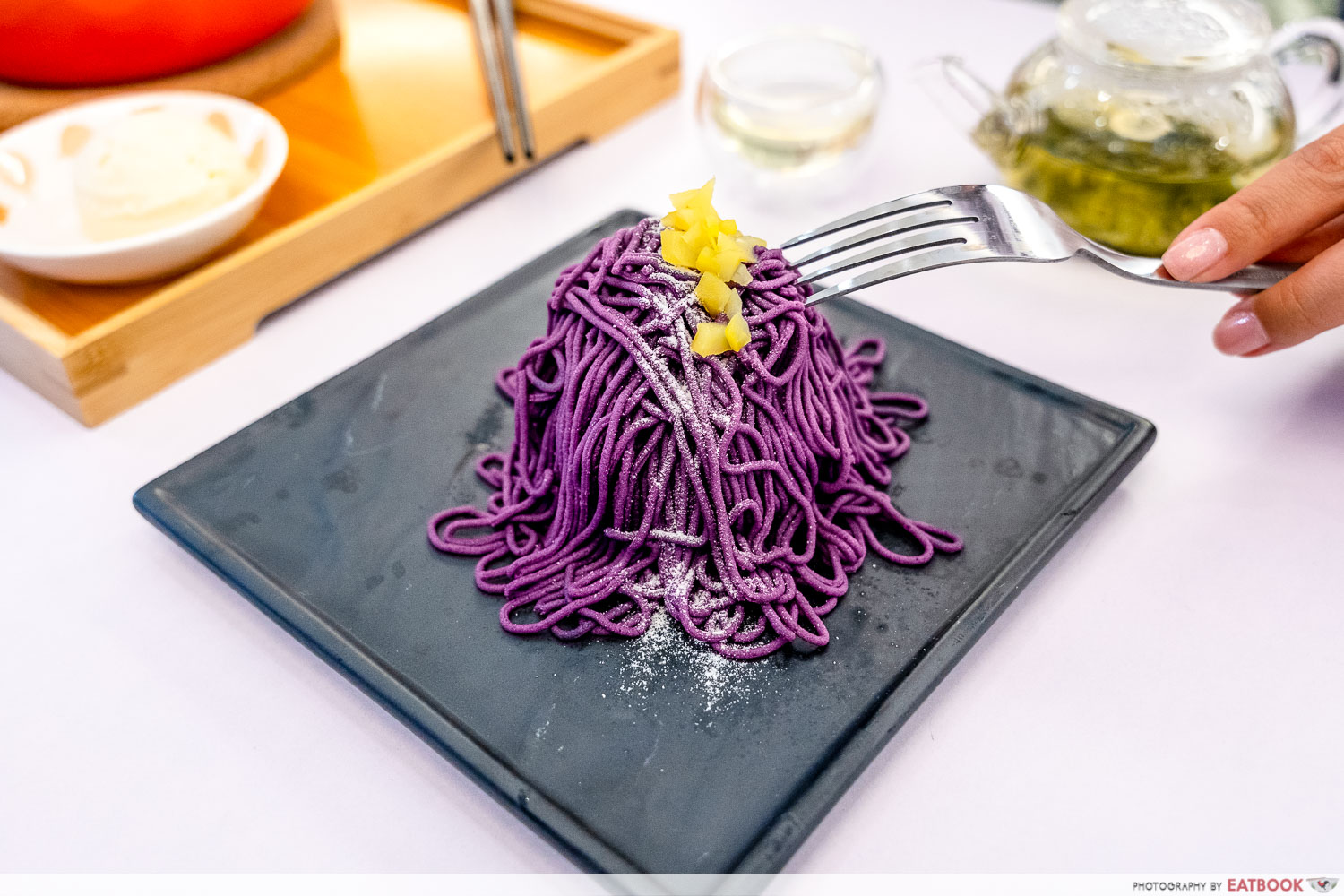 I'll admit that what attracted me the most to the Purple Sweet Potato Mont Blanc was its striking royal purple, a background against which the golden-yellow chestnut bits and powdered sugar stood out almost imperially. The aesthetics of this pastry turned out to be its biggest merit.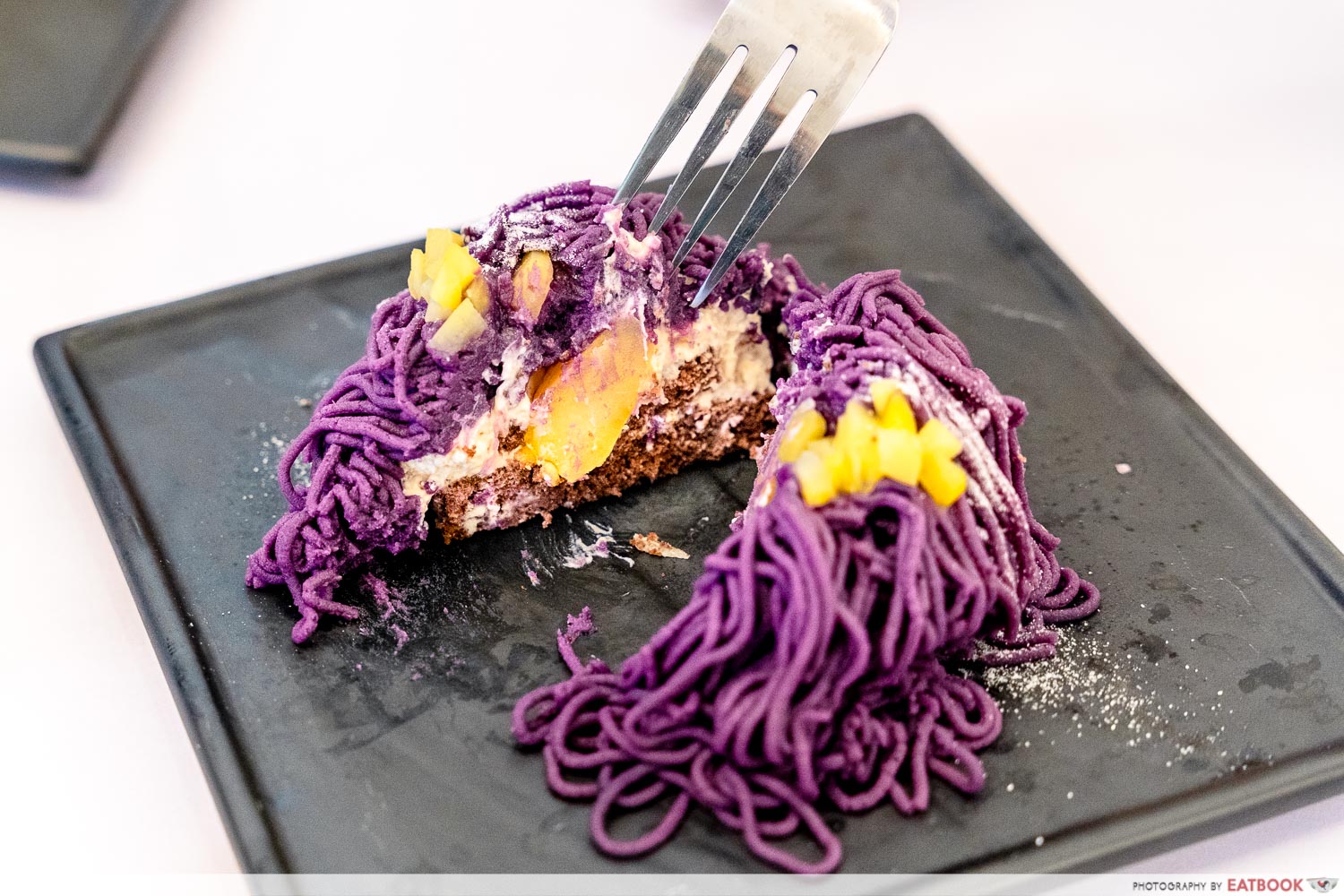 While the sweet potato cream was smooth, I found its sweetness too mild, falling short of the syrupy fragrance I'd expected, a la Don Don Donki's baked sweet potatoes. I recommend not whiling the afternoon away over this cake, because the sweet potato cream hardens as it sits out.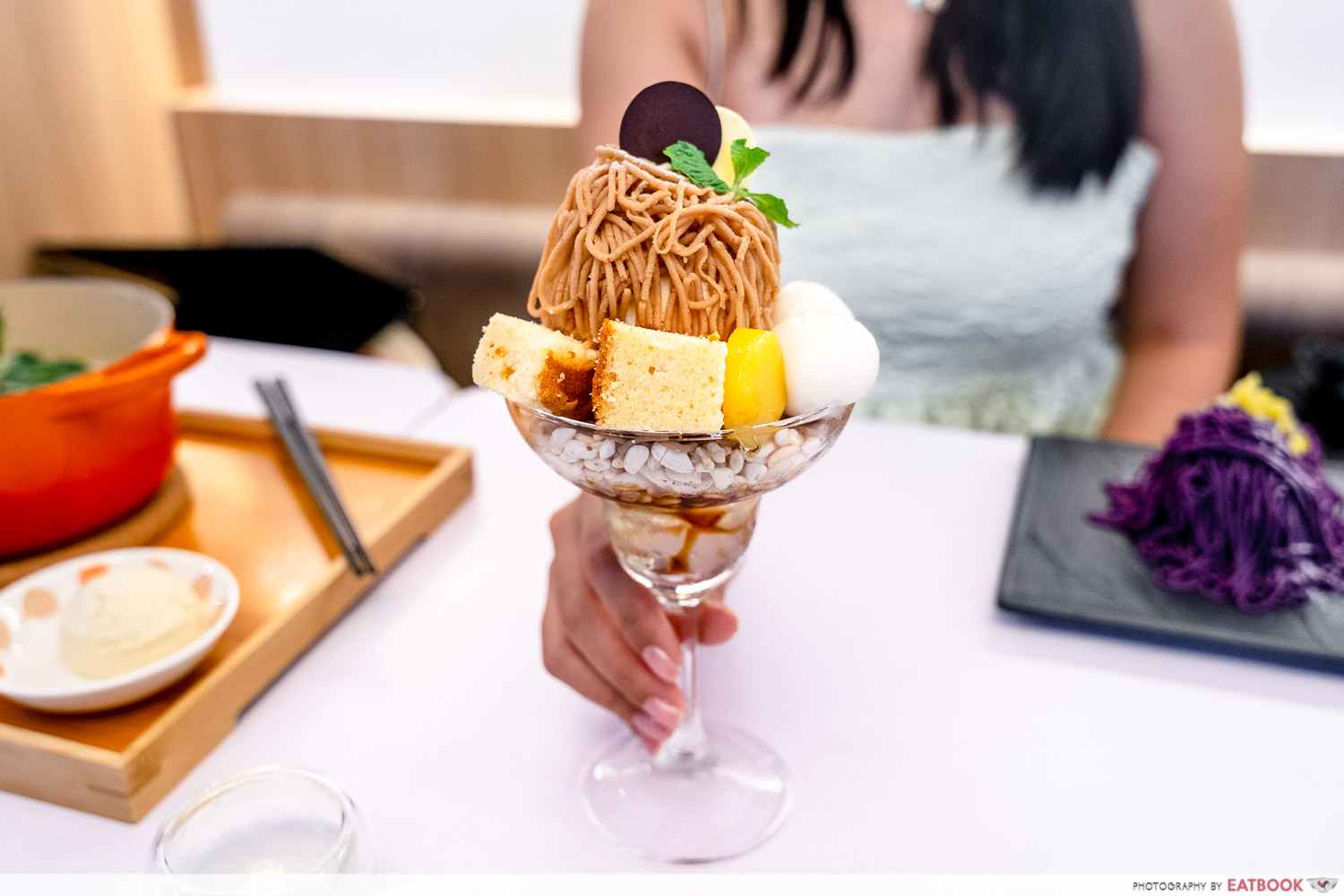 I much preferred the Mont Blanc Parfait ($13.90++), which features the same choice of waguri or sweet potato puree, but served in a glass layered with Mont Blanc jelly, rice puffs, cake, vanilla ice cream, chestnuts, and mochi balls, which could be a little softer and chewier in the centre.
The condiments in this parfait provided different textures and varied flavours which complemented the mellow nuttiness of the waguri puree.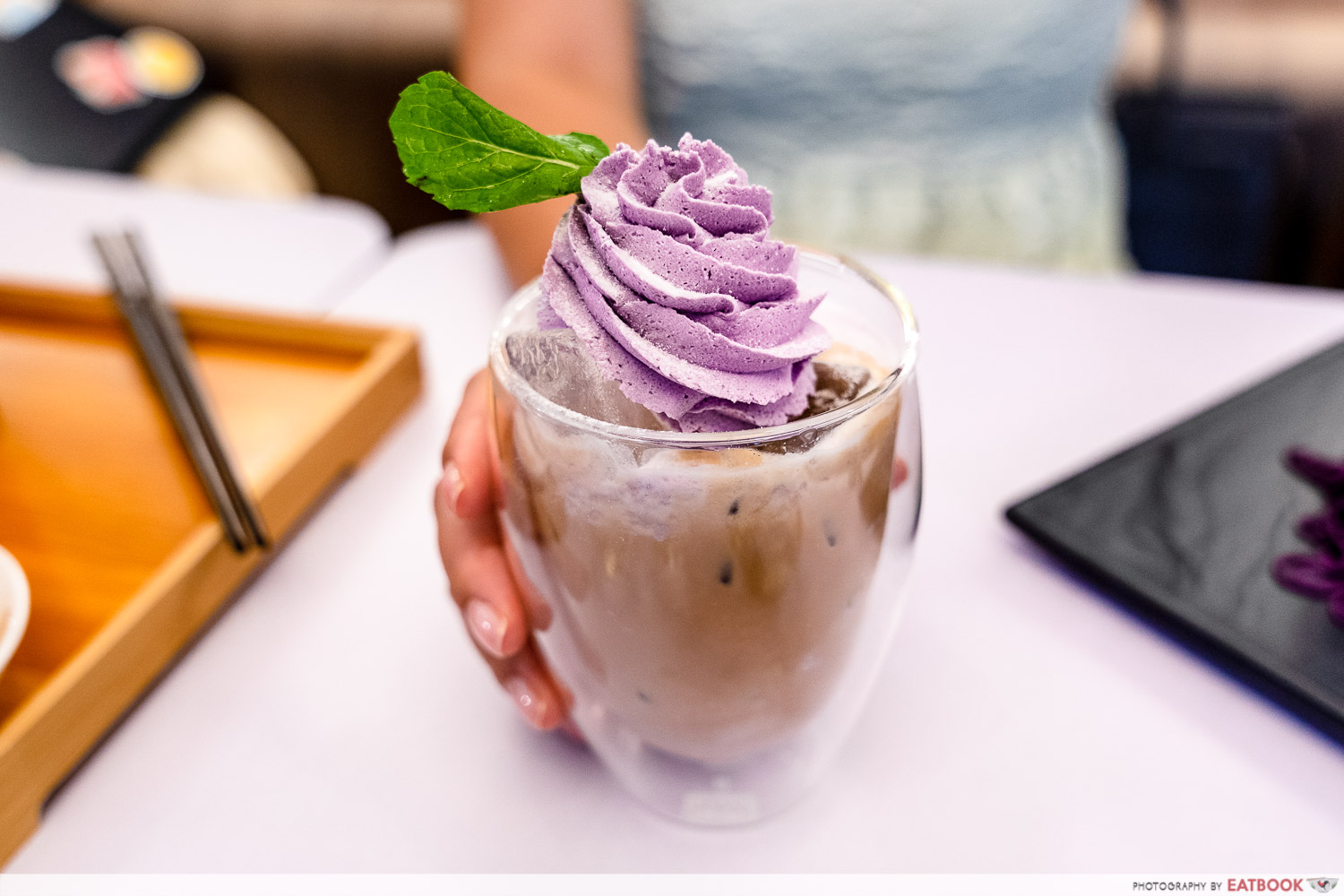 Try the Purple Sweet Potato Latte ($8.90++) for a shot of caffeine, which also comes in a Mont Blanc iteration, so you can have your cake, and eat it too. The sweet potato and waguri in these lattes come in the form of a whipped mousse that melts into the coffee, flavouring it in the process.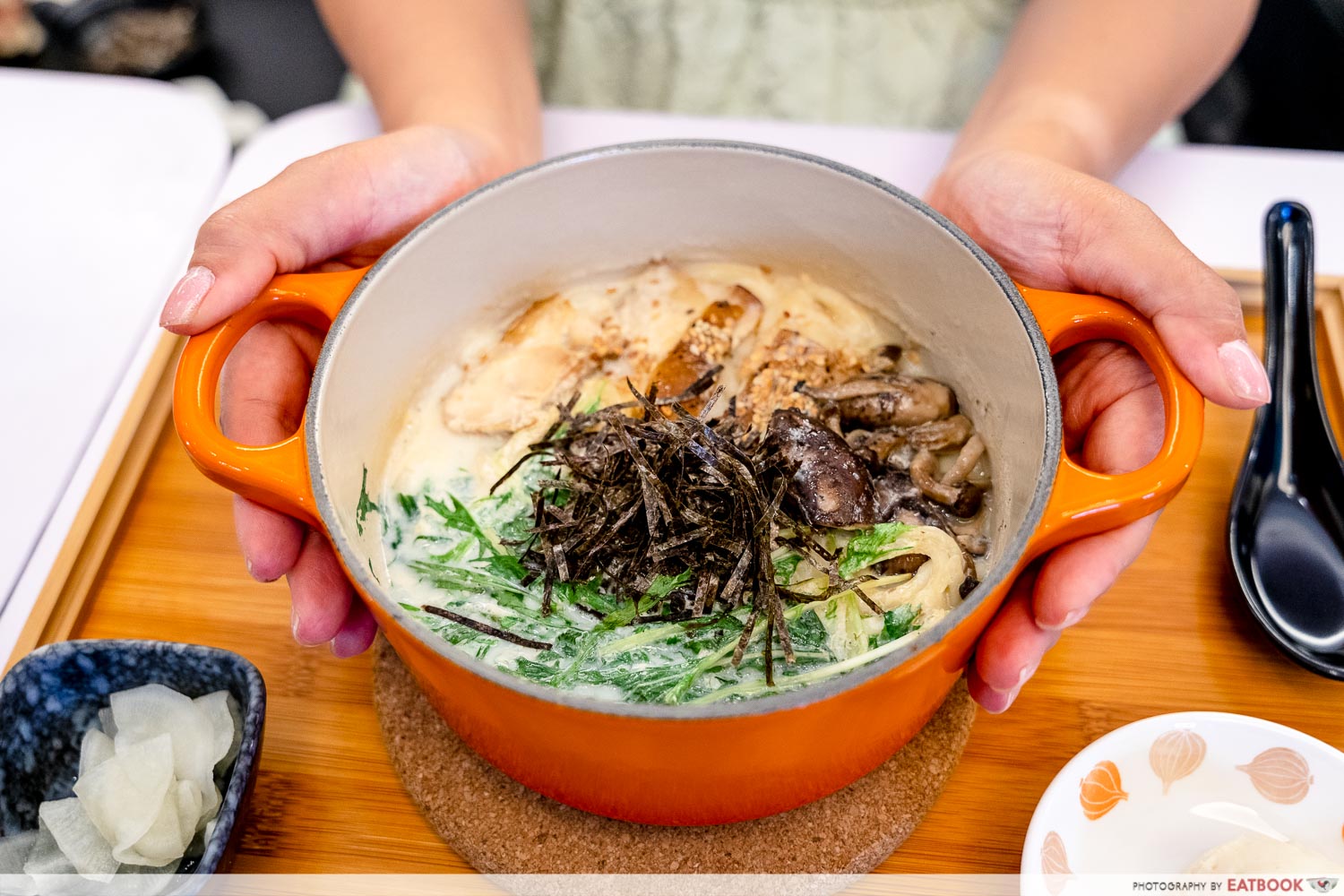 Cafe Kuriko gets brownie points for having a good selection of savoury cha-nabe to go alongside its sweets. A cha-nabe is essentially an individual soupy pot, of which I had the Aburi Chicken Soya Truffle Flavour ($15.90++) with udon, although you can opt for Japanese rice instead. 
I enjoyed the soya milk broth—a Japanese soup base that is gaining popularity—for its rich, creamy flavour. The aburi chicken gave it a slight smokiness, while the truffle oil and assorted sauteed shrooms added aromatic, earthy notes. For $18.90++, the cha-nabe becomes a set, which gets you a speciality tea, cold tea, or coffee, pickles, and a serve of potato salad.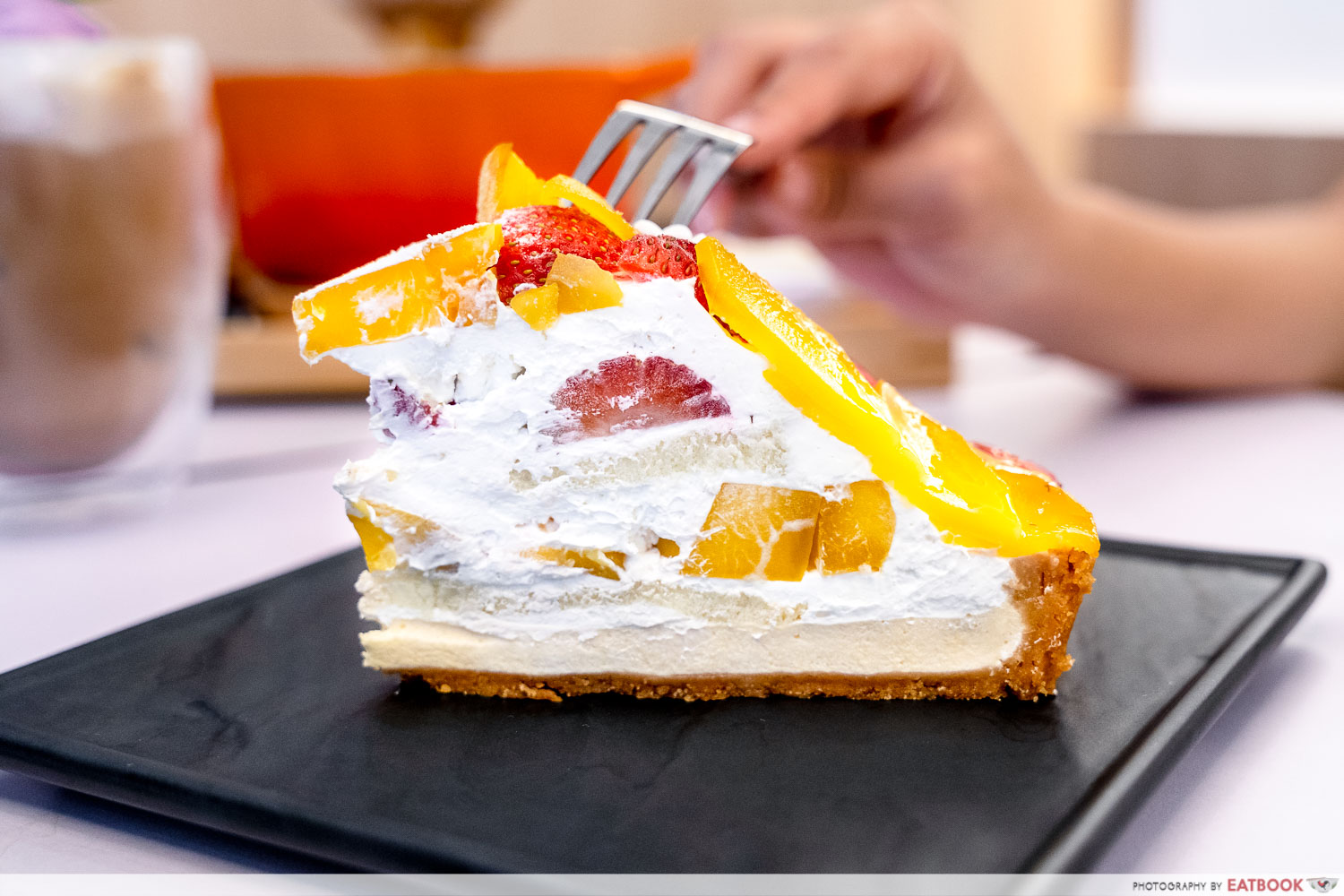 If you order a cha-nabe, you'll also get to enjoy $2 off the selection of tarts, made fresh on-site daily. I sampled the Mango Strawberry Tart ($9.35++), which also looked better than it tasted, for me at least. If you like lots of cream, here's the thing to order.
22 Funan Mall Food Places To Visit Including Steak From $18.90+, Yuzu Ramen And More
Ambience at Cafe Kuriko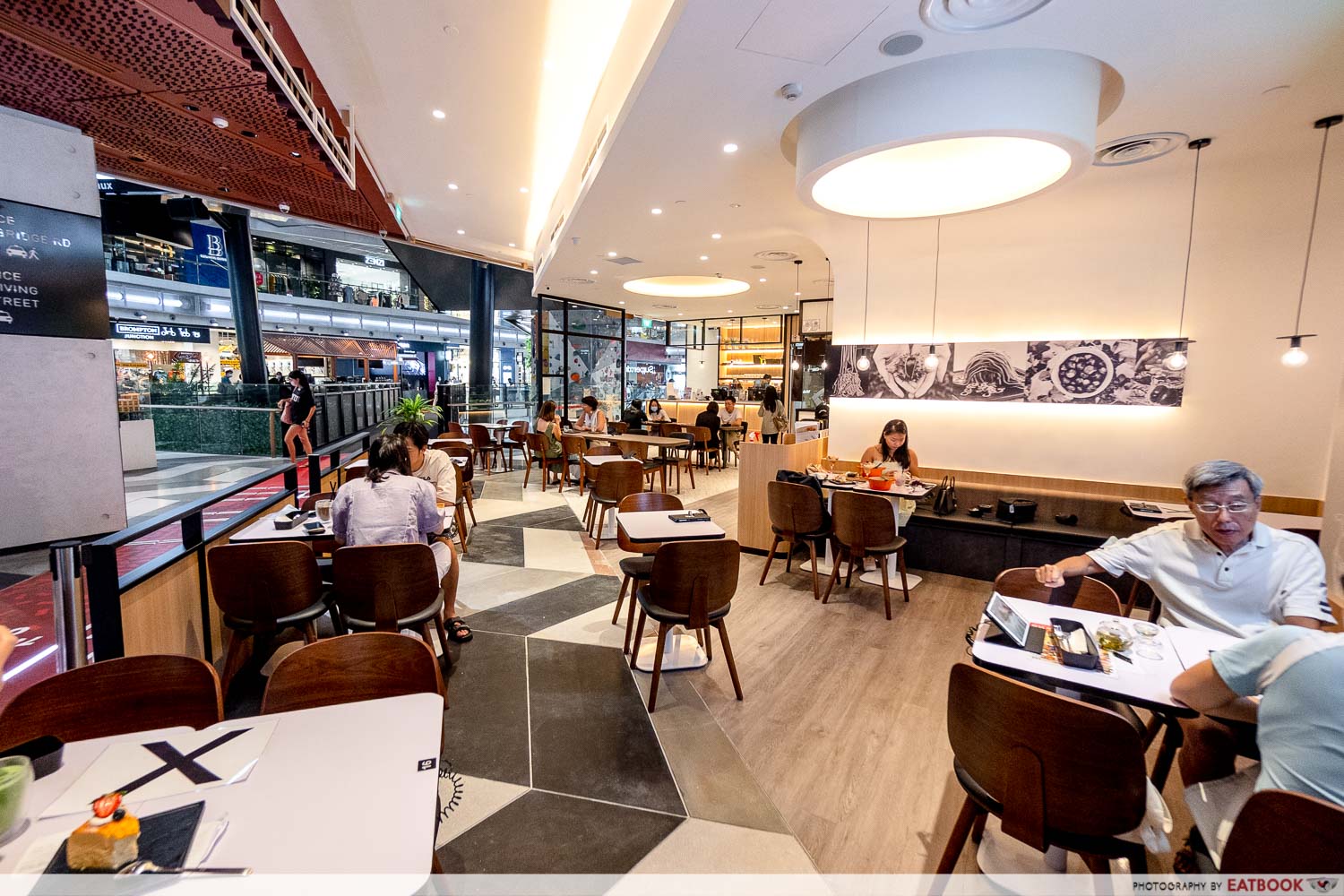 Cafe Kuriko is located on the first floor in the central atrium of Funan Mall, a two-minute walk from City Hall MRT Station. The cheery, brightly lit interior of the cafe is inviting, and its corner unit location, wall-less along the whole length of the space, adds to the overall appeal.
Whether you're looking to people watch over a meal, or spend an afternoon here with friends, it's relatively conducive, without being closed off from the goings-on in the mall.
The verdict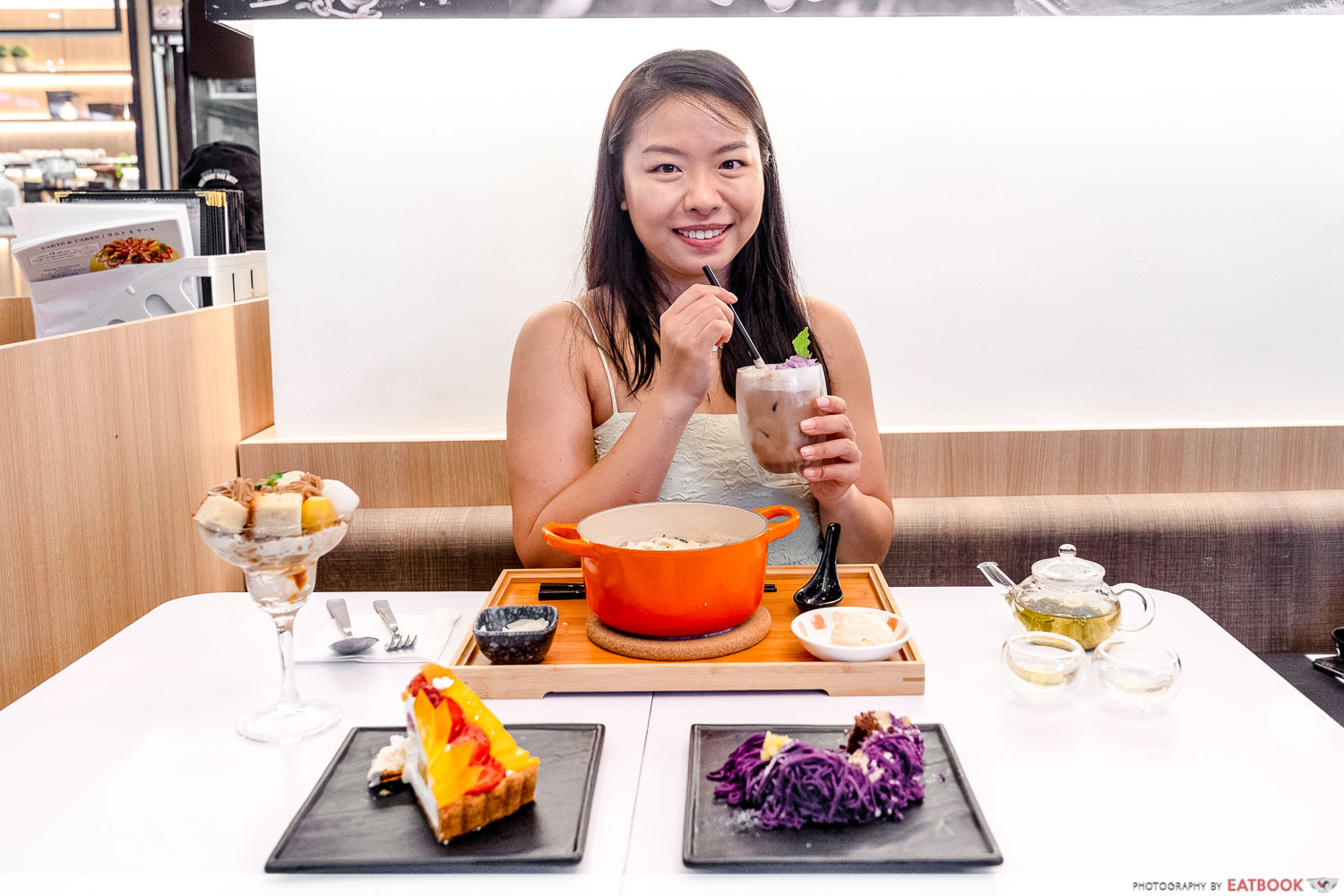 The prices here aren't steep, and while there are misses for me, there were hits as well. Perhaps my preference for stronger flavours penalised the Purple Sweet Potato Mont Blanc, but there's no doubt it's an eye-catching cake that might be just the right level of sweet for another diner. It may be that I'll have to resume my search for Mont Blanc in Singapore, but you'll find me popping in for a Cha-Nabe if I were in the mall and wanting a comforting meal.
For more Funan Mall eats, check out our Funan Mall dining guide. If you're looking for something more local, pop over to Butter Bean for thick toasts and kopi shakes!
Address: 107 North Bridge Road, #01-11, Funan Mall, Singapore 179105
Opening hours: Daily 11am to 9pm
Tel: 6360 3246
Website
Cafe Kuriko is not a halal-certified eatery
Butter Bean Review: BreadTalk's Cool New Cafe Opens In Funan And VivoCity
Photos taken by Melvin Mak.
This was a media tasting at Cafe Kuriko.
Cafe Kuriko Review: Purple Sweet Potato Mont Blanc And Truffle Soya Milk Udon In Funan Mall
Cafe Kuriko Review: Purple Sweet Potato Mont Blanc And Truffle Soya Milk Udon In Funan Mall -

7/10
Summary
Pros
– Aburi Chicken Soya Truffle Flavour was tasty
– Mont Blanc Parfait had an interesting combination of ingredients
Cons
– Purple Sweet Potato Mont Blanc was bland
– Mango Strawberry Tart had too much cream
Recommended dishes: Aburi Chicken Soya Truffle Flavour ($15.90++), Mont Blanc Parfait ($13.90++), Purple Sweet Potato Latte ($8.90++)
Opening hours: Daily 11am to 9pm
Address: 107 North Bridge Road, #01-11, Funan Mall, Singapore 179105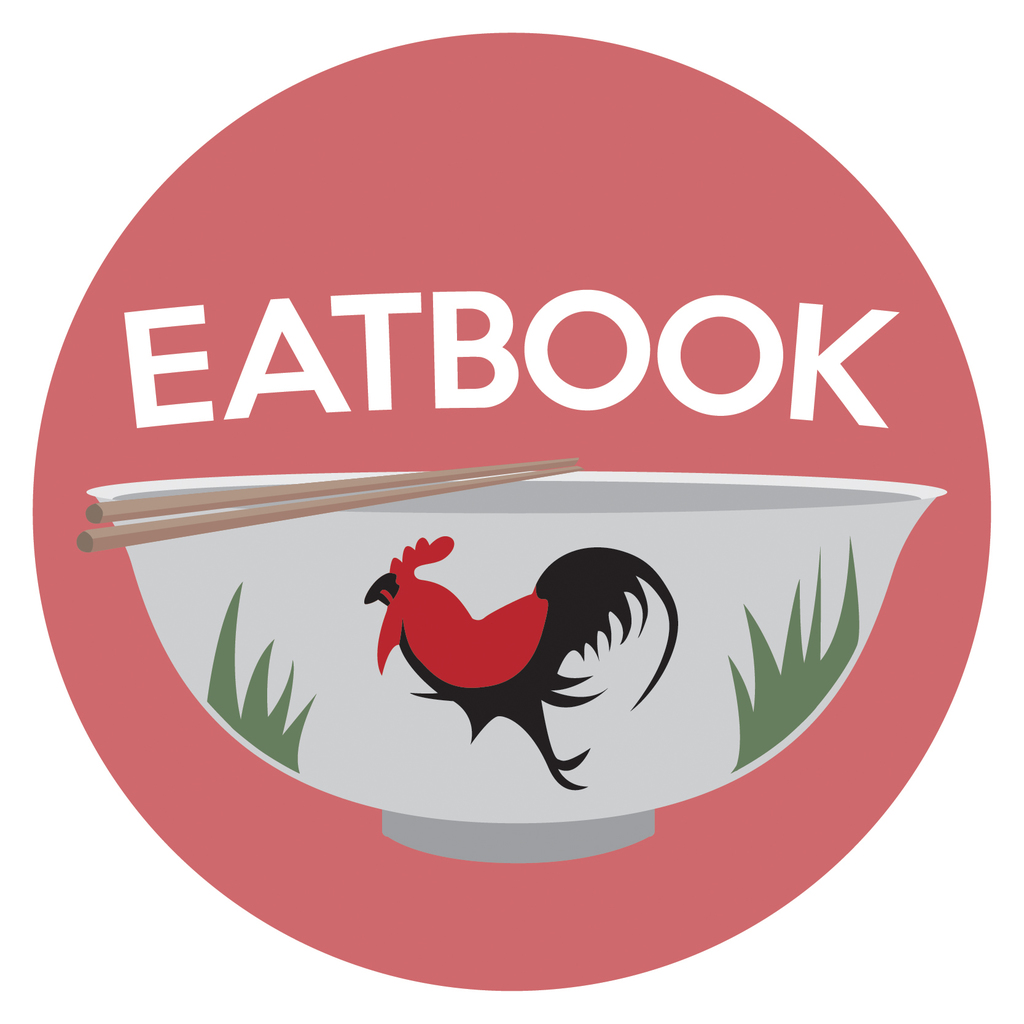 Drop us your email so you won't miss the latest news.