---
Funan Mall food to try
---
The Funan Mall at City Hall was finally revamped last summer, ridding any memories of the old, dingy, IT mall it used to be. Besides boasting high-tech features and countless independent and local boutiques, it also features dining spots ranging from grab-and-go kiosks to lovely family-friendly restaurants. For those looking for food near the City Hall MRT Station, National Museum of Singapore or ROM, here are 21 places at Funan Mall to try out.
Funan reopens with plenty of food!

Funan reopens today! No longer just a tech mall, you will also find plenty of cool food joints including a $2 oyster bar and a steakhouse serving wagyu under $20! Find out more here: https://eatbook.sg/funan-food/

Posted by Eatbook.sg on Friday, June 28, 2019
---
1. Afuri Ramen
---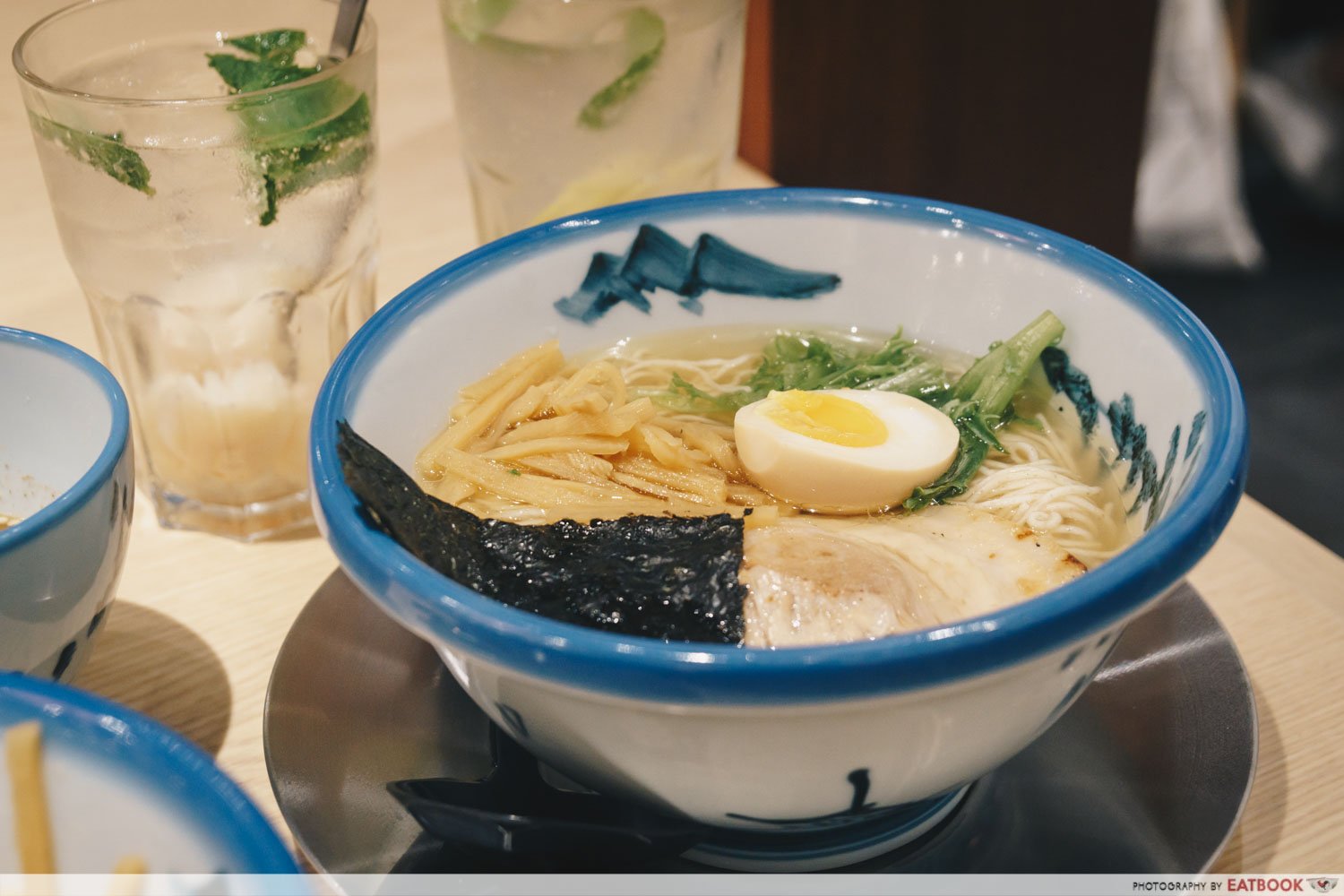 Ever since its opening, Afuri Ramen has seen a steady flow of fans streaming in for their Yuzu Shio Ramen ($15.90++). This clear-broth ramen is tinged with a light and refreshing citrus twist, pairing deliciously well with their Hokkaido whole-grain ramen noodles. Opt for the Yuzu Tsukemen ($15.90++) if you prefer stronger flavours.
Afuri Ramen: Famous Yuzu Ramen Joint From Japan Opening At Funan Mall This June
Unit number: #B1-29
Opening hours: Daily 10am to 10pm
Tel: 6970 1386
Website
---
2. BIZEN Okayama Wagyu Steakhouse
---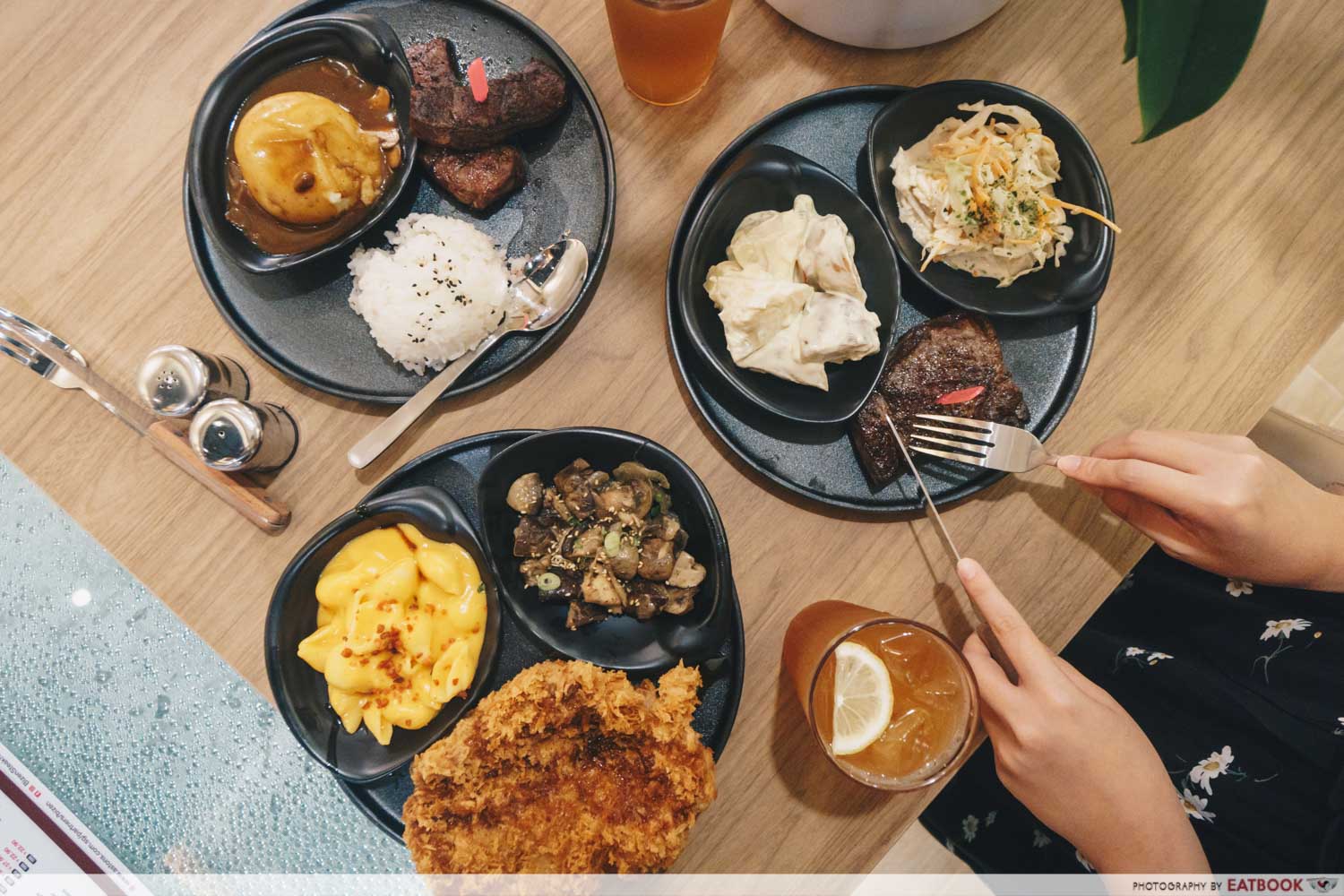 Those looking for a hearty meal can head to BIZEN Okayama Wagyu Steakhouse. Don't be thrown off by its fancy name as they serve well-marbled Wagyu steaks with two sides from only $18.90+. Get the best bang for your buck with the lower-priced adventure cuts such as their Flat Iron Steak ($23.90+ for 150g), or treat yourself to a good Sirloin Prime Cut ($30.90+ for 150g/$44.90 for 220g).
The menu here is surprisingly extensive, offering other non-beef items such as a massive Chicken Katsu ($11.90+) and Grilled Iberico Pork Chop ($23.90+) as well.
Unit number: #B2-22
Opening hours: Daily 11:30am to 10pm
Tel: 6970 0481
Website
---
3. The Oyster Bank
---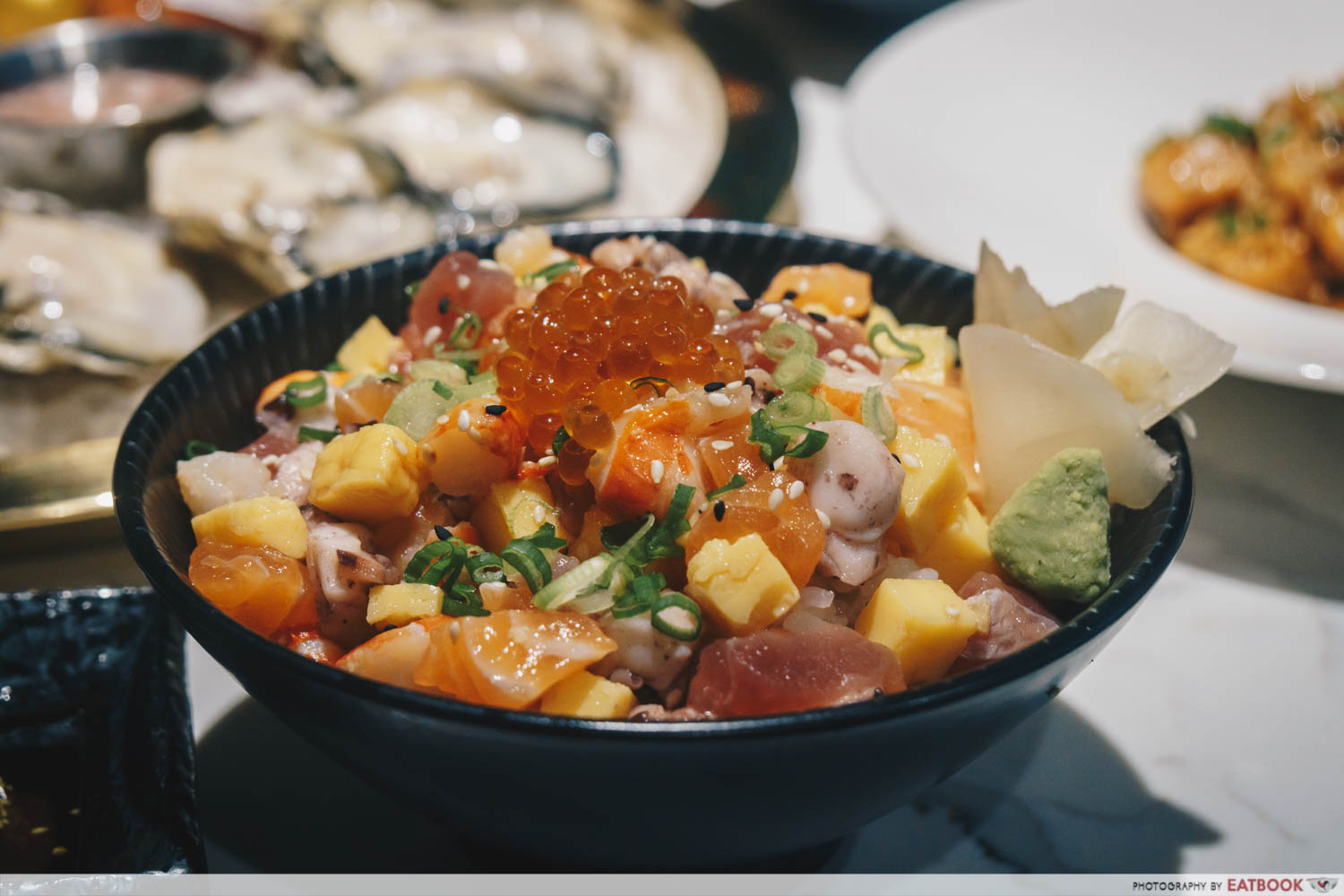 Head to The Oyster Bank to chill in their casual yet polished space. Get your hands on up to six freshly shucked oysters at only $2++ each, with an order of alcoholic drink, from 5pm and 8pm on weekdays and 3pm to 6pm on weekends. Happy Hour for alcoholic drinks happens from 12pm to 9pm daily. They also offer rice bowls such as Bara Chirashi Don ($16.90++) and Spicy Salmon Don ($16.90++), with an option for truffle rice at $3++.
Unit number: #02-32
Opening hours: Sun-Thurs 12pm to 10pm, Fri-Sat 12pm to 12am
Tel: 6970 0487
Website
---
4. Sin Gan Tian
---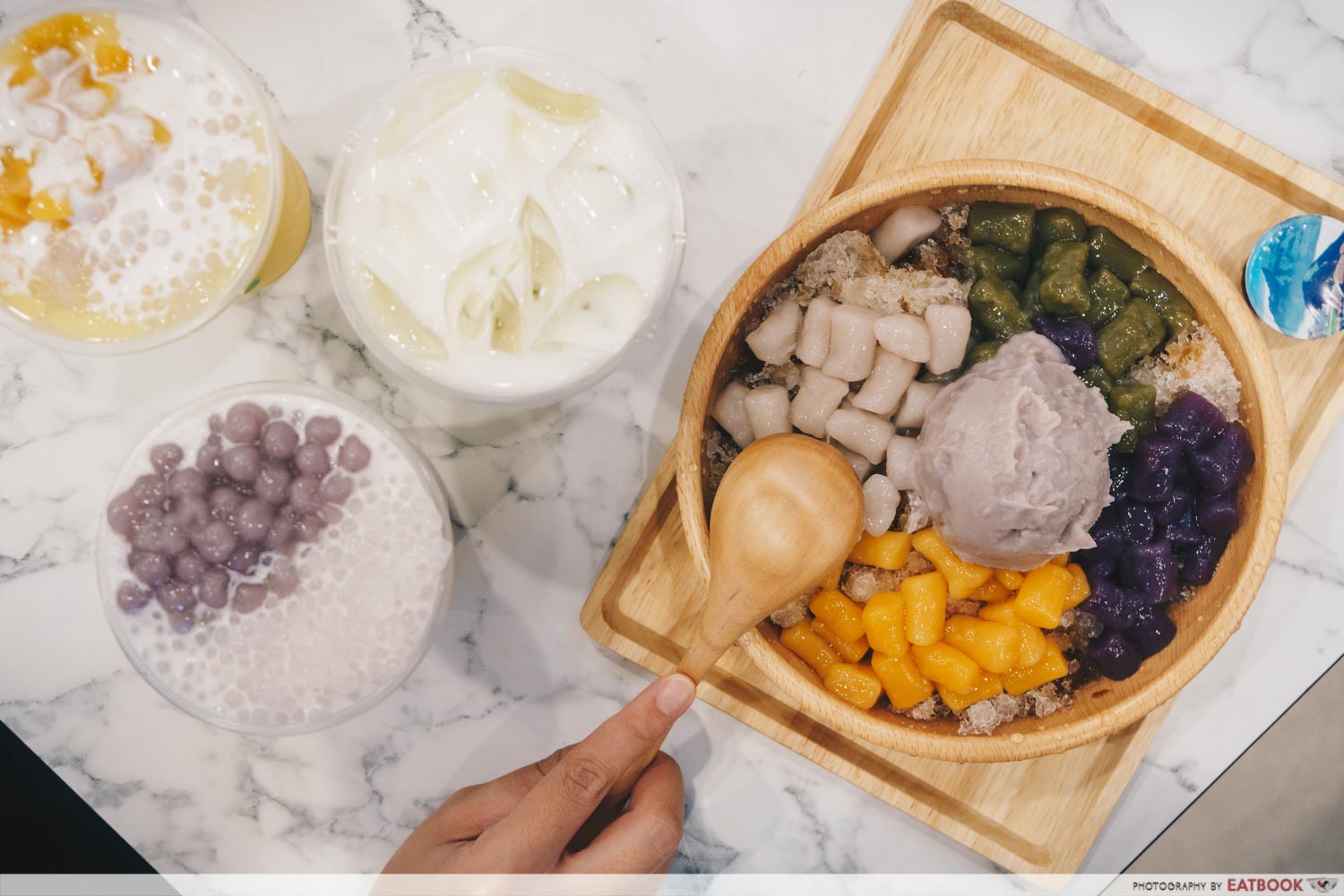 Grab some icy desserts or midday drink at Sin Gan Tian. Indulge in their Sin Gan Tian Signature ($5.90), which is deliciously decorated with chewy matcha, taro, sweet potato, and pumpkin balls. Try their thirst-quenching Sugarcane Fresh Milk ($2.90) if you're on a budget. Naturally sweetened with sugarcane juice, it is a healthier alternative to bubble tea.
Unit number: #B2-08
Opening hours: Daily 11am to 9pm
Website
---
5. Paddyfolks
---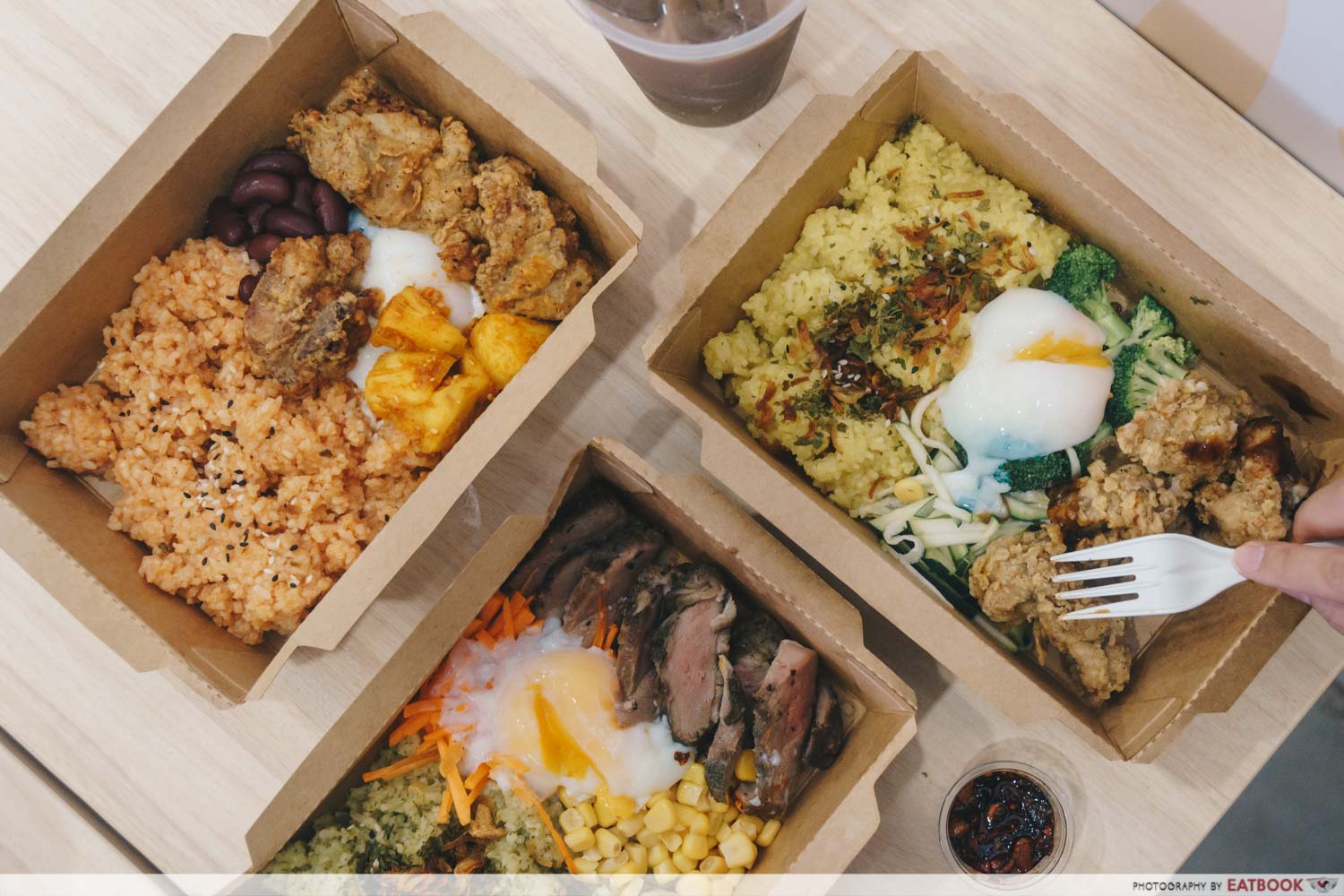 Create your own DIY rice box at Paddyfolks! There are two sizes to choose from: regular at $9.90, medium at $12.90, and large at $15.90. The options available are aplenty and the flavours are on-point. Our recommended killer combo includes the juicy Thyme Duck Breast, Cilantro Lime Flavoured Rice, Fried Enoki Mushroom, with a scattering of Sesame Seeds and Fried Shallots toppings.
Unit number: #02-37/38
Opening hours: Daily 10am to 10pm
Website
---
6. A Gan Guo Kui
---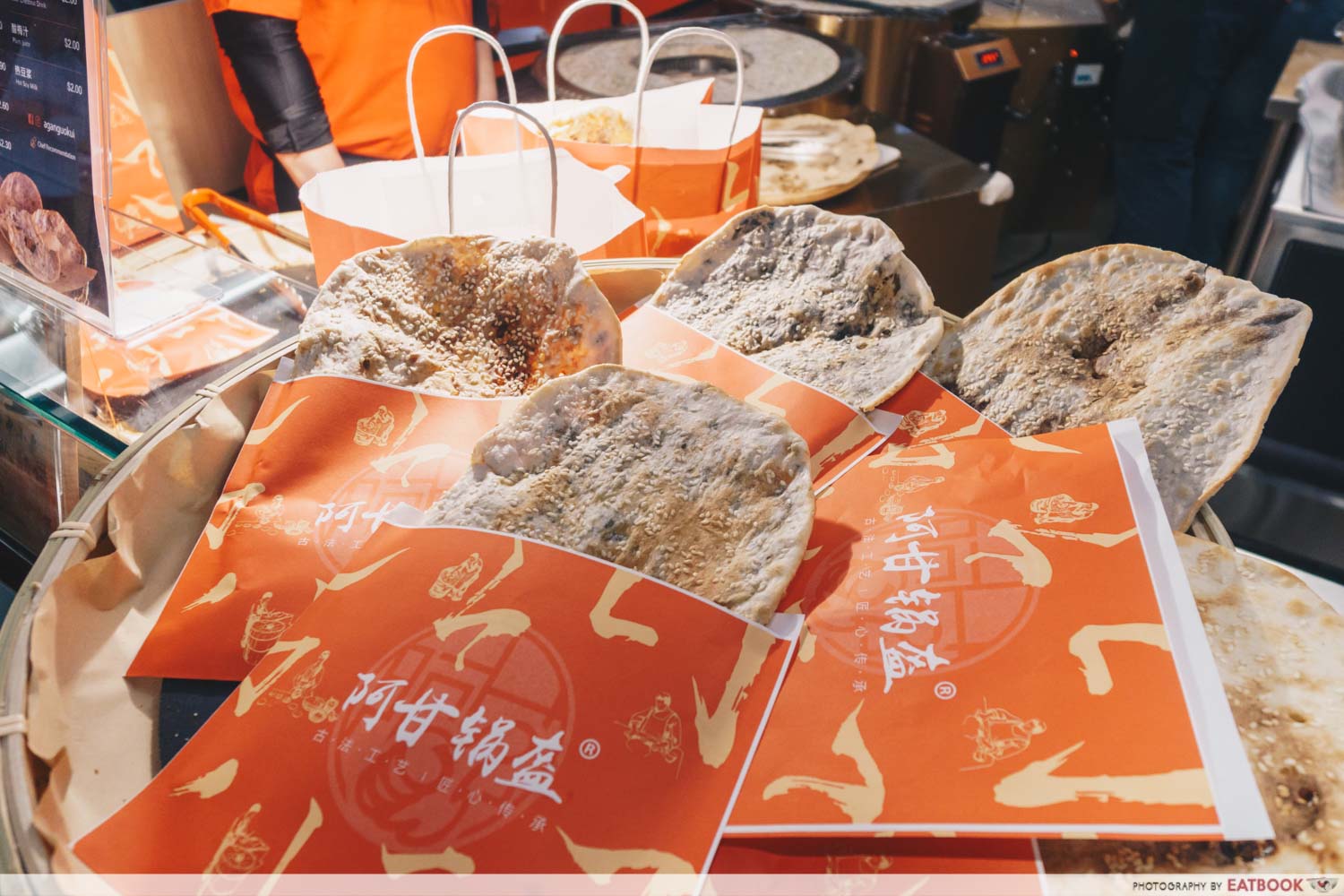 Hailing from China, A Gan Guo Kui will lure you in with its perpetual long queue and aromatic army-food-turn-street-snack flatbreads. Toasted to a crisp with their charcoal-fired clay ovens, they are stuffed with either sweet or savoury fillings, giving every bite an explosion of flavours. Don't be turned off by the name of the Sichuan Pickled Fish Guo Kui ($3.20). I challenge anyone to take more than 10 minutes to finish it.
Unit number: #B2-K05
Opening hours: Daily 10am to 10pm
---
7. Milksha
---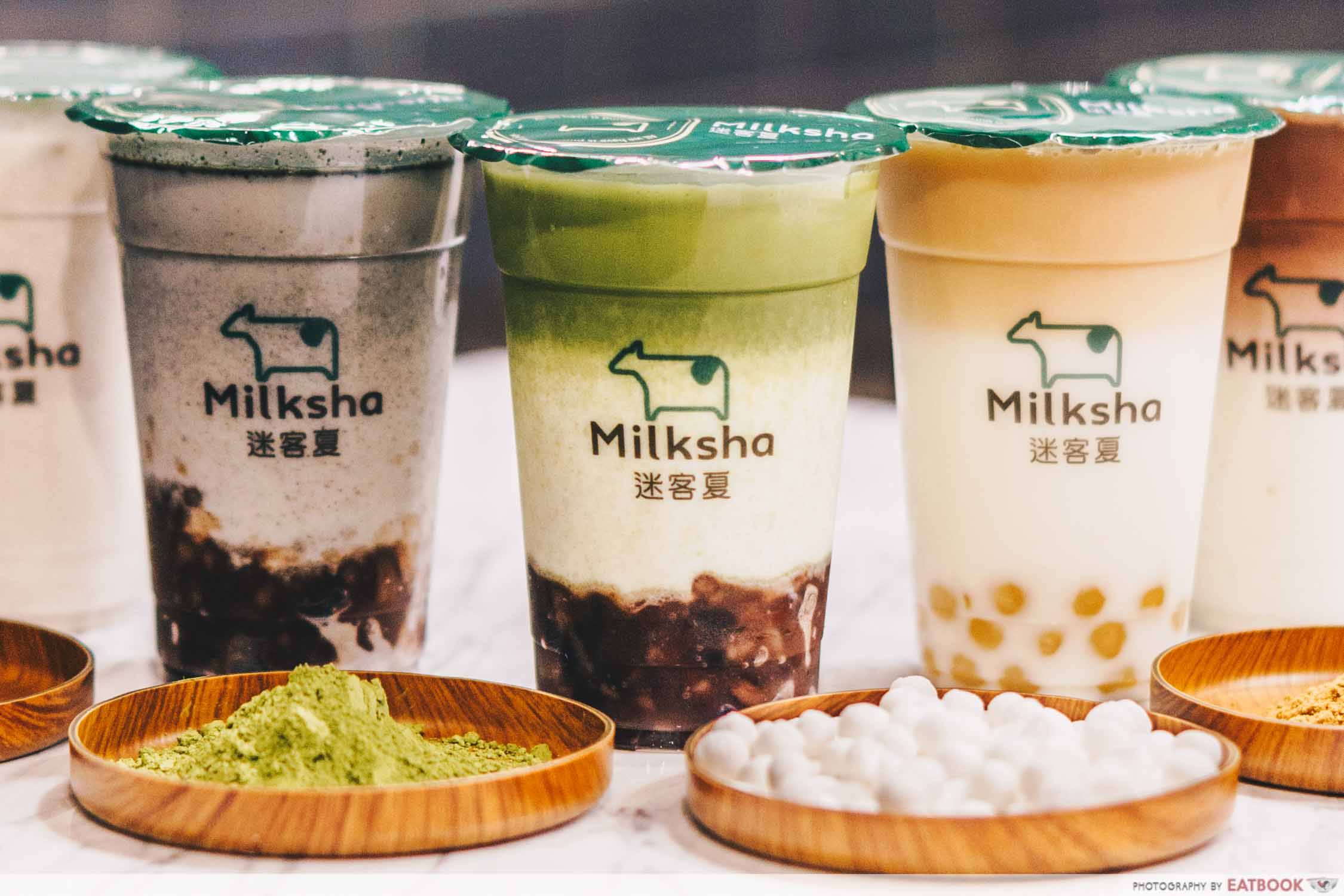 Operating out of a fully equipped food truck, Milksha's outlet at Funan Mall is their second outlet in Singapore. Their big, chewy honey pearls have given the saturated bubble tea scene here a much-needed jolt. Cooked and freeze-dried in Taiwan before being air-flown to Singapore, these QQ pearls blew us away when paired with their Brown Sugar Milk ($4.60) for an additional $1.
The Fresh Taro Milk ($5.60) is also a notable mention. Naturally sweet from mashed taro harvested from Dajia, Taiwan, the drink requires 0% added sugar.
Unit number: #02-K07
Opening hours: Daily 11am to 10pm
Website
---
8. Tiong Bahru Bakery Diner
---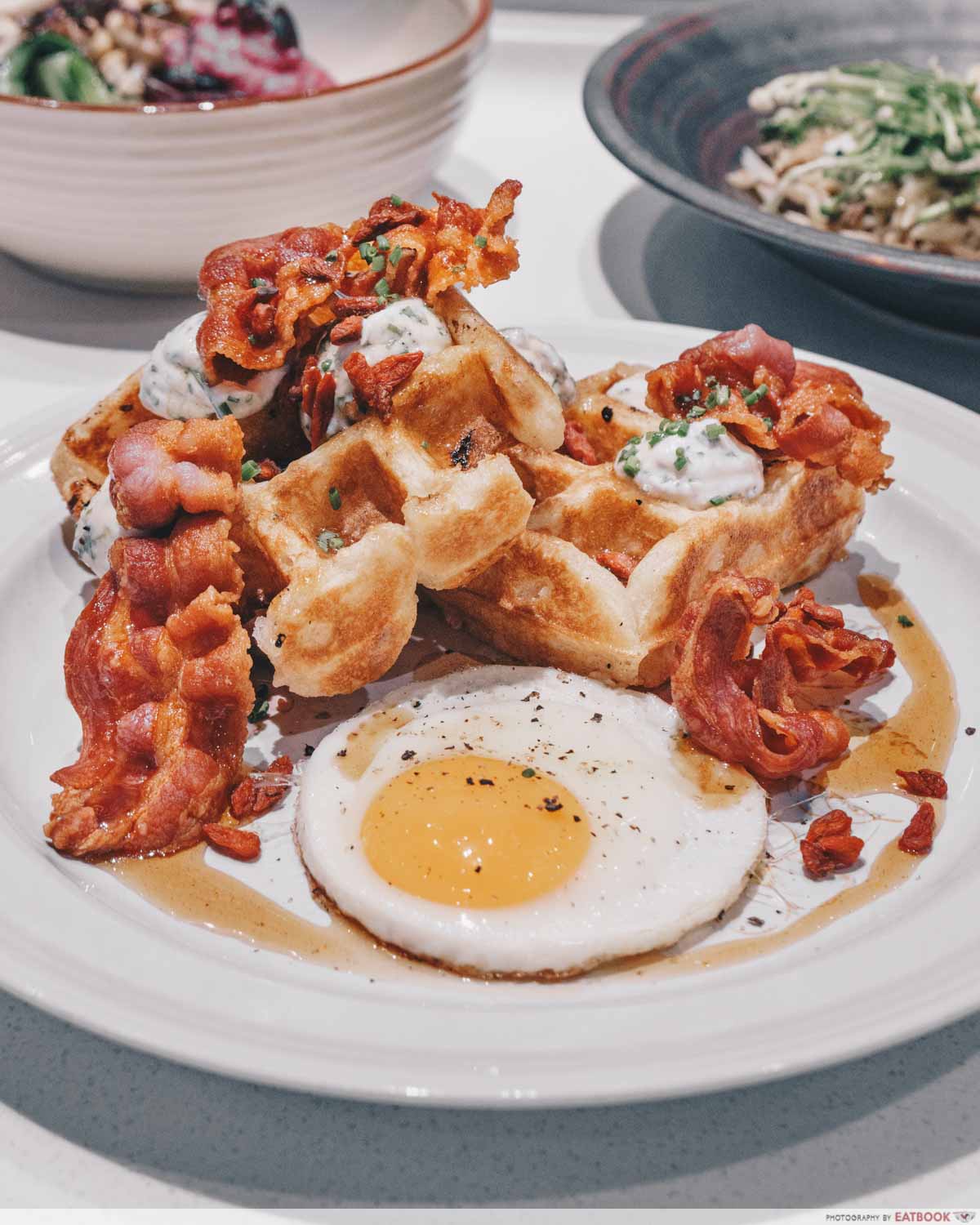 Tiong Bahru Bakery at Funan has been revamped to an all-new Tiong Bahru Bakery Diner concept in January 2020. Helmed by Chef de Cuisine Paul Albert who had a stint in The Slow Bakery, one of Rio's most popular sourdough bakery, the food here ranges from mains such as Pulled Pork Creamy Risoni Pasta ($22+) to lighter meals such as Portobello, Avocado & Hummus Black Sandwich ($19++). If you're here for breakfast, definitely try the 100% Sourdough Waffle ($23++), which comes in sweet or savoury versions. The sweet one comes with Thai mango slices, lemongrass chantilly, caramelised almonds and butter caramel sauce. While the savoury version comes with eggs, bacon, goji berries, ricotta cheese and maple syrup. 
Unit number: #04-22/25
Opening hours: Sun-Thur 9am to 9pm, Fri-Sat 9am to 10pm
Tel: 6877 4866
Website
---
9. Gong Yuan Ma La Tang
---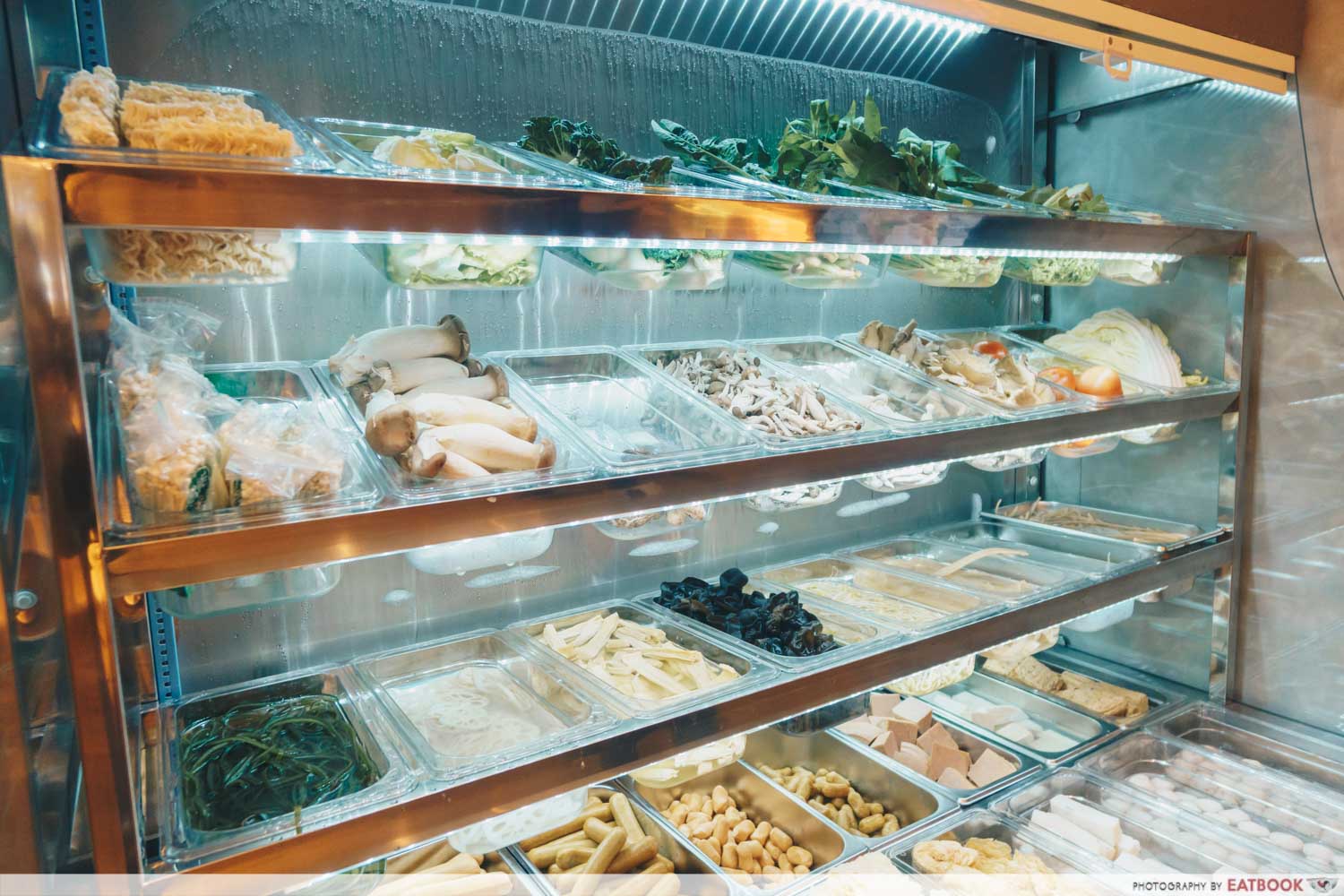 Gong Yuan Ma La Tang sounds like an eatery meant for those who walk on the spicier side of life. Besides their tongue-numbing Ma La Soup, there are also non-spicy soup bases such as Pork Bone Soup, Tomato Soup, Mushroom Soup, and even a Sesame Dressing Sauce. Take your pick from over 30 ingredients, priced at $2.28 for every 100g.
Unit number: #B2-09
Opening hours: Daily 11:30am to 10pm
Website
---
10. Sinpopo Coffee
---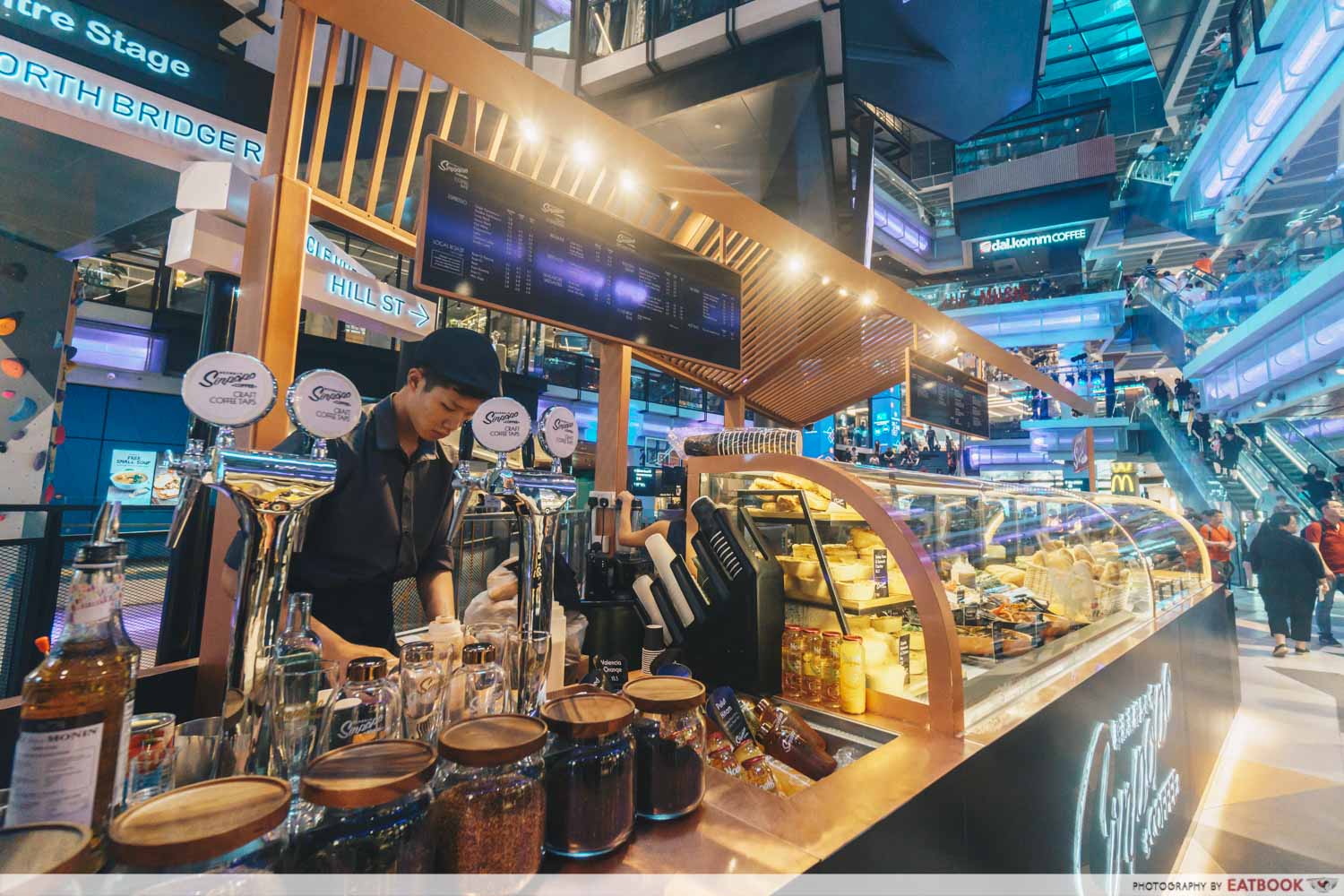 If you're looking for a quick bite or drink, Sinpopo Coffee at the atrium is your best bet with their extensive menu of deliciously sinful cakes, shakes, and sandwiches. Must-tries include their popular Gula Melaka Cake ($7.90) that will reel you in with its full-bodied flavours of gula Melaka and pandan. They have a selection of quality house cold brew teas such as their Peachy ($8), a peach brew, and their Flavour of Summer ($8), a concoct of apples, melon and mangosteen. The cold brew tea menu changes daily. 
Unit number: #01-K02
Opening hours: Daily 10am to 10pm
Tel: 6970 1080
Website
---
11. Tsuta
---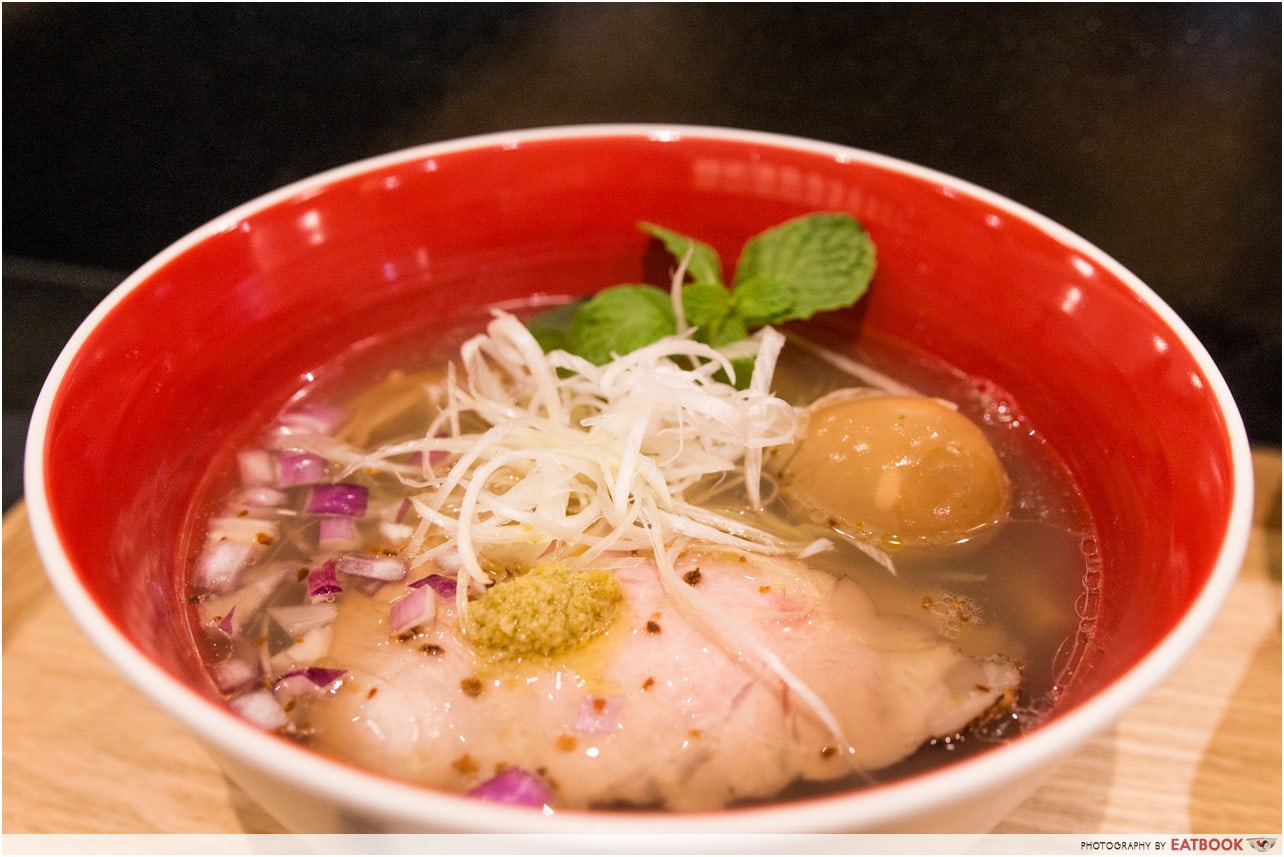 Tsuta is the world's first Michelin-starred ramen restaurant. They use premium ingredients such as truffles to accentuate the umami flavours of their shio and shoyu soup bases.
Opt for their Chashu Ajitama Shoyu Soba (22.80) when you're here. This signature dish is clean tasting yet punches a strong oomph of umami and earthiness from the black truffle purée. You can also expect meaty chashu slices, which are leaner than usual but still tender.
Tsuta Review: World's First Michelin-Starred Ramen Shop Opens In Orchard Road
Unit number: #01-04
Opening hours: 11am to 10pm
Website
---
12. NOKA
---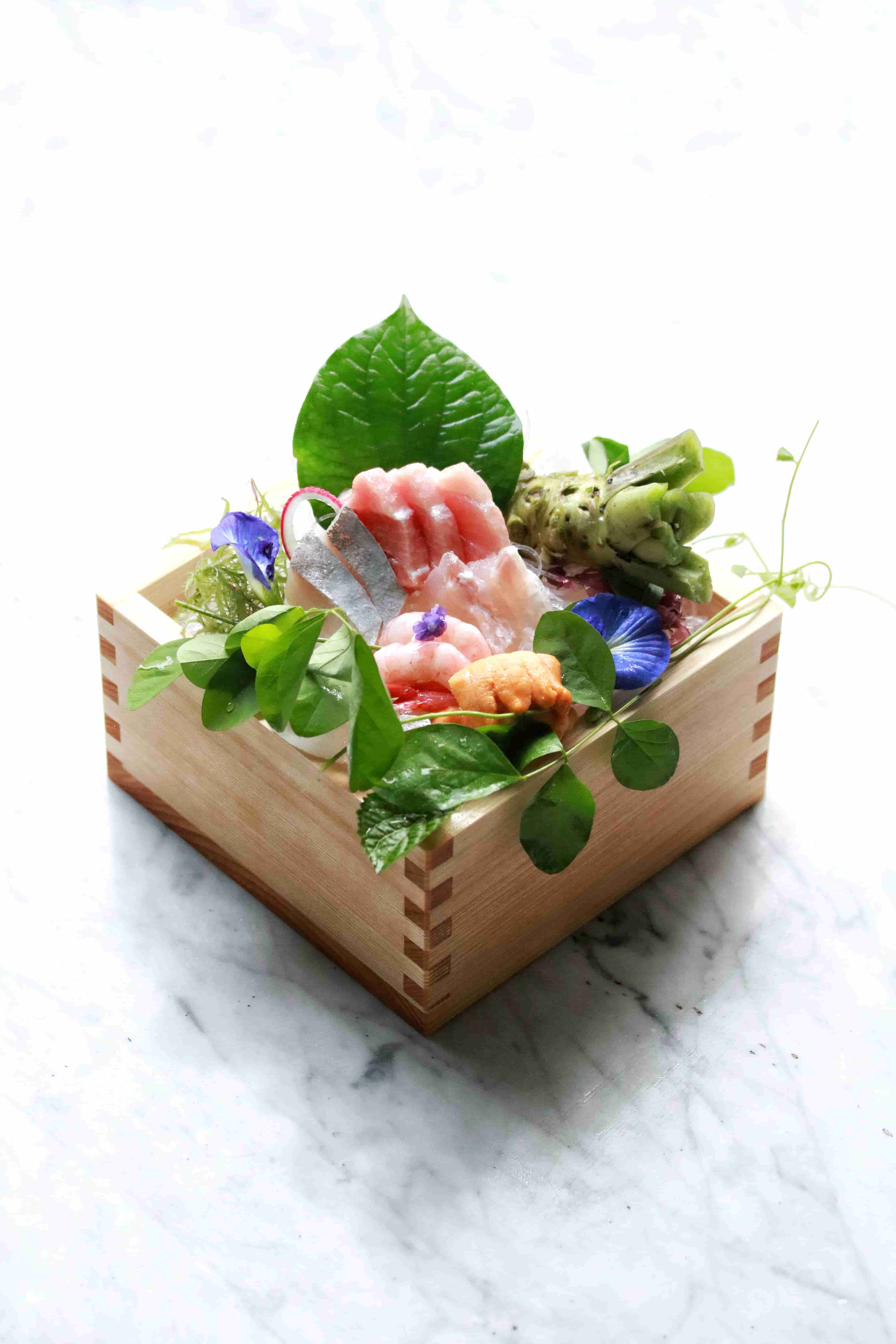 Image credit: NOKA
NOKA is perched on the rooftop of Funan Mall, ornate with vibrant flowers, veggies and herbs that are all used in the dishes served here. Dishes like Charcoal Calamari (15++) and the steamed Barramundi Sakamushi ($38++) use herbs and vegetables from their own rooftop garden. Fancy!
No Japanese restaurant is complete without raw fish, and you can get a platter of Sashimi Moriawase (45++) here as well. They even serve Japanese-styled cakes such as the Yuzu Cheesecake (15++).
Unit number: #07-38
Opening hours: Daily 11:30am to 2:30pm, 6pm to 10pm
Website
---
13. Butterknife Folk
---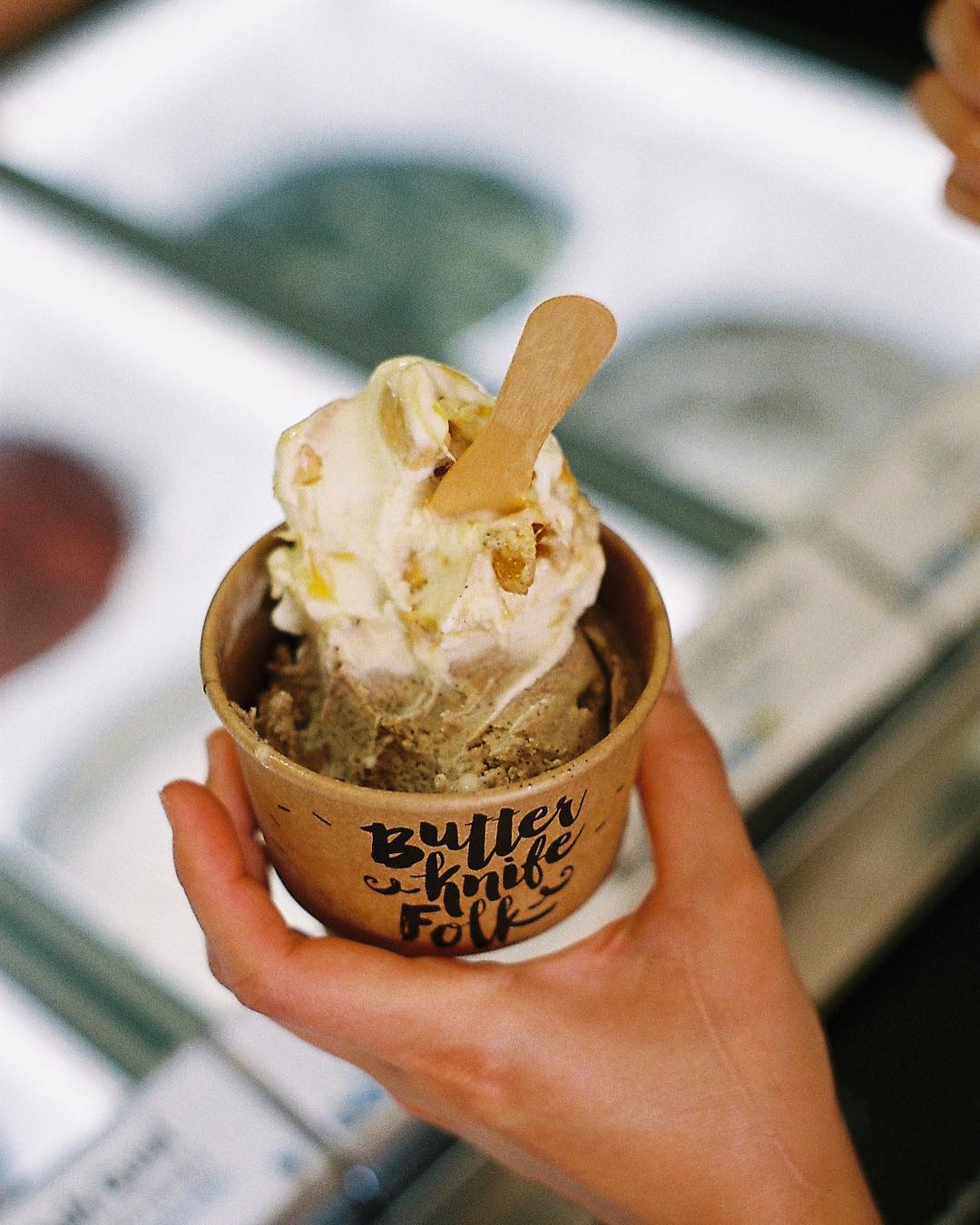 Image credit: @cloudchasers
Butterknife Folk is famous for offering tons of different—often cheekily named—gelatos such as Miso Sexy and Samurai Rocks the Kumbu. Their gelatos and sorbets are also made in small batches, allowing them to surprise you with new flavours whenever a tub is wiped clean. 
There's also non-dairy gelato and sorbets such as Cocoa-Nut and Almond Cacao—perfect for a cool and refreshing vegan treat on a hot sunny day. Scoops are priced at $5 for a single and $9 for a double.
Unit number: #02-02
Opening hours: Daily 10am to 10pm
Website
---
14. Little Caesars
---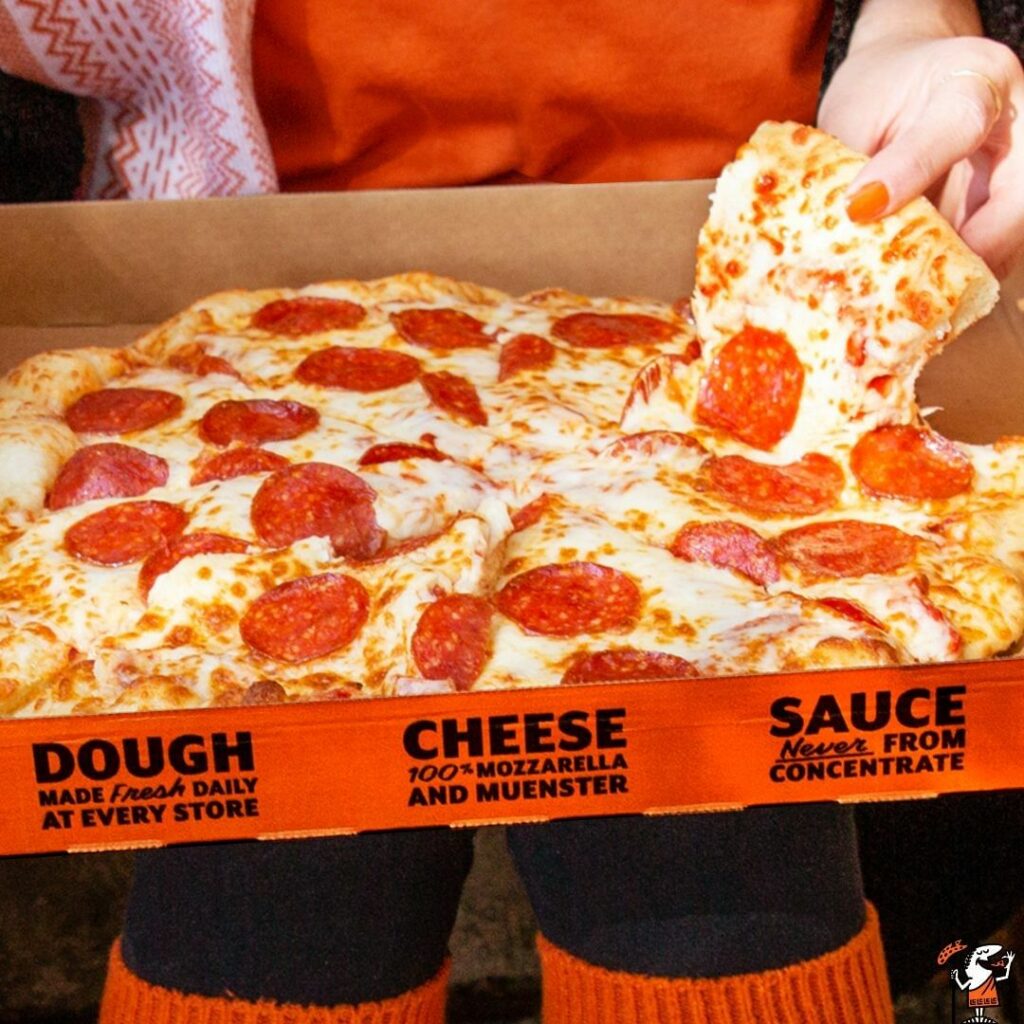 Image credit: @littlecaesers
Little Caesars is an affordable pizza chain from the States. If you're in a rush, get their 12" Hot-N-Ready Large Pepperoni ($7.99) that will be ready within 30 seconds of ordering. This means you can quickly grab a bite without wasting precious time.
There are also other classics such as 12" Hula Hawaiian ($13.49) and 12" Hot-N-Ready Large Cheese ($7.99) that are great for a hearty meal.
Unit number: #01-18
Opening hours: Daily 10am to 10pm
Website
---
15. Steak & Sushi by Hot Tomato
---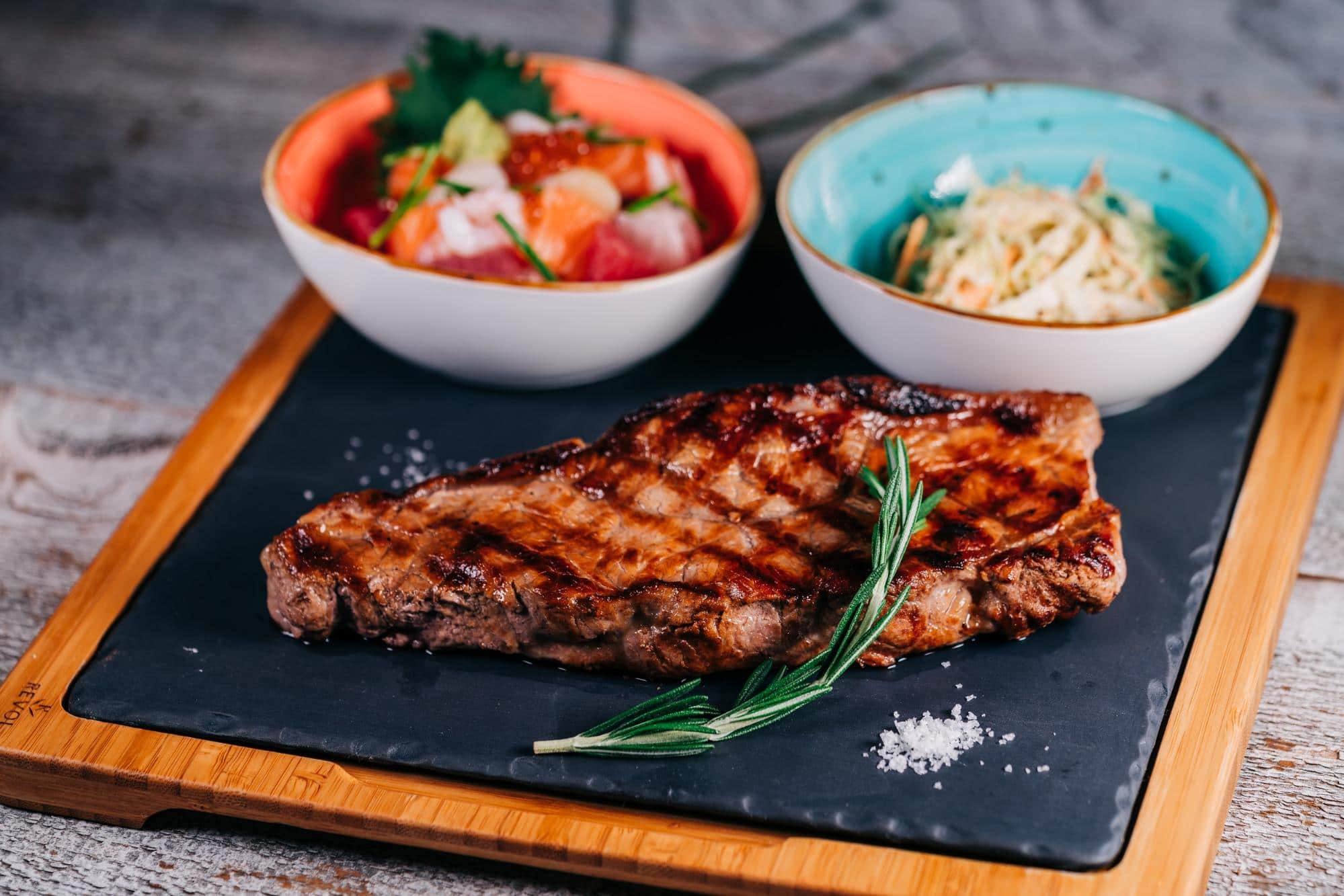 Steak and Sushi serves exactly what its name suggests: steak and sushi. They're opened by Hot Tomato, so you can expect the same quality and affordable nosh here.
Def' check out their Steak & Chirashi Don ($21.90++), where 200g of juicy Australian grass-fed sirloin is served with a colourful bowl of chirashi don that's brimming with diced sashimi. There are also more pocket-friendly options such as Fish & Chips ($9.90++) and Baby Back Ribs ($16.90++) if beef is not your chosen protein.
Unit number: #B1-24
Opening hours: Daily 11am to 10pm
Website
---
16. The Dark Gallery
---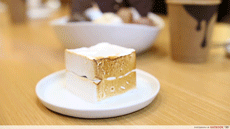 The Dark Gallery serves a beautiful selection of dark chocolate treats. For those averse to dark chocolate, this spot will change your mind. Their Frozen S'mores ($7.50), for instance, features a fluffy marshmallow exterior enveloping a dark chocolate ice-cream interior. The dessert is then flambéed to a beautiful caramel.
To get a better taste of the dark chocolate, opt for the Single Origin Dark Chocolate Ice Cream Platter ($12). Each ice-cream is made from a specific region of cocoa, so you'll be able to make out each chocolate's subtle differences.
The Dark Gallery Review: Dark Chocolate Cafe With Over 15 Chocolate Desserts On Their Menu
Unit number: #01-14
Opening hours: Daily 10am to 10pm
Website
---
17. Workspace Espresso Bar
---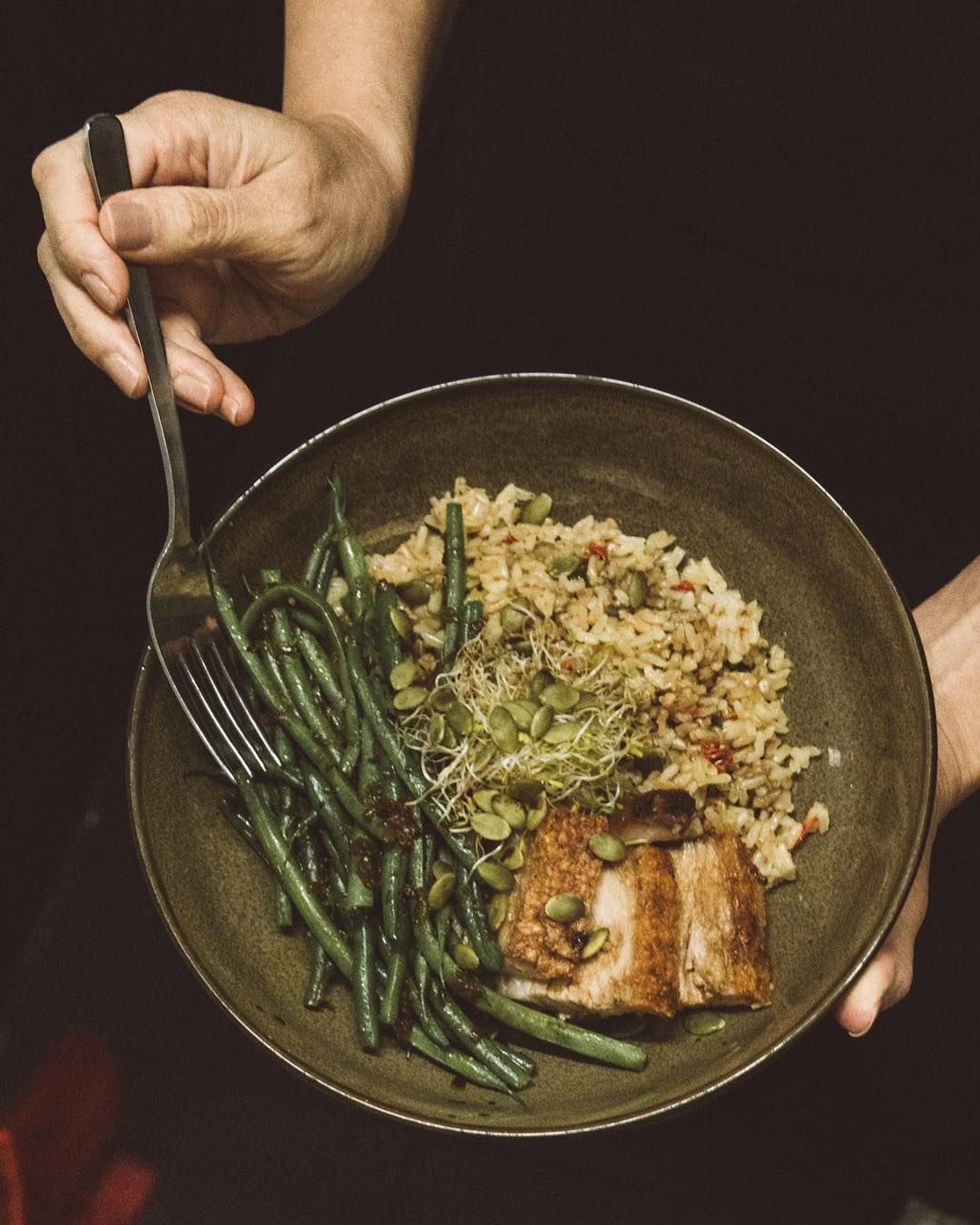 Image credit: @workspaceespresso
Workspace Espresso Bar serves up healthy and delicious grain bowls. For the health-conscious, Lite Bowl ($11.80) allows you to pick a base, side, protein, topping, and dressing. Alternatively, if you are looking to bulk up, Power Bowl ($13.80) features a more substantial portion with more sides and toppings. Think options such as roasted pork belly, miso-mirin salmon, and flank steak.
You can also get Chocolate Croissants ($2.30), Apple Crumble ($5) and other pastries to go with your morning coffee.
Unit number: #01-12
Opening hours: Daily 10am to 10pm
Website
---
18. Liao Fan Hawker Chan
---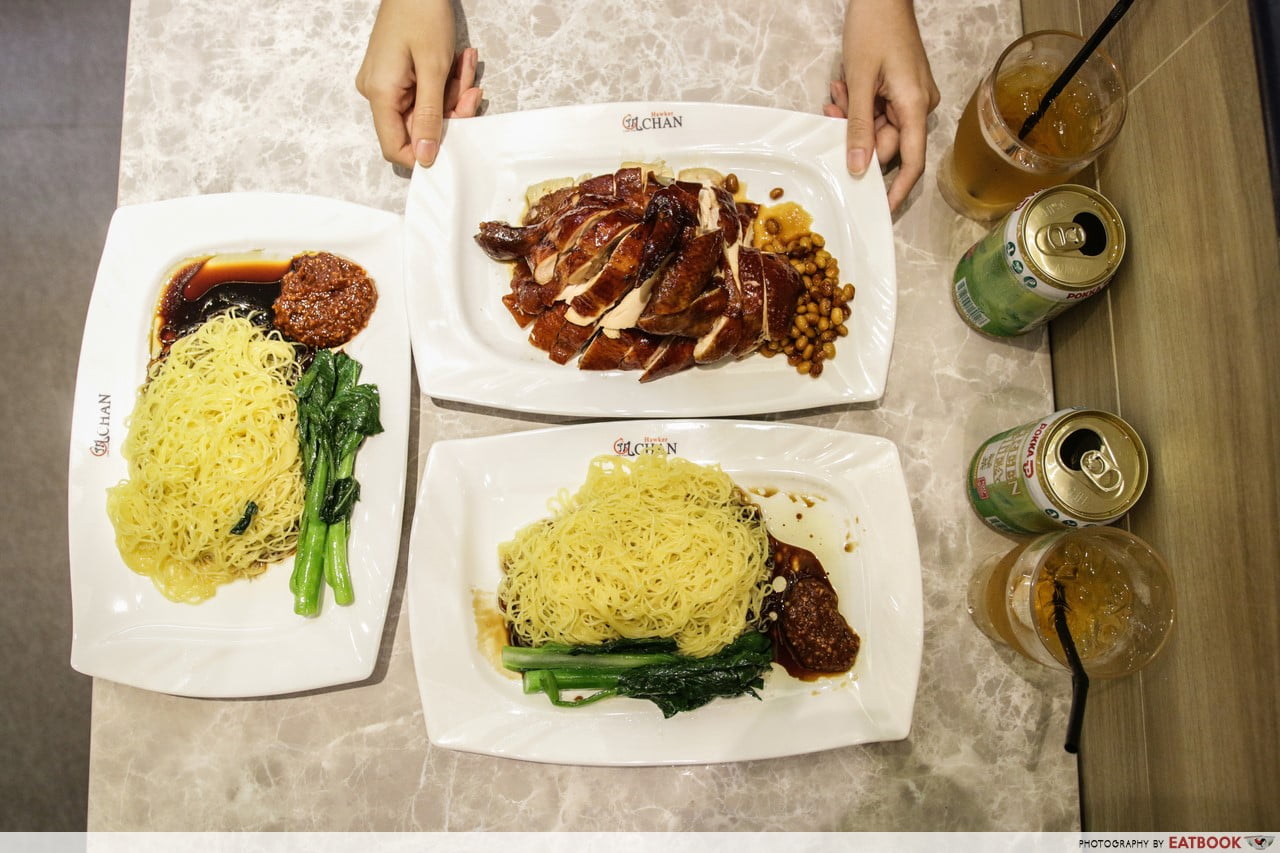 Liao Fan Hawker Chan needs no introduction. The OG one-Michelin-starred hawker stall has now 16 outlets across the globe and is opening another outlet in Funan Mall as well. Def' get the famed Soya Sauce Chicken Noodle ($4.50) that's packed full of herbal notes. The Combination Platter ($6 for 2 types, $10 for 3 types of meat) is great for sharing, with its delicious, caramelised roast meats.
Hong Kong Soya Sauce Chicken Rice And Noodle Review: The Cheapest Michelin Star Meal In The World
Unit number: #01-03
Opening hours: Daily 10am to 9:30pm
Website
---
19. Wolf Burgers
---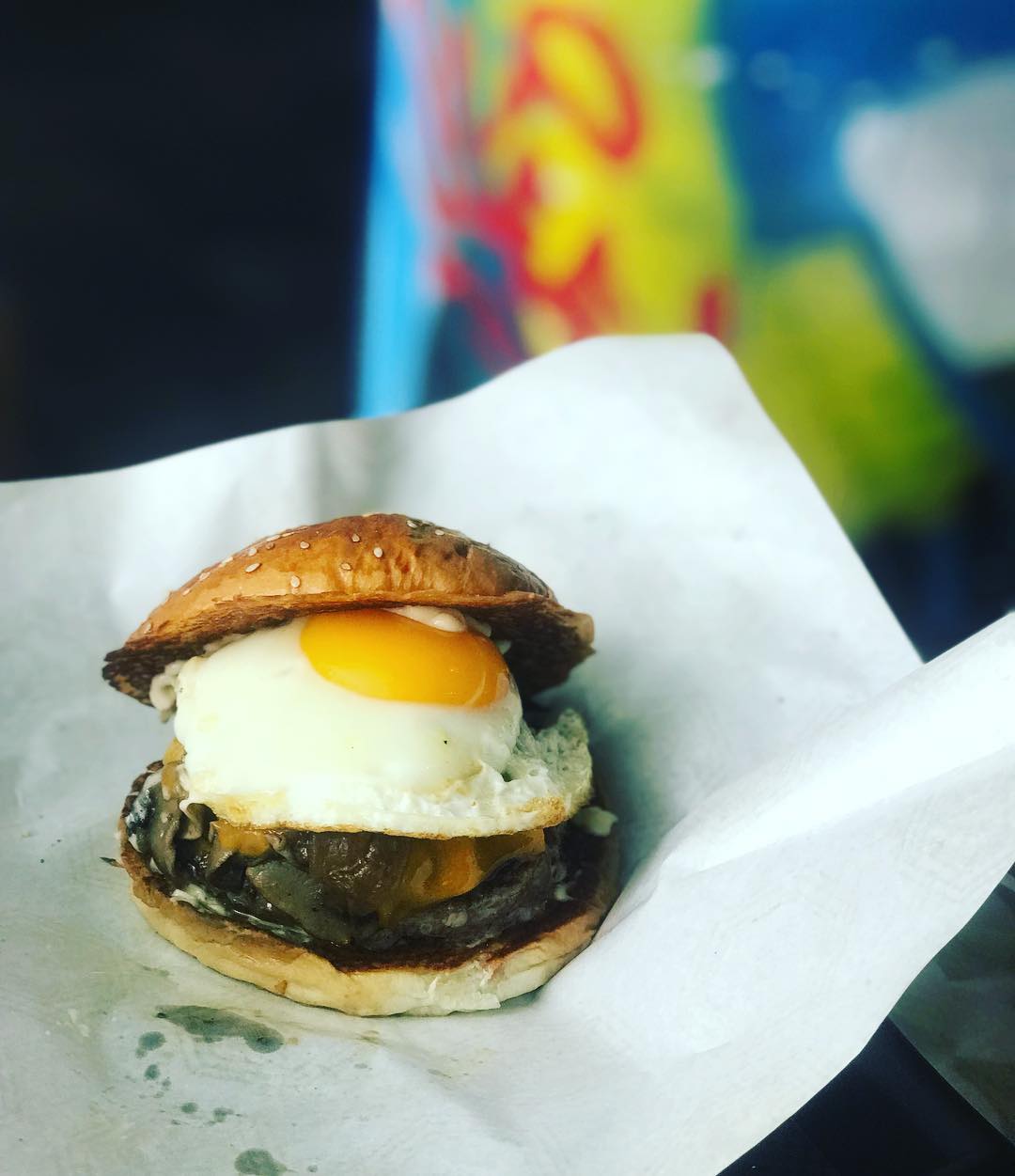 Image credit: @eugenesiiaoo
For those craving quality burgers on a budget, Wolf Burgers will be a safe bet. Their Wagyu Beef Signature Burger ($14.90) is a good choice if you're looking for something hearty and satisfying. Go big and splurge on their Dry-aged Beef Burger ($17.90) that's dripping with juices. You can even zhng-up your burgers with Avocado ($1.80) and Jalapenos ($1.80) or $3 for both. 
If you're on a green diet, there are also less cloying options such as the vegetarian Future Burger ($16.90) that's just as flavour-packed. 
Unit number: #01-05
Opening hours: Daily 10am to 9:30pm
Website
---
20. Godmama
---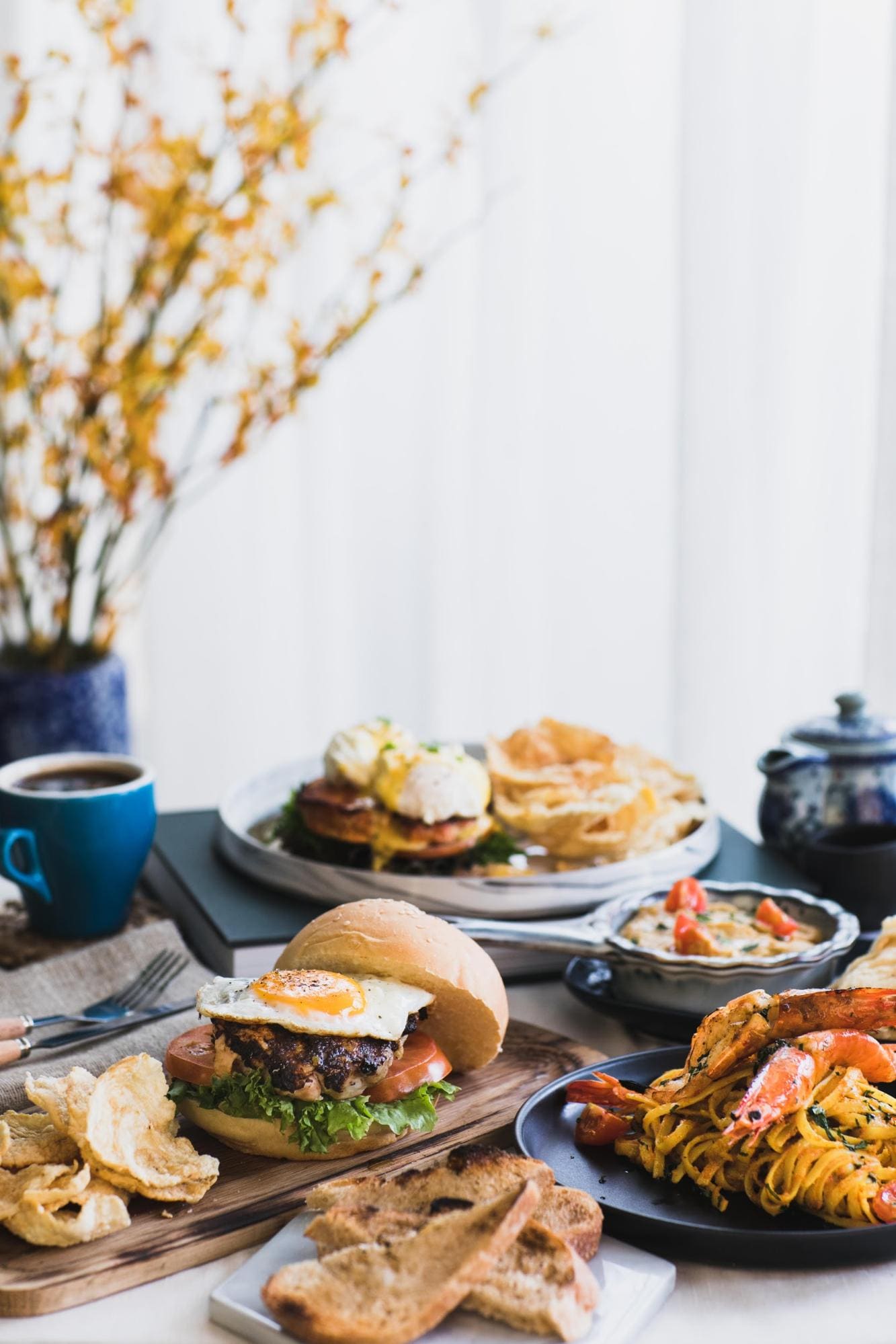 Image credit: Godmama
Godmama takes on Peranakan food in both traditional and mod-sin styles. For brunch, you'll find modern creations on traditional ingredients such as Buah Keluak Bolognese Pasta (14.90++) and Otak Otak Benedict ($19.90++) Wash it all down with an afternoon Gula Melaka Old Fashioned ($22++) cocktail.
They also feature time-tested Nyonya recipes such as Babi Assam (18.90++) and Egg Skin Popiah (6.90++), if you rather go traditional.
Unit number: #04-07
Opening hours: Daily 11am to 10pm
Tel: 6970 0828
Website
---
21. Fireless Kitchen
---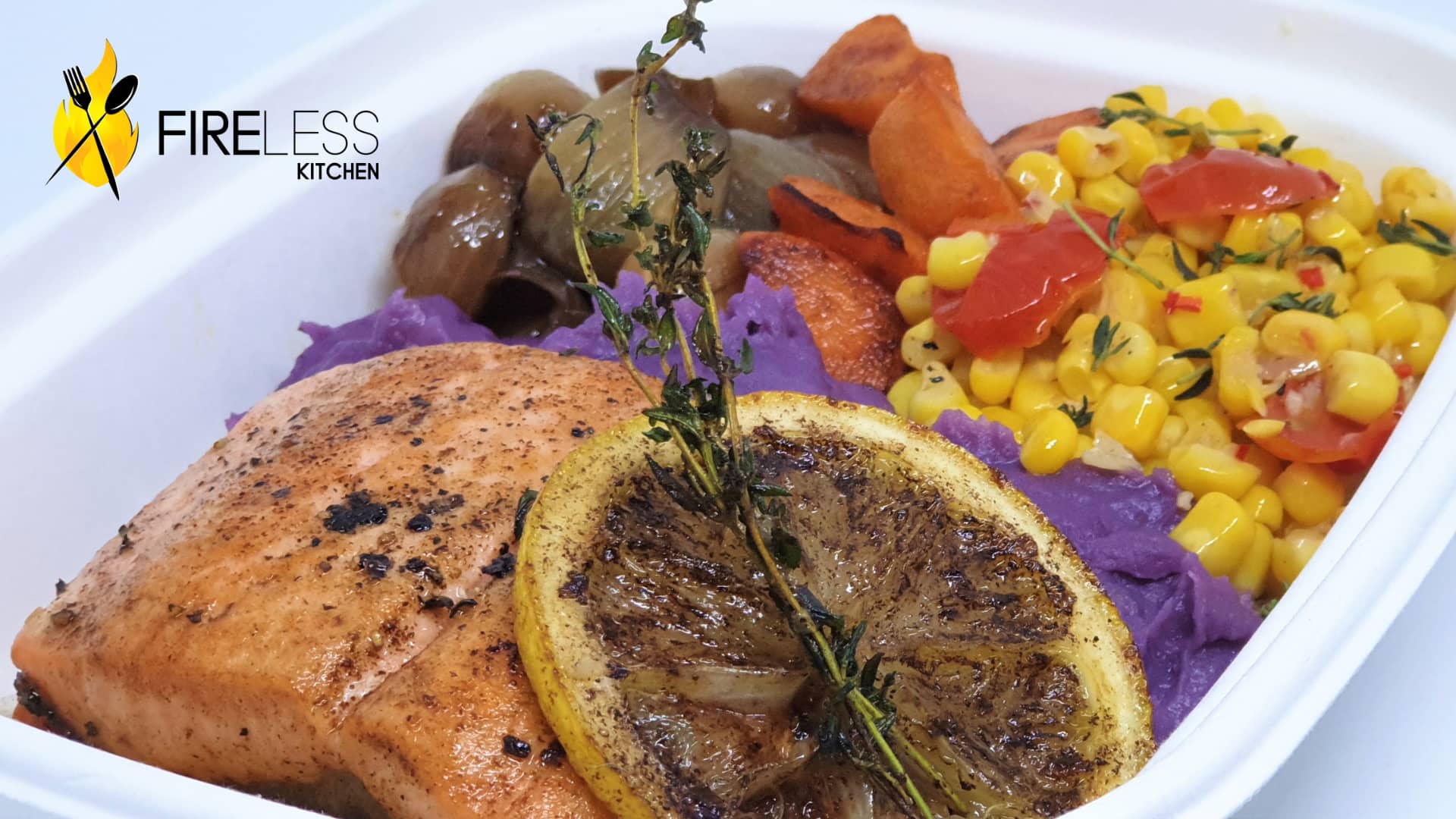 Image credit: Fireless Kitchen's Facebook page
Fireless Kitchen has got no open flames. They rely mainly on sous vide cooking to prepare their food. It's no gimmick; this ensures your food will always be at its most optimal doneness.
Check out the 12-Hours Sous Vide BBQ Pork Belly (13.90) that's soft and tender—a result of all that low and slow cooking. Even their salads such as the Krazy Kale with Sous Vide Salmon (15.90) are prepared in a water bath to maximise its flavours.
Unit number: #02-04
Opening hours: Daily 10am to 10pm
Tel: 9661 4469
Website
---
Funan Mall for a food-filling time
---
The mall's 180-degree change is one I really appreciate. With the reopening of Funan Mall, there is now a whole slew of eateries to choose from when you're at City Hall MRT Station. If you are looking for more good food around the area, check out this list of other City Hall food gems!
Photos taken by Pepita Hope Wauran.