Update: As of 3 December 2020, the Single Origin Dark Chocolate Ice Cream Platter ($12) and Single Origin Chocolate Pastries Platter ($12) are no longer available.
The Dark Gallery is a dark chocolate lover's paradise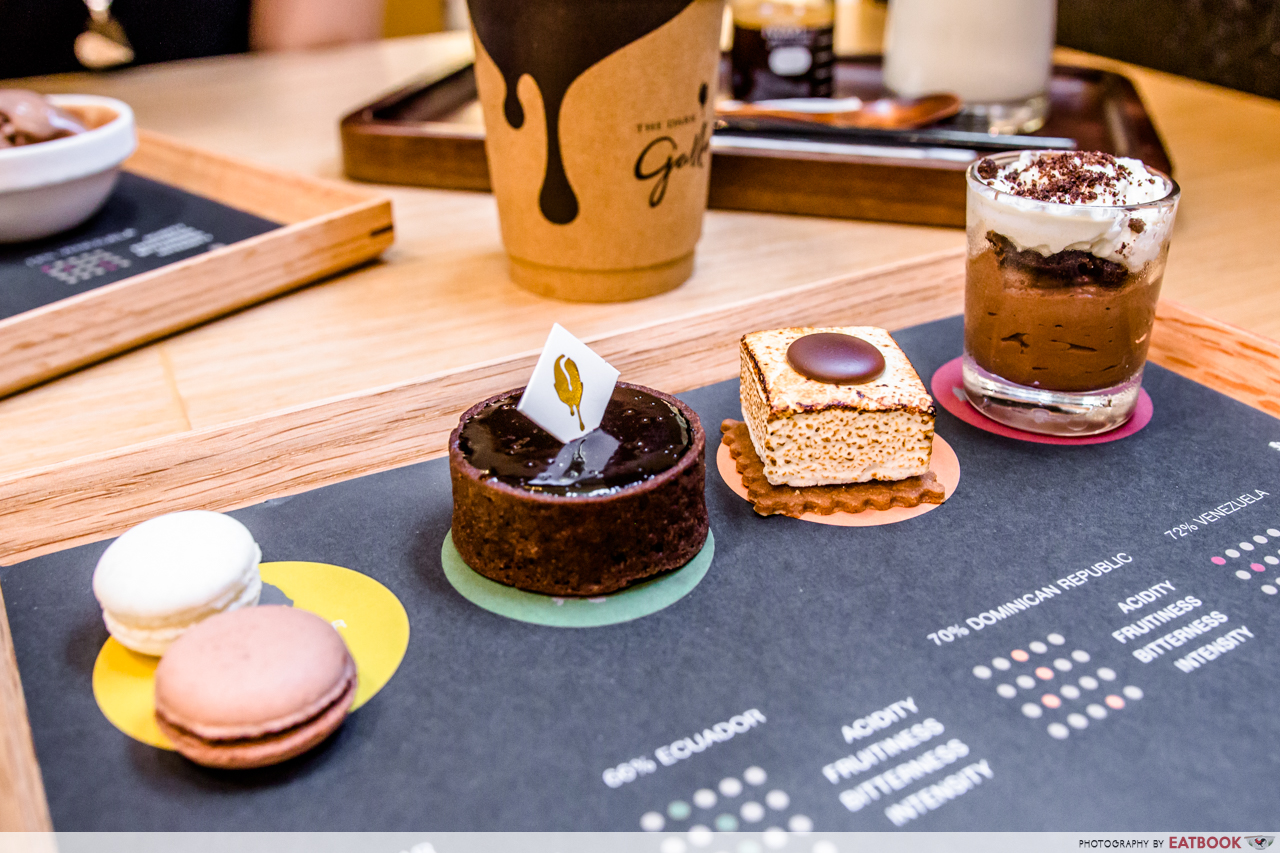 Excuse my look of surprise whenever someone says they don't like chocolate. When I was a kid, my mum always carried a bottle of M&Ms or a roll of Cadbury Dairy Milk on weekends. I'd suck on a piece during long car rides to my grandmother's till I fell asleep or while the adults chatted. When I grew a tad older, I would hide a KitKat Chunky from myself till I could nibble on it while watching my favourite cartoons on Saturday. Milk chocolate was my favourite before orh luak (oyster omelette) replaced it. Dark chocolate, however, I stayed well away from.
While The Dark Gallery has a strong dark chocolate theme I expected my taste buds to disagree with, the new café quickly changed my perception. I wouldn't say they converted me into a dark chocolate lover but their creations did ease me into the dark side. From ice-cream to pastries, they helped me appreciate chocolate in a different light.
Food at The Dark Gallery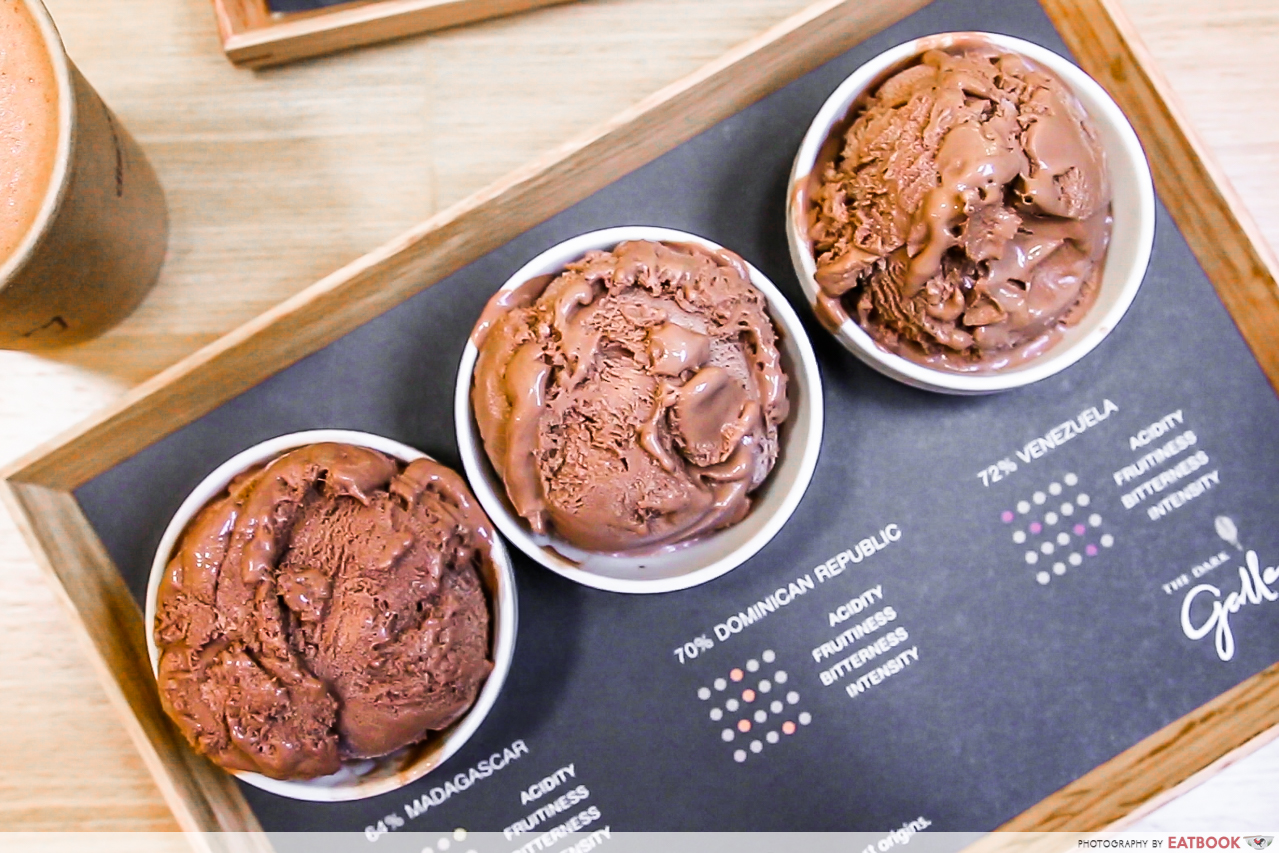 Our first platter was their Single Origin Dark Chocolate Ice Cream Platter ($12), which comprises three scoops of ice-cream made with chocolate from three different countries. The base of each platter was lined with an infographic that listed the origin, acidity, fruitiness, bitterness, and intensity of the chocolate used. Heeding the café's advice to start from left to right, the 64% Madagascar was my favourite, as it tasted the closest to milk chocolate. Their 70% Dominican Republic was distinctly fruity while the 72% Venezuela was the most intensely bittersweet. Each scoop was dense and luxurious with a high fat content that kept it from melting quickly.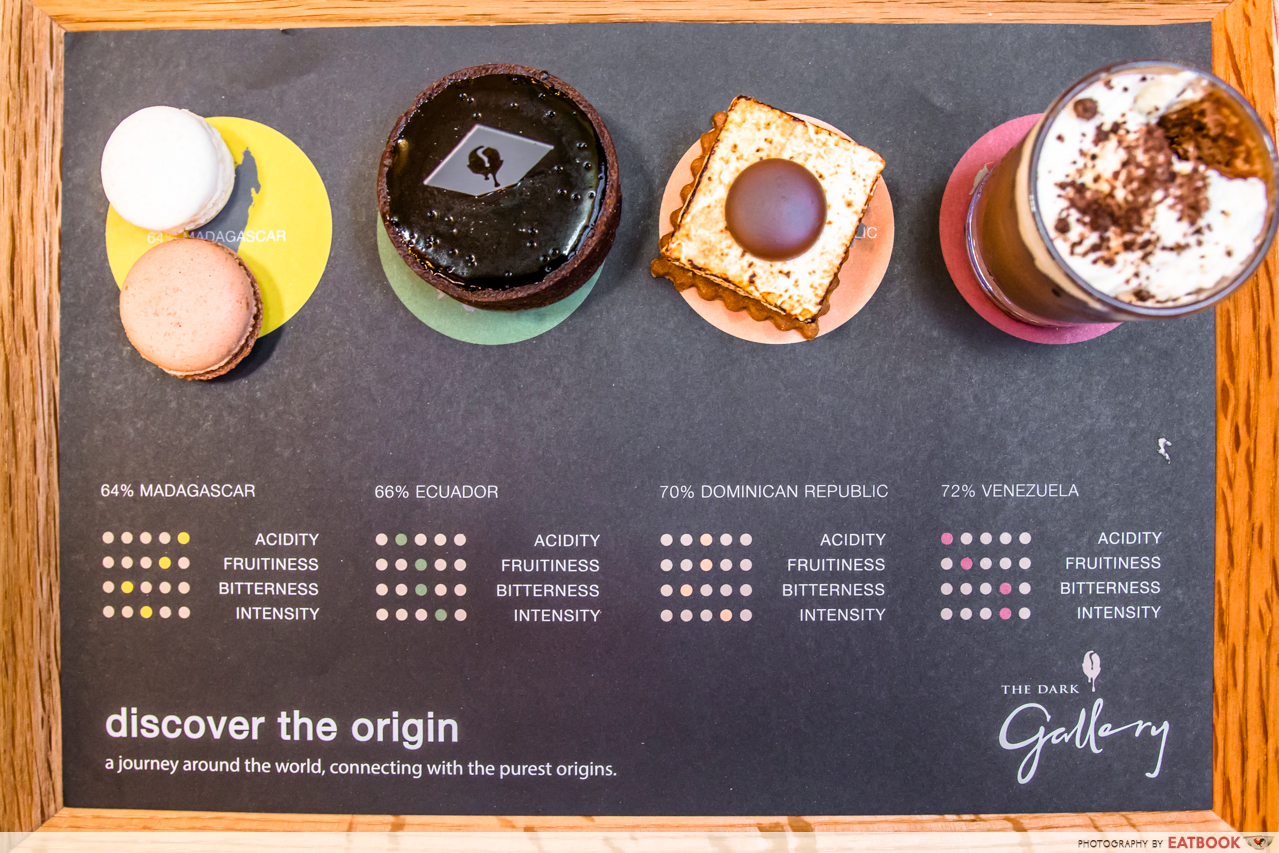 In their dainty Single Origin Chocolate Pastries Platter ($12) are macarons, a tartlet, a s'more, and a trifle. The two tiny macarons were crunchy and lightly sweet with a 64% Madagascan chocolate centre.
Filled with 66% Ecuador dark chocolate ganache, the tartlet tasted bitter with dense chocolate contained in a sturdy crust.  
Although the s'more that followed was topped with a button-sized 70% Dominican Republic dark chocolate, it was less intense than the tartlet. The bitterness of the small dollop of molten chocolate was more than compensated for by the sweetness of the torched marshmallow and graham cracker.
Their mini trifle layered 72% Venezuelan dark chocolate mousse, caramelised bananas, brownie chunks, and whipped cream together. While it was the most bitter out of the four, the harmony between creamy and cakey textures made it the most outstanding.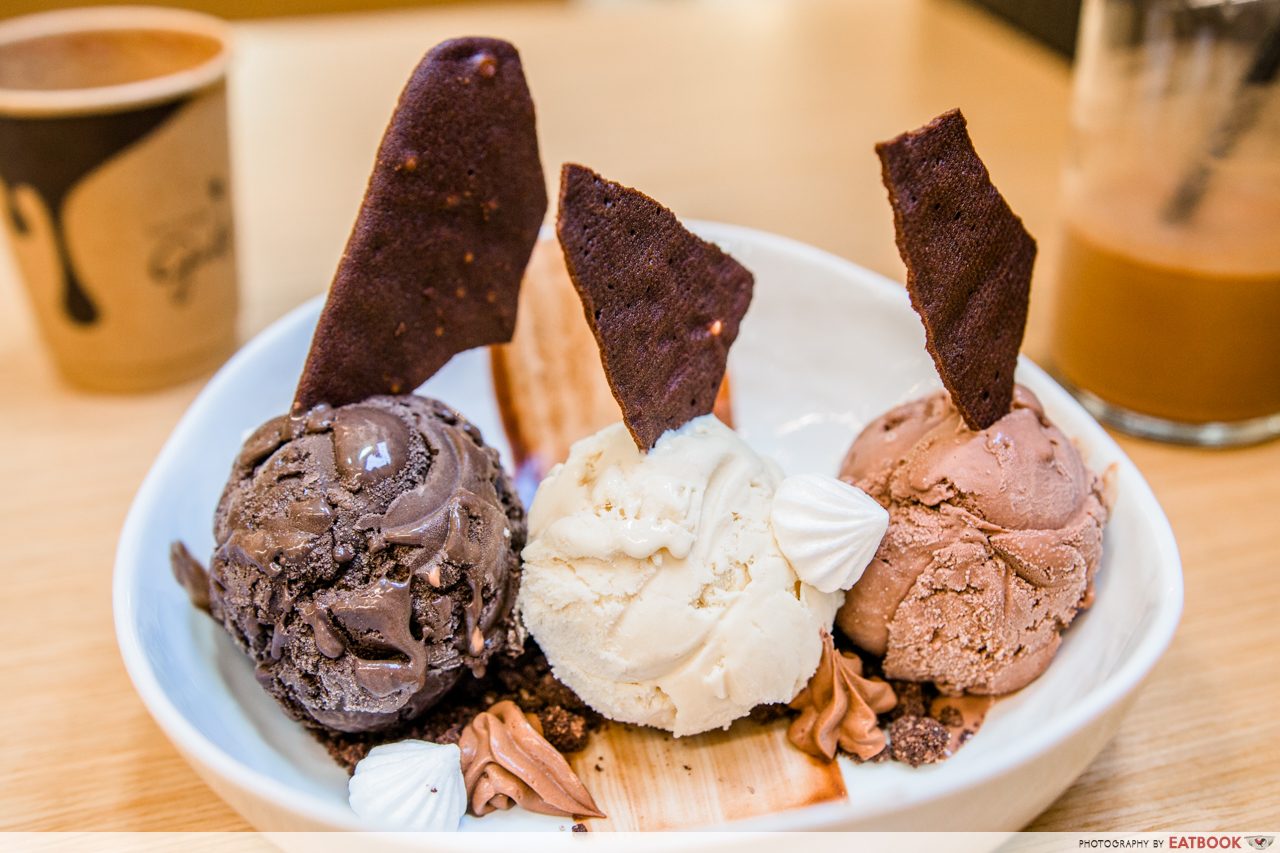 As a sweeter choice, The Chocolate Rhapsody ($19) offered signature dark, milk, and white chocolate ice-creams, decorated with cacao tuile, chocolate "soil", chocolate mousse, and chocolate meringues. This combination balanced out both bitter and sweet flavours.
The dark chocolate ice-cream was bittersweet with a clean finish, whereas the white was slightly milky and sweet. A piece of cacao tuile pierced each scoop, and the dry and light biscuit added a sharp textural contrast to the ice-cream.
The chocolate "soil" that lined the base of the bowl was crunchy, while the surrounding dollops of chocolate mousse added a silky touch. What I most enjoyed was having a spoonful of white chocolate ice-cream with a piece of chocolate meringue.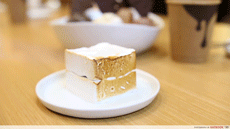 My favourite out of everything we tried was their Signature Frozen S'mores ($9) that was torched upon order.
The ensconced block of 80% dark chocolate ice-cream was lightly coated with graham cracker crumbs that added a delightful cookie flavour and crunch. Piercing into the thick layer of melted goo with my fork merged the warm marshmallow with the cold ice-cream to create a satisfying, sticky sweetness.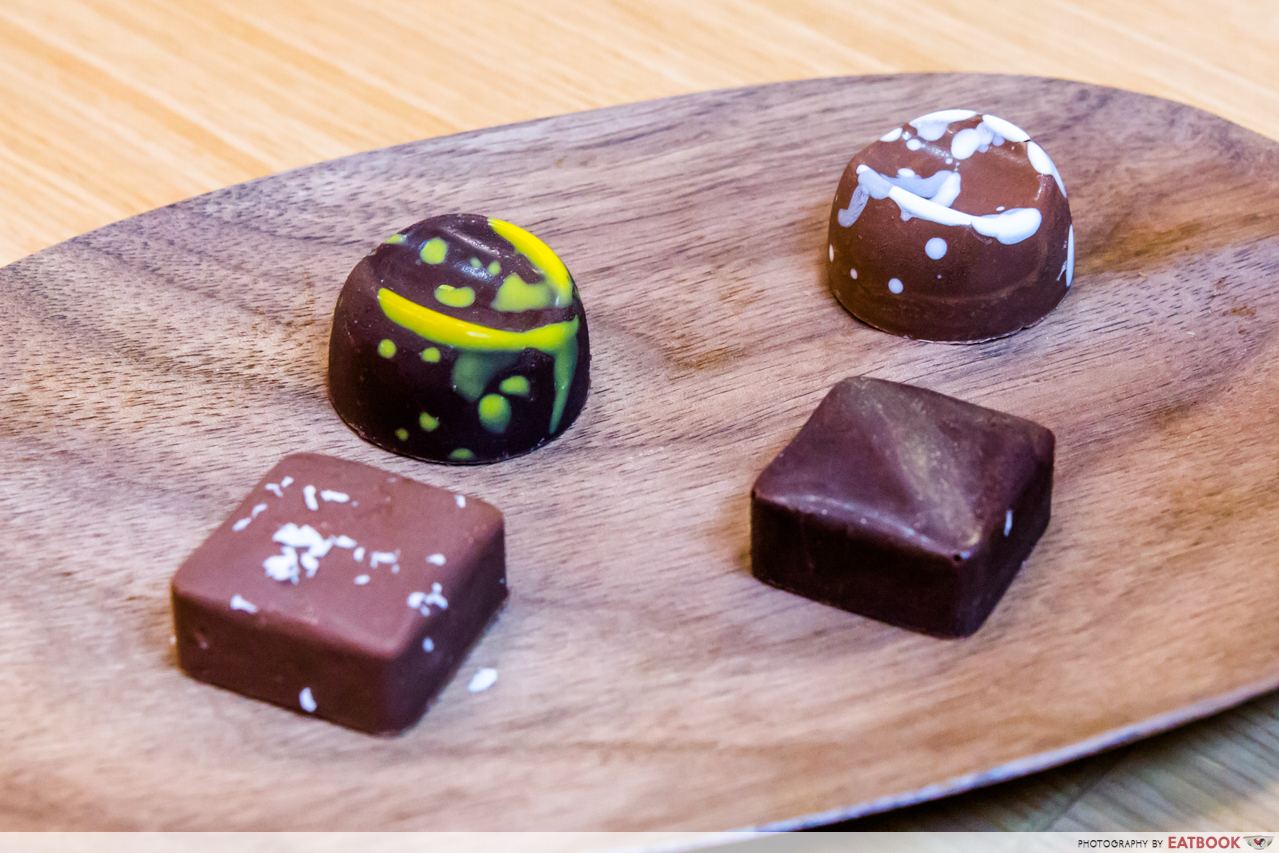 Their Assorted Chocolate Bonbons ($3 each) are crafted with different amounts of dark and milk chocolate, and we chose four of their five house-made flavours. Biting into Coconut Gula Melaka gave way to a strong coconut aroma from its coconut shreds. Caramelised Figs was crunchy thanks to the fig seeds, while their Hazelnut Praline reminded me of Kinder Bueno. Passionfruit made a good ending piece with its zesty and tangy core of passion fruit puree.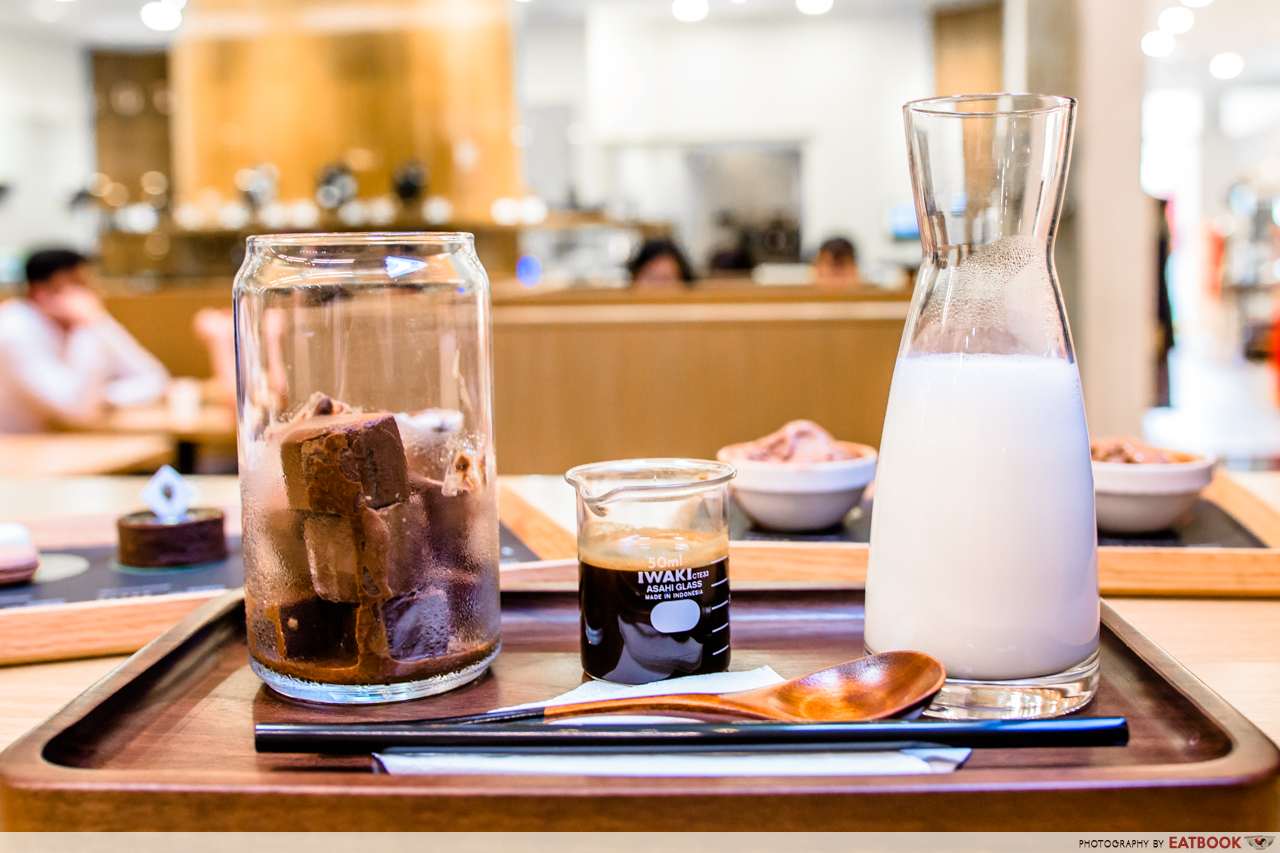 Frozen Chocolate Cube Latte Hazelnut Dark Chocolate ($10) is their most interesting drink. Instead of a cup of coffee, you'll get a jar of frozen chocolate cubes, a beaker filled with two shots of hazelnut espresso, and a jug of steamed milk. As soon as the tray arrived, a strong scent of hazelnut wafted up from the hazelnut espresso. I emptied it and the milk into the jar of chocolate cubes and stirred myself a warm drink. The espresso is strong while the milk dilutes the hazelnut's aroma, so concoct your blend with discretion!
Washing each dessert down with their hot Signature 66% Dark Chocolate ($7) was interesting, with the sweetness of my drink changing according to the cacao density of what I ate. Unlike the filling cups of creamy chocolate I was used to, their Valrhona Couverture dark chocolate was lighter yet rich and very smooth.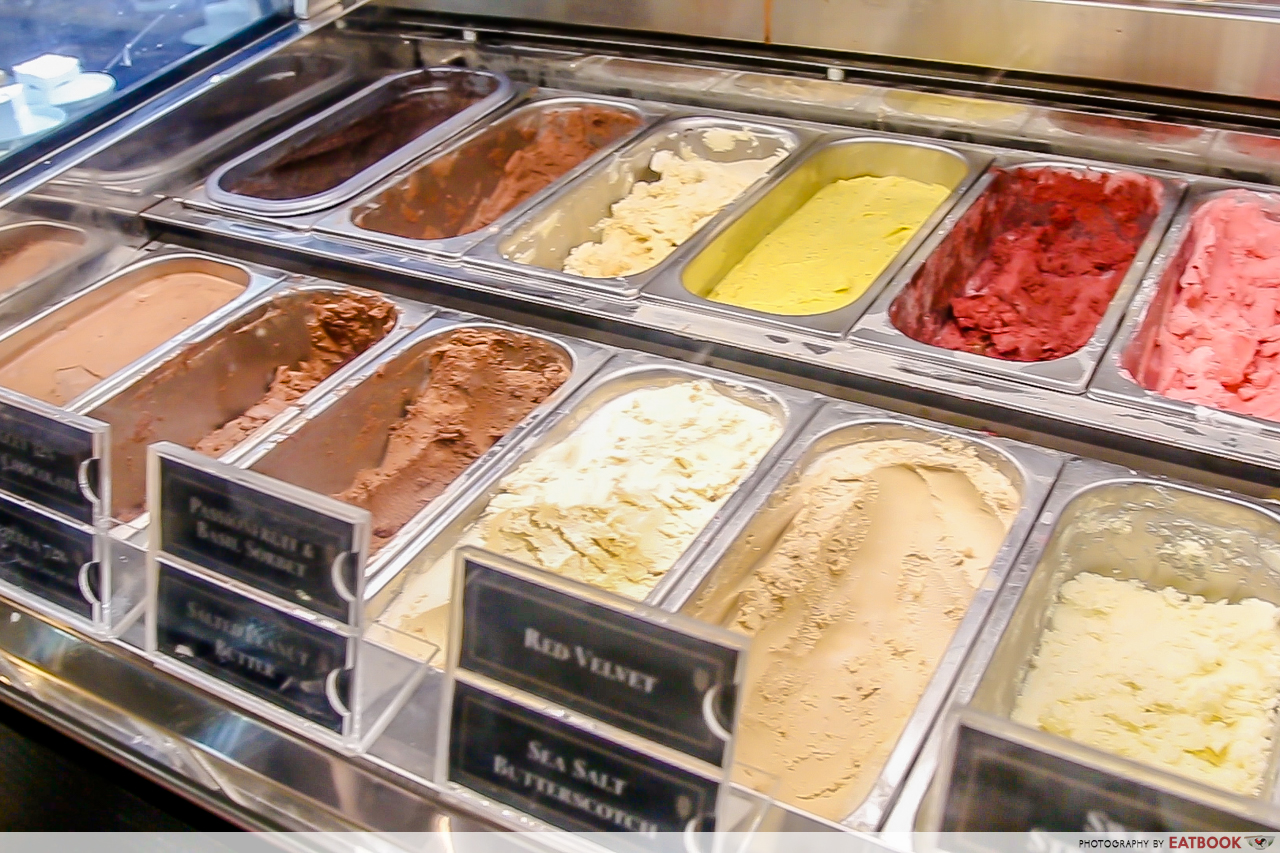 Behind their ice-cream counter are a dozen flavours of premium Artisanal Ice Cream ($5 for a single, $8.50 for a double scoop). Out of the non-chocolate half, their Sea Salt Butterscotch felt light and tasted mildly salty, making it good as an after-meal treat. Opt to have your scoop served in a cup, cone or – at an additional $1 – a baked chocolate waffle bowl.
Ambience at The Dark Gallery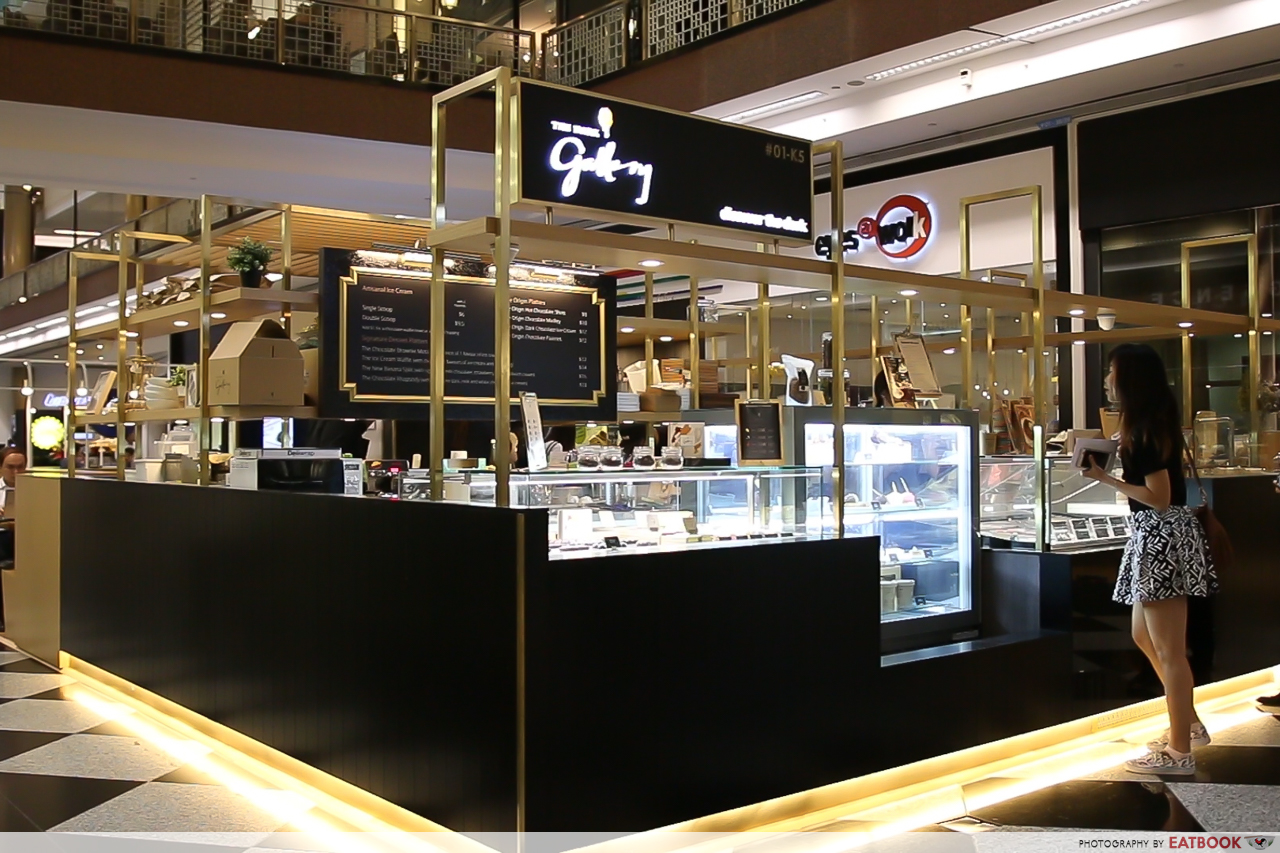 Situated along the main aisle of Millenia Walk, The Dark Gallery's open layout creates a casual vibe. While the idea of dining at a chic dark chocolate café sounded intimidating initially, The Dark Gallery appeared warm and inviting. The brown furnishings with simple highlights of gold keeps the boutique looking posh, while the booth seats and communal high tables made it look like a cosy stopover for tea with friends. There were also power plugs available, making it an ideal place to do some work at.
The verdict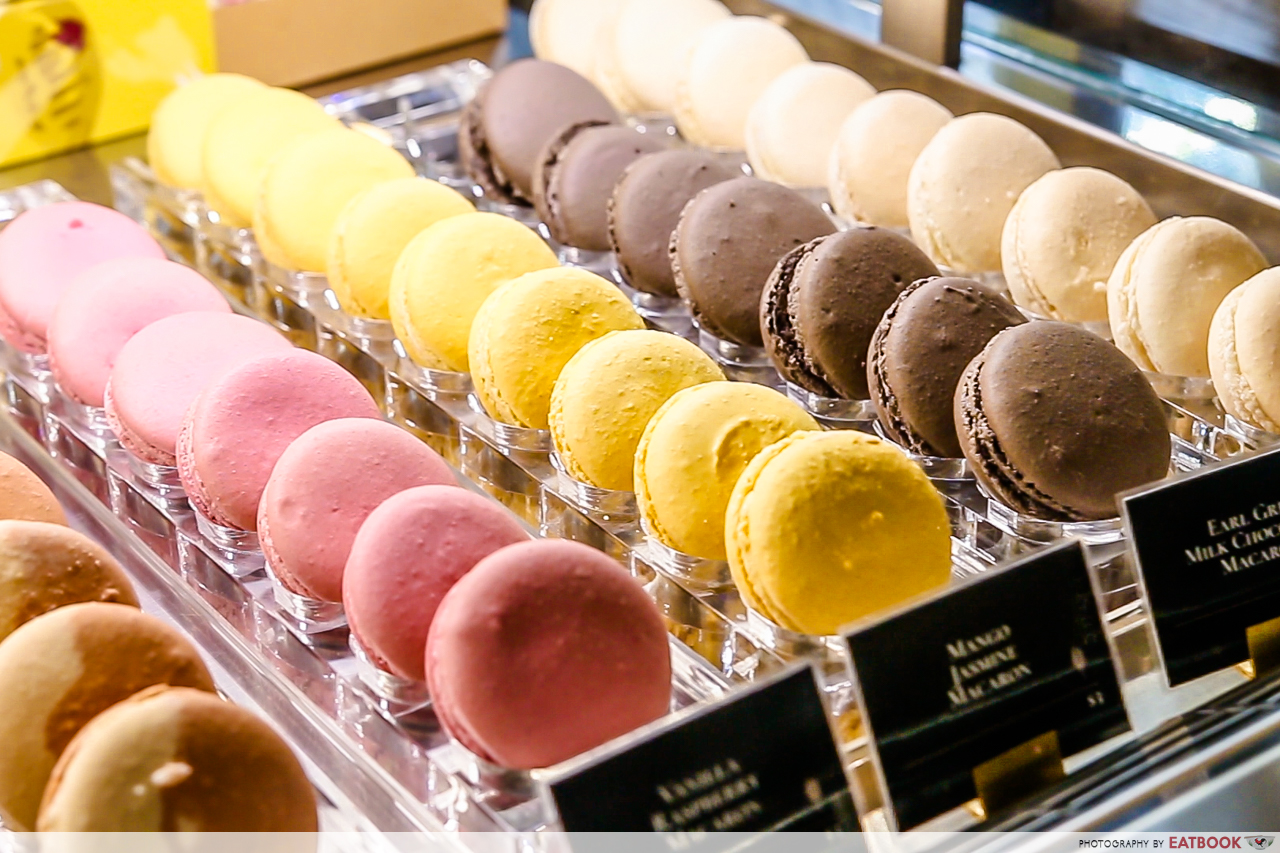 Despite being luxurious, the desserts here weren't cloying, and the variety of platters also caters to groups of different sizes. As a milk chocolate lover, it seemed to me that The Dark Gallery put much thought into easing me into enjoying dark chocolate. I much prefer my desserts sweet, so I liked how they had options suitable for both kinds of chocolate lovers. The infographics also helped me tease out the subtle differences between different types of chocolate, and as someone who enjoys a thorough experience, this was delightfully enlightening. For more sweet treats, check out these chocolate desserts or Insta-worthy ice-cream desserts around Singapore!
Address: 9 Raffles Boulevard, #01-K5, Millenia Walk, Singapore 039596
Opening hours: Daily 11am to 9.30pm
Tel: 6255 0368
Website
Menu
The Dark Gallery is not a halal-certified cafe.
This was a media tasting at The Dark Gallery.
Summary
Pros
– Quality chocolate desserts
– Thoughtful infographics for tasting platters
– Convenient location
Cons
– Expensive
Recommended Dishes: Single Origin Chocolate Pastries Platter ($12), The Chocolate Rhapsody ($18), Frozen S'more ($7.50), Chocolate Cube Hazelnut Latte ($9)
Operating Hours:
Daily 11am to 9.30pm
Tel:
6255 0368
Address: 9 Raffles Boulevard, #01-K5, Millenia Walk, Singapore 039596