Kuroshiro serves cheap white curry
Update: Kuroshiro is permanently closed.
White curry isn't something everyone is familiar with. In fact, those who actually know and love this unique variation of Japanese curry, are aware that it is a pretty rare find in Singapore. So I definitely lucked out when I found Kuroshiro, a new hawker stall that had white curry on their menu.
Tengawa Hokkaido White Curry Review: First Japanese White Curry Rice In Singapore
For those who aren't sure what white curry is, it is a Japanese curry made with Hokkaido milk, giving it a paler colour and creamier texture. Kuroshiro, which opened late July, serves up the same Hokkaido milk-based white curry, but at inexpensive prices.
Food at Kuroshiro
We went straight for the Chicken Karaage White Curry Rice ($5) which was served piping hot. This dish was also the cheapest on the menu, giving a good bang for the buck.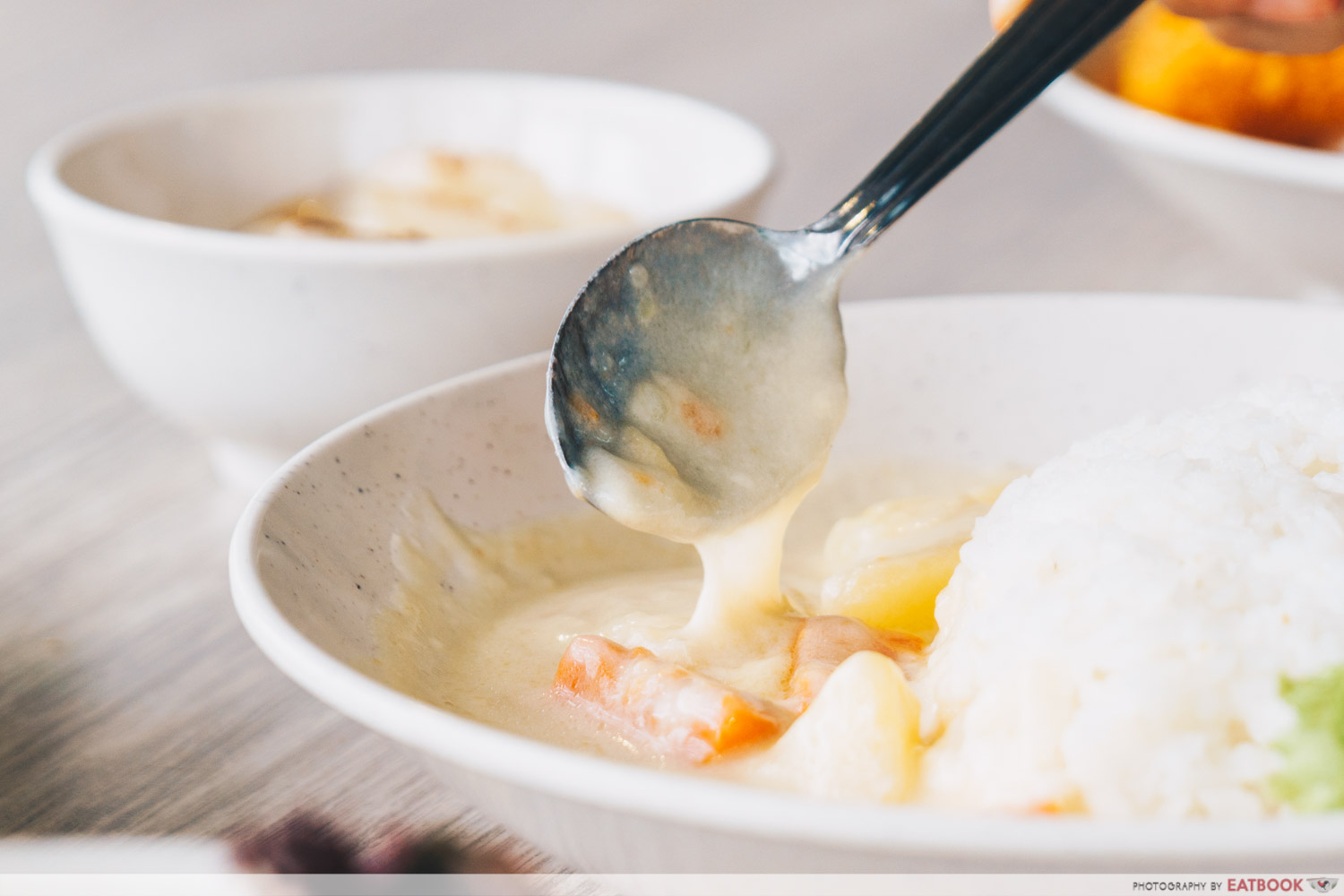 The ivory curry was silky smooth with a thick consistency, likely from the creamy Hokkaido milk used. The white curry had a rich and distinct milky flavour. The generous portions of fork-tender potatoes and carrots also gave the curry a natural sweetness.
Japanese curry conventionally packs some heat, but this white curry's buttery richness made up for its lack of spiciness. My only complaint was that I would've loved a better portion of white curry to rice ratio. Having devoured the white curry quickly, I soon found myself scraping for more to go with the remaining rice.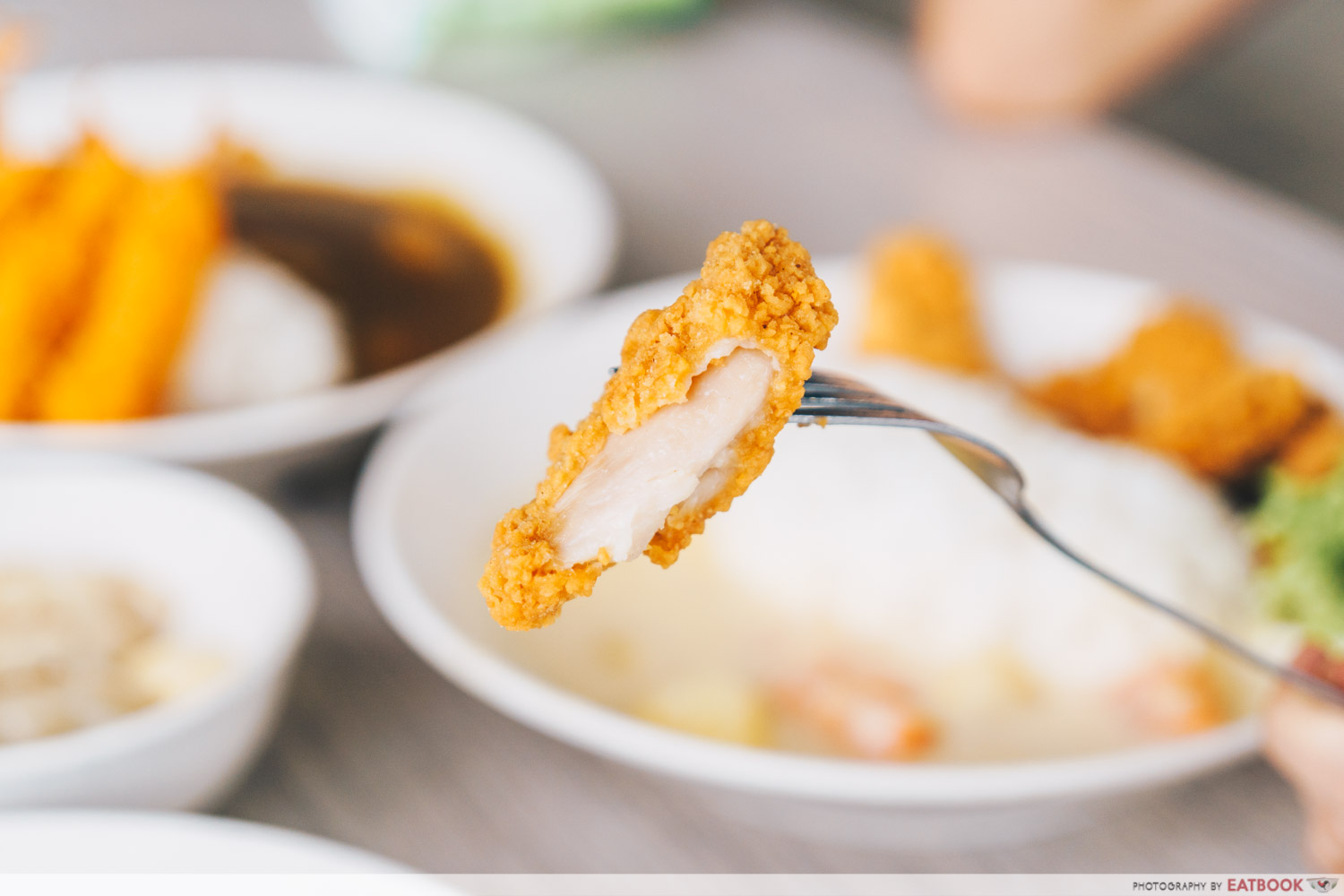 Despite being the cheapest protein choice on Kuroshiro's menu, their chicken karaage paired surprisingly well with the white curry. Its well-marinated and springy meat complemented the sweet, velvety white curry both in flavour and texture.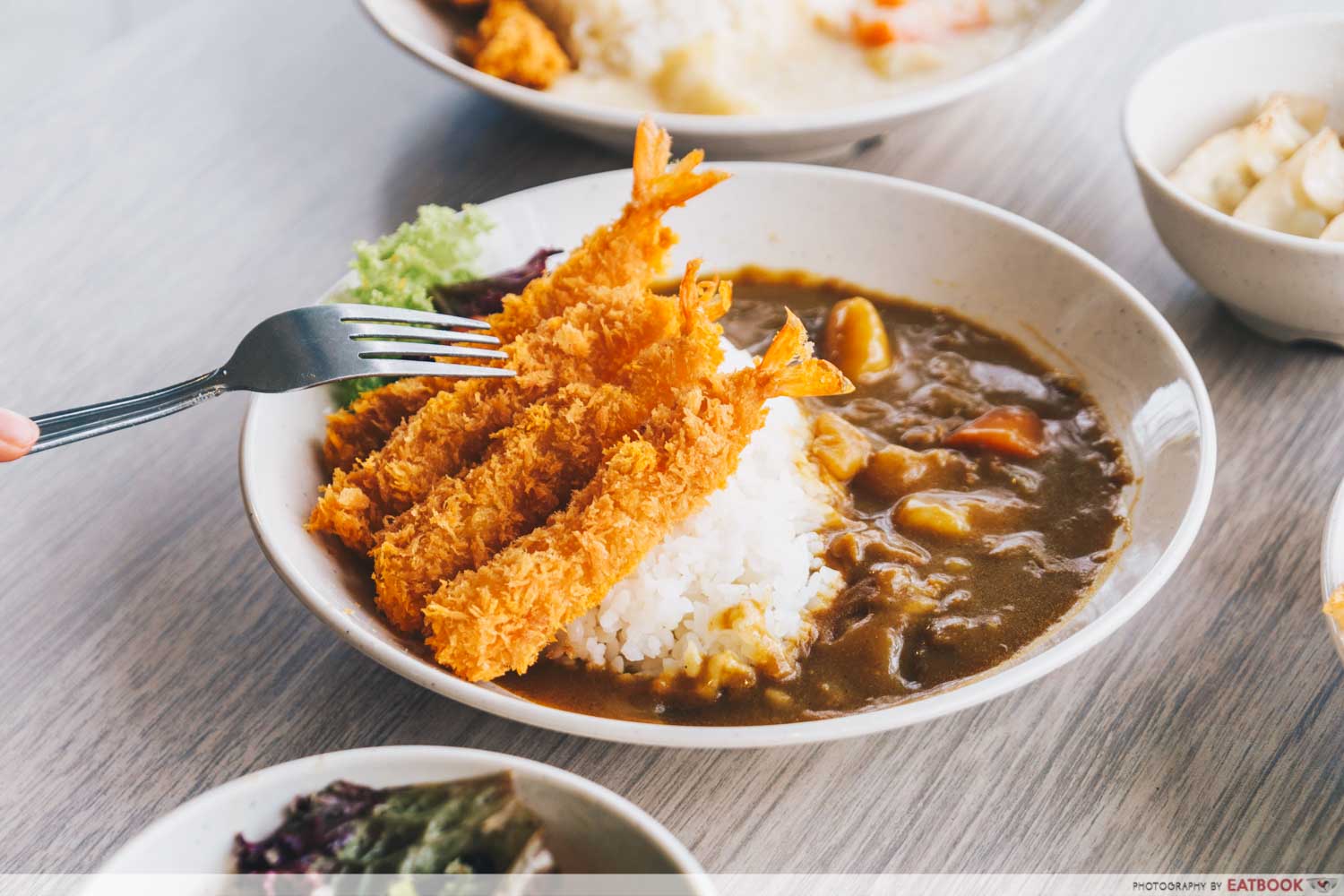 While white curry may be Kuroshiro's star dish, brown curry is available on their menu as well. Thus I decided to order the Fried Shrimp Brown Curry Rice ($7.50) to try.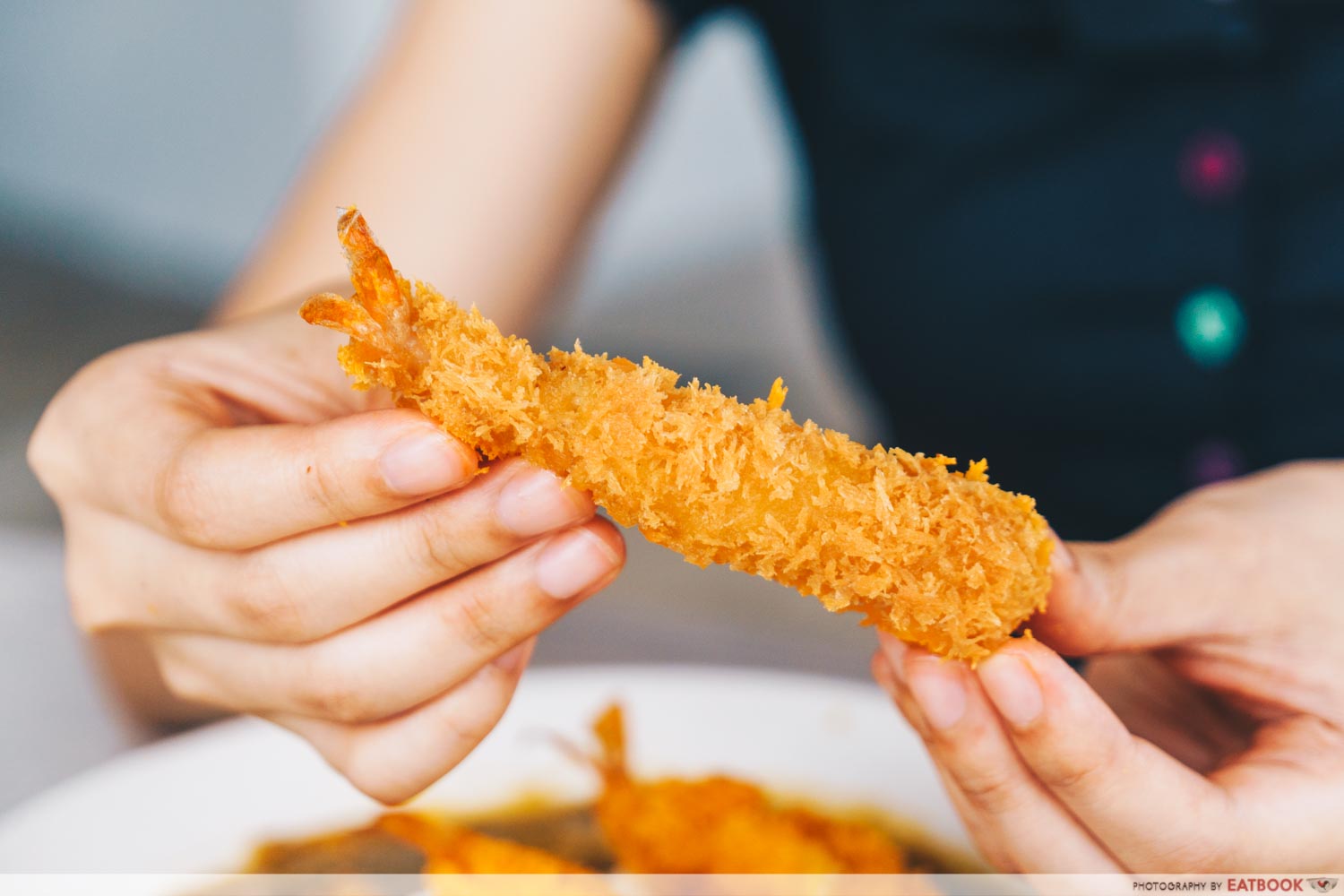 The fried tempura ebi was a striking orange that looked extremely appetising. The layer of batter over the succulent prawn pandered on the sweeter side and gave a satisfying crunch.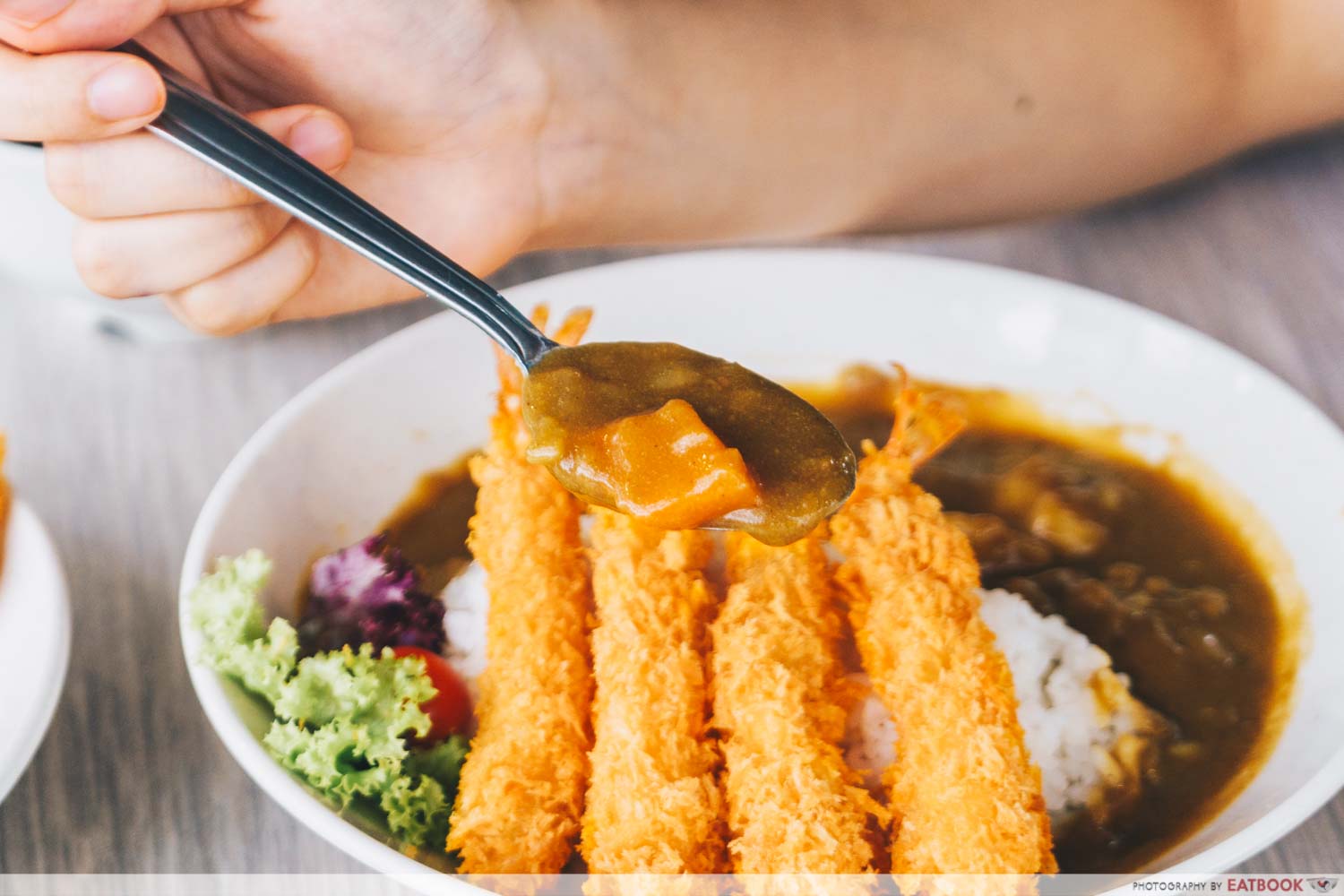 Our plate of brown curry was a thick roux with a slightly gelatinous consistency. Unlike how it looks, it tasted a little bland. I am typically a fan of richer Japanese brown curry, thus Kuroshiro's version faded in comparison, even to their white curry. Perhaps some heat, with the help of more chilli powder or pepper, could've brought more life to the curry.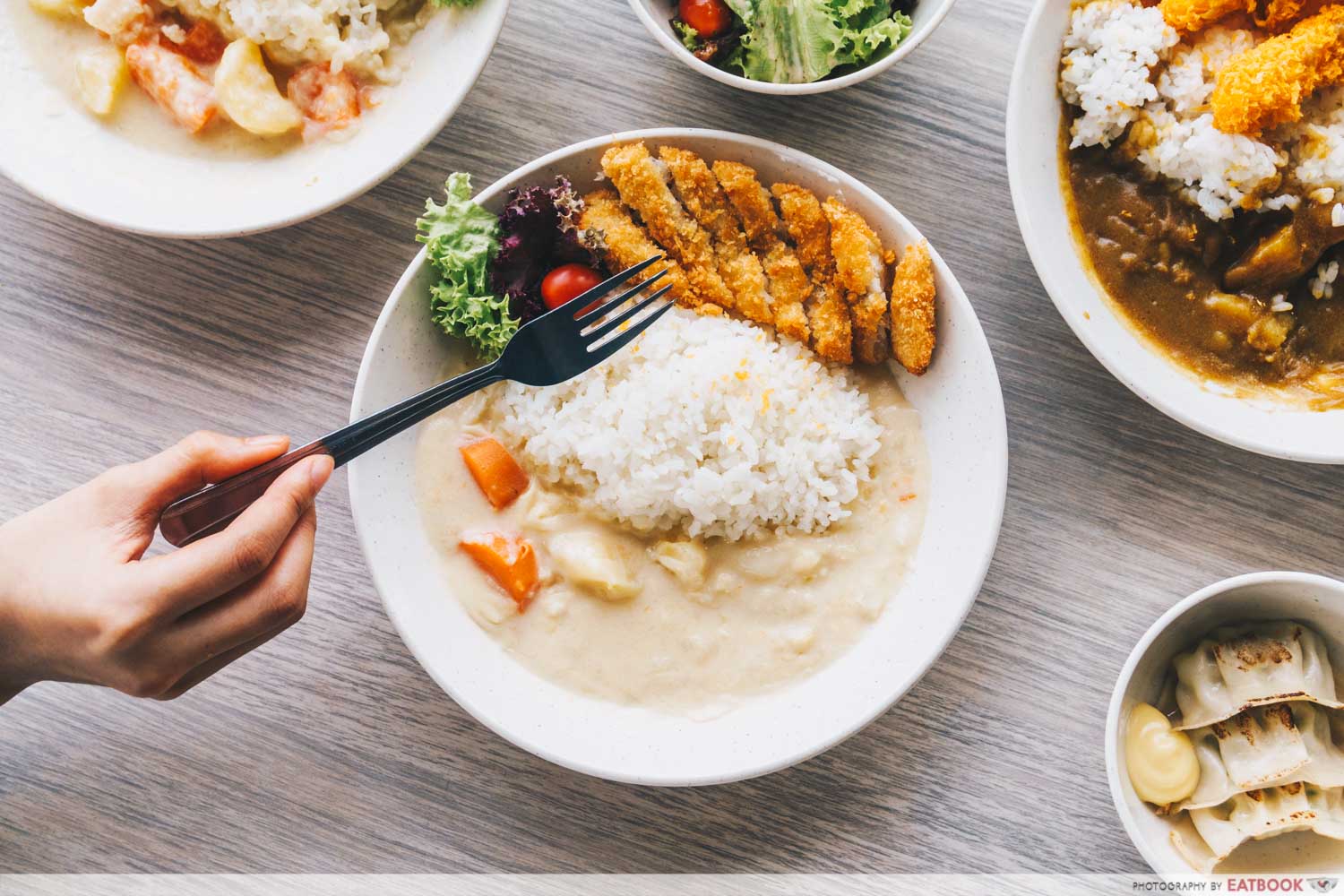 Kuroshiro also has set meals available for their curry dishes and we ordered the Fried Fish Fillet White Curry With Gyoza And Mini Salad ($10.90).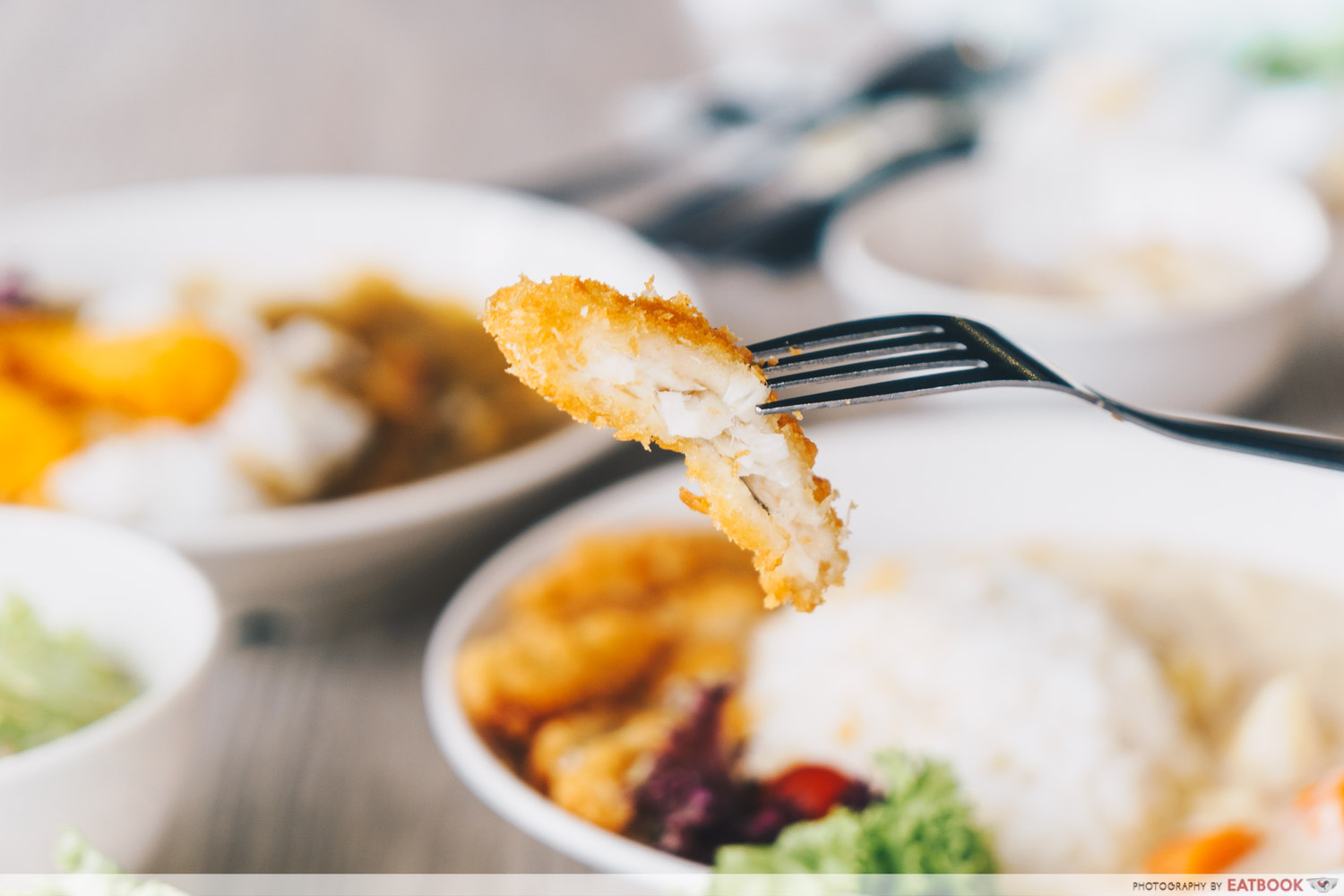 Biting into the fish, I found flaky and tender fish meat, with textures similar to that of a Fillet-o-Fish burger from McDonald's. That being said, its well-fried batter shone in comparison to the fish burger patty as it yielded a potato chip-like crunch that was way more satisfying.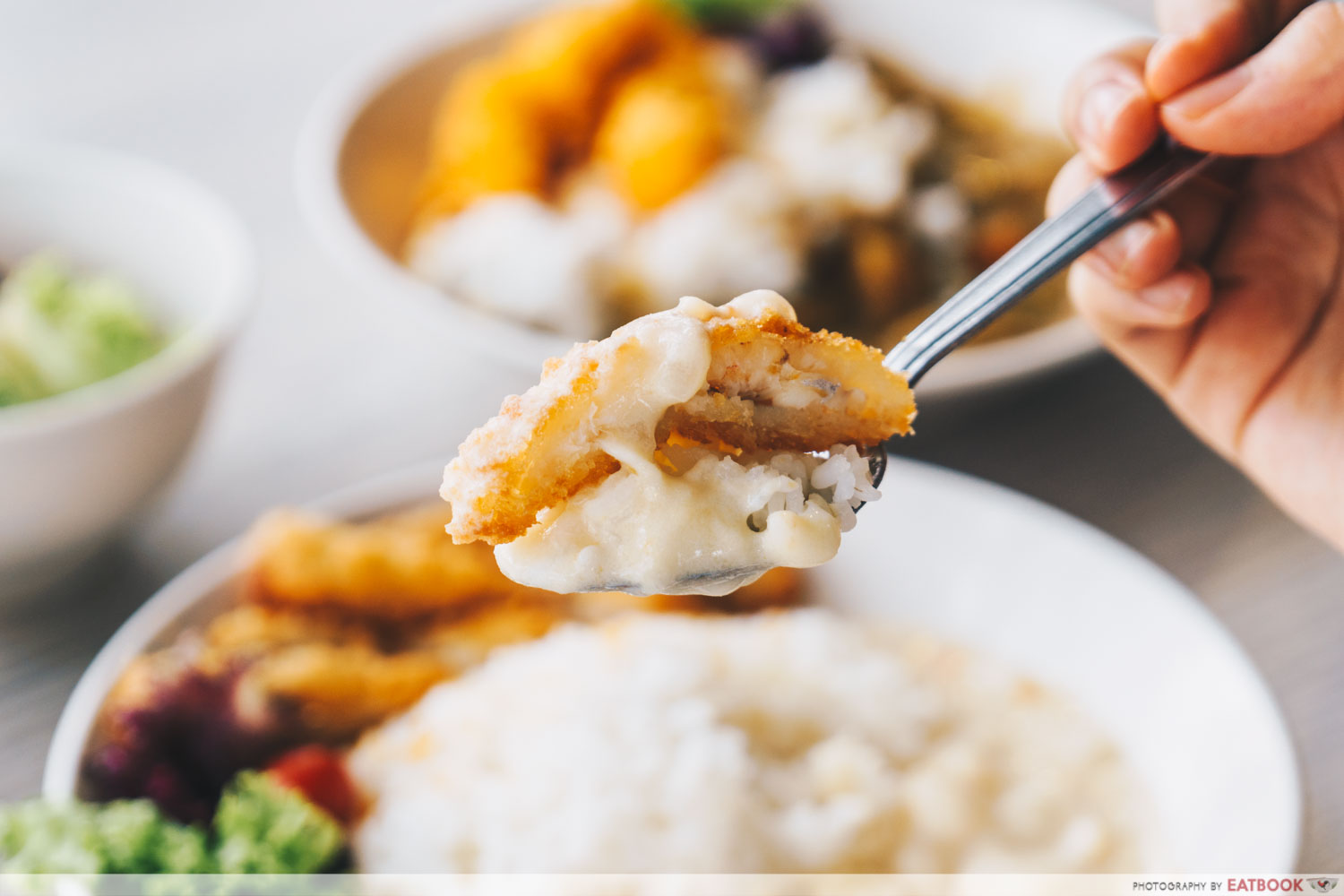 The combination of creamy white curry, tender fish, and rice was warm and comforting to enjoy.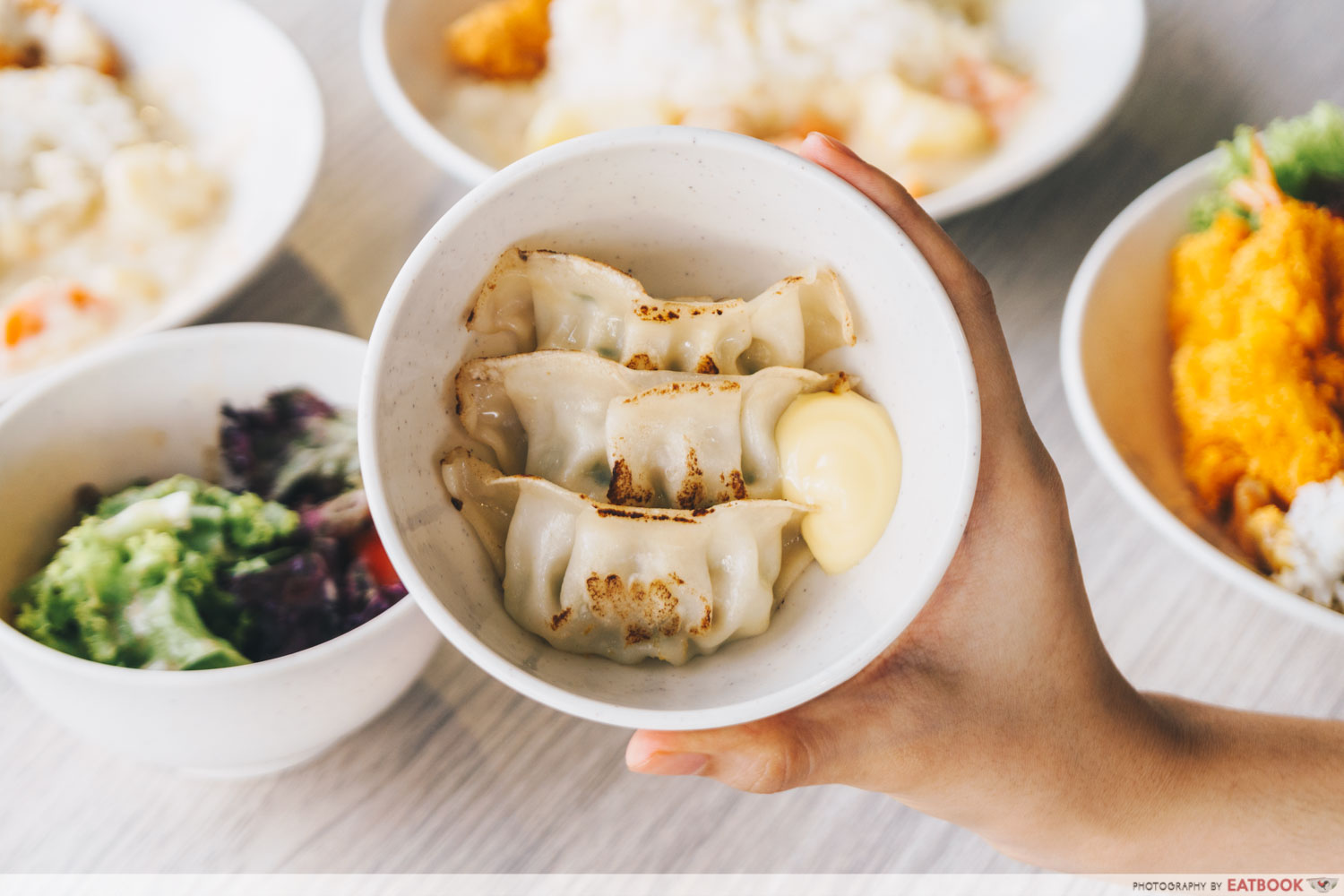 Three average-tasting gyozas were served with a dollop of mayonnaise as part of the set meal. While I can almost never say no to buttery mayo, I would've preferred some vinegar and soy sauce to go with the oily dumplings instead. A little bowl of green salad served alongside the gyoza threw in a splash of freshness, but other than that it didn't really impress me.
Go for the set meals only if the portion of curry rice isn't filling enough for you. Otherwise, I would recommend getting skipping the set and simply getting the Fried Fish Fillet White Curry Rice ($7.50).
Ambience at Kuroshiro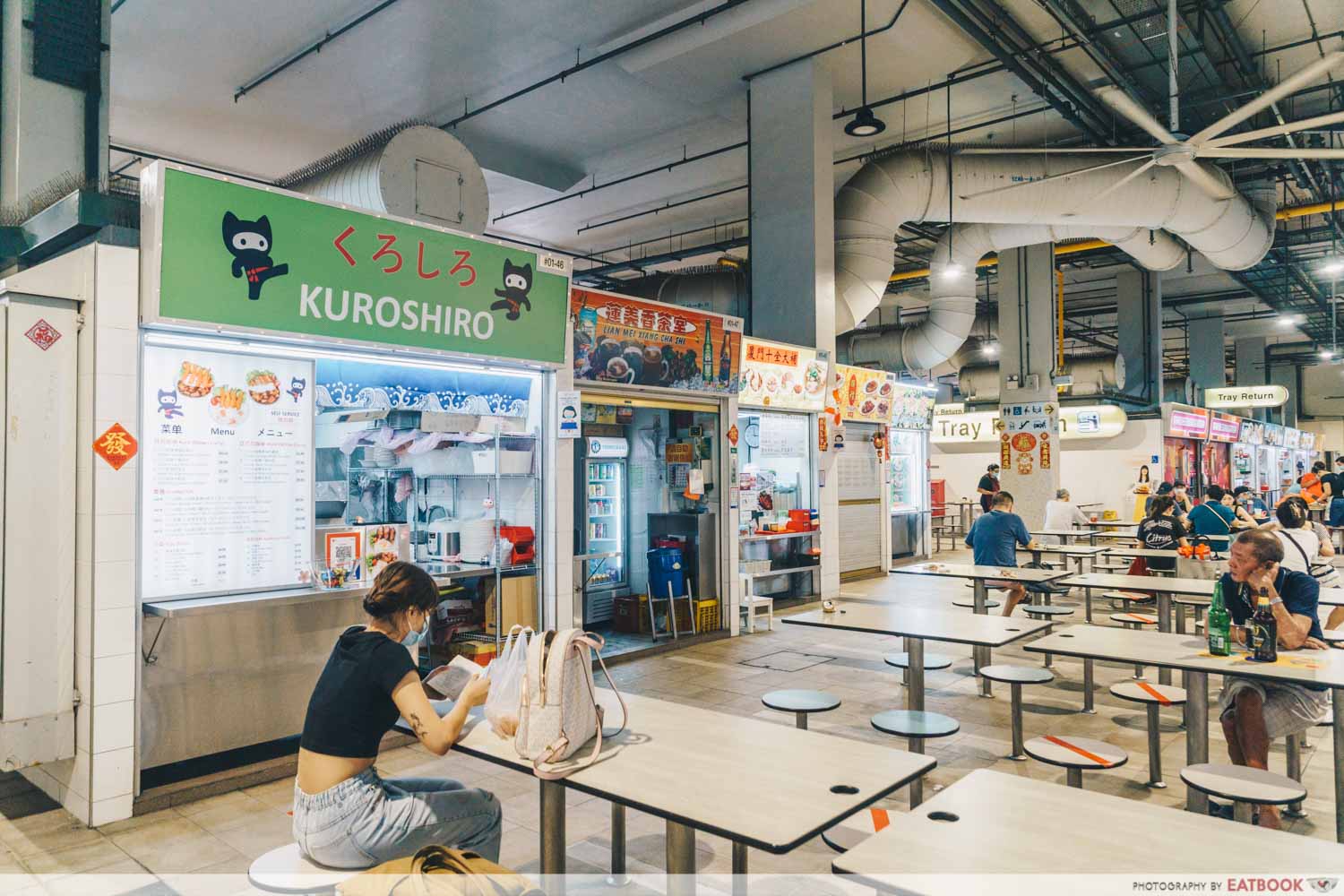 A five-minute bus ride from either Woodlands MRT Station or Marsiling MRT Station, Kuroshiro is nestled in a large hawker centre which also boasts a wide variety of food options, including the famous Yan Ji Seafood Soup. The area is well-ventilated with abundant seating, allowing us to comfortably enjoy our meal.
Yan Ji Seafood Soup Review: Famous Seafood Soup In Marsiling For Over 35 Years
The verdict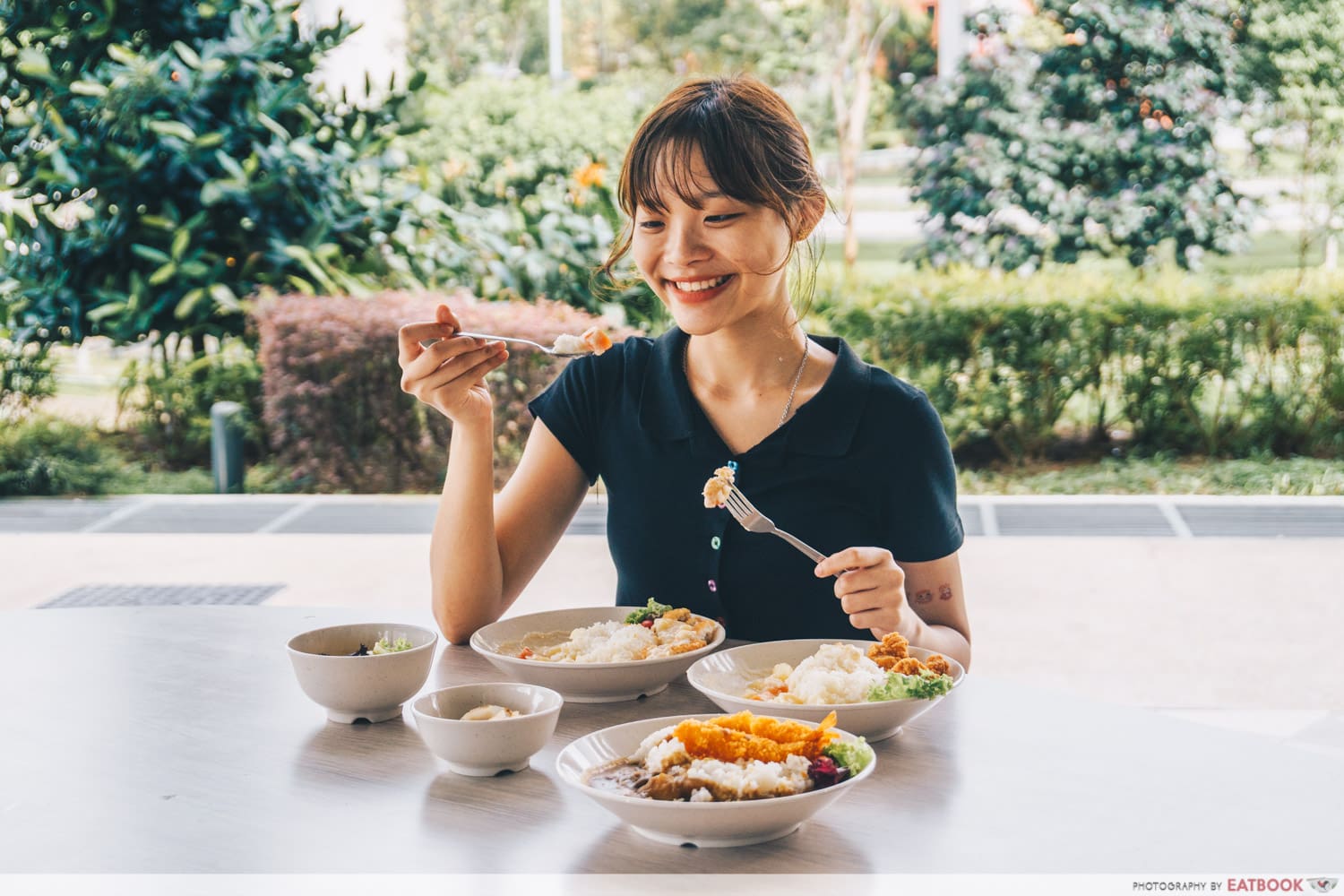 Kuroshiro is home to some really good white curry and their affordable price point makes it even more attractive. While the white curry dishes were enjoyable, the bland brown curry was a slight letdown. It could have been taken up a notch with some pepper or perhaps even a self-service station of chilli flakes. Ultimately, I can still see myself coming back just for more white curry.
For those who crave something different, check out our list of places to get unique Japanese noodle dishes.
10 Unique Japanese Noodle Dishes Such As Tsukemen & Mazesoba, And Where To Get Them In Singapore
Address: 4 Woodlands Street 12, Marsiling Mall, Singapore 738620
Opening hours: Tue-Sun 12pm to 9:15pm
Website
Kuroshiro is not a halal-certified eatery.
Photos taken by Muhammad Hafiq.
This is an independent review by Eatbook.sg.
Summary
Pros
– Delicious white curry
– Enjoyable proteins
– Reasonable prices
Cons
– Brown curry was bland
Recommended dishes: Chicken Karaage White Curry Rice ($5), Fried Fish Fillet White Curry ($7.50)
Opening hours: Tue-Sun 12pm to 9:15pm
Address: 4 Woodlands Street 12, Marsiling Mall, Singapore 738620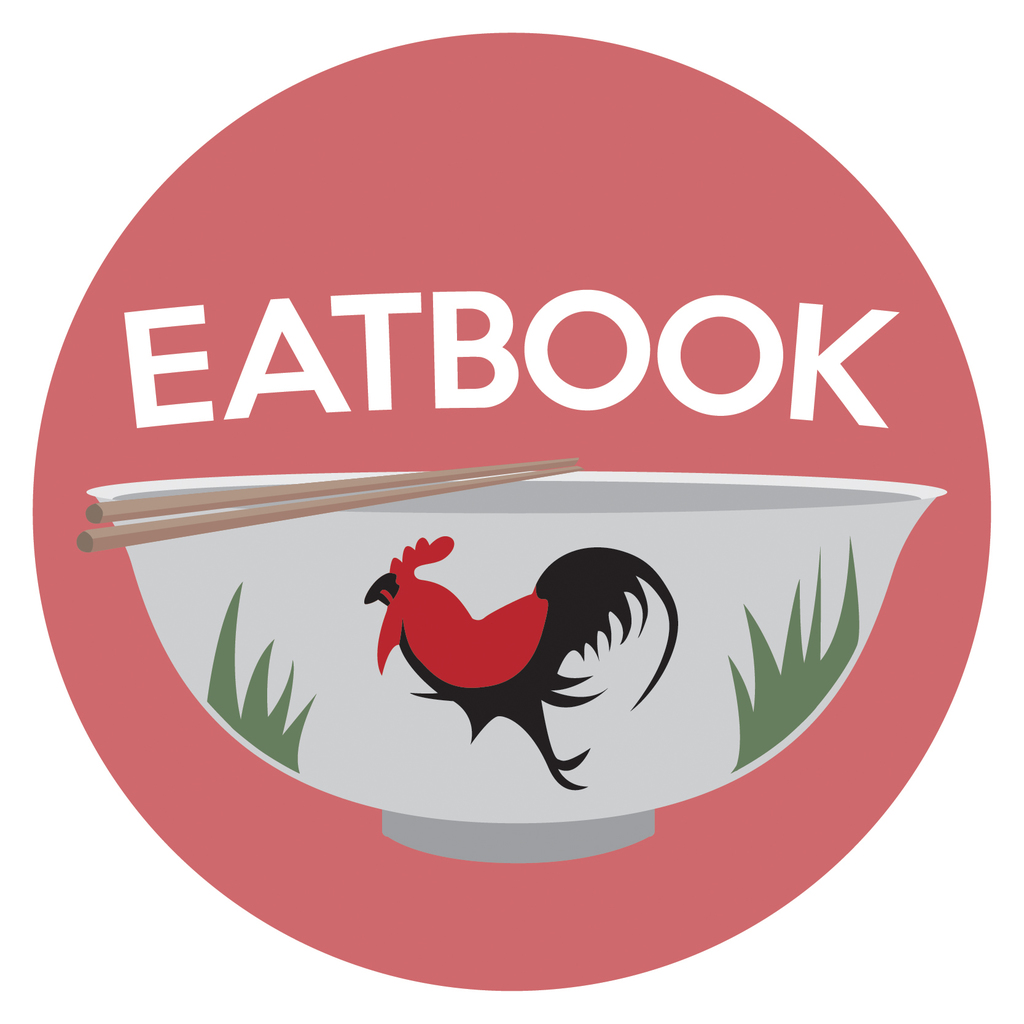 Drop us your email so you won't miss the latest news.