Ivan's Carbina offers rosti at a kopitiam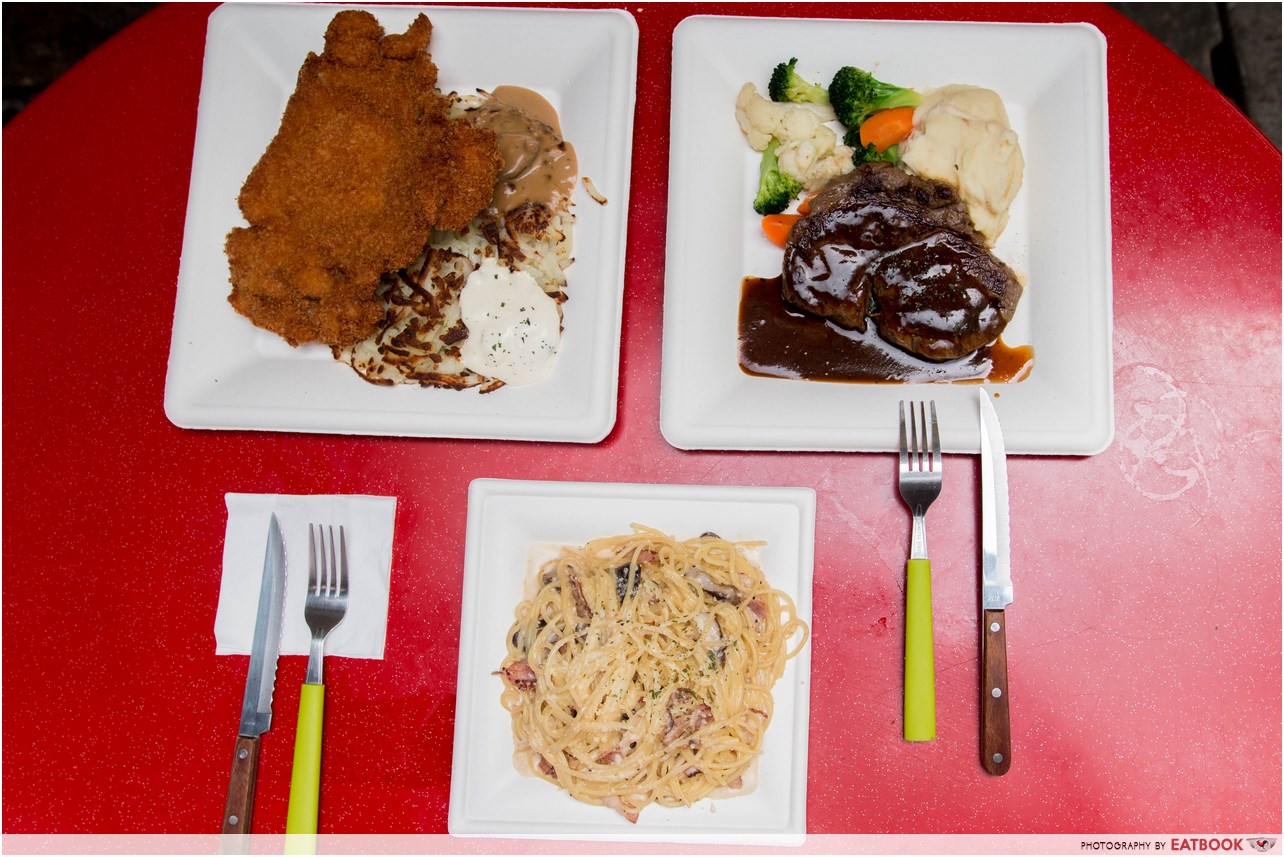 Despite tonnes of Western dining options popping up all over the place, those serving affordable rosti are hard to find. Ivan's Carbina, located in a kopitiam at Woodlands, does just that. It has a massive menu offering all sorts of Western dishes, but what caught our attention was the rosti that comes with a large and crispy chicken cutlet.
Food at Ivan's Carbina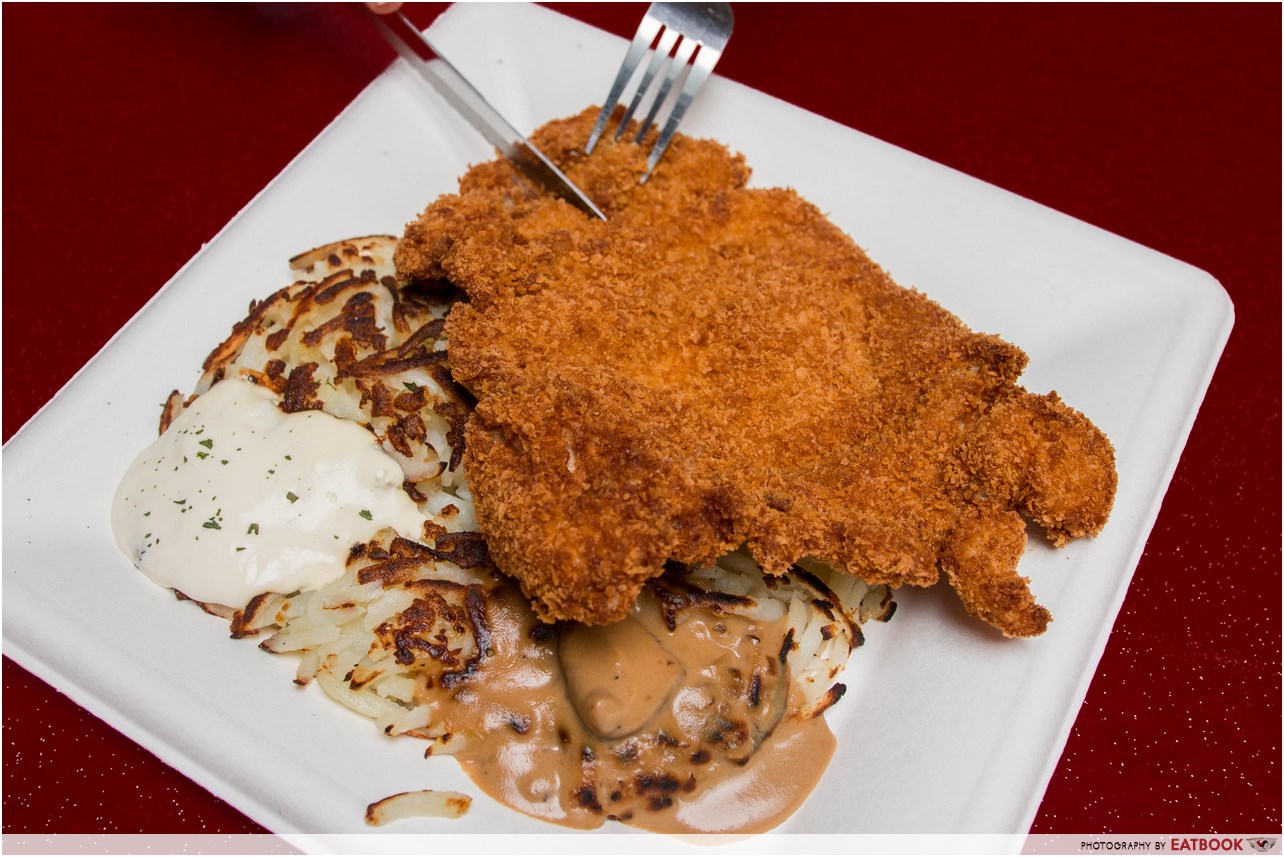 Roesti + Chicken Cutlet ($7.80) was the main draw, and boy did it blow our minds. The chicken stole the show in this dish. In addition to being much larger than we hoped for, it was extremely crispy and produced an audible crunch as I sawed into it.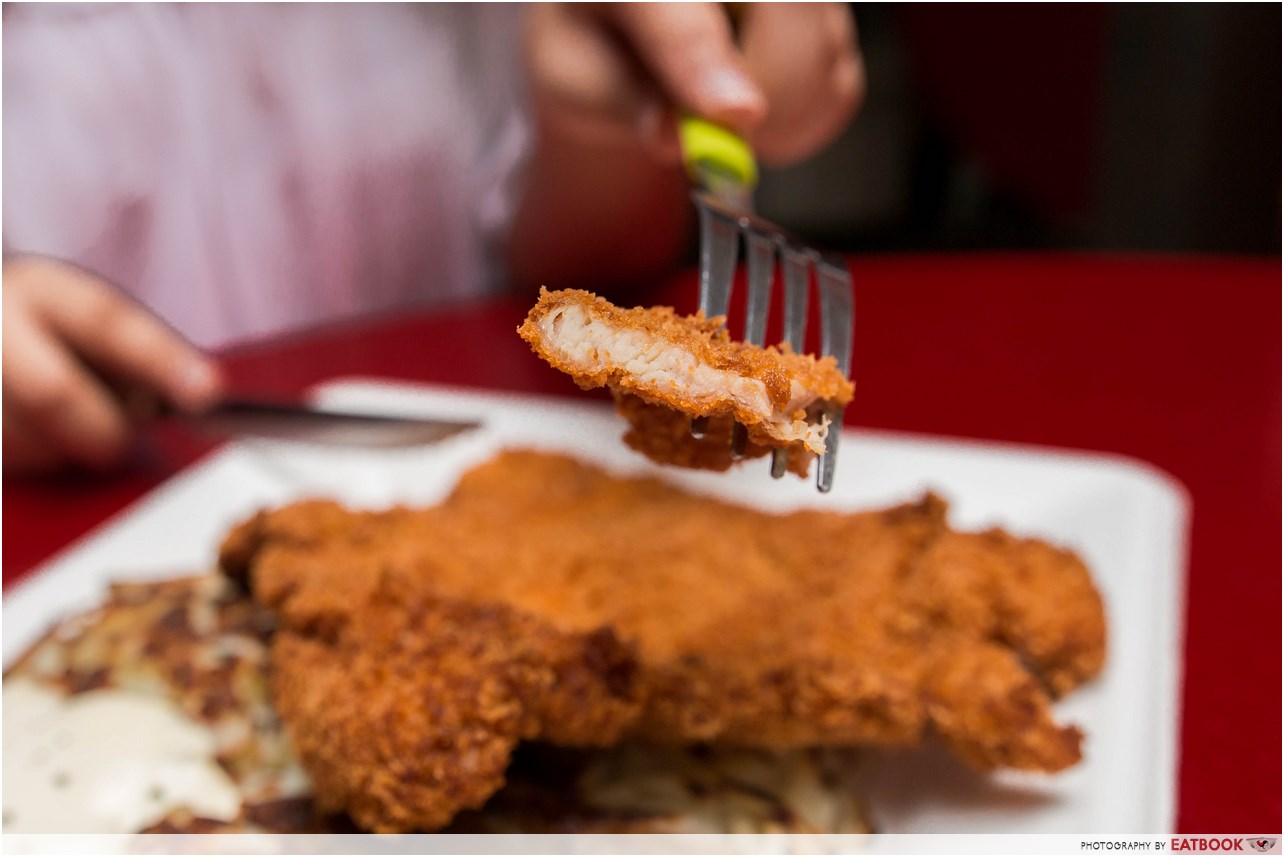 The meat was succulent and tender, dripping with juices as it was cut. The chicken was a tad salty, but not overpoweringly so, and stayed firm and crisp even after being left out for half an hour. It paired well with the mushroom sauce that came with it but was also fantastic when eaten alone.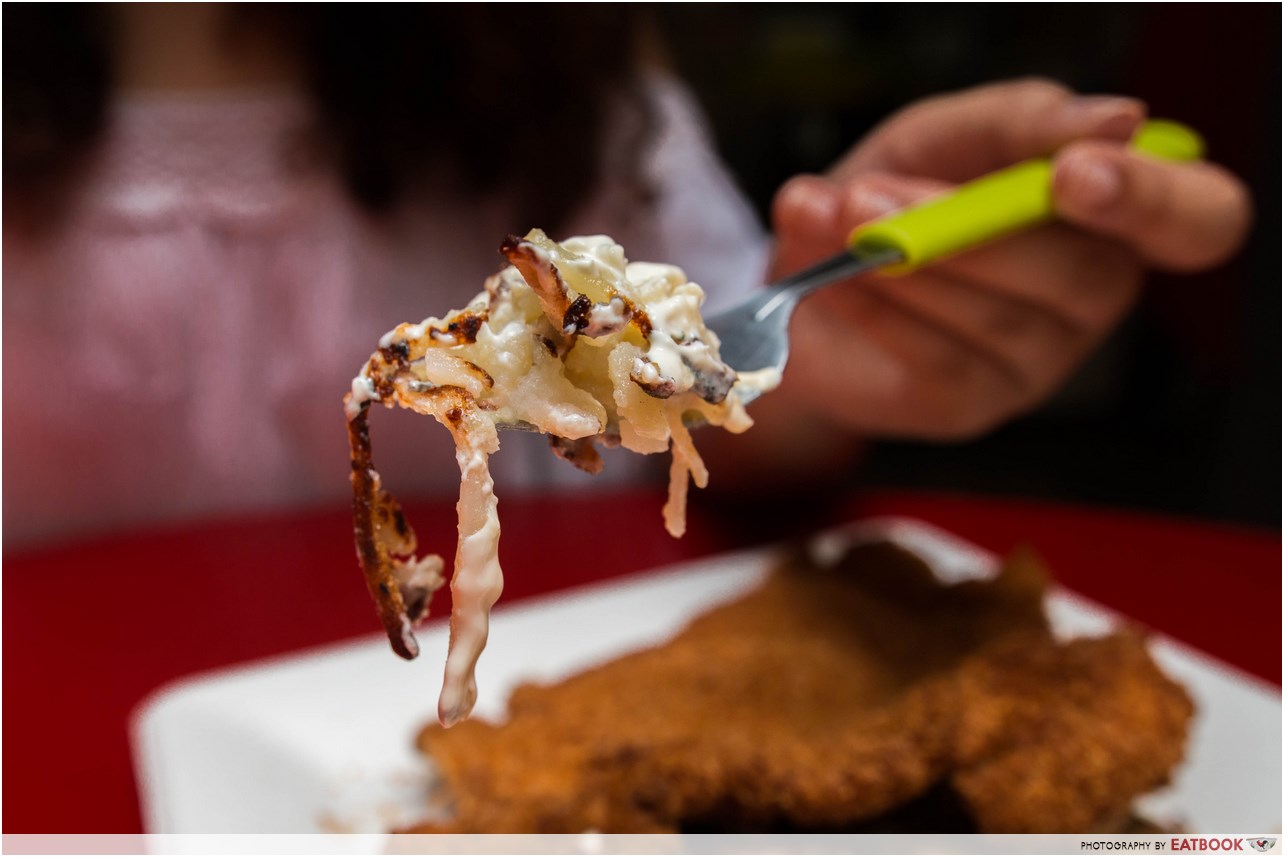 The rosti, on the other hand, was underwhelming. It was slightly mushy and not as crispy as we had hoped. The seasoning was also rather bland. However, it did come with sour cream that had a splash of lemon, which I found refreshing.
We also ordered Carbonara ($5.50). The pasta, cooked al dente, was generously speckled with bacon, mushrooms, and topped with Parmesan. The cream sauce was just right, not too rich or jelak but not too thin either.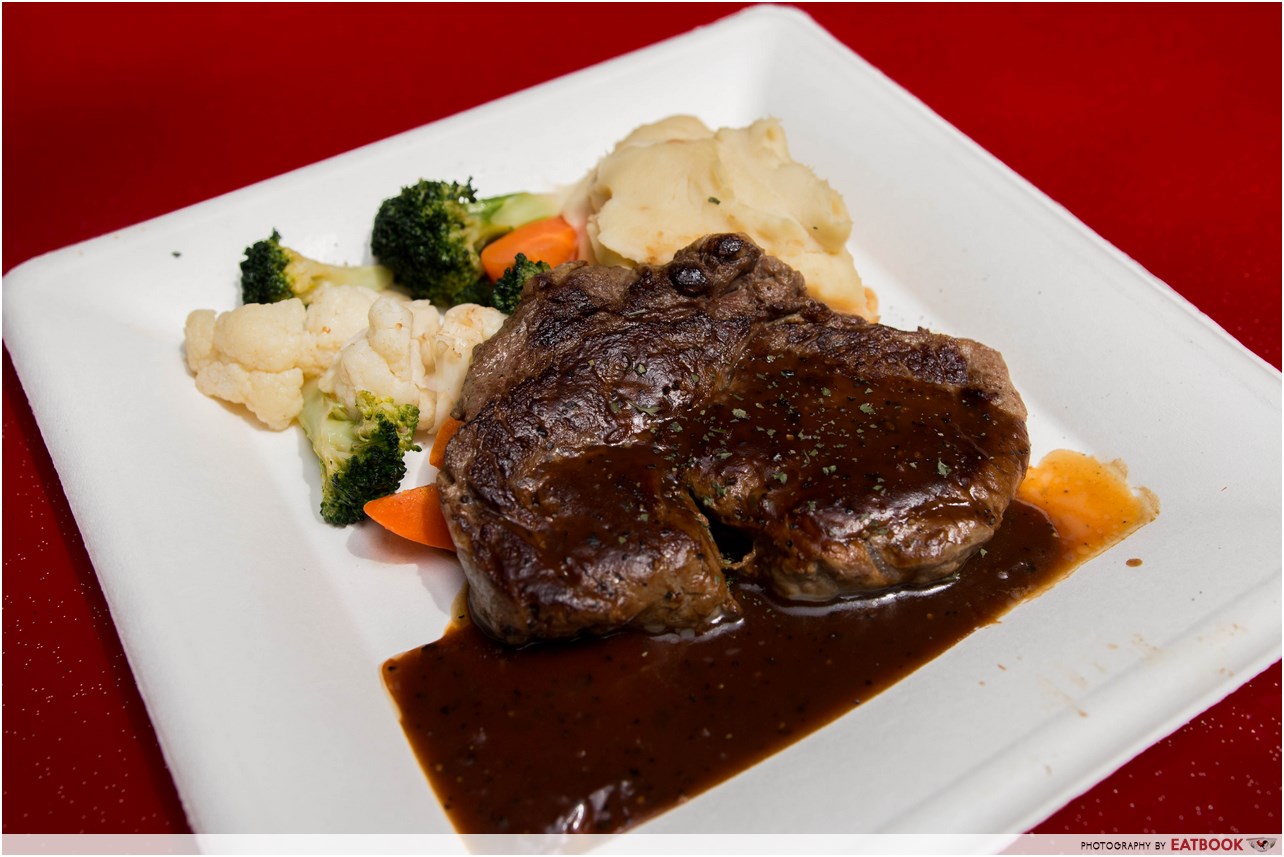 We ended off with an Air Flown Ribeye Steak ($12.80). Despite being the priciest item we ordered, it was surprisingly the one we enjoyed the least.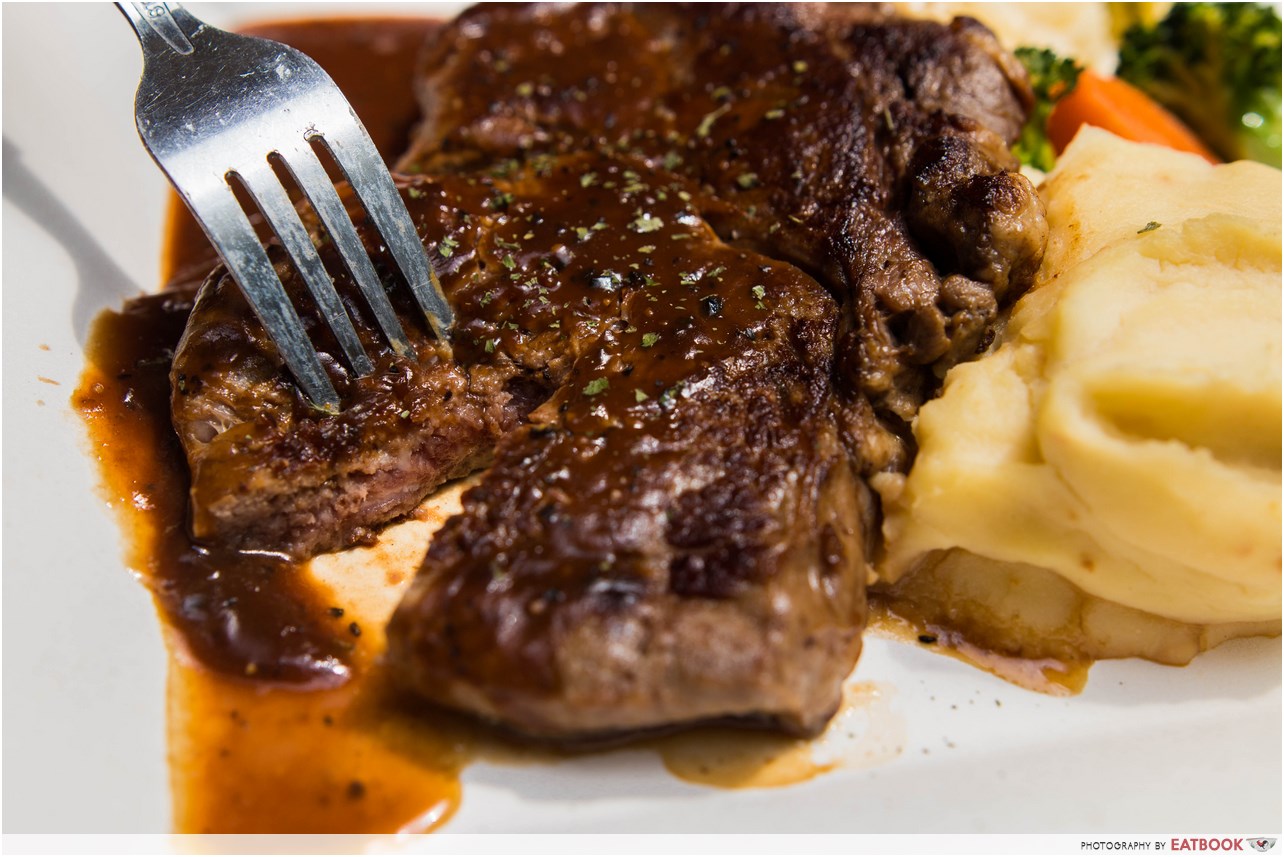 The steak was cooked unevenly, with some parts being overcooked and tough to chew while others extremely pink. It was also too salty for our liking, as was the black pepper sauce it came with. The black pepper, although visible in the sauce, wasn't very sharp either. Overall it made for a difficult dish to finish.
The mashed potatoes, however, were soft, fluffy, and generously seasoned with garlic. This we wolfed down in a heartbeat and would definitely return for – perhaps as a side to a different main.
Ambience at Ivan's Carbina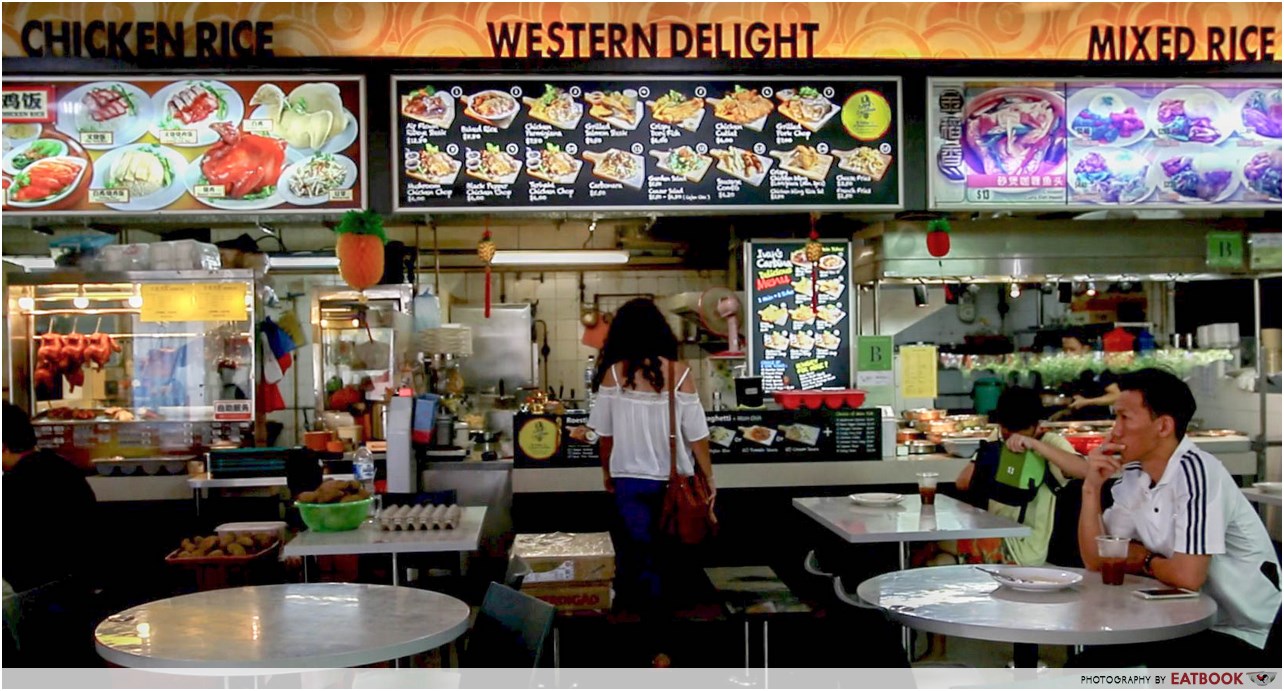 Located in Lucky Star Coffee Shop, Ivan's Carbina looks like any other Western stall in any other kopitiam. Just a 10-minute walk from Woodlands MRT Station, expect a bustling lunchtime crowd and the typical Singapore heat. Although Ivan's Carbina was pretty popular when we were there, the staff was friendly and service was efficient, so we didn't have to wait too long for our meal.
The verdict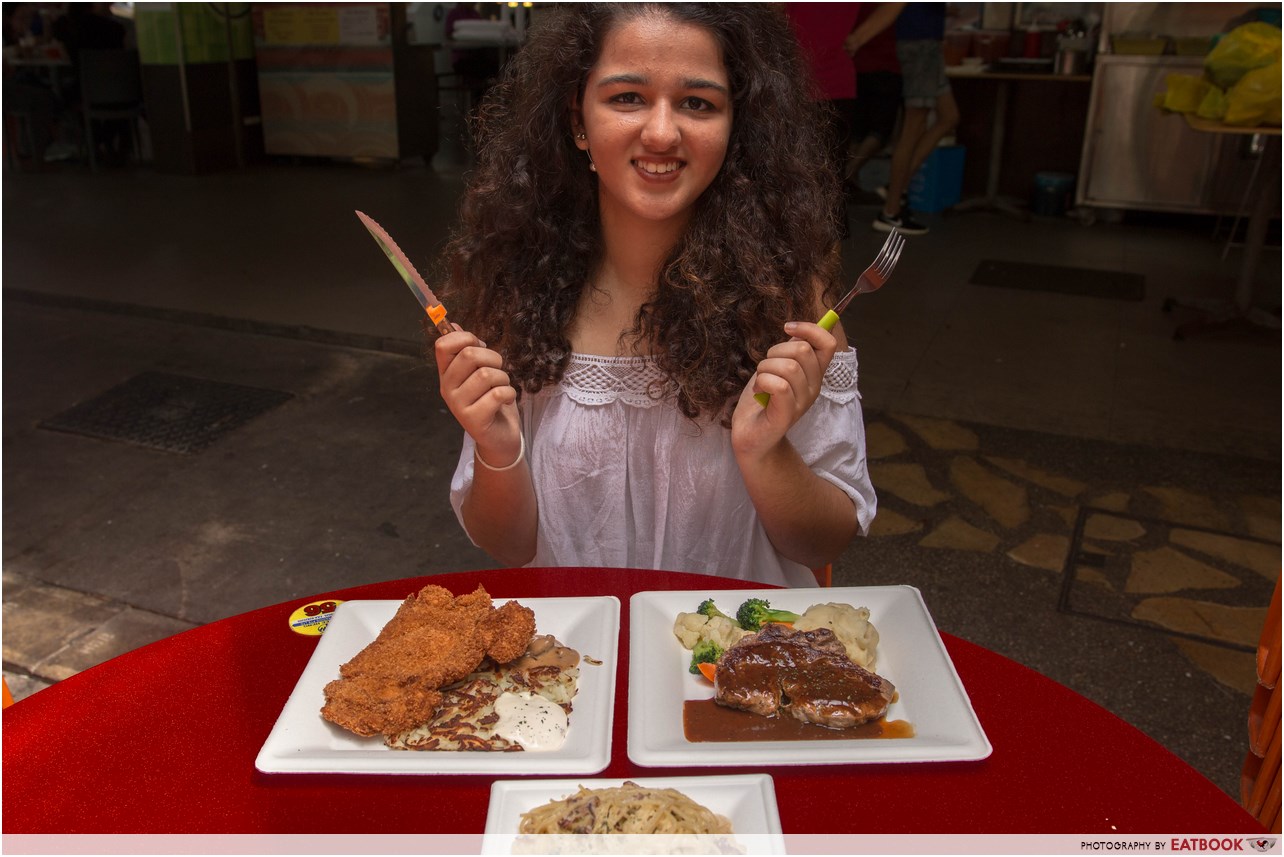 Decent Western food for cheap prices is hard to come by, but Ivan's Carbina does just that. While the dishes weren't mind-blowing, they were worth the price, and we would recommend checking out their extensive menu if you're in the neighbourhood.
This is an independent review by Eatbook.sg
Summary
Pros
– Value for money
– Large menu
– Convenient location
Cons
– Hits and misses
Recommended Dishes: Carbonara ($5.50), Roesti with Chicken Chop ($7.80)
Operating Hours:
Tuesday – Sunday: 11am to 9pm
Tel:
9048 0333
Address: 354A Woodlands Ave 5, #01-01, Lucky Star Coffeeshop, Singapore 730354