Beautifully plated Bei-ing Wanton Mee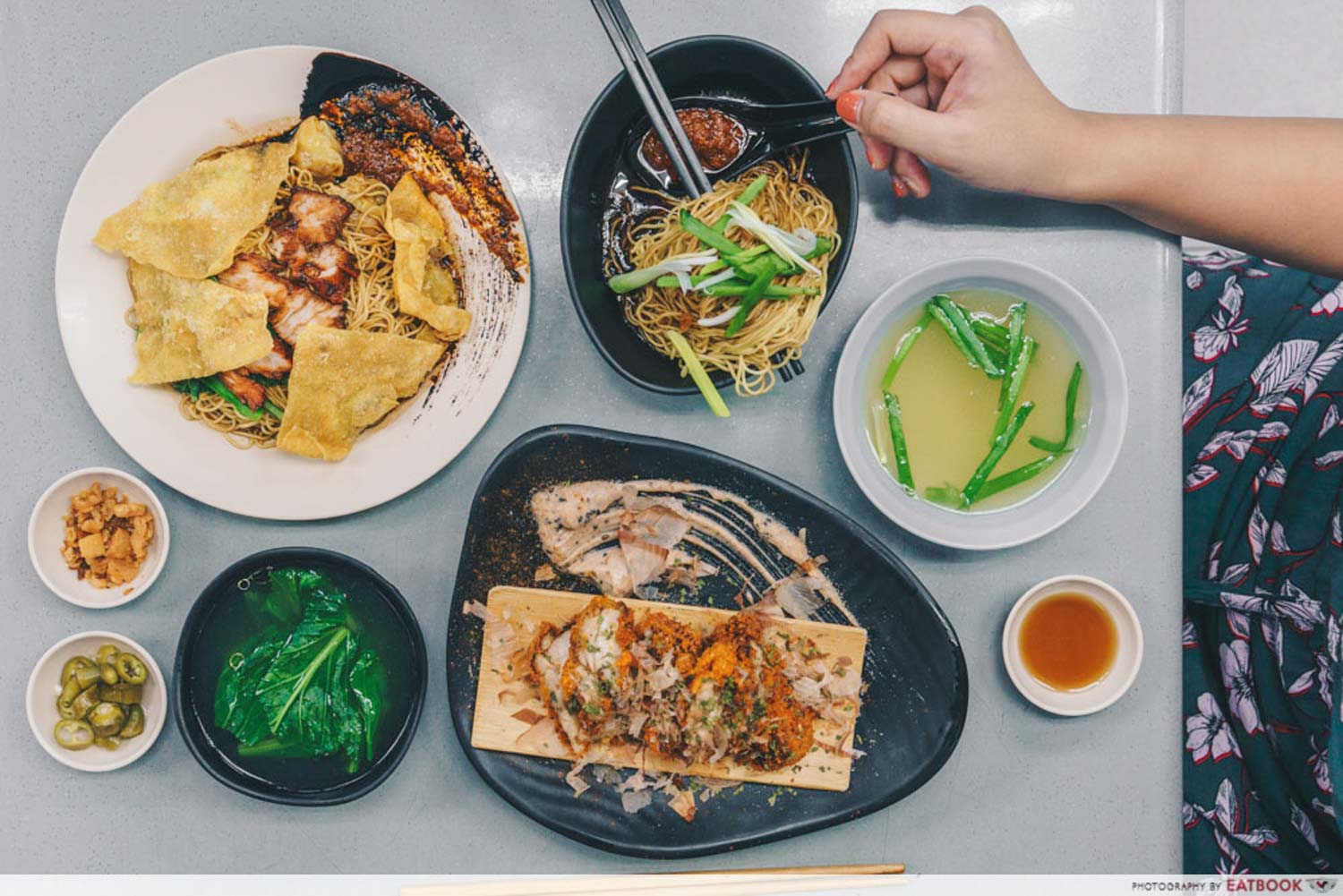 Other than a long queue, another tell-tale sign of good food in Singapore is the abundance of photographs taken with celebrities, plastered all over the storefront.
Exhibit A: Bei-ing Wanton Mee at Roxy Square.
Opened since 1984, this stall has been under the radar for the longest time. It was only until recently, when they added a modern flair to their humble wanton mee.
Food at Bei-ing Wanton Mee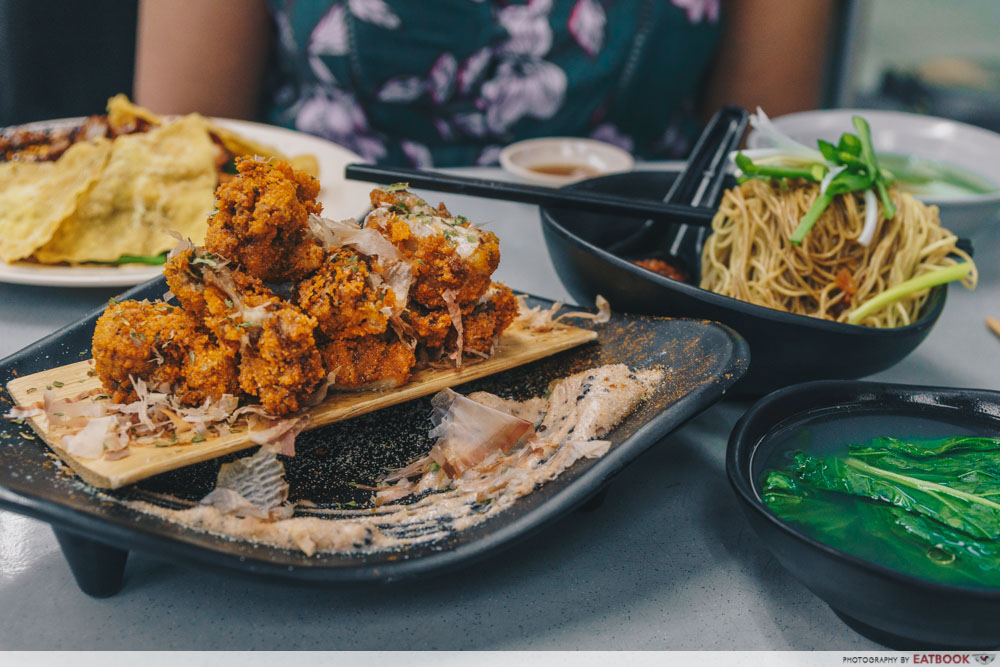 The owner of Bei-ing Wanton Mee shared with us that this is a family-run business. With gusto, he told us about his sons who were involved in the kitchen, whipping up innovative dishes like this Katsu Noodle ($6).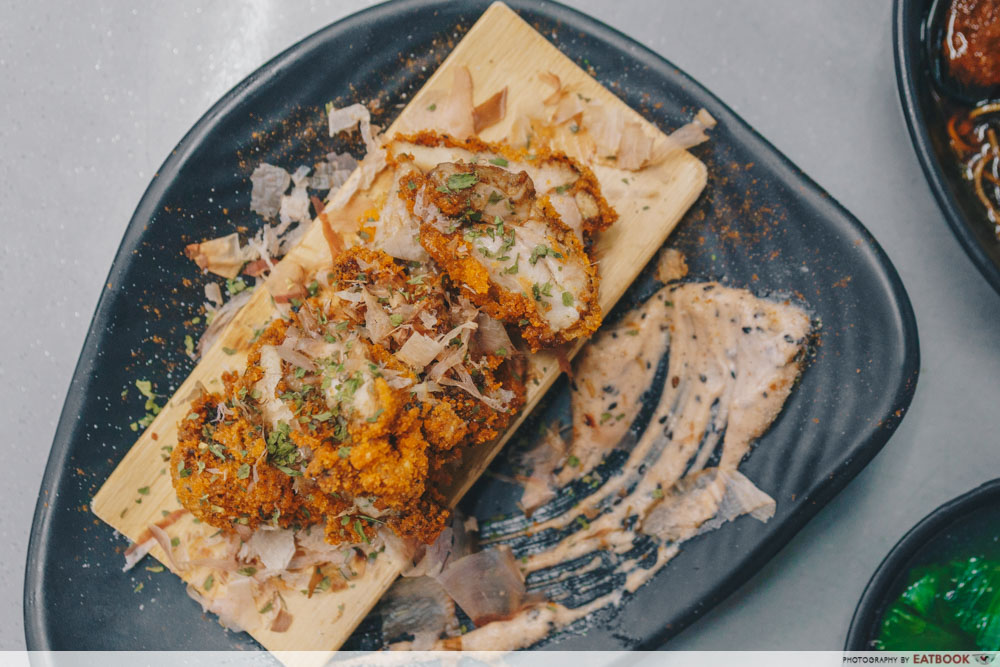 The Katsu Noodle is an aesthetically-pleasing dish. Inspired by Japanese fried chicken, the piece of chicken is coated with panko breadcrumbs before being deep-fried into a golden brown. The dish was also heavily seasoned with a generous scattering of dried herbs, paprika, and bonito flakes.
Each slice of chicken held a loud crunch, despite us leaving it out for a while to take photos. They were thick and juicy, without being too oily.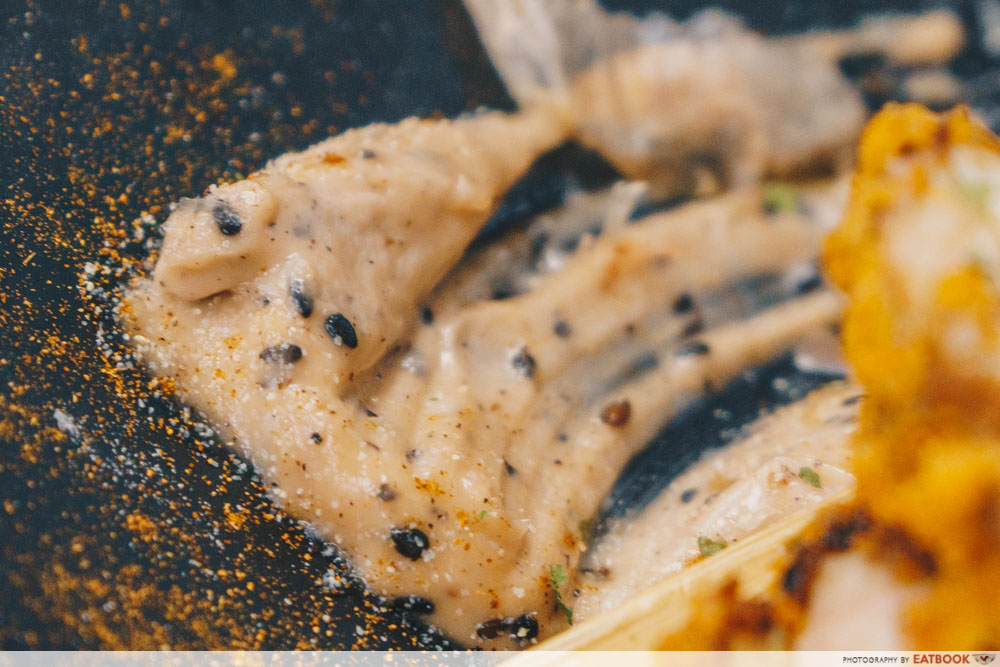 We thought this pink-hued sauce was just a zhnged-up mayonnaise complementing the fried chicken. After clarifying, we were told that it was a house-made truffle mayonnaise sauce. Sadly, it was totally missing the truffle aroma.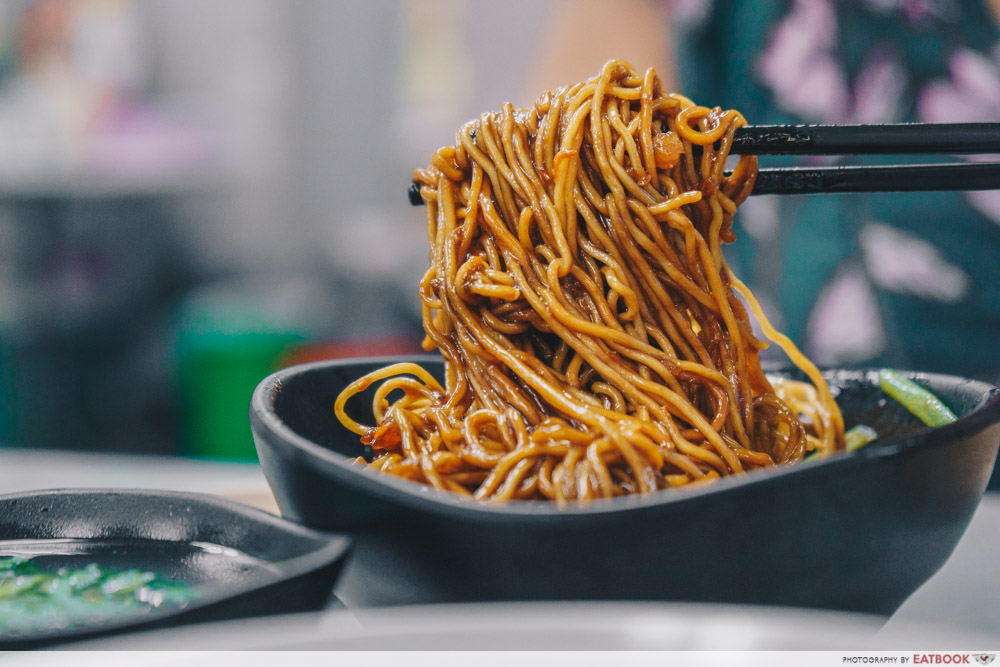 The Katsu Noodle automatically comes with a spoonful of their potent sambal chilli. Tossing the noodles revealed cubes of fried lard in the mix, which added to the appeal. Personally, I prize the texture of noodles over toppings, and found Bei-ing Wanton Mee's noodles to be extremely moreish. They were al dente without the taste of alkali.
A simple stroke from a sauce-soaked brush added a breath of novelty to this plate of Wanton Noodle ($5/$6). I suspect that the sons might have had a hand in this "atas" plating.
Give it a good toss, to nicely coat every strand of noodle and ingredients up with the sweet and savoury gravy settled at the bottom.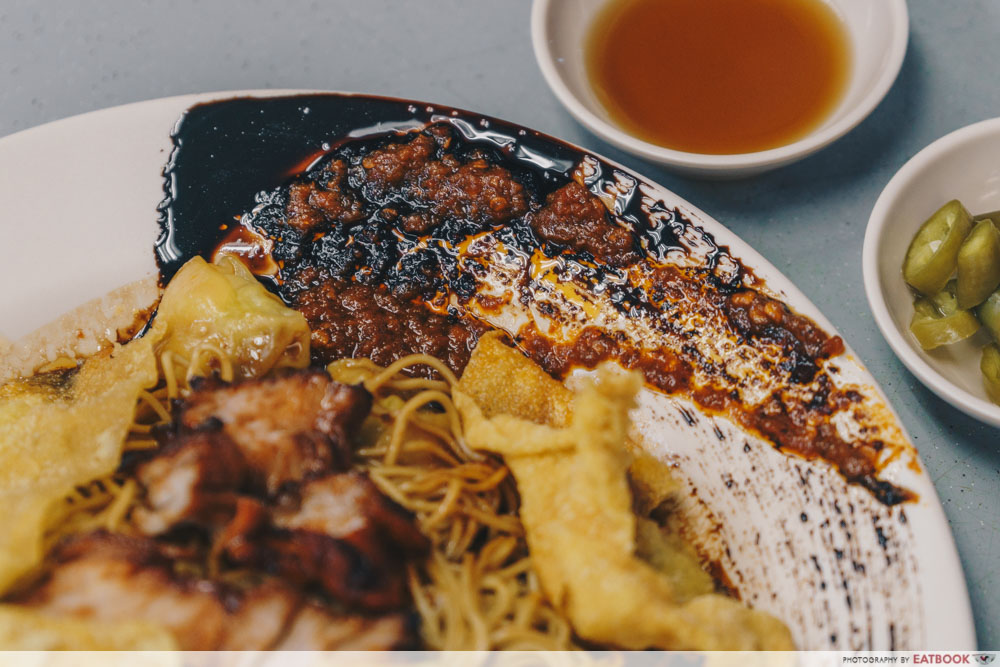 For those who like a kick of spice, ask for an additional smear of chilli when ordering. The sambal, while piquant with a hint of garlic, does not overpower.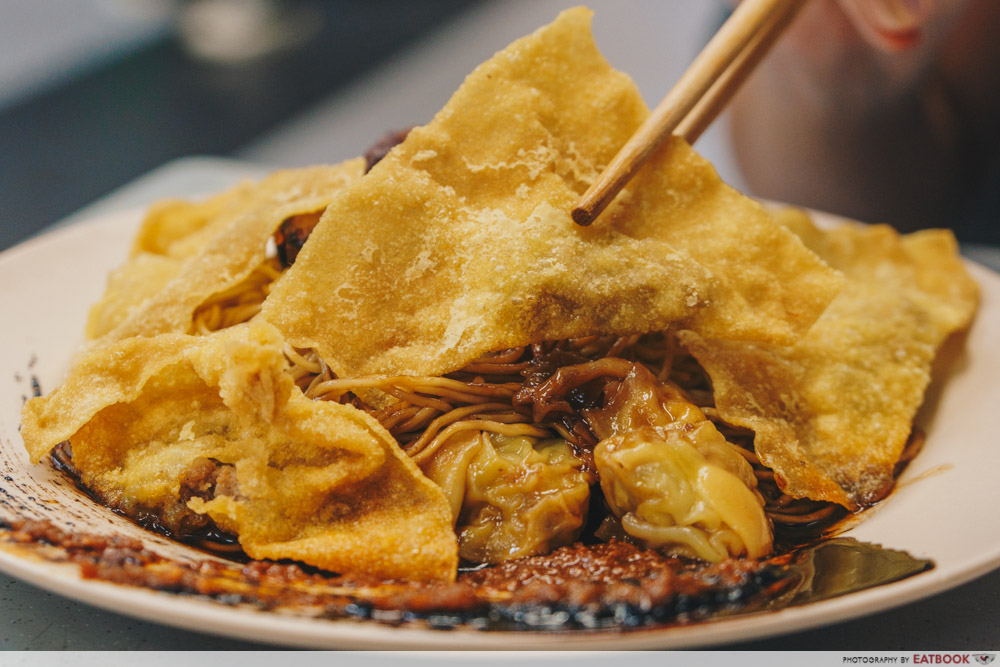 Each plate comes with three boiled and four fried wantons. The fried wantons were huge, but the ratio of skin to filling was six is to one. Though the crispy skin added great texture, it overwhelmed the little morsel of minced meat in the middle. The boiled ones gave a more robust flavour instead.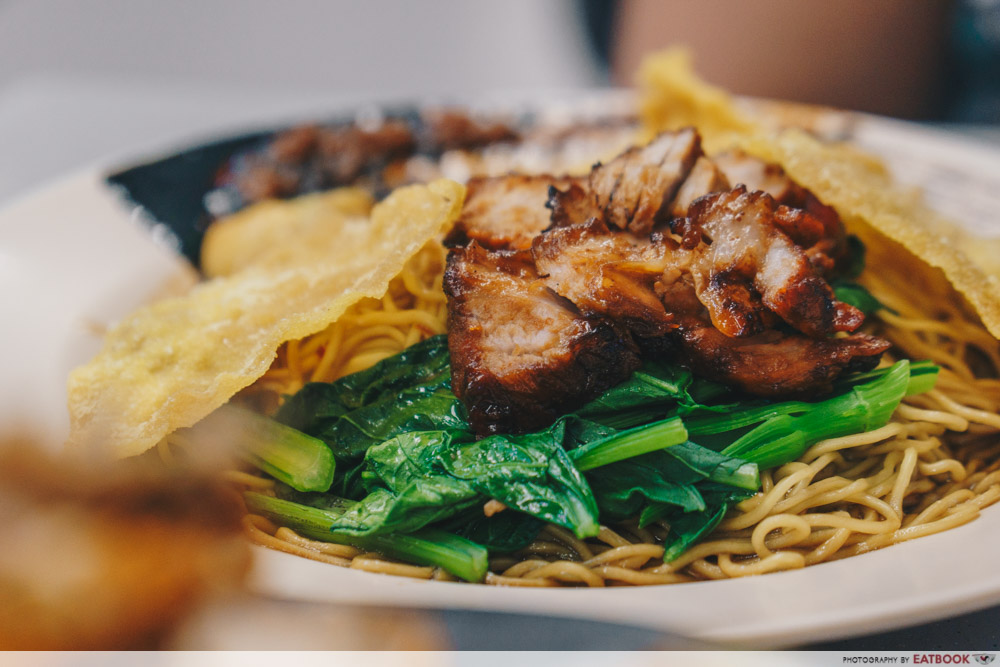 You won't go home hungry, as you will get a decent amount of sliced char siew and blanched leafy greens with your noodles. The thick slices of char siew were of a leaner cut, and were chewy and not too dry.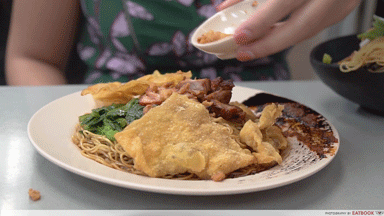 Don't be disappointed if you fail to spot any pork lard toppings. Head back to the stall to score yourself as much pork lard as your arteries can take from the self-service section. You will find a jar of it amongst other condiments such as green chillies.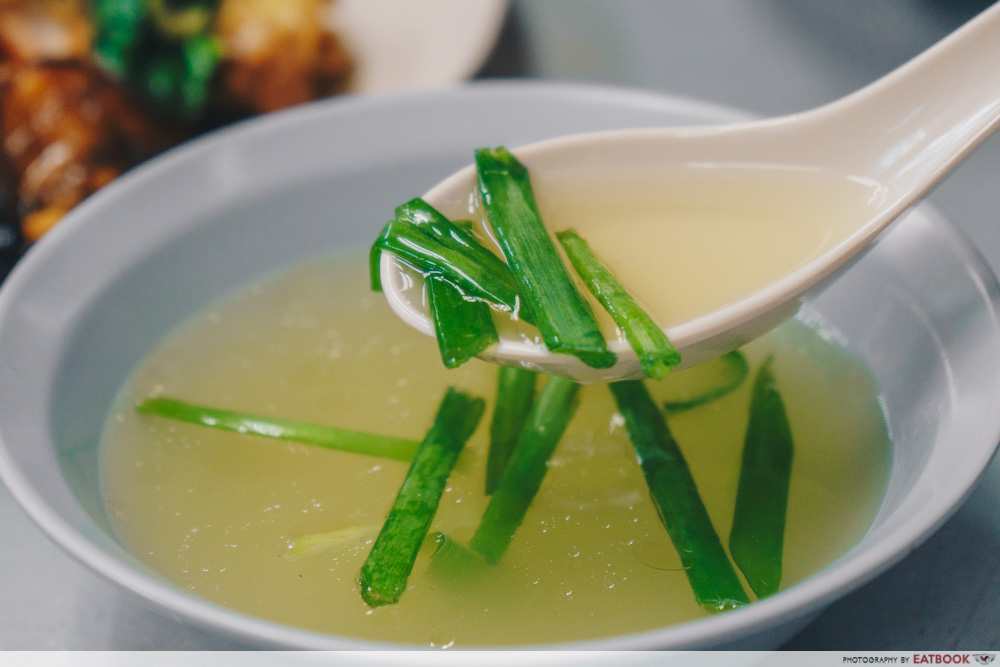 For me, soup plays a big role when I'm having my plate of wanton mee. Many wanton mee stalls offer bowls of bland tasting soup. However, the one here is decorated with chopped spring onion and boasts a full-bodied flavour.
Ambience at Bei-ing Wanton Mee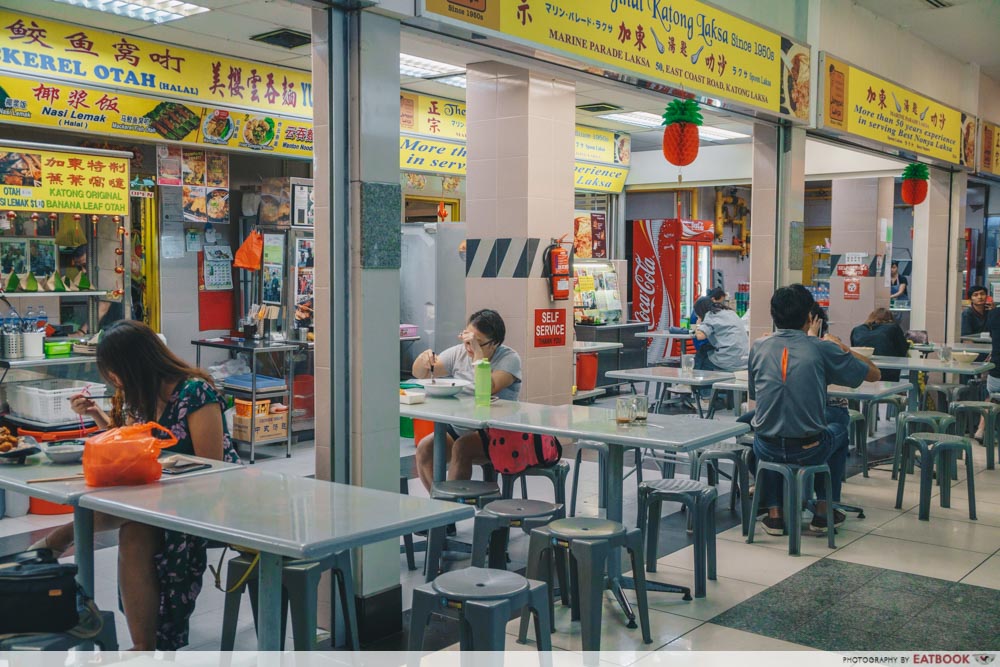 As a Westie, I would have easily walked past after looking at the less appealing facade of Roxy Square, if not for a fellow colleague's recommendation. The fully air-conditioned food court has a rustic feel to it, like it was an old-school spot my parents would have had dates in the past.
The verdict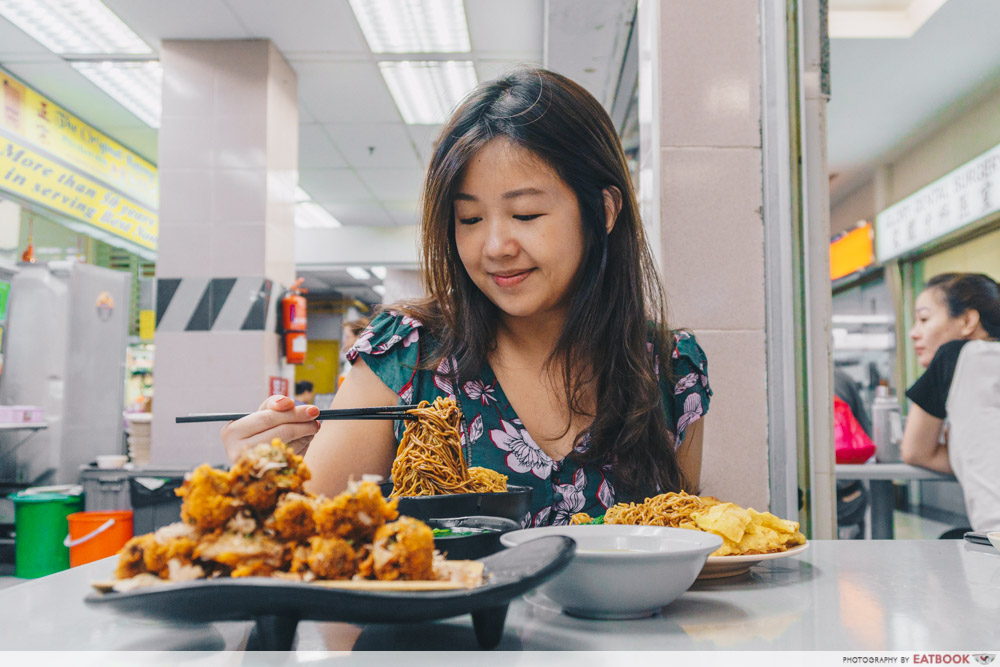 Bei-ing Wanton Mee serves some pretty well-rounded wanton mee dishes. From the mains to the soup, all were well-flavoured and seasoned. I'll surely be back to Katong for more of their atas-looking wanton mee.
Address: 50 East Coast Road, #01-64, Roxy Square, Singapore 428769
Opening hours: Daily 10am to 6pm
Tel: 6440 9511
Website
Bei-ing Wanton Mee is not a halal eatery.
Chilli King Wanton Mee Review: Wonton Mee With Five Levels Of Spiciness at Kallang
Photos taken by Ho Jing Yi.
This is an independent review by Eatbook.sg.
Summary
Pros
– IG-worthy hawker dish
– Wanton mee was robustly flavoured
– Friendly owner
Cons
– Not located near the MRT station
Recommended Dishes: Wanton Mee ($5/$6)
Opening hours: Daily 10am to 6pm
Address: 50 East Coast Road, #01-64, Roxy Square, Singapore 428769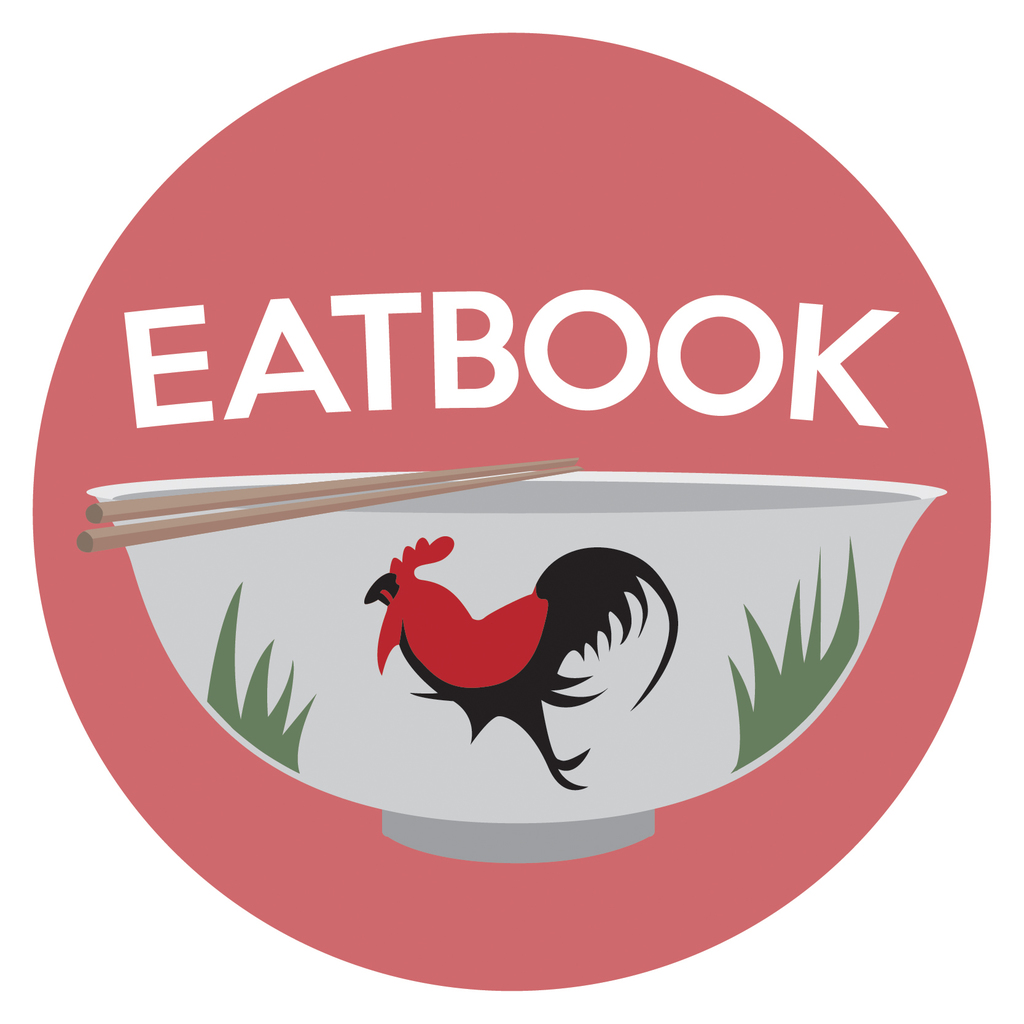 Drop us your email so you won't miss the latest news.