Chelabela: Korean Food By Korean Chef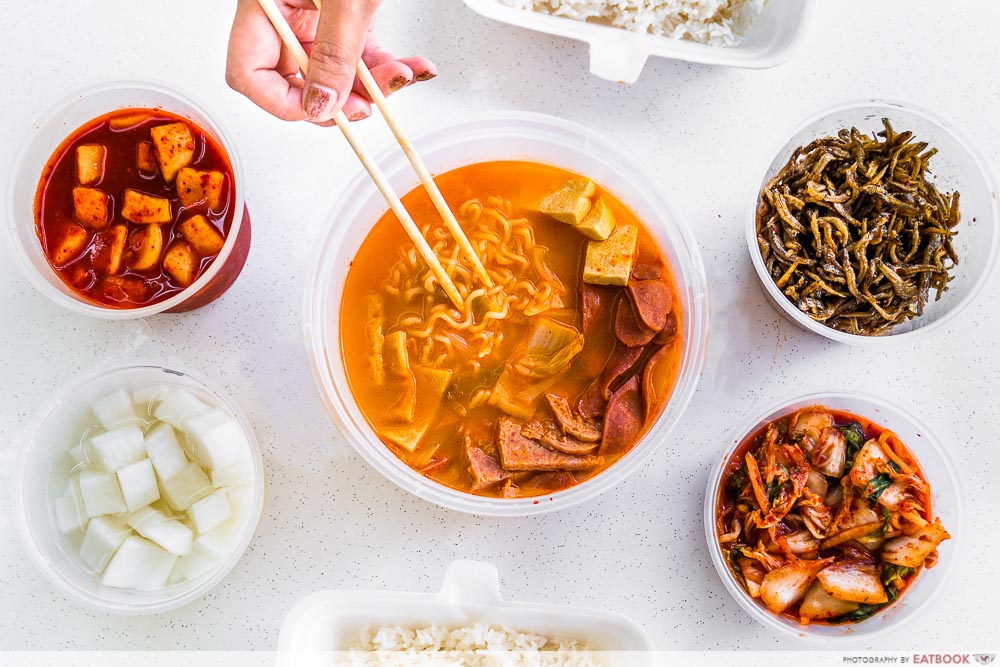 Last year, a Korean hawker stall in Marsiling, run by a Korean family, gained fame when their daughter posted about their struggles during the initial Circuit Breaker on the Facebook group Hawkers United. They then had to shut down in May this year due to manpower issues, and further drops in sales amidst the re-introduction of dining restrictions—that is, until two weeks ago, when Chelabela: Korean Food By Korean Chef reopened in Ang Mo Kio.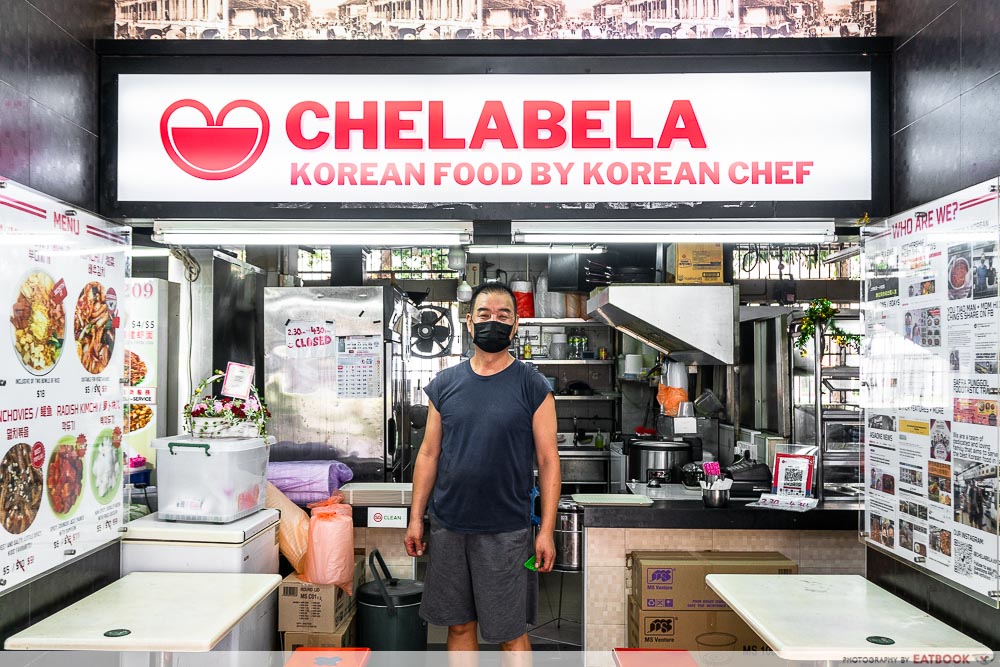 We'd previously tried their house-made kimchi when they were still located in Marsiling, but missed out on their mains, so this reopening gave us the opportunity to head down. However, the menu is now much-reduced, from the original 22 dishes to just one, alongside four assorted kimchi options.
Food at Chelabela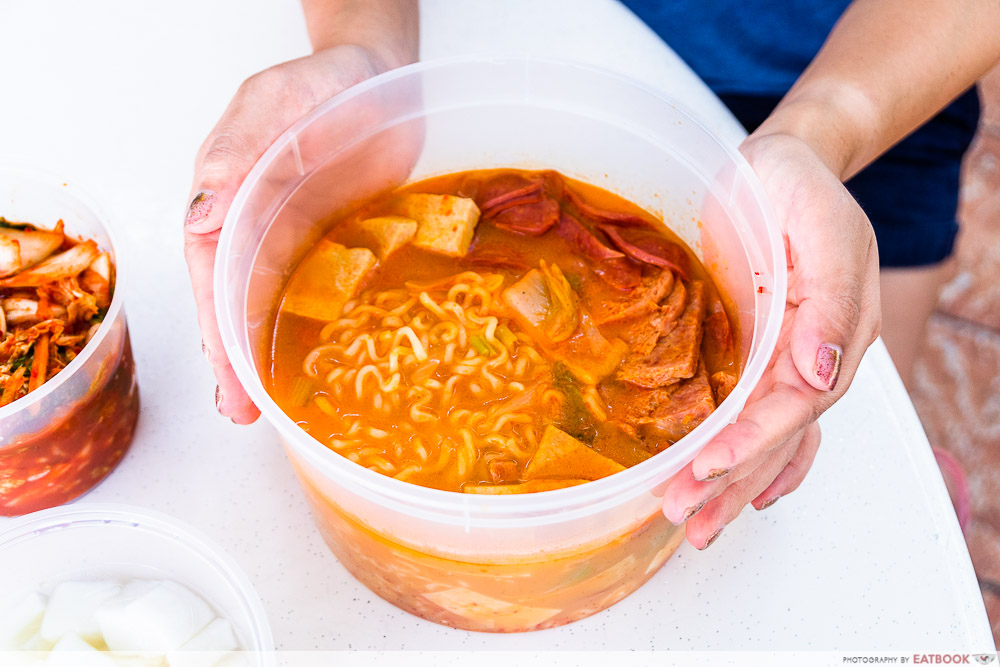 The one and only main dish at Chelabela these days is the Army Stew ($18), AKA budae jjigae, that's good for two to share. We were surprised that this came in a disposable tub, even though we were dining in. It wasn't visually very appetising.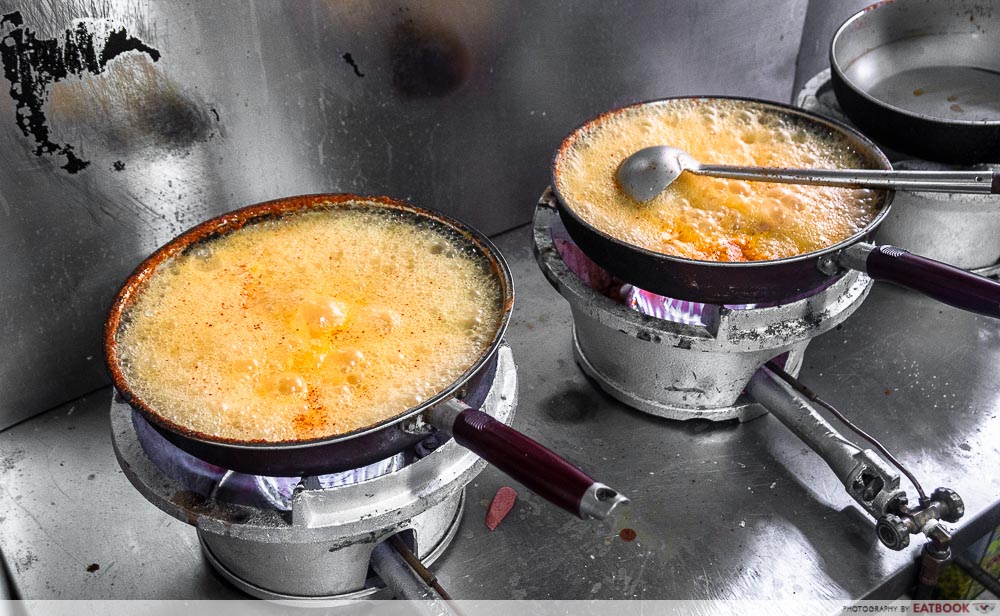 However, it's worth noting that manpower issues are the reason behind their initial shutdown, and the drastic menu reduction—Mr Suh was also the only one manning the stall when we visited, taking orders receiving payment, prepping and cooking—so perhaps the choice to use disposables was purely a logistical one.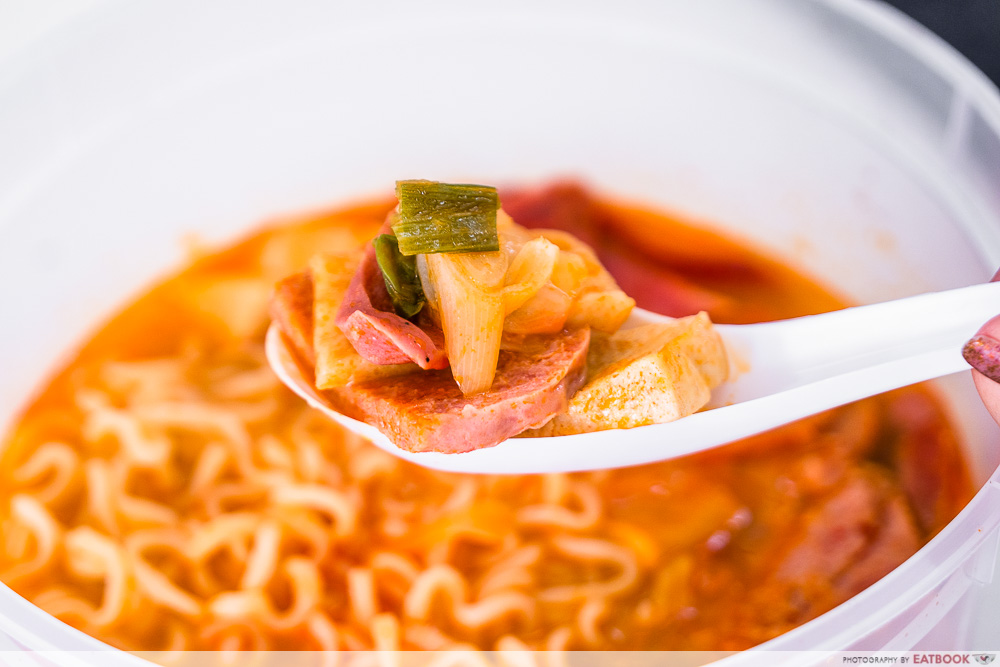 Chelabela's Army Stew comes with the usual suspects of luncheon meat, sausages, Korean fishcake, and tofu. We also saw Mr Suh add canned baked beans and processed cheese to the pot, but they had probably disintegrated into the hot soup when we got to it.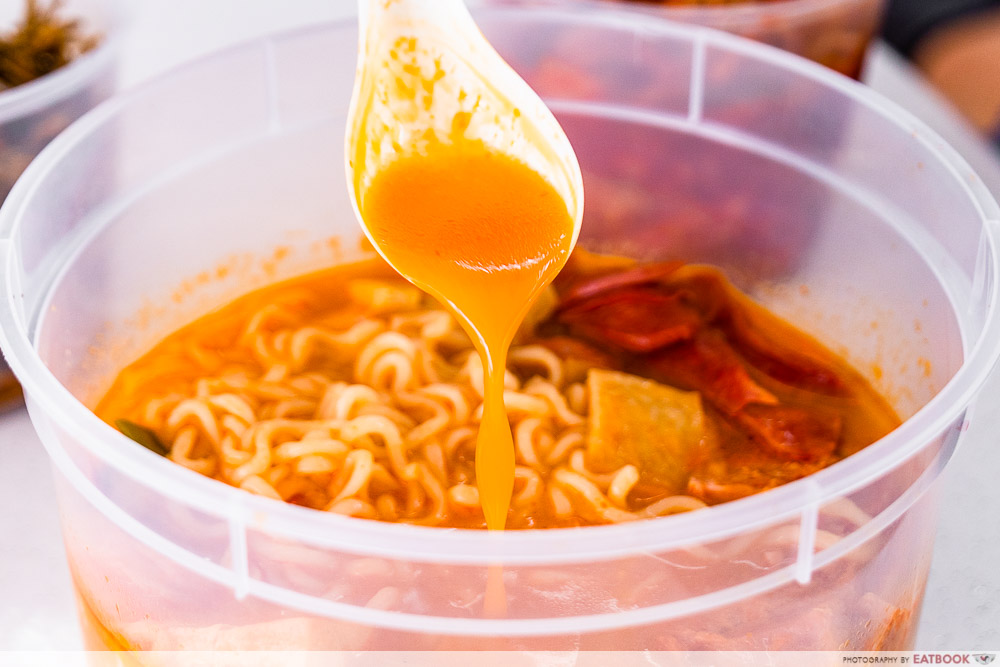 Our planned cheese pull shot was not to be, but the mixture of cheese with the savoury soup base was pretty delectable. There was a milky creaminess to the broth that reminded me somewhat of powdered milk, so I imagine this would not sit well if you didn't like that.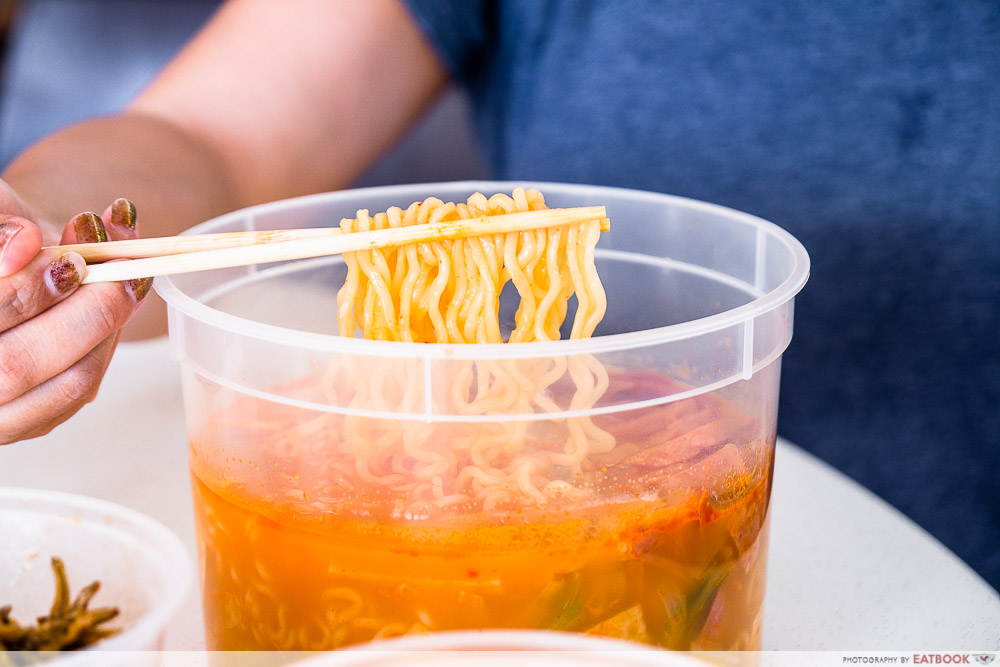 The Army Stew comes with two portions of white rice, and a generous serving of ramyeon in the soup. My only gripe was that the rice wasn't short grain rice, which would have made for a more complete Korean dining experience.
If you're getting this dish to go, Mr Suh separates the noodles and soup so you won't have soggy ramyeon.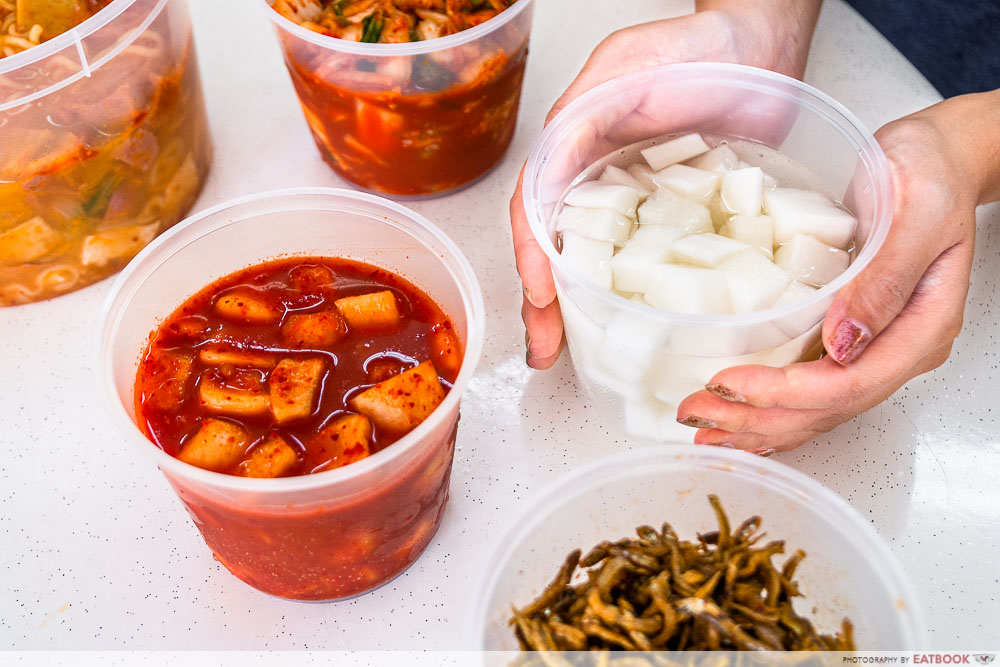 There are four kimchi choices on the menu: Kimchi ($5/$9), Fried Anchovies ($5/$9), Spicy Radish Kimchi ($6/$11), Non-Spicy Radish Kimchi ($5/$9).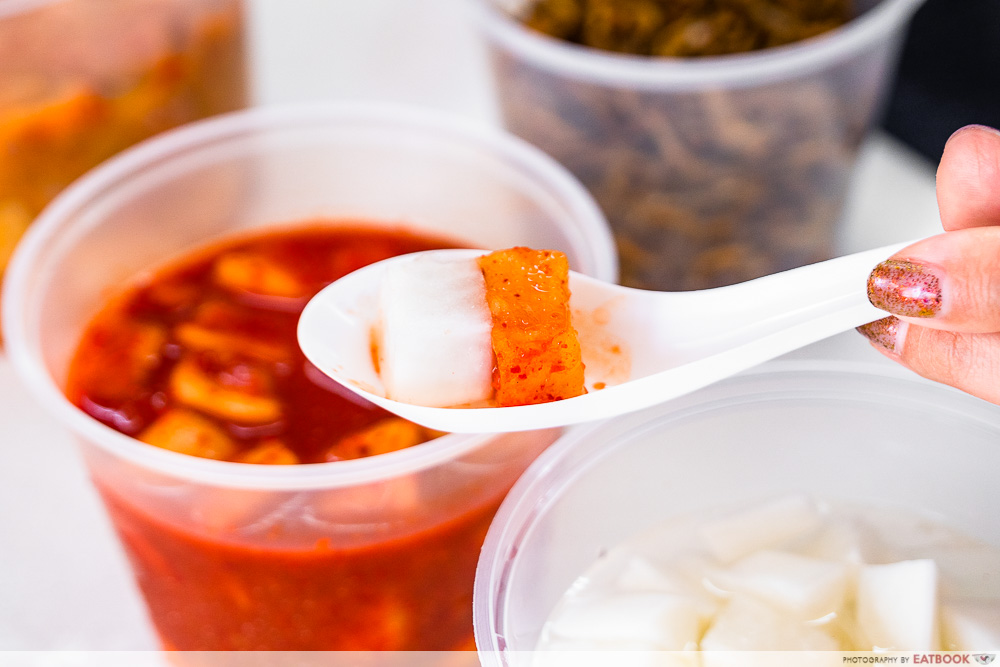 I personally preferred the Non-Spicy Radish Kimchi, which had a more noticeable crunch than the Spicy, and had a light, refreshing sweetness. I bought myself a tub, and intend to order in some Korean fried chicken to go with it. The Spicy tasted as you'd expect kimchi to taste—sour, and lightly spicy—though with that same refreshing note you get from the juicy root vegetable.
20 Korean Fried Chicken Delivery Services During This Stay-Home Period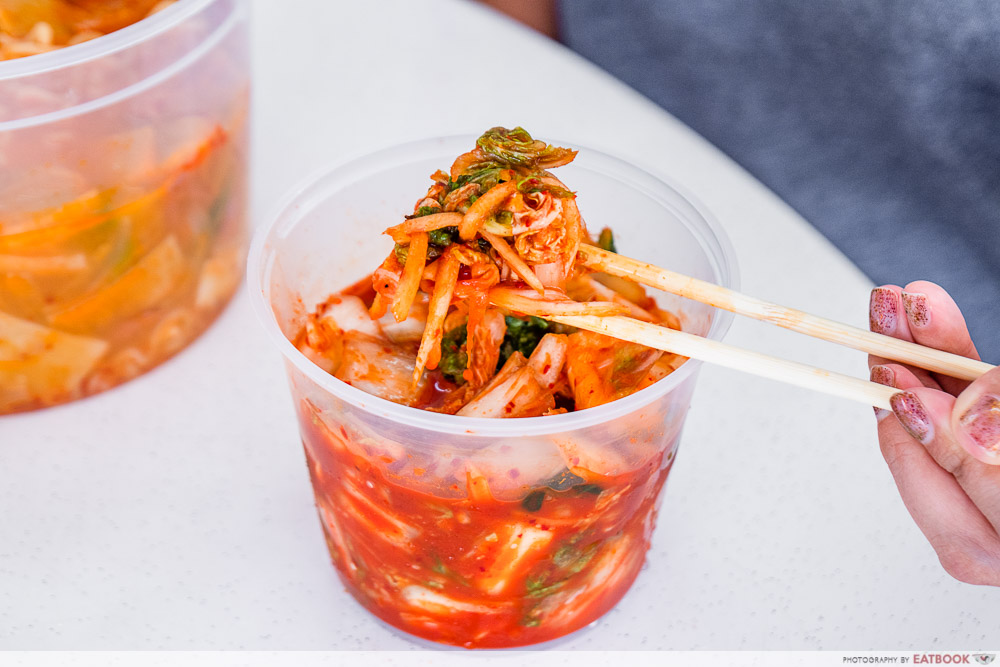 Pleasantly surprising was how the Kimchi had less of that acidic note than the Spicy Radish, perhaps because this batch had been fermenting for a shorter time. The vegetables here, including sticks of carrot, and scallions, weren't overly soft, and retained some level of bite.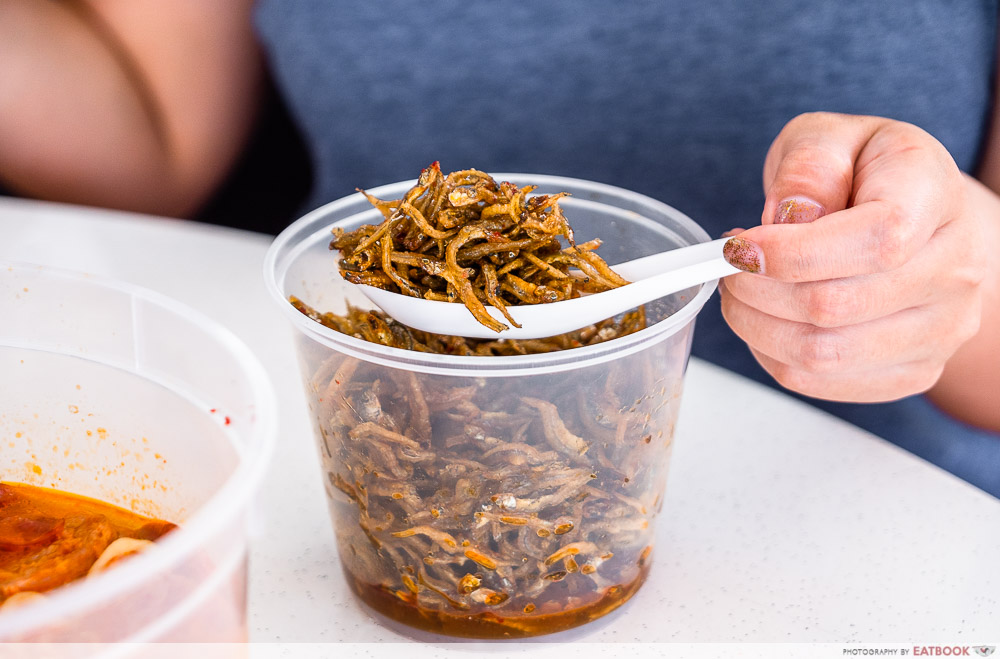 Besides the Non-Spicy Radish Kimchi, the Fried Anchovies is my other top pick. Deeply, richly umami on their own, these little fishies were slightly chewy—all the better for savouring the flavours. They're lightly coated in a mildly sweet, delicately spicy glaze, and dangerously addictive.
Nongshim's New Army Stew Ramyun Lets You Have Authentic Budae Jjigae Without The Hassle
Ambience at Chelabela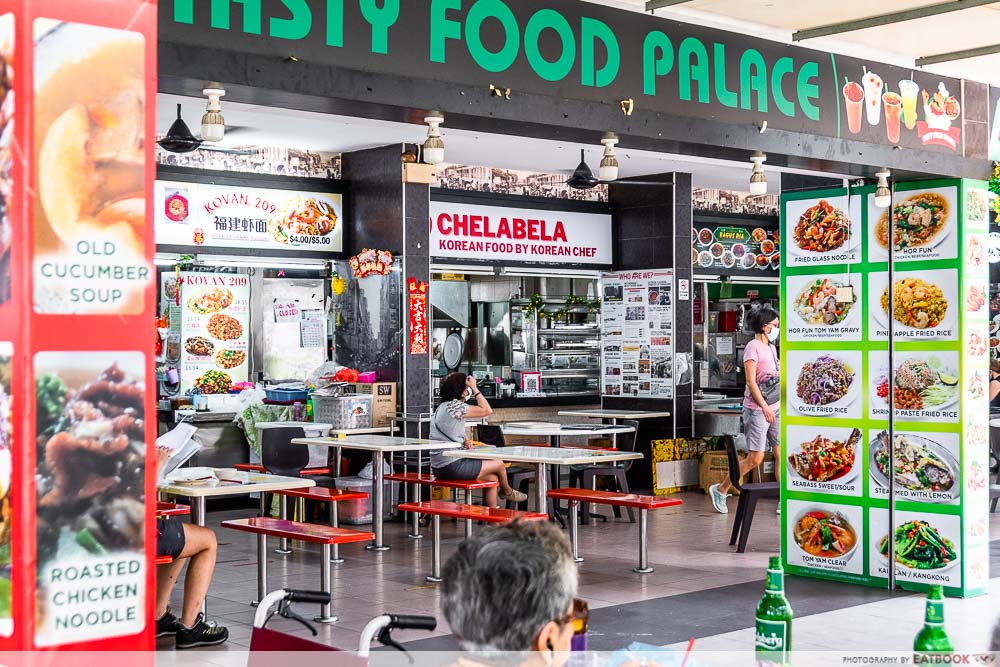 Chelabela's new location is within a coffeeshop that's approximately 14 minutes by bus from Yio Chu Kang MRT Station, and 25 minutes from Ang Mo Kio MRT Station.
We were there at 1pm, and there was a steady line of customers, not helped by the fact that it's a solo operation. The coffeeshop is pretty new-looking, clean, and spacious, with ample seats. The area is also closed in with nets, so you're less likely to have to share your food and seats with the neighbourhood birds.
The verdict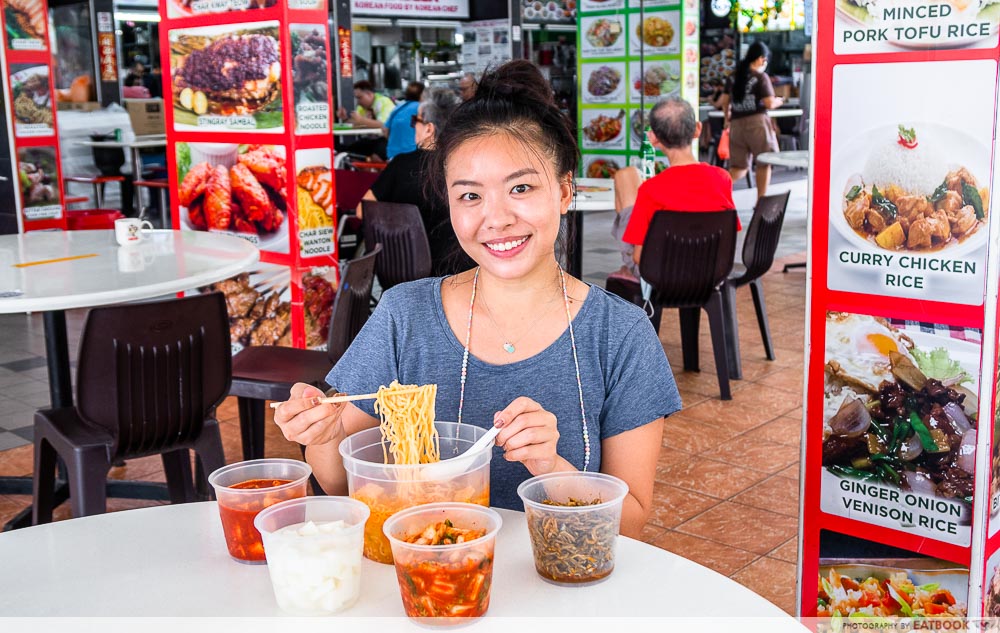 Honestly, I wouldn't traipse to Ang Mo Kio specifically for Army Stew and kimchi. If I were in the vicinity and running low on banchan at home, perhaps I'd pop by for a top-up. The assorted kimchi are decently priced, considering they're all made in-house, and require quite a bit of effort to prepare, but in time, perhaps if Chelabela offers a wider spread of dishes, I'd be prepared to make the journey again.
For army stews under $20 a person, give these a shot! Otherwise, make it at home in a jiffy with Nong Shim's Budae Jjigae instant ramyeon.
Address: Block 603, Ang Mo Kio Avenue 5, Singapore 560603
Opening hours: Mon 11am to 2:30pm, Tues-Sun 11am to 2:30pm, 4:30pm to 6:30pm
Tel: 9689 4007
Website
Chelabela is not a halal-certified eatery
14 Army Stew Under $20 Per Person Including Hawker Stalls, Halal Options And More
Photos by Chew Yi En
This was an independent review by Eatbook.sg
Chelabela Review: Famous Father-Daughter Korean Hawkers Reopen At Ang Mo Kio With Army Stew And Handmade Kimchi
Chelabela Review: Famous Father-Daughter Korean Hawkers Reopen At Ang Mo Kio With Army Stew And Handmade Kimchi -

6.5/10
Summary
Pros
– Kimchi was well-made
– Prices are reasonable
Cons
– Army Stew looked a little lacklustre
– Only one main dish
Recommended dishes: Kimchi ($5/$9), Non-Spicy Radish Kimchi ($5/$9), Fried Anchovies ($5/$9)
Opening hours: Mon 11am to 2:30pm, Tues-Sun 11am to 2:30pm, 4:30pm to 6:30pm
Address: Blk 603, Ang Mo Kio Ave 5, Singapore 560603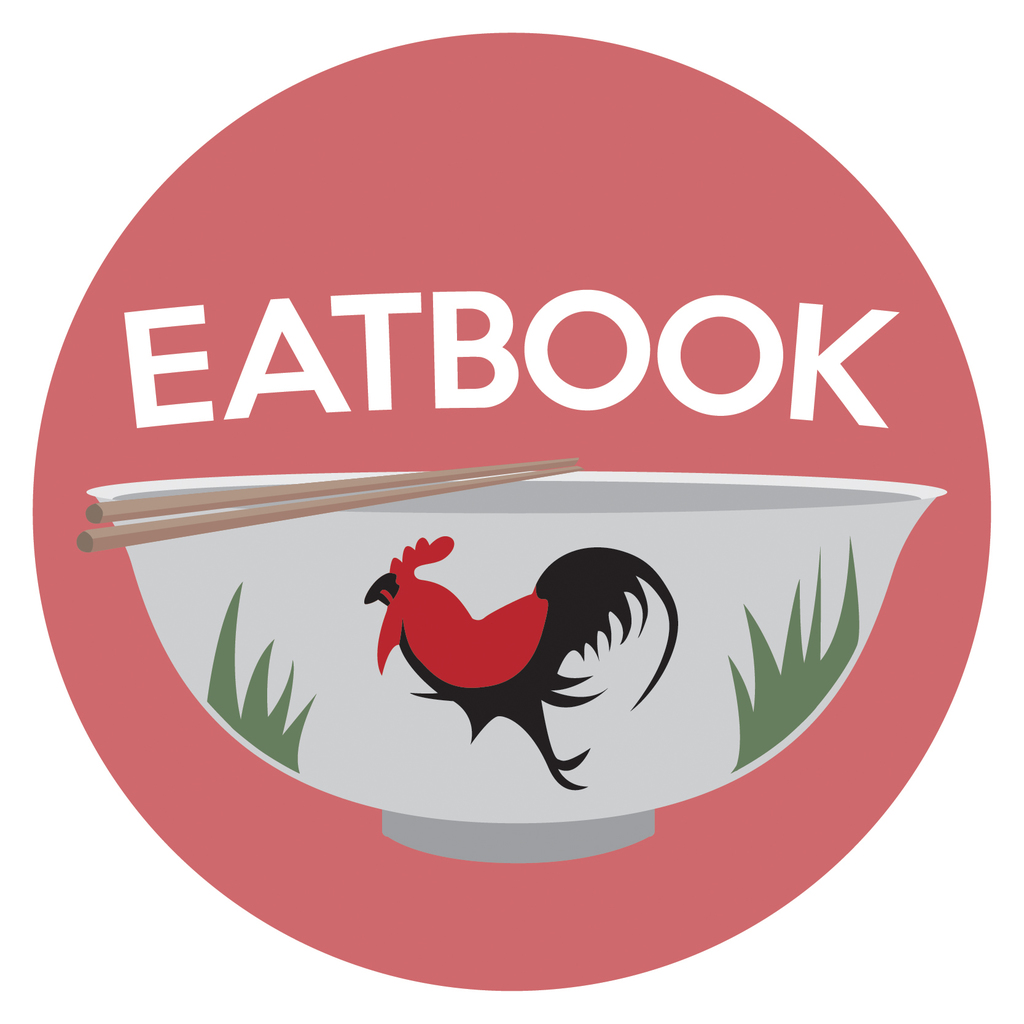 Drop us your email so you won't miss the latest news.