Sweet Rex offers souffle pancakes at a hawker centre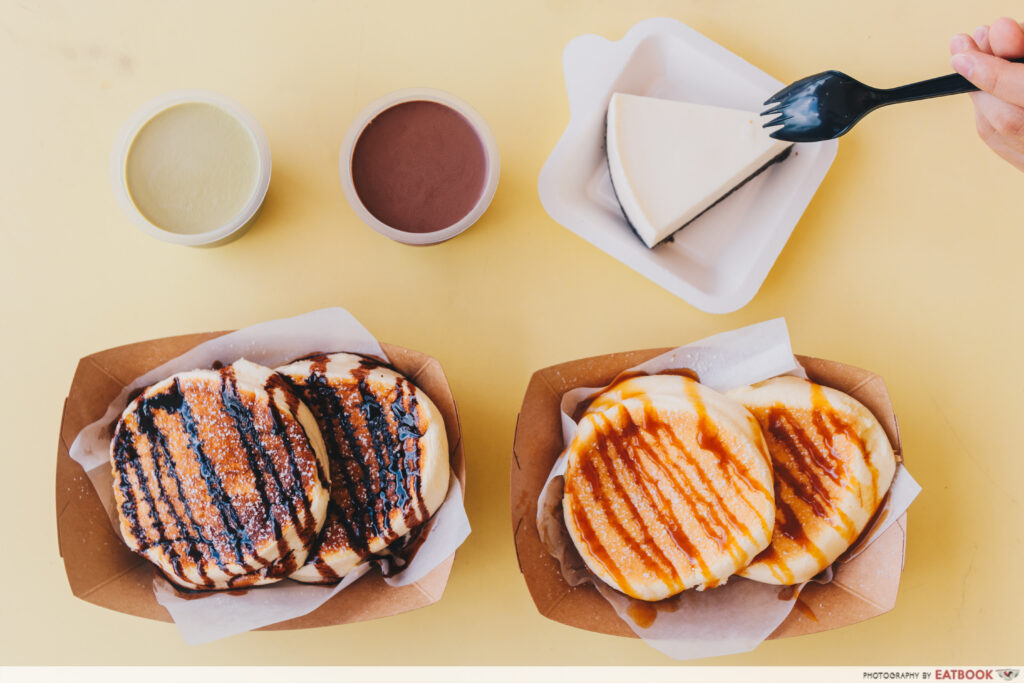 During my trip to Bangkok last year, my best friend and I came across a cafe that sold Instagrammable desserts, including soufflé pancakes. However, being on a budget denied me the opportunity of trying those beautiful, fluffy pancakes. And since I came back, I've been searching high and low for affordable soufflé pancakes until I found Sweet Rex. Coming across these pancakes on the 'gram, I assumed it came from a cafe. So, when I found out these came from a hawker stall and cost just $4 per set, I knew I had to see and taste it for myself!
Food at Sweet Rex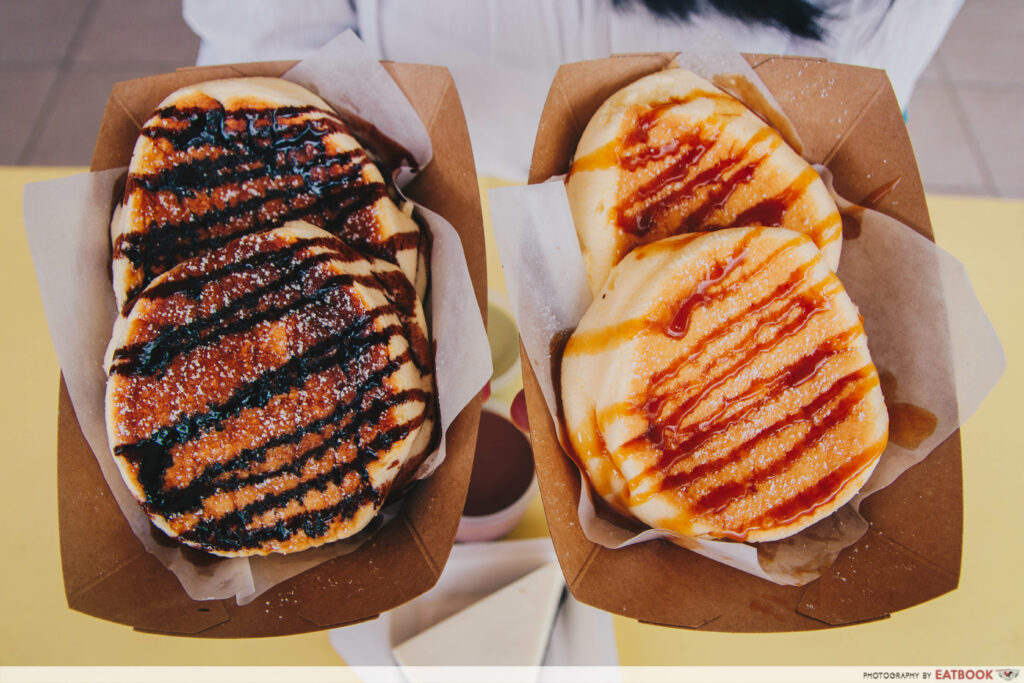 The fluffy Soufflé Pancakes ($4 for two pancakes) from SweeT.Rex are freshly made, and served with a sauce of your choice – chocolate, caramel or strawberry. We ordered two portions, one with chocolate sauce and the other with caramel. It sure was satisfying watching the boss make them from scratch!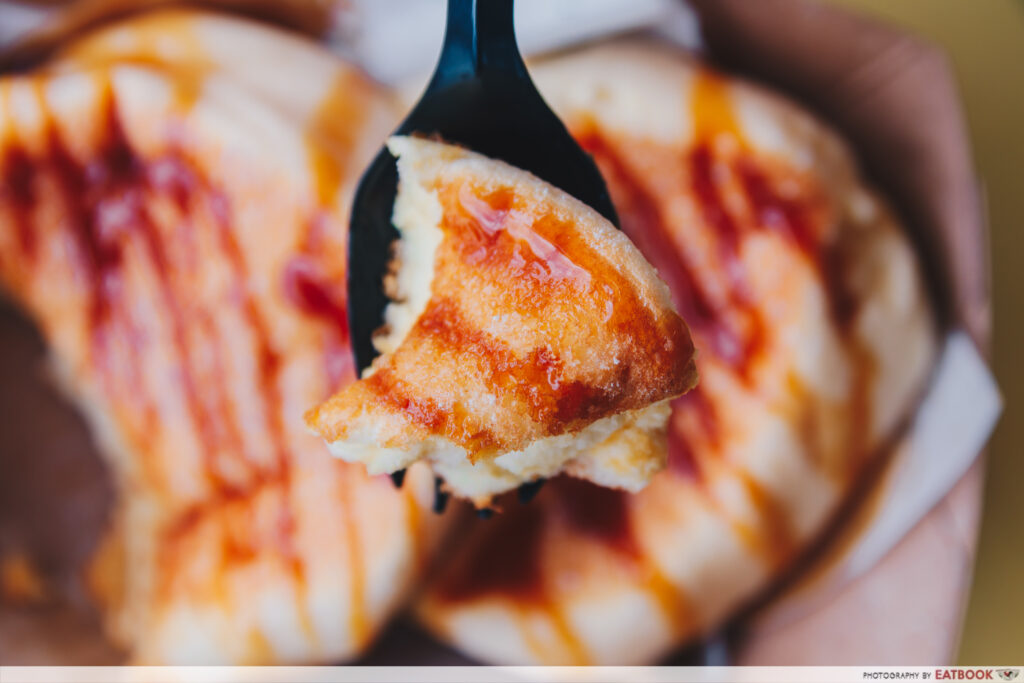 As I set the pancakes on the table, my stomach grumbled while the buttery aroma whetted my appetite. As I took my first bite, I sighed in satisfaction; it was all I wanted in a pancake. Every bite was fluffy, airy, and soft like clouds. I loved the caramel sauce, but wished there was more of it to go along!
10 Cheap Hawker Desserts That Are IG-Worthy Including Coconut Ice-Cream And Bingsu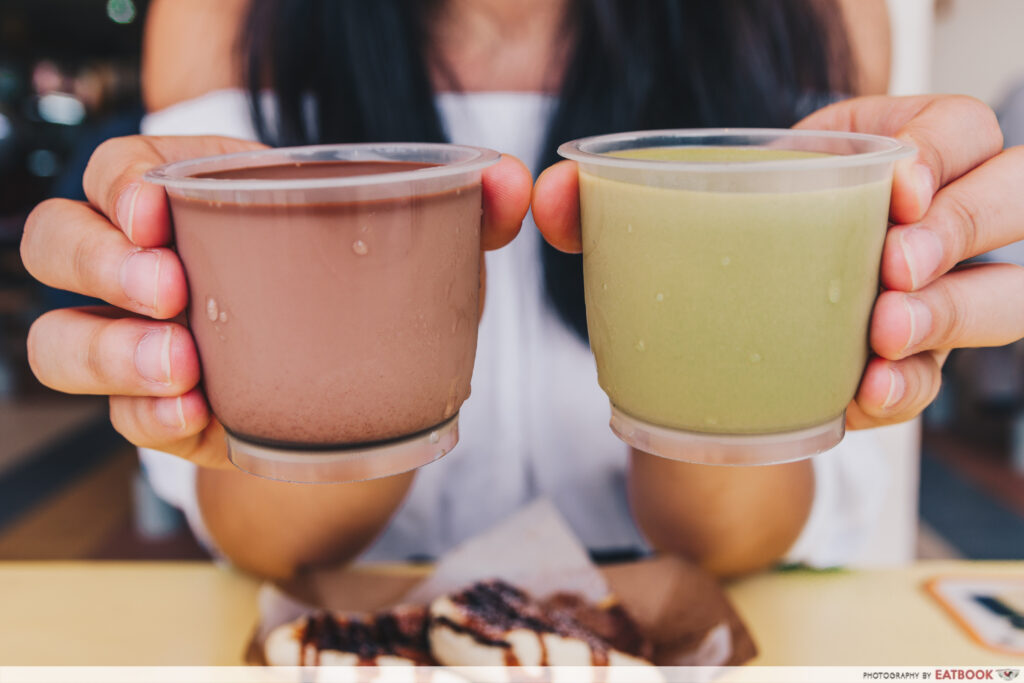 Saddened by the fact that their Thai Milk Tea Pudding ($2) was not available, we settled for their Chocolate Pudding ($2) and Matcha Pudding ($2) instead.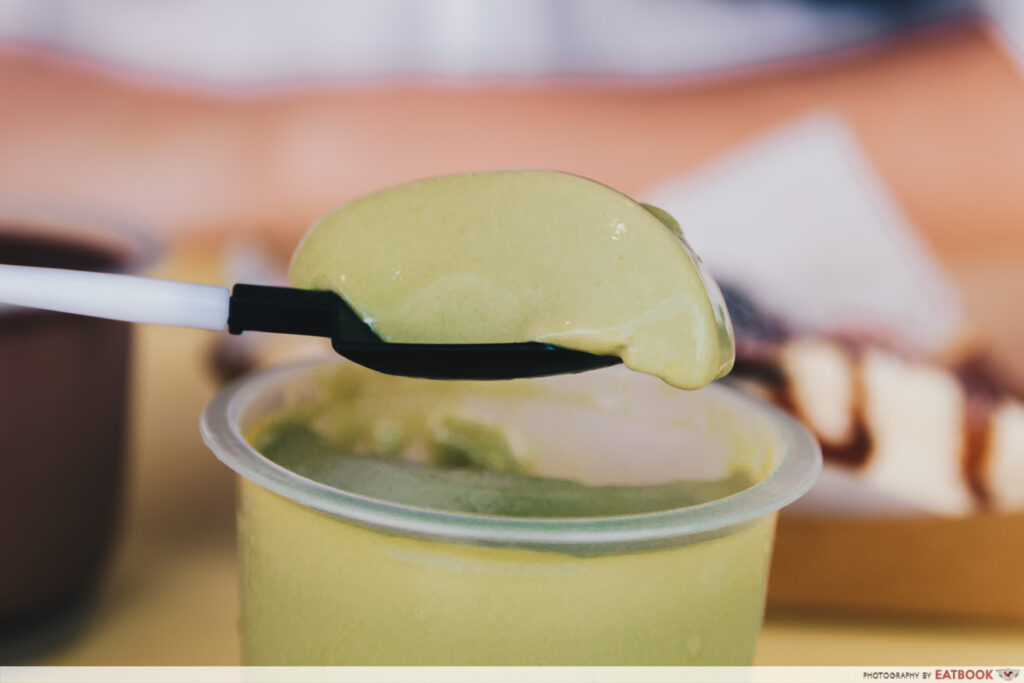 While I was ready to taste some good pudding, especially after those delicious soufflé pancakes, my excitement quickly turned into disappointment after I had a bite of their chocolate pudding. It was mushy and simply tasted like chocolate milk. Despite having the same texture, the matcha pudding had depth in its flavour. The initial bitterness was followed by a subtle sweetness. That being said, if you are only looking to get one thing, stick to the soufflé pancakes!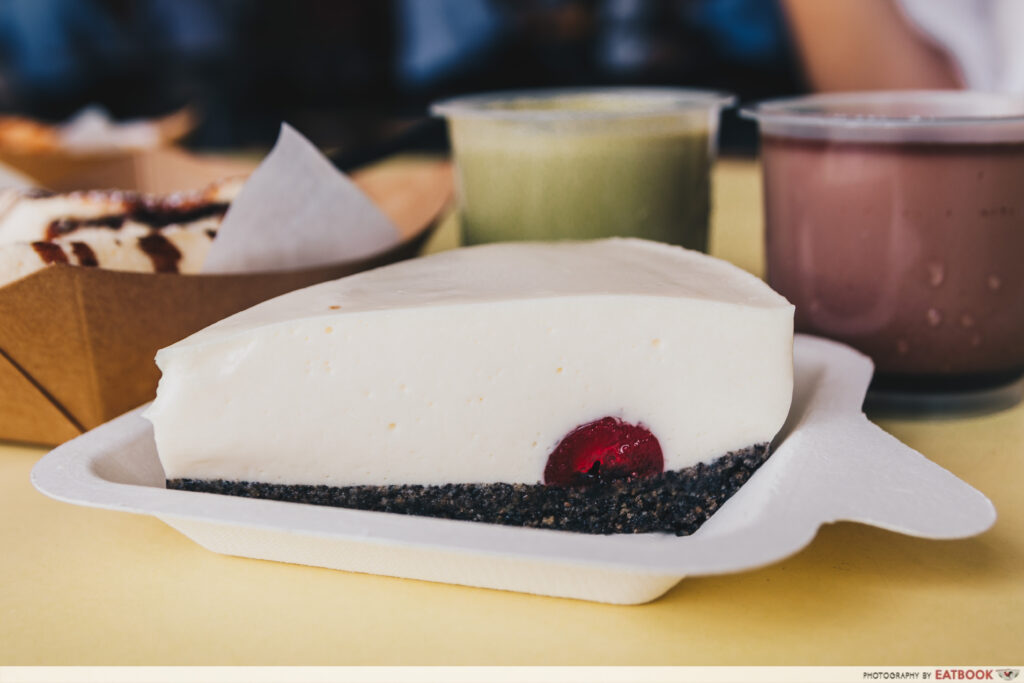 The discovery of Sweet Rex's Lemon Cheesecake ($3.80) was purely by chance. We wanted to get their soft serve ice-cream, but was told it was no longer available. Disappointed, I looked around for an alternative and laid eyes on this silky smooth cake that looked like tofu.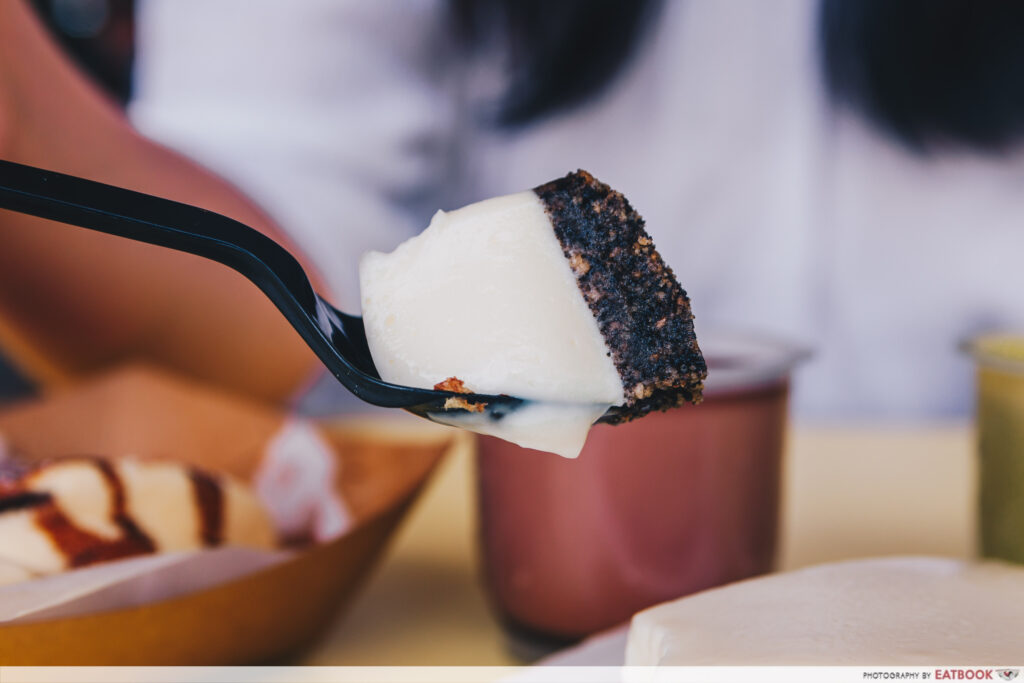 My eyes twinkled in happiness after my first spoonful of the "tofu" cake. The cheese was creamy with a hint of tanginess that made it easy on the palate. I couldn't help but reach for more. While the base didn't have the crunch that I like in my cheesecakes, it was a small price to pay for such a tantalising cheese mix. Forget about those overpriced cheesecakes that will get you jelak after a few bites! The ones at Sweet Rex will satisfy your cravings, and leave you wanting more.
Ambience at Sweet Rex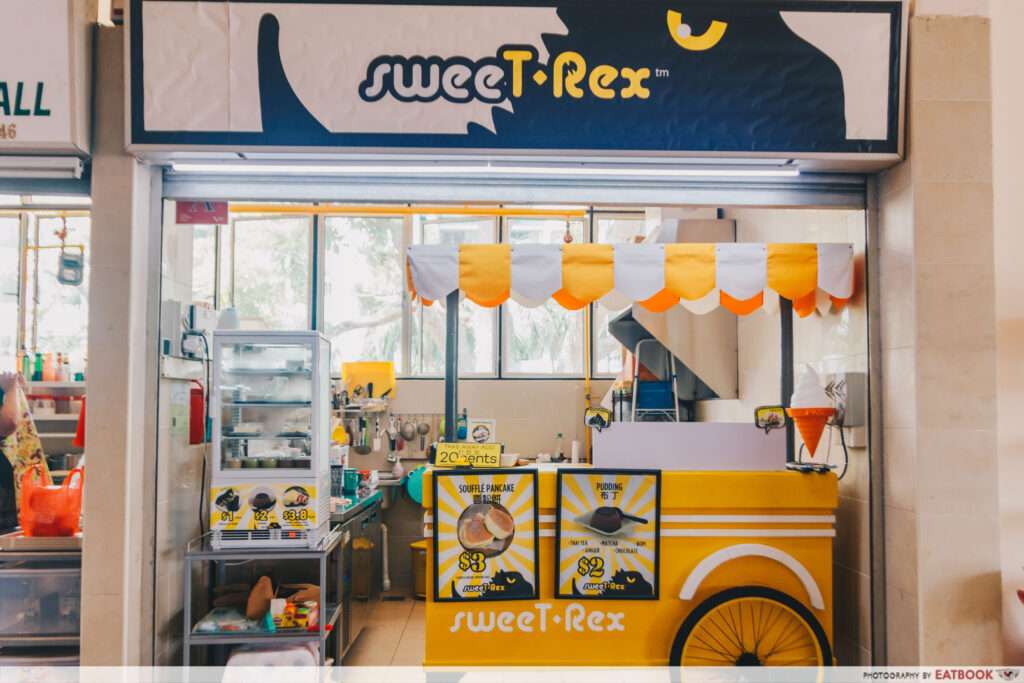 The only fixed opening days for Sweet Rex fall on the weekends. We went down on a Tuesday and realised it was closed, despite having looked at their opening hours on their Facebook page. After a chat with the boss, we found out she opened this stall out of interest and only opens on weekdays when she has time on her hands. Drop her a call before going down to prevent a wasted trip! Otherwise, you can come down on weekends for some family time over a plate of soufflé pancakes and cheesecakes.
The verdict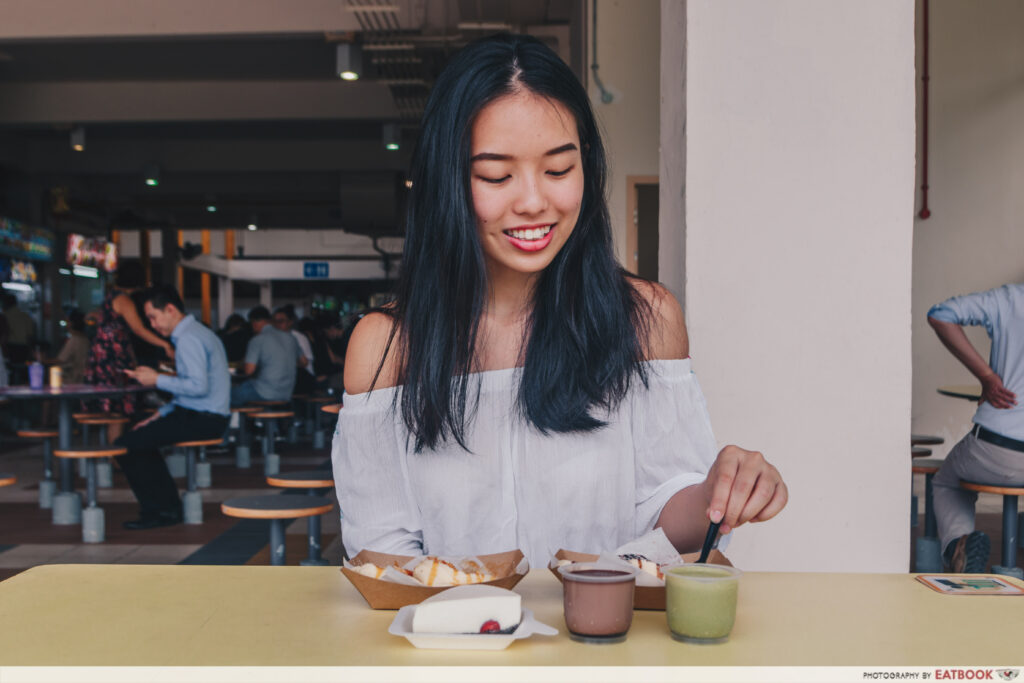 If you can't tell by my smile already, Sweet Rex sure stole my heart with their affordable treats! With all the delicious food in Mei Ling Food Centre, I would definitely return with friends and family for a meal and round it off by introducing them to Sweet Rex's soufflé pancakes. Everyone with a sweet tooth, check them out when you're in the area! You can thank me later. For more hawker desserts, check out Muffles and Nicher, which are both opened by ex-hotel chefs!
Nicher Review: Ex-MBS Pastry Chef Opens Hipster Hawker Stall Selling Earl Grey And Matcha Cakes
Address: 120 Bukit Merah Lane 1, #01-79, Singapore 150120
Opening hours: Sat-Sun 10:30am to 3pm, 5pm to 8pm
Tel: 8163 7630
Website
Sweet Rex is a halal-certified hawker stall.
This is an independent review by Eatbook.sg
Summary
Pros
– Pancakes were freshly made on the spot
– Value-for-money
Cons
– Irregular opening hours
Recommended Dishes: Soufflé Pancakes ($4 for two), Lemon Cheesecake ($3.80)
Operating Hours: Sat-Sun 10:30am to 3pm, 5pm to 8pm
Address: 120 Bukit Merah Lane 1, #01-79, Singapore 150120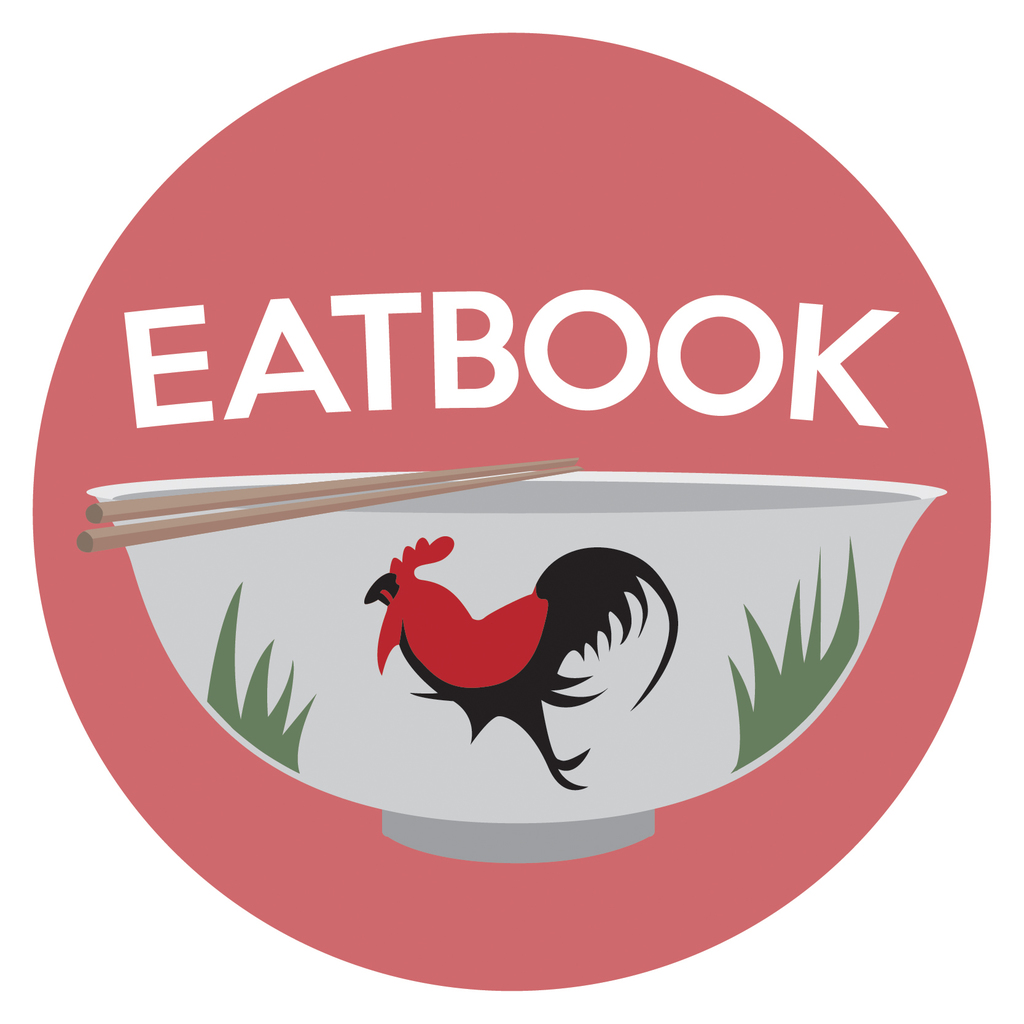 Drop us your email so you won't miss the latest news.