---
Cheap hawker desserts found all around Singapore
---
"There is always room for desserts." This is one of the sayings that I identify with most. Whether it's post-buffet or after devouring an entire bowl of prawn mee and fried carrot cake, an unsaid ritual is to look for some desserts to end off my meal. At hawker centres, however, finding desserts can sometimes be difficult. If you are like me, and you can never feel satisfied without finishing your meal with a sweet treat, here is list of eight cheap hawker desserts that are Instagram-worthy!
---
1. Uggli Muffins
---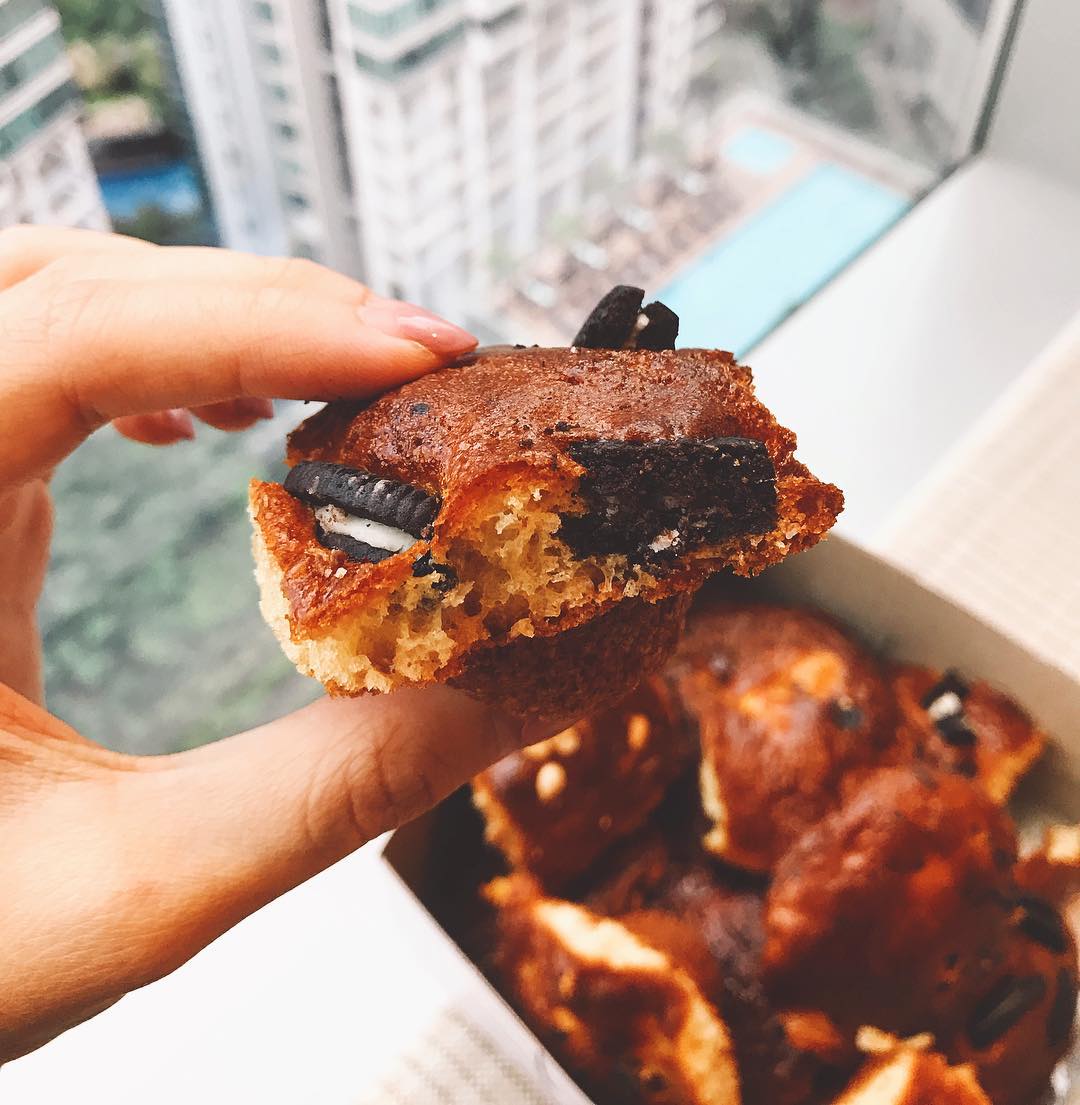 Image credit: @thequirkyfoodie
Although Uggli Muffins prides themselves on their oddly shaped muffins, these far-from-perfect pastries still never fail to make it onto Instagram feeds. Instead of the usual rounded domes, these muffins are irregularly shaped and come in flavours such as Oreo, walnut, chocolate, banana walnut, and cranberry. The muffins are priced at $1.20 per piece but most would go for their 12 for $11 deal. On top of muffins, they also have brownies, cream puffs, and cookies available for pre-order on their website.
Address: 127 Lorong 1 Toa Payoh, #02-34, Toa Payoh Market and Food Centre, Singapore 310127
Opening hours: Tue-Sun 10am to 2pm
Tel: 9877 9020
Website
---
2. Sng Gor
---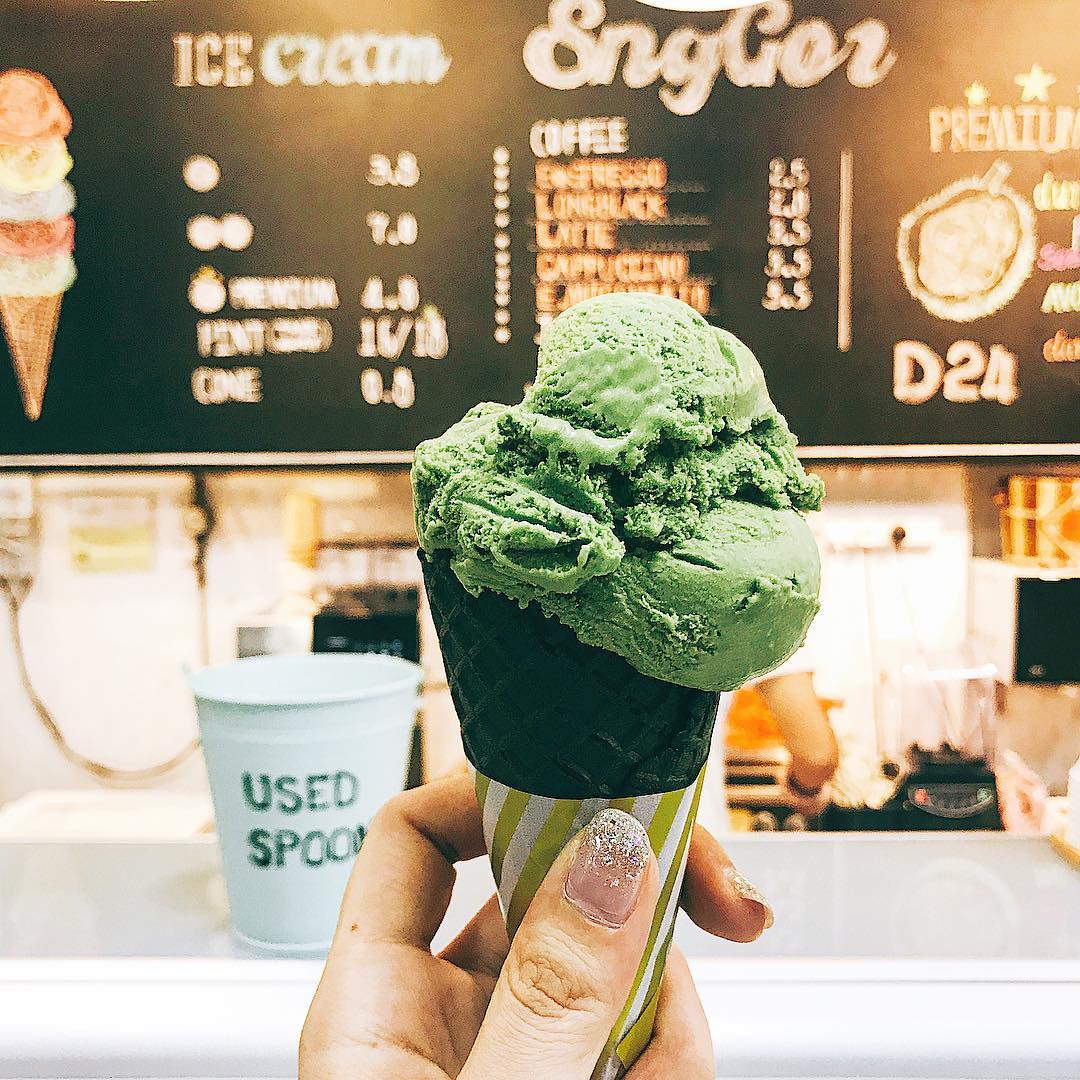 Image credit: @ppriscillala
Hidden inside Song Kee Eating House, Sng Gor is an ice-cream stall that operates right next to the famous Song Kee Fishball Noodle. Though the ice-cream stall occupies only a small area of the coffee shop, it still boasts an extensive variety of 25 different ice-cream flavours.
Priced at $3.80 for a single scoop and $7 for two scoops, you can choose from flavours including coconut, soursop, salted macadamia, and Thai milk tea. For an additional $0.80, you can also have your ice-cream served in either a black, green, red, or brown cone!
Address: 128 Tembeling Road, Singapore 423638
Opening hours: Thur-Tue 11:30am to 9:30pm
Website
---
3. Jin Jin Dessert
---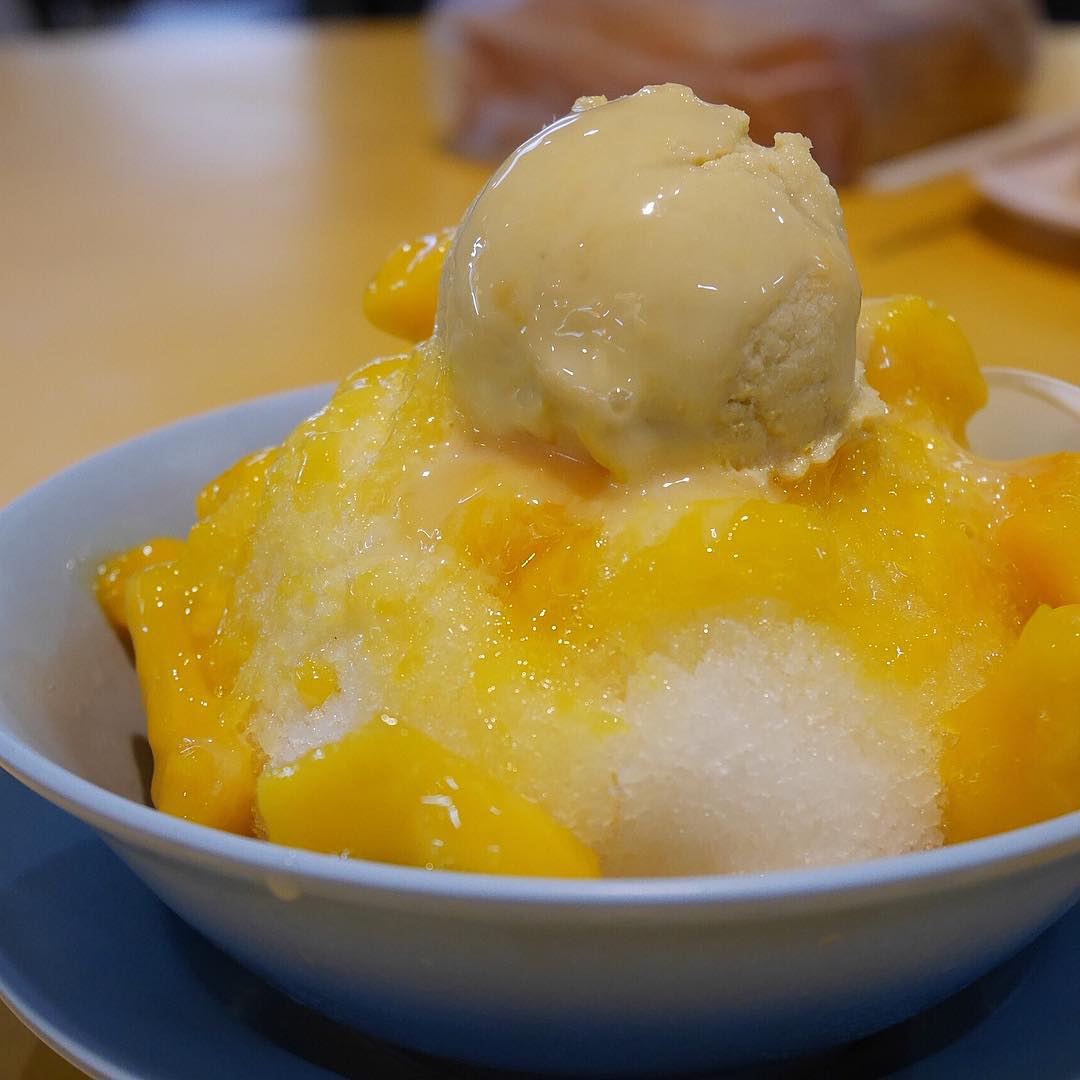 Image credit: @vivianleoyen
Run by a pair of friends who never had experience in the food industry, Jin Jin Dessert serves desserts like cendol and ice kachang. Their speciality, Gangster Ice ($3), is made of shaved ice, condensed milk, fresh mango slices, and topped with a ball of durian puree.
If you are not a fan of the pungent fruit, the stall is also known for their Penang Ice Kachang ($2) or Power Cendol ($2) that comes in a gigantic ball of ice with thick gula melaka!
 Address: 6 Jalan Bukit Merah, #01-20, ABC Brickworks Market Food Centre, Singapore 150006
Opening hours: Thur-Tue 12:30pm to 10pm
Tel: 9093 2018
Website
---
4. Mr Baguette
---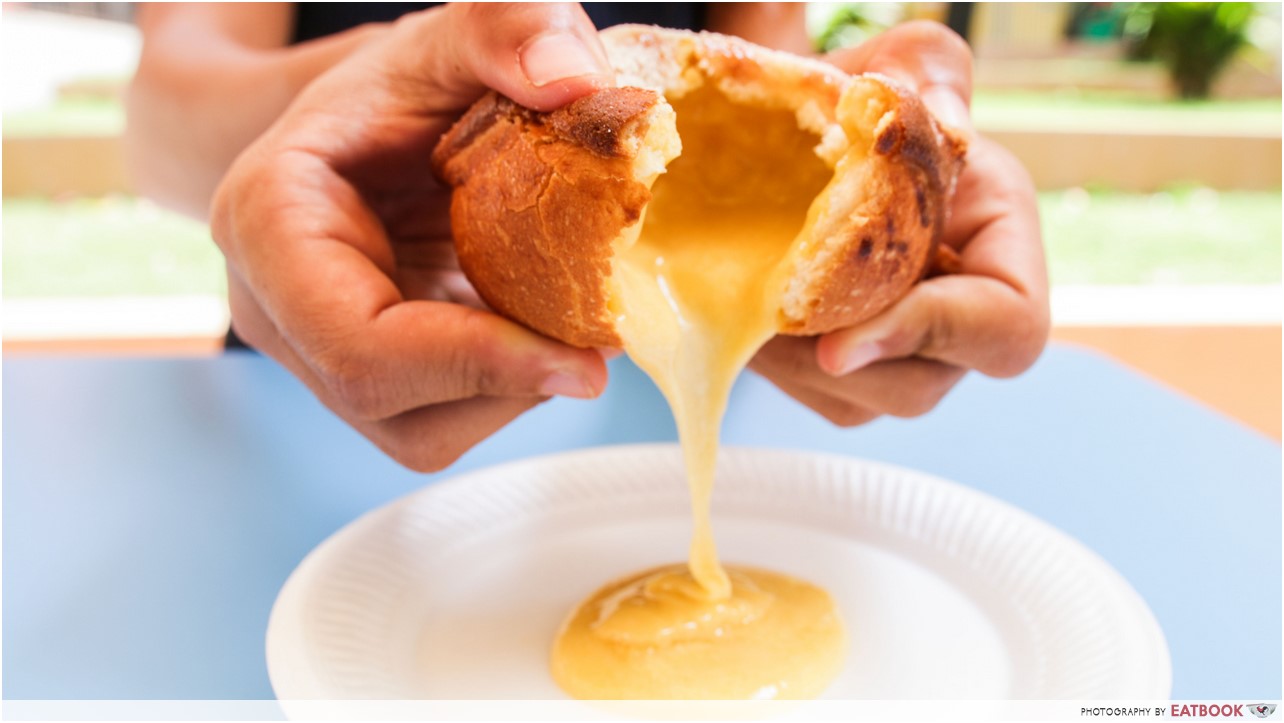 When I first saw photos of mini baguettes oozing with colourful sauces on Instagram, I had expected it to be from some fancy French cafes or bakeries. And so I found it almost impossible to believe when I realised these lava baguettes are actually found at a hawker stall in Golden Mile Food Centre!
Priced affordably at about $1.80 each, the stall offers more than 20 flavours of sweet and savoury baguettes. Some of their must-tries include Eskimo Lava ($1.80), which is made of white chocolate and mint filling, Hazelnut Lava ($1.80), and Azuki Lava ($1.80)!
Check out our full review of Mr Baguette!
Address: 505 Beach Road, #B1-51, Golden Mile Food Centre, Singapore 199583
Opening hours: Daily 12pm to 8pm
Tel: 9184 1257
Website
---
5. Waan Waan 
---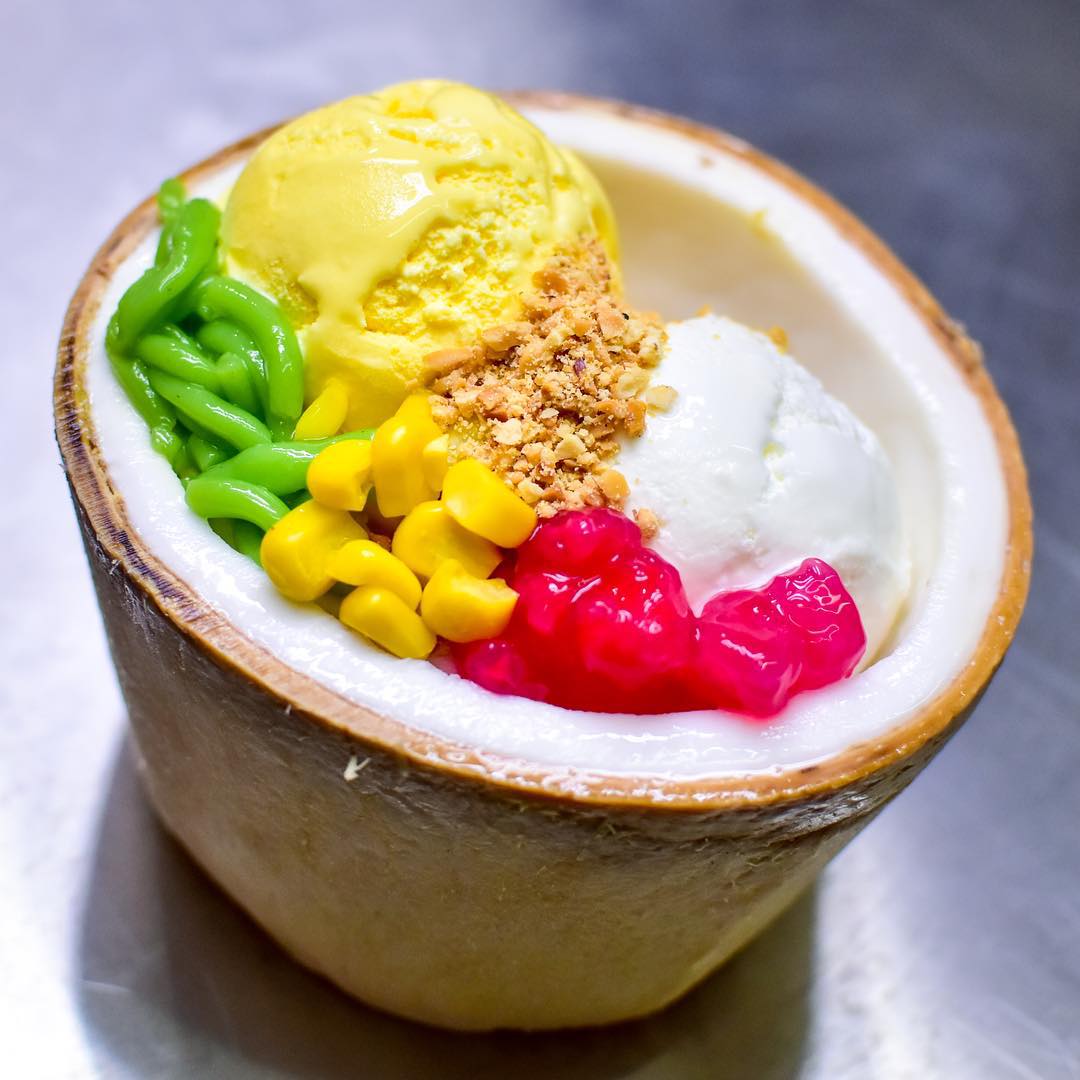 Image credit: @snappytrendsg
Whether or not you have been to Bangkok, I am sure the coconut ice-cream from Chatuchak market is no stranger to us all. However, getting your hands on the refreshing dessert served in coconut husks does not always require a plane ride. At Old Airport Road Hawker Centre, Waan Waan serves ice-cream ($3.90/$4.90/$5.50) that comes in three flavours – coconut, mango, and Thai milk tea.
You can also choose from their selection of toppings such as red ruby, sweet corn, and peanuts. For the lucky ones, you might be able to catch them selling Thai Milk Tea at $2.50 per bottle!
Address: 51 Old Airport Road, #01-51, Old Airport Road Food Centre, Singapore 390051
Opening hours: Tue-Thur 11:30am to 9:30pm
Tel: 9762 7011
Website
---
6. Muffles 
---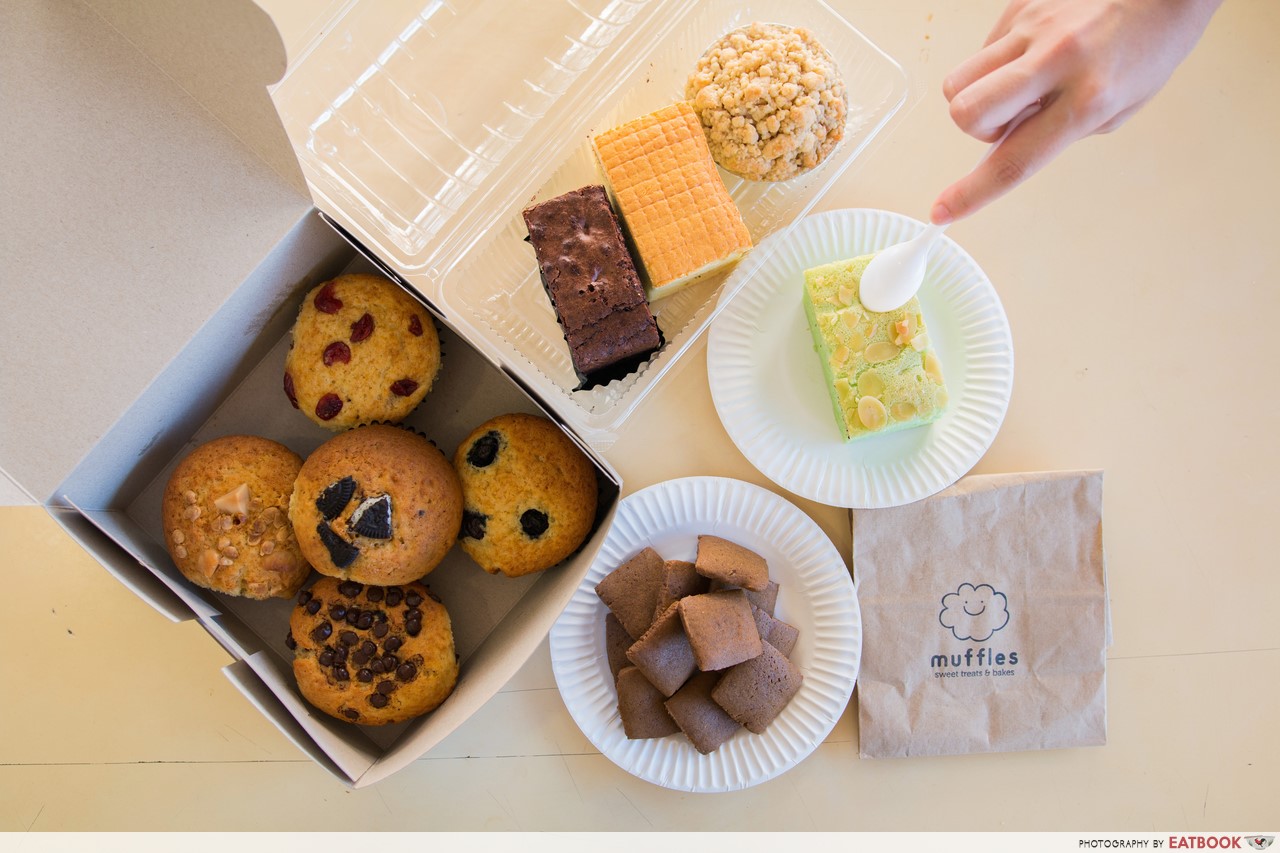 Run by a former pastry chef who worked in various hotels, Muffles is a hawker stall in Berseh Food Centre that specialises in muffins, cakes, and apple crumble. Served in perfect rectangular cuts, their Signature Brownies ($2.50), Cheddar Cheese Cake ($2), and Pandan Ogura Cake ($1.50) are some of the best-sellers.
The pastries found in their stall is not extensive though, as Muffles is constantly welcoming pre-orders for other baked goods such as birthday cakes and festive cookies. You can check out their Instagram page to check out more pastries they offer!
Find out more about our experience at Muffles!
Address: 166 Jalan Besar, #02-54, Singapore 208877
Opening hours: Wed-Mon 8:30am to 6pm
Tel: 8298 0298
Website
---
7. Kueh Ho Jiak 
---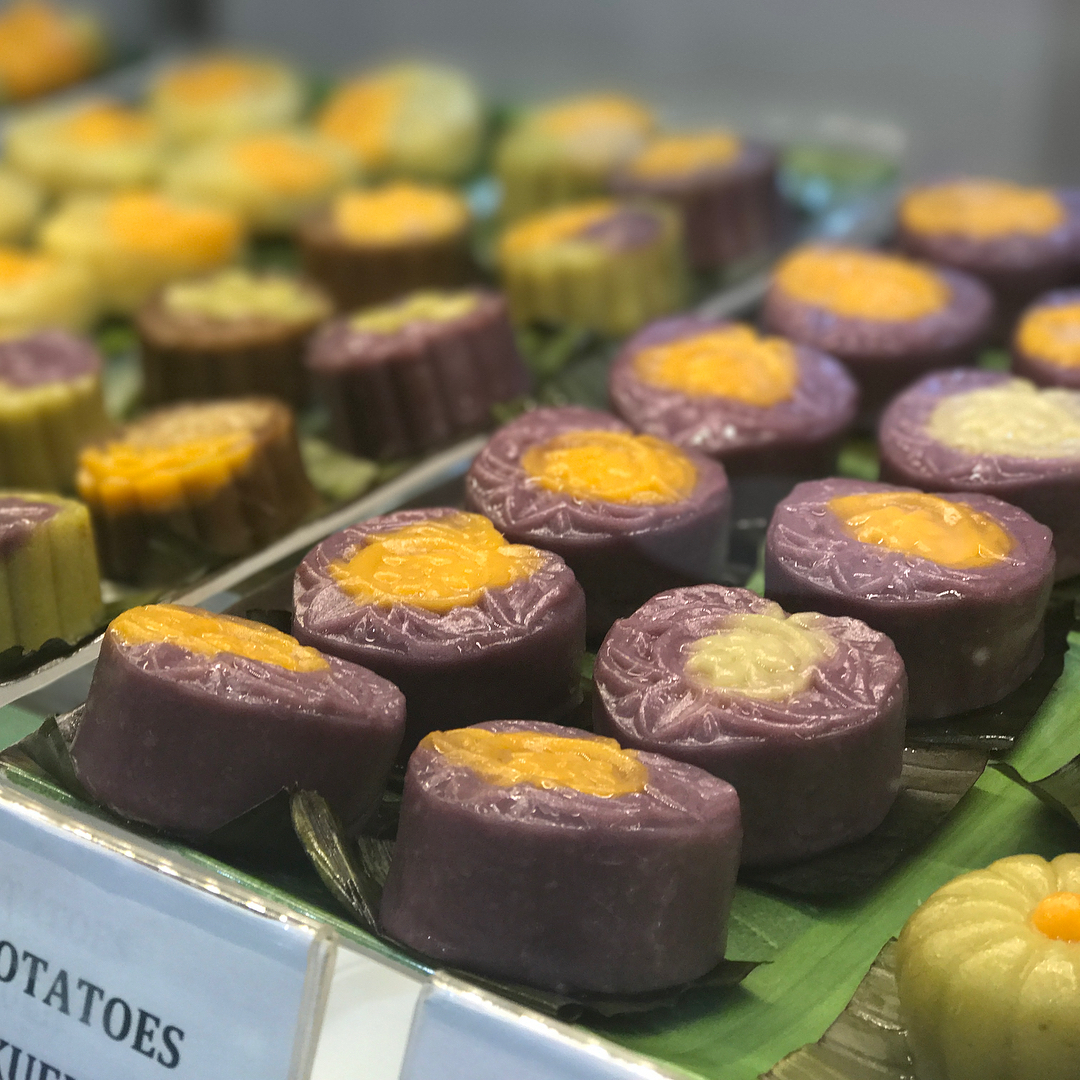 Image credit: @mummy_ed
If you think ang ku kueh is a traditional dessert meant for the older crowd, it's about time to think twice. At Tanjong Pagar Plaza Market & Food Centre, Kueh Ho Jiak sells colourful ang ku kuehs that are made from natural colourings. Primarily purple, orange, and green, the colours of the kuehs come from a mixture of five different types of sweet potatoes including Hannah sweet potatoes, Japanese sweet potatoes, and jewel sweet potatoes.
For $1.20 per piece, the kuehs are also available in different fillings such as red bean, yam, and coconut. While the menu of their other items is not fixed, you can expect to find other treats such as Ubi Kayu ($2.20) and Pumpkin Yam Cake ($1.60).
Address: 6 Tanjong Pagar Plaza, #02-20, Tanjong Pagar Plaza Market & Food Centre, Singapore 081006
Opening hours: Daily 7am to 3pm
Tel: 9028 4359
Website
---
8. Munchi
---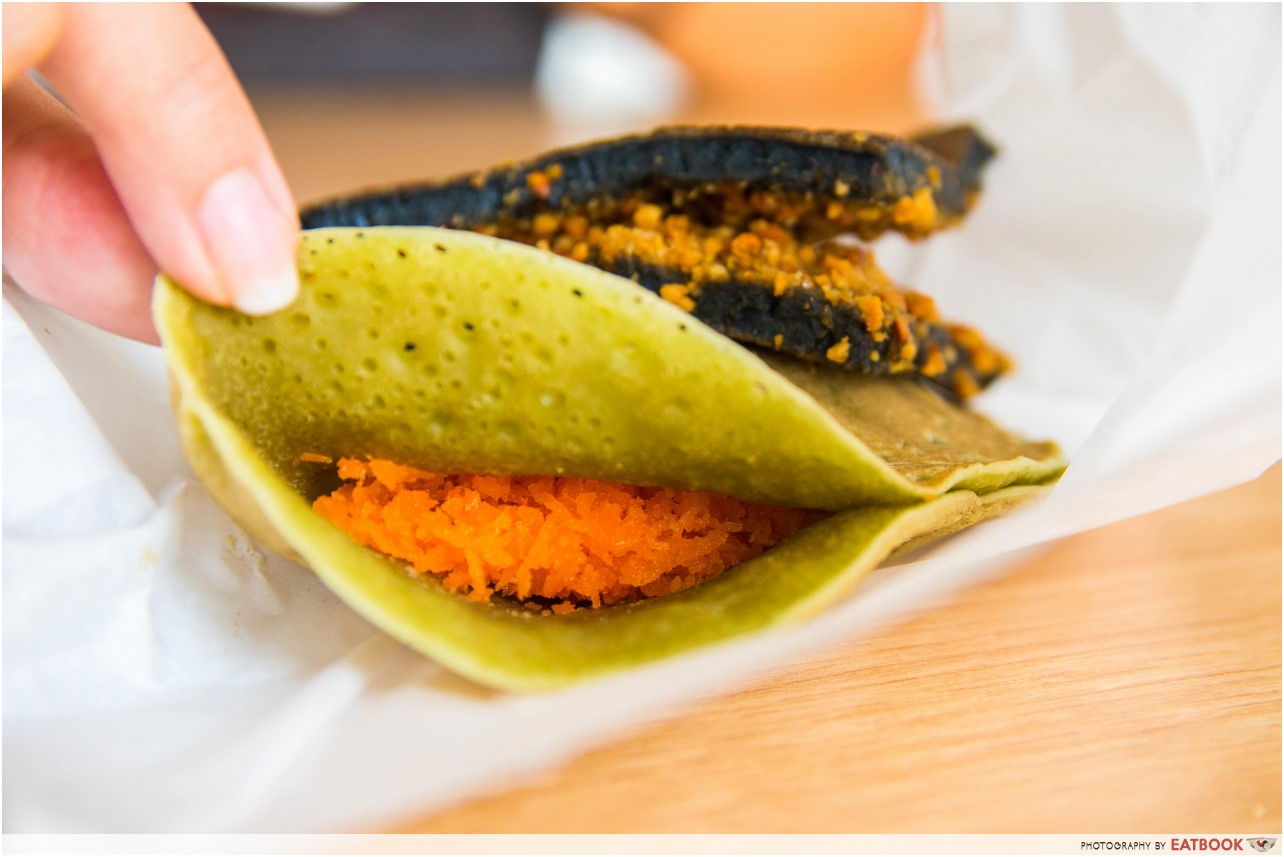 Opened just this September, Yishun Park Hawker Centre has been drawing crowds for the wide variety of hipster hawker food available there. One stall that you should not miss when visiting would be Munchi, a stall tucked at the back of the hawker centre that specialises in min chiang kueh. Unlike your usual brown pancake spilling with ground peanuts, Munchi has pancakes that come in three different flavours – original, matcha, and charcoal.
Although the difference between the flavours are not distinct, the green and black colours give an interesting twist to the traditional dessert. On top of the typical fillings of shredded coconut and ground peanuts, Munchi also offers unique flavours such as Oreo cheese and durian!
Address: 51 Yishun Avenue 11, #01-43, Yishun Park Hawker Centre, Singapore 768867
Opening hours: Tue-Sun 6am to 7pm
---
9. Gangnam Bingsu 
---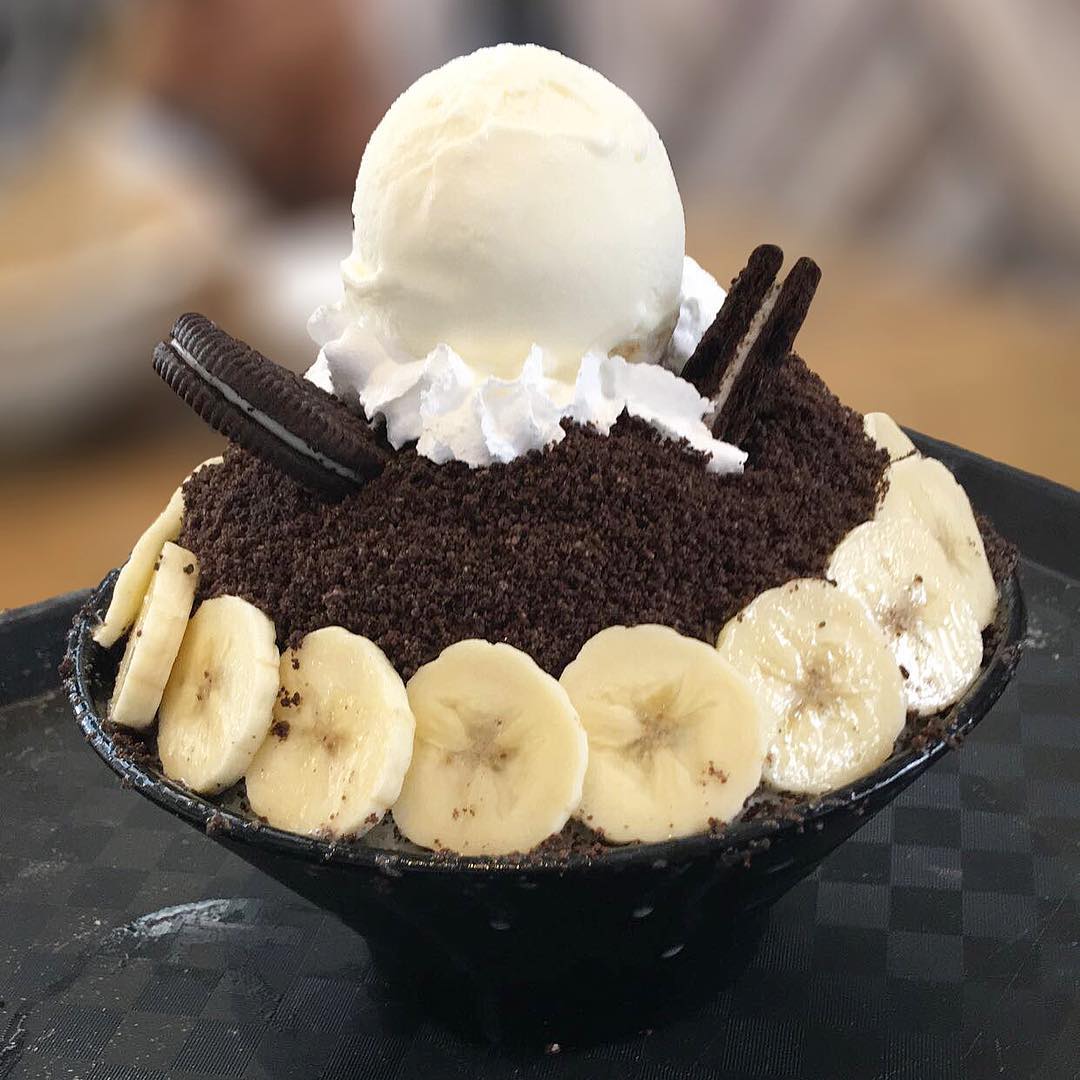 Image credit: @nerdylan
Since the bingsu craze hit Singapore, I have always been baffled by how a bowl of shaved ice can be so expensive. However, at Lau Pa Sat, the last place I would think of when craving for bingsu, Gangnam Bingsu actually sells the dessert for as low as $5.90! With prices ranging from $5.90 to $10.90, they serve bingsu in flavours such as matcha, black sesame, and even kaya!
Address: 18 Raffles Quay, Stall 27, Lau Pa Sat, Singapore 048582
Opening hours: Mon-Fri 11am to 4pm
---
10. Joghurtz
---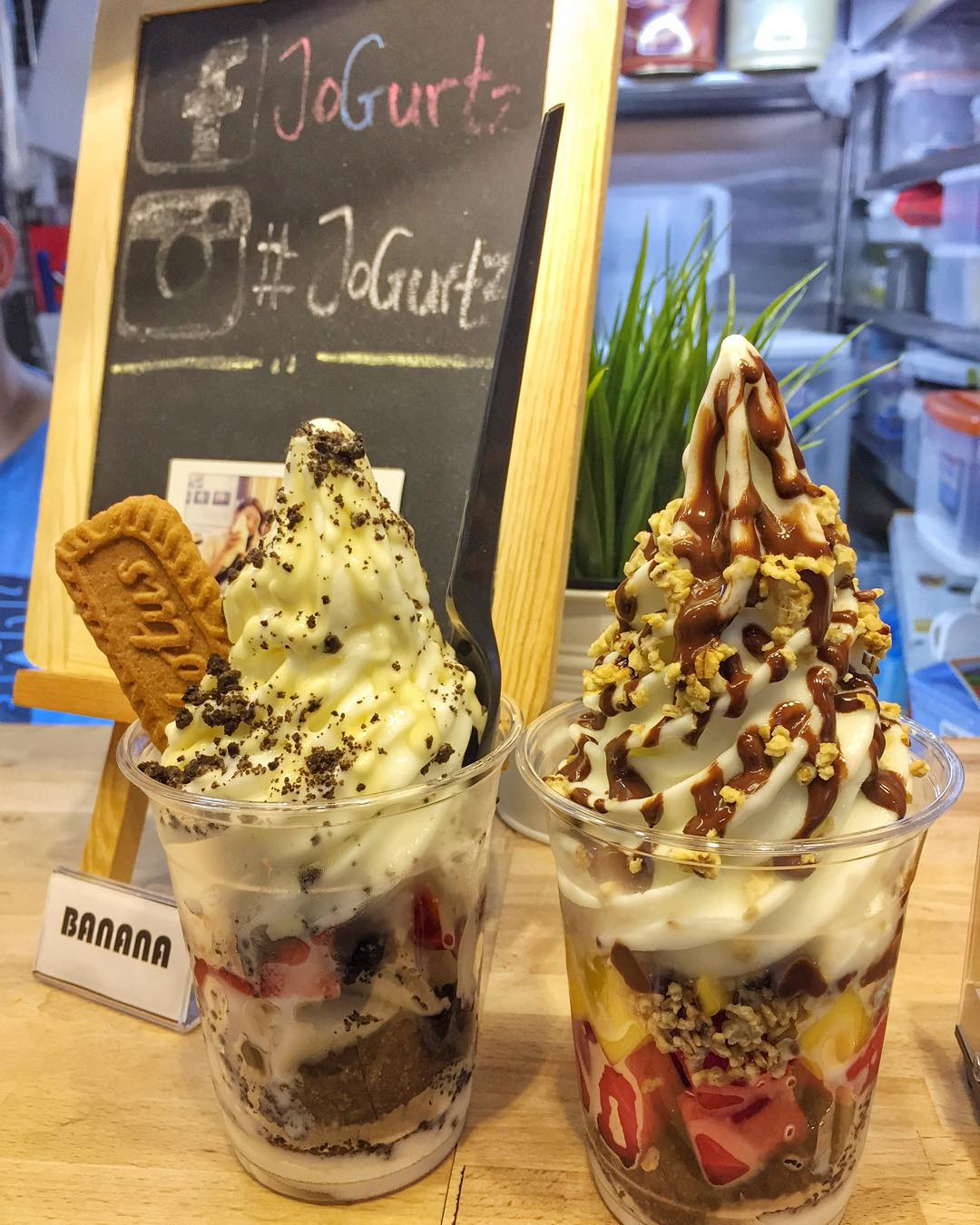 Image credit: @chroniclesofgwennon
At the mention of frozen yogurt, the first names that come to mind will surely be of big brands like llaollao and Sogurt. There are, however, many more lesser-known eateries offering the frozen goodness and one of them is Jogurtz. Found in Old Airport Road Food Centre, Jogurtz sells frozen yogurt in two sizes – small ($3.50) and large ($5).
Though cheaper than many other froyo stalls, Jogurt does not compromise on their portion. For their large-sized cup, you get a mini mountain of frozen yogurt along with three toppings and two different types of fruits.
Address: 51 Old Airport Road, #01-129, Old Airport Road Food Centre, Singapore 390051
Opening hours: Mon-Tue 12pm to 10pm, Thur-Fri 12pm to 10pm, Sat-Sun 11am to 10pm
Tel: 9850 6232
Website
---
Sweet hawker affairs
---
With this list of cheap, good, and Insta-worthy desserts found in hawker centres, you can treat yourself and your Instagram followers even on days you are broke! For the hungry ones, check out our guide to giant hawker dishes if you are looking to indulge in something crazy before heading for these desserts.
---
Featured image adapted from Instagram user @nerdylan's post.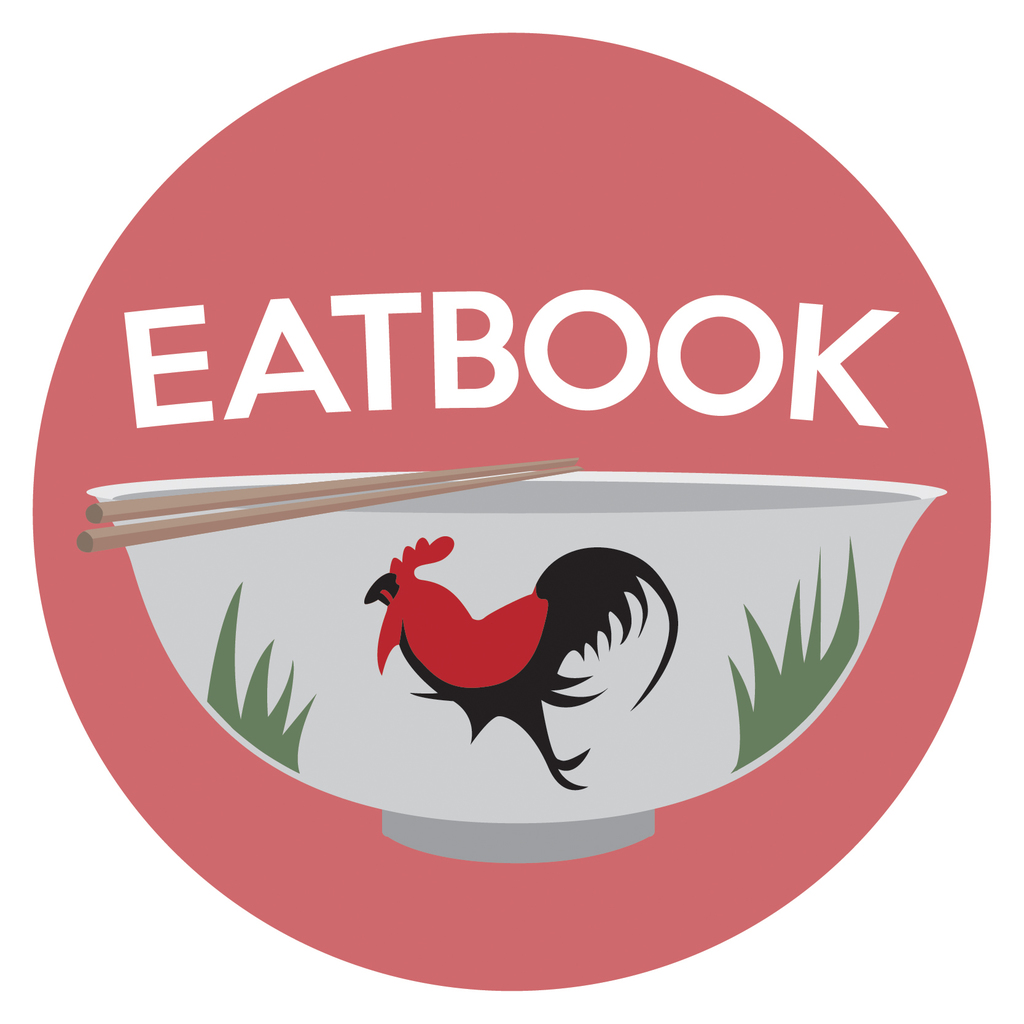 Drop us your email so you won't miss the latest news.