---
Giant hawker dishes without gigantic price tags
---
The food-hunting life can be hard not just on the waistline, but on the wallet. That's why having a crew of makan kakis is crucial for maximising your food adventures. Aside from fostering closer friendships by bonding over food, you'll also pay a fraction of the cost for 100 percent of the taste, while sharing all the calories.
But cafe-hopping can get bland and, not to mention, taxing on the wallet after a while. Rather than leave a fancy new cafe with a receipt far longer than intended, go casual and hit these 10 hawker stalls that serve giant dishes for your food squad to slay. Whether you're craving traditional hawker classics, Western food platters, or even Japanese dishes, there's bound to be something that suits your fancy.
---
1. Giant Hokkien Mee
---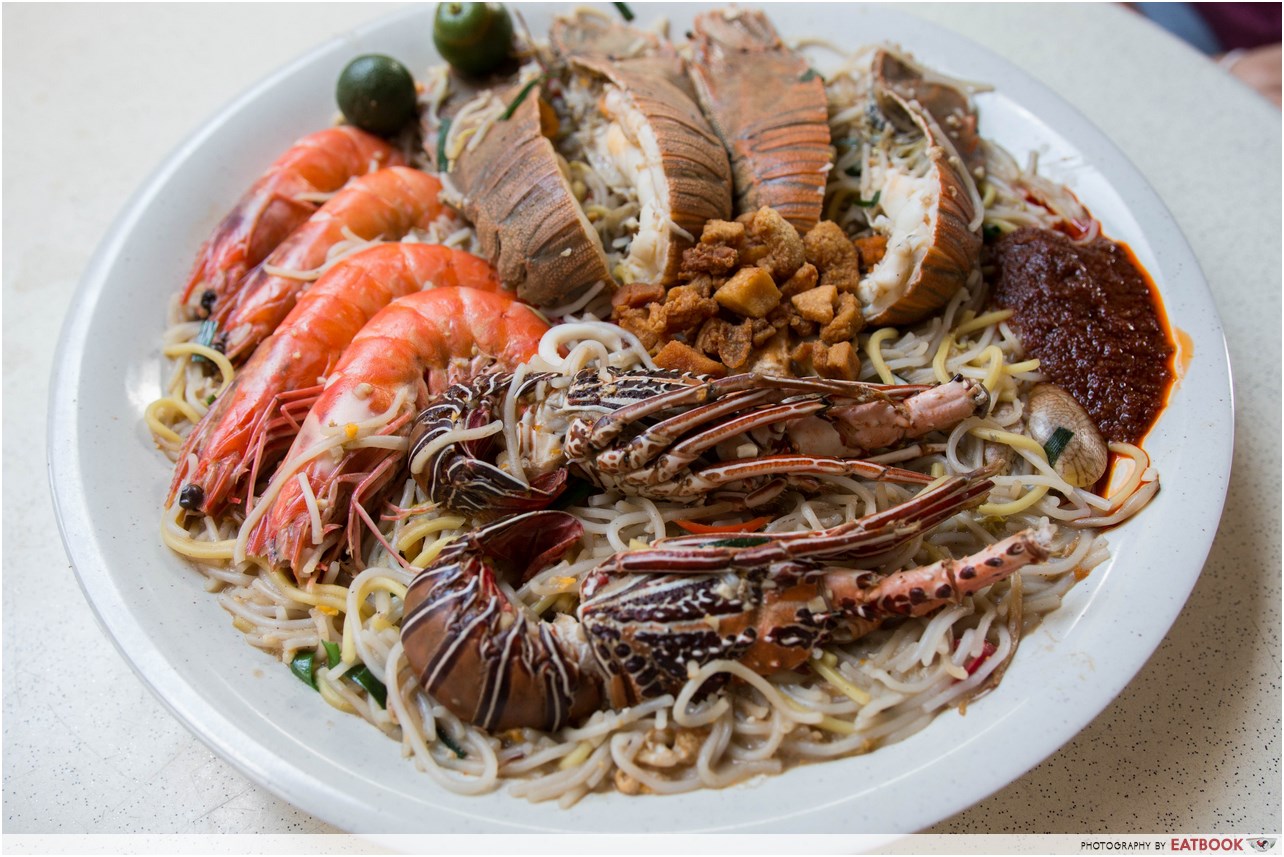 To me, there's nothing more representative of hawker fare than a messy, piping hot plate of Hokkien mee. Mr Prawnie gives this classic a mega-sized upgrade with their enormous Special Seafood Platter ($36, feeds three to four people). With the amount of seafood packed in here, you won't have to fight with your friends over who gets more of the good stuff. The heap of noodles is topped with four huge prawns, two lobster halves, two crayfish, sotong, and loads of clams. Generous servings of spicy-sweet sambal and crunchy fried lard complete this mammoth dish.
Check out our full review of Mr Prawnie!
Address: Blk 721 Ang Mo Kio Avenue 8, Singapore 560721
Opening hours: Daily 11am to 10pm
Tel: 8700 3168
Pre-ordering the Special Seafood Platter at least a day in advance is highly recommended.
Website

---
2. Enak Nasi Ambeng
---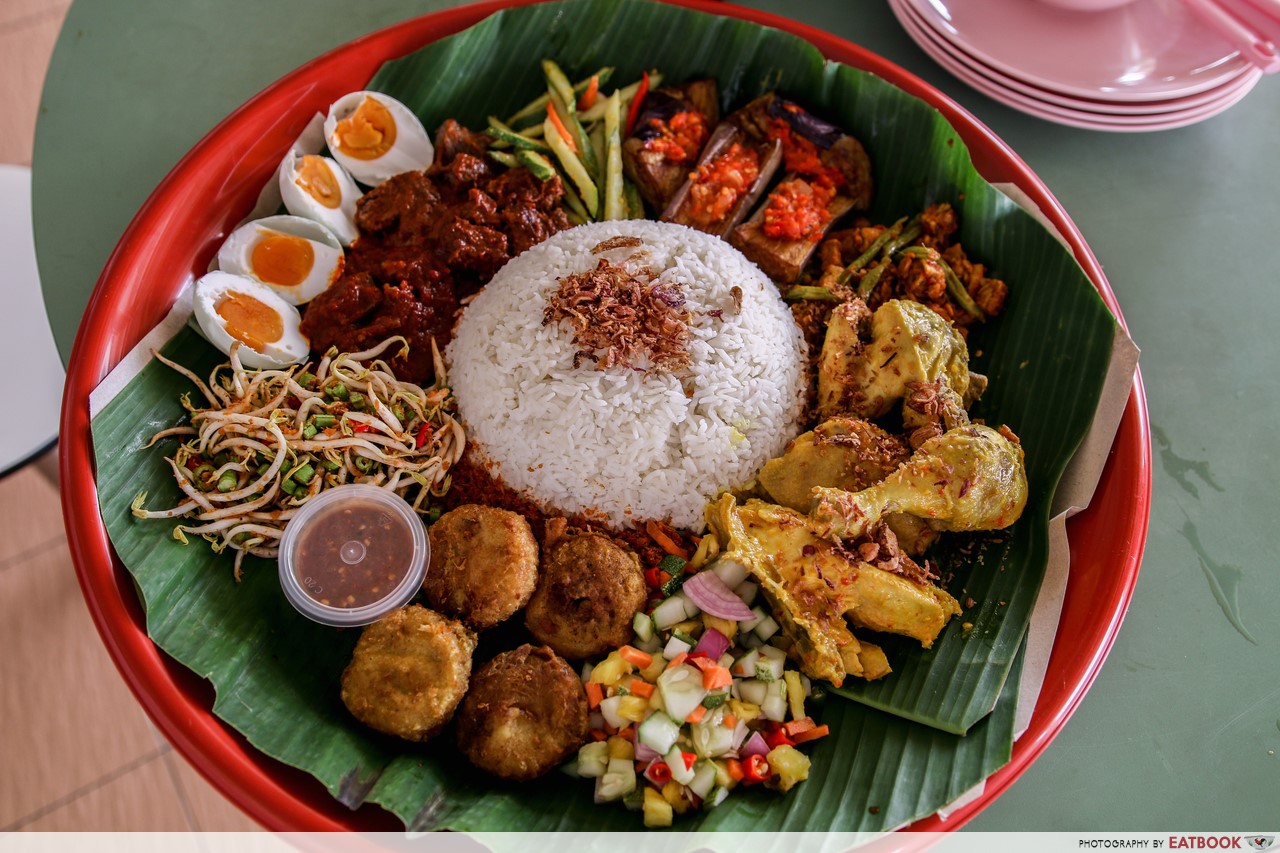 For a plate of nasi ambeng that's literally big enough to feed a family, head to Enak Nasi Ambeng in Bedok South. The name of their Large Nasi Ambeng ($30, feeds four to five people) is a bit of an understatement. This huge tray of food takes up a good third of the table and is loaded with ayam masak lemak cili padi (chicken in coconut cream), beef rendang, sambal cuttlefish, bergedil, and more. The standouts are the fragrant coconut chicken and bergedil. Get ready to wait if you order this because each takes about 20 to 30 minutes to prepare.
Check out our full review of Enak Nasi Ambeng!
Address: Blk 16 Bedok South Road, Bedok South Market & Food Centre, Singapore 460016
Opening hours: Wed-Sun 8am to 1pm
---
3. Chops Grill & Sides
---
For a feast with all the kopitiam Western fare of your dreams, Chops Grill & Sides is the place to smash all your cravings. Chops! XXL Platter ($59.90, feeds six to eight people) comes with a whopping 3kg of meat, and is so huge that it has to be served in two trays.
The first tray is filled with six types of meat, including grilled cajun chicken, a slab of Norwegian salmon, and Australian grain-fed ribeye. The second tray contains ten sides: various kinds of cold salads, garlic fried rice, thin-cut fries, mac and cheese, aglio olio, and mashed potato. Since the platter is prepared a la minute, it could take anywhere between 45 minutes to an hour and a half – depending on how busy they are – to assemble it.
Find out where else to get giant meat platters like that in Singapore!
Address: 727 Ang Mo Kio Avenue 6, Broadway Coffeeshop, Singapore 560727
Opening hours: Daily 11am to 10pm
Website
---
4. Sumo Big Prawn
---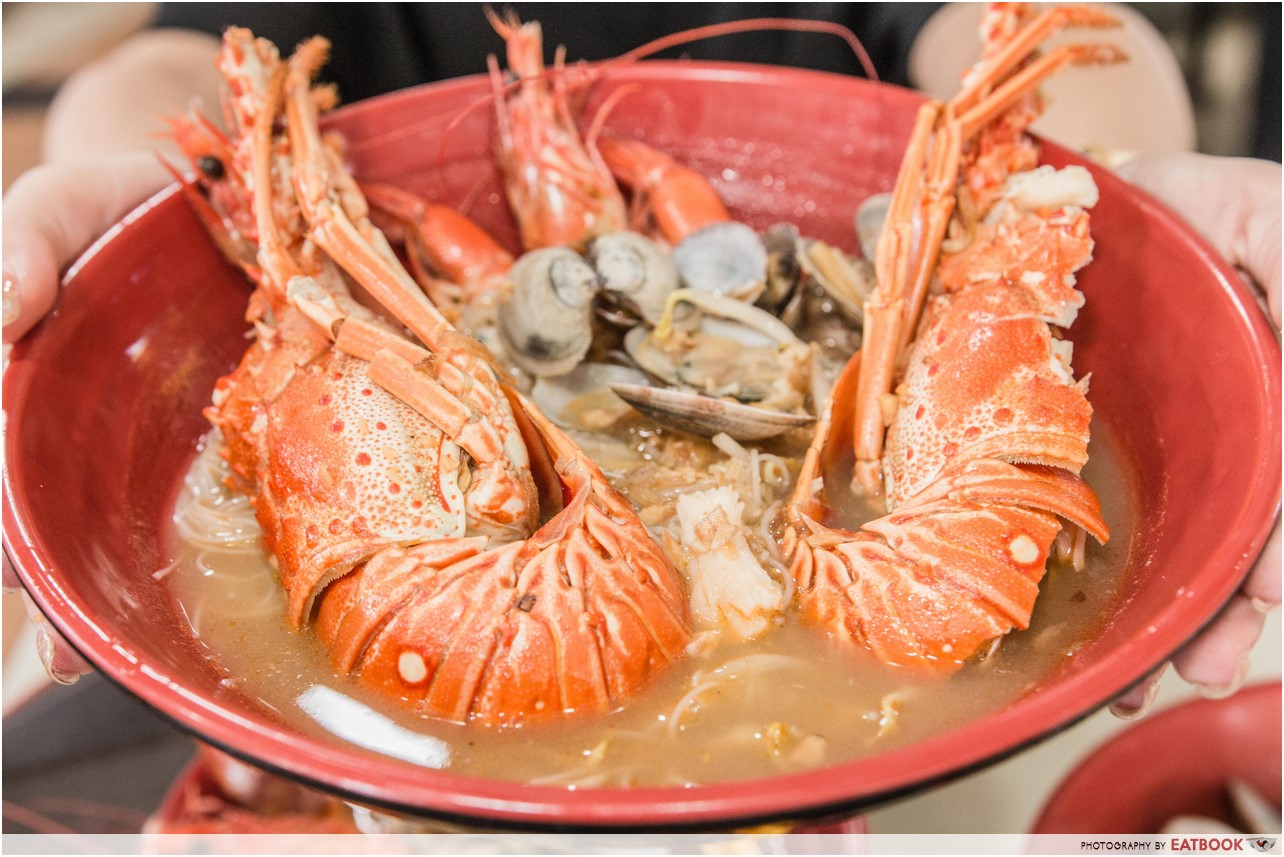 For a lobster dinner without having to change out of your flip-flops, head to Sumo Big Prawn at Ang Mo Kio. Seafood fanatics will swoon over their Lobster Bee Hoon ($29.90), a huge red bowl containing 350g of lobster, two sumo-sized prawns, loads of lala and bundles of beehoon, all soaking in a bath of sweet, sweet seafood broth. While this is supposedly meant for one person, it's definitely larger than your usual bowl of prawn mee, and we think it's enough for two average eaters.
Check out our full review of Sumo Big Prawn!
Address: 628 Ang Mo Kio Avenue 4, Ang Mo Kio 628 Market & Food Centre, Singapore 560628
Opening hours: Tue-Sun 9:30am to 4pm, 5pm to 9pm
Tel: 9299 2621
Website
---
5. Route 12 Nasi Lemak
---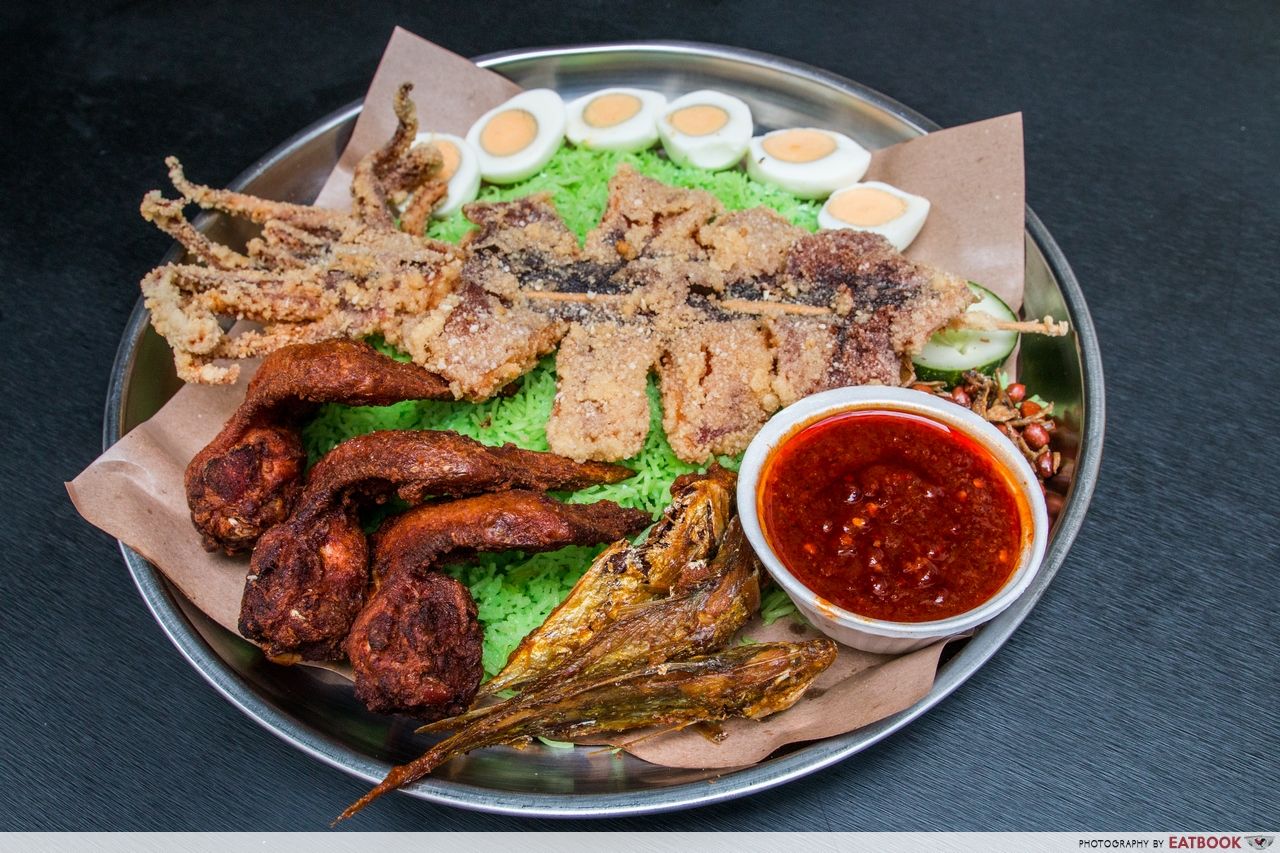 With Route 12's Nasi Lemak Sotong King ($18.90, feeds three to four people), your squad gets nearly 2kg of nasi lemak to fill your bellies with. The giant sotong dominated the dish, which also comes with coconut rice, a trio of fried chicken wings, crispy ikan kuning, boiled eggs, ikan bilis, and peanuts. Paired with the accompanying spicy sambal, every last morsel will be polished off in no time. As their XXL sotong sells out fast, do check their Facebook page before heading down to see if it is still available.
Check out our full review of Route 12!
Address: 45 Sam Leong Road, Singapore 207935
Opening hours: Tue-Sun 2pm to 11pm
Tel: 8687 3371
Website
---
6. Goen Udon
---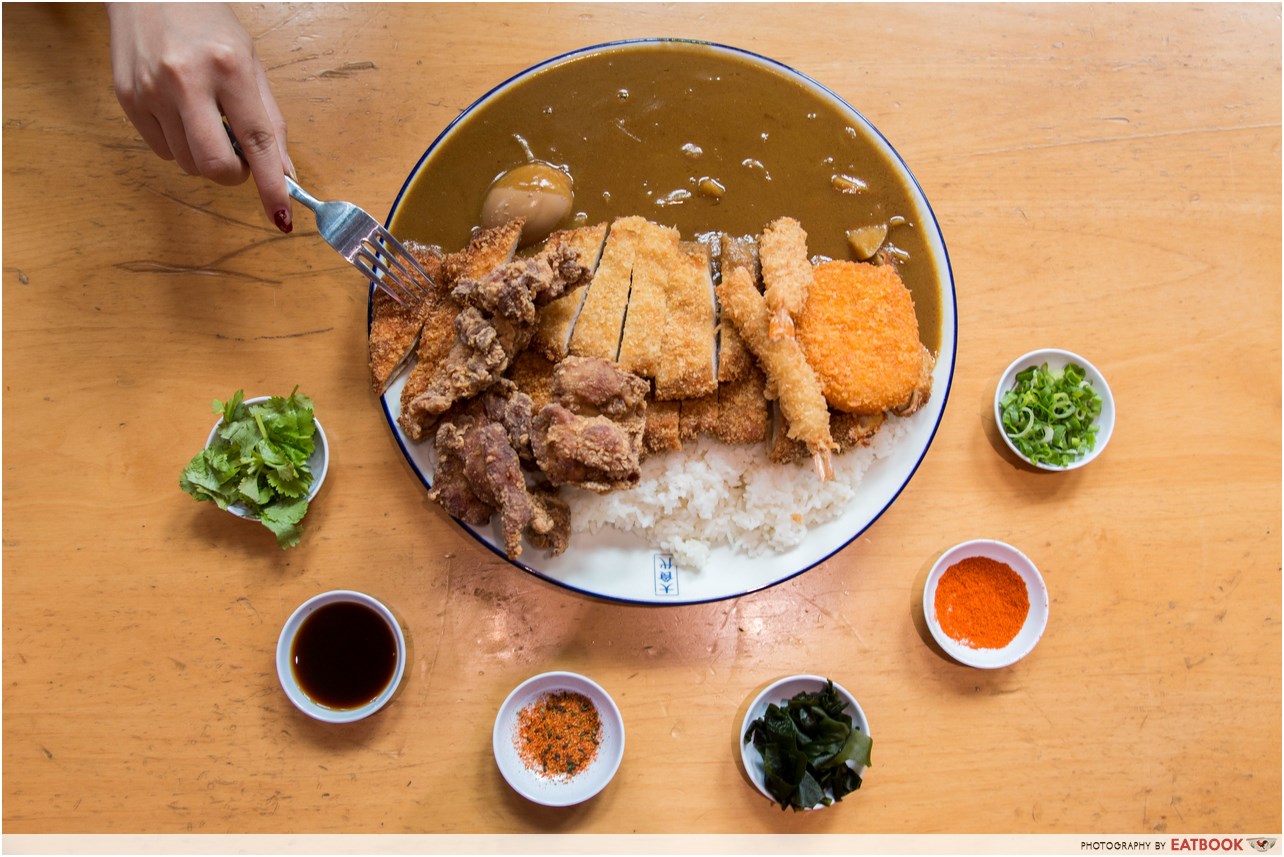 At Goen Udon's stall in Wisma Atria's Food Republic, you can get an awesome deal with their Ultimate Curry Rice ($19.80, feeds three to four people). A mountain of Japanese short-grain rice is drowned in ladles of thick, sweet tonkotsu-based Japanese curry that has been simmered in-house for over 10 hours. The humongous plate is then lined with all kinds of agemono (deep-fried items) such as chicken katsu, ebi tempura, and potato croquette. The curry is more sweet than spicy, so this is perfect for those who can't take the heat.
Read our full review of Goen Udon!
Address: 435 Orchard Road, #04-02/38, Stall 11, Wisma Atria Food Republic, Singapore 238877
Opening hours: Daily 10am to 10pm
Tel: 6337 4237
Website
---
7. Woon Woon Pek Bee Hoon
---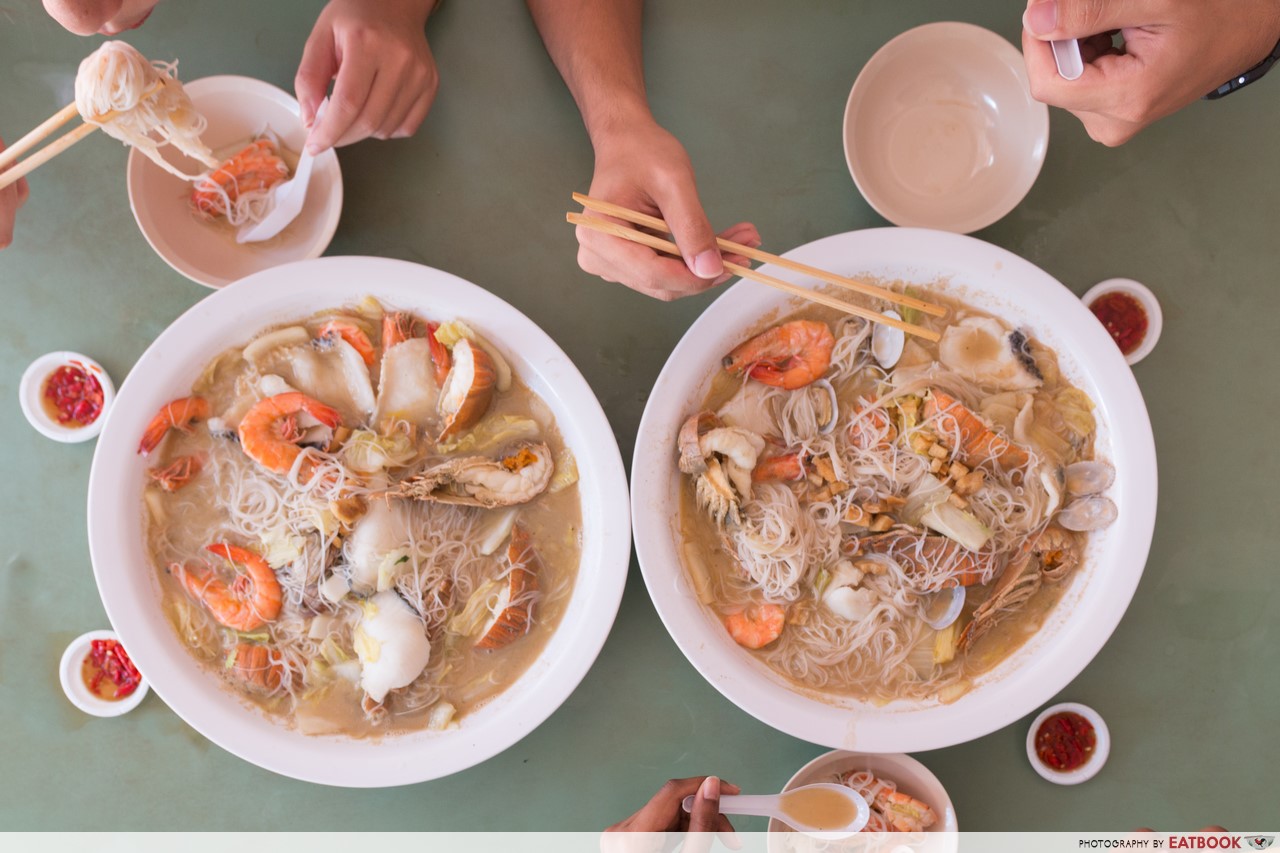 Here's another one for seafood lovers. In the food haven known as Changi Village, Woon Woon Pek Bee Hoon dishes out gigantic bowls of seafood white beehoon. With their Seafood Platter ($30, feeds three to four people), you'll get thick slices of fresh fish, succulent prawns, roe-stuffed crayfish and heaps of lala. This all comes nested atop a huge heap of wok hei-suffused stir-fried vermicelli that has been steeped in a sweet umami broth.
Check out our full review of Woon Woon Pek Bee Hoon!
Address: 2 Changi Village Road, #01-52, Changi Village Hawker Centre, Singapore 500002
Opening hours: Tue-Sun 11am to 9pm
Tel: 9451 1633
Website
---
8. Stew Kuche

---
Found within Salute Coffeeshop, Stew Kuche serves up German fare in a cosy kopitiam setting. Their Schweizer Bauern Platte ($40.66, feeds three to four people), or Swiss Farmer Platter, comes with a huge 10-hour slow-roasted crispy pork knuckle, two German sausages, pork loin, pieces of hashbrown, mashed potatoes, and dark beer sauce. A feast fit for a kaiser – or three. We've received word that Stew Kuche is revamping their menu, so expect a refreshed Swiss Farmers Platter to come with a whole pork knuckle, veal schnitzel, chicken liver parfait, pumpkin puree, sauerkraut, and salad.  
Address: Blk 119 Bukit Merah Lane 1, #01-40, Singapore 151119
Opening hours: Tue-Sun 11am to 3pm, 5pm to 10pm
Website
Menu

---
9. Fresh Generation
---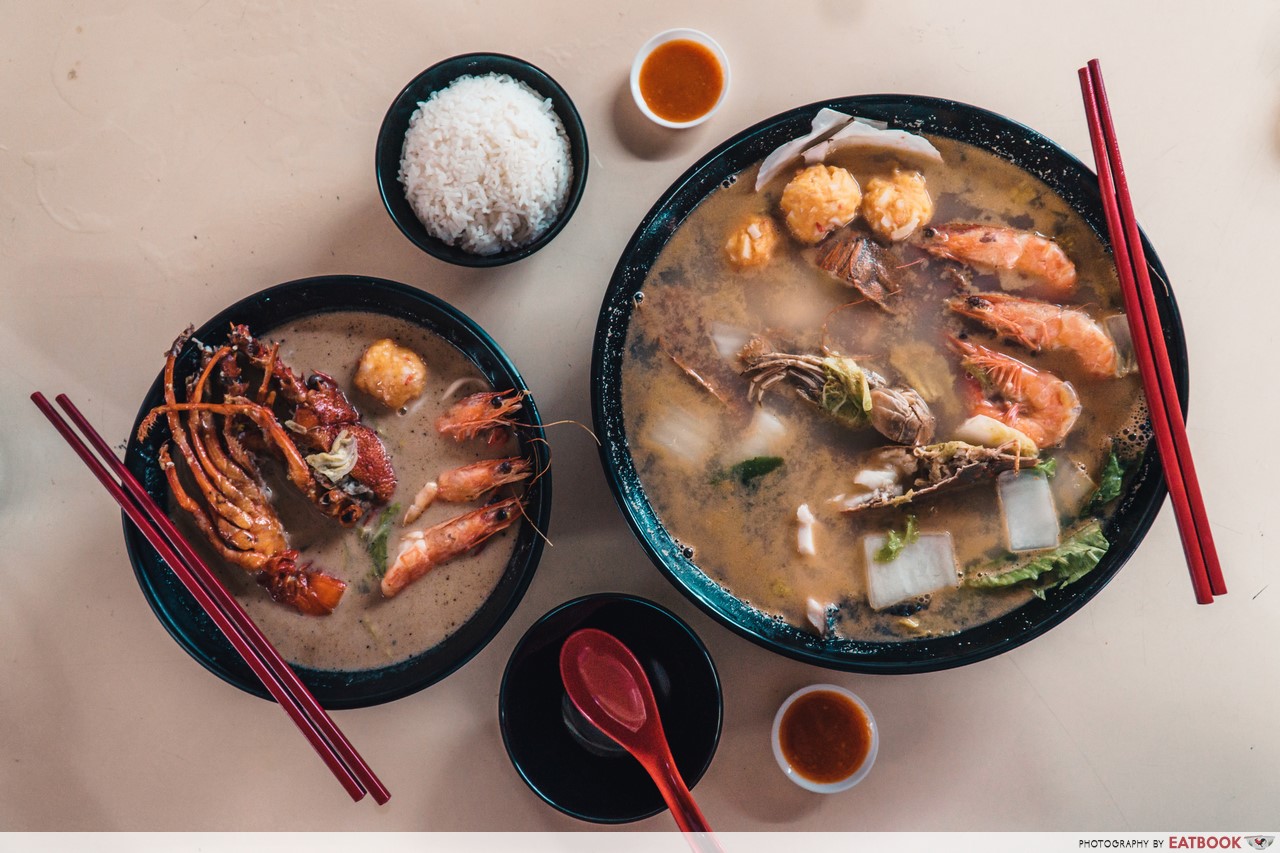 Save this giant seafood soup for a rainy day. Fresh Generation's stall at Bukit Timah Hawker Centre serves their Signature Seafood Platter ($28, feeds three people) that is light and comforting. This massive bowl of heady broth comes chock-full of fresh seafood – think crayfish, lala, sliced fish, scallops, prawns, and lobster balls. If you feel like ballin', top up $22 to add a whole lobster to your broth. Otherwise, there are also options to top-up other types of seafood. For those who can't live without carbs, get a portion of handmade noodles or rice to pair with the soup.
Check out our full review of Fresh Generation!
Address: 51 Upper Bukit Timah Road, #02-164, Bukit Timah Market & Food Centre, Singapore 588215
Opening hours: Tue-Sun 11am to 9pm
Tel: 9451 1633
Website
---
10. Shrimp Mama
---
If you're suffering from #foodFOMO thanks to all the videos of people digging into buckets of Louisiana-style seafood, get your fix at Shrimp Mama. This stall at East Coast Lagoon Food Village serves "seafood in a bag" at a fraction of the typical price. Choose from three sauces – cheese, vindaloo, or their signature mama sauce. Once your seafood bag ($8.90, $18, $35) arrives, pour it out on the table and start cracking crustaceans with your hands. The seafood and cobs of corn have a refreshing kick from the mix of Indian spices used. Let nothing go to waste; mop up every last bit with crispy prata or a side order of basmati rice.  
Address: 1220 East Coast Parkway, #01-47, East Coast Lagoon Food Village, Singapore 468960
Opening hours: Mon, Wed-Thur 4pm to 11pm, Fri 2pm to 12am, Sat 12pm to 12am, Sun 12pm to 11pm
Website

---
Good things must share
---
Gather your makan kakis and embark on a food-hopping adventure like none before. The only things you need are your friends and their empty stomachs. Let us know if you've seen any other giant hawker dishes like these!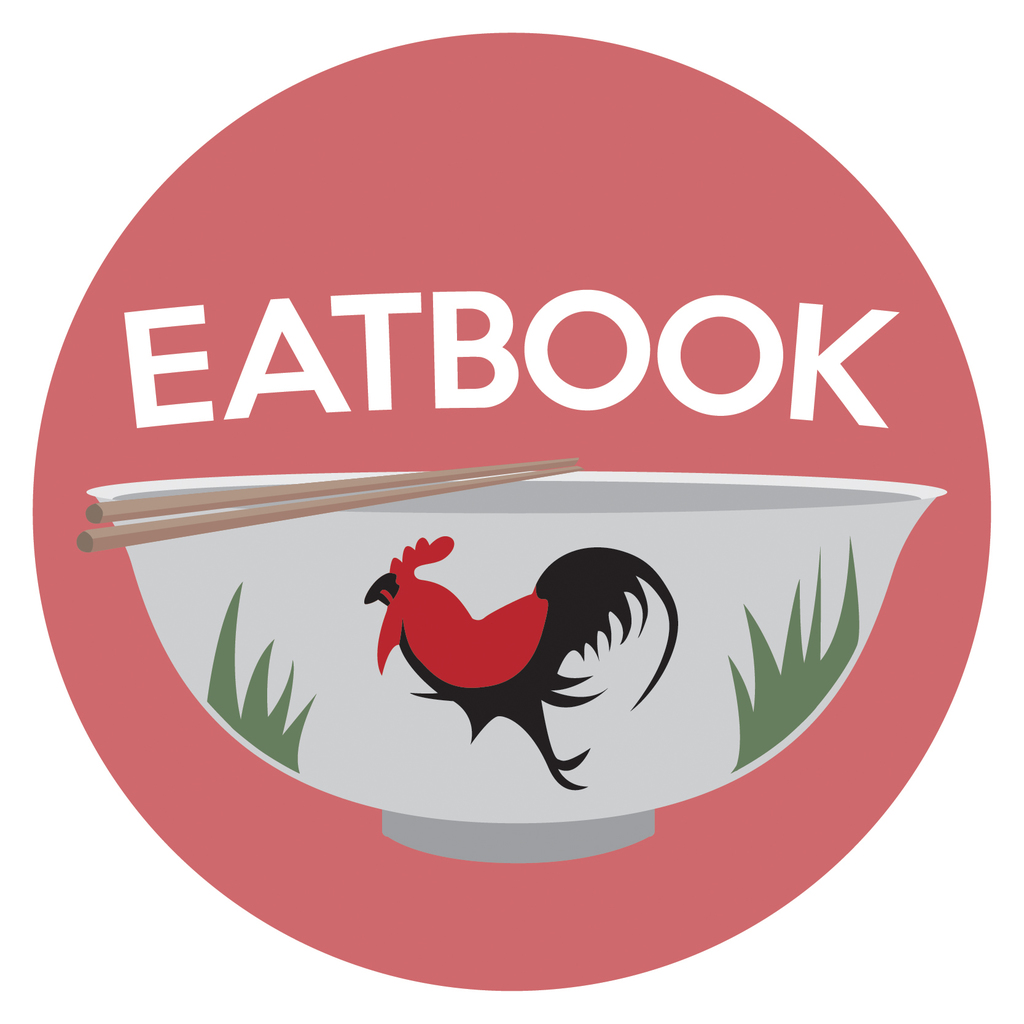 Drop us your email so you won't miss the latest news.