Biang Biang Noodles Xi'an Famous Food offers a world of flavours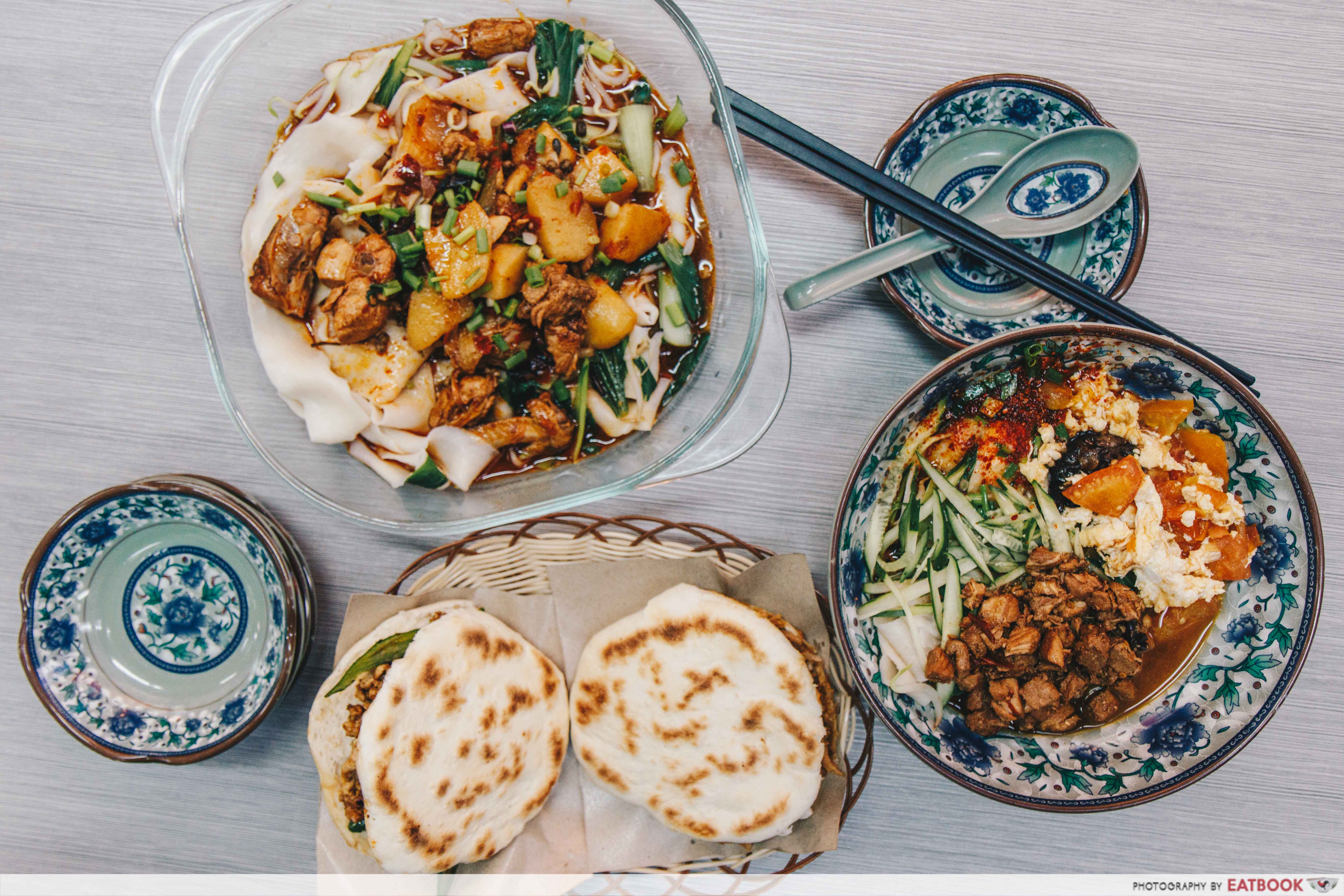 Don't trust your GPS if you're driving to Biang Biang Noodles Xi'an Famous Food. Our Grab driver did, and we ended up all the way at Toa Payoh Industrial Park. Even the obscure entrance to Food Alley, which houses a stretch of food stalls including this stall, was a tad difficult to spot – it's directly opposite the McDonald's at HDB Center and a few steps away from HDB Hub. Nonetheless, we were all smiles when we reached the noodle joint, as polite staff greeted us with warm smiles and proceeded to usher us in.
Food at Biang Biang Noodles Xi'an Famous Food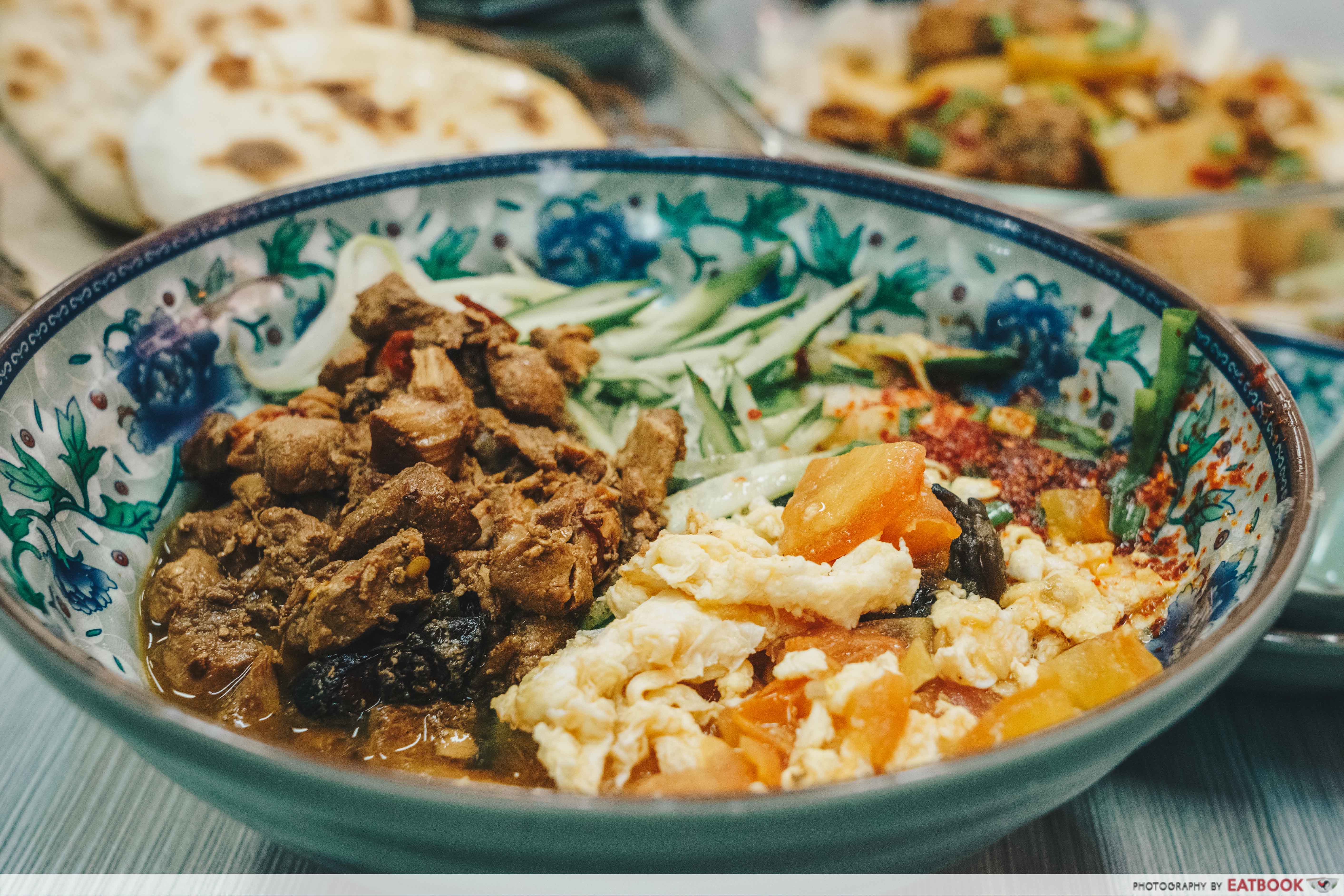 Biang biang noodles derives its name from the loud noises the noodle dough makes, as it is being stretched by chefs slapping it against the kitchen countertop. Here at Biang Biang Noodles Xi'an Famous Food, the lady boss informed us that her noodles are hand-stretched, giving the noodles extra width in comparison to ordinary la mian.
We settled on food item No.14, which is none other than the stall's special Biang Biang Noodles.  We ordered one bowl of Biang Biang Noodles with pork at $6, although you could also opt for no pork at a lower cost of $5. I was rather impressed by the presentation, when the dish arrived in a pretty porcelain bowl lined with blue, intricate flower patterning.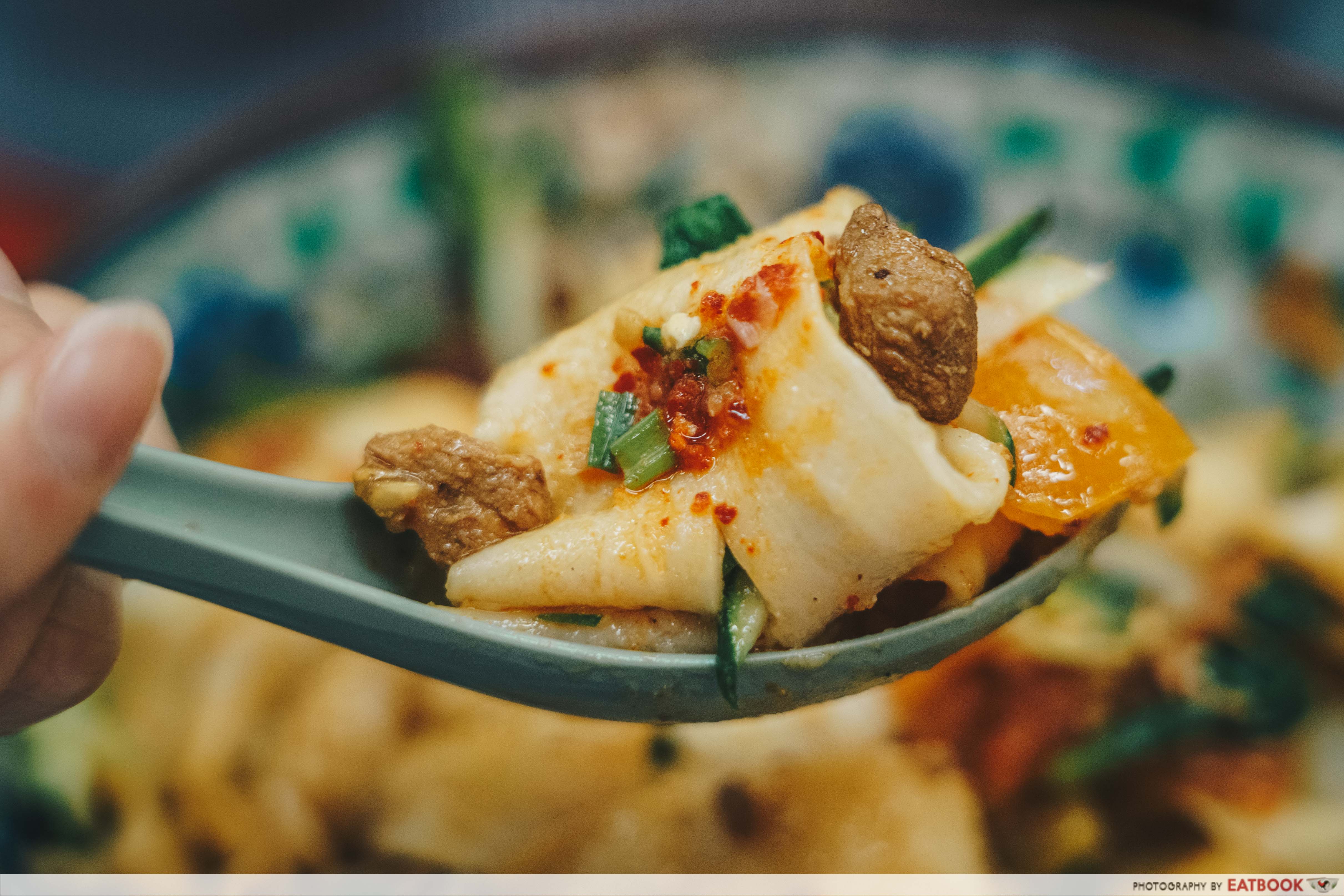 The noodles were fully concealed beneath a blanket of toppings, comprising pork cubes, thinly-sliced cucumber, tomato with scrambled eggs, and chilli flakes. Tossing it all together, the juices from the tomato lent the dish a tangy, sweet finish.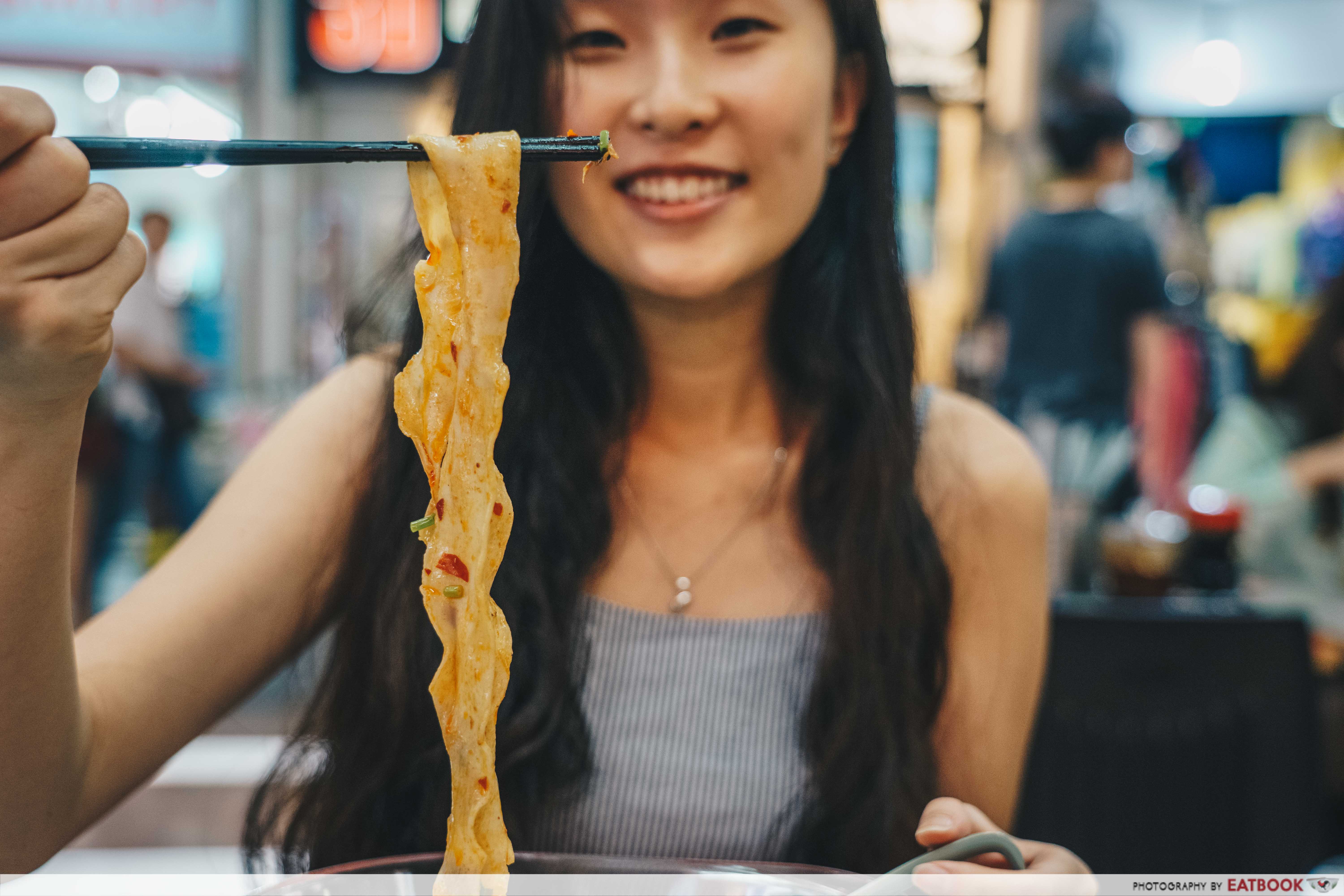 Apart from being particularly wide, the noodles were also very long, so I found myself repeatedly having to cut them up before hoisting them into my mouth. Other than that one tiny difficulty, I quite enjoyed the chewy texture of the noodles and marvelled at how flat and thin they were.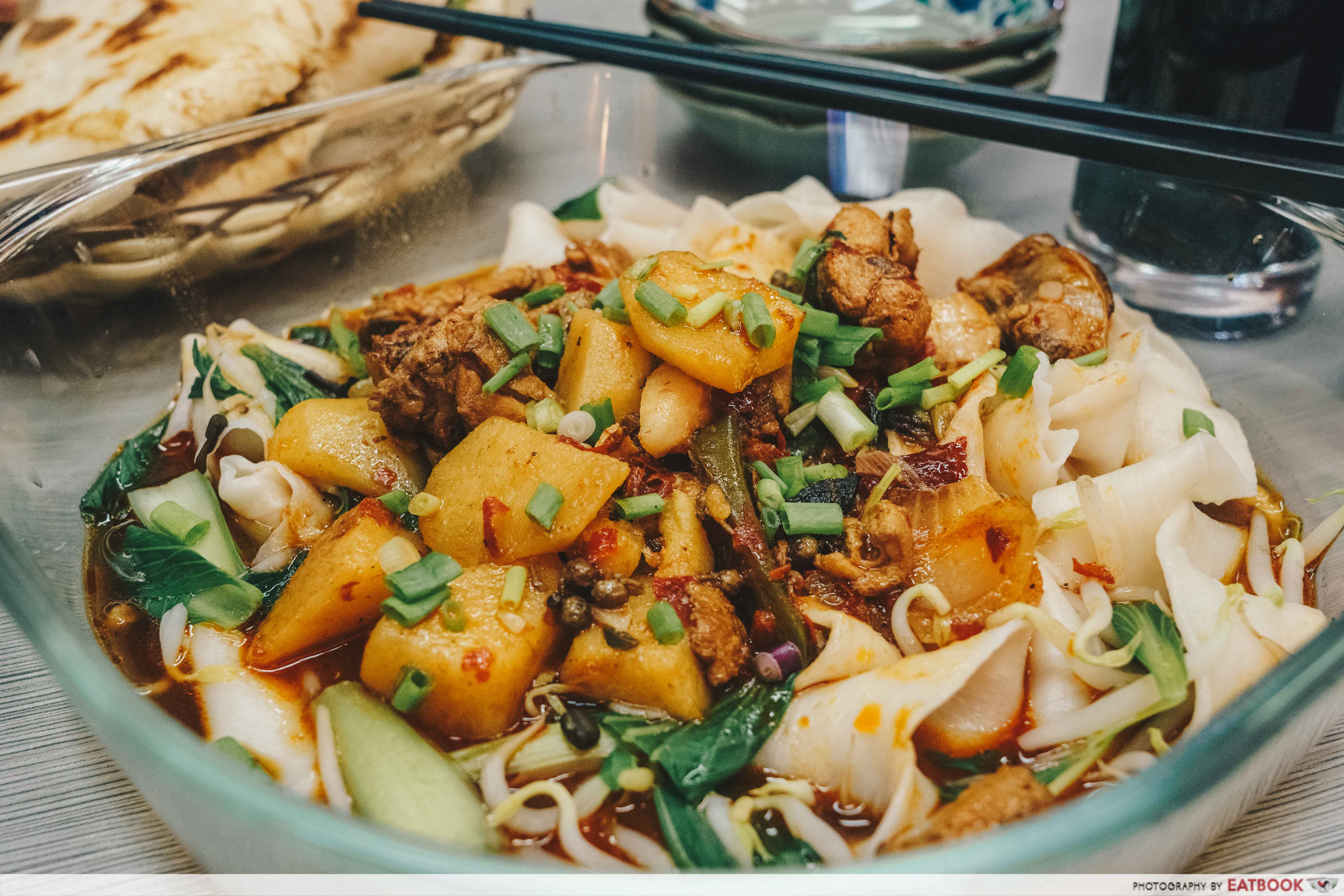 I'd recommend the peppery Chicken Ban Mian ($7) to people who can handle spicy food. Served in a huge glass pot, the noodles came topped with potatoes and tender cuts of chicken. As I dug into the dish, I noticed peppercorns and green chilli pepper – ingredients commonly found in ma la. Thankfully, it was more xiao la than da la, and we didn't need to drown our throats with water.
I half-expected the texture of the noodles to be the same as the previous dish, but was pleasantly surprised to find that this was not the case. Despite using the same biang biang noodles, the noodles here were firmer, as there was lesser gravy provided.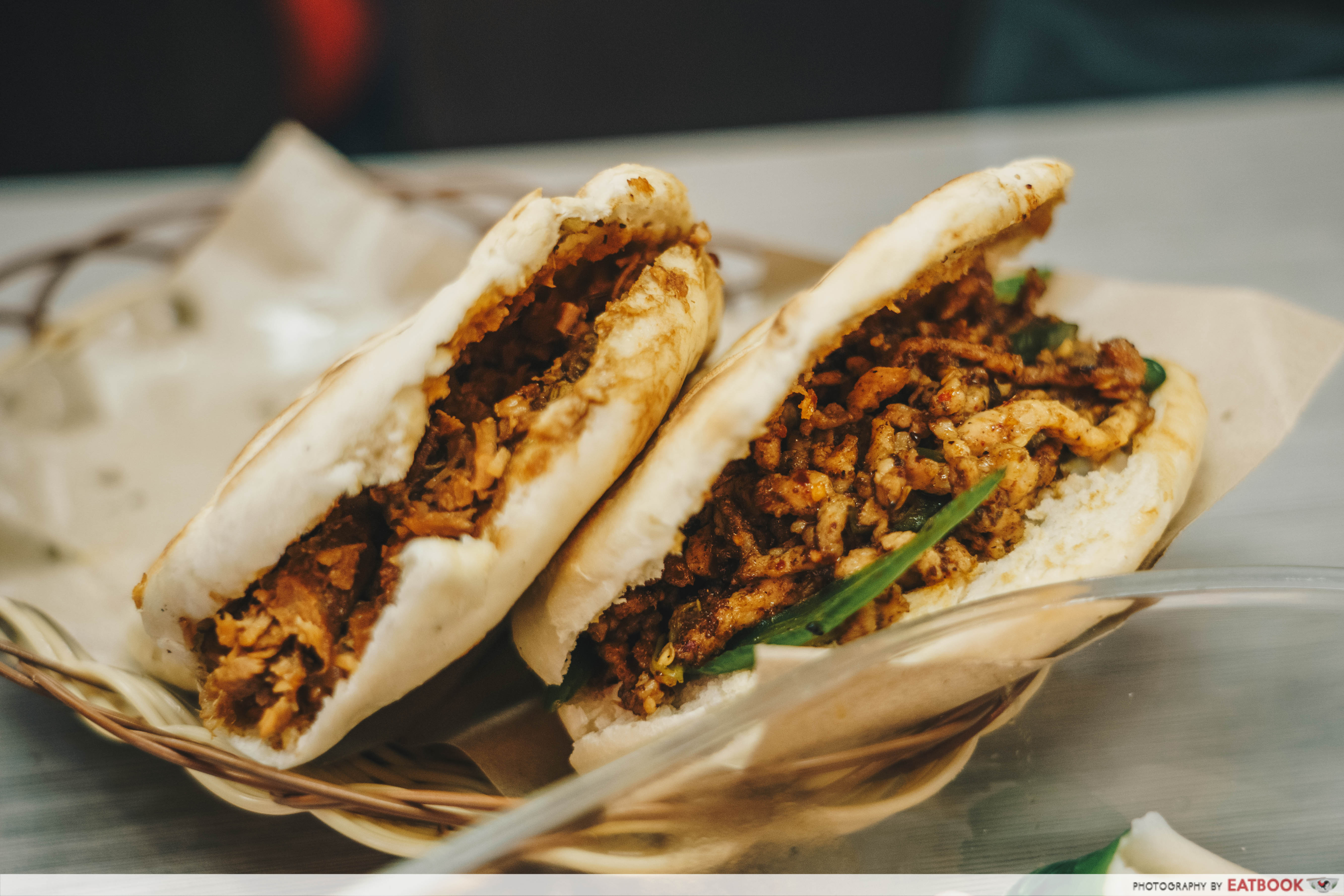 Those who have visited Xi'an would know that aside from biang biang noodles, rou jia mo (meat burger) is another famous dish there. We ordered two of that: Roasted Meat Burger ($3.50) and Cumin Pork Burger ($5).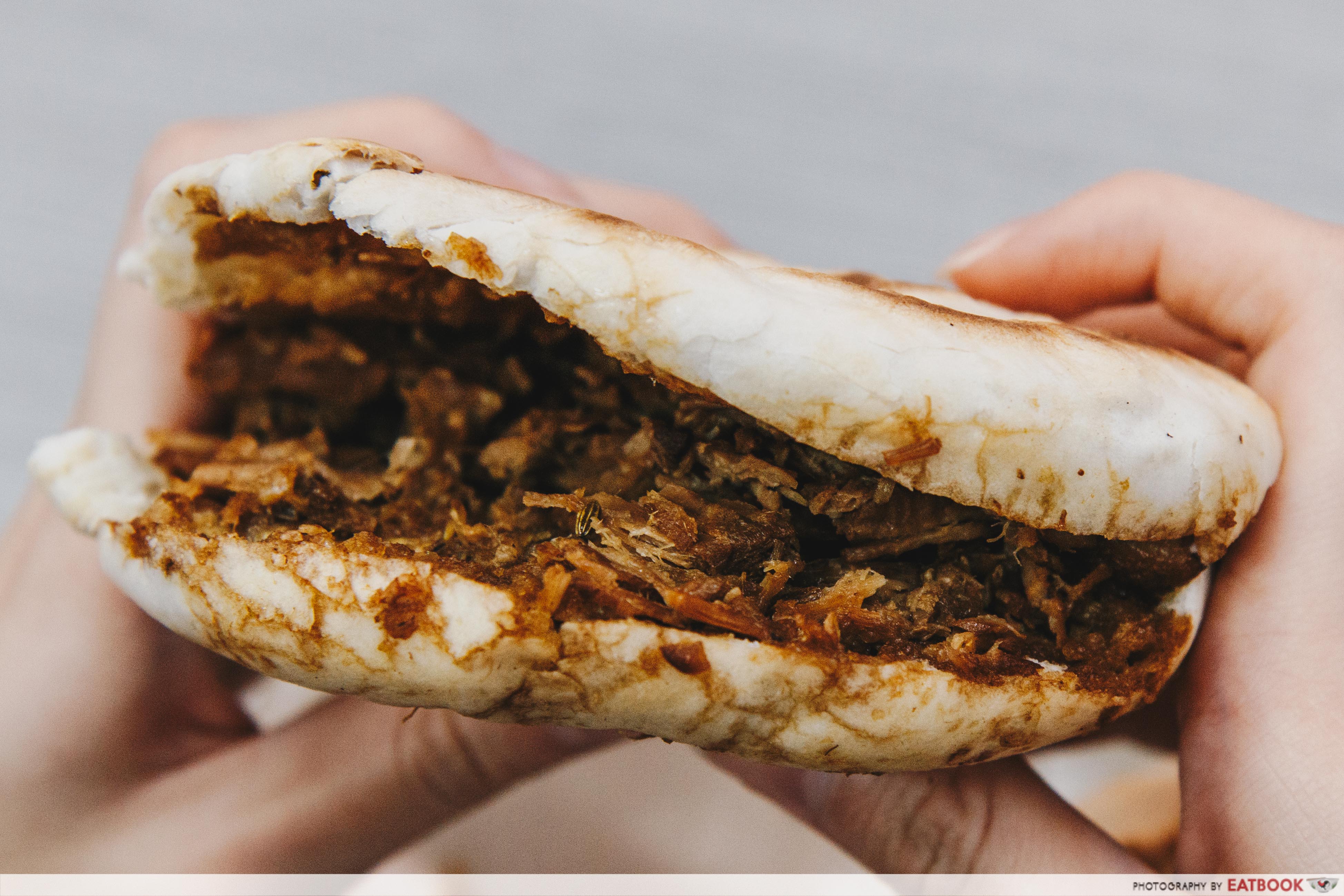 I tried the Roasted Meat Burger first. The bun was nicely toasted and the shredded pork within was moist and flavorful. It reminded me of pulled pork burger!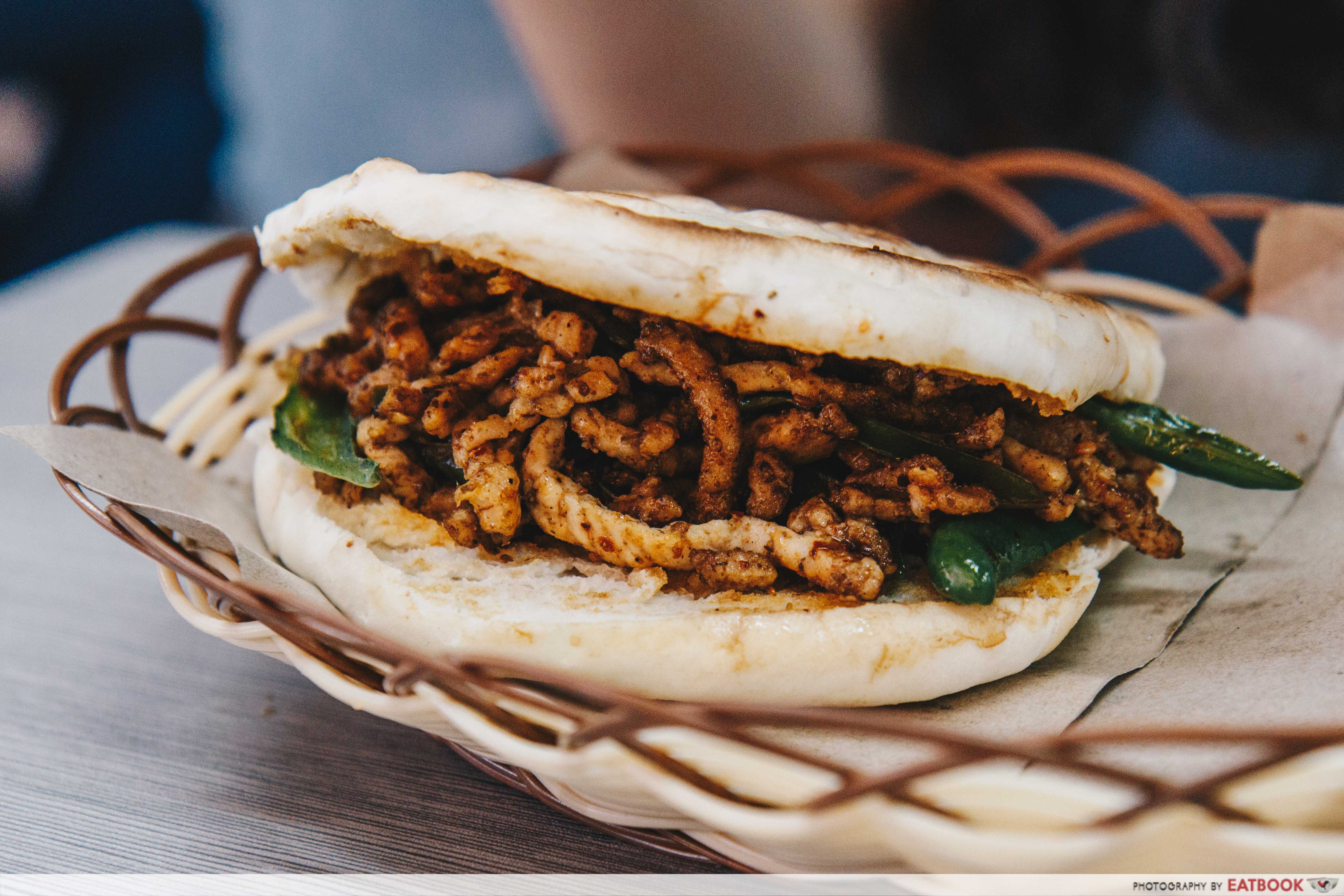 However, it was the Cumin Pork Burger that blew me away. The meat was well-marinated in ground cumin and came together with slices of green chilli. I was initially skeptical about how well the combination would go down, but as always, the food proved me wrong. The chilli, which barely contained any traces of heat, added a refreshing crunch. Coupled with the cumin, this interesting burger gave off a distinctive flavour. All in all, this heavily spiced pork bun truly stole the show. The next time I return, I think I'll try the chicken cumin burger instead.
Ambience at Biang Biang Noodles Xi'an Famous Food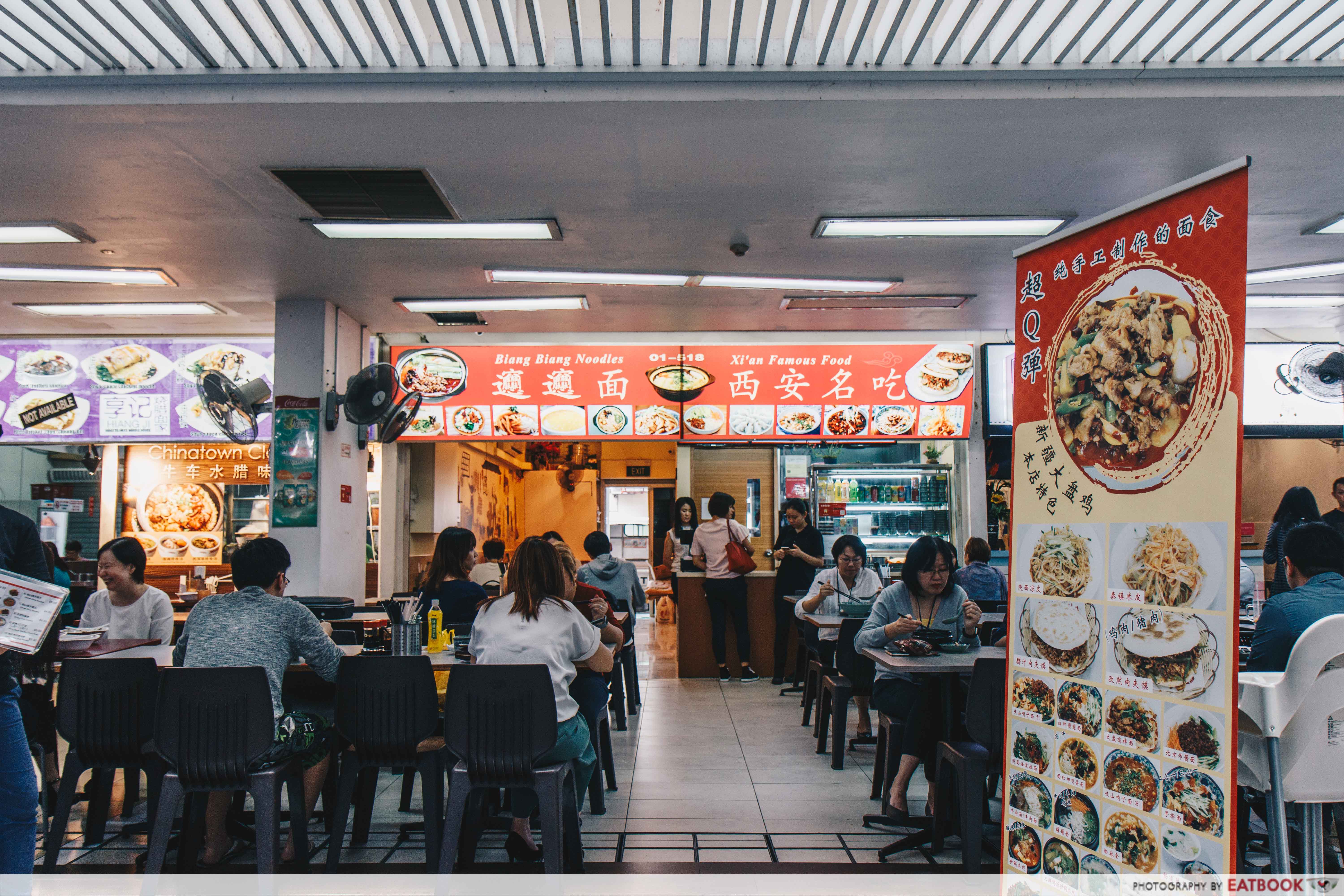 We went there during lunchtime and the stretch of stalls was packed with office workers. Nonetheless, despite the crowd, we didn't have to squeeze; I liked that there was sufficient space between tables for everyone to enjoy their meal.
The verdict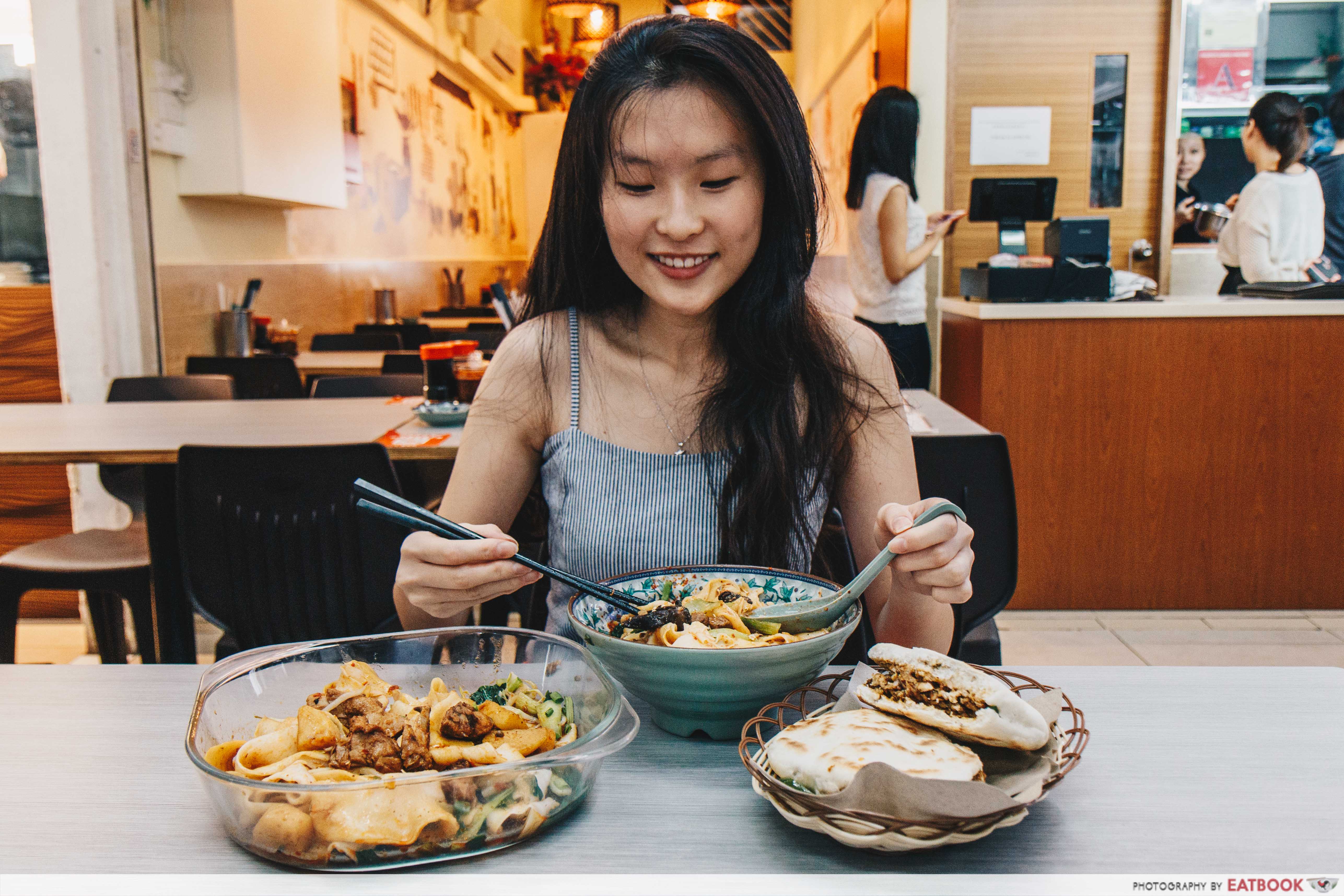 Despite feeling full after wiping the plates clean, I was so tempted to dabao another Cumin Burger back home. Plus, considering the uncommonly found dishes we were served – at an affordable price – I'd say we cinched a great deal here! For more good eats at Toa Payoh, check out this list of Toa Payoh hawker stalls. If you love strongly flavoured food, here are some must-visit ma la xiang guo places. 
Address: 190 Lorong 6 Toa Payoh, #01-518, Food Alley, Singapore 310190
Opening hours: Daily 9:30am to 10pm
Biang Biang Noodles Xi'an Famous Food is not a halal eatery.
This is an independent review by Eatbook.sg.
Summary
Pros
– Offers uncommonly found dishes
– Good service
– Delicious food
Cons
– Might be difficult to find a seat during lunchtime
Recommended Dishes: Cumin Burger ($5), Biang Biang Noodles with Pork ($6) and Chicken Ban Mian ($7)
Operating hours:
Daily 9:30am to 10pm
Address: 190 Lorong 6 Toa Payoh, #01-518, Food Alley, Singapore 310190