Pastaria Abate at Tanjong Pagar
Update: the prices at Pastaria Abate have increased, and service charge is now applicable. They have also moved to Neil Road.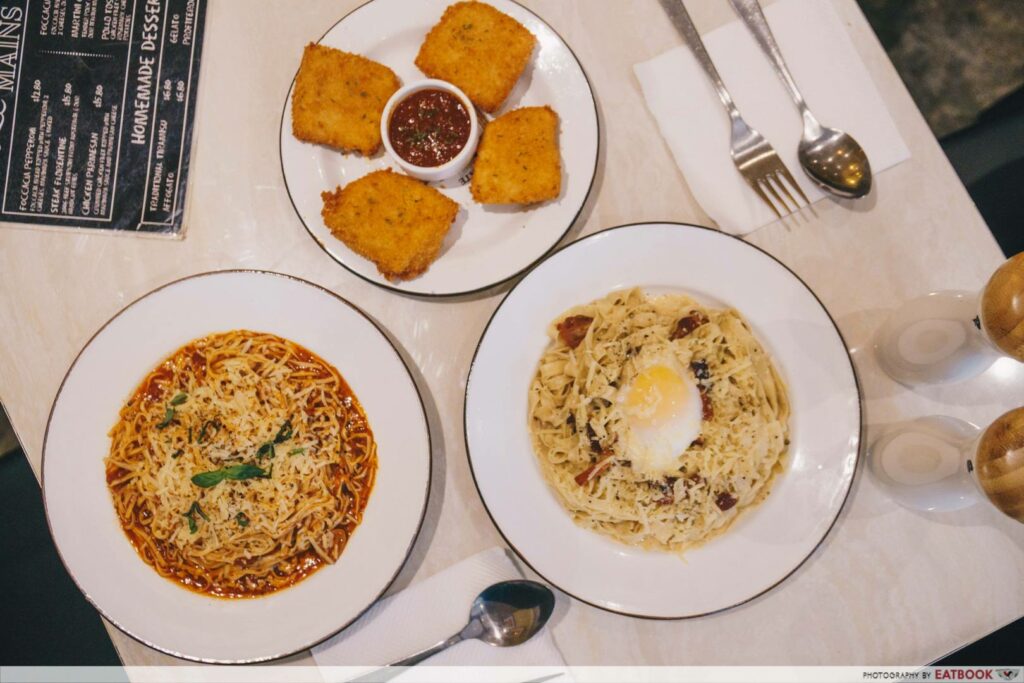 While anyone can whip up a plate of semi-decent pasta in minutes, it takes a lot of effort to make quality pasta. For starters, the noodles have to be cooked such that it has the right amount of bite. Toss that bottle of ready-made marinara sauce aside, good sauce should always consist of sweetness from ripe tomatoes and not from sugar.
Tucked in the quaint neighbourhood of Craig Road, just off the busy CBD, Pastaria Abate serves up affordably priced handmade pasta. Owned by an Italian, Mr Gino Abate, and his Singaporean wife, Jemima, the restaurant gives off a homely vibe that makes you feel like you're chilling at your best friend's place.
If you're wondering how their prices can stay so competitively low, there's an emphasis on self-service here. You'll have to place your orders at the counter and retrieve your food from there. There are no additional charges such as service charge or GST.
Food at Pastaria Abate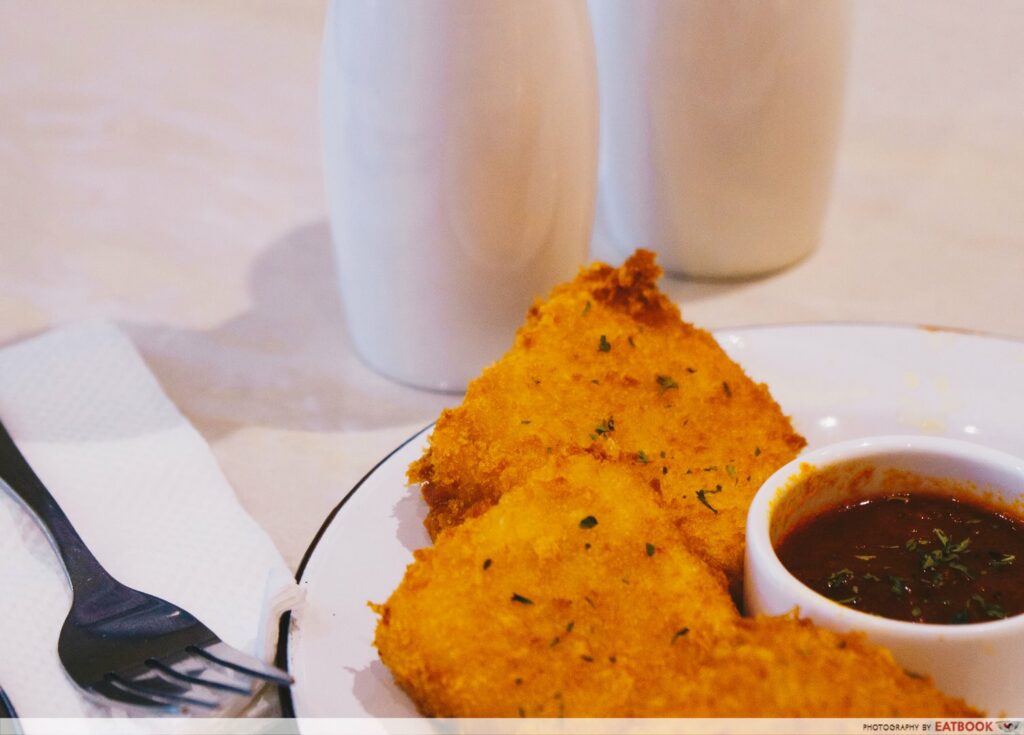 The food has a sense of authenticity with most of the recipes passed down from Gino's family. The pasta and sauces used here are house-made with a keen attention on making everything from scratch.
We started things off with Fried Mozzarella ($6.80), which was accompanied by a side of marinara sauce. The mozzarella comes in a thick chunk and had an even coating of breadcrumbs while remaining crisp.
The sauce was something special, having a subtle tanginess that went well with the light breading. However, I found that the mozzarella was still a little hard in the middle and could have been cooked a little while longer for a more stretchy and creamy consistency.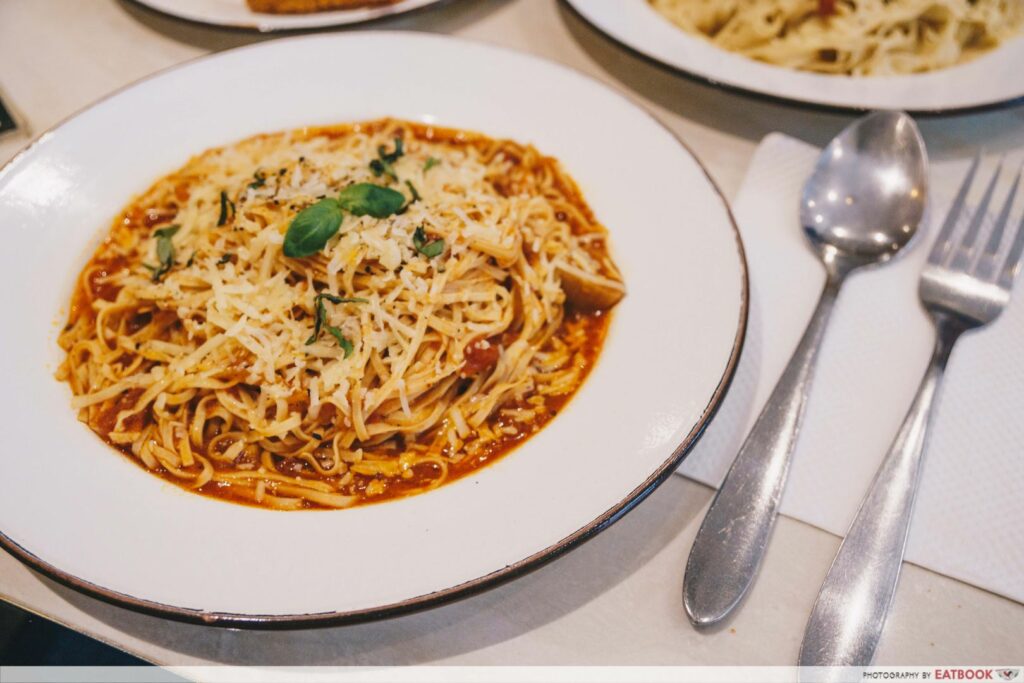 The pasta menu is extensive with 16 types of pasta to choose from. The noodles are broken down into categories of egg pasta, regular pasta, and flavoured pasta where you can opt for interesting variants such as porcini and saffron.
You'll also get spoilt for choice with 18 types of sauces. They're broken down into three types: red, cream, and white & wine sauce.
The classic marinara sauce is a good test of a restaurant's mettle as it's usually the base where other sauces are derived from. The Marinara ($8.80) with tagliarini egg pasta did not disappoint, with the restaurant using the famous San Marzano tomatoes, which are highly coveted for their sweetness.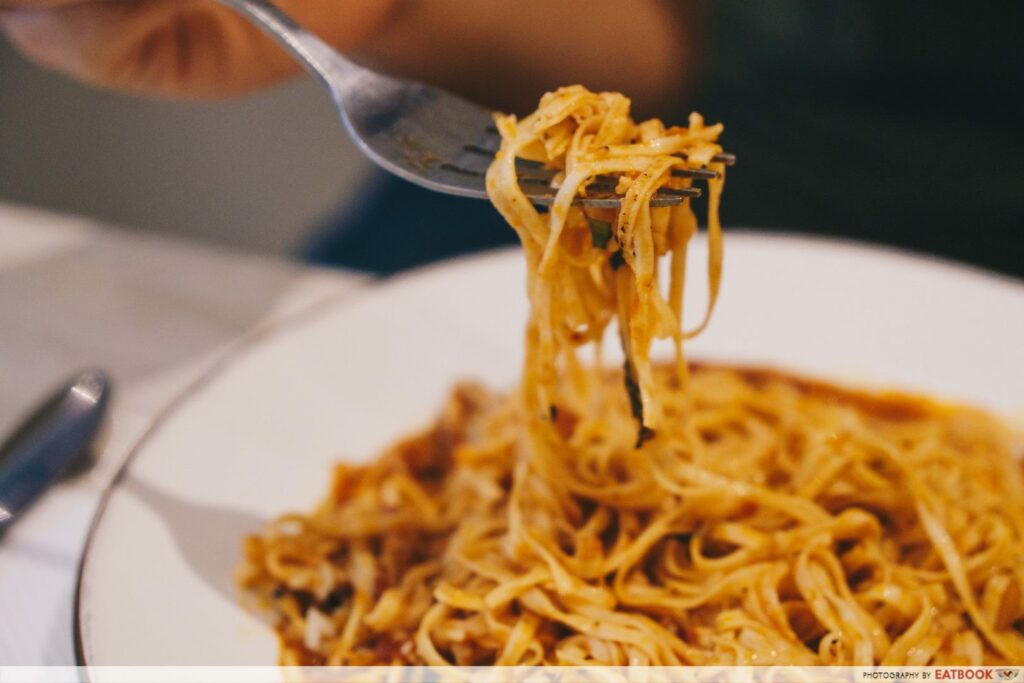 The egg noodles were cooked just right and absorbed the sauce very nicely. I liked how there were many layers in the sauce, with the tomatoes giving a little sourness and sweetness to the dish. It also comes in generous portions and ought to fill anyone up very quickly.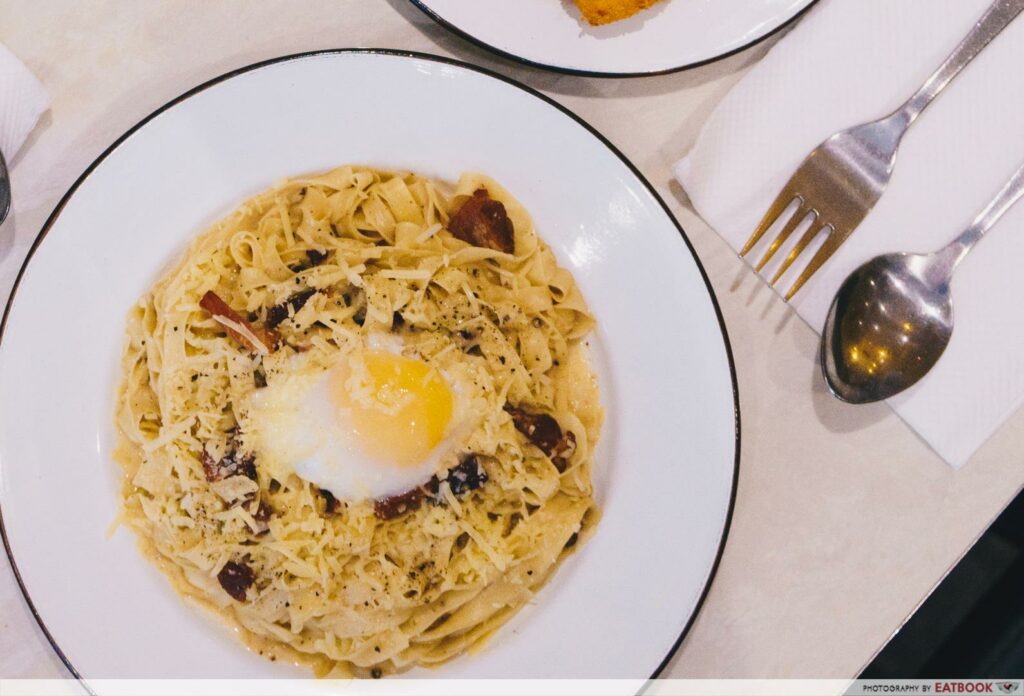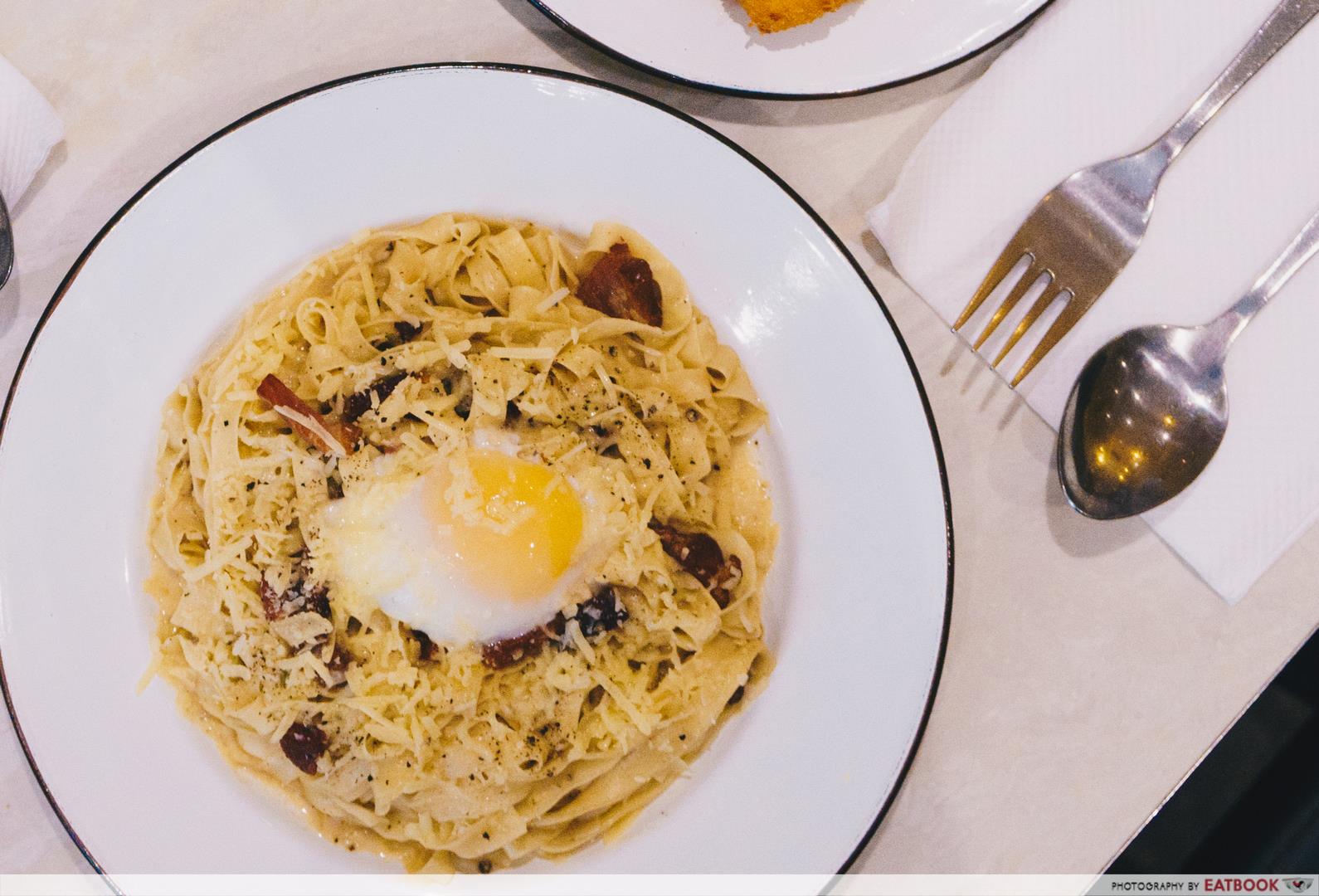 The Carbonara ($12.80) with tagliatelle comes served with chunks of pancetta along with Parmesan cheese and a poached egg. It's hard to choose the right noodles from such a wide variety, but I personally like the tagliatelle as its thick and wide surface area makes it great for soaking up the rich and creamy carbonara sauces.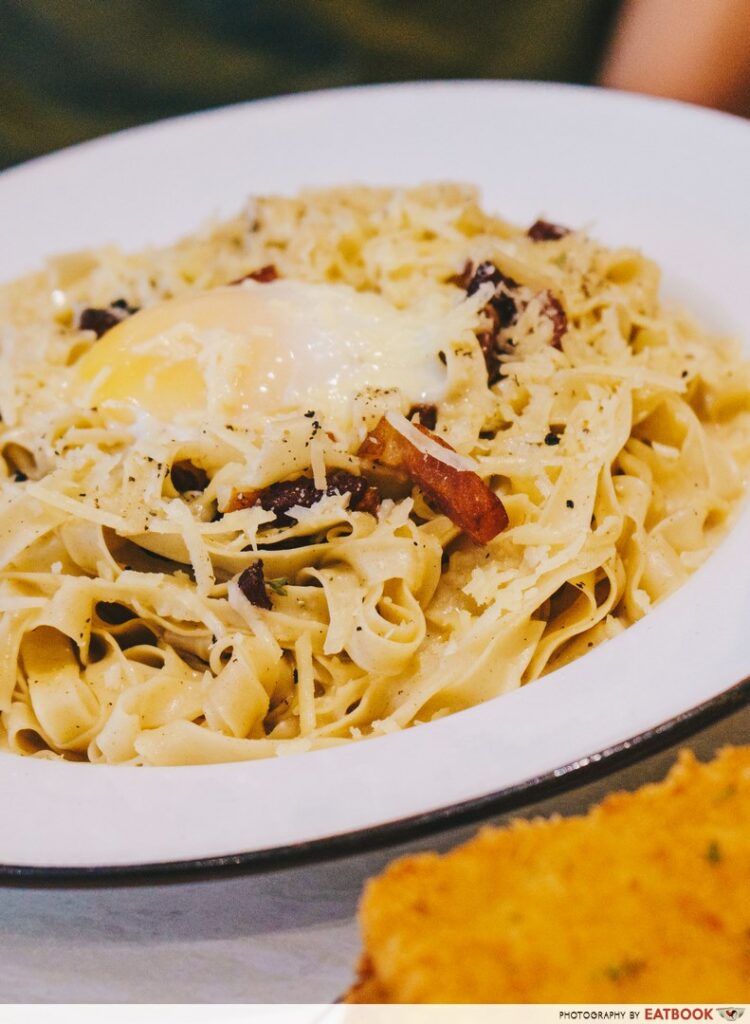 The chewy pancetta and creamy egg gave additional texture to the dish. But it wasn't as impressive as the Marinara pasta. The flavours felt flat after a while, and it turned out to be quite a dull experience once we're halfway through the dish. Perhaps more Parmesan cheese can be used to give the dish an additional boost inflavour.
Ambience at Pastaria Abate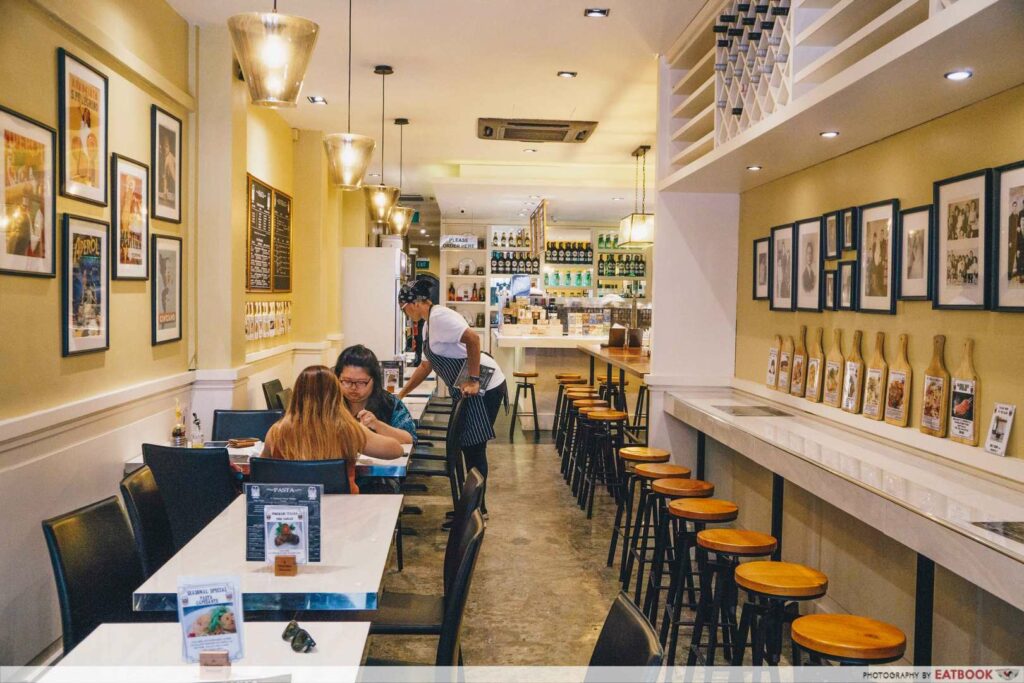 Tastefully decorated, the restaurant is filled with comfortable seats, accompanied by soft and comforting music. The restaurant makes you feel like you're in an upscale bistro while feeling unpretentious at the same time. While it's a self-service concept, the staff members were friendly and are happy to give recommendations on any dishes.
The verdict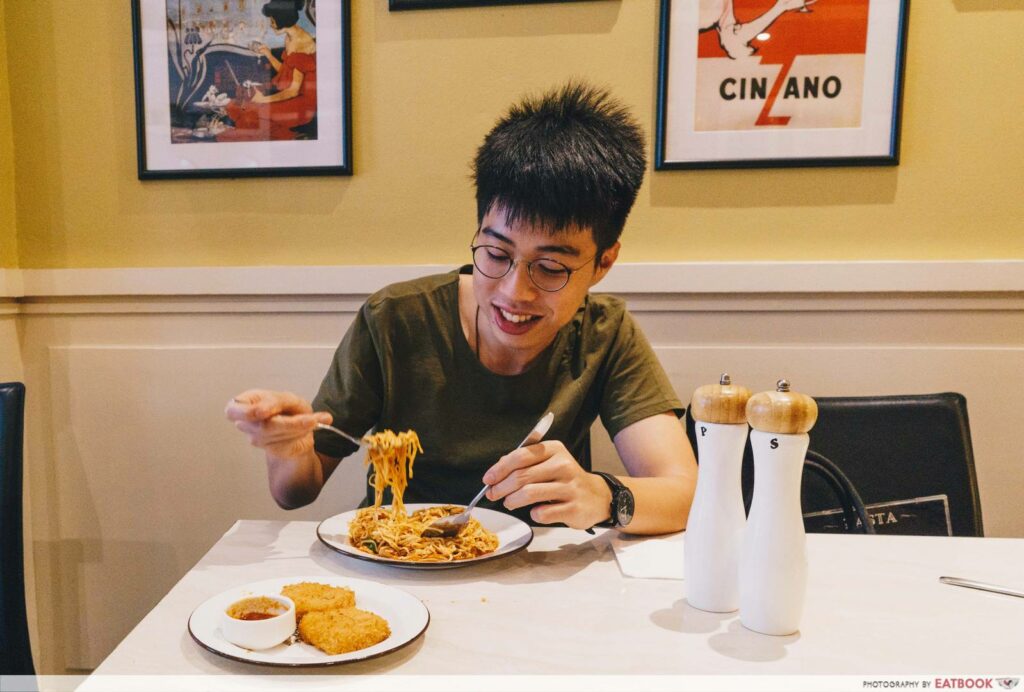 The generous portions and authentic recipes at Pastaria Abate make it a great place to visit for no-frills Italian fare at a pocket-friendly price. Put this on your list for long Friday lunches or weeknight dates if you're around the area.
Still craving for noodles? Check out the secret "Egg Cloth Noodles" at Quan Ji that is just a five-minute walk away.
Quan Ji Review: Secret Wok-Fried Egg Noodles At Amoy Street Food Centre
Address: 86 Neil Road, Singapore 088846
Opening hours: Sun-Wed 11:30am to 11pm, Thurs-Sat 11:30am to 11:30pm
Tel: 6909 0672
Website
Photos taken by Clement Lee.
This is an independent review by Eatbook.sg.
Pastaria Abate Review: Affordable Handmade Pasta At Tanjong Pagar From $8.80 Nett
Summary
Pros
–Value-for-money pasta
–Homely ambience, great for dates or meetups
Cons
– Carbonara was lacking in flavour
Recommended Dishes:  Marinara Pasta ($8.80)
Opening hours: Sun-Wed 11:30am to 11pm, Thurs-Sat 11:30am to 11:30pm
Address: 86 Neil Road, Singapore 088846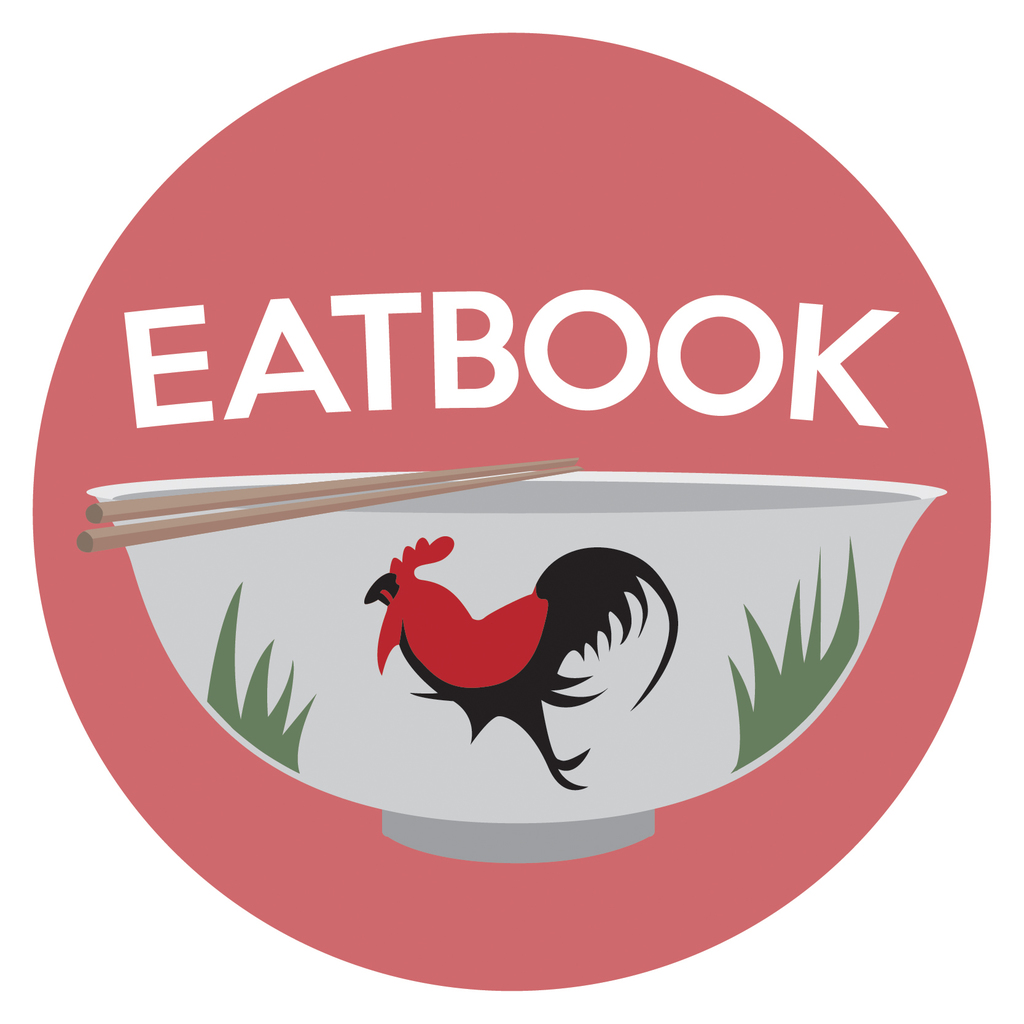 Drop us your email so you won't miss the latest news.