---
Halal Restaurants In Singapore
---
Finding a restaurant to celebrate an anniversary or someone's sweet 21 may feel daunting, especially with the plethora of halal food places in Singapore. Fret not, as we have curated a list of places that aren't your regular dinner spots. From Thai hot pot to hotel buffets, here are 21 halal restaurants for you to check out for your next special occasion. 
---
1. The Dim Sum Place
---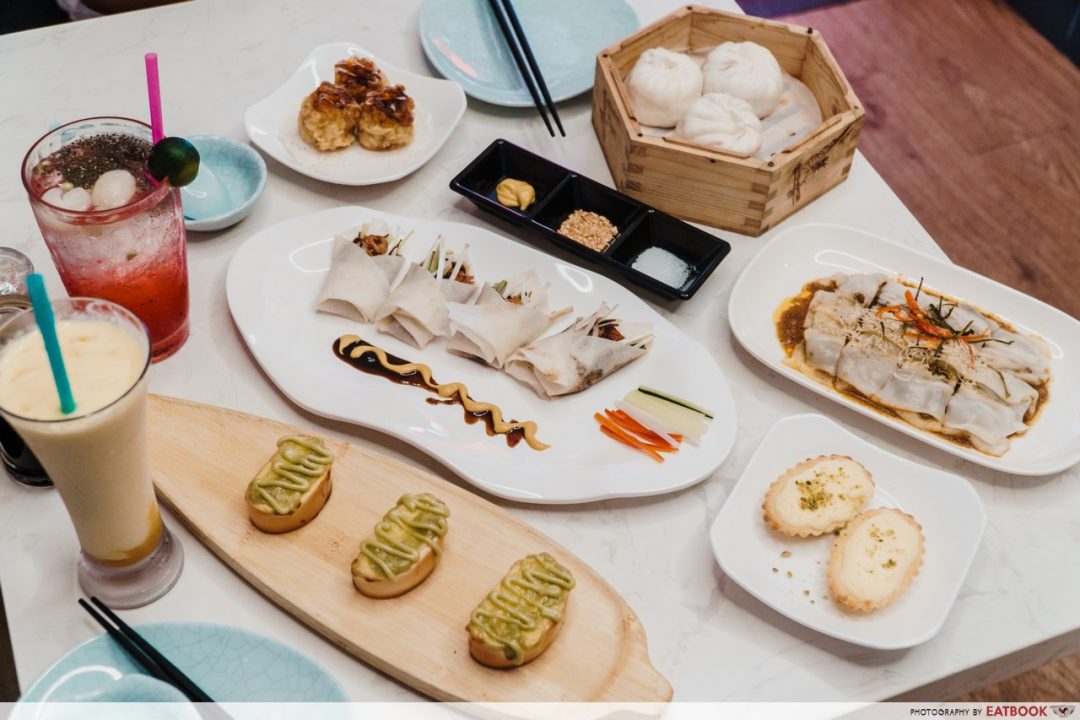 If your partner or family enjoys having a variety of food options, head down to The Dim Sum Place. This is not your run-of-the-mill dim sum restaurant, as The Dim Sum Place sells innovative and unique items such as the Vermicelli Roll with Mixed Seafood ($9.90++), Baked Buns with Roasted Duck Filling ($6.90++) and more. 
The former is said to be packed with chunks of robust beef rendang, wrapped in silky chee cheong fun skin. If beef isn't your go-to protein, this dish also comes in lamb and chicken options. The baked wasabi buns, on the other hand, are bite-sized mantou with a generous smear of wasabi on top. Another item that stands out is the TDSP Cheese Tarts ($5.90++): made with fresh cream, cream cheese, mozzarella chunks, and pistachio bits.
If you don't feel like sharing, The Dim Sum Place also offers mains such as Congee with Sliced Fish ($8.90++), Wonton Noodle ($8.90++) and many more.
Read our review on The Dim Sum Place! 
Website
Full list of locations
The Dim Sum Place Review: Halal-certified Dim Sum With Deep-fried Siew Mai At Bugis
---
2. 800° Woodfired Kitchen
---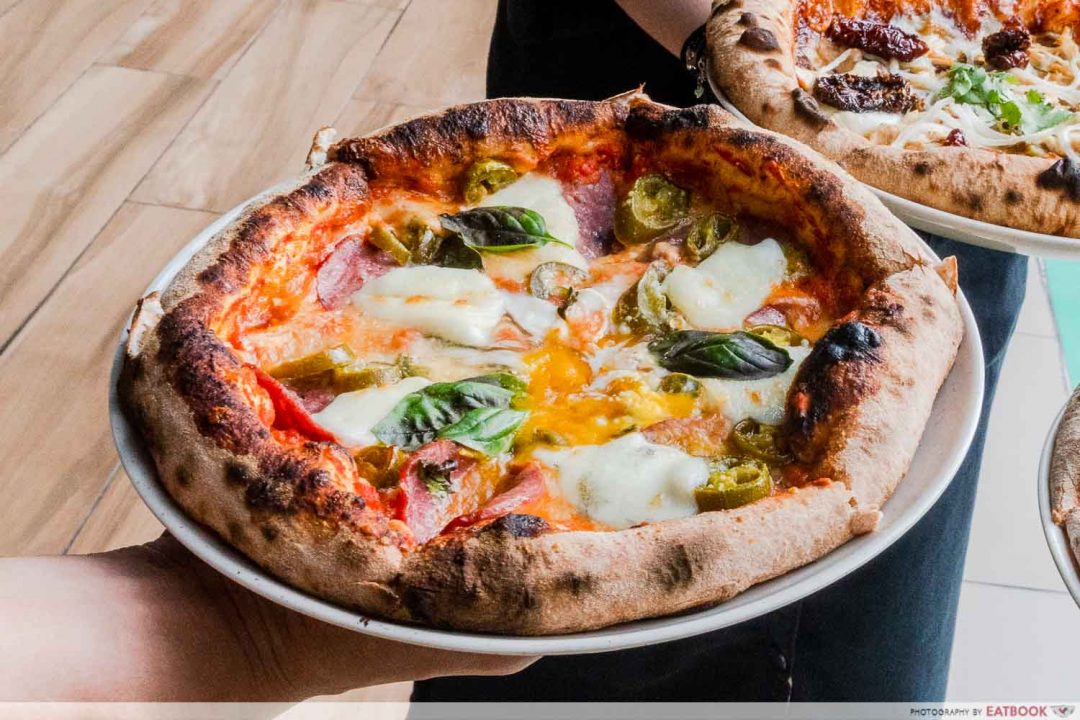 For a unique and authentic pizza experience, visit 800° Woodfired Kitchen. Unlike American-style pizza, 800° Woodfired Kitchen serves Neapolitan pizza, which is known for its incredibly thin dough base, with a puffy, charred crust that is chewy yet airy in texture. 
There are only two sizes of pizza available here: 10″ and 14″. First-timers are recommended to go for the BBQ Chicken Pizza ($15/$25) or Spicy Meatball ($15/$25), which are their popular flavours. For a vegetarian option, try the Tartufo Pizza ($17/$27) that's got a white Bianca base, topped with truffle mushrooms and a handful of fresh arugula. If you didn't know, white Bianca is a style of pizza loaded with a variety of cheeses, giving it its signature white hue.
If none of their concoctions appeals to you, you can choose to make your own pizza! Starting from $10, choose a base—Margherita, Verde, Bianca—and top it with as many toppings (from $1) as you like! 
Besides pizza, you can also get their Rotisserie Chicken to share, which comes in either a quarter ($12), half ($20) or a whole chicken ($36). 
Read our 800° Woodfired Kitchen review here!
Address: 11 Tanjong Katong Road, #01-52/53, KINEX Mall, Singapore 437157
Opening hours: Daily 11:30am to 9:30pm
Website
800° Woodfired Kitchen Review: New Muslim-Owned Pizza Cafe With Truffle Sauce Base At Nett Prices
---
3. IndoChili
---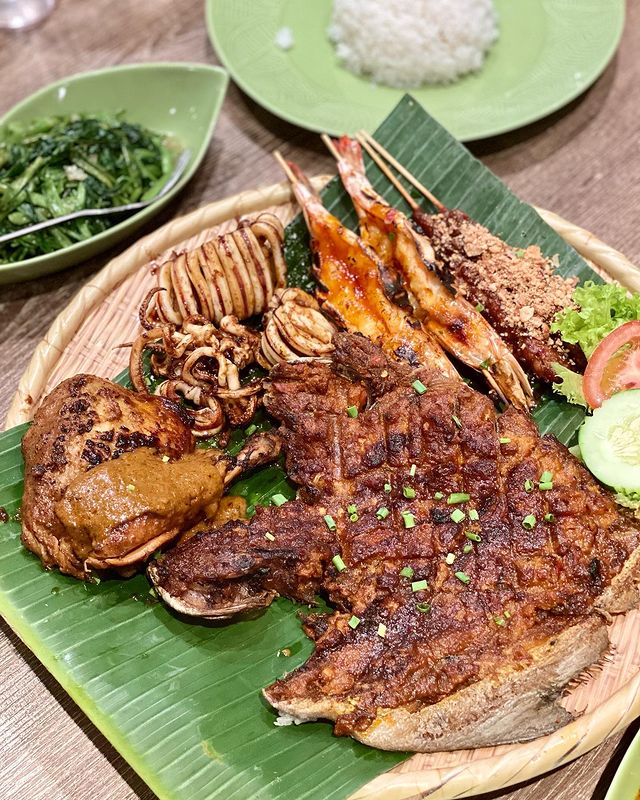 Image credit: @drinkeatpost
IndoChili is known for being one of the most authentic Indonesian restaurants in Singapore. Their menu mainly consists of dishes from Java, Padang, and Bali. They take pride in only using natural ingredients to flavour their items, so the dishes are entirely MSG-free.  
For seafood lovers, go straight for the Combo Bakaran ($60.80++), which features a platter of grilled pomfret, squid, prawns, satay and more. 
If not, IndoChili also has a wide selection of meats for you to choose from. Priced at $12.80++, their variety of chicken dishes come dressed in six different sauces. Do note that these are all a la carte dishes, so you can top up $1.50++ for a bowl of rice on the side if you'd like. For something smoky and robust, go for their Ayam Bakar Kecap, a BBQ flavoured chicken, or the Ayam Kari Padang for a Padang-style curry chicken. For something more interesting, check out the Bunut Goreng Special ($17.80++) which is a sauteed oxtail, paired with onion and sweet sauce. 
IndoChili also offers set rice meals if you are not planning to share with others. A few items you can try are the Nasi Goreng Seafood ($13.80++), Nasi Kampung ($11.80++), and a traditional Javanese-style rice dish—the Tumpeng Mini ($15.80++). 
Website
Full list of locations
---
4. Suki-Suki Thai Hot Pot
---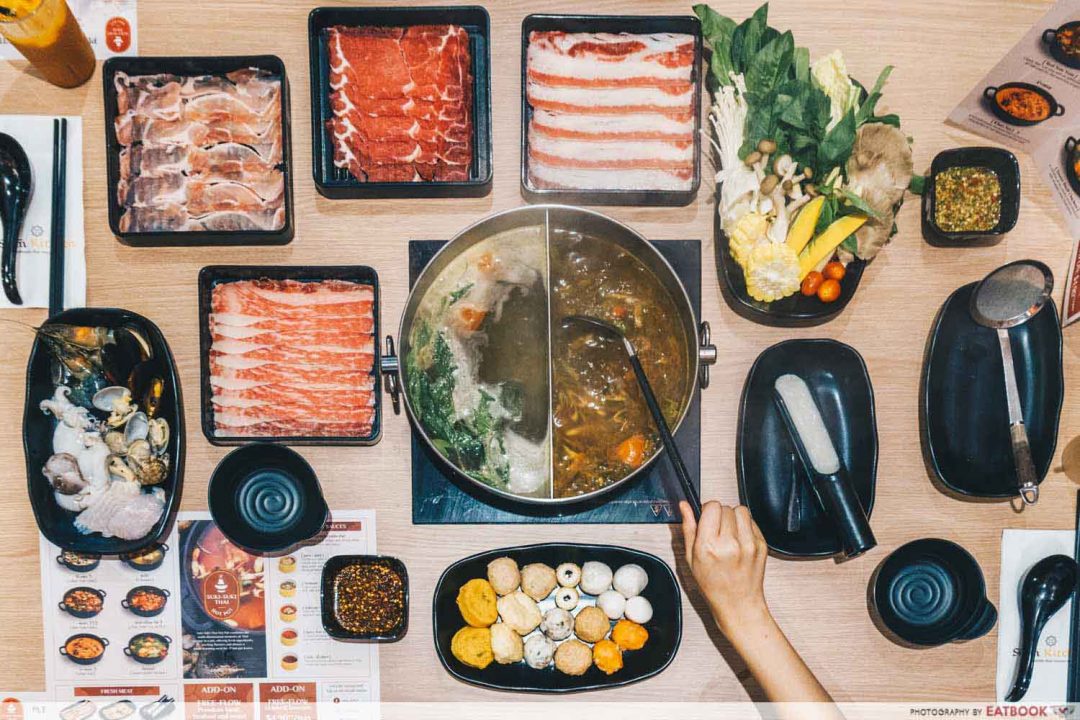 Celebrating a special occasion doesn't always have to be all fancy and formal. Consider jazzing up your occasion with a Thai-style hot pot at Suki-Suki Thai Hot Pot.
Visit any day from Monday to Thursday for a $19.90++ lunch buffet, which covers a range of vegetable, meat and carb options. If you would like the addition of seafood, go for the dinner buffet instead ($25.90++).
Suki-Suki Thai Hot Pot offers six different types of soup bases. If you are contemplating which soup to go for, pick the crowd favourites—Red Tom Yum and Sweet Basil Chicken. The former has a strong and rich herby flavour, while the latter is light and aromatic; both complement each other well! We also recommend having the seafood dipping sauce to pair with your meat, as its slightly tangy notes go perfectly with the umami meat. 
Read our Suki-Suki Thai Hot Pot review here!
Suki-Suki Thai Hot Pot Review: Halal-Certified Buffet With Unlimited Meats From $17.90++
---
5. Sama Sama
---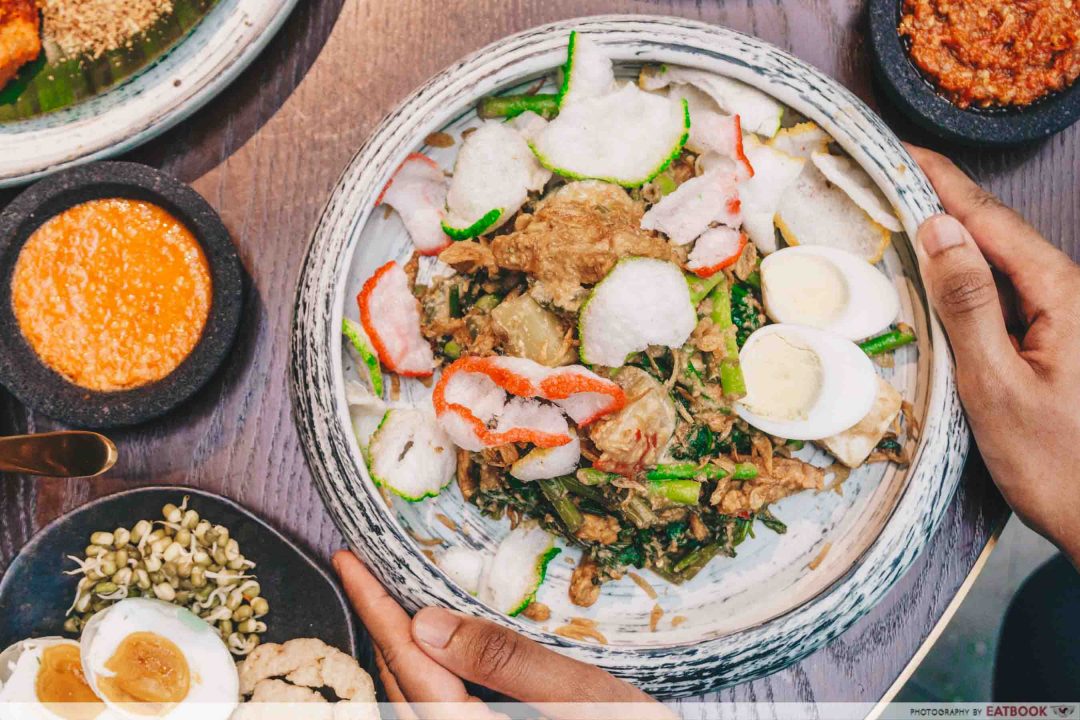 If Commons at Jewel is too casual for your liking, check out Sama Sama—a fine dining Indonesian restaurant.
Begin your experience with the Gado Gado ($14++), a traditional Indonesian salad dressed with Gado Gado's spiced peanut sauce. Since it is made in house, you can adjust the spice levels to your liking. This salad is then finished with a handful of crispy crackers and a hard-boiled egg on the side. 
For mains, try their all-time favourite Buntut Bakar ($24++), which is grilled oxtail doused in a sweet and spiced-infused Javanese soya sauce. Alternatively, go for the Bebek Goreng Ubud ($26++), a Balinese style pan-fried duck seasoned with herbs and spices, and served with house-made sambal on the side. 
Read our Sama Sama review! 
Address: 78 Airport Boulevard, #03-225/226, Jewel Changi Airport, Singapore 819666
Opening hours: Mon-Thurs 11:30am to 9pm, Fri-Sun 11am to 10pm
Tel: 6904 3971
Website
Sama Sama Review: New Indonesian Restaurant With Huge Coconut Rice Platter And Super Spicy Gado Gado
---
6. Picanhas'
---

If you fancy some steak, head over to Picanhas', where they serve wallet-friendly steaks and a selection of mocktails. Although the menu for mains may seem small, it definitely won't disappoint! 
With only two main items, you can choose to either share by opting for the Queen of Steak ($25++) or have a bowl of Picanha Don ($17++) all to yourself. The former is a serving of rump cap cut, lightly seasoned with salt to enhance its natural flavour, and grilled for a perfectly charred exterior. It is recommended to pair the steak with their house sauces that are available in three flavours: Chimichurri, Wasabi Cream, and Sze Chuan.
While dining in Picanhas', be sure not to miss out on their alcohol-free mocktails, all priced at $12++. We recommend the Rose for something milky and floral. If you prefer tart and fruity flavours, try the Kyoho Sangria instead. 
Read our Picanhas' review here!
Address: 90 Club Street, Singapore 069458
Opening hours: Tue-Sun 12pm to 3pm, 5:30pm to 10pm
Website
Picanhas' Review: New Restaurant Serving Value-for-money Steak And Mocktails In The CBD
---
7. Captain Kim Korean BBQ and Hotpot
---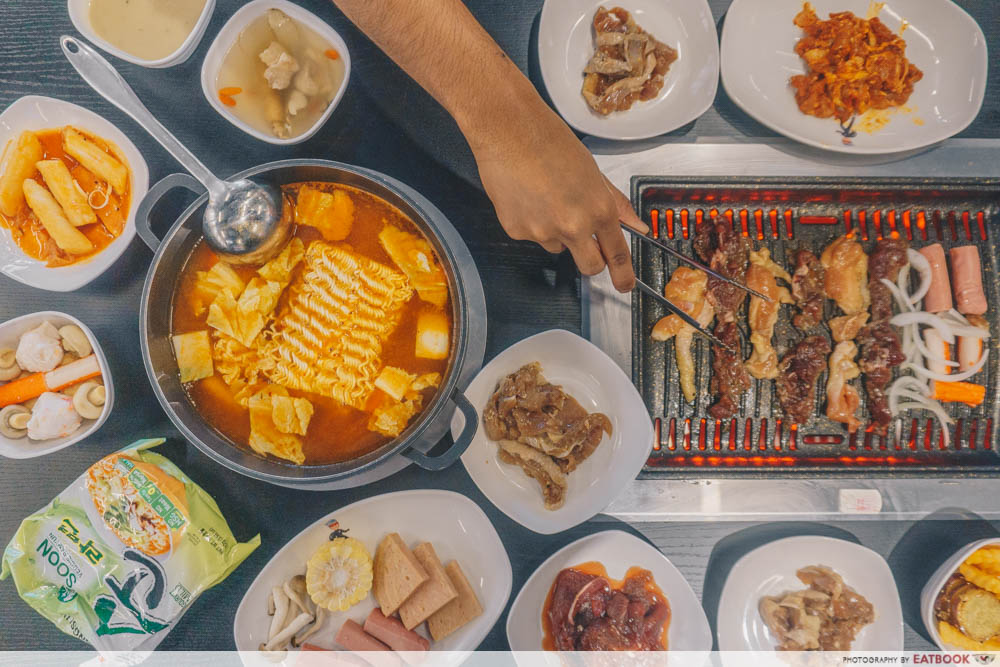 For a Korean option, head to Captain Kim Korean BBQ & Hotpot. At this eatery, you can enjoy a pot of comforting kimchi stew while grilling marinated meat on the side. As it is a buffet, you can expect an array of ingredients, ranging from meat to Korean side dishes and vegetables. 
The weekday lunch buffet is priced at $18.90++ for adults and $15.90++ for students. Dinner buffets from Mondays to Thursdays are priced slightly higher—$28.90++ for adults and $26.90++ for students. Do note that there will be a dining duration of 90 minutes when you go for weekday lunches and dinners if you are dining with less than three people. 
Read our review on Captain Kim Korean BBQ & Hotpot here.
Address: 300 Tampines Avenue 5, #01-06, NTUC Income Tampines Junction, Singapore 529653
Opening hours: Daily 11:30am to 3:30pm, 5:30pm to 10:30pm
Tel: 6260 4247
Website
Captain Kim Review: Muslim-Friendly Korean BBQ & Hot Pot Buffet From $16.90++/Pax At Tampines
---
8. Hjh Maimunah Restaurant
---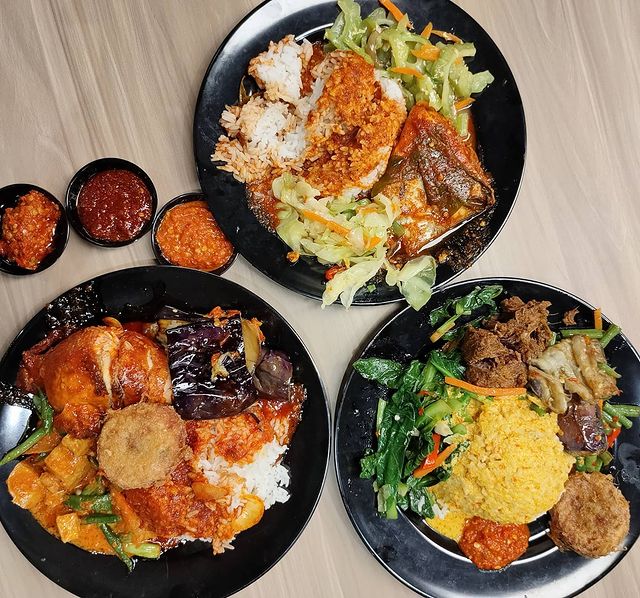 Image credit: @chiaksimi 
Hjh Maimunah Restaurant has been serving a slew of Malaysian and Indonesian fare since it opened in the 1990s. Currently, they have four outlets across Singapore, and are best known for their nasi padang. 
With a vast selection of vegetables, meat, fish, and side dishes, there's definitely something for everyone. If it's your first visit, go for their most popular items—Tahu Telor ($7) and Begedel ($4.40). The former is a traditional Indonesian dish comprising a fried tofu omelette, topped with shredded vegetables and crushed peanuts, and then doused in a sweet dark sauce. The latter is a coin-sized, fried potato patty that is usually paired with nasi lemak, nasi padang, or served as a snack. 
For proteins, you can consider their Beef Rendang (from $8.80), Ayam Lemak Cili Padi ($8), or BBQ Pomfret ($14) to share. You can also add a plate of vegetables on the side for a well-rounded meal. For a non-spicy option, try the Bayan Goreng ($5), which is a simple stir-fried spinach dish, or the Urap (from $5): a fresh mix of vegetables with beansprouts and grated coconut. 
Website
Full list of locations
---
9. Poulet
---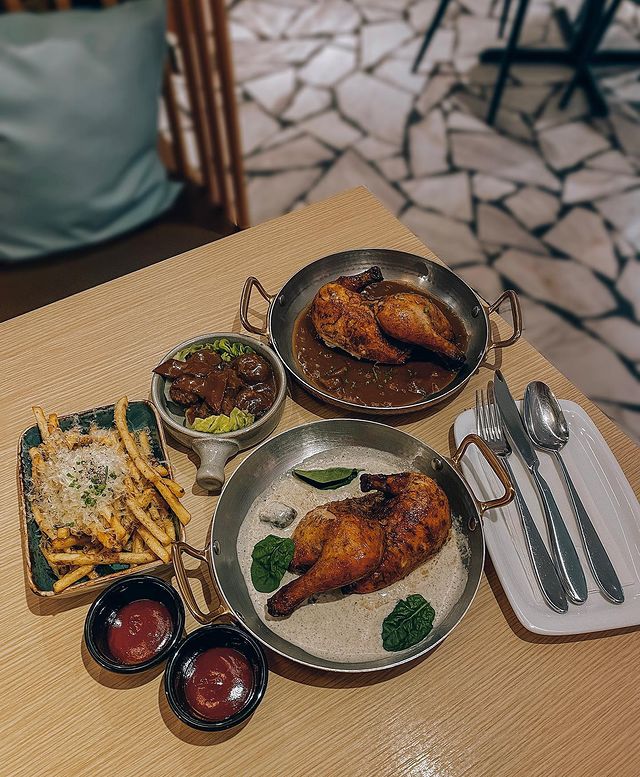 Image credit: @fatslifes
Poulet is another family-friendly, casual dining option to explore. They received their halal certification in 2020 and specialise in French roast chicken, doused in either the signature Mushroom Cream, Diane, or Cranberry sauces. Opt for the Whole Roast Chicken ($36.90+) if you're here with friends. Otherwise, go for the Half Roast Chicken ($22.90+) that can feed two. You can make your meal more substantial by choosing the Set Meal ($52+) for two, which comes with two starters, mains, desserts and drinks. 
Alternatively, Poulet also offers Glazed Winglet with Sriracha or Honey Glazed Sauce ($7.90+), Chicken Carbonara Pasta ($14.90) and Chicken Aglio Olio Pasta ($14.90), if you're looking for options other than roast chicken. 
Website | Full list of locations 
---
10. Ela
---
The Black Hole Group—known as the team behind Tipo Pasta Bar, Co-op and more—has recently opened their first Mediterranean cuisine restaurant, Ela. Hidden on the West side of Singapore, Ela is located in HomeTeamNS at Bukit Batok.
Whet your appetite by starting off with the Dip Party Platter ($18.90+), which features four flavour-packed dips to pair with the pita bread. As the name suggests, it's a real party in the mouth. Otherwise, go simple with the traditional Pita Bread ($3.90+), lightly salted and served with olive oil on the side. 
For mains, Ela offers a range of wraps, pasta, seafood and more. If you are looking for an affordable option, consider the Lemon Chicken Wrap ($14.90+), which comes with pitas, topped with a lemon-herb grilled chicken, served with spiced battered fries on the side. More grilled options include the Herb Sirloin Skewers ($20.90+) and Swordfish ($22.90+).
Read our Ela review here!
Address: 2 Bukit Batok West Ave 7, #01-07 A/B, HomeTeamNS Bukit Batok, Singapore 659003
Opening hours: Daily 12pm to 10pm 
Tel: 8816 9418
Website
---
11. Tipo Pasta Bar
---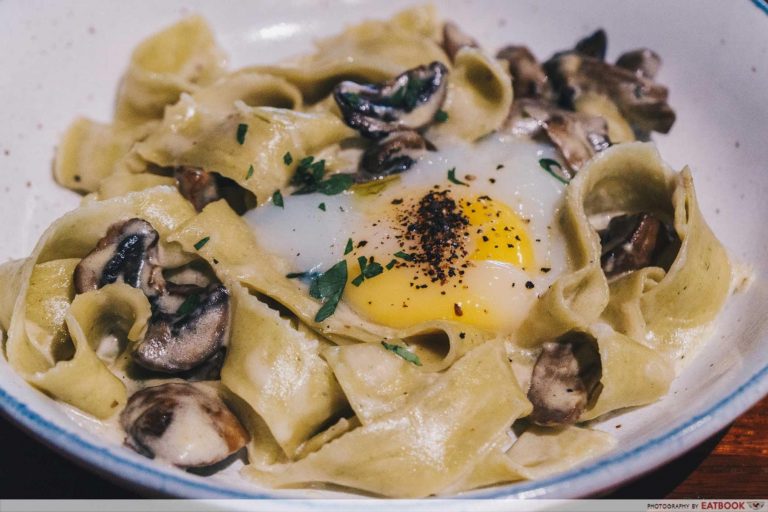 Famed for their fresh, handmade pasta, Tipo is a great place to visit if you are looking for authentic Italian noods.  
At Tipo, you'll have the opportunity to DIY your own pasta and make it one-of-a-kind. Each plate starts from $9.90 for 100g of pasta. If you have a bigger appetite, top up $3 for every 50g. From there, you can add on as many toppings as you like! Grouped in five categories: free, basic ($1.50), classic ($2.50), premium ($3), extravagant ($4.50), you can expect to find toppings such as Sous Vide Egg, Salmon Caviar, and Smoked Salmon. Lastly, dress your pasta in their selection of sauces: Pomodoro, Alfredo, Pink Sauce and more. 
If you prefer not to construct your own pasta, Tipo also offers their house specials, such as Creamy Chicken Mushroom ($14.90++), Seafood Pomodoro ($18.90++), and Royal Ragu ($15.90++).
Read our Tipo review here!
Website | Full list of locations
Tipo Pasta Bar Review: New Halal Pasta With Premium Toppings Of Escargot And Caviar
---
12. Peppermint
---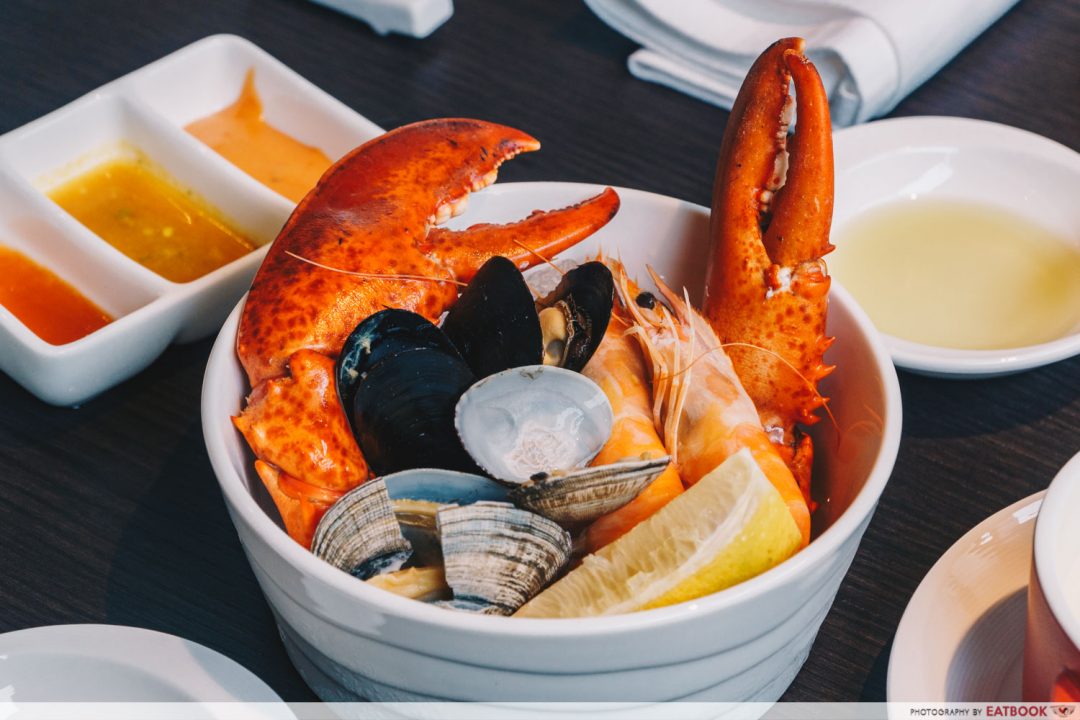 If you are hankering for a buffet, consider Peppermint at PARKROYAL COLLECTION Marina Bay. This restaurant is a farm-to-table concept that offers an all-you-can-eat menu, with a premium selection of international, local and plant-based options. 
With over 40 dishes to choose from, you'll definitely be spoilt for choice here. We suggest starting your meal with the Nordic Smoked Cauliflower Cream Soup. This smooth and creamy soup comes with slices of smoky salmon hidden within. If you're trying to go green, try the Sustainable Barramundi with Honey Soya Emulsion and Cauliflower Rice, or the Plant-Based Mini Brioche Burger. Don't forget to check out Peppermint's local options such as the Singapore Laksa with Seafood, Hainanese Chicken Rice, and Seafood Kueh Pie Tee. If you still have a room for dessert, go for the Peppermint Cucumber Sorbet, or waffles with berry compote, for a Western-style treat.
Read our review on Peppermint here!
Address: 6 Raffles Boulevard, PARKROYAL COLLECTION Marina Bay, Singapore 039594
Opening hours: Mon-Fri 7am to 11am, 12pm to 2:30pm, 6:30pm to 11pm, Sat-Sun 7am to 11am, 12pm to 3pm, 6:30pm to 11pm
Tel: 6845 1112
Website
Peppermint Review: Garden Buffet With Free-Flow Fresh Seafood, Lemak Laksa And More At PARKROYAL Marina Bay
---
13. Positano Risto
---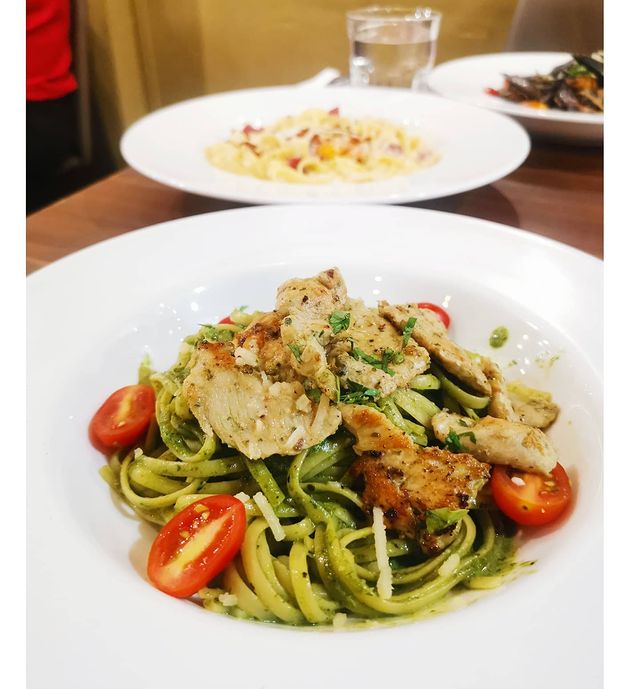 Image credit: @myfoodframes
Take a trip to Italy without splurging on an air ticket when you visit Positano Risto. It's touted to be one of the best halal Italian restaurants in Singapore! Try their new menu additions, including Mozzarella Cheese Balls ($13.95++), Shrimp Poppers ($12.95++) and more. 
Appetizers aside, Positano Risto offers classics such as Lasagne ($18.95++) and Truffle Mushroom Risotto ($20.95++), which are good for one. 
However, if you are looking for something to share, go for the Positano Signature Fresh Boston Lobster Feast For Two ($69.95++). Expect a whole Boston lobster served with pasta, alongside a variety of seafood, all doused in a lobster bisque sauce. This also comes with two sides of your choice. If you don't feel like having a bowl of pasta, Positano Risto also offers Roman-style pizza, which features a thin and crispy crust. 
Address: 66 Bussorah Street, Singapore 199479
Opening hours: Sun-Thurs 11:30am to 9:30pm, Fri-Sat 11:30am to 10:30pm
Tel: 6292 1866
Website
---
14. Royz et Vous
---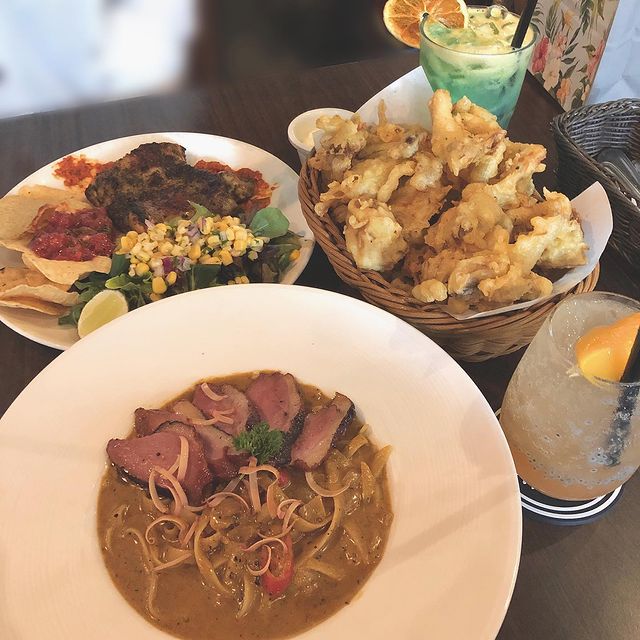 Image credit: @ayam_foodie
Consider bringing your date to Royz et Vous for a cosy and casual dining experience. They have a menu that sees a variety of local-western fusion dishes such as 'Kampung' Buffalo Wings ($16.90++), Rendang Chicken Lasagne ($18.90++) and Roasted Boneless 'Ayam Percik' ($20.90++).
End your occasion with something sweet, such as the Ondeh Ondeh Cake ($11.90++) or a fudgy Molten Lava Cake ($13.90++). Otherwise, check out their handcrafted mocktails, namely Mango Dribble, Three Bloody Merry, Caramel Cocoa Shake, which are all priced at $11.90++.  
Website | Full list of locations
---
15. Ginger
---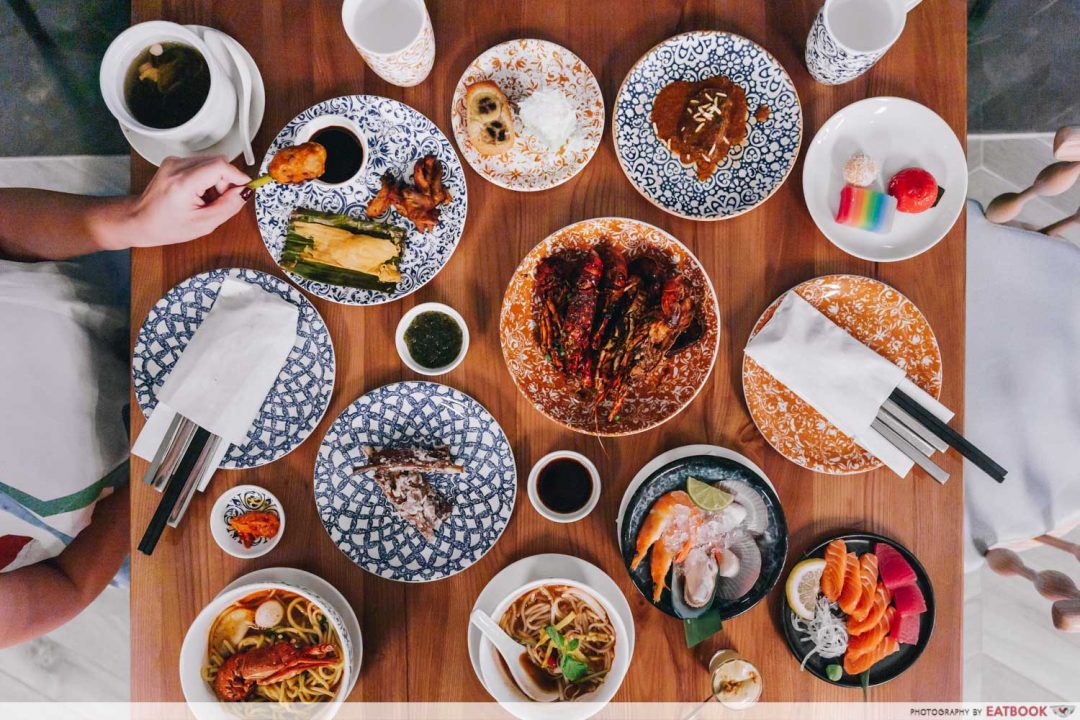 Ginger is another hotel buffet option by the Pan Pacific Hotels Group. Unlike Peppermint, Ginger focuses more on Southeast Asian cuisines. Do note that the buffet is only available from Wednesdays to Sundays, with prices starting from $58++ per adult.
Start with the Balinese Sate Lilit, which is a grilled seafood paste that is wrapped around a lemongrass stick. Other Southeast Asian dishes you can check out are the Crispy Lamb with Thai Green Sauce and Slow-Braised Beef Rendang, which is said to be melt-in-your-mouth tender!
To make your money worth it, go all out on the Black Pepper Lobster, Rock Lobster Noodle Soup, and Sashimi options.
To find out more about our verdict, read our Ginger review here!
Address: 7500 Beach Road, PARKROYAL on Beach Road, Singapore 199591
Buffet hours: Wed-Sun 12pm to 2:30pm, 6pm to 10pm
Tel: 6505 5710
Website
Ginger Review: Buffet With Free-Flow Crabs, Sashimi And More At PARKROYAL On Beach Road
---
16. Fairytail Bar
---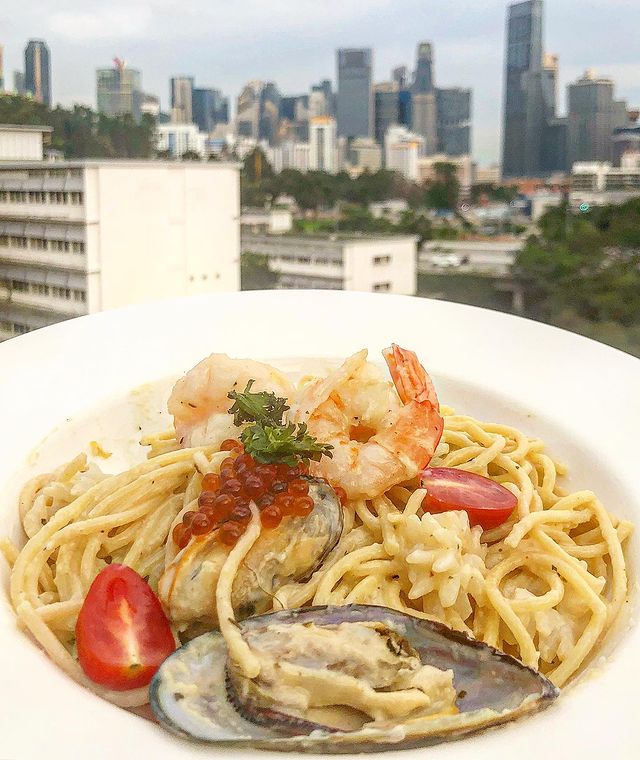 Image credit: @travelfoodsteps
For a romantic rooftop dinner spot, check out Fairytail Bar. It is a 100% Muslim-owned gastro bar that serves an array of mocktails and European-local fusion dishes.
One menu to check out is Fairytail Bar's high tea. Only available on the weekends, their high tea set ($88+) for two features Spiced Devil Egg with Balsamico, Pita Pocket of Grilled Wagyu Beef with Mustard Relish, a selection of sandwiches, and pastries to end on a sweet note.
If you prefer a more substantial meal, check out Fairytail Bar's main menu, which is separated into Italian and French cuisines. Their bestseller is the Gambari Aglio Olio ($24+), which features sauteed prawns tossed with garlic and bird's eye chilli.
Lastly, end your dinner with their fun and unique mocktails. Try the Icy Cold Articuno ($13+) for a minty and refreshing drink, or The Flamingo Croquet ($14+) for a beautifully presented tropical mocktail. 
Address: 231 Outram Road, D'Hotel Singapore, Singapore 169040
Opening hours: Tue-Fri 5:30pm to 11pm, Sat-Sun 12pm to 11pm 
Tel: 6595 1380
Website
15 Halal Date Night Restaurants For Meals Under $25 Per Person
---
17. Noosh 
---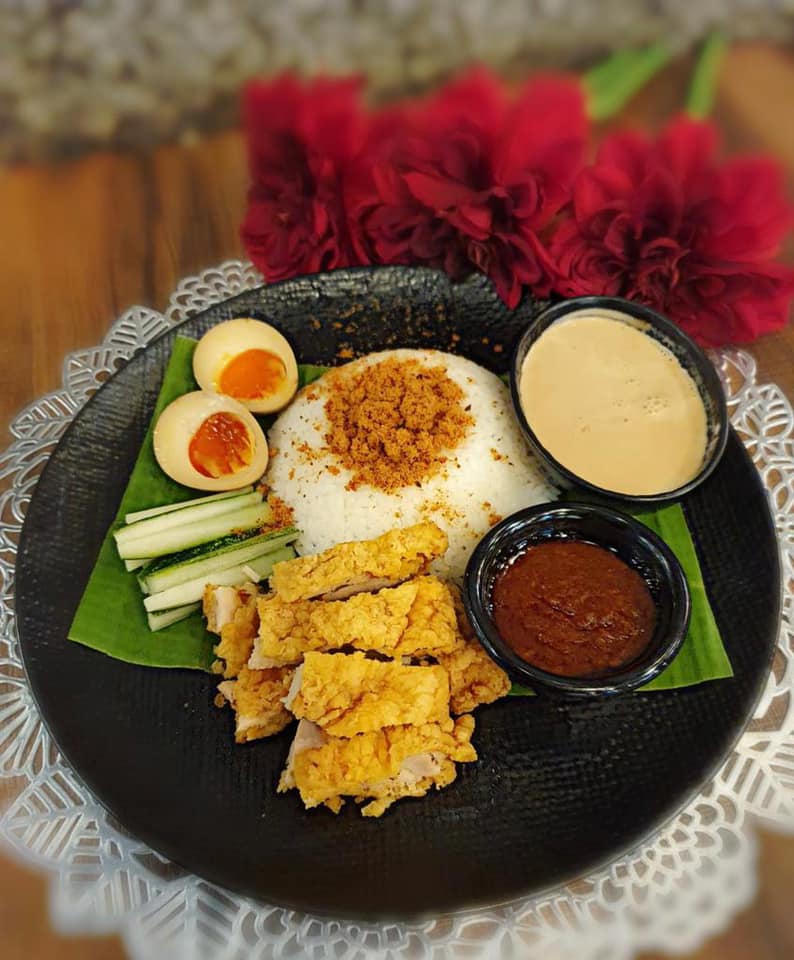 Image credit: Noosh
Noosh is a halal noodle bar and grill in Esplanade that sells a wide variety of Western fusion dishes. Start your meal with the sinful Chicken Sriracha with Cheese ($14.90++), where spicy chicken pieces come doused in melted cheese. For mains, their fusion dishes are worth an order. We recommend the Sambal Kapowww Steak with Nasi Goreng ($24.90++), where Malay-style fried rice is served alongside thinly sliced steak, topped with fiery sambal.
On top of their mains, the eatery also sells gluten-free bakes and cookies, which is great if you or your special someone has special dietary requirements.
Address: 8 Raffles Ave, #01-13B, Esplanade Mall, Singapore 039802
Opening hours: Daily 12pm to 10:30pm
Tel: 6327 9396
Website
---
18. Royal Palm Meat & Dine 
---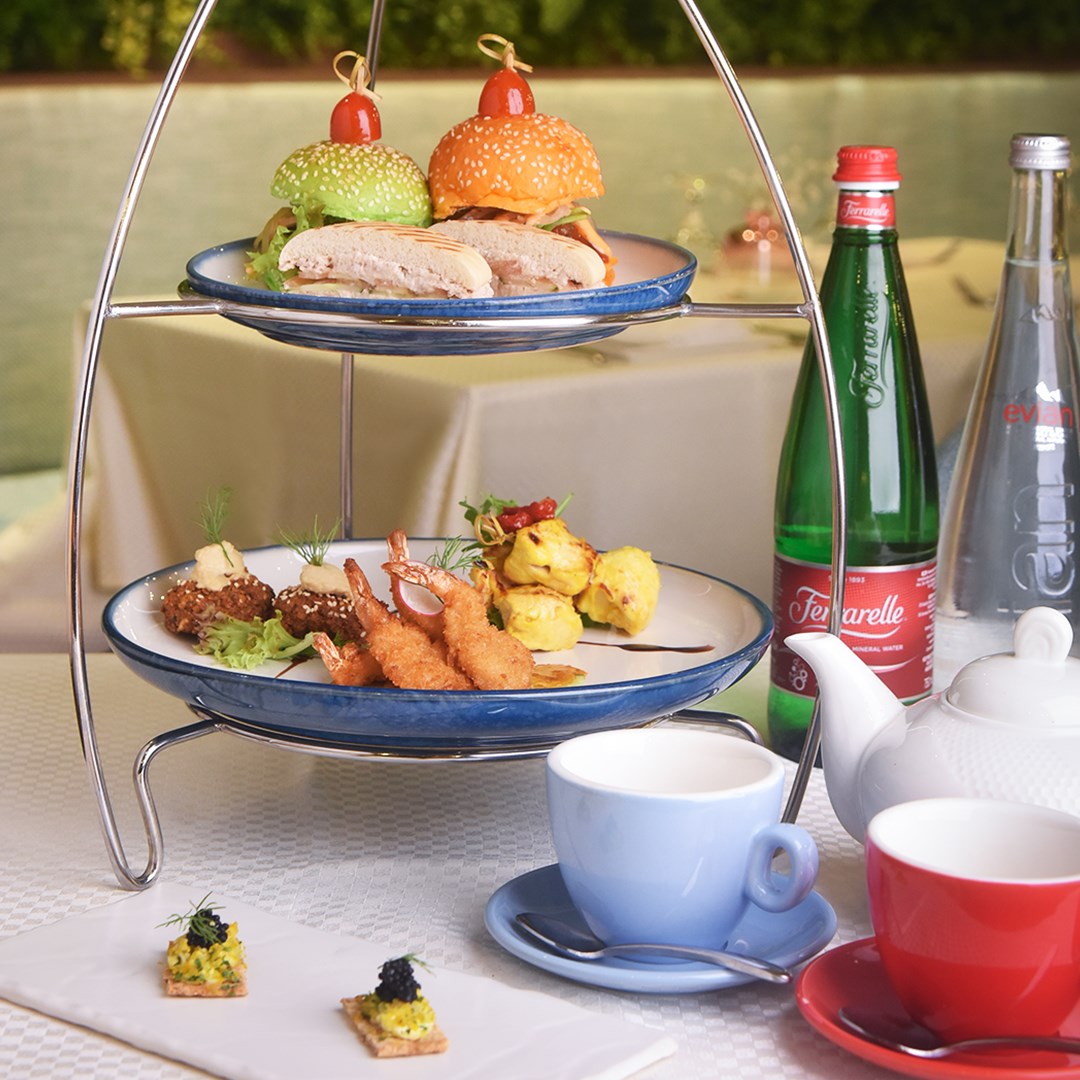 Image credit: Royal Palm Meat & Dine
Halal certified restaurant Royal Palm Meat & Dine has two main specialities: free-flow high tea, or steak. Come for their high tea buffet and enjoy all-you-can-eat servings of wagyu beef sliders, ondeh ondeh cake, assorted pastries, and coffee or tea, all for just $58.90++ till 31 March 2022. 
Otherwise, come for lunch and dinner and enjoy a menu filled with Western and Persian dishes. If you're feeling like Italian fare, get the Wagyu Beef Risotto ($22++), where you get melt-in-your-mouth chunks of grass-fed Australian wagyu. Else, the Persian menu has a range of kebab dishes, starting at $27.90. Vegan food is also available here.
Address: 390 Victoria Street, #03-12A, Golden Landmark Shopping Centre, Singapore 188061
Opening hours: Daily 11am to 10:30pm
Tel: 6339 7766
Website
---
19. I am… 
---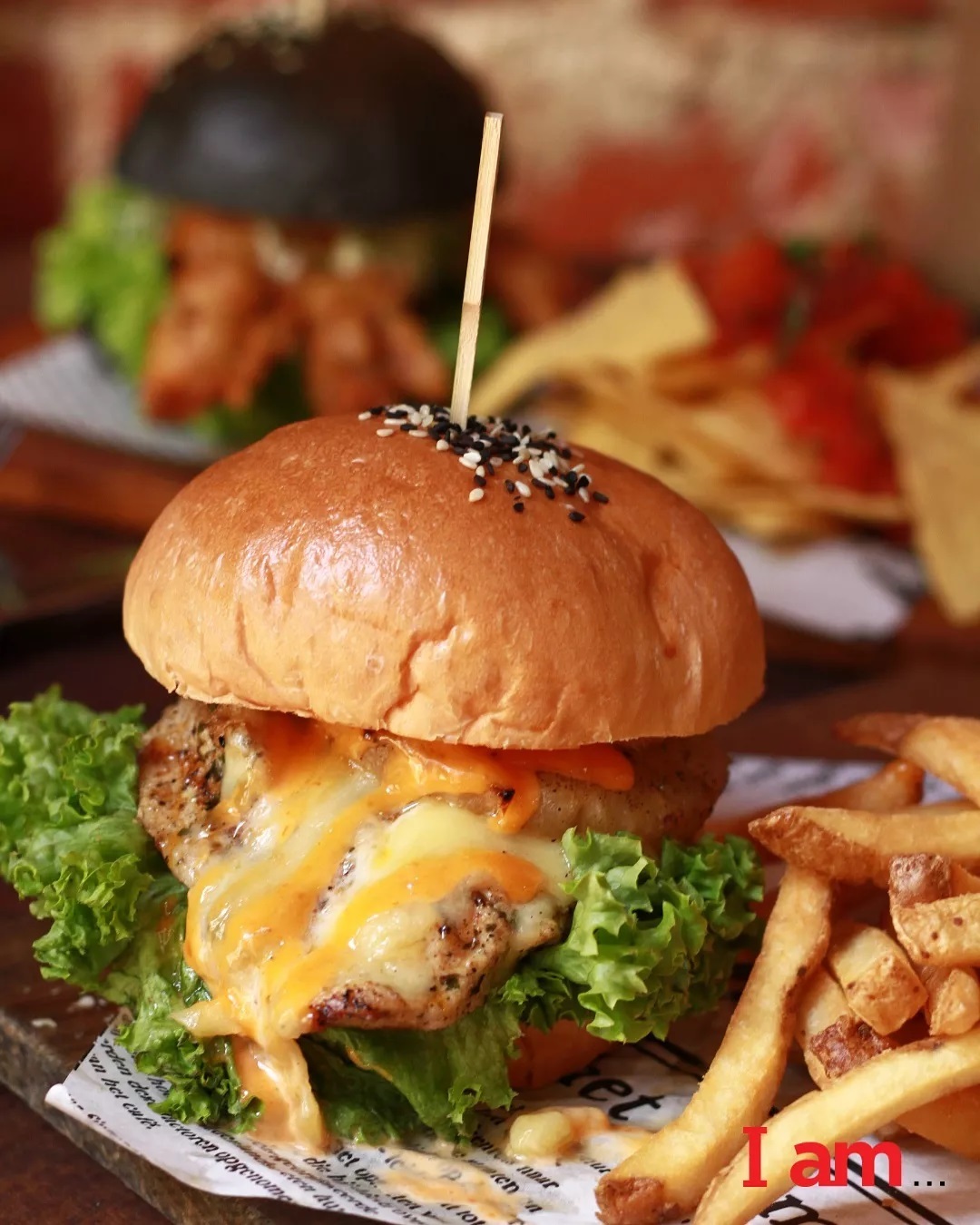 Image credit: I am…
Take your date on a cute cafe date at I am…. The Haji Lane cafe offers brunch from 11am to 4pm daily, featuring a lengthy list of classics on the menu. For the full experience, get The Cast Iron ($21.90++), an English breakfast served in a cast-iron skillet. Otherwise, the Crabmeat Eggs Benedict ($16.90++) is an interesting choice, swapping out the usual ham or smoked salmon for sweeter crab.
If you prefer lunch or dinner, expect a menu of burgers, grilled meats, and pizzas, mostly priced under $20. Round off the meal with your pick of a mocktail, from the Virgin Mojito ($7.50++) to Agua Fresca ($7.90++).
Address: 674 North Bridge Road, Singapore 188804
Opening hours: Tue-Sun 11am to 10pm
Tel: ​​6295 5509
Website
---
20. WakuWaku Yakiniku 
---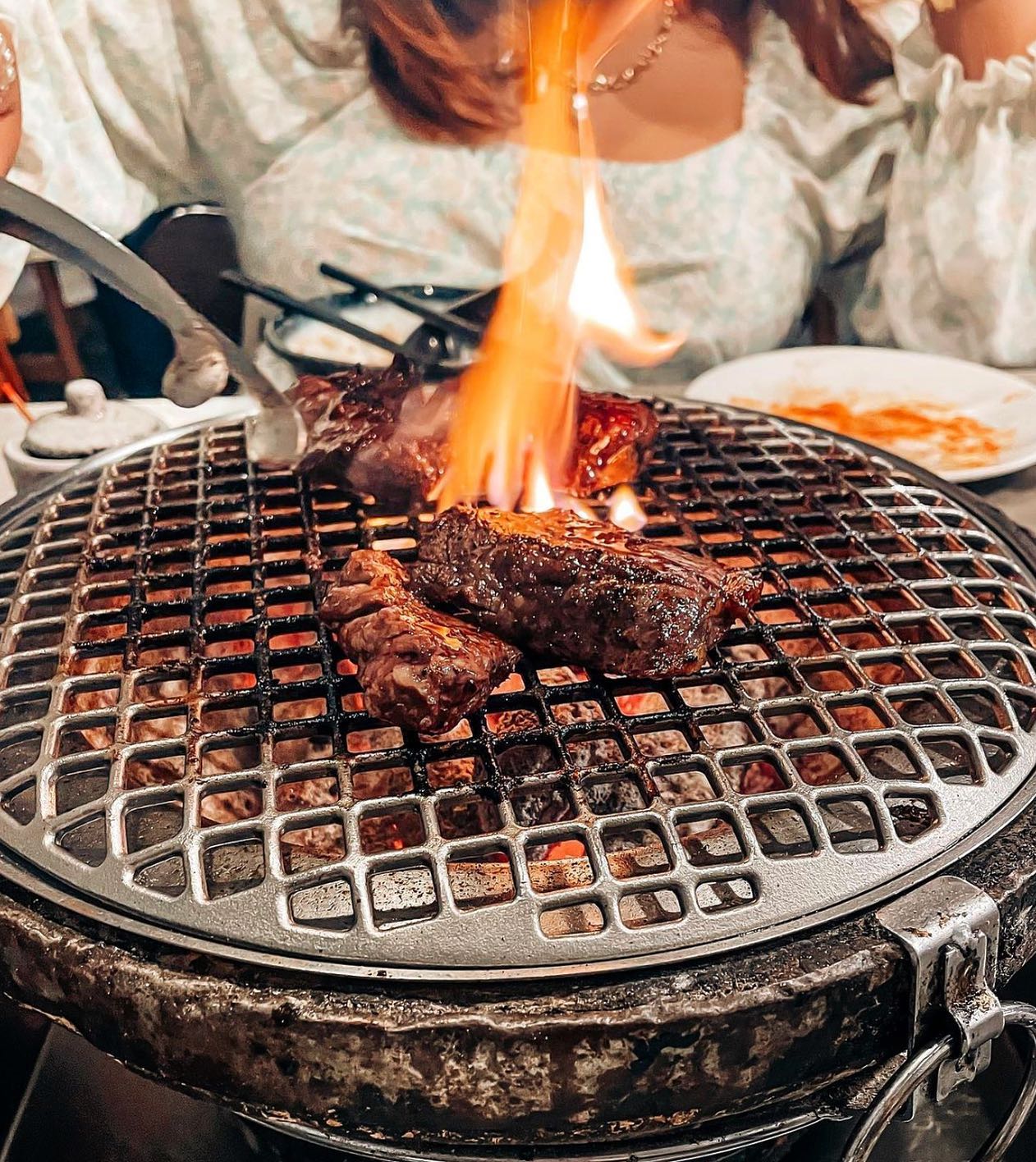 Image credit: WakuWaku Yakiniku
Enjoy halal Japanese barbeque at WakuWaku Yakiniku. Bond over platters of succulent beef and chicken, with prices starting at $50 for half a kilogram. Apart from the barbeque selection, WakuWaku Yakiniku also has a variety of donburi bowls worth trying. The Beef Tongue Curry Don ($13++), for one, is a unique take on the usual katsu curry, while the Truffle Yakiniku Don ($18) is one to try if you're big on truffle. 
Address: 27 Bali Lane, Singapore 189863
Opening hours: Daily 5pm to 10pm
Tel: 6291 6891
Website
---
21. Pancake Place
---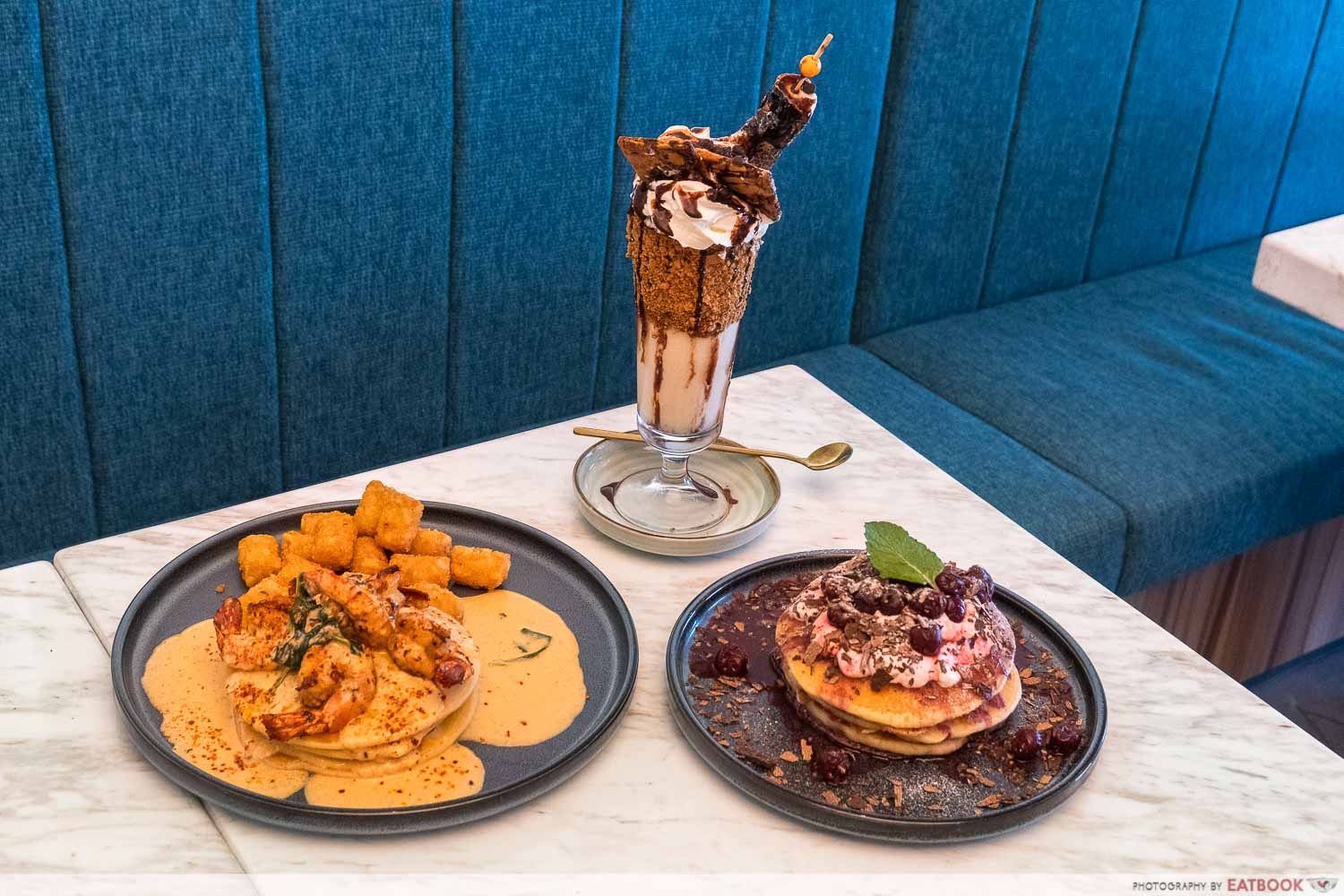 If you're organising dinner for someone with a serious sweet tooth, then book a spot at Pancake Place. The halal cafe is run by the folks behind Royz et Vous, and serves a variety of pancake stacks. While most of the menu stars sweet flavours, there are a fair amount of savoury options too.
Try the Blackforest ($18.90++), a level up from black forest cake, starring layers of dark chocolate mousse, feuilletine crisps, and cherry compote. If you prefer tropical flavours, try the Mango De Coco ($18.90), a mango sago dessert in pancake form. 
Read our Pancake Place review.
Address: 56 Kandahar Street, Singapore 198904
Opening hours: Daily 12pm to 3:15pm, 5pm to 9:15pm
Tel: 6518 9368
Website
Pancake Place Review: Muslim-Owned Pancake Cafe With Sweet And Savoury Pancakes, IG-Worthy Milkshakes
---
Halal restaurants to dine at on special occasions
---
To save you from the hassle and stress of hunting down a halal restaurant for your next special occasion, head down to one of these places on our list for a memorable meal!
If you are looking for more casual date-night options without breaking the bank, check out our guide to halal restaurants with meals under $25. Alternatively, read our guide to halal buffets around Singapore.  
15 Halal Date Night Restaurants For Meals Under $25 Per Person
This article was originally written on 7 September 2021.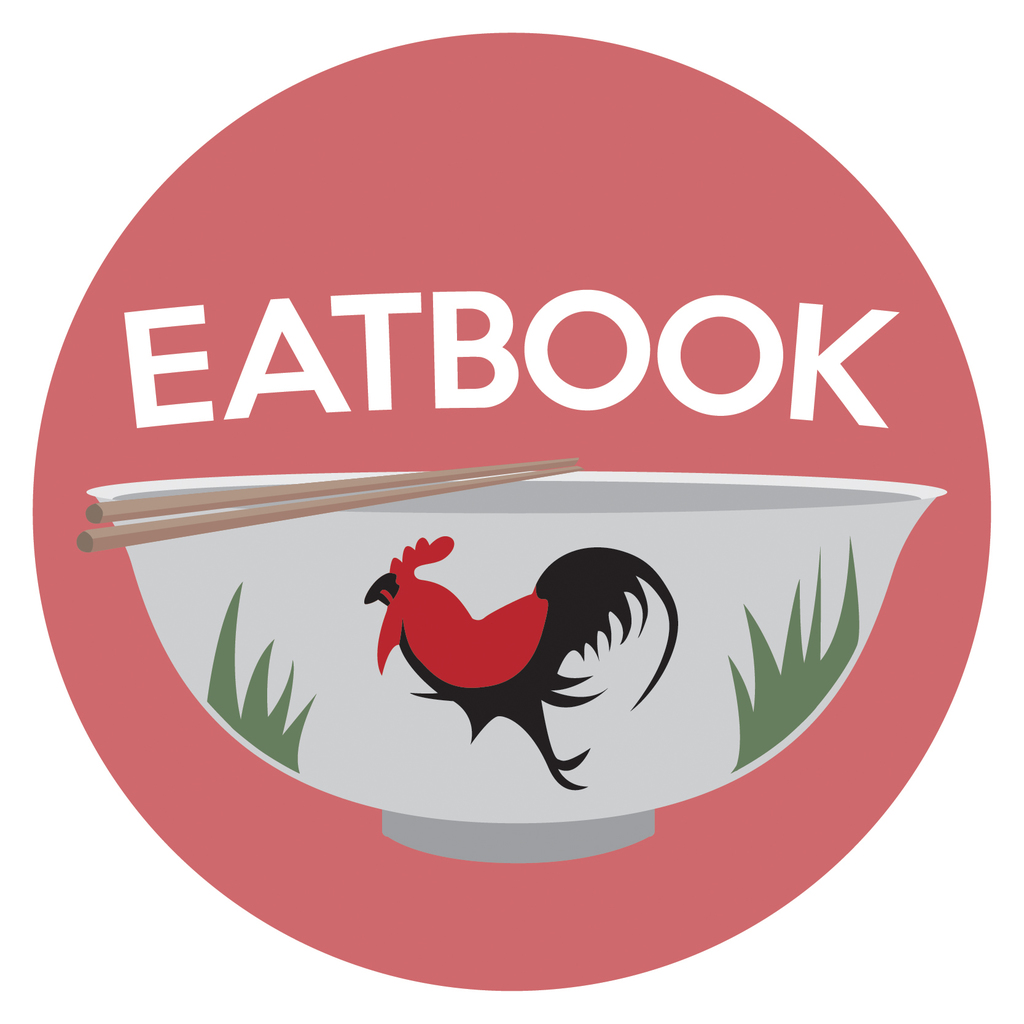 Drop us your email so you won't miss the latest news.