Ela Greek food in Bukit Batok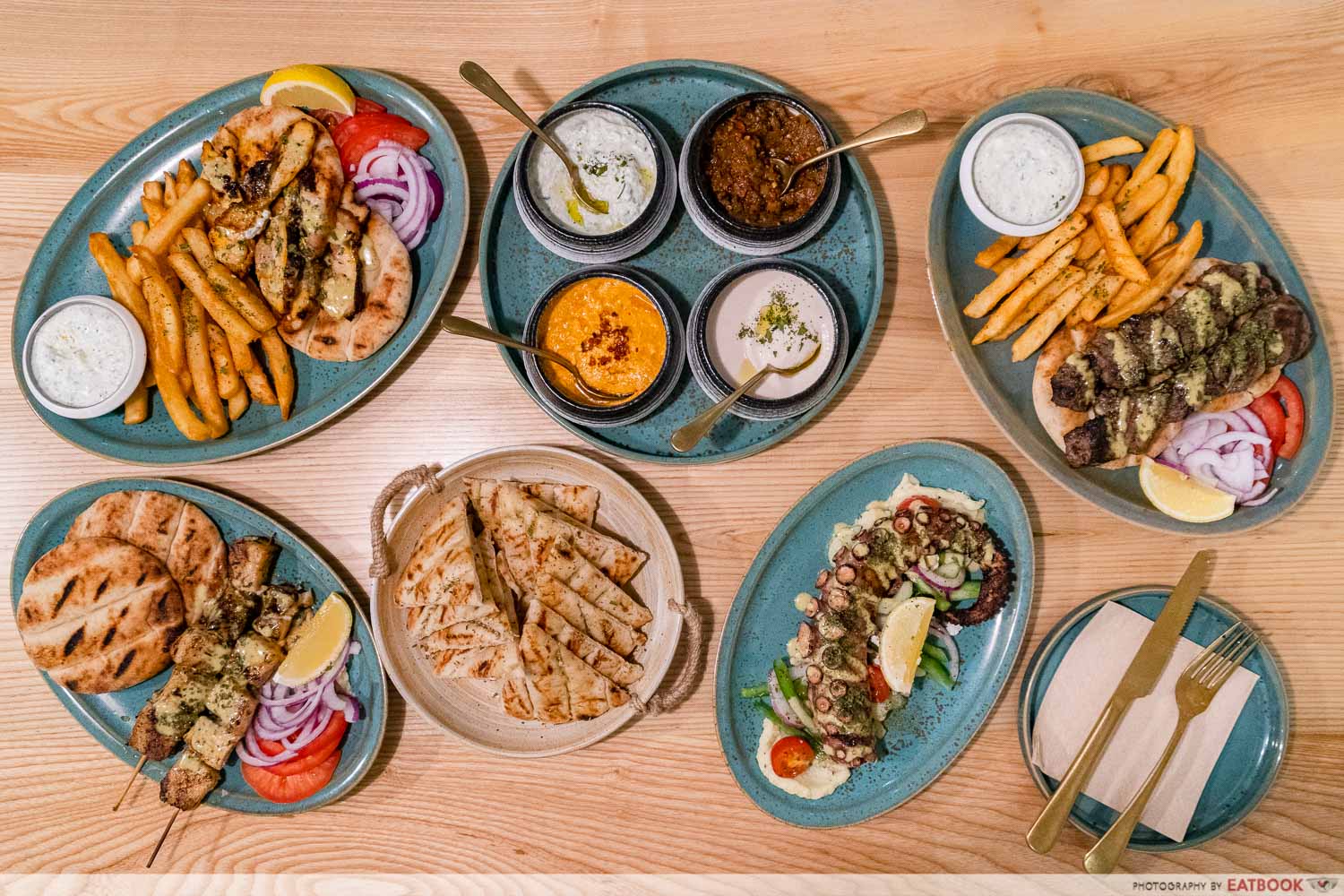 Greek food is one of my favourite cuisines, but it is not the easiest to find options that won't break the bank in Singapore. Until, that is, Ela entered the scene. Located in HomeTeamNS Bukit Batok, Ela is run by The Black Hole Group, the same F&B gang behind hits like Tipo, The Co-op, Afterwit, and more. Ela is their first foray into Mediterranean dishes, with a menu of dishes largely priced below $20. If you live in the West, and you're looking for a novel restaurant to have a date, a catch-up session with friends, or a special occasion meal with the fam, Ela is definitely a unique option. 
The Co-op Review: Hidden Cafe With Colonial Vibes For Spicy Ikura Prawn Pasta, Chendol Milkshake And More
Food at Ela 
The menu here comprises appetisers, wraps, pasta, pita pizza, grilled dishes, seafood, and dessert. All of them are classically Greek, with elements like pita, Greek cheeses, and housemade tzatziki popping up across the board. There are also Greek burgers, for a bit of a fusion twist.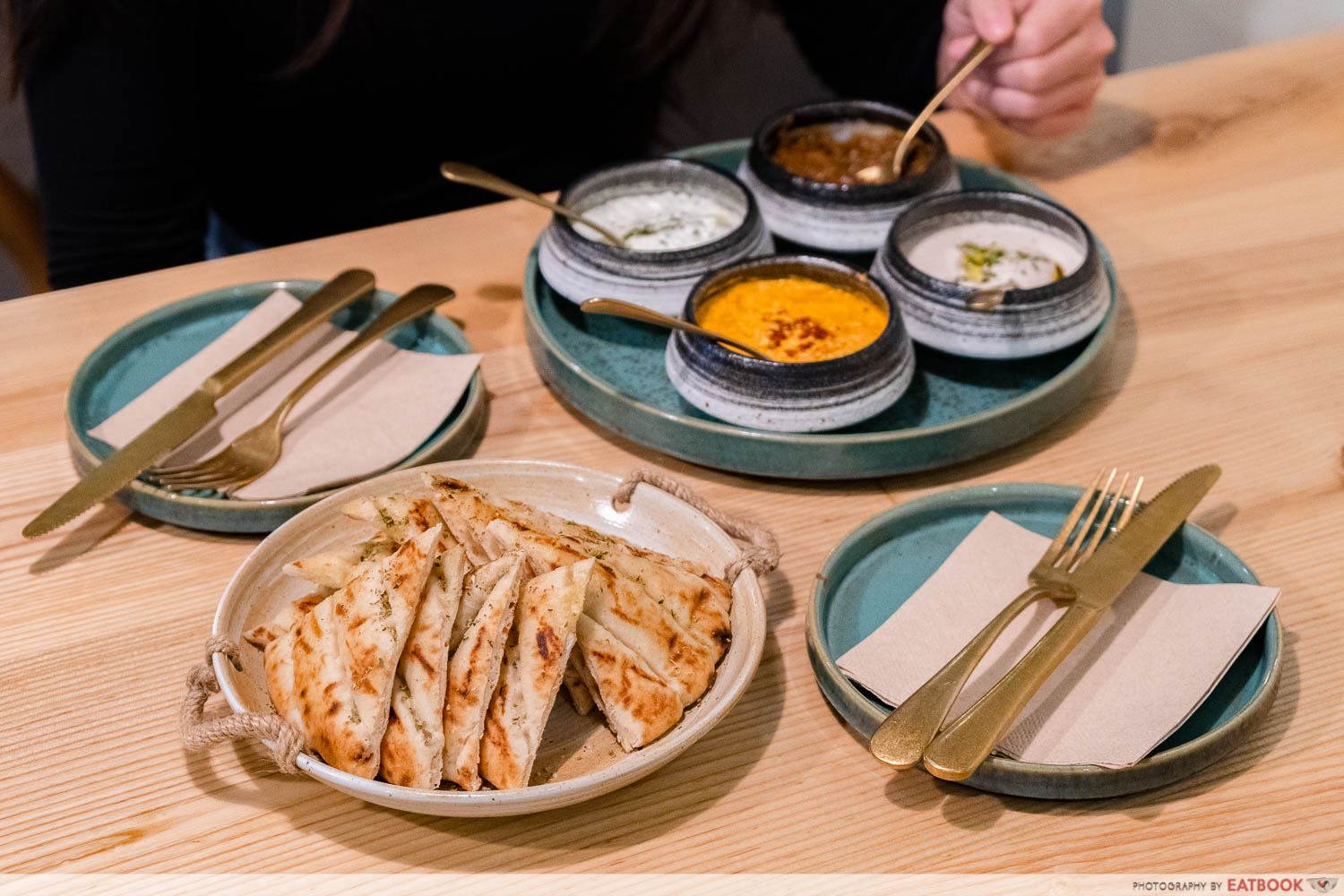 My dining companion and I started out with their Dip Party Platter ($18.90+), a sampler platter that feeds two to three with four different dips—melitzanosalata, spotted with charred eggplant, taramasalata, made with salty cod roe, tirokafteri, laced with ricotta and red bell pepper, and the all-too-familiar tzatziki.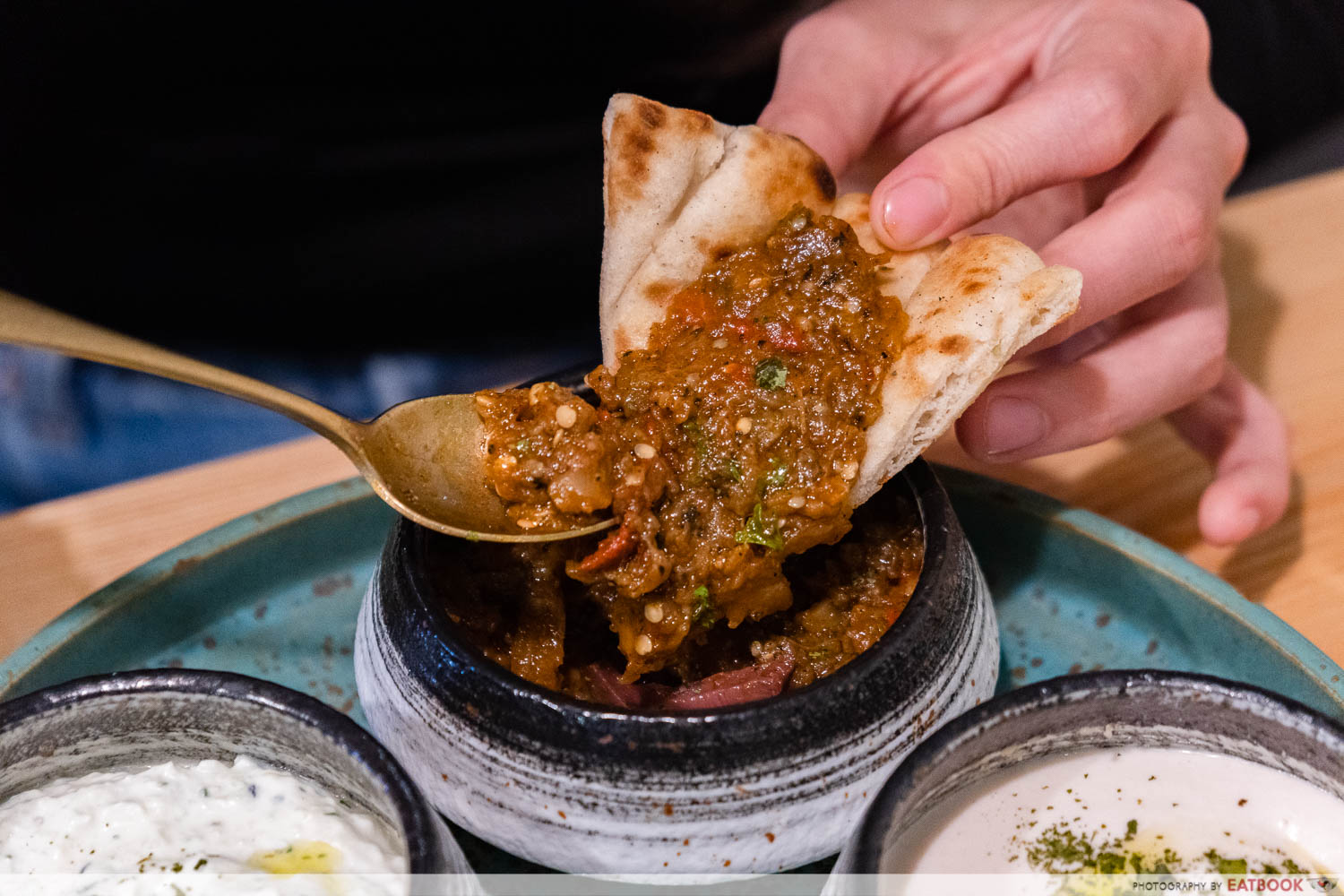 Served with warm quarters of fresh pita bread, this platter is an appetising introduction to the flavours of Greek cuisine.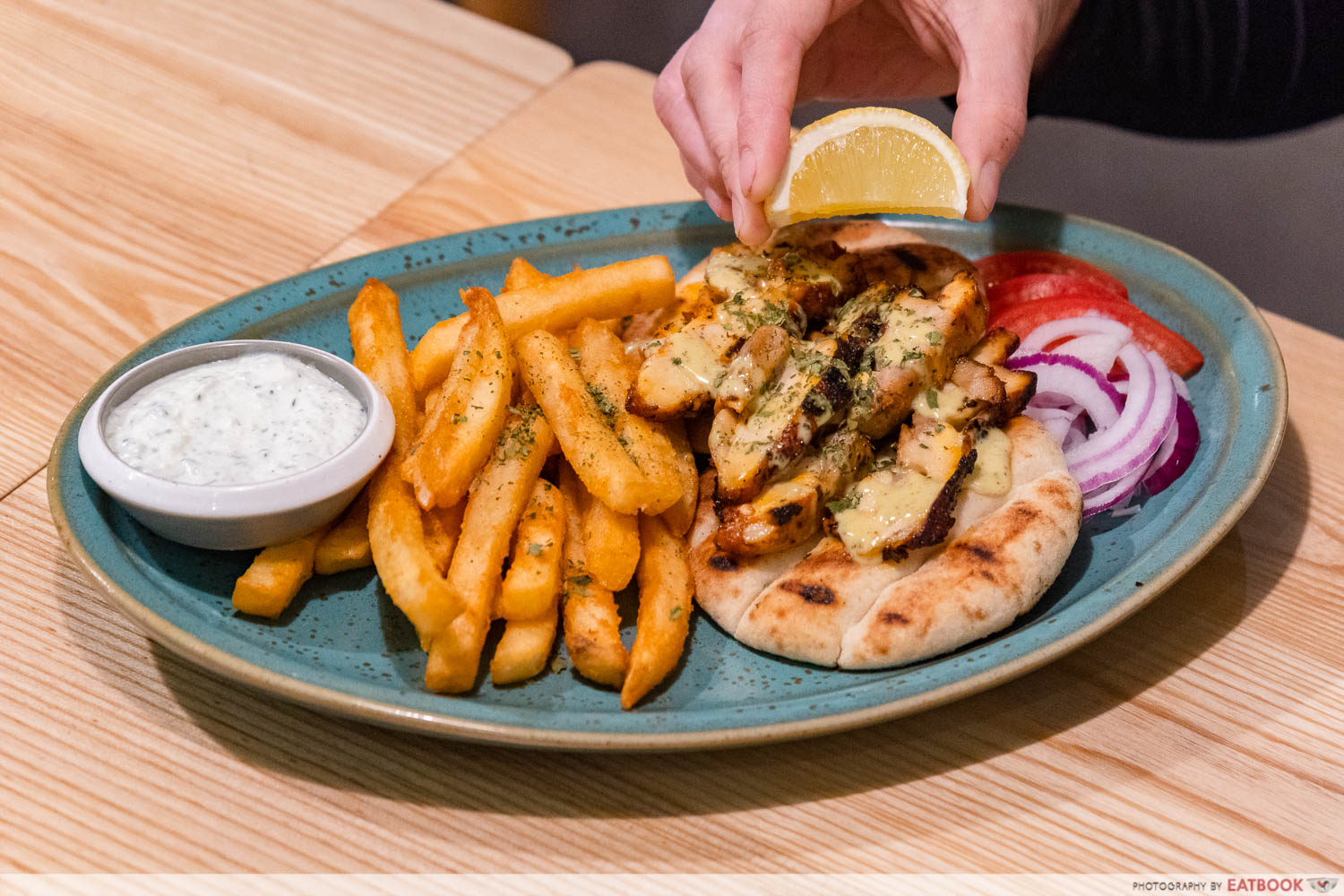 Wraps are another staple you find a lot in Greece, and Ela refines these handy meals as flavourful loaded plates. We ordered the Lemon Chicken Wrap ($14.90+), where a round of pita comes topped with grilled chicken slices, marinated in a lemon-herb sauce. Fresh vegetables and spiced, battered fries round off this meal.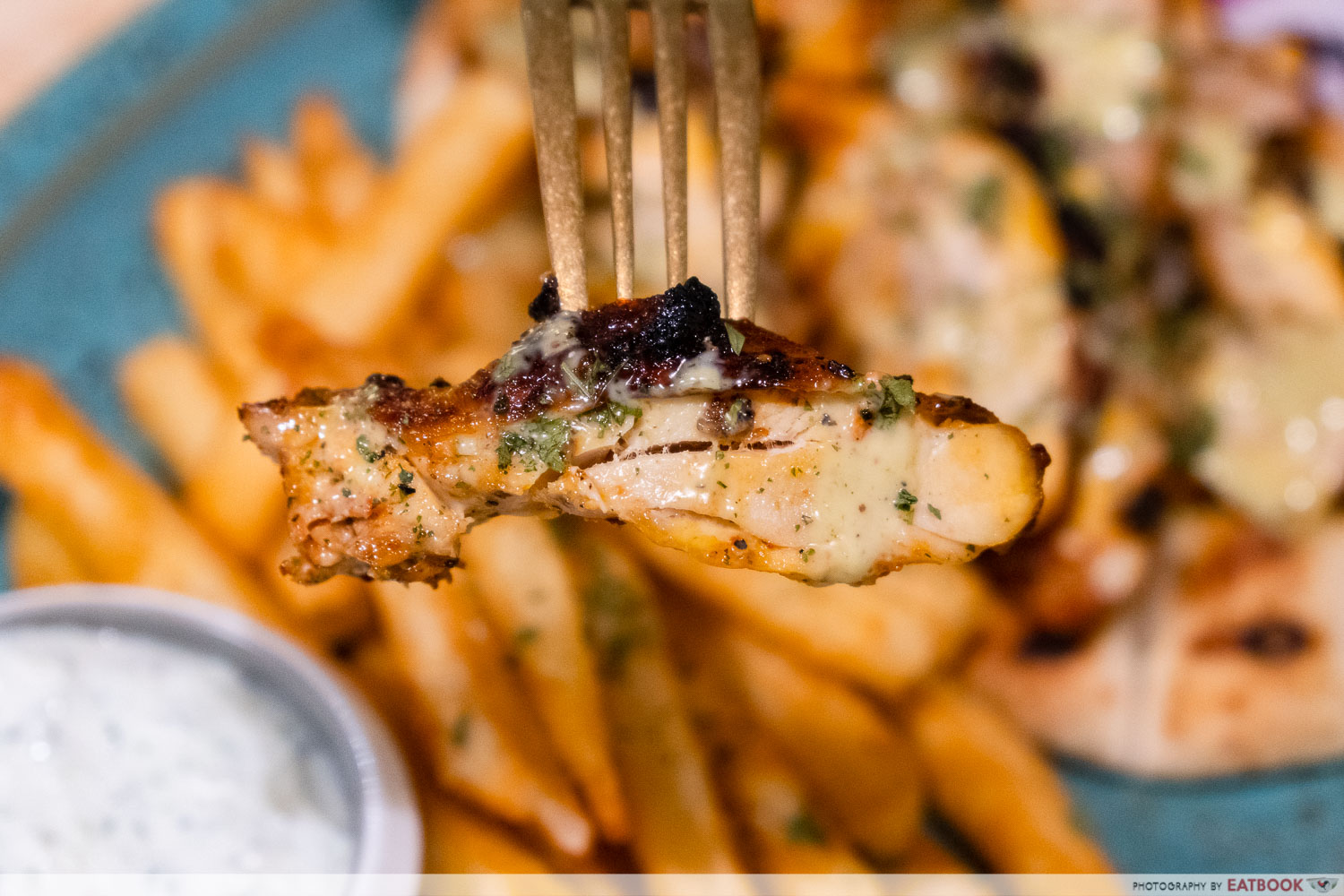 The chicken was just a touch drier than we expected, but this was alleviated by the tart, moreish lemon herb sauce. The battered fries were also a snackable win, spiced with paprika for a smoky kick.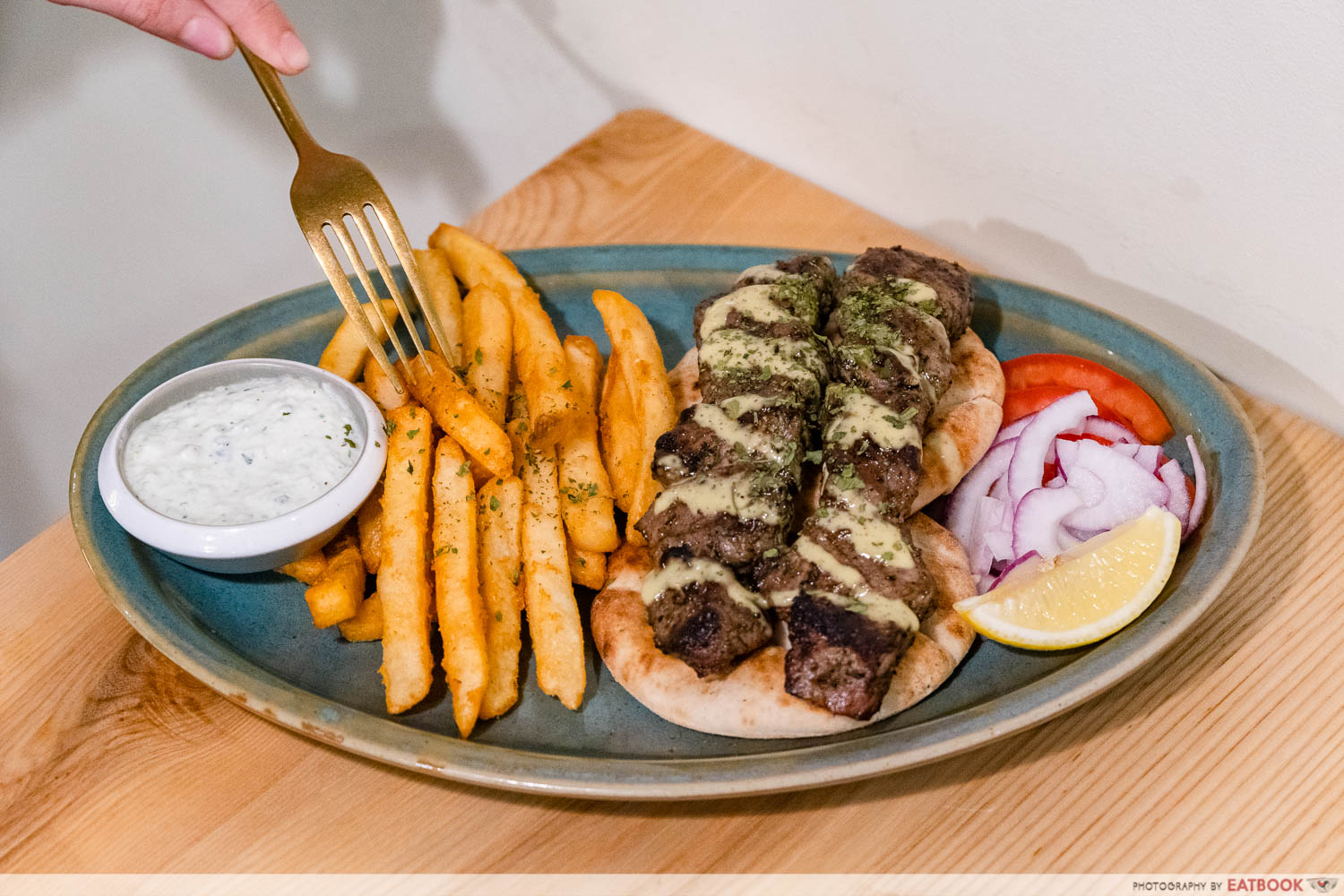 Another wrap the restaurant recommends is their Herb Rub Beef ($17.90+), served with chargrilled cubes of herb-rubbed beef sirloin.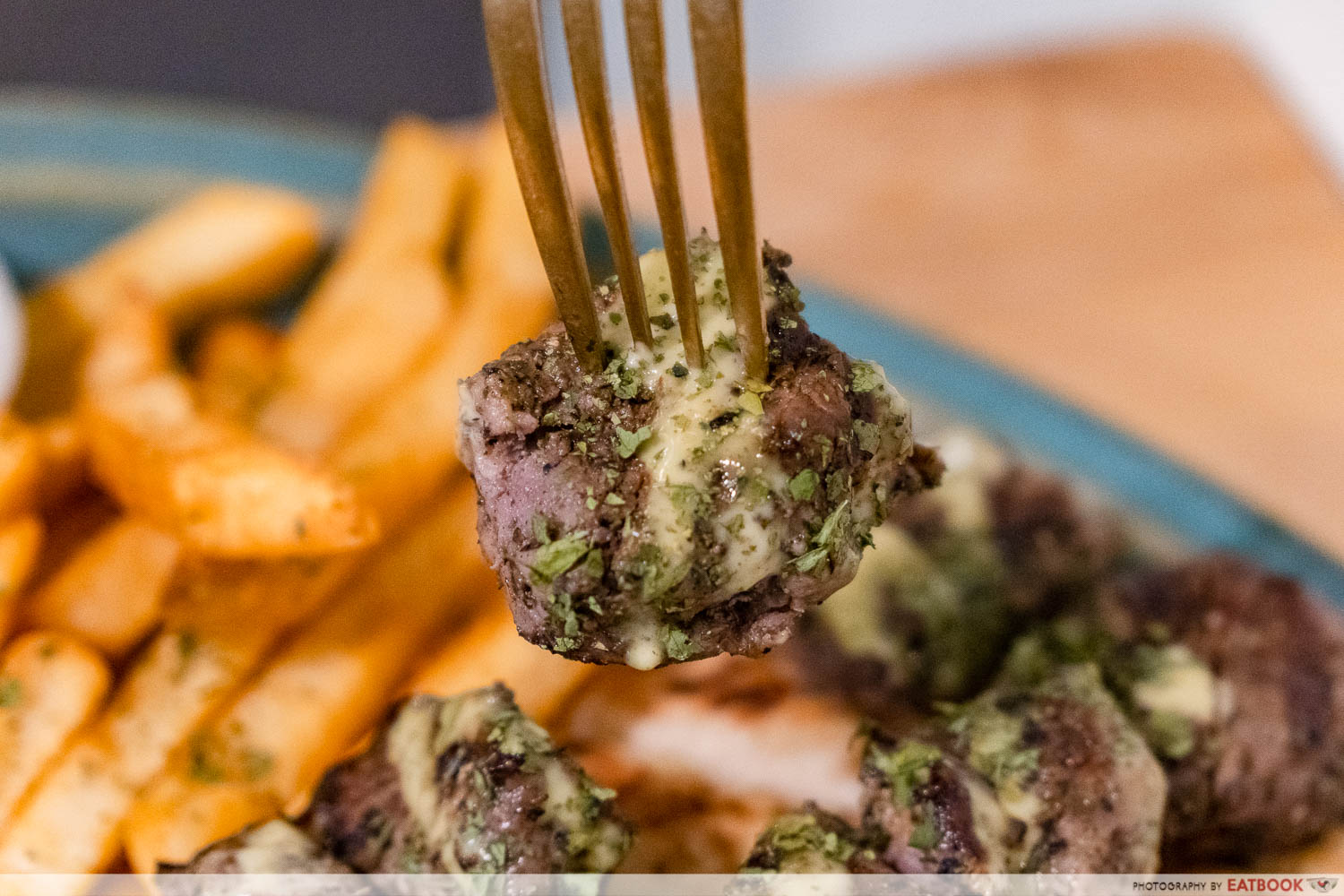 While flavourful, we found the beef to be just a touch dry, which we remedied with dips of the tzatziki.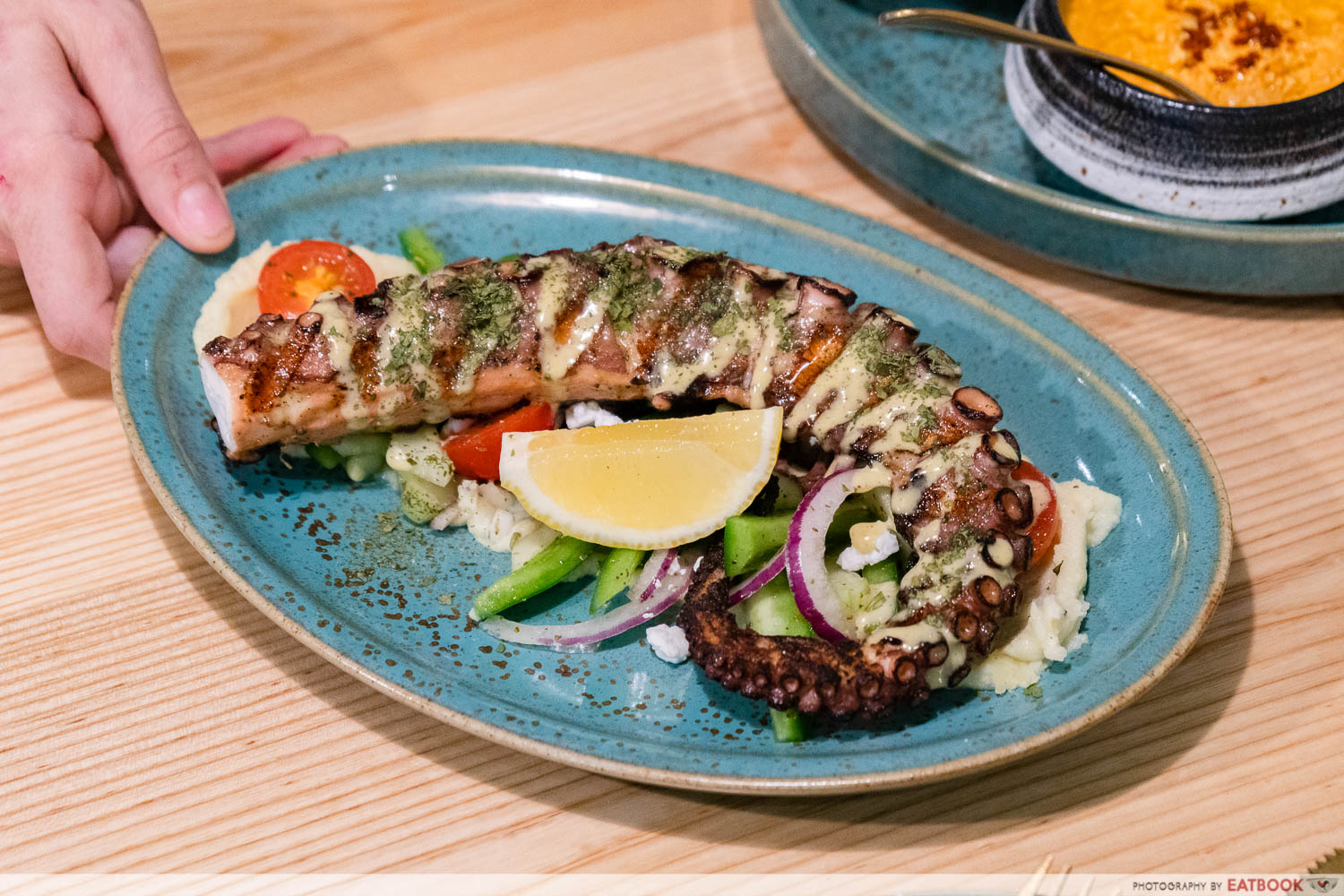 The Greeks are known for their seafood, so expect a healthy array of ocean fresh catches on the menu at Ela. The Octopus ($26.90+) was a resounding favourite—a hefty portion of marinated octopus is served on a bed of skordalia, a garlic and potato mash, then drizzled with a lemon sauce, as well as a lip-smacking olive oil.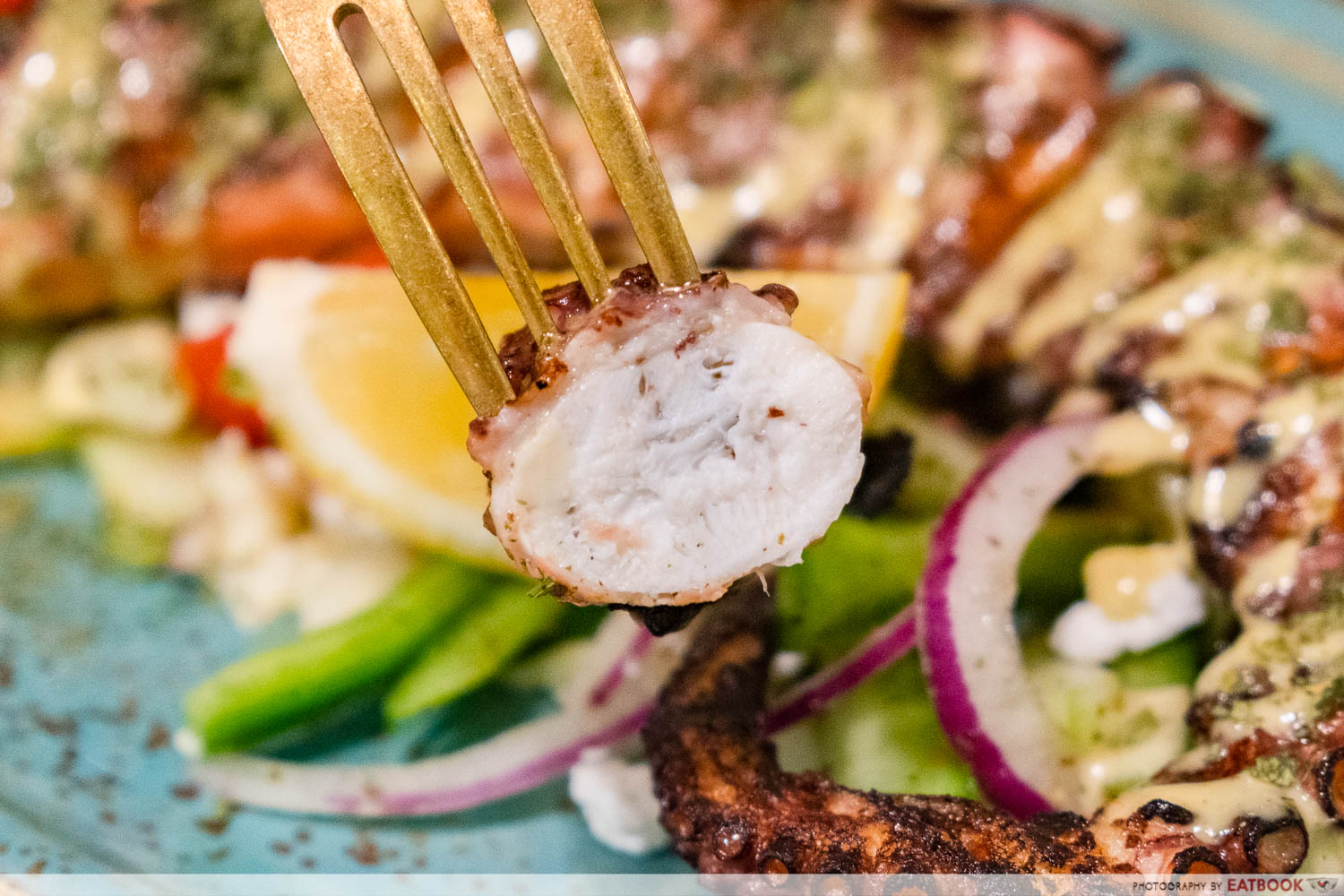 The octopus was exceptionally tender, and the grill marks gave each bite a smoky tenor.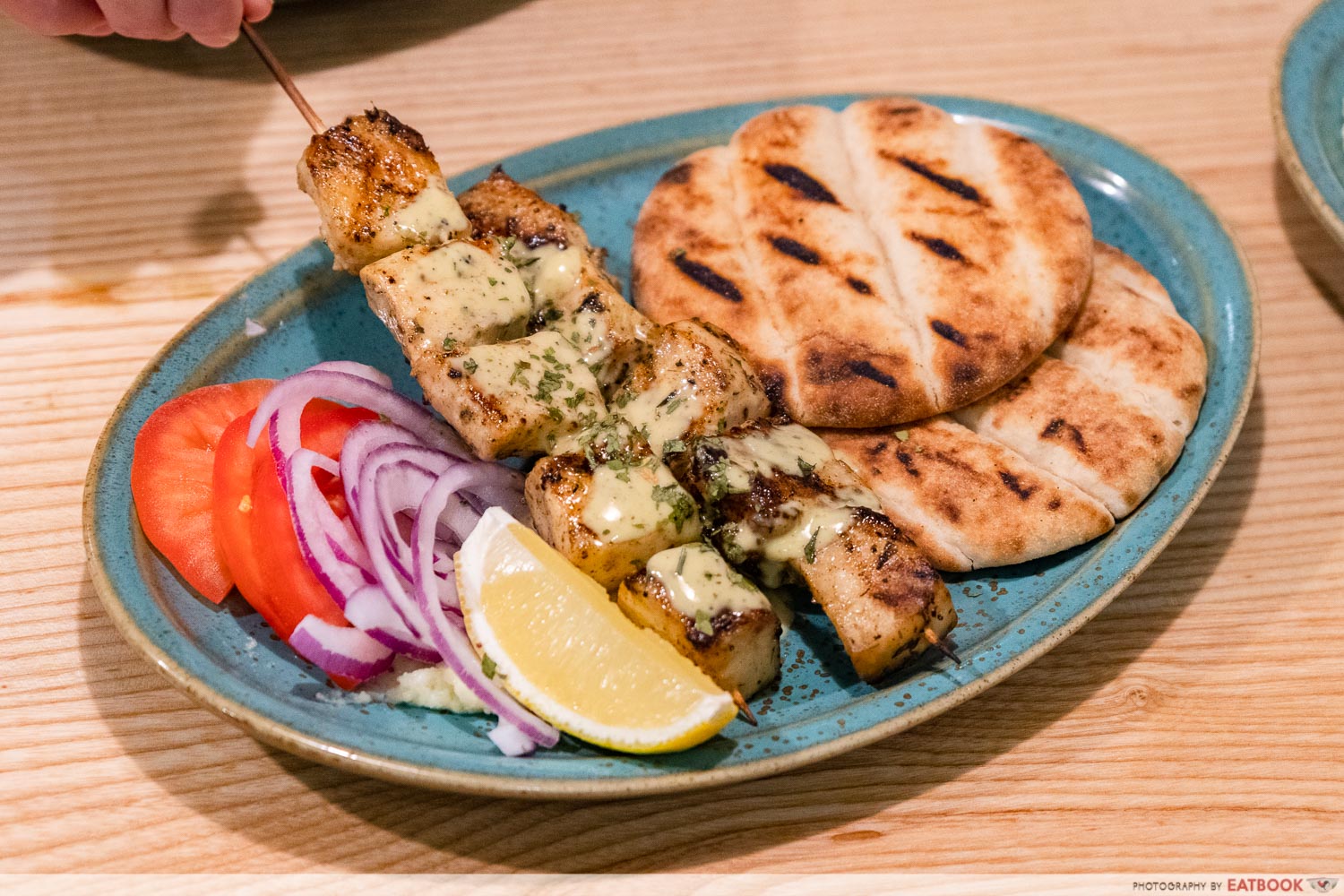 Another win was the Swordfish ($22.90+), where swordfish skewers are served with the same elements as seen on the octopus.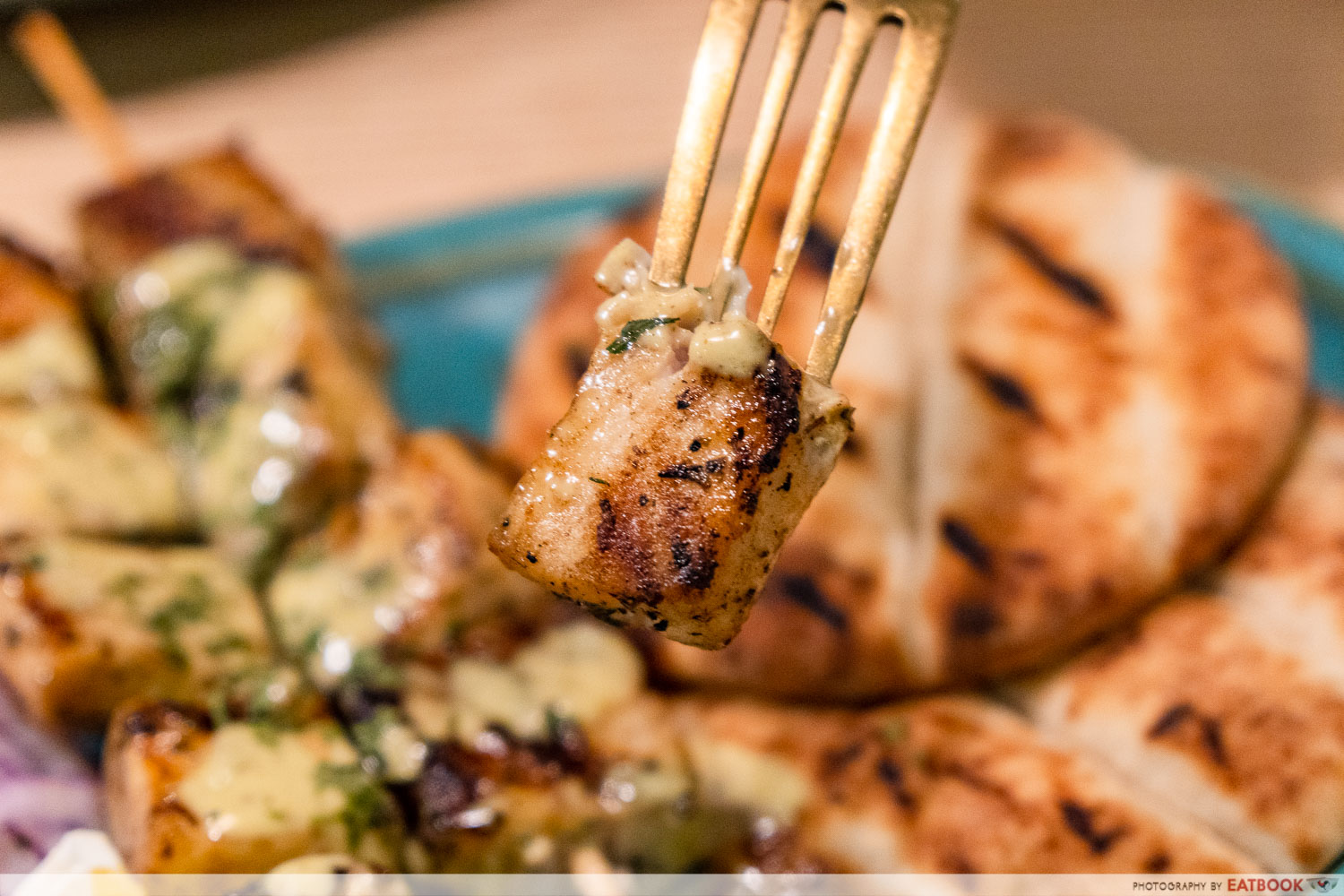 The lemon sauce was much more pronounced here, though, brightening the tender cubes of swordfish.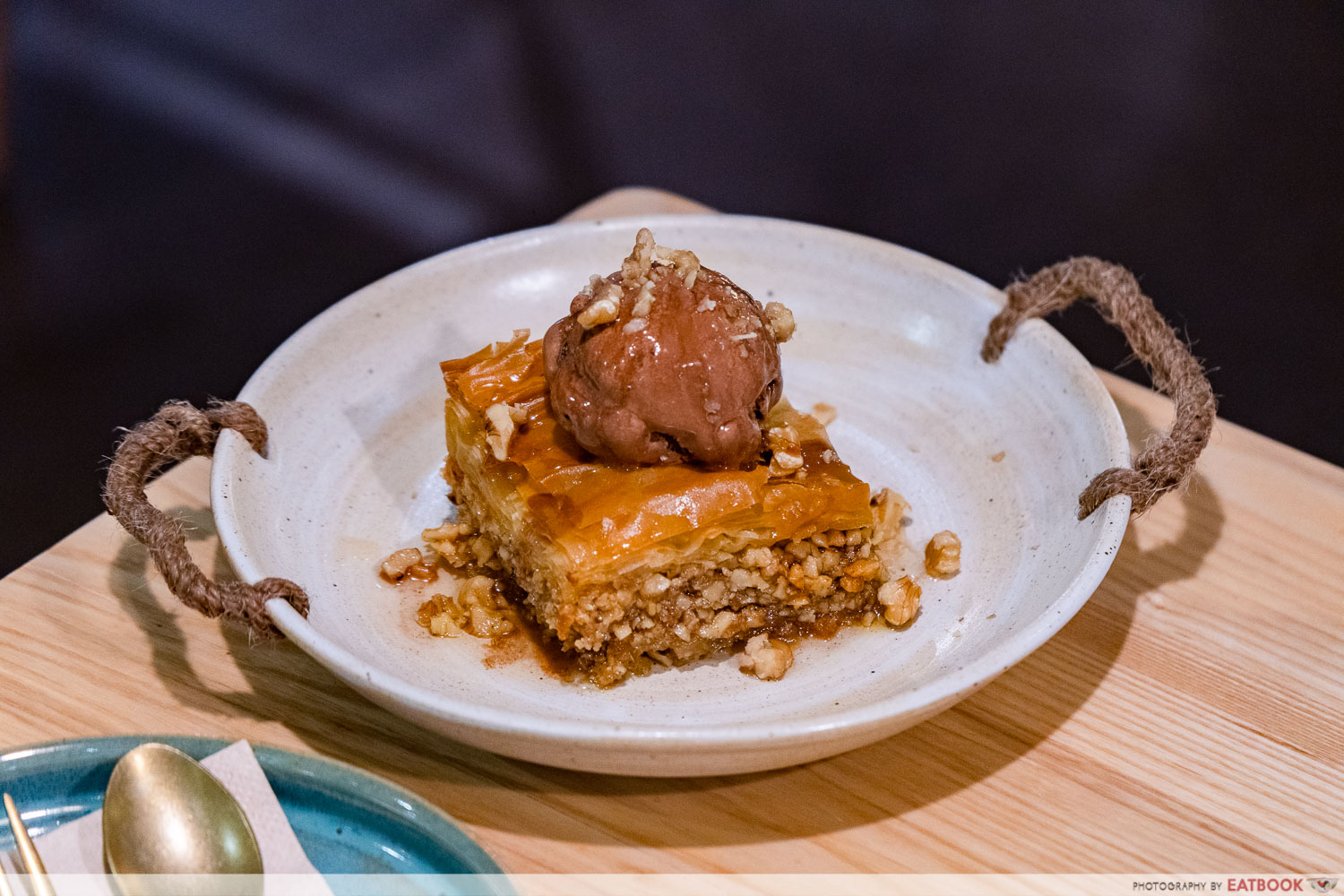 Closing off the meal was the Baklava ($10.90+). Normally served with pistachio, Ela's version of this familiar dessert is remade with walnuts here, albeit with the same flaky phyllo pastry layers, and a spiced, sugary syrup that kept our fingers sticky, and heart happy.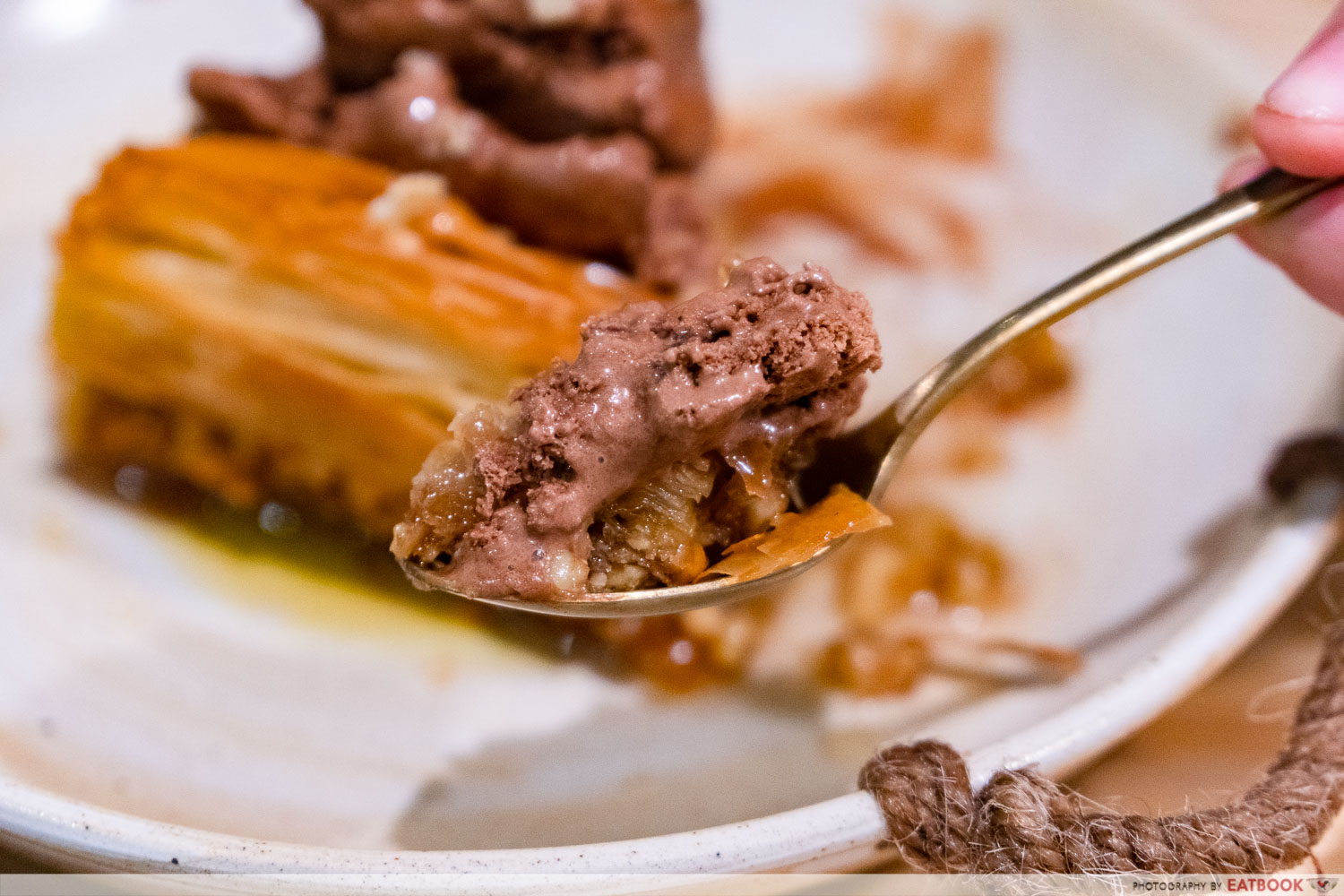 The dark chocolate ice cream also added another layer to the dish, with a soft bitterness that balanced the honeyed pastry.
Ambience at Ela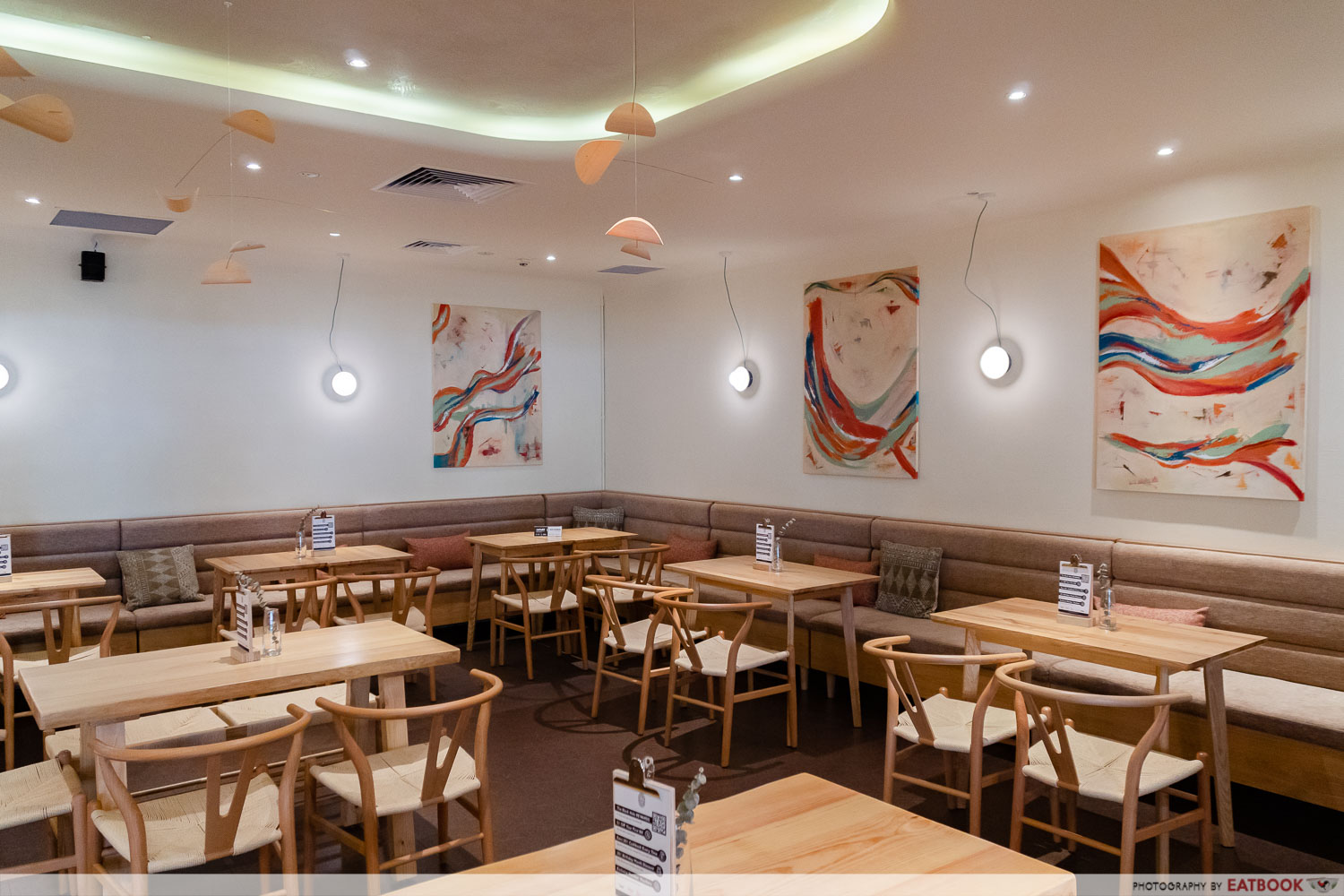 The restaurant is spacious, spotted with unvarnished wood furniture, rattan, and bright wall art that draws the eye. With a mix of long tables and intimate nooks, Ela makes itself available for lengthy meals, or quick coffee and dessert breaks to perk yourself up.
You definitely feel transported away from the bustle of Singapore at the eatery, especially since HomeTeamNS Bukit Batok is relatively quiet during the off-peak period, when we visited.
Located just a 5 minute bus ride from Bukit Gombak MRT Station, this spot is convenient for West and Northsiders to pay a visit to.
The verdict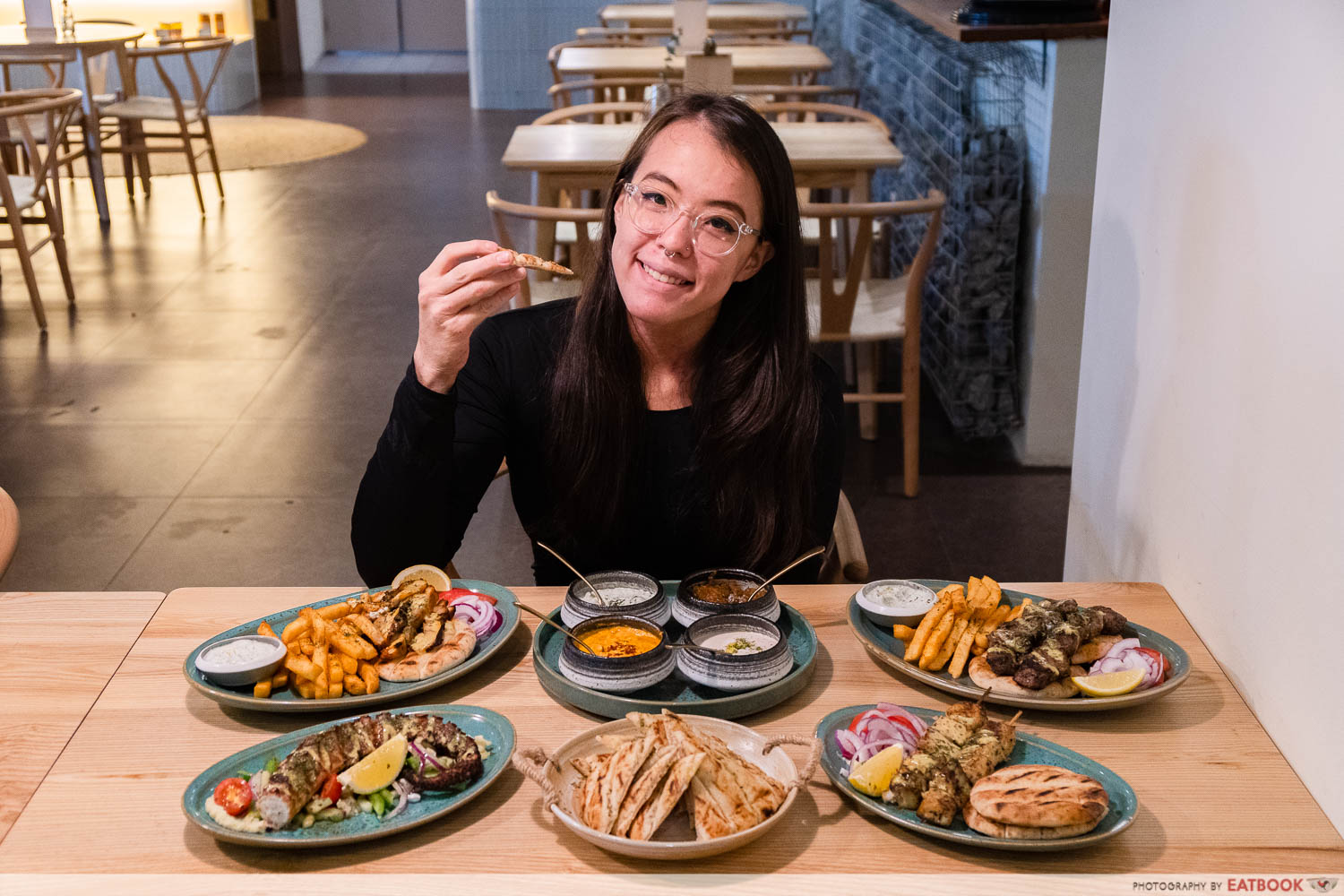 At a time when we are so travel-starved, dining concepts like Ela are all the more welcome. The dishes were simple but well thought out in terms of flavour, and will definitely spark your wanderlust for Greece.
The prices are wallet-friendly too, rivalling most restaurants of the same kind in Singapore. One pain point would be the location, which can be far for those not living in the West, but if you're in the 'hood, here's one more new dining destination in the books to try.
Address: 2 Bukit Batok West Ave 7, HomeTeamNS Bukit Batok, #01-07 A/B, Singapore 659003
Opening hours: Daily 12pm to 10pm
Tel: 8816 9418
Website
Éla is not halal-certified but uses halal ingredients. 
Photos taken by Keith Kok.
This post is brought to you by The Black Hole Group.
Ela Review: Homely Greek Restaurant In Bukit Batok With Mains Under $20
Summary
Pros
– Delicious seafood
– Chill interior
Cons
– Location is quite far for people who don't live in the West
Recommended dishes: Octopus, Dip Party Platter, Swordfish, Baklava"
Opening hours: Daily 12pm to 10pm
Address: 2 Bukit Batok West Ave 7, HomeTeamNS Bukit Batok, #01-07 A/B, Singapore 659003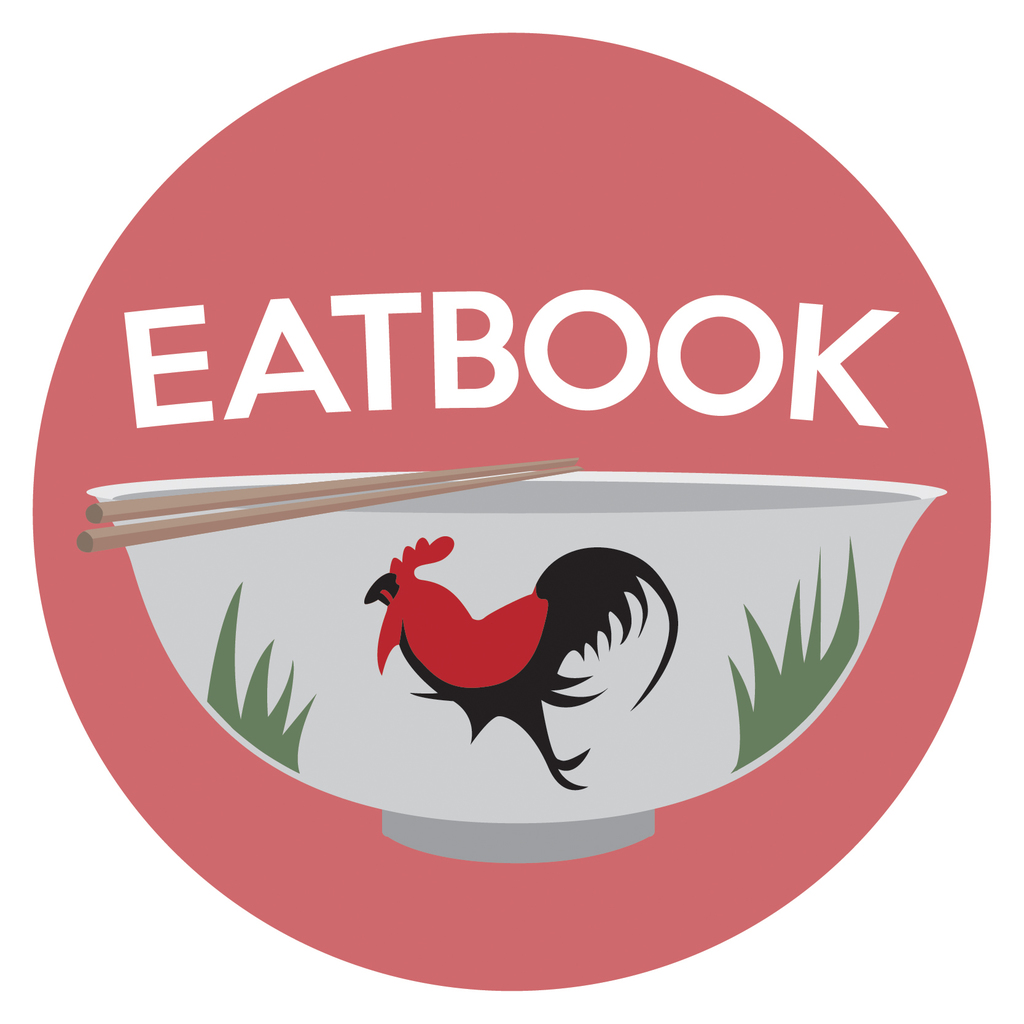 Drop us your email so you won't miss the latest news.