Suki-Suki Thai Hot Pot at Yishun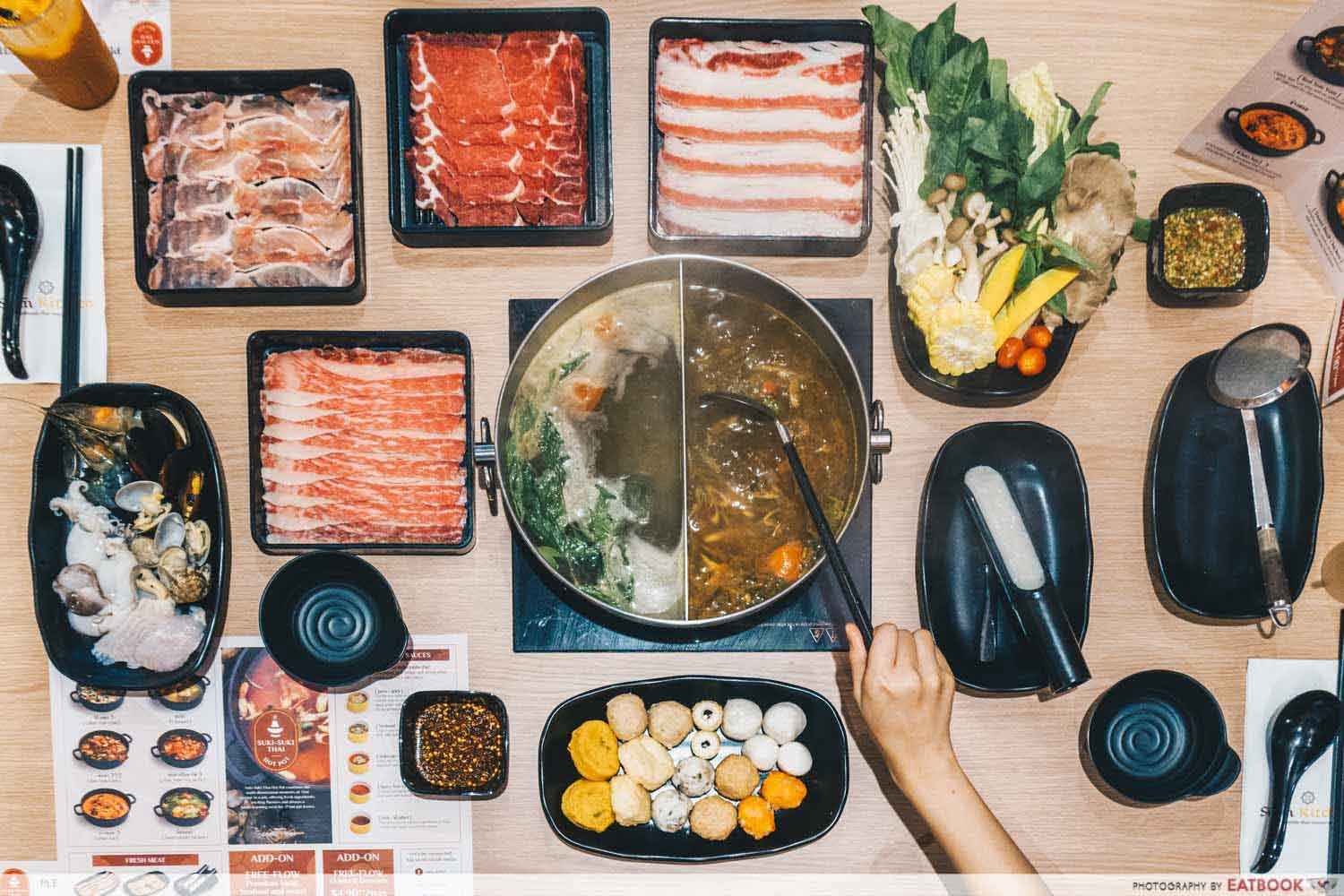 We can mostly agree that many of us Singaporeans are pretty ardent fans of hotpot buffets. In comes Suki-Suki Thai Hot Pot, which offers an affordable hotpot buffet with a wide selection of ingredients, along with unique Thai soup bases. As both a Thai food lover and one who enjoys my bubbling hotpot brimming with ingredients, I was excited to give them a try.
For those who haven't heard of Suki-Suki Thai Hot Pot, they opened earlier this year in August. However, they have only recently attained their halal-certification, making them a Muslim-friendly option to consider.
Food at Suki-Suki Thai Hot Pot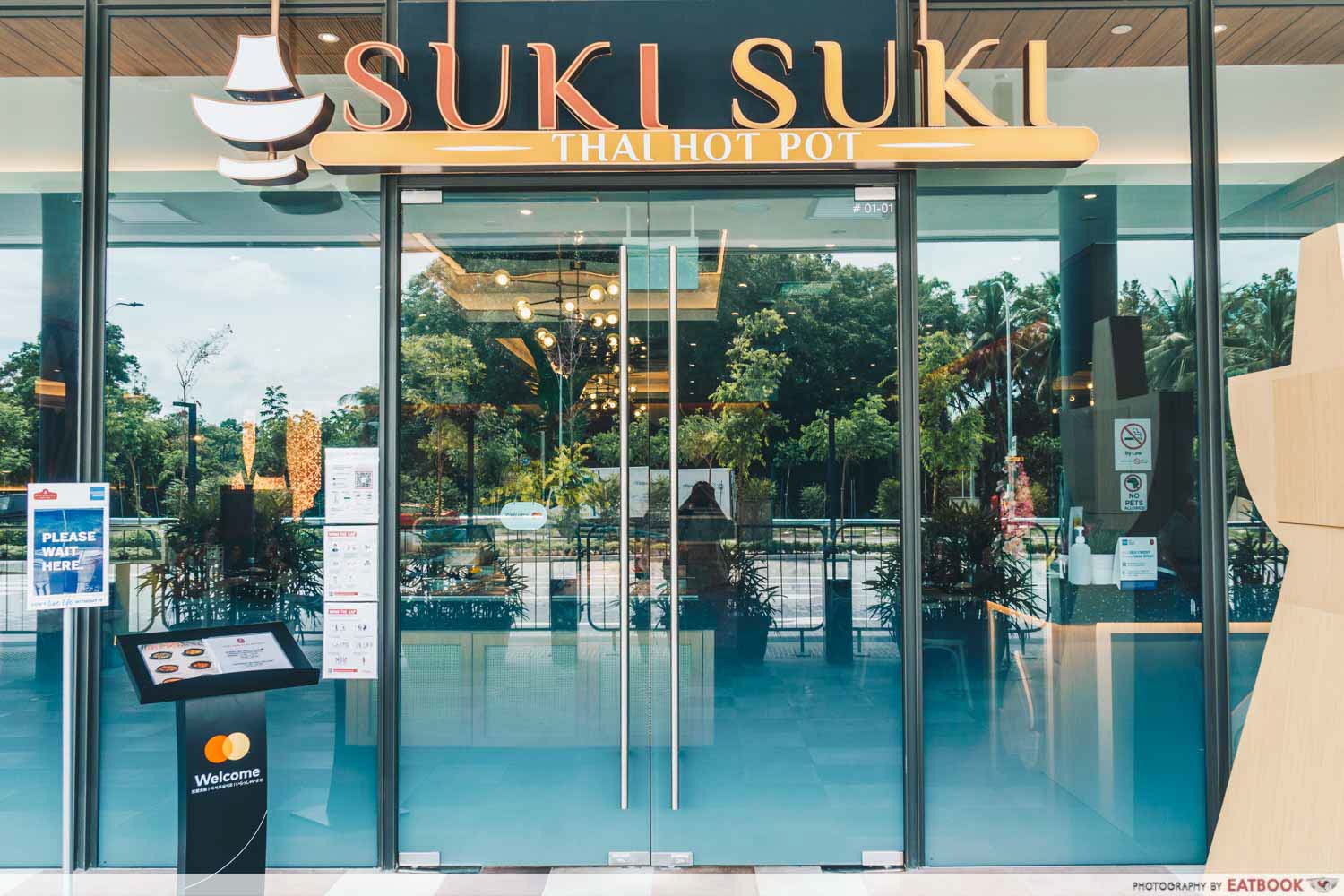 Suki-Suki Thai Hot Pot's Lunch Buffet runs from $17.90++ per person from Monday to Thursday. This buffet includes meat, carb options, as well as wide selections of vegetables and meatballs.
The Dinner Buffet runs slightly pricier at $23.90++ per person and additionally includes a limited selection of seafood such as baby octopus.
Dining from Friday to Sunday, or on a public holiday and eve will incur an additional $3++. If you're in the mood for splurging, simply top up $10.90++ per person for a wider selection of more premium items such as seafood, Wagyu beef and more.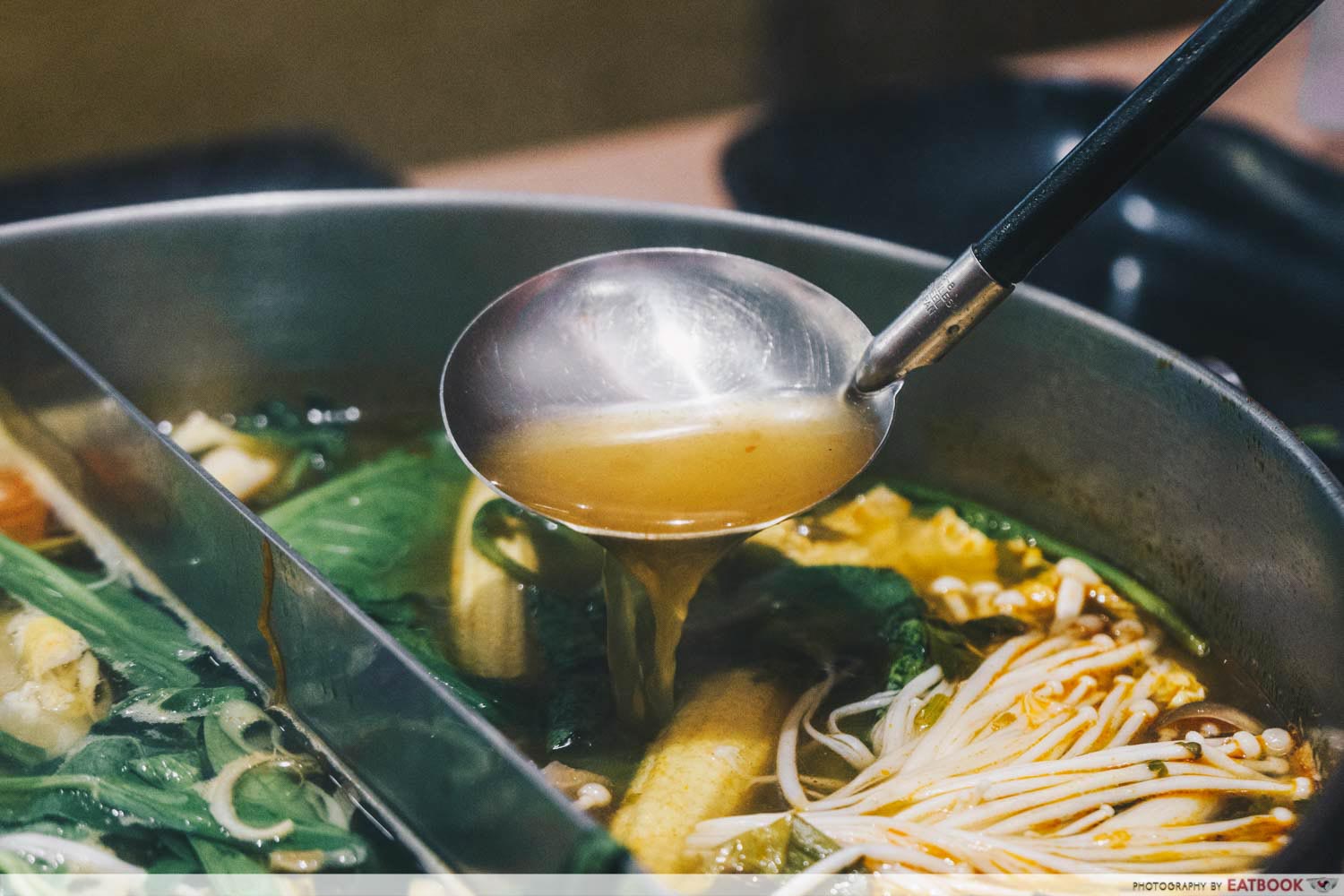 There are six different soup bases available, and we picked the most popular combination of Red Tom Yum and Sweet Basil Chicken for our hotpot. Our red tom yum came piquant and rich with fragrant herbs such as lemongrass and kaffir lime leaves. On the other hand, the sweet basil chicken soup base was aromatic with a mild sweetness, complementing the spicier tom yum.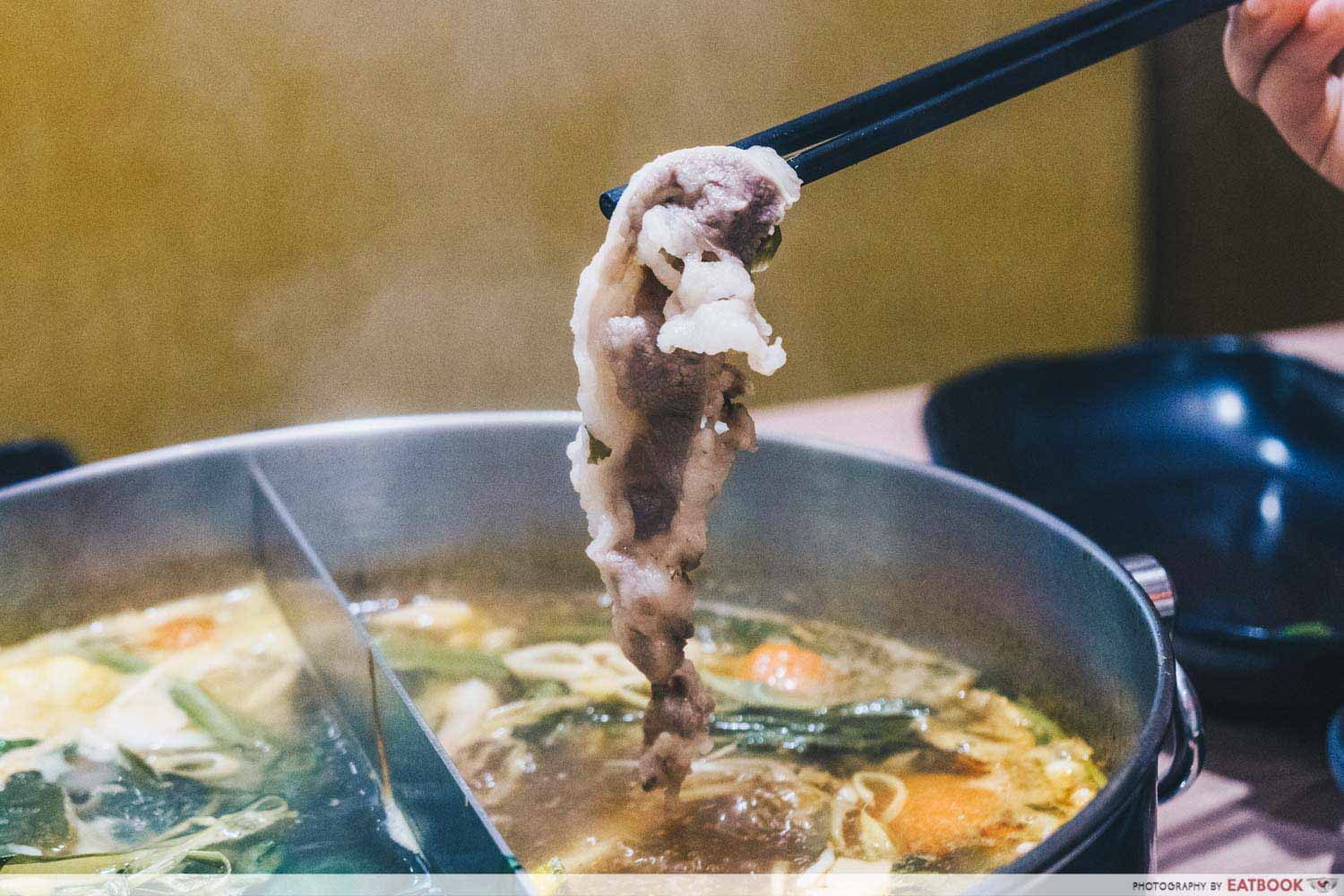 We went straight for the meats, digging into the Beef Short Rib first to satisfy our shabu shabu cravings. Chewy and succulent, the short rib had just the right amount of fat to meat ratio.
For those who prefer something leaner, the Beef Chuck Roll is a less fatty but slightly tougher option.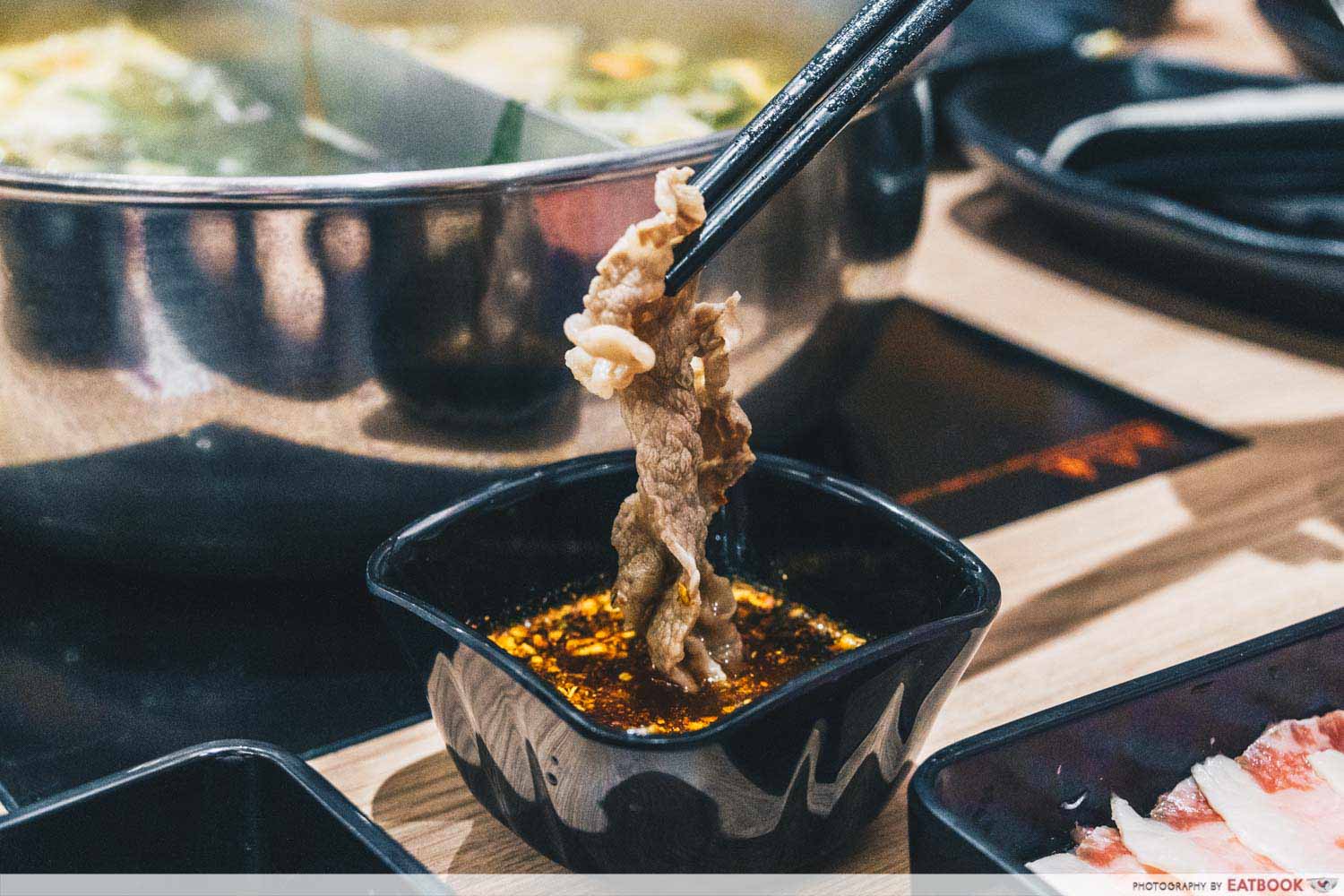 If you're feeling indulgent, Wagyu Beef is available on the premium menu with a top-up. Our Wagyu beef came well-marbled and had a fine, melt-in-the-mouth meat texture. In our opinion, $10.90++ is not worth topping up for only free-flow Wagyu slices, because the short rib was sufficient to satisfy our meat cravings. Also, the top-up comes with seafood options that were slightly lacklustre.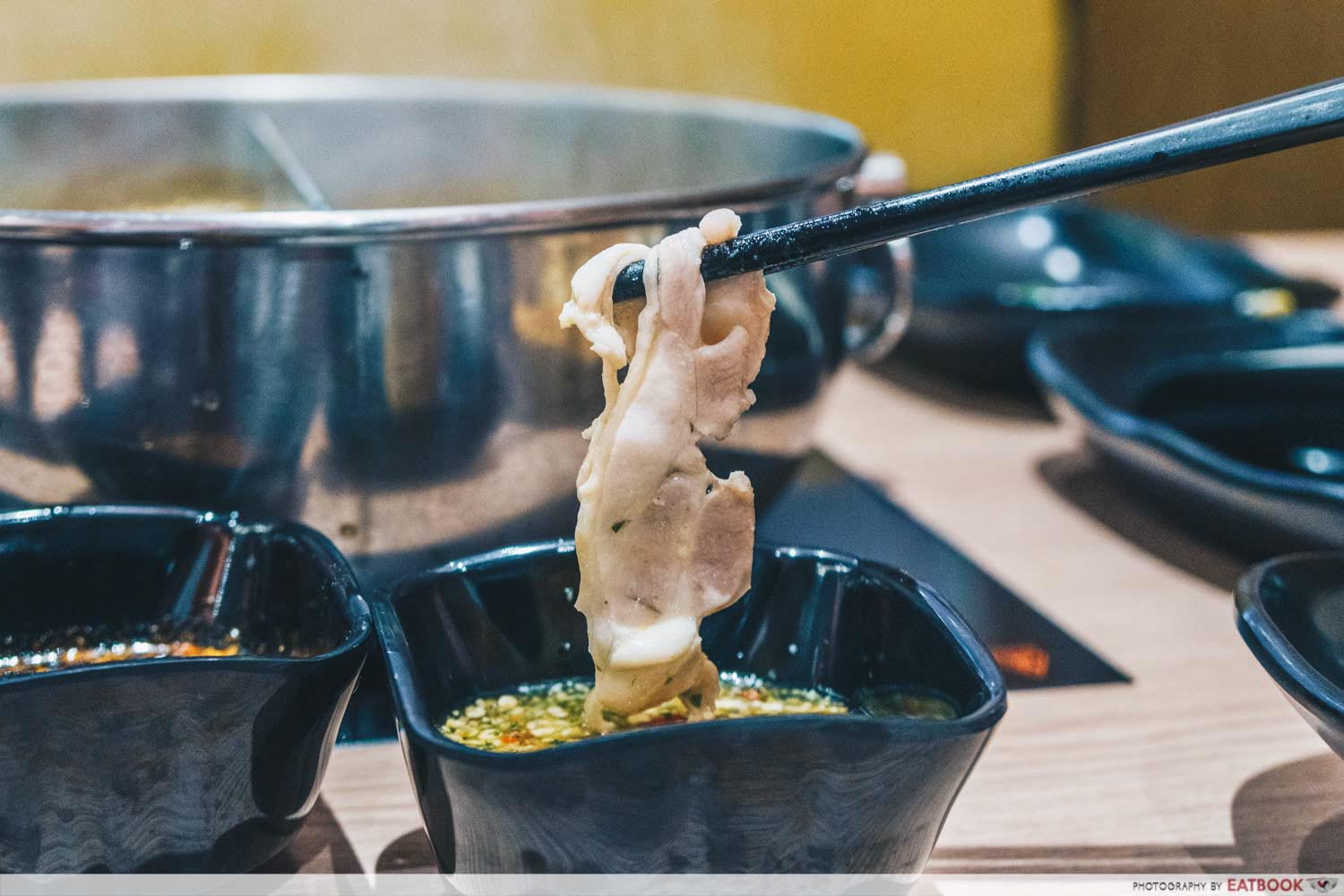 Fret not if you don't quite fancy beef because our Chicken was thinly sliced, making it a tender and soft protein which easily absorbed the flavourful soups.
A wide variety of sauces are also available via a pushcart. There were dipping sauces such as Spicy Yen Ta Fo, Fish, and Sukiyaki which we could customise with garlic, spring onion and more. Our favourite was the Seafood Dipping Sauce, which was essentially a Thai chilli sauce with a wealth of umami thanks to the fish sauce in the mix. We enjoyed our chicken the most with the Seafood Dipping Sauce, which gave an extra punch of tanginess.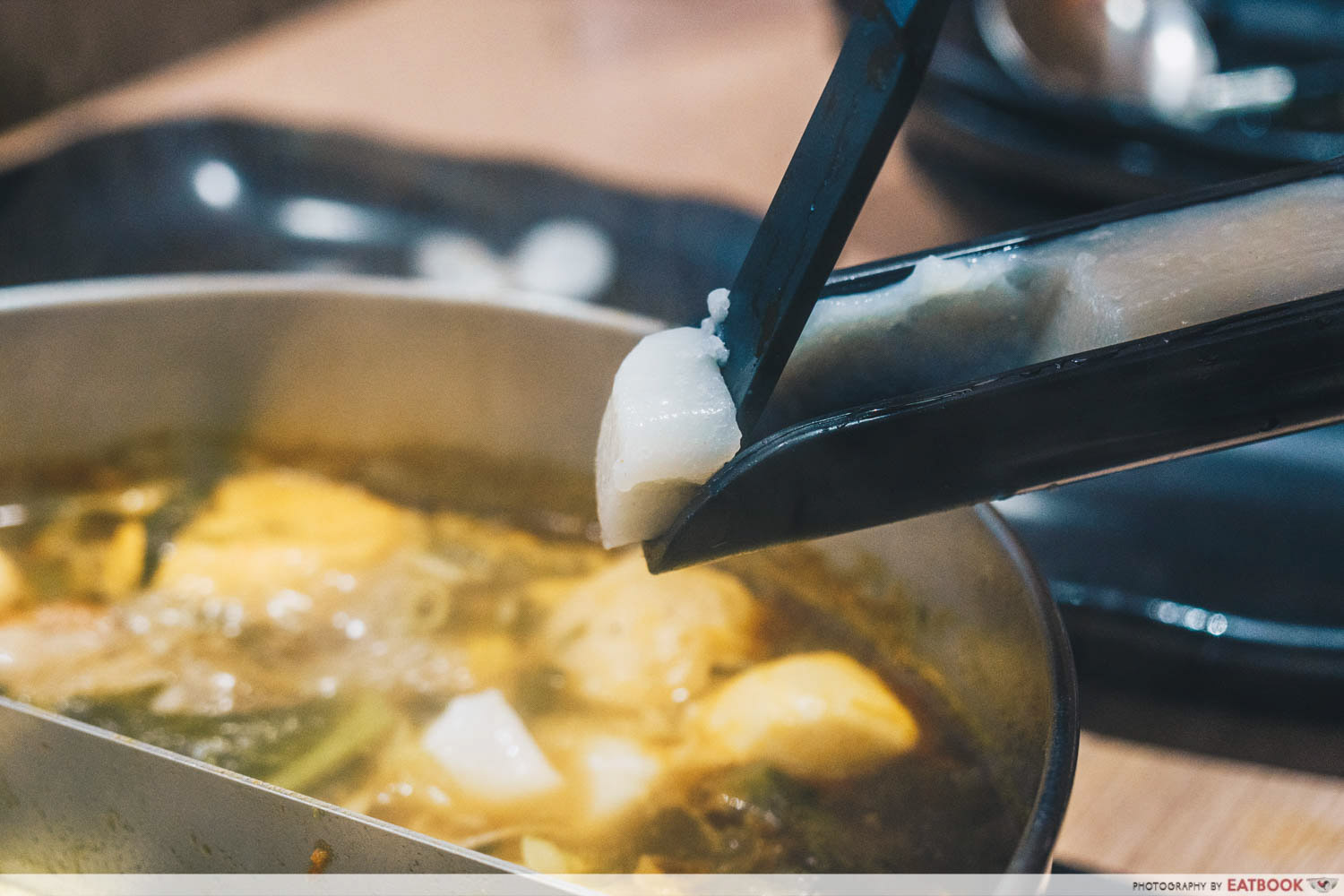 Another hotpot must-have is the Home-made Fish Paste, which had a soft, slightly gelatinous consistency. Though it was slightly bland on its own when we first tried it, we realised the fish paste soaked up some of the fiery spicinesses of the red tom yum after an extended period of bubbling in the soup.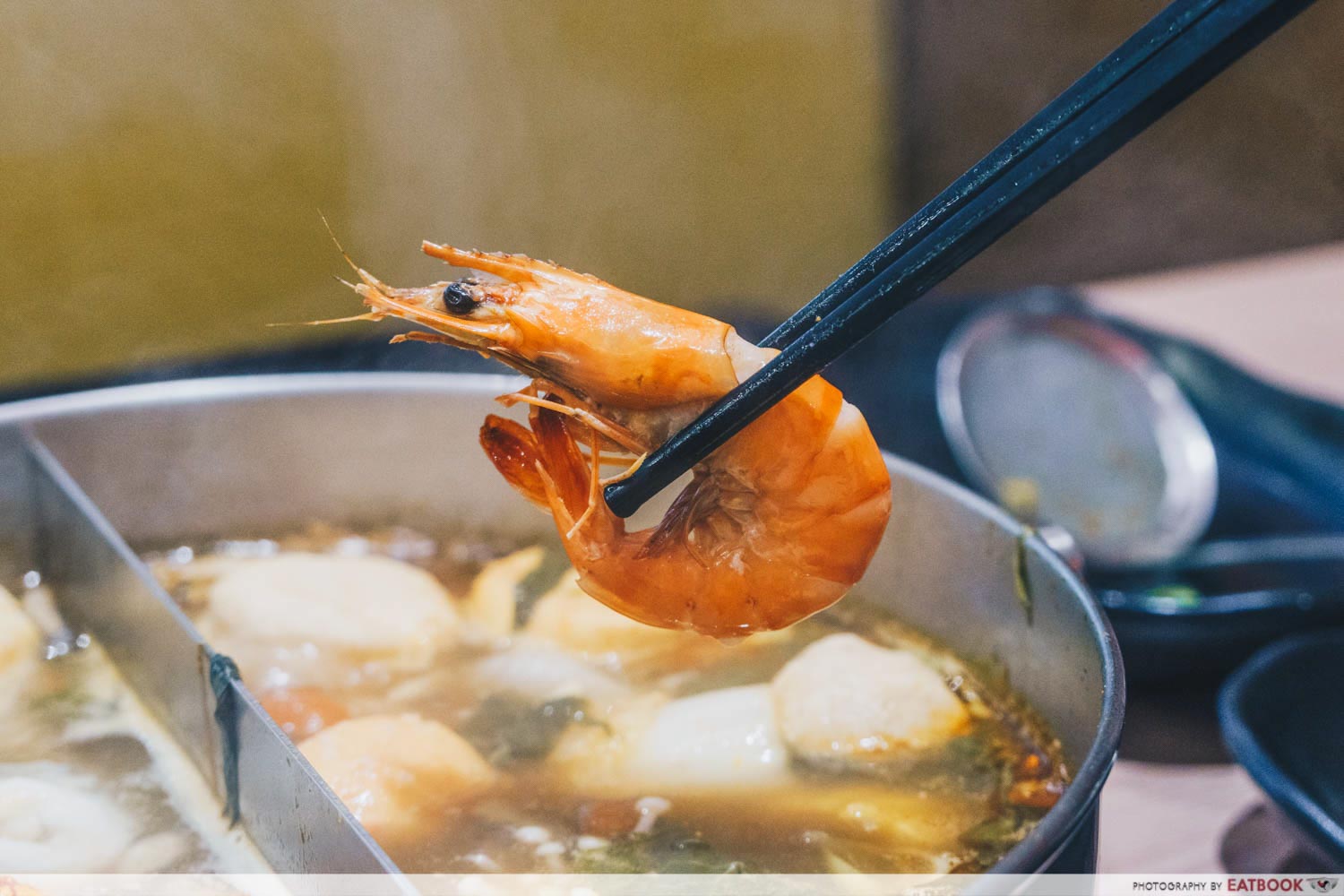 Speaking of seafood, Suki-Suki Thai Hot Pot's regular lunch menu has ample seafood options if you purchase the $10.90++ top-up.
This includes large, though slightly mushy, Tiger Prawns, tender Dory Fish, fleshy Black Mussels, and Clams. Throwing in the clams actually added a layer of natural sweetness to our tom yum soup base! For me, their seafood options weren't very impressive and I wouldn't opt for the premium just for them, unless you're a big fan of the Waygu beef that accompanies it.
The dinner menu offers other extra-premium seafood choices, the likes of Baby Octopus and Brown Cuttlefish.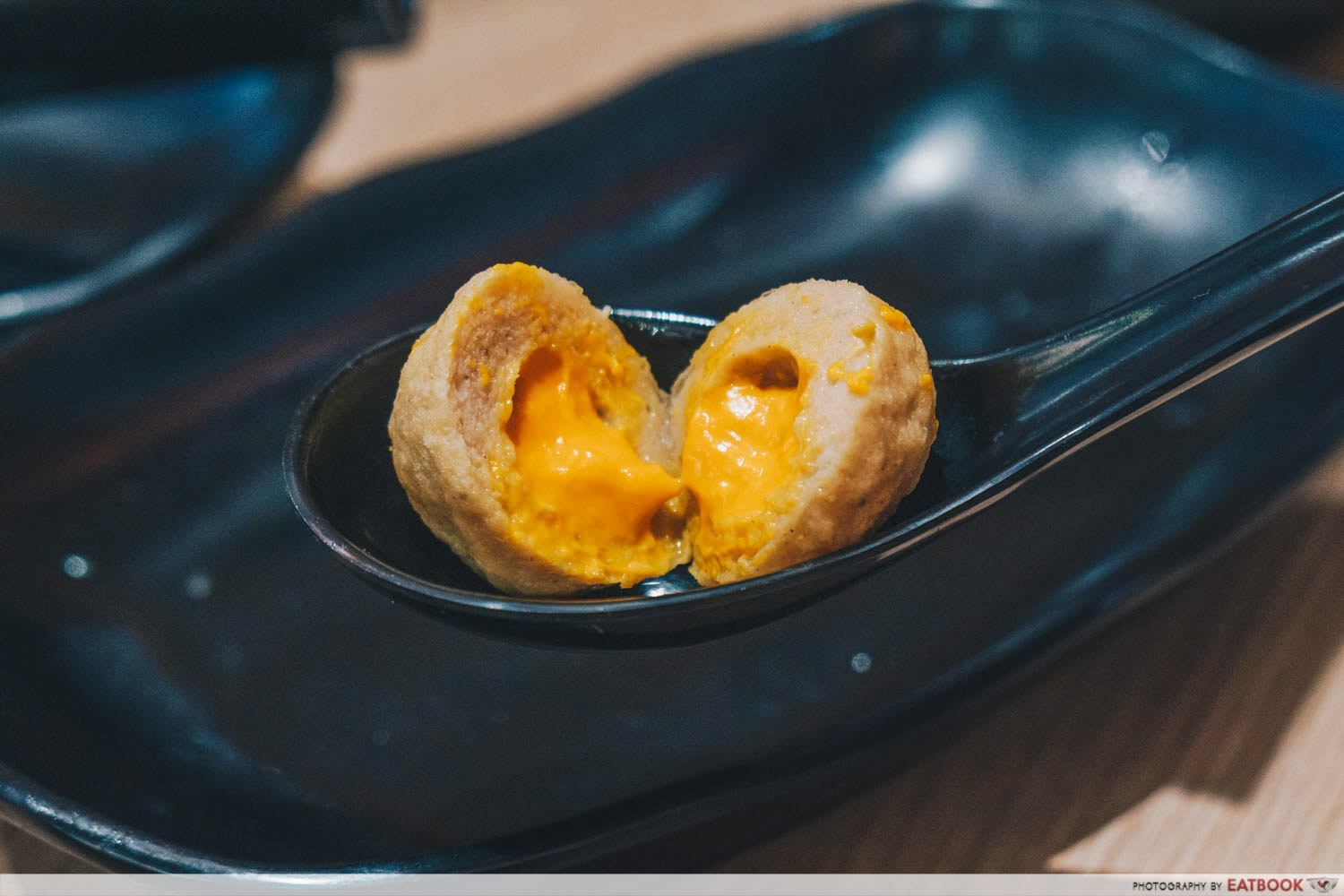 A wide variety of meatballs, fishcakes, and cheese tofu are up for ordering off the regular menu too. We especially liked the Chicken Cheese Ball, which had a gooey centre oozing with cheese as we cut into it.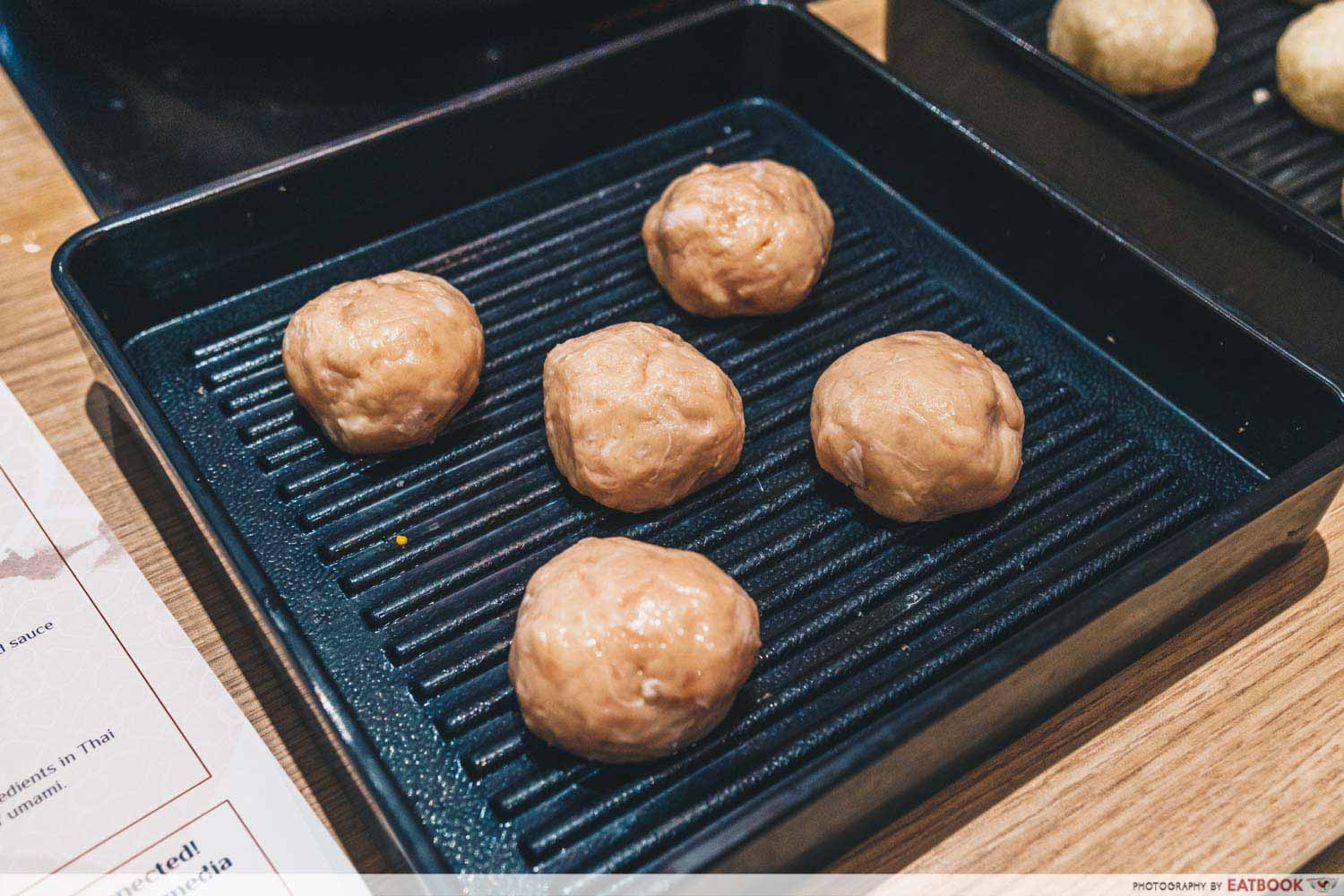 The premium menu offers both the Home-Made Chicken Ball and Home-Made Prawn Ball as well. These meatballs were soft and teetered on the mushy side. Personally, Suki-Suki Thai Hot Pot's regular selection of meatballs was already sufficient.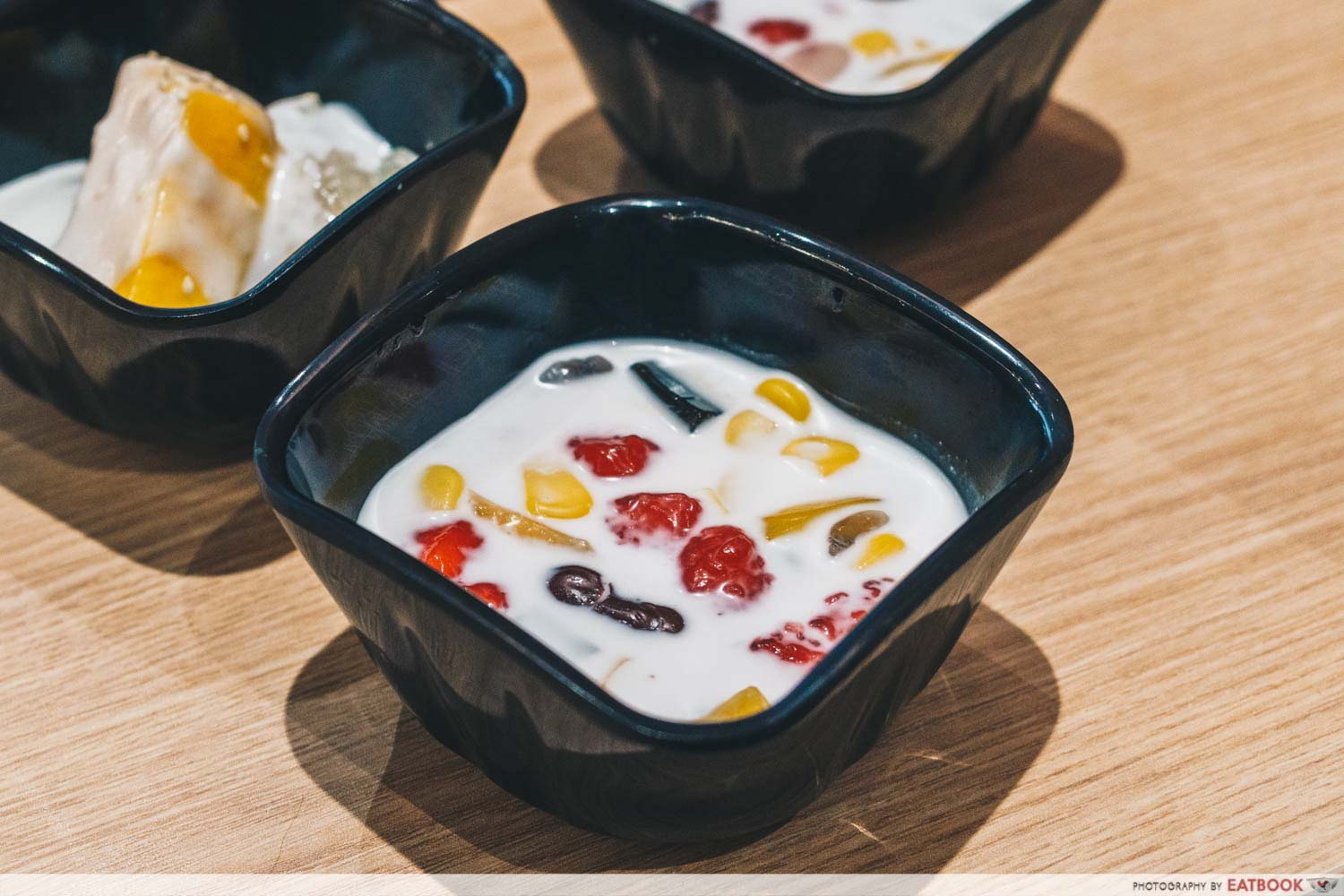 End your meal on a sweet note with Free Flow Drinks & Dessert when you top-up another $4.90++ per person. Desserts such as Mango Sticky Rice and Khanom Chan, a milky Thai pudding topped with coconut, are available. I definitely loved the Momojaja most, which is the Thai's take on bubur cha cha. This sweet treat came with ruby-hued chunks of water chestnut for an extra crunch.
Ambience at Suki-Suki Thai Hot Pot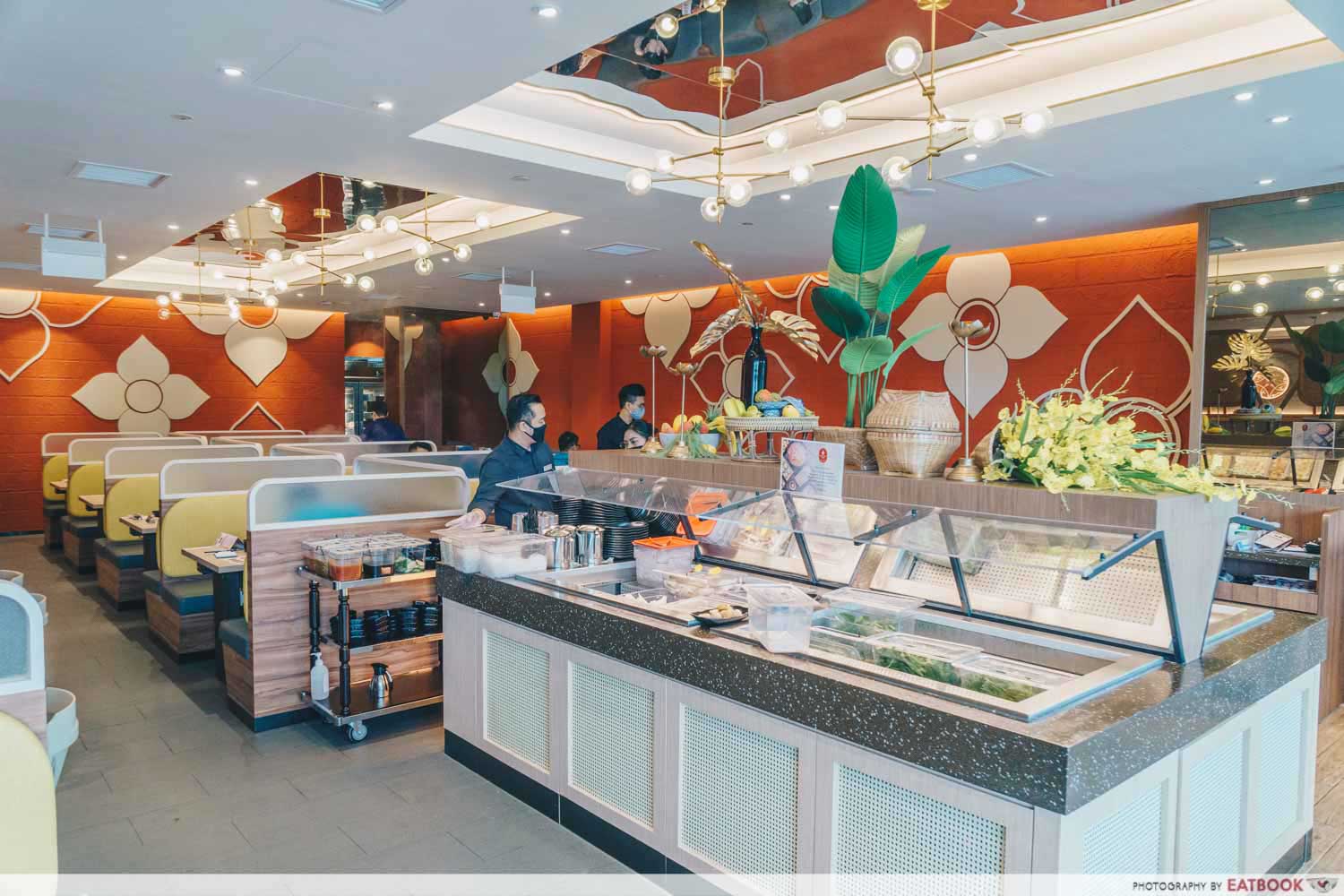 Suki-Suki Thai Hot Pot is located near ORTO and is just a short 5-minute walk from Khatib MRT Station. The restaurant itself boasts a chic interior with wide, cosy seating to comfortably seat a small group at each table.
The verdict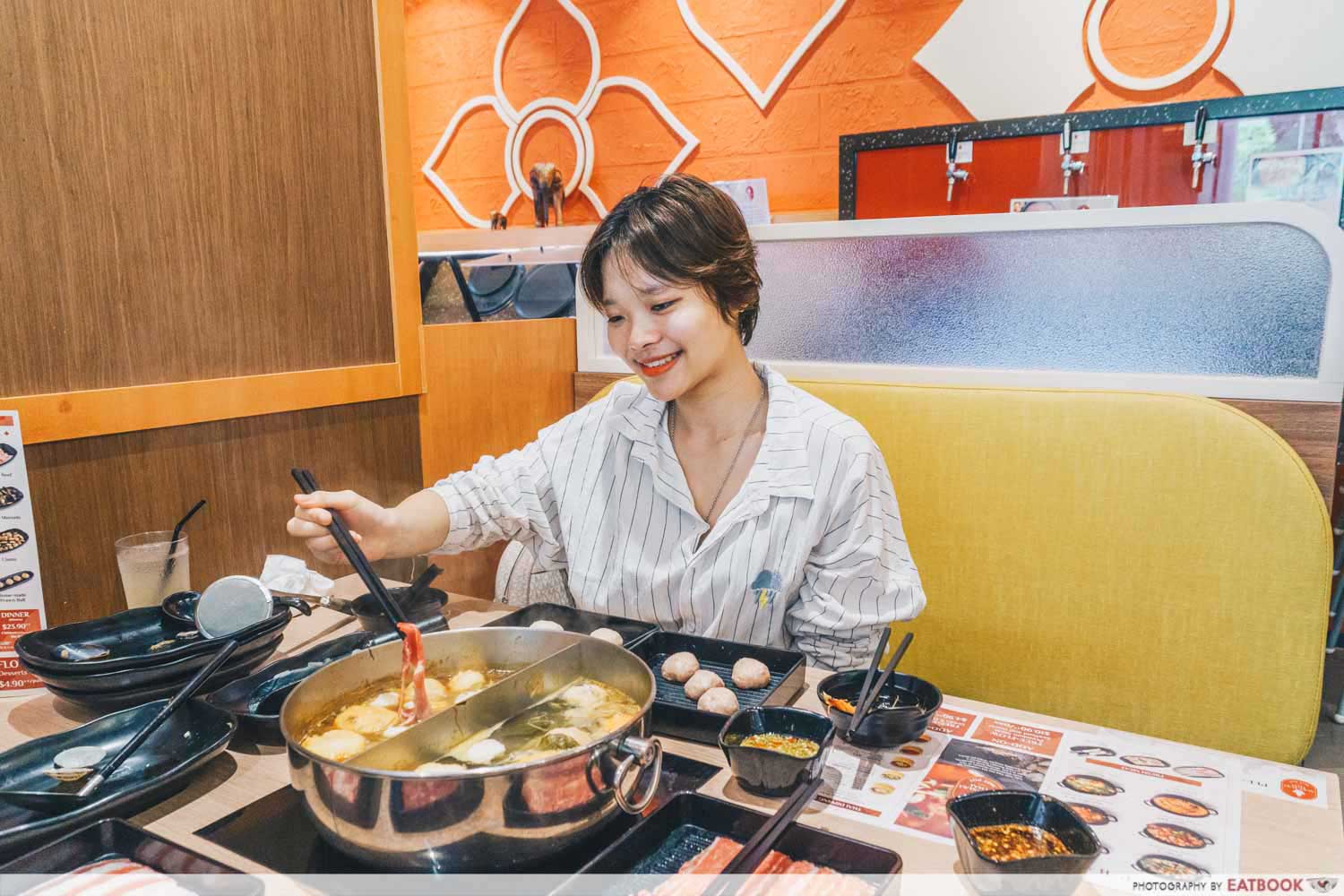 Suki-Suki Thai Hot Pot offers a considerably large selection of good quality meat, vegetables, and meatballs from their regular buffet. Their lack of seafood options was a slight pity, considering how the $10.90++ top-up for premium items is a big price jump. However, with hotpot buffet at $17.90++, Suki-Suki Thai Hot Pot makes itself an affordable spot to satisfy those shabu shabu cravings.
For more food at Yishun, check out ChubTuTu for kimchi kueh tutu and more.
ChubTuTu: Famous Pasar Malam Kueh Tutu Stall Opens Outlet In Yishun Selling Nutella, Durian And Mala Flavours
Address: 2 Yishun Close, #01-01, HomeTeamNS Clubhouse, Singapore 767944
Opening hours: Mon-Thurs 11am to 3pm, 6pm to 10pm, Fri-Sun 11am to 10pm
Tel: 6908 5616
Website
Suki-Suki Thai Hot Pot is a halal-certified eatery.
Photos taken by Hay Thi.
This was a media tasting at Suki-Suki Thai Hot Pot.
Suki-Suki Thai Hot Pot Review: Halal-Certified Buffet With Free-Flow Meats At Yishun
Summary
Pros
– Wide selection of ingredients
– Good quality fresh meat
– Affordable price
Cons
– No seafood items on regular menu
– Premium seafood items unimpressive
Recommended dishes: Sweet Basil Chicken Soup Base, Fresh Chicken Meat, Beef Short Rib
Opening hours: Mon-Thurs 11am to 3pm, 6pm to 10pm, Fri, Sun 11am to 10pm, Sat 11:30am to 10pm
Address: 2 Yishun Close, #01-01, HomeTeamNS Clubhouse, Singapore 767944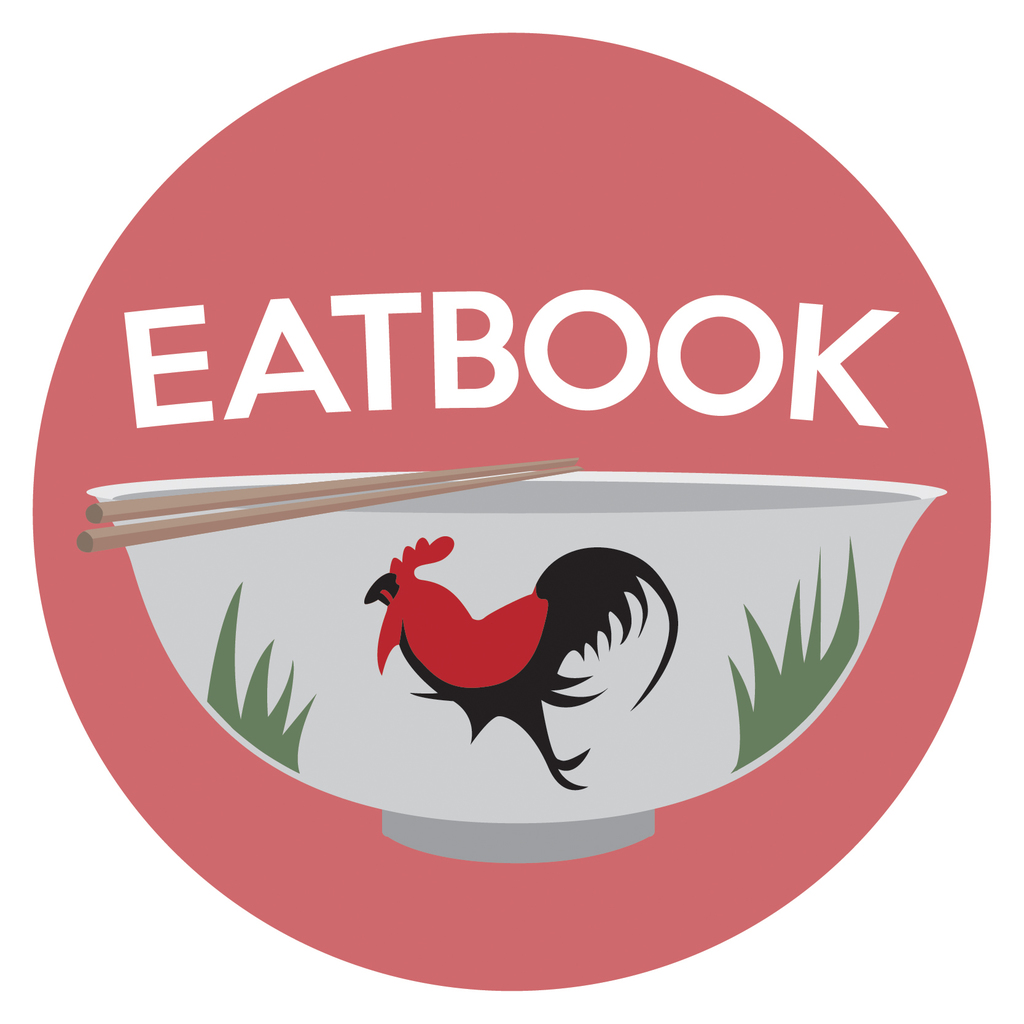 Drop us your email so you won't miss the latest news.