---
Hot pot buffets with free-flow xiao long bao
---
My go-to hot pot place—Shabu Sai at Causeway Point—is right next to Paradise Dynasty. Every time I walk pass either restaurant, the smell of the other tempts me endlessly, making me crave for both joints at the same time.
I have neither the time nor money to go to both restaurants. Luckily, I don't have to make that choice ever again as more hot pot buffets have been offering free-flow xiao long lately. To satisfy two cravings at once, here are six hot pot buffets that serve free-flow xiao long bao!
---
1. Guo Fu Steamboat

---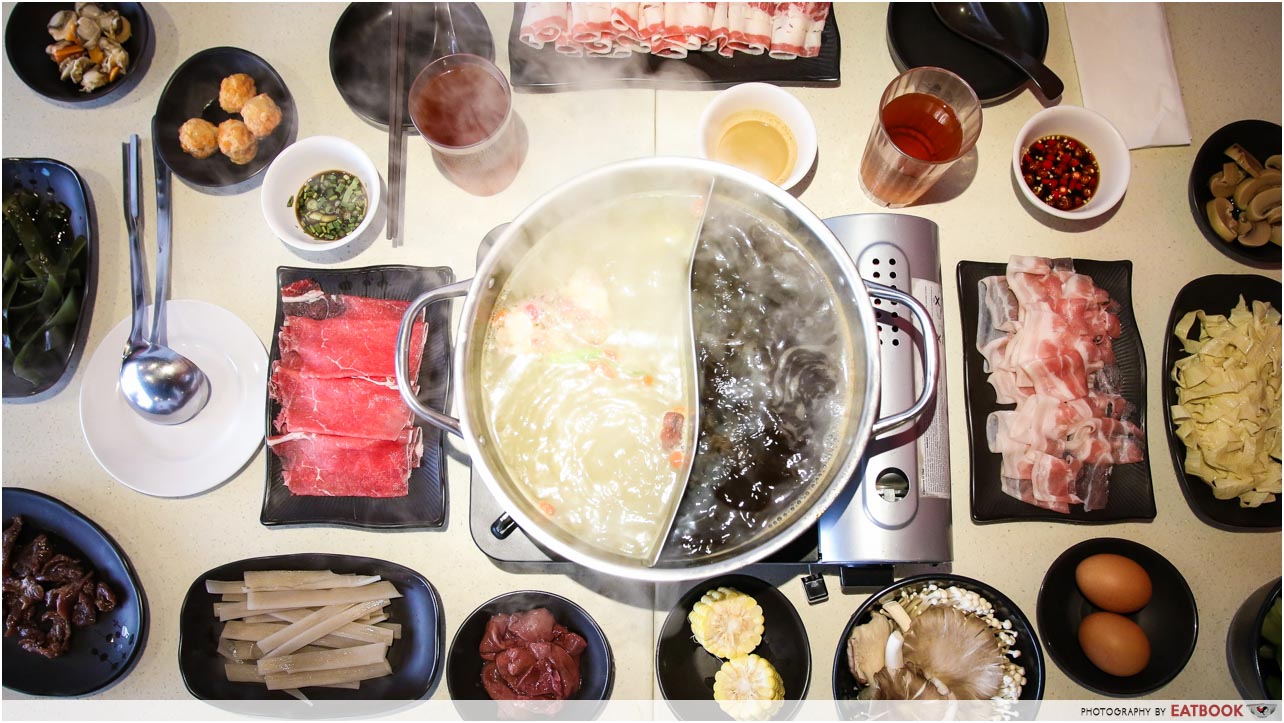 Guo Fu Steamboat offers free-flow xiao long bao along with their lunch buffet ($25.90++). The restaurant can be found on Cross Street, a seven-minute walk from Raffles Place MRT Station. They've been around since 2005 and pride themselves on their signature soup selection.
The cost depends on the two bases you choose. Prices start from $3++ for their basic soups, including Spicy, Herbal, Mild Spicy, Vegetarian and Kimchi.
Unique soup bases such as Elderly Tonic Soup ($7++) and Male Vitality Soup ($7++) are also offered for those curious enough to try them. You'll be spoilt for choice here, with the massive menu of herbal broth.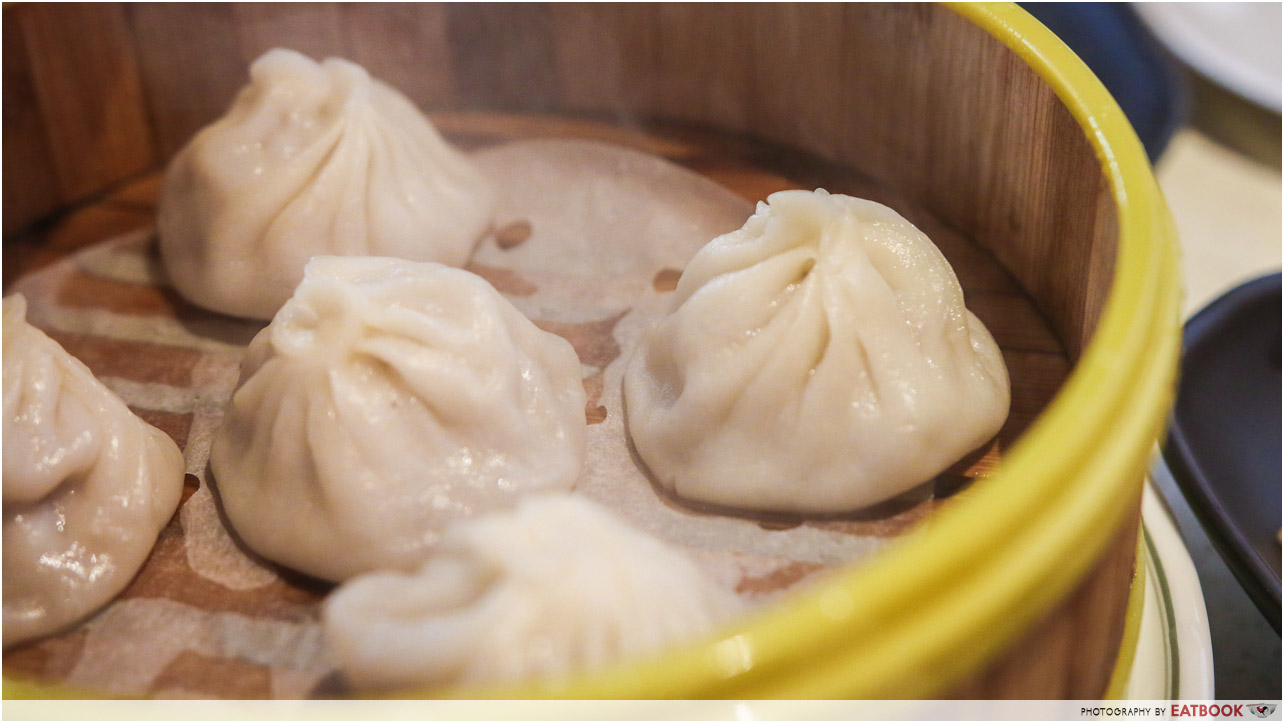 Guo Fu doesn't skimp on food variety either as 60 items are available on their buffet menu. Don't let looks deceive you; the xiao long bao may not be as pretty as ones from Din Tai Fung, but they're just as juicy, sweet, and flavour-filled.
Read our Guo Fu Steamboat review.
Address: 20 Cross Street, #01-31, China Court, China Square Central, Singapore 048422
Opening hours: Daily 11:30am to 10:30pm
Tel: 6557 0906
Website
Guo Fu Steamboat Review: Free-flow Xiao Long Bao At This Steamboat Buffet In The CBD
---
2. Yi Qian Ling Yi Ye Steamboat Buffet
---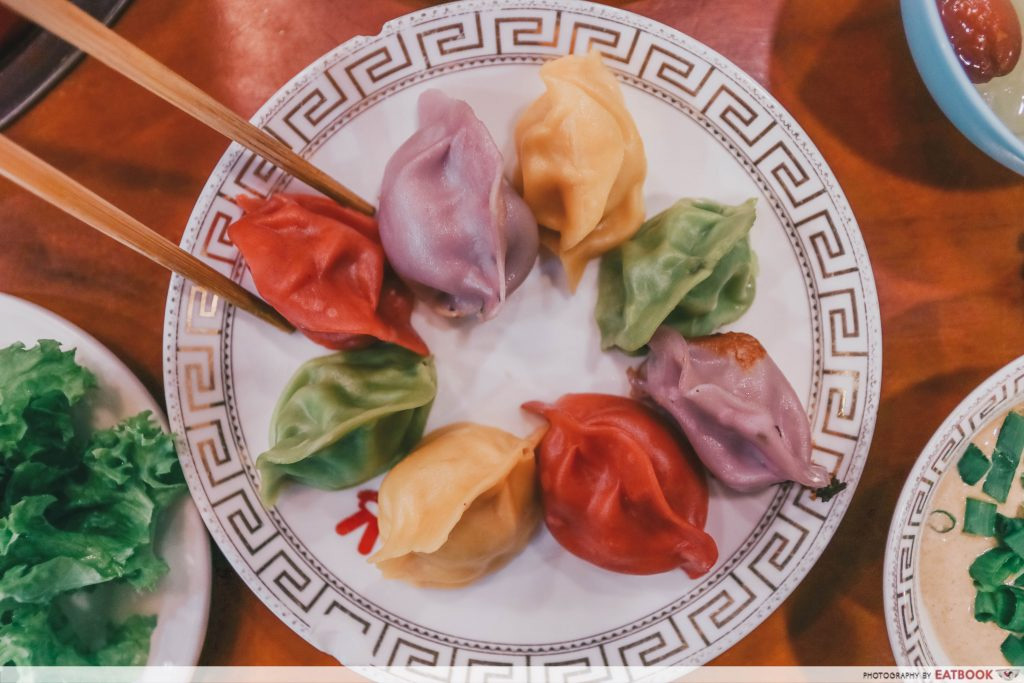 Yi Qian Ling Yi Ye Steamboat Buffet breaks out the dumplings once it's time for their dinner buffet ($26.80++). Besides offering an endless stream of xiao long bao, they also serve baskets of beautiful, multicoloured dumplings.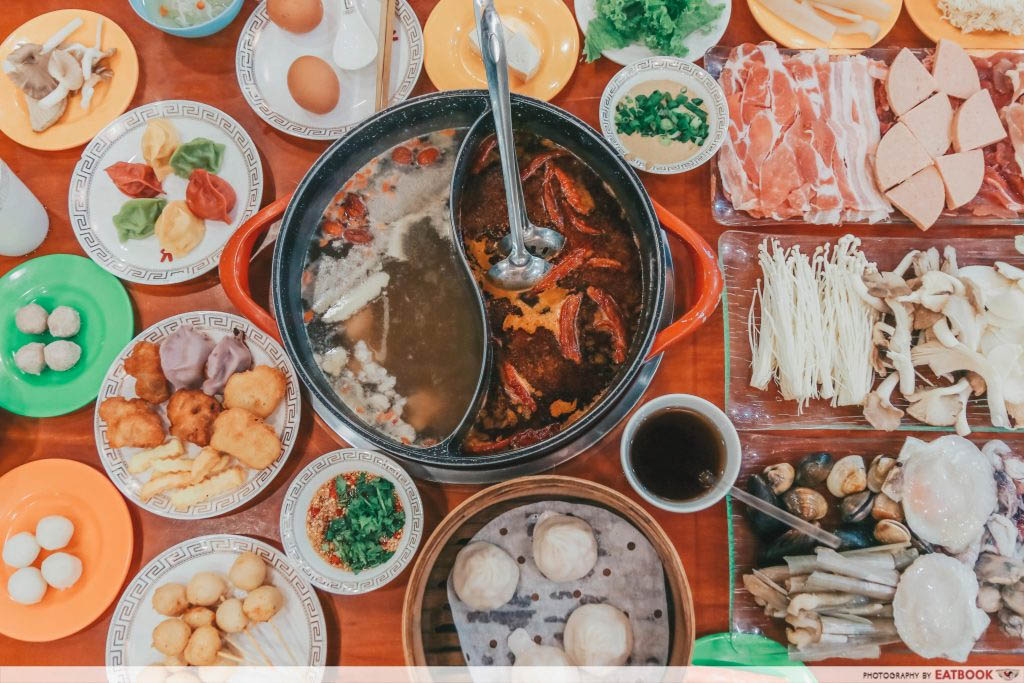 Food is delivered right into your eager hands through a conveyor belt. Whether it's refreshing Herbal Chicken Soup, or spicy Mala Soup, you'll have a hard time choosing between the huge spread of soup bases here. Just be prepared to spend an additional $3 to $6 if you go for premium broths like the Collagen Soup ($6++). 
Read our Yi Qian Ling Yi Ye review!
Address: 930 Yishun Avenue 2, #B1-184, Northpoint City South Wing, Singapore 769098
Opening hours: Daily 11am to 10pm
Tel: 6988 3962
Website
Yi Qian Ling Yi Ye Steamboat Buffet Review: Free-Flow Xiao Long Bao At This Conveyor Belt Steamboat Spot
---
3. Xiao Cao Xiang Steamboat Buffet
---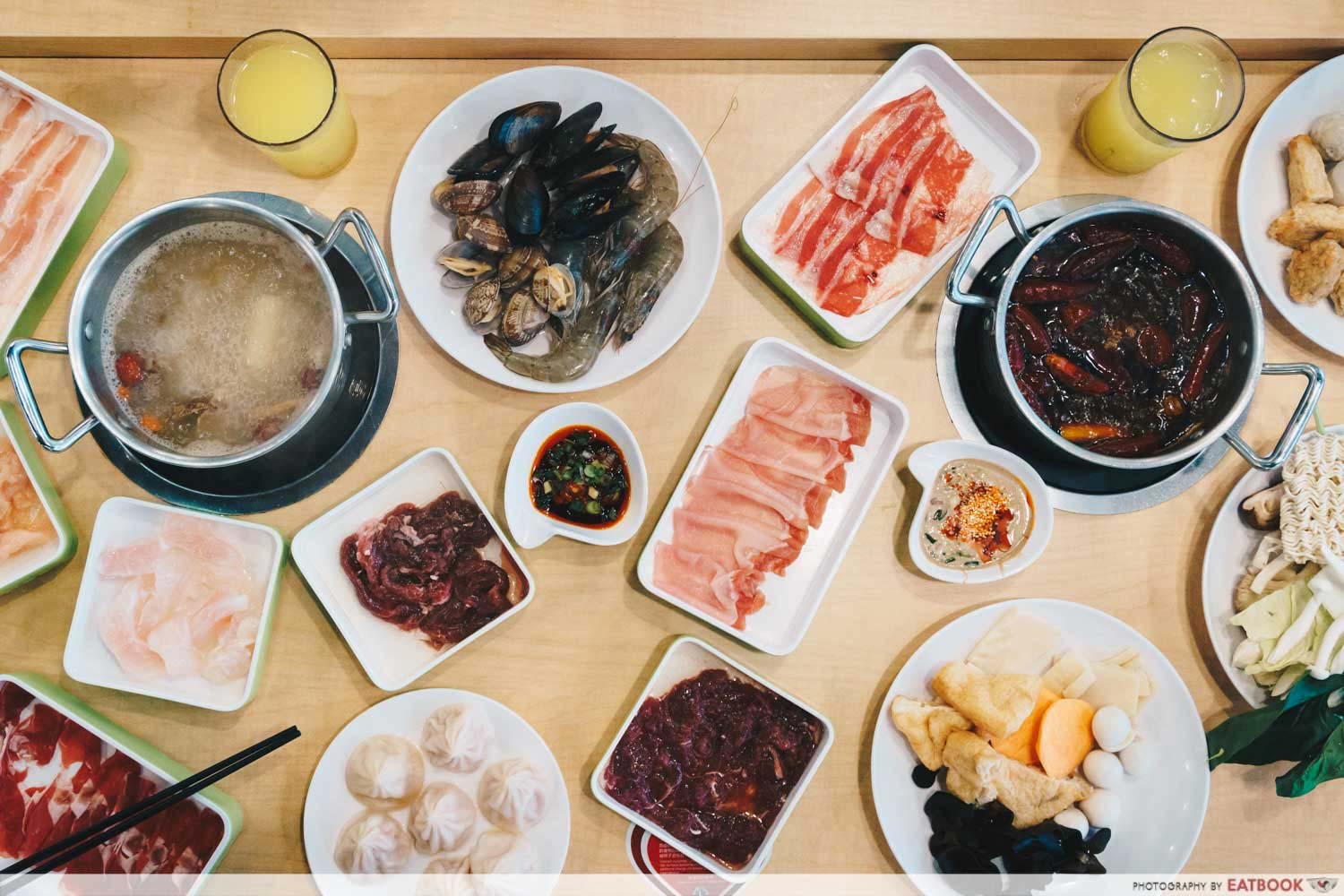 Xiao Cao Xiang Steamboat Buffet offers the best of both worlds at a mere $18.80+ with their weekday afternoon 90-minute all-you-can-eat buffet. Seafood is the star of the show here as the joint serves plenty of fresh shellfish. You can help yourself to as many prawns, clams and mussels as your heart desires. Choose from the many bases including spicy mala, green pepper, wild mushroom, sauerkraut and more! Free-flow drinks are included in the price, making this buffet an absolute steal.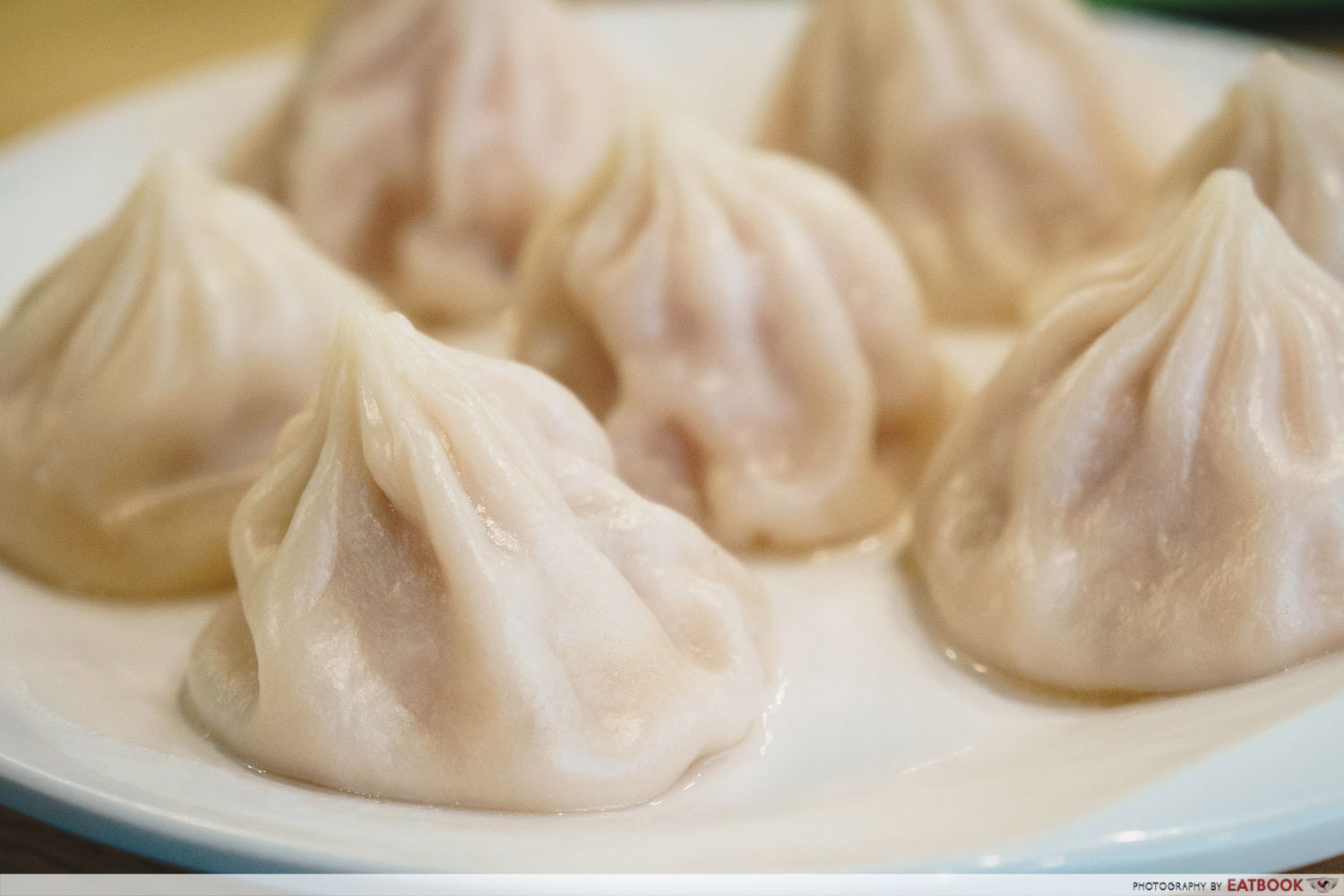 On the other hand, the XLB packs tender minced meat under their nice, thin skin. That being said, the ones we tried were dry and cold, so you might wanna keep your expectations in check.
Xiao Cao Xiang Steamboat Buffet Review: New Hot Pot Buffet With Free-Flow Xiao Long Bao For $16.80+ At Toa Payoh
Address: 470 Lorong 6 Toa Payoh, Singapore 310470
Opening hours: Daily 11:30am to 9pm
Tel: 6273 7488
Website
---
4. Crystal Jade La Mian Xiao Long Bao
---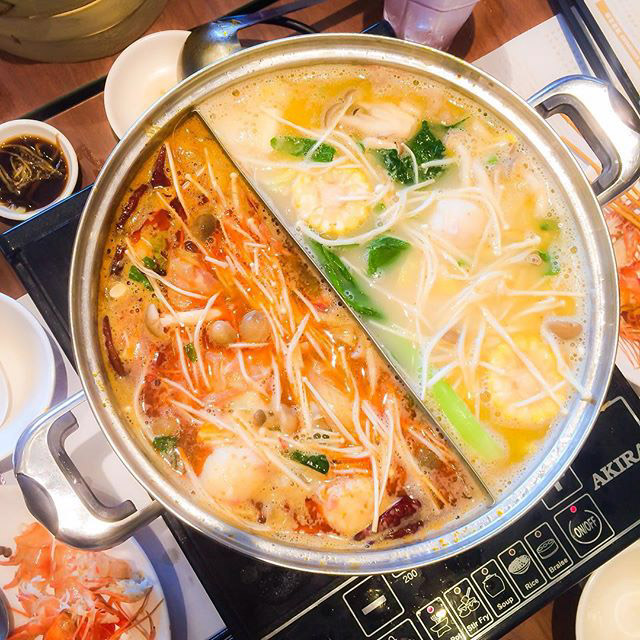 Image credit: @shujunfu
This list wouldn't be complete without Crystal Jade La Mian Xiao Long Bao, which offers three rounds of their Xiao Long Bao & Steamboat Buffet ($27.80++) every night. Head down for the 5pm to 6:30pm slot to enjoy a 20% discount. Advance reservations are a must, as seats fill up fast. If you can't make it that early, there are two other slots from 6:45pm to 8:15pm, and from 8:30pm to 10pm.
Although you're limited to just 100g of prawns, everything else is free-flow—including the xiao long bao. Despite their high quality, there are few soup options here. Only the Pork Bone and Spicy soup bases are available for the hot pot. Exotic soup dumpling flavours such as truffle aren't part of the buffet and you'll have to settle for the original XLB. 
Address: 241 Holland Avenue, Singapore 278976
Opening hours: Daily 11am to 10pm
Tel: 6463 0968
Website
---
5. La Jiang Shan Hotpot
---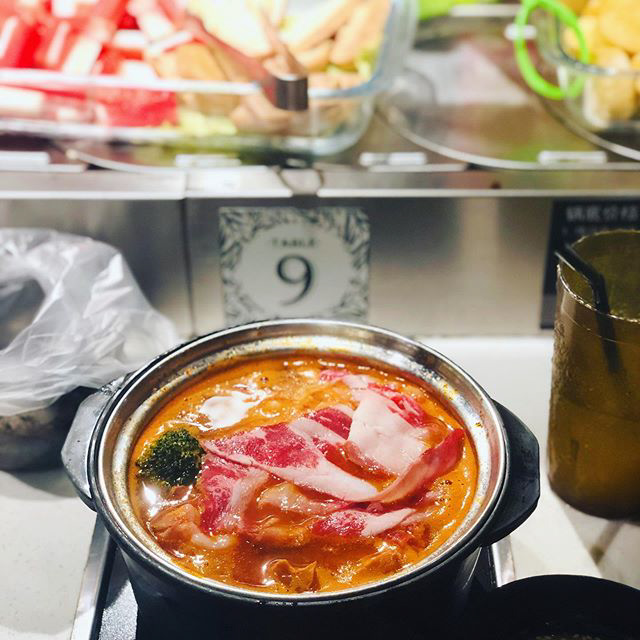 Image credit: @yephao
Inspired by the concept of Japanese solo dining, La Jiang Shan Hotpot gives customers a single pot all to themselves, so you won't have to settle on a flavour that everyone likes. Just choose your favourite for yourself! 
During dinner ($25.80++), fresh seafood comes rolling down the conveyor belt. There's also a buffet table offering cooked dishes such prawn paste chicken, rice cakes, and unlimited xiao long bao. Each soup base costs $2.80++, but you can opt for a pot of two different soups at $4.80++ per person. 
Address: 35 Selegie Road, #01-06, Parklane Shopping Mall, Singapore 188307
Opening hours: Daily 11am to 11pm
Tel: 8669 6144
Website
---
6. Yue Long Men Hotpot
---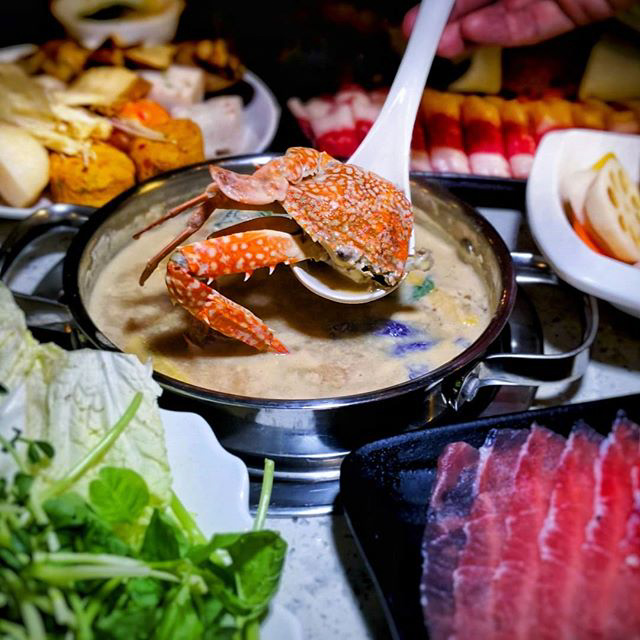 Image credit: @alexiusboy
Strategically located outside Chinatown MRT Station, Yue Long Men's location makes it extremely convenient for meet ups. Weekday lunches cost $16.99++, and include a tide of drinks, desserts, ice cream, and fruit. 
For 100 minutes, treat yourself to plates of freshly sliced meat, refills of rich broth, and endless steaming dumplings with no hidden costs! Their broths are the usual steamboat staples, such as Tom Yum, Clear Chicken, and Mala. Keep your eyes peeled as they'll be bringing back their popular bak kut teh soup base in the future! 
Address: 75 Pagoda Street, Singapore 059234
Opening hours: Daily 11:30am to 10:30pm
6909 0611
Website
---
Bonus: Master Wang
---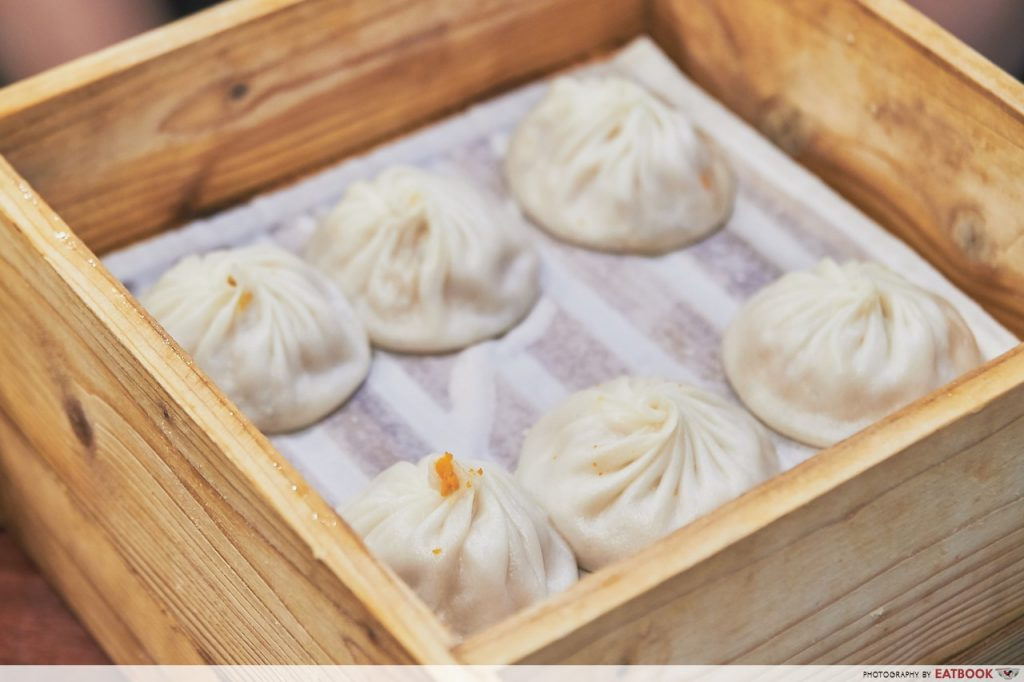 Instead of serving hotpot with dumplings, Master Wang offers a buffet dinner ($18.80++) with unlimited xiao long bao that come in original, scallop, and lala flavours. Ordering the buffet gets you one complimentary seafood mini wok hotpot as well. On top of the soup-filled xiao long bao, there's also free-flow regular pan-fried and steamed dumplings.
Available from 5pm to 8:30pm on Mondays to Saturdays, the offer can only be enjoyed by 30 people each day. Be sure to call in advance if you'd like to make a reservation!
Master Wang Review: Scallop, Crab Roe And Cheese Xiao Long Bao At Yishun
Address: 27 Woodlands Link, Chang Cheng HQ, Singapore 738732
Buffet hours: Mon-Sat 5pm to 8:30pm
Tel: 8733 3171
Website
---
Satisfy both your cravings at once
---
By now, you're probably already prepared to stuff yourself silly. Add basket after basket of xiao long bao into the equation, and there's no way you're going home without a full stomach. 
If you're still hungry for hotpot, hit up these Hai Di Lao alternatives for equally good food and service! For those on #TeamDimSum, check our list of affordable dim sum spots if reading about XLB has got your tummy rumbling as well! 
9 Hai Di Lao Alternatives With Equally Good Food And Service Sans Queue