Yi Qian Ling Yi Ye Steamboat Buffet offers free-flow xiao long bao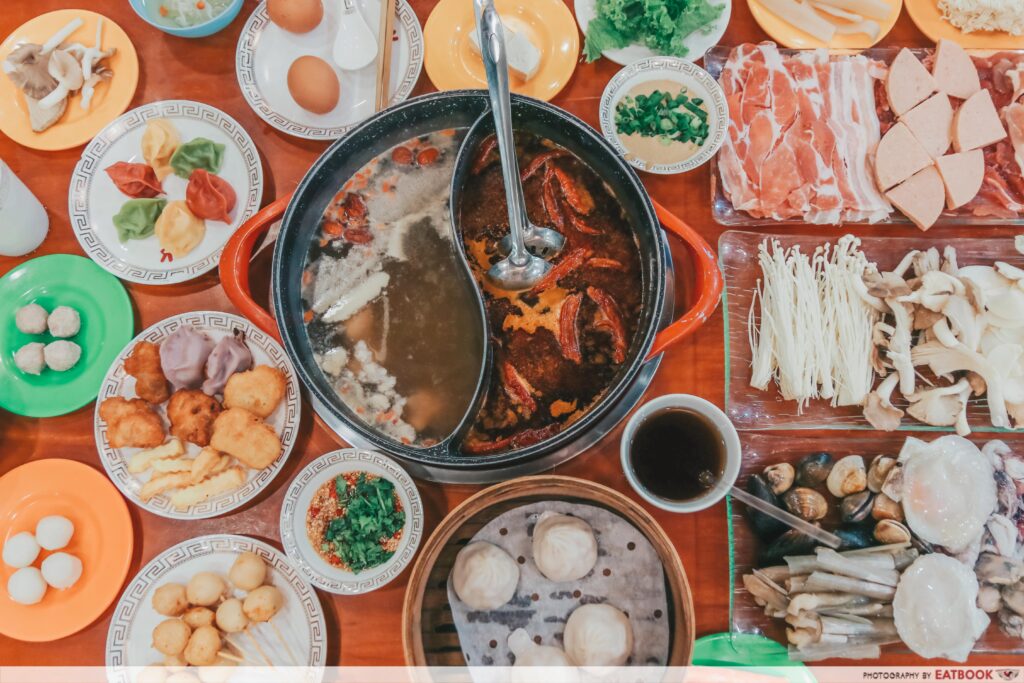 Conveyor belt hot pot is nothing new, and neither are xiao long bao buffets. But when I found a restaurant that combines both, I knew I had to check it out. Yi Qian Ling Yi Ye Steamboat Buffet at Yishun offers free-flow XLBs at their dinner buffet ($26.80+), along with a spread of meats, seafood, and desserts.
Food at Yi Qian Ling Yi Ye Steamboat Buffet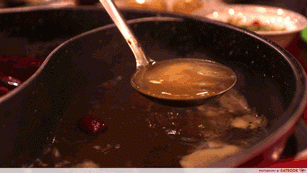 With 10 soup bases to choose from, we had a hard time deciding and ended up going with two recommended ones, Mala Soup and Herbal Chicken Soup. Depending on which ones you get, there may be an additional charge of $3 to $6. Some other popular choices are Collagen Soup (+$6), Mushroom Soup (+$3), and Tomato Soup (+$3).
As we waited for the food to come, we helped ourselves to the variety of cooked dishes available. I snacked on sticks of fish balls, nuggets, and more. The finger food was pretty mediocre, as they were no longer hot or crispy when I took them out of the warmer.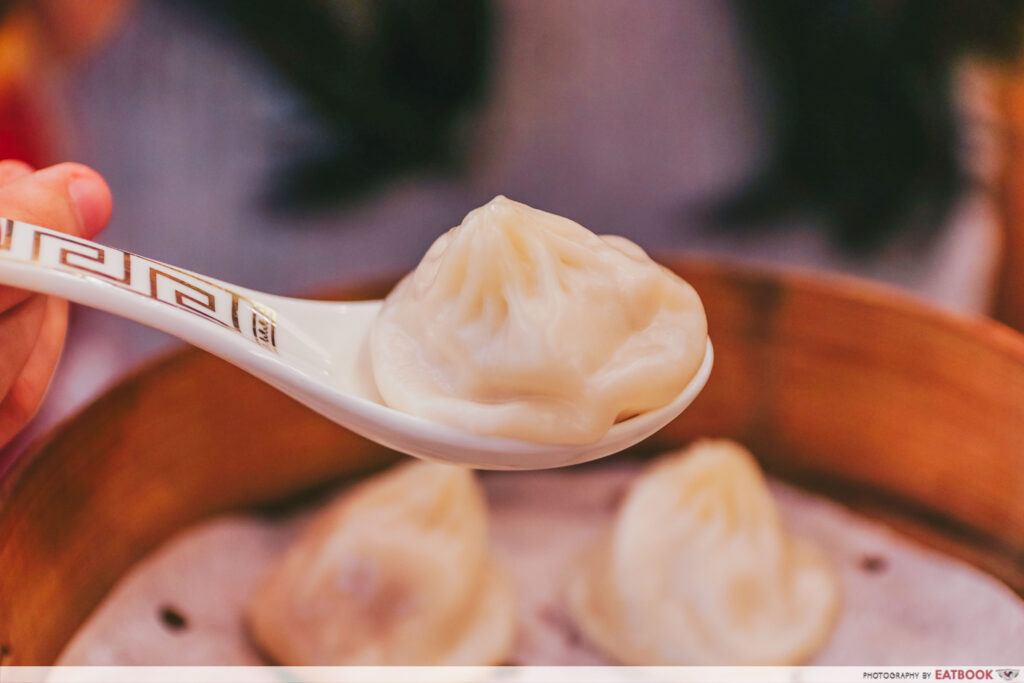 My favourite part about Yi Qian Ling Yi Ye is their free-flow xiao long bao. I loved how the skin of each small meaty treasure encased the soupy goodness, which exploded in my mouth. While the skin was too thick for my liking, it was a small price to pay for that juicy meat that it protected.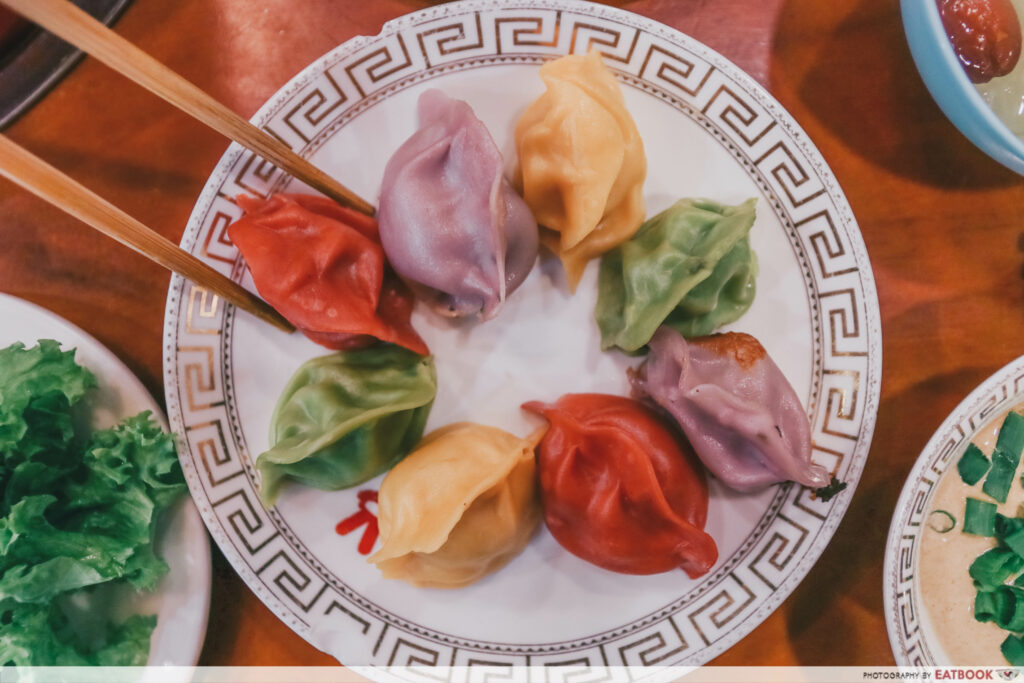 They even had these colourful dumplings that made for a great 'gram photo. The filling is the same for all and I was so impressed by its quality; the skin was just thick enough to hold all the meat together. The meat was seasoned well and mixed with chives. I couldn't stop myself from going back for seconds!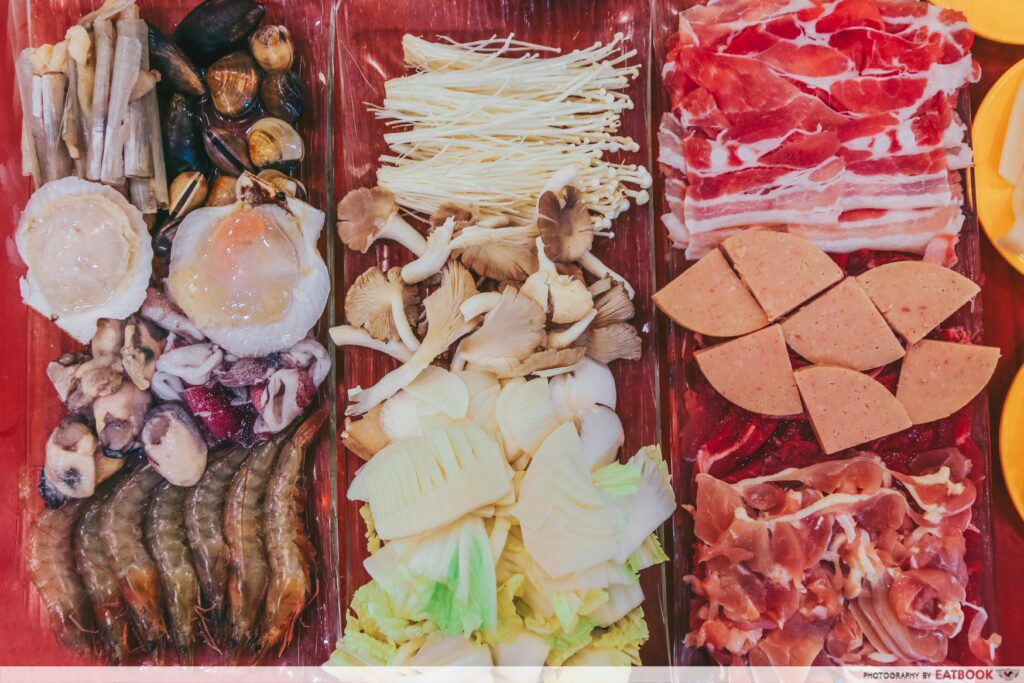 The meats and seafood arrived minutes after we placed our order and I was shook by how big their portions are. I only ordered one portion for each ingredient!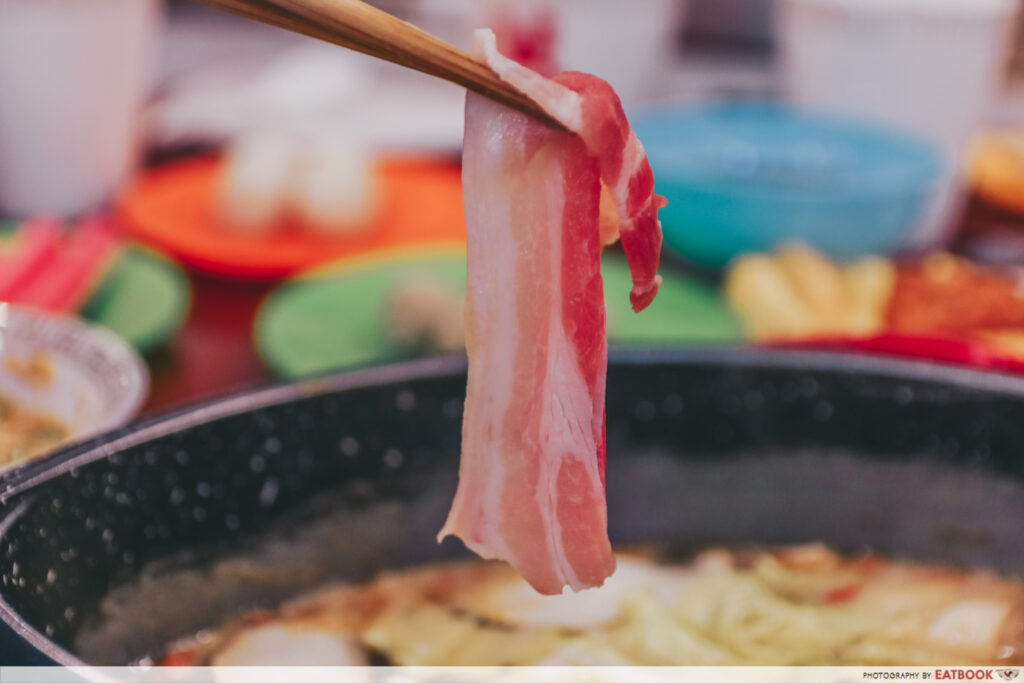 The meats were thinly sliced and cooked within seconds – great for some shabu shabu action. I couldn't get enough of their pork belly, which was tender and not overly fatty. Beat an egg in a bowl and dip your freshly cooked meat into it to give the meat a creamier texture.
The ma la soup wasn't that spicy, which caters to people who are not as good at taking spicy food. It tainted the meat with a savoury and slightly spicy layer of oil, which left an all-too-familiar numbing sensation on my taste buds. The herbal chicken soup on the other hand, was slightly sweet and refreshing, giving us a good break from the ma la.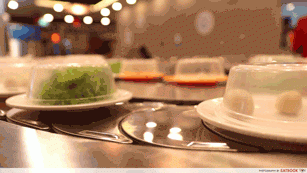 It's like a sushi bar in here with plates of ingredients protected by a cover on a conveyor belt. The portions served on the conveyor belt are small, so you may have many empty plates lying around. Fret not, the friendly staff members will quickly whisk them off your table, so you have more space for food.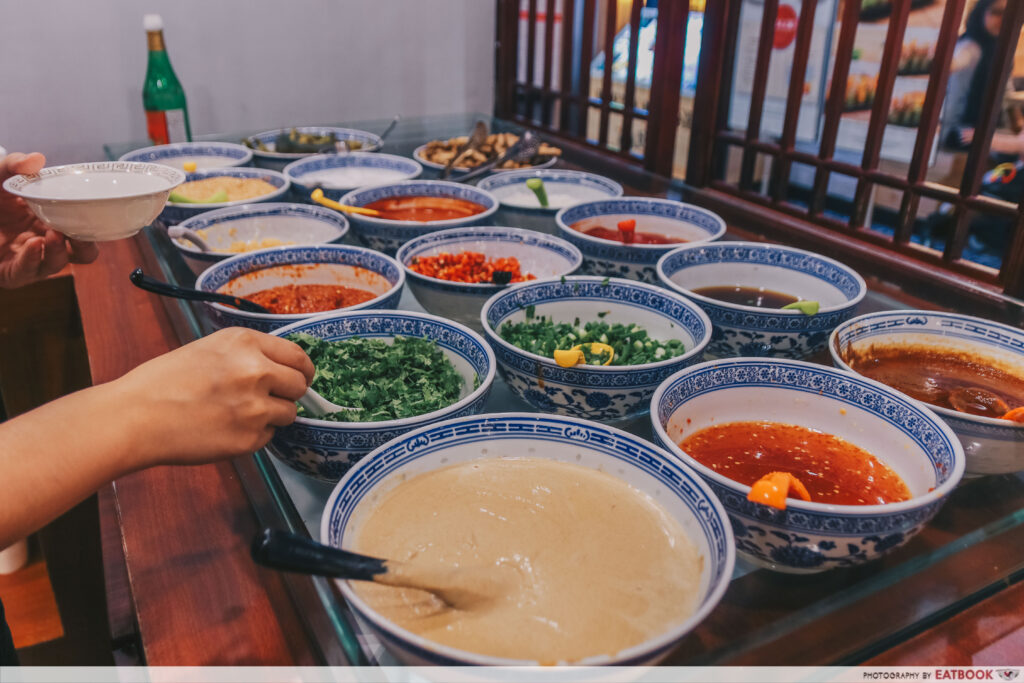 Like many hotpot restaurants, Yi Qian Ling Yi Ye has a condiments bar that even has braised peanuts for people to snack on. On the down side, they do not label their sauces, which makes choosing what you want pretty challenging.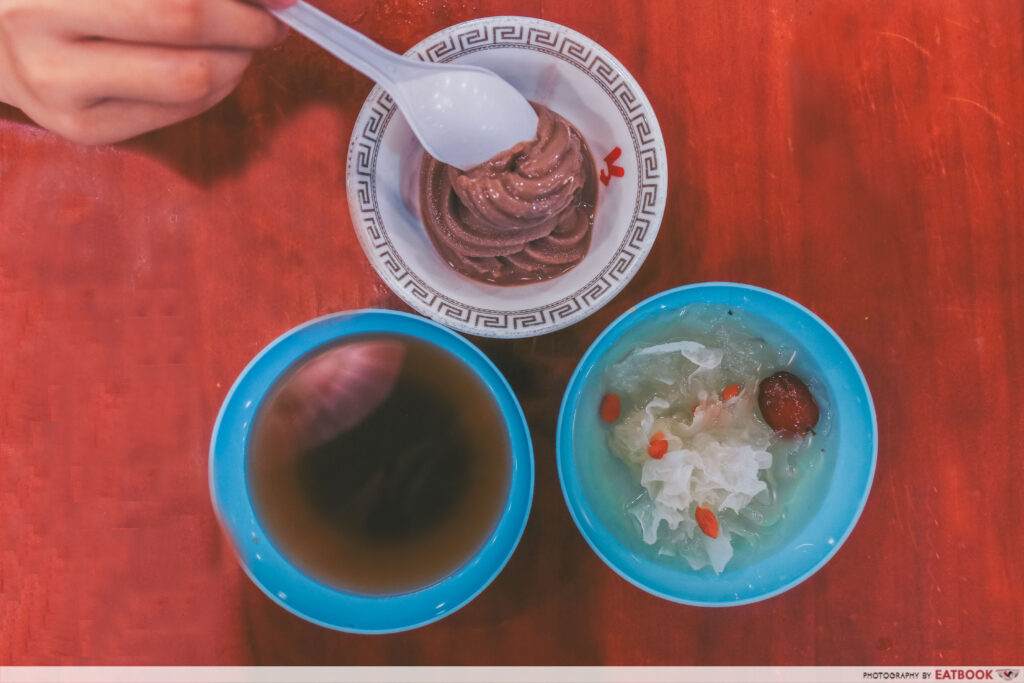 They also offer a few dessert options: vanilla and chocolate soft serve, red bean soup, white fungus soup, and fruits.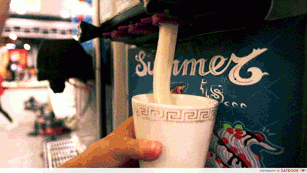 The joy and satisfaction of watching the swirls fall into the cup was unexplainable. However, the soft serve tasted more like frozen yogurt and nowhere near the creaminess I would want my soft serve to be. While the red bean soup was disappointing as there were barely any beans in there, the white fungus soup ended my meal on a high note. After such a heavy meal, this refreshing bowl of dessert cleansed my palate and washed any last notes of greasiness away.
Ambience at Yi Qian Ling Yi Ye Steamboat Buffet

While the restaurant offers big pots for people at the booth seats, they also have individual pots for people who choose to sit at the bar section. It can be quite crowded during peak hours, so just head over earlier to shorten your wait.
The verdict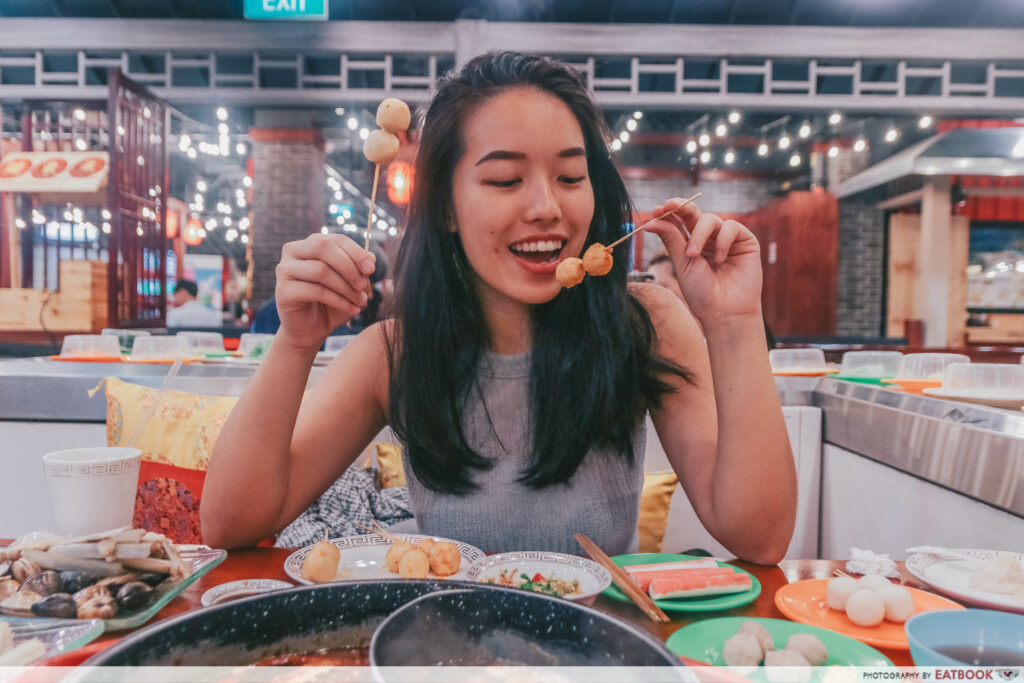 The star of the show here is definitely the free-flow XLB – they practically exploded in my mouth. For that, along with their friendly staff members, I would come back even if the ingredients were nothing to rave about. If you like conveyor belt hotpot restaurants, check out Steamov and Upot too!
Address: 930 Yishun Avenue 2, #B1-184, Northpoint City South Wing, Singapore 769098
Opening hours:  Daily 11am to 10pm
Tel: 6988 3962
This is an independent review by Eatbook.sg
Yi Qian Ling Yi Ye Steamboat Buffet Review: Free-Flow Xiao Long Bao At This Conveyor Belt Steamboat Spot
Summary
Pros
– Friendly staff members
– Free-flow XLBs
– Many soup bases to choose from
Cons
– Long queues during peak hours
Operating Hours: Daily 11am to 10pm
Address: 930 Yishun Avenue 2, #B1-184, Northpoint City South Wing, Singapore 769098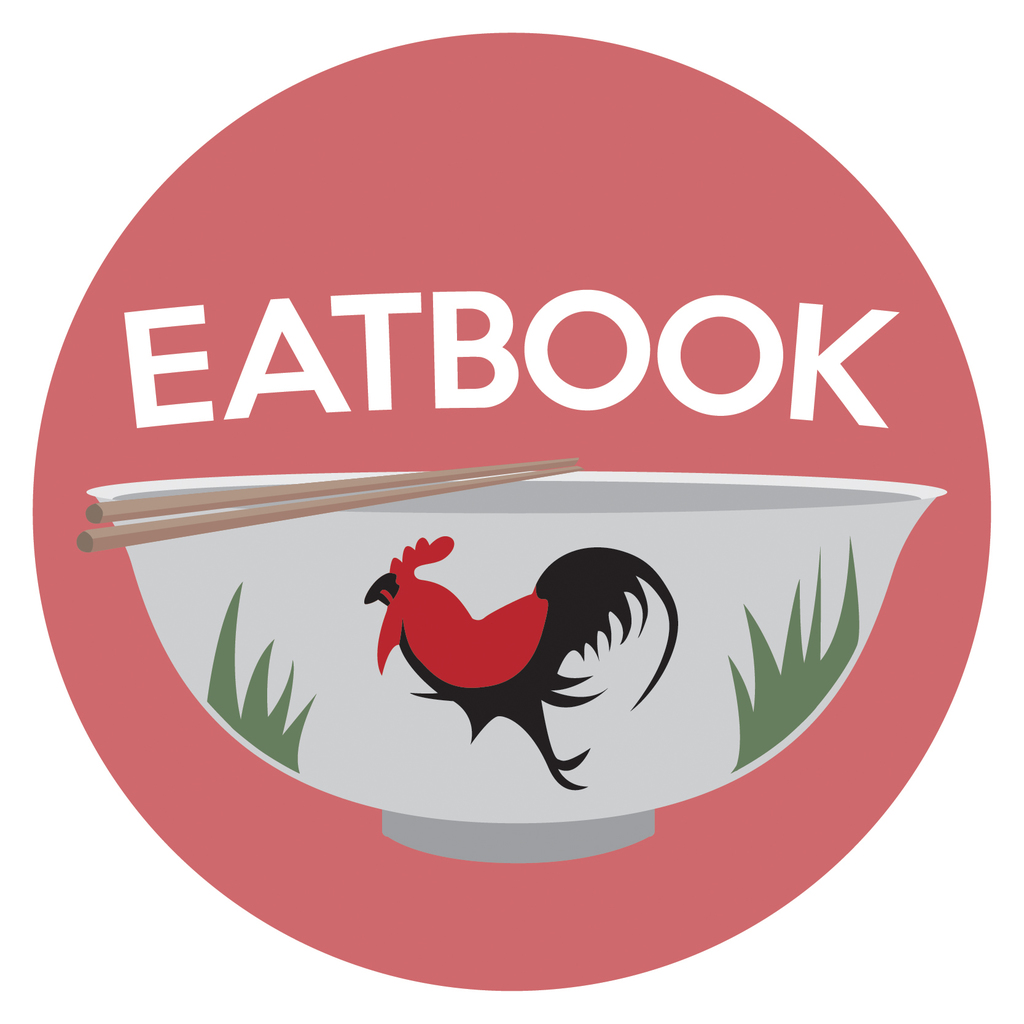 Drop us your email so you won't miss the latest news.