Upot offers hot pot with dishes from $0.99 on a conveyor belt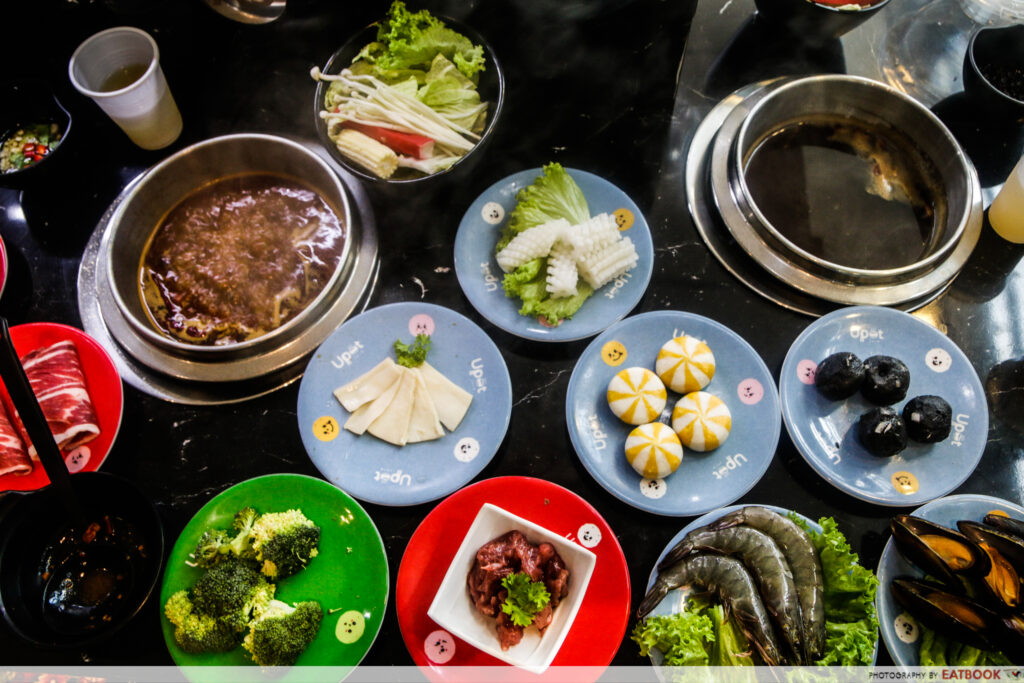 I doubt I'm the only one who understands the feeling of being caught up in the visual excitement of dishes displayed on conveyor belts. Sometimes before I'm even seated, I already have my hands on a plate of my favourite dish. Even as I tuck in, my eyes are glued on the plates turning round the bend. More than a few times, I would already be watching from the moment the chef puts freshly prepared items on the conveyor belt.
When I heard of a Taiwanese hot pot restaurant that serves dishes on a conveyor belt, I was interested to check it out for myself. Upot, which is known as 好客火锅 in Taiwan, recently opened their first branch in Singapore at Paya Lebar and we headed down to check it out.
Food at Upot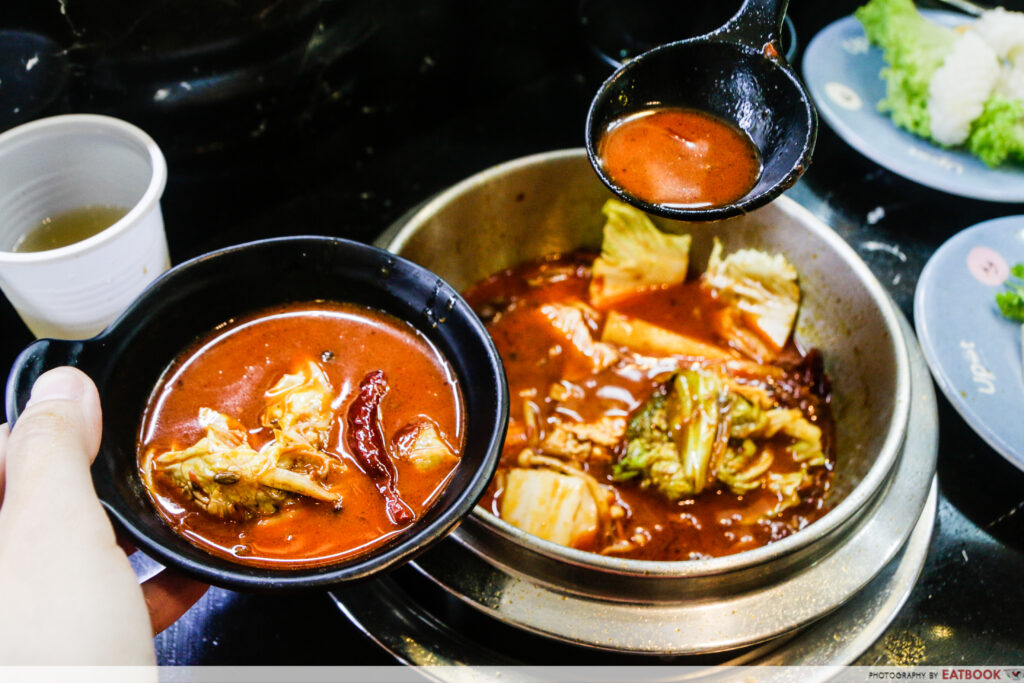 We chose our own hot pot soup from their variety of six, namely Taiwanese Herbal Pork Rib Soup ($8.80++), Thai Tom Yum ($7.80++), Wild Mushroom Soup ($7.80++), Japanese Kombu & Bonito soup ($7.80++), Xiaolongkan Old Hotpot ($9.80++), and Tomato Soup ($7.80++). Like most hot pot places, soups are refillable upon request. Each came with a bowl of vegetables and mushrooms and free-flow iced green tea or water, but we had to top up $2++ per person to help ourselves to their condiments.
We had to have their Xiaolongkan Old Hotpot which had dried chilli and Sichuan spices swimming in a ma la soup base. It was watery but flavourful and reminded me of a toothsome ma la xiang guo. Picking up the veggies also pulled up the soup's numbing spices which gave my mouth a zing once I bit down. The soup turned bitter after some time though, which we supposed was because the spices became overcooked.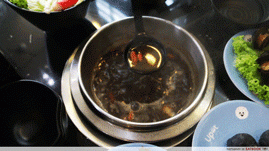 Their other popular soup base is Taiwanese Herbal Pork Rib Soup which had wolfberries in it. I liked how the first broth enhanced, rather than masked, the taste of the ingredients. But this had a slightly sweet flavour and tasted lighter and clearer.
They had plates in green ($0.99++), orange ($1.99++), blue ($2.99++), and red ($3.99++) and in my excitement, I got carried away filling our table before our broth arrived.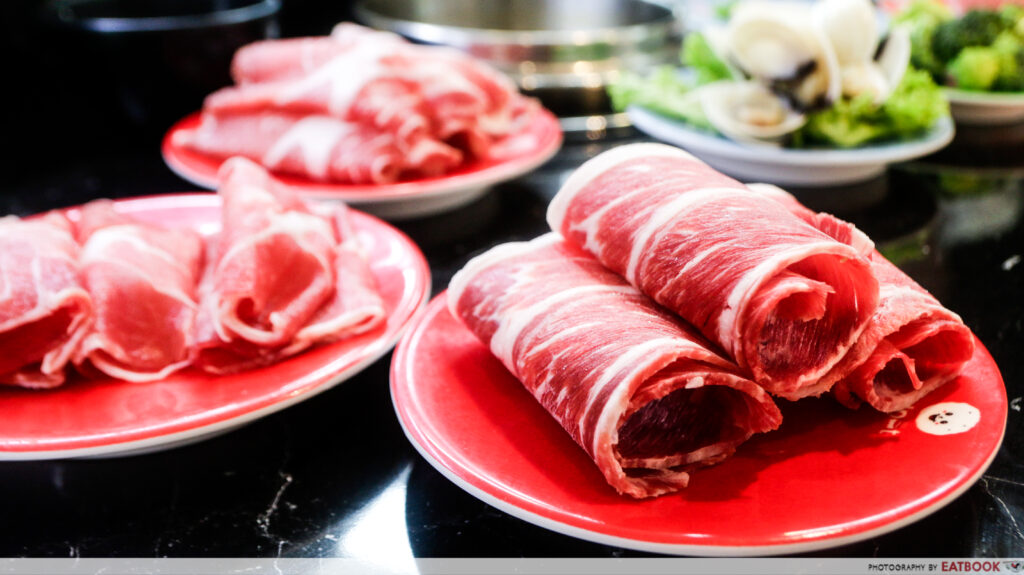 Though Upot offers about 280 dishes, only about 98 are on display at each time. Still, you can always order them a la carte. It would have been great if they had a menu for reference but the staff members were helpful with recommendations.
On one-for-one promotion till 11 November are their meats. We tried beef and mutton, but their pork was my favourite. Cooked in shabu-shabu style, it was the fattiest of the three and most tender and flavourful. The restaurant is still adjusting their cuts of meat to customers' preferences so I hope they'll introduce fattier beef and mutton soon.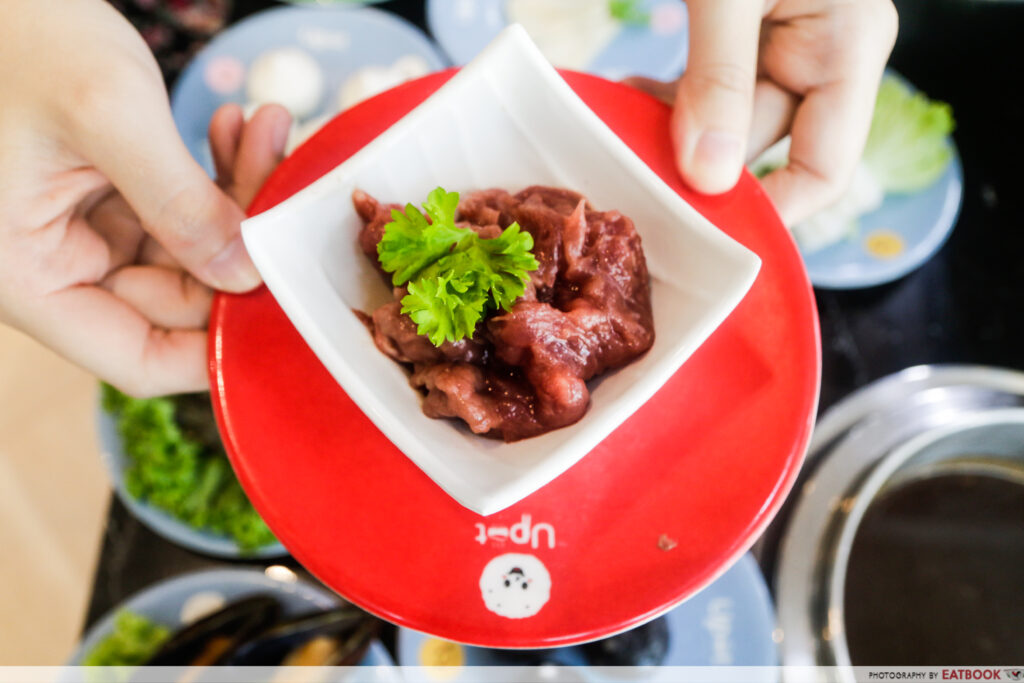 We were recommended their chef-marinated beef which was more tender and springy than the plain sliced beef. Regardless, both were as enjoyable as the other.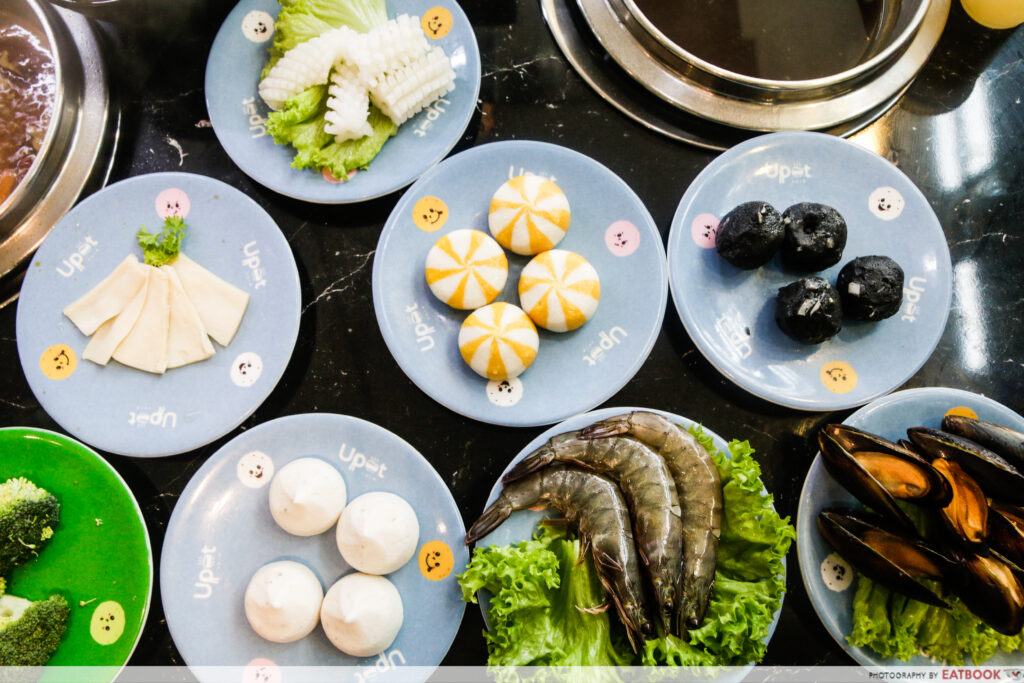 Most of the dishes I chose were seafood and appeared only on blue plates. Their mussels and lala (bamboo clams) were carefully arranged to fit the generous portions on each plate. They also had interesting ingredients like squid ink balls which tasted like regular squid balls. I liked how their prawns were fleshy, large, and sweet.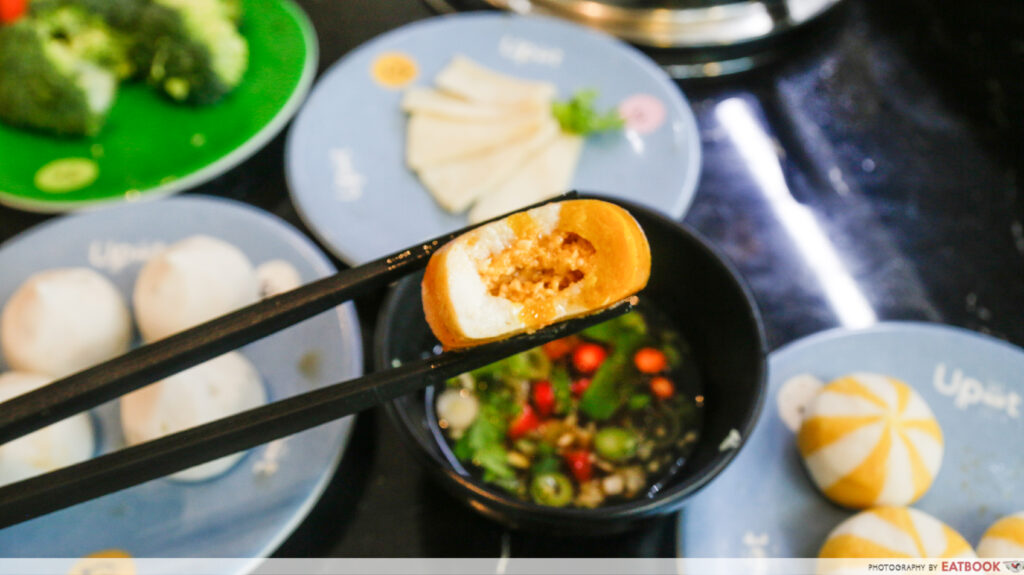 They served salmon roe balls that came in fours and biting into one gave a burst of textures. The outside was like a chewy fish ball while the inside was filled with grainy and moist meat.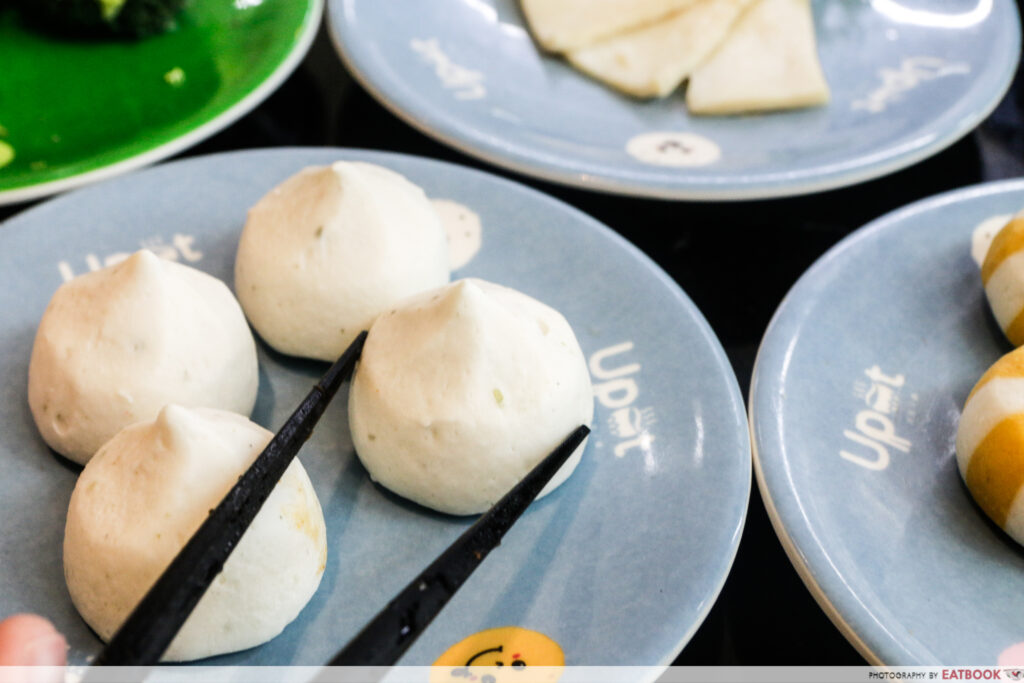 We also spotted a cute teardrop-shaped dish which tasted the same and had the same filling. Most of the vegetables and variety of noodles were on green plates. We didn't try their recommended fish noodles but if you do, look out for it on an orange plate.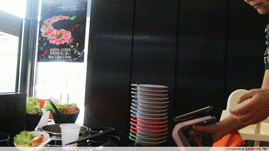 When we called for payment, a waitress stacked our plates by colour, scanned them for the bill and double-checked the machine count.
Ambience at Upot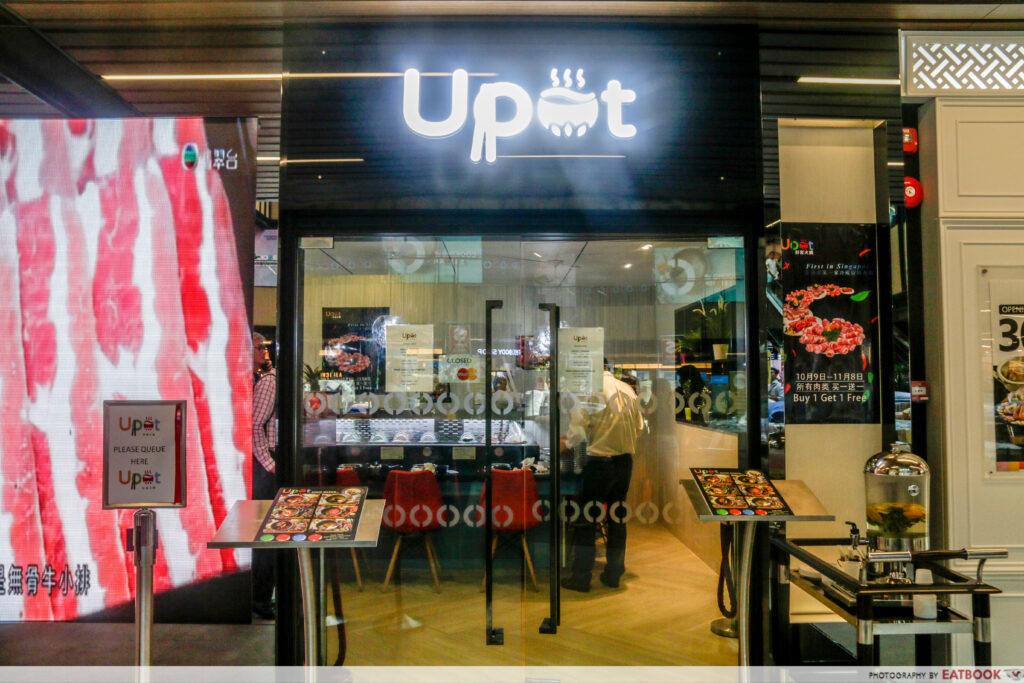 Upot is located in SingPost Centre which is just a stone's throw away from Paya Lebar MRT Station. It was easy to find and there were posters outside and inside the shop that showed their basic prices and ongoing promotions.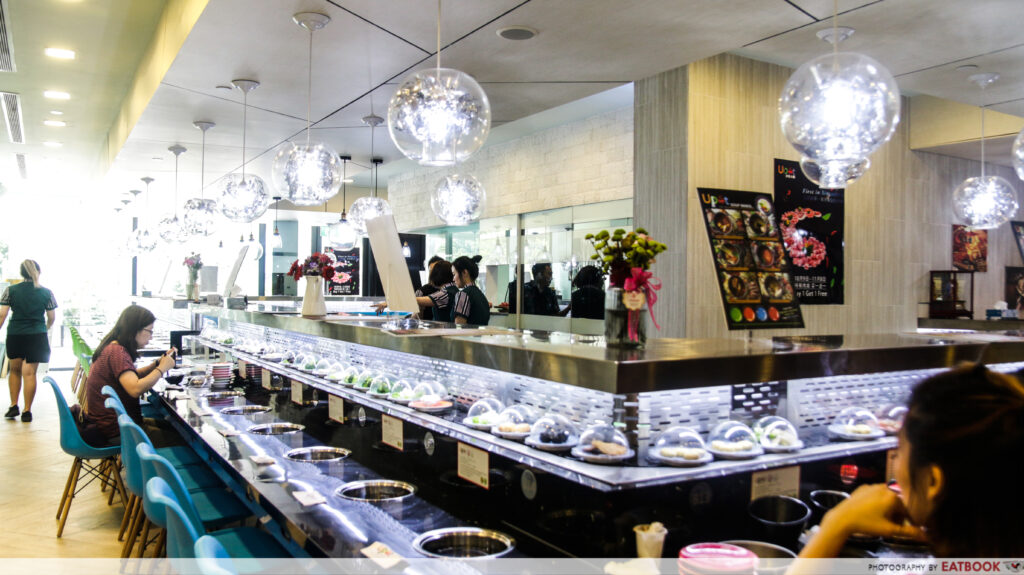 It's clean and they upkeep hygiene by throwing out the remaining foods during their afternoon closing hours. Tissue boxes are placed on the table tops too. It was interesting to see how their conveyor belt works with a metal wall that has cold rods behind it to keep the food chilled.
The verdict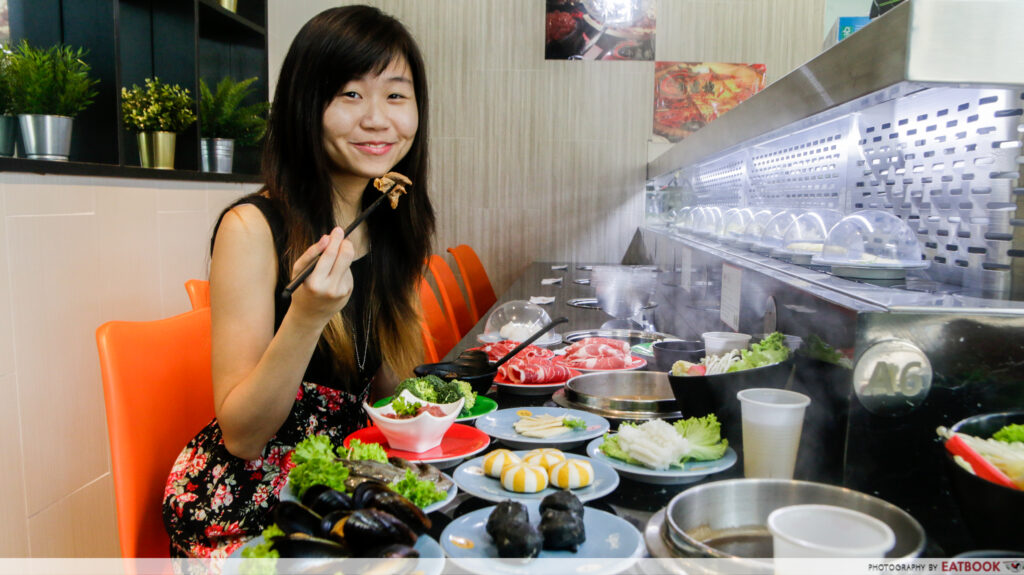 Their meats and seafood are definitely why I would wanna come back, plus I love how the veggies that come with the broth pick up the flavours of the soup. As comforting as hot pots are, I can't help but feel the pinch when I order their raw meats, especially because the menus usually only allow one or two combinations of meat per order. At Upot though, that didn't nag at the back of my mind since I could grab the ingredients in small amounts as I slowly dug into a satisfying meal. Having a hot pot meal there seems convenient and comfortable even if it's on one of those days I just wanna unwind alone. For more steamboat feasts, check out out list of affordable steamboats or One More Steamboat which offers free-flow braised pork rice!
Address: 10 Eunos Road 8, #01-137/138, Singpost Centre, Singapore 408600
Opening hours: Mon-Thur 11:30am to 3pm, 6pm to 10pm, Fri-Sun 11:30am to 3pm, 5:30pm to 10pm
Tel: 6741 6666
Website
This is an independent review by Eatbook.sg.
Summary
Pros
– Convenient location
– Variety of dishes
– Fresh food
– Helpful staff
Cons
– No menu to show full list of dishes
– Charge for condiments
Recommended Dishes: Xiaolongkan Old Hotpot ($9.80++), Taiwanese Herbal Pork Rib Soup ($8.80++), Beef slices ($3.99++), Pork slices ($3.99++)
Operating Hours:
Mon-Thur 11:30am to 3pm, 6pm to 10pm
Fri-Sun 11:30am to 3pm, 5:30pm to 10pm
Address: 10 Eunos Road 8, #01-137/138, Singpost Centre, Singapore 408600