One More Steamboat offers bowls of lu rou fan and teppanyaki
Update: One More Steamboat has closed permanently.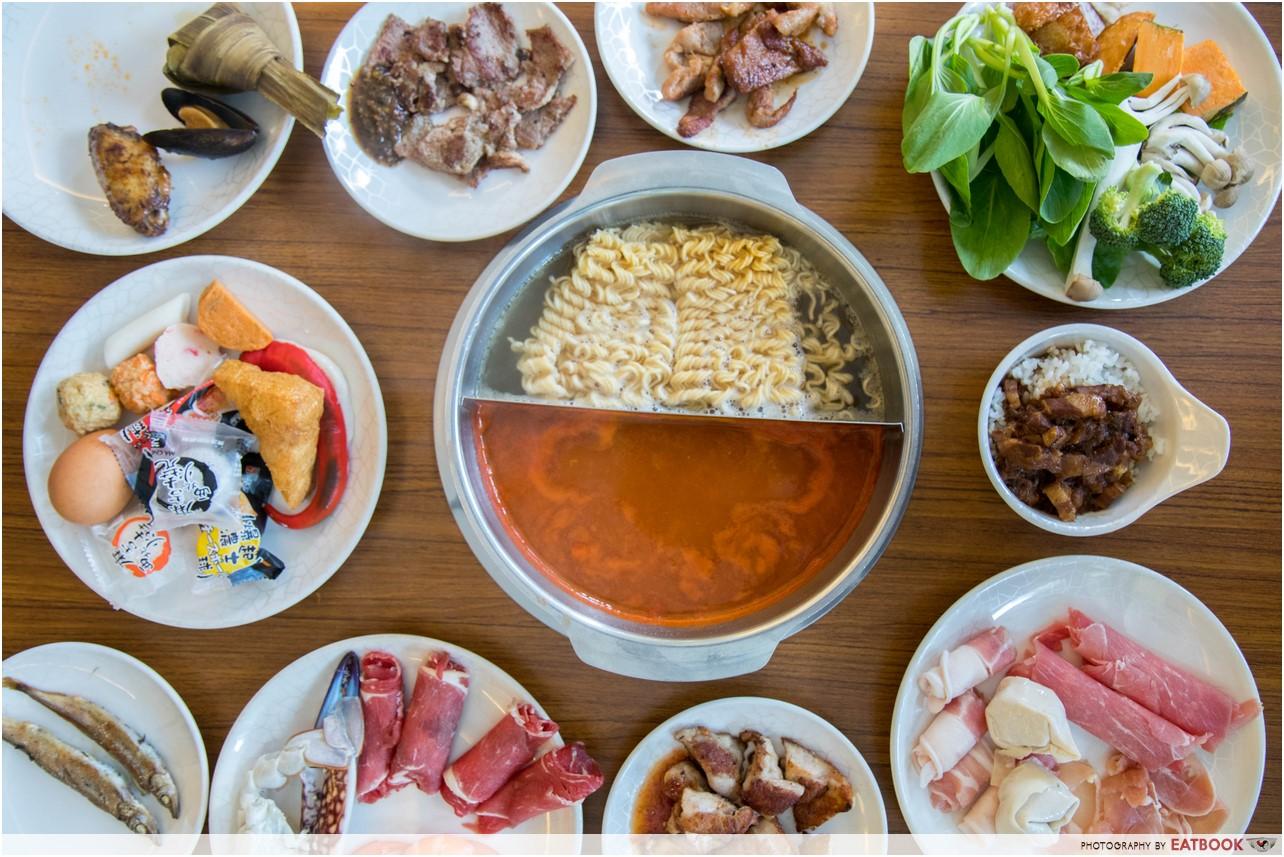 I'm always ready with a suggestion on where to eat for any occasion. That might have something to do with how my list of to-eats is close to a hundred eateries long, growing faster than I can strike restaurants off it. One thing that's been on the list for the longest time is teppanyaki, but it's always a little too pricey for my budget. So when I heard about all-you-can-eat teppanyaki at One More Steamboat's buffet, I knew I had to pay a visit.
Food at One More Steamboat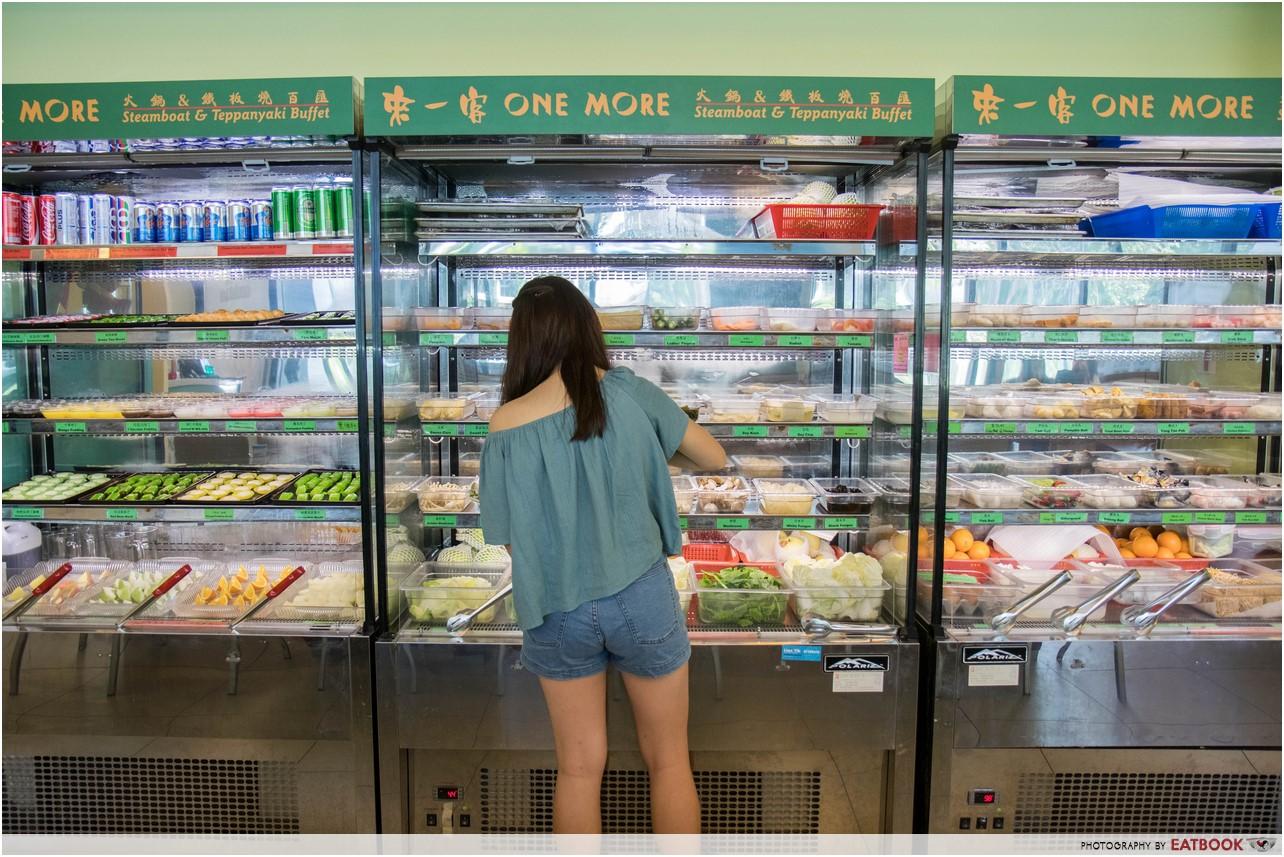 One More Steamboat serves shabu and teppanyaki buffet with Taiwanese elements. Their buffet lunch (12pm to 3pm) costs $25.80 on weekdays and $27.80 on weekends. If you come by for dinner (5:30pm to 10pm) from Monday to Thursday, it'd cost $30.80, while dinner from Friday to Sunday costs $32.80.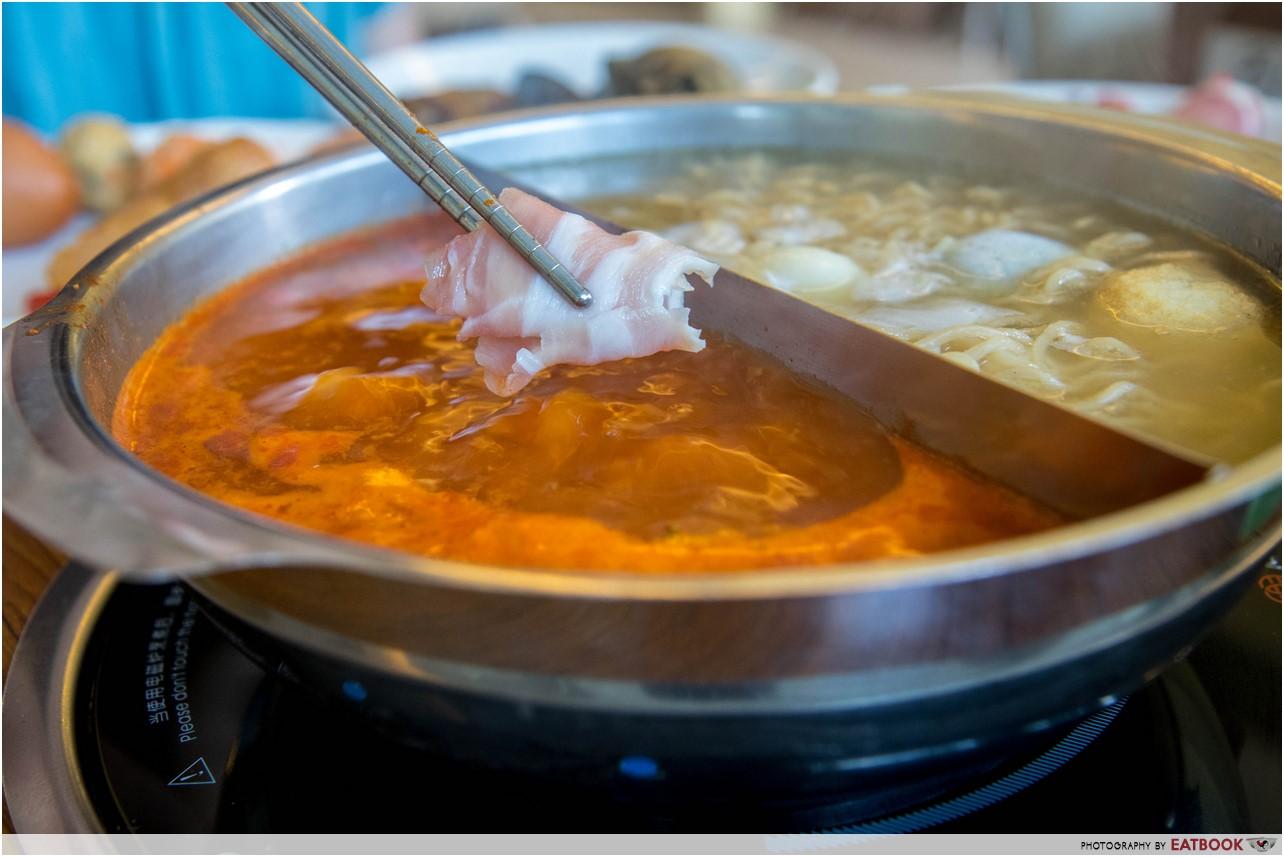 They offer a huge variety of soup bases. Besides common options such as Thai Tom Yum, and Taiwan Ma La, they also have novel ones including Korean Kimchi, Assam Curry, and German Sauerkraut. An interesting option is "Superior Broth", which is made with chicken, pork, and sugar cane. This Superior Broth forms the base for all the others, which come as pastes that are stirred into the hot pot at your table.
We chose Superior Broth and Korean Kimchi as our soup bases. The former was on the sweeter side and lacked the meaty flavour we were expecting. The kimchi broth had a slight kick to it with a hint of sourness.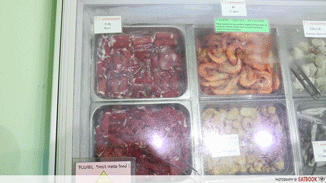 Before digging into any buffet, my routine first involves scouting the spread and devising a game plan for maximum enjoyment. The first thing we did was to check out their spread of meat. There was a decent variety of frozen meats and seafood, including pork collar, beef, prawn, and flower crab.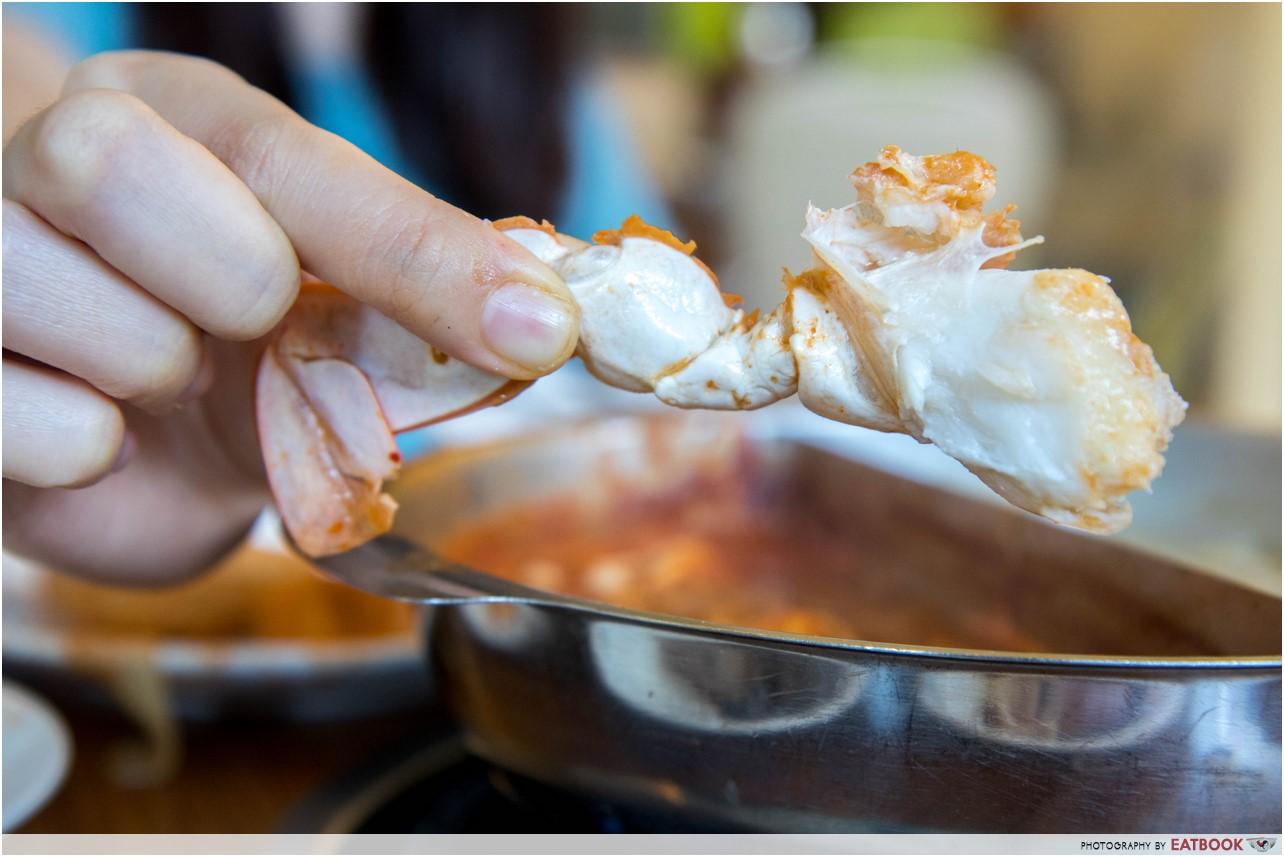 The frozen meats weren't notable but I did like the flower crab. I got my fingers dirty for this and was rewarded with chunks of sweet crab meat.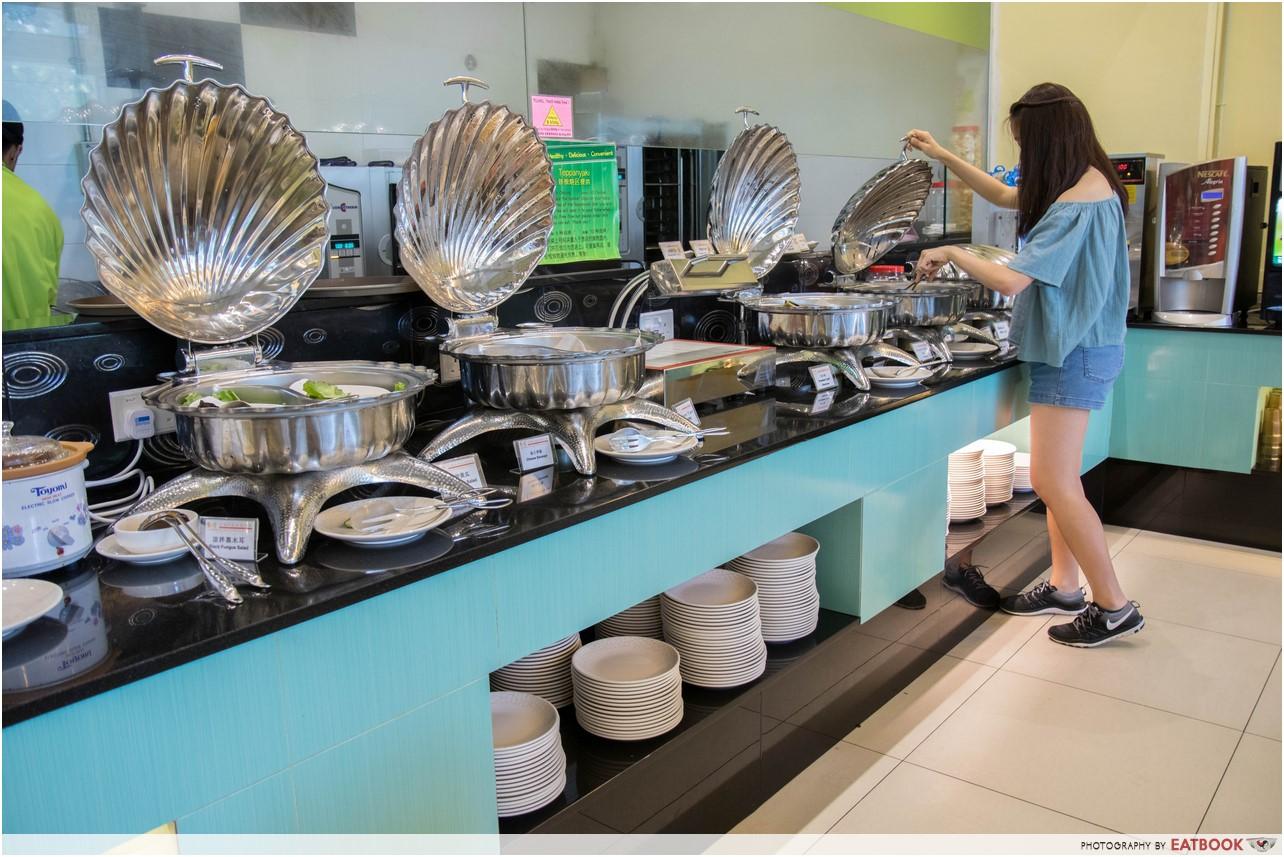 One of the buffet's highlights is teppanyaki meats. Unlike in K-BBQ restaurants where leaving the place in a cloud of smoky stench is a very real possibility, here the teppanyaki station is separated from the main dining area by a glass divider. While we got to enjoy grilled meats without the accompanying smoke, we missed the theatrics of teppanyaki that is usually what makes it memorable.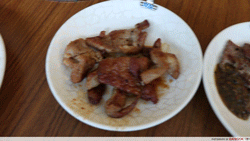 On your table you'll find a few clips that you'll need to order the teppanyaki with. Drop the clips into labelled bowls in front of the glass divider. From the spread, teppanyaki chicken was our favourite. We didn't think much of it when it was served, but biting into it revealed juicy, succulent meat with a tasty charred exterior. The meats are grilled plain but are served on side plates with a dollop of sauce to complement.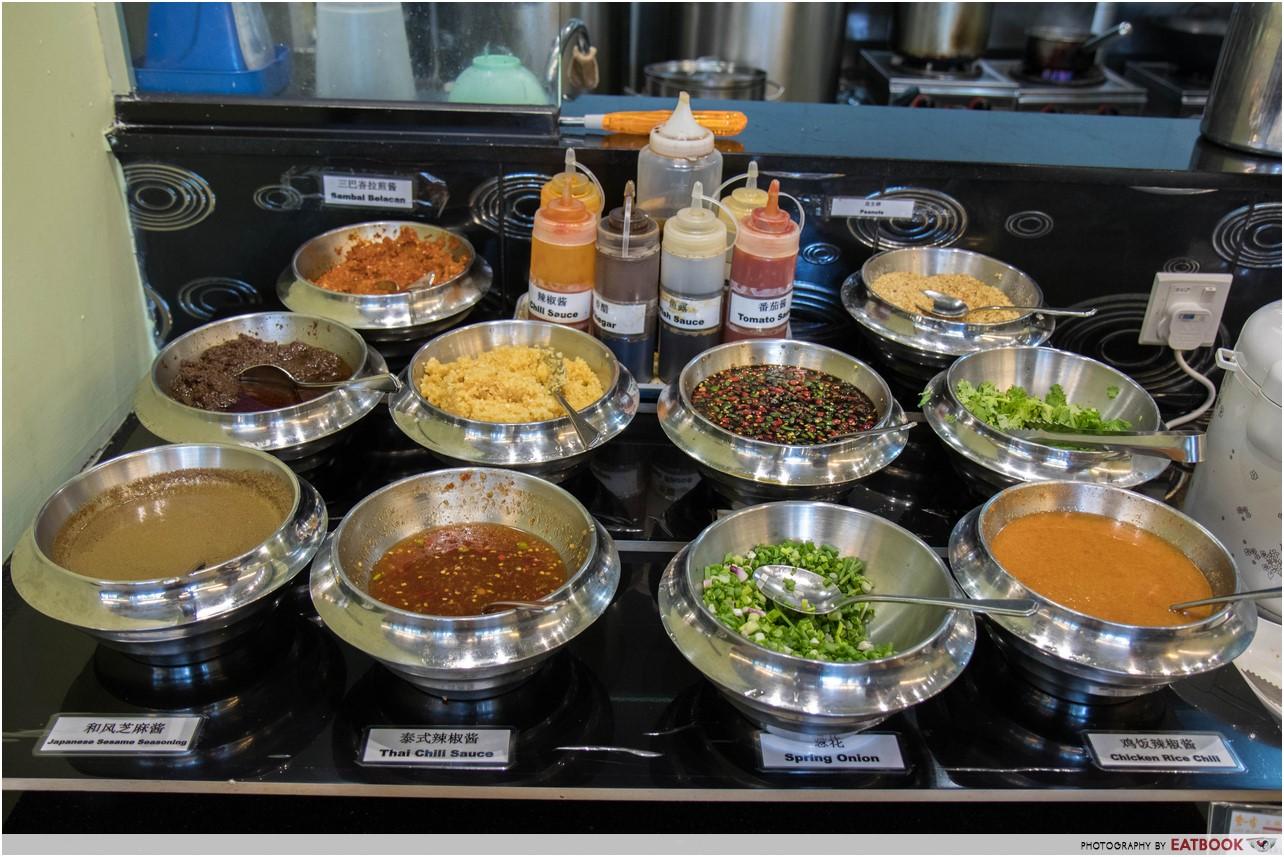 If the accompanying sauces can't satisfy your taste buds, their extensive sauce bar will come in handy. The sauce bar selection caters to those who like spicy food as most of the sauces contain chilli, but the spiciness is manageable by most standards. I practically had all my food with their sambal belachan, which was spicy and had a depth of flavour from salty, savoury shrimp paste.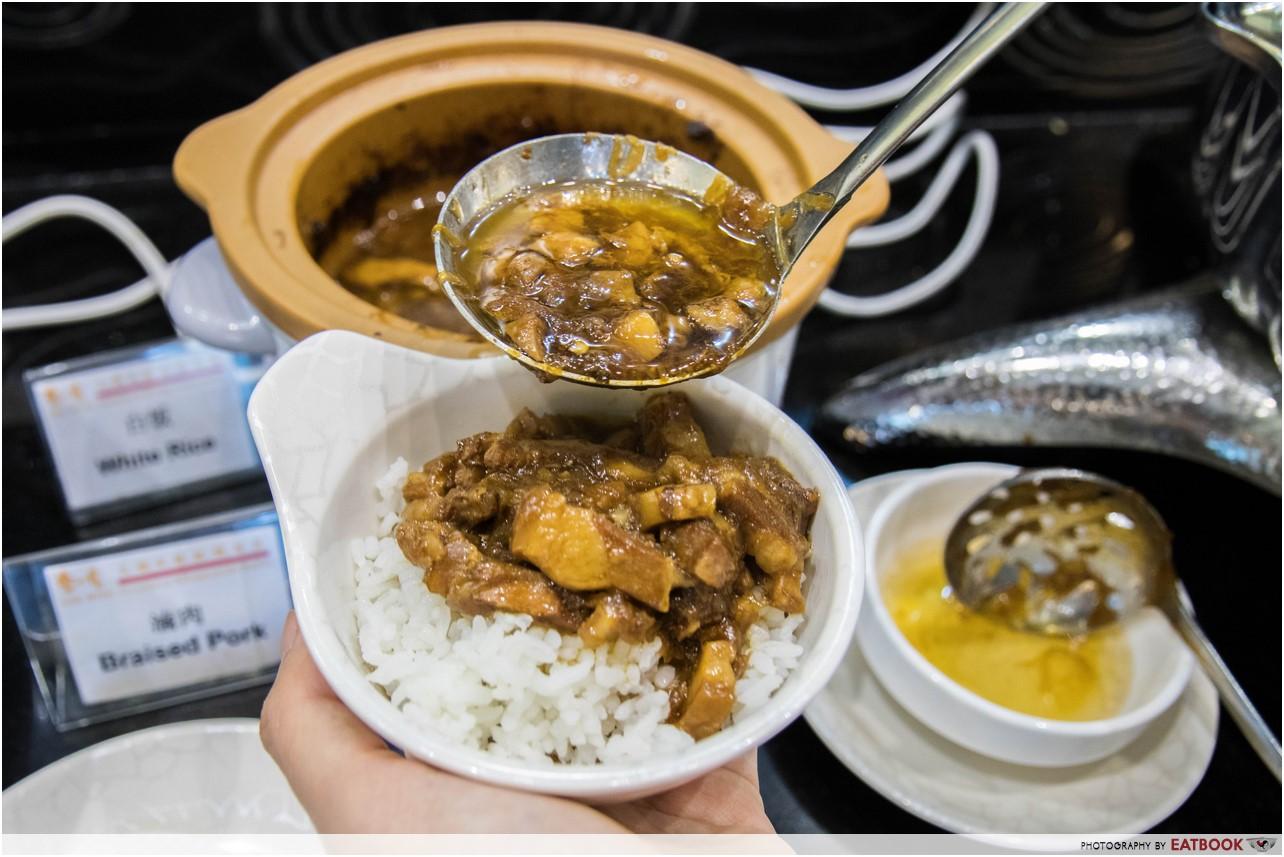 One More Steamboat's buffet is one with Taiwanese influences, and every Taiwanese food hunt needs lu rou fan (braised pork rice) and Taiwanese mochi. We helped ourselves to the braised pork kept in a slow cooker, and spooned a heap of meat onto a bowl of rice.
While some lu rou fan options out there are basically fat and oil over rice, One More Steamboat's version has a good amount of meltingly soft lean meat. The braising sauce was not robust and could do with a stronger spice profile, but it was a decent bowl of lu rou fan overall.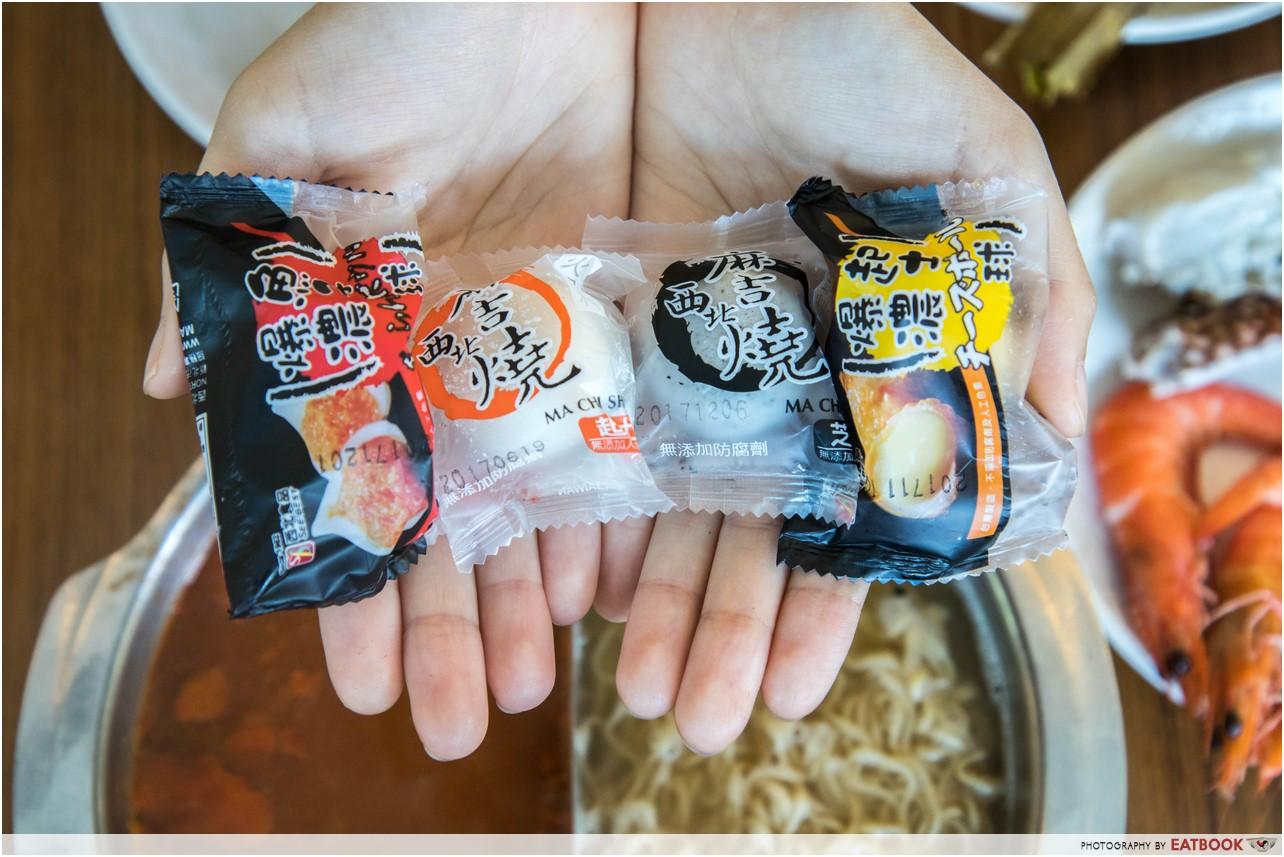 In addition to the selection of vegetables, noodles, and processed meats, there were a few interesting balls we could add to our hotpot. From left to right, these are their crab roe, cheese mochi, sesame mochi, and cheese balls respectively.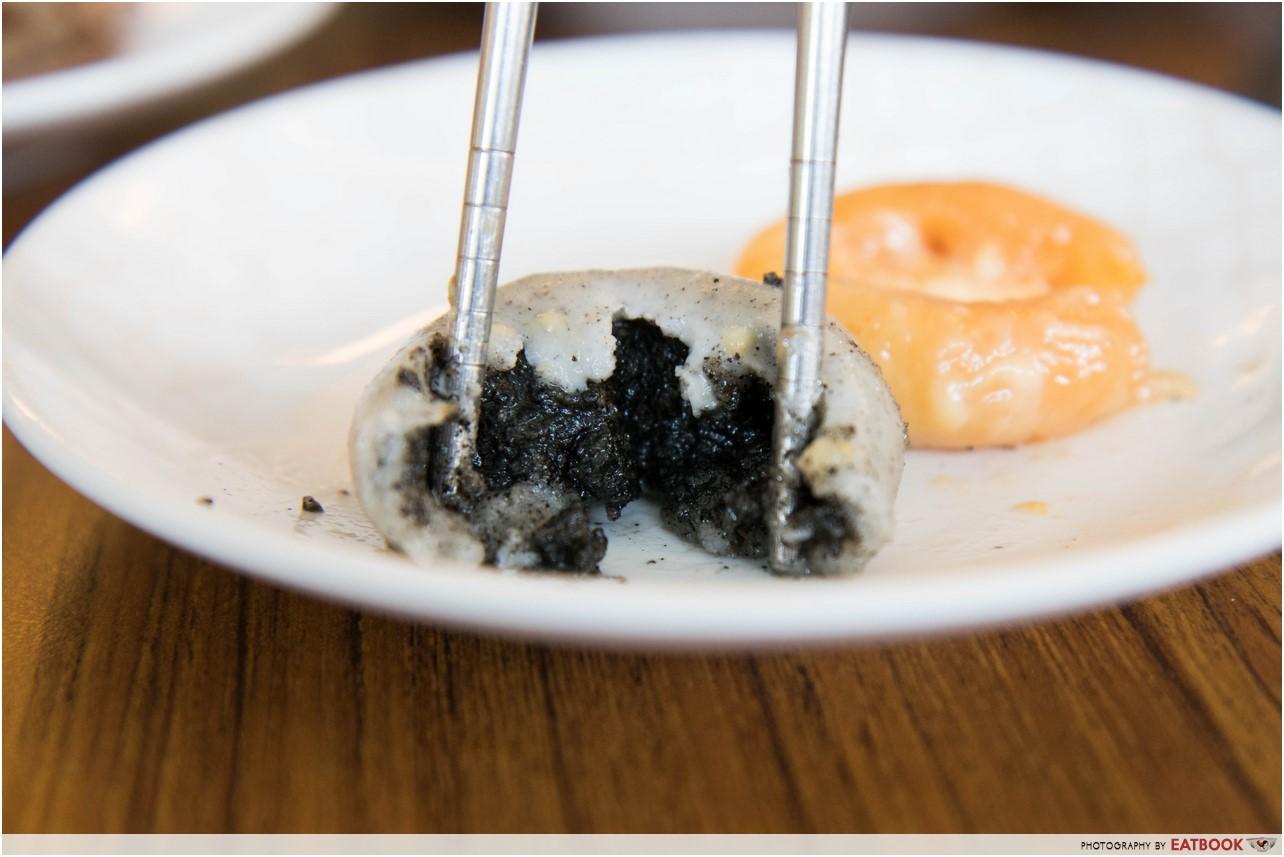 Sesame mochi fared the best, and surprisingly wasn't all that strange when cooked in a savoury broth. It contained a generous amount of black sesame paste that wasn't overly sweet. We were disappointed by the cheese ball and cheese mochi as the fillings didn't flow out like we expected. The gooey fillings were actually on the sweeter side and tasted nothing like cheese, so you won't be missing out if you skipped them.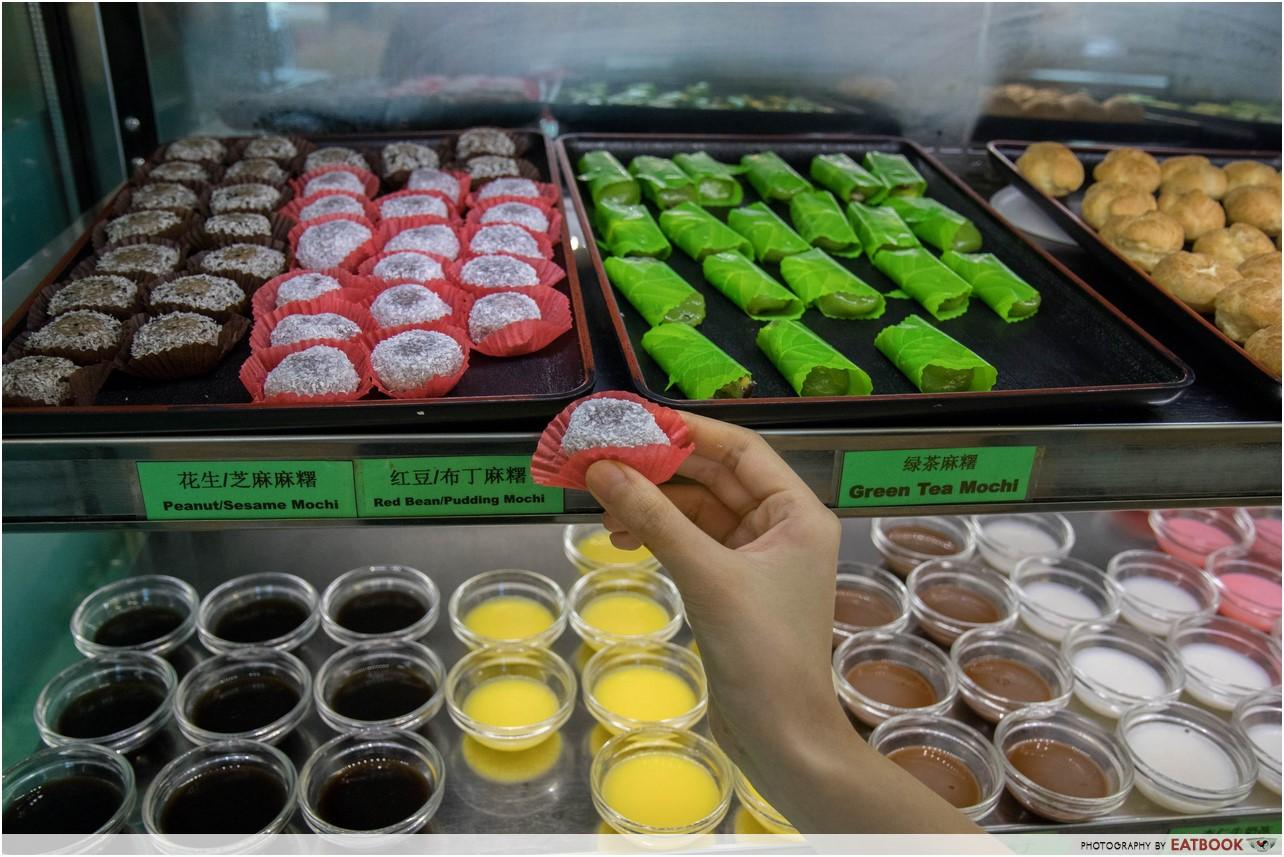 End off your meal with their spread of sweets. They have wide variety of mochi, pudding, and ice-cream. The mochi wrapped in green wax paper sticks resolutely to everything, so it's best to handle it with the wax paper.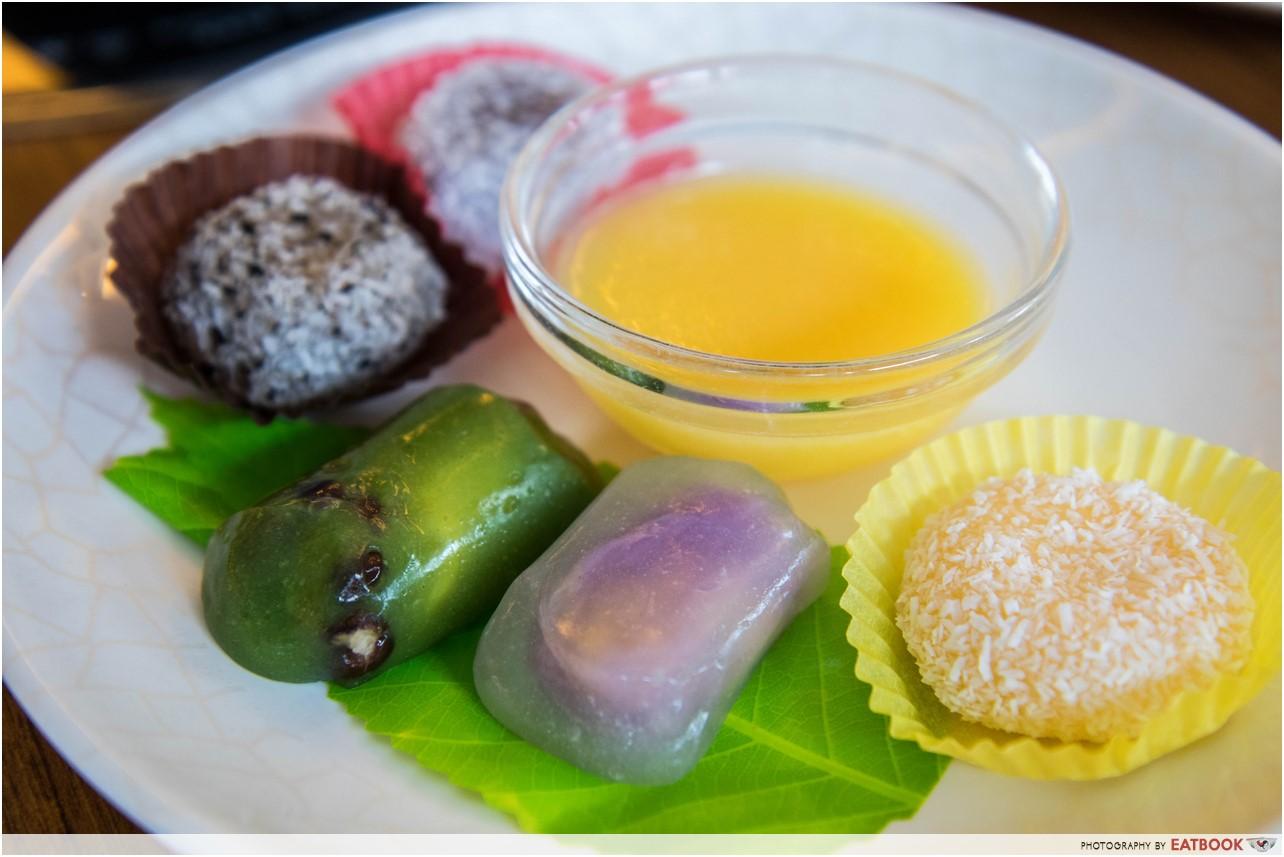 I preferred the mochi coated with coconut bits to those wrapped in leaf-shaped wax paper. The former contained more filling and were not as sweet, and the coating of dessicated coconut created a nice contrast between textures.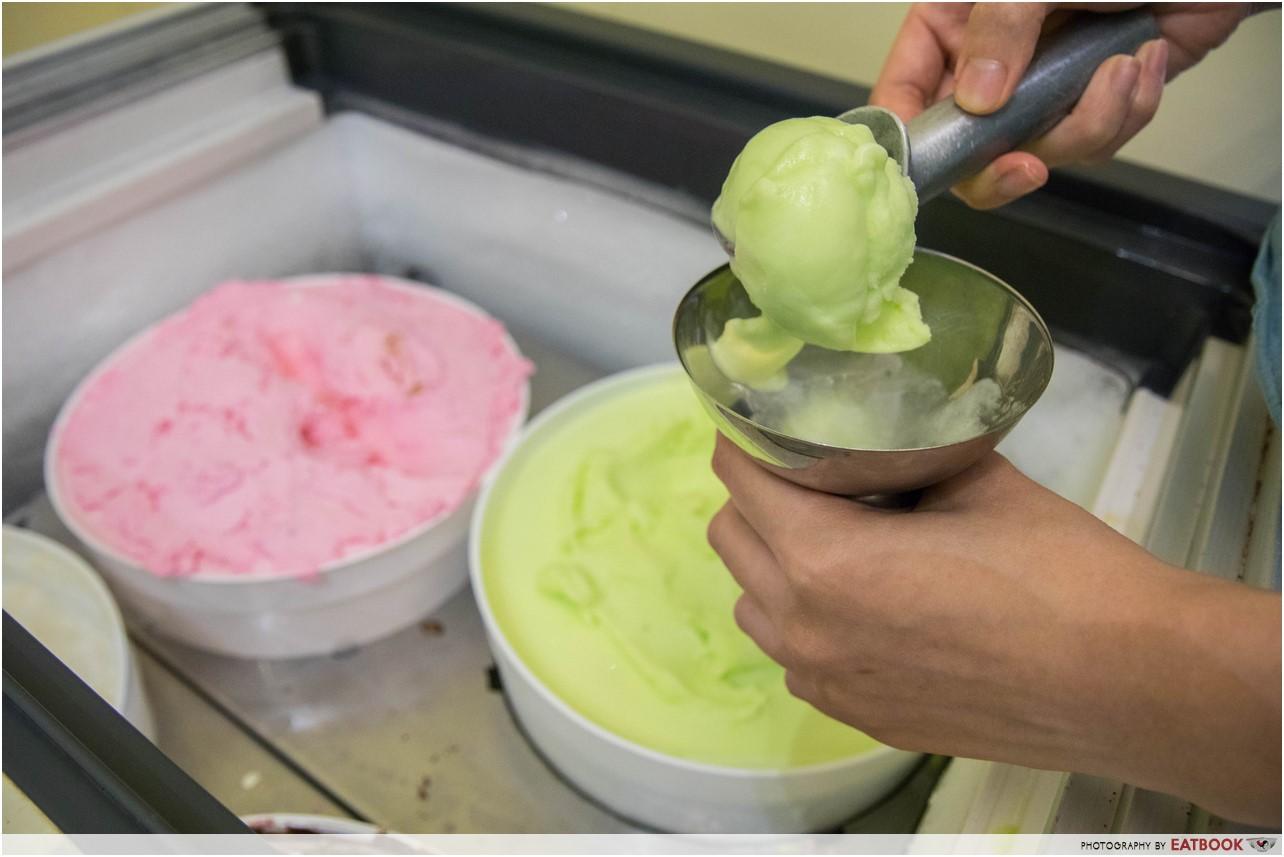 If you're hankering for something icy after a warm meal, a couple scoops of ice-cream should do the trick. We got ourselves some lime sorbet for a refreshing citrusy hit that reminded us of those lime and vanilla ice-cream popsicles we loved as kids.
Ambience at One More Steamboat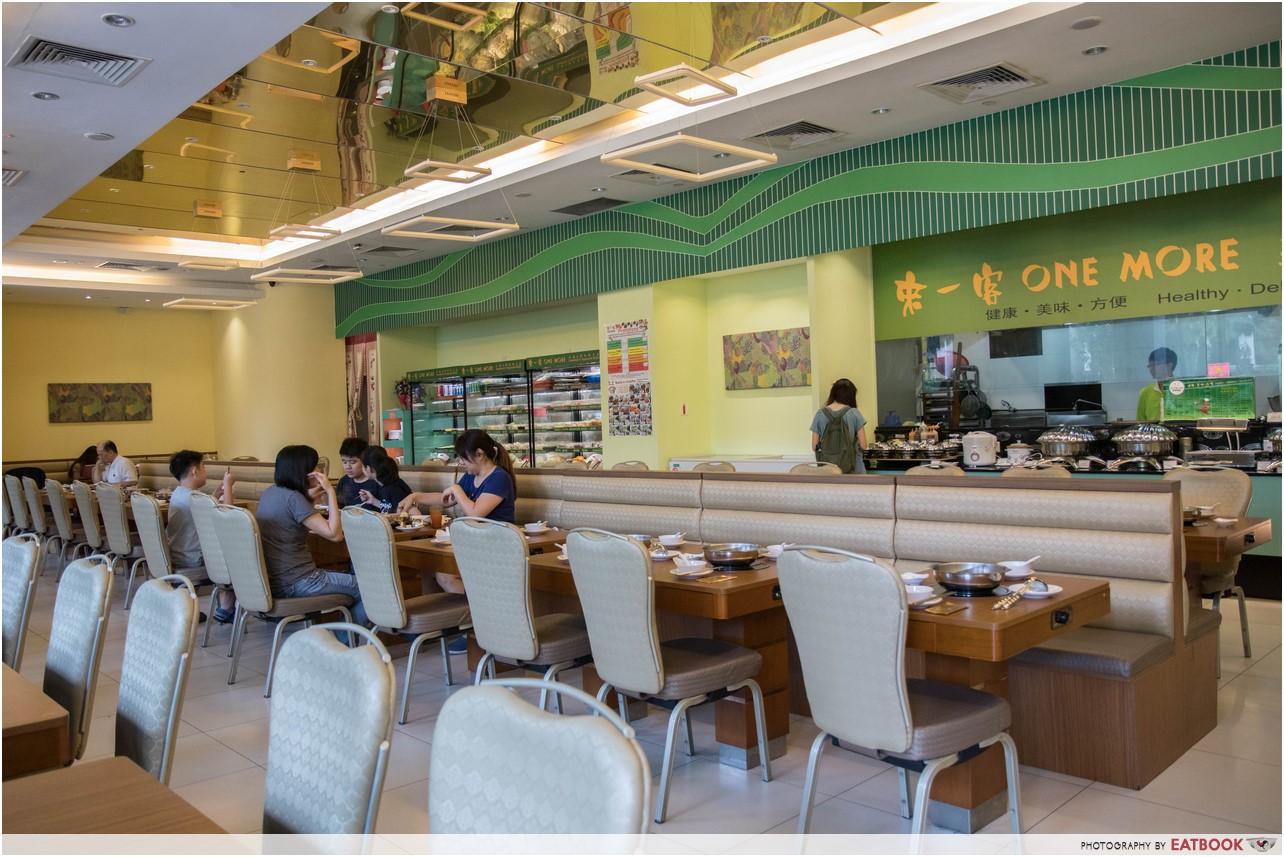 The space at One More Steamboat is spacious and comfortable. One hot pot, which holds two types of soup bases, is shared between two diners. The food display is kept clean and stocked by their friendly staff and the spread was replenished routinely. Our servers were attentive and regularly topped up our hot pot with more stock.
The restaurant isn't the most ideal for large groups as their tables seat either two or four people and can't be joined to each other.
The verdict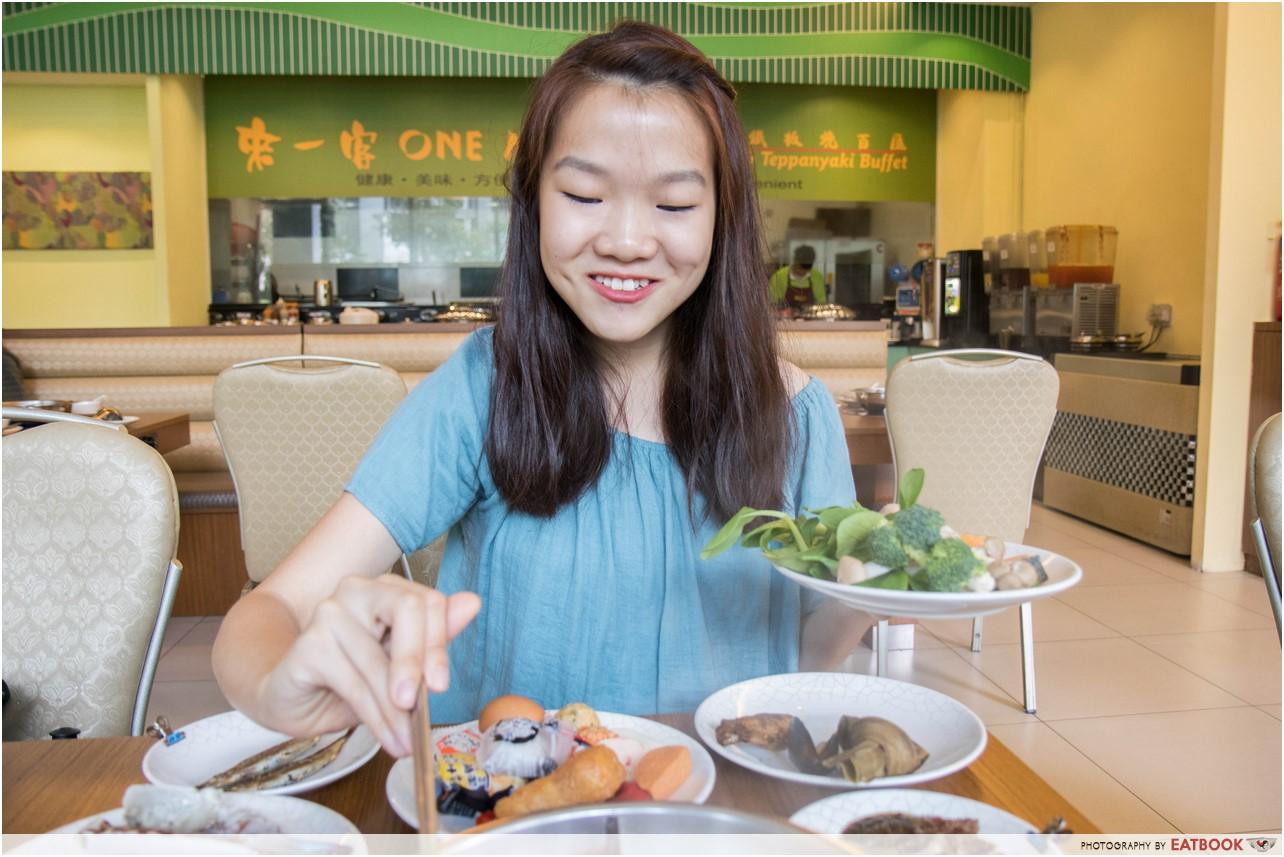 If you're craving for grilled meats and a steamboat feast, One More Steamboat's wide selection and reasonable price makes it a decent option especially for Westies. Still, I'd argue there are other buffets that give you a better bang for your buck. For more steamboat buffets, check out Guo Fu Steamboat and Hao Lai Wu!
Address: 4 Hillview Rise, #01-14/15, HillV2, Singapore 667979
Opening hours: Daily 12pm to 4:30pm, 5:30pm to 10pm
Tel: 6710 7478
Website
This is an independent review by Eatbook.sg.
Summary
Pros
– Wide selection
– Near Hillview MRT Station
Cons
– Food is frozen, few items made in-house
– Not ideal for large groups
Recommended Dishes: Flower crab, teppanyaki chicken, teppanyaki pork, lu rou fan, sweet mochi
Operating Hours:
Daily 12pm to 4:30pm, 5:30pm to 10pm
Tel:
6710 7478
Address: 4 Hillview Rise, #01-14/15, HillV2, Singapore 667979