Pancake Place at Arab Street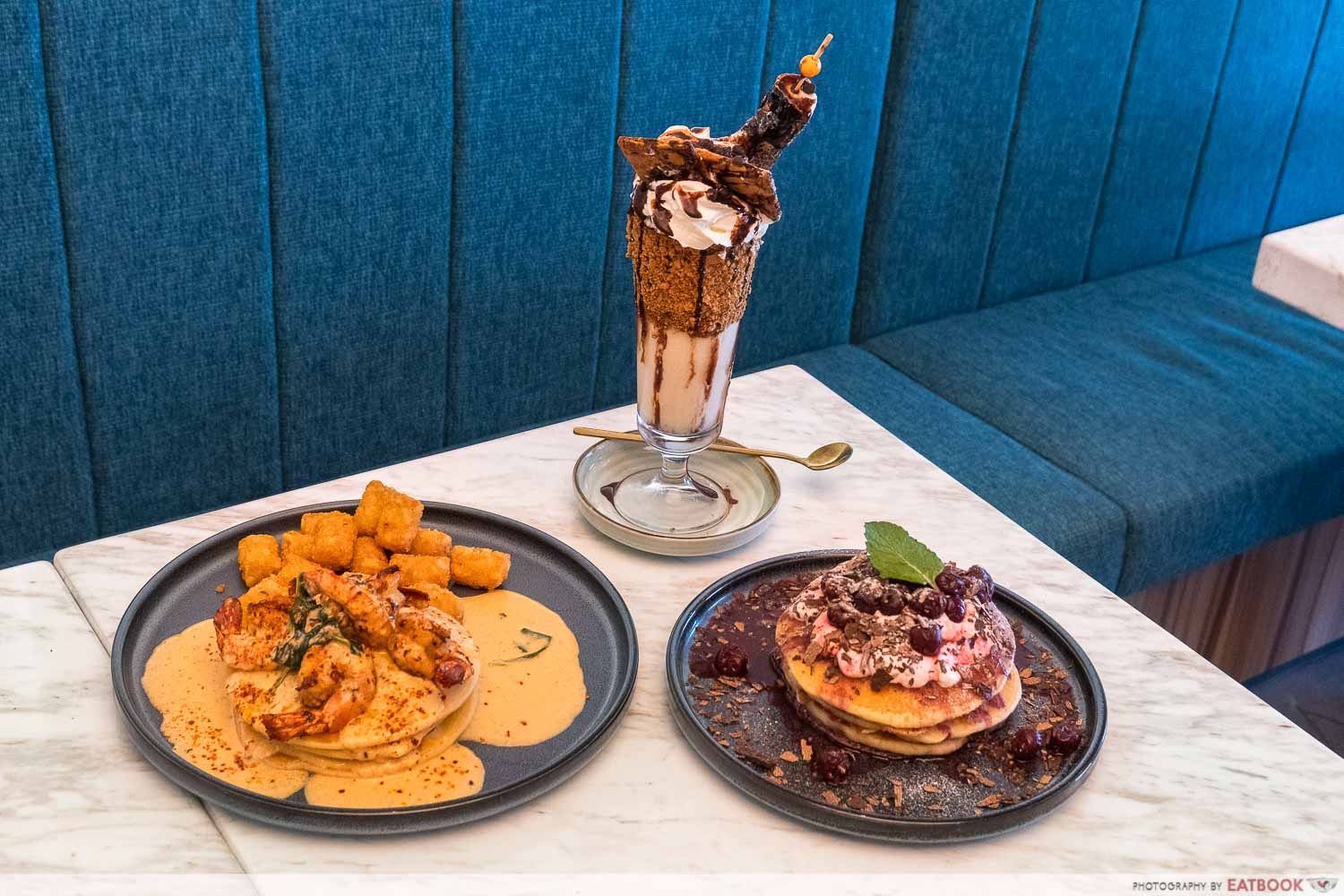 I've realised that all cafes offer similar fare, such as coffee, sourdough toasts, big breakfasts—the list goes on. So when I heard of Pancake Place, a cafe that only specialises in pancakes, it piqued my interest. 
They're a new halal pancake cafe opened by the team behind Royz et Vous—a popular halal restaurant and cafe. The menu here comprises a slew of sweet and savoury pancakes, as well as IG-worthy milkshakes.
Glacier Review: Minimalistic Cafe Opens Till 1am With Mochi Waffles, Matcha Brioche And More
Food at Pancake Place 
With so many flavours to choose from, my colleague and I went for one of their popular savoury options, a dessert-flavoured pancake, and paired it with a milkshake on the side.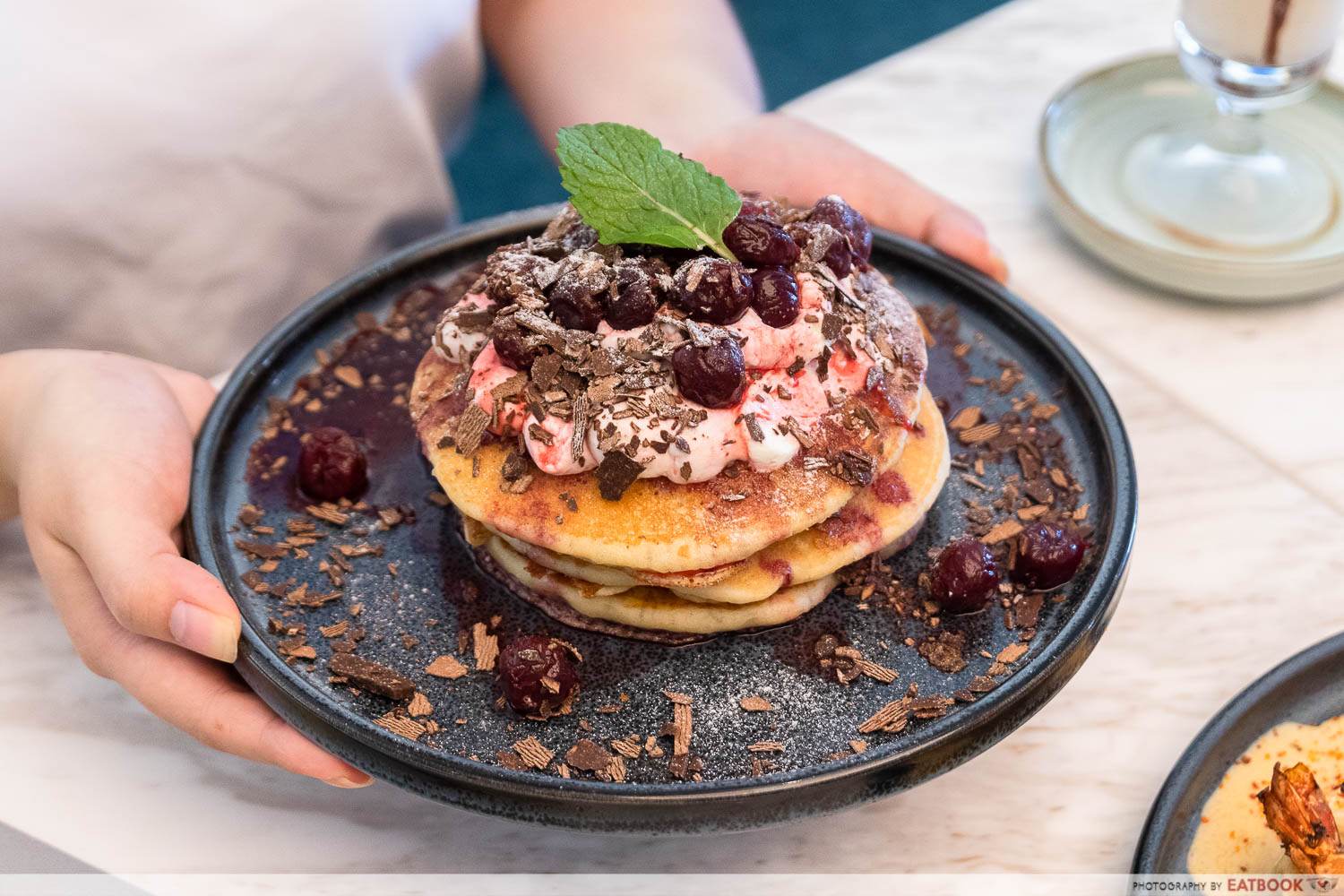 I started my experience with the Blackforest ($18.90++). It featured three pancakes, layered with dark chocolate mousse, cherry compote, feuilletine crisps, and topped with Chantilly cream and chocolate shavings.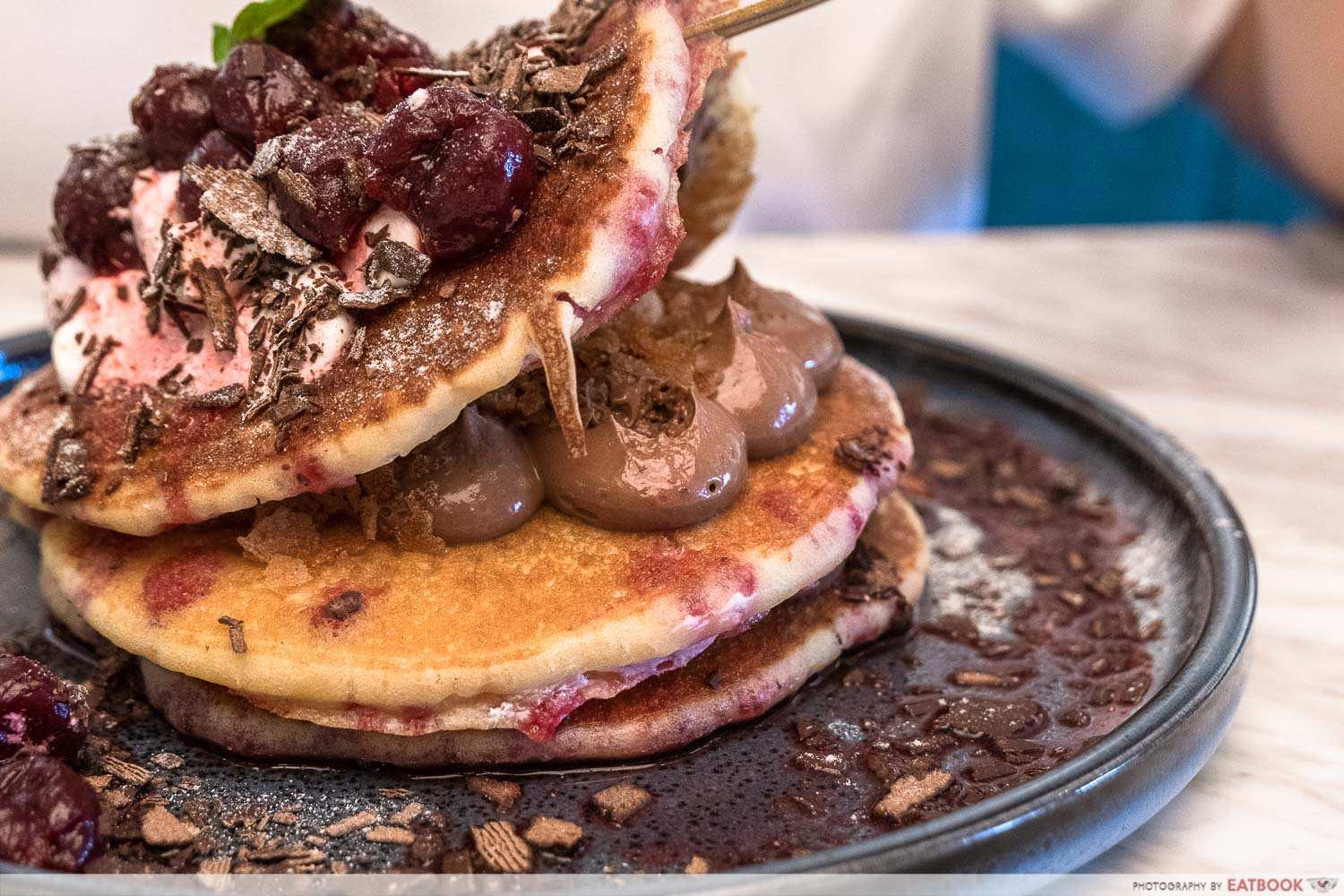 This dish tasted just like a Black Forest cake—sweet, decadent and fruity. My favourite component was the rich and velvety, chocolate mousse, made with 73.5% dark chocolate. It was sweet and chocolatey, but also had a slightly bitter note, which I appreciated.
The cherry compote added a slight tartness to the dark chocolate, which brightened the overall dish. Where the flavours were too sharp, the Chantilly cream balanced them with a softness. I felt that this dish had a great balance of flavours, as each component not only complemented each other nicely, but also allowed their individual flavours to shine through.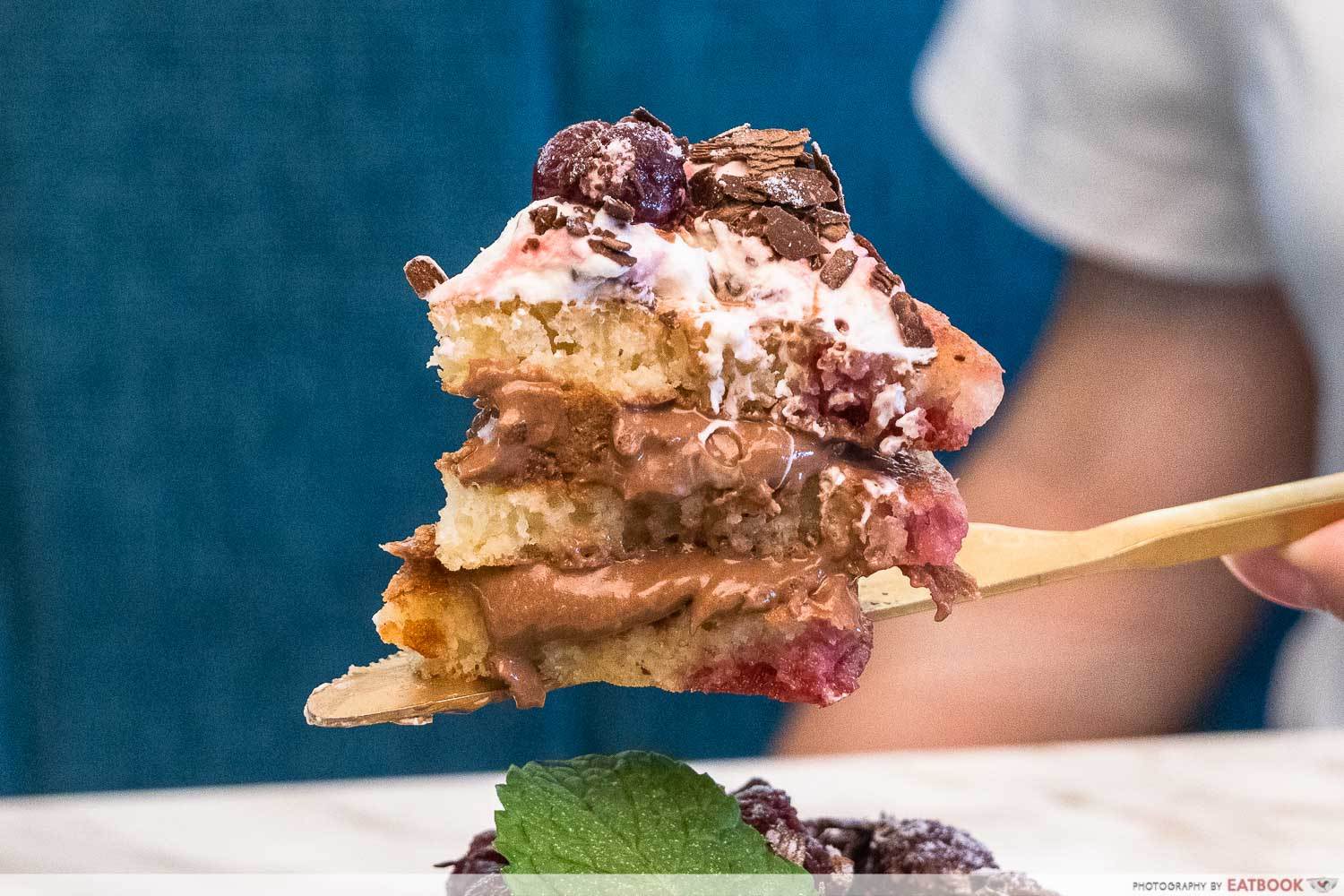 Flavours aside, I was pleasantly surprised to find feuilletine crisps at the centre of the pancakes. It tasted a lot like cornflakes to me, slightly sweet and crunchy. What stood out to me was how well thought-out the dish was. The crisps were placed in the centre of the pancakes, away from the chocolate mousse, which prevented them from getting soggy throughout the meal. 
The pancakes at Pancake Place are slightly denser and chewier than your usual brunch versions, so don't expect to find light and fluffy pancakes here.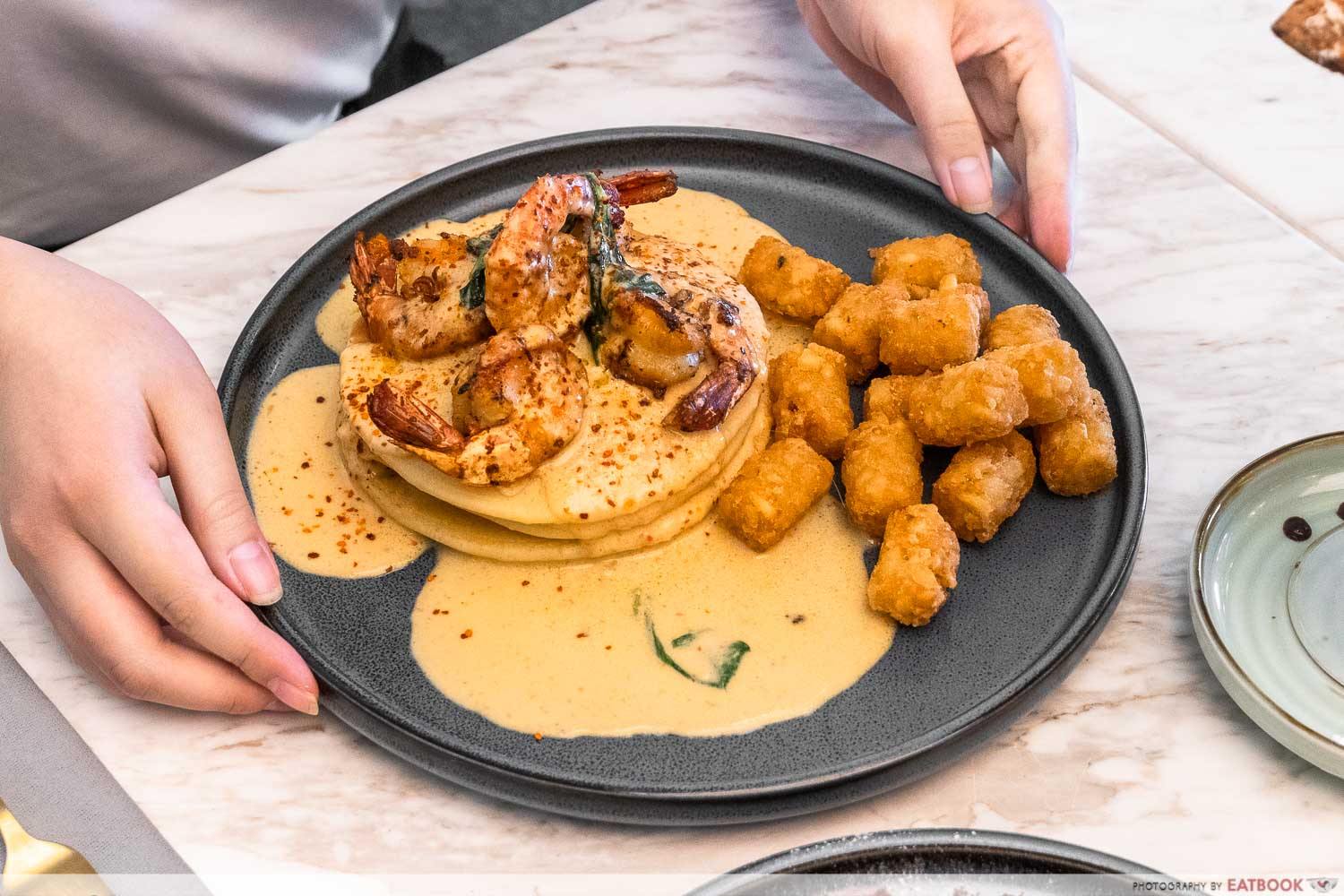 After the sweet pancakes, I moved on to the savoury Grilled Tiger Prawn ($19.90++). It came with five black tiger prawns, a stack of three pancakes, dressed in a spicy cream sauce with blanched spinach, and a handful of tater tots on the side.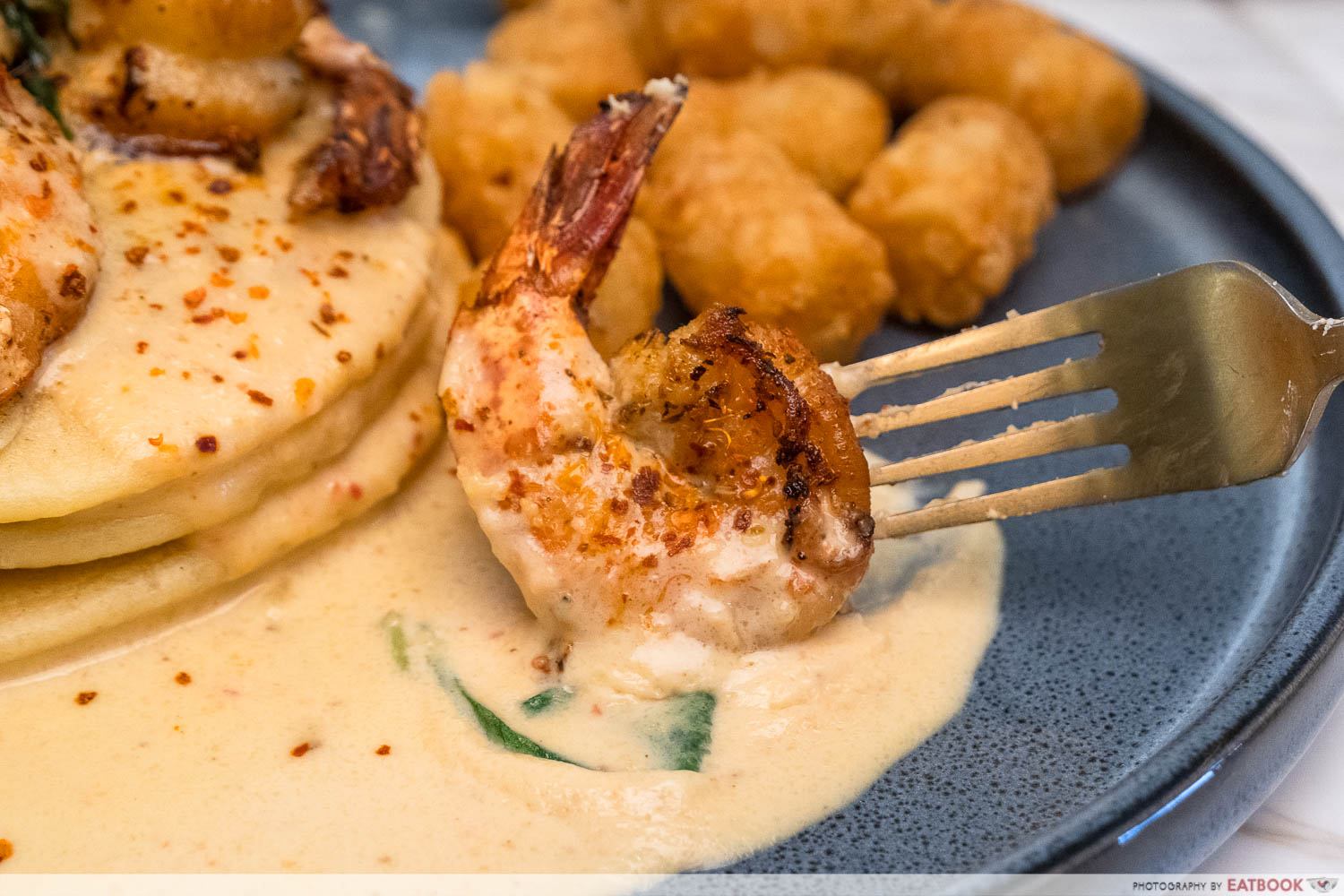 One of the highlights of this dish was the prawns. They were grilled, which gave them a charred and smoky aroma, that I enjoyed. However, the prawns were a touch overcooked, making them slightly tough and dry. Nevertheless, they were meaty and sweet, which complemented the savoury cream sauce.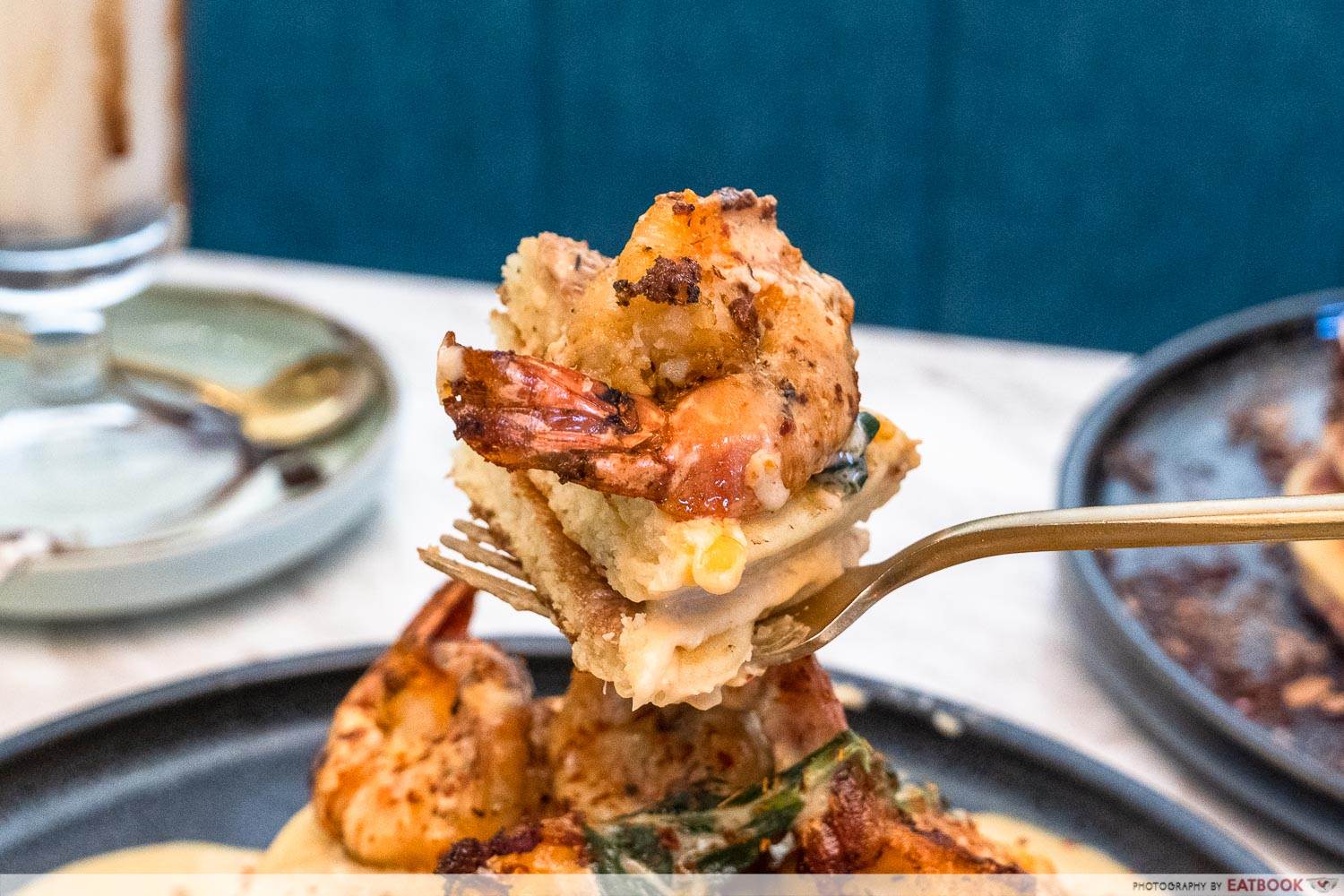 The cream sauce, on the other hand, was really bold and rich in flavour. It screamed savoury and spicy notes, which paired well with the lightly sweetened pancakes. However, it was a little too savoury for my lighter palate, making it jelak after a while. My main gripe was the texture of the sauce. It lacked a smooth, creamy mouthfeel, and was rather gritty. Despite this, the dish as a whole was tasty.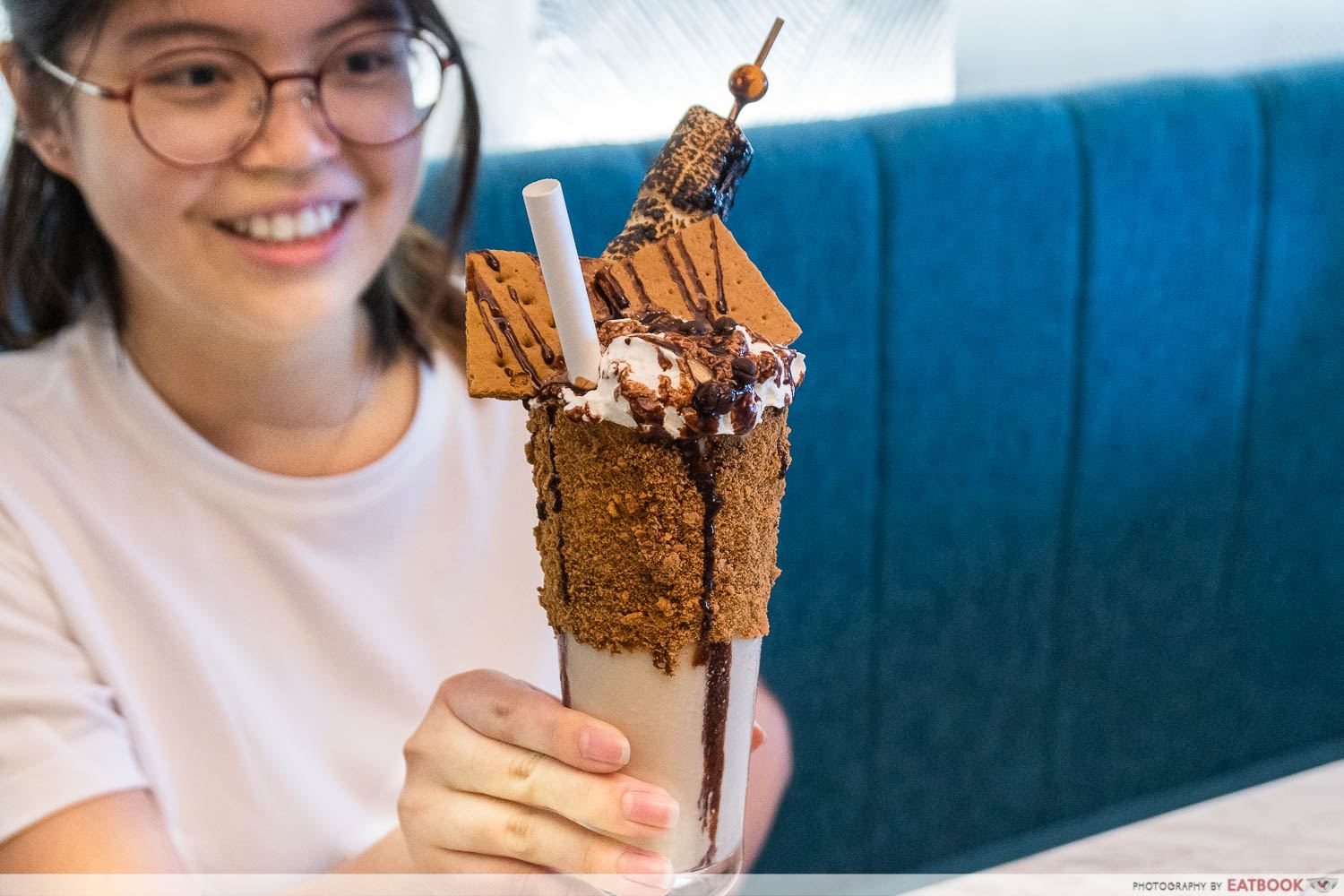 To balance out the savouriness from the pancake, I had the Gimme S'mores ($13.90++) milkshake on the side. This monster-sized milkshake came with a vanilla milkshake base, capped with a mountain of whipped cream, dressed in chocolate sauce, and finished with graham crackers and toasted marshmallows atop.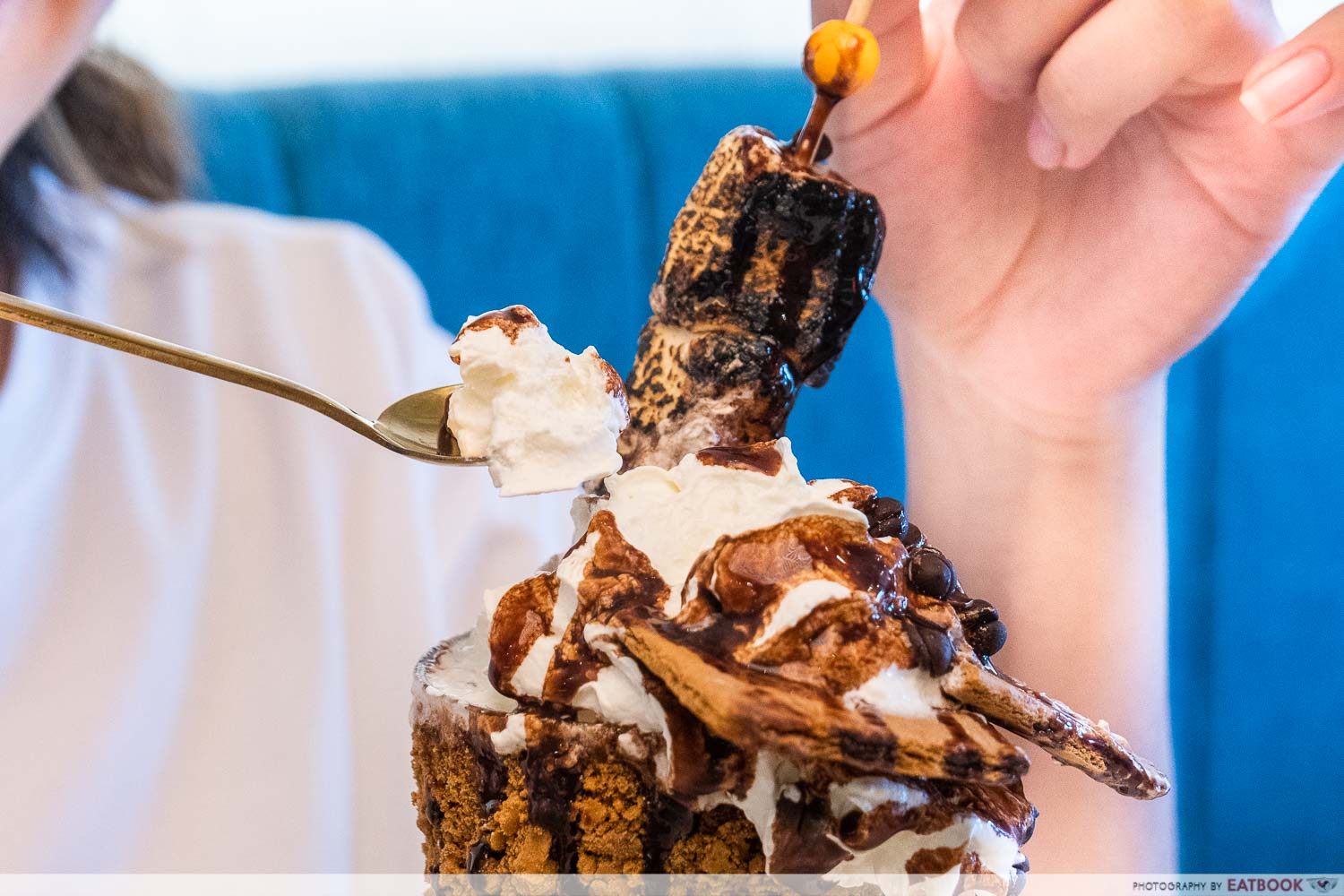 This milkshake definitely felt like a meal by itself. It was so heavy and sweet that my colleague and I couldn't finish the drink, even though we shared it. I felt that it was nothing out of the ordinary, but I did like the toasted marshmallows, which were charred and crispy on the outside, yet soft and melty on the inside. 
I would strongly advise getting the staff to omit the whipped cream, or requesting to have this milkshake served later, in order to avoid having it melt all over the table.
Black Tap Singapore Review: Prime Beef Burgers And Crazy Shakes At Marina Bay Sands
Ambience at Pancake Place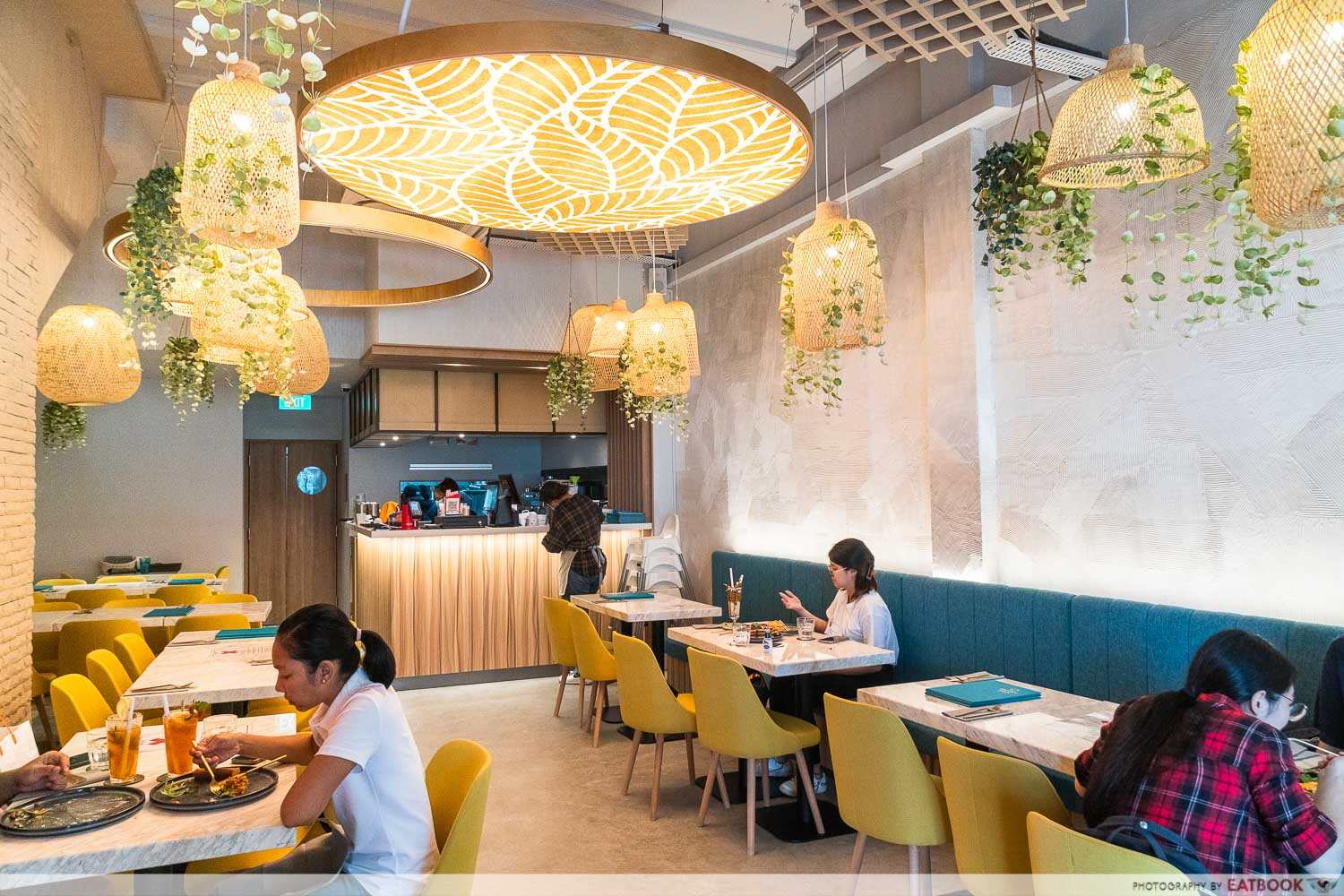 The Pancake Place is located an eight-minute walk from Nicoll Highway MRT Station, and a 10-minute walk from Bugis MRT Station. The cafe itself has a garden-like, bohemian vibe, which makes for a very warm and cosy dining experience. If you would prefer to bask in the sun, there are a few outdoor seats as well. Either way, the waitresses were all very attentive and quick to respond to our needs.
The verdict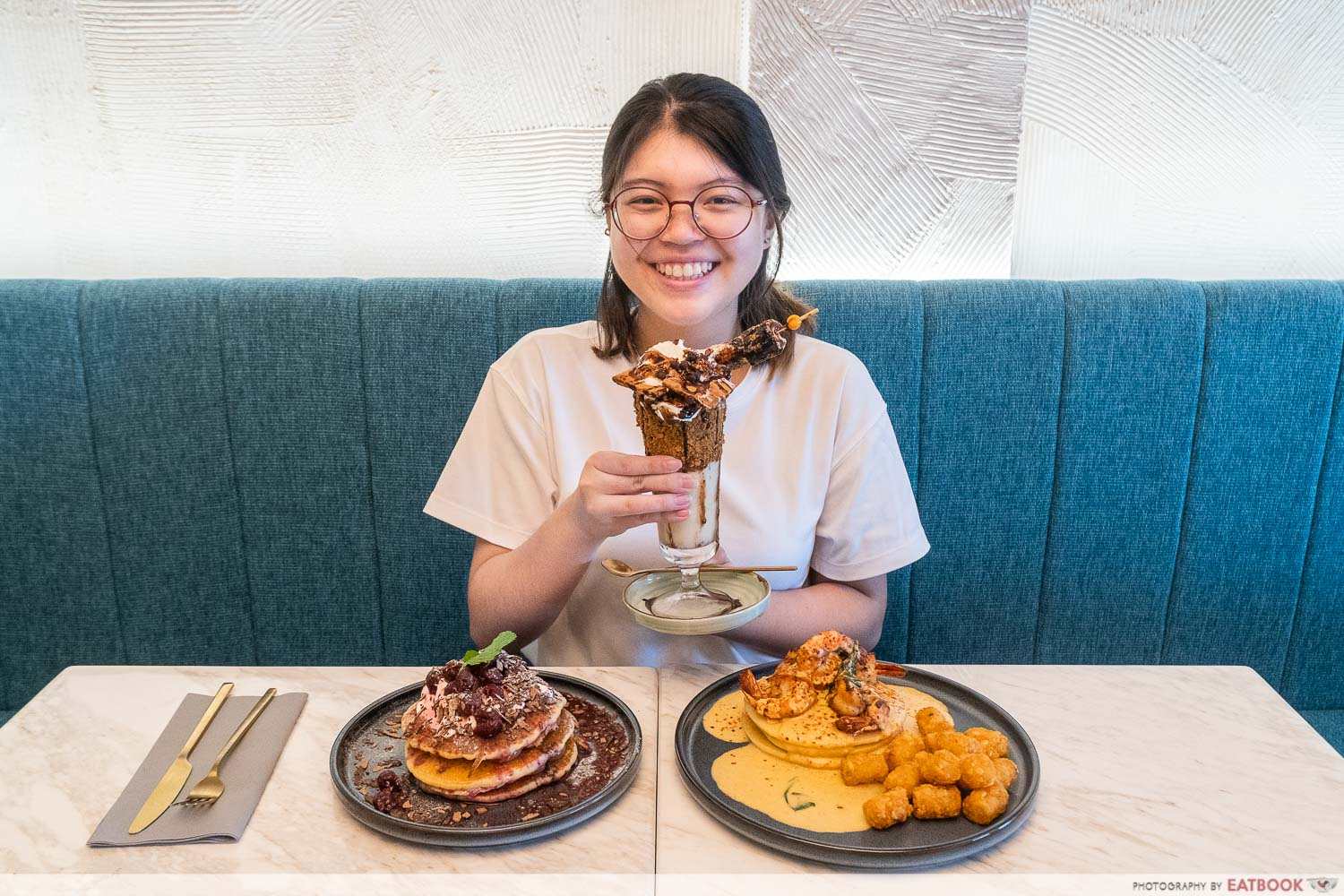 If you are bored of the usual avocado on toast, or eggs Benedict brunch options, I would highly recommend visiting Pancake Place. I tend to avoid easy brunch items such as pancakes or toast, as I can easily make them at home, but Pancake Place offers a wide variety of premium pancake flavours that make it worth a visit. Though it is a little pricey, the portion sizes and unique flavours make up for it. I will definitely return to try out their other locally-inspired flavours, such as the Cempedak Creme Brulee, or Lemak Duck. 
For more cafe options, check out our Glacier review for pandan mochi waffles, black sesame babka and more! Alternatively, check out our Bugis food guide which includes wallet-friendly unagi don, mala tang, and more. 
Address: 56 Kandahar Street, Singapore 198904
Opening hours: Daily 12pm to 3:15pm, 5pm to 9:15pm
Tel: 6518 9368
Website
Pancake Place is a halal-certified eatery. 
10 Bugis Restaurants For Affordable Unagi Don, Wagyu Buffet, Mala Tang, And More
Photos taken by Emily Teu.
This is an independent tasting at Pancake Place.
Pancake Place Review: Muslim-Owned Pancake Cafe With Sweet And Savoury Pancakes, And IG-Worthy Milkshakes
Pancake Place Review: Muslim-Owned Pancake Cafe With Sweet And Savoury Pancakes, And IG-Worthy Milkshakes -

7/10
Summary
Pros
– Overall well-executed pancakes
– Interesting variety of pancake flavours
Cons
– The milkshake was ordinary
– Slightly quiet location
Recommended dishes: Blackforest ($18.90++), Grilled Tiger Prawn ($19.90++)
Opening hours: Daily 12pm to 3:15pm, 5pm to 9:15pm
Address: 56 Kandahar Street, Singapore 198904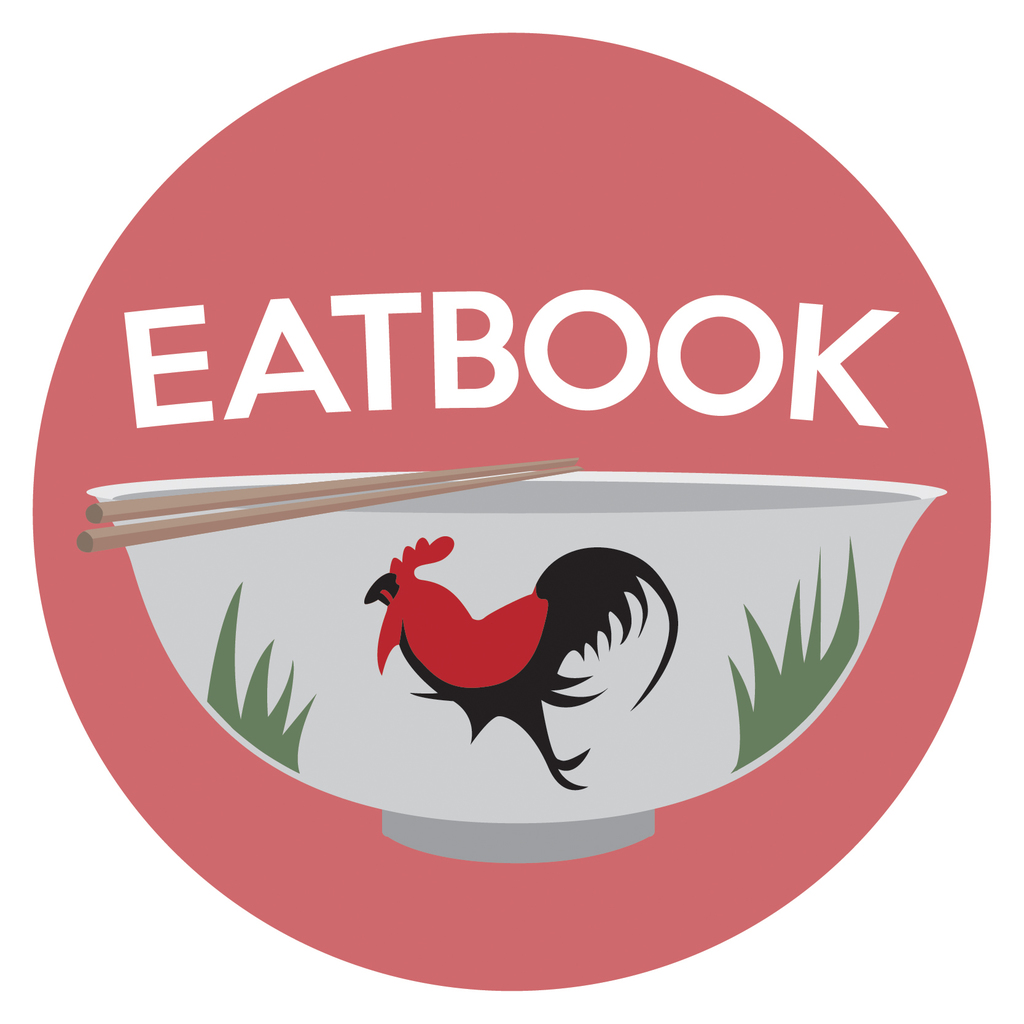 Drop us your email so you won't miss the latest news.