---
Halal buffets in Singapore
---
If you have been struggling to find halal buffets for you and/or your Muslim friends to feast on, look no further than our list. We have curated an extensive selection of 15 Muslim-friendly or halal buffets in Singapore that might leave you spoilt for choice, perfect for any family or friend groups.
From different cuisines such as Peranakan and Western food, these buffets also cater to every budget.
---
1. Al Jasra 
---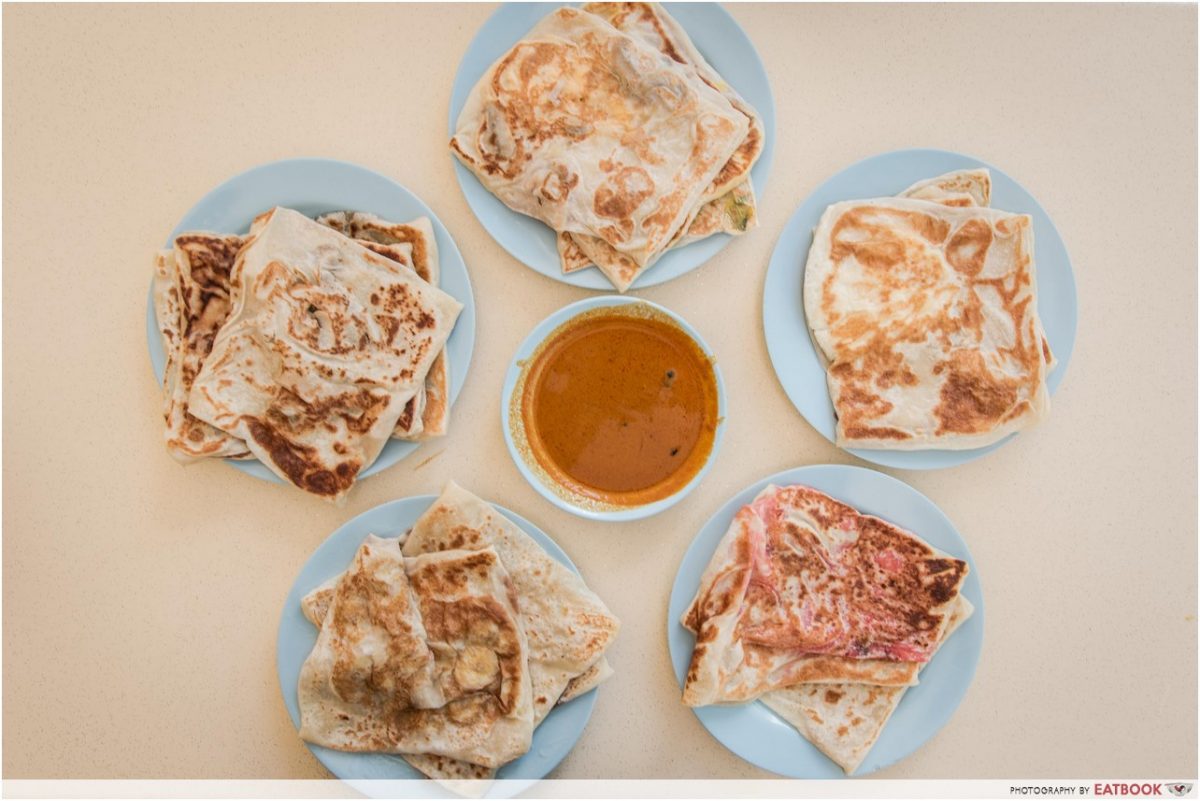 When you really cannot decide between satisfying your sweet or savoury cravings, the Al Jasra Prata Buffet should be your go-to, as you can eat as much prata as you want for only $7.90 nett. 
Come with a group and challenge yourselves to try all 16 varieties of prata on offer, including unusual flavours like Masala, Pepper, and Honey. Kembangan is not particularly well known for its food, but this 24-hour prata house has made a name for itself, being one of the only serving free flow pratas. 
Read our Al Jasra Prata Buffet review.
Address: 459 Changi Road, Singapore 419882
Opening hours: Daily 24 hours
Tel: 6742 5786
Website
15 Best Prata Places in Singapore Worth Sacrificing Your Diet For
---
2. Captain Kim Korean BBQ and Hotpot
---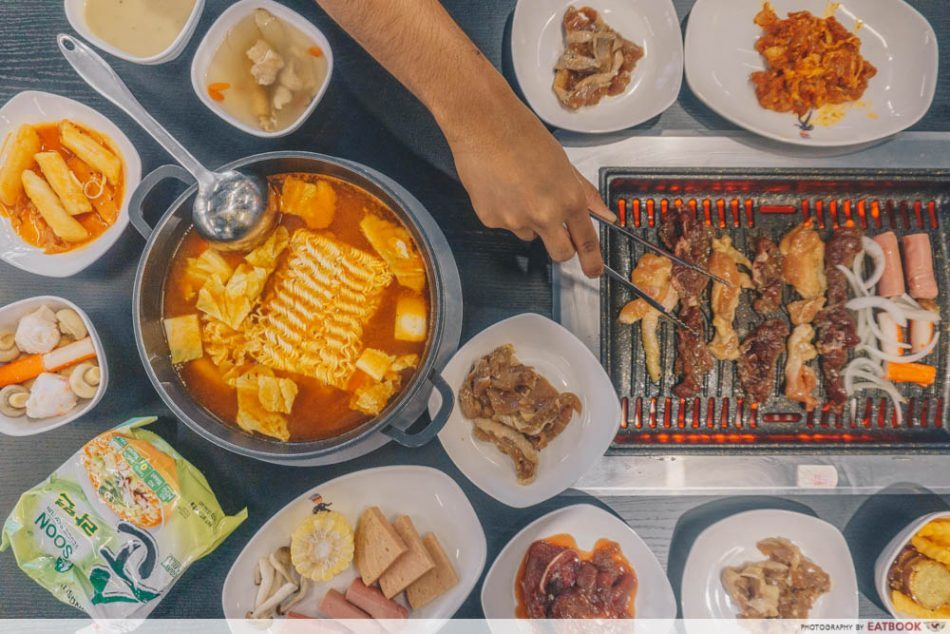 Unlike some other Korean BBQ hangouts, Captain Kim Korean BBQ and Hotpot is not one-dimensional. Enjoy over 60 varieties of marinated meats and vegetables ready for you to either grill or cook in your own personal army stew hotpot, together with ready-to-eat dishes and a salad bar if you're still peckish. 
With prices starting from an affordable $16.90++ for their weekday lunch buffet, it doesn't take rocket science to see why it's such a hotspot in Tampines.
Read our Captain Kim Korean BBQ and Hotpot review!
Address: 300 Tampines Avenue 5, #01-06, NTUC Income Tampines Junction, Singapore 529653
Opening hours: Mon-Fri 11:30am to 3:30pm, 5:30pm to 10:30pm, Sat-Sun 11:30am to 10.30pm
Tel: 6260 4247
Website
---
3. Suki-Suki Thai Hot Pot
---
Suki Suki Thai Hot Pot in Yishun does a pretty good rendition of a Thai hotpot buffet. Six interesting soup bases like Sweet Basil Chicken and Red Tom Yum are accompanied by meats such as Beef Chuck Roll and Short Rib, with numerous Thai dipping sauces including Spicy Yen Ta Fo and Seafood. 
Beginning at a reasonable $17.90++ for their weekday lunch buffet, there're also options to either enjoy a premium upgrade for $10.90++ or unlimited drinks and Thai desserts like Mango Sticky Rice or Khanom Chan for an additional $4.90++.
Read our Suki-Suki Thai Hot Pot review!
Address: 2 Yishun Close, #01-01, HomeTeamNS Clubhouse, Singapore 767944
Opening hours: Mon-Thurs 11am to 3pm, 6pm to 10pm, Fri-Sun 11am to 10pm
Tel: 6908 5616
Website
---
4. Holiday Inn Singapore Atrium
---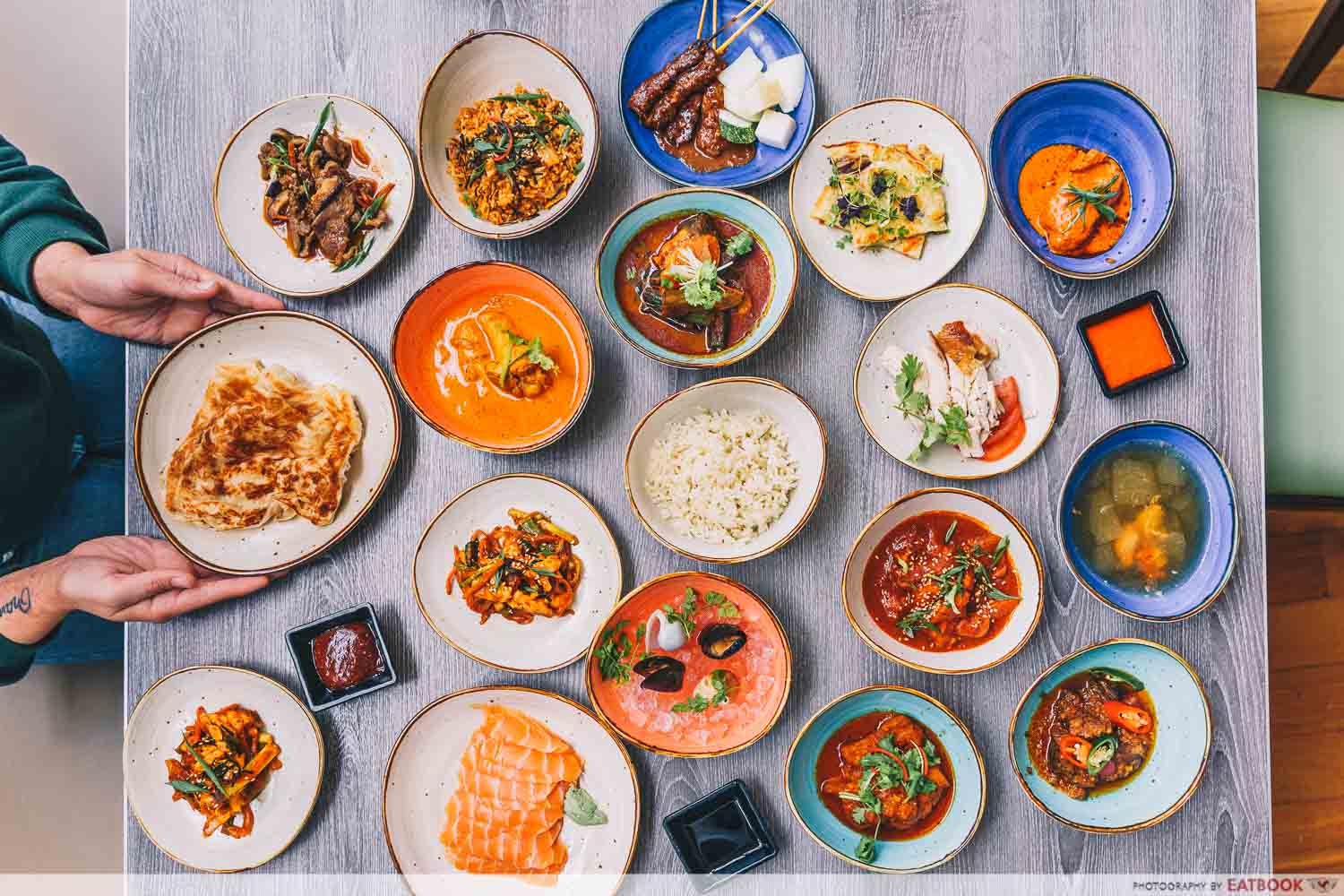 Holiday Inn Singapore Atrium's Ramadan Buffets are a popular affair every year. This year, the buffet returns, offering diners a whole variety of halal Korean dishes, as well as beloved buffet classics. The selection has over 40 dishes, and is said to be larger than last year's.
On the Korean front, enjoy dishes such as Ginseng Chicken Soup, Beef Brisket Soybean Stew, and pajeon pancakes. On top of these dishes, there will be a variety of well-loved buffet classics available for order, from salmon sashimi, to oysters, and local delights such as chicken rice. A highlight at the Holiday Atrium Buffet is their freshly made prata station, where crispy coins of prata are prepared to order.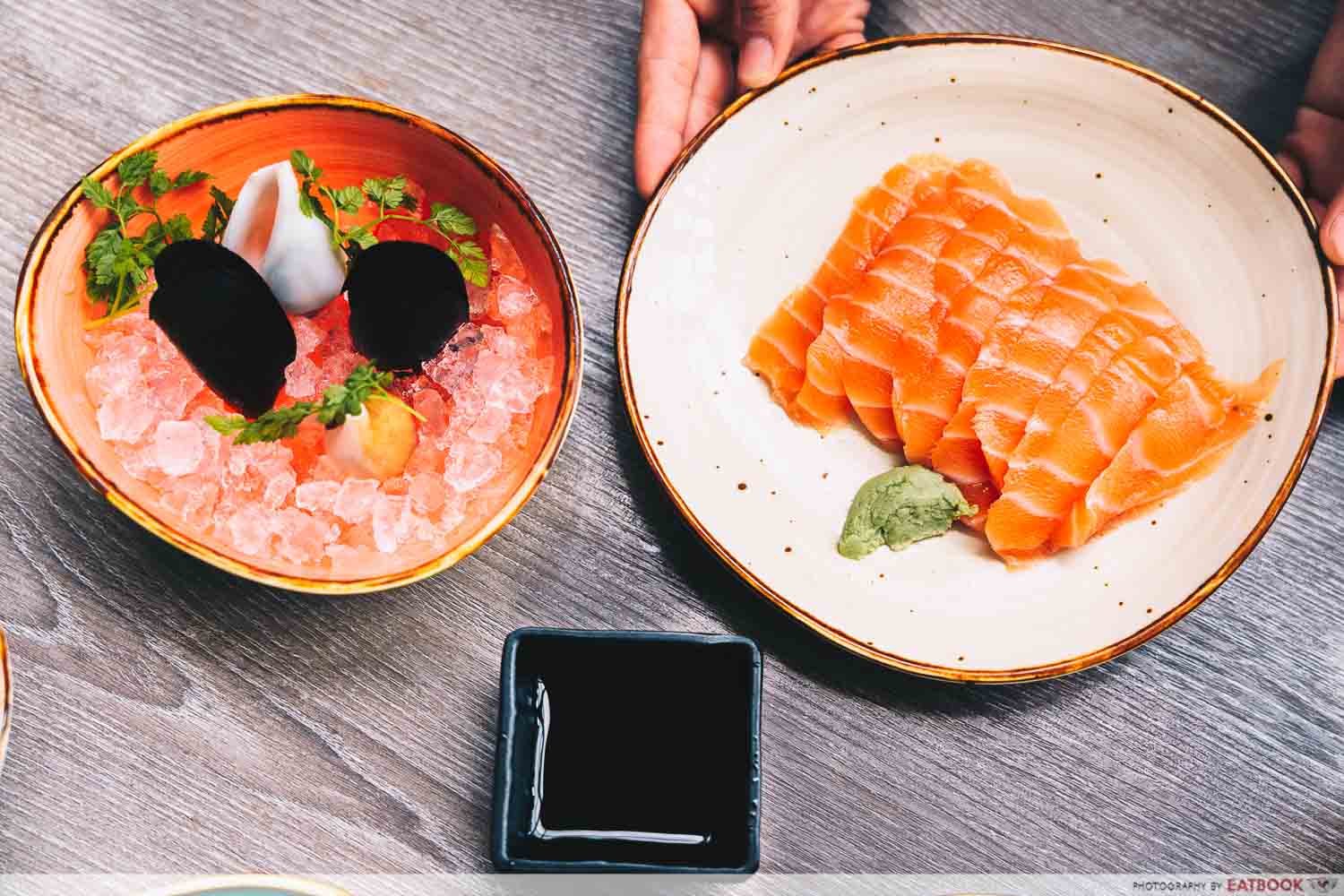 Prices start at $41++ per adult for lunch buffets, from Monday to Friday between 12pm to 3pm. The price increases to $43++ on weekends. Dinner buffets are $47++ per adult, on weekdays between 5pm to 9:30pm, and $49++ per adult for weekends. This is extremely reasonable for the variety you're getting, as it is 50% off their usual buffet price. Do note that the promo will only run till 31 May 2022.
Reserve your table on their website.
Address: Holiday Inn Singapore Atrium, 317 Outram Road, Level 4, Singapore 169075
Buffet hours: Daily lunch 12pm to 3pm (last order 2:30pm), dinner 5:30pm to 9:30pm (last order 9pm)
Tel: +65 9114 0258 (WhatsApp only)
Website
---
5. HansSik Korean BBQ 
---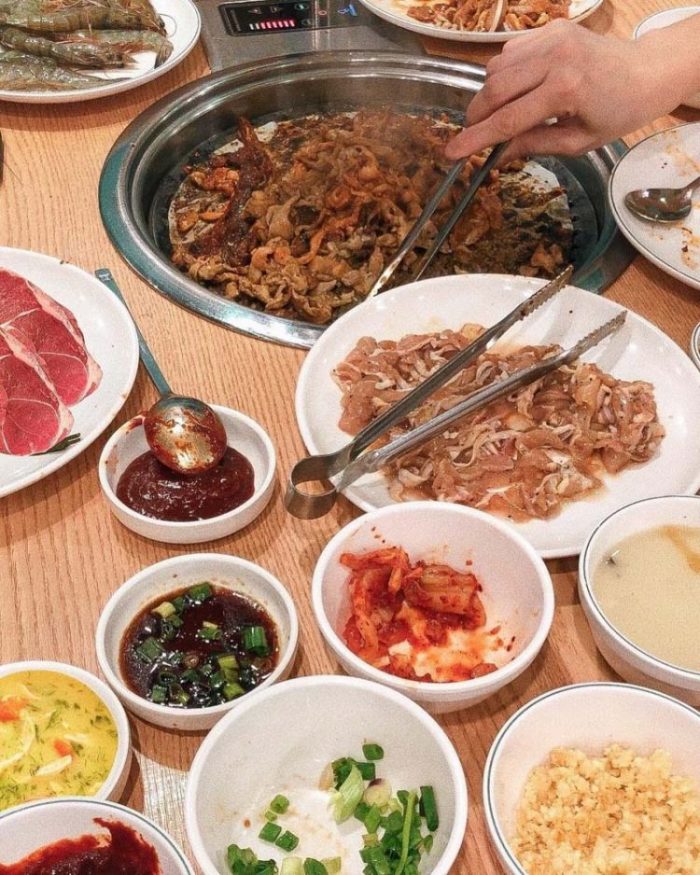 Image credit: @ancisdee
Imagine dining along a street in Seoul, barbecuing and savouring beef bulgogi over your own built-in grilling pit. That also happens to be the experience that HansSik Korean BBQ Buffet provides, despite being located at Kallang Wave Mall in Singapore.
Expect free flow banchan (side dishes) and up to 12 types of proteins like Spicy Octopus and Marinated Chicken, and seasonally, enjoy Marinated Beef Ribeye for dinner, from $16.99++ onwards for their weekday lunch buffet. It isn't the easiest to find Korean halal buffets, so this is one to bookmark!
Address: 1 Stadium Place, #02-16A, Kallang Wave Mall, Singapore 397628
Opening hours: Daily 11.30am to 9.30pm
Tel: 6241 0602
Website
Kallang Wave Mall: Where To Eat After Visiting The Singapore Sports Hub
---
6. Jinshang Yipin Hotpot and BBQ 
---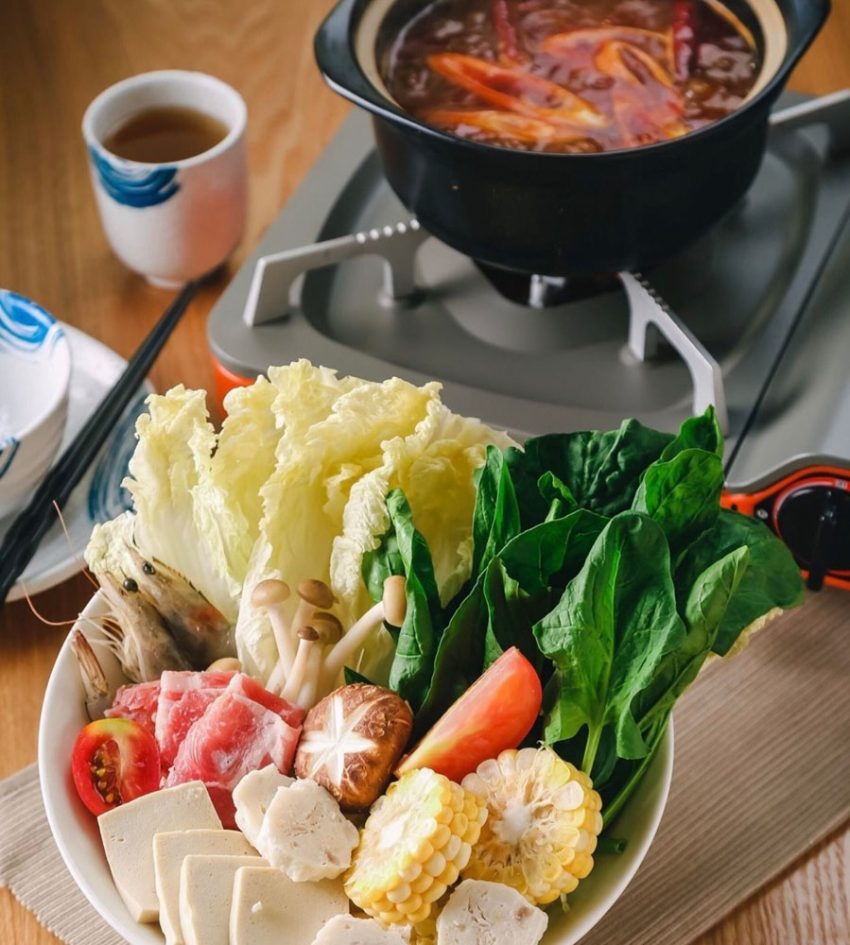 Image credits: @jinshangyipin.hotpot
We always hear Haidilao and Beauty In The Pot whenever someone mentions Chinese hotpots in Singapore but I'm sure many of us aren't familiar with their halal counterpart, Jinshang Yipin Hotpot and BBQ. Hailing from the province of Xinjiang, this authentic hotpot specialty restaurant in Eastpoint Mall offers unique soup bases like Sauerkraut for you to cook your Sliced Mutton and Goji Chicken, along with noodle choices like Supreme Prince Noodle and Shanghai Noodle to further fill you up. 
Prices start at $24.90+ for their standard hotpot buffet. Top up $4.90+ to unlock the option to barbecue your meats as well as more types of meat like Cumin Mutton and Mala Beef.
Read our Jinshang Yipin Hotpot and BBQ review!
Address: 3 Simei Street 6, #01-20, Eastpoint Mall, Singapore 528833
Opening hours: Daily 11am to 4pm, 5pm to 10pm
Tel: 6909 7355
Website
---
7. Satay Boy 
---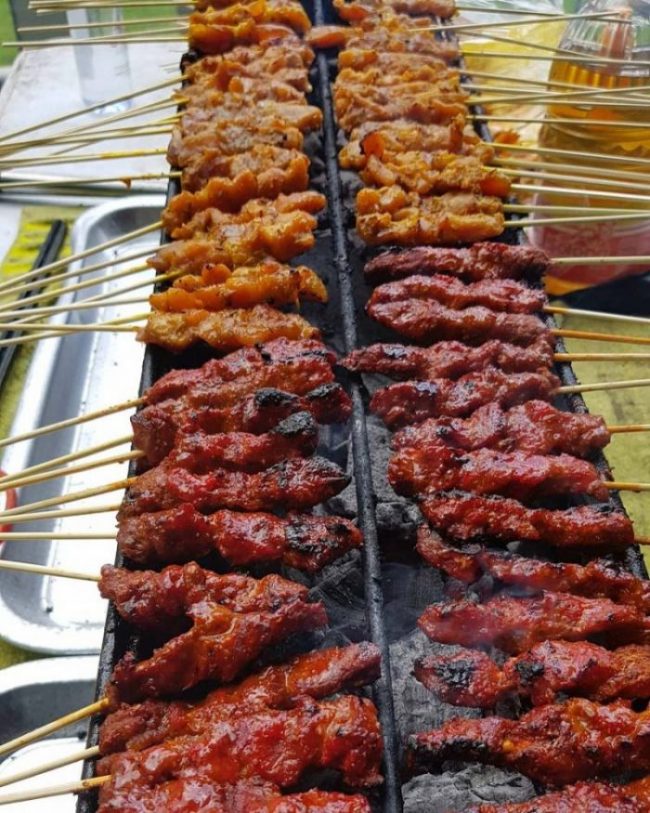 Image credits: @satayboy
Possibly one of the first of its kind in Singapore, Satay Boy has a pop-up satay buffet, made available at $25 nett. This really is a paradise for satay lovers, with a special variety of Chicken, Beef, Tripe, Liver, Mushroom, and Chicken Skin Satay, coupled with ketupat and gravy to go along with the barbecued skewers. 
But, you are required to look out for openings of buffet slots on their Facebook and Instagram pages and make reservations in advance as they share their pop-up with a co-working space at River Valley.
Address: 46 Kim Yam Rd, #01-05/06/07, The Herencia, Singapore 239351
Buffet hours: Fri 6pm to 8pm,8pm to 10pm
Tel: 8862 9100
Website
Satay Boy is in the midst of being halal-certified and is Muslim-owned.
---
8. Farah Diana Steamboat and Grill 
---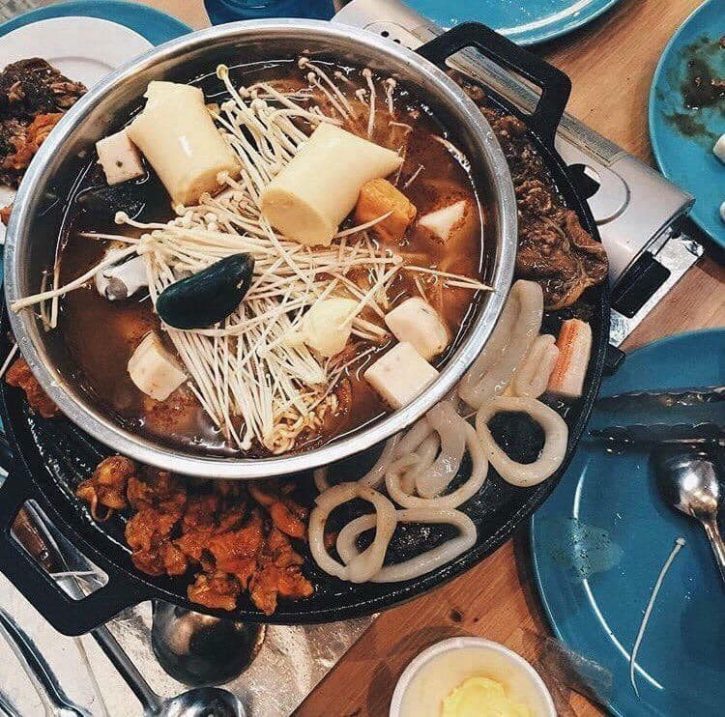 Image credits: @farahdianasteamboat
Kaki Bukit has a new gem in the form of Farah Diana Steamboat and Grill Buffet at the new Makan Empire coffeeshop. Be spoilt for choice with their wide assortment of proteins and fresh seafood ready for you to savour two ways, either to cook in your own Chicken or Tom Yum steamboat or to just grill. This 150 minute buffet costs just $25.90 nett for adults. 
Prepare to stuff your face with seafood favourites like Flower Crabs and Mussels, or marinated meats such as Mutton and Squid together with your makan kakis. They are very much open for call-in reservations so we do recommend you book your slots in advance.
Address:11 Kaki Bukit Road 4, Makan Empire, Bartley Biz Centre, Singapore 417806
Opening hours: Tue-Thurs 3pm to 11pm, Fri-Sun 12pm to 12am
Tel: 8769 0591/ 8786 1229
Website
Farah Diana Steamboat and Grill is not officially halal-certified but they are entirely Muslim-owned.
Makan Empire: New Coffeeshop With Steamboat, Beef La Mian And Seafood Shellout Open Till 2am
---
9. Royal Palm
---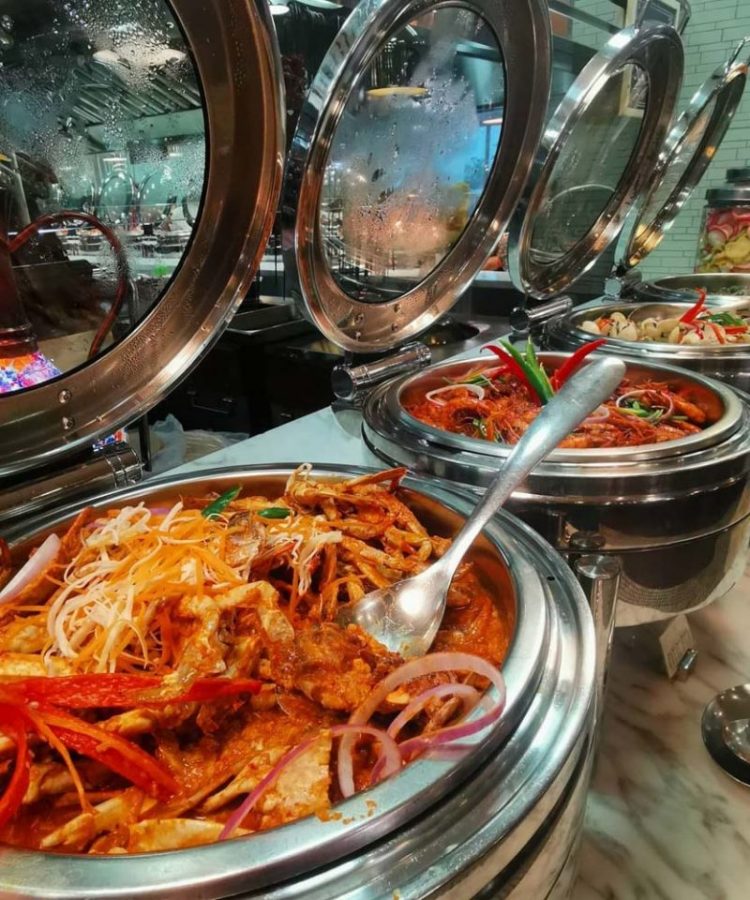 Image credits: @jiakbabuey
Located in Yishun's Orchid Country Club, Royal Palm Buffet prides itself on being an international buffet, serving a range of cuisines like Indonesian, Western, Northern Indian as well as local favourites too. They have attractive 1-for-1 weekday and weekend lunch and weekday dinner buffet promotions priced at $58.90++, so it's ideal for dates or even clique outings! 
Enjoy their range of appetisers like Assorted Chicken and Mutton Satay, seafood such as Thai Chilli Lala, other mains like Sirloin Beef Steak and Chicken Tikka. If you're lucky enough, you might even be able to savour their Tulang Merah and BBQ prawns and chicken on the weekends.
Address: 1 Orchid Club Road, #01-21/22, Social Clubhouse, Orchid Country Club, Singapore 769162
Opening hours: Daily 11am to 10pm
Tel: 6555 2165
Website
---
10. Buffet Town
---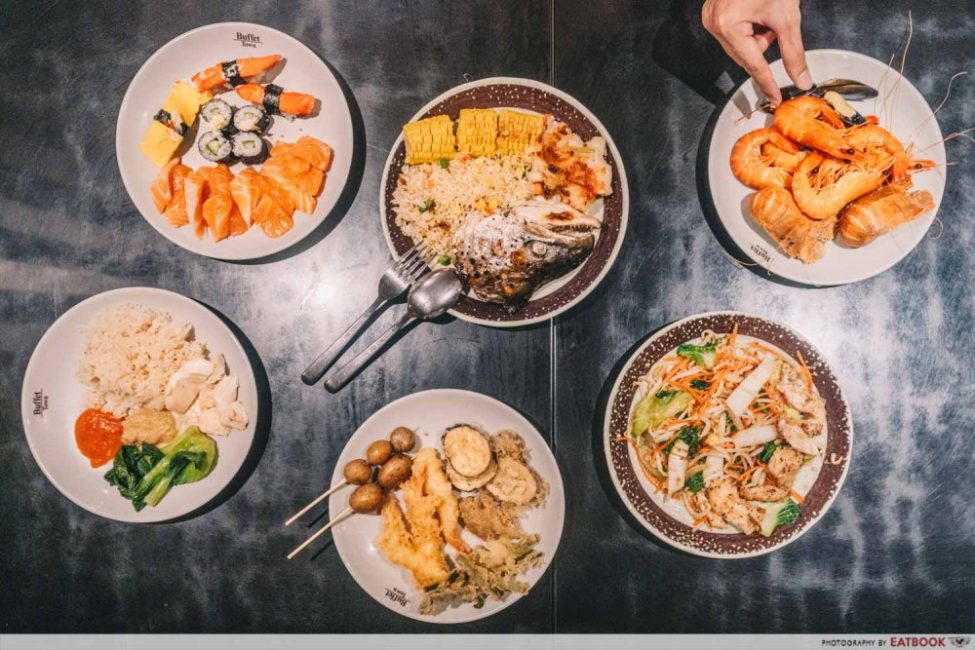 Right at the heart of Raffles City Shopping Centre lies the ever-popular Buffet Town, known for its large variety of over 300 types of dishes. It's also a great option for halal buffets in the city centre. Starting at $26.80++ for weekday lunches, one thing setting them apart from others is their Japanese teppanyaki and robatayaki experience, with crowd favourites such as Grilled Salmon Fish Head and Miso Chicken Wings hitting the spot.
Dig into their fresh seafood, including Crayfish, Sea Conch and don't forget to check out their Sashimi section too!
Read our Buffet Town review!
Address: 252 North Bridge Road, #B1-44E, Raffles City Shopping Centre, Singapore 179103
Opening hours: Daily 11:30am to 3pm, 6pm to 10pm
Tel: 6837 3793
Website
---
11. Kintamani Indonesian Restaurant 
---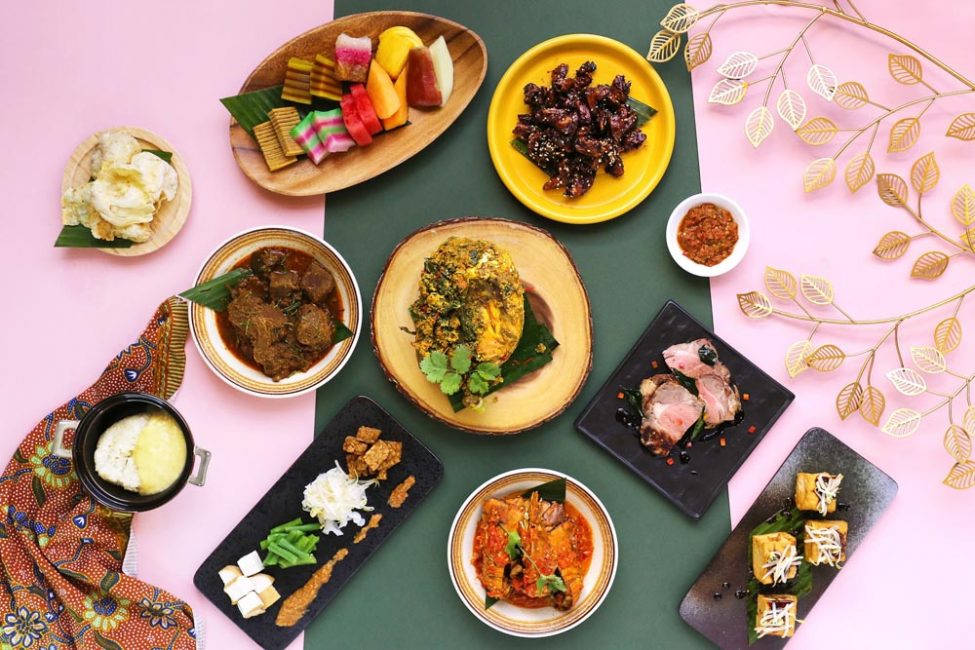 Image credits: Kintamani Indonesian Restaurant
If you're craving authentic, tasty Balinese cuisine, Kintamani Indonesian Restaurant Buffet will leave you truly satisfied. Spanning over 20 years of culinary experience, they specialise in homely Indonesian soups like Sop Oxtail Bali, comforting mains such as Rendang Daging Sapi and traditional sweets including Pulut Durian Pengat, making for a complete Javanese meal.
Rest assured, this quality hotel buffet will not break the bank, with its lunch buffet priced at just $27.90++.
Address: 405 Havelock Road, Level 3, Furama Riverfront, Singapore 169633
Opening hours: Daily 12pm to 2.30pm, 6 to 10.30pm
Tel: 6739 6463
Website
---
12. The Flame Cafe 
---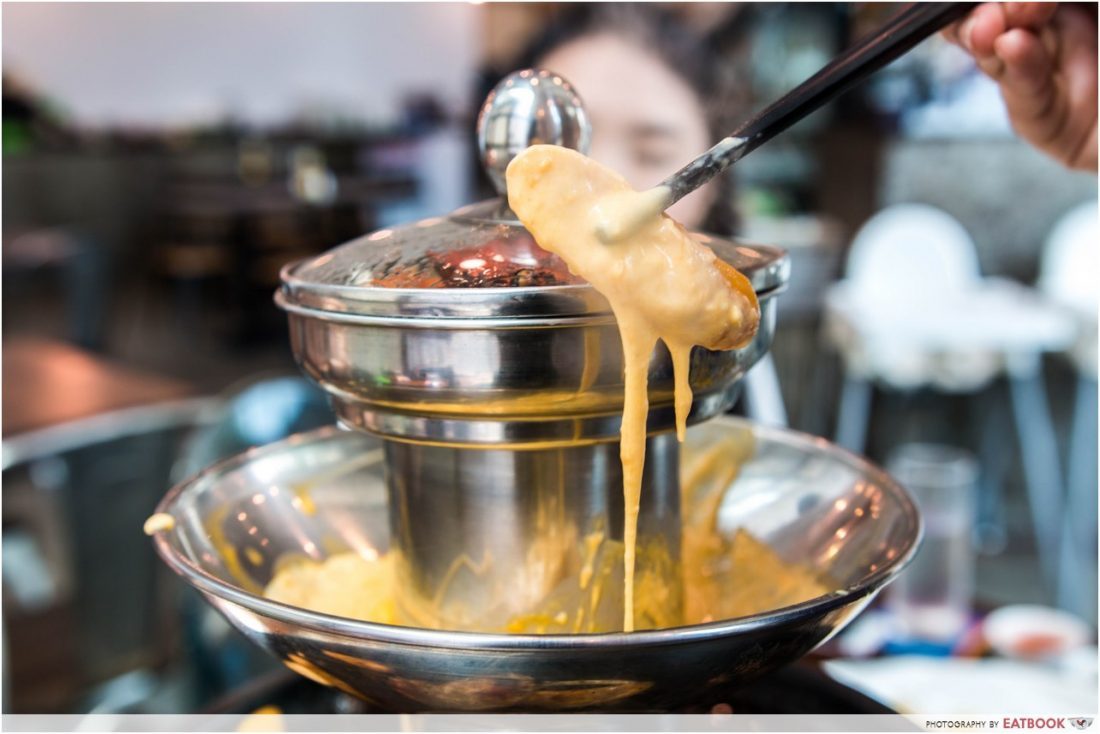 The Flame Cafe Pagoda Steamboat Buffet has a next-level four-tiered steamboat, where you can grill, steam, cook or even dip a wide selection of ingredients like Cheese Tofu and Tofu Skin, however you want it done. 
Situated near Tai Seng MRT Station, their all-day Pagoda Steamboat Premium Buffet goes for $29.90+, which is not bad considering how you get free-flow beverages too. With interesting meat options like Char Siew Chicken and Lemongrass Chicken, together with seafood like Dory Fish and Crayfish, this place is definitely worth a visit!
Read our Flame Cafe review!
Address: 73 Upper Paya Lebar Road, Level 1, Centro Bianco Building, Singapore 534818
Opening hours: Tue-Sun 11.30am to 10pm
Tel: 8201 8373/6288 6346
Website
---
13. Katong Kitchen
---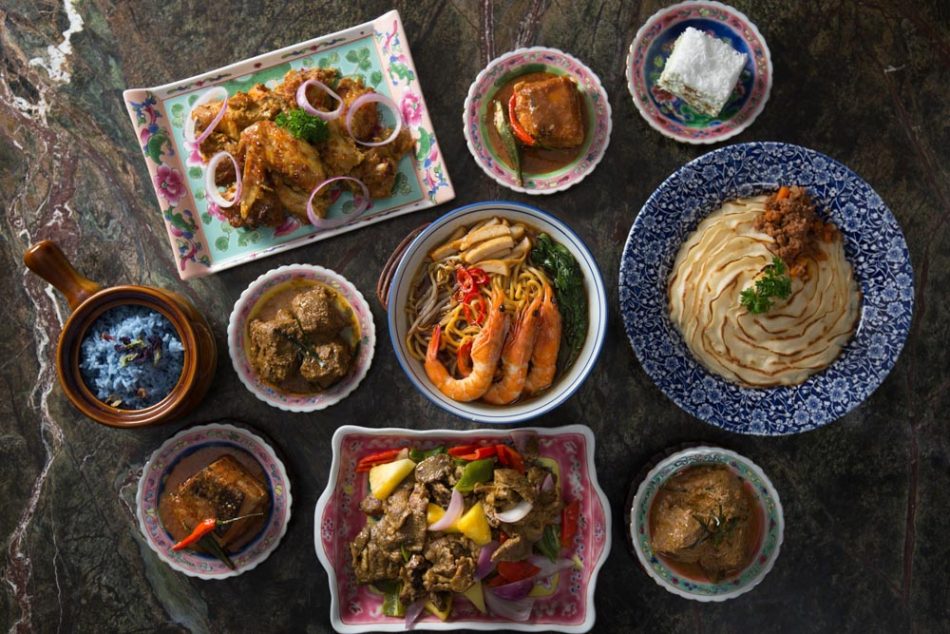 Image credits: Katong Kitchen
For die-hard local hawker food fans, Katong Kitchen Buffet in Marine Parade is your one-stop shop to satisfy your cravings of all kinds, having traditional and modern Malay, Chinese, Indian, Peranakan and Eurasian dishes to fill you up. 
Starting from $40++ for their weekday lunches, their Peranakan dishes are especially popular, like Kueh Pie Tee, Nyonya Assam Curry Stingray and Katong Signature Ondeh Ondeh Cake. Other than those, the buffet includes seafood on ice, a carving station, hotplate station and daily specials like Rendang Oxtail too!
Address: 25 Marine Parade, Level 4, Village Hotel Katong, Singapore 449536
Opening hours: Daily 11am to 10pm
Tel: 6551 2141
Website
---
14. Carousel Restaurant
---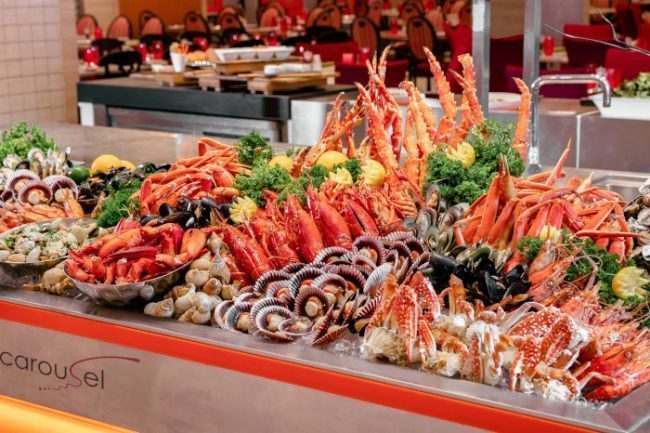 Image credits: Carousel Restaurant
Carousel Buffet Restaurant in Royal Plaza on Scotts will make you feel like royalty with its lavish International buffet spread. Beginning at $55++ on weekdays, expect premium seafood options such as fresh Slipper Lobster, Alaskan King Crab Legs, Live Sakoshi Bay Oysters, paired with mains from all around the world. 
If their savoury foods alone don't please you, they have extensive dessert options including a Carousel Candy Cart with Mini Coloured Profiteroles and Fruity Snail Meringue, a dessert garden, and even a hot desserts station with Chocolate Lava Puddings!
Address: 25 Scotts Road, Lobby Level, Royal Plaza on Scotts, Singapore 228220
Opening hours: Daily 9.30am to 7pm
Tel: 6737 7966
Website
---
15. Asian Market Cafe
---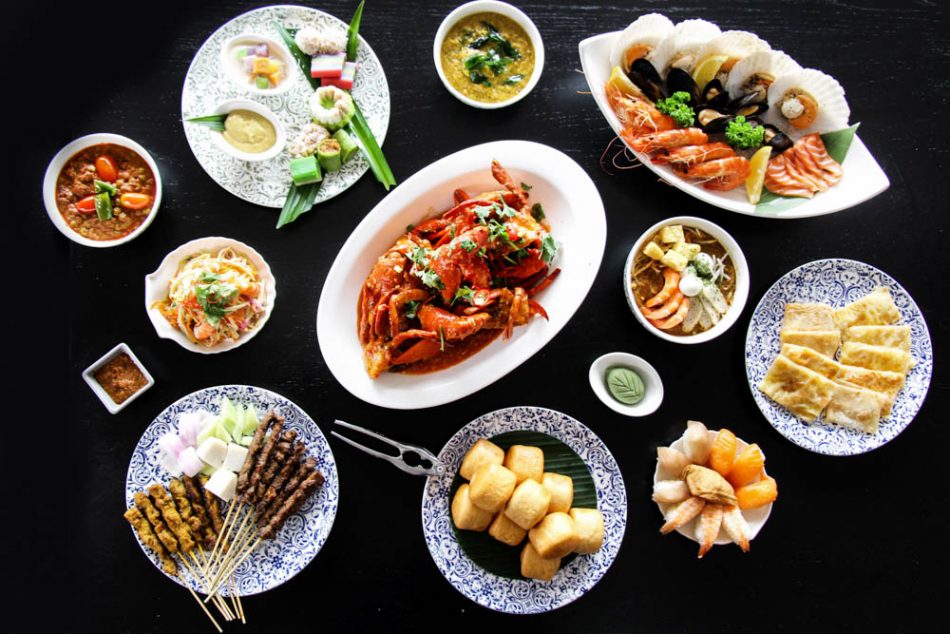 Image credits: Asian Market Cafe
Those looking for halal buffets in City Hall can look to Fairmont Singapore, a well-known buffet place in Asian Market Cafe, specialising in an array of Southeast Asian cuisines. You'll see huge seafood displays of Scallops and Salmon Sashimi and cooked mains such as Wok Fried Singaporean Chilli Crab with Mantou. They even have live Prata, Satay and Laksa cooking stations! 
Prices go from $68++ for their lunch buffet, but do check out their website for credit or debit card promotions every now and then!
Address: 80 Bras Basah Road, Level 2, Fairmont Singapore, Singapore 189560
Opening hours: Mon-Fri 12pm to 2:30pm, Sun-Thur 6pm to 10pm, Sat-Sun 12pm to 4pm. 5:45pm to 7:45pm, 8:15pm to 10:15pm
Tel: 6431 6156
Website
---
Halal buffets to dine at in Singapore
---
Since we've already entered into Phase 3, these halal buffets in Singapore can be the next place you decide to patronise with your 7 other Muslim friends and family, not just for group outings but for any occasion really.
If you're also looking for other halal restaurants to visit, look at our Overrice review, serving halal rice bowls and pita pockets reminiscent of The Halal Guys in New York. Alternatively, check out our Limau Thai Kitchen review, offering cheap and Muslim-friendly Thai food like XXL Basil Chicken Rice in Woodlands.
Overrice Review: Pulled Beef Rice Bowls, Falafel Pockets And More At SG's Version Of The Halal Guys
This post is brought to you by Holiday Inn Atrium Singapore.