BANNGKOK Street Food In Bugis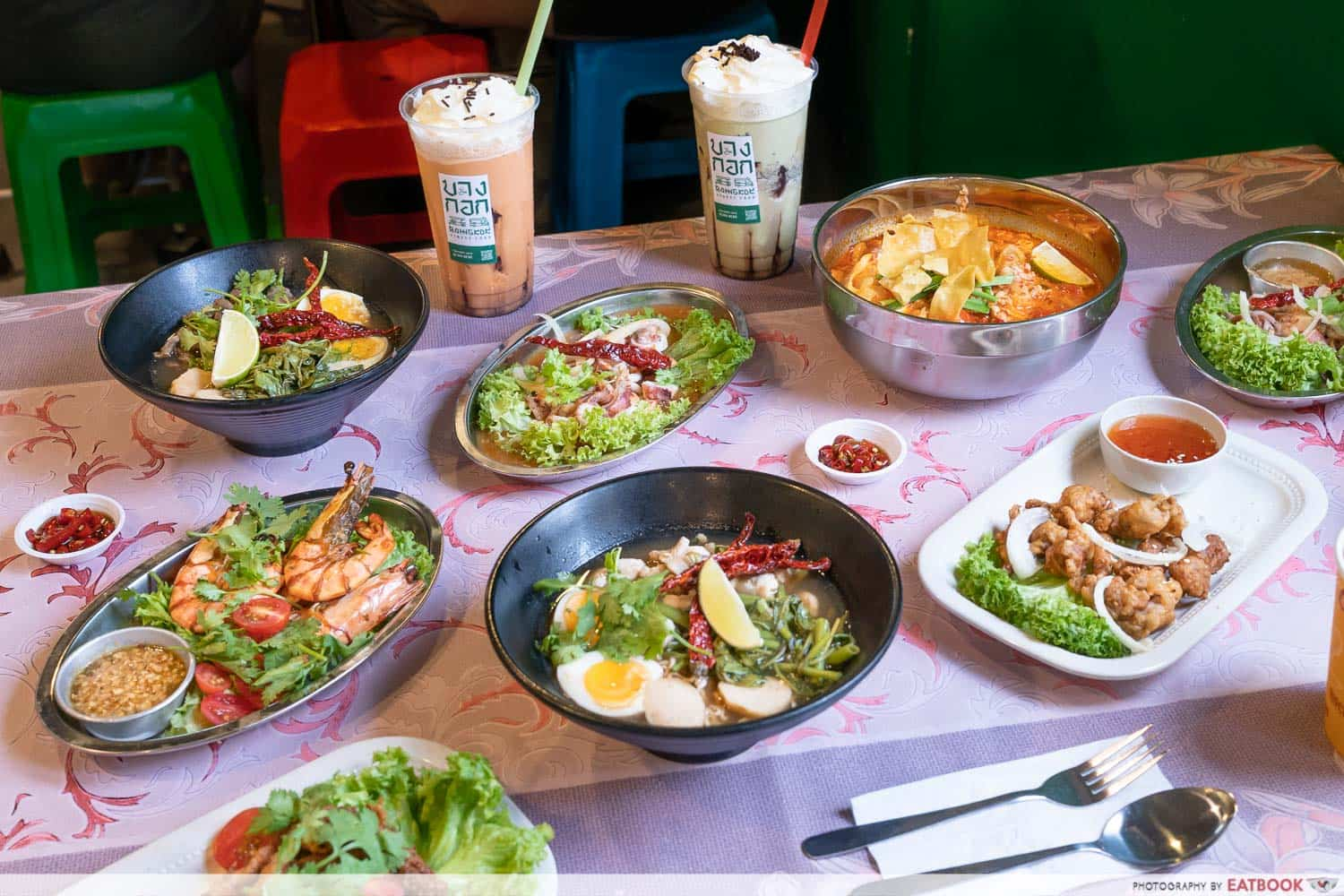 As a Thai food lover who hasn't been to Bangkok since the borders have reopened, I've been searching for a restaurant that can satisfy my cravings without having to travel. Located along Sultan Gate is BANNGKOK Street Food, a Muslim-owned restaurant serving halal Thai street food. After a quick scroll through their Instagram, I was enticed by their unique offerings and decided to give them a try.
Food at BANNGKOK Street Food

The first dish we got was the Mama Kai ($10.90++), a creamy tom yum-based dish with instant noodles, chicken, tomatoes, mushrooms, and crispy wonton skin.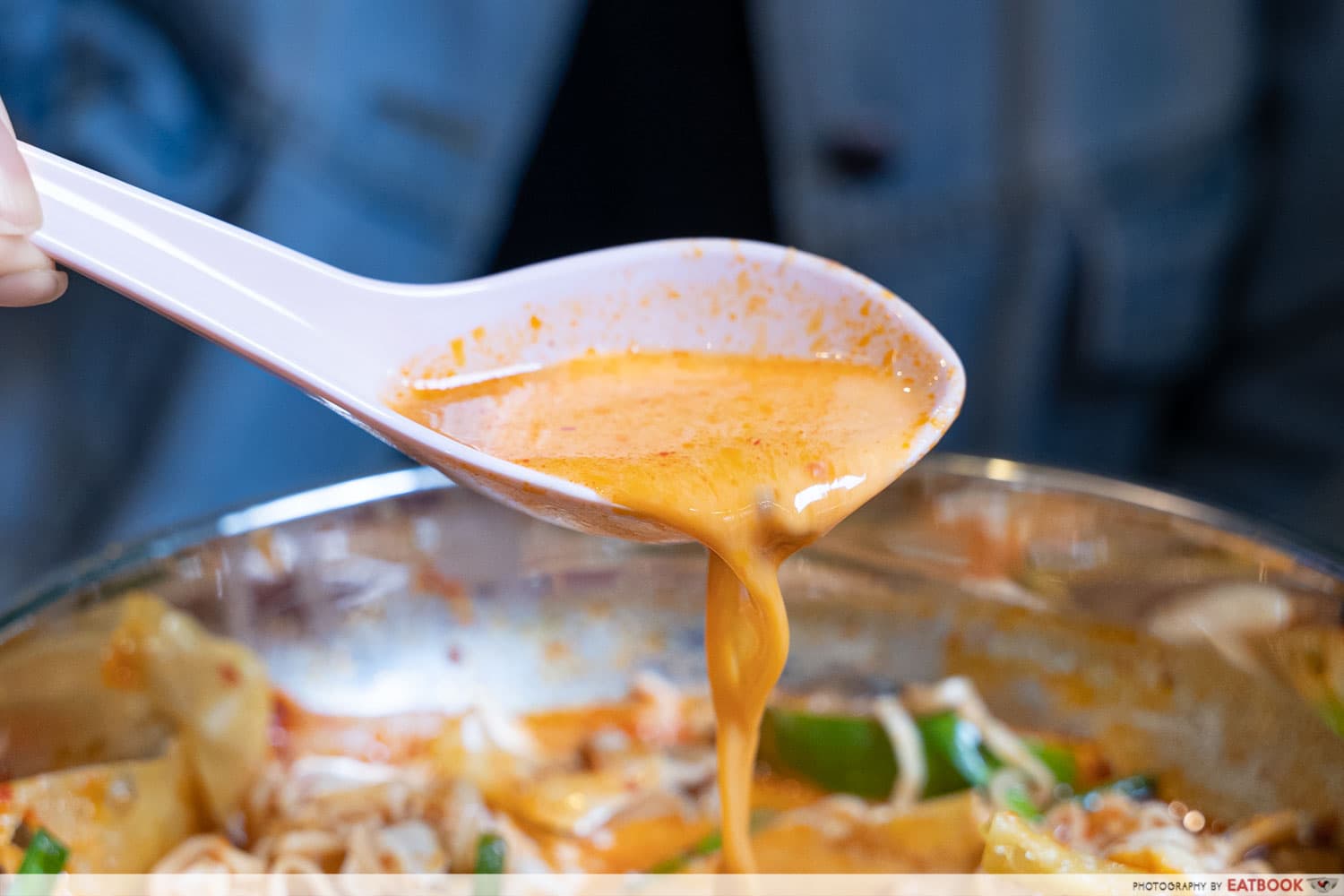 I tend to shy away from tom yum as I have a low spice tolerance, but was pleasantly surprised by how sweet this broth was, though I would have preferred it to be sourer. The portion was also huge and could be easily shared among three people.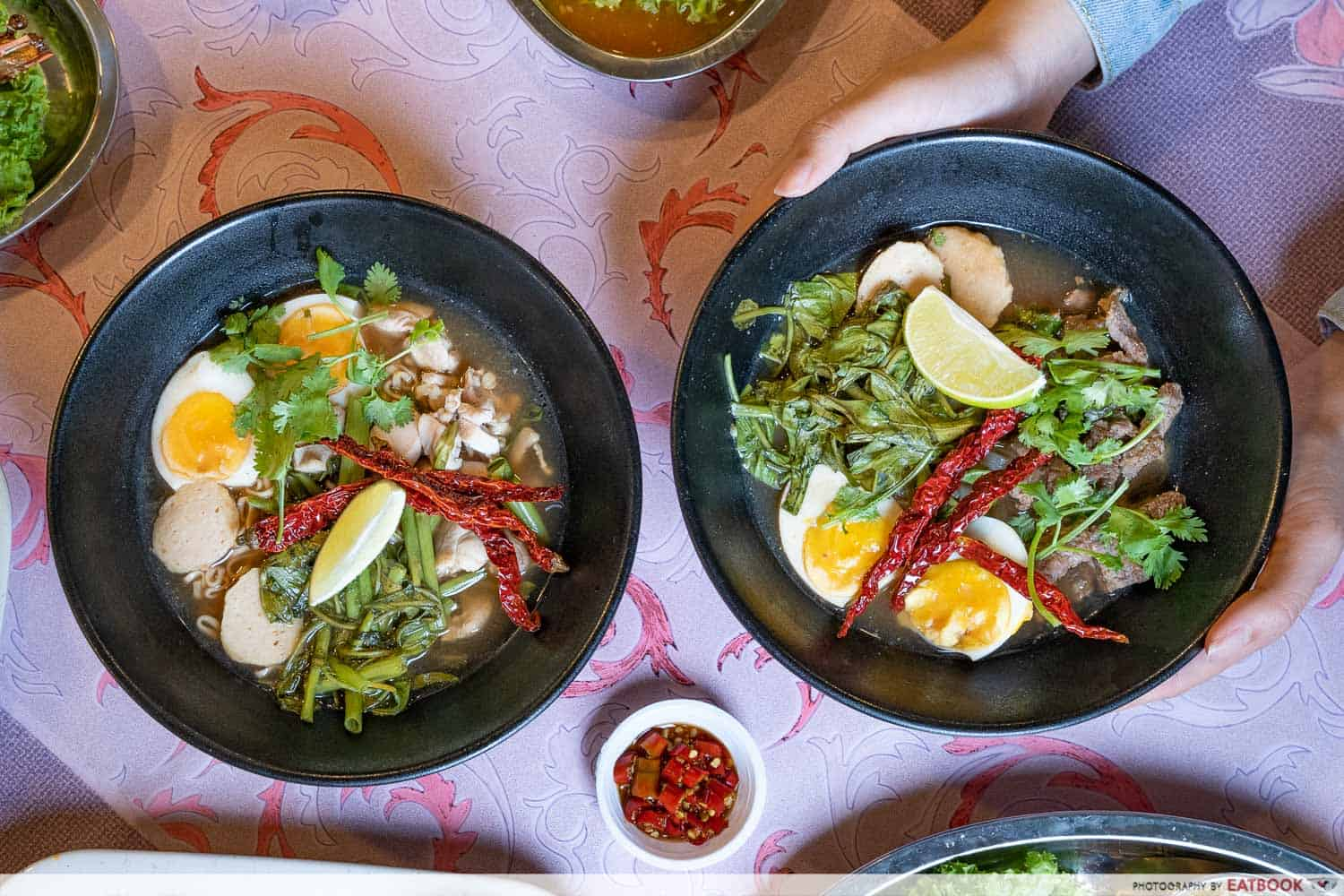 Next up, we tried the Kuay Rua ($14.40++): hearty boat noodles with your choice of beef or chicken. Each rendition came with a hard-boiled egg, dried bird's eye chilli, meatballs, coriander, and a wedge of lime on top.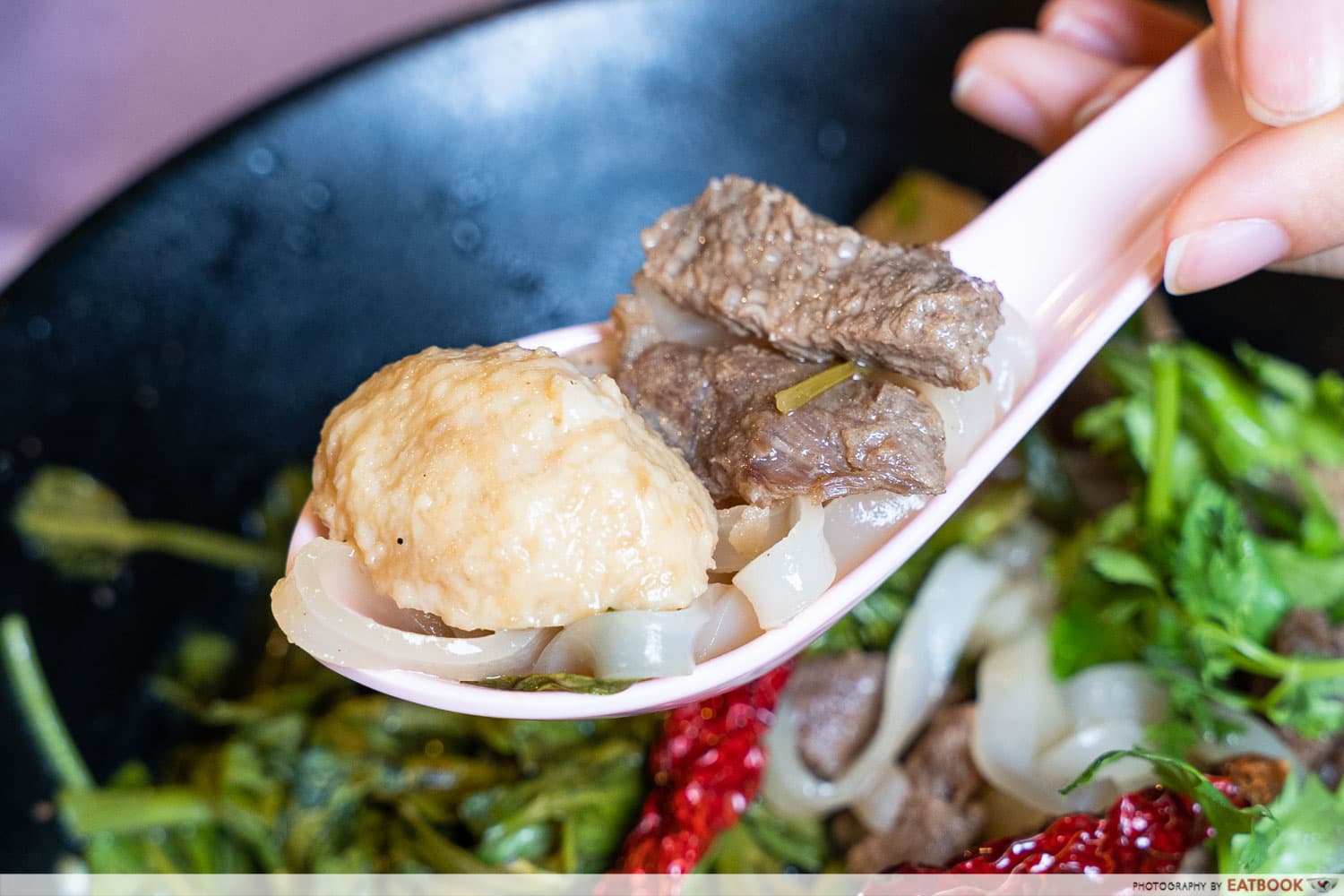 I personally preferred the beef version of this dish as the broth was more flavourful and sweet. The rice noodles were soft but not mushy, with a slight bite to them. However, the beef chunks were tough and a little dry.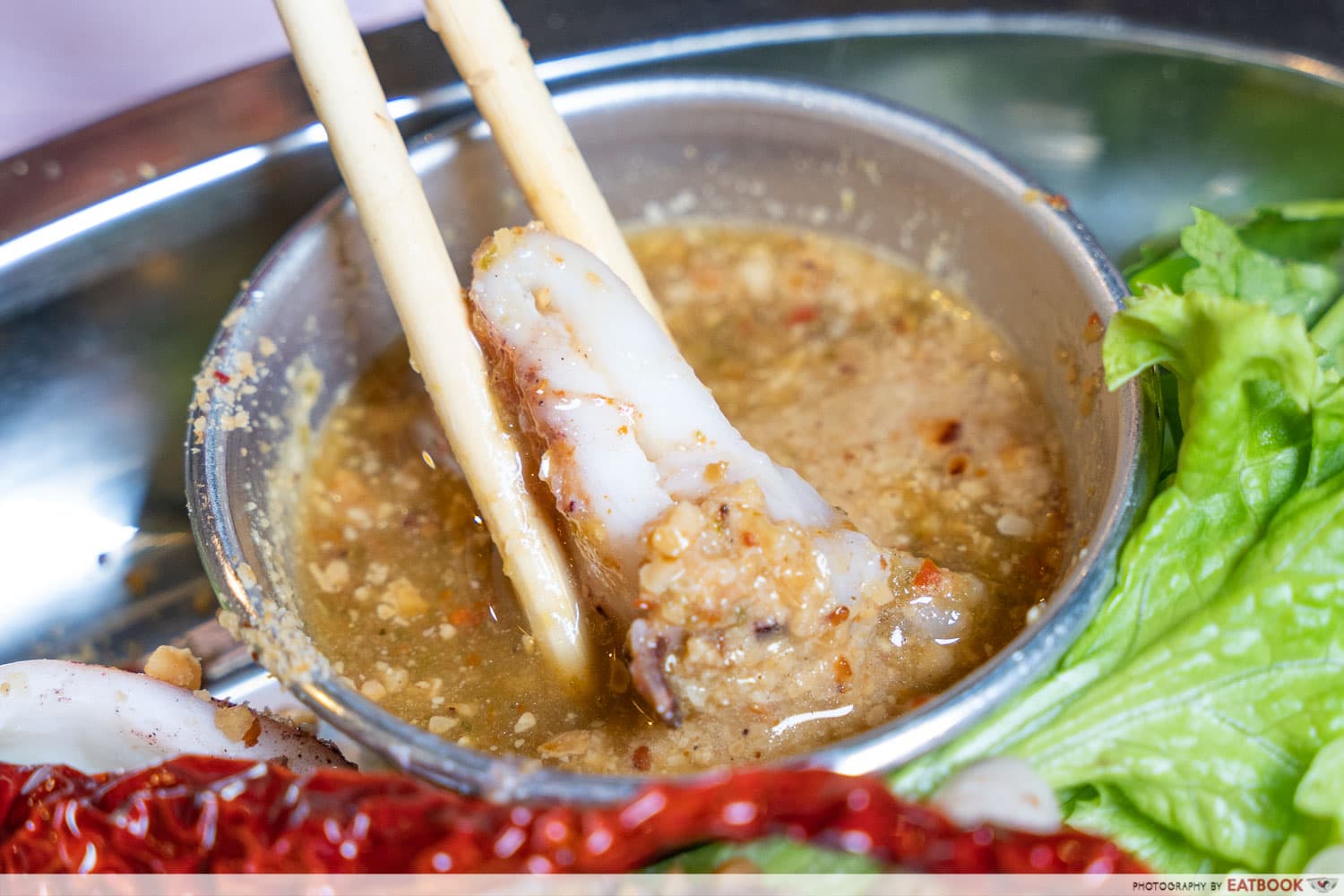 Next was the Pla Muk Yang ($14.90++) or grilled squid with house-made sauce. The sauce was zesty with a strong garlicky taste, but was a little too spicy for my palate. I wish the squid was more chewy, but appreciated that it wasn't too fishy or rubbery.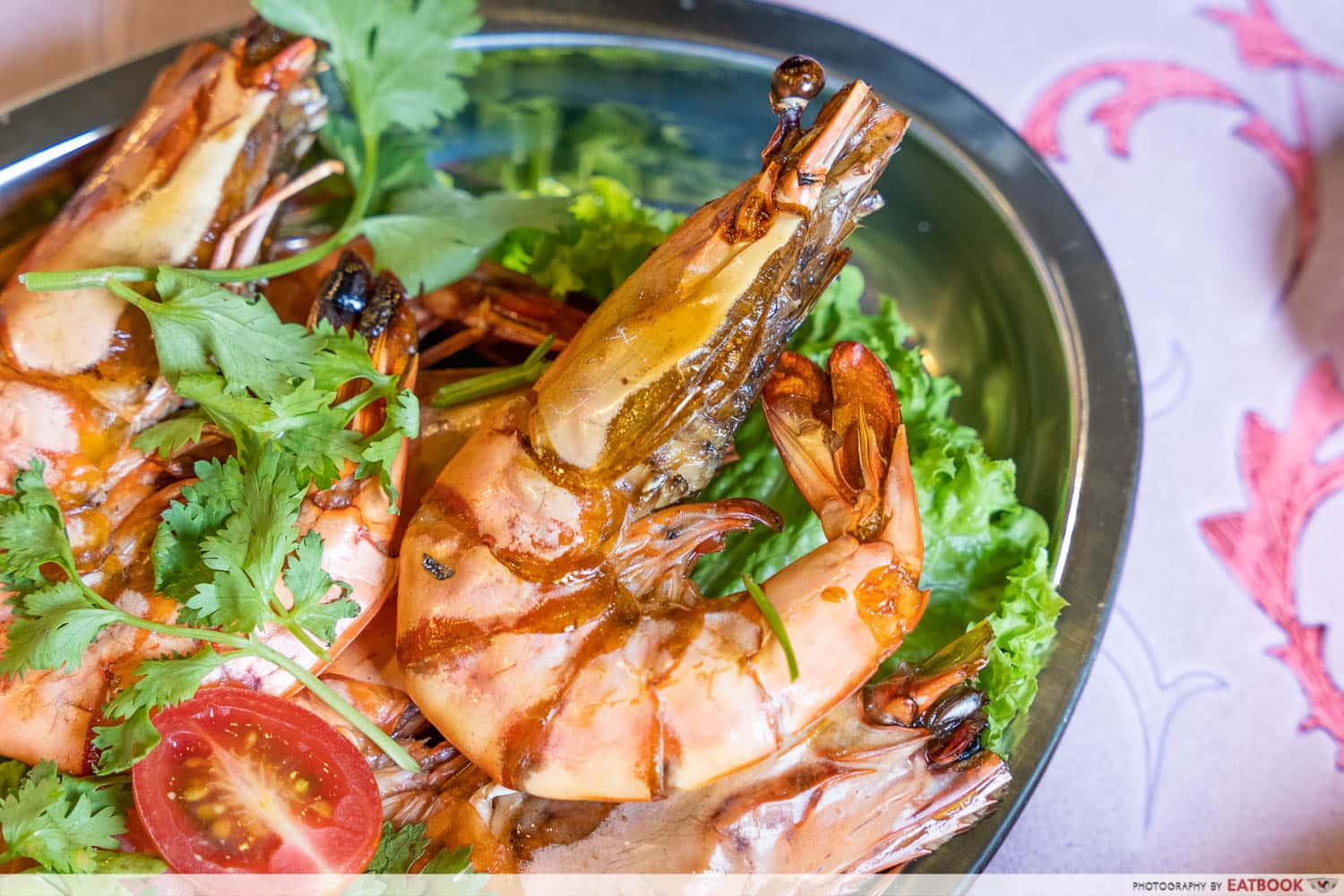 We also got our hands dirty for the Kung Yang ($14.90++) AKA grilled prawns, which were served with the same spicy dipping sauce. The prawns, though large, were unfortunately overcooked, making them dry and tough.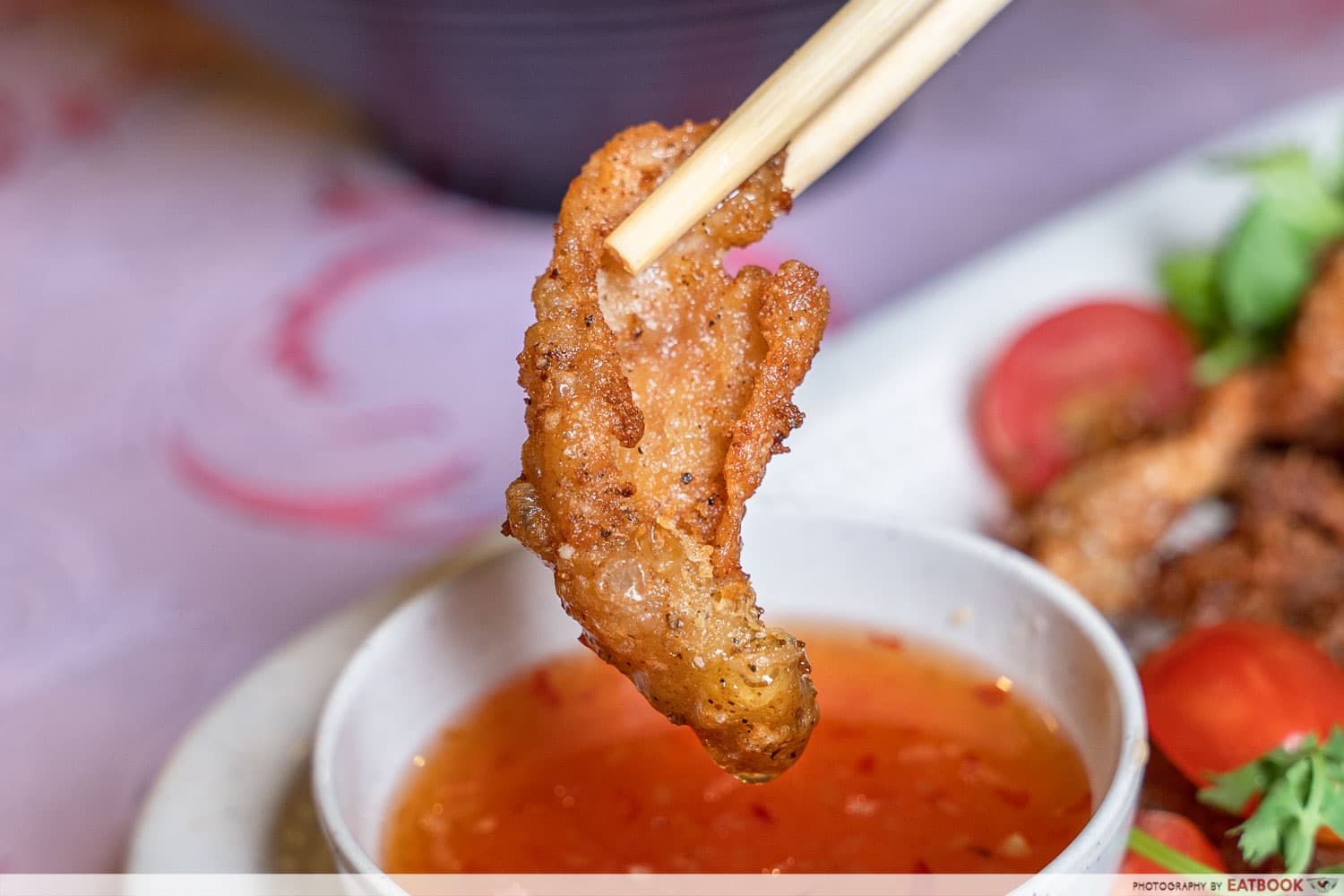 Another snack we tried was the Sesame Chicken ($10.90++). This could have been a promising dish, but it was sadly too salty. However, I enjoyed the sweet and refreshingly tangy chilli dip and crunchy onion slices, which helped to cut through the greasiness of the deep-fried chicken chunks.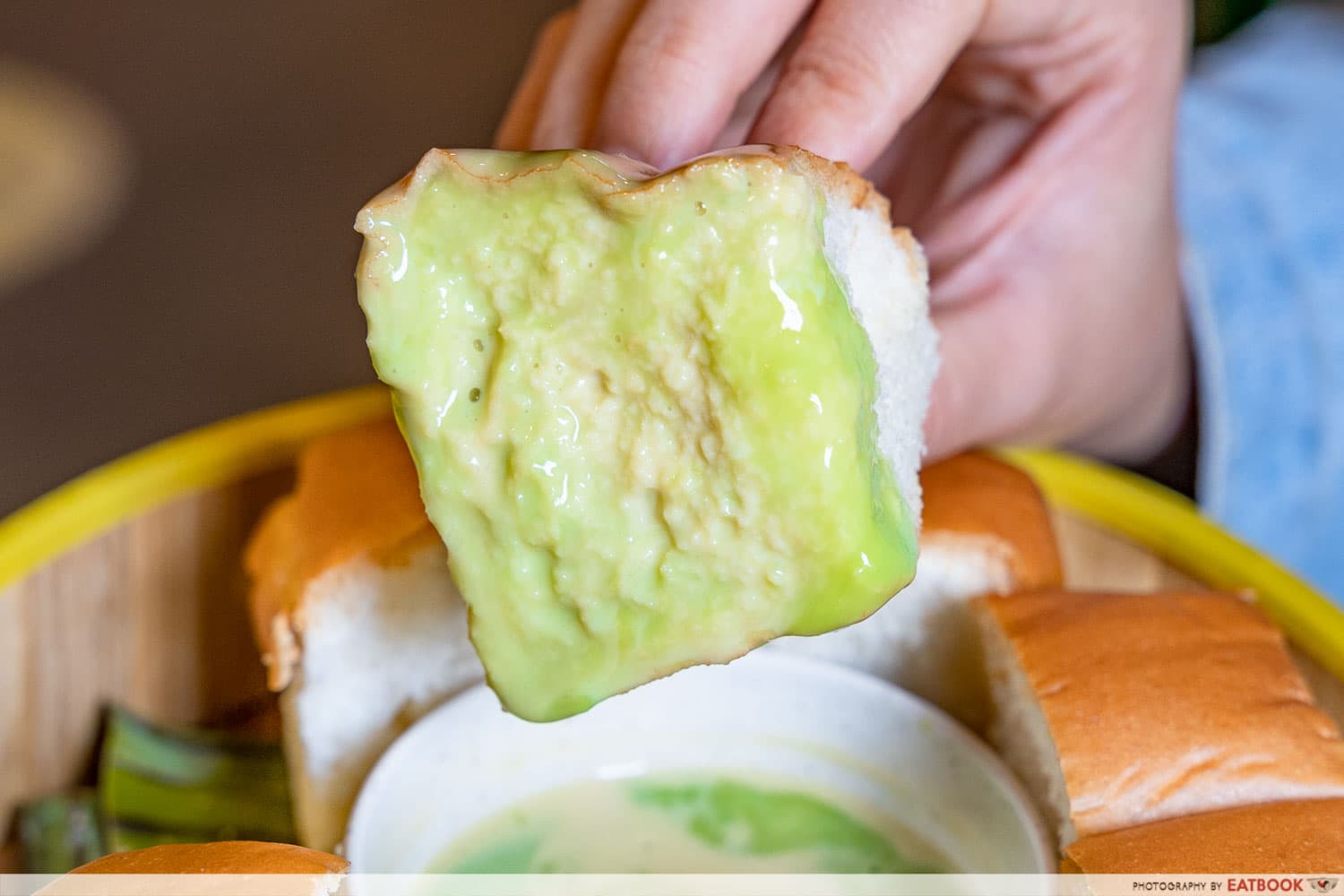 I was most excited to try their Sangkaya Steam Bread ($5.90++) which came in a bamboo steamer with a kaya custard dip in the middle. The fluffy buns were served warm and when dipped into the mix of kaya and evaporated milk, made for a sweet and fragrant dessert that we really enjoyed.
Shuang Bao Thai Review: $1.80 Thai-Style Hat Yai Fried Chicken In Bedok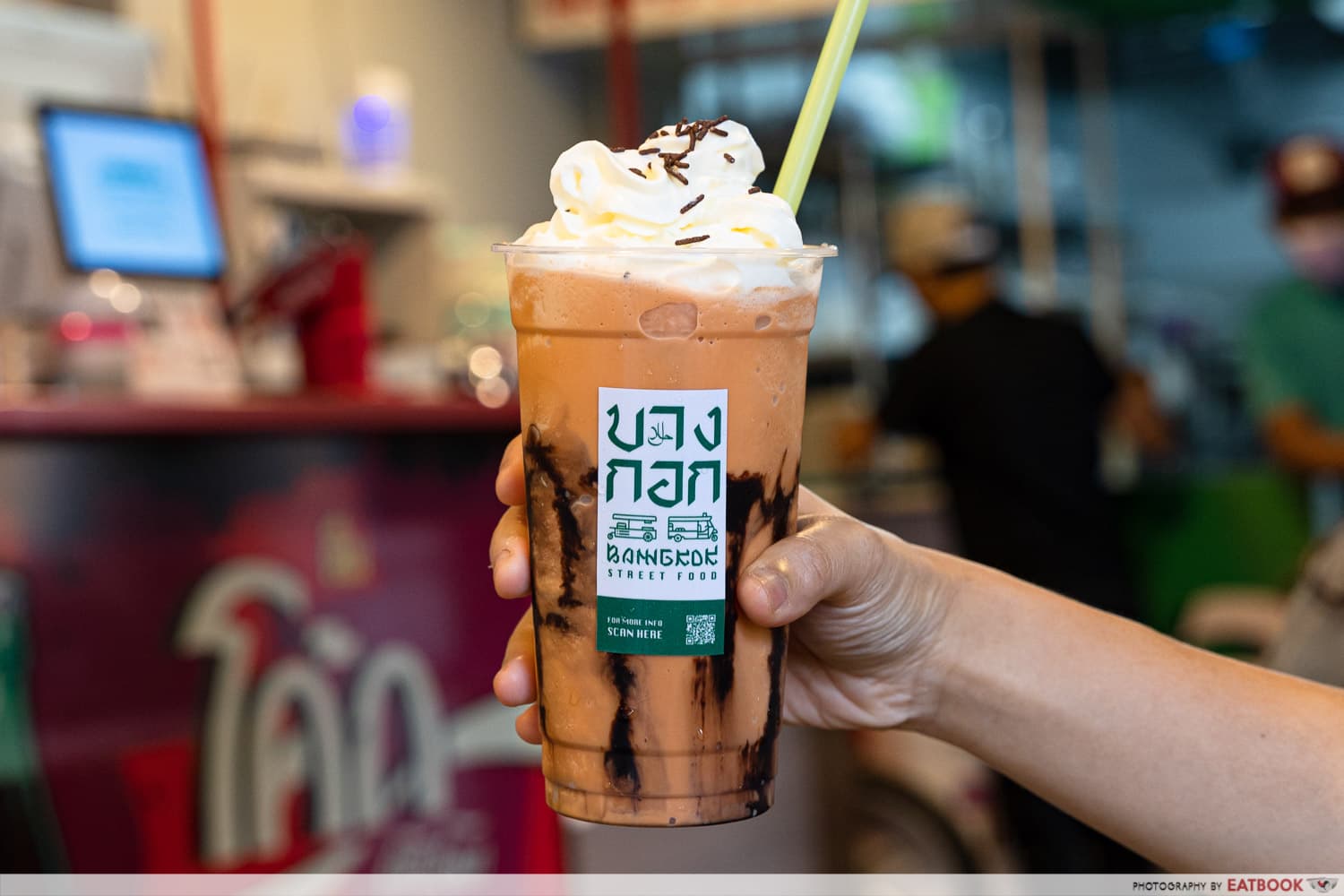 For drinks, we got the restaurant's signature Ice Blended Thai Smootea ($6.50++) in two flavours: Thai Milk Tea and Thai Green Milk Tea. Both smoothies were topped with a generous amount of whipped cream and sprinkled with chocolate rice bits. I was expecting the milk tea flavour to be overly sweet but was pleasantly surprised by how refreshing it was instead.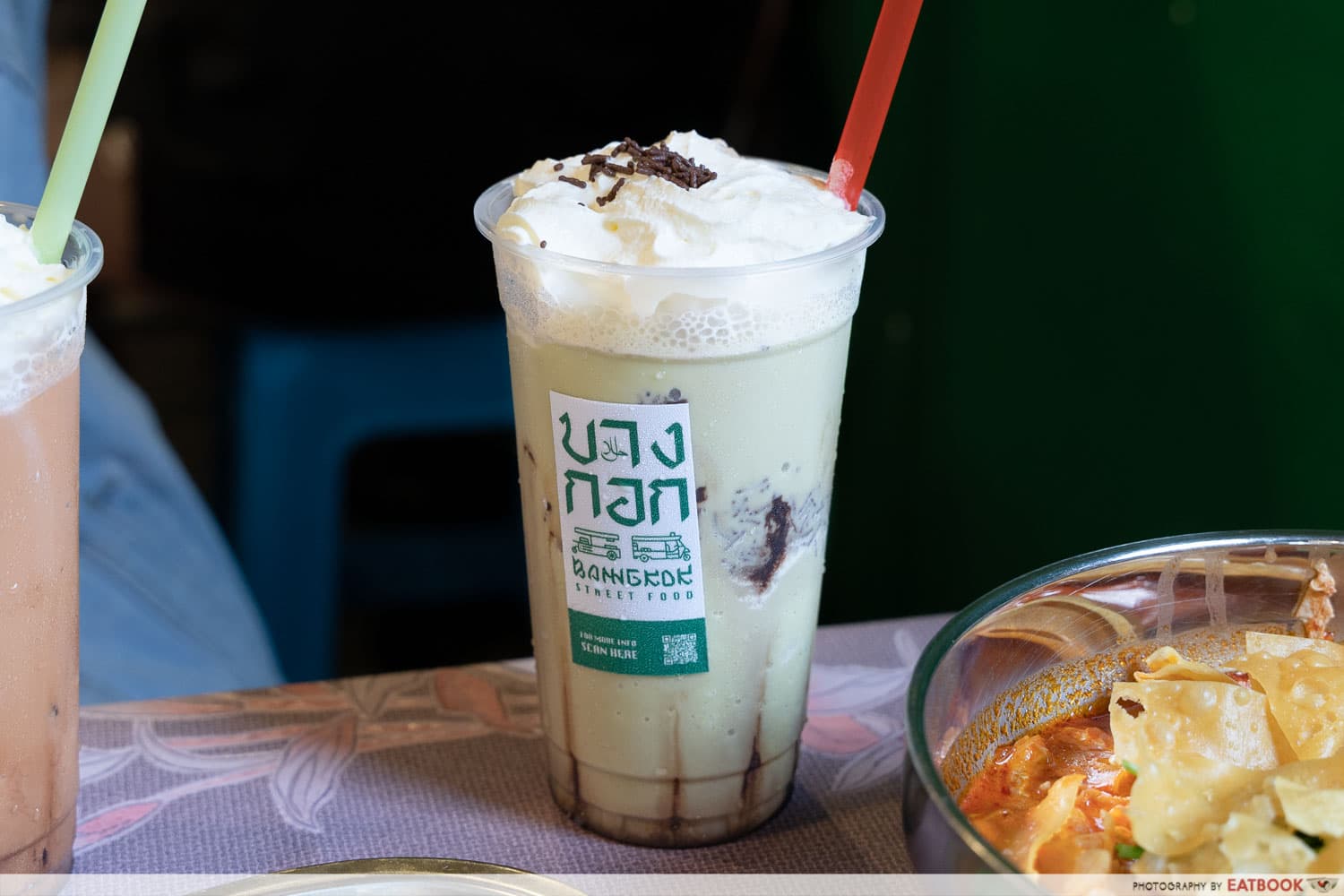 If you have a sweet tooth, you can opt for the green tea version instead, which was creamier with light floral notes. The notes of jasmine were also prominent here.
Ambience at BANNGKOK Street Food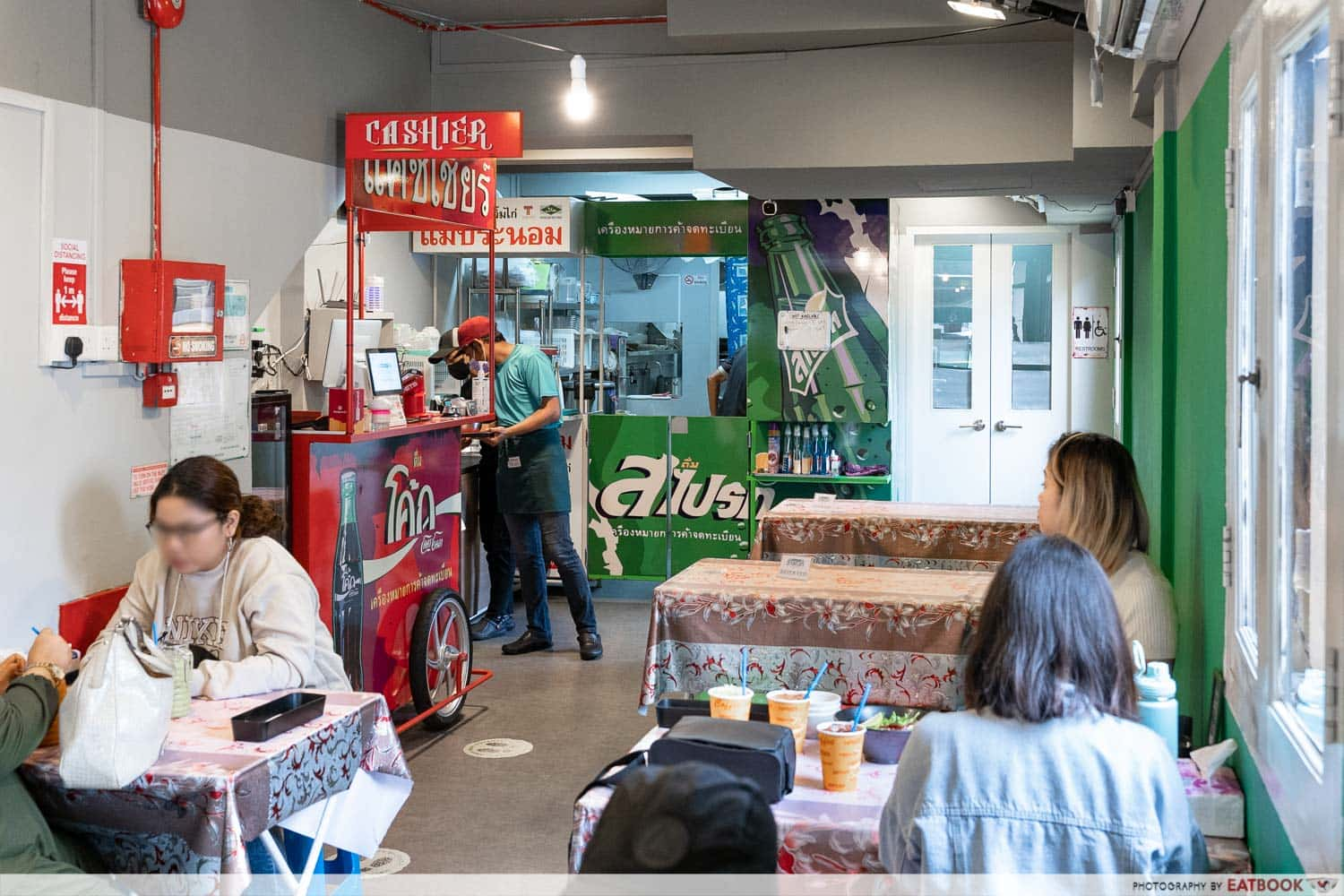 Words like 'bustling' and 'lively' come to mind when I think of Bangkok, and that's exactly what I felt while dining at BANNGKOK Street Food. There was a decent lunch crowd, which contributed to the upbeat atmosphere, and the restaurant is air-conditioned, so you don't have to worry about the heat. If you prefer some peace and quiet, you can also head up to the second level where more seats are available. 
BAANGKOK Street Food is a 10-minute walk from Bugis MRT Station.
The verdict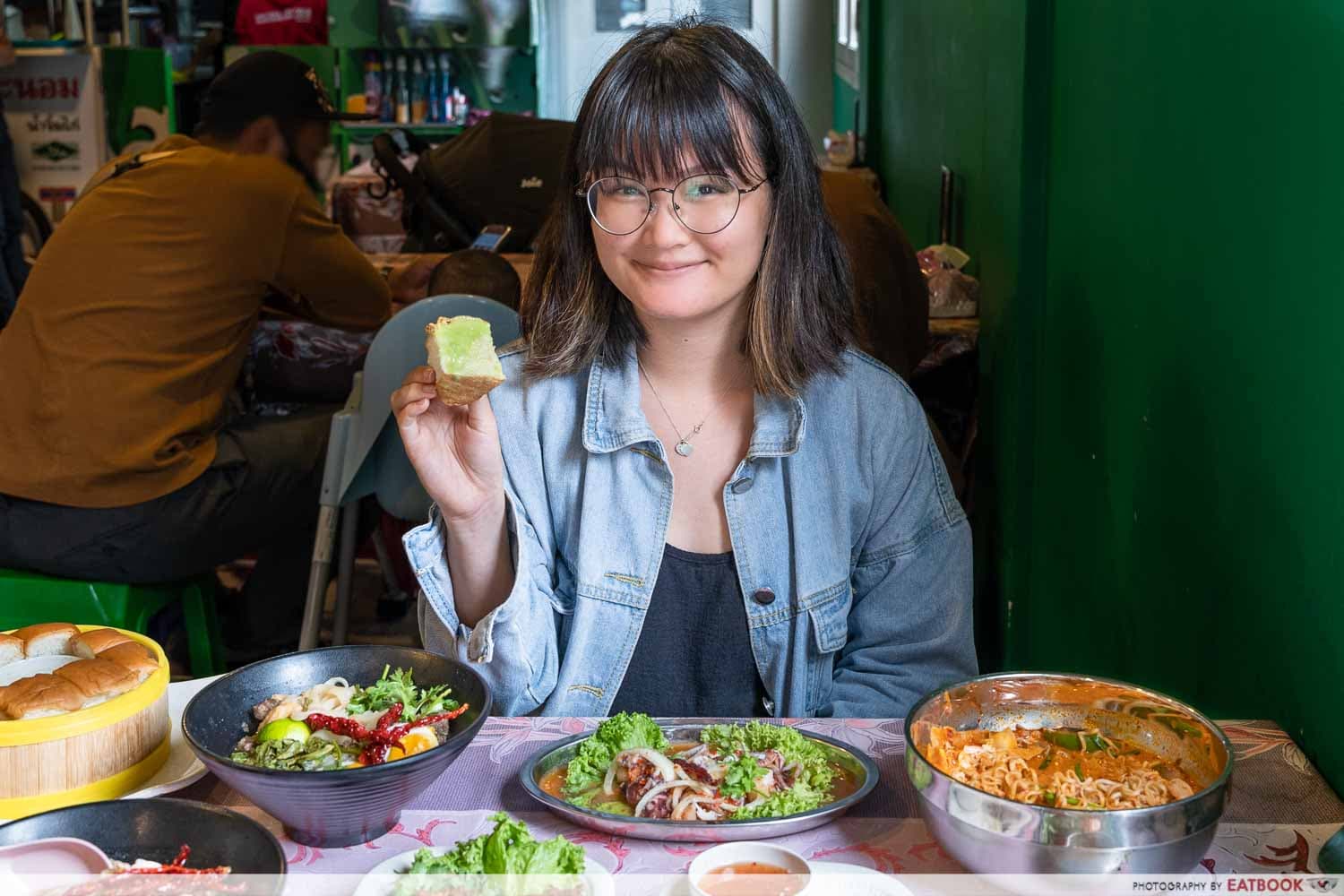 BANNGKOK Street Food had some good dishes I would come back for, such as the tom yum and sangkaya bread. The seafood dishes were decent if you didn't mind that they were slightly overcooked, and the slushies offered a unique spin on traditional Thai milk tea. If you ever find yourself in Bugis and craving Thai food, you can consider dropping by!
If you're looking for more affordable Thai food, read our Tasty Thai review. Otherwise, head to the nearby Fluff Bakery for halal cupcakes, doughnuts and more. 
Address: 43 Sultan Gate, Singapore 198491
Opening hours: Mon-Sun 12pm to 3pm, 4.30pm to 10pm
Tel: 8879 6869
Website
BANNGKOK Street Food is a halal-certified eatery.
Fluff Bakery Review: IG-Famous Halal Bakery With Horlicks Cupcake, Maple Cinnamon Doughnut And More
Photos taken by Melvin Mak.
This was a media tasting at BANNGKOK Street Food
BANNGKOK Street Food Review: Muslim-owned Thai Restaurant With Pandan Custard Steam Bread And Thai Milk Tea Slushie
BANNGKOK Street Food Review: Muslim-owned Thai Restaurant With Pandan Custard Steam Bread And Thai Milk Tea Slushie -

7/10
Summary
Pros
– Interesting offerings such as the Ice Blended Thai Smootea and Sangkaya Steam Bread
– Nice ambience with Bangkok street vibes
– Good variety of dishes
Cons
– Seafood is overcooked
– Quite pricey
Recommended dishes: Mama Kai ($10.90++) and  Ice Blended Thai Smootea ($6.50++)
Opening hours: Mon-Sun 12pm to 3pm, 4.30pm to 10pm
Address: 43 Sultan Gate, Singapore 198491