Tasty Thai at Bukit Batok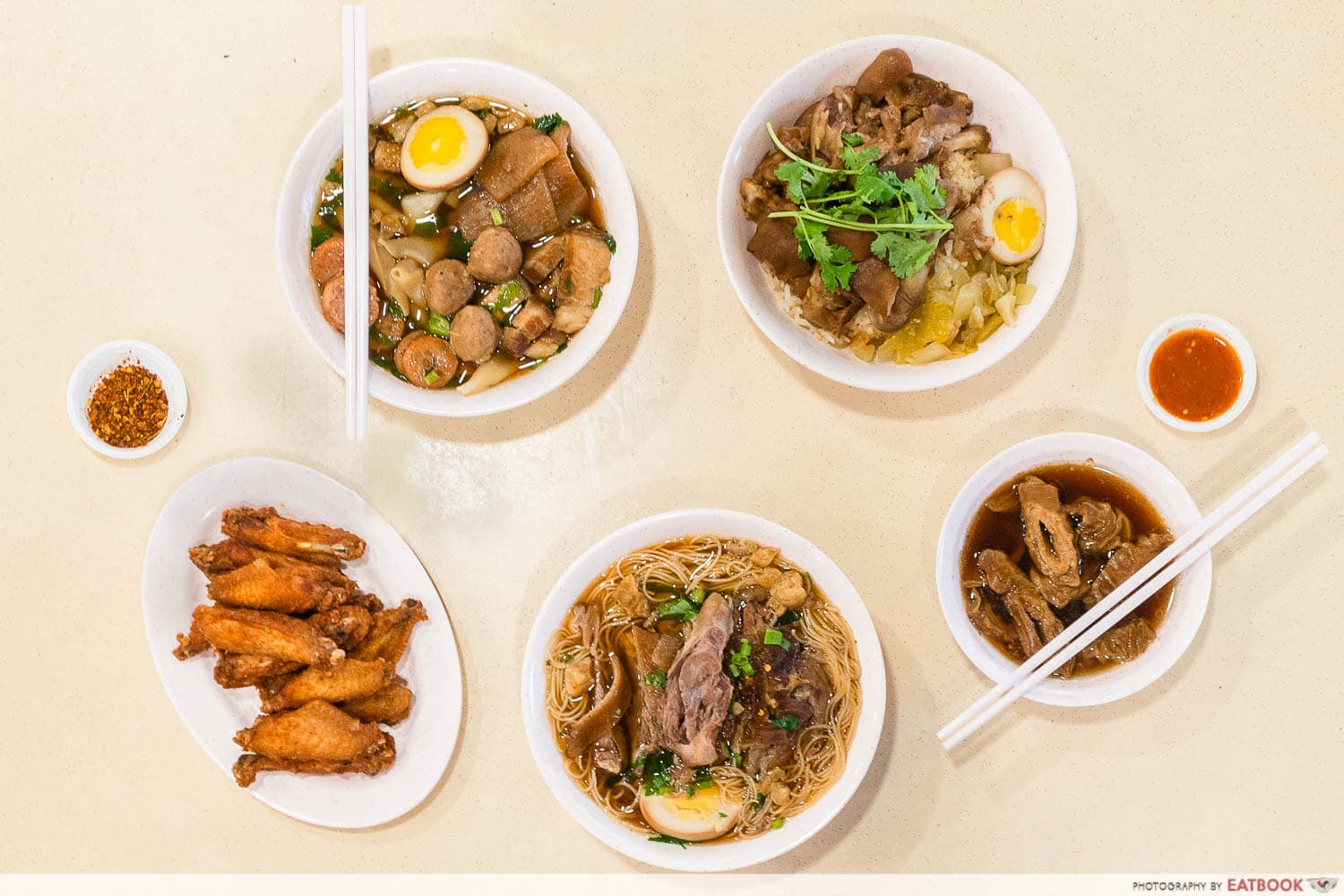 Living in central Singapore, Bukit Batok is not an area that I'm familiar with. Thus when I was given the chance to explore the neighbourhood and try some of my favourite dishes, I took up the offer to visit Tasty Thai.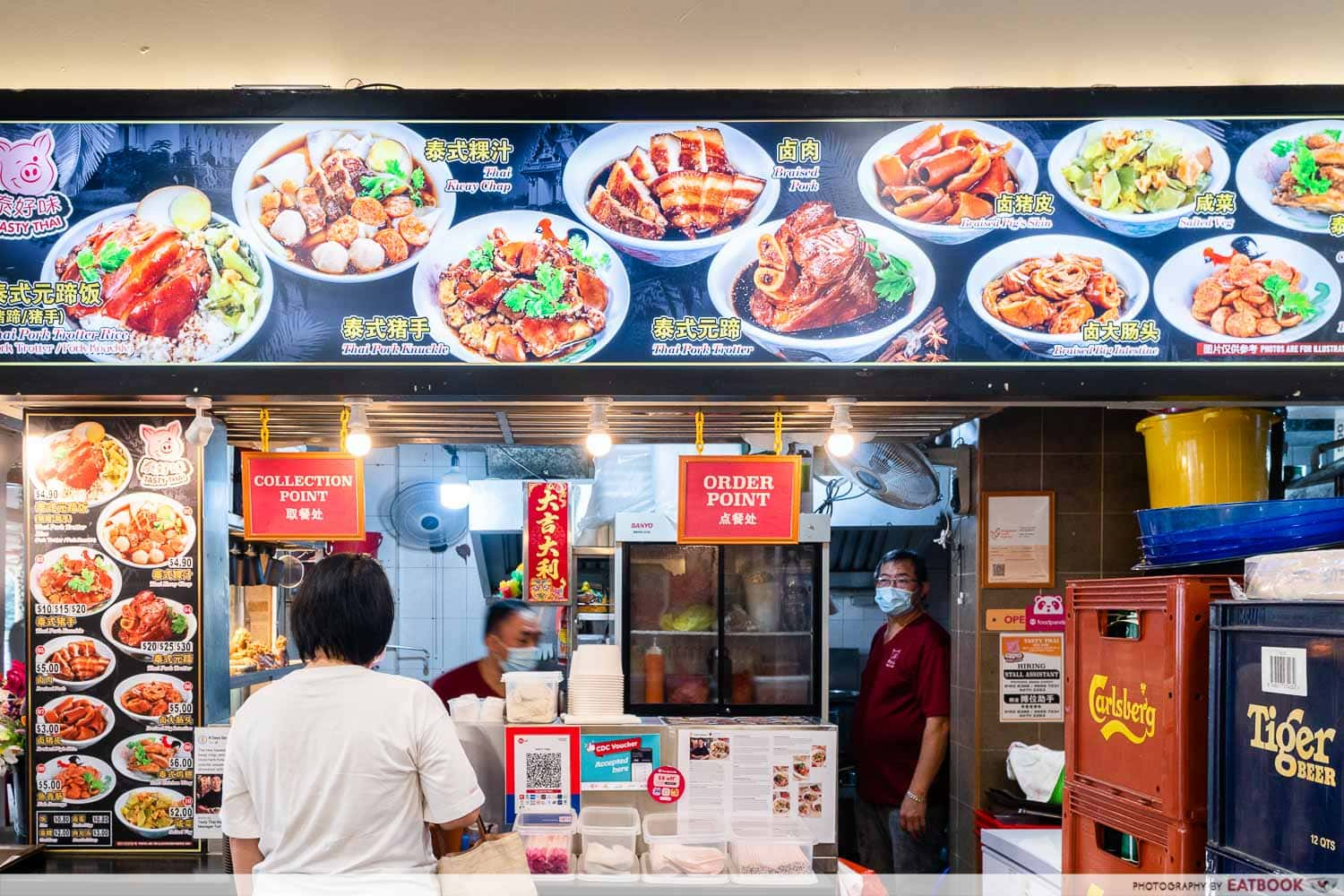 The six-month-old stall is run by Mr Phang Chun Fatt, who decided to be his own boss after taking a significant pay cut during the circuit breaker period, and his two partners, who together have more than 30 years of experience in the F&B industry. Taking inspiration from their dialect, the trio came up with the name 泰好味, which is a pun on 'Thai' and 'delicious', and reads as 'too delicious' in Cantonese. 
Food at Tasty Thai
Pig's feet is one of my favourite cuts of pork, as I love how tender and fatty it can be when it's cooked well. Despite my penchant for it, I didn't realise that there was a difference between the knuckles and the trotters until I asked Mr Phang. For those who are as unaware as I was, the knuckles are higher up on the pig's leg and have more tendons, while the trotters are lower and tend to be meatier.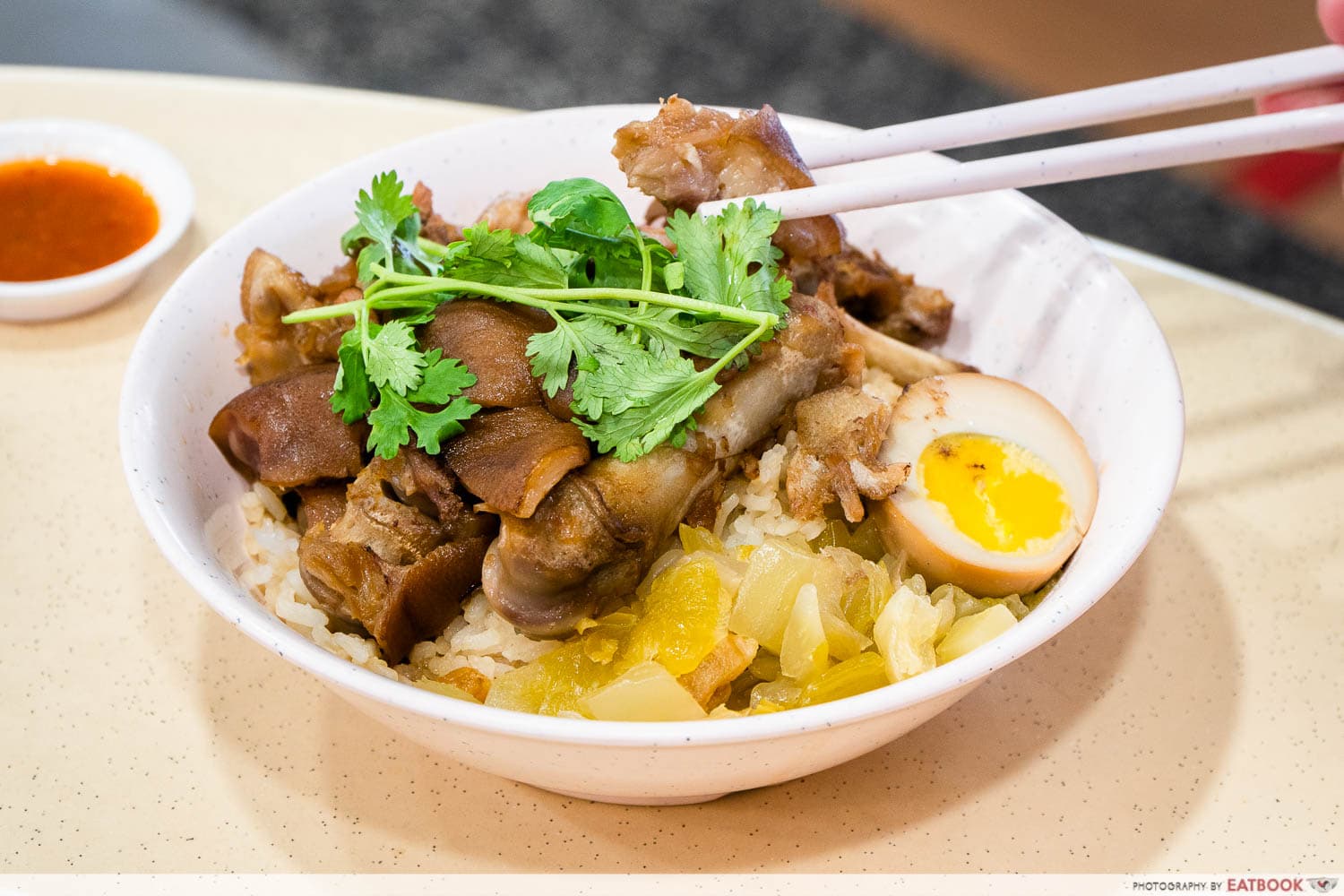 I decided to go with the Thai Pork Knuckle Rice ($4.90) because I especially love the texture of tendons. Chopped into big pieces, the pork knuckle was just the way I liked it. The skin and tendons were savoury and slightly chewy. The meat itself was tender, all thanks to a two-hour-long stewing process in the braising liquid.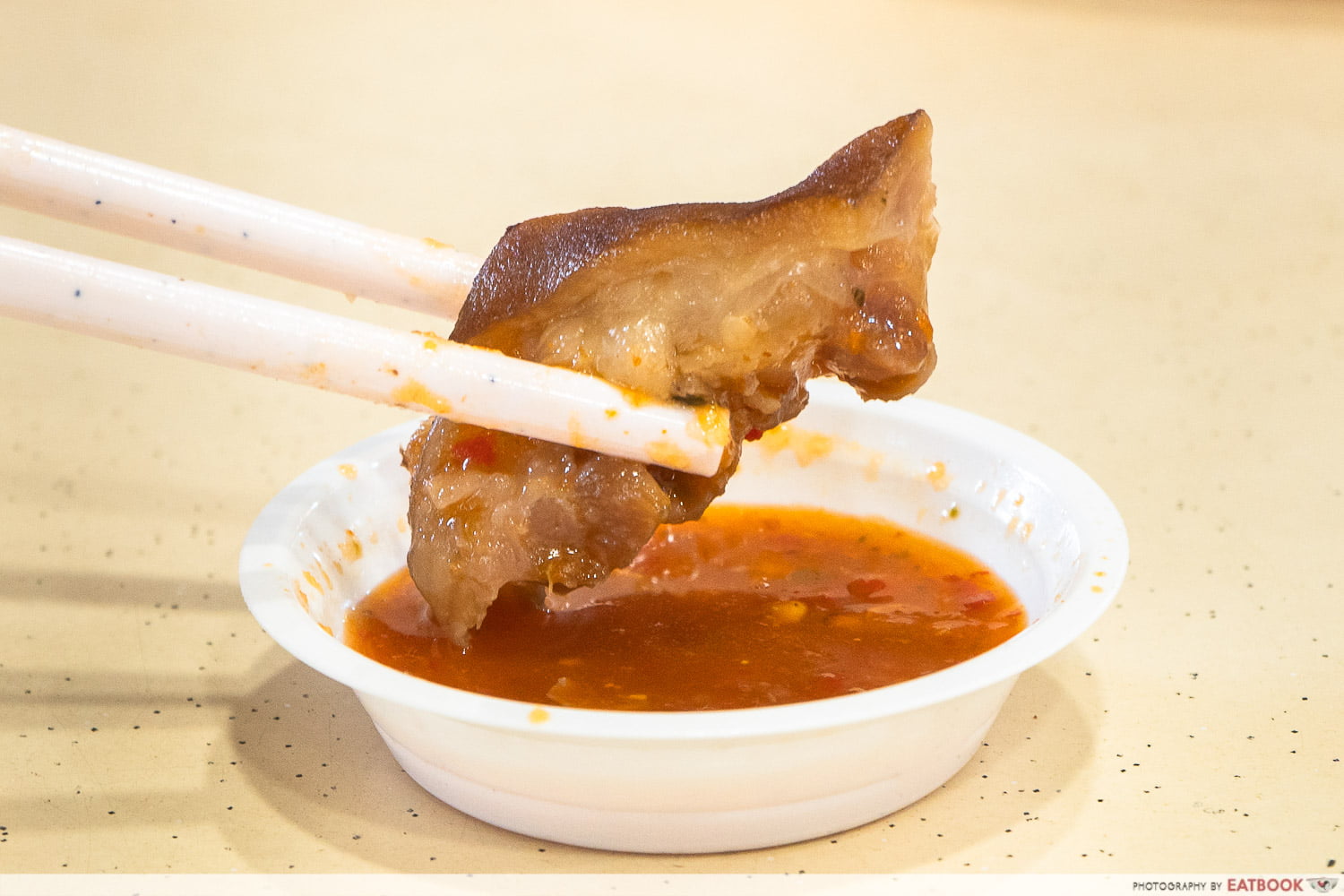 Specially made in-house, the chilli sauce had a bright tanginess that paired well with the meat. I recommend drizzling some of the garlicky chilli over the warm rice for an added kick.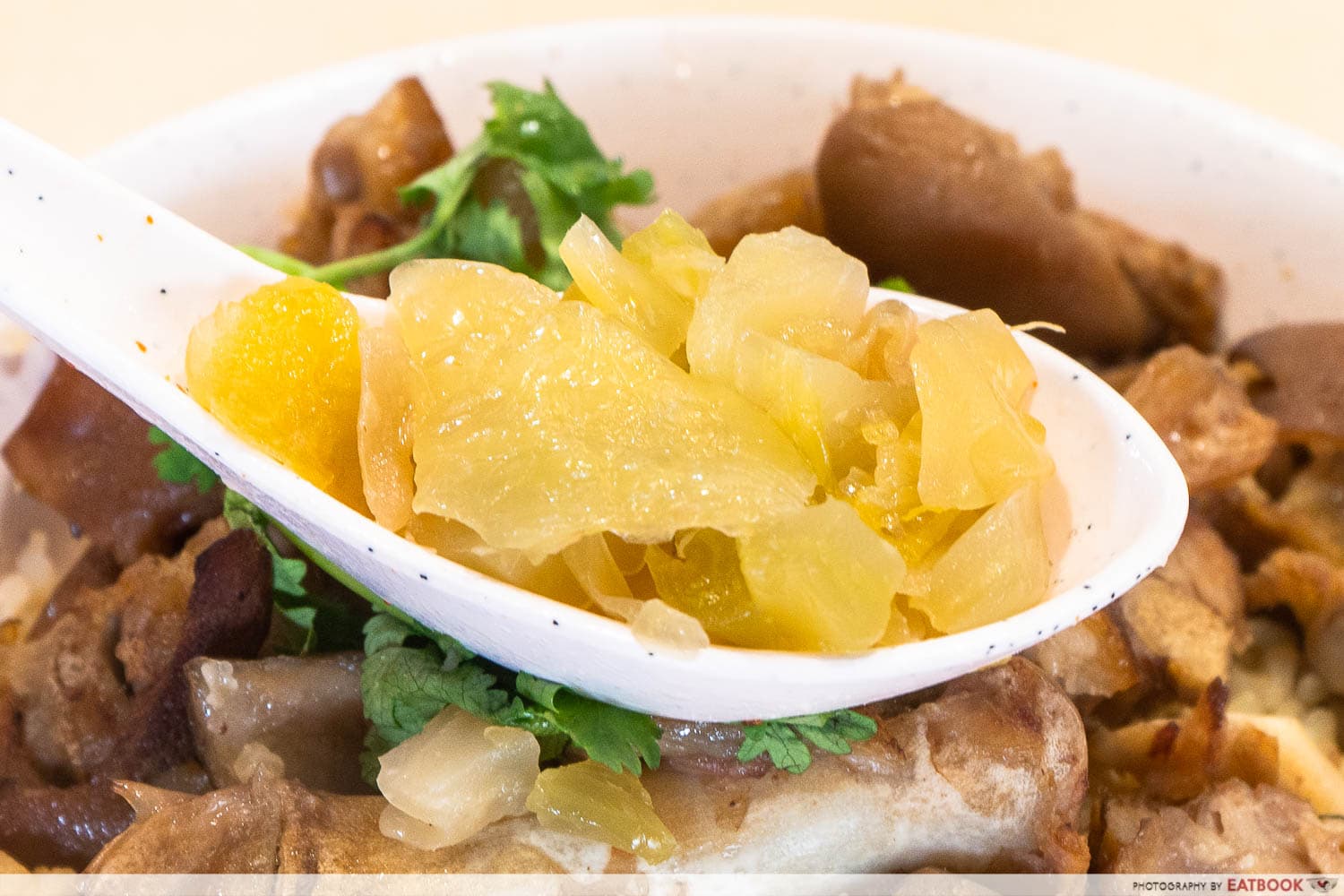 The pork knuckle rice was also accompanied by pickles that were neither too sour nor too salty. I felt that they could have had more crunch, but this might just be a personal preference.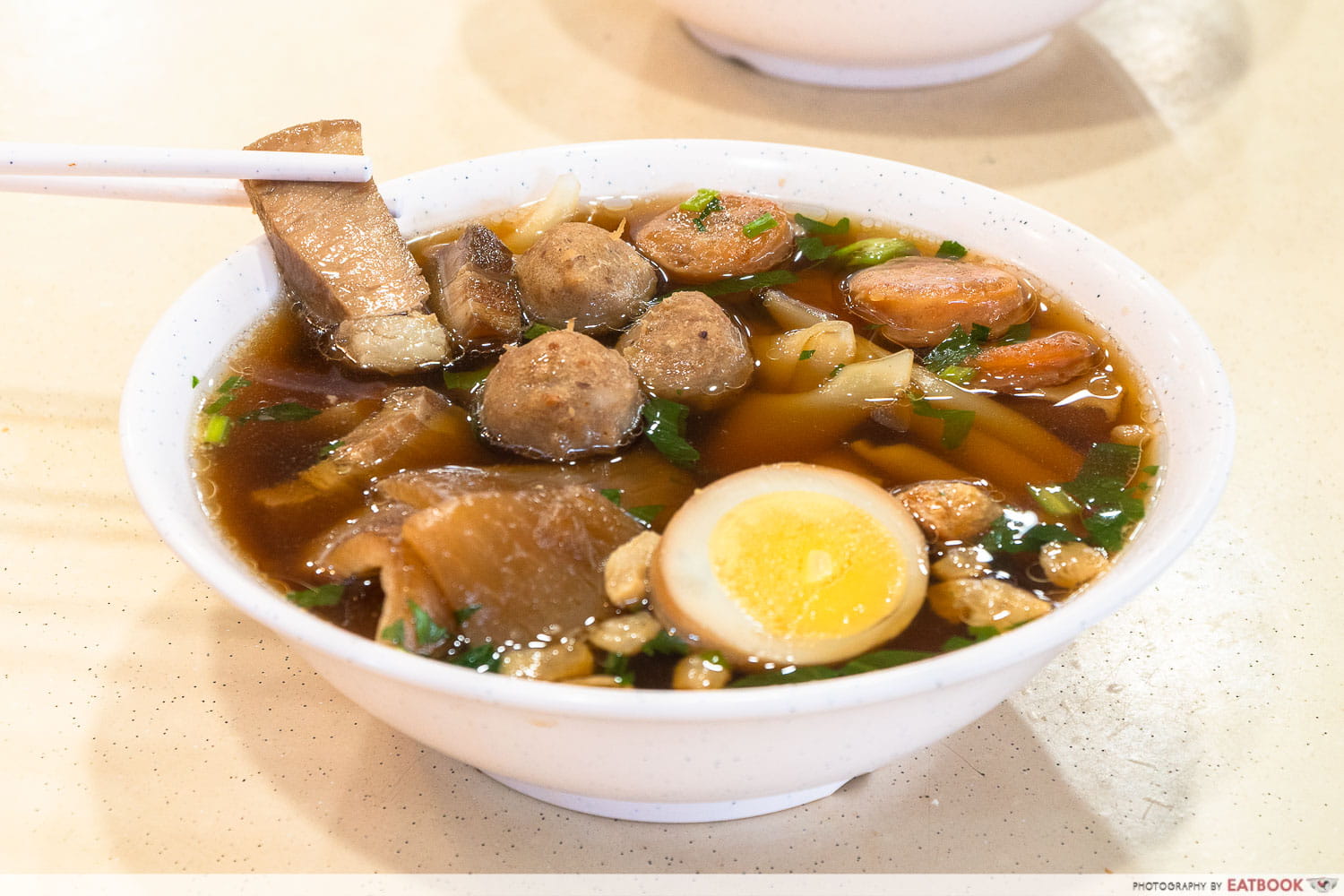 Another dish we tried was the Thai Kway Chap ($4.90). Unlike Singaporean style kway chap, the liao is served together with the kway in the same bowl here at Tasty Thai.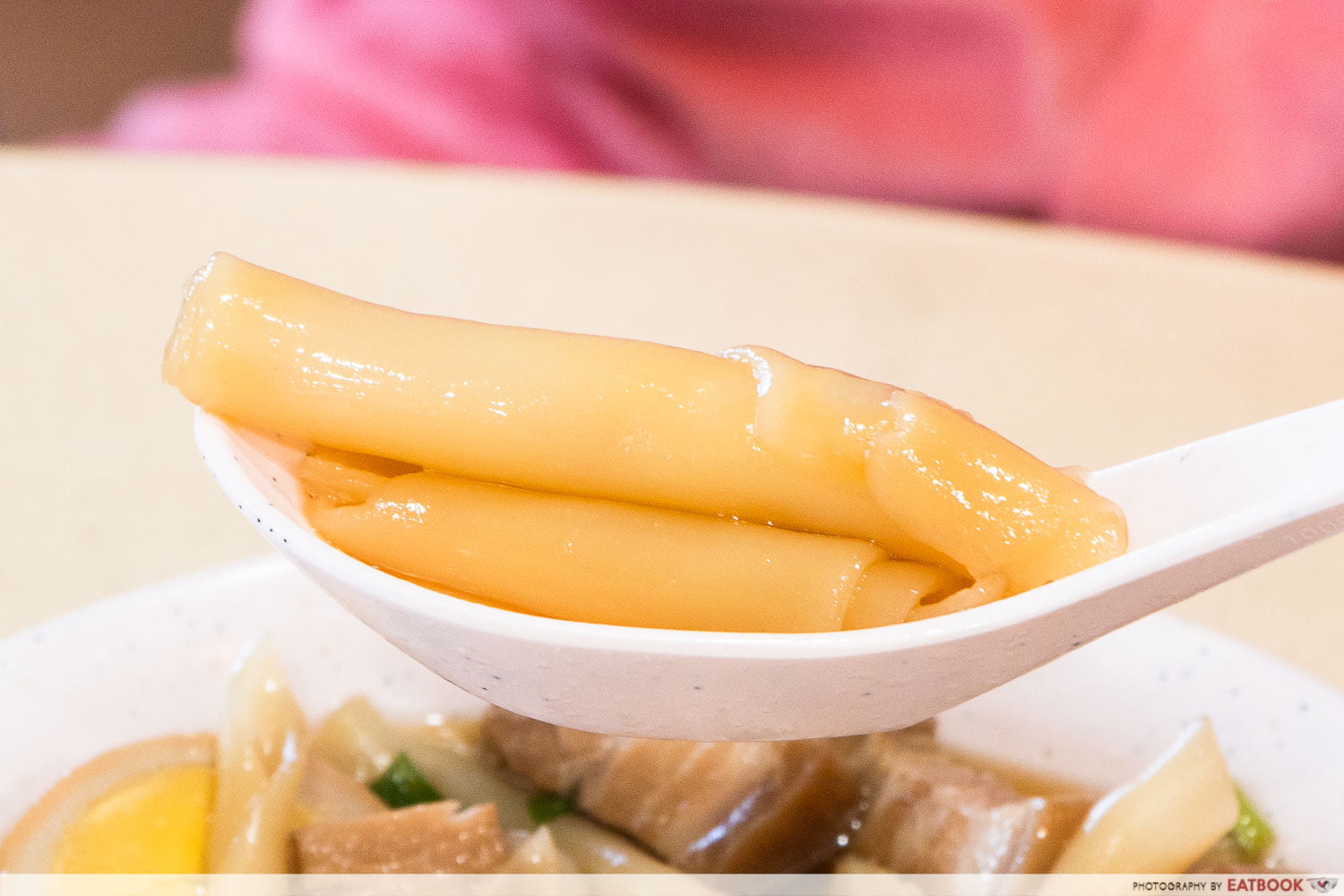 The rice noodles are also rolled-up, which kept them chewy even after we had left them in the broth for some time.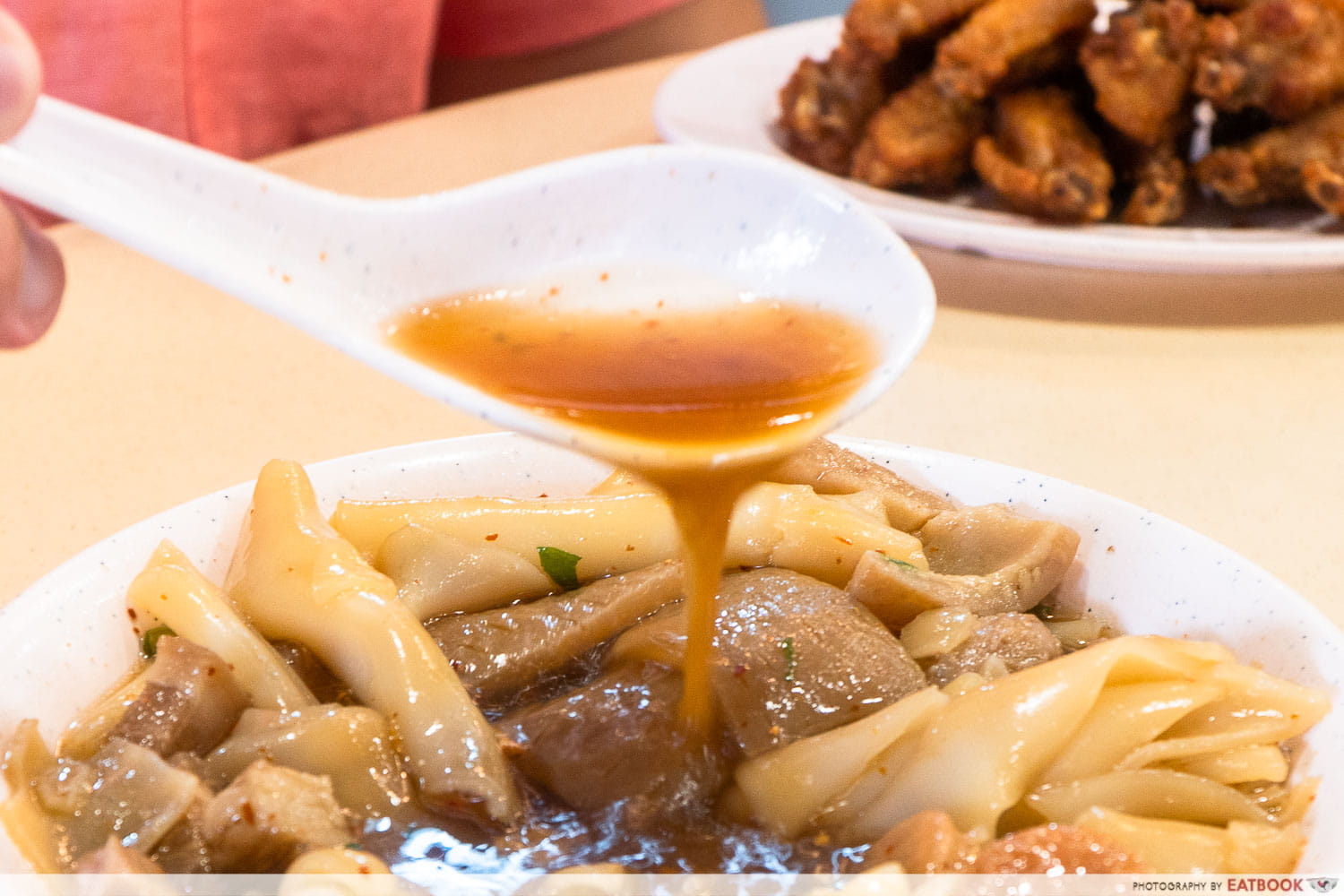 Although Mr Phang shared that the broth was supposed to be herbaceous, I found the porky fragrance to be more pronounced instead.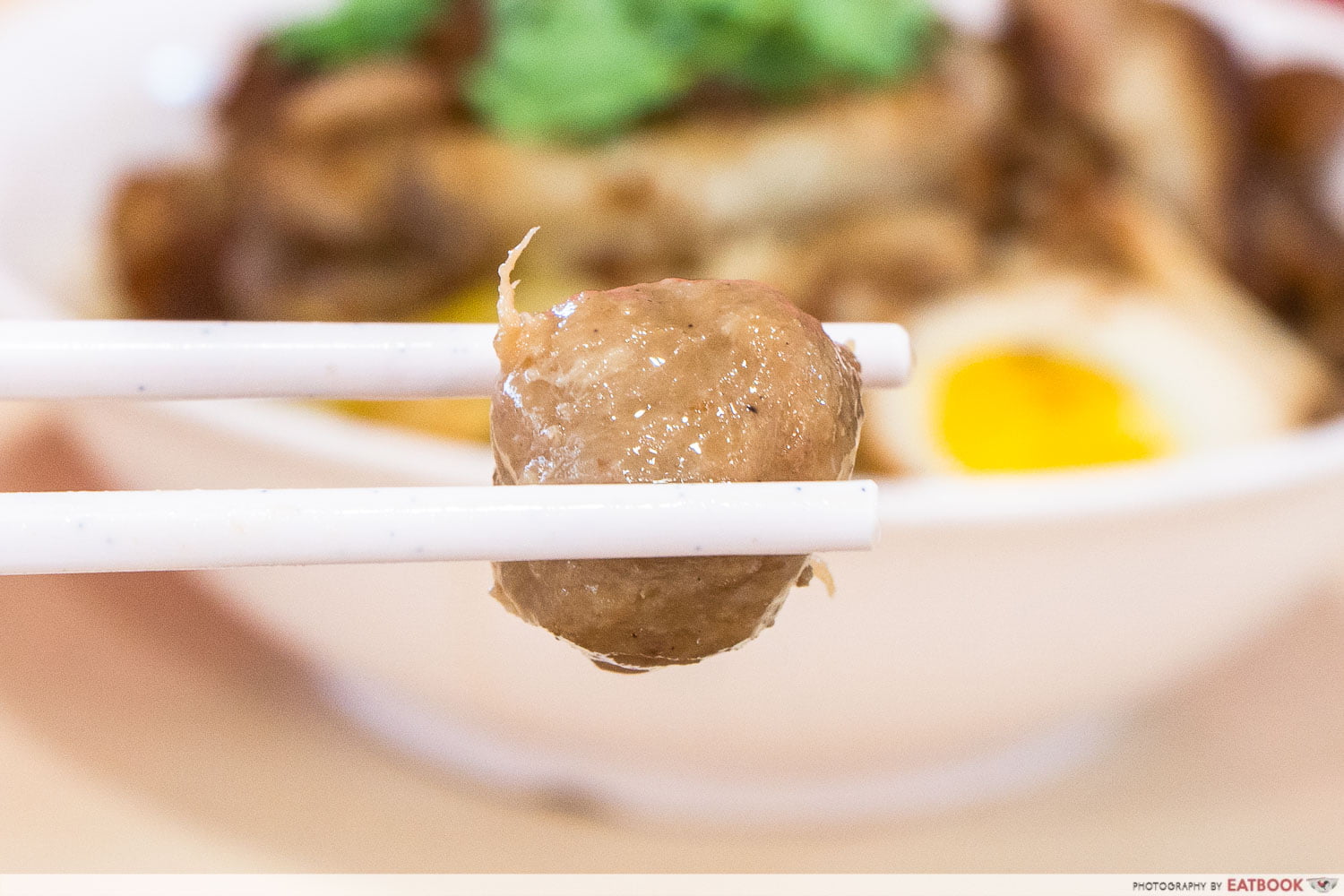 For a bowl that costs under $5, you get a generous mix of ingredients including pork belly, pork skin, pork balls, fish sausage, and braised egg.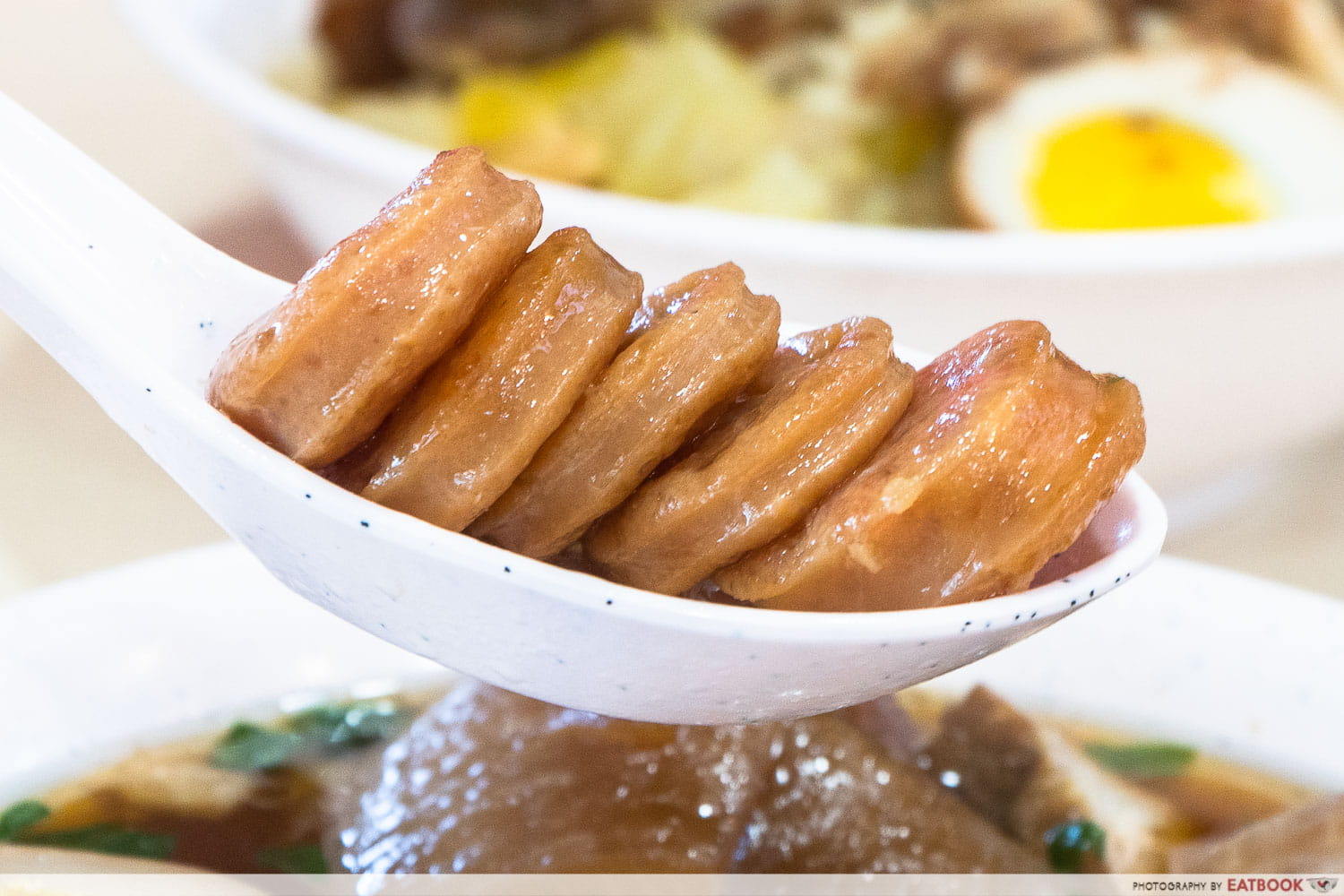 Out of all of the ingredients, the fish sausage is probably the least familiar item to most of us. Specially imported from Thailand, the fish sausage had a sweetness that was not unlike that of Taiwanese sausage.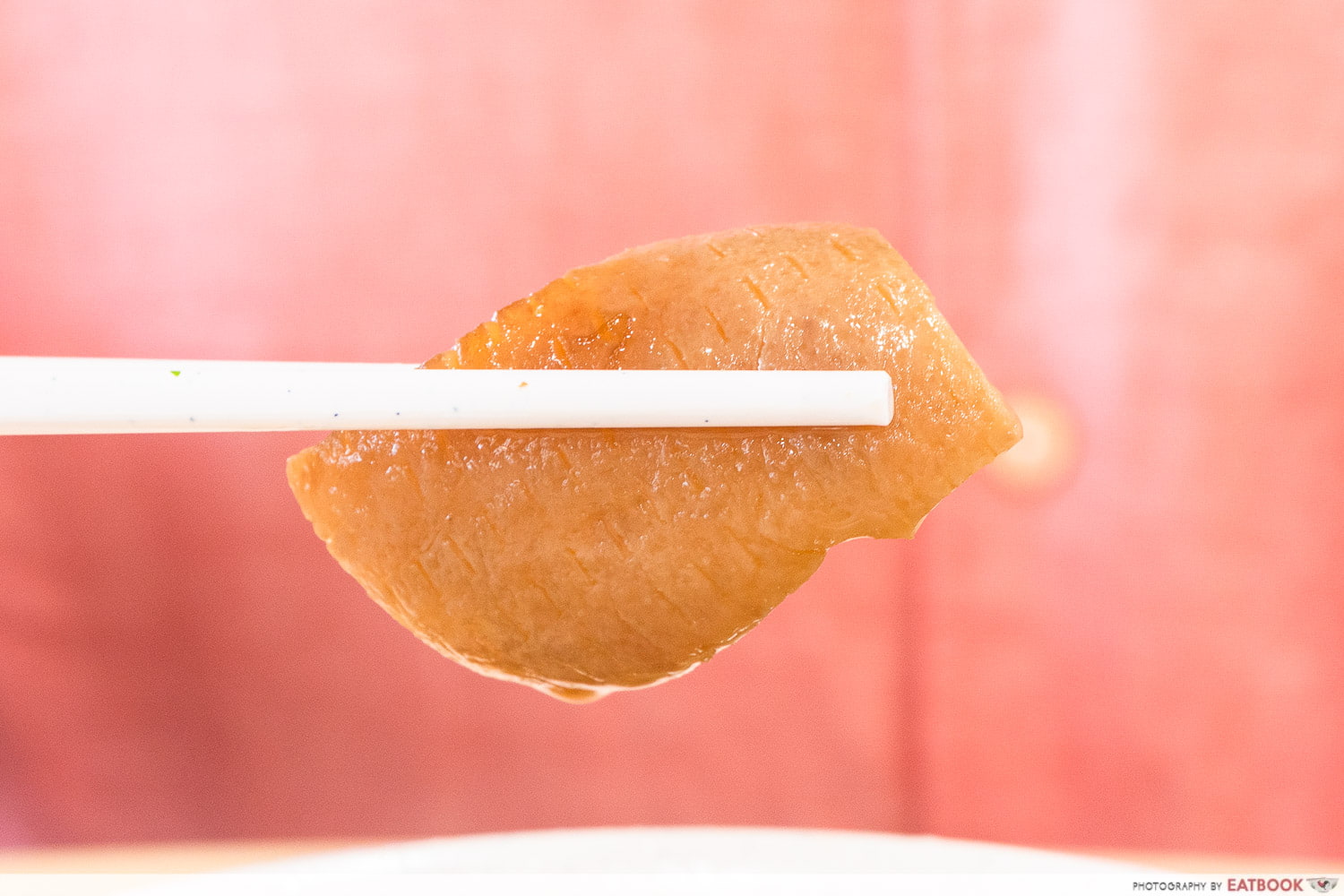 I particularly enjoyed the chewy texture of the pork skin, but I found the pork belly to be a little too tough for my liking.
Sprinkle some chilli flakes over the kway chap for a kick, but don't be too heavy-handed as it can be quite spicy.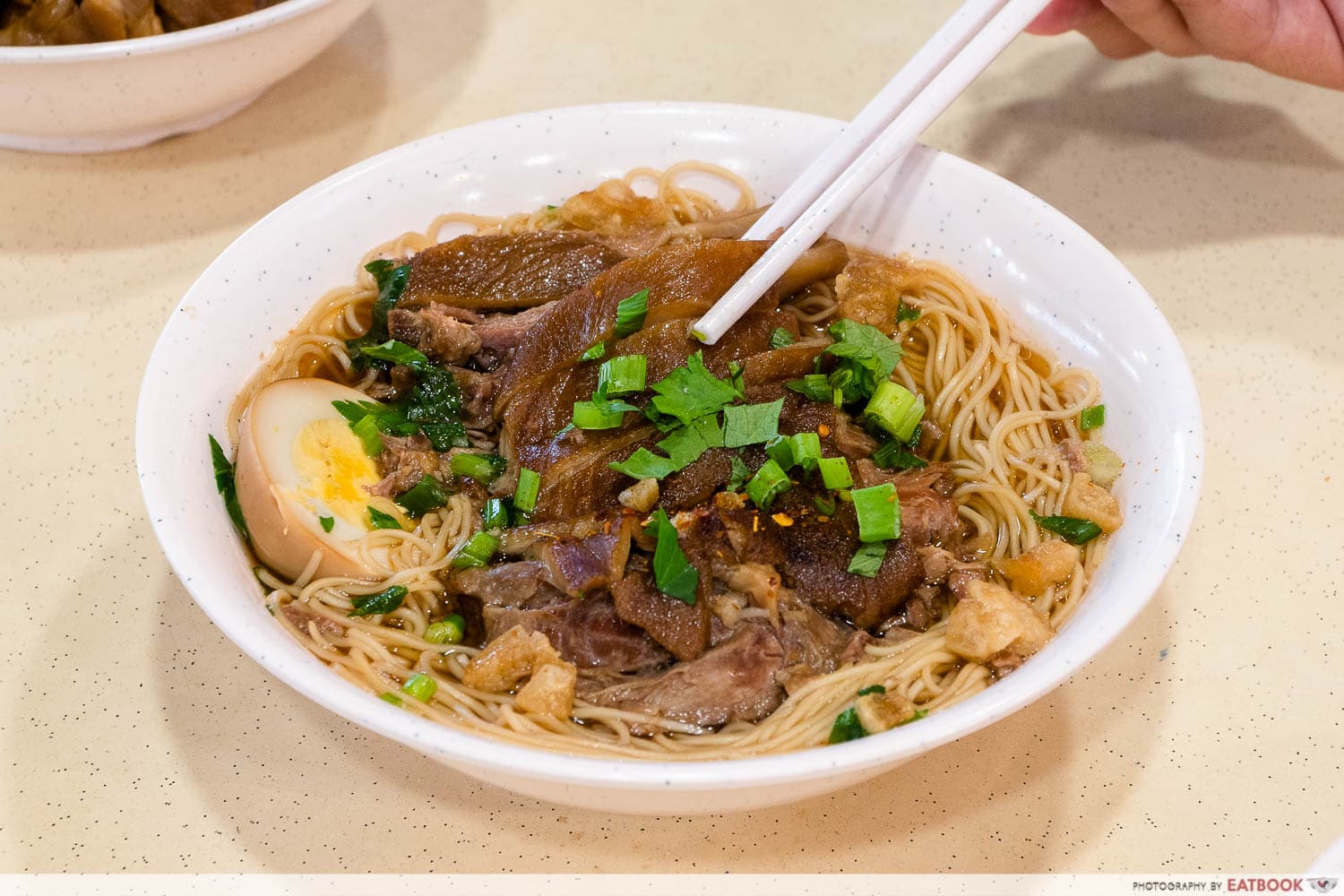 To appeal to the elderly citizens living in the vicinity, Mr Phang also added Pork Trotter Mee Sua ($6.90) to the menu. This time, I opted for the meatier cut and was rewarded with a generous serving of tender and juicy pork.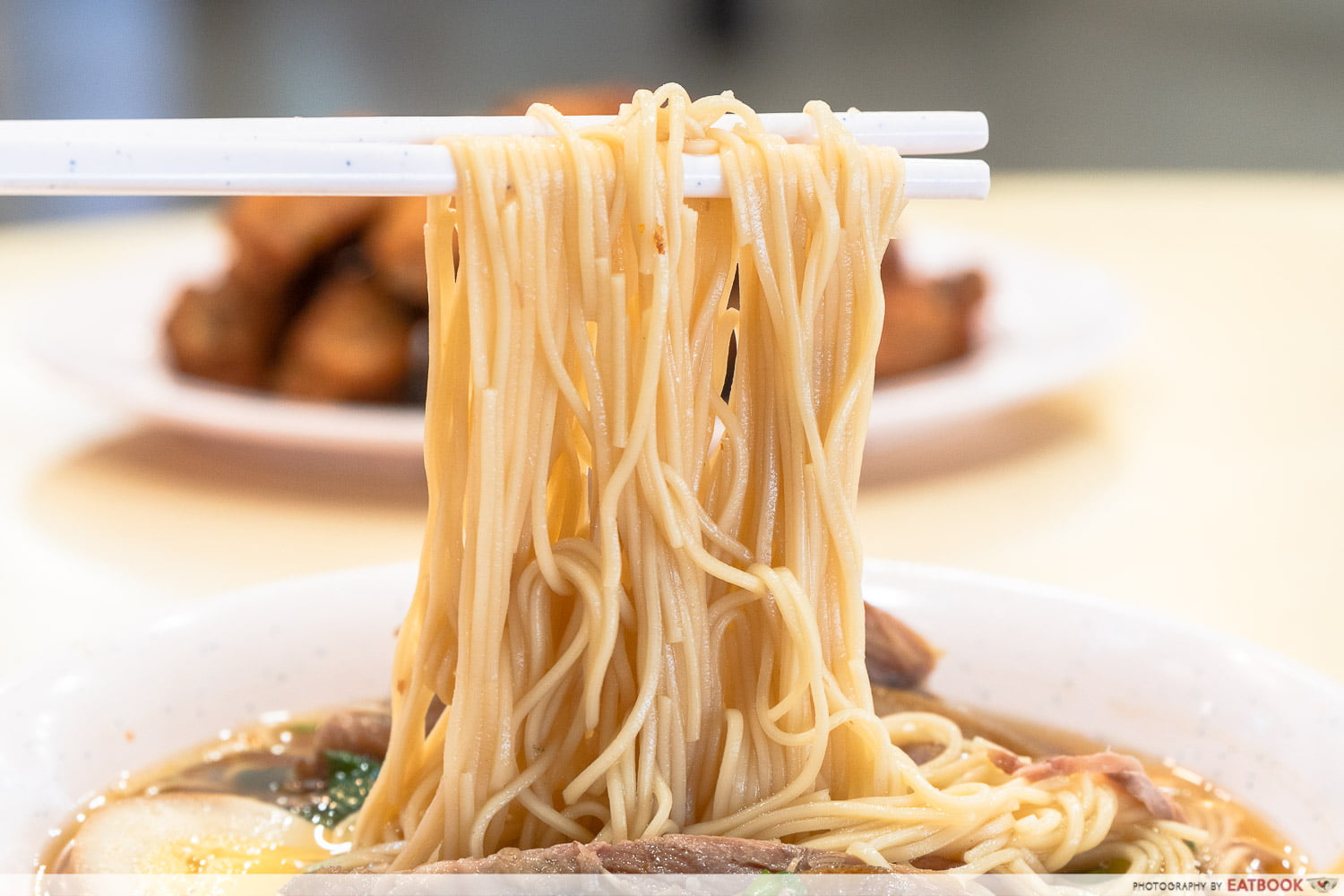 Due to our long photoshoot, the mee sua had absorbed much of the gravy and was very flavourful. I'm not a fan of the soft noodles, but this was my colleague's favourite dish on the menu. If you're like me, you should dig into the mee sua ASAP after ordering.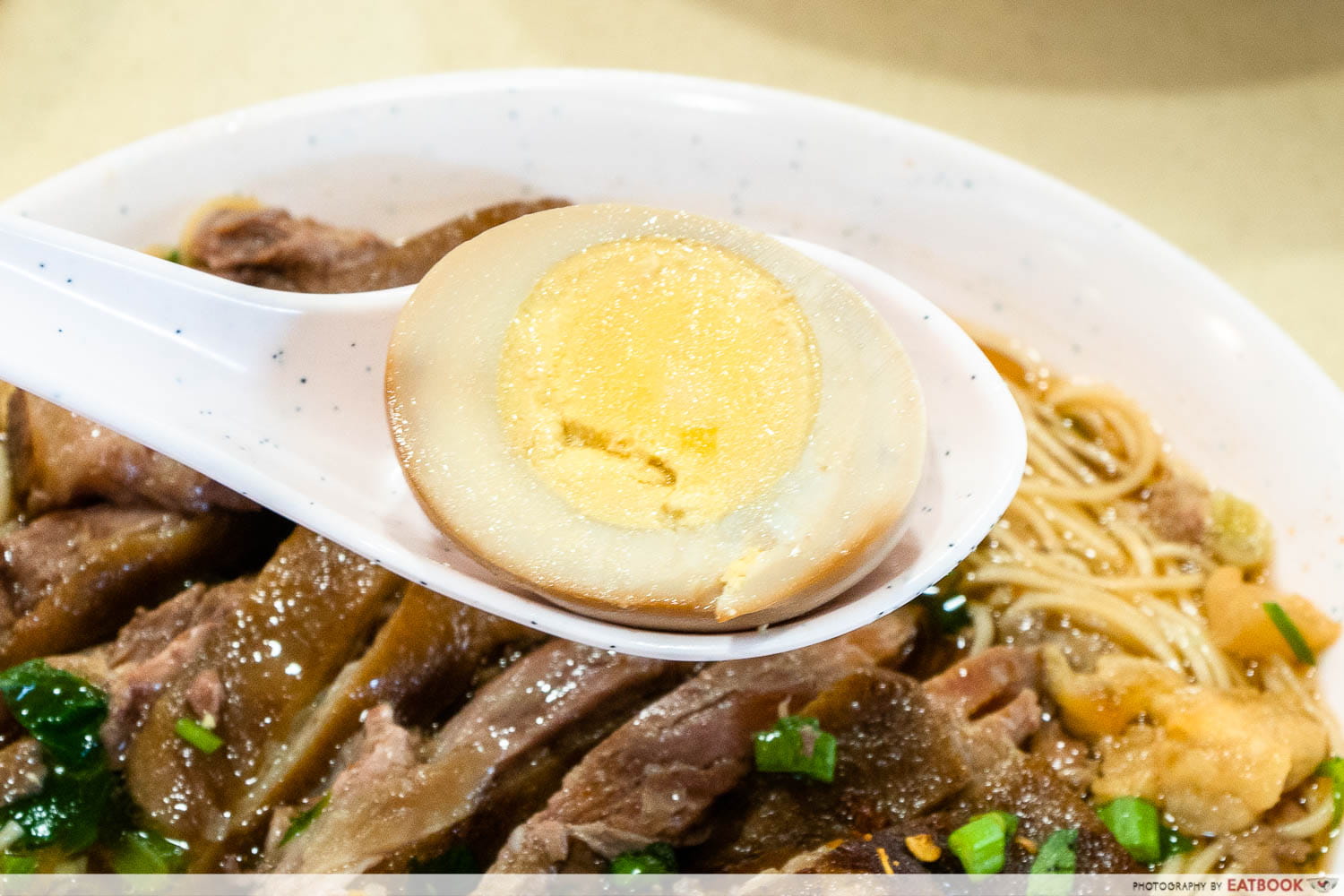 All three of the mains come with half a braised egg, which I felt could have been submerged in the lor for slightly longer to absorb more of its savoury essence.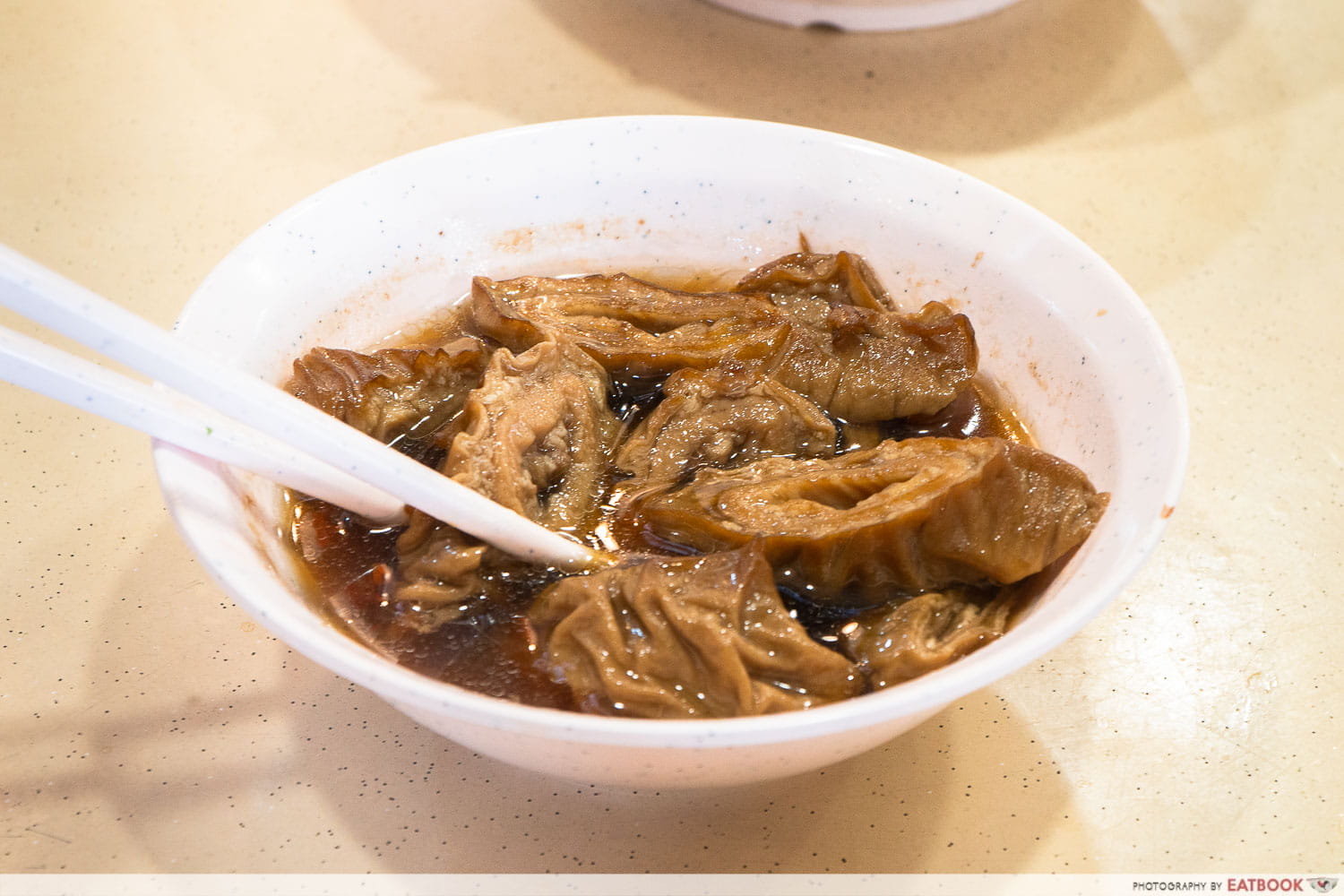 We also ordered a side of Braised Big Intestine ($5) to go along with our mains. As someone who frequently eats pork intestines, I can be quite finicky about them. Luckily, Tasty Thai's intestines were not at all funky and had a nice chewy texture. My colleague didn't share my enthusiasm for them, so I happily polished the bowl of intestines off.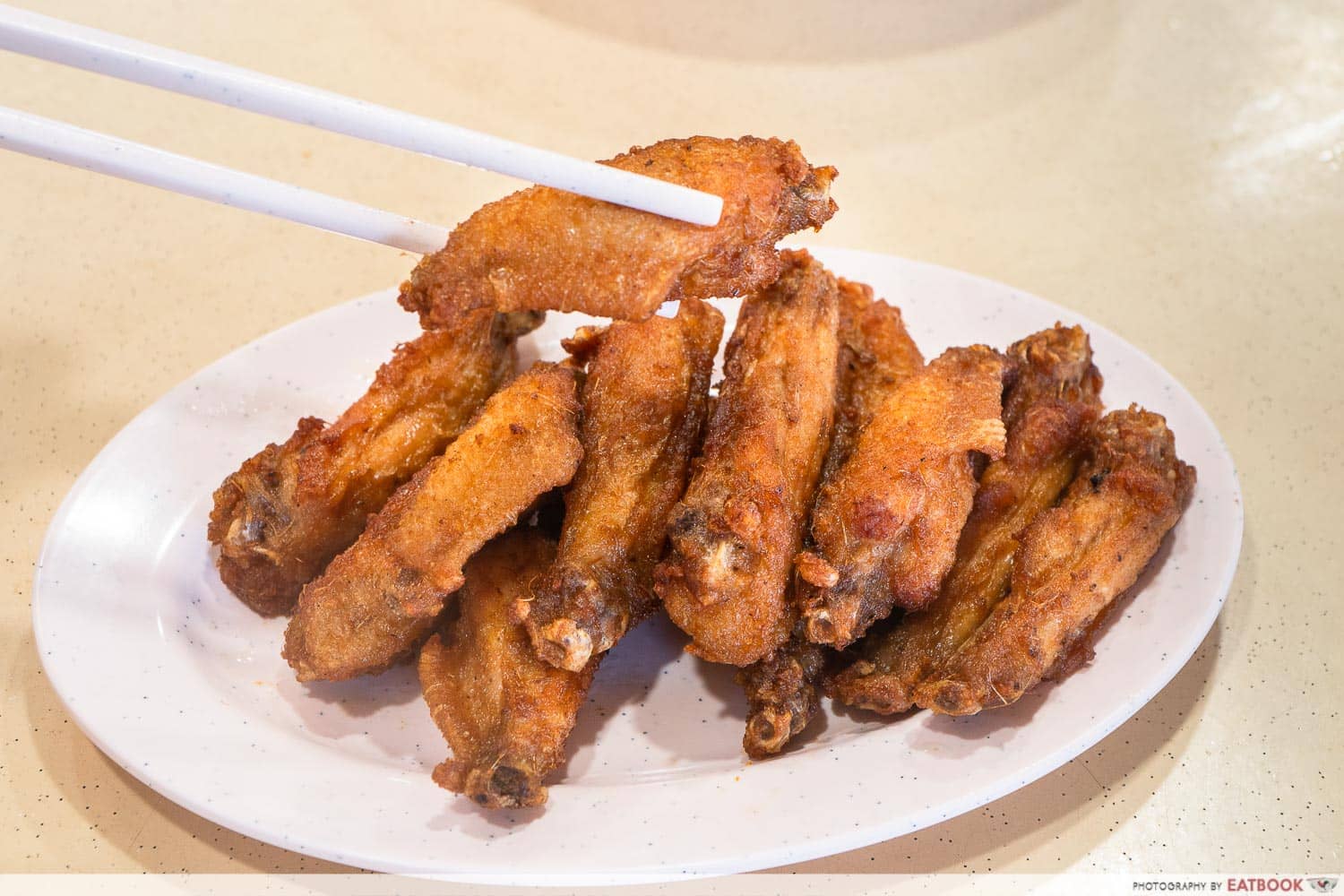 After trying multiple pork dishes, we decided to round off our meal with the Thai Chicken Wing ($6). The tiny chicken wings are marinated in a simple rub of salt, pepper and lemongrass, before they're deep-fried to order. 
While the wings were being prepared, we were treated to the lovely aroma of lemongrass and were kept salivating in anticipation.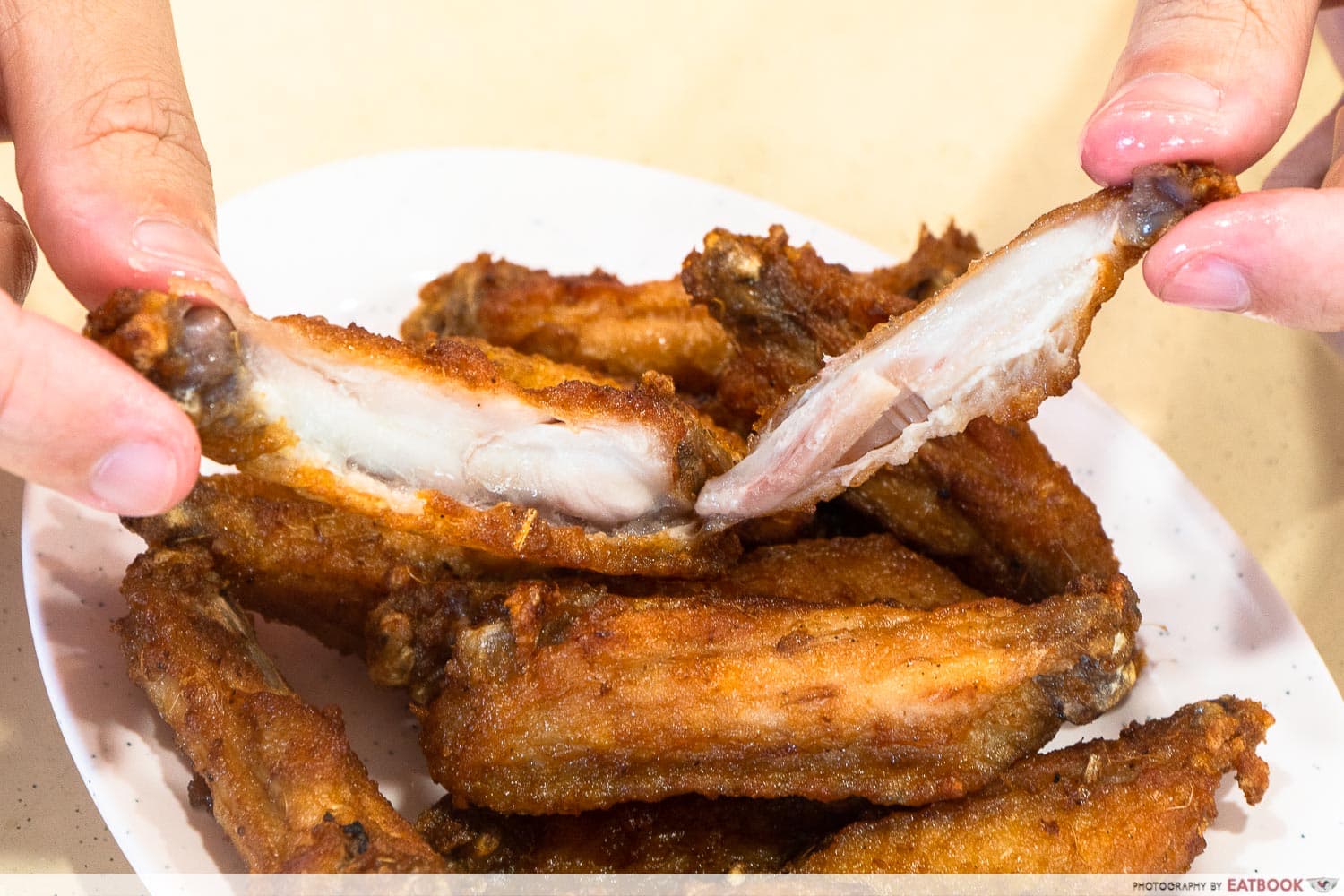 Although small, each wing was crispy on the outside and juicy on the inside. 
Ambience at Tasty Thai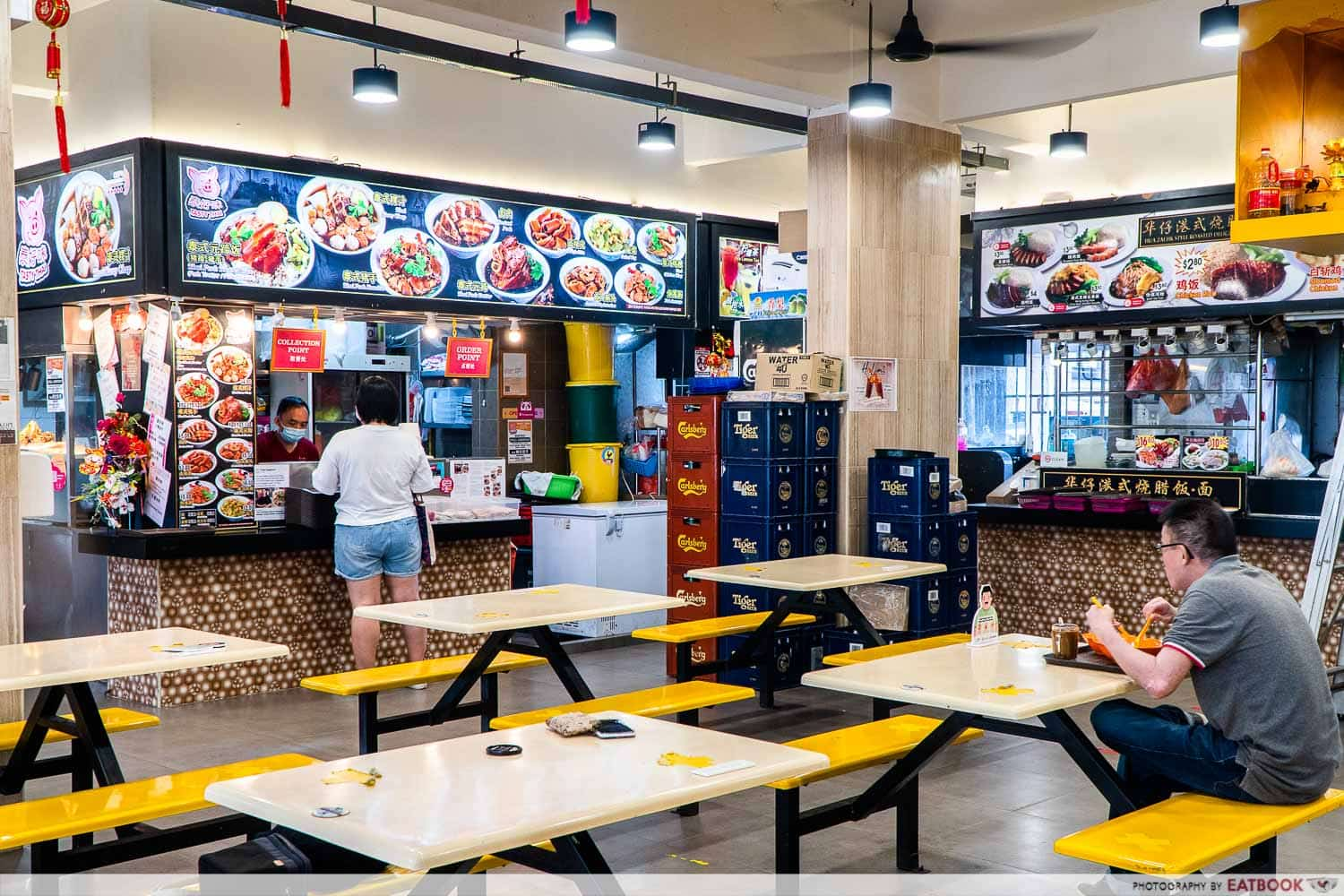 Tasty Thai is not exactly the most convenient to get to unless you live nearby. Located 13 minutes by foot from Bukit Batok MRT Station, I was drenched in sweat by the time I reached the coffeeshop. 
The kopitiam is not too cramped and has many fans, which help to keep the place cool. However, this can also result in the smell of cigarettes being overpowering, if you sit too close to the smoking corner.
The verdict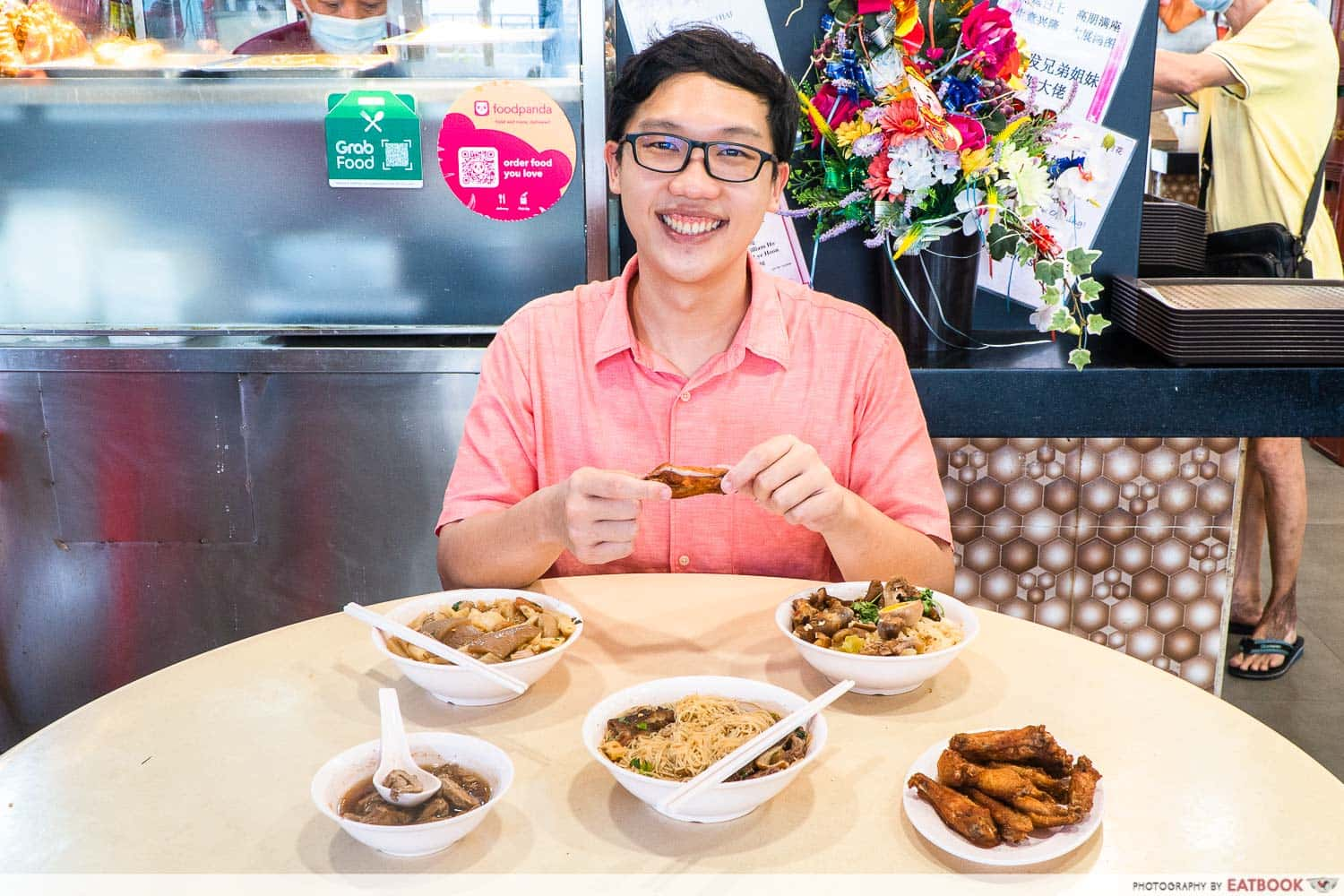 Unlike the Chinese version that we're more used to seeing in Singapore, the pork trotters here at Tasty Thai are milder in flavour. Despite this, they're still very tender and reasonably priced. The Thai Chicken Wing is also a good snack which I feel would be even better when paired with beer. If not for its location, I'll probably visit the stall more often.
If you want Thai food but live on the opposite end of Singapore, check out Shuang Bao Thai for $1.80 fried chicken. Otherwise, The Three Elephants also offers pork trotter rice at their cafe in Bukit Merah!
Address: 150 Bukit Batok Street 11, #01-246, Kimly Coffeeshop, Singapore 650150
Opening hours: Daily 8am to 8pm
Tasty Thai is not a halal-certified eatery.
The Three Elephants Review: Thai Braised Pork Trotter Rice And Duck Kway Teow From $5.80
Photos taken by Kong Zu Yi.
This was an independent review by Eatbook.sg
Tasty Thai Review: Thai-Style Kway Chap And Tender Pork Trotter Rice In Bukit Batok
Tasty Thai Review: Thai-Style Kway Chap And Tender Pork Trotter Rice Under $5 In Bukit Batok -

7/10
Summary
Pros
– Pork knuckle was tender
– Chicken wings were well marinated
Cons
– Not conveniently located
Recommended dishes: Thai Pork Knuckle Rice ($4.90), Thai Chicken Wing ($6)
Opening hours: Daily 8am to 8pm
Address: 150 Bukit Batok Street 11, #01-246, Kimly Coffeeshop, Singapore 650150