The Three Elephants for affordable Thai-style braised dishes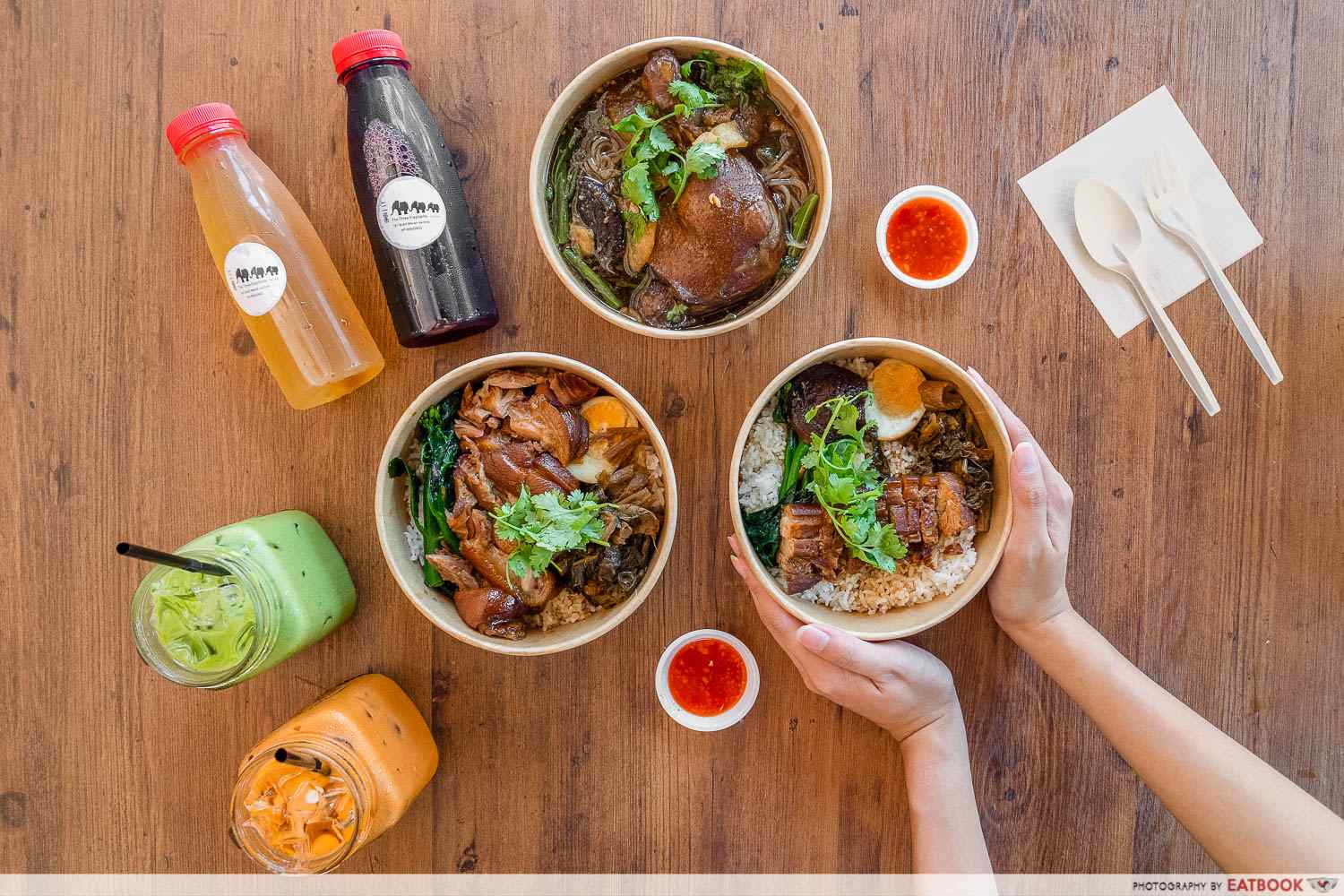 Braised pork trotter rice, AKA khao kha moo, is a popular Thai street dish loved by locals and tourists alike. Each plate comprises tender pork leg chunks that have been stewed for hours in a rich braising sauce, served alongside steamed rice and various garnishes. Opened earlier this year, The Three Elephants is a homegrown eatery that has made it their mission to bring us a taste of this authentically Thai dish.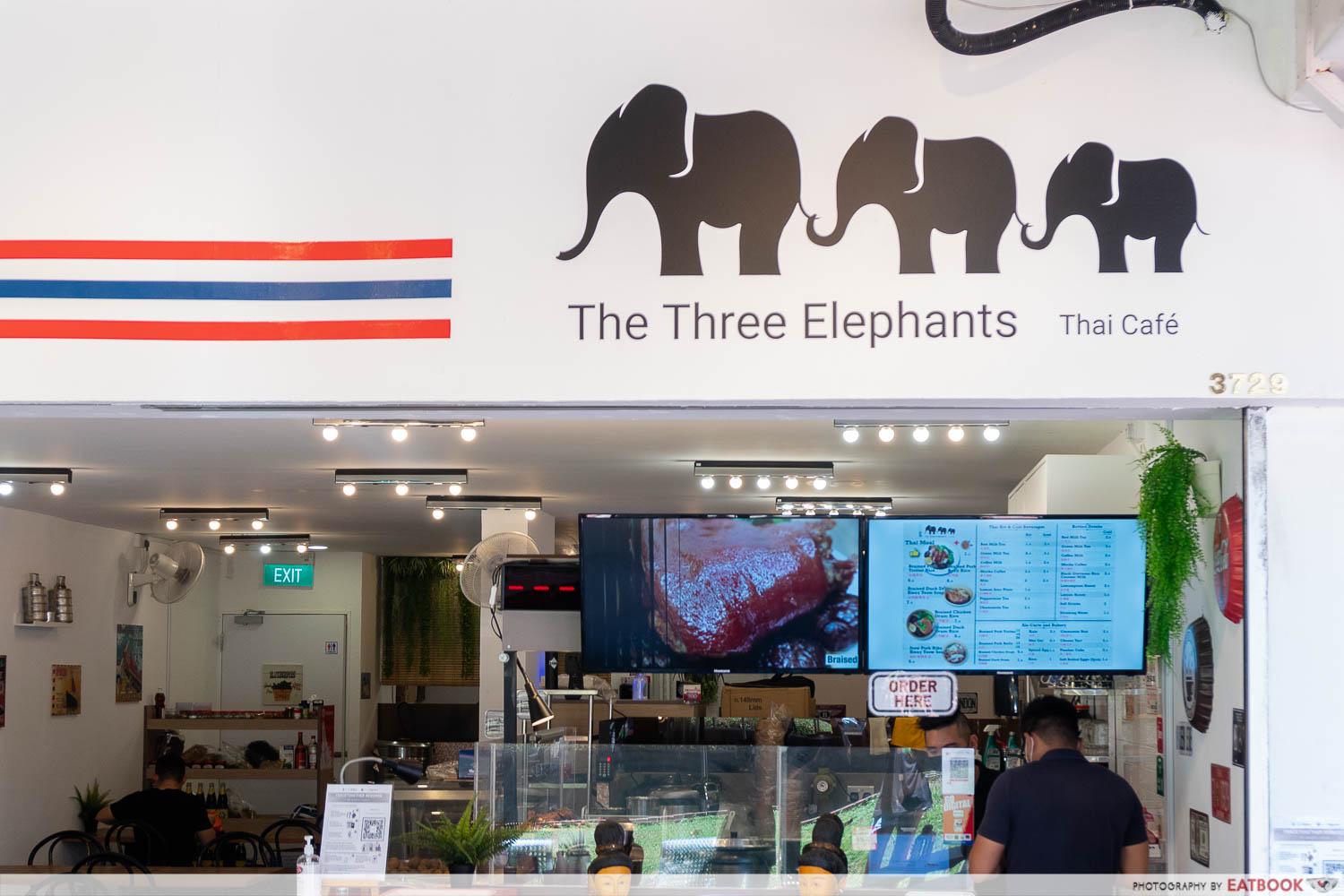 Hidden in a stretch of shops along the sleepy Bukit Merah Central neighbourhood, the Thai-inspired cafe is hard to miss when you walk by. I caught a whiff of the braising aroma from a few shops down, and upon reaching, found myself glued to the beautiful display of meats. The alluring scent brought me back to my adventures in Bangkok, where khao kha moo was readily available even at the most obscure of street corners.
Food at The Three Elephants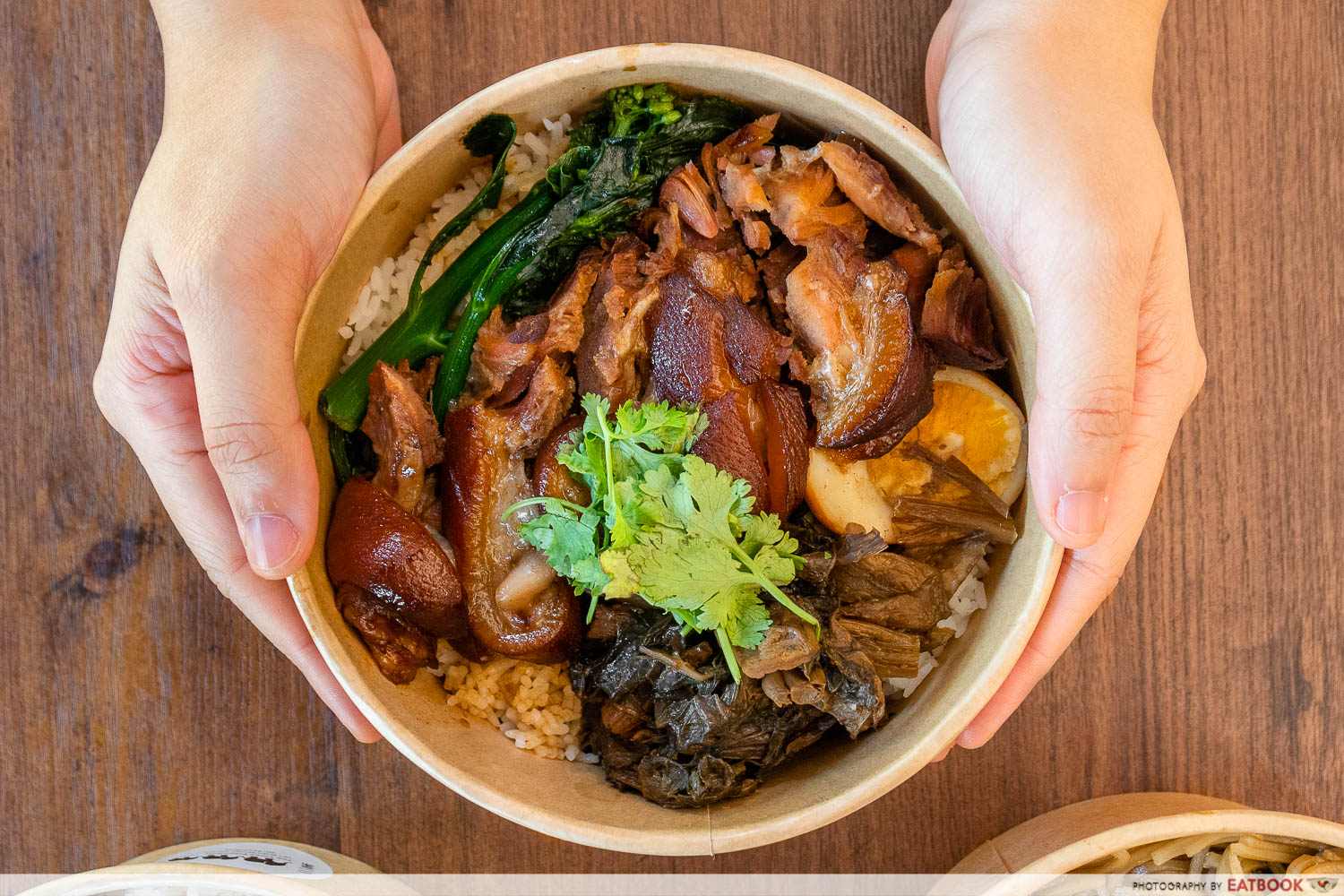 I liked that the menu here is pretty simple, but some might deem it limited. The signature here is the Braised Pork Trotter Rice ($6.80), served with the usual suspects of braised egg, fresh greens, and preserved veggies, neatly aligned on a bed of steamed jasmine rice.
Pratunam Famous Chicken And Pork Leg Rice Review: Thai Chicken Rice And Pork Skewers In Geylang
According to one of the co-founders Michael, the pork trotter takes three hours to cook in the sauce, a secret blend of spices and herbs. The sauce itself was well-balanced with a rich pork fragrance, without being too overpowering or greasy.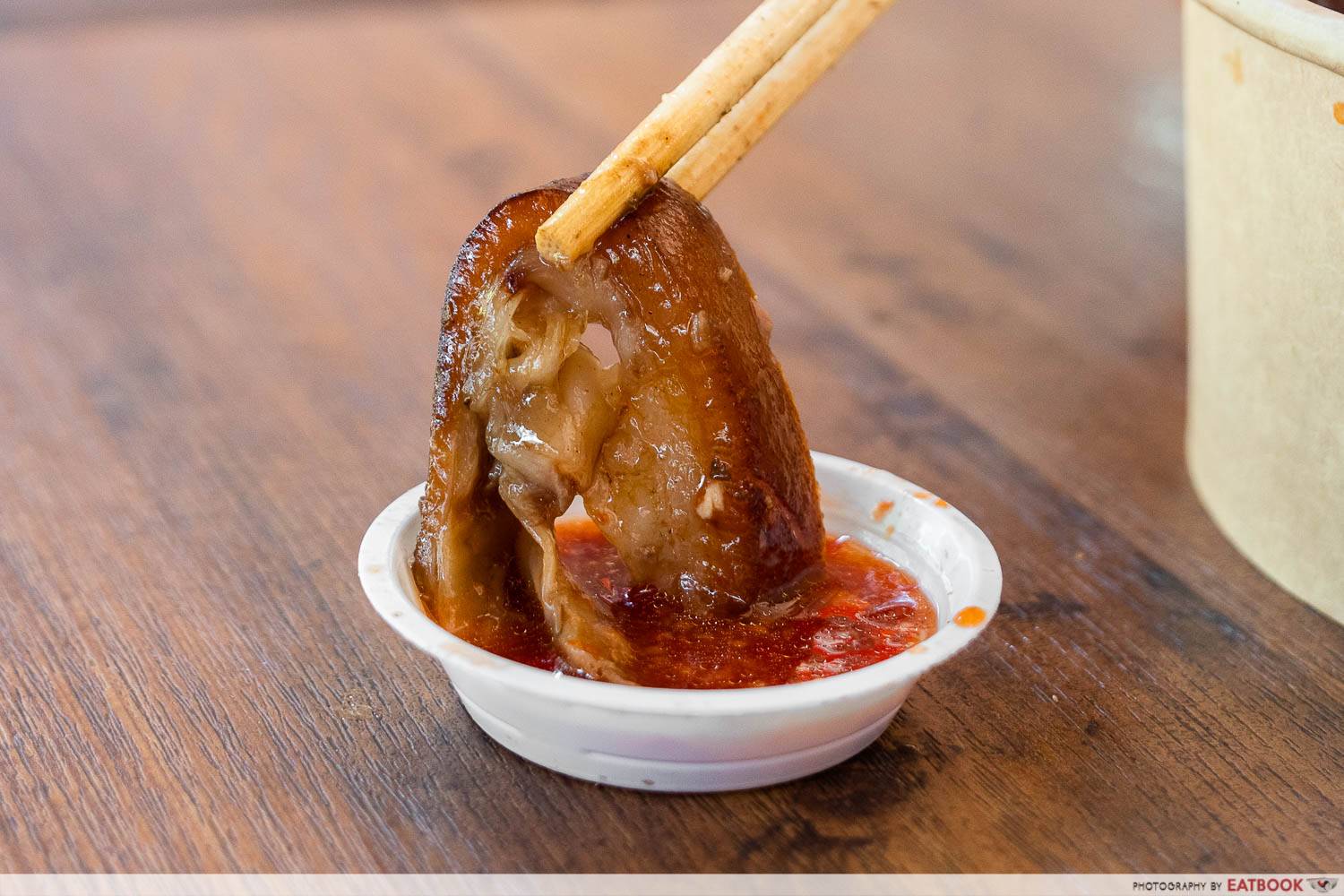 The pay-off from this tedious preparation process is extremely tender meat with just the right amount of fat. Dipped into the special house-made chilli sauce, every bite exploded with flavour; you get the rich and savoury notes from the braised meat, contrasted by the light and tangy dip.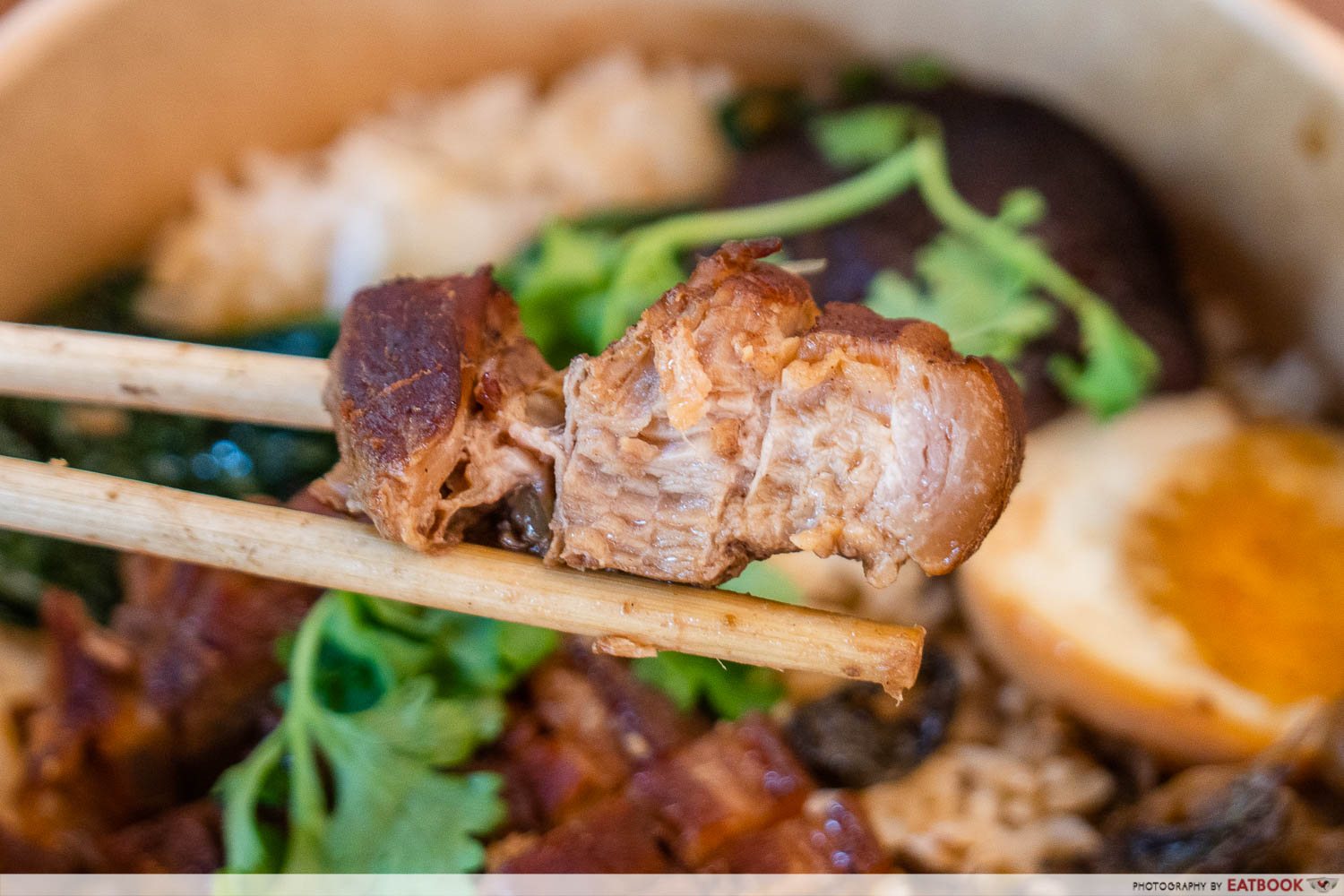 We also tried the Braised Pork Belly Rice ($6.80), which features the same delicious braising sauce. While this was a decent meat-on-rice situation—the pork belly was soft and flavourful—it didn't have that same wow factor as the trotter. I think the pork trotter soaked up more of the fragrant sauce, and won with its uber tender texture.
I rarely see braised duck being offered at Thai-style eateries, so I was intrigued by the Braised Duck Drum Kway Teow Soup ($7.80). This hearty dish came with silky rice noodles akin to those served in the streets of Thailand, sitting in a flavoursome broth with leafy greens, braised egg, and radish. The pièce de résistance is a full duck drum, propped against everything else. A word of advice: slurp the noodles quickly as they tend to soak up the soup if you don't tuck in immediately.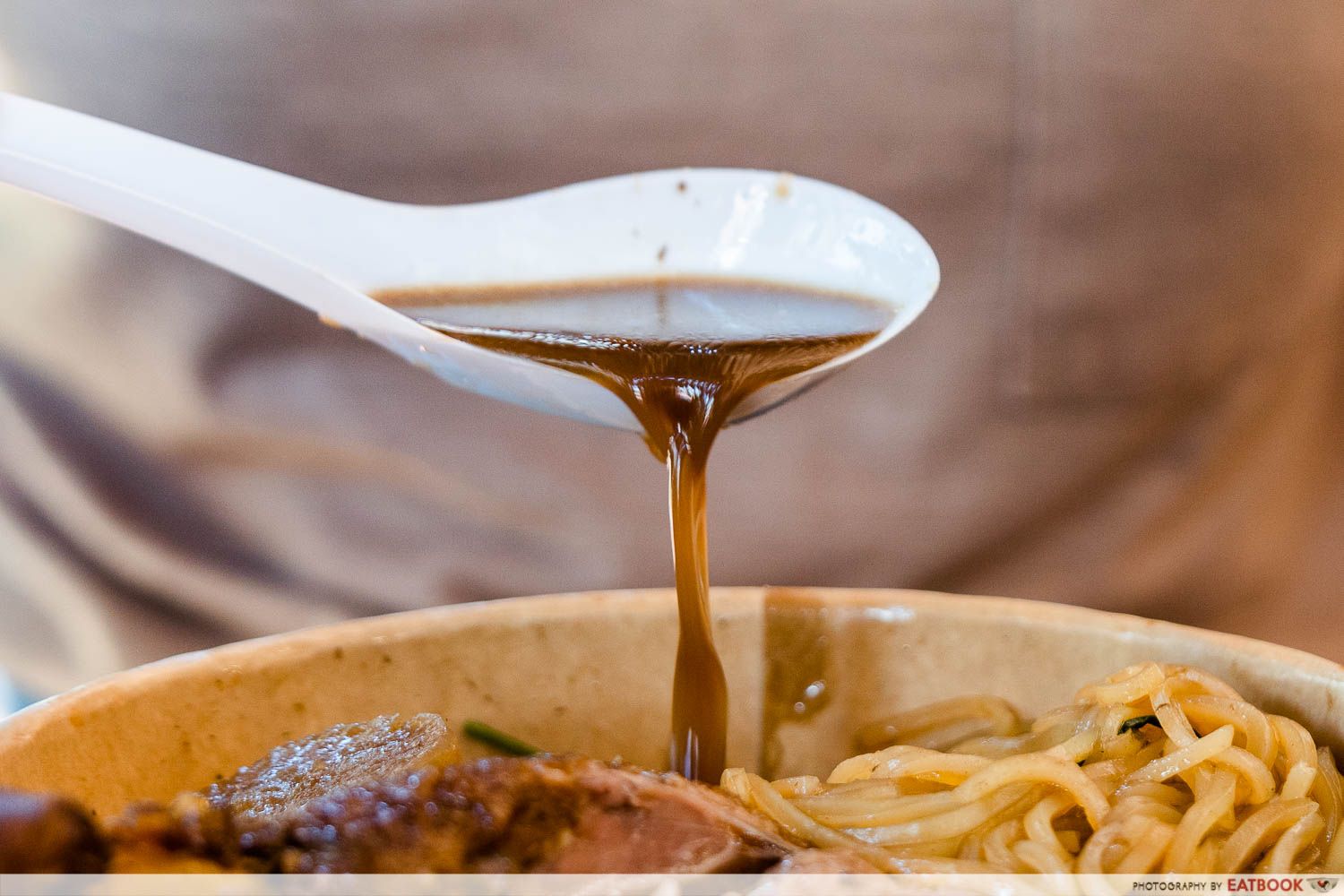 The broth was light and tasty with herbal notes, complementing well with the red meat. While my colleague found the duck to be on the tougher end, I didn't mind it that much. It's up to personal preference, but I agree that it would have been perfect if the meat was a tad more tender.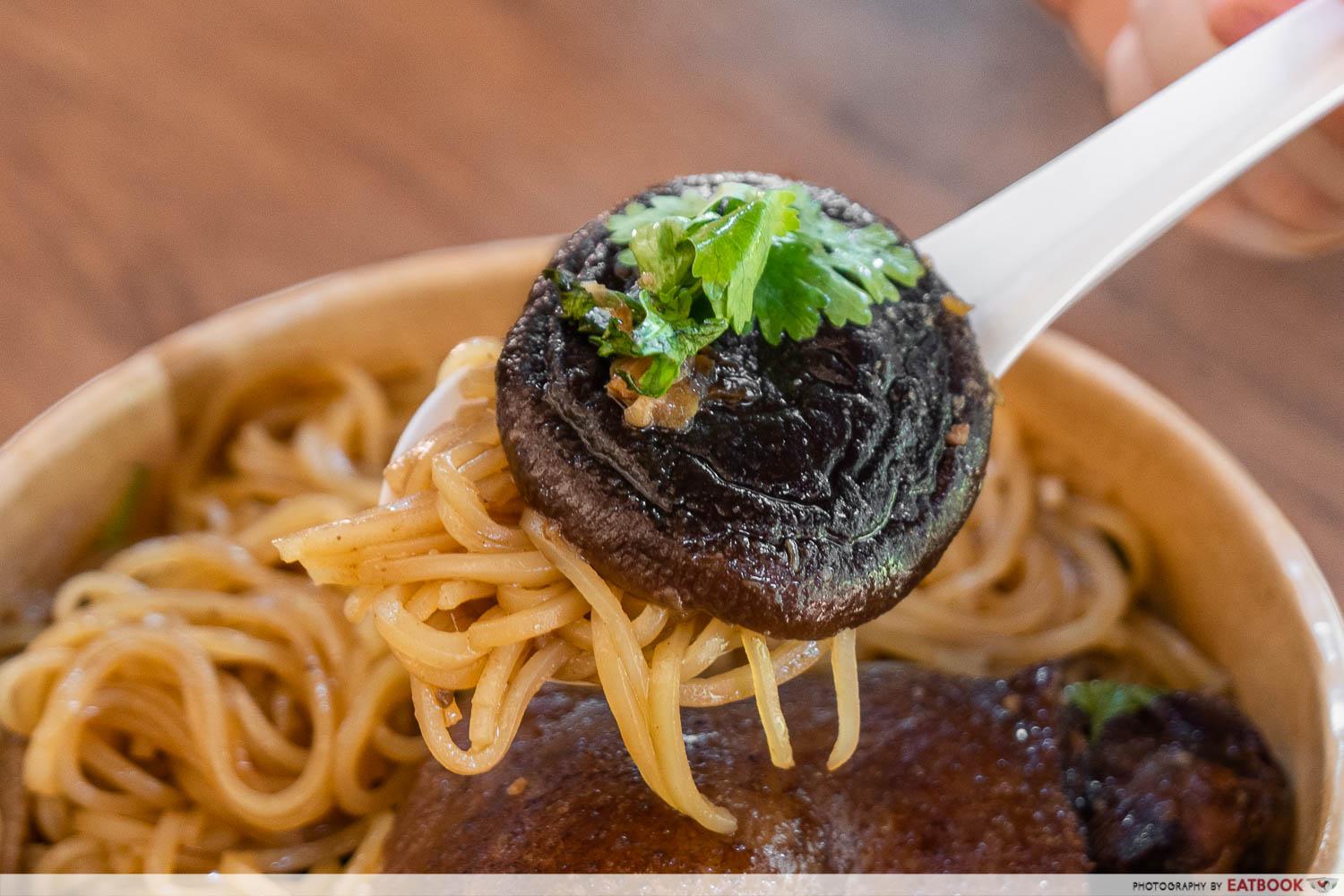 The radish pieces and mushrooms, on the other hand, took me by surprise. I wasn't expecting to be blown away since they were the co-stars, but they ticked all the right boxes. I liked the radish for its tinge of bitterness, which went well with the sweet herbal soup. The addition of braised mushrooms was also a clever idea, as they soaked up the broth, intensifying the flavours.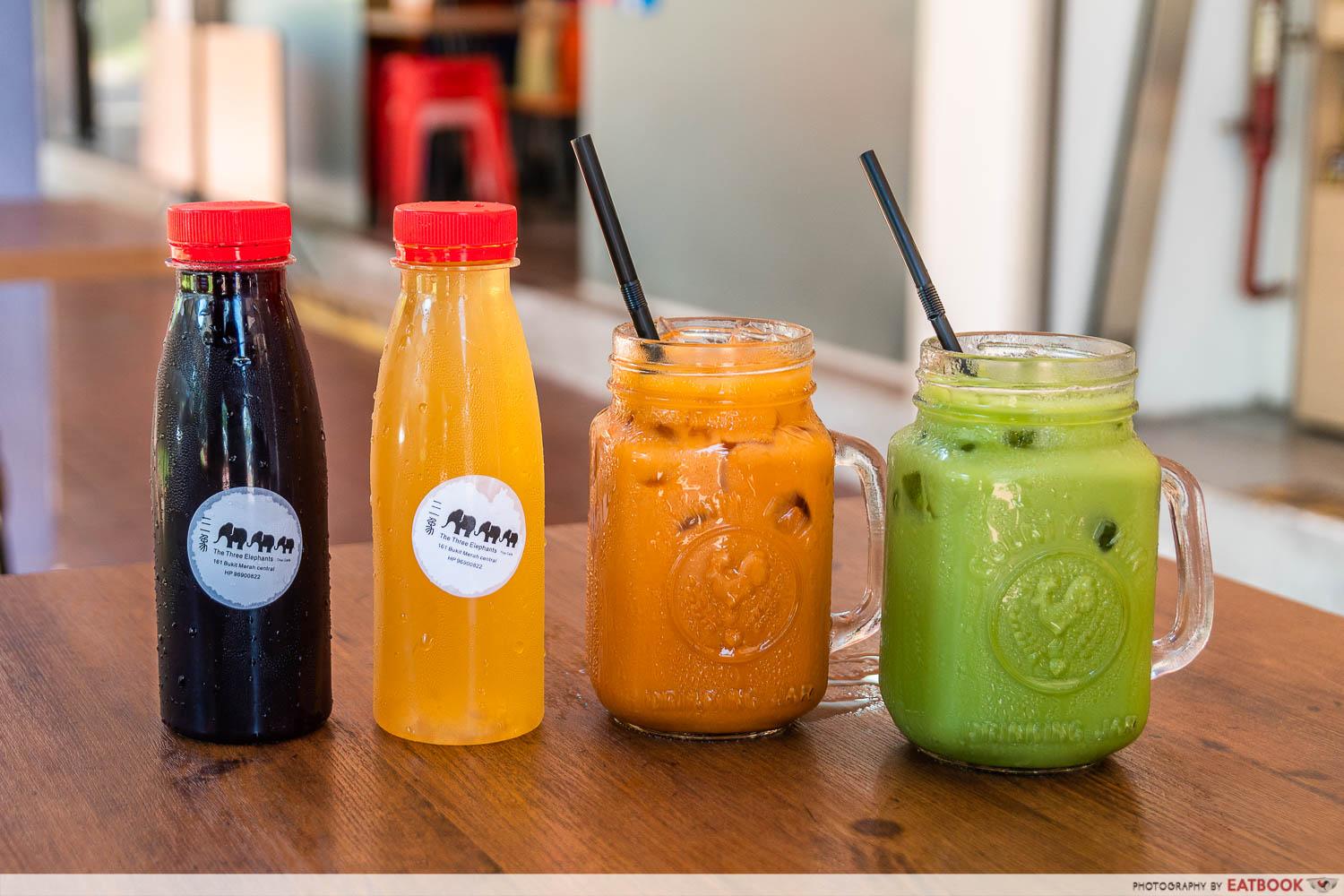 It's not a legit Thai affair without Thai milk tea, and they do a worthy rendition here. The Red Milk Tea is affordably priced at $1.80 for the hot version, and $2.60 for iced. It wasn't too sweet or milky, but I personally preferred the Green Milk Tea ($2.40/$3.20) as it's lighter and more floral—great for cleansing your palate after indulging in the hearty and meaty fare.
You'll also find house-made bottled drinks including Lemon Honey ($2.90), and Roselle Tea ($2.90), both of which were especially refreshing during our afternoon shoot.
Ambience at The Three Elephants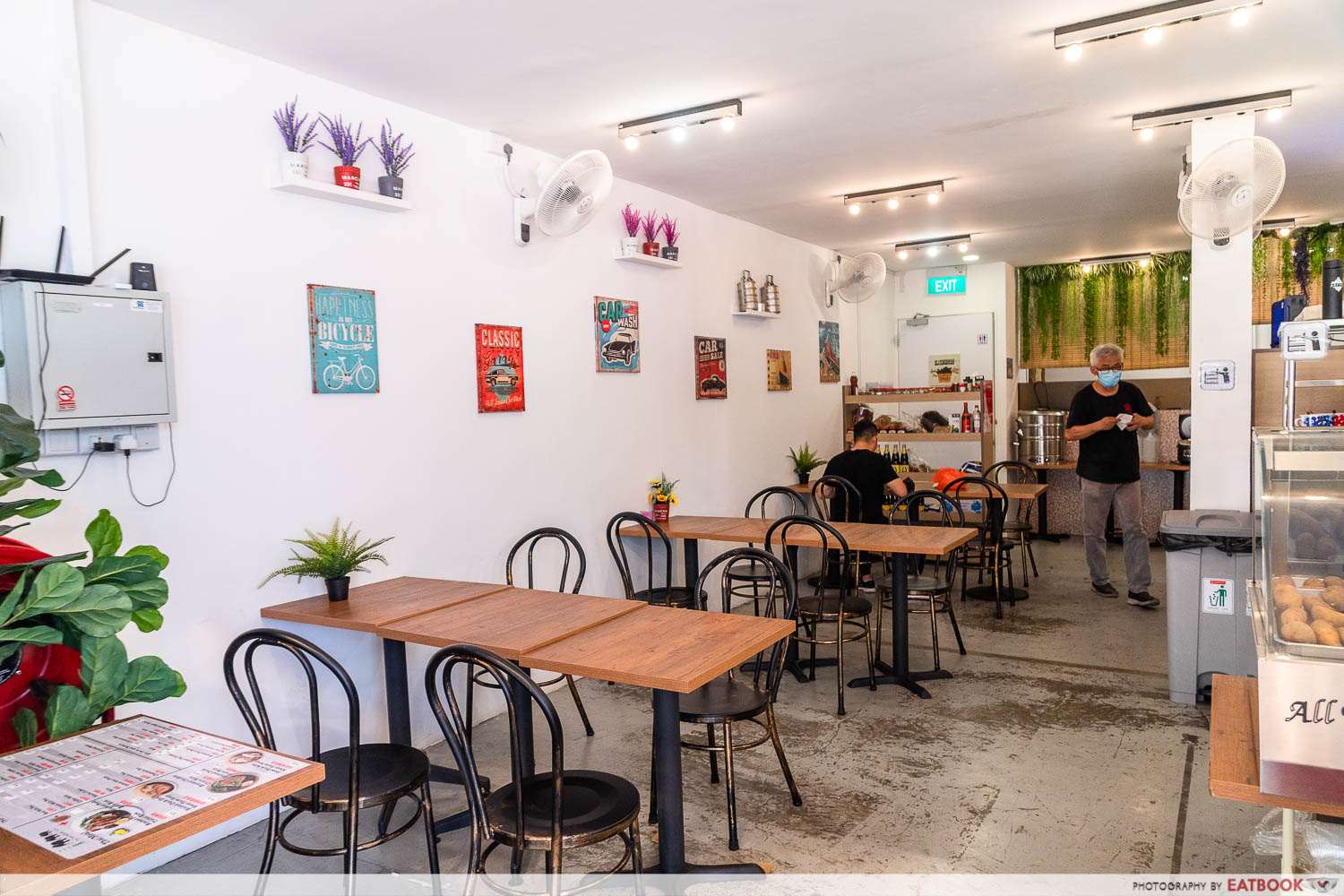 The Three Elephants is a casual eatery with both indoor and alfresco seating. It's a 15-minute walk or seven-minute bus journey from Redhill MRT Station. You can also take a 10-minute bus ride from Tiong Bahru MRT Station.
We visited the cafe at the peak of the sun, which made it uncomfortably hot to dine outside, so I'd recommend heading inside for the air-con. However, I think it'd be perfect in the evening as the space seems rather open and airy.
The verdict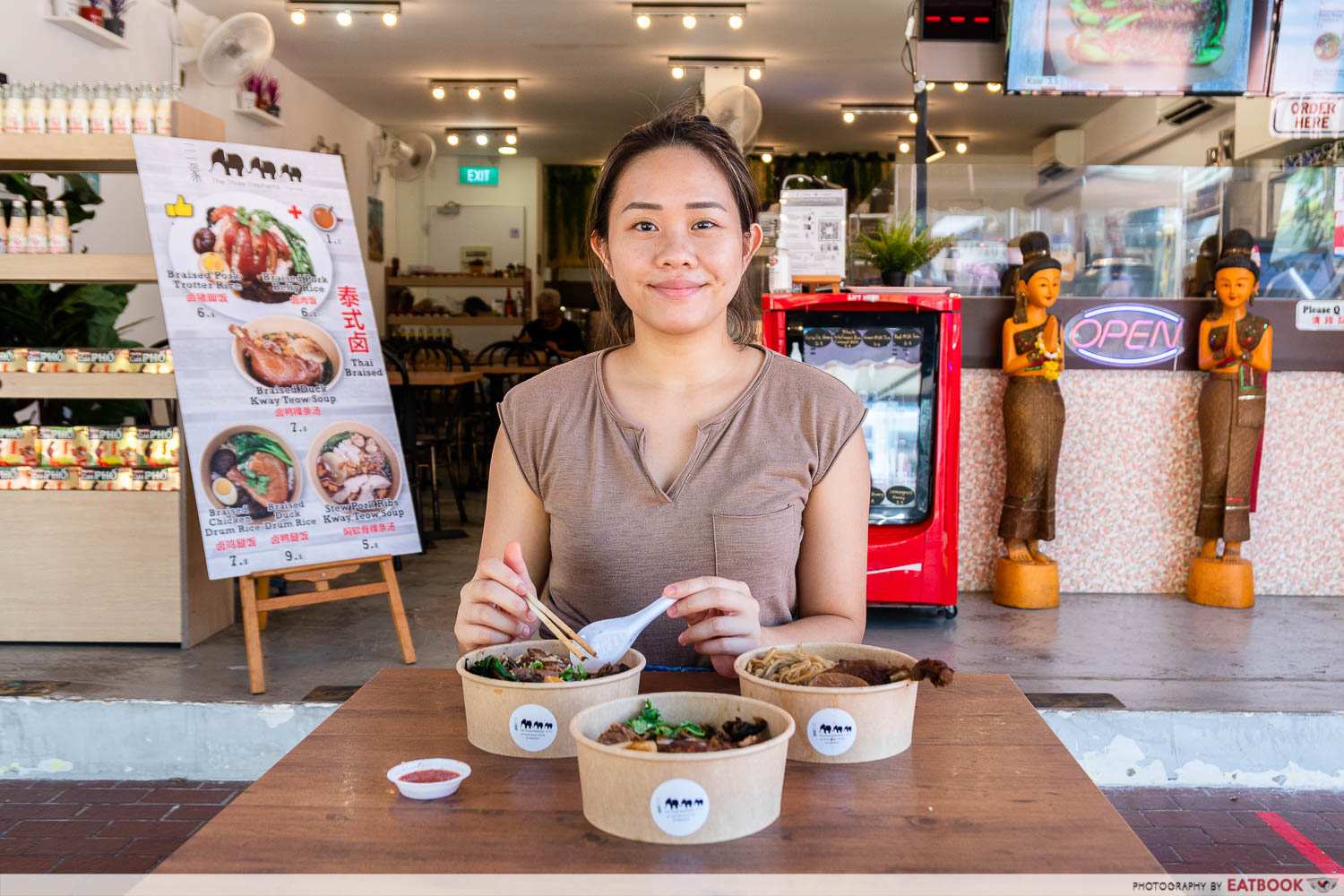 While its location isn't super convenient, I think the eatery is worth a detour if you're in the vicinity. In fact, I'm already planning to return soon. Their well-executed Thai-style braised meats, along with the wallet-friendly prices and filling portions, warrant a second visit. 
If you're looking for more good food in the area, check out our Chef Goo review for heady hokkien mee, and braised pork leg bee hoon at Alexandra Village Food Centre. Alternatively, read our Mun's Seafood Pao Fan review.
Address: 161 Bukit Merah Central, #01-3729, Singapore 150161
Opening hours: Mon-Sat 11am to 8pm
Tel: 9690 0822
Website
Chef Goo Review: Hokkien Mee Fried With 12-Hour Broth, Braised Pork Leg Bee Hoon And More From $5
Photos taken by Tan Zi Hui.
This was an independent review by Eatbook.sg.
The Three Elephants Review: Thai Braised Pork Trotter Rice And Duck Kway Teow From $5.80
The Three Elephants Review: Thai Braised Pork Trotter Rice And Duck Drum Kway Teow From $5.80 -

7.5/10
Summary
Pros
– Flavourful meats and broth
– Value-for-money portions
– Good range of drinks
Cons
– Not near the MRT Station
– Limited variety
Recommended dishes:  Braised Pork Trotter Rice ($6.80),Braised Duck Drum Kway Teow Soup ($7.80), Green Milk Tea ($2.40/$3.20)
Opening hours: Mon-Sat 11am to 8pm
Address: 161 Bukit Merah Central, #01-3729, Singapore 150161