Mun's Seafood Pao Fan at Ghim Moh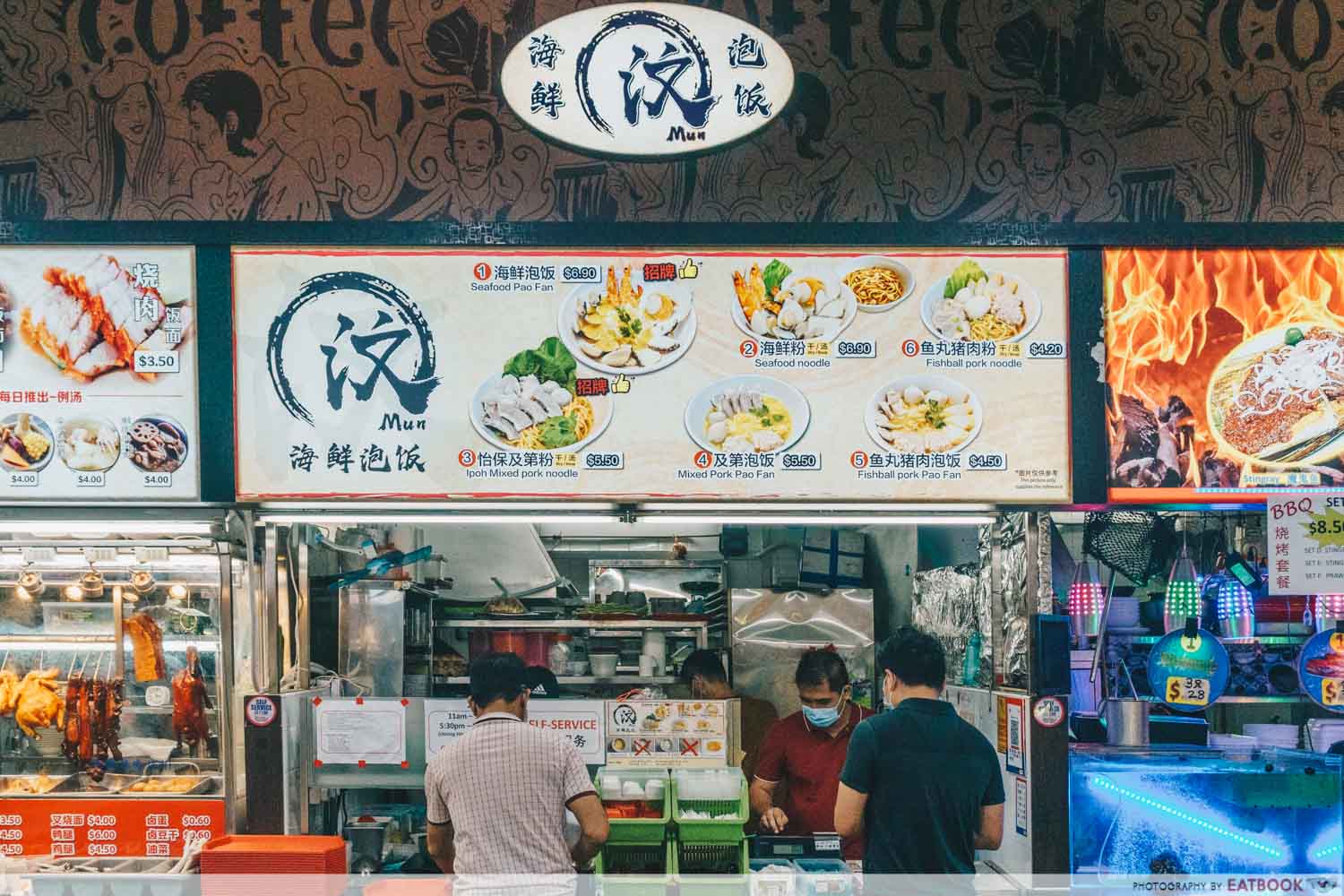 "Ex-hotel chef turned hawker" stories have become a norm, but it doesn't mean they are any less exciting. The latest name to join the bandwagon is Mun's Seafood Paofan at Ghim Moh. It is headed by Chef Mun, who has more than 30 years of experience cooking at a hotel and various Chinese restaurants. Taking a different direction from the likes of pao fan hawkers such as King of Pao Fan, his dishes are intended to be more simple and relatable to the masses of Ghim Moh.
San Pin Seafood Soup Pao Fan Review: Seafood Pao Fan From $6 In Kallang
Food at
Mun's Seafood Pao Fan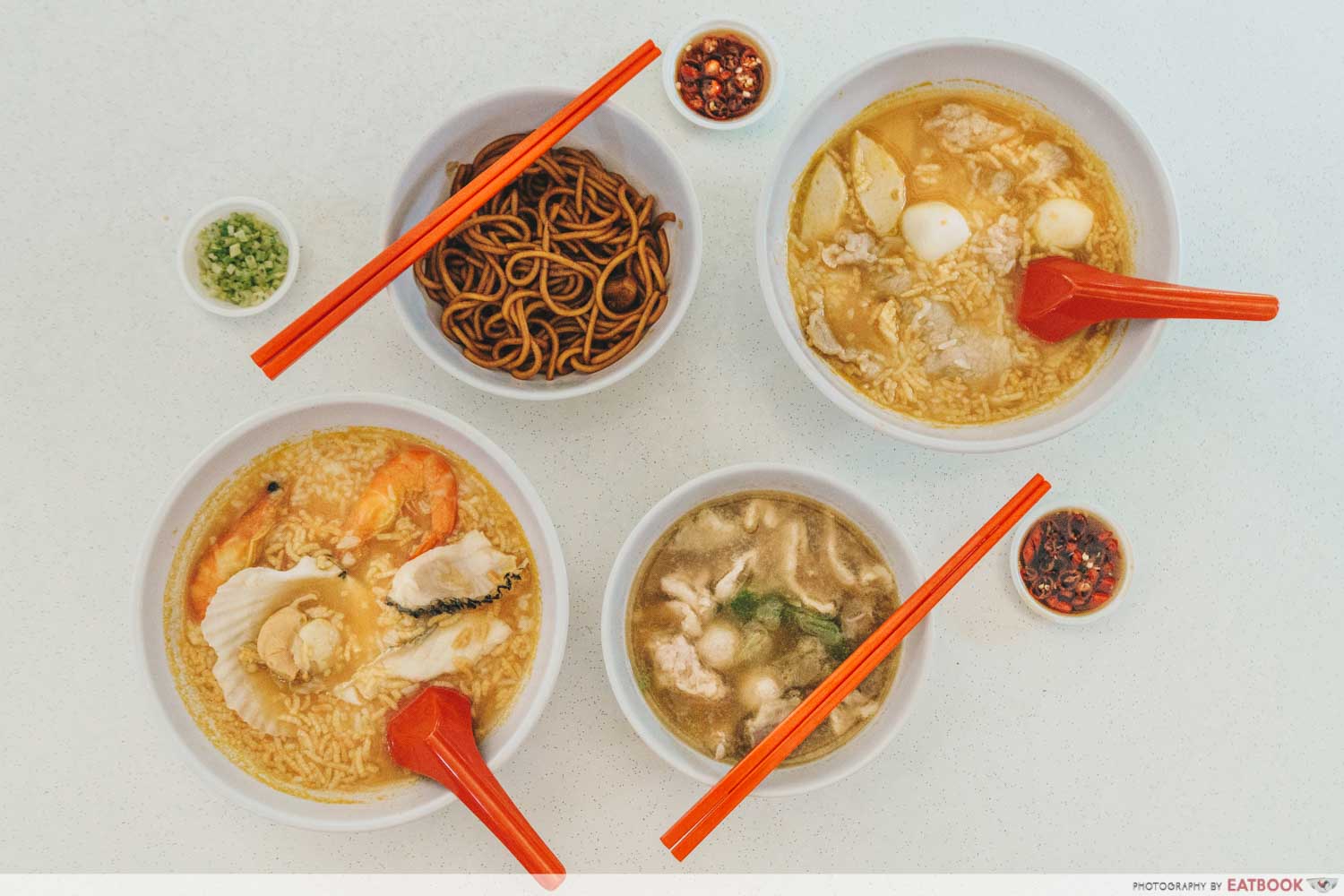 The menu comprises six dishes: Seafood Pao Fan ($6.90), Fish Ball Pork Rice ($5.80), Ipoh Mixed Pork Noodle ($5.80) and more. Chef Mun currently has no intention of expanding and that is understandable as it does seem like his kitchen is already operating at maximum capacity.
After I placed my order, Chef Mun heated up the broth and ingredients over an induction cooker, speeding up the preparation process as things got hectic during lunch hours.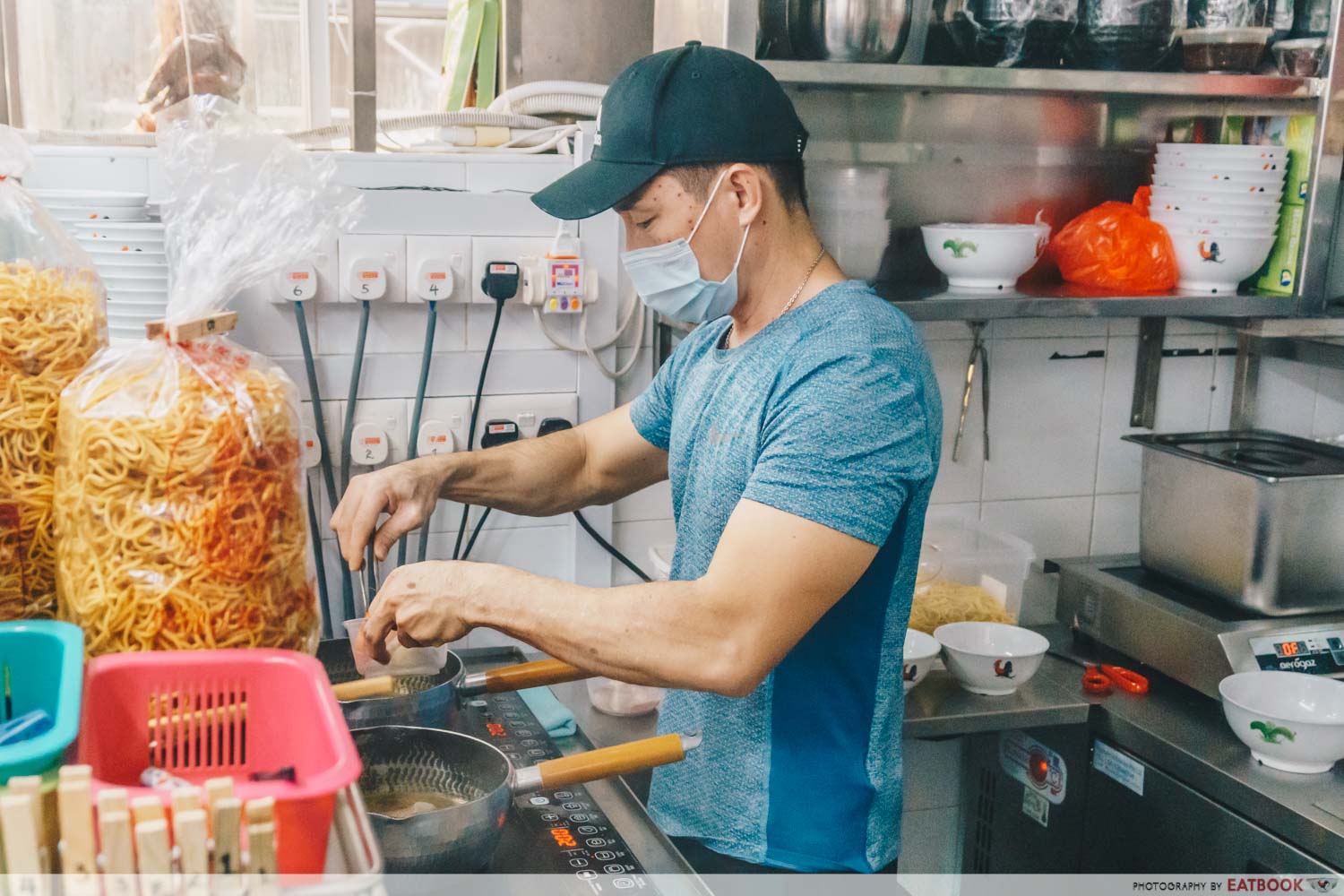 The pao fan's broth took five hours of preparation and was concocted using the chef's own recipe. The broth was really light with slight hints of sweetness, which is unlike the stronger broth found in other pao fan stalls I've visited.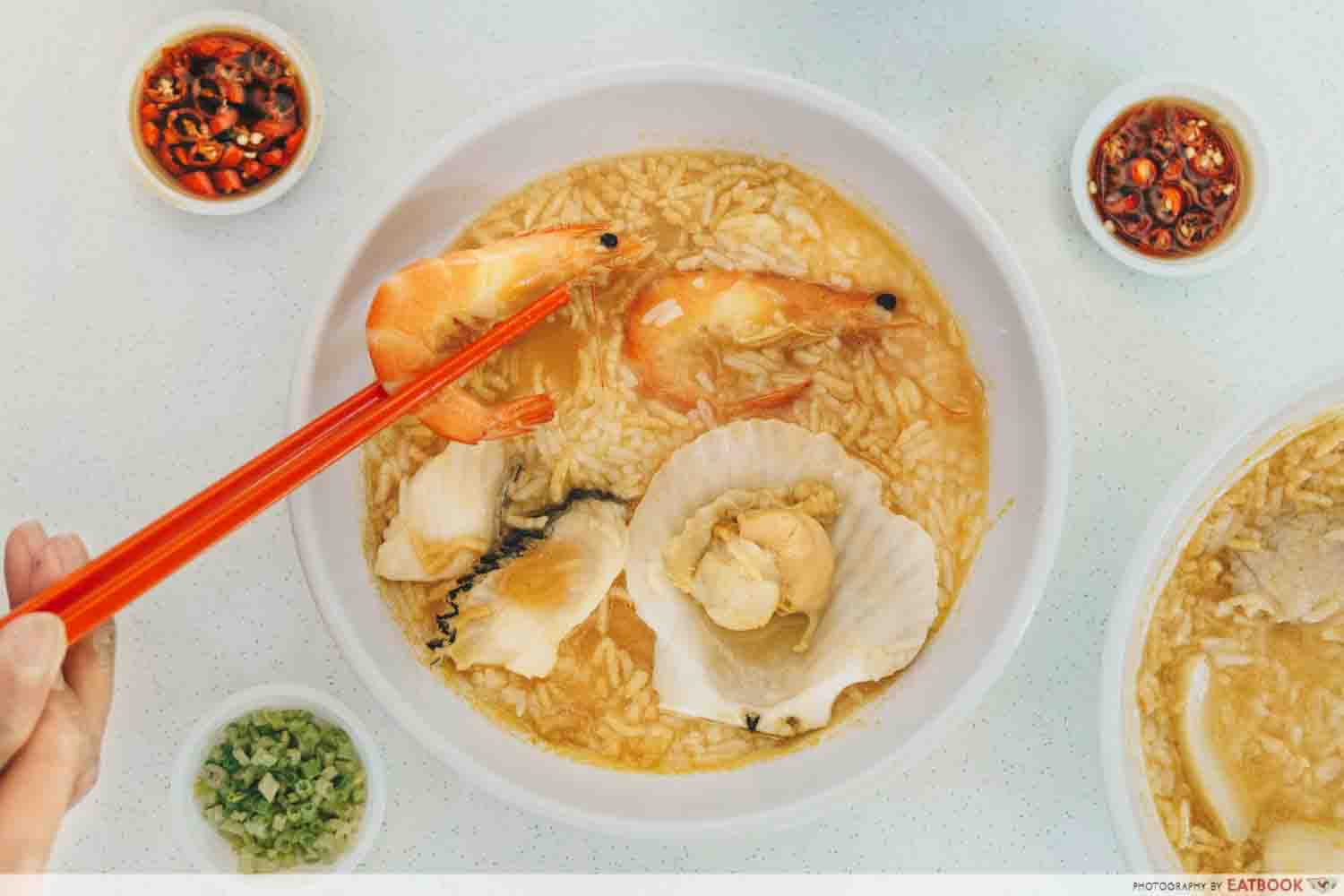 Considering the shop's name, it was instinctive that I ordered Seafood Pao Fan ($6.90). The most aesthetically pleasing of the menu, this dish was accompanied by a display of prawns, fish slices, and a scallop on its shell.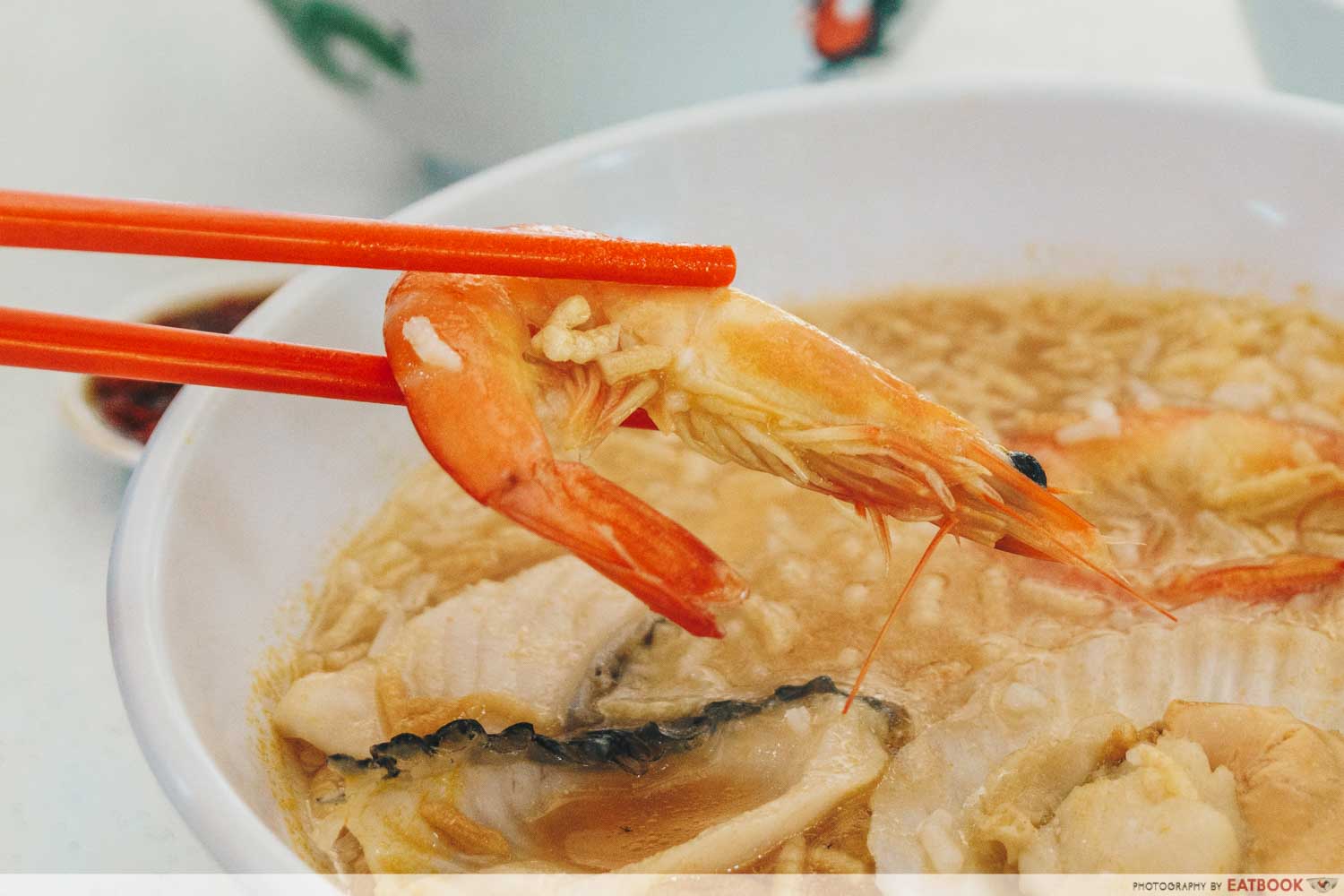 The prawns had a springy texture and gave a satisfying crunch when bitten into. The succulence of the prawns pleasantly amazed me as it contrasted well with the relatively mushy texture of the rice. Because the seafood was cooked separately instead of being boiled along with the broth, each bite remained fresh.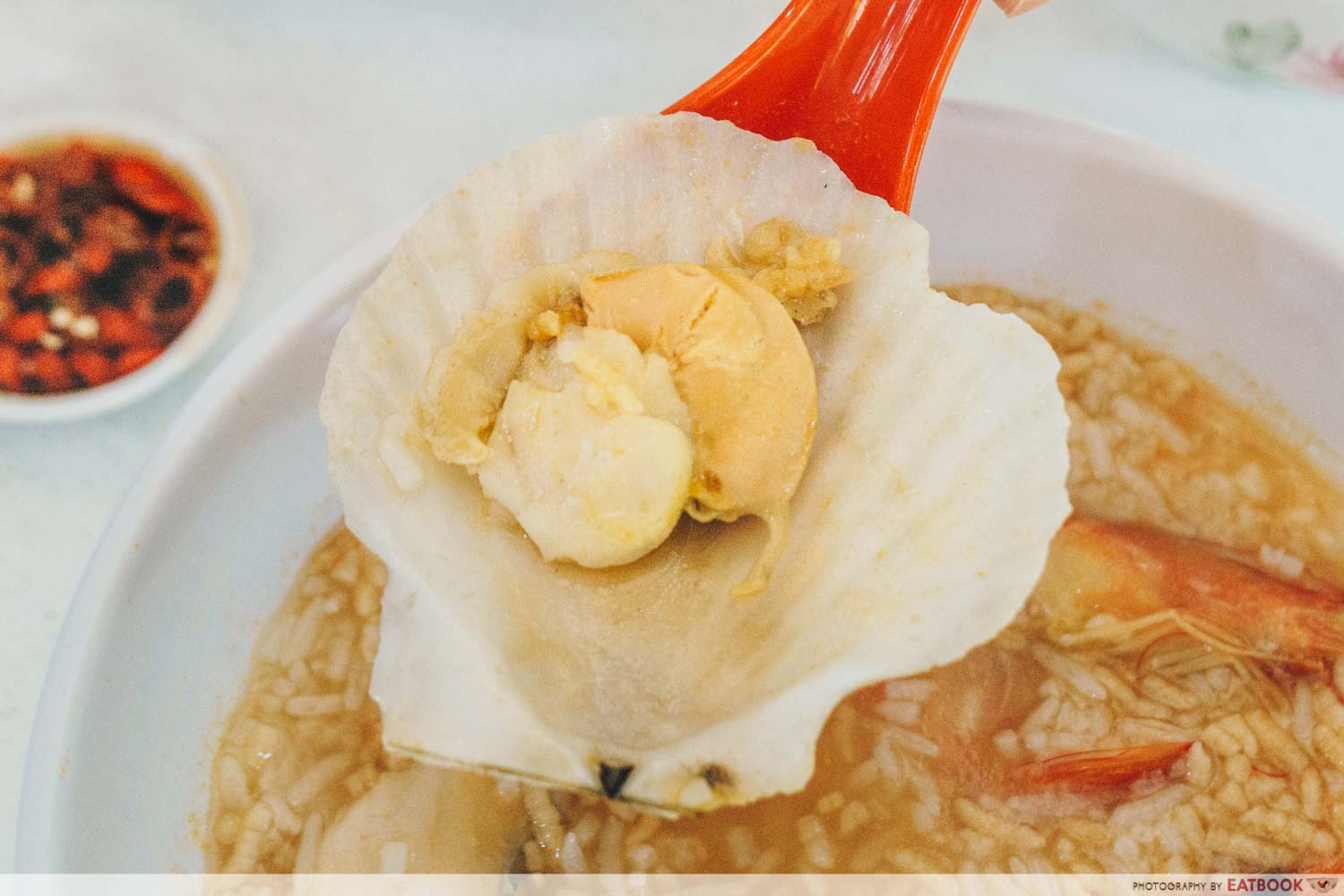 Much like the prawn, the natural sweetness and brine of the scallops shone despite being doused with the soup. The pronounced flavour of the scallops balanced out the light-tasting broth.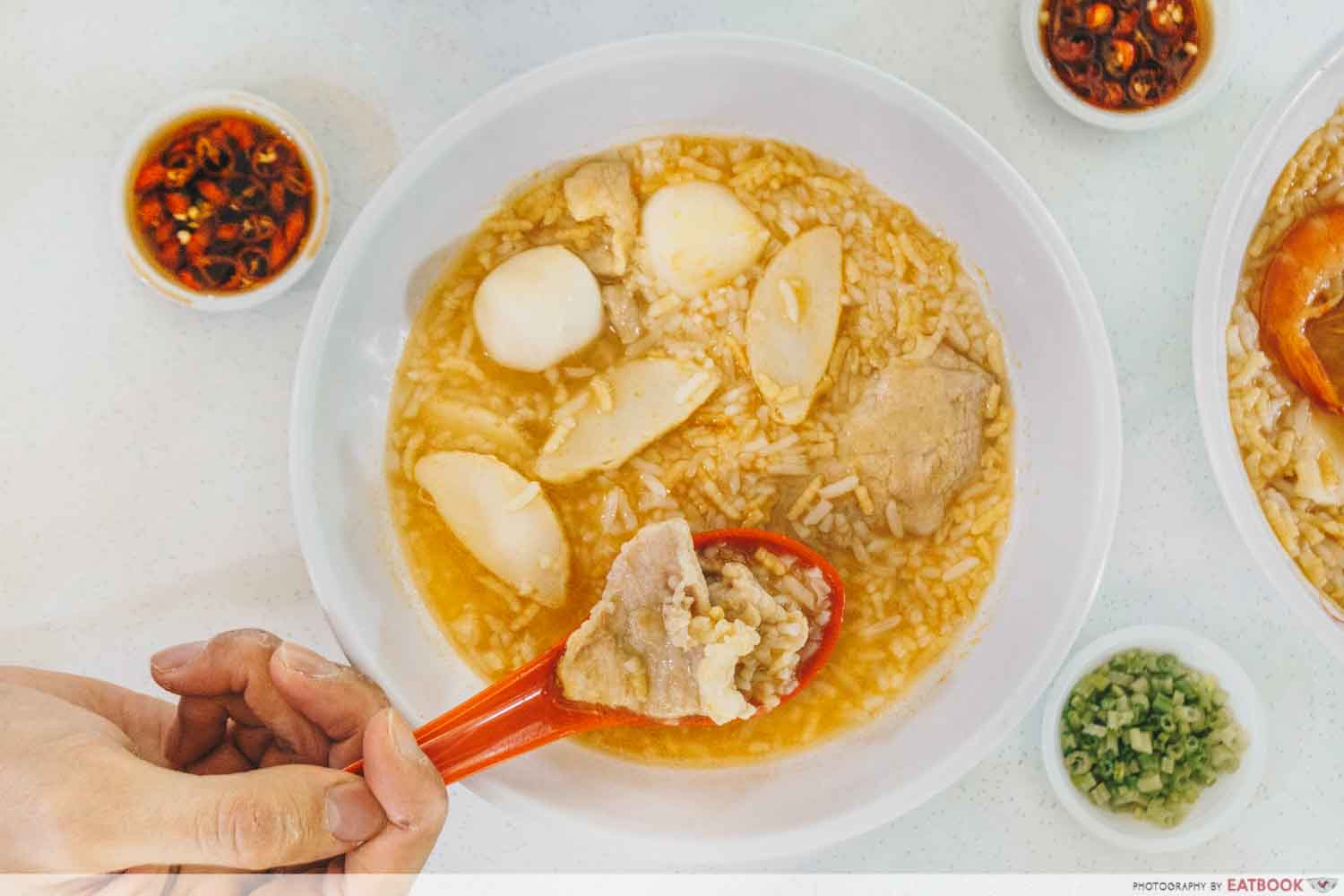 The Fish Ball Pork Rice ($5.80) came with generous slices of pork meat and chewy fish balls. It was so simple that it reminded me of a home-cooked pork porridge. The fish balls were bouncy, and the pork slices were a good mix of fat and lean meat that made for a nice chew.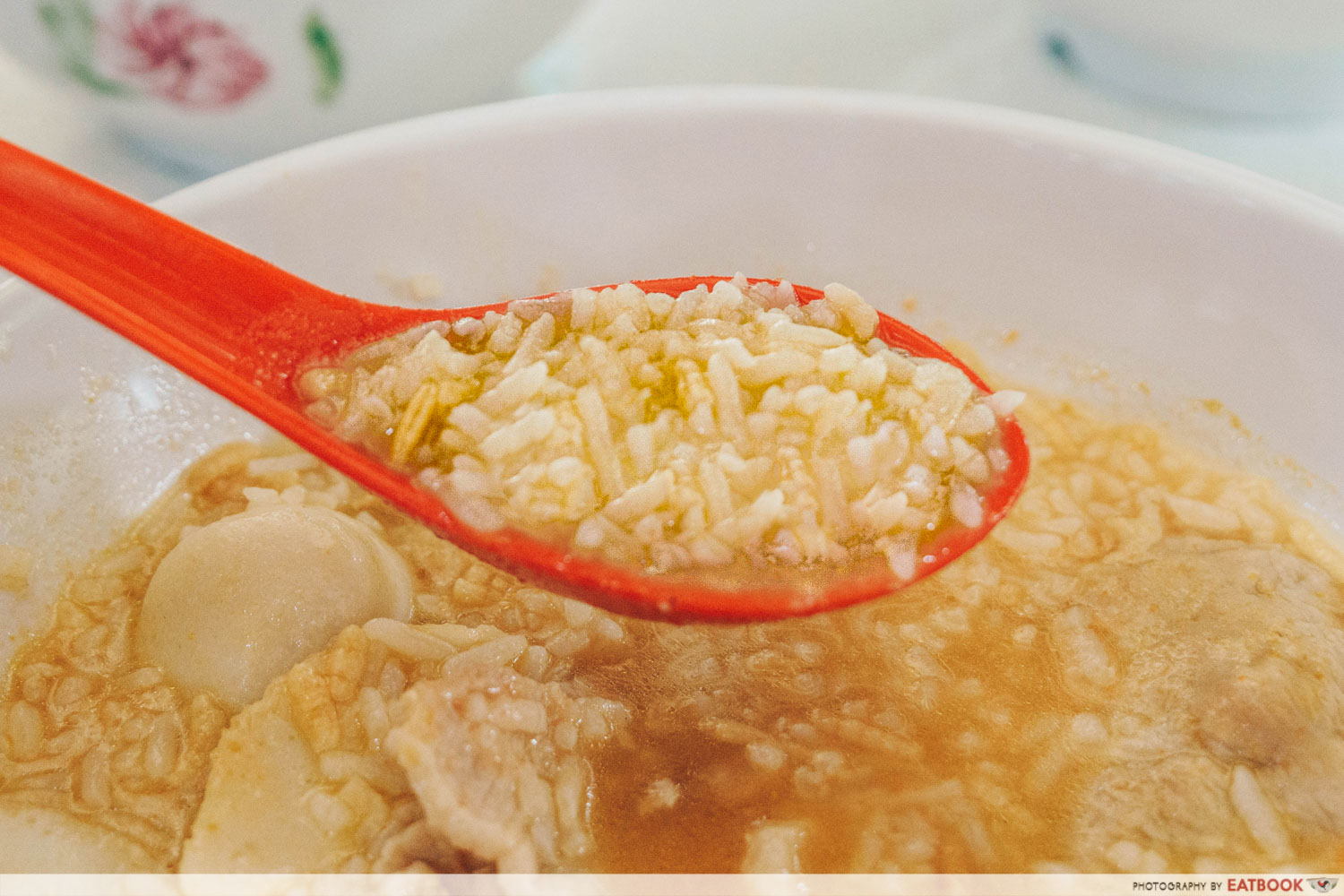 The rice was mixed with rice pops—commonly seen at other pao fan stalls. It did well to introduce texture to the rice, especially since the rice grains quickly absorbed the broth and became mushy.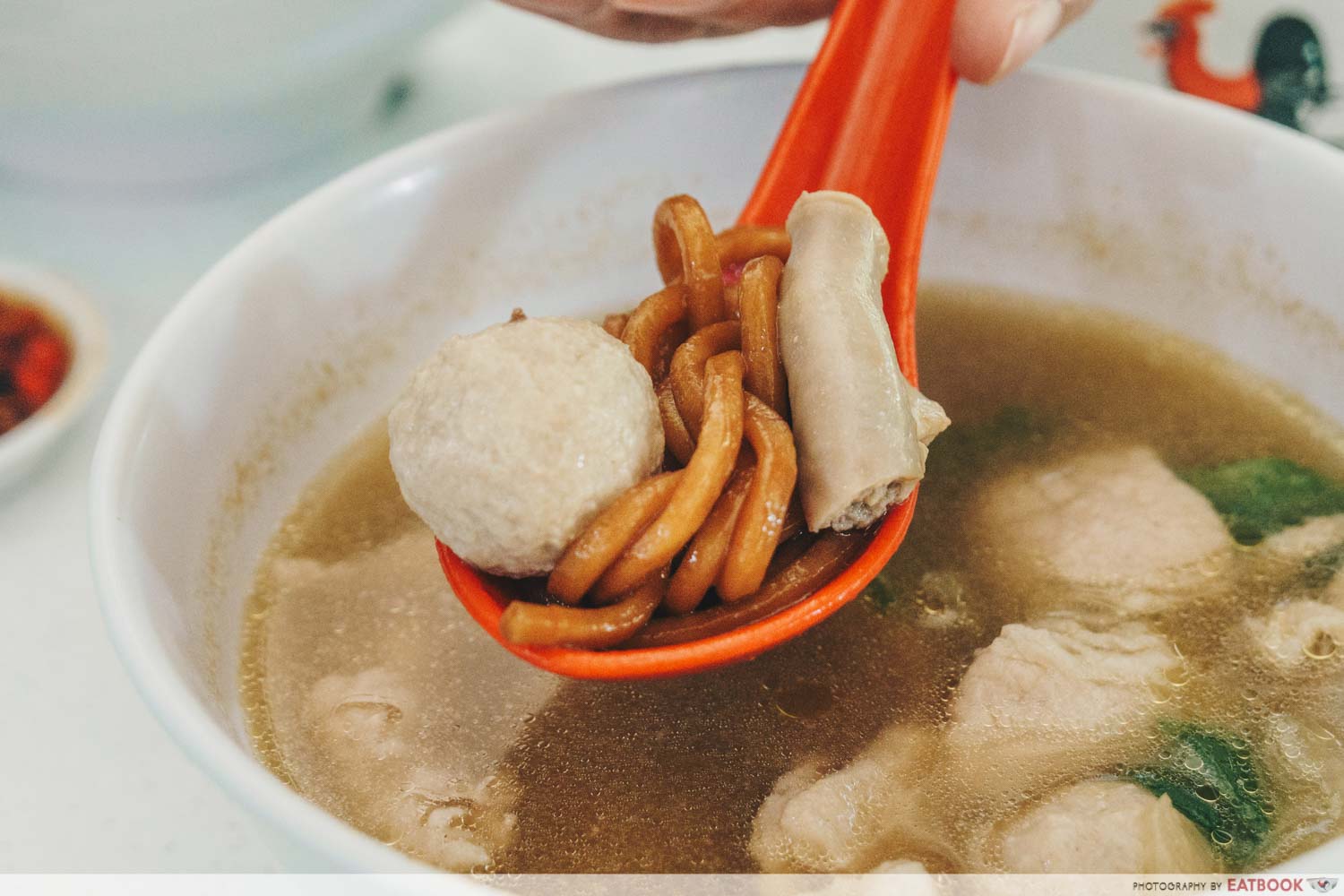 The Ipoh Mixed Pork Noodle ($5.80) came with a bowl of sauce-coated yellow noodles and a side of mixed pork soup. I can see why Chef Mun decided to include this, as the dish has always been a very popular one among Singaporeans. 
Unlike the pao fan broth, this one tasted strongly of coriander. It was fresh and appetising, pairing well with the otherwise heavy, pork-rich flavours found in the dish.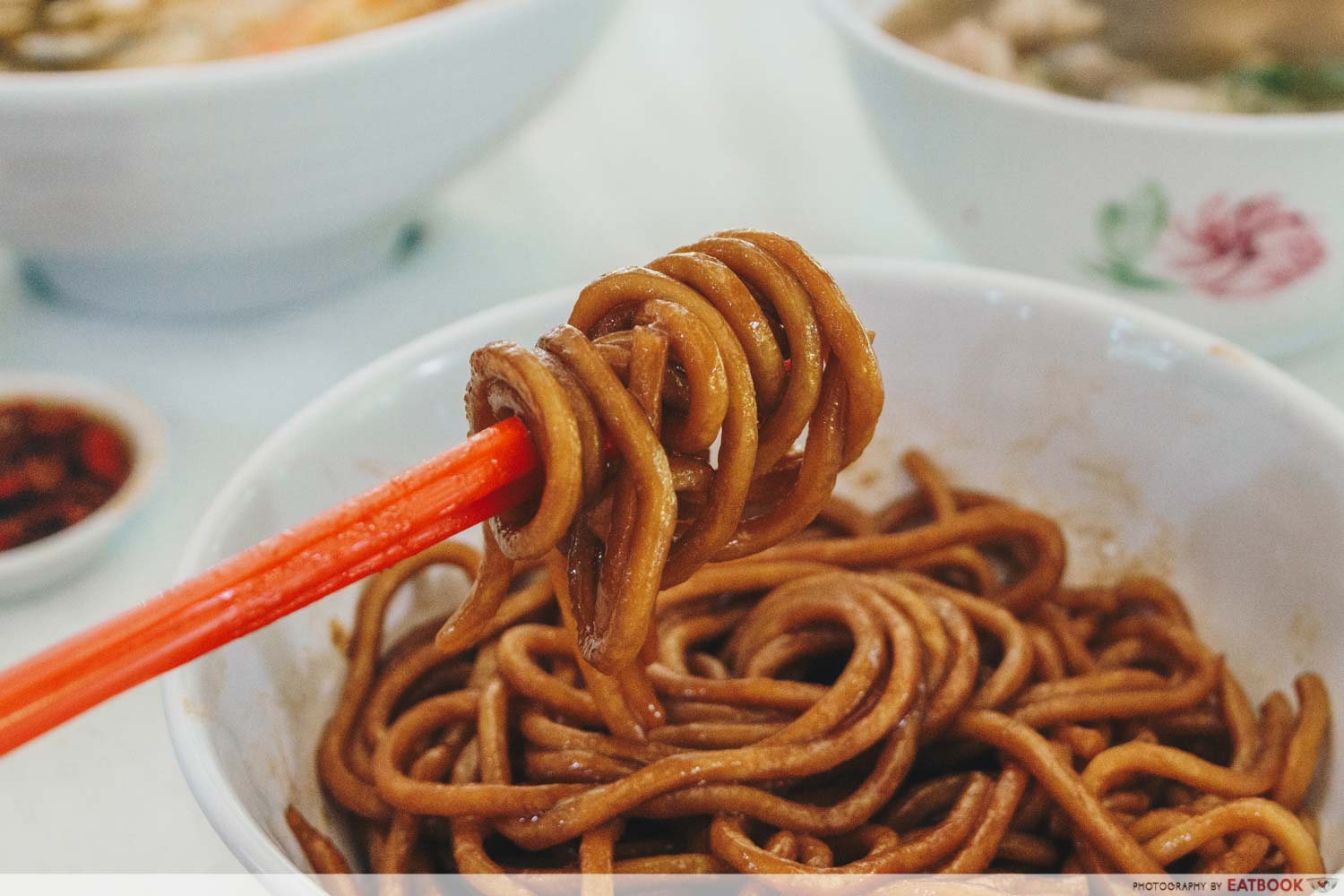 Considering my aversion towards yellow noodles, I didn't expect I would enjoy them in the dish this much. The noodles had a hint of flavour from umami pork lard and sweet dark soya sauce, both of which rid the slight bitterness commonly associated with yellow noodles. 
7 Cheap Pao Fan In Singapore, Including Lobster And Ginseng Chicken Pao Fan
Ambience at Mun's seafood Pao Fan at Ghim Moh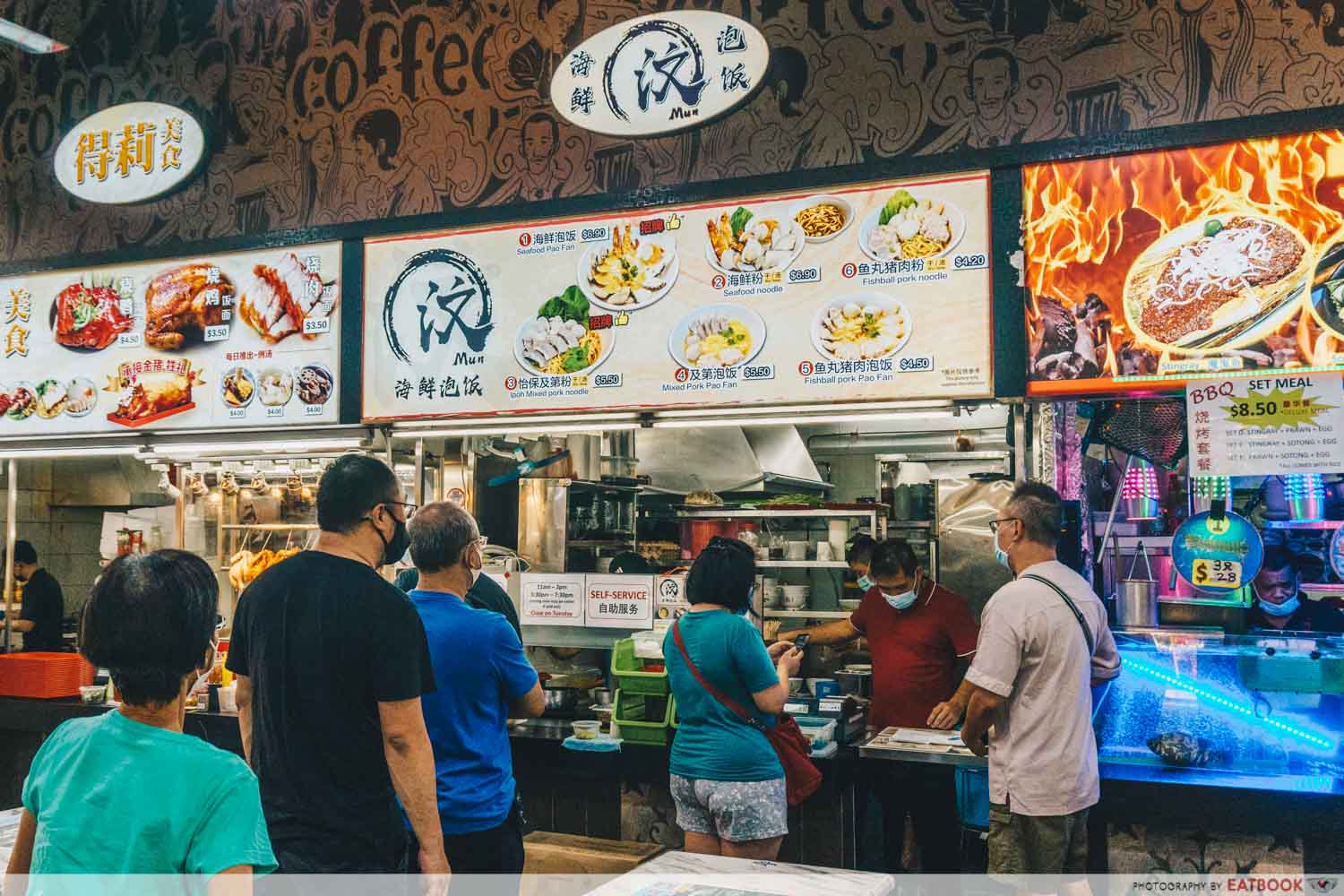 A five minutes walk from Buona Vista MRT Station, Mun's Seafood Pao Fan is easily accessible. The coffee shop itself was bright, squeaky, and clean, suggesting that the space is relatively new. 
The verdict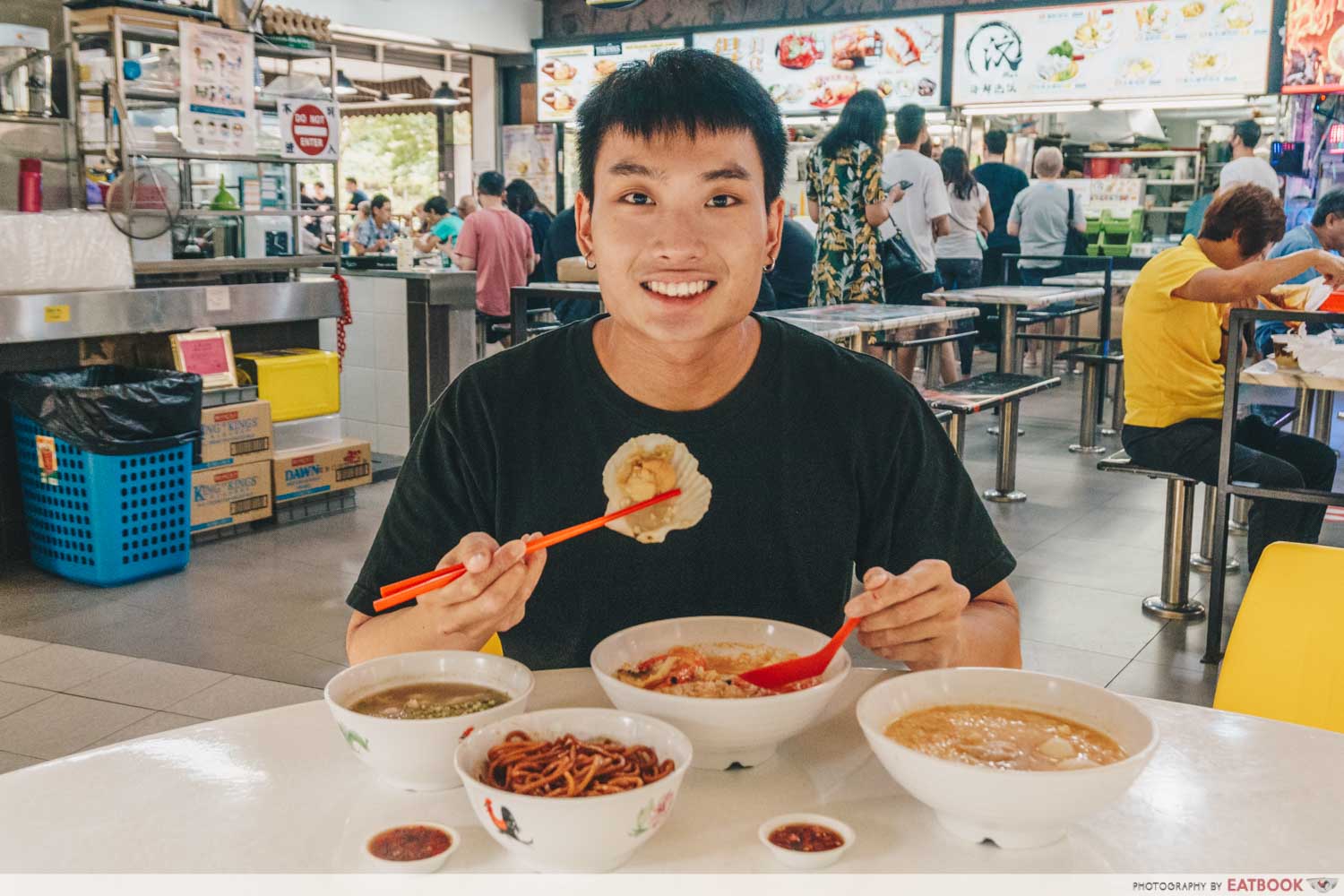 If you are looking for a decent-tasting pao fan around Buona Vista, it's hard to go wrong with this stall. Don't expect to be blown away by the dishes as they lean towards being modest fare. After trying Mun's Seafood Pao Fan, I have to say that it is harder for the stall to pit themselves against other more flavourful competitors such as San Pin Seafood Pao Fan, also run by a former JUMBO chef.
To follow our pao fan adventures, King of Pao Fan review. For more food nearby, check out our Clementi food guide. For more pao fan options, we also have a guide to cheap pao fan in Singapore.
Address: 25 Ghim Moh Link, #01-01, SStar Coffee Shop, Singapore 270025
Opening hours: Wed-Mon 11am to 3pm, 5:30pm to 7:30pm
Website
Mun's Seafood Pao Fan is not a halal-certified eatery.
7 Clementi Food Gems Including Japanese BBQ Buffet And Ma La Xiang Guo
Photos taken by Gladys Lim.
This is an independent review by Eatbook.sg.
Mun's Seafood Pao Fan Review: Ex-Hotel Chef Serves Affordable Pao Fan At Ghim Moh
Mun's Seafood Pao Fan Review: Ex-Hotel Chef Serves Affordable Pao Fan At Ghim Moh -

6.5/10
Summary
Pros
– Accessible location
– Value for money
Cons
– Lack of variety
– Bland soup
Recommended dishes: Seafood Pao Fan ($6.90)
Opening hours: Wed-Mon 11am to 3pm, 5:30pm to 7:30pm
Address: 25 Ghim Moh Link, #01-01, SStar Coffee Shop, Singapore 270025