King of Pao Fan In Queen Street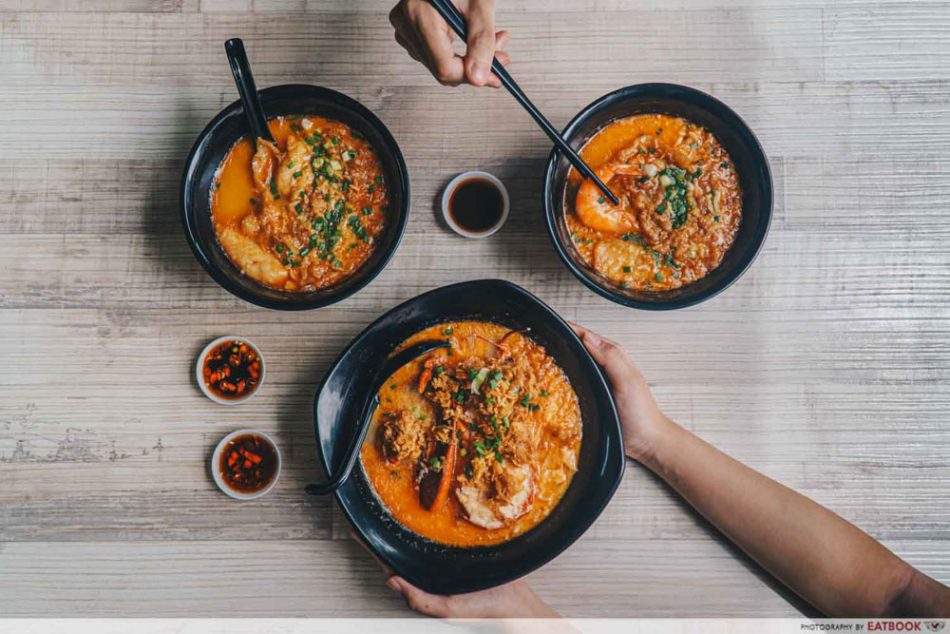 Jumping on the current pao fan bandwagon, I really wanted to try King of Pao Fan because of how popular they've become on social media. Recently, pao fan has become more accessible and affordable for Singaporeans, due to the trend of established chefs carrying their expertise into hawker or kopitiam stalls.
King Of Pao Fan opened their flagship in the Bugis area but has since gone on to set up another stall at Eunos Crescent. They are known for their unique seafood broth, paired with fresh seafood like lobster, prawns, steamed, and fried fish at reasonable prices. It sounded like a bold proclamation to call themselves "king" of the dish, so my dining companions and I went down to see how they held up to their title. 
Food at King of Pao Fan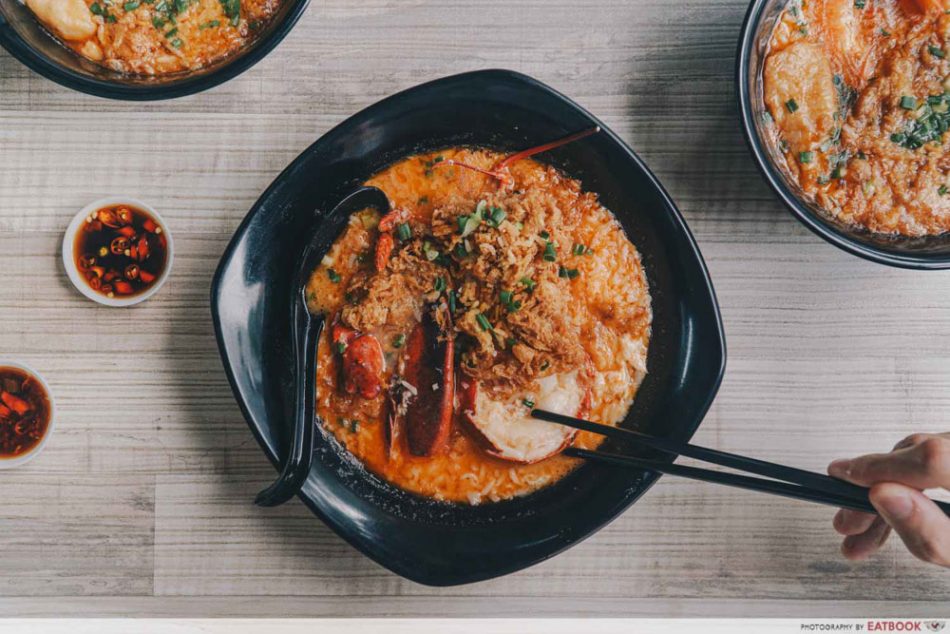 Beginning things off with a bang, I opted for their signature Half Live Lobster Pao Fan ($18), which happened to be their most expensive menu item. My excitement intensified when we saw how huge and meaty the lobster claw, knuckle, and tail were when they came arranged neatly in the bowl. Apart from half a live Boston lobster, the dish included steamed rice in broth, fried egg floss, and crispy rice puffs sprinkled on top.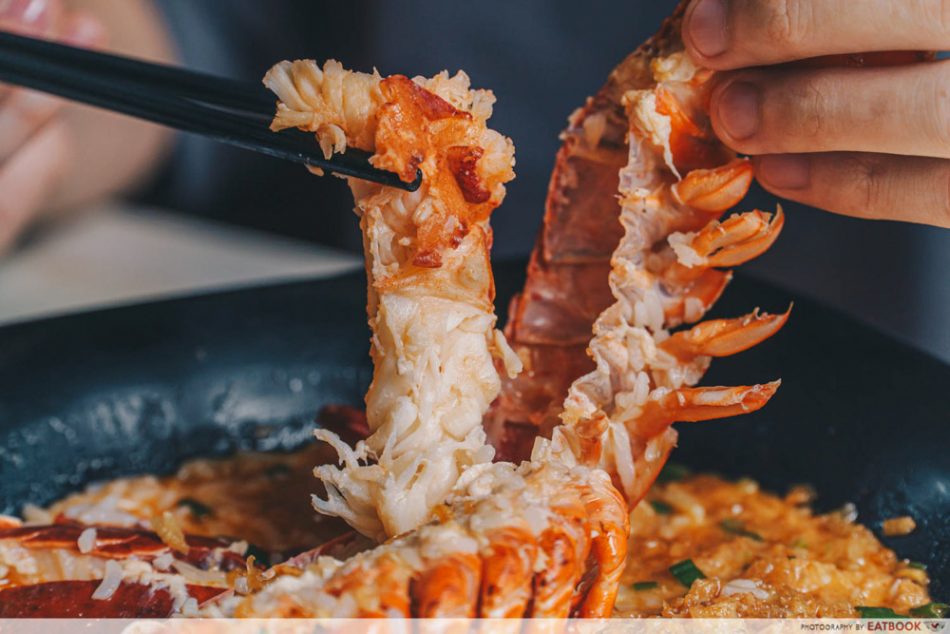 As the dish name mentions, these lobsters are very fresh and cooked to order. Still, that did not prepare us for the shock of seeing the chef deftly killing the live lobster in front of us before it was cooked with the broth.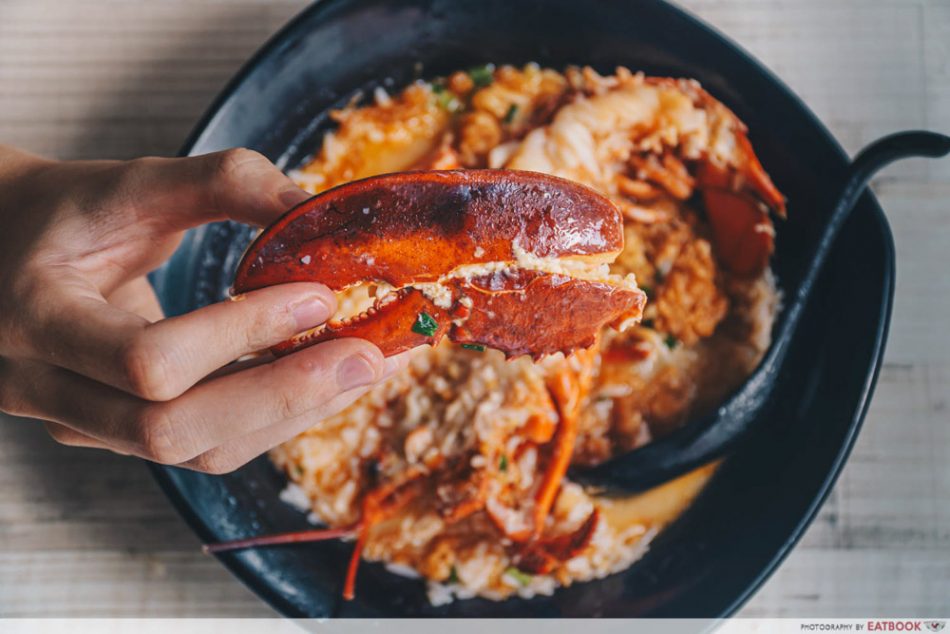 One bite of lobster meat already made me forget about the scene we witnessed beforehand. Extremely sweet, the flesh was succulent and came off the shell smoothly. They are really generous with their lobster meat too.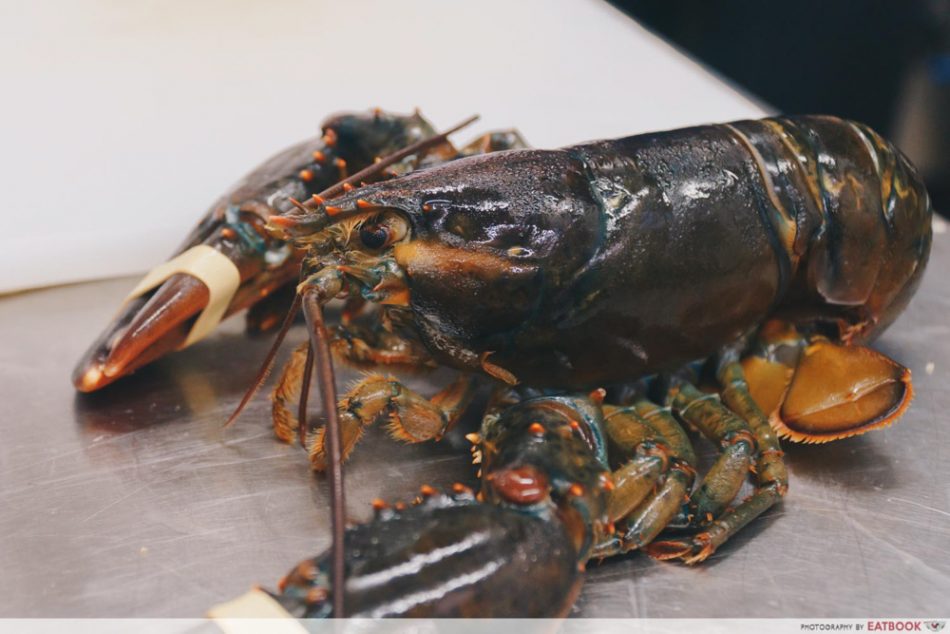 Next, I moved on to their Seafood Pao Fan ($7), with big prawns, clams and chunks of fried fish accompanying it. As with their lobster version, the rich broth was prepared with ingredients like prawn shells and pork bones cooked overnight. As such, the soup was packed with umami and made for a very hearty affair.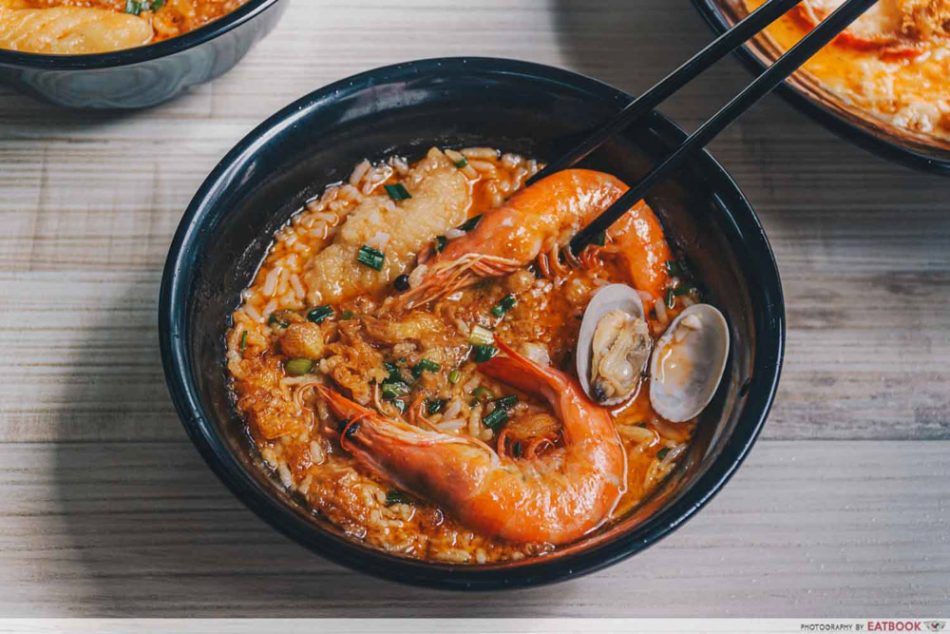 The prawns were juicy, and had a profound sweetness. The clams were chewy but lacked flavour, completely missing the briny taste we're so accustomed to. The pieces of fried fish added texture, soaking up the broth nicely.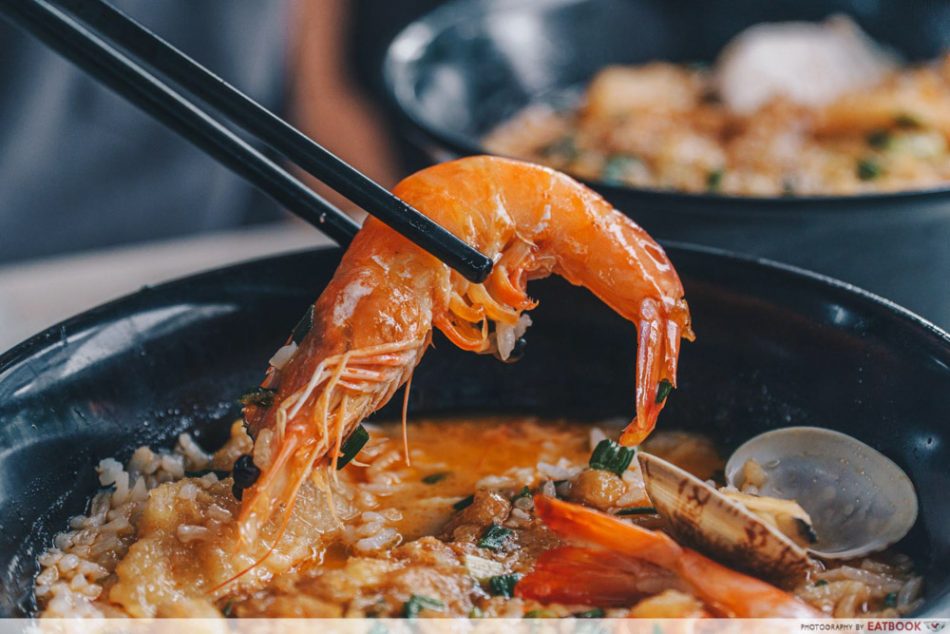 Speaking of fish, their Duo Pao Fan ($6) gives you the best of both worlds. Their steamed and fried fish are the highlights of this creation, ideal for fans of fish soup.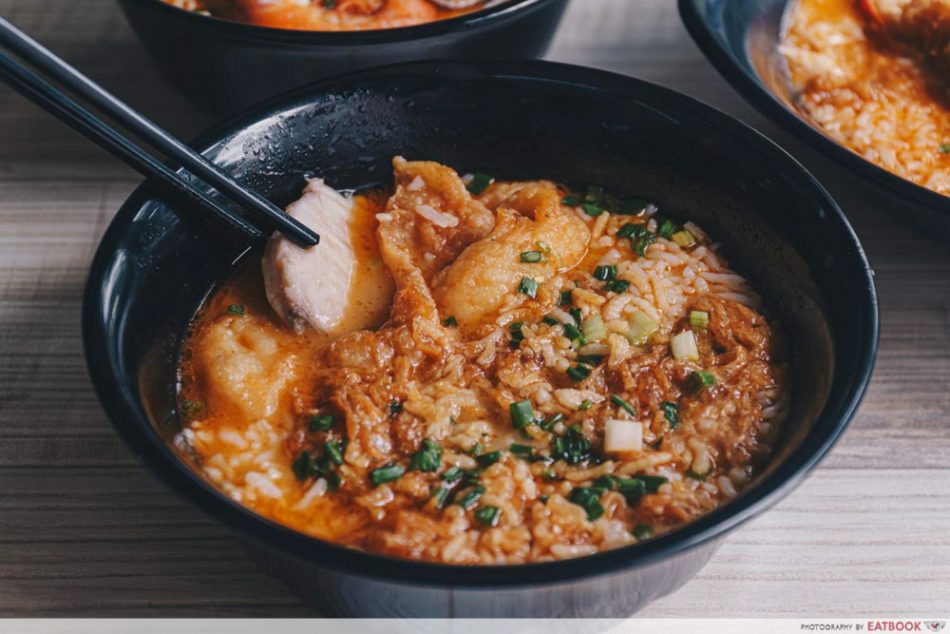 The big slices of steamed fish were tender, complemented by plump and delectable fried fish chunks. Because of the richness of the thick broth, it can be jelak to some after a while.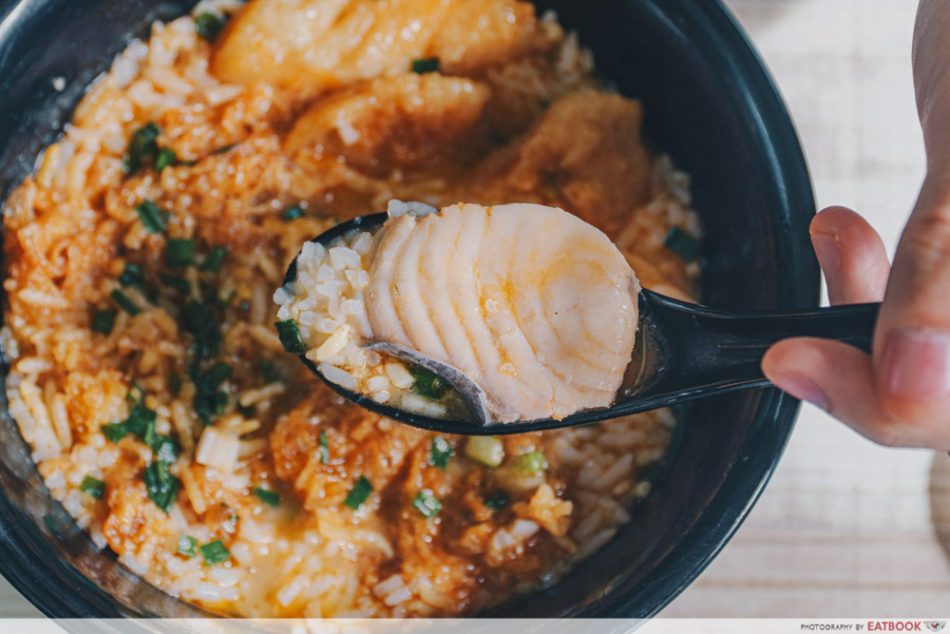 Their menu is pretty versatile too, with choices like the Sliced Fish Pao Fan ($7) for more health-conscious diners, or even the Clams Pao Fan ($4.50) if you're looking for a cheap lunch or dinner option.
Ambience at King of Pao Fan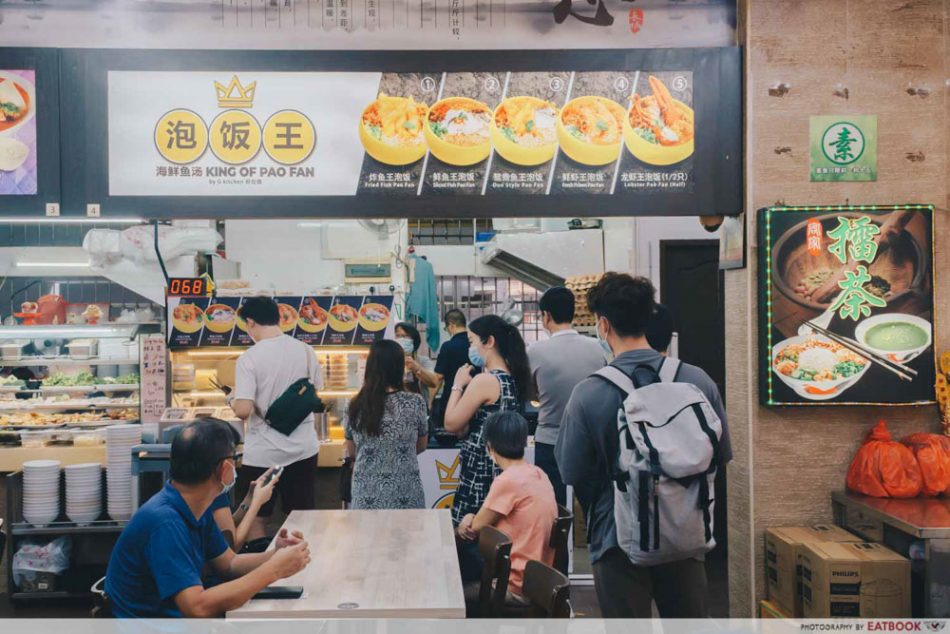 This stall is situated not far from Bugis MRT Station, within close proximity to the Bugis+ shopping mall. At peak lunch and dinner times, this stall has a snaking queue stretching all the way to the back of the kopitiam.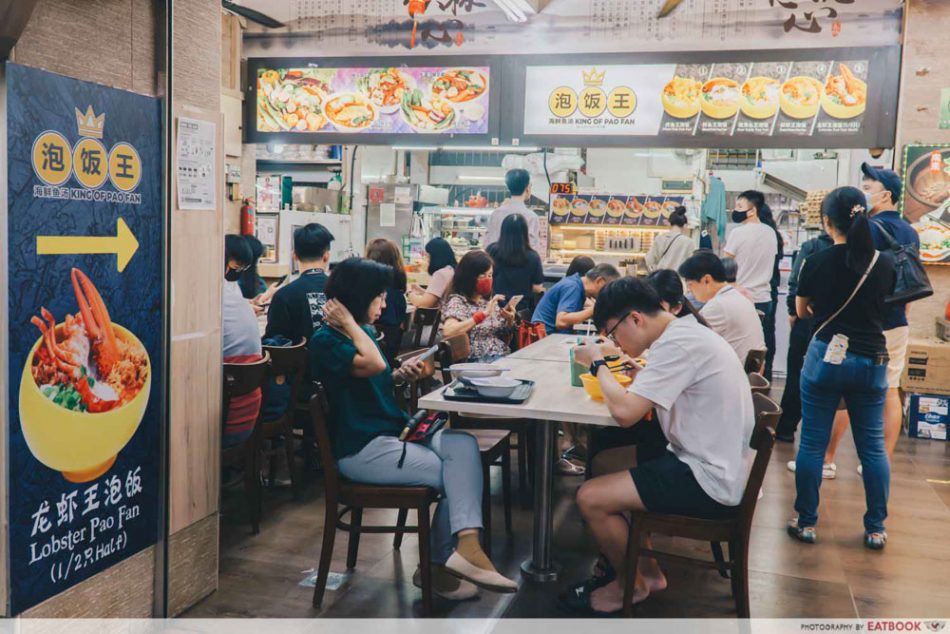 You're issued with a queue number after placing your order at the counter. Their preparation time is surprisingly quick and efficient, so we only had to wait about ten minutes before collecting our share of pao fan, even though there were five people in front of us in the queue.
The verdict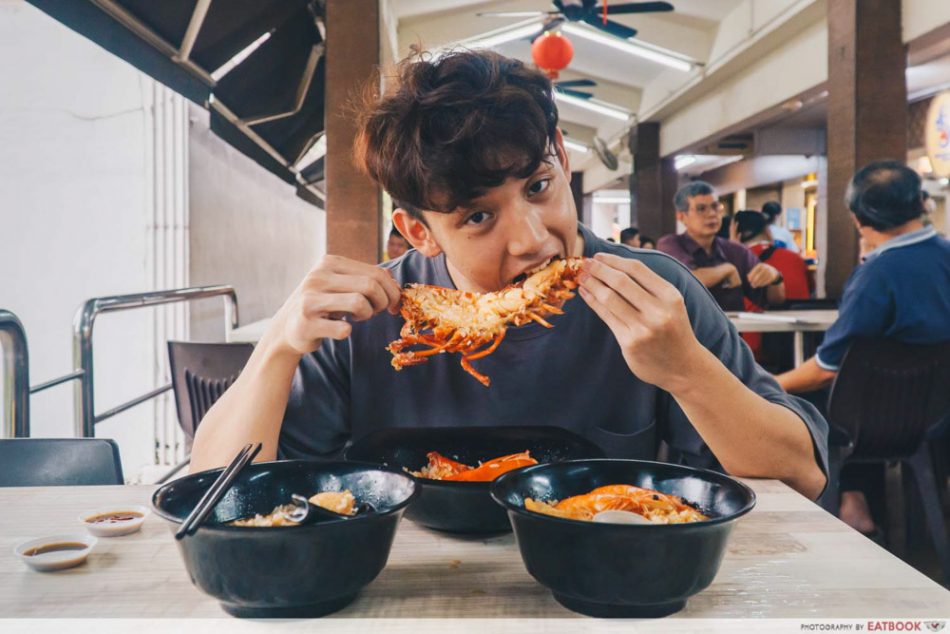 I came into King of Pao Fan with sky-high expectations because of their credentials. It's only natural to assume that prestigious ex-hotel chefs would produce some out-of-this-world eats wherever they may open shop. I left satisfied, not just with their scrumptious pao fan, but also the affordable prices.
At $18, the lobster pao fan made my money's worth, as I got a lot more lobster than I asked for. The seafood pao fan is a cheaper and more feasible alternative, with their meaty prawns being a standout, though I felt the clams could have been prepared better.
The fried and steamed fish pao fan is a fish soup lover's heaven, aromatic and savoury, though the flavourful soup can be a bit cloying after a while.
My dining companions and I were convinced enough to want to return to try out their other pao fan selections. For now, we think they are deserving enough of their "king" title, because of the larger variety and quality of pao fan they have compared to other stalls. But, we're always keeping our eyes peeled for potential competitors!
If you're looking for more pao fan options, read our San Pin Seafood Soup Pao Fan review for seafood pao fan made by an ex-JUMBO Seafood chef in Lavender, or our Chao Ting review for Teochew-style pao fan in the CBD.
San Pin Seafood Soup Pao Fan Review: Seafood Pao Fan From $6 In Kallang
For alternative dining options in the Bugis area, check out our Bugis cafe guide for interesting cafe food like Cotton Candy Coffee and Mochi Croissants or our SSAK3 review for inexpensive Korean BBQ and army stew nearby!
Address: 269B Queen Street, #01-237, Cheng Yan Court, Singapore 180269
Opening hours: Mon-Tue, Thurs-Sun 11am to 2.30pm, 4.30pm to 7.30pm
Tel: 8800 2694
Website
13 Bugis Cafes For Cotton Candy Coffee, Mochi Croissants And Souffle Pancakes
Photos taken by Clare Ong.
This is an independent review by Eatbook.sg.
King of Pao Fan Review: Ex-Raffles Hotel Chef Serves Lobster Pao Fan At Bugis
Summary
Pros
– Half Live Lobster Pao Fan is meaty and super fresh
– Seafood and Duo Pao Fan were priced reasonably.
Cons
– Broth can get rather jelak after a while
– Peak hour queues can be rather long
Recommended dishes: Duo Pao Fan ($6), Half Live Lobster Pao Fan ($18)
Opening hours: Mon-Tues, Thurs-Sun 11am to 2.30pm, 4.30pm to 7.30pm
Address: 269B Queen Street, #01-237, Cheng Yan Court, Singapore 180269