---
Cheap pao fan
---
Pao fan is definitely becoming a trendy hawker dish in Singapore, what with established chefs and celebrities all entering the scene with recipes of their own. For those who don't know, pao fan, or poached rice, is a familiar dish at upscale Chinese restaurants or banquets. Often confused for porridge, pao fan features cooked rice and rice puffs dressed with broth, and served with a type of protein.
Seafood pao fan, in particular, has become a popular appearance in hawker centres, which now means you can find the dish topped with Boston lobster or prawns for wallet-friendly prices. Here are some stalls where you can find cheap pao fan in Singapore.
---
1. Chao Ting 
---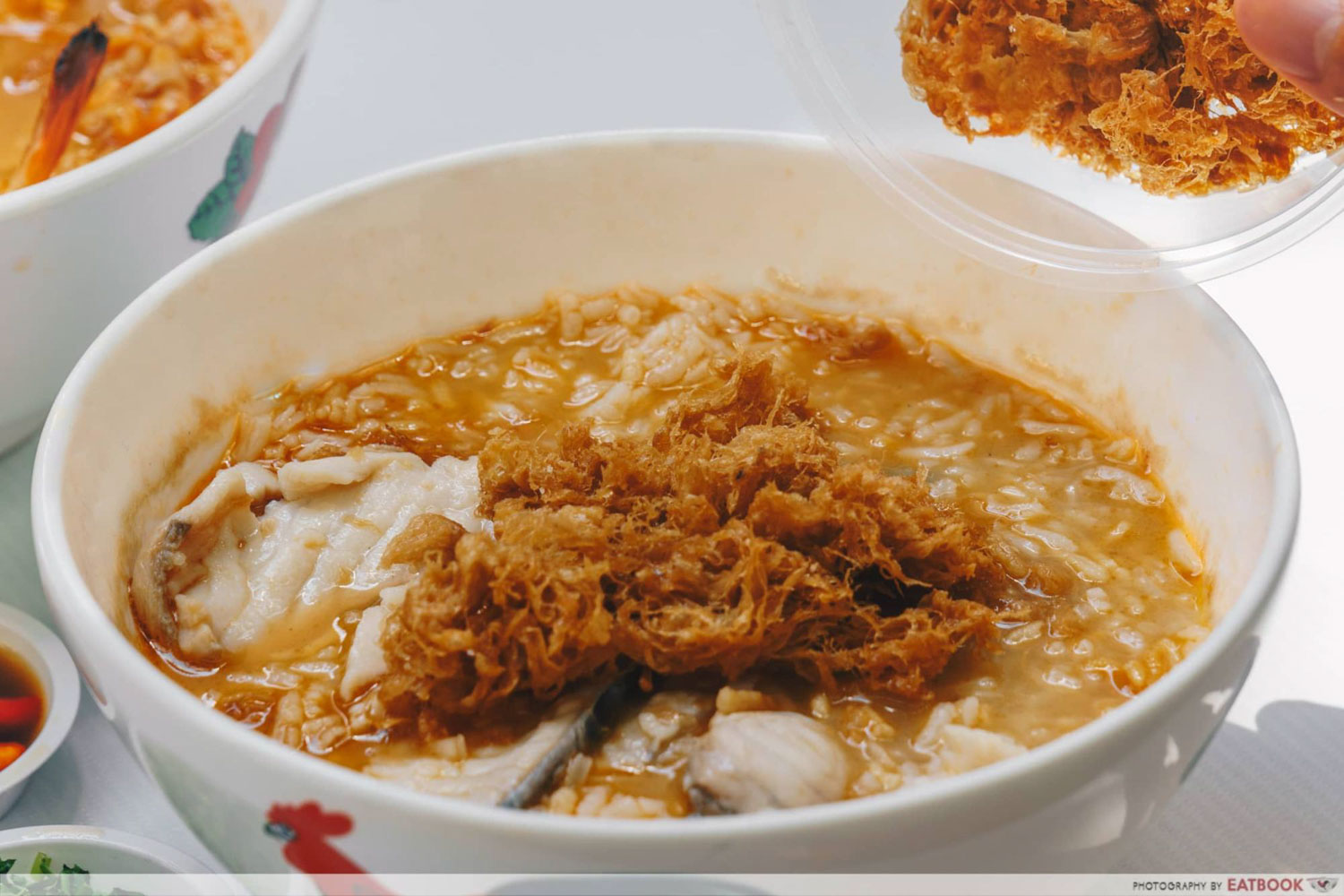 One of the earliest arrivals to the pao fan scene is Chao Ting in Amoy Street. Their Teochew-style pao fan comes in three flavours: King Prawn ($11), Sliced Fish ($9), and Fried Fish ($9), all served in a seafood and bone broth cooked for five hours. Given its central location, Chao Ting makes for a comforting lunch option if you work in the CBD.
Check out our Chao Ting review!
Address: 132 Amoy Street, Far East Square, Singapore 049961
Opening hours: Mon-Fri 11am to 3pm
Tel: 6788 3637
Website
Chao Ting Review: Traditional Teochew Pao Fan Featuring King Prawn And Fried Fish In The CBD
---
2. King of Pao Fan
---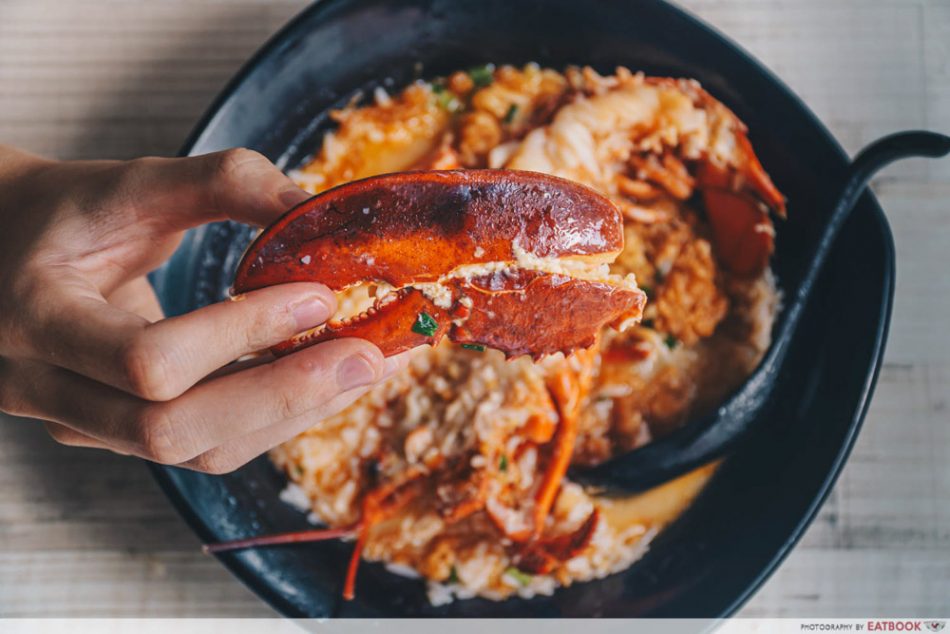 King of Pao Fan opened late last year in Bugis, and since then, the stall has expanded to a second outlet in Eunos too. Run by an ex-Raffles Hotel chef, the stall has a variety of pao fan items. We highly recommend the Half Live Lobster Pao Fan ($18), served with a generous portion of Boston lobster, but if you're on a budget, they have Clam Pao Fan for just $4.50.
Check out our King of Pao Fan review!
Address: Blk 269B Queen Street, #01-237, Stall 4, Cheng Yan Court, Singapore 180269
Opening hours: Mon-Tues, Thurs-Sun 11am to 2:30pm, 4:30pm to 7:30pm
Tel: 8800 2694
Website
King of Pao Fan Review: Ex-Raffles Hotel Chef Serves Lobster Pao Fan At Bugis
---
3. San Pin Pao Fan 
---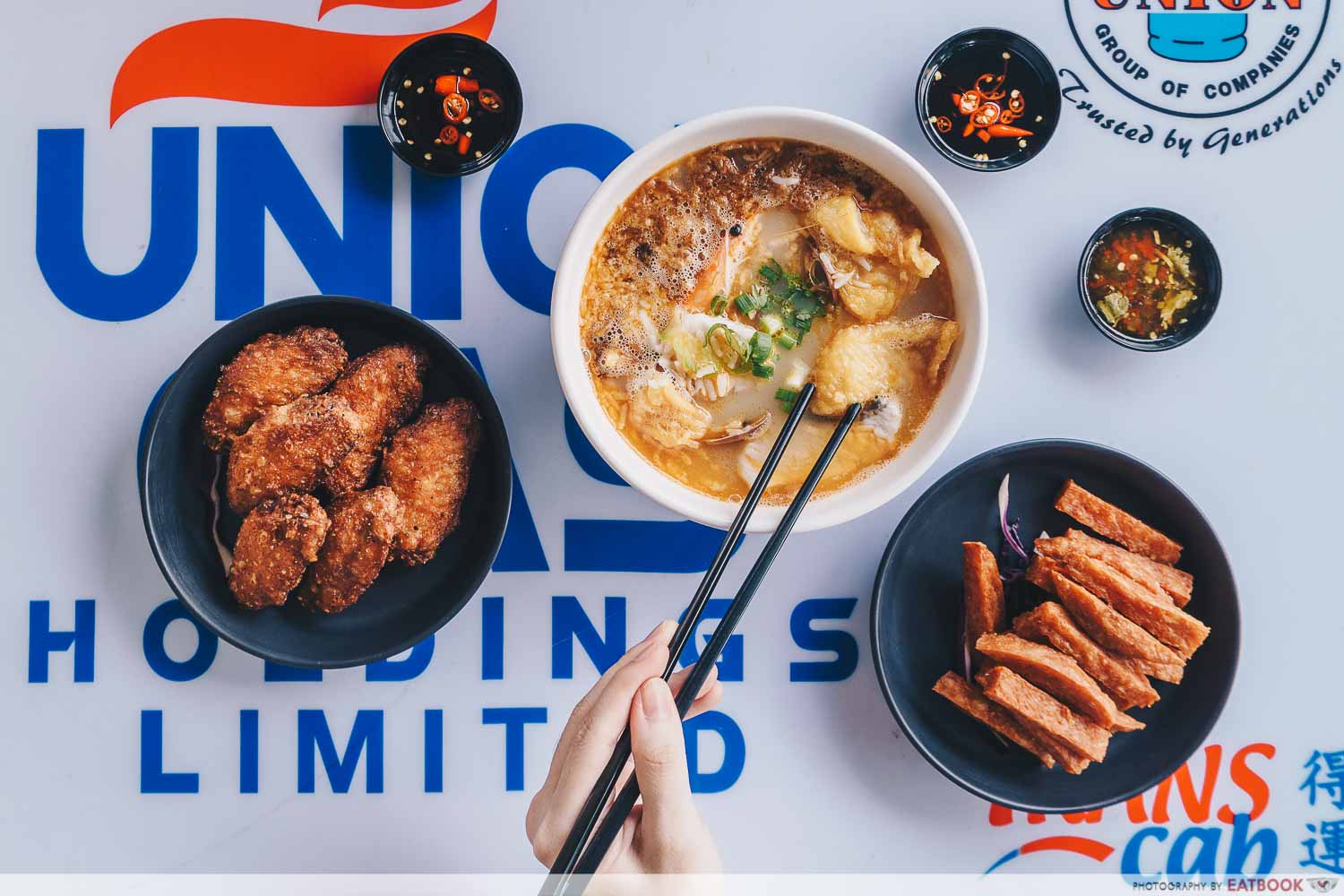 Run by a former Jumbo Seafood chef, San Pin Pao Fan in Lavender sells six different types of seafood pao fan on the menu. Go for a bit of everything with their Mixed Seafood Pao Fan ($7), which comes with creamy broth, prawns, fried fish, steamed fish, lala, bittergourd, and egg floss. We especially liked how the prawns were generously-sized, even though the dish is priced at quite a steal.
Check out our San Pin Pao Fan review!
Address: 27 Foch Road, #01-02, Hoa Nam Building, Singapore 209264
Opening hours: Daily 10:45am to 8pm
Website
San Pin Seafood Soup Pao Fan Review: Seafood Pao Fan From $6 In Kallang
---
4. Famous Pao Fan
---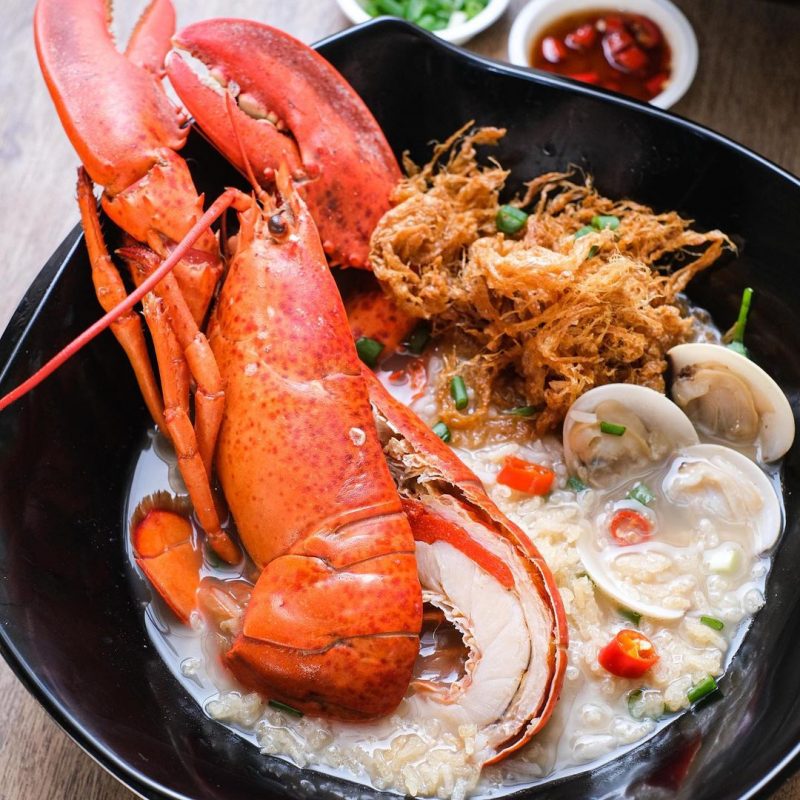 Image credit: @famouspaofan
MediaCorp veteran actor Chew Chor Meng is quite the hawkerpreneur, having a mookata chain and porridge stall to his name. Now, he has branched into pao fan, opening Famous Pao Fan in Jalan Besar. There are seven types of pao fan, starting at $4.50 for their Clams Pao Fan. More unique options include a Kurobuta Pork with Lala Pao Fan and a Fried Red Grouper with Lala Pao Fan, both priced at $8. 
Address: 100 Jalan Sultan, #01-06/07, Sultan's Kitchen Food Court, Singapore 199001
Opening hours: Tues-Sun 10:30am to 8:30pm
Website
---
5. Mun's Seafood Pao Fan
---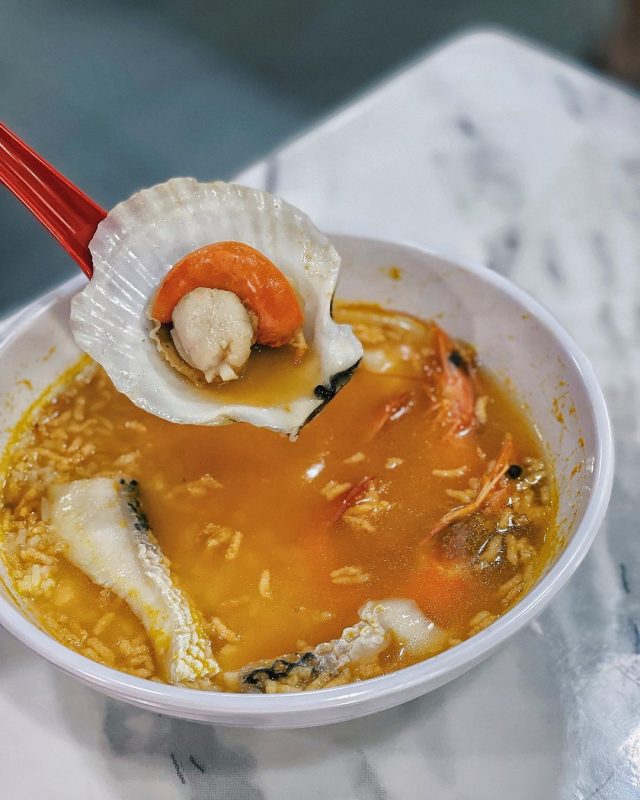 Image credit: @leslie.koh
Located in Ghim Moh, Mun's Seafood Pao Fan is helmed by a chef formerly from Wah Lok, a Chinese fine dining and dim sum restaurant. His broth stands out from the crowd, as it is only made with two main ingredients: pork bones and carrots. Simmered for five hours, the result is light, sweet, and clean-tasting, setting this apart from the heavier, seafoody broths of other similar stalls. Choose from three types of pao fan: Seafood ($6.90), Fishball And Pork ($4.50), and Mixed Pork ($5.50). The stall also sells Malaysian-style noodles!
Address: 25 Ghim Moh Link, #01-01, Singapore 270025
Opening hours: Wed-Mon 11am to 3pm, 5:30pm to 7:30pm
Website
---
6. TK Kitchen
---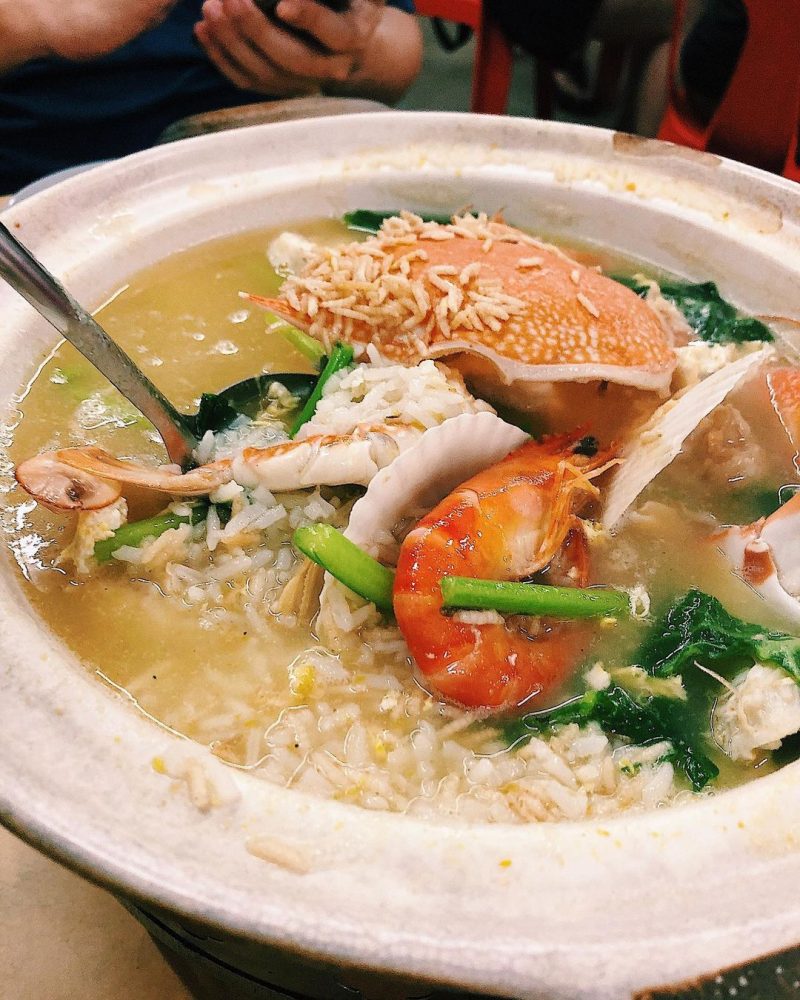 Image credit: @sgahpek
Nestled in Teban Gardens is a lowkey hawker stall specialising in pao fan. Unlike the usual lobster, clams, or mixed seafood variants, this stall has unique takes on the signature dish, including Flower Crab ($38), Ginseng Chicken ($35), XO Fish ($45), and White Pepper Pork Stomach Chicken ($40) pao fan, all of which feed two to three per order.
Address: 37 Teban Gardens Road, Singapore 600037
Opening hours: Mon, Wed-Sat 12pm to 2pm, 4pm to 10pm, Tues 12pm to 10pm, Sun 12pm to 2am
Tel: 8330 7554
Website
---
7. Gong Xi Fa Cai Eating House 
---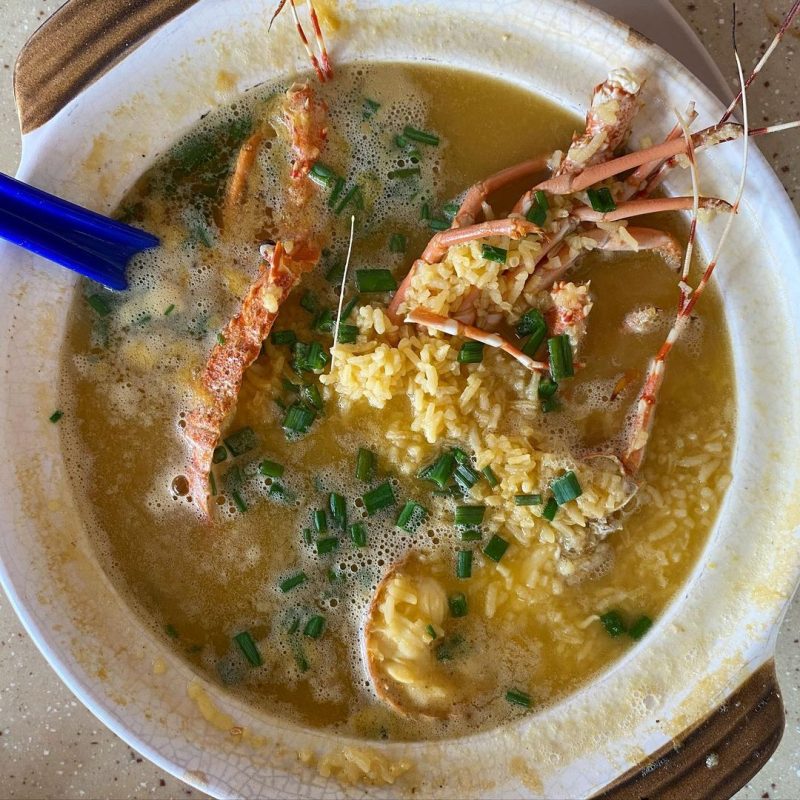 Image credit: @foodieuncle
Gong Xi Fa Cai Eating House may be a zi char stall by definition, but one of their hero dishes is the Lobster Pao Fan (from $38), served in a claypot, and made with a full lobster. The lobster weighs around 500g so you're getting plenty of value-for-money. It feeds two to three as well!
Address: Blk 254 Jurong East Street 24, #01-11, Yuhua Village Market, Singapore 600254
Opening hours: Daily 11am to 9:30pm
Tel: 9859 6358
Website
---
Best pao fan stalls in Singapore
---
For pao fan that doesn't break the bank, try any of these seven stalls. For more affordable eats, check out our list of dim sum in Singapore, starting at just $1.30. Alternatively, read our guide to halal buffets starting at just $7.90.
15 Dim Sum Places In Singapore From $1.30, Including Halal Dim Sum And Buffets