Makan Makan is a halal-certified Indonesian restaurant at Marina Square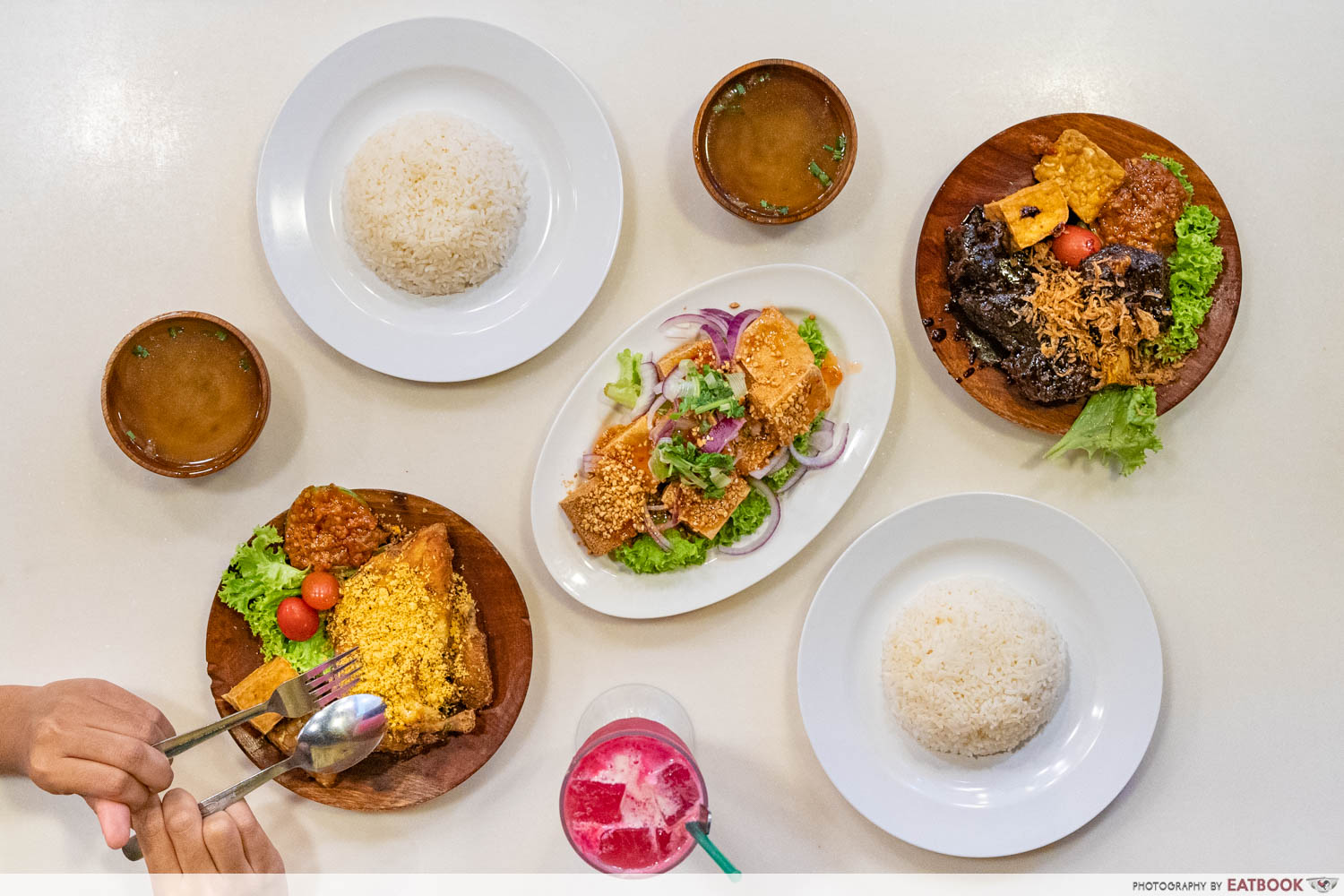 In my opinion, ayam penyet is one of those dishes that's often a hit or a miss. Some of the places I've visited either have the chicken too dry or oily, so I would usually go for the ayam bakar, AKA grilled chicken, instead. Nevertheless, when I heard about Makan Makan, I was looking forward to seeing what they had to offer. After all, the Indonesian restaurant is run by D'Penyetz Group, a popular ayam penyet franchise in Singapore.
Food at Makan Makan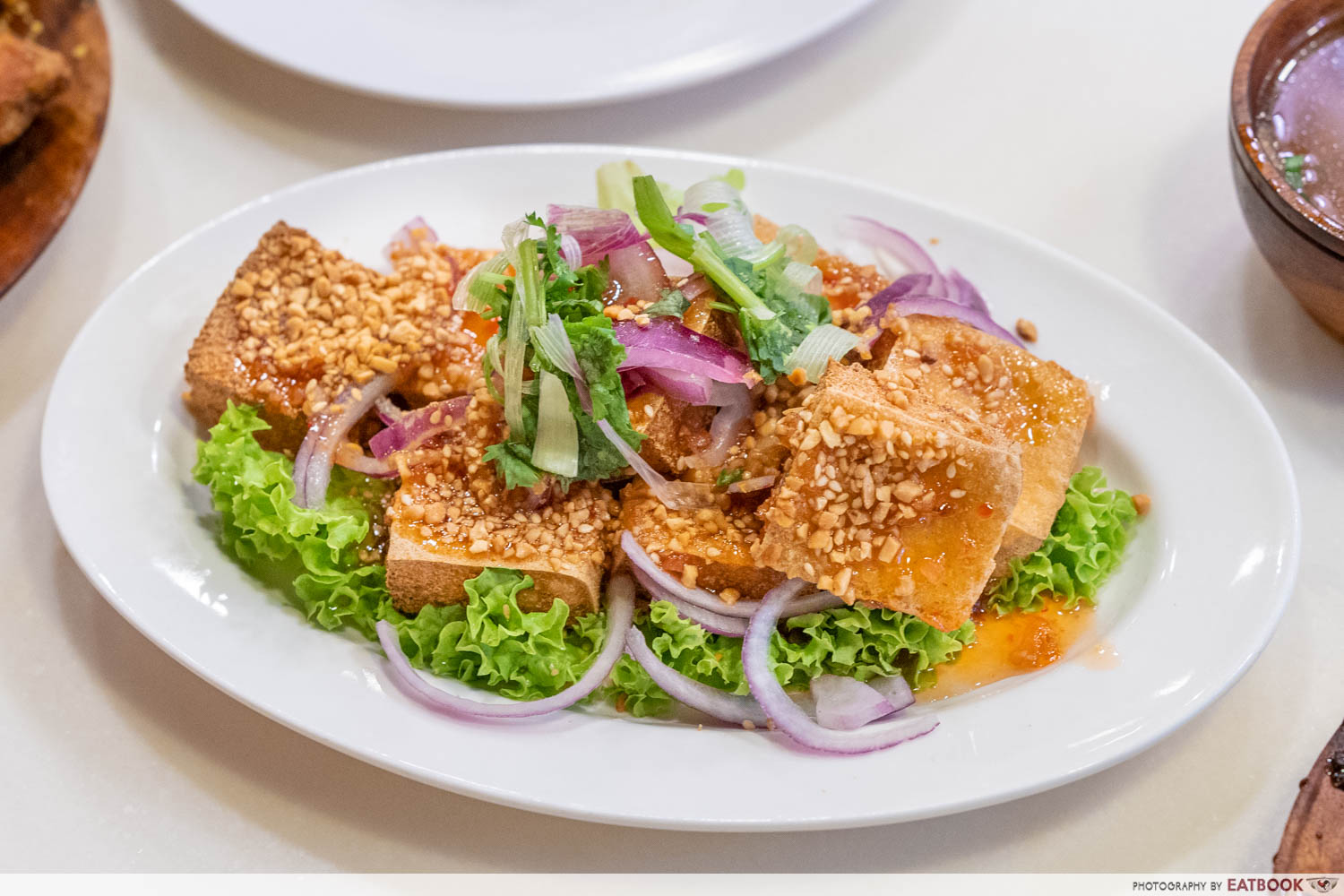 When we were browsing the menu, I realised that various items were not available during our visit, so we had to settle for the limited range of choices, which was a tad disappointing. Nonetheless, we started our meal on a high note with the Thai Sauce Fried Beancurd ($5.50+), a popular appetiser.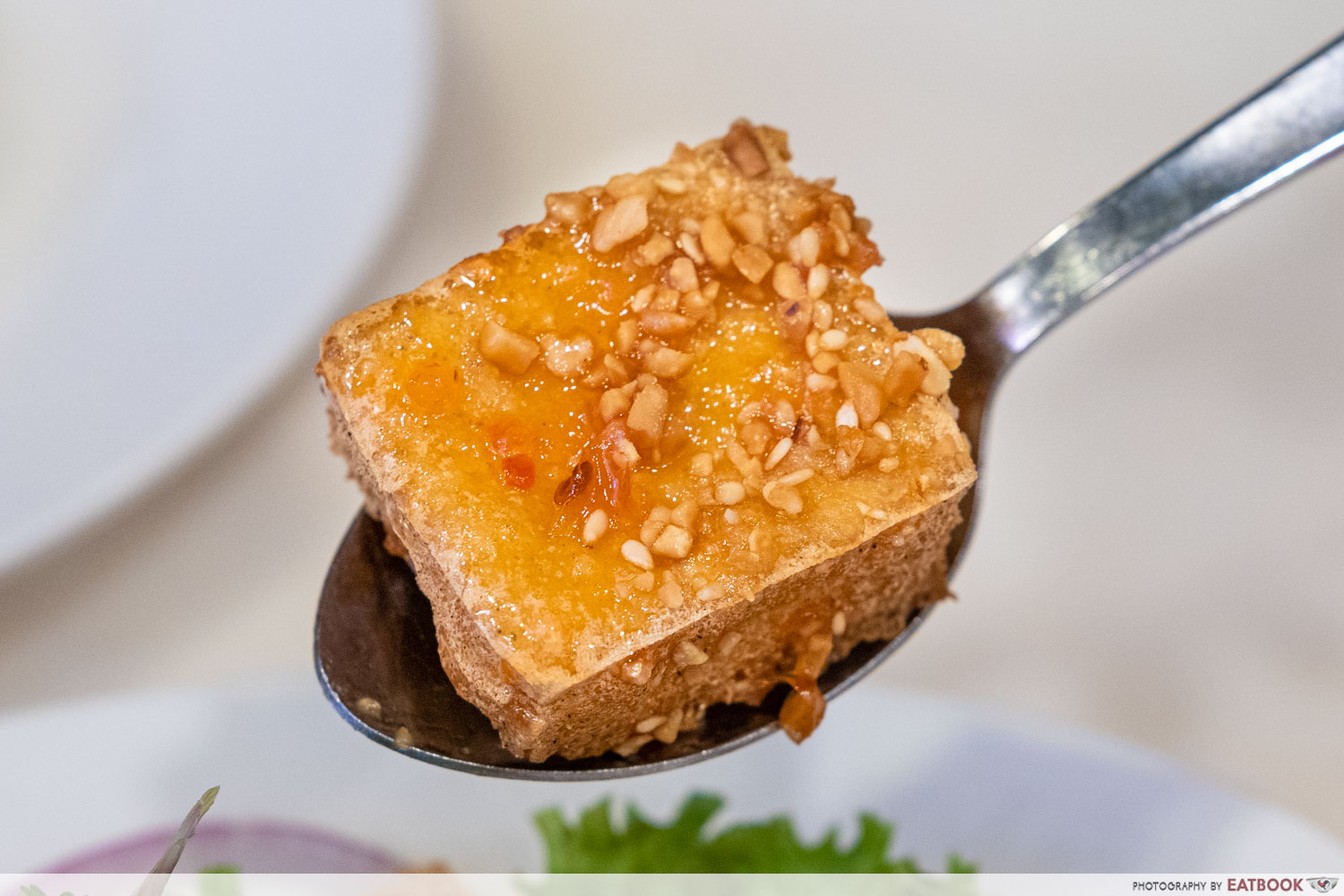 This was easily my favourite dish of the entire meal because of how simple yet flavourful it was. The combination of the silky beancurd centre with the crispy skin that absorbed the sweet and spicy sauce, along with the crunchy peanuts, fresh onions, and cilantro, made the dish satisfying enough that I found myself going in for seconds. 
Next up was the signature Ayam Penyet D'Penyetz ($8.90+) with plain rice ($1+), which I had high hopes for.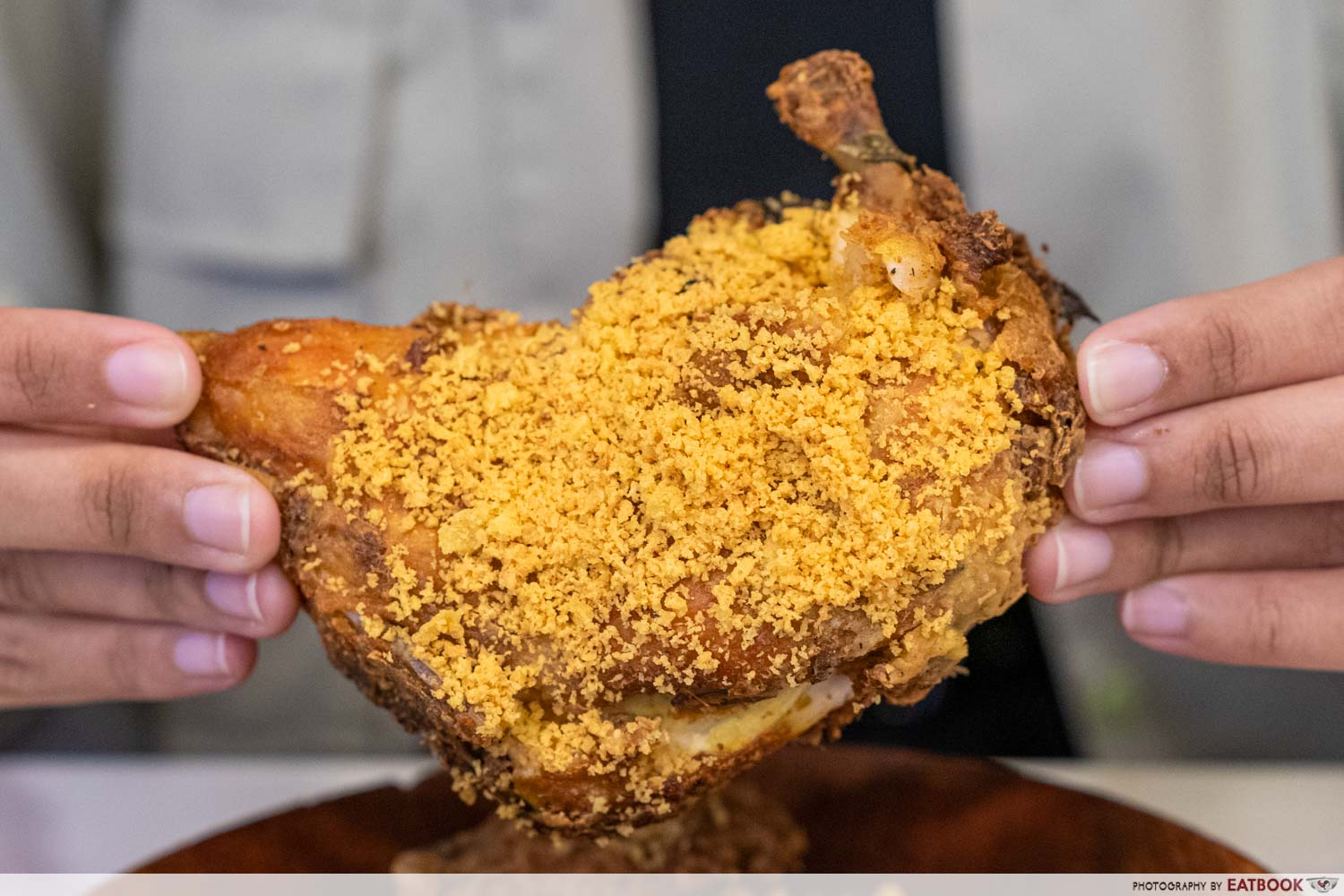 What first hit me was the strong aroma of spices accompanied by pungent, spicy notes from the sambal. The chicken piece was also huge, sporting bits of crispy flour crumbs on its skin. 
While it did look promising, I felt that the battered chicken skin lacked the crispiness I was hoping for. The meat was also rather dry and difficult to tear apart. Perhaps it was partly because of the cut of chicken they used—chicken breast instead of chicken thigh. I did, however, appreciate how the accompanying soup helped to rehydrate the chicken, making it more palatable.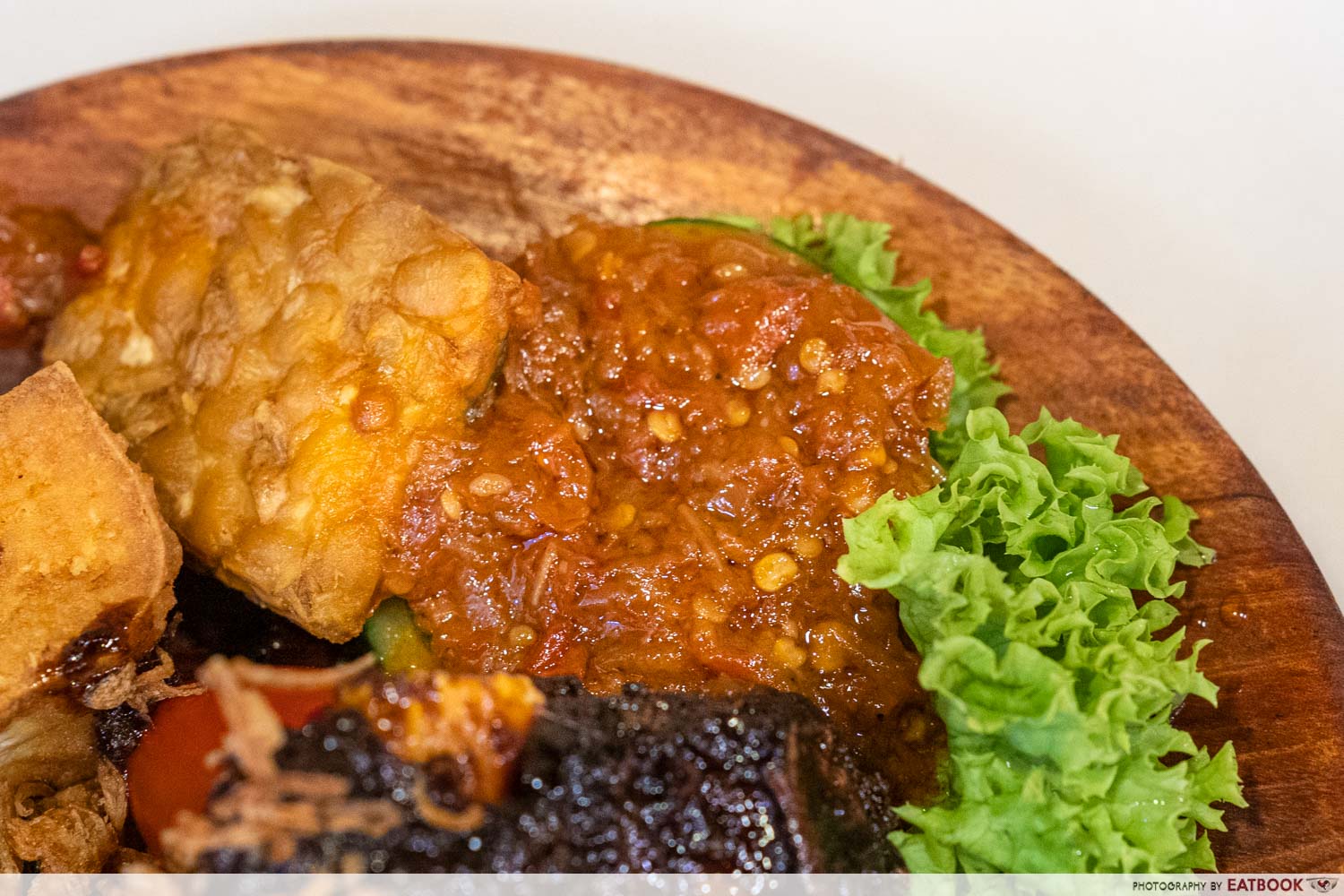 The sambal, however, took the spotlight. It was fragrant and neither too sweet nor oily, with a slight tang from what seemed to be lime. It gave the dish an addictive, spicy kick which helped to offset the greasiness of the fried chicken.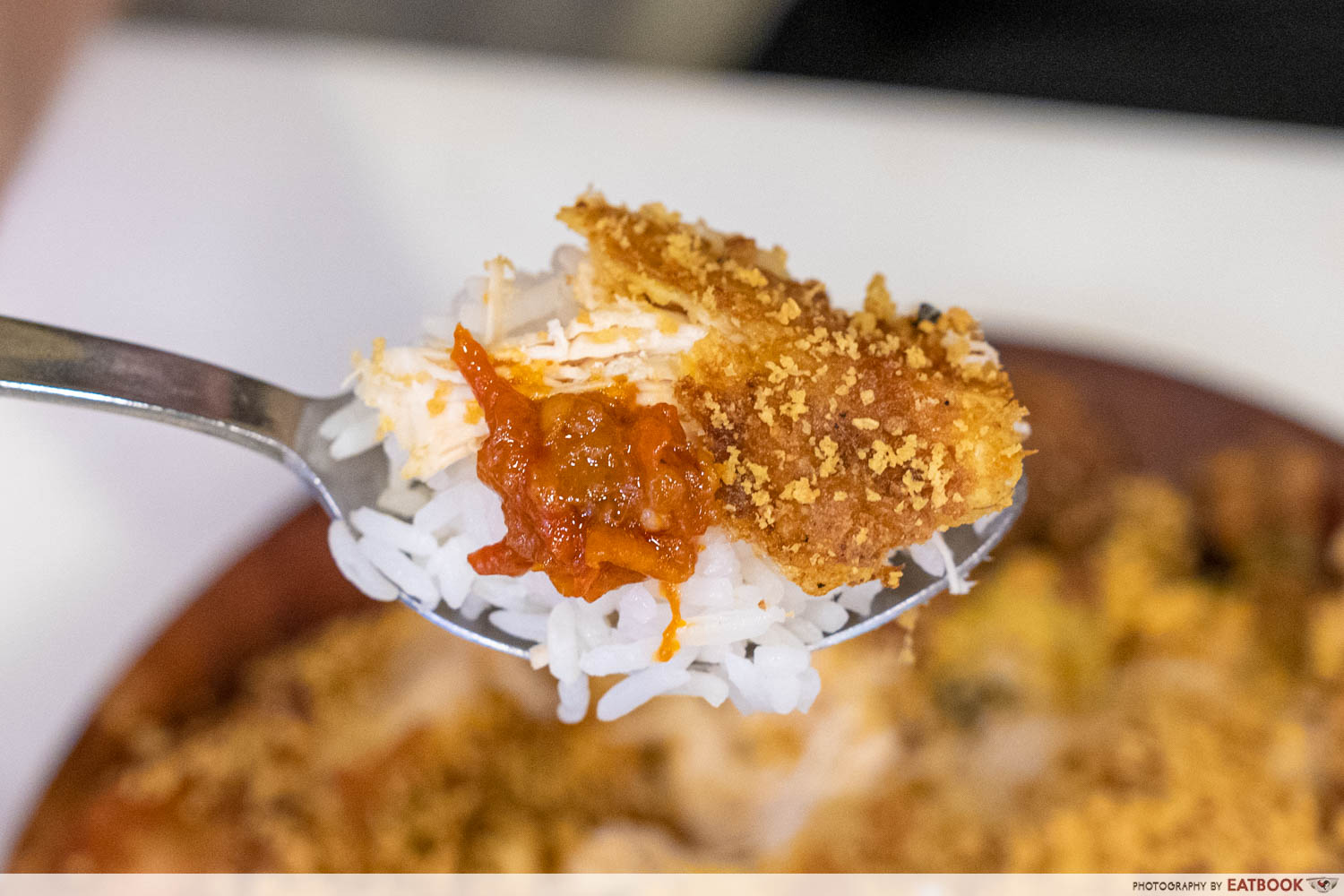 The fried tofu and tempeh were nothing much to shout about, but with all of the dish's components combined, it was overall a decent and rather filling meal.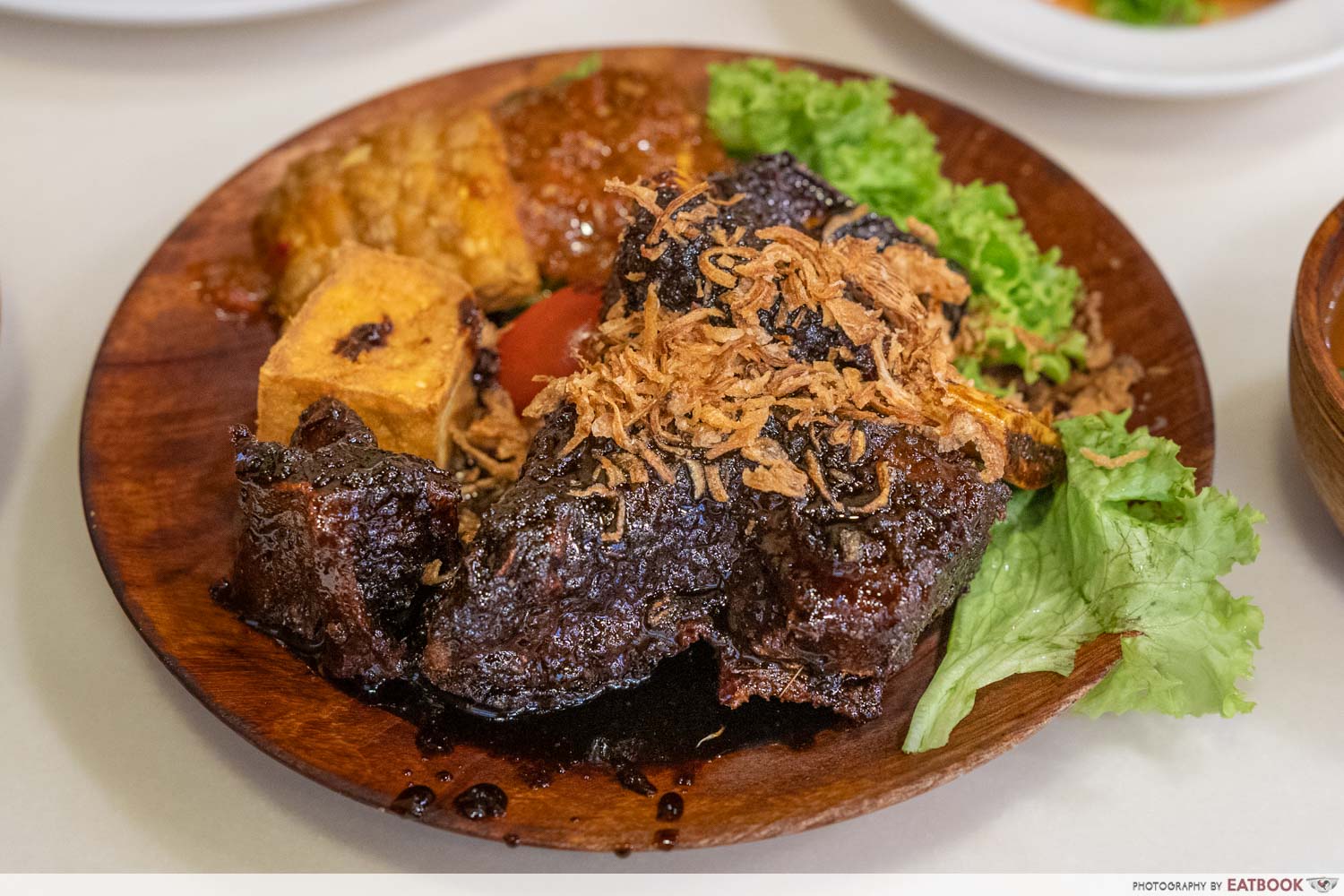 To switch things up, we got the Iga Bakar Kecap ($14.90+) with plain rice ($1+), AKA Javanese-style grilled beef ribs. This was my first time seeing this dish served in an ayam penyet restaurant, so I was looking forward to trying it.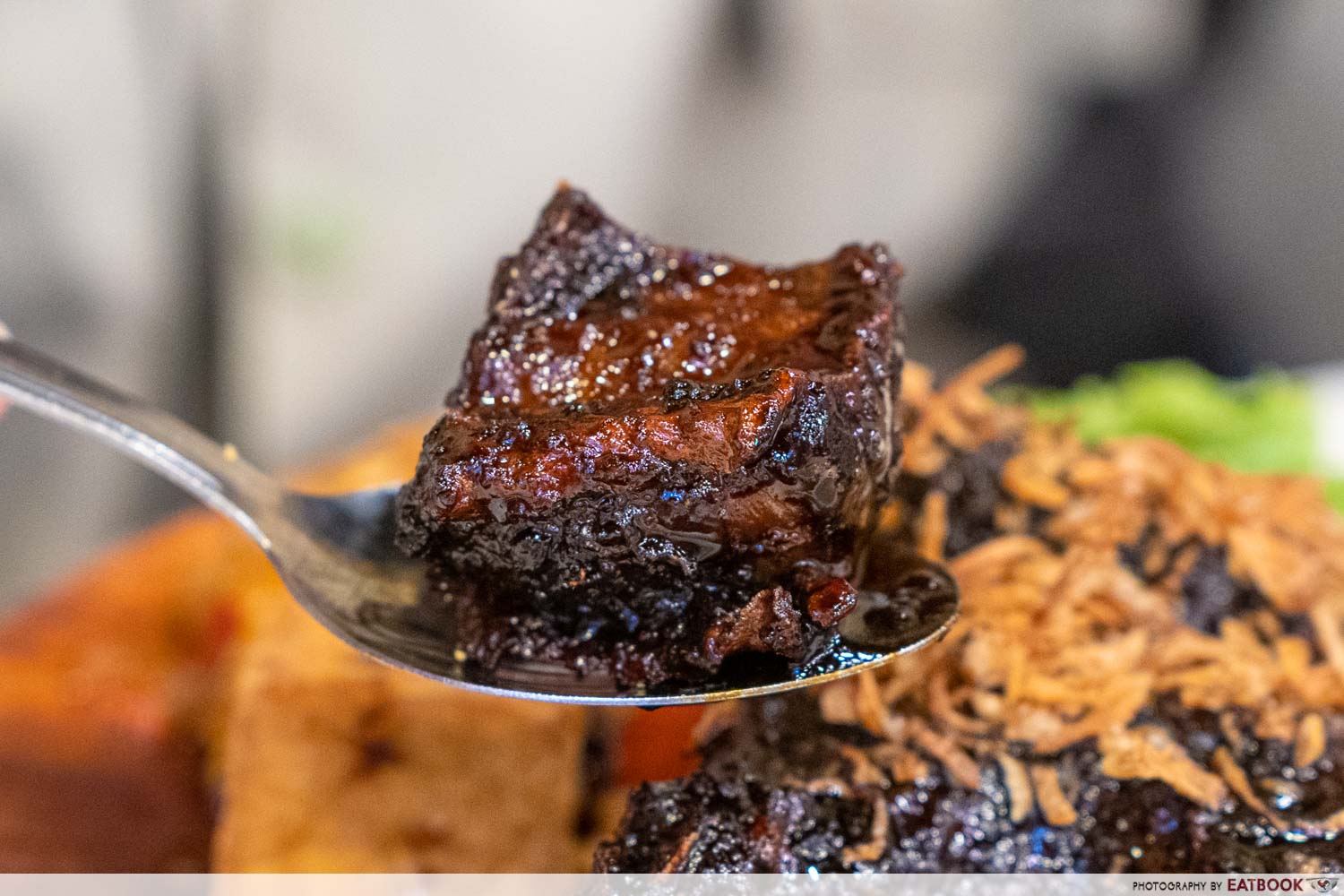 When it comes to beef, I feel that it's easy to make the mistake of overcooking it, resulting in a tough and chewy texture. These thick beef ribs were, unfortunately, exactly that. I appreciated the umami kick that came with the sweet soya sauce marinade, but it was still a bit too sweet and salty for my liking. Perhaps those who like stronger flavours will enjoy this dish more than I did.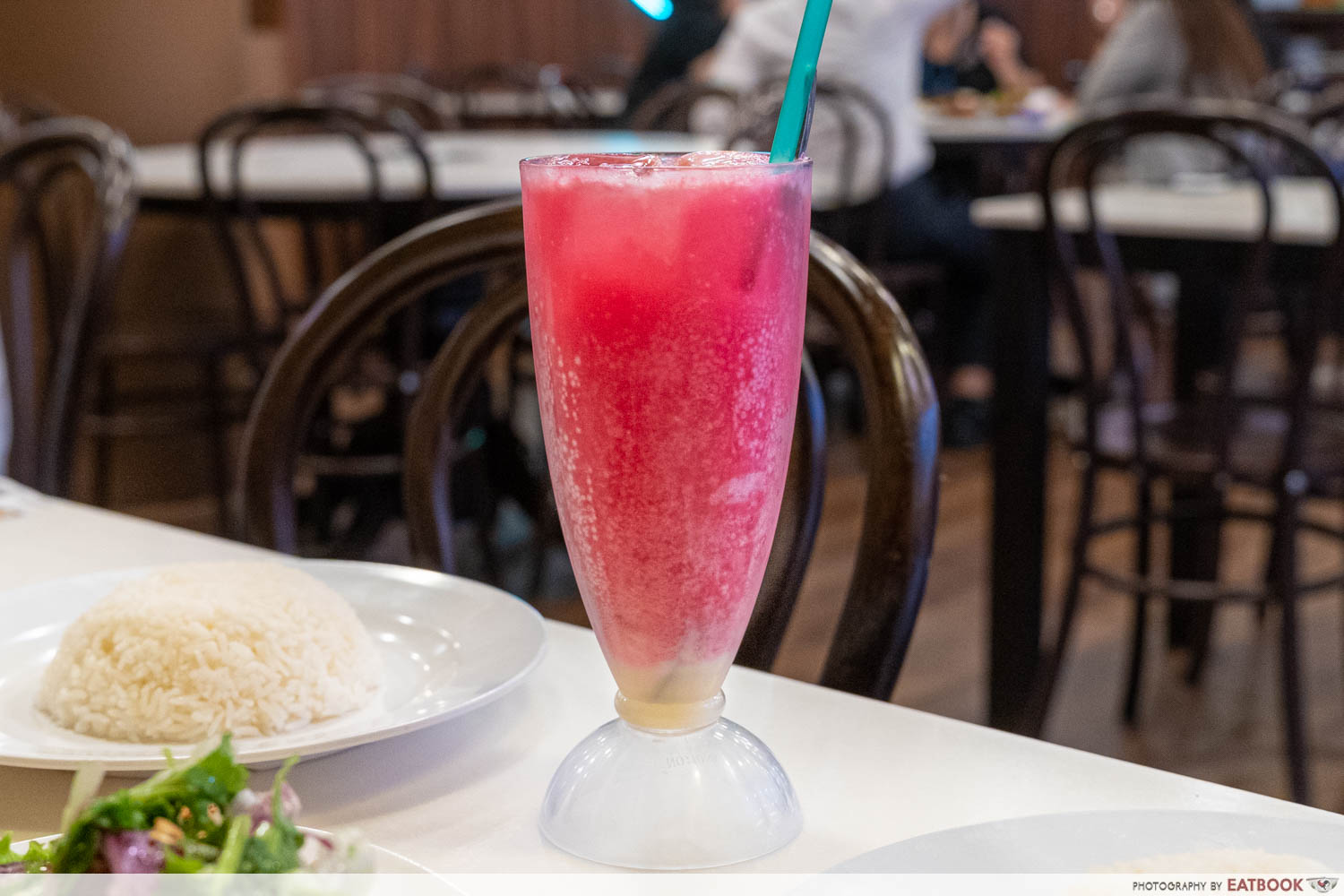 To cleanse our palette, we went for the Ice Happy Soda ($3.50+), a popular Indonesian drink comprising carbonated water, condensed milk, and coco pandan syrup. Makan Makan's version seemed to be prepared mostly with cherry soda and condensed milk, making it obscenely sweet. This was quite a shock as I'm not someone who likes sweet drinks, but you might like it if you have a major sweet tooth. 
25 Funan Mall Food Places To Visit Including Steak From $18.90+, Yuzu Ramen And More
Ambience at Makan Makan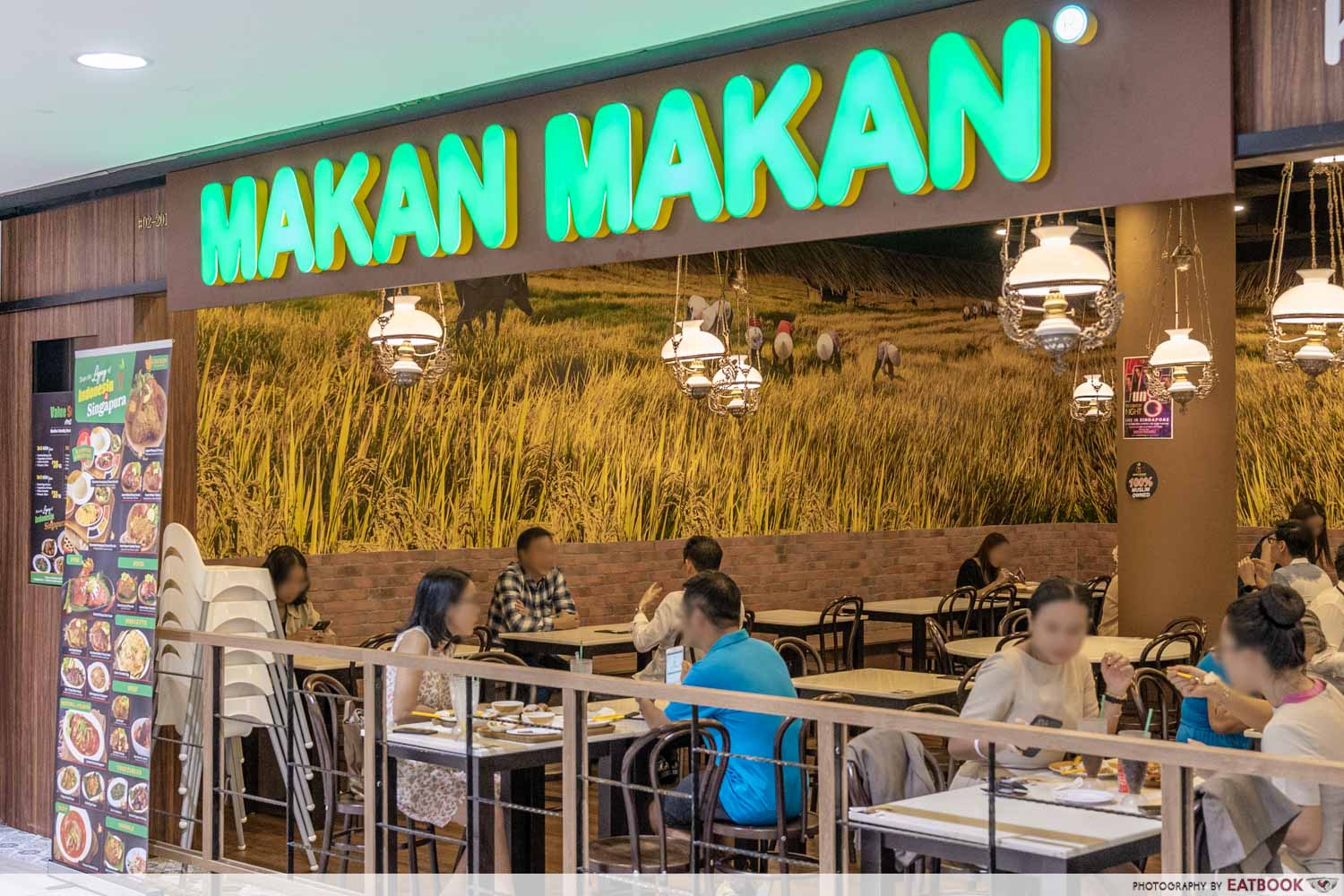 Makan Makan features a large seating area with plenty of seats and tables to accommodate bigger groups of people. Sporting rice paddy-patterned wallpaper, with vintage oil lamps hanging from the ceiling, the restaurant gave off a comfortable and laid-back vibe. 
When we arrived around 12:30pm on a weekday, there was a steady stream of office workers coming in from the nearby CBD area, and the restaurant soon became crowded. Do head down early if you'd like to avoid the lunch crowd!
Makan Makan is a 12-minute walk from City Hall MRT Station, or a three-minute walk from Esplanade MRT Station.
The verdict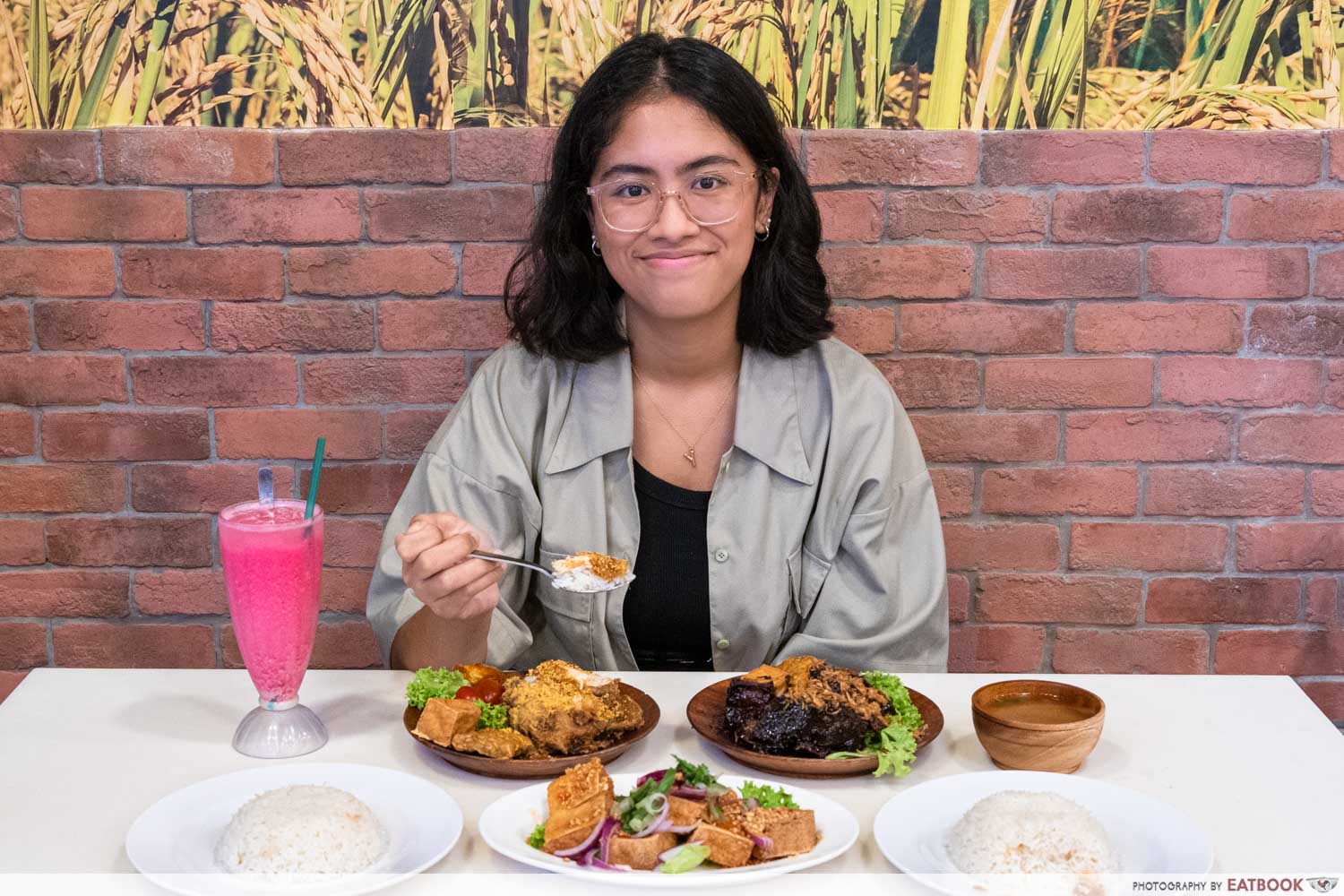 While there were some hits and misses, overall, the food was decent enough that I wouldn't mind popping by for a quick lunch if I happened to be in the area. The restaurant's atmosphere made up for the food in some ways, but I still feel that there are better options for ayam penyet out there. 
If you're looking for more food options in the CBD, check out our Funan Mall food guide. Alternatively, you can head down to Smash, an ayam penyet kiosk in Ang Mo Kio for seafood penyet platters and more!
Address: 6 Raffles Boulevard, #02-201, Marina Square, Singapore 039594
Opening hours: Mon-Fri 11am to 3pm, 5pm to 9pm, Sat-Sun 11am to 9pm
Website
Makan Makan is a halal-certified eatery.
Smash Is A New Ayam Penyet Kiosk In AMK Hub, Has A Signature Sambal And Seafood Combos Too
Photos taken by Melvin Mak
This was independent review by Eatbook.sg
Makan Makan Review: Halal Grilled Beef Ribs, Ayam Penyet And More At Marina Square
Makan Makan Review: Halal Grilled Beef Ribs, Ayam Penyet And More At Marina Square -

7/10
Summary
Pros:
– Thai Sauce Fried Beancurd was delicious
– Sambal was fragrant and spicy
– Ambience was nice
Cons:
– Ice Happy Soda was too sweet
– Iga Bakar Kecap was tough and chewy
Recommended dishes: Thai Sauce Fried Beancurd ($5.50+), Ayam Penyet D'Penyetz ($8.90+)
Opening hours: Mon-Fri 11am to 3pm, 5pm to 9pm, Sat-Sun 11am to 9pm

Address: 6 Raffles Boulevard, #02-201, Marina Square, Singapore 039594