Nanay's Kitchen has legit halal Filipino food in Ubi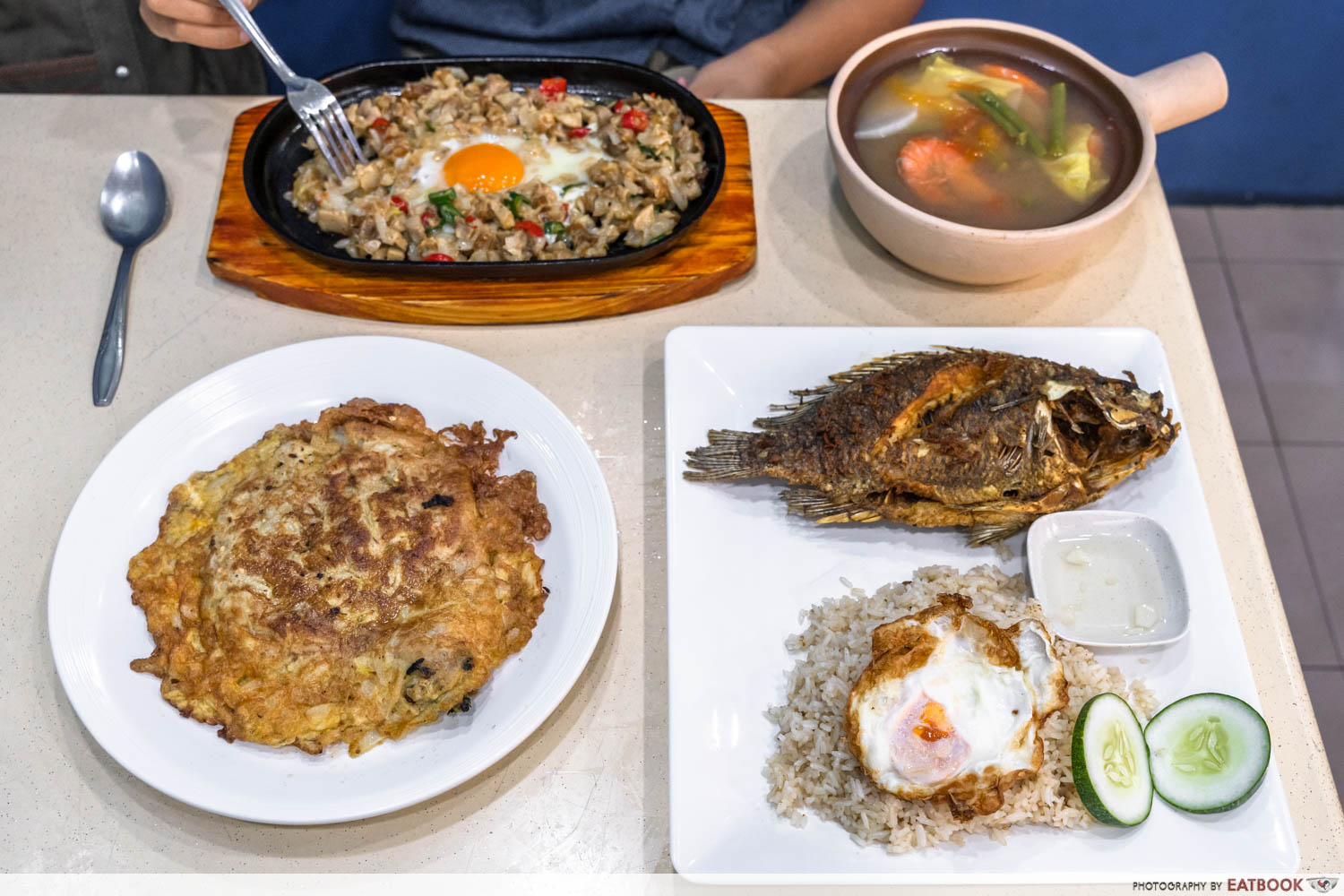 As a Muslim foodie, I'm always on the hunt to find halal-friendly alternatives to almost every cuisine out there. Recently, my Filipino colleague recommended that I head down to Nanay's Kitchen, a Muslim-owned Filipino eatery in Ubi, to try out legit Filipino food. That intrigued me, and so I quickly made plans to try it out.
Food at Nanay's Kitchen
Nanay's Kitchen was opened by a Filipino Muslim. The casual eatery started out selling nasi padang two years ago, but gradually introduced traditional Filipino dishes to its weekend menu. This move was so well-received that Nanay's now offers Filipino food every day of the week.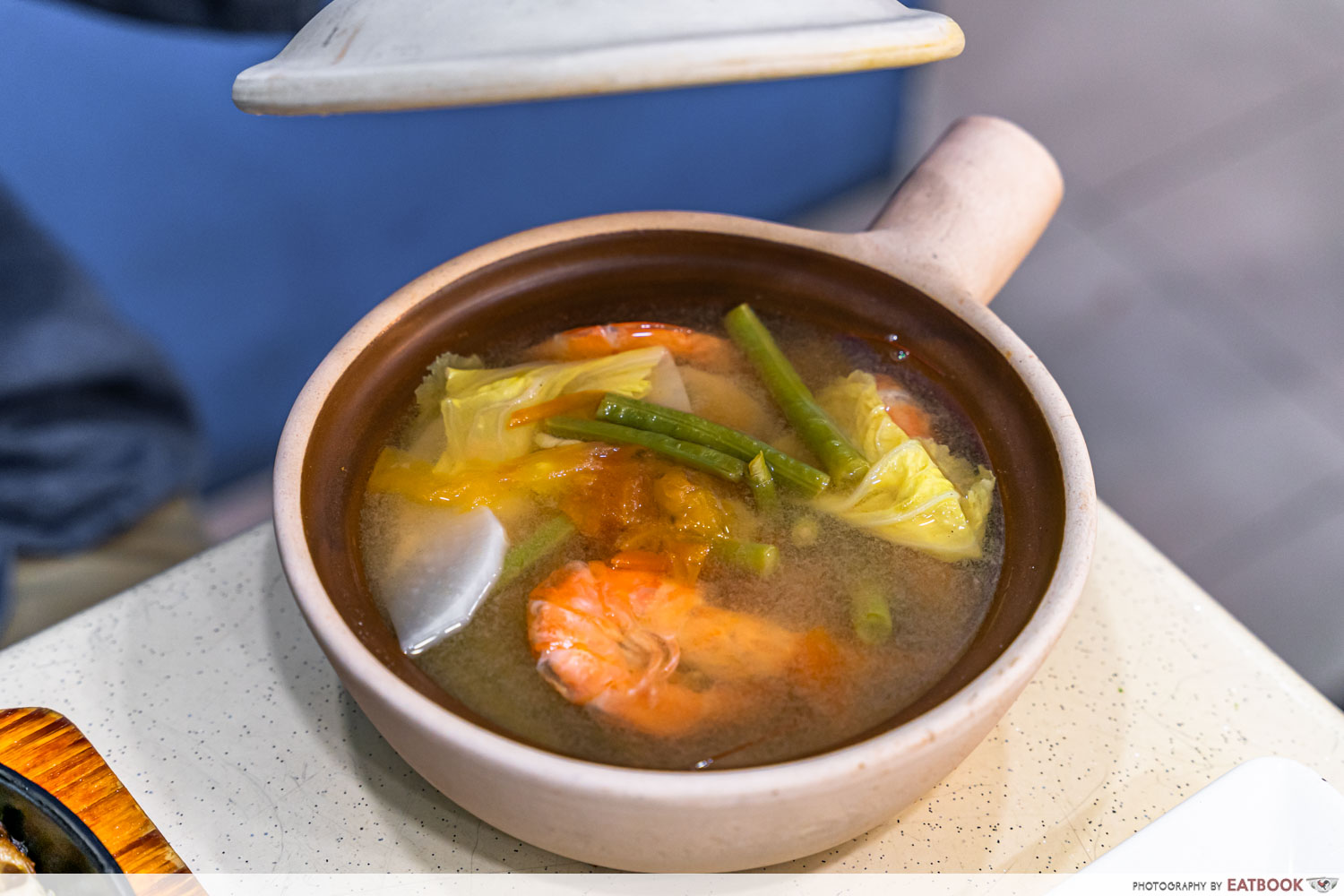 The first dish we tried was the Claypot Sinigang Na Hipon ($12), otherwise known as shrimp sinigang. This popular tamarind-based soup is typically made with pork, but seafood is used here instead.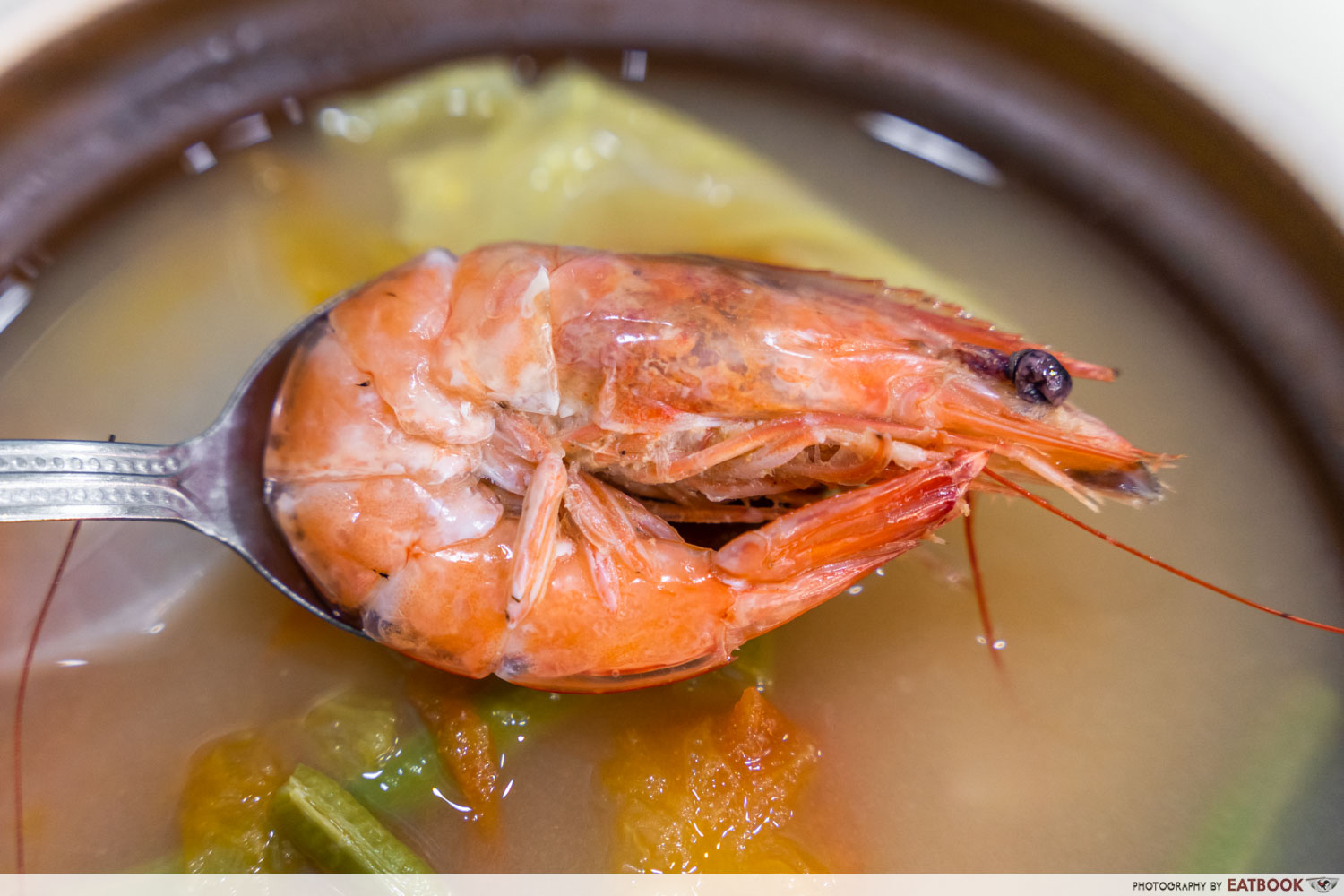 I was feeling a little under the weather that day, so this warm soup did wonders. It was light and refreshing, with a distinct tang that enhanced the sweetness of the shrimp. They definitely didn't skimp on the ingredients too, as the serving consisted of five huge shrimps, plenty of french beans, and radish.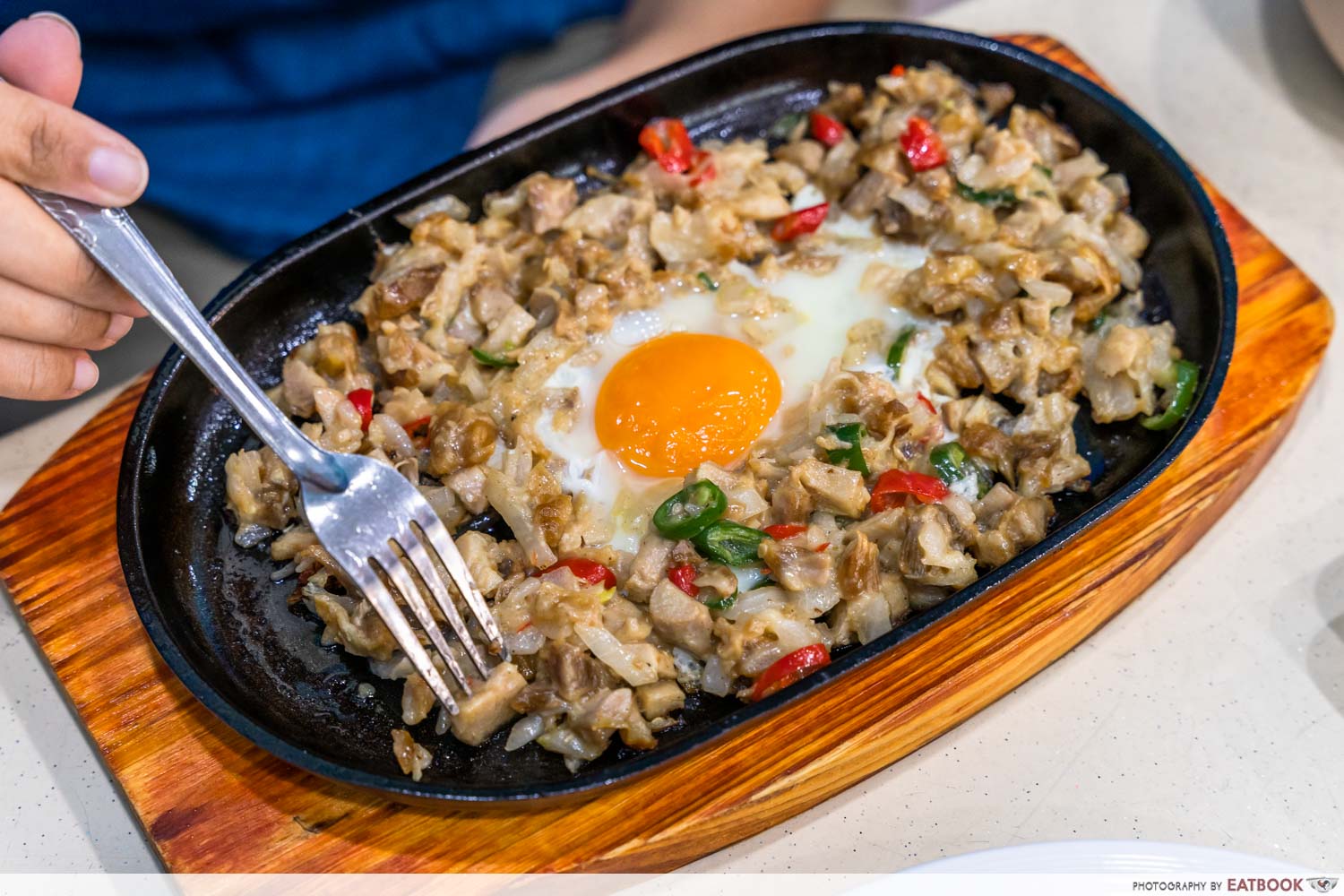 I was also impressed by the next dish we tried, the Sizzling Chicken Sisig ($11). It's another hugely popular Filipino dish that is usually made up of minced pork and chicken liver served on a sizzling plate.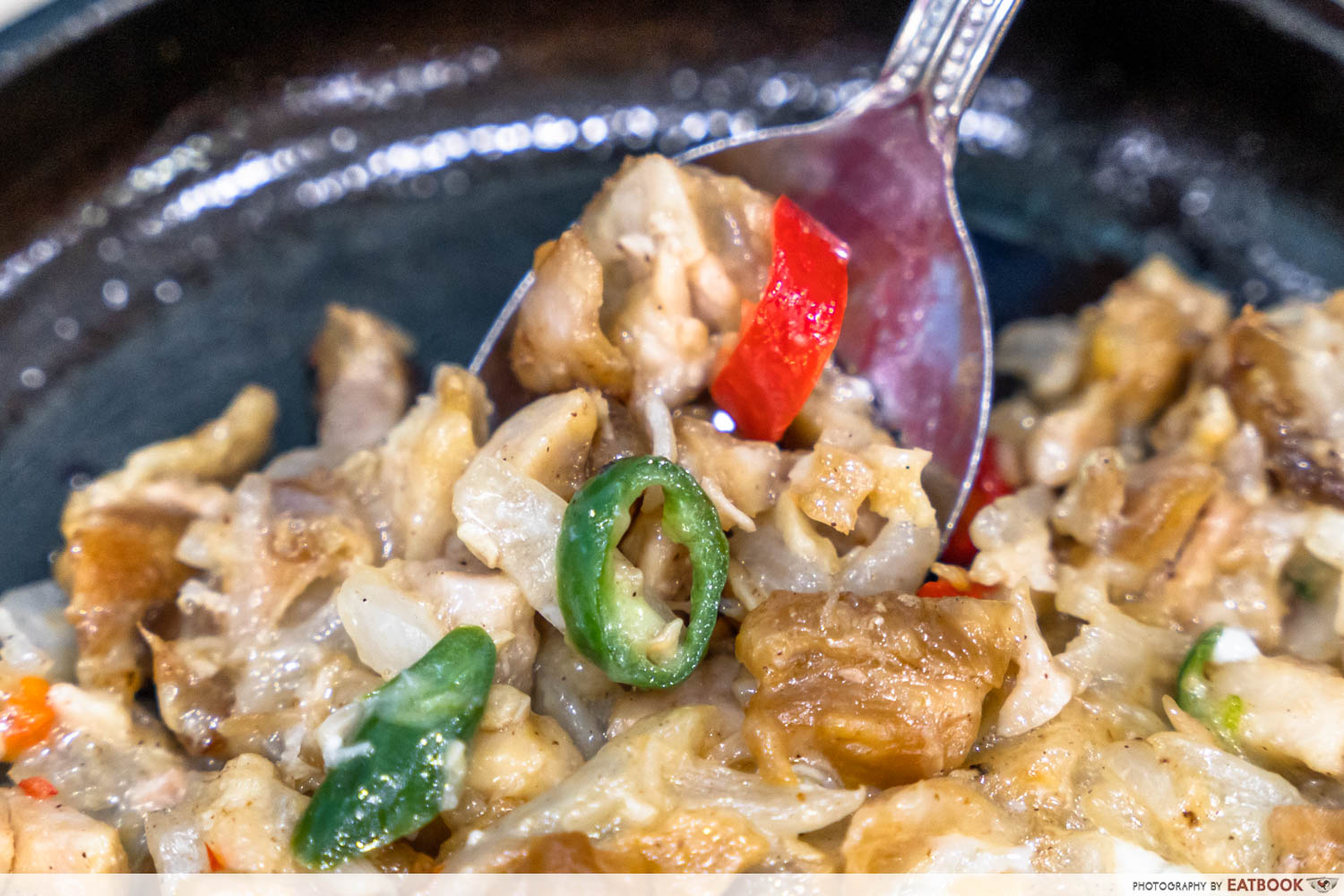 This was my dining companion's favourite dish, as it was tender and flavourful, with smoky caramelised onions very prominent in its flavour.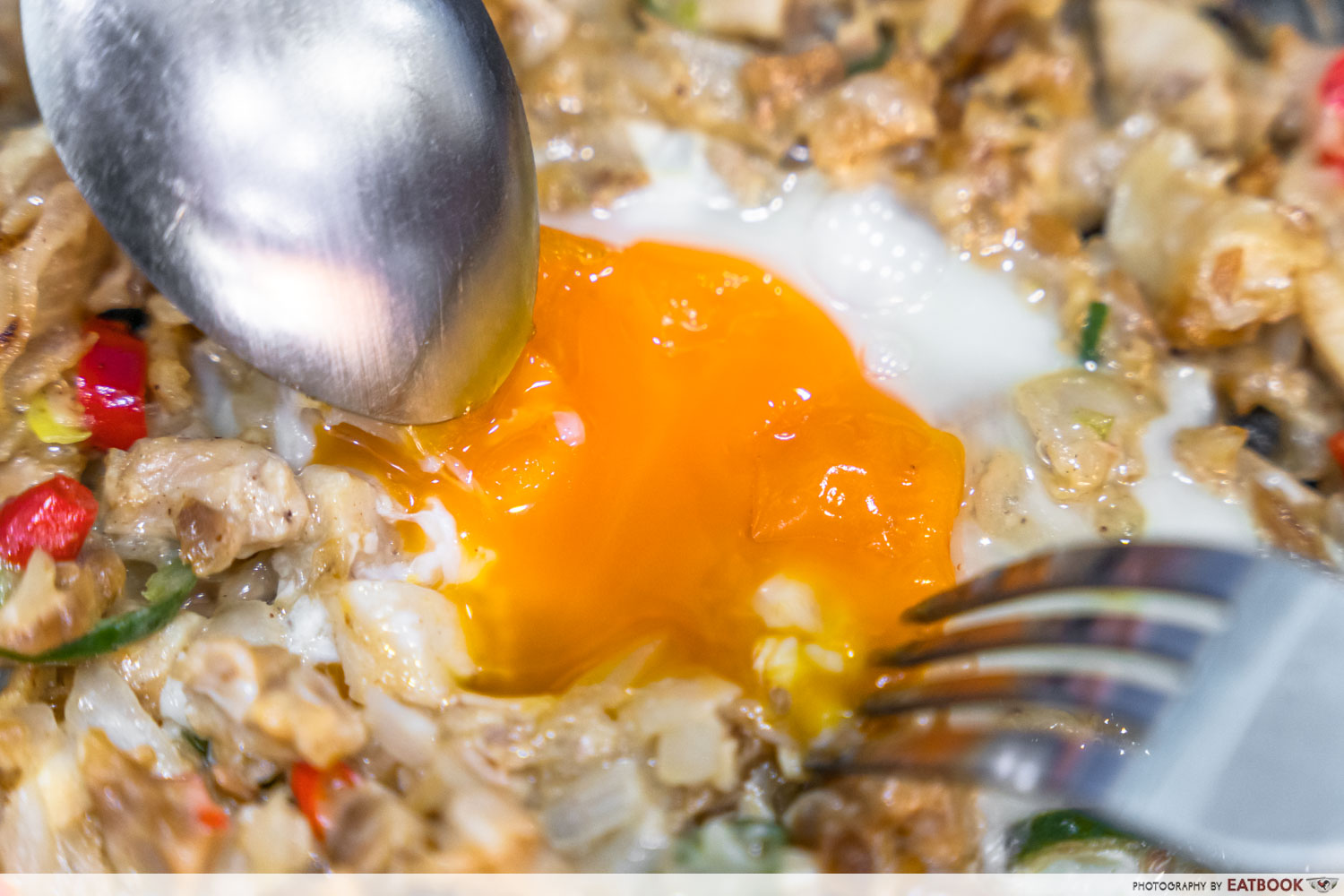 The molten egg yolk from the fried egg that lay on top also added a depth of creaminess to balance out the strong flavours of the dish. I appreciated the touch of spice that came from the chillies, as the dish was a little bit oily for my liking.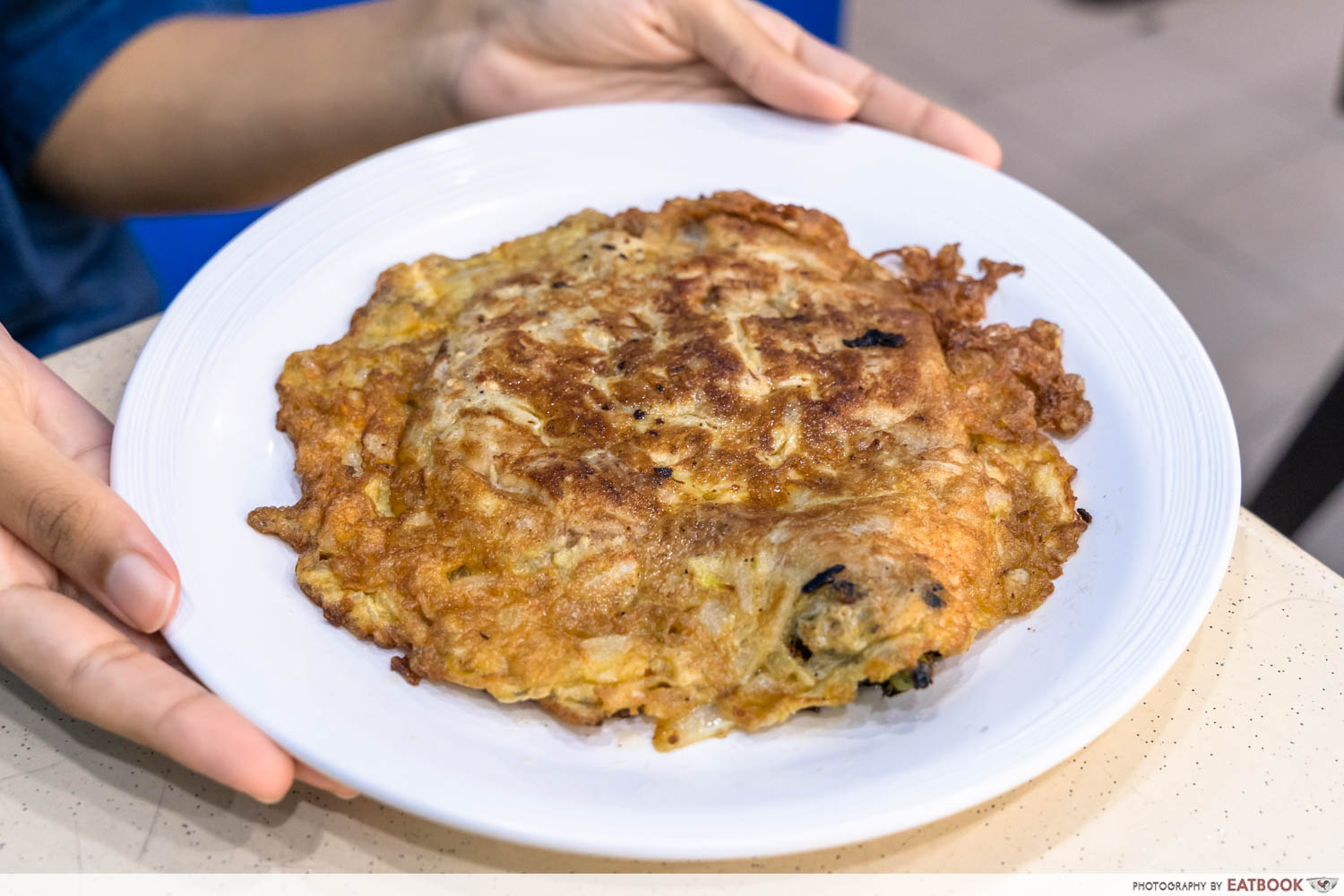 Another dish we tried was the Tortang Talong With Rice ($7). This simple dish is essentially an eggplant omelette, but its unassuming appearance definitely surprised me as it was incredibly tasty.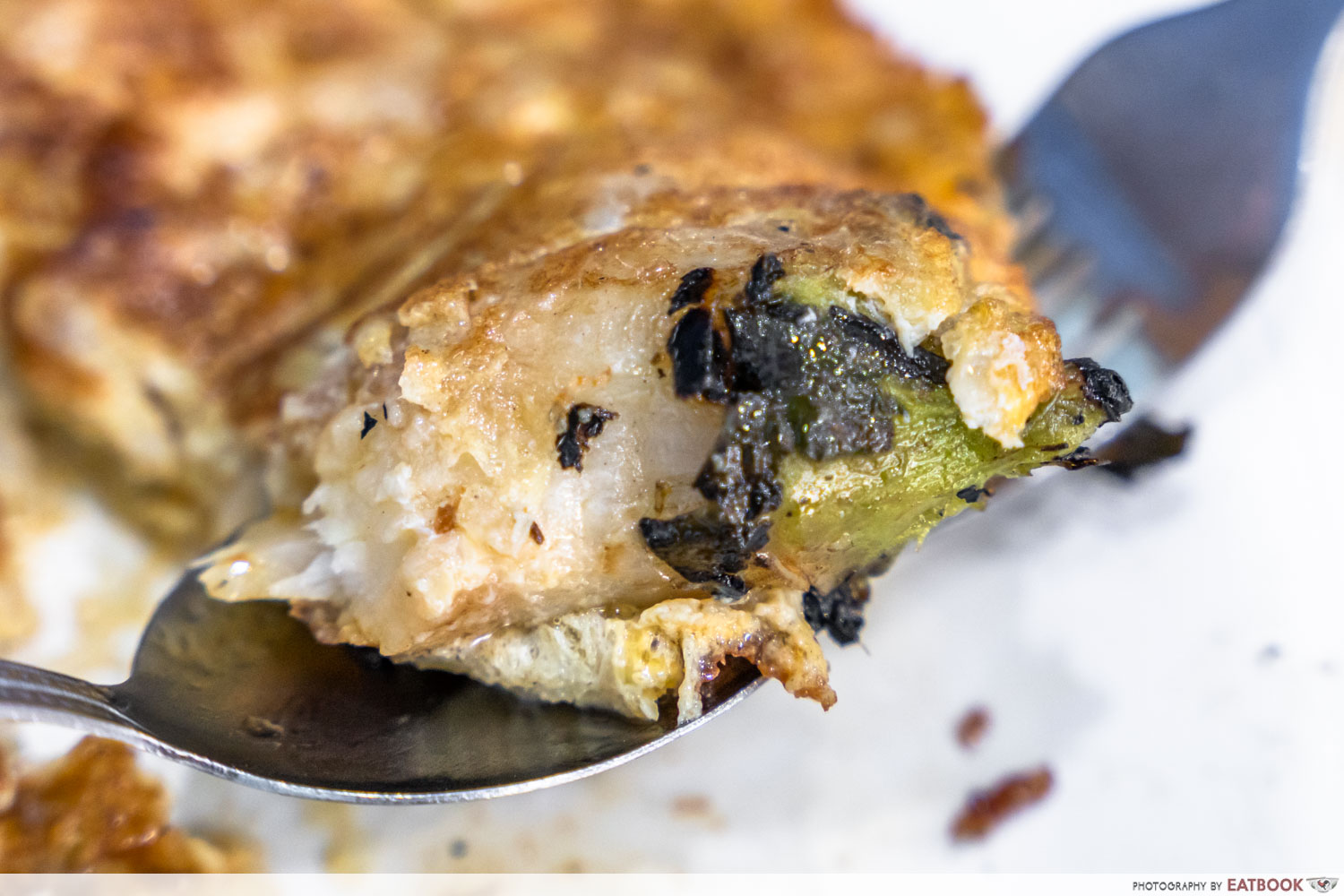 It was infused with a strong wok hei flavour, which was achieved by roasting the eggplant before frying it with the eggs. The fibrous and creamy texture of the eggplant also worked in tandem with the fluffy eggs, creating a beautiful medley of textures.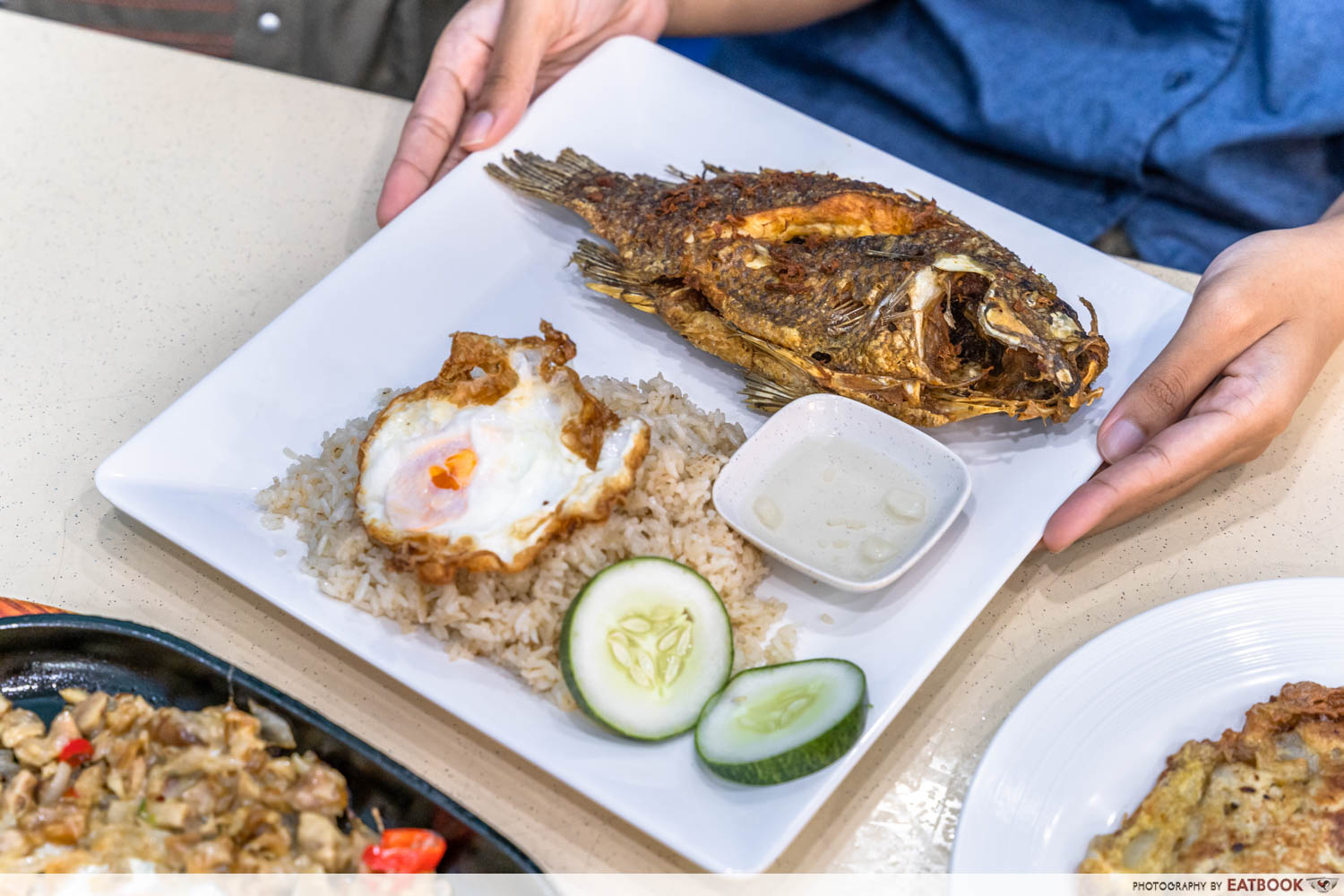 Our last dish was the Tilapiasilog ($10), a dish that was recommended by patrons. The dish consisted of deep-fried tilapia with garlic fried rice, a sunny-side up egg, and a side of vinegar.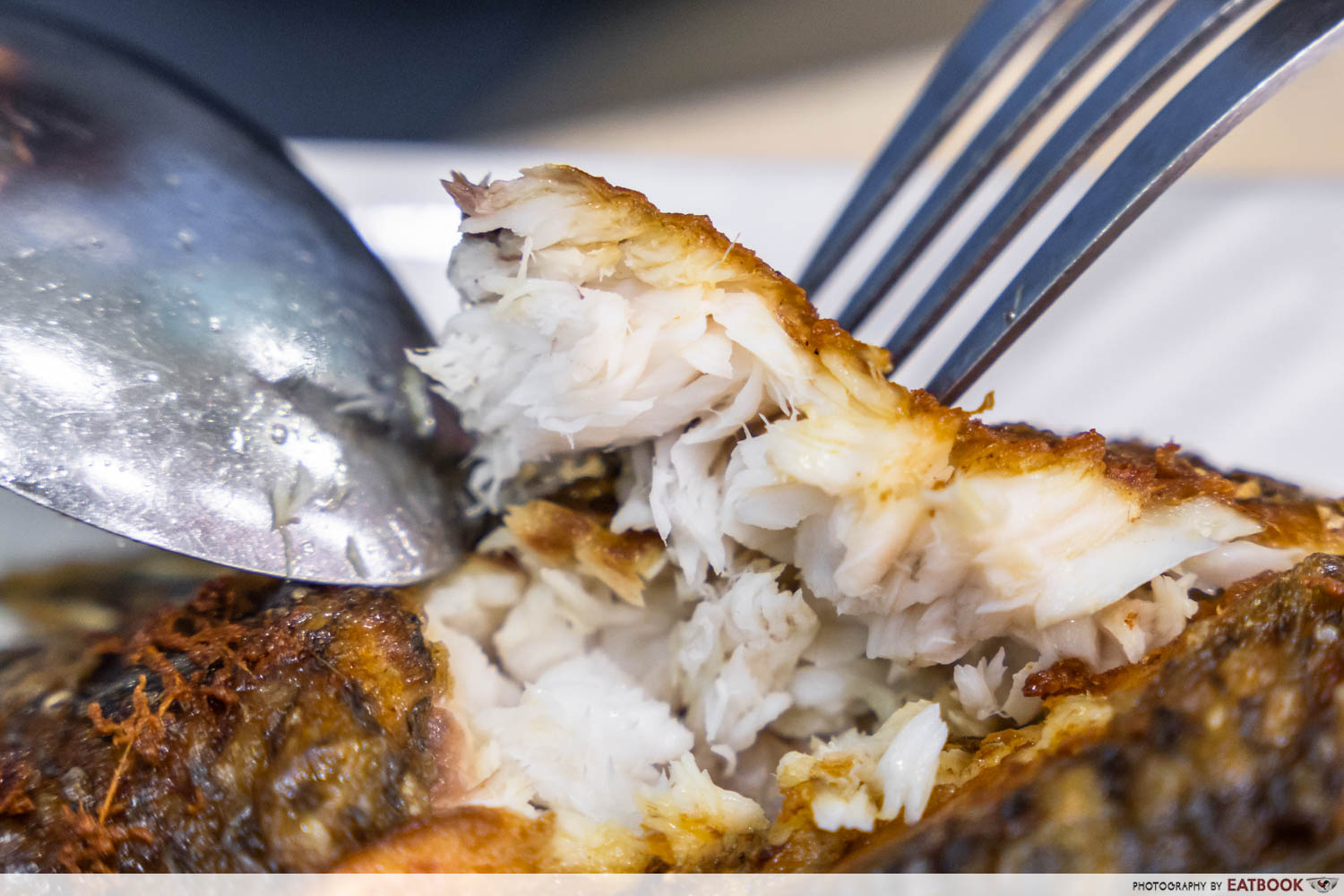 This was my second favourite dish. The fish was coated in a blend of spices, while the flesh was tender and flakey, without a strong fishy taste. In fact, it was rather mild and slightly sweet, which I felt worked well with the punchy garlic fried rice. The owner also gave us a side of sambal kicap to enjoy with the fish, which gave it an extra burst of flavour.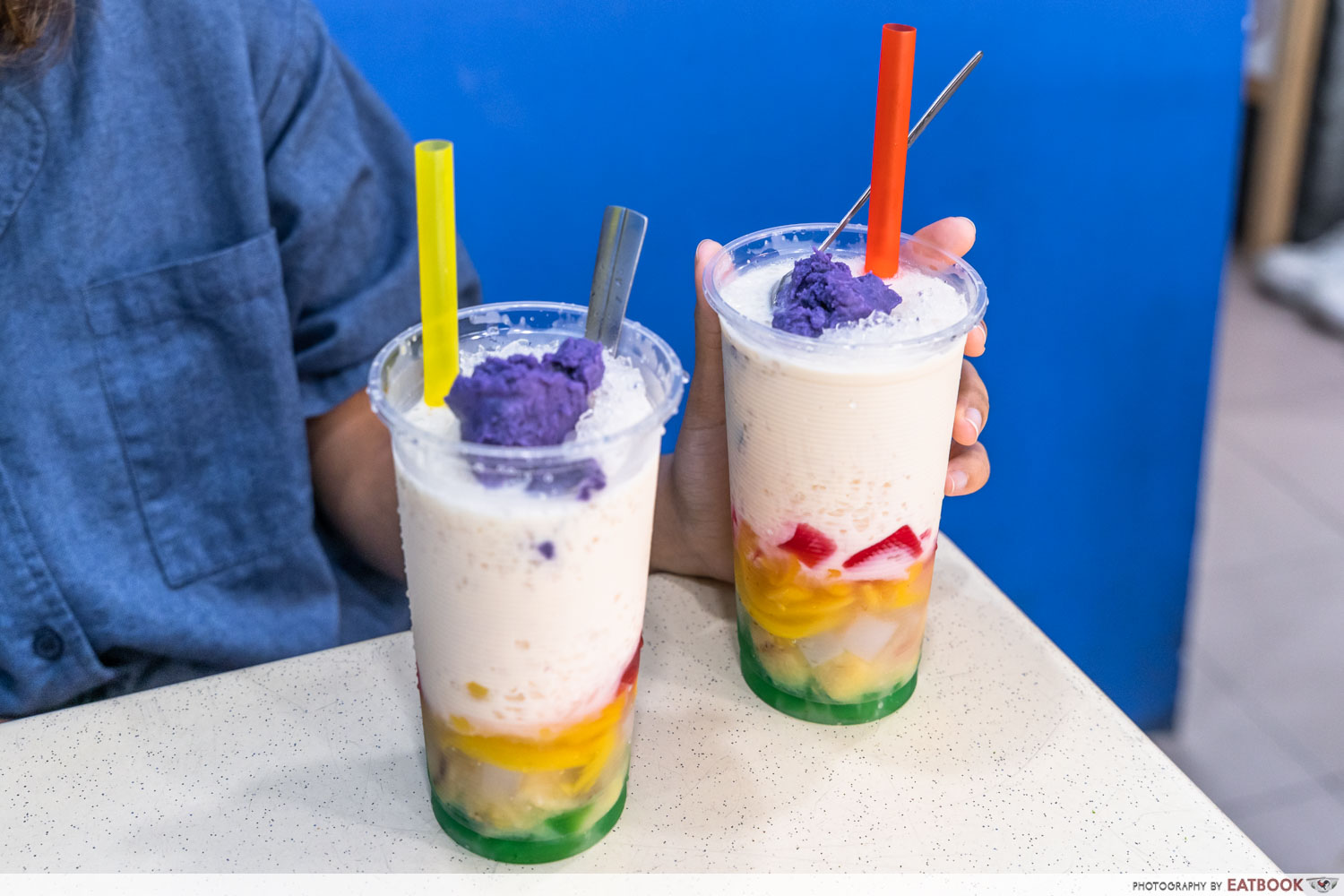 We ended our meal on a sweet note and relished a tall cup of Halo-Halo ($4), a classic Filipino layered dessert. It had all sorts of toppings, such as chopped bananas, palm seeds, jackfruit, agar jellies, nata de coco, and ube AKA purple yam mixed with crushed ice and evaporated milk.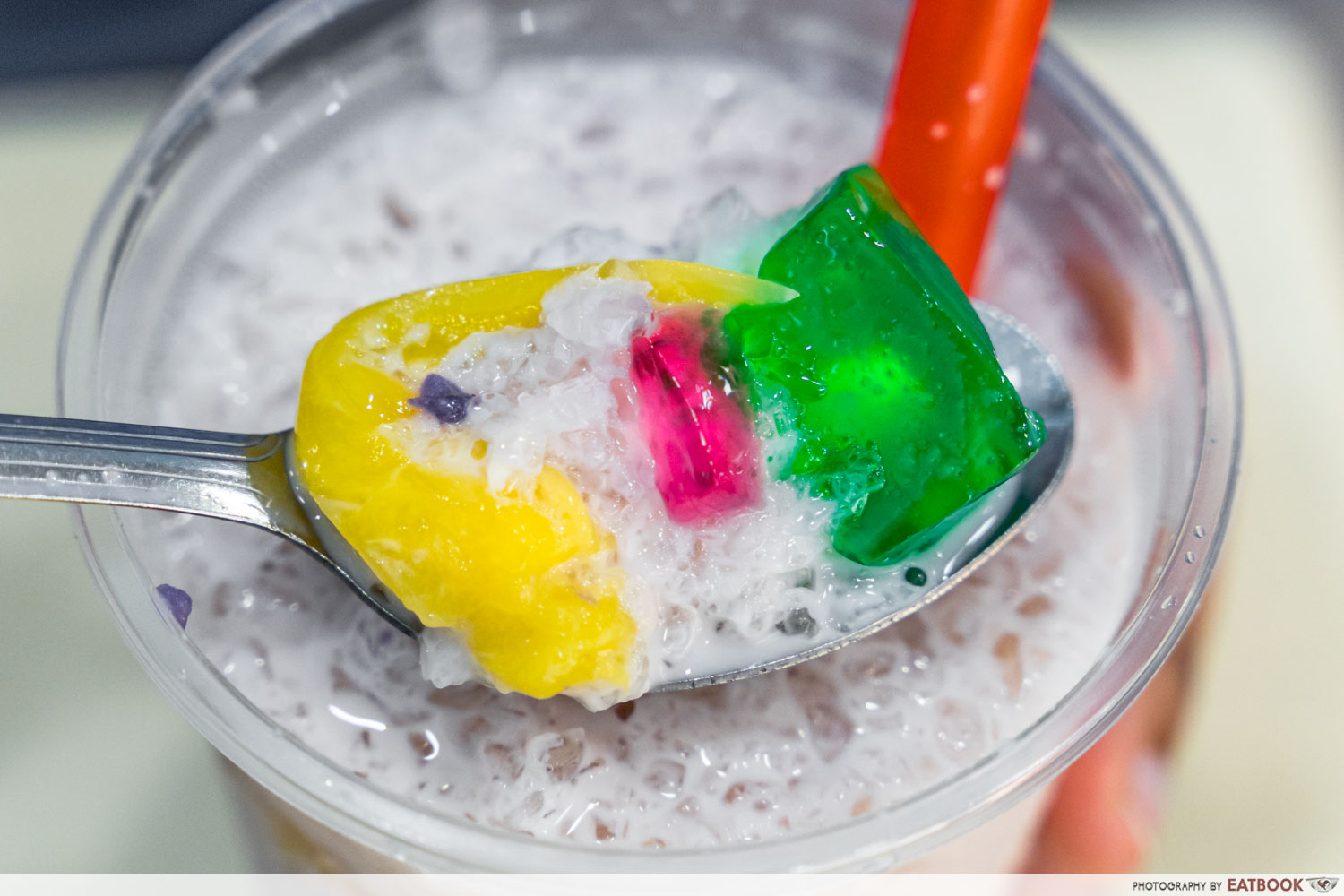 I'm not super fond of sweet things but was pleasantly surprised by how tasty this was. It was creamy and not overly sweet, with contrasting textures in each bite. Halo-halo also means "to mix" in Tagalog, so the owner recommended that we mixed everything together before eating it too.
Ambience at Nanay's Kitchen
Nanay's Kitchen is nestled in the heartlands of Ubi, just a stone's throw away from Ubi MRT Station. The humble eatery sports a mostly blue interior, and it's definitely hard to miss if you're ever passing by. We visited them around noon on a weekday, and there was already a steady stream of customers waiting in line to buy their nasi padang. If you're planning a visit, we recommend coming early or after lunch and dinner hours to avoid the crowd.
The verdict
Nanay's Kitchen definitely exceeded my expectations and left a great impression on me. There's no doubt that I'll be back soon to introduce my family and friends to the place, or to Filipino cuisine if they've never tried it. The affordable prices, large portions, and good food are huge plus points, so I highly recommend checking them out especially if you're nearby.
If you're looking for more Filipino food, check out our guide to the best Filipino food in Singapore! Alternatively, for halal-friendly dining options, our guide to the best halal restaurants in Singapore will introduce you to dim sum, steak, Korean hotpot and more.
Address: 301 Ubi Avenue 1, Singapore 400301
Opening hours: Mon-Sat 7:30am to 9pm, Sun 7:30am to 5pm
Tel: 9888 8083
Website
Nanay's Kitchen is a Muslim-owned eatery.
10 Filipino Food Places In Singapore Serving Crispy Lechon, Sisig, Adobo, And Halo Halo
Photos taken by Hui Hui Lau.
This was an independent review by Eatbook.sg
Nanay's Kitchen Review: Halal Filipino Eatery With Chicken Sisig, Halo-Halo And More
Nanay's Kitchen Review: Halal Filipino Eatery With Chicken Sisig, Halo-Halo And More -

8.5/10
Summary
Pros:
– Sinigang was delicious and comforting
– Halo-halo was not overly sweet
– Friendly staff and great service
Cons:
– Chicken sisig was a tad bit oily
Recommended dishes: Claypot Sinigang Na Hipon ($12), Tilapiasilog ($10), Tortang Talong With Rice ($7), Halo-Halo ($4)
Opening hours: Mon-Sat 7:30am to 9pm, Sun 7:30am to 5pm
Address: 301 Ubi Avenue 1, Singapore 400301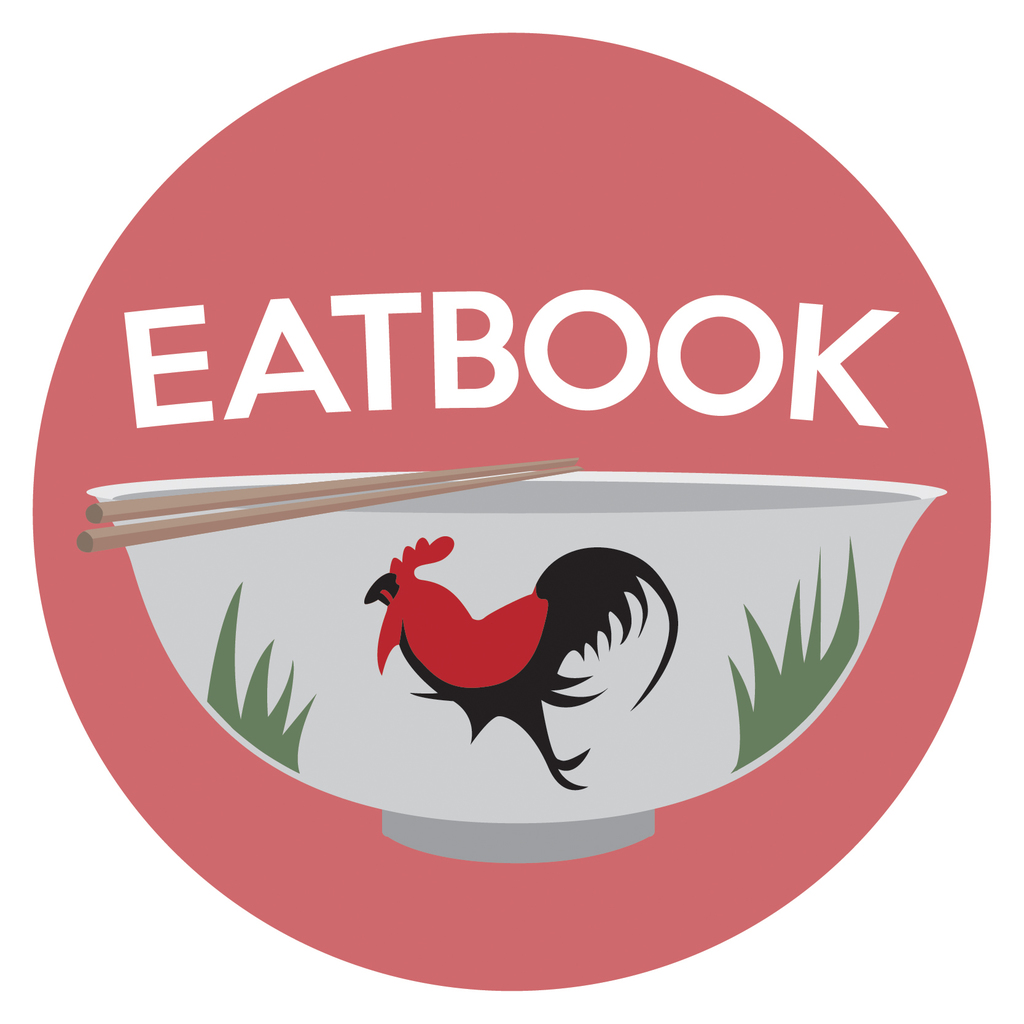 Drop us your email so you won't miss the latest news.