LUMI F&B is a halal bistro serving $6.50 lunch sets and more
I'm always on the lookout for fun and interesting eateries to check out. LUMI F&B is my most recent find; this casual bistro is a sci-fi concept that offers a range of lunch sets from just $6.50 nett. Best of all, they're halal-certified, so I knew I had to check them out.
Food at LUMI F&B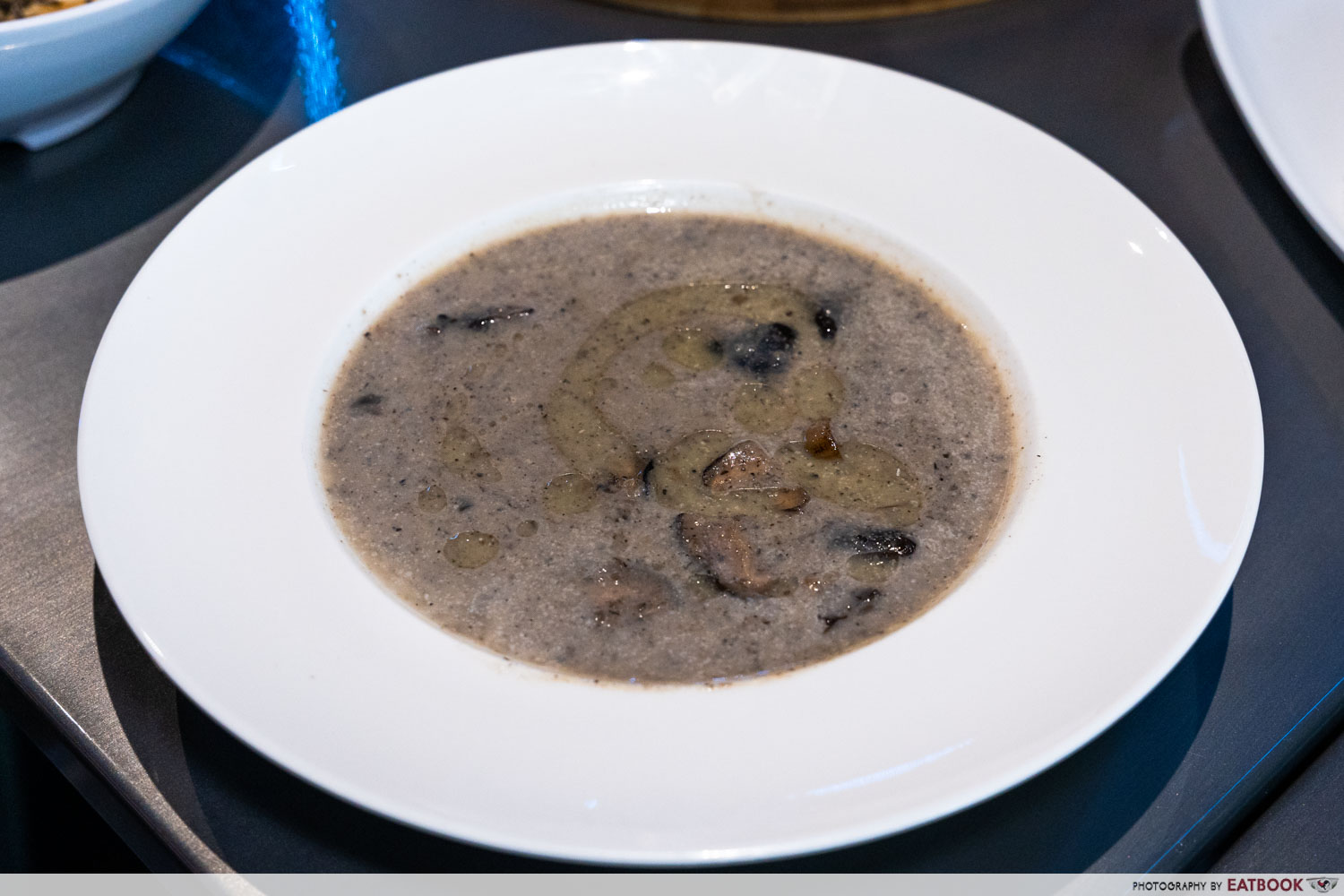 We started with the soup of the day as the appetiser, which happened to be Mushroom Soup ($6).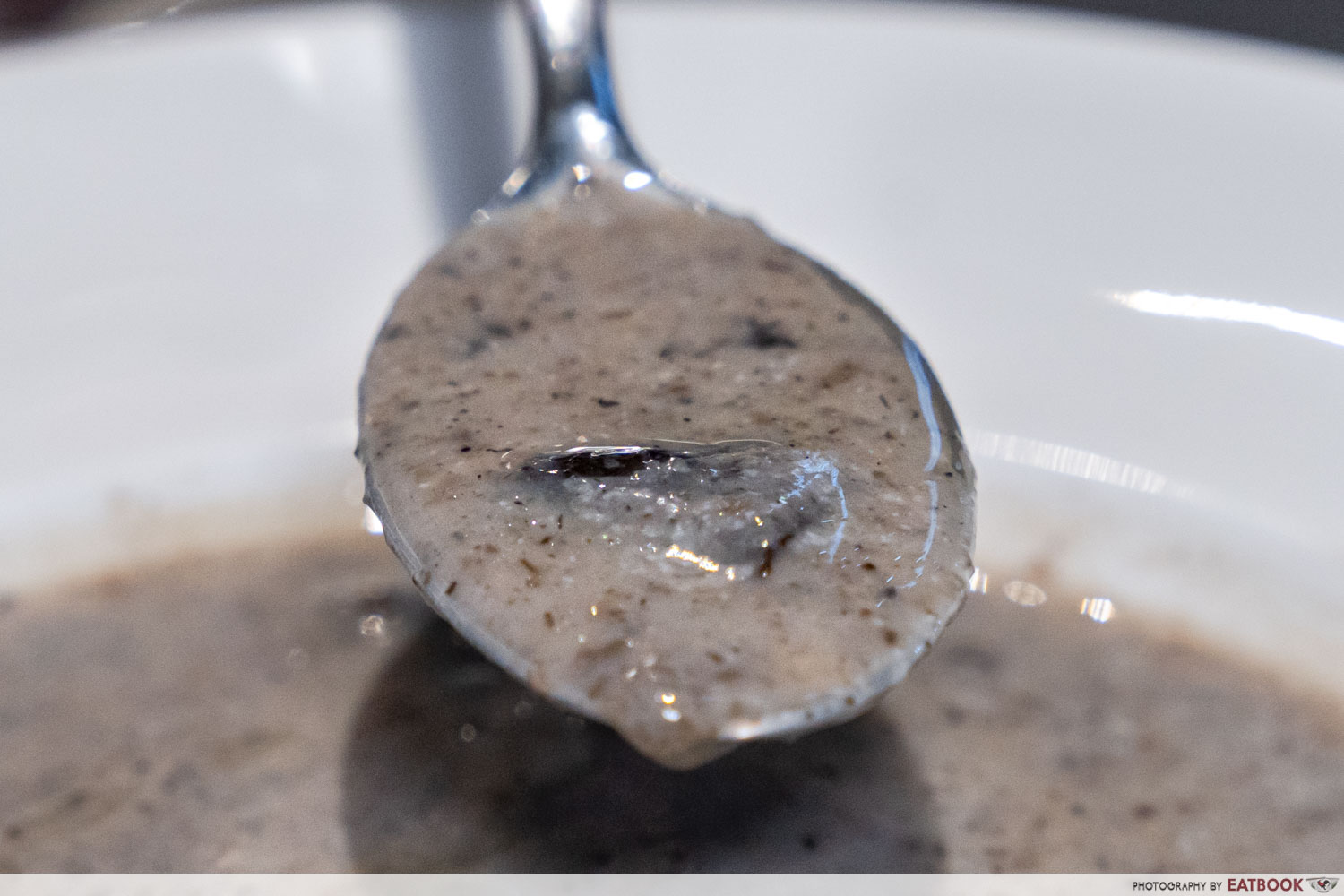 The soup was perfumed with hints of truffle, which came from the truffle oil that was drizzled on top. While I loved the chunks of mushroom that came with it, the main drawback was that it was a tad too salty for my liking. However, it wasn't diluted or watery, which is a plus point in my books.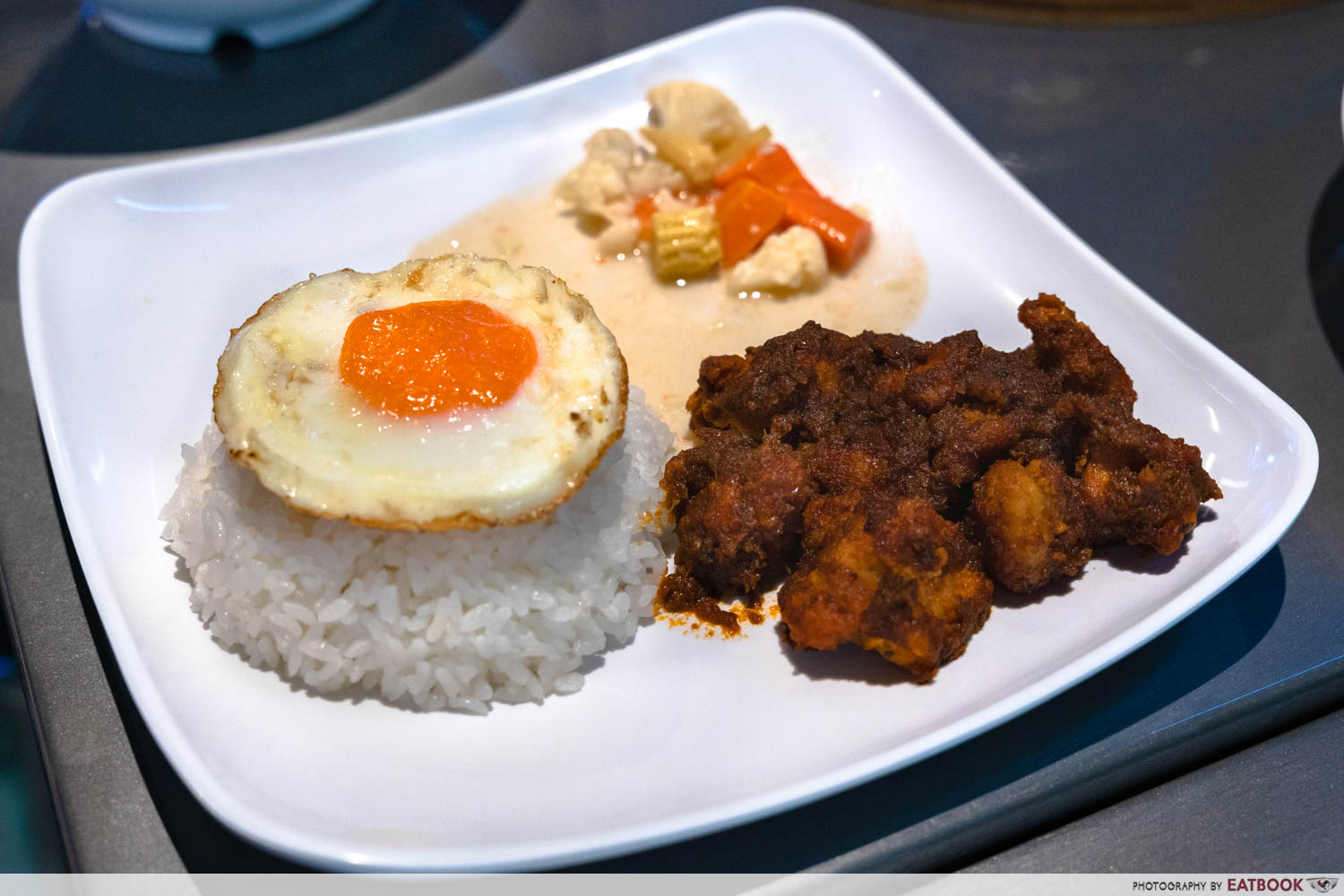 Next, we moved onto the weekday set lunch, and got the Sambal Chicken w White Rice & Sunny Side Up ($6.50). Personally, I was a little disappointed at the portion of the vegetables when it was first brought out to us.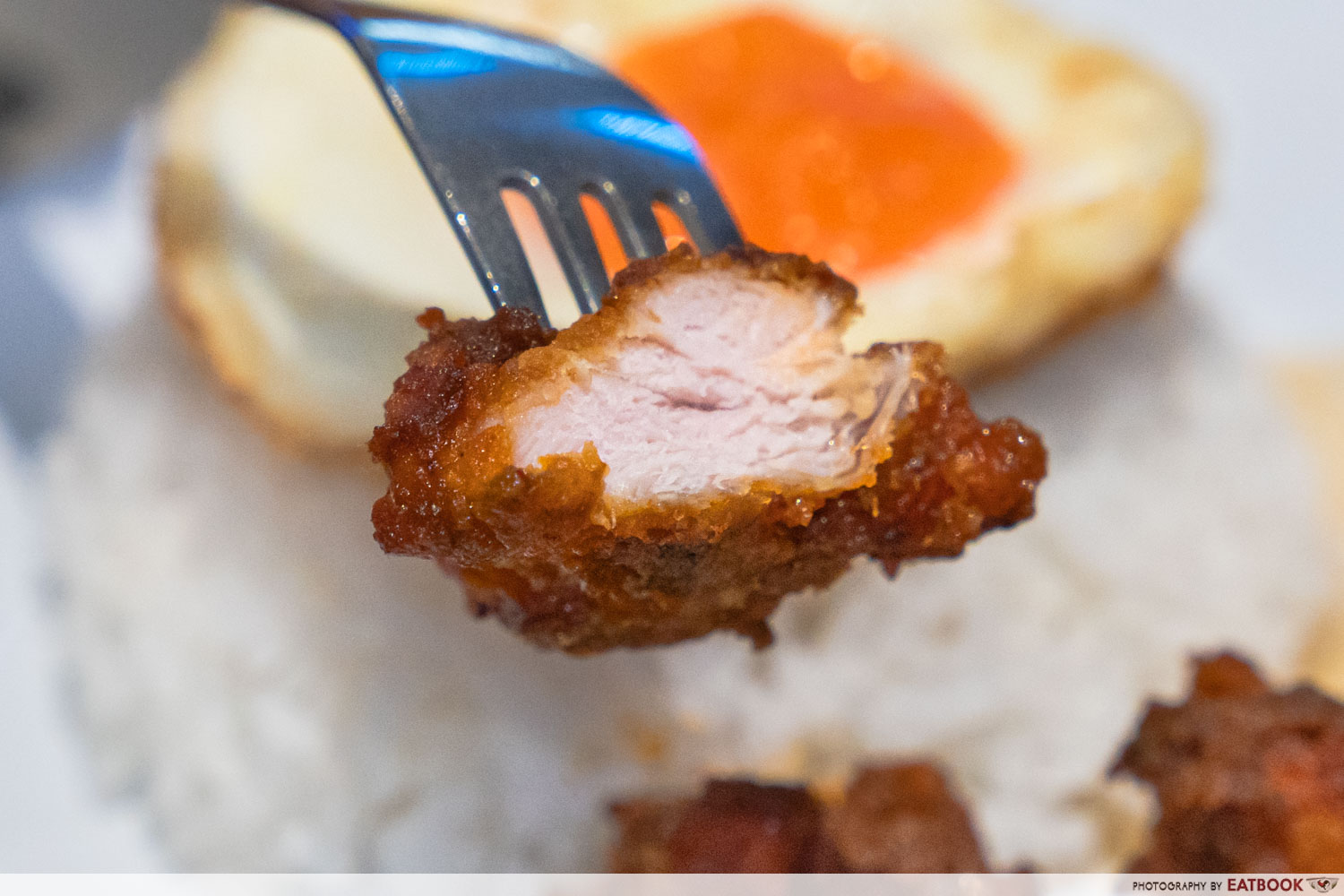 I was glad that the chicken was tender and flavourful, and the thick, sweet-spicy sambal that coated it was quite addictive.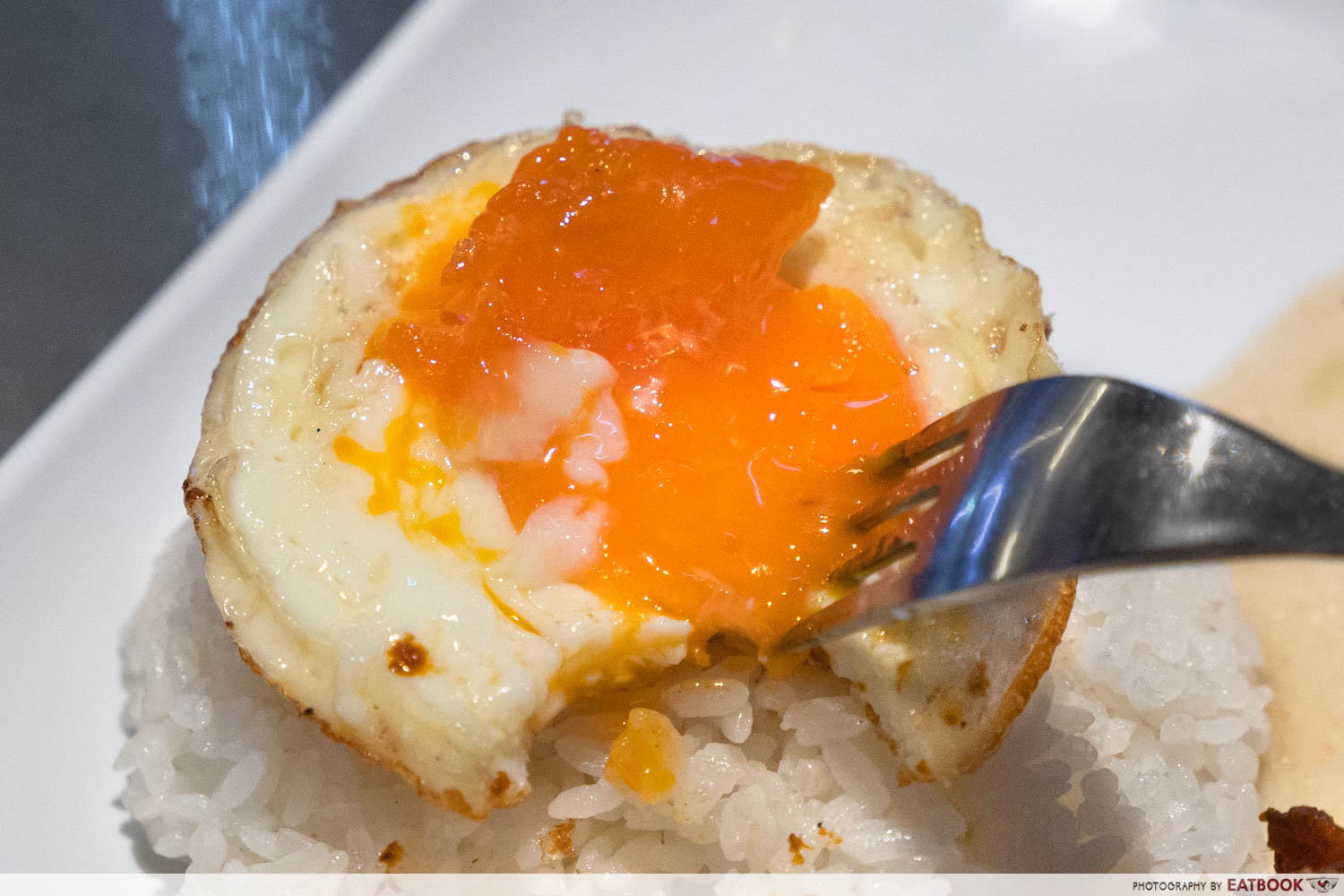 It wasn't too spicy either, and went well with the plain rice and egg yolk that made the flavours quite well-balanced overall.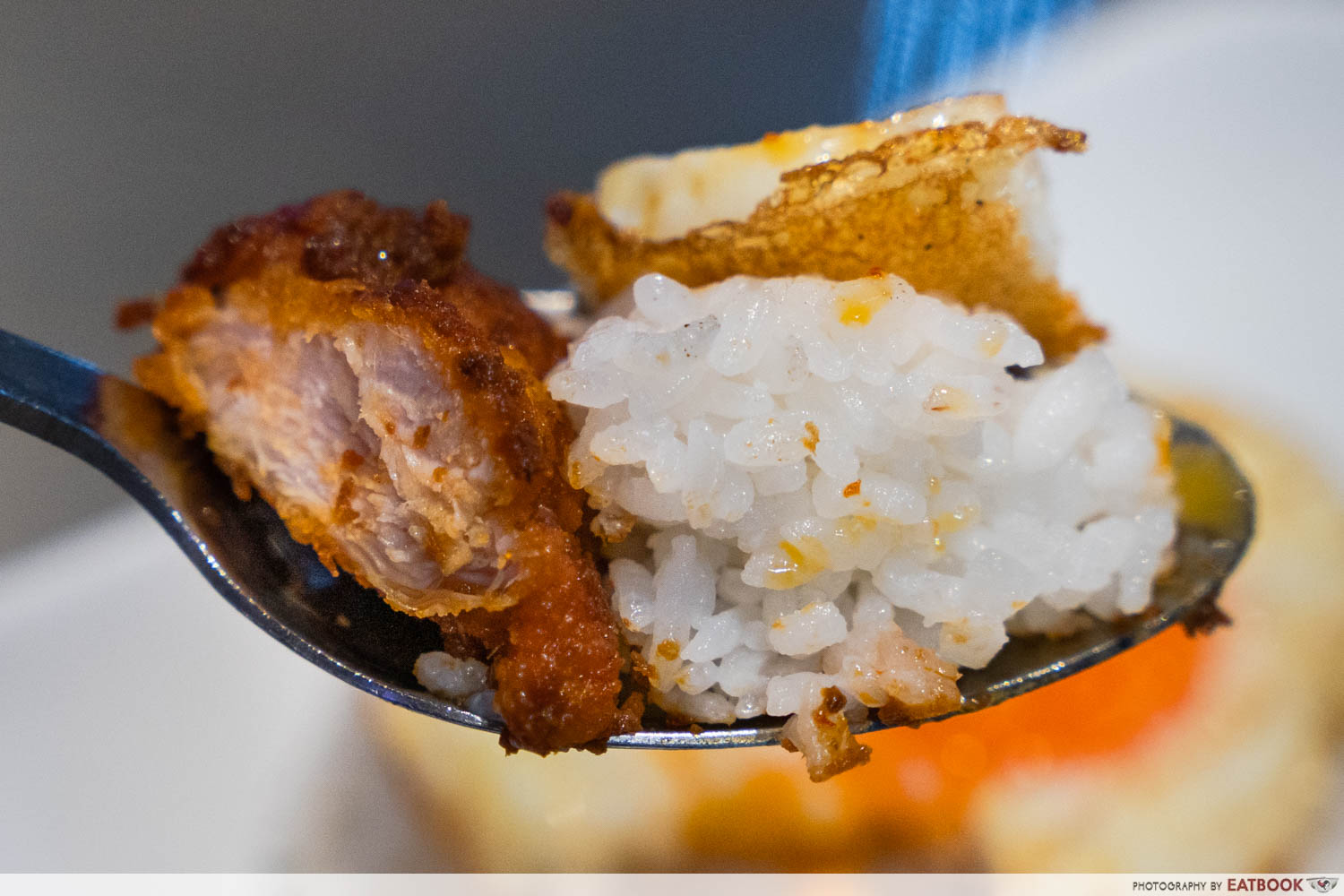 The vegetables were unfortunately nothing much to shout about, and perhaps adding other types of vegetables such as broccoli and snow peas would have enhanced the textures of the dish.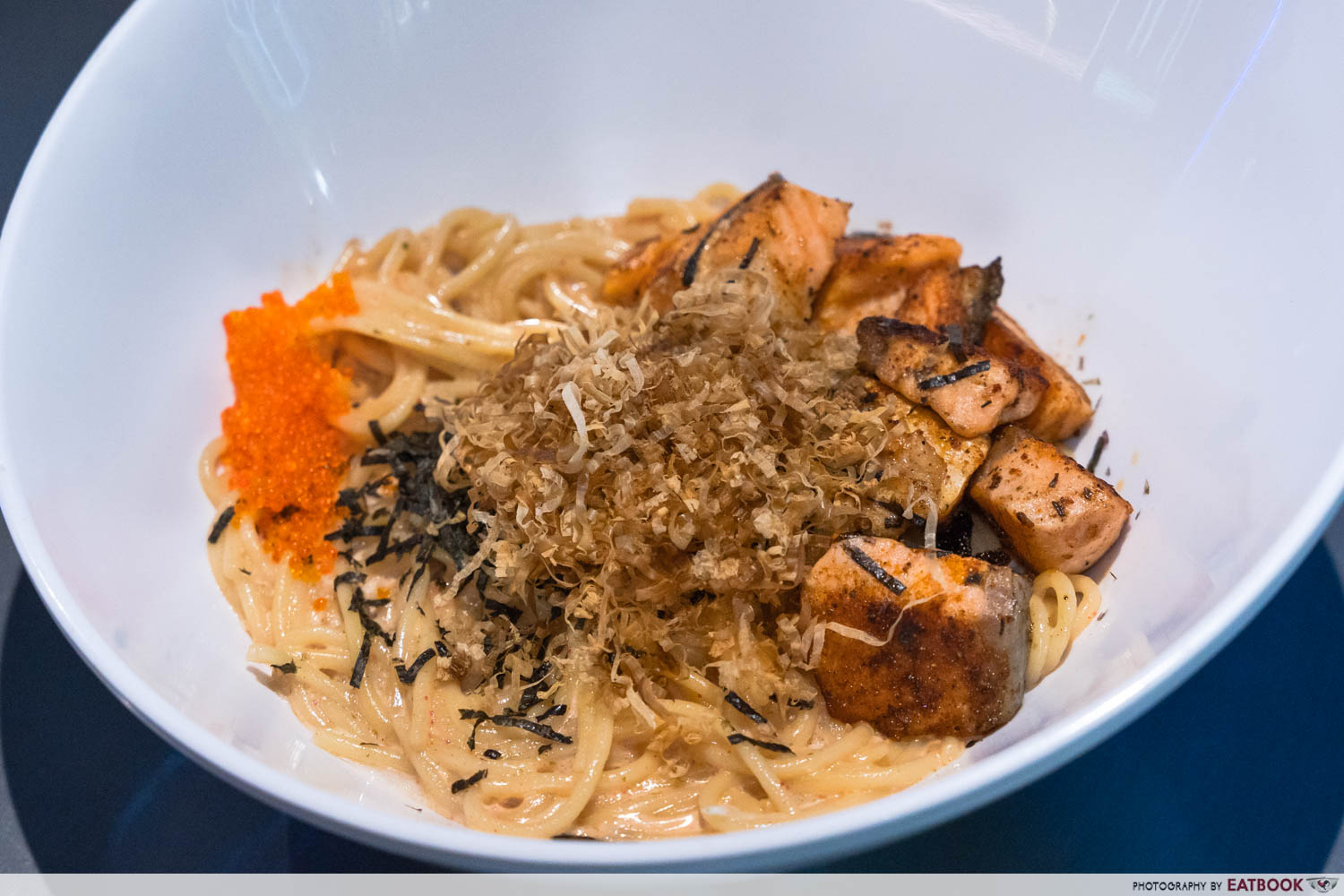 As someone who's a fan of salmon and mentaiko, I knew I had to try the Salmon Kurimi Pasta ($15). There was also an option to have it with scallops and prawns for $18. This dish was undeniably my favourite of the bunch, as it had a great combination of creamy, spicy, and umami notes.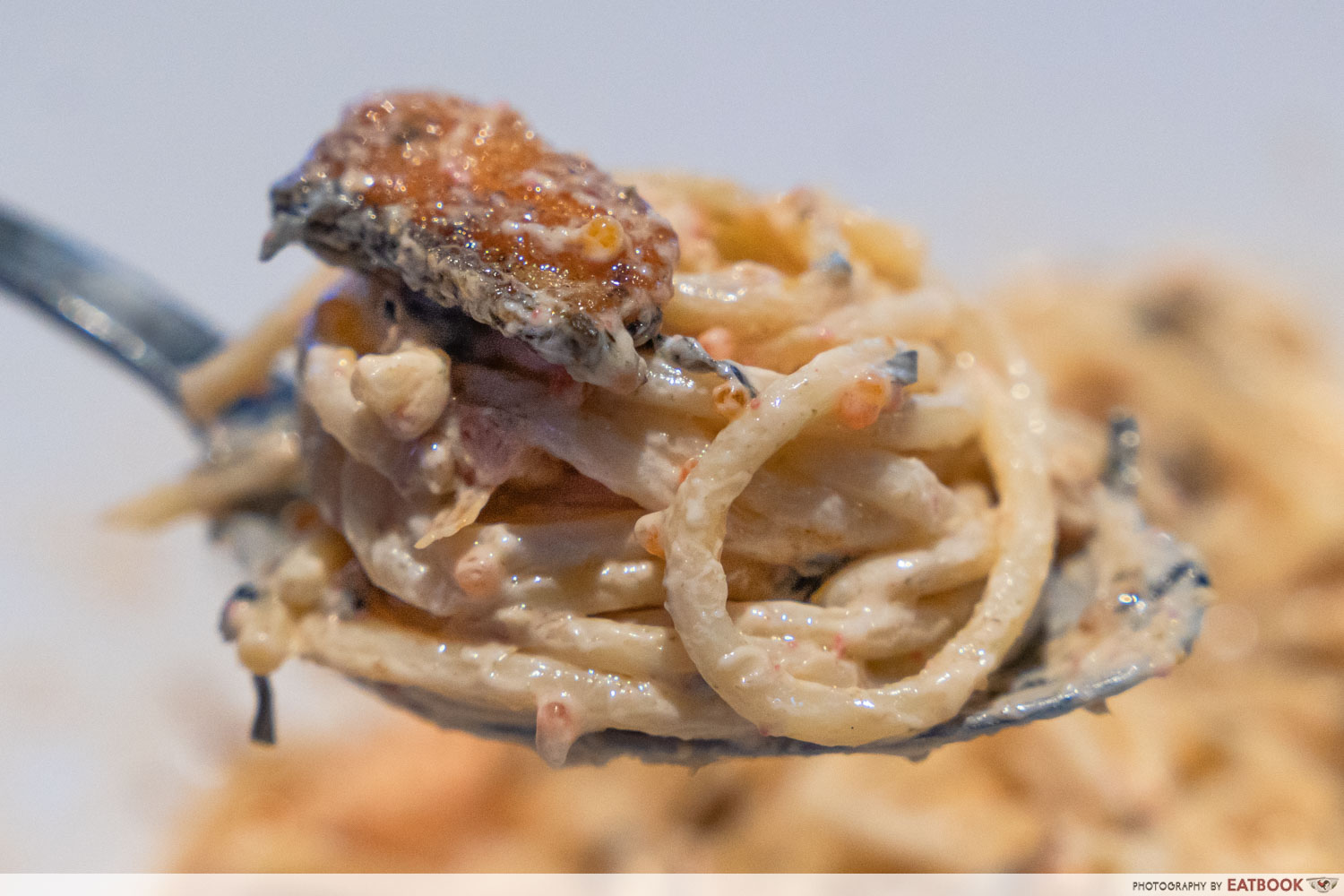 The dish featured al dente spaghetti coated in a luxurious, sweet-savoury, and buttery mentaiko sauce, topped with fish roe, seaweed, bonito flakes, and pan-fried salmon cubes.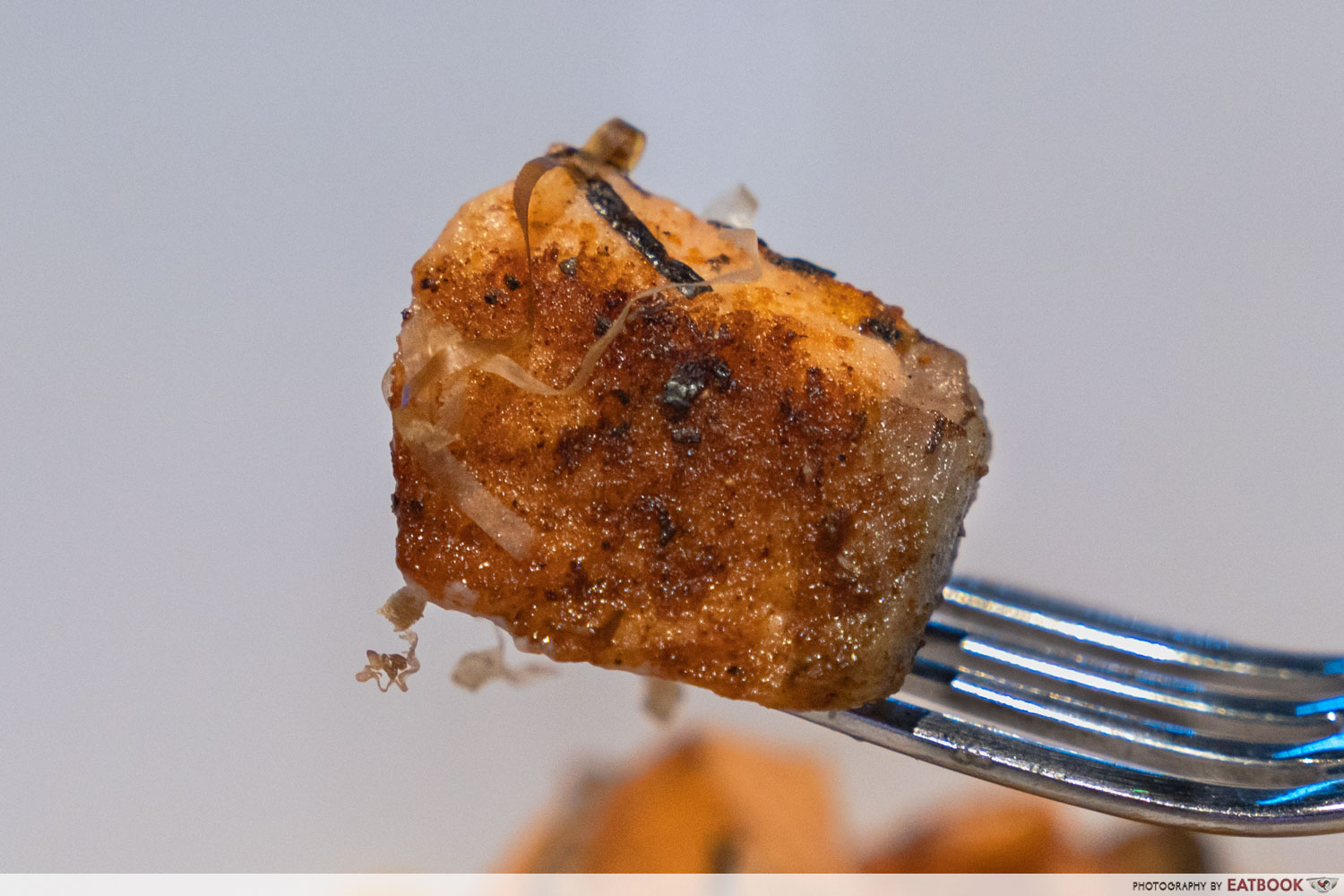 The salmon was also cooked perfectly, separating with ease upon each bite.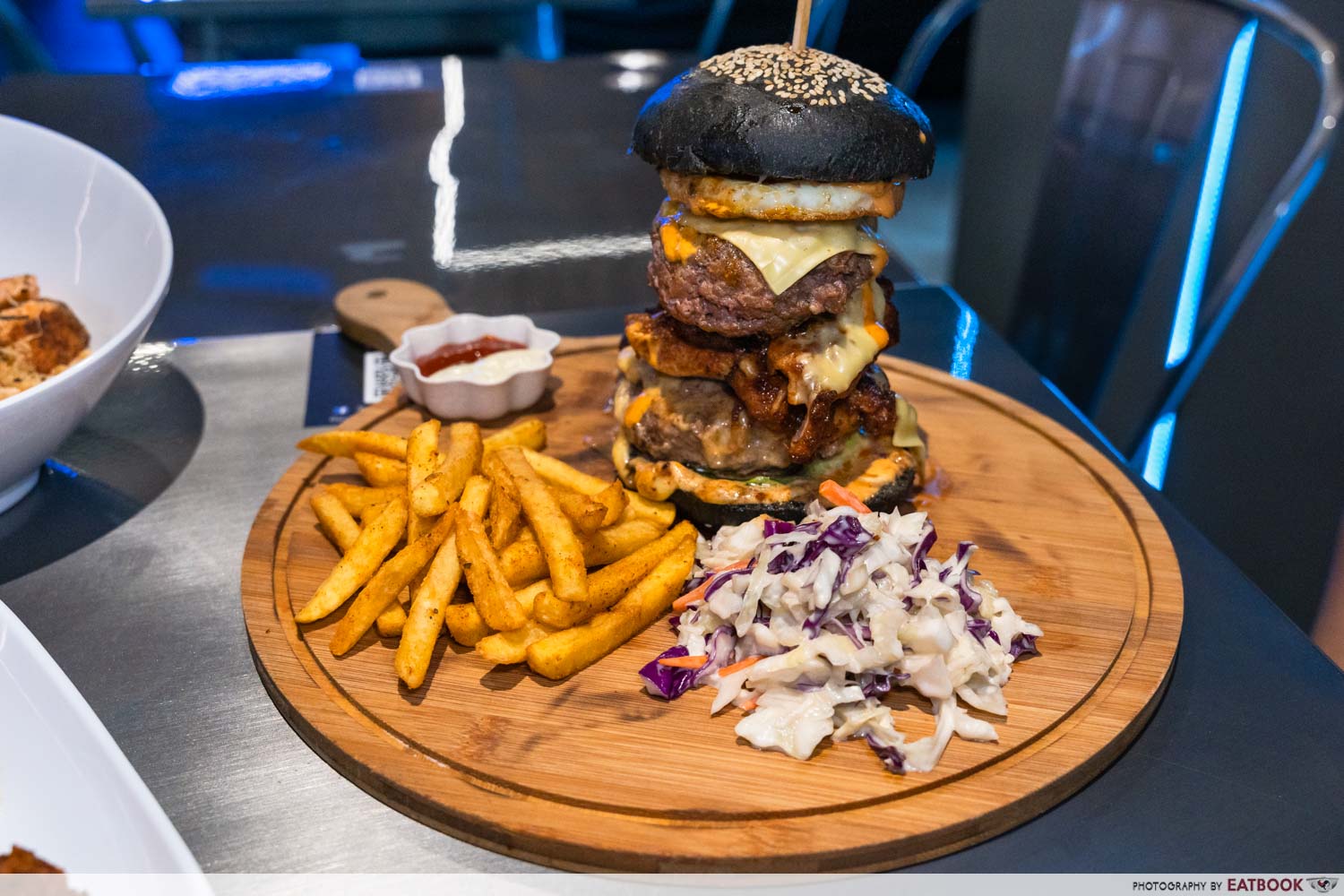 Next, we decided to go big and went for the Gigabite Burger ($30), a show-stopping dish that featured thick wagyu beef patties, grilled chicken thighs, a fried egg, cheese, lettuce, tomatoes, and pickles stacked in between charcoal buns. This was served with cajun-spiced fries and a side of coleslaw too.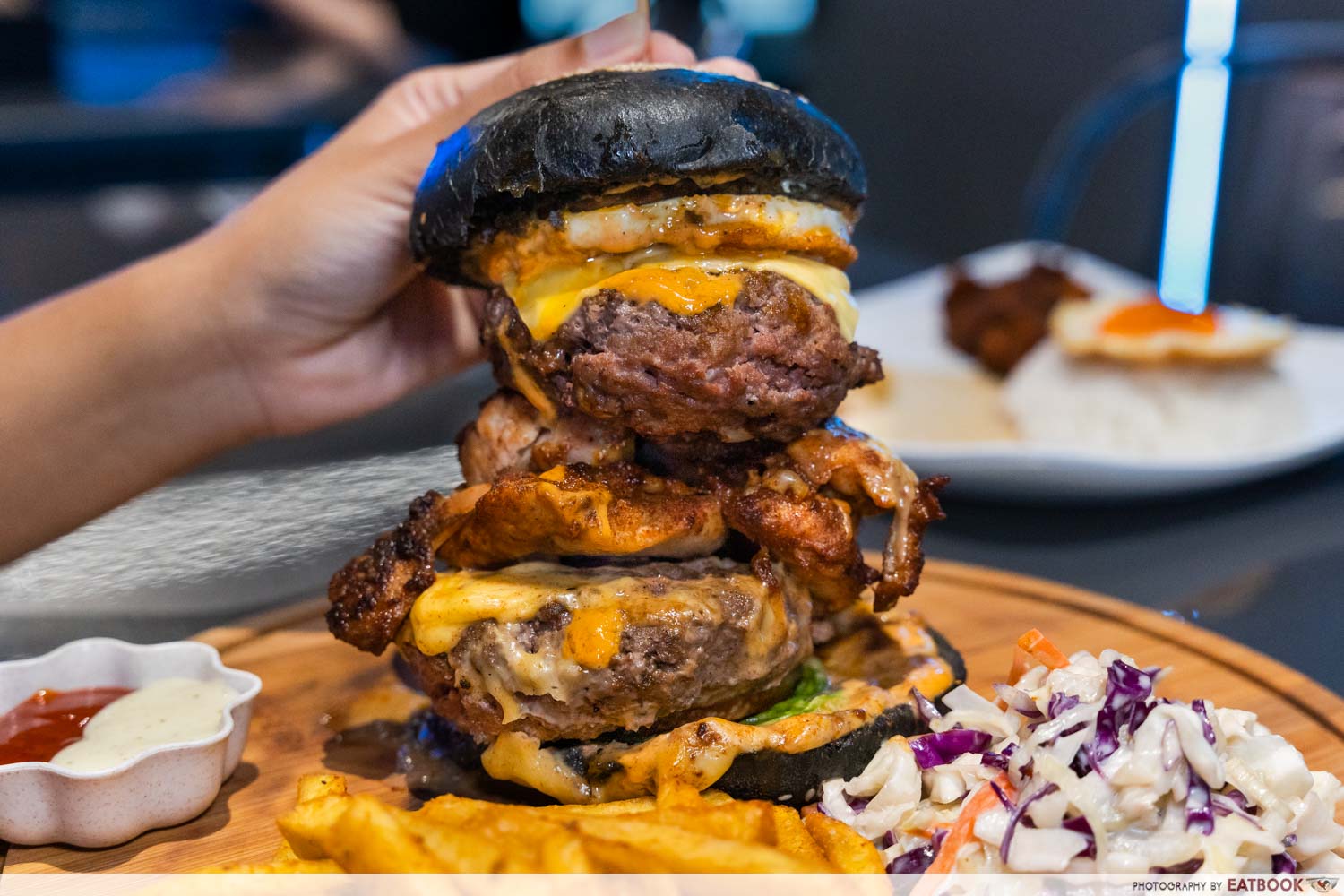 This is definitely a dish you'd order to share—perhaps it could even feed four people instead of two. Personally though, I felt that there were too many components going on which resulted in a clash of flavours. Individually, the ingredients tasted delicious, with the tender and juicy grilled chicken thighs marinated in barbecue sauce taking the spotlight. When it was all paired together, the heavy flavours became a little overwhelming and jelak, making it difficult to finish.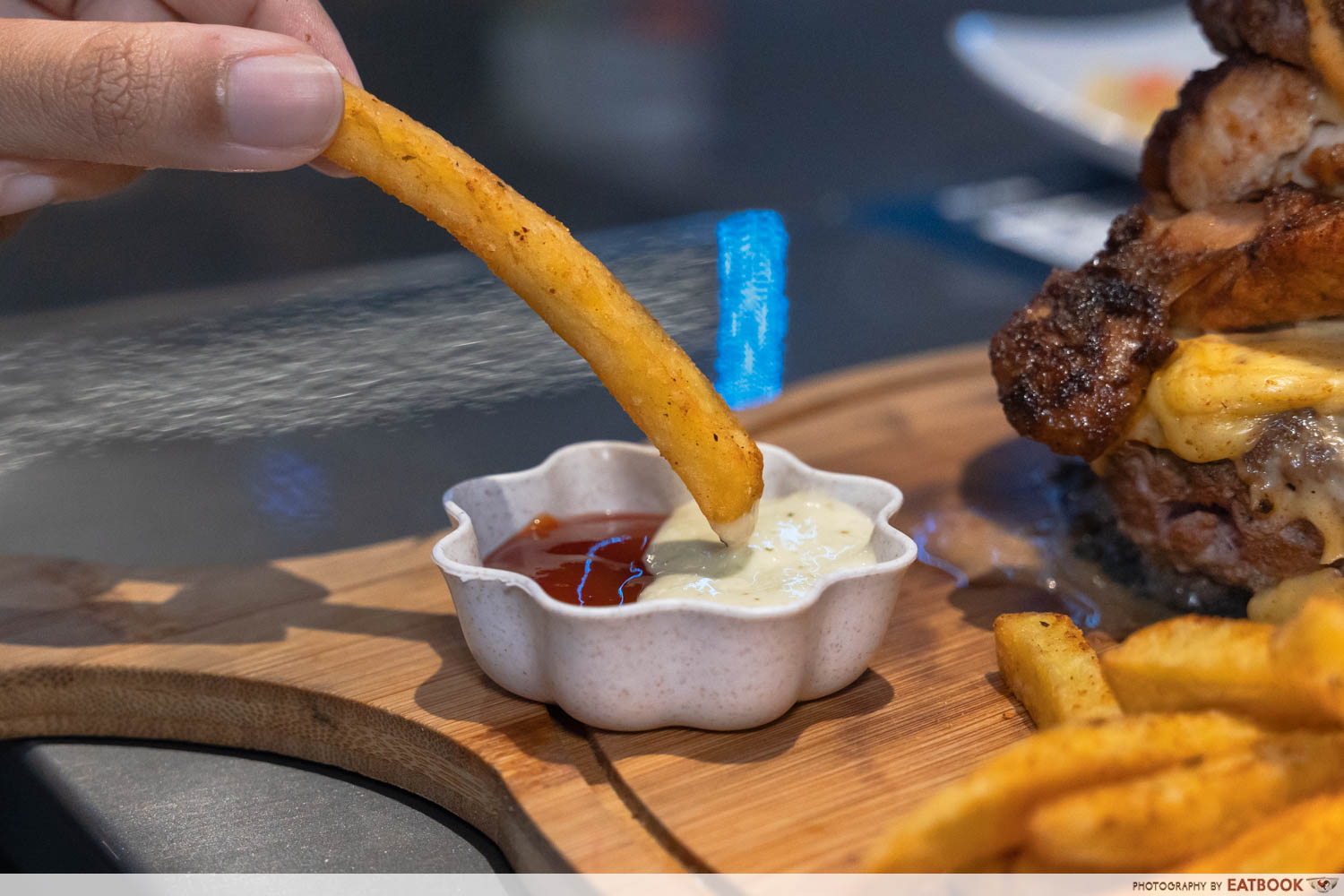 The thick fries were delicious though, and the seasoning closely resembled a mix of what seemed to be curry powder and barbecue seasoning.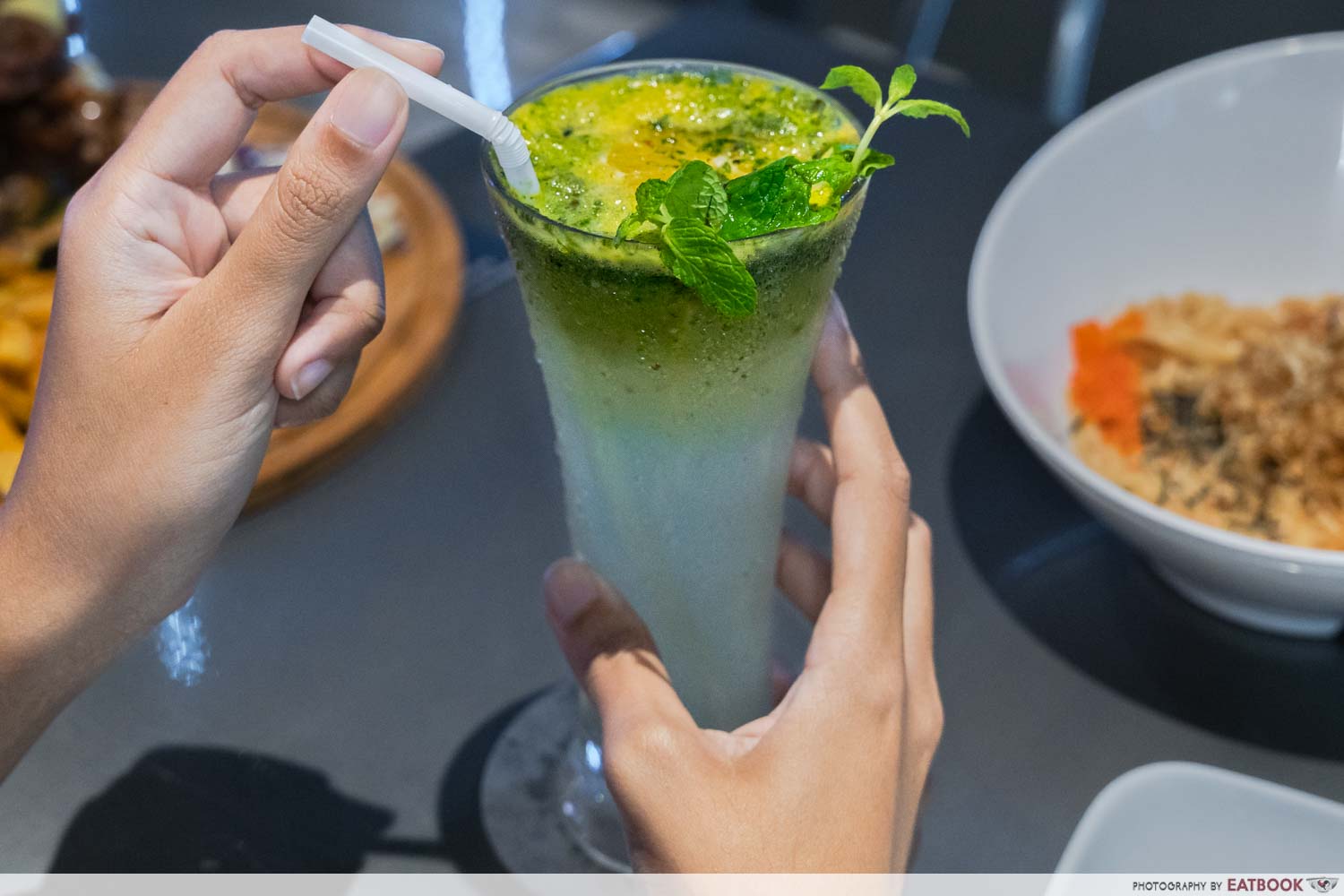 To end our meal, we got the Classic Tomijo ($7), a mocktail that's made out of muddled lime, sugar, mint, soda water, and ice. As someone who doesn't have a sweet tooth, it wasn't exactly my cup of tea as it had a sort of artificial sweetness to it. 
My dining companion however, found it to be just nice, as she's someone who has a higher tolerance for sweet stuff. The hints of mint was kind of refreshing though, as it helped to offset the greasiness of the foods we've tried earlier. 
Ambience at LUMI F&B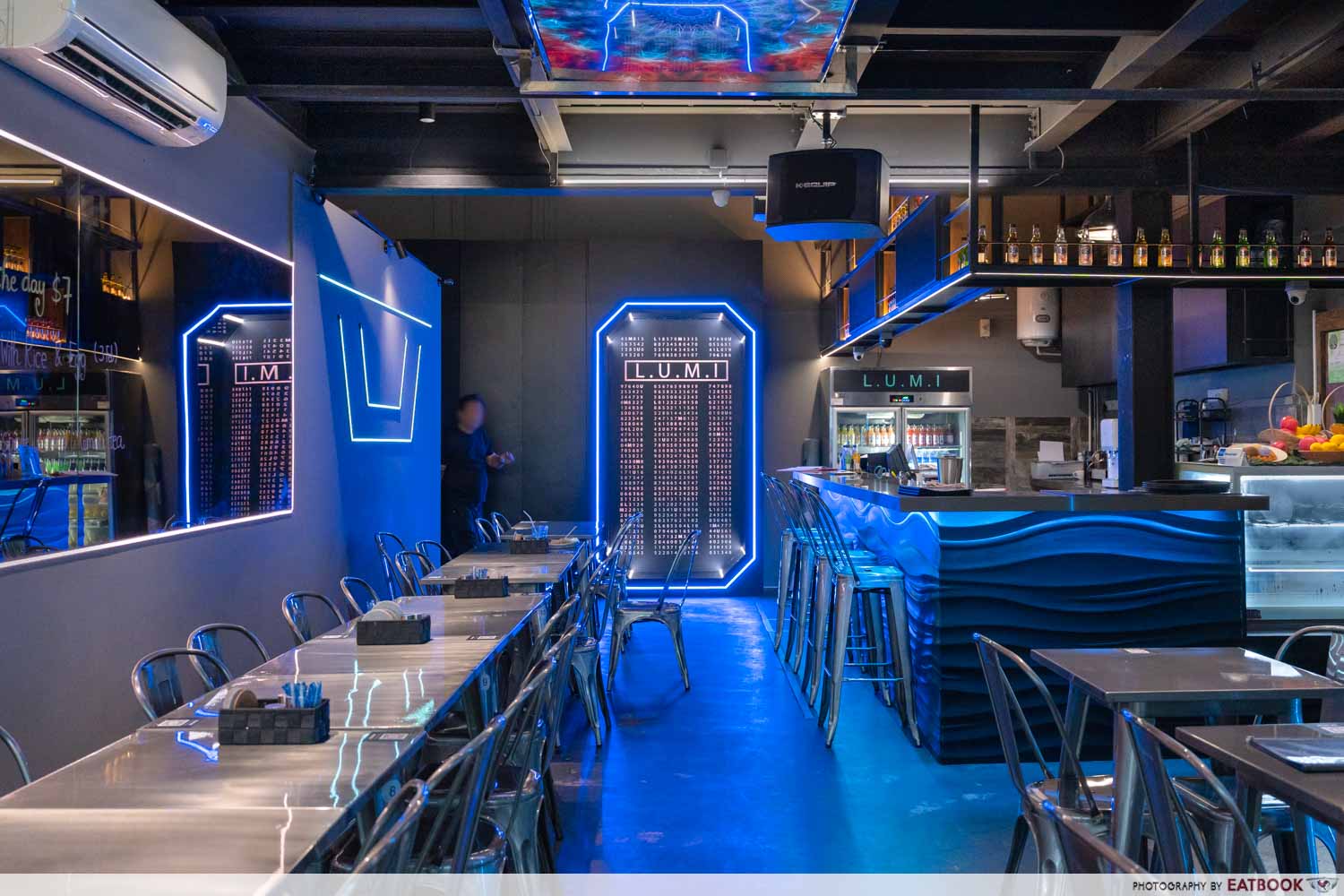 The eatery's futuristic concept paired with neon lighting somehow reminded me of the popular sci-fi movie, Tron Legacy, and that definitely made for a fun dining experience. If you're bringing over company, there's also a pool table available to play games after your meal, as well as a prayer room available for Muslim diners. 
LUMI F&B is a four-minute walk from Marymount MRT Station.
The verdict
While I greatly enjoyed my time at LUMI F&B, I felt that the food still had areas that could be  improved on—which is understandable, given that they're a relatively new eatery. Nonetheless, I'd come back for the Kurimi Pasta, or maybe give their other set lunches a shot. 
For more halal-friendly dining options, check out our review of Big Boy Franks! Alternatively, check out Flavour Flings for stuffed Norweigan croissants, Milo popcorn chicken and more.
Address: 38 Jalan Pemimpin, #01-03 M38, Singapore 577178
Opening hours: Daily 11:30am to 10:30pm
Tel: 9144 9549
Website
LUMI F&B is a halal-certified eatery.
Photos taken by Jia Hui Tan.
This was an independent review by Eatbook.sg
LUMI F&B Review: XXL Burgers And $6.50 Set Lunch At This Neon-Lit Bistro
LUMI F&B Review: XXL Burgers And $6.50 Set Lunch At This Neon-Lit Bistro -

7/10
Summary
Pros:
– Kurimi Pasta was delicious
– Sambal Chicken was flavourful and tender
– Bistro had a nice vibe and concept
Cons:
– Gigabite Burger was a little jelak
– Classic Tomijo was a bit sweet
Recommended dishes: Salmon Kurimi Pasta ($15), Sambal Chicken w White Rice & Sunny Side Up ($6.50)
Opening hours: Daily 11:30am to 10:30pm
Address: 38 Jalan Pemimpin, #01-03 M38, Singapore 577178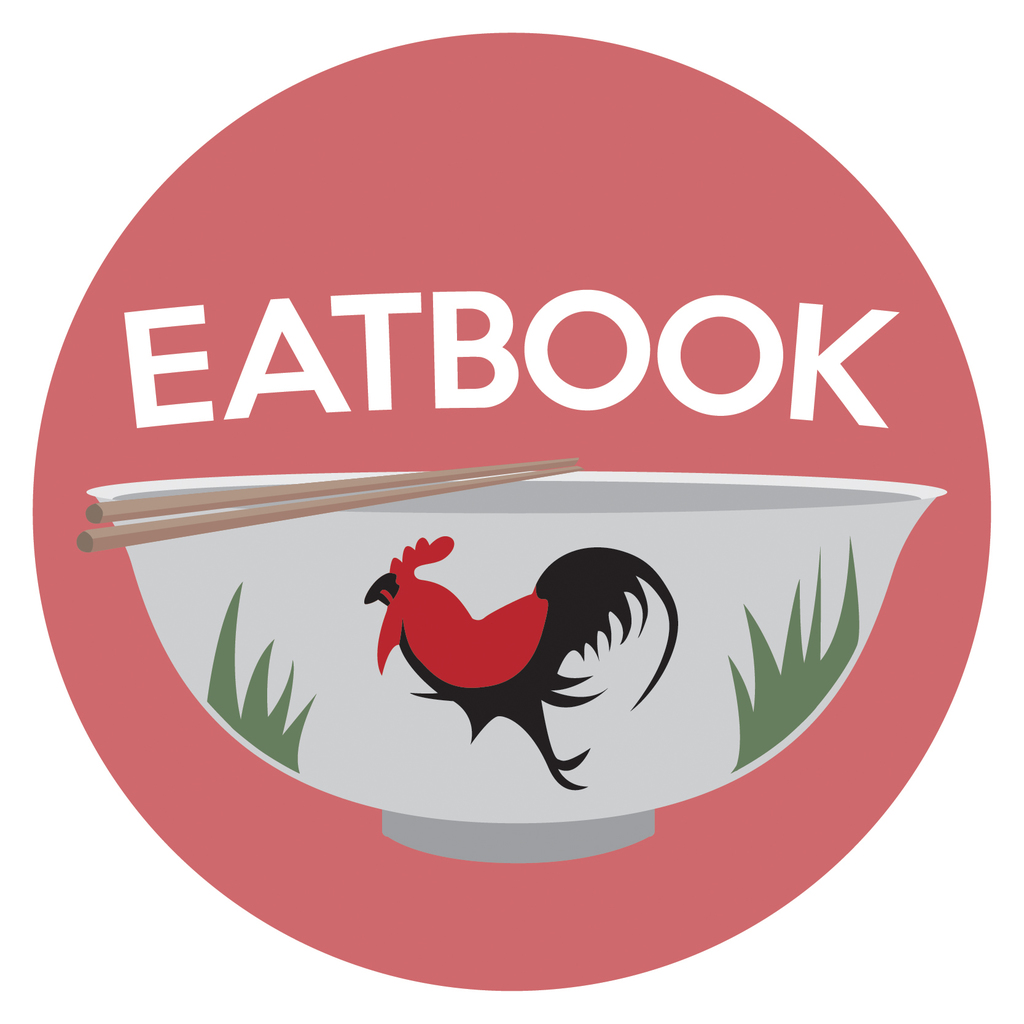 Drop us your email so you won't miss the latest news.