Banh Mi Be Bi at Upper Aljunied Road
I have a soft spot for family-run hawker stalls—especially undiscovered gems that dole out plate after plate of handmade goodness at affordable prices. So when I stumbled upon Vietnamese-run Banh Mi Be Bi, I knew I was in for a treat. 

Tucked in a nondescript coffeeshop along Upper Aljunied Road, the humble-looking stall is run by mother-and-daughter duo Tina and Abigail. Tina, who speaks fluent Mandarin, is a Vietnamese native who has been living in Singapore for 13 years. She's the main chef, while her daughter helps out with the front of the house and breadmaking. 
Food at Banh Mi Be Bi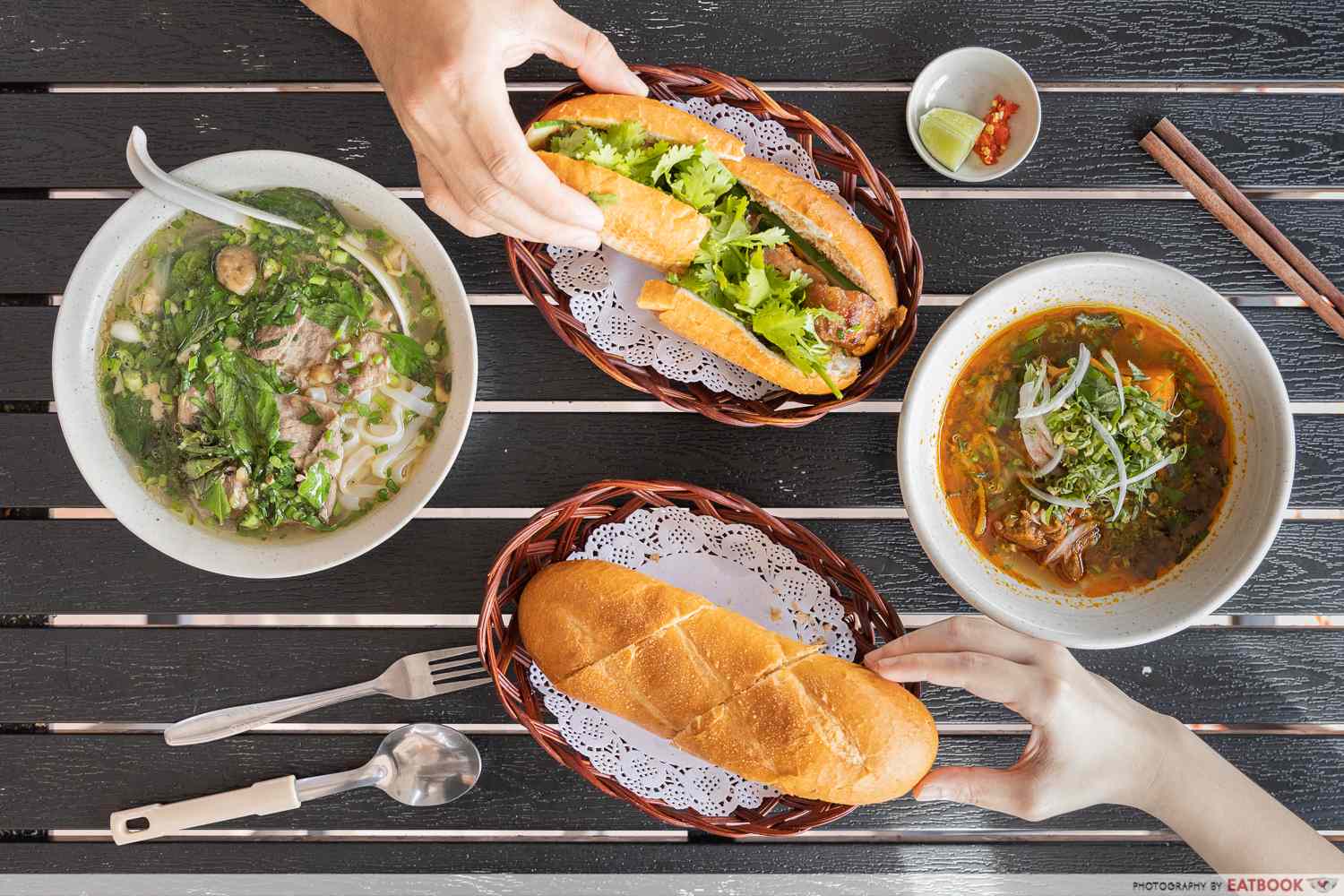 As their name suggests, Banh Mi Be Bi specialises in banh mi, which is the go-to street food for many locals and tourists alike. A staple in the cuisine, the quintessential Vietnamese sandwich spotlights crisp and airy baguettes stuffed with fillings of all sorts, including pork sausage and fresh veggies.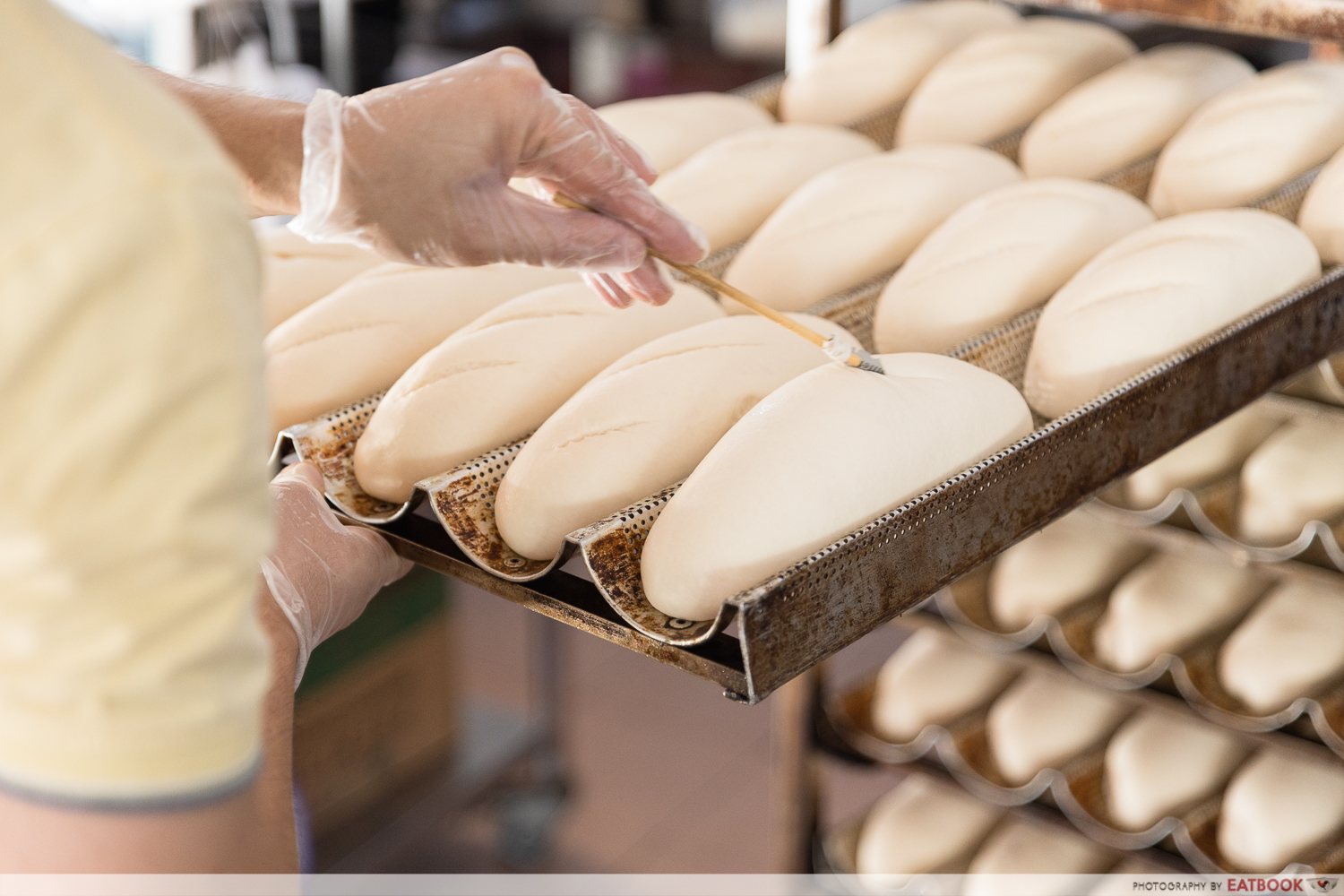 Here, the stall offers freshly baked baguettes ($1 each) that are made from scratch every day on-premise. The preparation for the bread starts as early as 5am—a testament to Tina's dedication—and the baking process takes place around 5pm to 6pm in the evening. Top tip: visit in the evening to grab a piping hot loaf or two!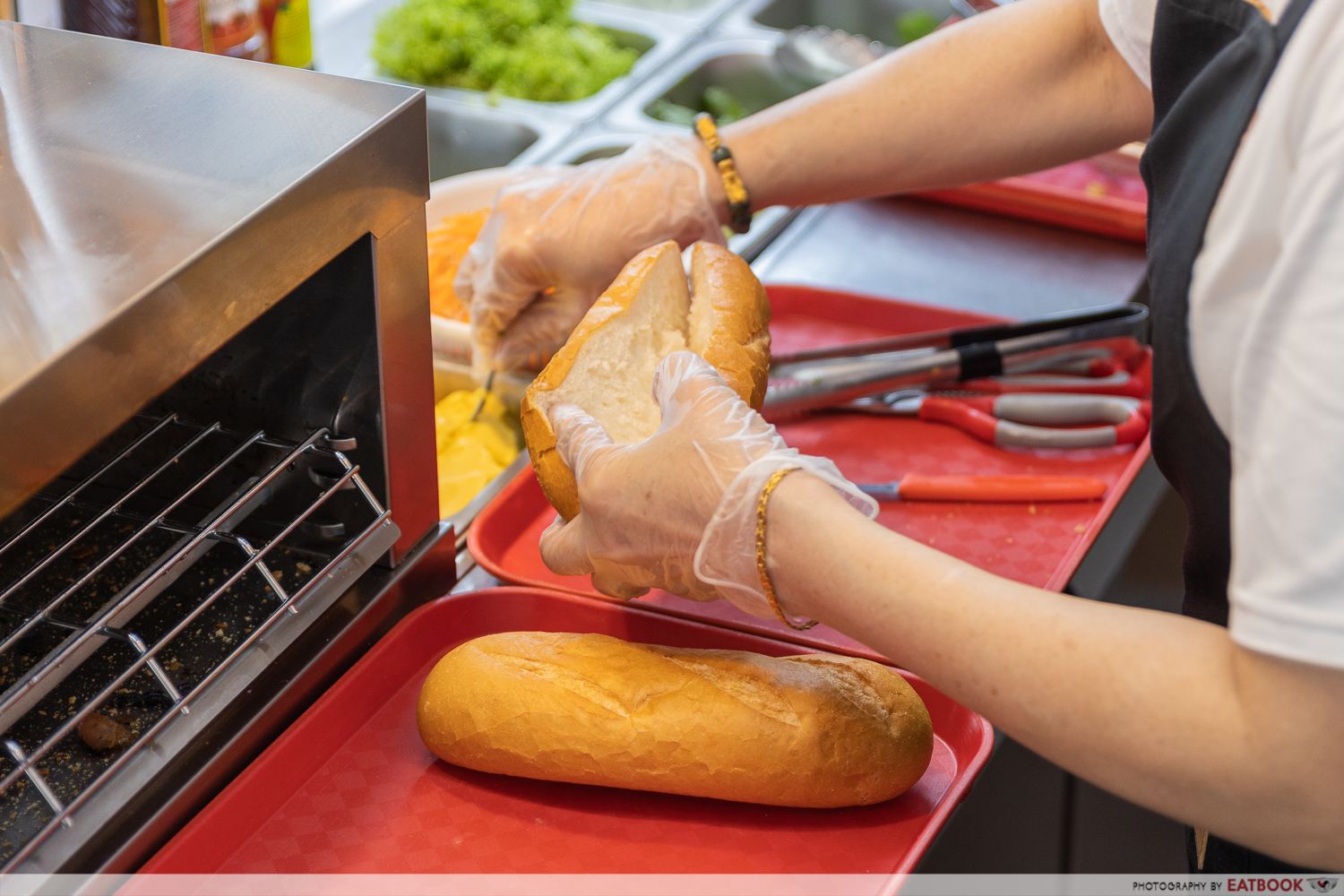 For mains, dive straight into Grilled Pork Baguette ($5), a best-seller that sees chunks of Vietnamese pork sausage with shredded veggies and copious amounts of coriander, all neatly lined in between a fresh baguette that's lightly buttered.
Upon sinking my teeth into the sandwich, I was pleasantly surprised by how crisp yet light the exterior of the bread was, combined with a fluffy and airy crumb within. This Vietnamese-style baguette made a strong first impression on me as it tasted similar to the ones I've had in Hanoi. All I could think of was going back for seconds.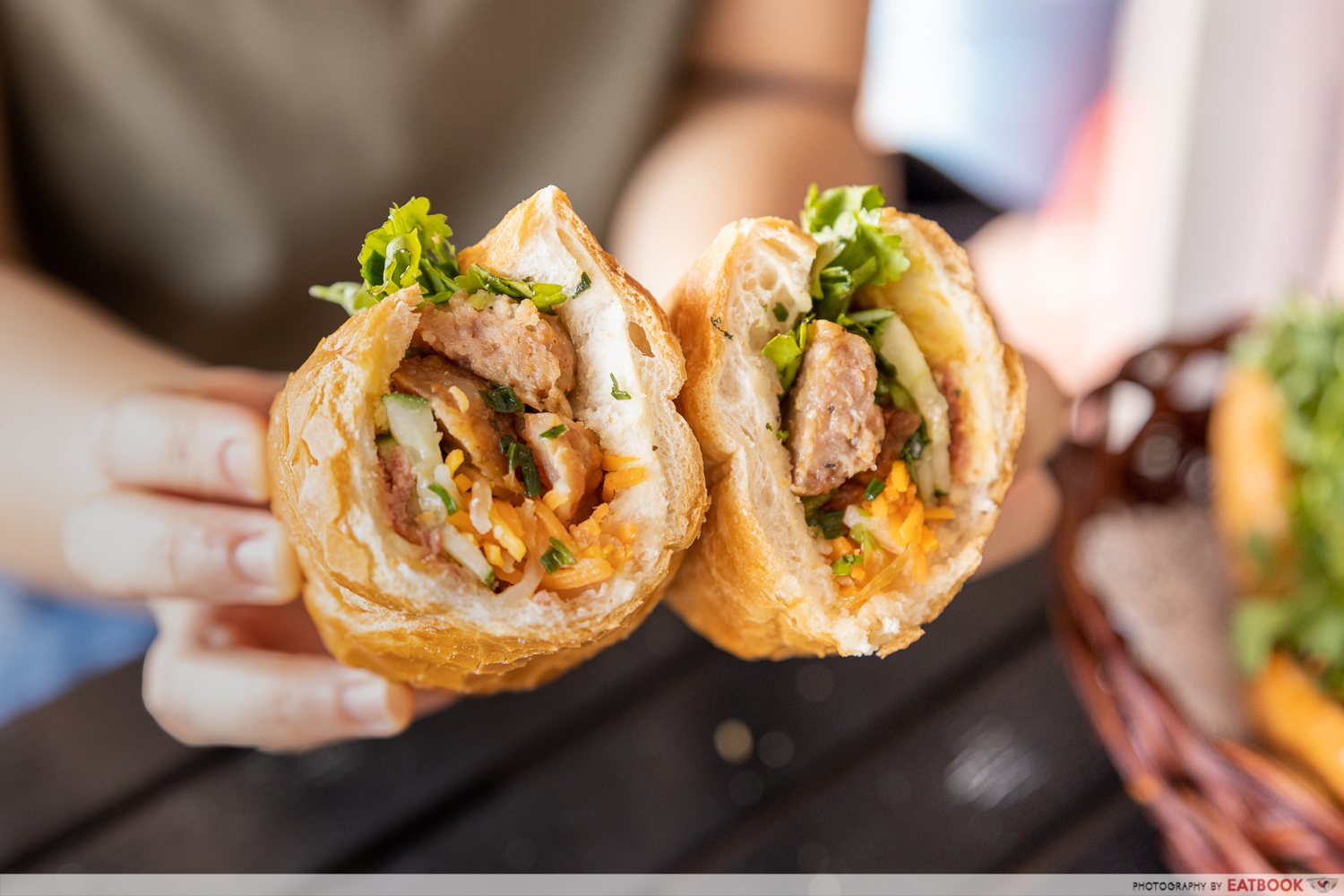 The bread ticked all the right boxes, and I loved having the refreshing notes of coriander cutting through the hearty sausage slices. My only gripe about the sandwich was that I wished there was more meat.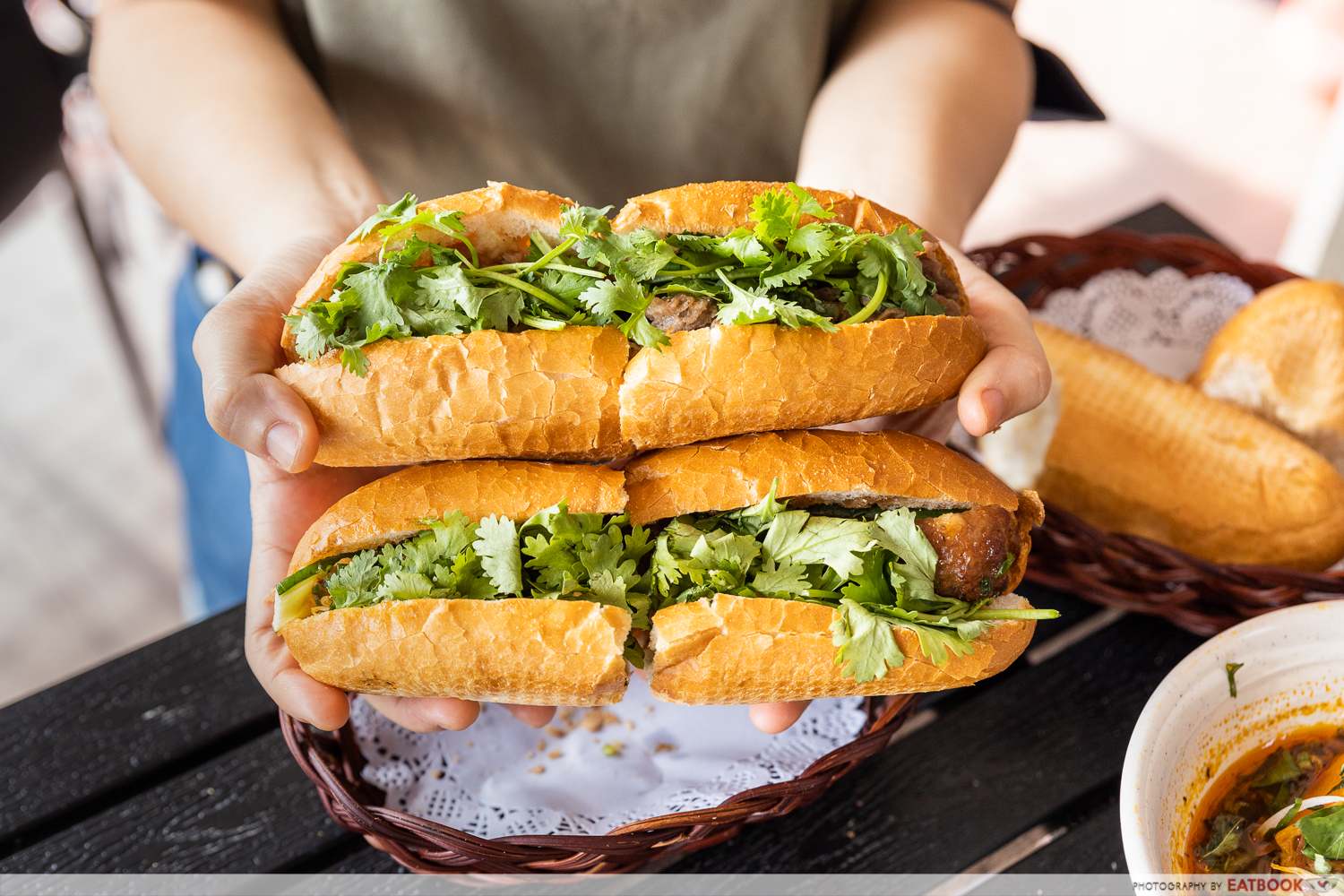 If beef is your go-to protein, you'll be pleased with the options available here. Apart from Grilled Pork Banh Mi, the stall offers a Stir-fried Beef and Onion ($5) filling that's equally delicious. We also got the Beef Stew Baguette ($6): baguette paired with a comforting bowl of house-made beef stew.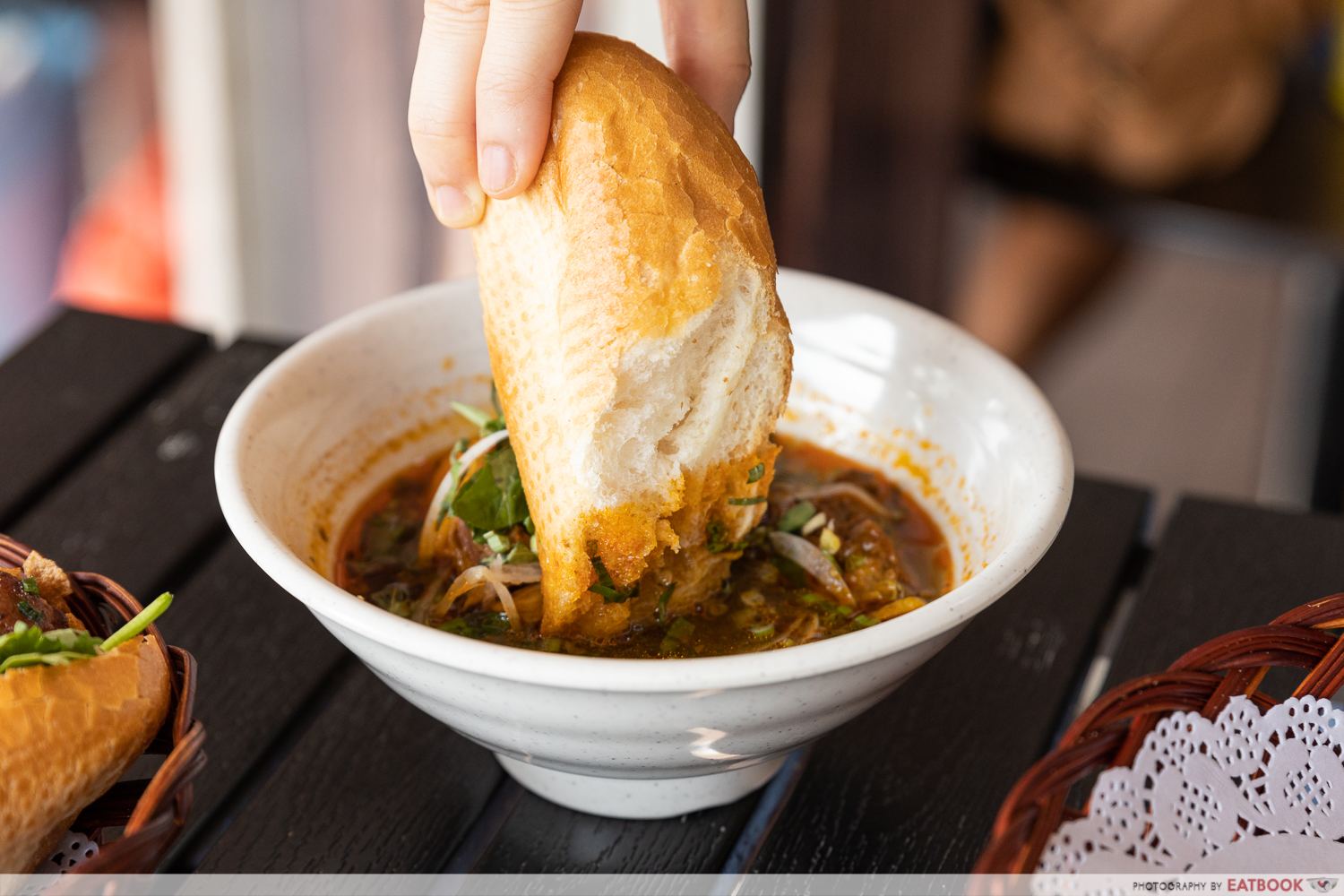 While the slightly tough beef chunks were nothing much to shout about, the flavourful stew went well with the lightly toasted bread. I really enjoyed dipping the bread into the soup, as the dry and crispy crust soaked up the flavours well without getting too soggy.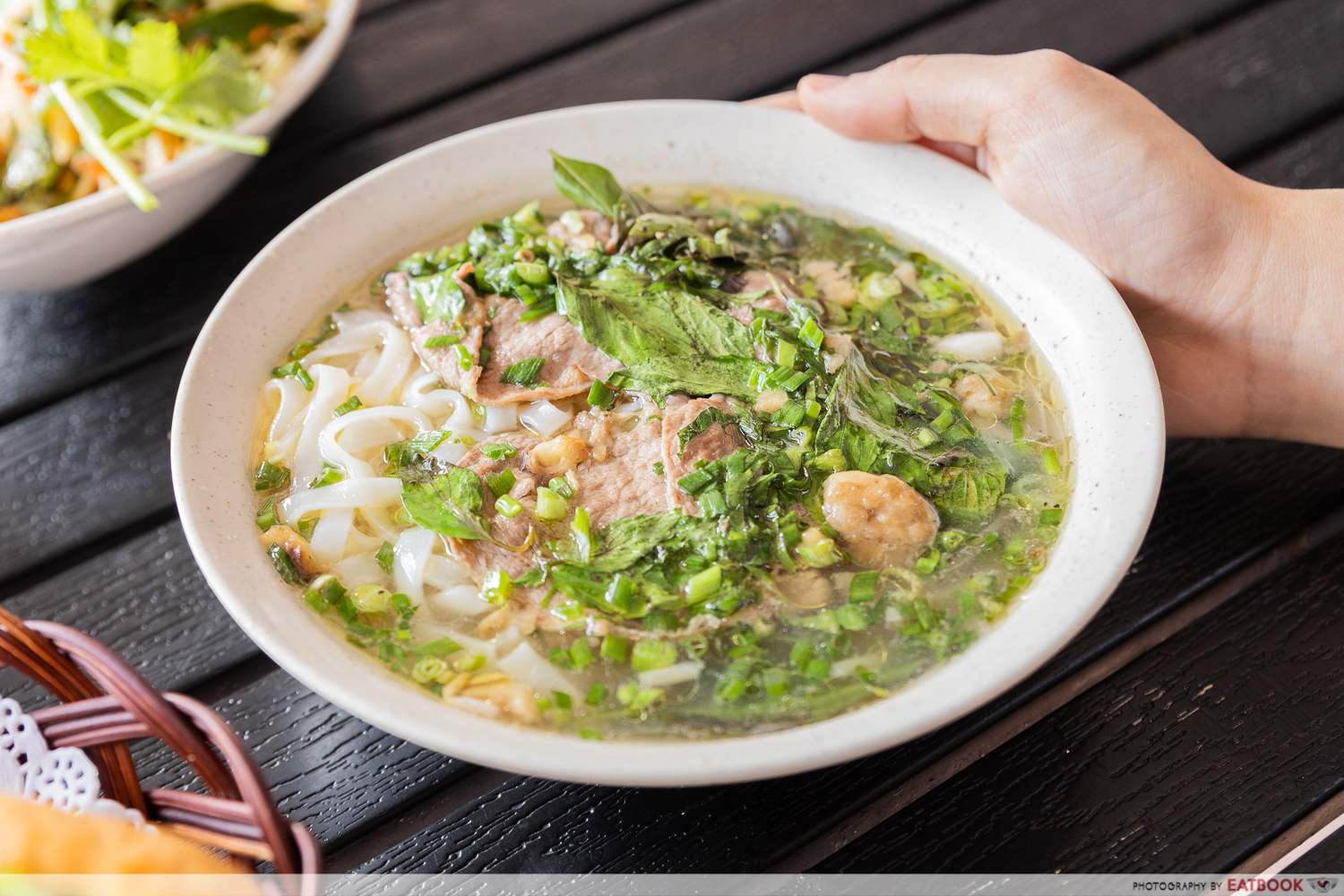 As with all legit Vietnamese stalls, there's always a beef pho on the menu. The Sliced Beef Noodle Soup ($5) boasted a clean-tasting broth that's on the lighter end, garnished with a mountain of coriander and herbs for extra freshness.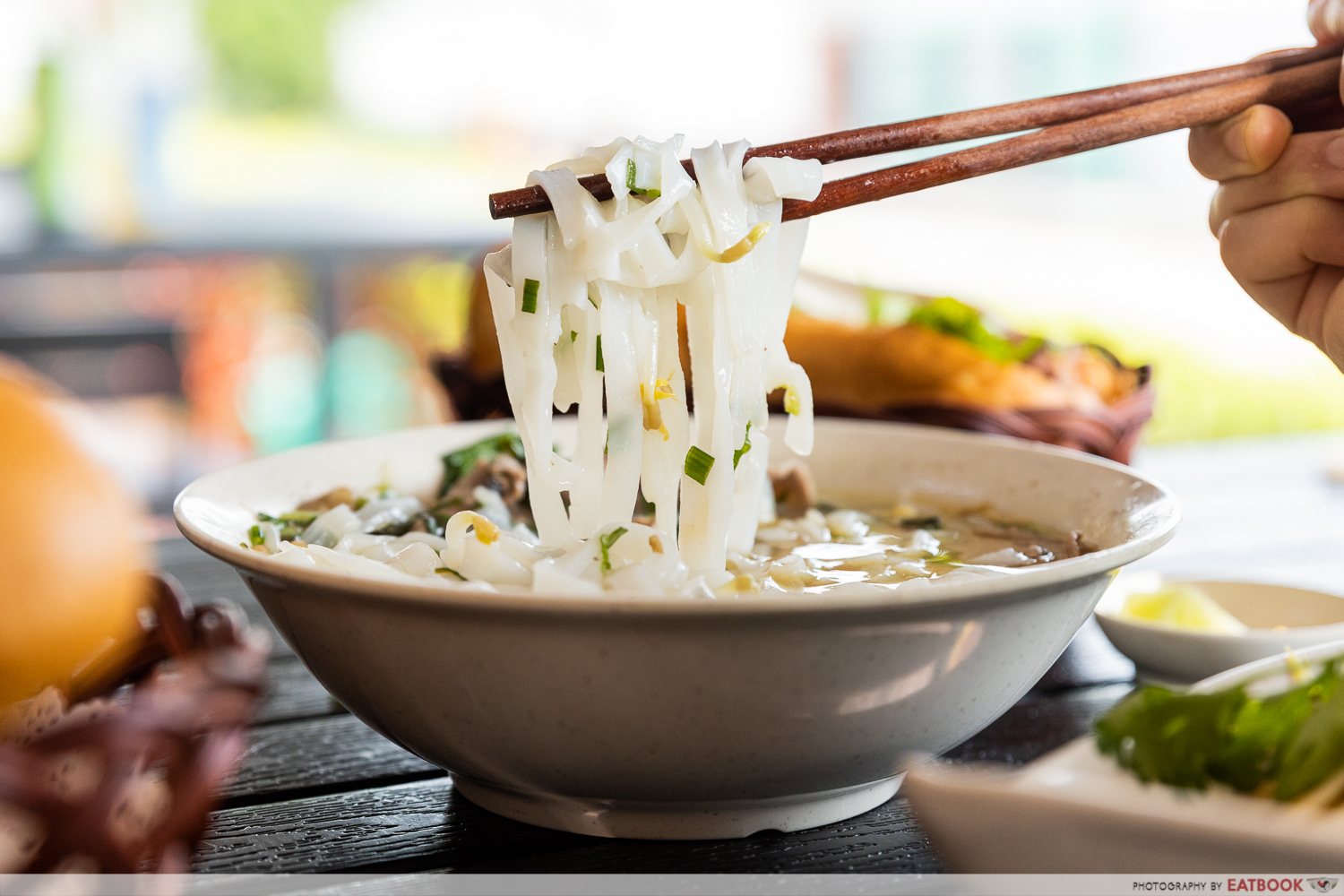 Unfortunately, the beef slices were not as tender as I'd hoped them to be, but I still enjoyed the dish overall as it was rather easy on the palate. I generally prefer my pho to have a more intense broth with a fuller body, but I also think it's up to your personal preferences.  
Mrs Pho House Review: Vietnamese-Style Hot Pot And Grill Restaurant In Orchard
The stall also has a decent selection of light bites to choose from, if you want some nibbles to munch on while waiting for your mains. We highly recommend the Mango Salad ($5), which was refreshingly tart and mildly sweet, and the Fried Spring Rolls ($5), which were ultra-crisp and light despite being deep-fried.
Ambience at Banh Mi Be Bi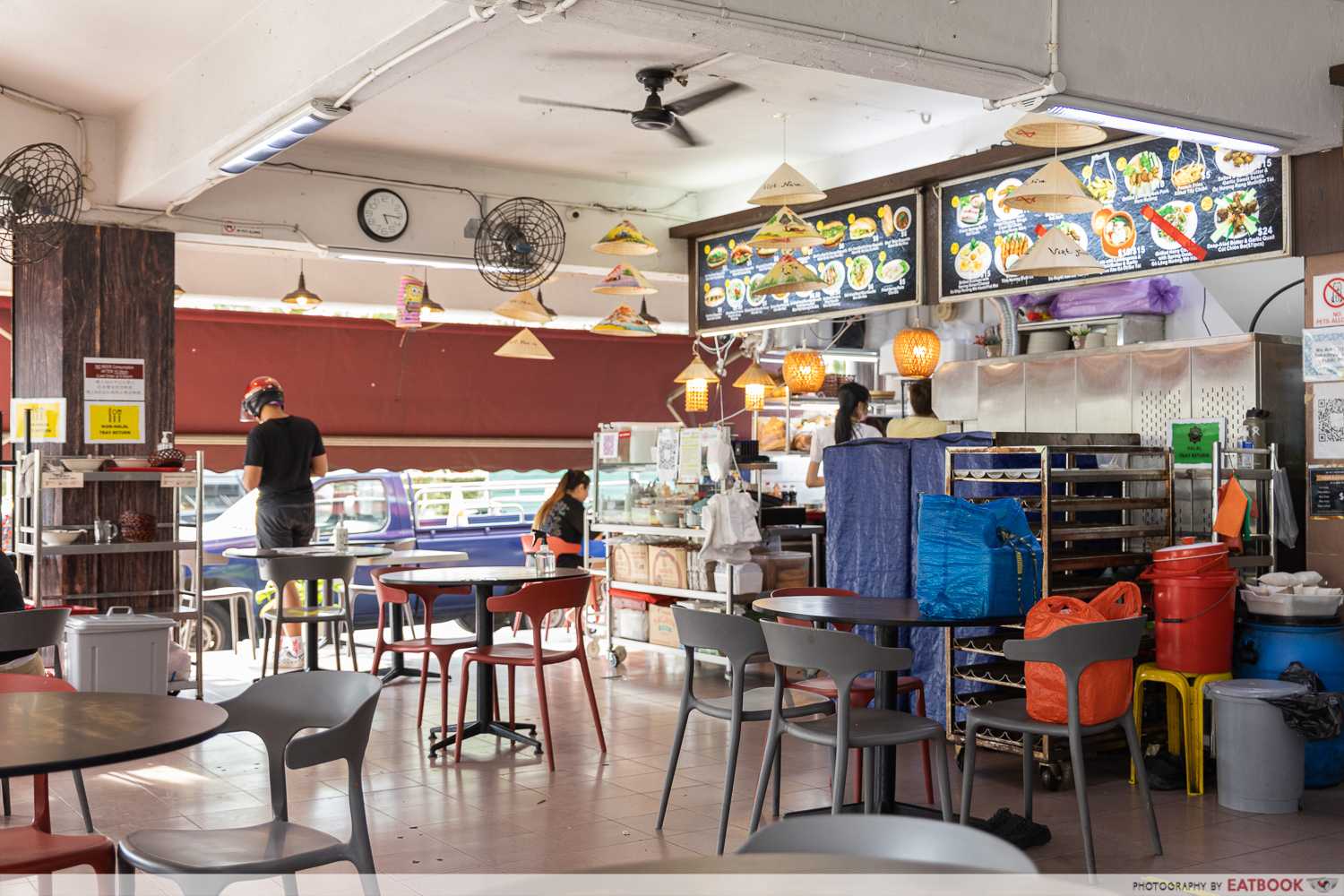 Located in Lian Bee Restaurant, a small and unassuming coffeeshop along Upper Aljunied Road, this Vietnamese spot is a bit of a hidden gem. It's a 13-minute walk from Mattar MRT Station, or a 10-minute bus ride from Aljunied MRT Station. 
Snag a tall counter seat nearer to the road for more breeze, but watch out as there were a number of birds eyeing our food while we were there.
The verdict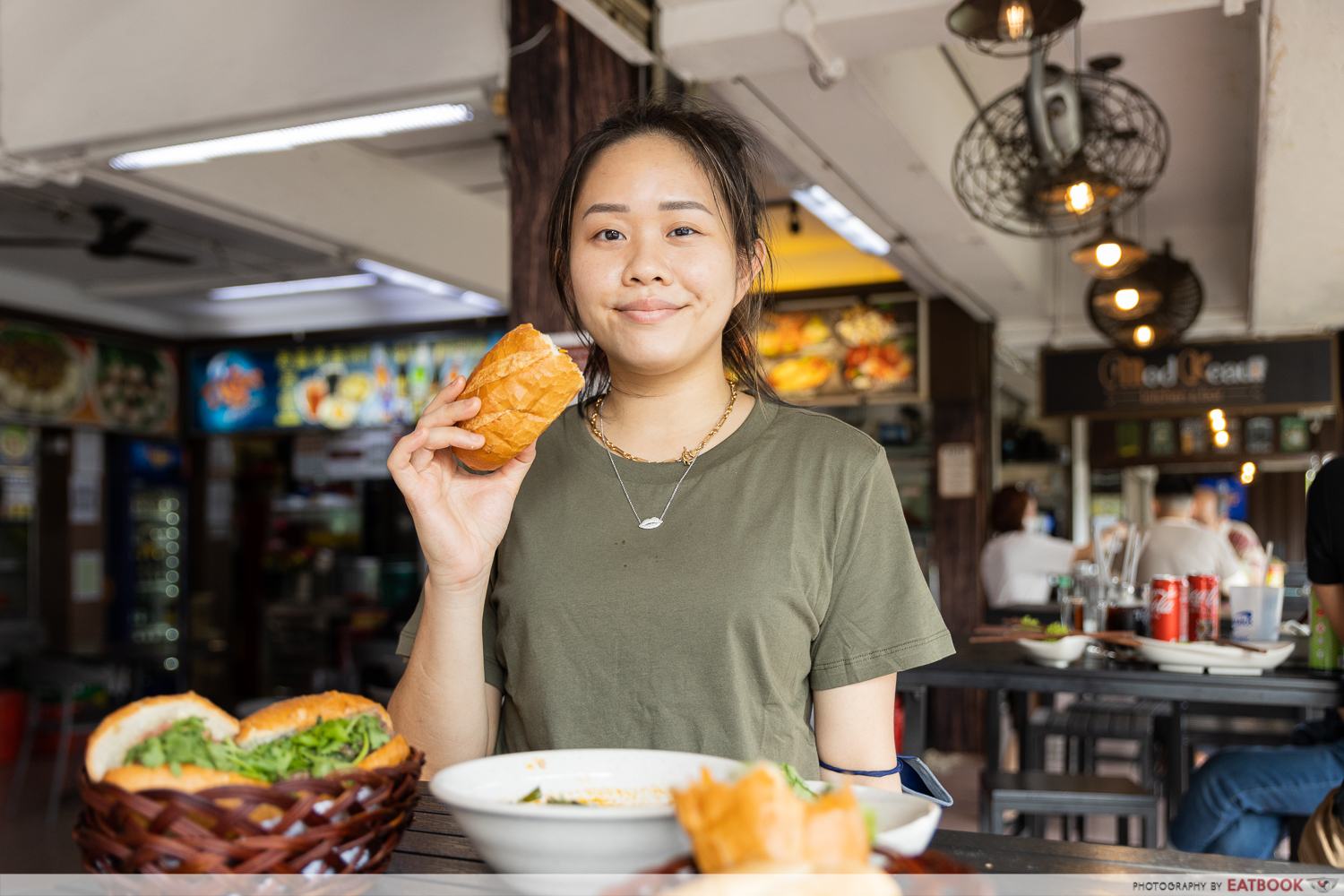 Despite the ulu location, Banh Mi Be Bi scored with their uber delicious bread and homely, comforting fare that tasted pretty authentic. Trying these dishes brought back memories of my Hanoi trip a couple years ago, so I will certainly be back for more when I'm in the area and the craving hits.
If you're looking for more Vietnamese food to try, check out Co Chung in Plaza Singapura for legit beef pho and more. Alternatively, read our Mrs Pho House review if you're up for Viet-style hotpot in town.
Co Chung Review: New Authentic Vietnamese Restaurant With Mains Under $10+ In Plaza Singapura
Address: 375 Upper Aljunied Road, Singapore 367860
Opening hours: Daily 9am to 9pm
Tel: 9054 3939
Website
Photos taken by Alvin Wong.
This is an independent review by Eatbook.sg.
Banh Mi Be Bi Review: $1 Handmade Baguettes, Beef Stew And More At Vietnamese-Run Hawker Stall
Banh Mi Be Bi Review: $1 Handmade Baguettes, Beef Stew And More At Vietnamese-Run Hawker Stall -

7.5/10
Summary
Pros
– Authentic and homely Vietnamese fare
– Fresh and delicious baguettes
– Affordable 
Cons
– Hard to get to
– Beef pieces were slightly tough 
Recommended dishes: Beef Stew Baguette ($6), Grilled Pork Baguette ($5)
Opening hours: Daily 9am to 9pm
Address: 375 Upper Aljunied Road, Singapore 367860