Co Chung serves authentic Vietnamese food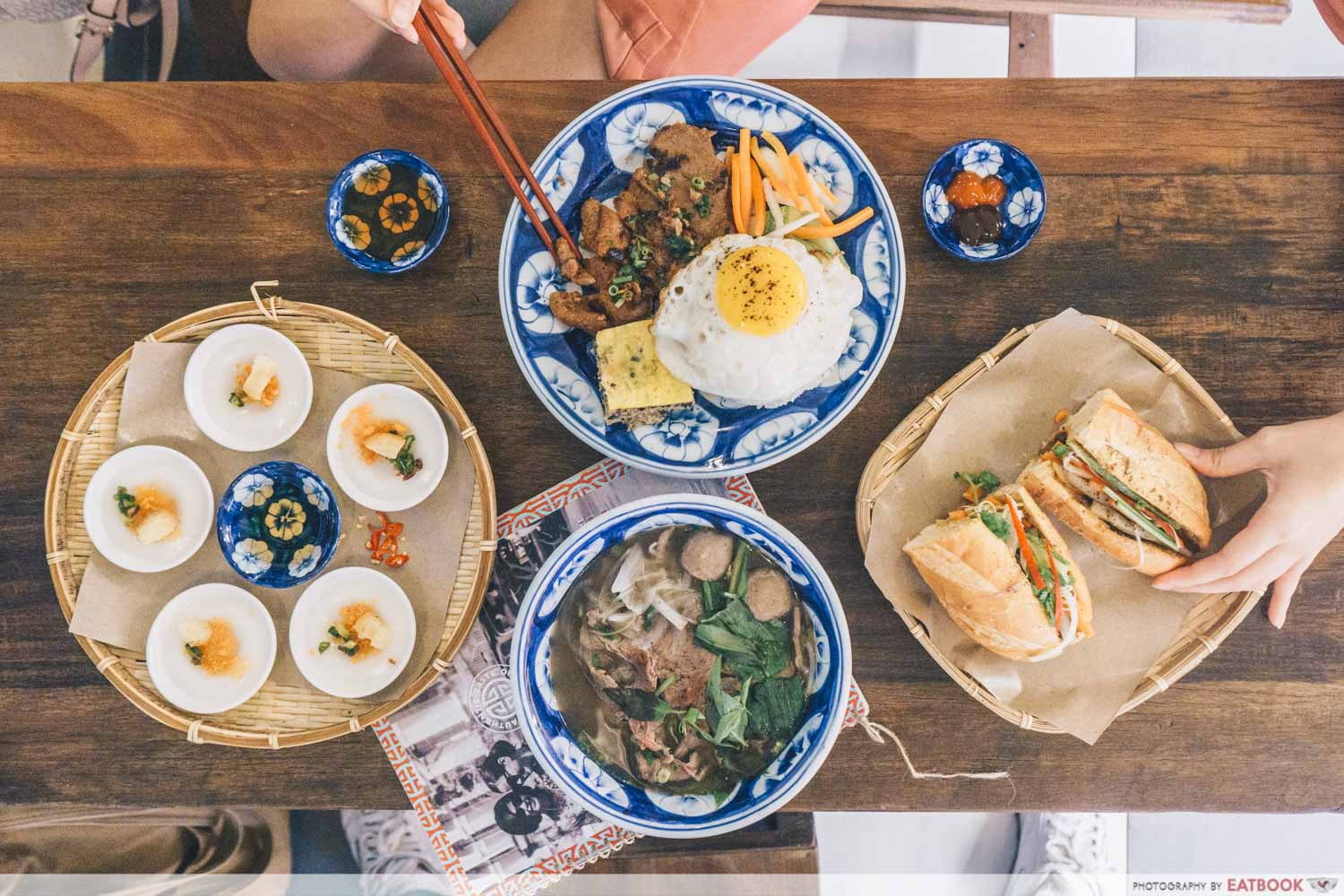 Singaporeans are no strangers to Vietnamese food thanks to the abundance of Vietnamese eateries in the city. Adding to the list is Co Chung, which opened in Plaza Singapura in February this year and has already garnered attention for their authentic flavours. Highly raved about by both locals and Vietnamese folks in Singapore, Co Chung looks set to rival these popular chains like So Pho and Pho Stop with its reasonably priced, flavourful fare.
Food at Co Chung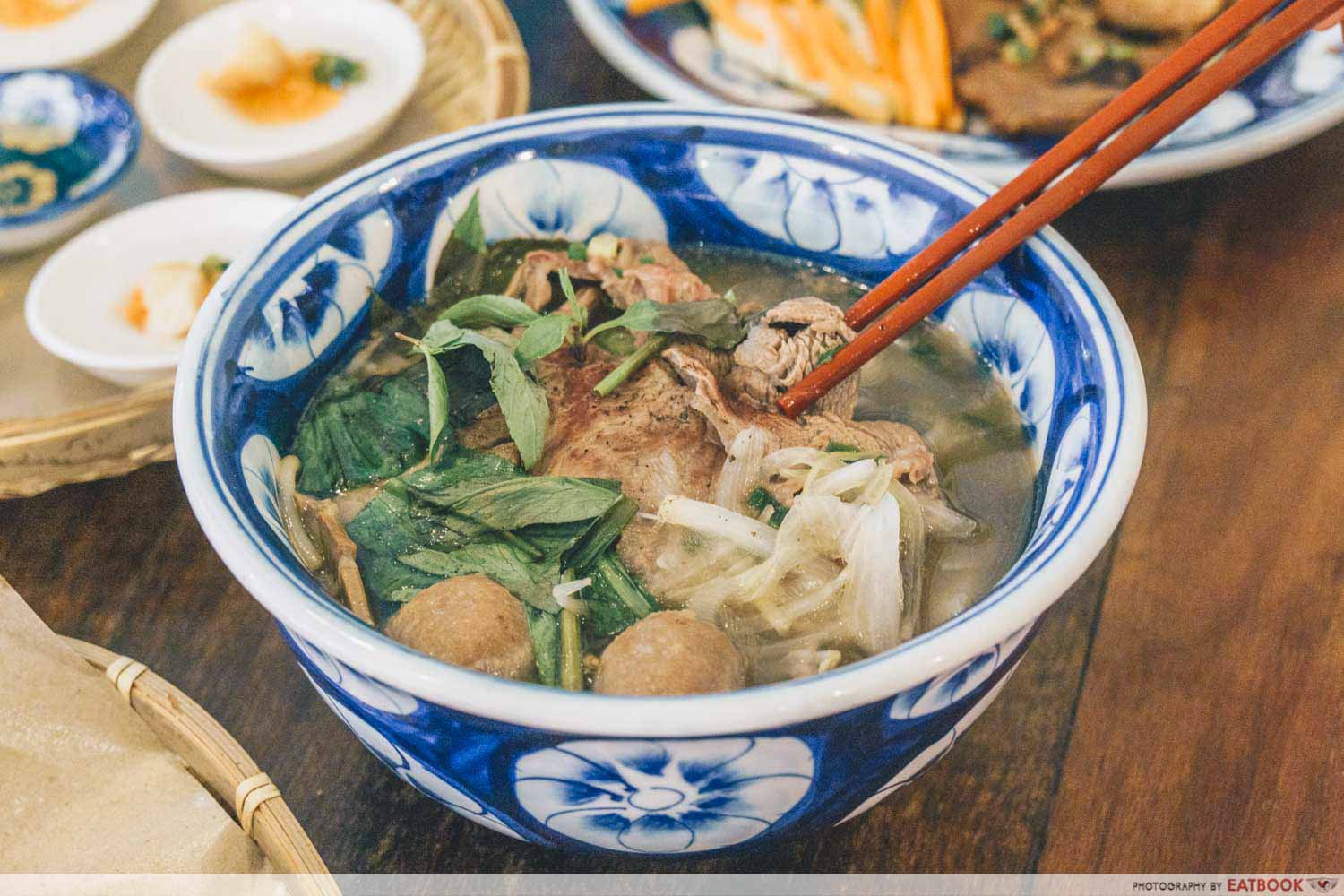 A comforting bowl of pho always comes to mind when I think of Vietnamese food. We started our meal with a piping hot bowl of Pho Beef Soup ($8.90+) to warm our stomachs.
Beef bone broth tends to be oily, yet this broth was clear and had no greasy aftertaste. A strong beefy flavour was balanced with the freshness of cilantro and a hint of sweetness for a hearty and comforting bowl.
The soup was served with a generous amount of springy rice noodles and topped with fresh cilantro. Even though I am not on #TeamCilantro, the herb worked so well in the broth, it was the first time I didn't pick it out of my food.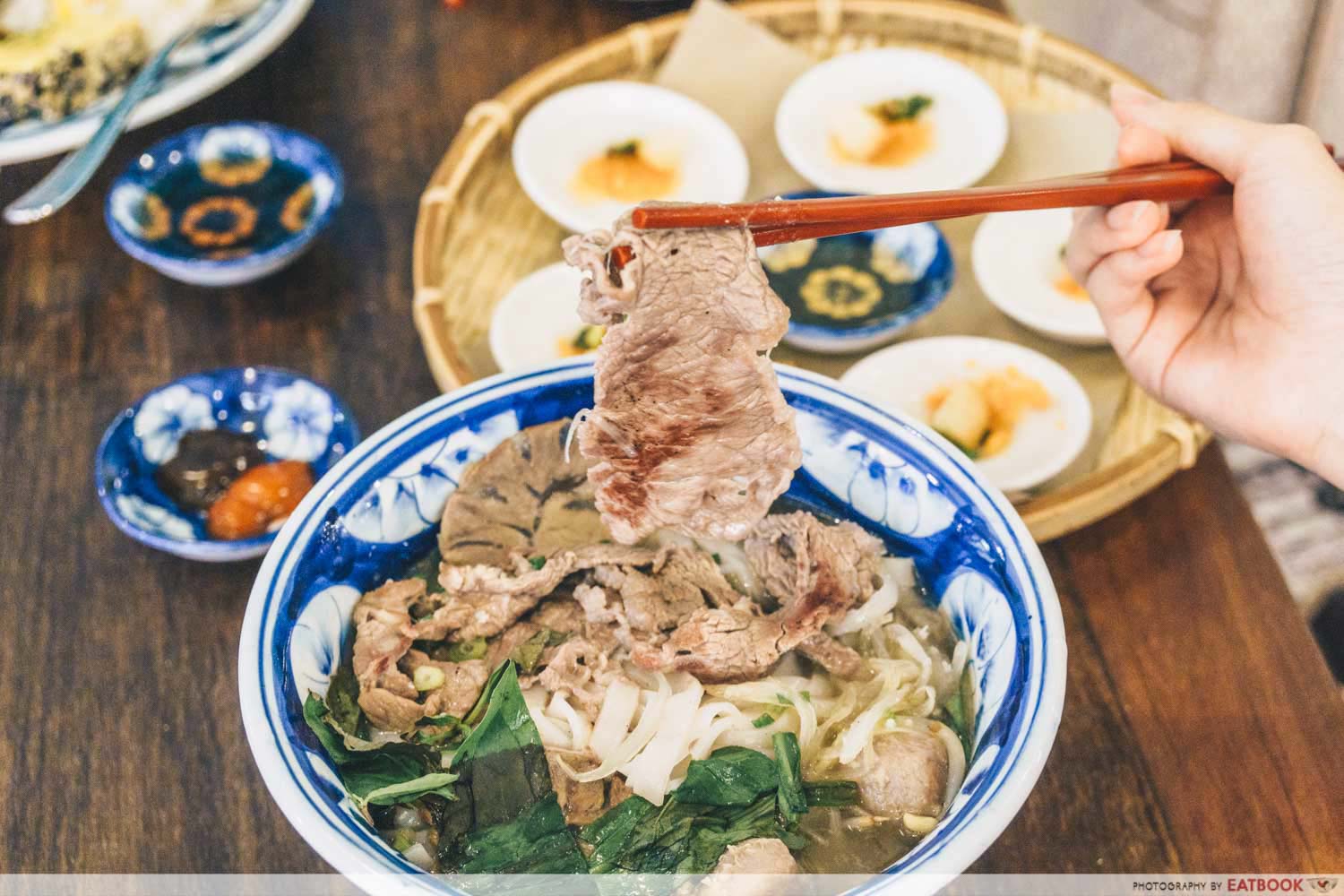 Generous slices of lean beef accompanied the noodles. The beef was tender and each bite was rife with juiciness.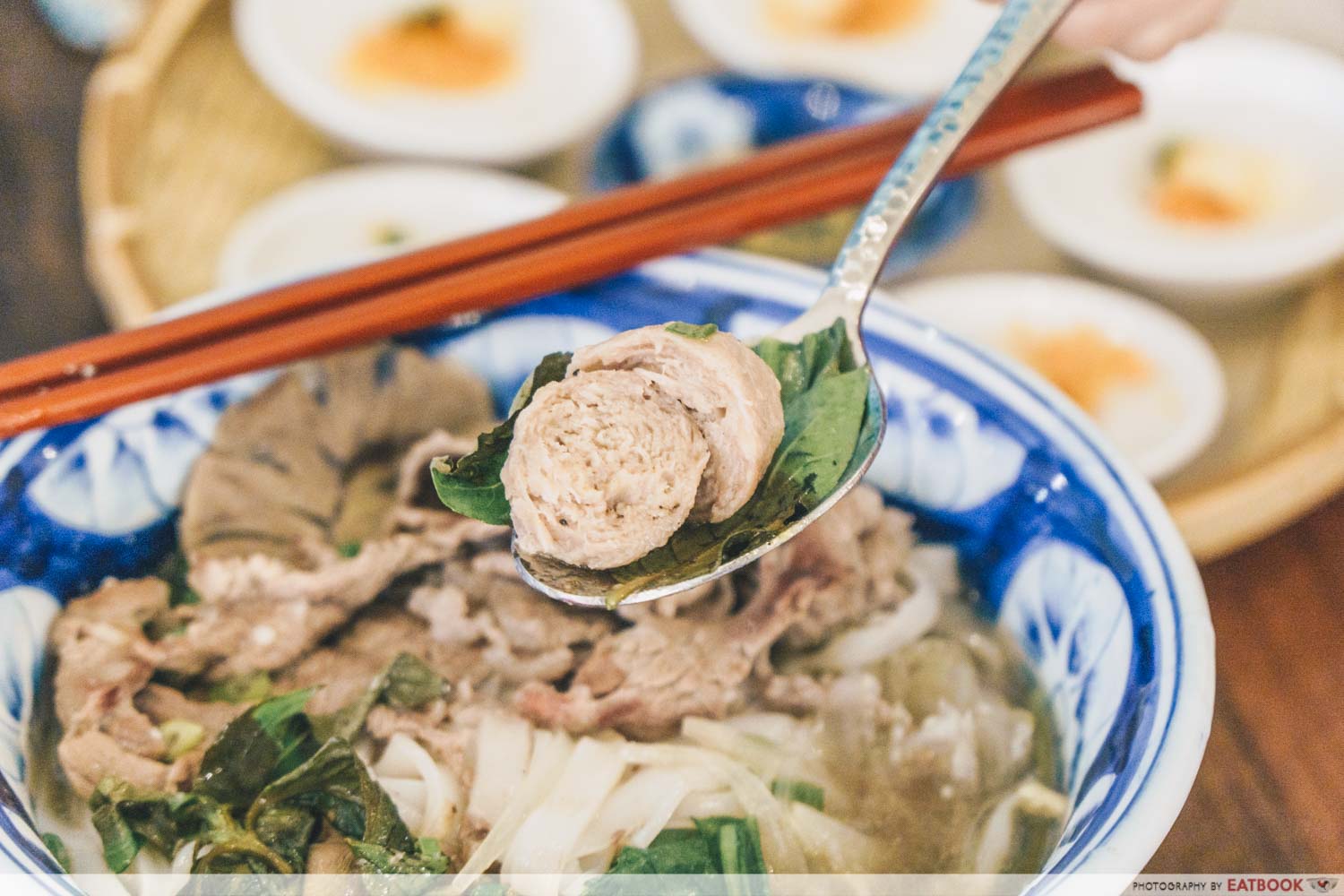 Sweet, QQ beef meatballs also accompanied the dish.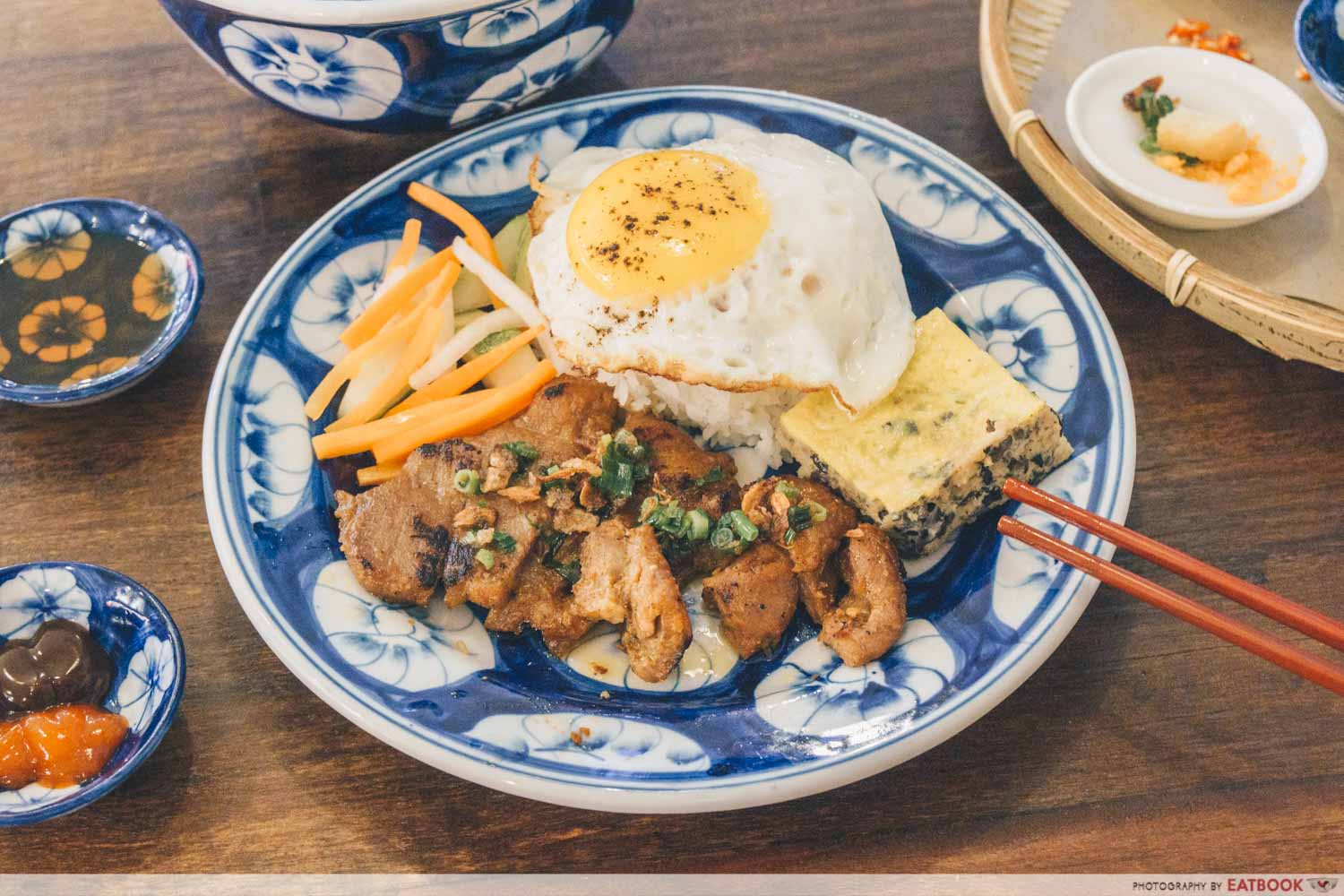 While Co Chung's mains mostly focus on pho, they had a rice dish on their menu too. The Vietnamese Broken Rice, also known as Com Tam ($9.85+) came with a bed of warm rice and grilled pork ribs, a sunny-side-up, and an egg meatloaf.
The name comes from broken rice grains used in the dish. Fun fact: they are used in Vietnamese cuisine primarily for their cheaper price since broken grains were considered inferior to regular rice grains.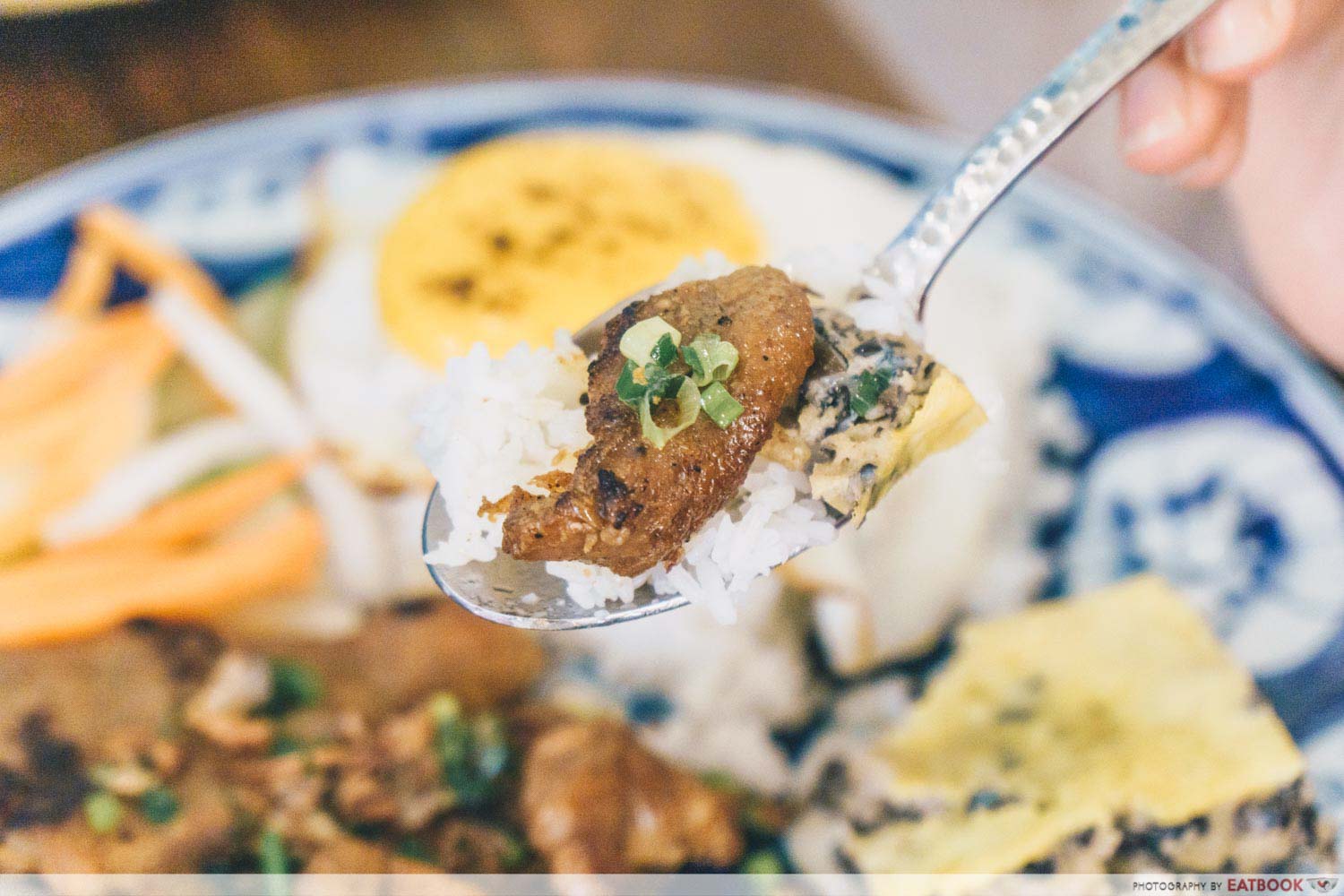 The liberal amount of rice was nutty and a tad on the dry side. This veered their rice away from the usual glutinous-rice-like texture often found in Vietnamese broken rice dishes.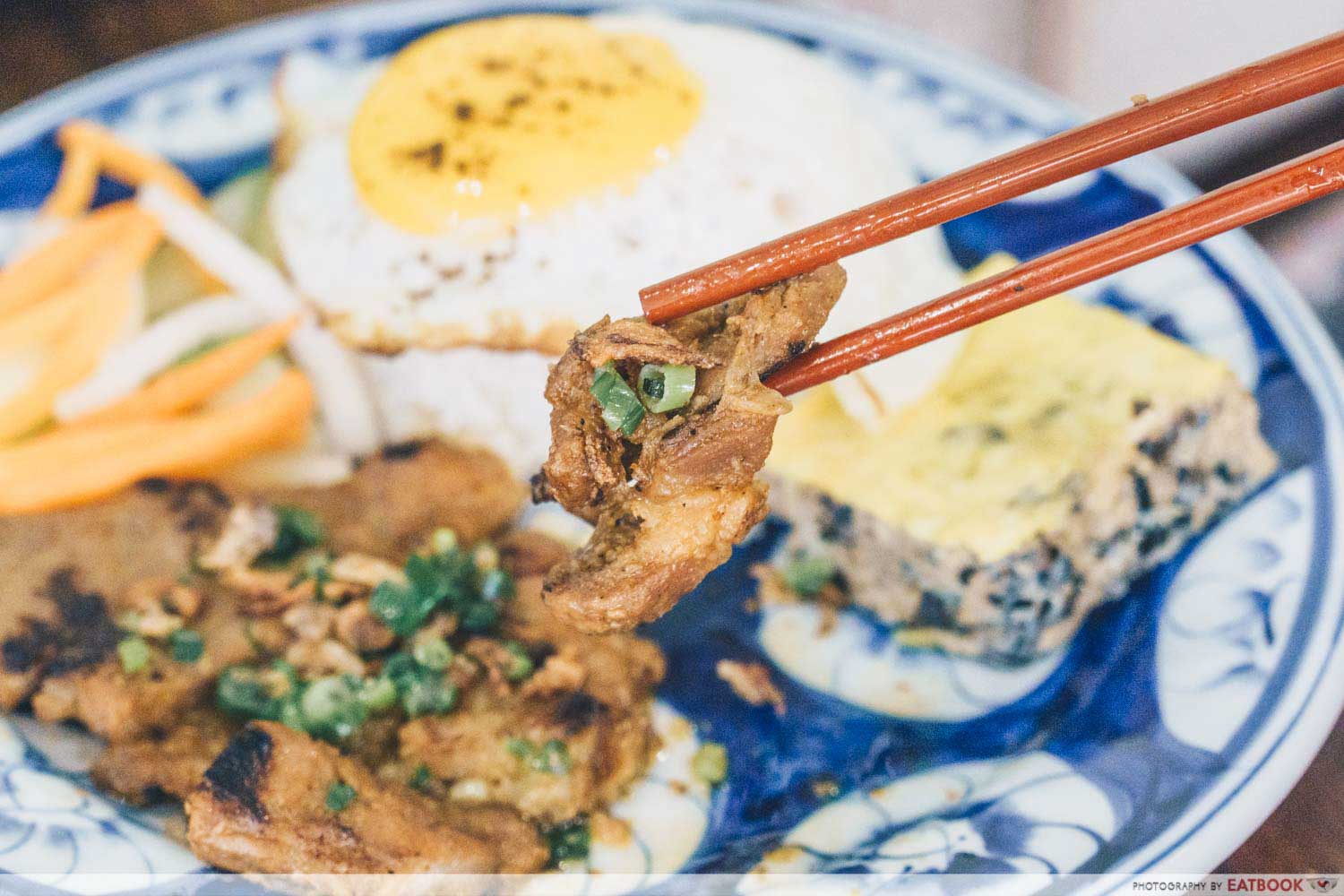 The broken rice also came with fork-tender pork ribs which were easy to bite into. Well-marinated and caramelised, their take instantly reminded me of honey pork ribs.
An egg-based meatloaf was served as well. The meatloaf was densely packed with minced pork and chewy wood ear mushrooms, full of umami in each bite. The crispiness of the egg yolk cloaking the meatloaf also added texture to the side dish.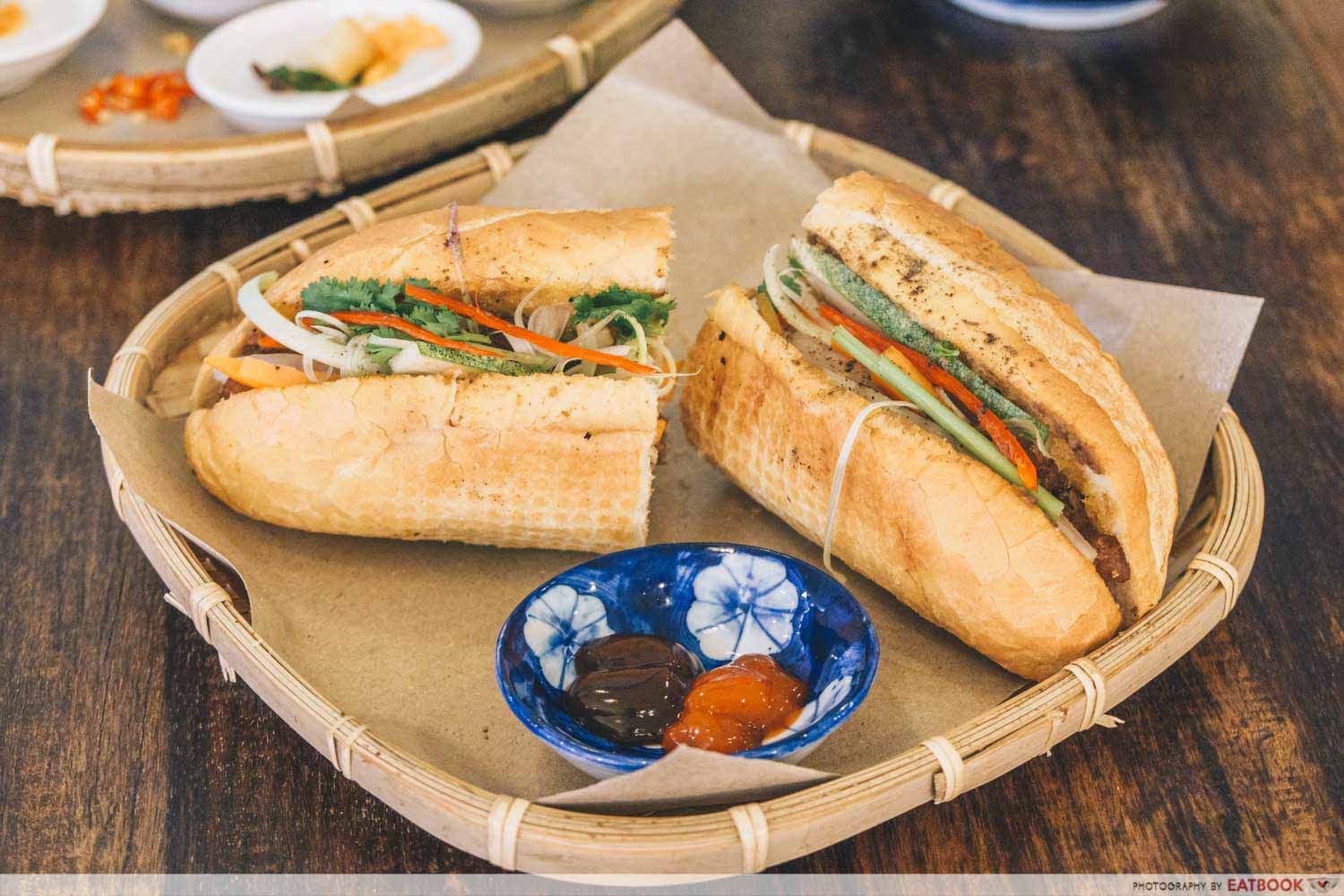 There's definitely no discussing Vietnamese food without bringing in banh mi. Banh mi is the Vietnamese word for bun and it is personally my go-to Vietnamese dish. As such, I was excited to try the Banh Mi Thit Nuong ($8.90+).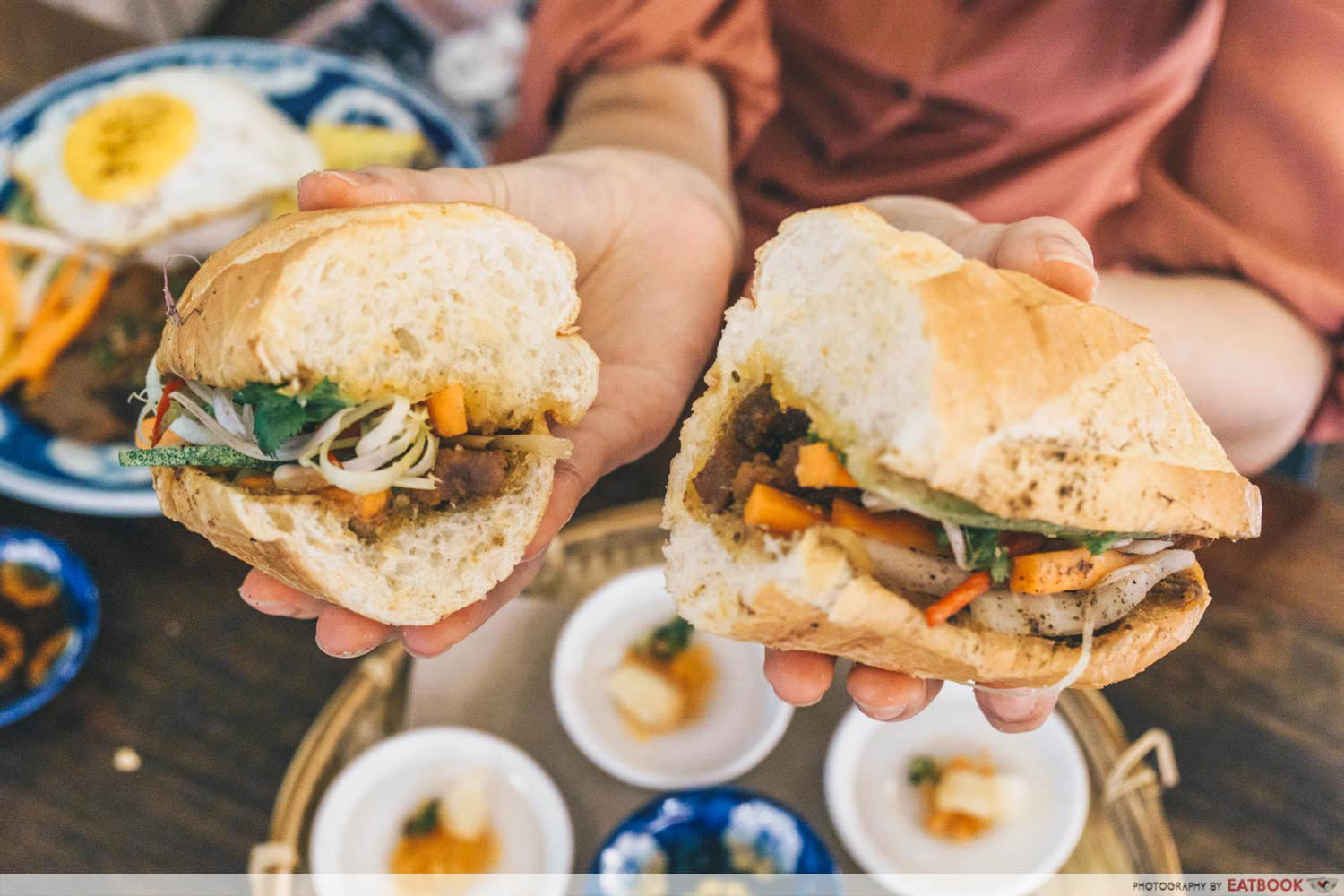 I expected a sandwich generously stuffed with filling. Unfortunately, the sandwich looked sparsely packed, with a poor bread-to-filling ratio.
The baguette was also slightly dry. It did not help that the proportion of filling was smaller. On the bright side, the distinct flavour of fish sauce paired with sweet grilled pork shined within. I just wish there was more. The mix of fresh vegetables, pickles, and cilantro also provided an extra crunch to the banh mi.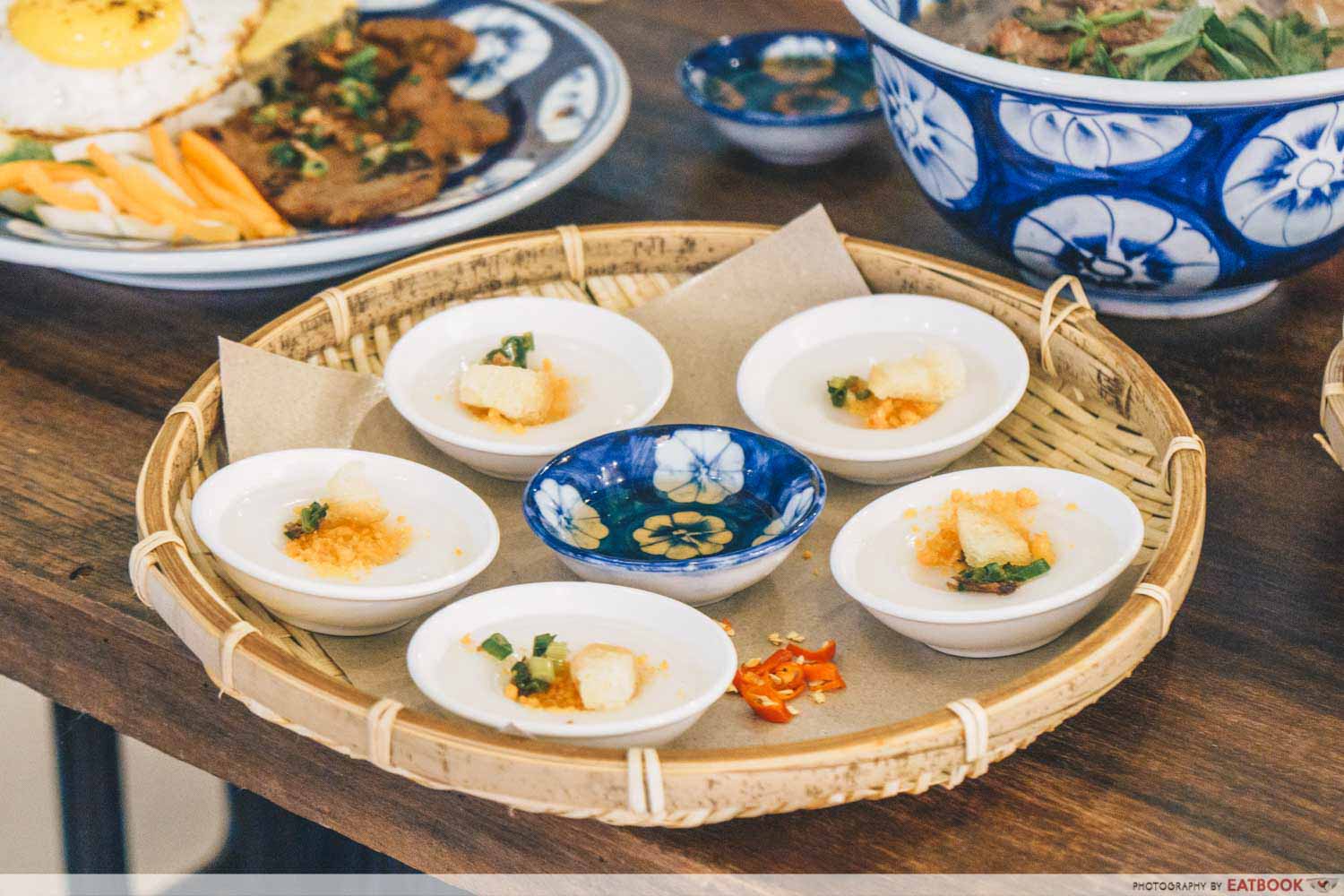 We decided to order the traditional Water Fern Cake – Banh Beo ($6.90+) as a side. They came in five small adorable little plates, along with some fish sauce and chilli.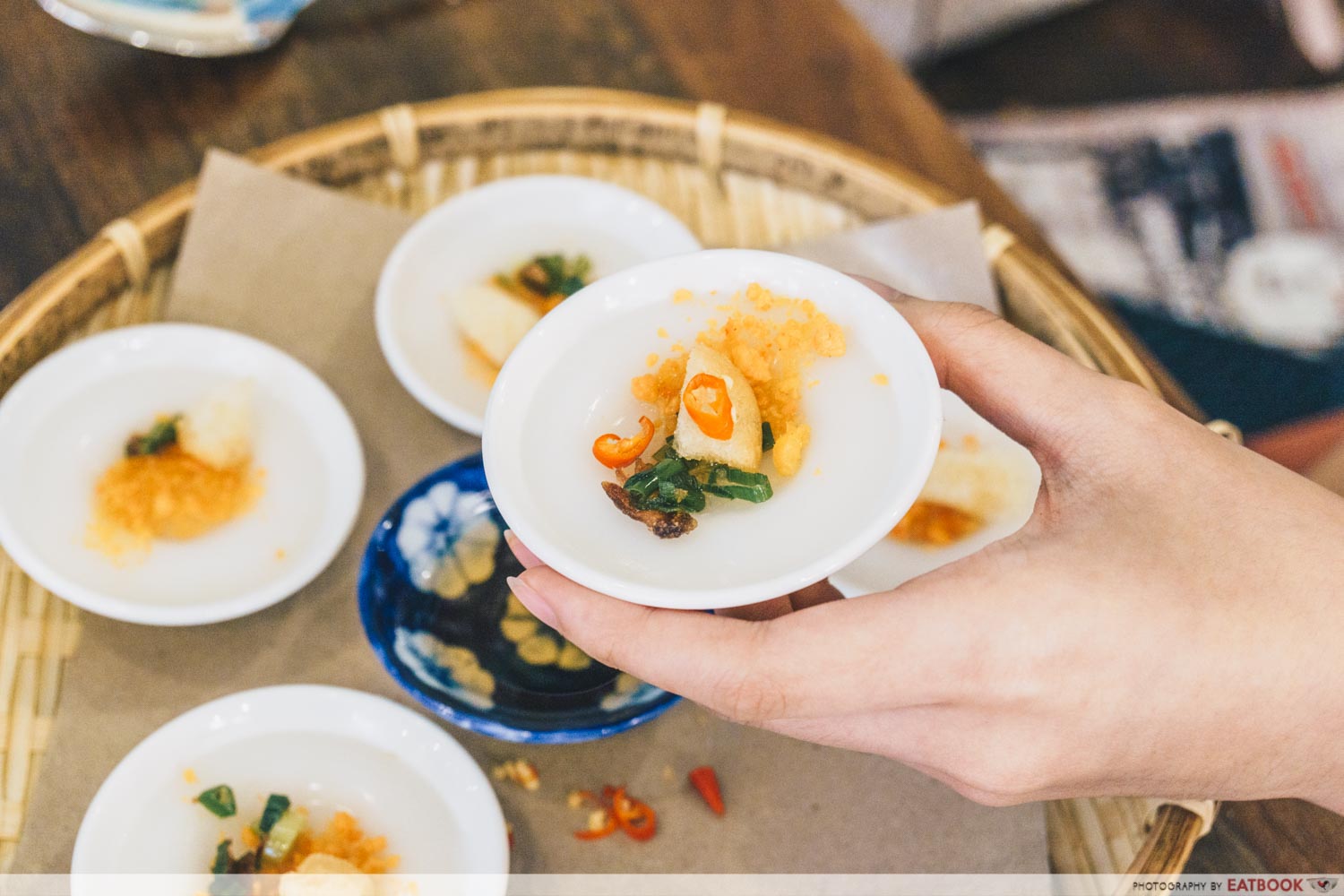 The rice cakes were soft and sticky, with a smooth texture that reminded me of chwee kueh. The little croutons and crushed shrimp on top were dressed in fish sauce, making it a flavour bomb.
We enjoyed the fern cakes enhanced with some chilli. Overall, these were a great, savoury addition to our meal.
Ambience at Co Chung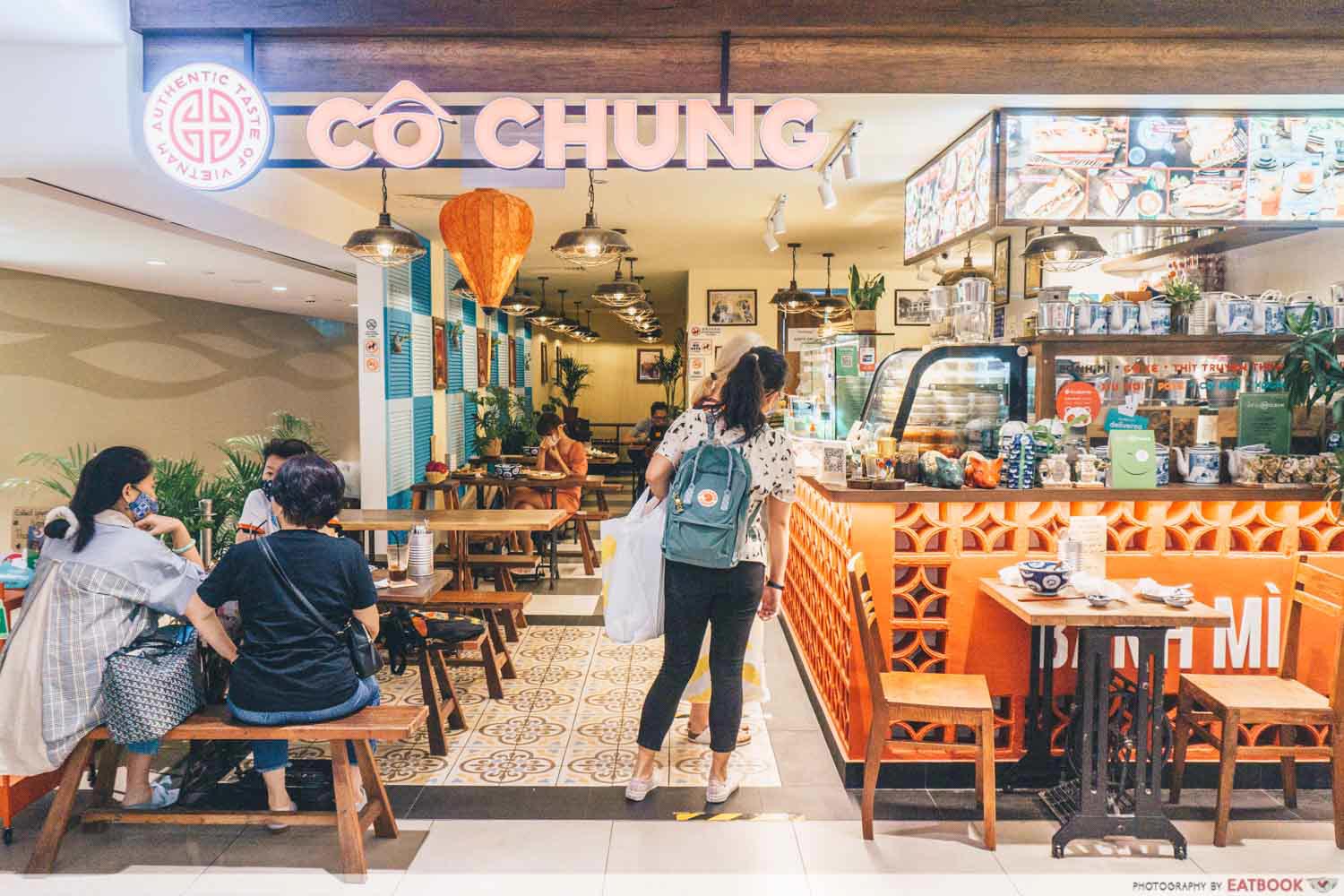 Co Chung is easily accessible, being conveniently located close to Dhoby Ghaut MRT Station's basement exit towards Plaza Singapura. Dimly lit with some Vietnamese-style decorations, Co Chung provides a cosy place for dinner. We also found tables further at the back, suitable for diners who prefer some quiet.
The verdict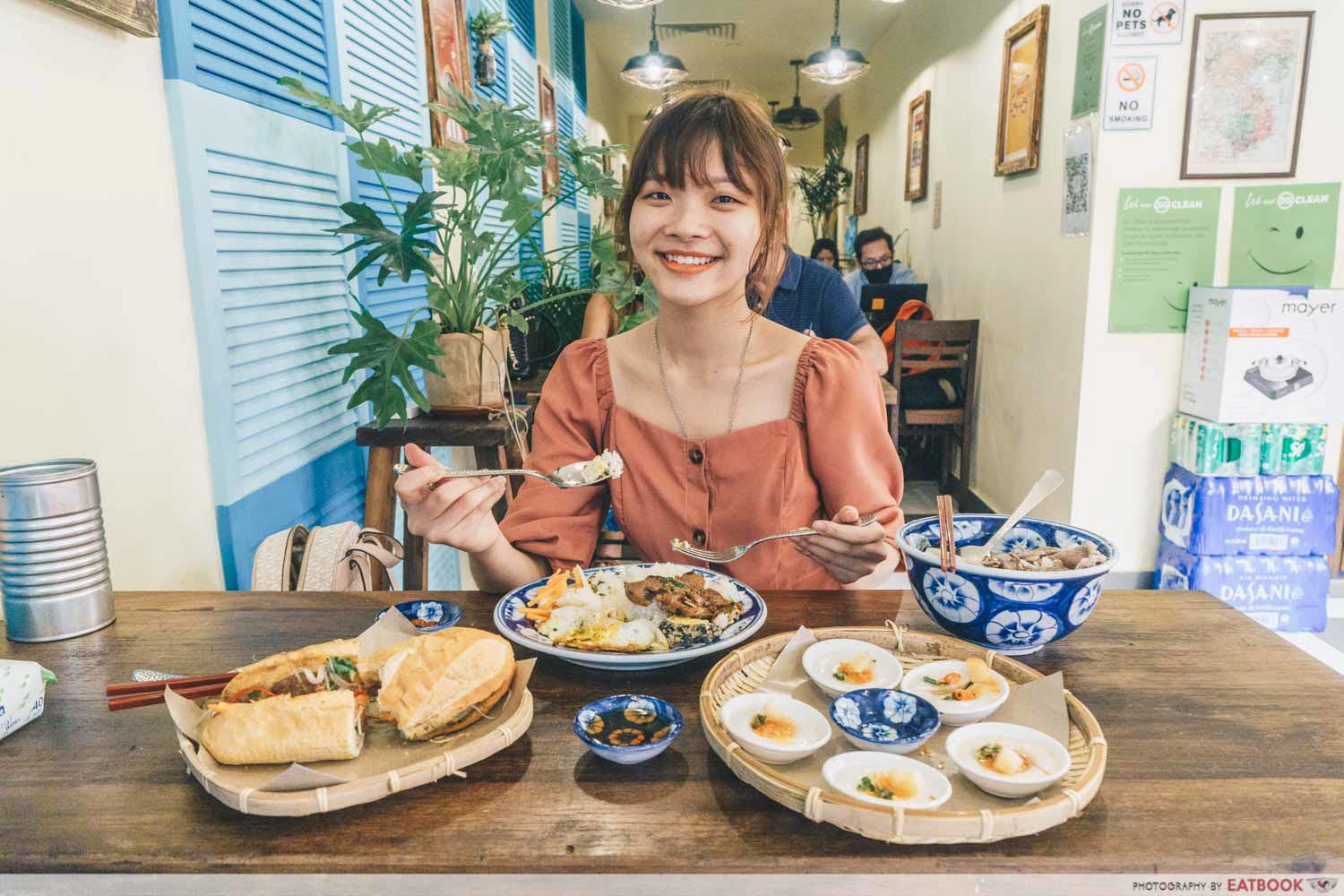 For its price point, Co Chung is definitely offers a good deal with standout flavours in every dish. The only downside was the banh mi but disappointments aside, Co Chung's extensive menu is one that I will look forward to trying more dishes from.
For more banh mi options, check out Banh You, Banh Mi and Banh Mi Thit.
Banh You, Banh Mi Review: Halal Vietnamese Sandwiches With Rendang Filling At Suntec
Address: 68 Orchard Road, #B2-20, Plaza Singapura, Singapore 238839
Opening hours: Daily 11am to 9pm
Tel: 8876 8137
Website
Co Chung is not a halal-certified eatery.
Photos taken by Muhammad Hafiq.
This is an independent review by Eatbook.sg.
Summary
Pros
– Flavourful mains
– Reasonable prices
Cons
– Banh mi was dry
Recommended dishes: Vietnamese Broken Rice – Com Tam ($9.85+), Pho Beef Soup – Pho Bo ($8.90+), Water Fern Cake – Banh Beo ($6.90+)
Opening hours: Daily 11am to 9pm
Address: 68 Orchard Road, #B2-20, Plaza Singapura, Singapore 238839