---
Cheap pho eateries all around Singapore
---
It's hard not to fall in love with pho when it comes in the form of rice noodles soaked in piping hot beef broth. Together with tender beef slices and some Thai basil leaves, this simple yet satisfying dish is something I crave for on rainy days. The best part is, a bowl of pho need not cost more than $10. Here's a list of Vietnamese restaurants offering cheap pho you can enjoy whenever your craving strikes.
---
1. Pho 99
---
CBD-kias visit Pho 99 in hordes during lunch hours, and it's not surprising why. Each bowl of Pho Bo ($9.50) comes with a generous portion of noodles and a decent amount of beef. Sides are affordable as well, so treat yourself to Mixed Platter ($7) that includes six deep fried pork spring rolls and four fresh shrimp spring rolls. Get Iced Vietnamese Coffee ($2.40) to defend yourself against that food coma you're bound to get after a meal here.
Address: 57/58 Amoy Street, Singapore 069883
Opening hours: Mon-Sat 10am to 9pm
Tel: 6410 9600
---
2. Mrs Pho
---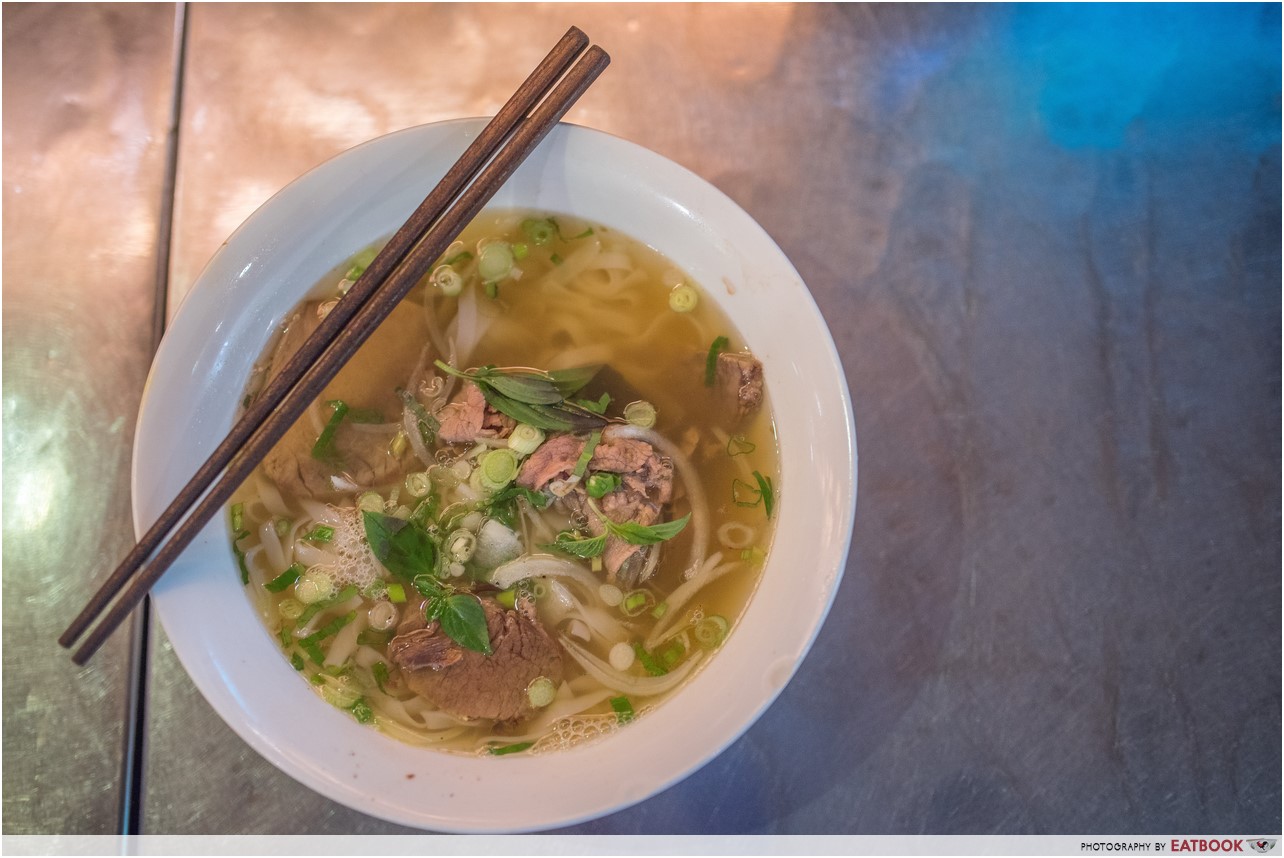 Pho Bo Tai ($7.90) and Pho Bo Dac Biet ($8.90) are Mrs Pho's signatures, and they're often sold out hours before closing time. Both belong to the category of beef pho but the former comes with beef slices and the latter offers beef slices, beef brisket as well as beef balls. Also worth a try is Bun Thit Nuung Cha Gio ($7.90). It's similar to bun cha, but instead of dipping your noodles in sauce, you get to mix the sauce with your noodles.
Address: 349 Beach Road, Singapore 199570
Opening hours: Daily 11am to 10pm
Tel: 6292 0018
Website
Menu
Read our full review of Mrs Pho here.
---
3. Long Phung
---
Many fans of Viet food consider Long Phung one of the best in Singapore. Long queues are consistently seen at this eatery at Joo Chiat, so you should be prepared to wait no matter what time you arrive. Pho Tai ($7) is a classic bowl of beef pho, and its silky noodles and tender beef slices will make your wait worth it. The small shophouse may get a little cramped during peak hours, but if you're here for just good food and not a HTHT with your friends then that shouldn't be a problem.
Address: 159 Joo Chiat Road, Singapore 427436
Opening hours: Daily 12pm to 10:30pm
Tel: 6440 6959
---
4. Pho Viet 
---
If you're rushing for time and want a quick meal, Pho Viet is a great alternative to Long Phung that's just across the road. Prices for pho start from $6 and you can get a bowl of Pho Bo Nac ($7), or beef brisket noodles, for a dollar more. Pho Viet has a bar area you can chill at, but it tends to get pretty loud during peak hours so avoid those times if you wanna hang around. It's open till 2am on weekdays and Saturdays, so drop by for a TGIF sesh!  
Address: 200 Joo Chiat Road, Singapore 427471
Opening hours: Mon-Sat 11am to 2am, Sun 11am to 12am
Tel: 9899 4966
Website
---
5. Yummy Viet

---
Located a five- to 10-minute walk away from Chinatown MRT Station, Yummy Viet is a great option for those who work close to the CBD or are looking for food before heading to a party at Clarke Quay. Mix Beef Noodle ($9.50) comes with a broth that's light yet flavourful, making this a bowl of pho you'll find easy to finish despite its large portion. BBQ Pork Noodle Dry ($7.90) is also worth a try because of the tasty and slightly charred pork slices in it.
Address: 28 Smith Street, Singapore 058942
Opening hours: Daily 11am to 11pm
Tel: 6222 5191
Website
---
6. Thien Long
---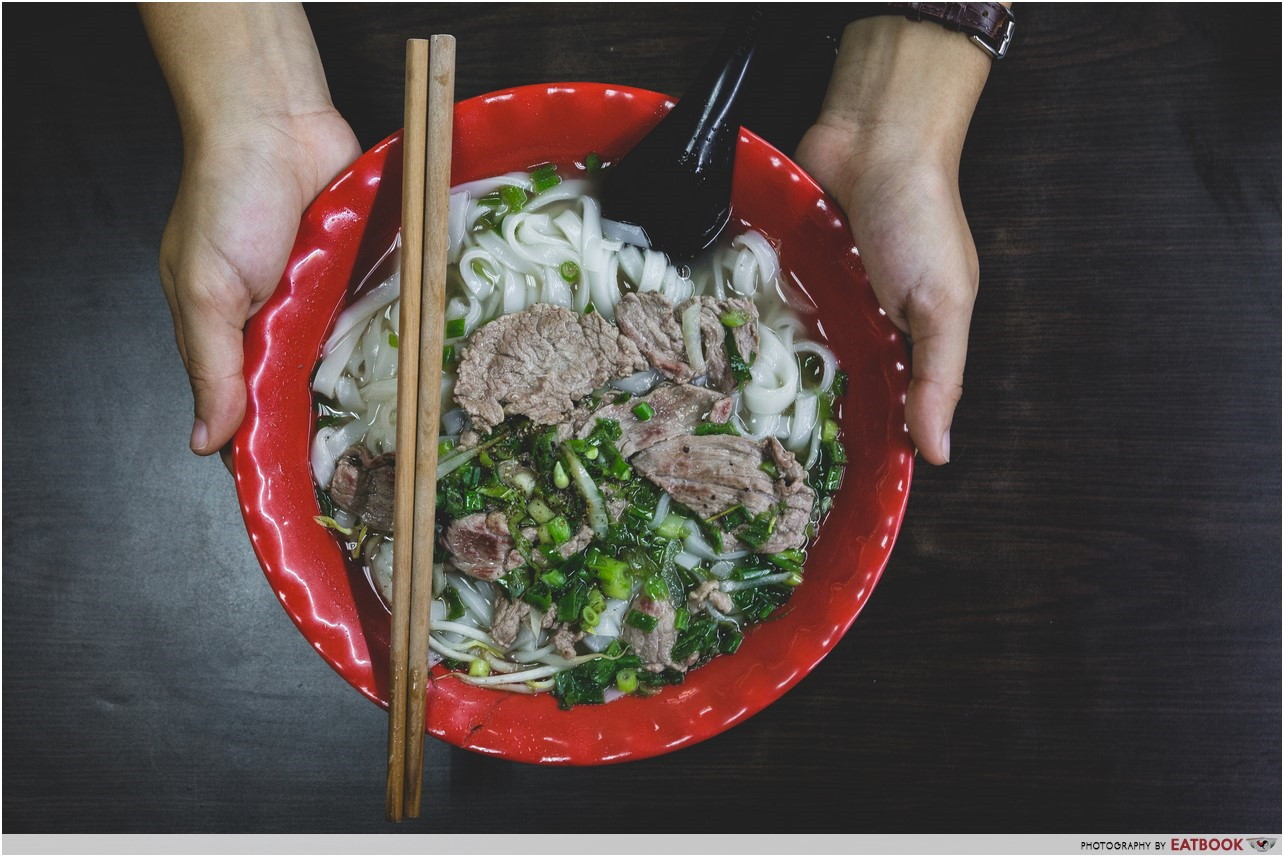 The next time you can't decide what to eat at Orchard, give Thien Long a chance. Serving pho at $6, this is one of the cheapest meals you can get around the area. Beef Noodle Soup ($6) has a strong taste of herbs and spices, and even though the beef slices in it are thicker than usual, they remain soft and easy to chew. Dry noodles are also available here, with Vietnamese Dry Beef Vermicelli ($6) being one of the more noteworthy ones.
Address: 400 Orchard Road, #04-02/08, Orchard Towers, Singapore 238875
Opening hours: Daily 11am to 2pm, 6pm to 4am
Tel: 8619 9997
Website
Read our full review of Thien Long here.
---
7. Pho Stop

---
Pho Stop stands out from the rest of the Vietnamese restaurants on this list thanks to its modern and brightly-lit interior. Get yourself a hearty bowl of Pho Ga ($10) filled with shredded chicken and a substantial pile of noodles. Add thirty cents more for good ol' Pho Bo Tai ($10.30). If you're thinking of ordering sides, go for Cha Ca ($5.60 for five pieces). These fish cakes are made in-house and come with a good balance of salty and spicy flavours.
Address: 72 Tanjong Pagar Road, Singapore 088493
Opening hours: Mon-Sat 11:30am to 9:30pm
Tel: 6534 8178
Website
Menu
---
8. Lang Nuong

---
Lang Nuong is known for Vietnamese BBQ, but they serve decent Pho Bo ($8.90+) too. Service here is relatively efficient, so go ahead and get yourself a bowl of pho while waiting for your barbequed food to be done. Bo Kho Banh Mi ($6.90+), or beef stew with baguette, is another tasty dish here. The beef stew holds chunks of succulent beef in it and comes with slices of toasted baguette you can use to soak up all the goodness of the stew.
Address: 18 Foch Road, Singapore 209260
Opening hours: Daily 12pm to 11pm
Tel: 9235 3548
Website
Menu
Read our full review of Lang Nuong here.
---
9. Uncle Ho Tuckshop
---
Located at Pasir Panjang, Uncle Ho Tuckshop is truly a hidden gem. This fuss-free Vietnamese joint serves Pho Beef ($9.90) that comes with a sweeter broth than usual. What you must try here, however, is their signature Hanoi Bun Cha ($12.90). Just like in Hanoi, you'll get a bowl of slightly-charred pork belly and crunchy papaya slices soaked in a savoury and slightly sweet broth. Served together with it is a plate of vermicelli meant for dipping as well as bean sprouts and herbs.
Address: 100 Pasir Panjang Road, #01-04, Singapore 118518
Opening hours: Mon-Fri 11am to 9pm, Sat 11am to 3pm
Tel: 9624 5761
Website
Find out more about good food in Pasir Panjang here.
---
10. Quan Co Ba
---
Quan Co Ba is a relatively new kopitiam stall manned by two Vietnamese ladies at Jalan Besar's Broadway Food Centre. They serve classic Vietnamese dishes such as Banh Mi ($5), Banh Xeo ($7), and Pho Dac Biet ($6). While they are generous with the amount of beef slices and beef balls, the broth leans towards the sweet side and is not as savoury as what you might get at other places on this list. Service can be a slow even during off-peak hours, so this is not one for hangry souls. Those who frequent Bugis can also check out their original outlet at Sim Lim Square.
Address: 100 Tyrwhitt Road, #01-05, Broadway Food Centre, Singapore 207542
---
It's all pho you
---
Gone are the days of longing for that tasty bowl of pho you tried in Vietnam. You can find equally legit pho in Singapore and relive those vacation moments. Holler down below if you know of any other cheap and good pho spots!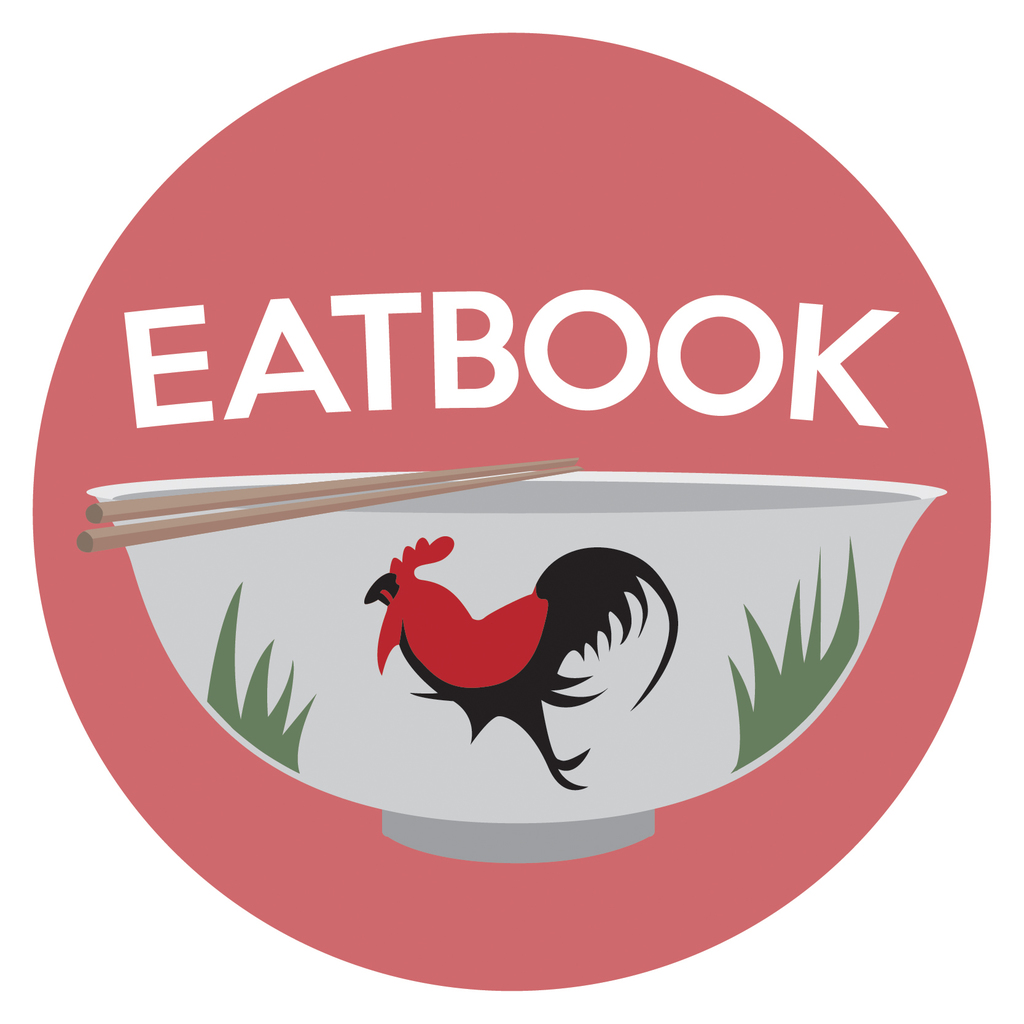 Drop us your email so you won't miss the latest news.