Find cheap pho in Orchard at Thiên Long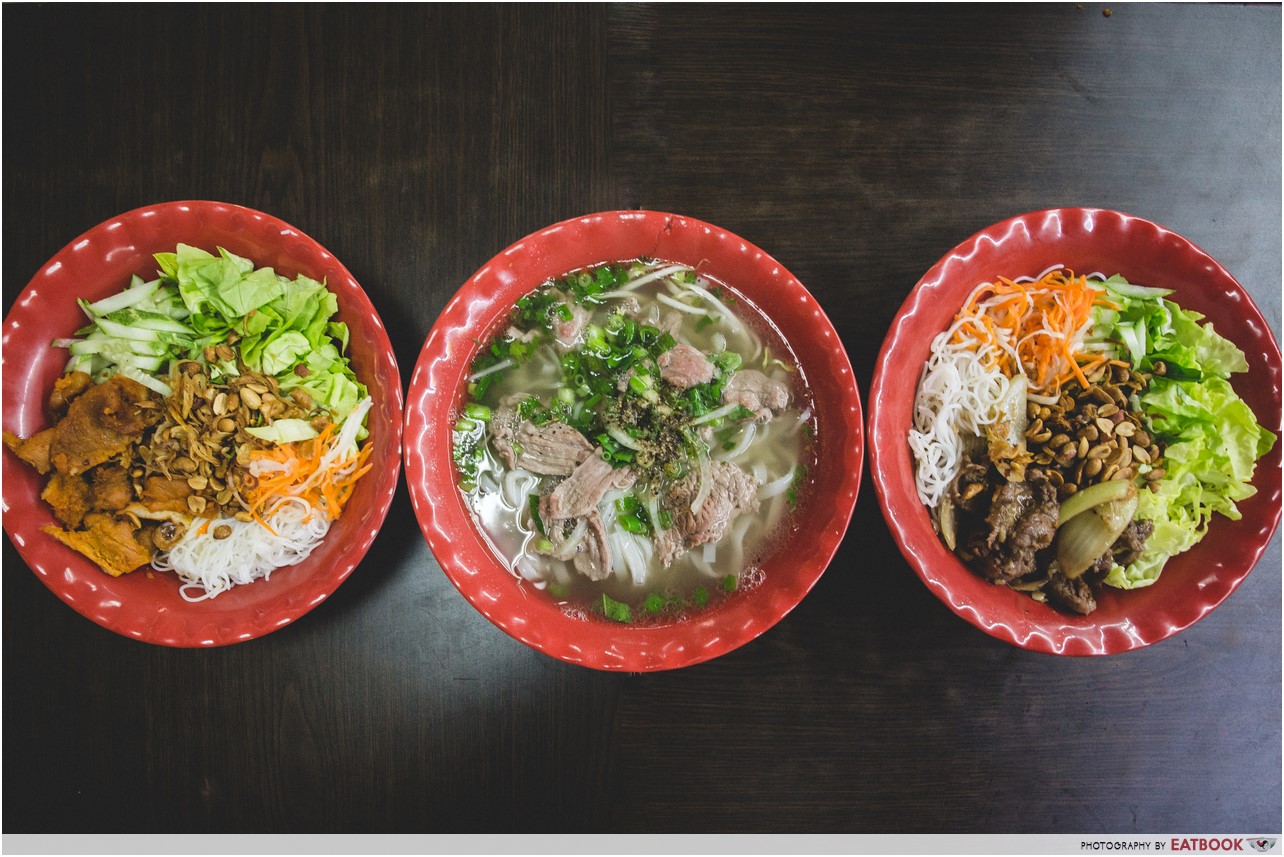 If I could go back in time, I would definitely consider returning to the day I found comfort in a piping hot bowl of pho eaten on an uncomfortably low chair, with chaotic traffic in the background, in Ho Chi Minh City. While there are quite a handful of pho restaurants in Singapore, many of them are either expensive or a little too out of the way for me.
Thiên Long Vietnamese Food, however, changes things. A bowl of beef pho here is only $6, and the eatery is located at ORCHARD – YAS.
Food at Thiên Long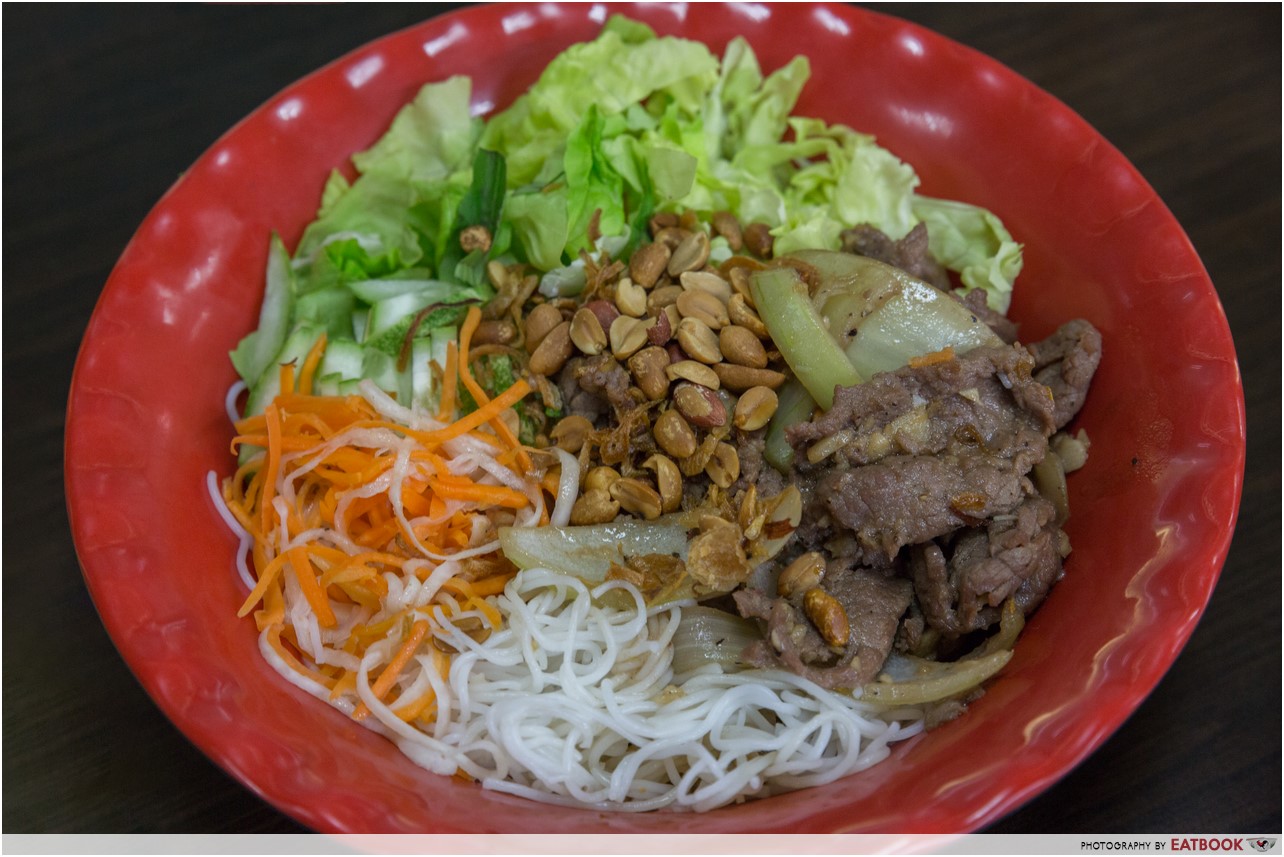 We ordered one of the more popular dishes, Vietnamese Dry Beef Vermicelli ($6). It came in a red plastic bowl and resembled what I had on the streets of HCM years ago. The bowl is filled with vermicelli, fresh lettuce, slices of stir-fried beef, a spoonful of roasted peanuts, fried shallots and strips of carrot, white radish and cucumber.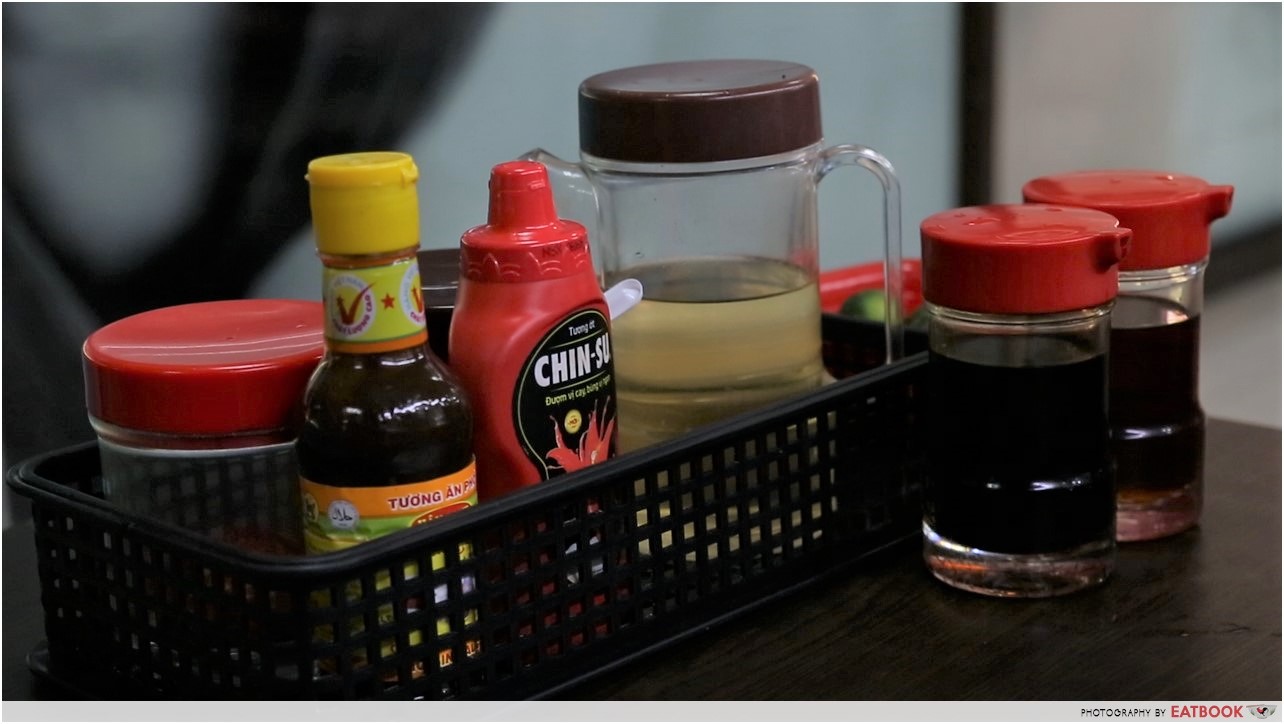 With an array of sauces and condiments on each table, I wasn't too worried about my unseasoned bowl of dry beef noodles. The Vietnamese staff recommended adding fish sauce and lime, which I did, along with a spoonful of crushed red chilli padi to give this dish a good kick.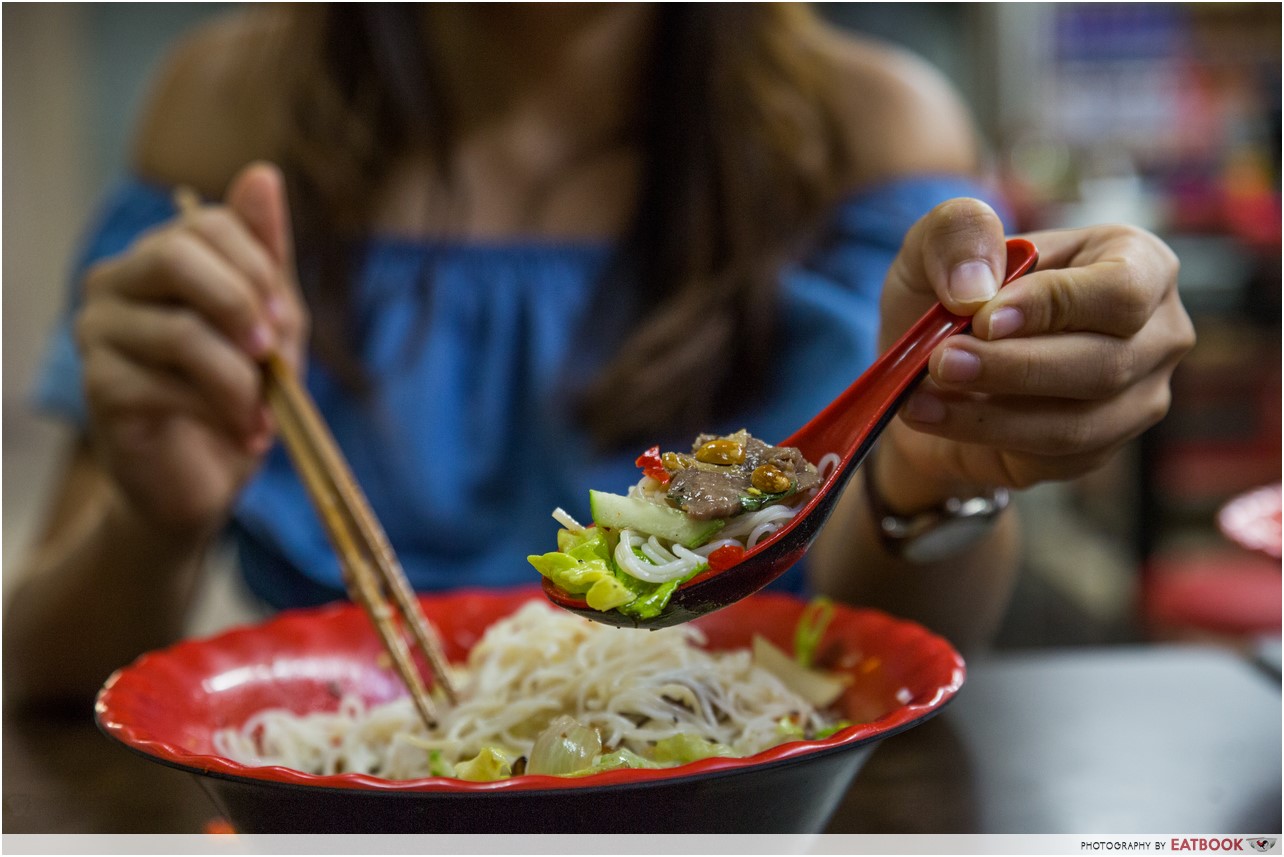 Sauteed with onion, the slightly sweet and tender beef slices reminded me of bulgogi (Korean grilled marinated beef). Though it's not as thinly sliced and succulent as what you'd get at Vietnamese eateries, the flavourful marinade more than made up for it. Together with the cucumbers, veggies and lime, this ending up being a flavourful yet refreshing main.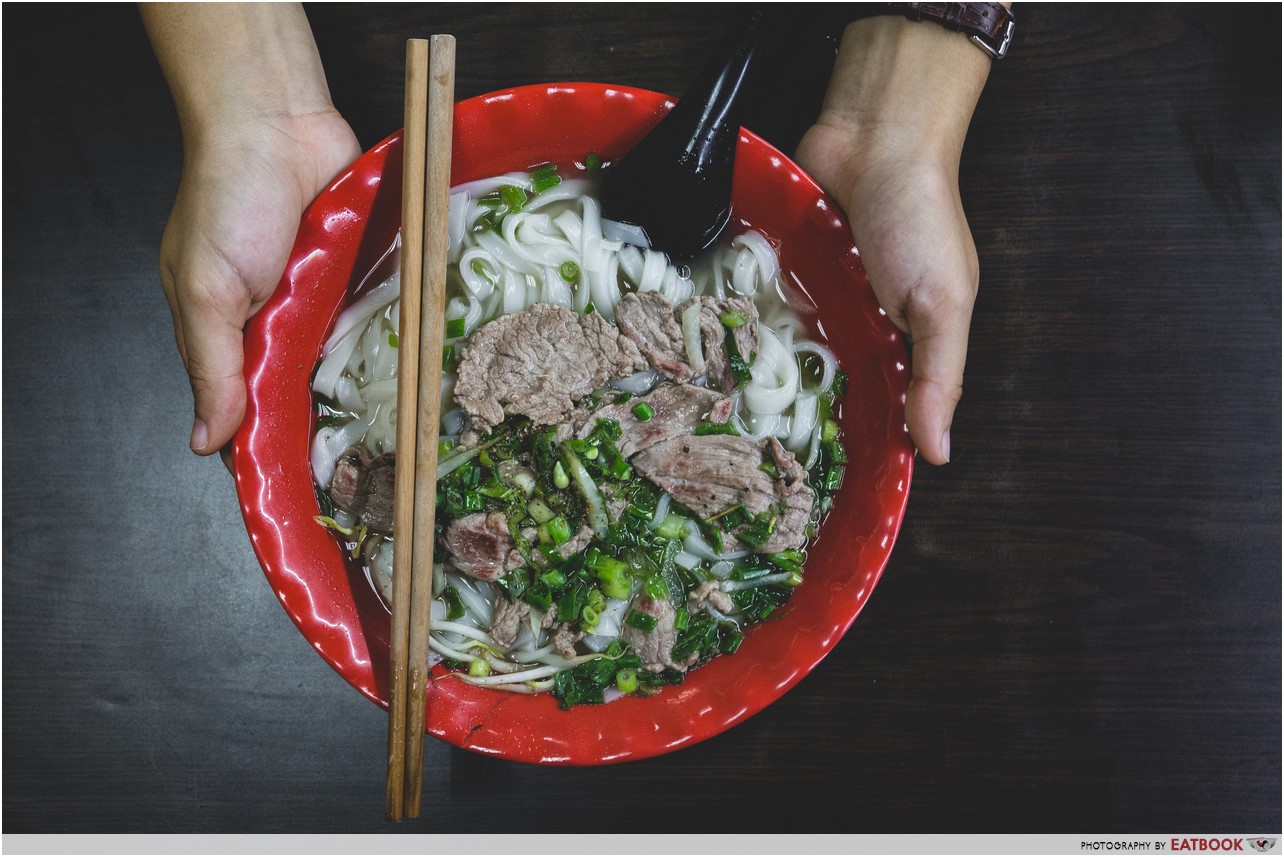 Nothing comforts me on a rainy day better than a warm bowl of soup, and a classic I'll always go back to would be Beef Noodle Soup ($6). A generous portion of soft rice noodles sat in a light broth that was packed full of umami goodness.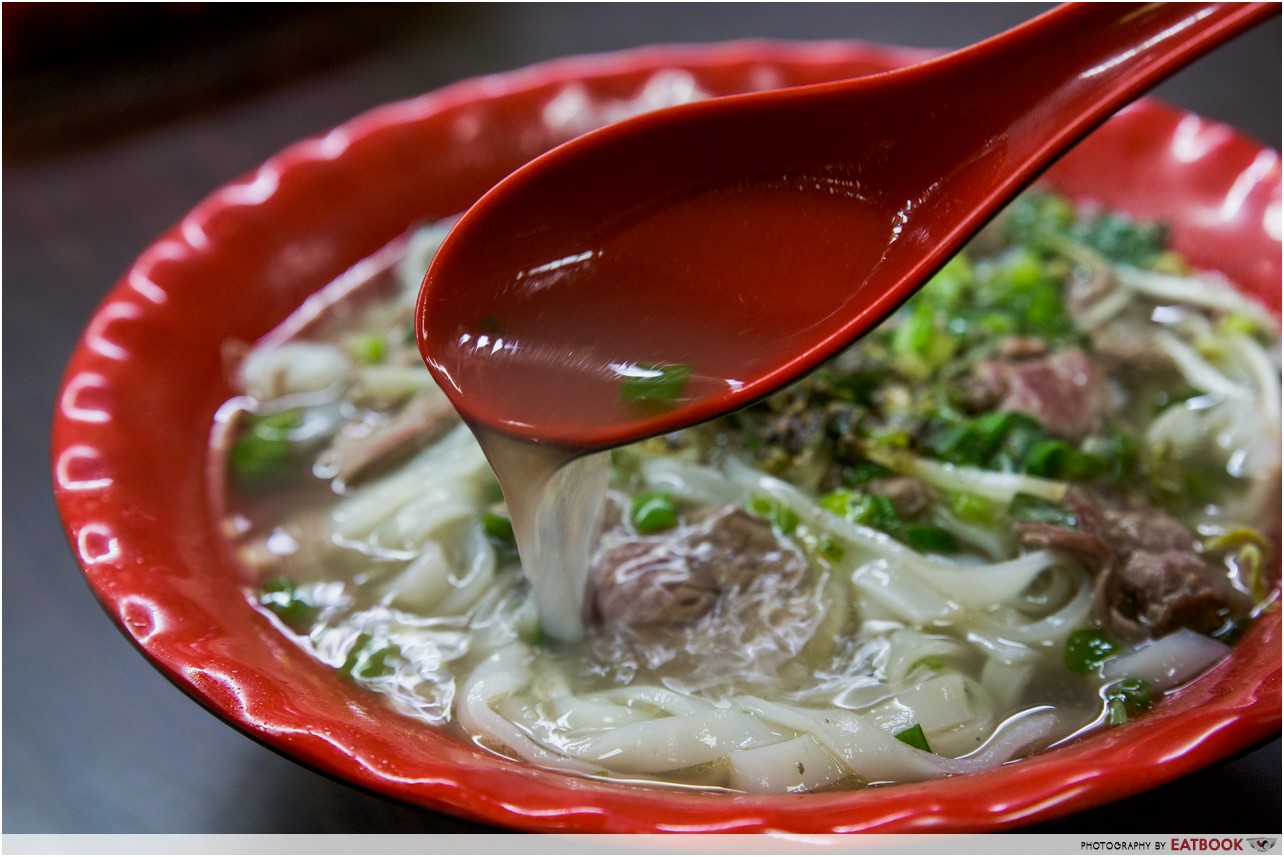 Other than having a distinct beef flavour, the broth also had strong hints of herbs. Chopped cilantro, Thai basil and a squeeze of lime made every spoonful even more fragrant and addictive.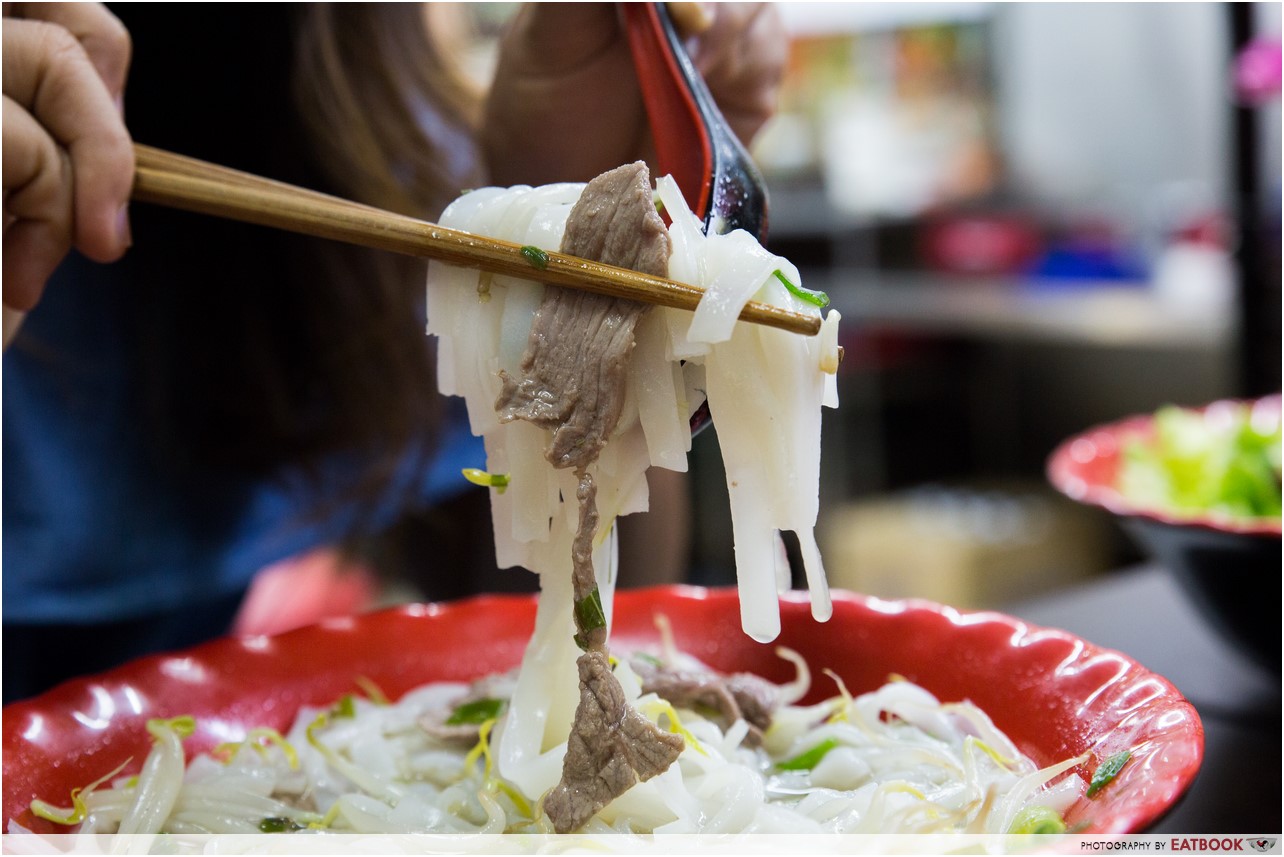 The slices weren't as thin as what we expected, but remained tender.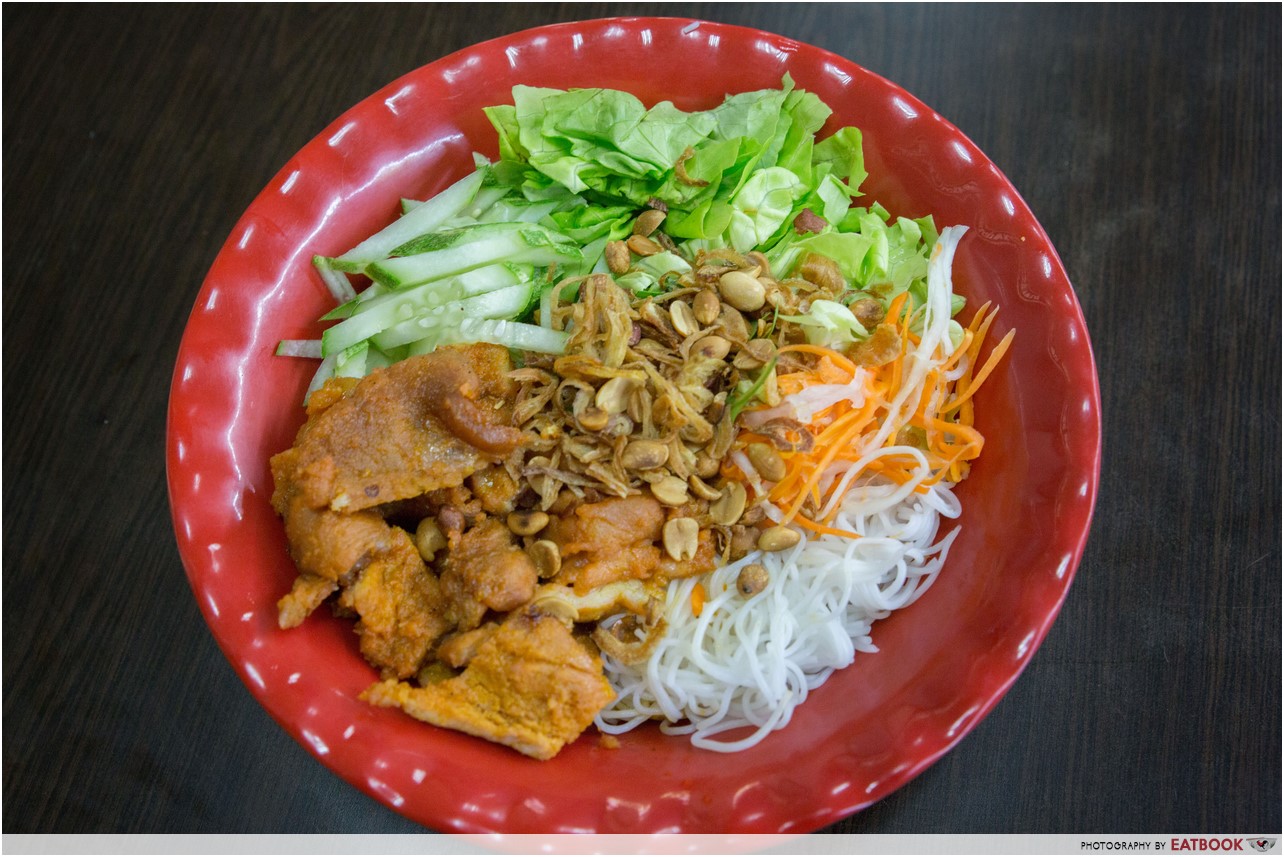 Vietnamese Dry Pork Chop Vermicelli ($6) was similar to the beef vermicelli, but came with pork instead of beef slices.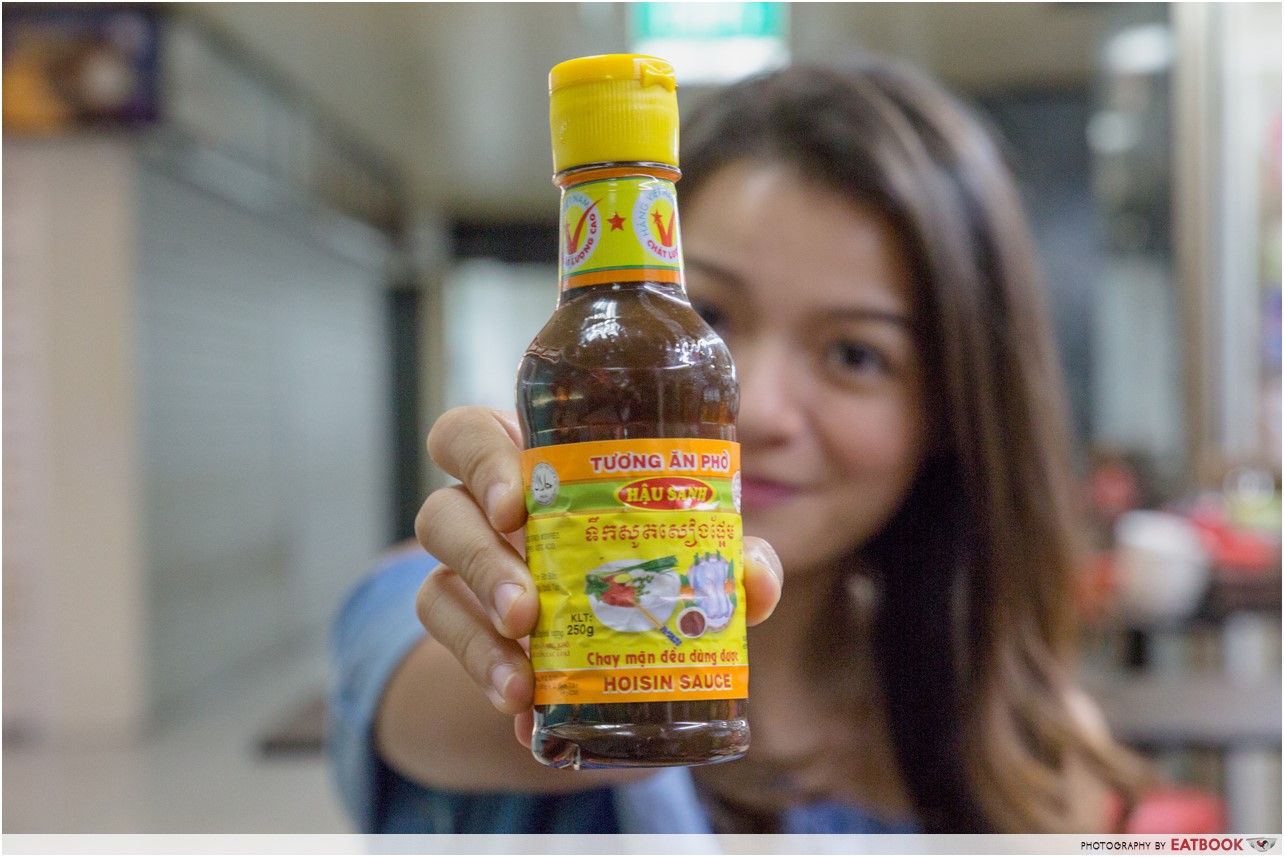 Instead of adding the same condiments and sauces, we decided to switch things up and added hoisin sauce, chin-su (Vietnamese version of sriracha) and fish sauce. I didn't like that combination because the hoisin sauce made the dish a little too sweet, so I squeezed a lime to keep it more balanced.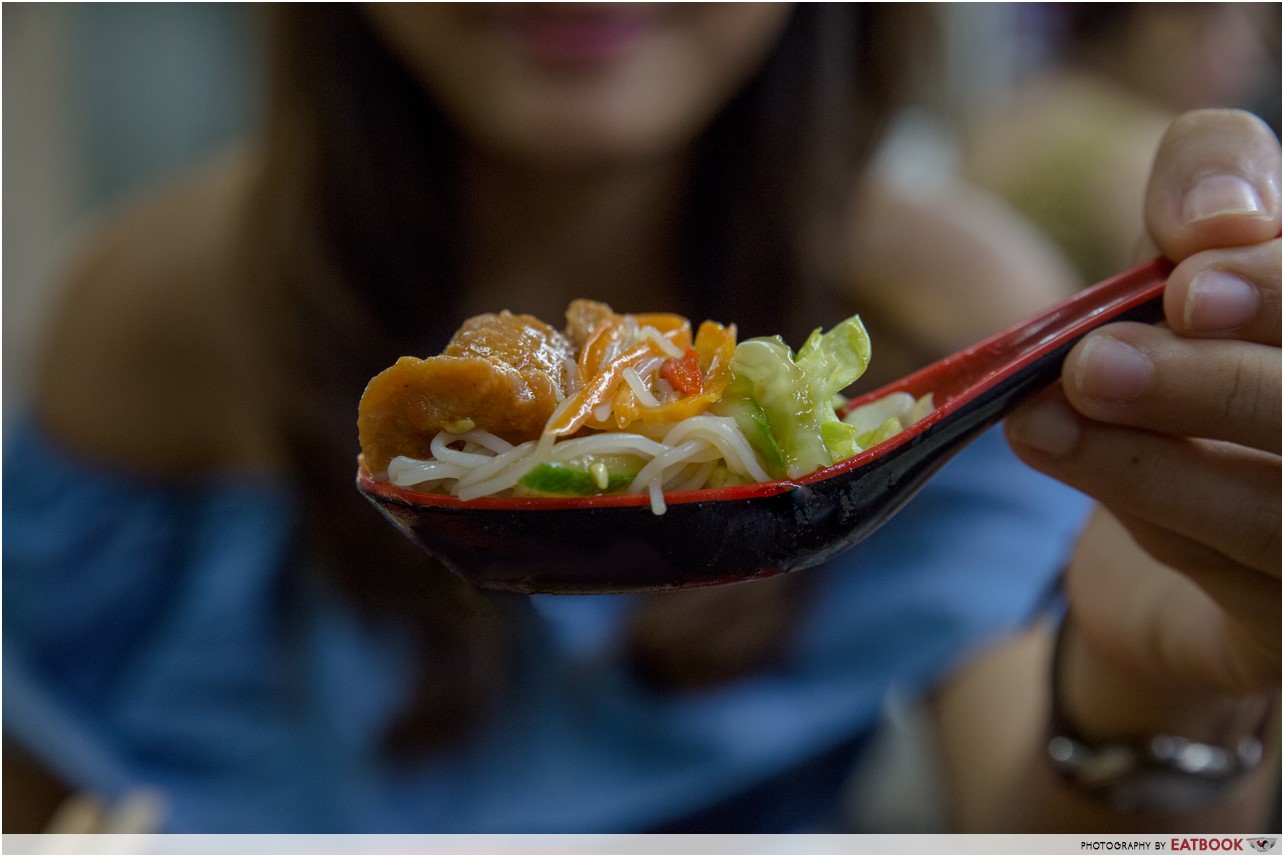 I was hoping the bright orange pork would surprise my taste buds but it was disappointing. The meat was really tough and didn't have much flavour on its own.
Drinks at Thiên Long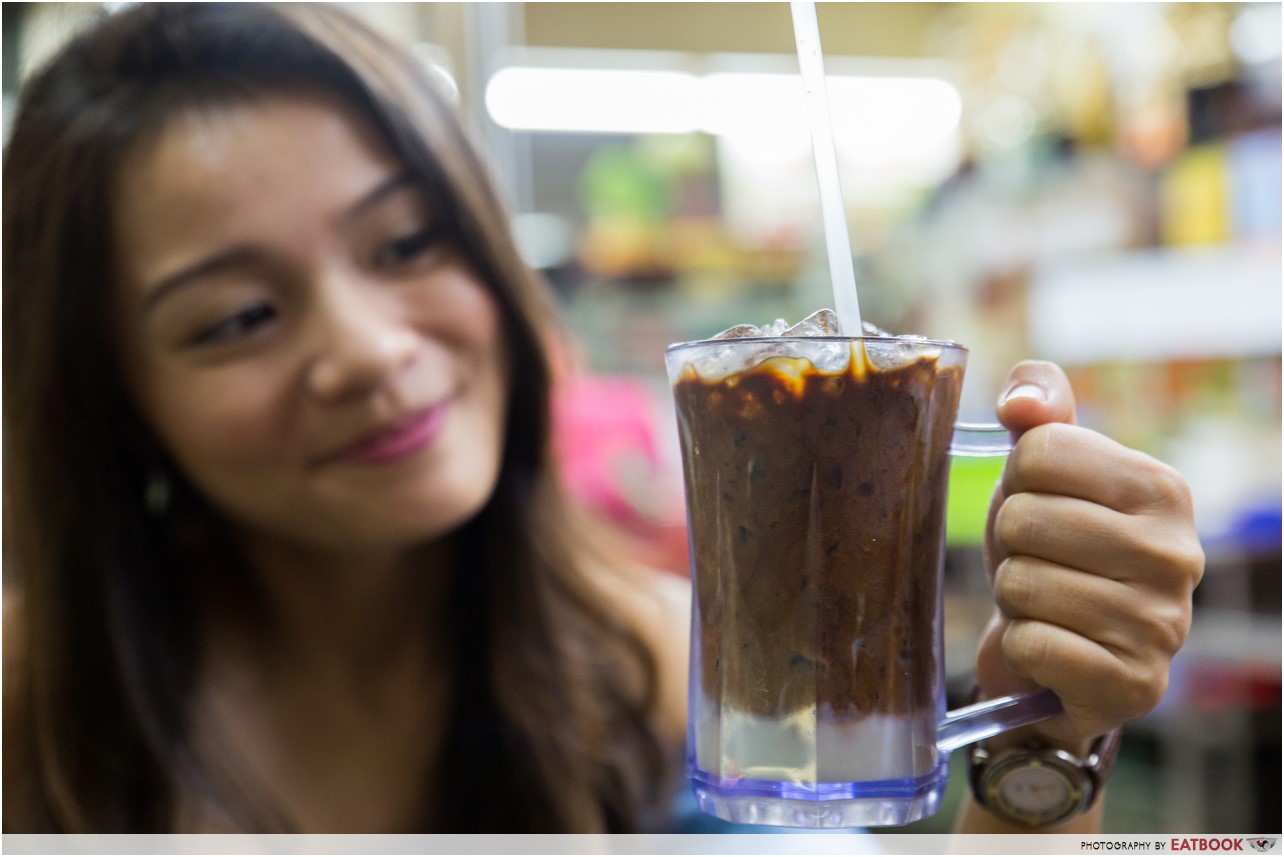 Iced Coffee ($3) was pictured with three distinct layers on the menu, but the actual drink only came with two – coffee and condensed milk.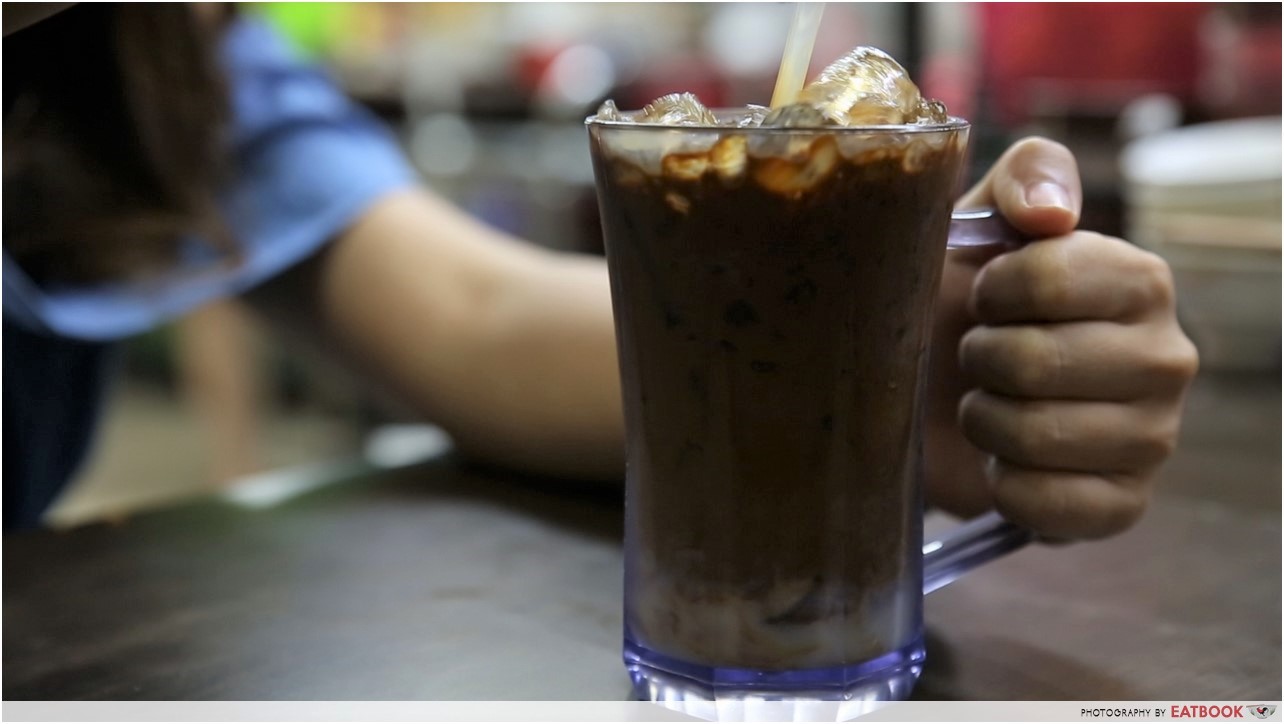 The coffee had a strong roasted taste and was a lot more fragrant than my usual kopi peng. Whether or not it's worth $3 depends on how much you love coffee, because this wasn't extraordinary to me.
Ambience at Thiên Long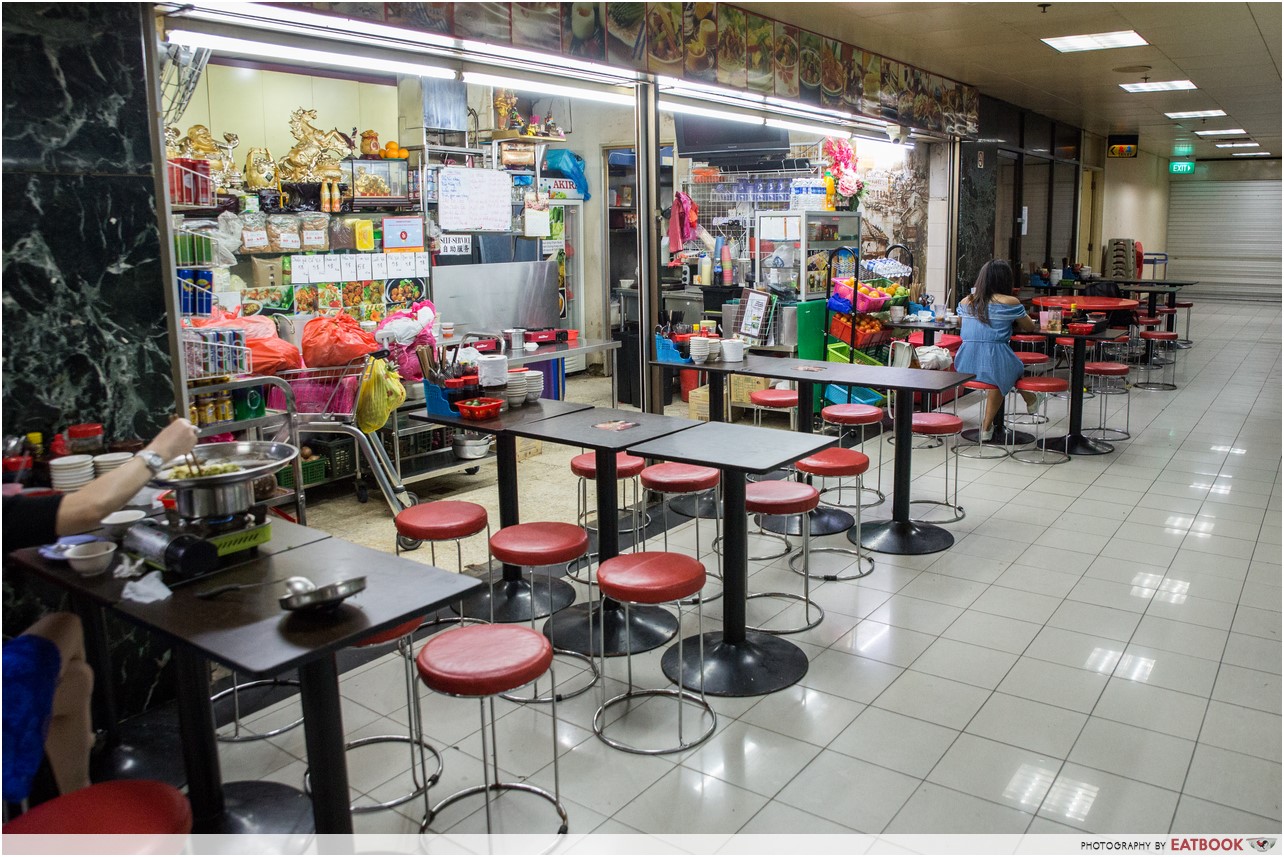 It was pretty hard to locate the stall as it didn't have a signboard, so we only found it after asking around. Protip: it's right behind a stall named Orchard Deli (#04-02). We were there at 5pm and were told they only open at 6pm, but the Vietnamese chef was very nice and said she didn't mind cooking for us right away.
The verdict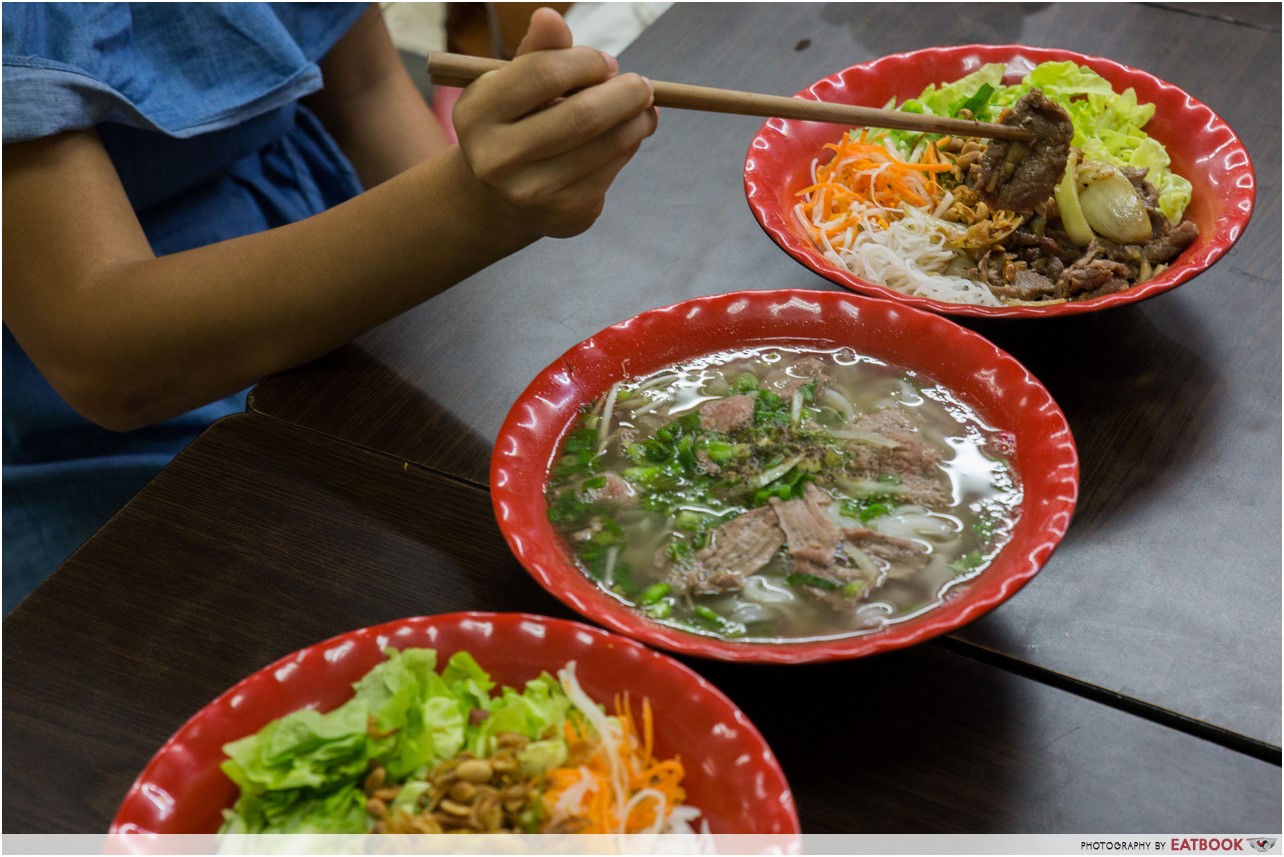 Even though the pork chop vermicelli was a definite miss, the beef noodle soup and dry beef vermicelli were un-pho-gettable. I'll give Grilled Chicken Chop Vermicelli a try the next time I drop by. It's hard to find cheap food in Orchard, much less Vietnamese food, so this is worth a trip the next time you and your friends can't decide what to eat in town.
This is an independent review by Eatbook.sg.
Summary
Pros
– Affordable
– Good pho
– Convenient location
Cons
– Hit and miss
Recommended Dishes: Beef Noodle Soup ($6), Vietnamese Dry Beef Vermicelli ($6)
Operating Hours:
Monday – Sunday 11am to 2pm, 6pm to 4am
Address: 400 Orchard Road, #04-02/08, Orchard Towers, Singapore 238871