---
Pasir Panjang food that has been filling up satisfied foodies
---
For those who don't live here, the thought of Pasir Panjang may bring to mind images of container trucks and shipyards. But residents and office workers would know we have some food gems of our own. And good things must share, so here are 10 eateries in Pasir Panjang worth checking out. From laojiao hawker stalls to hipster cafes, there's bound to be something for you in the hood.
---
1. On The Table
---
Westies, if you've been wanting to try the highly-raved wings from Lola's Cafe but are too lazy to travel all the way to Hougang, we have good news! Lola's sister cafe, On The Table, has it too. Crispy Honey Wings ($10) lives up to its name with a light and crispy batter and a generous coating of honey and aromatic spices. They are also known for having stellar pastas such as Table's Carbonara ($16) and Tomato Swimmer Crab Linguine ($16). NUS students get 10% off their total bill, so keep this place in mind the next time you're meeting friends who study there!
Address: 118 Pasir Panjang Road, Singapore 118541
Opening hours: Tue-Thur 11am to 10pm, Fri 11am to 10:30pm, Sat 10am to 10pm, Sun 10am to 10pm
Tel: 6750 4740
Website
Menu
Find out where else to get cheap food around NUS.
Find out where else to get student promos in Singapore.
---
2. Chiak
---
Located within Mapletree Business City, Chiak is a salad and noodle bar that draws health-conscious office workers in. What sets it apart from other DIY grain bowl places is their range of unconventional choices. Instead of the usual quinoa or rice, you can opt for bee hoon, kway teow or soba, and have them in chicken broth, miso broth or tossed with a dressing. My favourite thing about Chiak, however, is their breakfast. Aside from the classic Pandan Kaya & Butter ($3.50 a la carte), you can choose to sandwich your oat bran toasts with unique spreads such as Black Sesame & Vanilla Custard ($3.50 a la carte). 
Address: 40 Pasir Panjang Road, Mapletree Business City, Singapore 117383
Opening hours: Mon-Fri 8am to 8pm
Tel: 6358 2313
Website
Menu
---
3. Feng Kee Hainanese Curry Rice
---
With more than 20 years of experience, few do it better than Feng Kee when it comes to drenching rice in a concoction of luscious curry, robust dark soya sauce or char siew sauce. When choosing your ingredients, don't miss out on melt-in-your-mouth braised pork belly, homemade fish cakes and curry braised cabbage – getting all these will cost you no more than $4! Sadly, the friendly and hardworking folks of Feng Kee are retiring this year, so head down while you can and be prepared to queue!
Address: 121 Pasir Panjang Road, #01-41, Pasir Panjang Food Centre, Singapore 118543
Opening hours: Mon-Sat 4:30am to 2:30pm
Tel: 9650 9647
---
4. Heng Huat Fried Kway Teow
---
I rarely eat char kway teow, but on the occasion that I do, I feel guilty until my next gym session. Heng Huat helps lessen my guilt by covering the oily but delicious goodness in bright green veggies. Char kway teow here comes in $3 to $7 portions, and are topped with a mountain of stir-fried chye sim. While this isn't the best char kway teow around, the absence of lard and abundance of veggies makes this a good option if you're looking for something that won't – literally – weigh you down too much.
Address: 121 Pasir Panjang Road, #01-36, Pasir Panjang Food Centre, Singapore 118543
Opening hours: Mon-Sat 11am to 9:30pm
---
5. Uncle Ho Tuckshop

---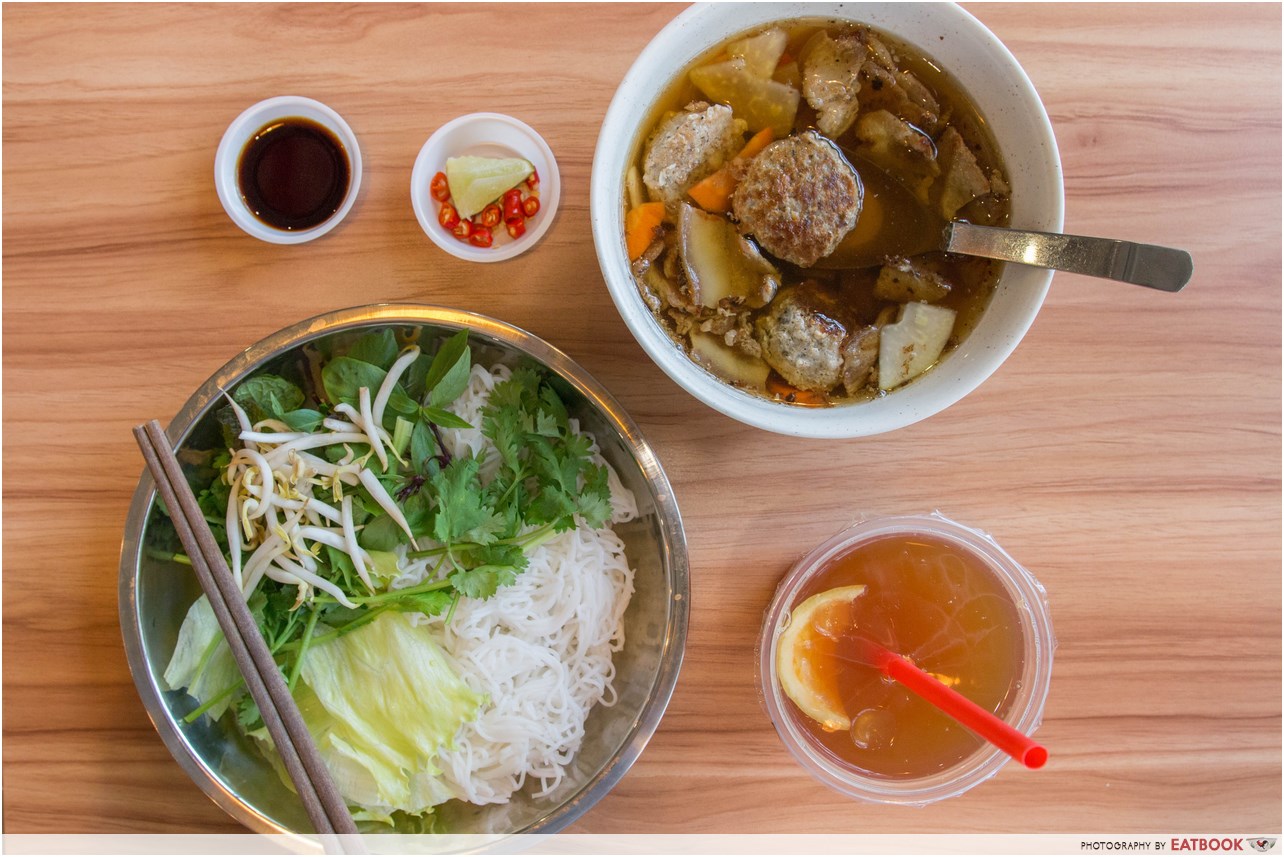 Uncle Ho Tuckshop is where you can go for some legit Vietnamese food without having to board a plane. Kick off your feast with their popular Fried Spring Rolls ($8.50) and Banana Flower Chicken Salad ($9.50). For mains, take a break from pho and go for their signature Hanoi Bun Cha ($12.90), which features charred pork belly slices and juicy pork balls in a sweet and slightly tangy broth. Dip your vermicelli noodles into the same broth and add some taugay for a crunch. If you're like me and can't say no to Vietnamese coffee – or rather, any kind of coffee – Vietnamese Drip Coffee ($4.50 for hot, $3.50 for iced) is well-roasted, potent and will not disappoint.
Check out our full review of Uncle Ho Tuckshop.
Address: 100 Pasir Panjang Road, #01-04, Singapore 118518
Opening hours: Mon-Fri 11am to 9pm, Sat 11am to 3pm
Tel: 9624 5761
Website
---
6. E-Sarn Thai Cuisine
---
To me, tom yam serves as a good gauge of how good a Thai eatery is. Tom Yam Talay ($10.50/$15.50) at E-Sarn impresses with an almost-perfect balance of sweet, sour, savoury and spicy. Not to mention the amount of seafood in it too. Other popular dishes include a moreish Crispy Omelette ($8.50/$13.50) as well as Grilled Pork ($14.50/$19.50) that's nicely marinated and caramelised on the grill to create subtle sweetness and smokiness.
Address: 130 Pasir Panjang Road, Singapore 118548
Opening hours: Wed-Mon 11:30am to 2:30pm, 5:30pm to 10pm
Tel: 6473 3716
Website
Menu
---
7. Kaisen Ichi Restaurant & Bar

---
It's hard to resist good donburi and chirashi don, especially when they cost less than $20. Beef Steak Don ($16+) at Kaisen Ichi has slices of beef that are so tender, they practically melt when you bite into them. Coupled with an onsen egg, fried shallots and caramelised onions, this bowl is worth way more than its price. If you're not a beef person, they have Kaisen Bara Chirashi Don ($18+) and Salmon Ikura Don ($12+), as well as various types of chicken and pork donburi. Protip: This place is always packed to the brim with office workers during lunch, so come in the evening when the crowd is much more forgiving.
Address: 40 Pasir Panjang Road, #02-36, Mapletree Business City, Singapore 117383
Opening hours: Mon-Fri 11:30am to 10pm
Tel: 6358 3858
Website / Menu
---
8. Sum Kee Food

---
Located a little further down from Pasir Panjang and tucked away in a quiet area, Sum Kee Food may be easily missed. If you love zi char, this family-run eatery is one you should add to your list of must-tries. Ultraman Chicken ($12) is one of their top-selling dishes and comes with crispy popcorn chicken pieces tossed in salted egg yolk sauce. Prices for classic zi char dishes like pork ribs, claypot tofu and stir-fried veggies range from $8 to $15, while noodles and fried rice can set you back by $4 to $6.
Address: 2 Telok Blangah Street 31, Yeo's Building, Singapore 108942
Opening hours: Daily 11am to 11pm
Tel: 6737 3233
---
9. Fei Zai Pork Rib Prawn Noodles
---
The uncle at Fei Zai opens his stall in the wee hours of the morning, and his prawn mee is so good there tends to always be a handful of customers who start queuing at 6am. The stock he makes is savoury, full-bodied and umami – you won't want to leave a single drop behind. Prices range from $4.50 to $8 depending on the type of prawns you order and whether you want your noodles with or without pork ribs. Certain ingredients like small prawns or pork ribs sell out as early as 10am, so come very early if you don't want to be disappointed.
Address: 114 Pasir Panjang Road, Eng Lock Koo Coffeeshop, Singapore 118539
Opening hours: Mon-Sat 6am to 12pm
---
10. Tong Lok Kway Chap
---
If you're too late for Fei Zai's prawn noodles, don't worry. It won't be a wasted trip because Tong Lok's kway chap is equally shiok. Pick your ingredients from a wide variety of tender braised meats, tofu and intestines that have soaked up their flavourful concoction of soy sauce and spices. Steamed whole squids and fish are also available for those who want something lighter on the palate. Rice noodle sheets here are smooth yet springy, and the kway chap broth is rich, herbal but not overpowering. You'll still have to queue, but it'll be worth the wait!
Address: 114 Pasir Panjang Road, Eng Lock Koo Coffeeshop, Singapore 118539
Opening hours: Tues-Sat 7am to 2pm
---
Time to figure out where Pasir Panjang is
---
With chirashi bowls, hearty prawn noodles and Vietnamese food, Pasir Panjang doesn't lose out to other neighbourhoods in terms of good food. Let us know down below if you know of any other yummy places in this area!