Uncle Ho Tuckshop serves bun cha like how it's done in Hanoi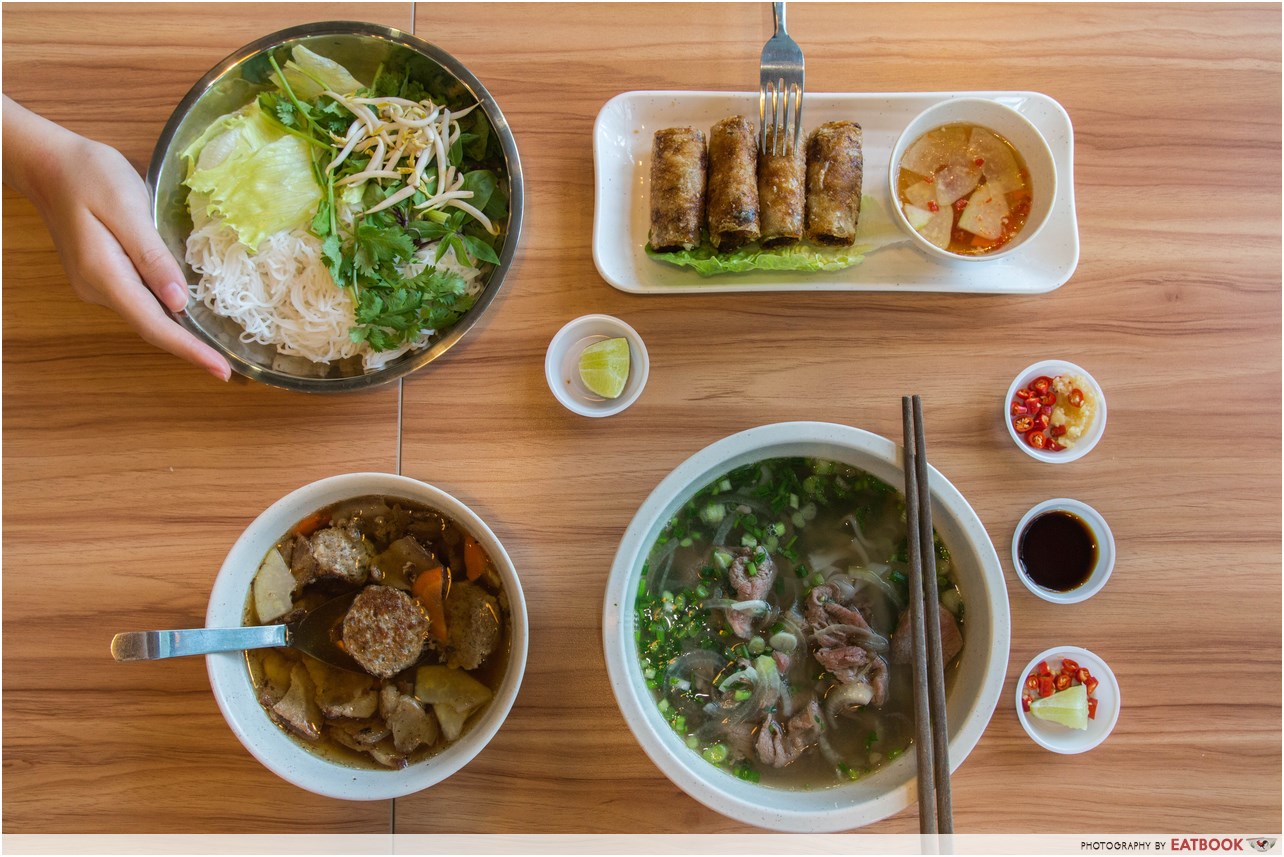 Many of us already know and love pho, but there's always room in our hearts and stomachs for other dishes Vietnam has to offer. And you don't need to fly over to try something new because Uncle Ho Tuckshop offers a dish that is not commonly found in Singapore – bun cha.
On weekdays from 11:30am to 2:30pm, Uncle Ho Tuckshop offers lunch sets that include a cold drink of your choice. These relatively large-portioned meals range from $10.90 to $14.90 and are sure to fill you up.
Food at Uncle Ho Tuckshop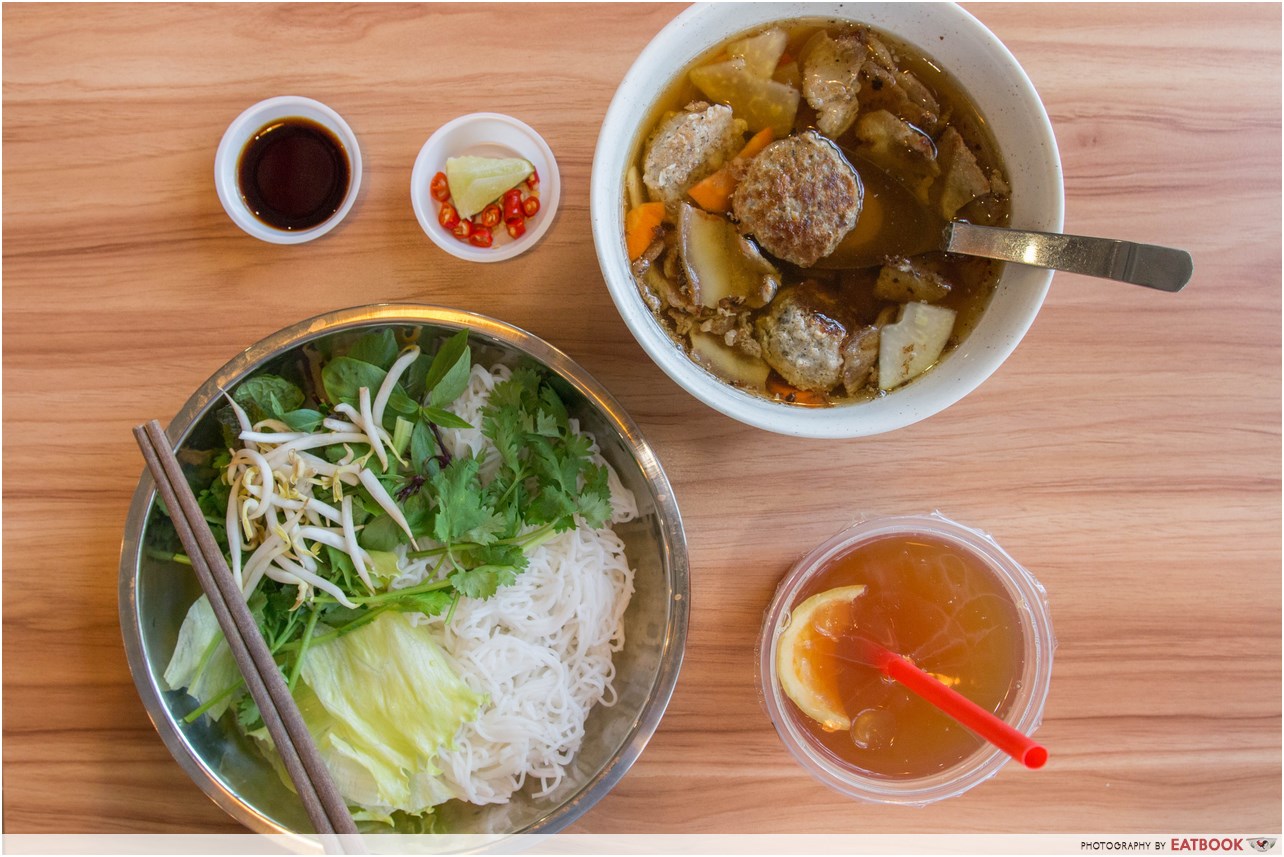 Since we visited on a weekday during lunch hour, we were able to enjoy Hanoi Bun Cha and a cold drink for $14.90. Bun cha is popular dish in Hanoi that comprises of rice noodles and a mix of fresh greens that are to be dipped into a soup on the side. This dipping soup is made of vinegar, sugar and fish sauce, which all come together to make the taste of the broth sweet, savoury, and very strong.
Some of you may recognise this as the dish made popular by President Obama and celebrity chef Anthony Bourdain, who were seen eating this in Hanoi. That's more than enough incentive for me to dig in.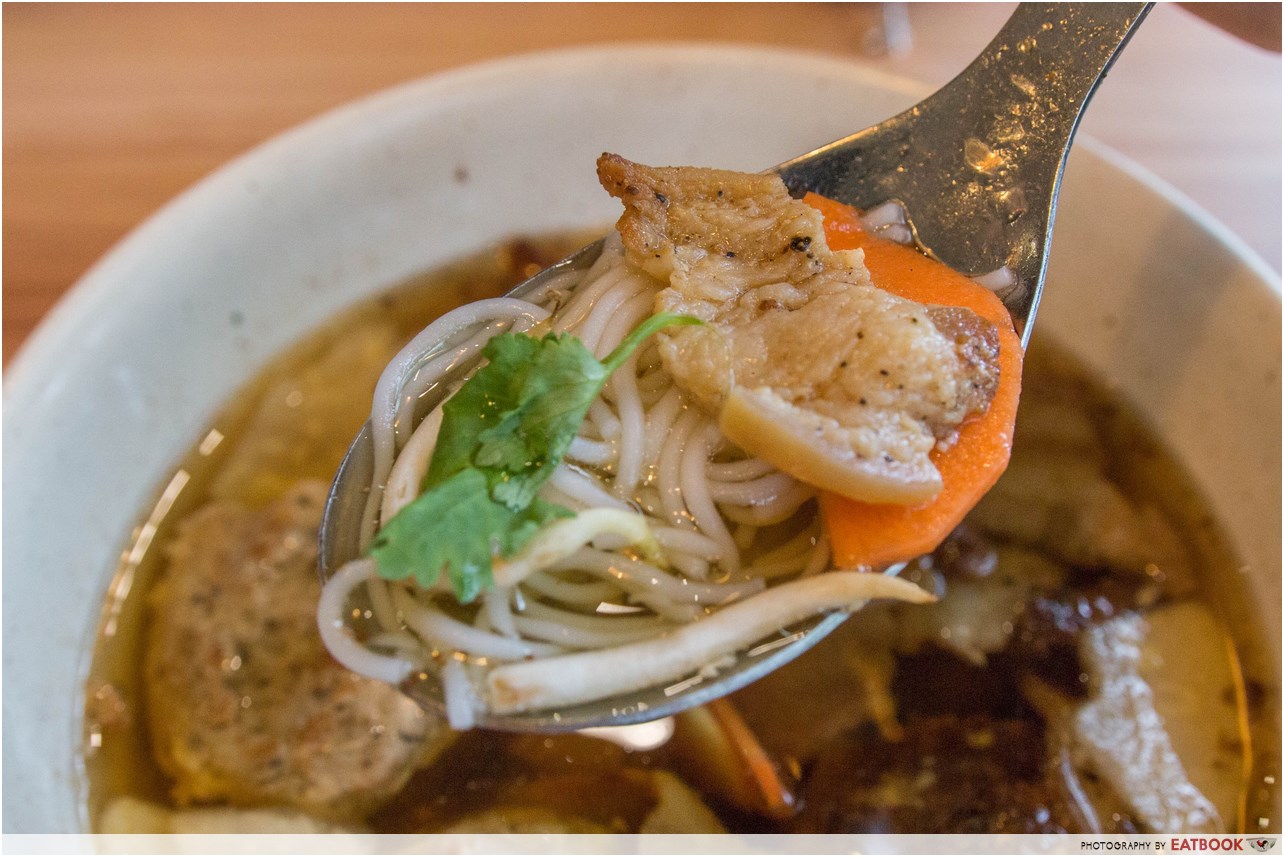 The tangy dipping broth had a unique sweetness and was extremely flavourful though it looked like an unassuming clear soup. Inside the broth was a generous amount of char-grilled pork patties and slices of fatty pork belly that took on the robust taste of the soup. Pieces of carrot and green papaya added colour and freshness.
The broth is the make-or-break element of the dish because it has such a strong and distinct flavour, and some may find this cloying after a while.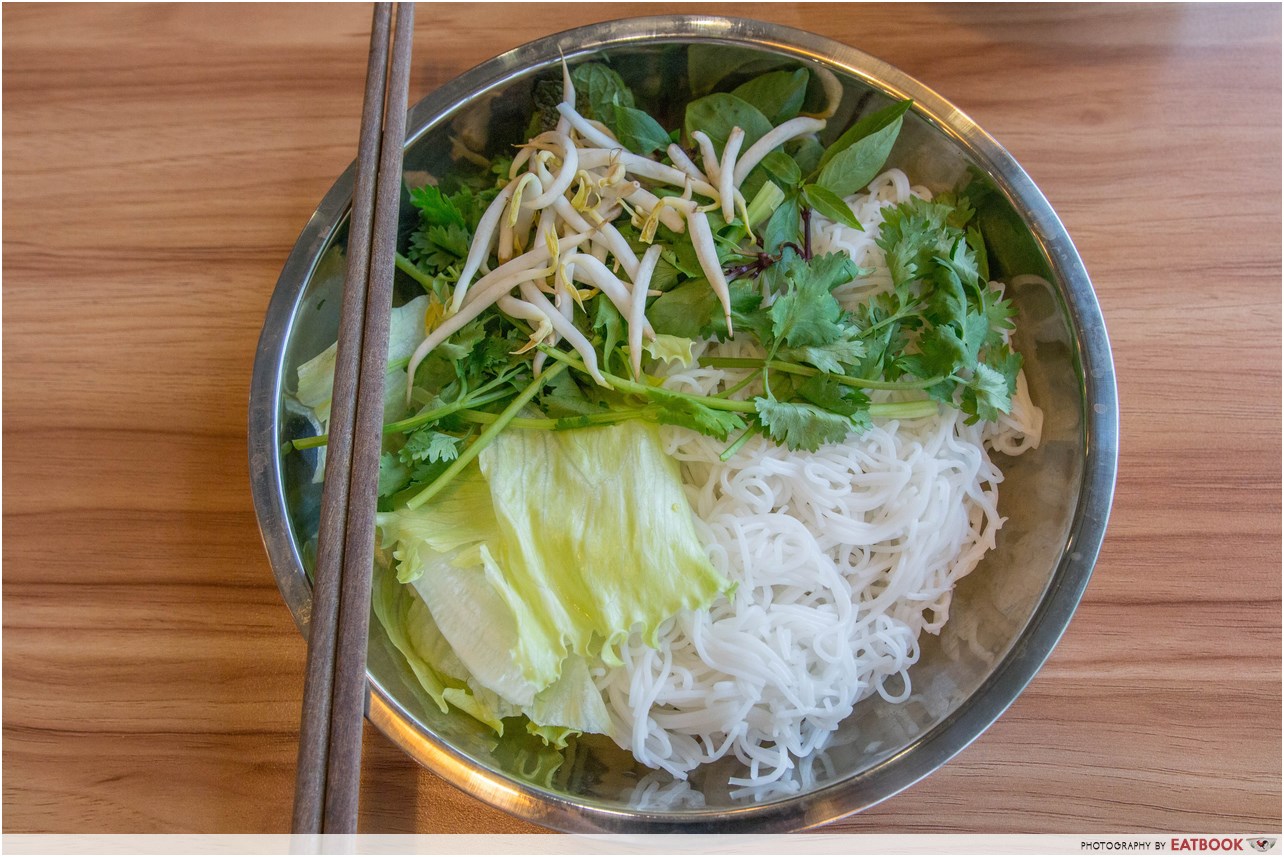 The rice noodles were thin, springy and very plain. They went well with the heavy broth as each strand soaked up the broth easily. Raw bean sprouts, Vietnamese coriander, cilantro and lettuce added a refreshing crunch to the dish. I like how the noodles and greens were served separately as I didn't have to worry about them getting soggy after being left in warm soup for too long.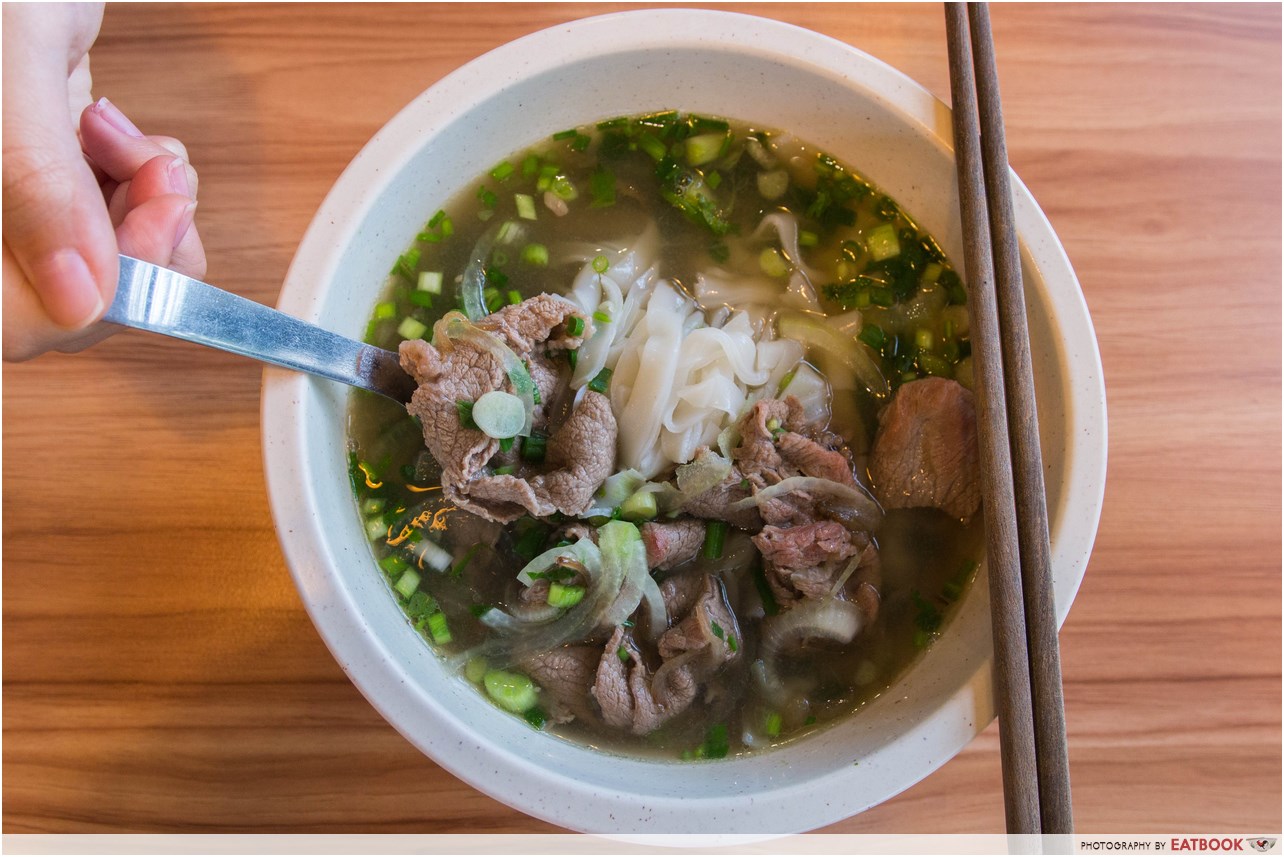 The Beef Slice Pho ($10.90) we got also came with a drink during the lunch special. There was a generous portion of flat rice noodles and mixed herbs. The savoury broth had a pleasant umami flavour from the beef slices without being overpowering.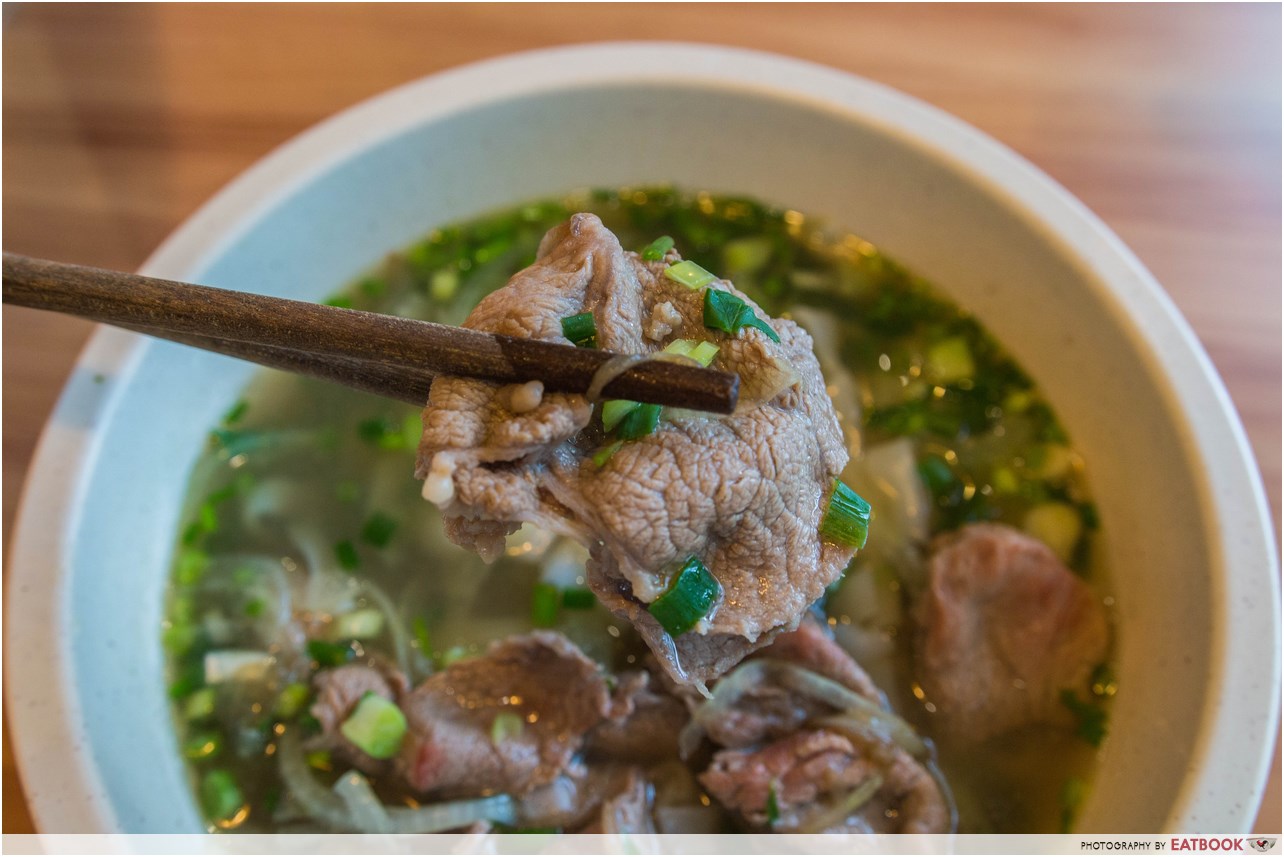 The thick beef slices were still slightly pink and had a nice chewy texture. If your palate enjoys milder flavours, I would recommend this over the bun cha. My only complaint is that the flat noodles absorbed the soup quickly and became very soft, but this shouldn't be a problem for fast eaters.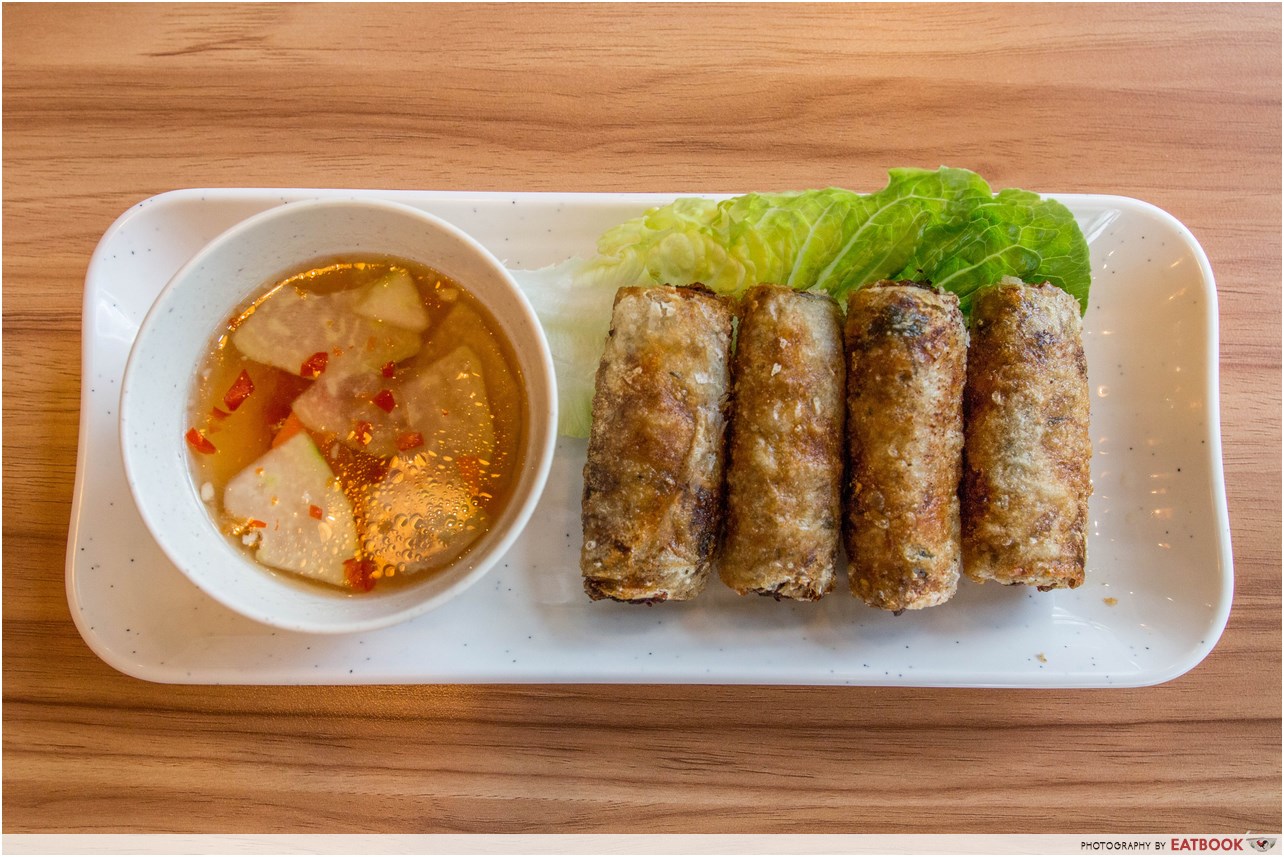 We chose Hanoi Fried Spring Rolls ($8.50) as our side dish. These are stuffed with heavily spiced minced meat and springy glass noodles that added texture to the filling.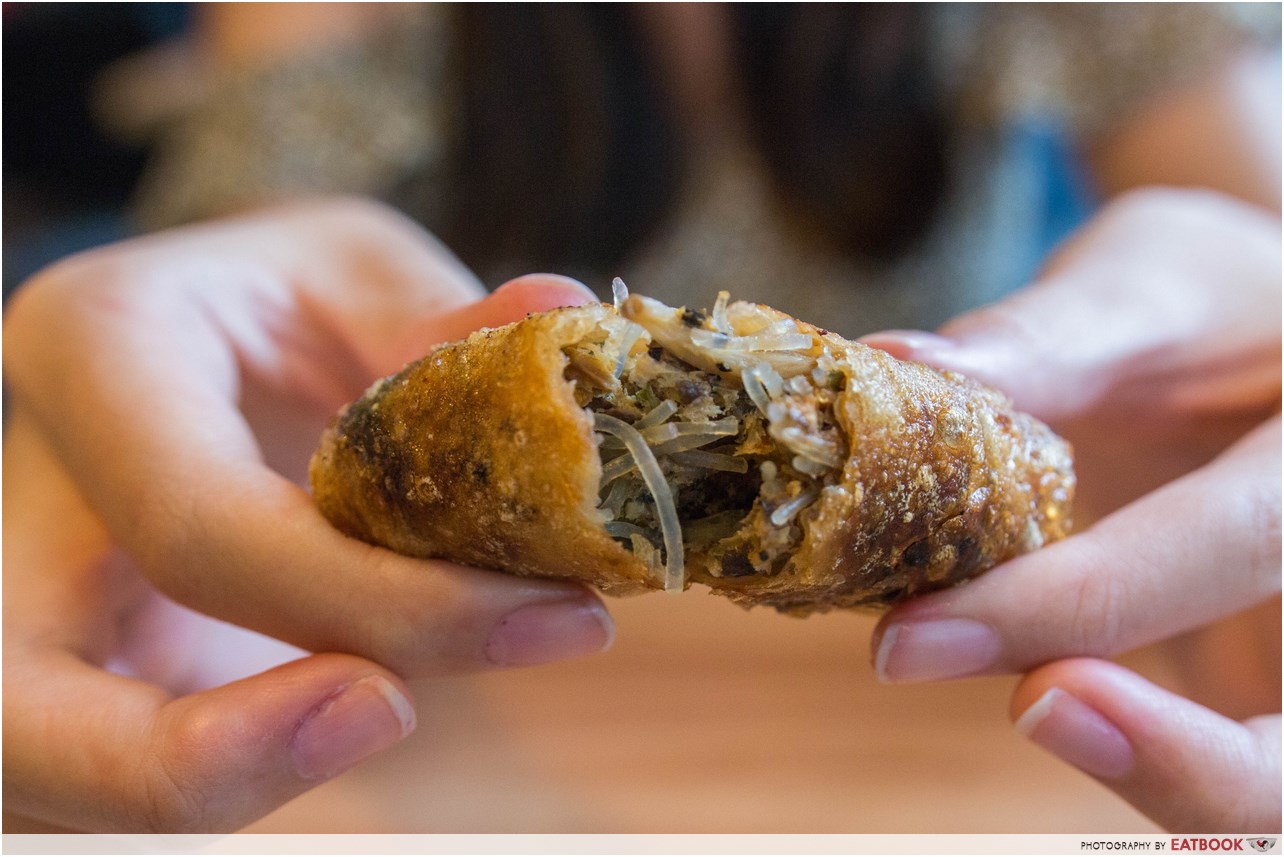 The casings were very crispy and had a nice crunch. If you prefer something lighter, they also offer Fresh Summer Spring Rolls ($8.50) that are made with plain rice paper.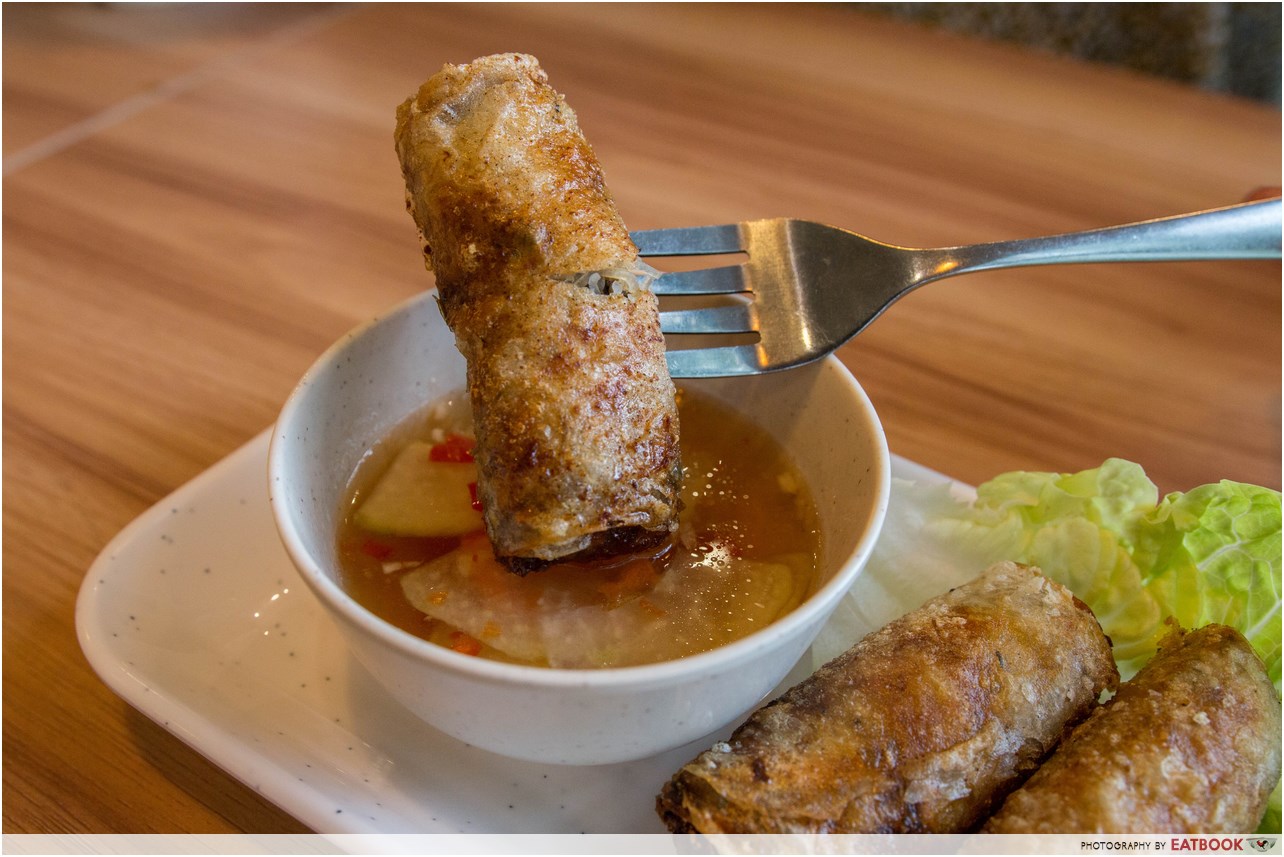 The dipping sauce was tangy from the green papaya, which was refreshing when paired with the fried rolls. There were some chilli slices that added heat to the sauce. If you need a spicier kick, you can always help yourself to more chilli at the condiment station near the counter.
Ambience at Uncle Ho Tuckshop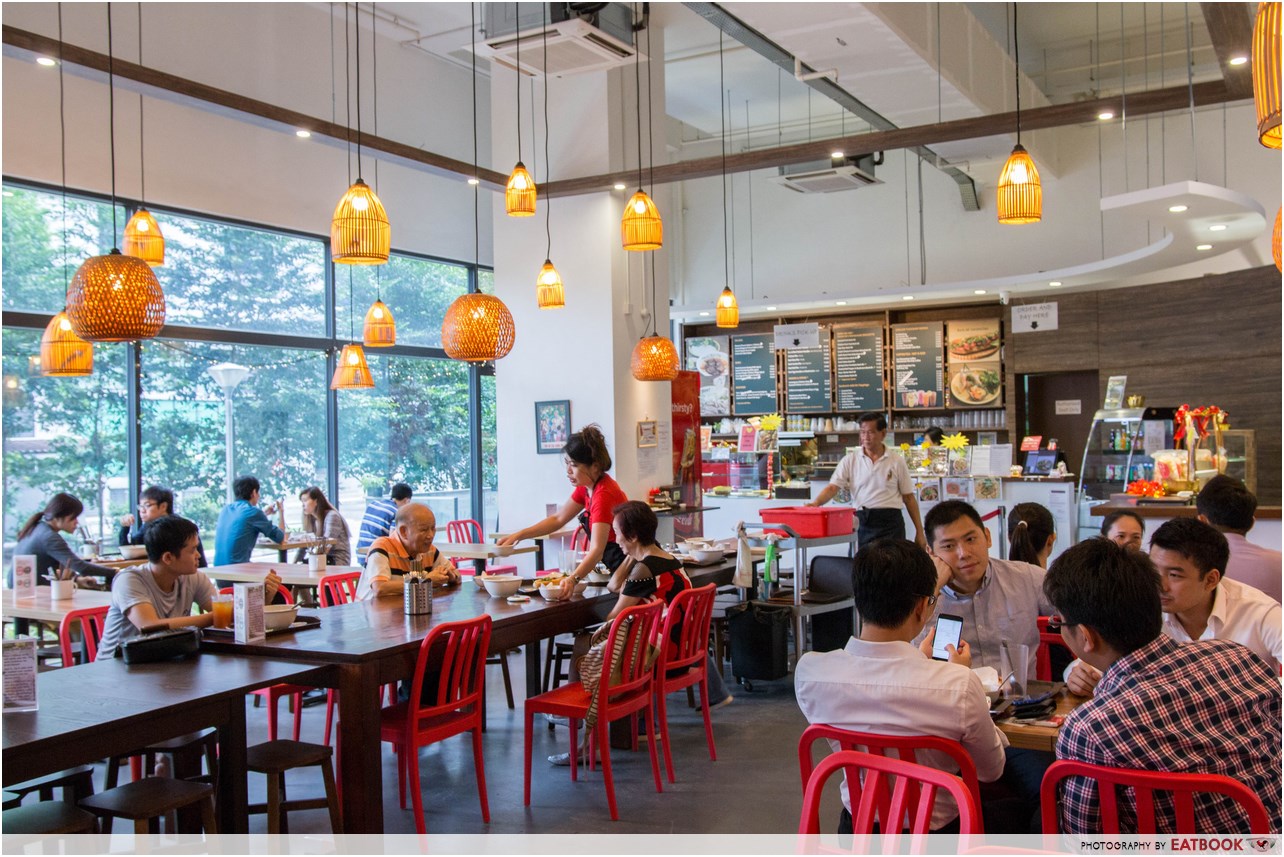 We took a five- to 10-minute walk from Pasir Panjang MRT Station to get to Uncle Ho Tuckshop. The wicker lanterns dangling from the ceiling and the chalkboard menus create a quirky yet cosy atmosphere. It's also air-conditioned so you'll be able to cool down from your walk here in no time. Since this is near many industrial and office buildings, it can get pretty crowded during lunch and dinner hours.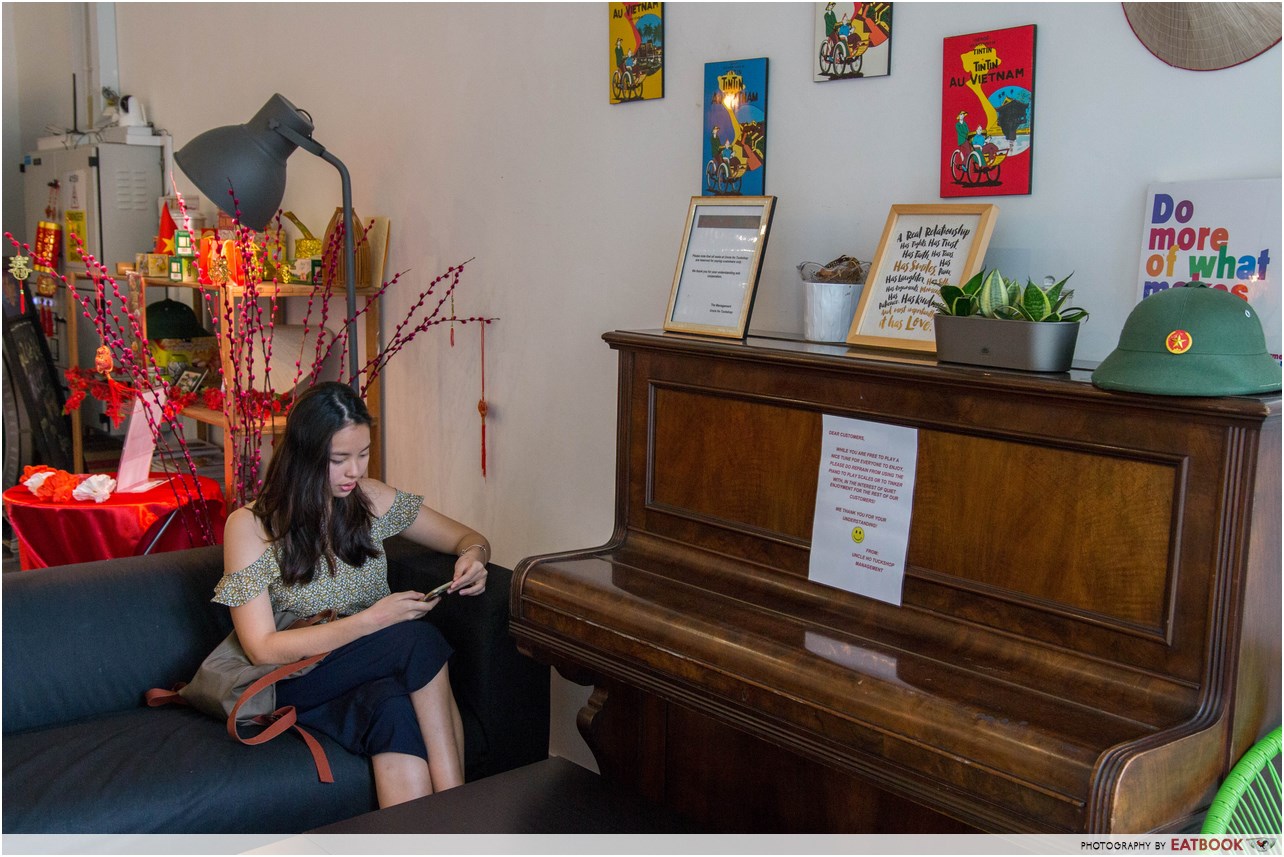 At the back of the dining area, there is a snug corner with a comfy couch and a wooden piano to tinker with. If you have time after your meal, do take a look at some of the trinkets they have on display.
The Verdict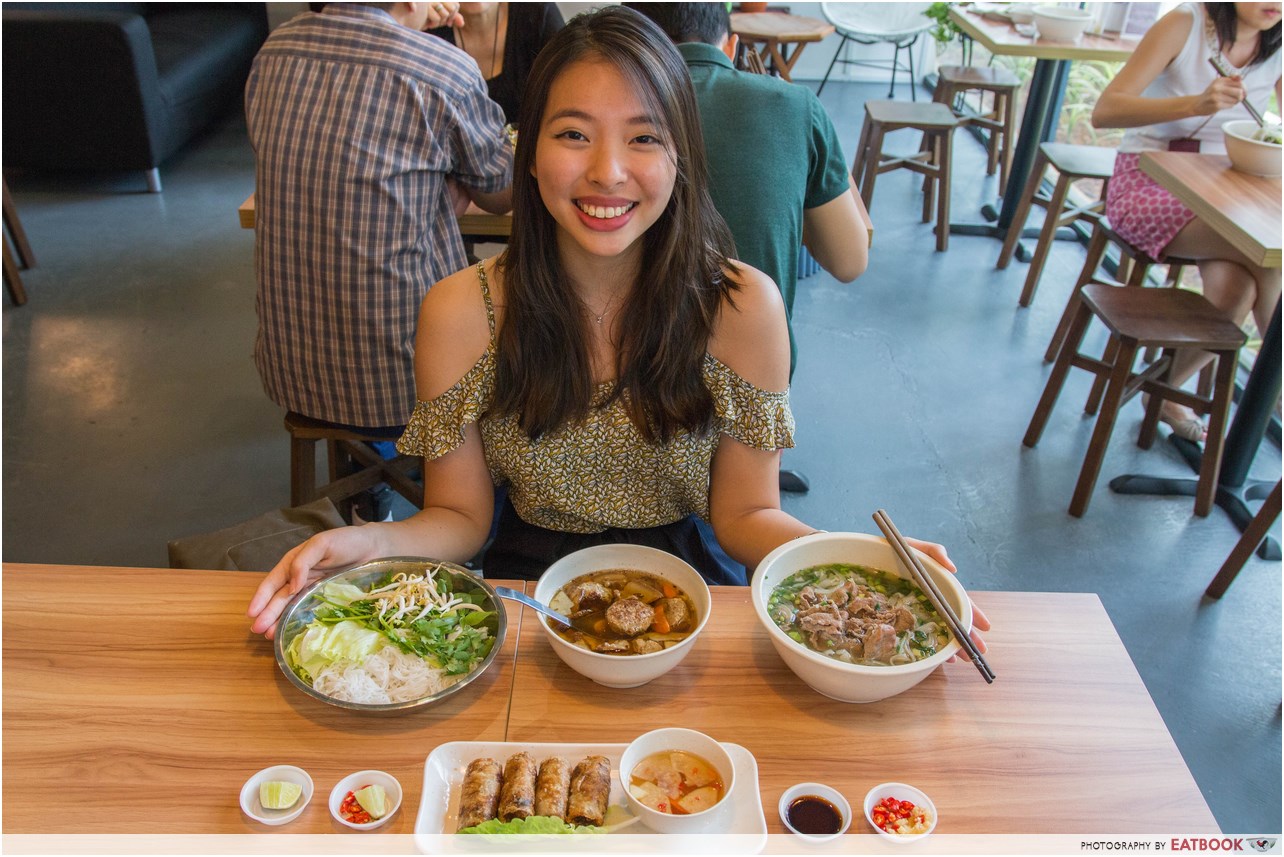 The Vietnamese dishes served at Uncle Ho Tuckshop are both affordable and satisfying. The bun cha alone is reason enough to take a little food adventure down to Pasir Panjang, especially since the dish is such a rare find in Singapore. Though they don't serve the cheapest Vietnamese cuisine out there, you get what you pay for in terms of quality.
This is an independent review by Eatbook.sg
Summary
Summary
Pros
– Tasty Vietnamese food
– Chill ambience
– No GST or service charge
Cons
– Crowded during peak hours
Recommended Dishes: Bun Cha ($12.90), Beef Slice Pho ($8.90)
Operating Hours:
Monday – Friday 11am to 9pm
Saturday 11am to 3pm
Tel:
9624 5761
Address:100 Pasir Panjang Road #01-04, Singapore 118518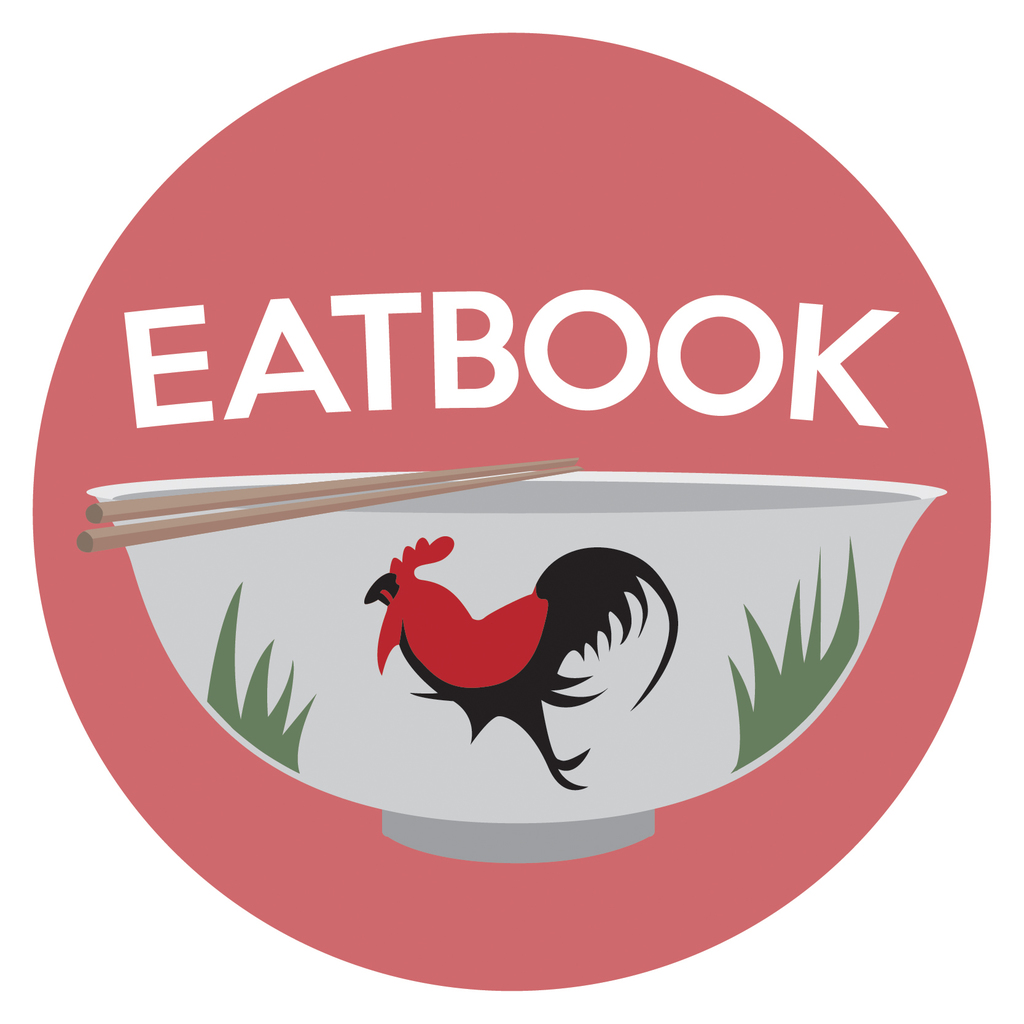 Drop us your email so you won't miss the latest news.