Giant chicken fan choy in Jurong West
When I was younger, my mother's home-made porridge never failed to comfort me after a long day at school. Somehow, all my petty childhood problems melted away when I had her warm and homely porridge.
My recent visit to Chong Jia Food at Jurong West took me back to my childhood. This stall serves up comfort Chinese food that seems to bring back all those warm and fuzzy memories of my childhood.
Food at Chong Jia Food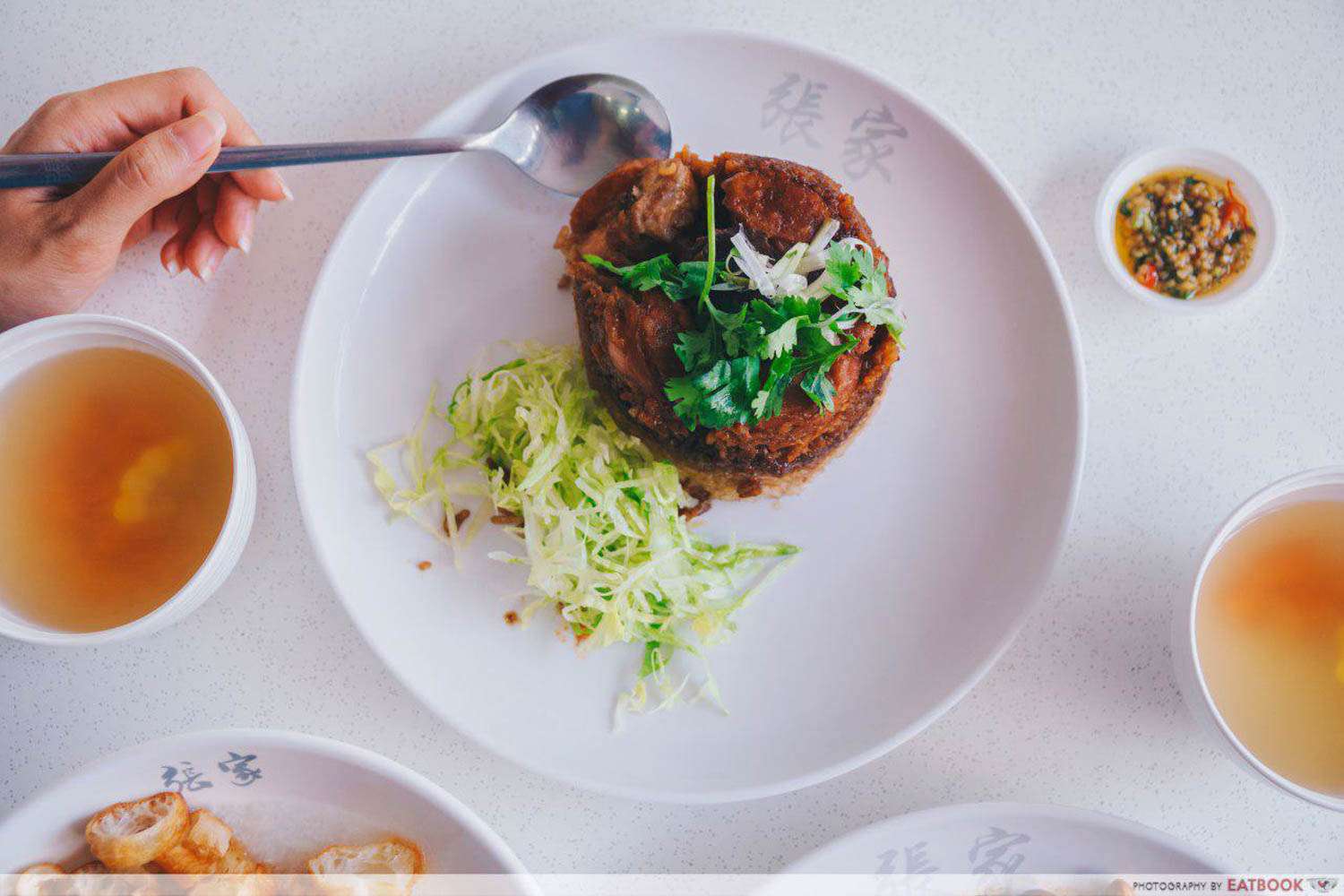 If you're a 饭桶—which literally translates to rice bucket aka someone who eats a lot of rice—then you'll feel right at home at this family-run stall. Their limited menu offers different types of congee and other rice dishes. 
The Special Marinated Drumsticks Steamed Rice ($4.50) stood out from their menu as I've never heard of it before. At first glance, this dish appears to be like a giant fan choy. But instead of traditionally using char siew, this hawker stall opts for chopped chicken drumsticks instead.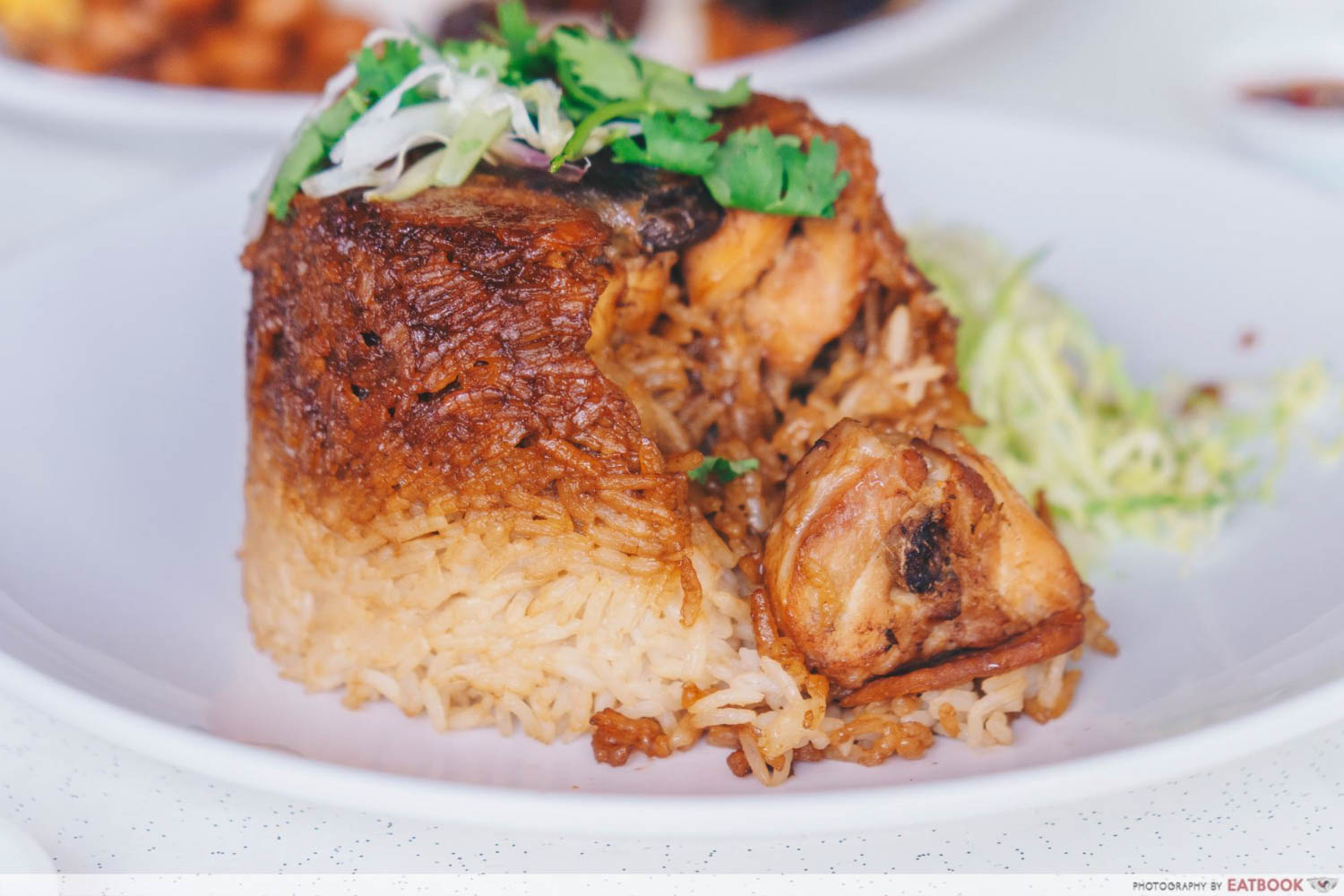 For less than $5, you get a large portion of steamed rice topped with generous pieces of chicken and lap cheong slices! Talk about value for money. Any meat lover would be satisfied with this portion. 
This dish also has a delectable ombre look—a result of the marinade dripping from the meat to the rice during its steaming process.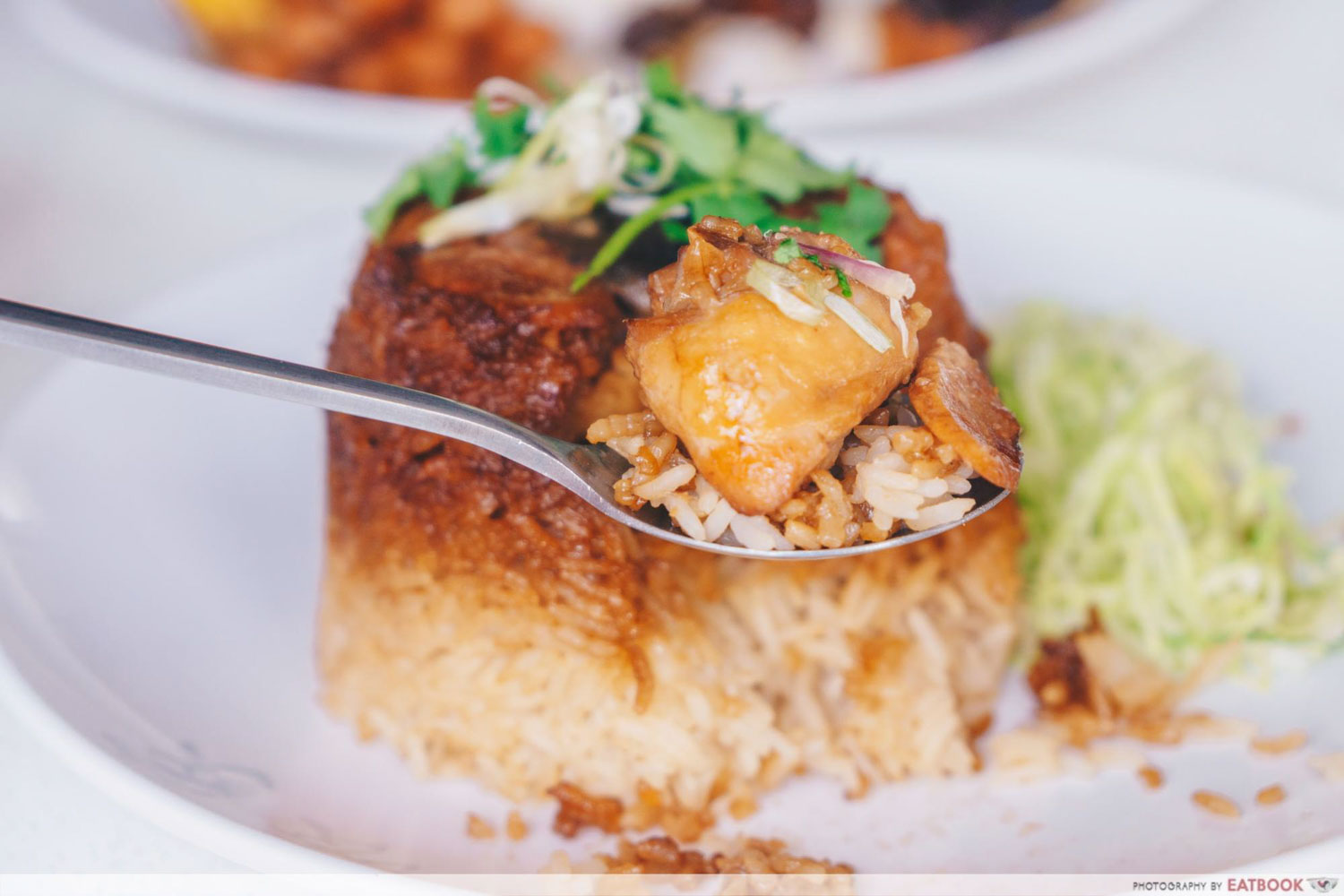 More chunks of chopped chicken fell out as I broke the packed rice apart. The meat easily came off the bone and was tender. The chicken was well seasoned in the special marinade that had sweet and savoury notes, along with some peppery hints. 
I found the lap cheong to be unassuming, packing a typical firm texture and sweet taste. It did well in providing a supporting role to the chicken's bolder flavours.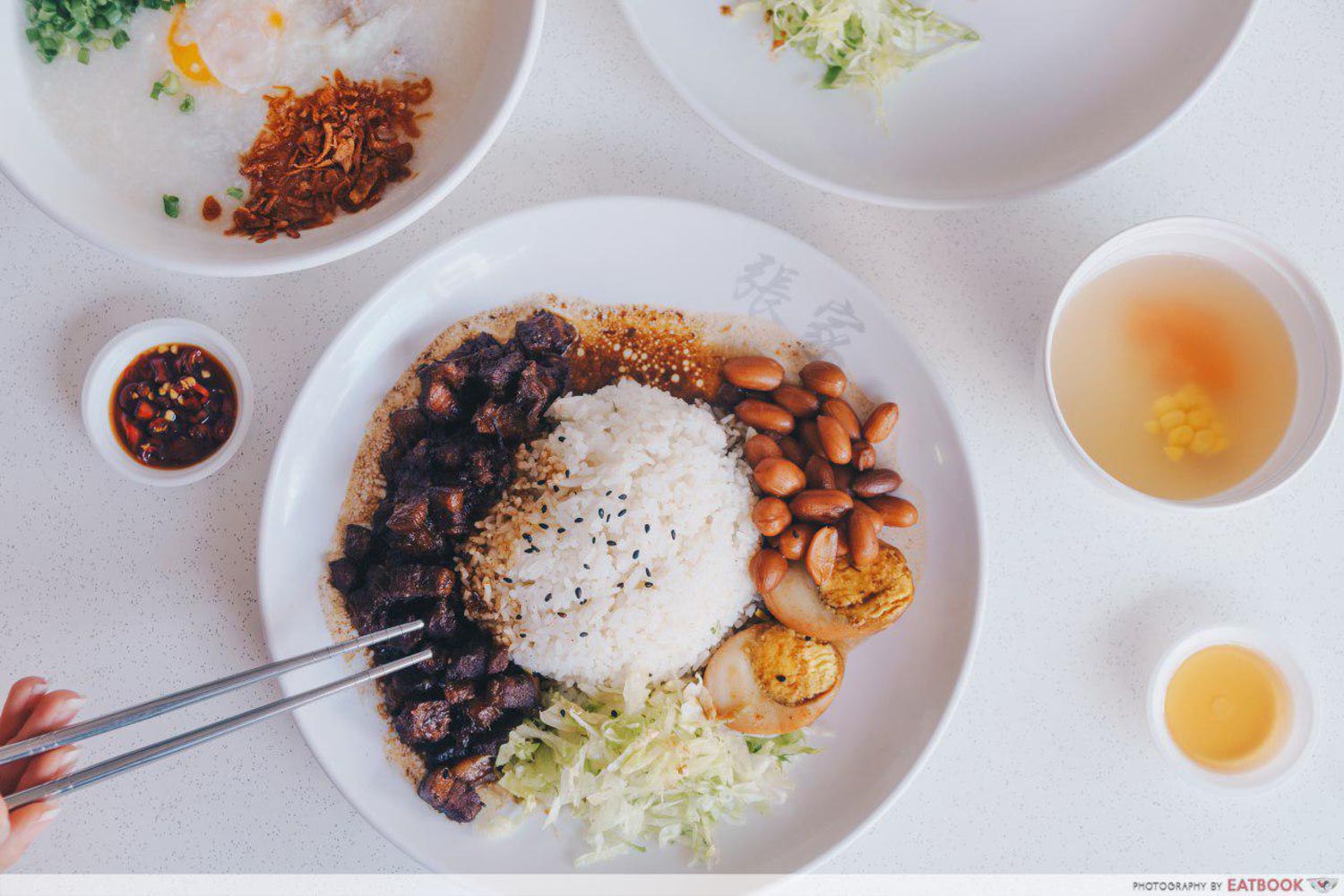 Another dish that gives great bang for your buck is their Taiwanese Braised Pork Rice ($4.80). You get a heavy-handed serving of pork chunks, a whole braised egg, and peanuts.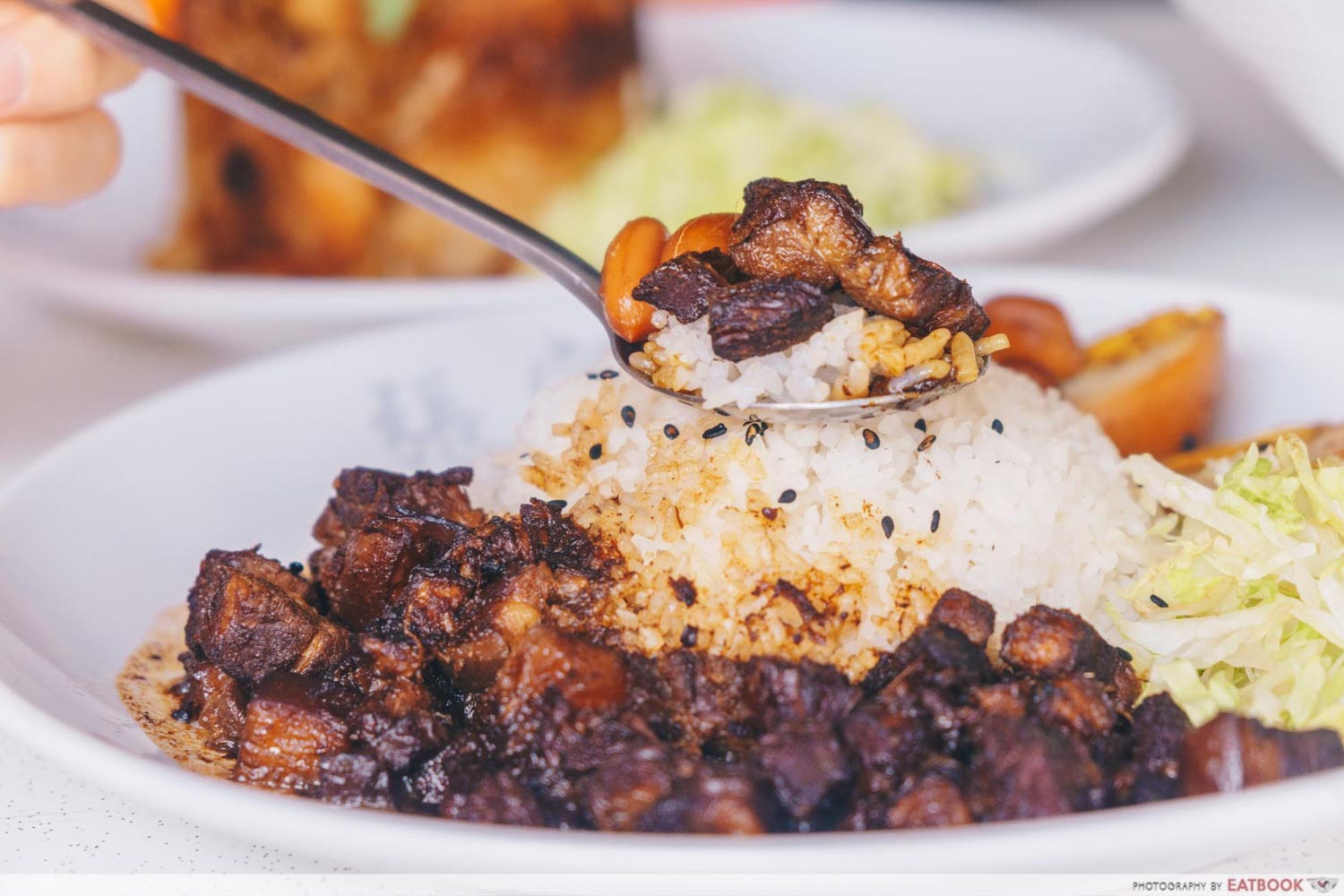 The use of dark and light soy sauce results in a distinctive dark colour to the meat. I like how it provides a pleasant savouriness to the sweetness of the braised sauce.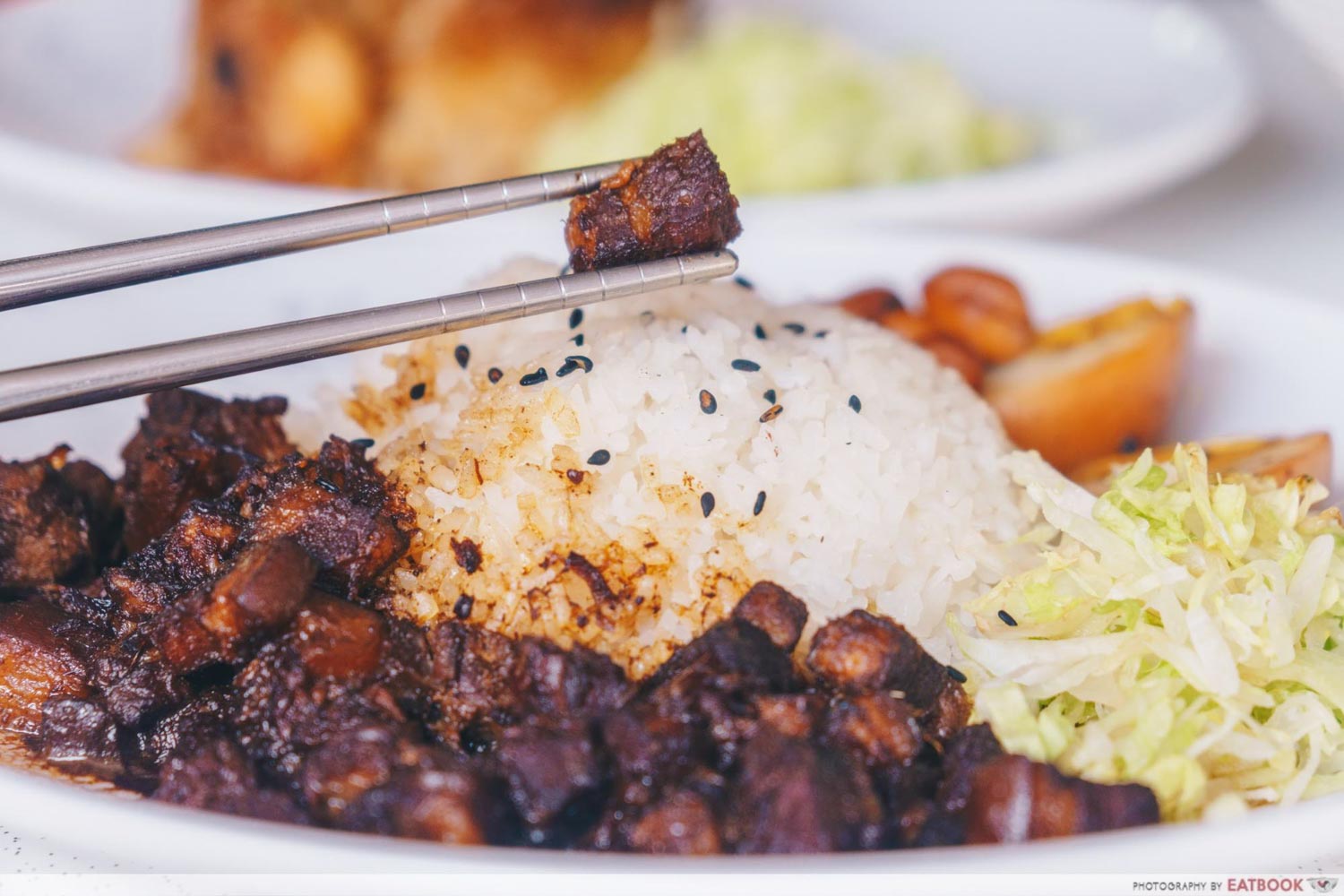 As someone who usually opts for the healthier choice, I appreciate the lean pork chunks. They were chewy and soaked up all the sauce's rich goodness. 
But this dish lacked the distinctive savouriness you get from a typical lu rou fan, where a fattier cut of pork belly is used. 
If you're a chilli fan, give their house-made garlic chilli sauce a try. This sauce complements the pork with added spice and savouriness.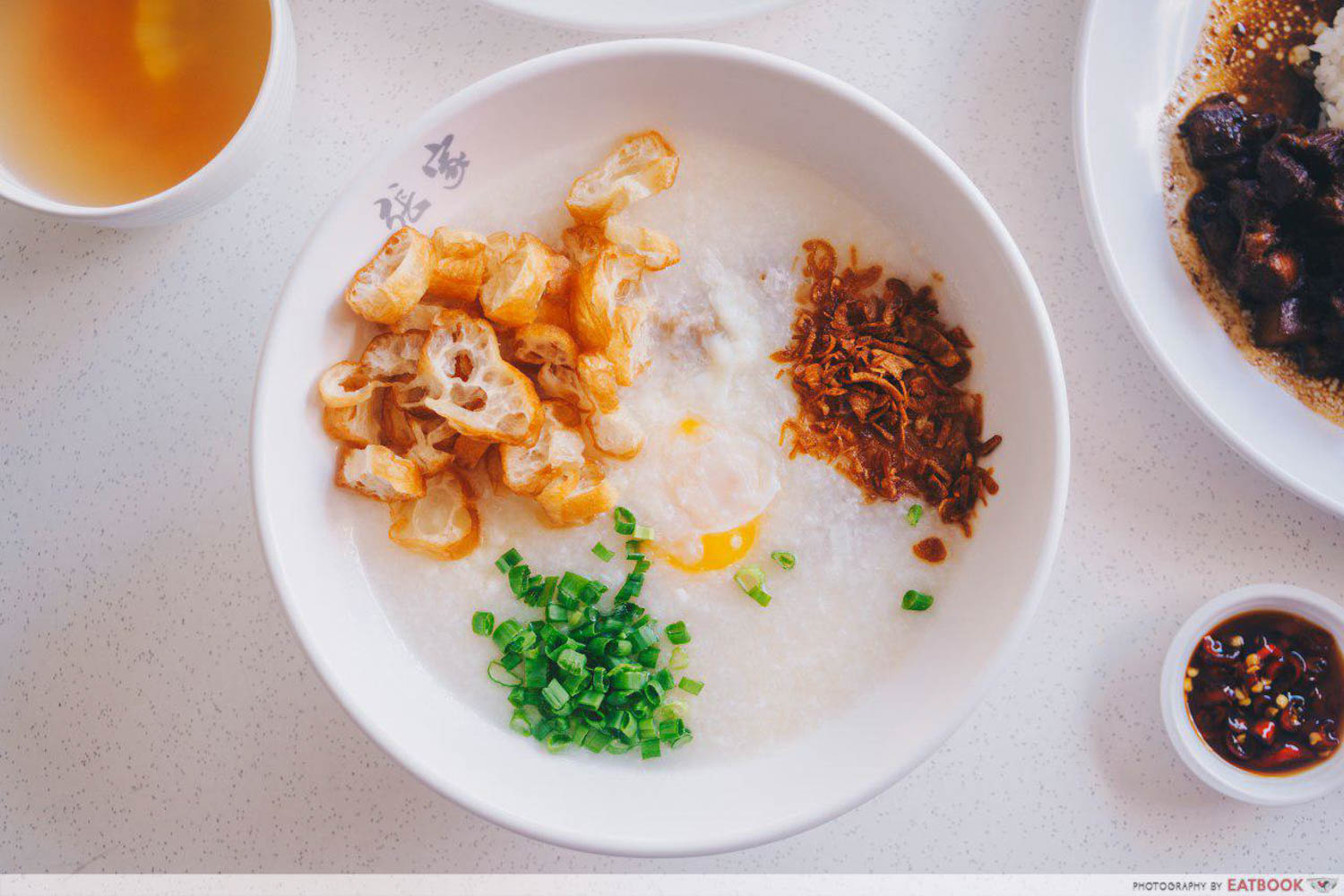 I love porridge and find comfort in slurping up a hearty bowl every week, so it seemed like an obvious decision to order their Minced Meat Congee ($3). 
I've never added eggs to my porridge, but I got curious after customers in front of me did so. This extra order of egg costs $0.50. The dish was garnished with a handful of you tiao and sprinkles of fresh spring onions and fried shallots.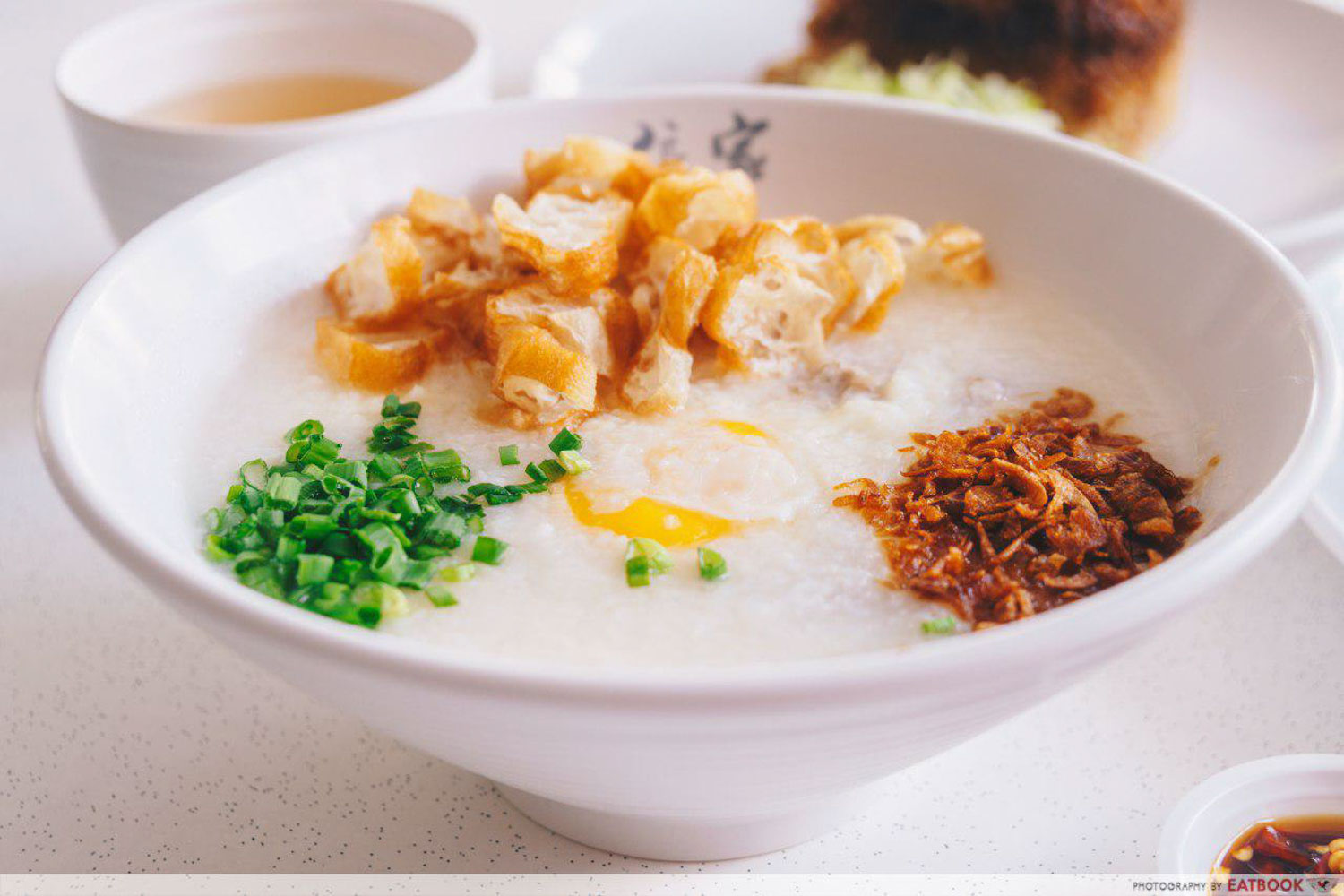 Mixing in the egg added creamy notes to the starchy congee. I was surprised at how savoury and flavourful each spoonful of porridge was. Somehow, this dish gave me a familiar comforting feeling that reminds me of a home-cooked meal.
I was surprised at how flavourful the minced meatballs were. Each bite was savoury and chewy, elevating the porridge in terms of texture and taste. I wish there was the option to top up for more of these balls, as their savouriness left me wanting more.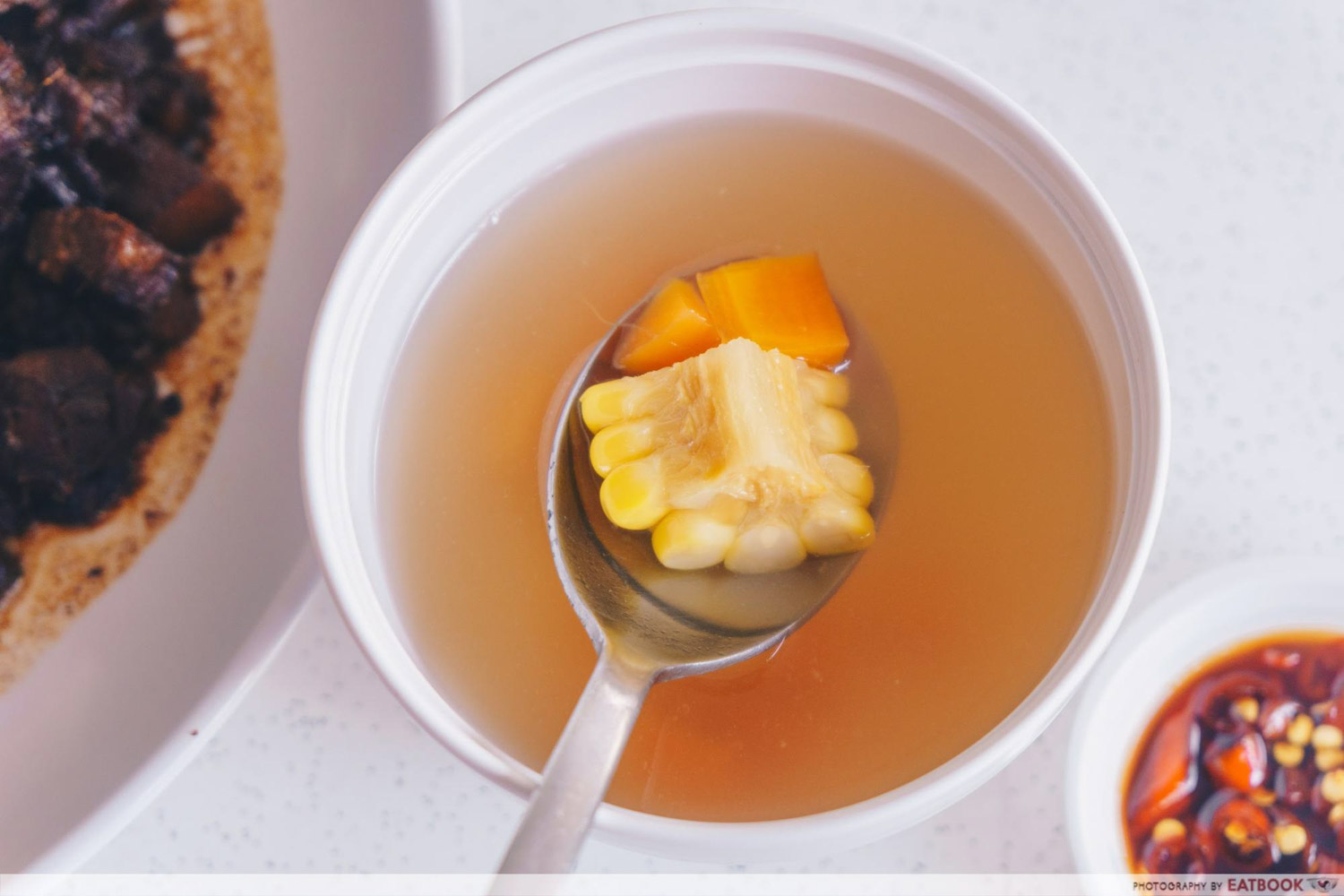 Each rice dish comes with a free bowl of carrot and corn soup. This light-tasting soup supported the bold flavours in the main dishes and acted as a great palate cleanser.
Ambience at Chong Jia Food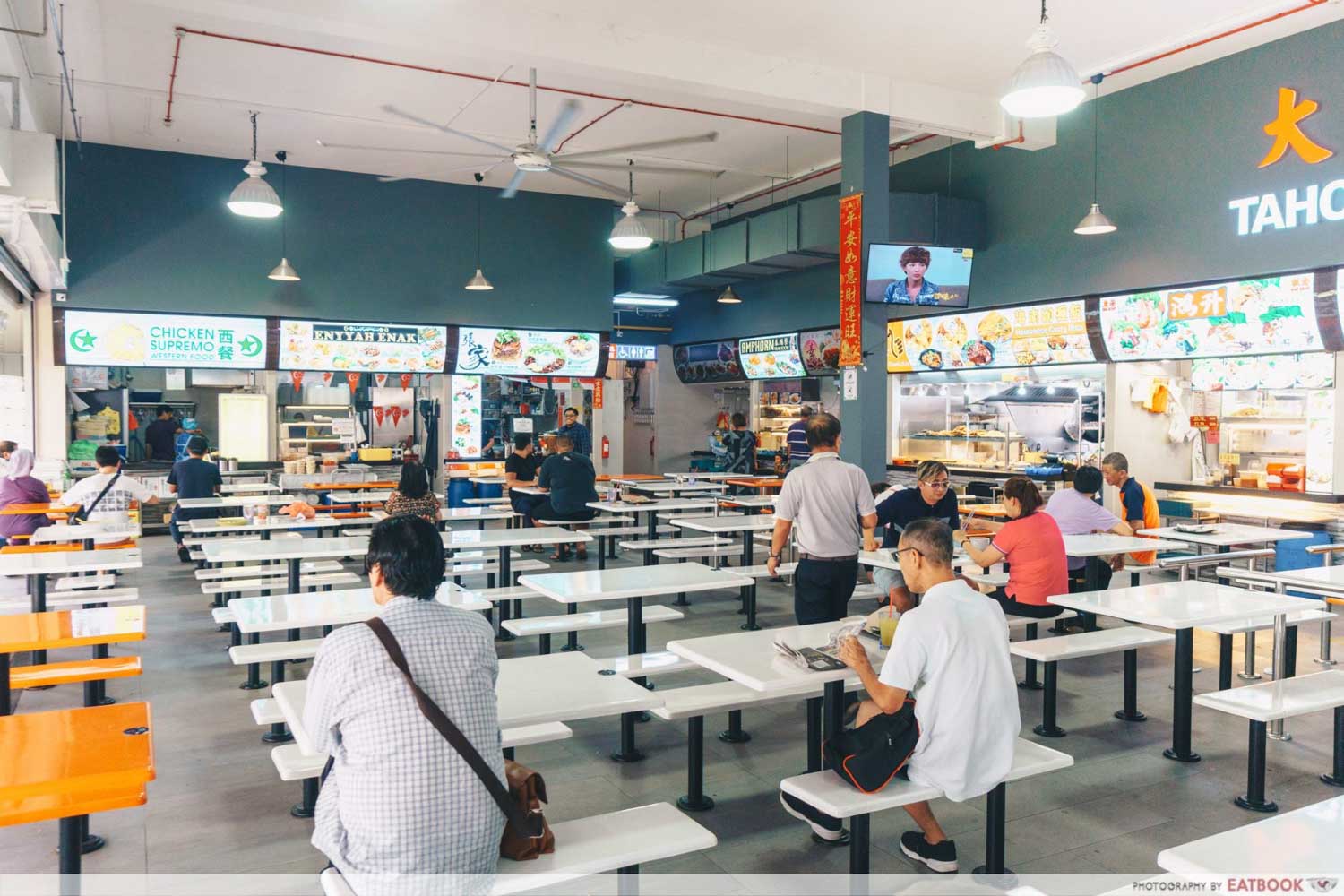 This standard neighbourhood coffee shop stall caters to the local residents in the area. You won't have to fight over tables as there's plenty to go around. 
There's no need to worry about sweating in Singapore's heat either, as this coffee shop is airy and breezy.
Do be prepared to clock in steps, as this stall is a 15-minute walk from Lakeside MRT Station.
15 Lakeside Food Spots To Fuel Up At After Exploring The New Lakeside Garden
The verdict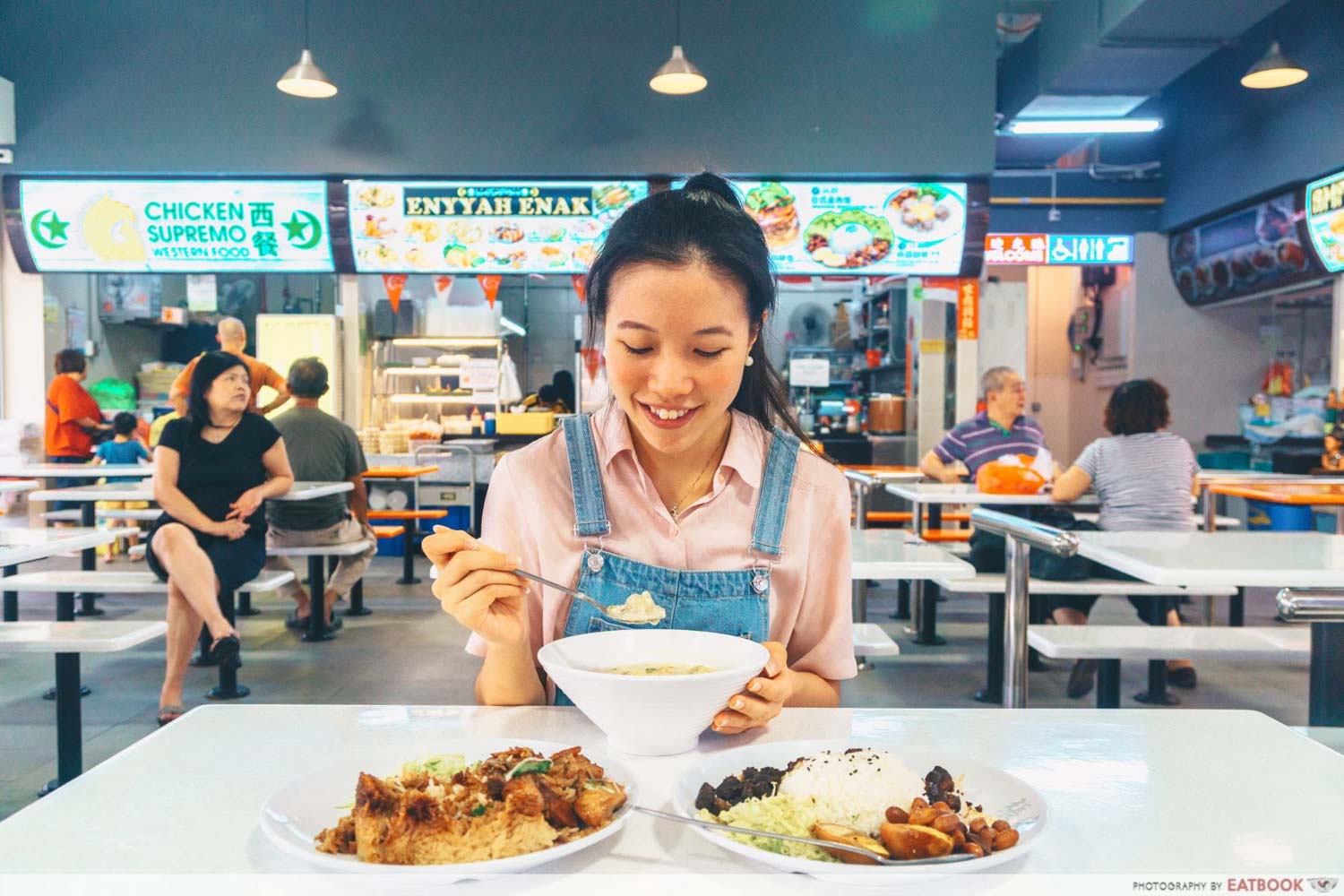 A meal at this rice stall is like reliving my childhood. The dishes were comforting and had a homely taste to them. What's even better is how you can get such generous portions for less than $5!
If you're looking for huge and crispy chicken cutlet, be sure to pop by Chicken Supremo which is located at the same coffee shop!
Address: 493 Jurong West Street 41, #01-03, Tahoe Garden, Singapore 640493
Opening Hours: Sat-Thur 8am to 8pm
Chong Jia Food is not a halal-certified eatery.
Photos taken by Ian Teoh.
This is an independent review by Eatbook.sg.
Chong Jia Food Review: Huge Chicken Fan Choy And Lu Rou Fan Under $5 At Jurong West
Summary
Pros
– Value for money
– Generous portions
– Comforting and flavoursome dishes
Cons
– Inconvenient location
Recommended dishes: Special Marinated Drumsticks Steamed Rice ($4.50), Minced Meat Congee ($3)
Opening hours: Sat-Thur 8am to 8pm
Address: 493 Jurong West Street 41, #01-03, Tahoe Garden, Singapore 640493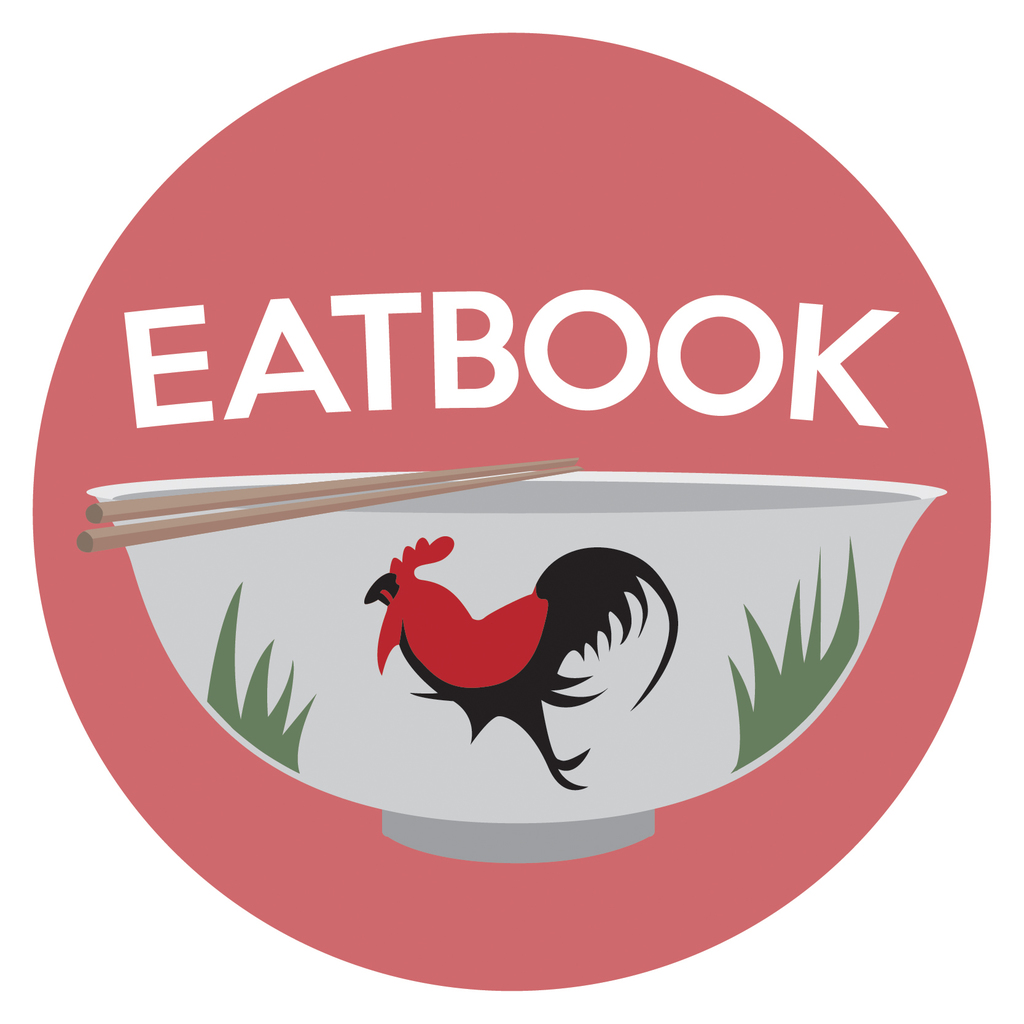 Drop us your email so you won't miss the latest news.