Pho Stop opens at Downtown Mall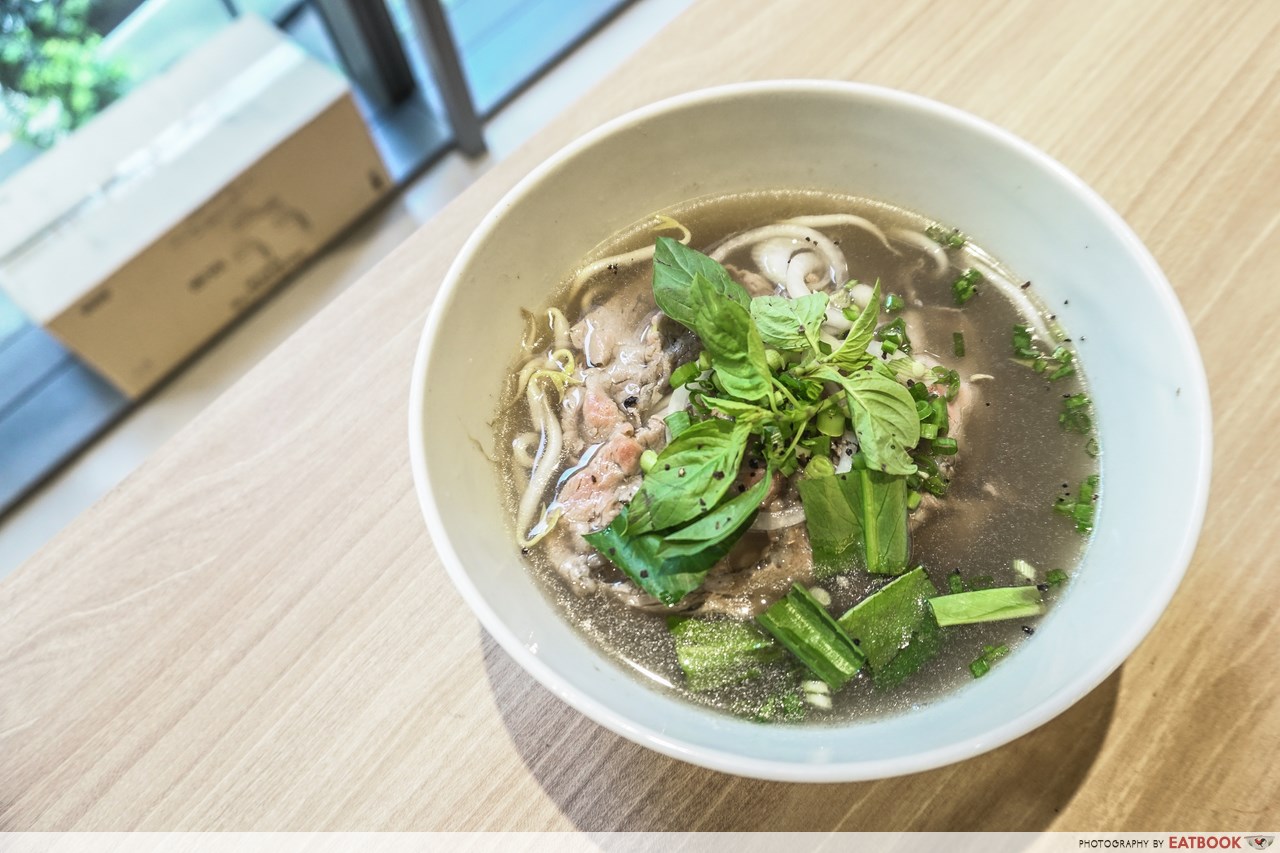 I had my first encounter with the national dish of Vietnam before I even knew its name. Stumbling over its pronunciation at the cashier, I corrected myself only to say it wrongly again, and resigned to jabbing at the dish name on the menu.
Fast forward to today, pho is my go-to when I want something that comforts or when I simply can't decide on what to eat. The latter happens more often than I'd like to admit, and now I never go more than a week without affordable pho.
We dropped by Pho Stop's new location at Downtown Mall pho our fix that day. Pho Stop is opened by Bryan, who wanted to bring Vietnamese-inspired cuisine to Singaporeans. He spent time in Vietnam to learn more about their history and culture, as well as the way they prepared their food to create his own rendition. While the recipes he uses are from Vietnamese chefs, he has since tweaked them to suit Singaporeans' taste buds.
Food at Pho Stop
We start off with Pho Dac Biet ($13.50), AKA Beef Feast Combo. The bowl was filled with rib eye slices, meatballs, rice noodles, and a variety of herbs. I liked that the beef slices were cooked by the hot broth that was poured into the bowl just before it was served, as it helped to keep the slices tender.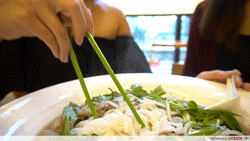 The noodles used here are opaque, because they get it fresh from a supplier in Singapore. This resulted in a bowl of silky noodles that absorbed the soup well, so every slurp was full of flavour. Don't leave it out for long, since the noodles could expand from absorbing too much soup.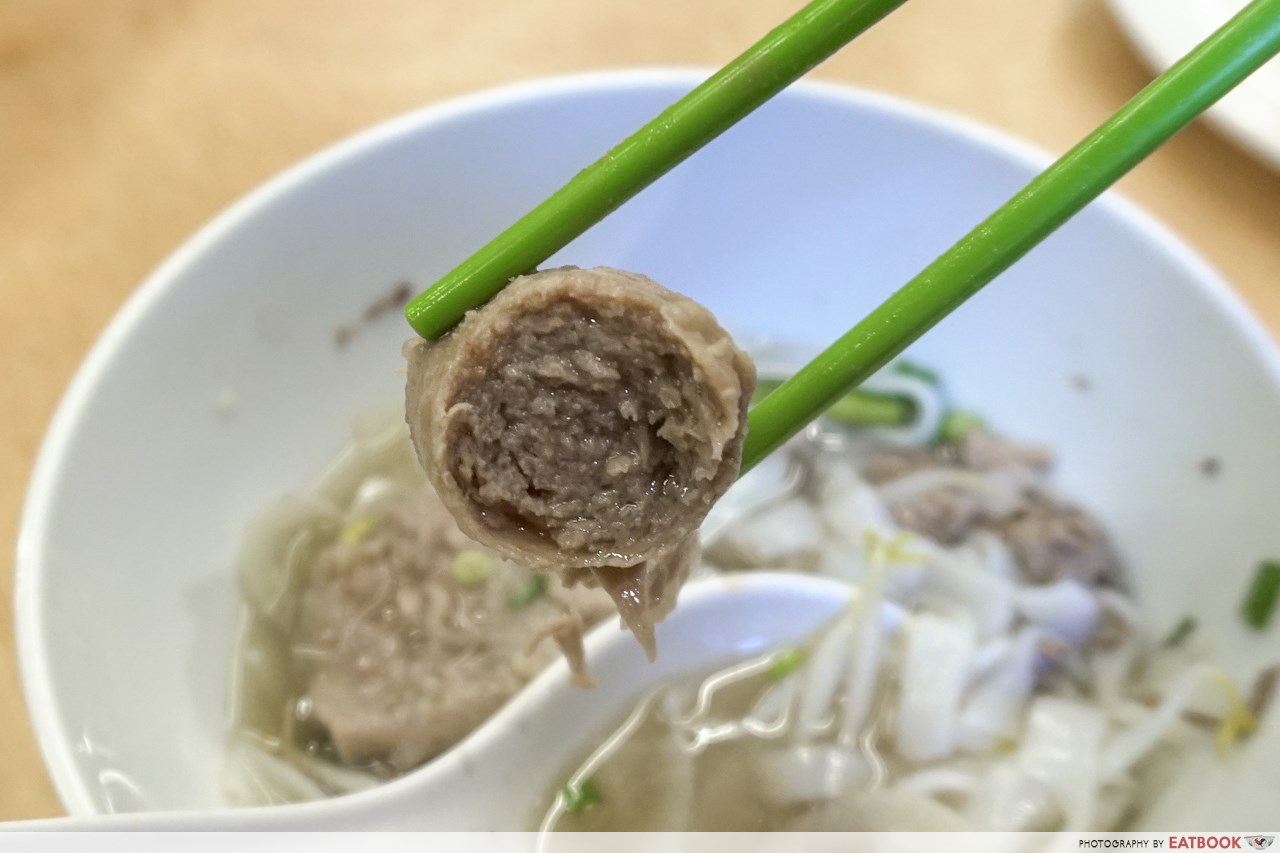 Compared to typical meatballs, this one was a lot less bouncy. Each of them had a very strong meaty taste, and Bryan explained it was because he uses pure minced beef. We enjoyed his version of a meatball, but if you're used to the usual bouncier ones, you might not fancy this very much.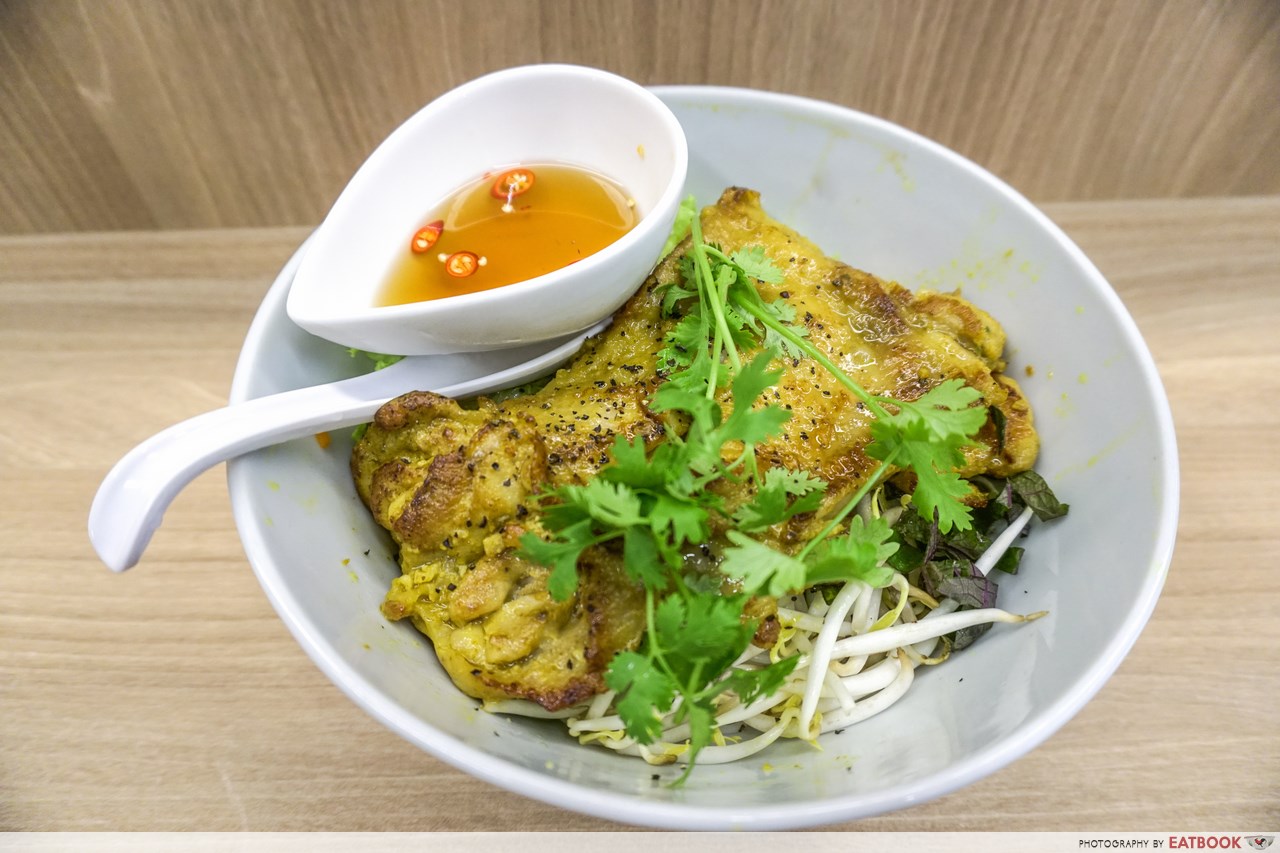 If you're a "bak chor mee, dry" person, Bun Ga Nurong ($11.50), or Grilled Chicken Chop with Dry Noodle, will be right up your alley. I was searching for the noodles in the bowl when I first got it, because the chicken chop covered 80% of the bowl.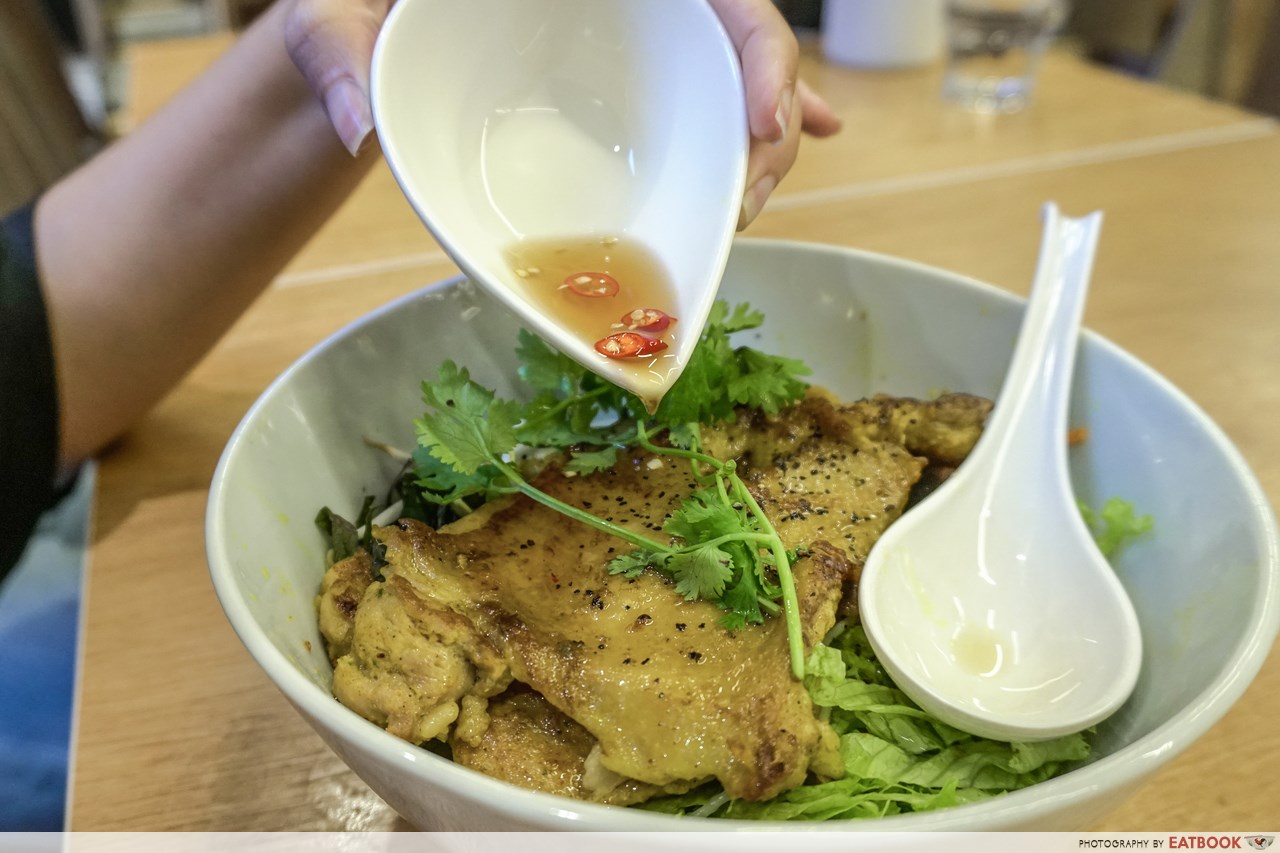 You can empty the accompanying sauce into the dish or eat it like a tsukemen by dipping the noodles into the sauce. We opted for the former and gave the noodles a good toss.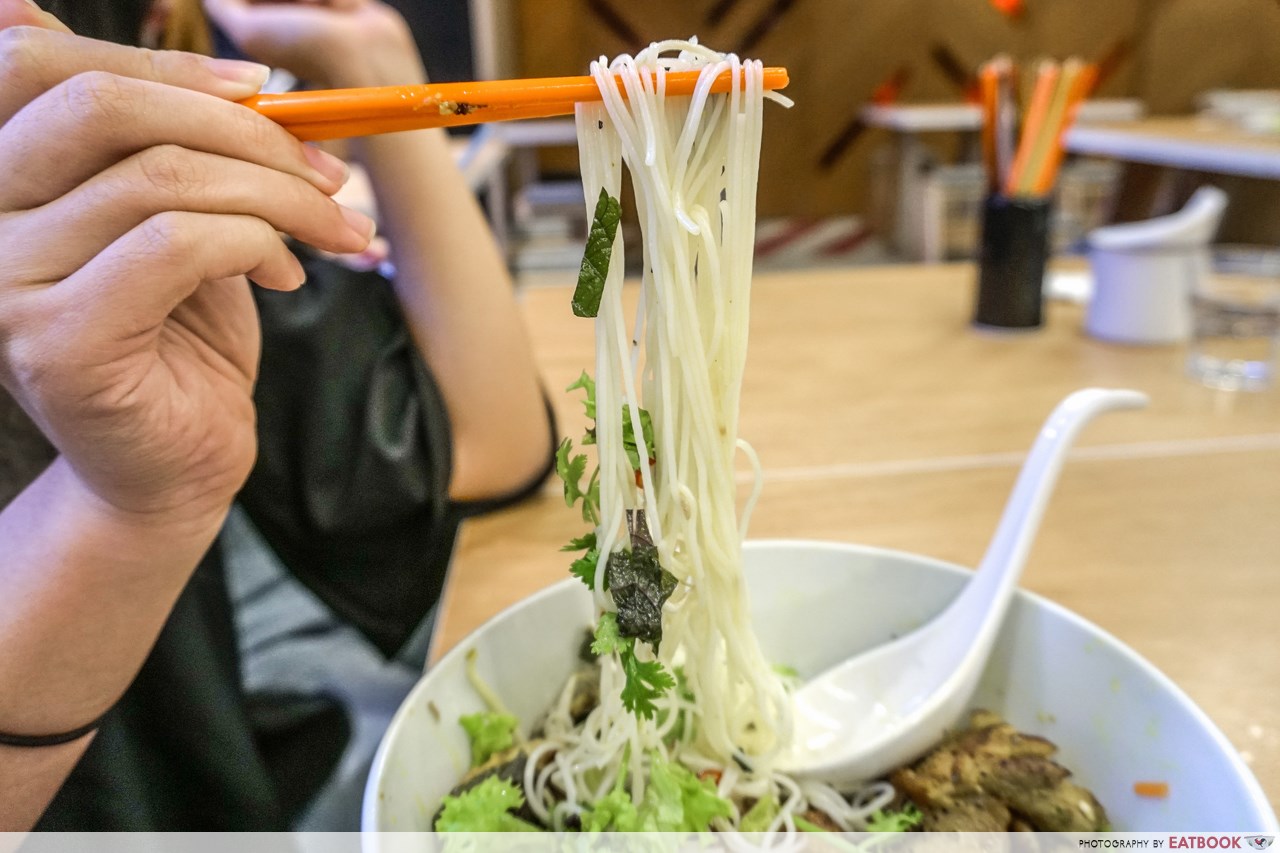 The noodles here reminded me of beehoon, but slightly thicker. The sauce was savoury with a hint of citrus and spice, and every bite held a contrast between crunchy lettuce and soft noodles.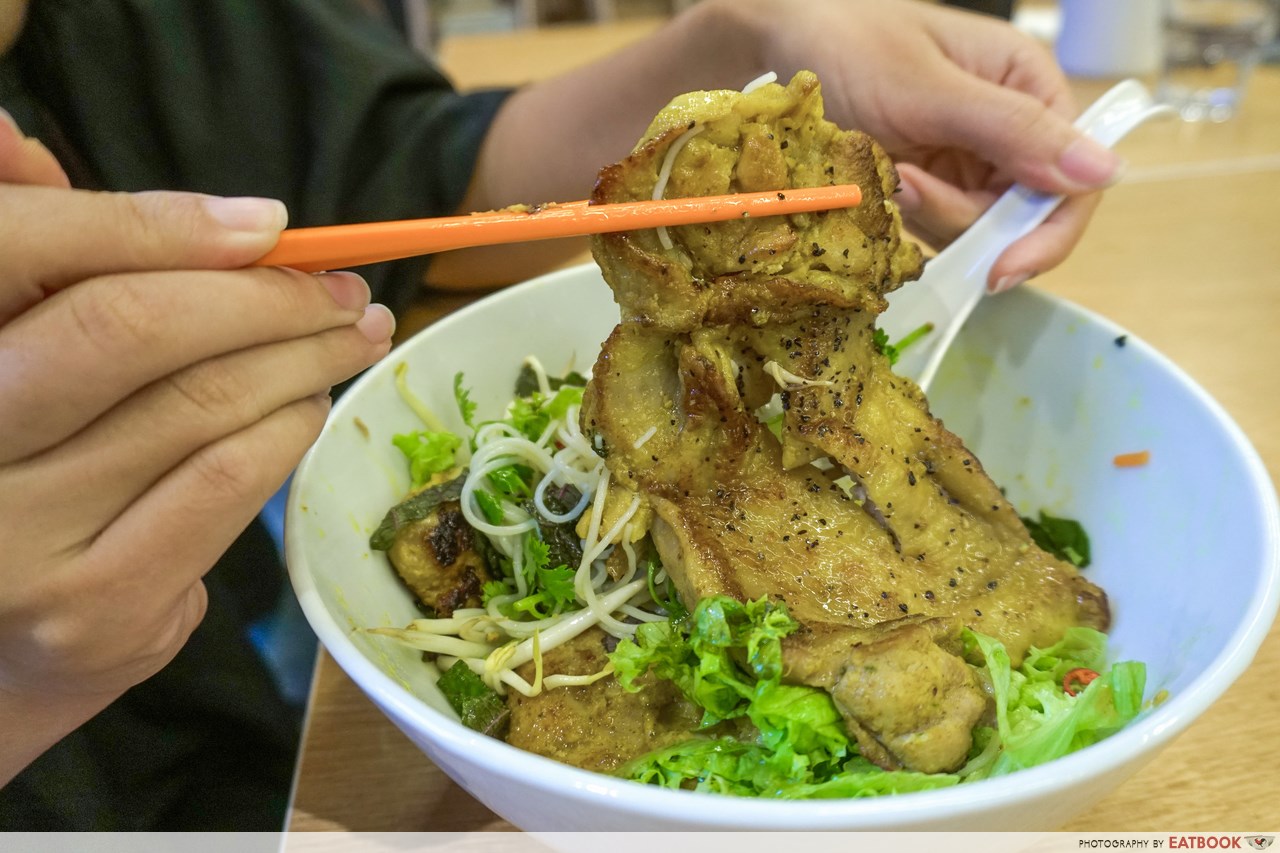 From its appearance alone, I knew the chicken chop was going to pack a punch in terms of flavour, and I wasn't disappointed. The chicken was tender and juicy, since they only grill it a la minute. A blend of spices was used to marinate the meat, and it was best eaten with the noodles and vegetables.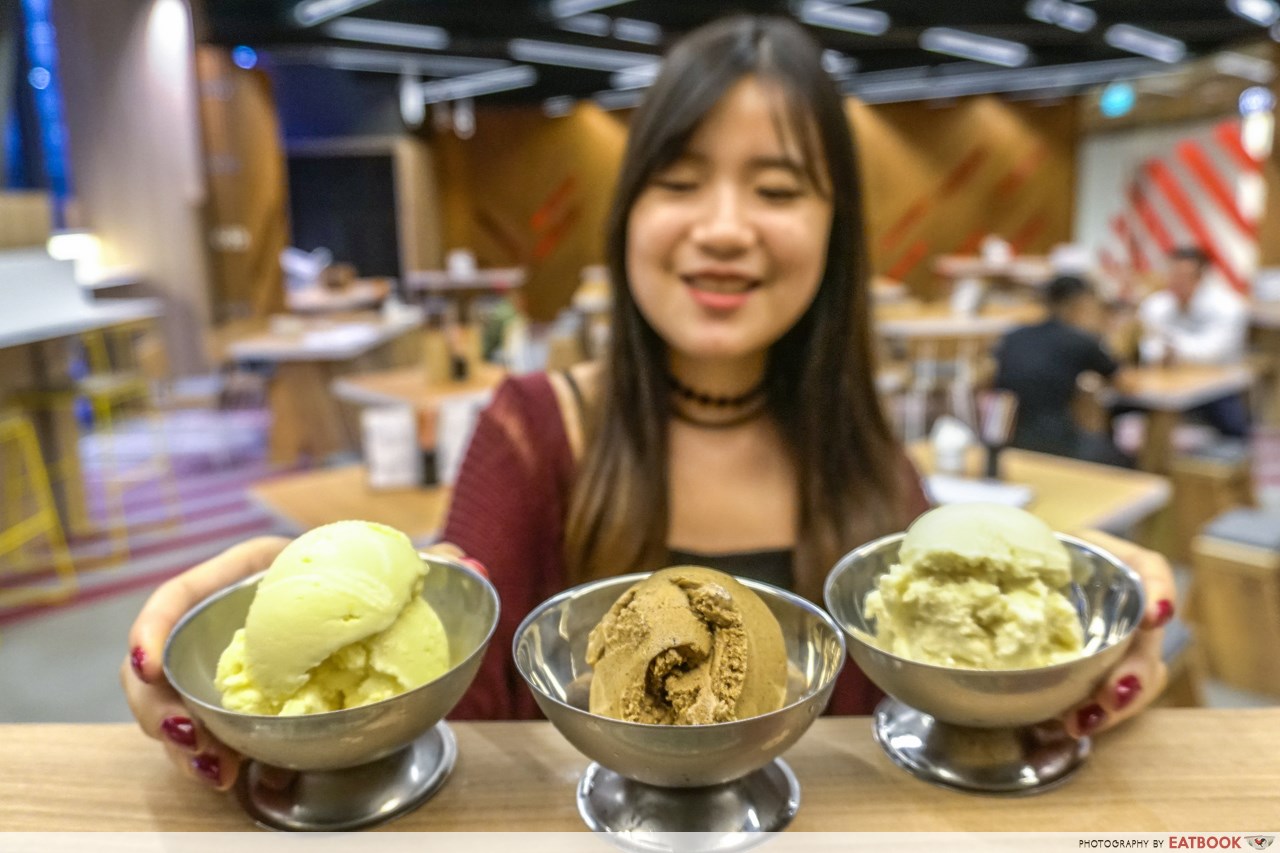 We ended our meal with Coconut, Vietnamese Coffee, and Lemongrass & Ginger ice-cream ($4.50 each). Right after the first scoop of their Vietnamese Coffee ice-cream, I was hooked. The flavour of the coffee was so intense, and Bryan told me it was because real coffee grounds are blended in to give it more aroma and taste.
This smooth, creamy, bittersweet treat was enough to have me wondering why he didn't open a shop that just sold ice-cream. Besides, there isn't any pho place I know of that sells this flavour.
For a refreshing end to your meal, go for Lemongrass & Ginger. While the ginger didn't come through strongly, the lemongrass was light on the palate yet heavy on flavour, which we really enjoyed. Their Coconut ice-cream on the other hand, was very creamy and reminded me of frozen coconut milk, so unless you enjoy that sort of texture, you might want to skip out on it.
Ambience at Pho Stop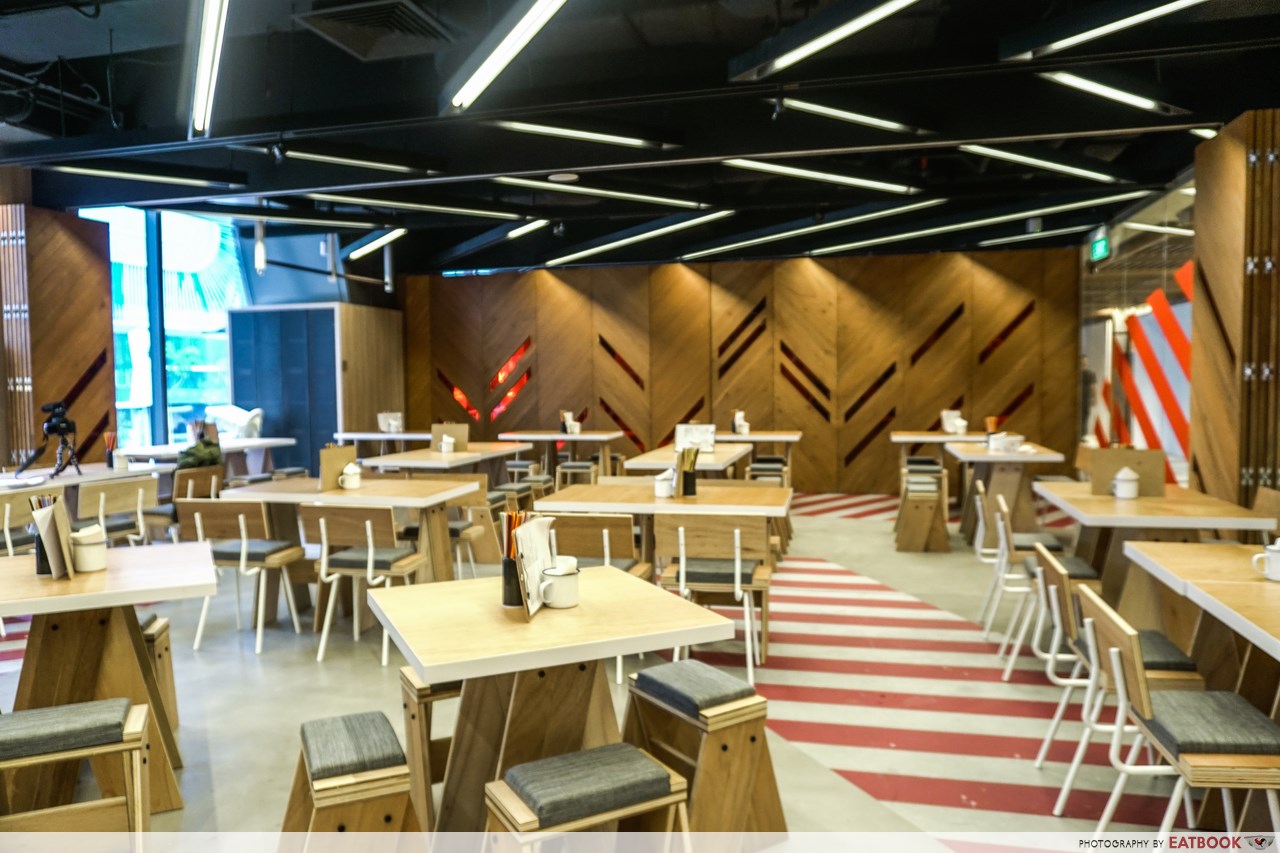 Pho Stop has a modern setting, with bleached wood as well as cushioned stools and chairs that'll let you dine in comfort.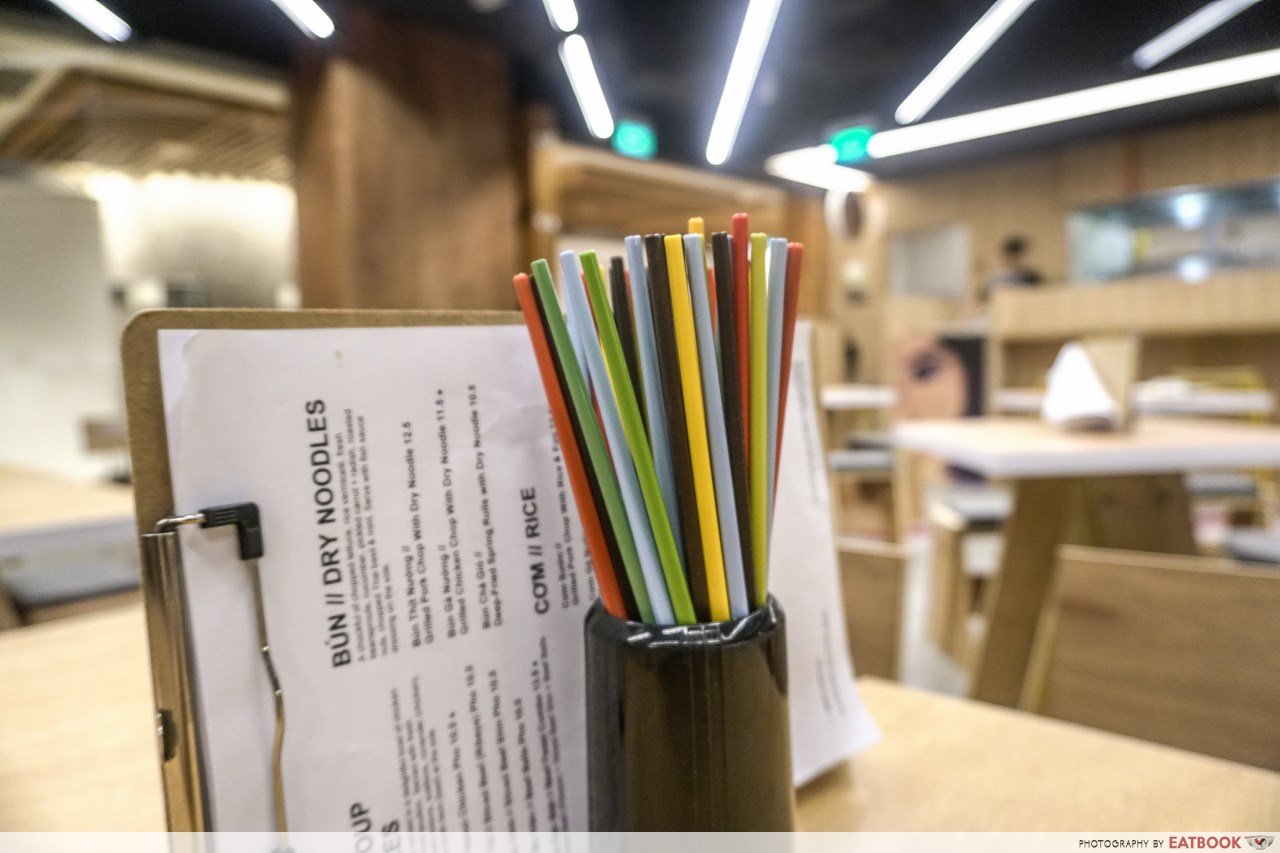 On every table, chopsticks of different colours are placed in a holder, which I thought gave them a fun vibe. But if you're like my colleague Steph, who doesn't like eating with two different-coloured chopsticks, you might not appreciate this detail.
Sharing their space with a dance studio means you could have a workout sesh next door before popping by for some comfort food and ice-cream. There are also pull-up bars in Pho Stop if you ever feel the need to do a couple while chewing on pho.
The verdict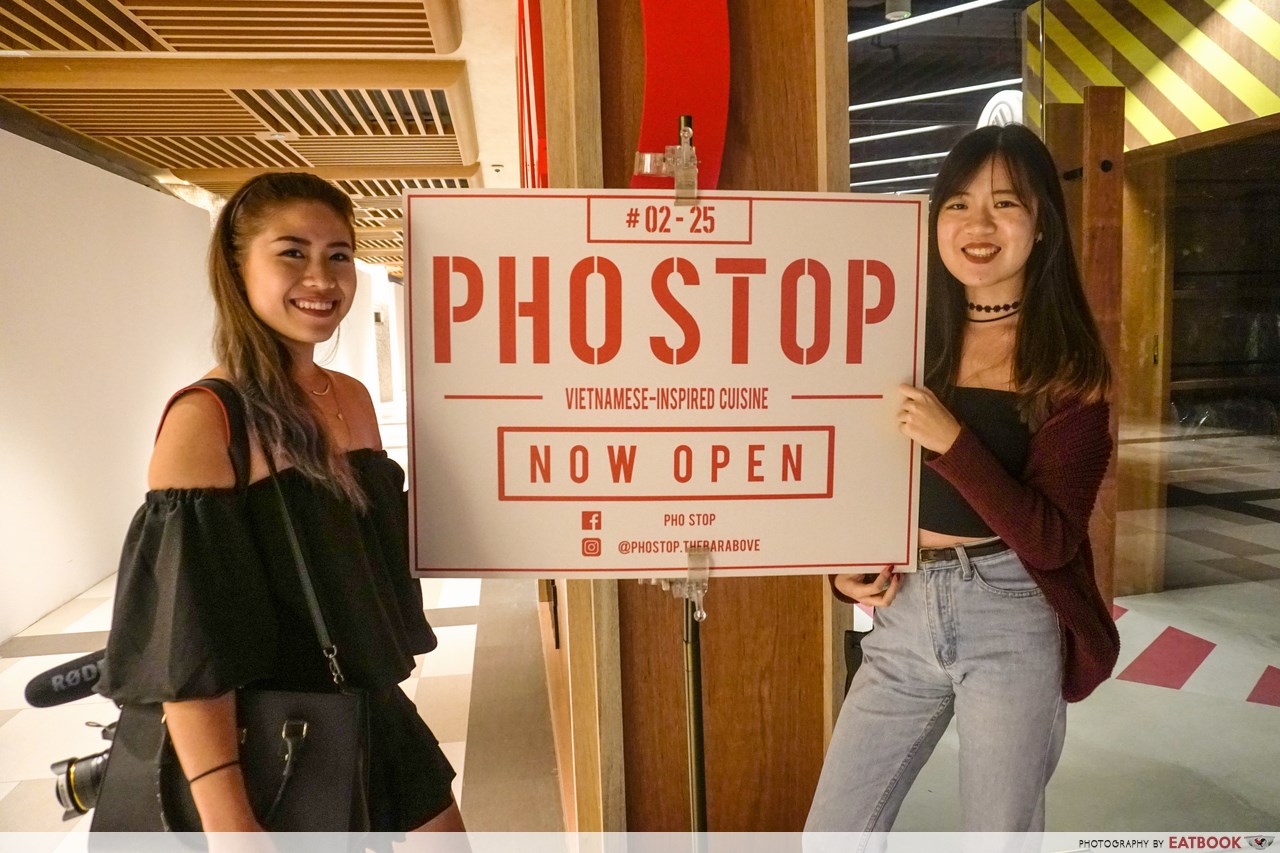 With affordable prices and flavours this loud, I'd return to Pho Stop for a good bowl of pho any day. Plus, it doesn't hurt that they do great ice-cream too.
Address: 6A Shenton Way, #02-28, Downtown Gallery, Singapore 068809
Opening hours: Mon-Sat 11:30am to 9pm
Tel: 6534 8178
Pho Stop is not a halal restaurant.
This was a media tasting at Pho Stop.
Pho Stop Review: Good Pho And Even Better Vietnamese Coffee Ice-cream In The CBD
Summary
Pros
– Generous portions
– Good service
– No GST or service charge
Cons
– Location might be difficult to find
Recommended Dishes: Pho Dac Biet ($13.50), Vietnamese Coffee ice-cream ($4.50)
Operating Hours:
Monday to Saturday 11:30am to 9pm
Tel:
6534 8178
Address: 6A Shenton Way, #02-28, Downtown Gallery, Singapore 068809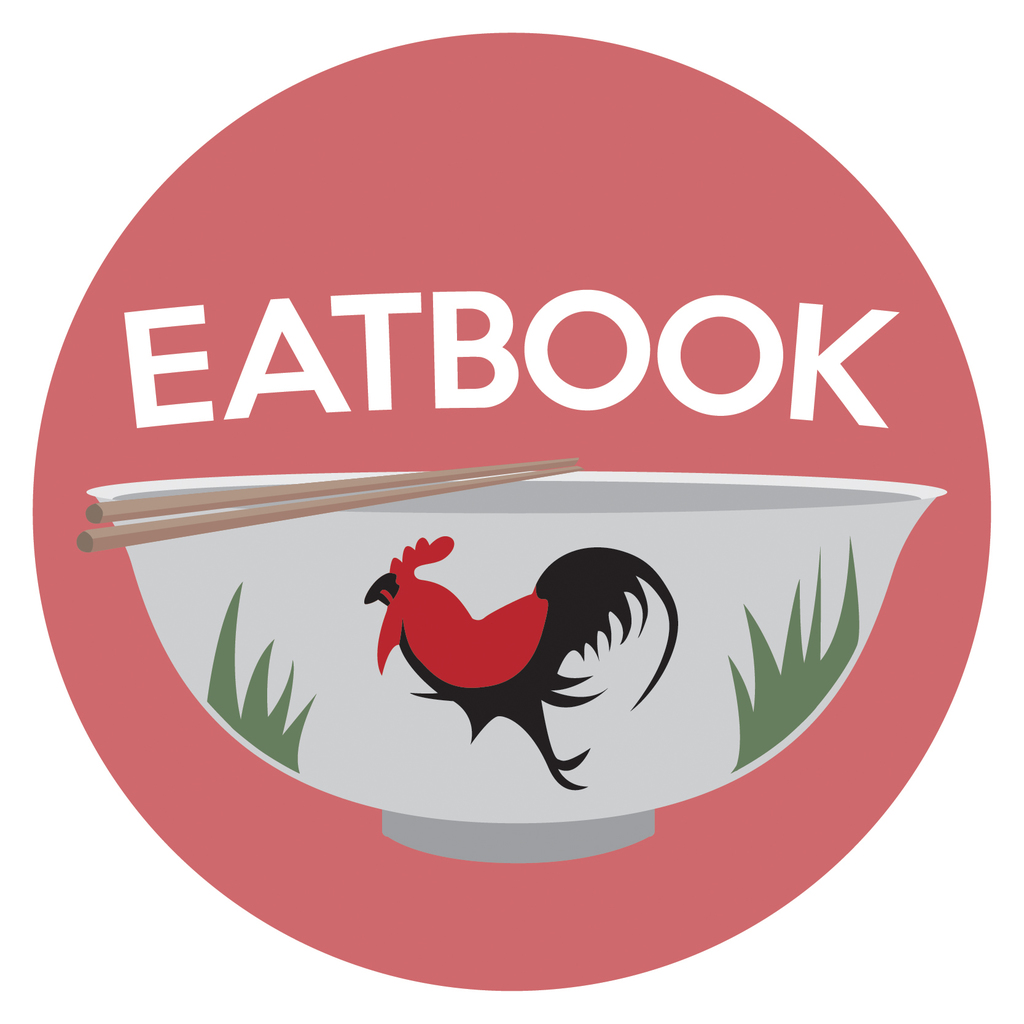 Drop us your email so you won't miss the latest news.