Mrs Pho House in Takashimaya Shopping Centre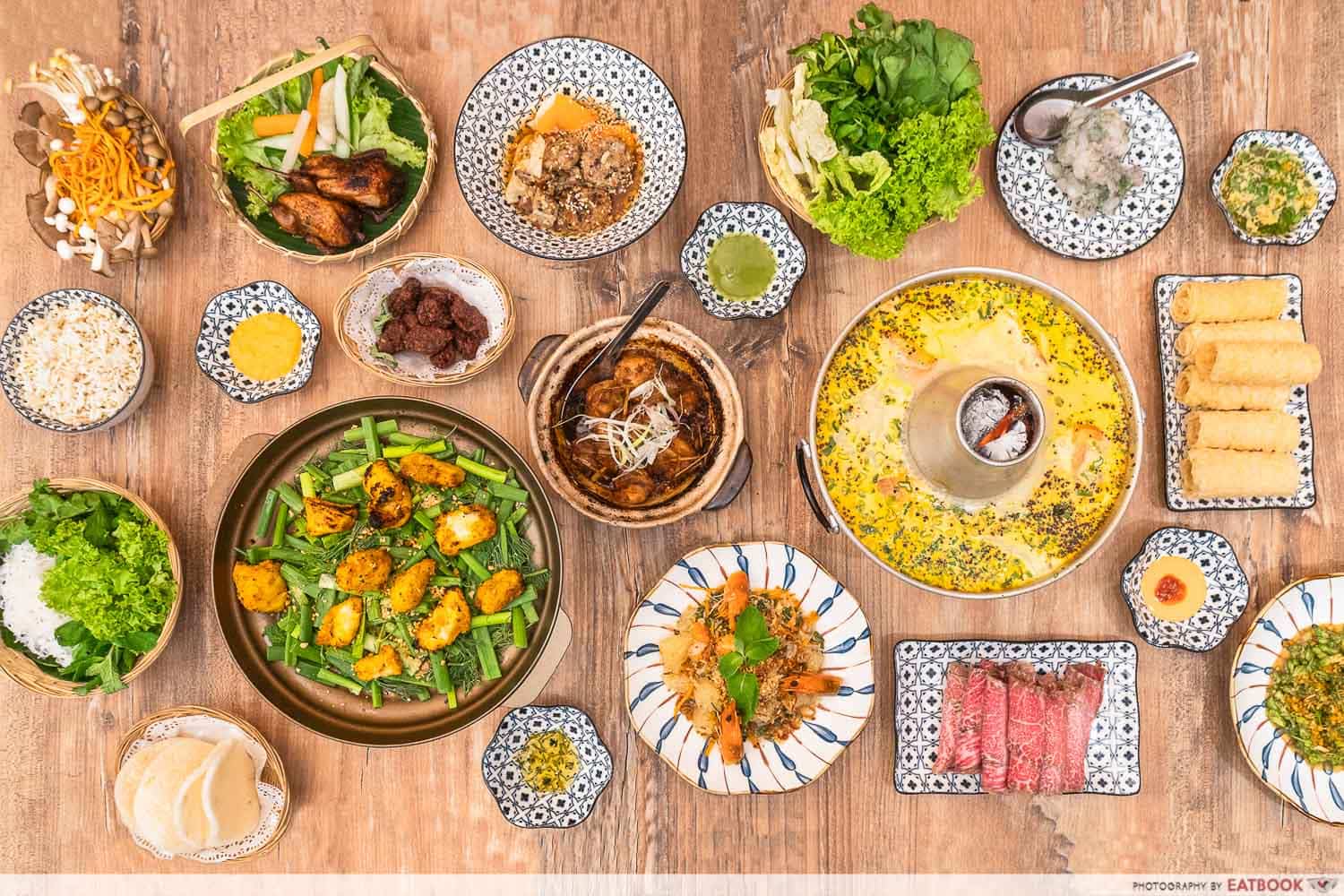 Finding an authentic Vietnamese food eatery in Singapore is rather hard if you're outside of the East. So far, my go-to is Co Chung, a humble Vietnamese restaurant situated in Plaza Singapura. However, it's always crowded with people and I've been wanting to try something new.
When I heard Mrs Pho—known for its authentic Vietnamese street food—was opening a new restaurant, with a totally new concept, I knew I had to make a visit.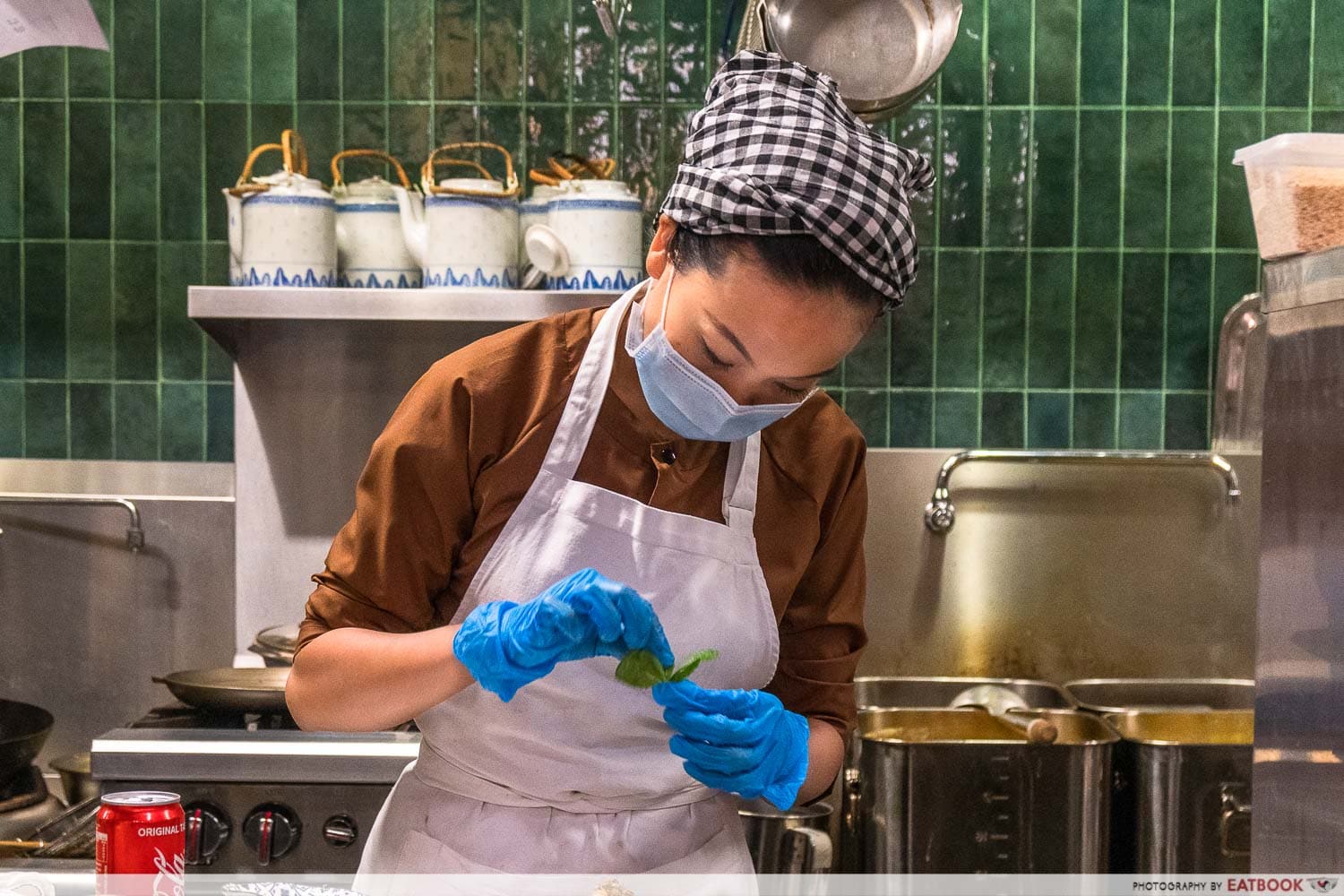 Helmed by a third-generation cook, Chef Linh, Mrs Pho House is a place where she showcases and shares the traditional Vietnamese dishes that she was brought up with. Instead of pho and street food delicacies, Mrs Pho House features a slew of items that are usually served in a traditional, Vietnamese home. Chef Linh also included the Vietnamese-style hotpot and grills, which are often served during the festive period. 
This is a rare dining experience as we don't always get a chance to taste what a Vietnamese home-cooked meal is really like. I was both excited and honoured to try out Chef Linh's dishes. 
Co Chung Review: New Authentic Vietnamese Restaurant With Mains Under $10+ In Plaza Singapura
Food at Mrs Pho House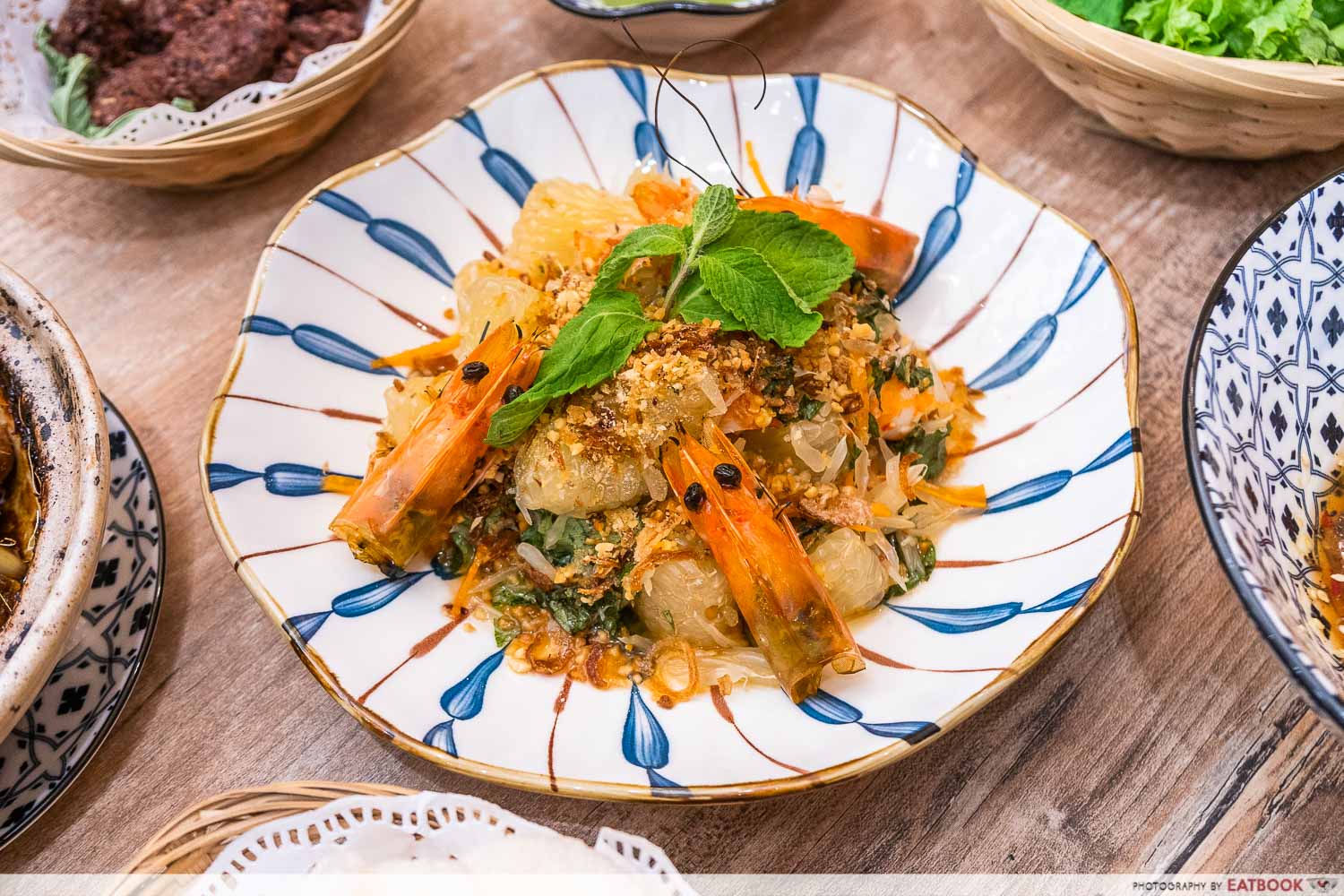 My colleague and I started off our experience with a few of their starters. First up was the Pomelo Salad ($18.90++). 
I have learnt that colours and plating are two of the most important characteristics of food as they can stimulate your appetite, which is precisely what Pomelo Salad accomplished. The plate was just popping with vibrant colours including an orange hue from the prawns, golden-brown colours from the crushed peanuts and shallots, and greens of the leafy mint garnish, which had me salivating.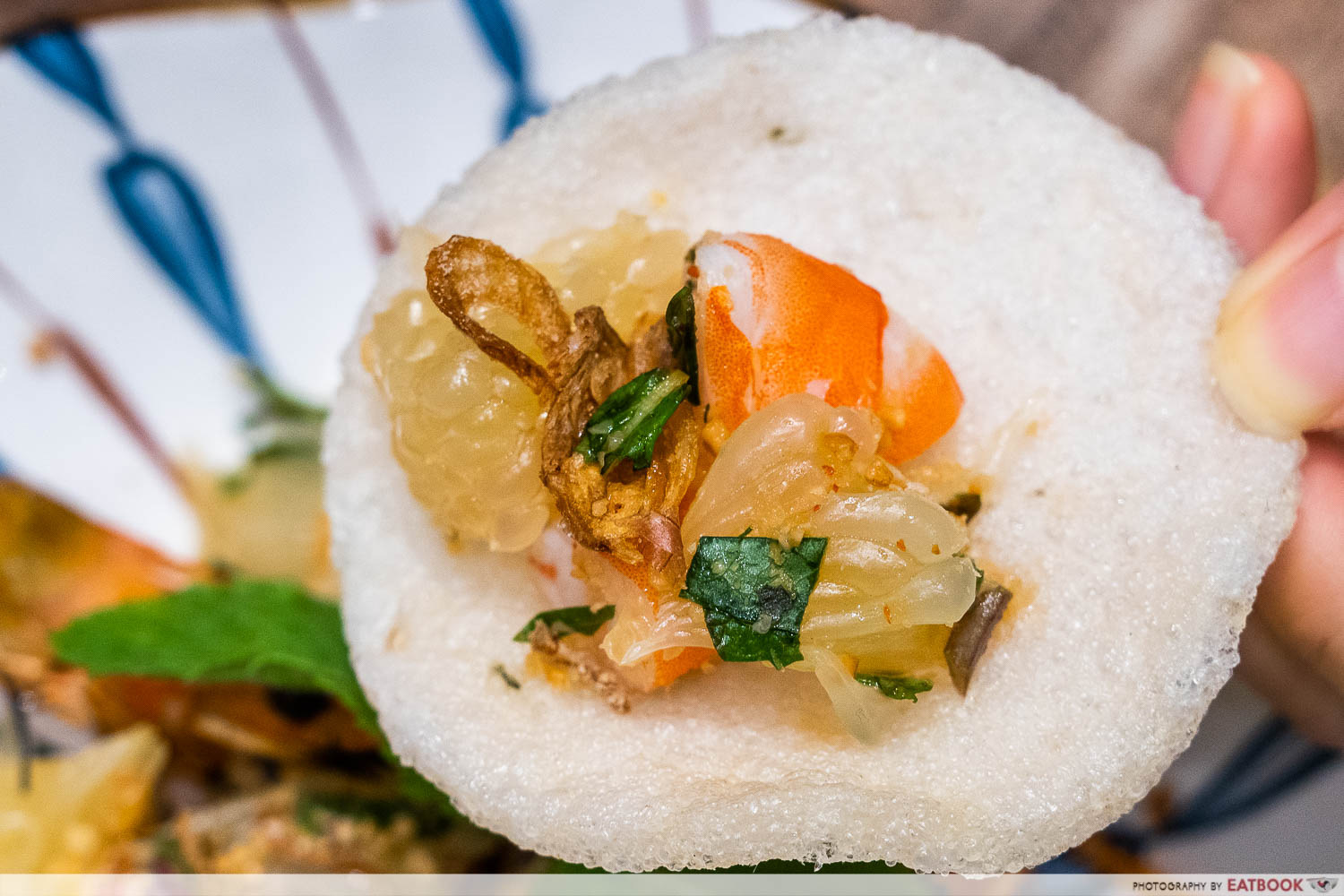 To enjoy this salad, I was instructed to put a bit of everything—prawn, pomelo, leafy greens, and peanuts—on the prawn cracker and eat it all in one bite. This dish really blew me away. The prawn cracker not only gave it a crunch, but it had a slight popping sensation the minute it touched my tongue, enticing me to go back for more.
The prawns gave a sweet and umami note, the peanuts added a roasted and nutty aroma, and the pomelo was bursting with a tartness to balance the flavours out. Everything from its texture down to the flavours was on point.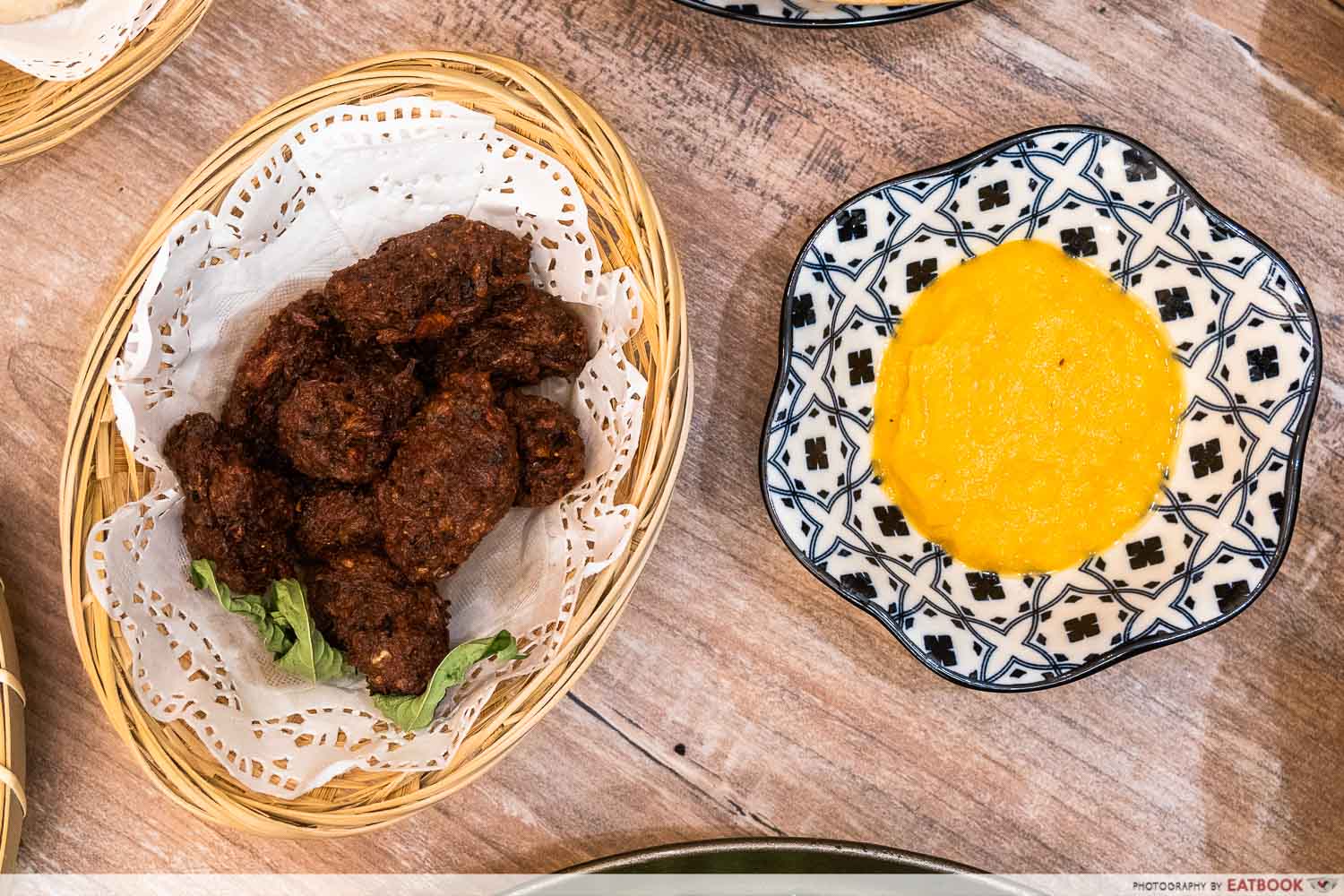 Another appetizer that we went for was the Five Spice Young Jack Fruit Nuggets ($6.90++). It sported a dark brown colour, almost looking like rendang, with a bright yellow dip on the side. 
Not knowing what to expect, these deep-fried jackfruits really surprised me. It had a slightly chewy texture, and was a tad tough. In all honesty, these could have easily been mistaken for meat.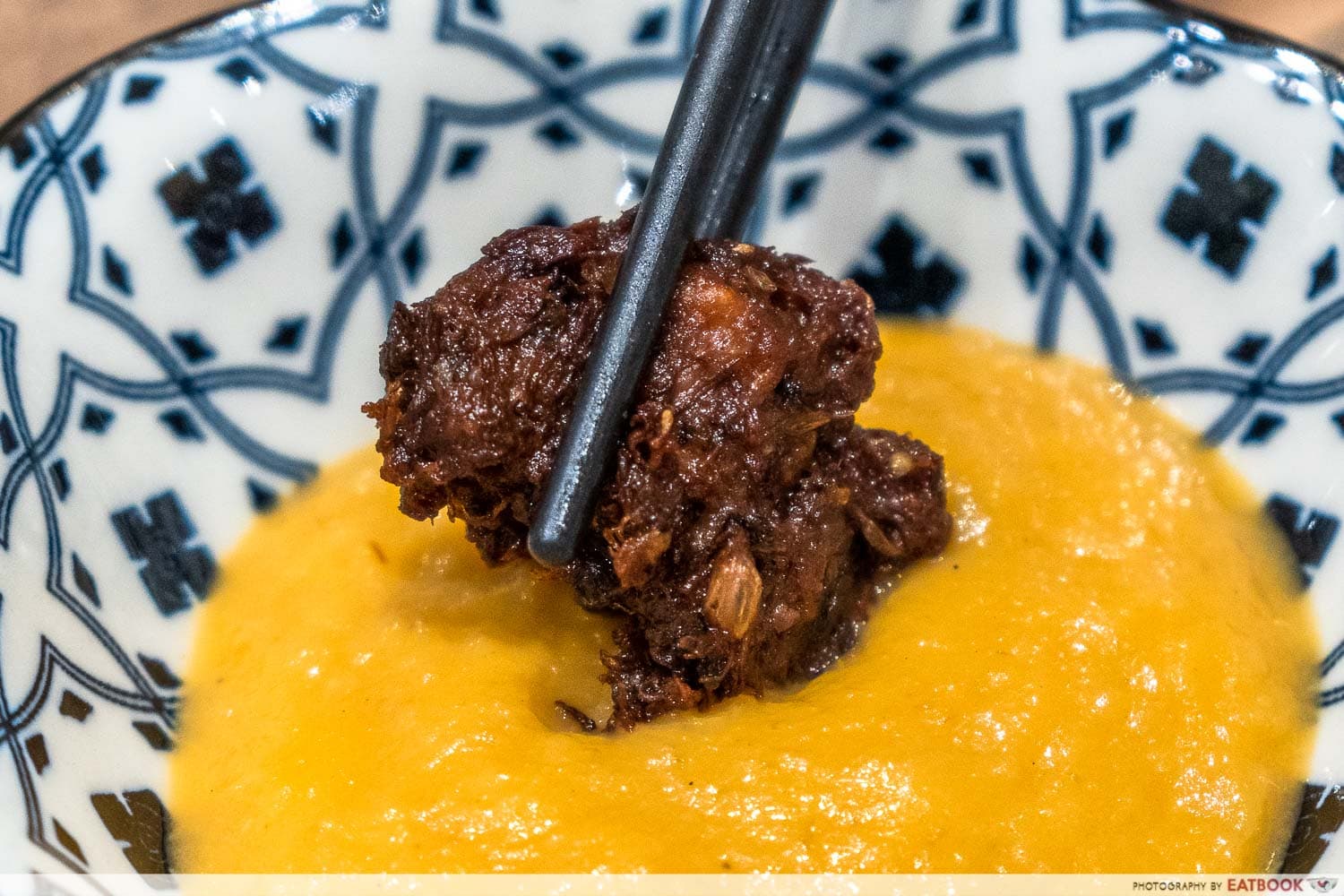 Texture aside, I felt that the flavours of this dish had so much depth. First, there was the hit of five-spice, then the natural sweetness of the jackfruit that shone through. The sauce on the side brightened the jackfruit pieces with a slight tang and umaminess. We later found out that the dip was a blend of tomato and pineapple, which explains the refreshing notes that it brought to the dish.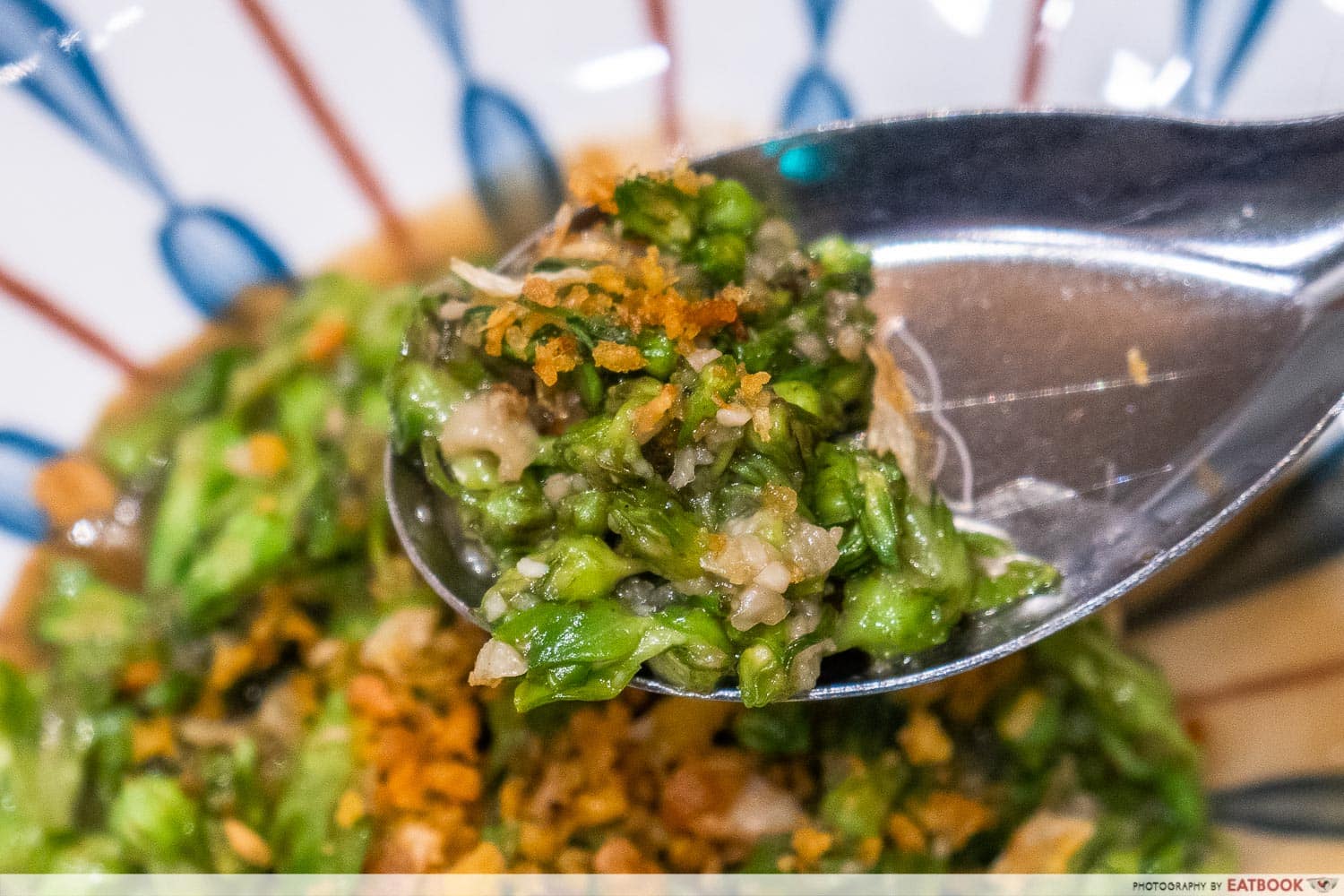 Next, we had the Tonkin Jasmine ($14.90++). Thinking that it was a normal stir-fry vegetable dish, I was proven wrong. The jasmine shoots were cooked to a slight crunch, making it really easy to chew on. In terms of flavours, this dish screams garlic. It was so garlicky that it left a little burning sensation.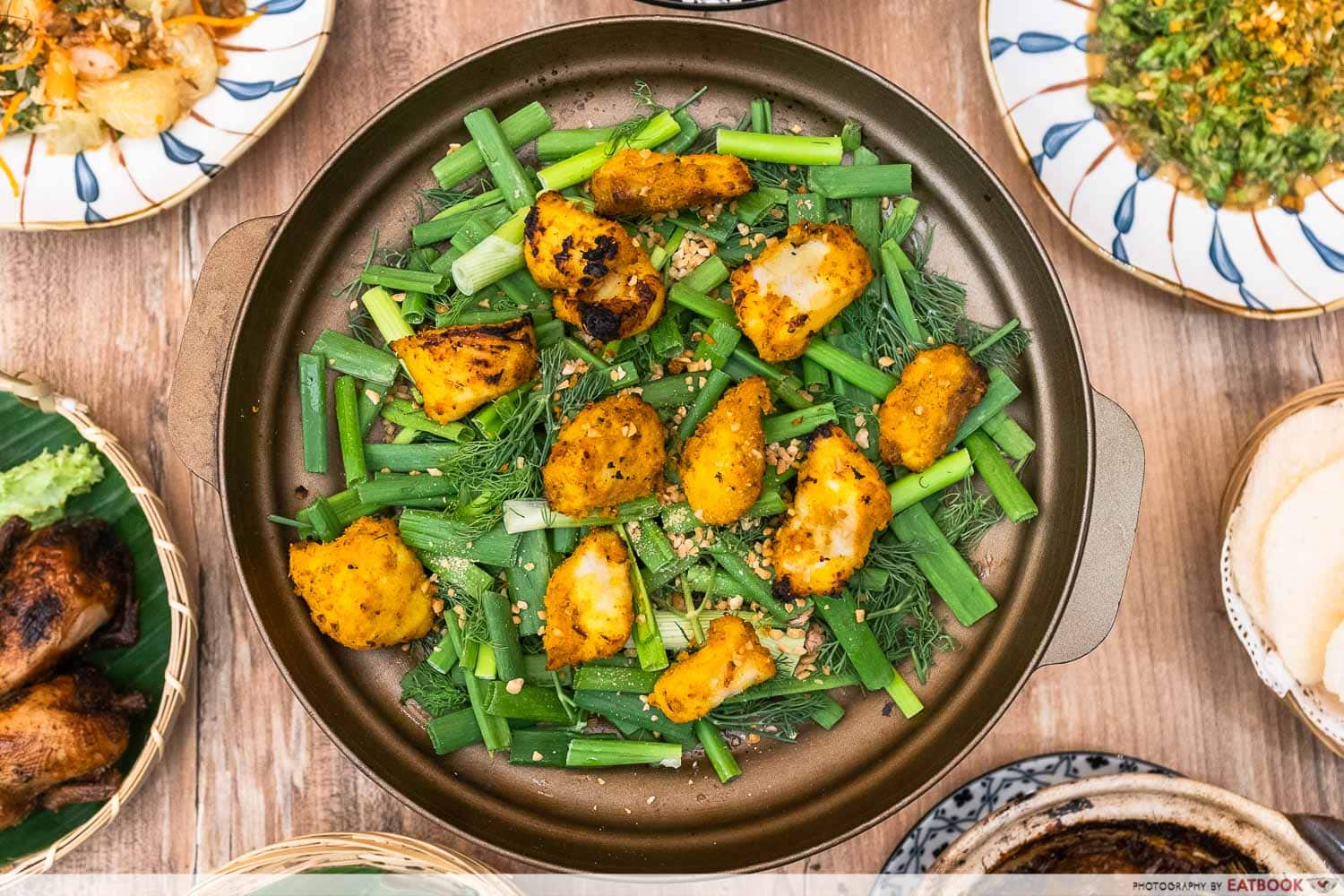 After having such satisfying starters, we were more than ready for Mrs Pho's mains. We started with Chef Linh's all-time favourite dish—Cha Ca de la Mrs Pho ($19.90++). This was served on a hotplate, featuring grilled sturgeon fish on a bed of fresh herbs and dill. On the side, was a bowl of rice noodles, and fish sauce dressing.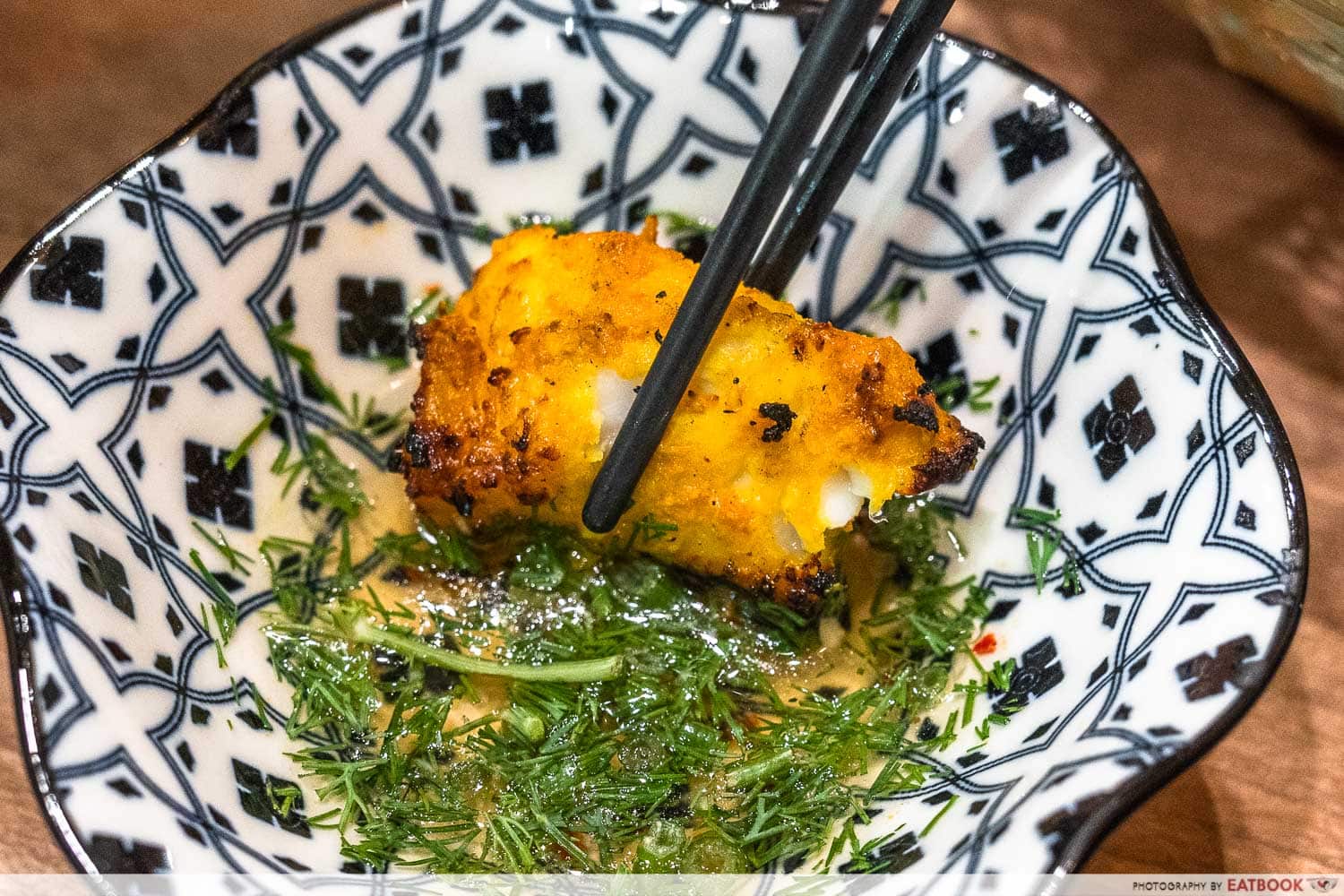 The fish had a mild turmeric flavour, which didn't overpower the natural sweetness and flavour of the fish. Grilling the fish also gave it a slightly smoky aroma. The fish sauce added a sweet-savoury note, and the herbs just further elevated the dish with its earthy flavours. The herbs and spring onions added a nice crunch, tying the dish together.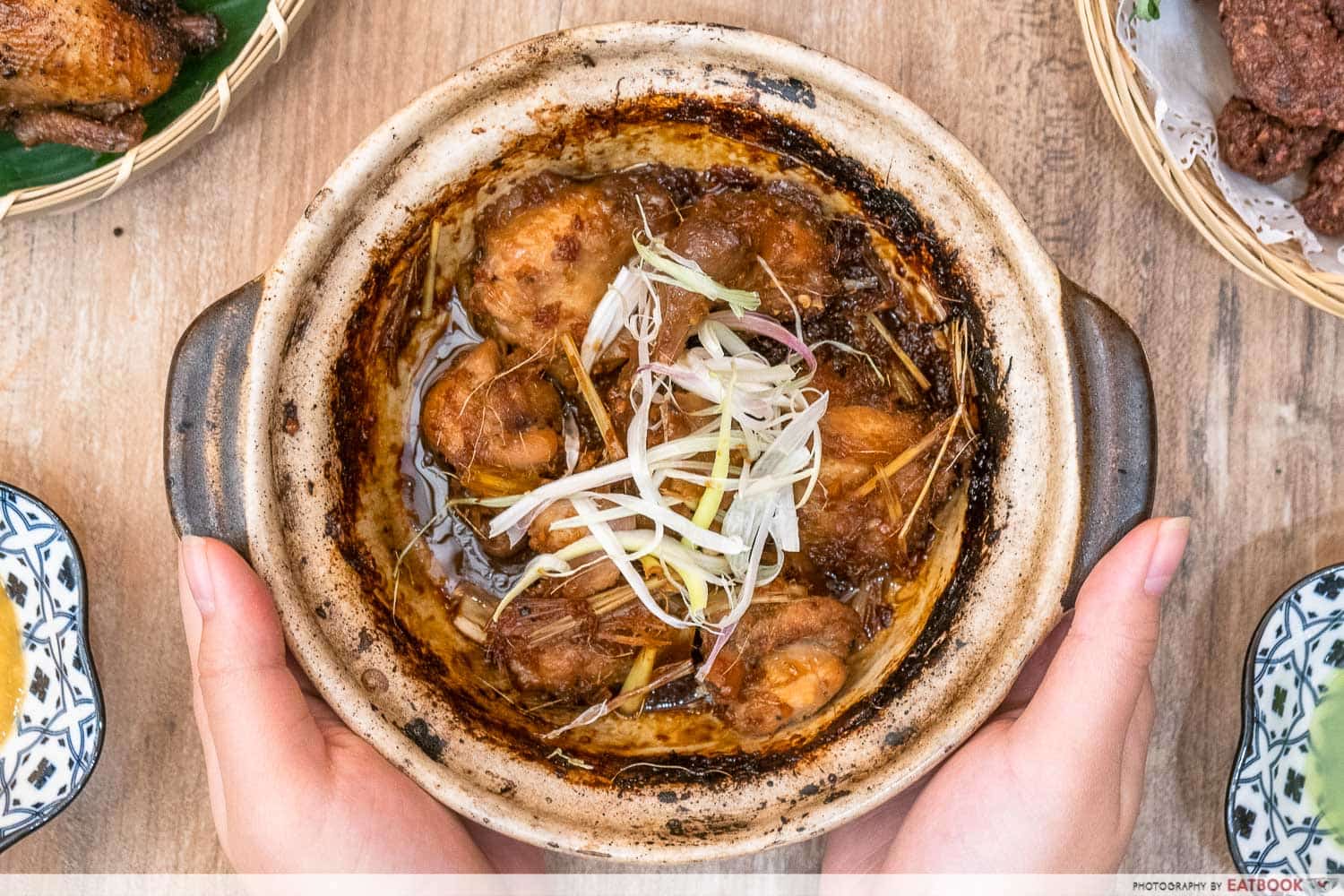 We also tried some Chinese- and French-influenced dishes such as the Lemongrass Chicken In Claypot ($13.90++), and the Five Spice Butter Quail ($18.90++). 
The former was served in a claypot, with chunks of braised meat, topped with shredded onions and lemongrass. Everything about this dish, from the presentation, down to the rough, chunky cuts of the chicken with bones, reminds me of the Taiwanese dish—San Bei Ji. This dish, however, was much lighter on the palate. It had a lovely aroma and hint of lemongrass on the first bite, before the savouriness from the braising sauce came to the fore.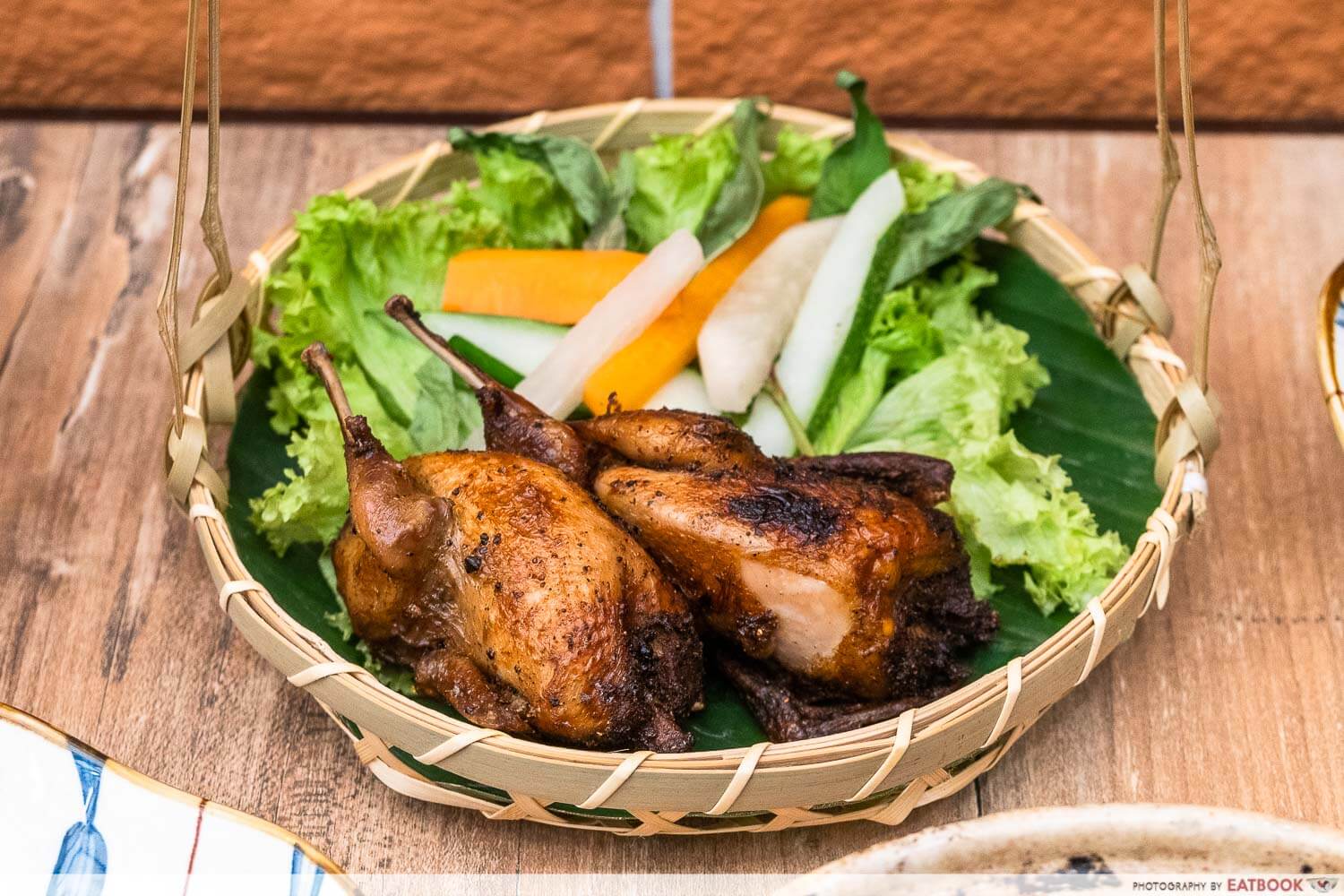 The Five Spice Butter Quail, on the other hand, was a dish that showcased Chef Linh's knowledge and experience with French cuisine. This dish came in a cute woven basket, with two grilled quail, and salad on the side. 
The meat was tender and flavourful, all thanks to the five spice and lemongrass marinade.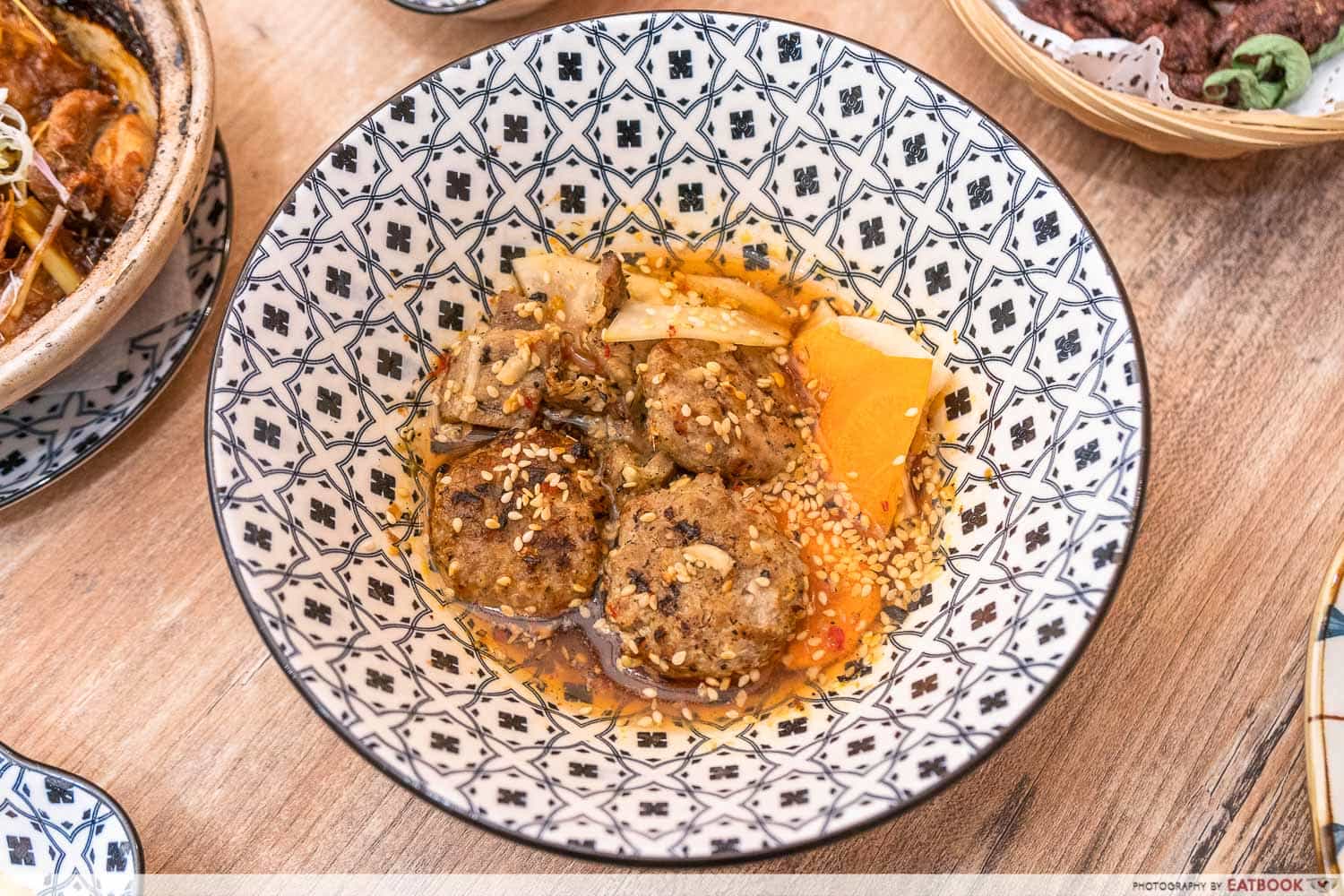 Another one of my favourite dishes that I had was the Bun Cha ($15.90++). This is my go-to item whenever I visit a Vietnamese restaurant.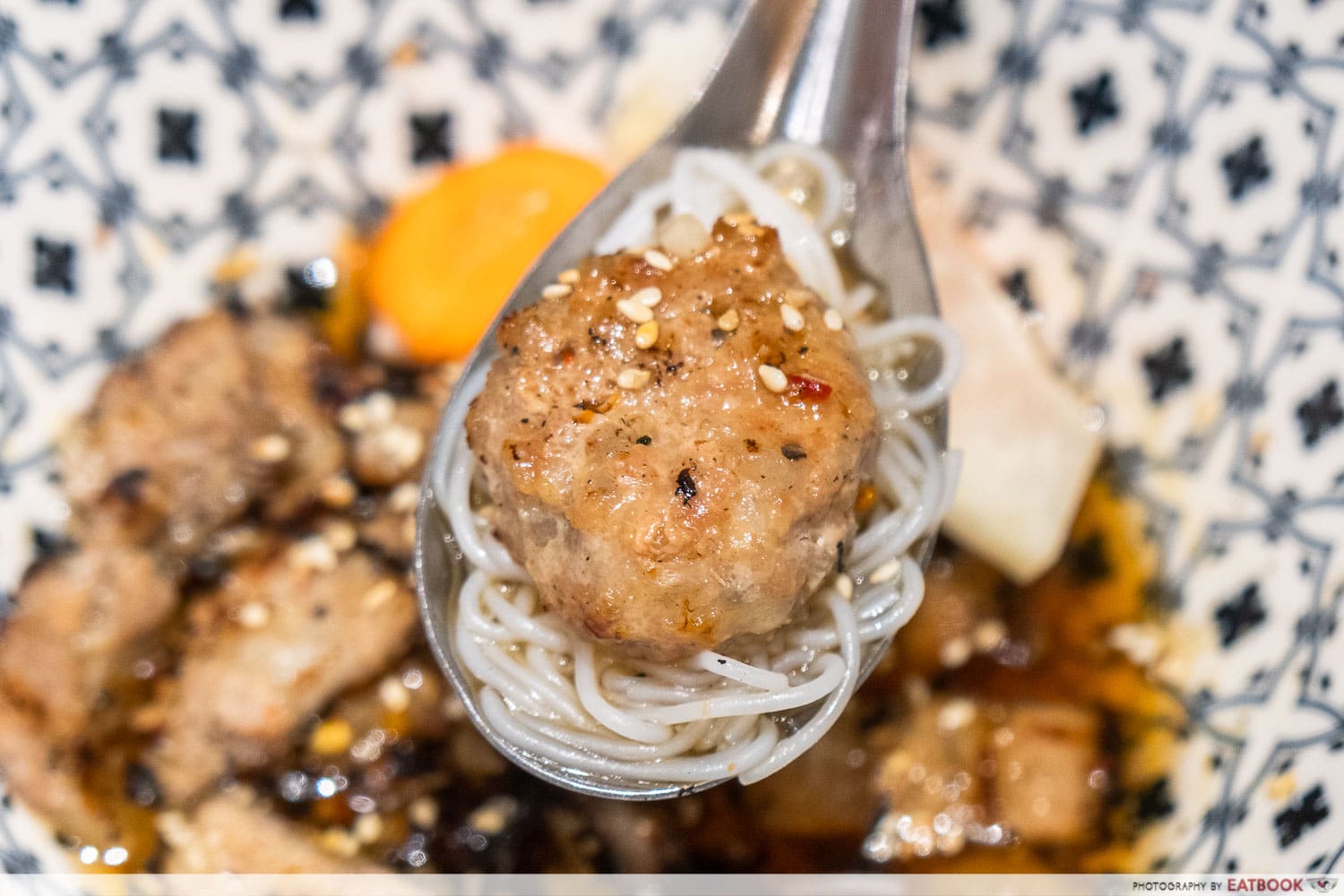 It came with the usual suspects: rice vermicelli, grilled pork and meatballs, lettuce, fish sauce, and pickled vegetables on the side. I loved everything about this dish. There is the aromatic, chargrilled flavours from the meat, a zing from the pickles, sweet and savoury notes from the fish sauce, and the fresh lettuce on the side to balance all these bold flavours. 
Aside from these dishes, Mrs Pho House also offers a Vietnamese-style hotpot. What's unique about this style is their usage of charcoal to boil the hotpot instead of induction heat. To pair with our hotpot, we had Sliced Japanese Wagyu ($22++/$44++), Beancurd Skin Rolls ($5.50++/$11++), Assorted Mushroom ($10++/$20++), and Homemade Prawn Paste With Dill ($11++/ $22++) on the side. All their add-ons come in half or full size.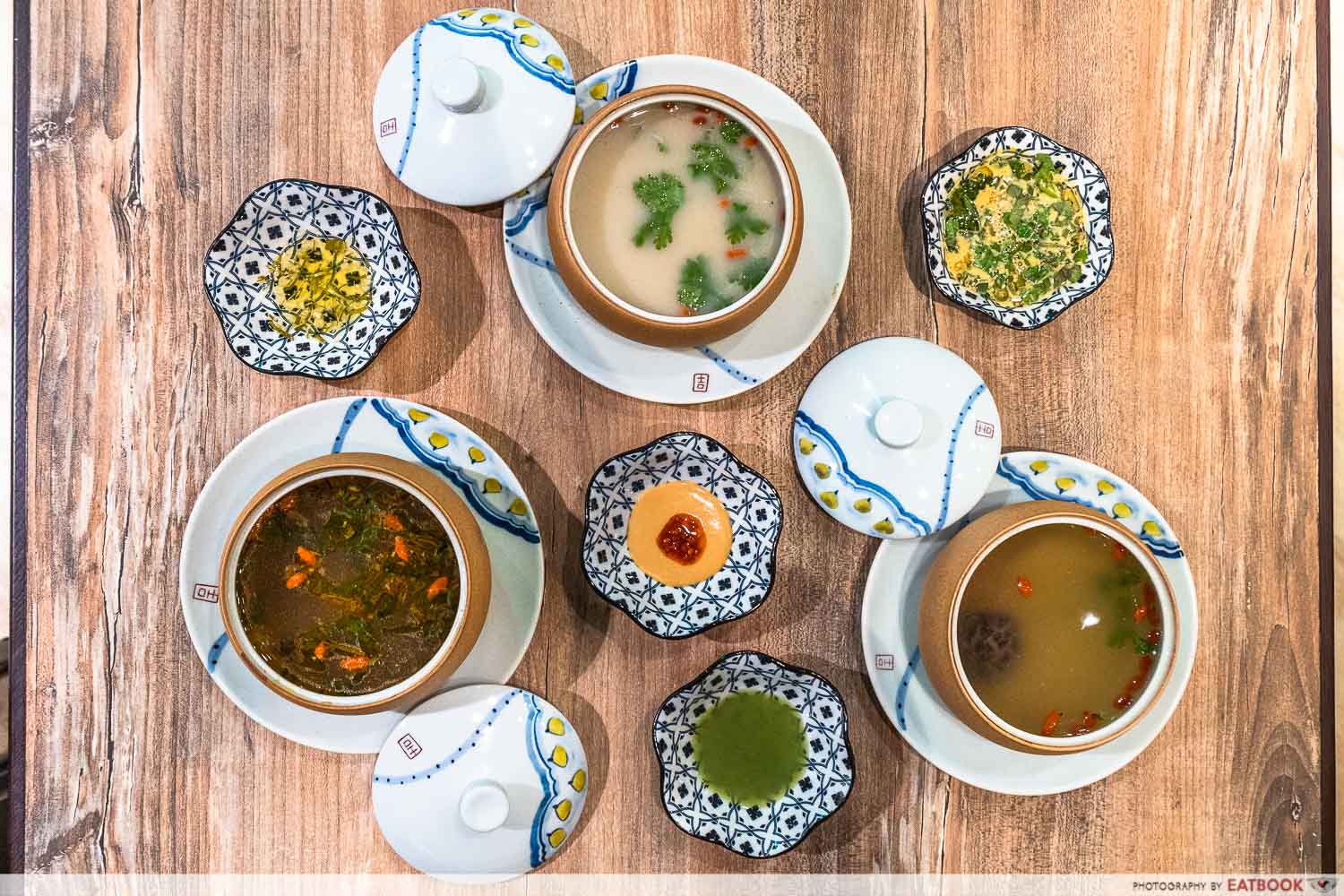 There were four different soup bases for us to choose from—Crab Bisque ($38++/$48++), Vietnamese Perilla Mutton ($25++/$30++), Herbal Chicken Mushroom ($23++/$28++), and Nourishing Collagen Pepper ($23++/$28++). Each soup also came with a specially curated dipping sauce on the side. It is advised that two to three diners share the regular size hotpot, while groups of more than three should go for the large portion.  
Fun fact: the crab bisque soup is specially flown in from Vietnam, made by Chef Linh's mother who runs a no-name stall, selling crab bisque noodles back home. She is so famous that you'll have to queue for more than two hours just to get your hands on one! So, it was no brainer that we opted for the Crab Bisque broth to try.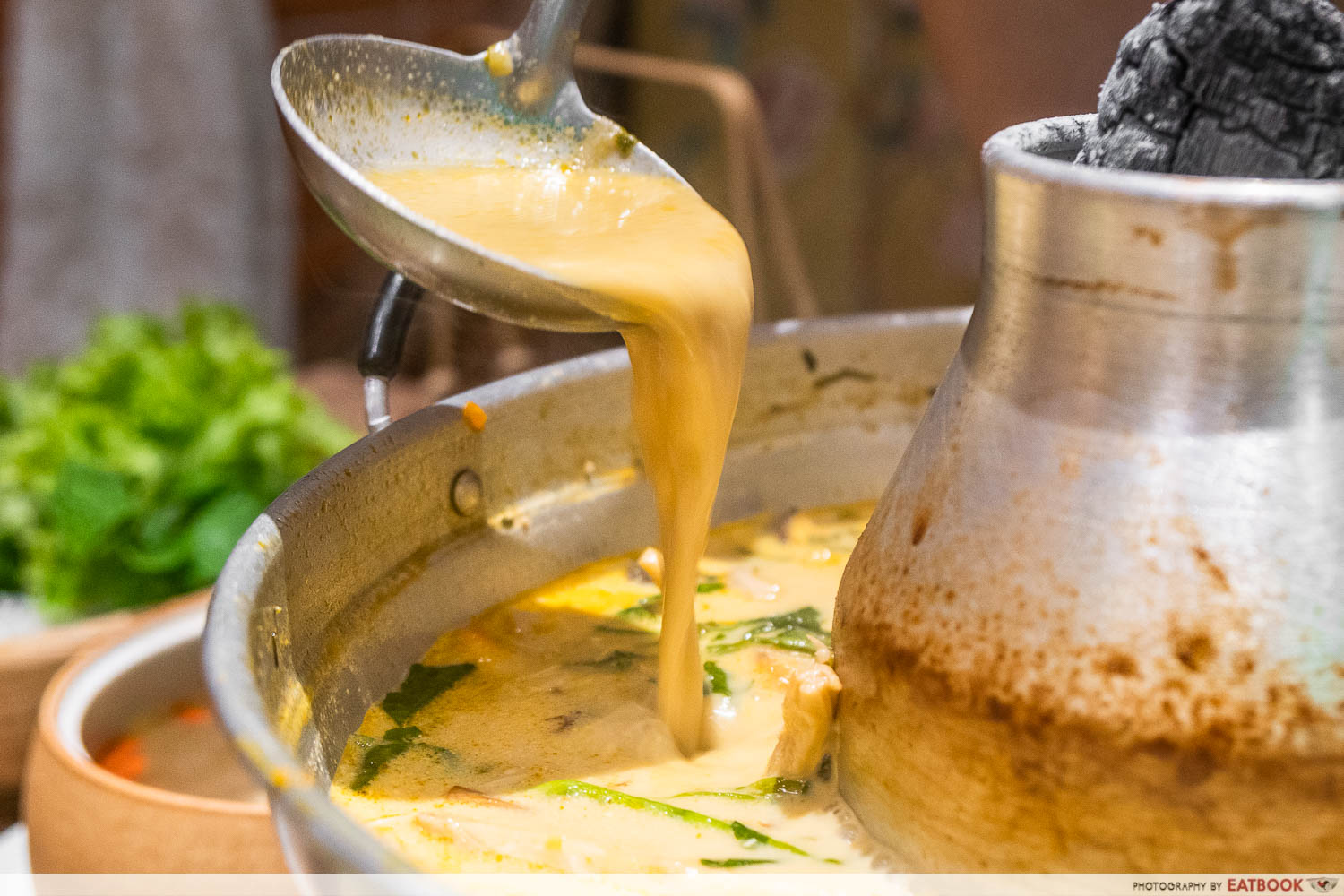 A spoonful of this soup coated my mouth with the sweetness of the crab right away. It was so velvety and light on the palate, with a depth of flavour that words can't describe. As the soup continues to simmer with the addition of our hotpot ingredients, the flavours deepen.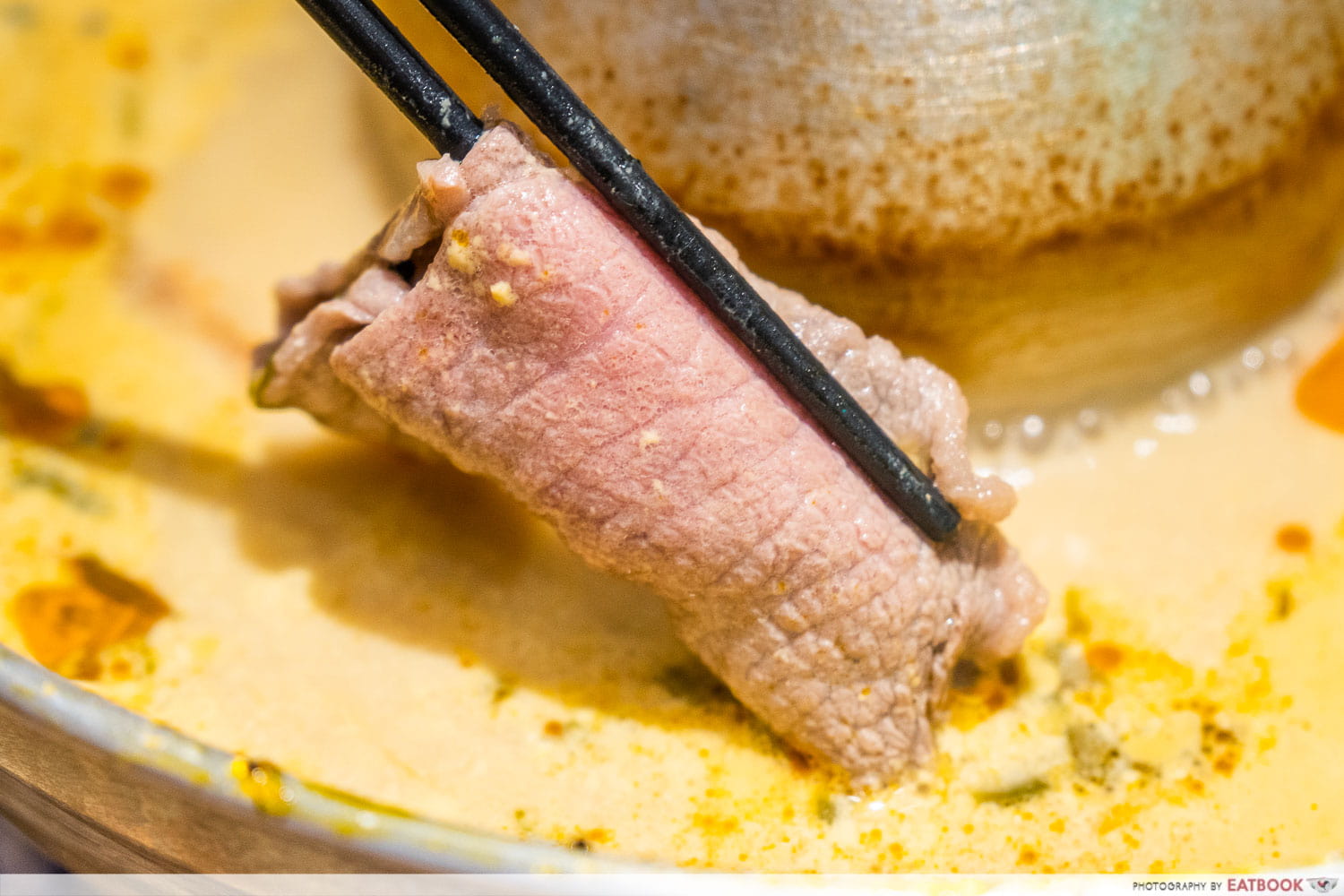 The wagyu beef was so soft that I didn't have to chew much. It also held the broth well, giving the meat a tinge of sweetness.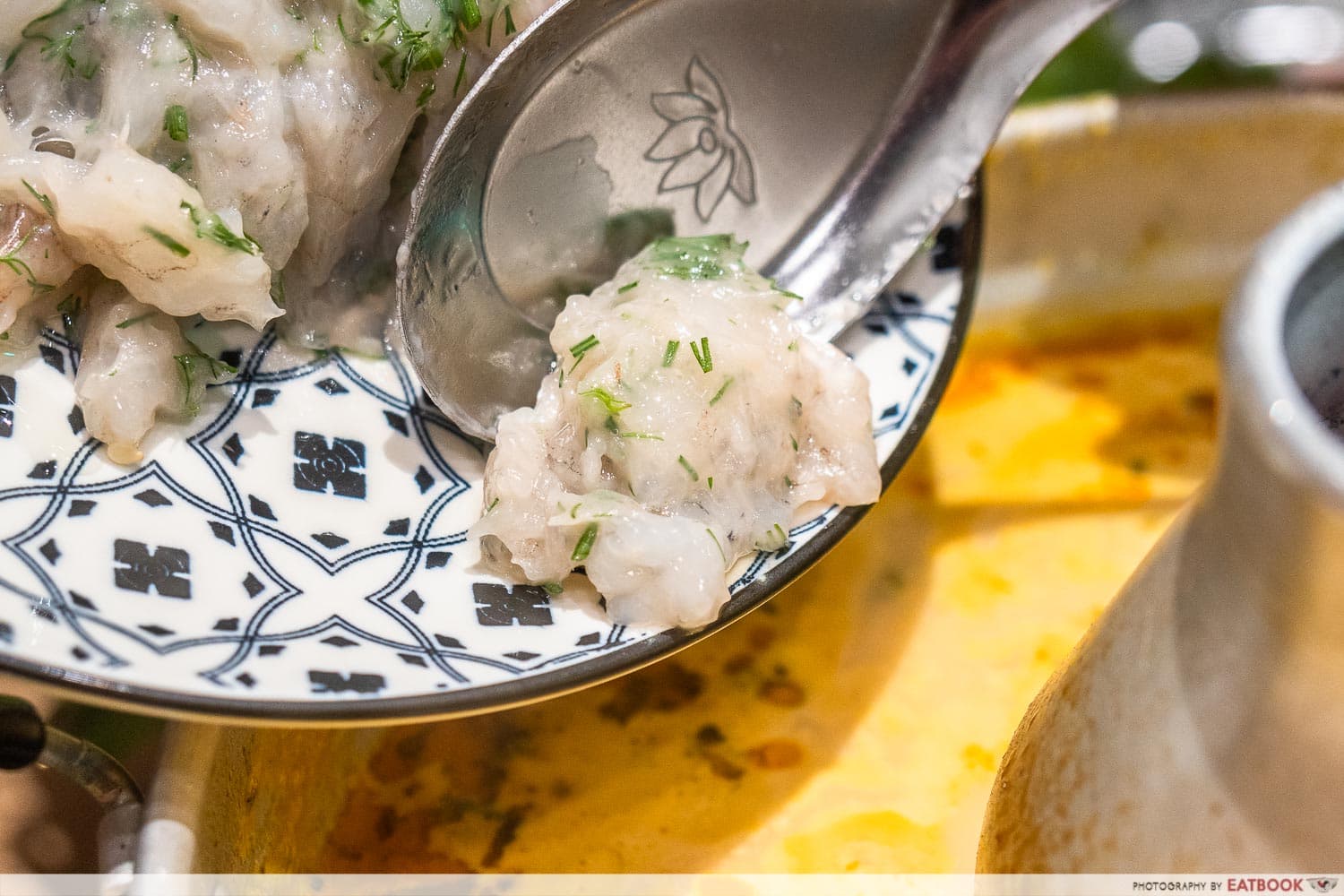 Another one of my favourites was the shrimp paste. No matter how long it was left to cook, it retained its QQ texture. I also liked how the paste was not fully minced, featuring silvers of shrimp for an added texture. The dill flavours also shone through. 
9 Vietnamese Food Places In Singapore For Legit Banh Mi, Pho, Bun Cha And More
Ambience at Mrs Pho House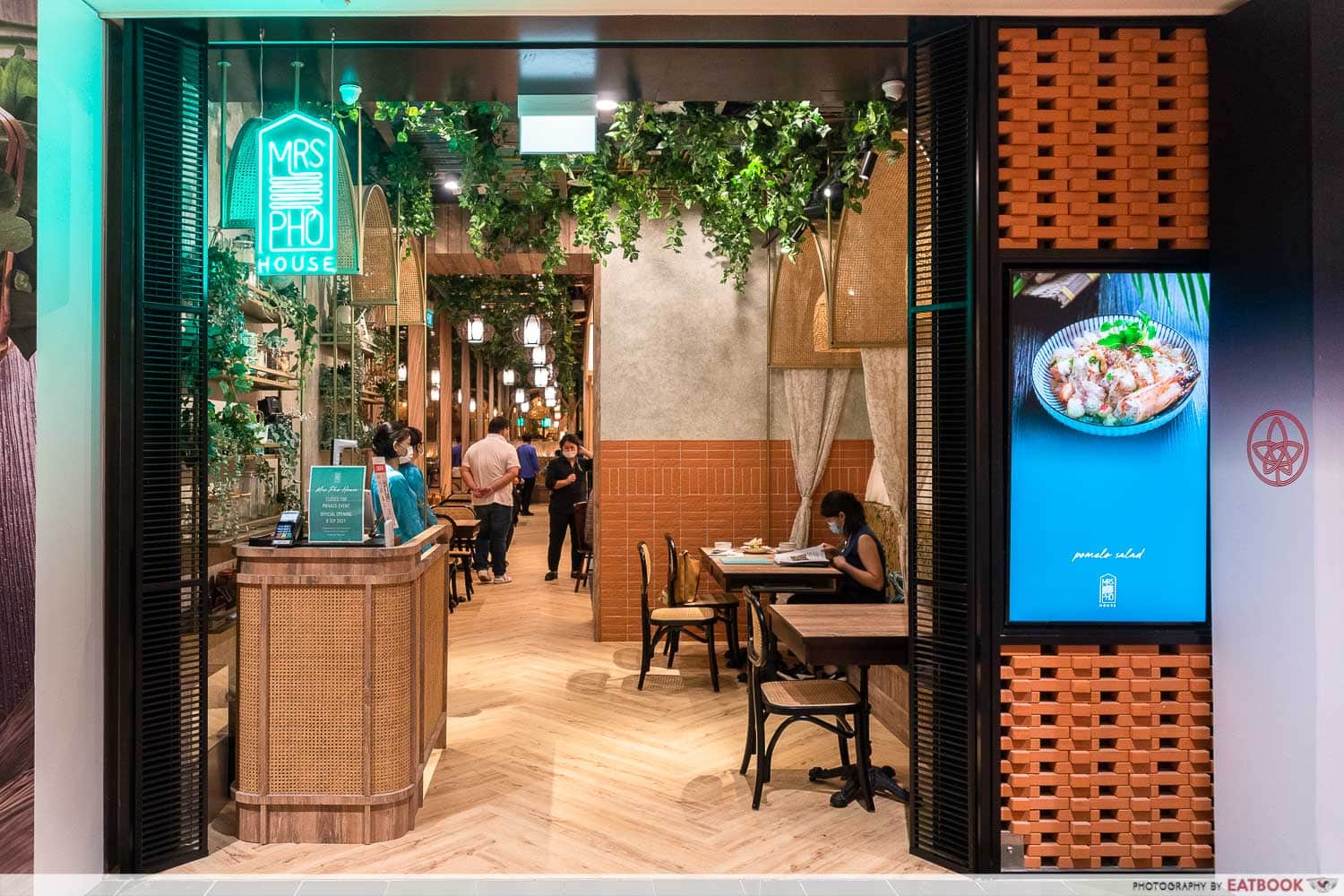 Mrs Pho House is situated in Takashimaya Shopping Centre, Basement Two. It is hard to miss with its green neon signage and beautifully designed interior.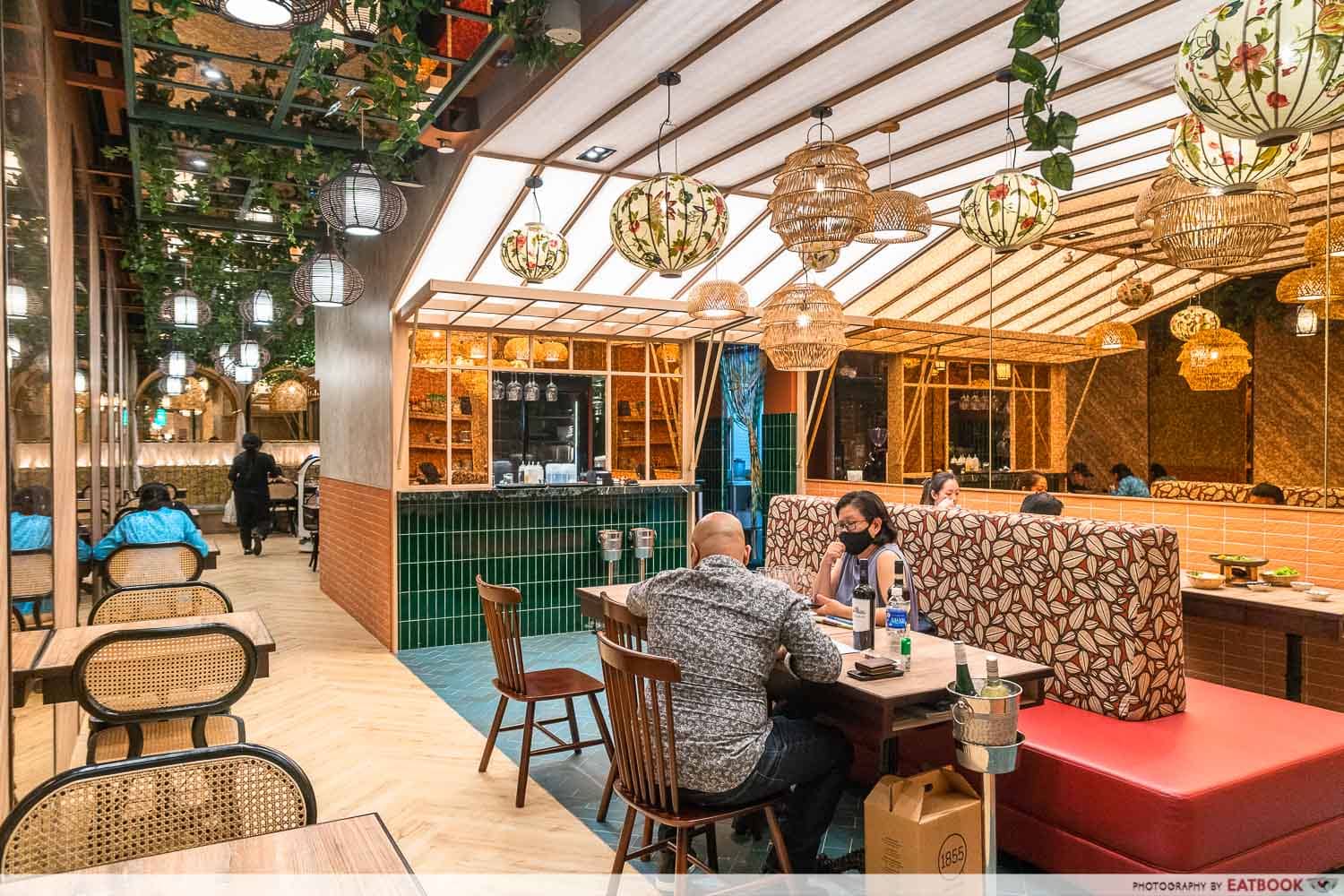 We were given a small tour when we entered the restaurant. As the name suggests, Mrs Pho House was split into three different sections—living room, courtyard, and kitchen—portraying the theme of Chef Linh's memory of home. Thus, dining in Mrs Pho House definitely made me feel like I was invited to a house for a meal. 
The verdict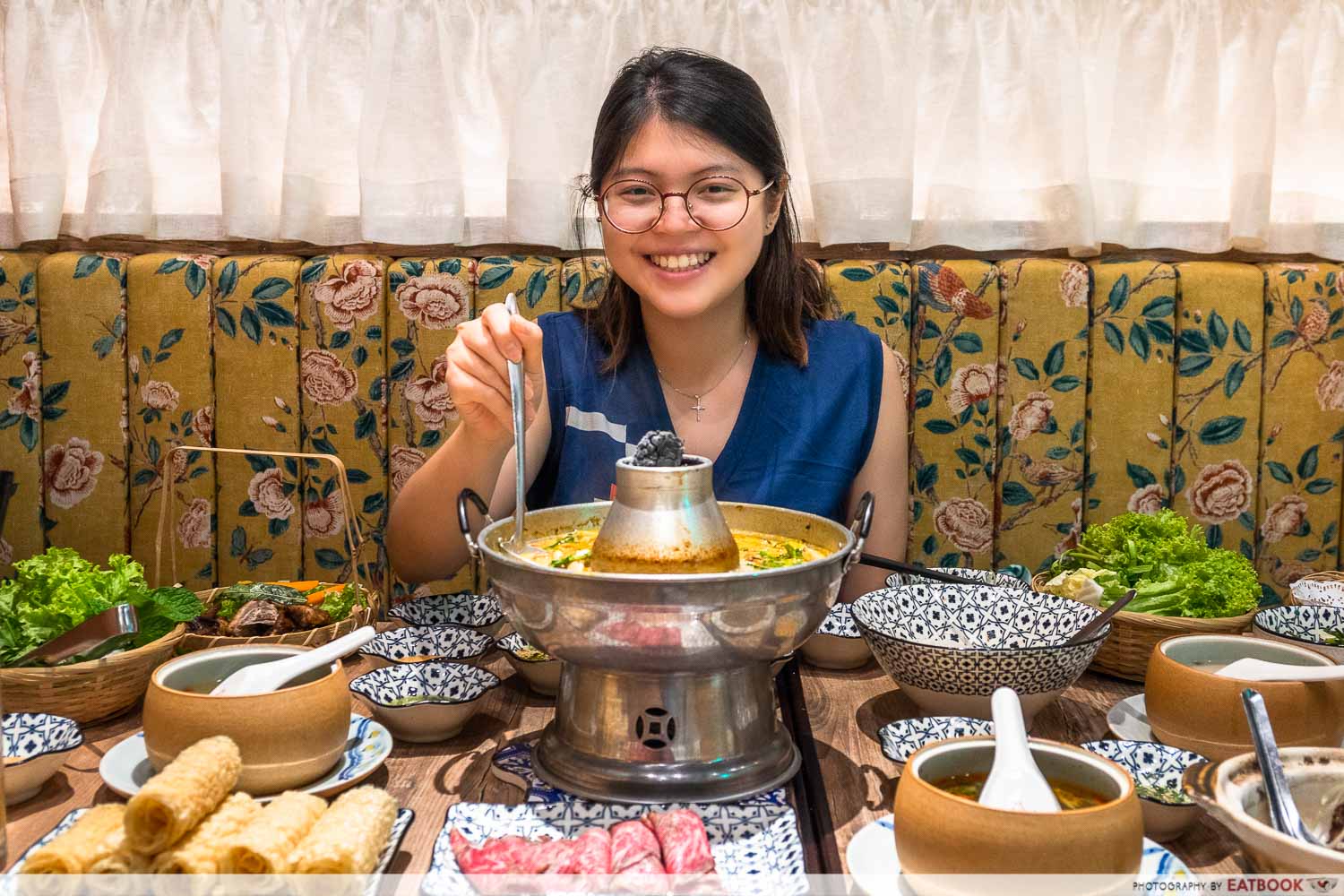 Dining at Mrs Pho House was truly a memorable experience. It was a privilege to hear the stories and origins behind each dish, which elevated the whole dining experience. 
My colleague and I both agreed that it is pricey for a regular visit, so if you're looking for a hearty bowl of pho, maybe visit Mrs Pho instead. But if you're looking for an authentic, homely experience, then definitely give Mrs Pho House a try. 
For more Vietnamese food options, check out our Vietnamese food guide that includes Banh Mi, Pho, Bun Cha and more. Alternatively, check out our Takashimaya Food Hall guide if you ever feel spoiled for choice.
Address: 391 Orchard Road, #B2-36A, Ngee Ann City, Singapore 238872
Opening hours: Daily 11:30am to 3pm, 5:30pm to 10pm
Tel: 9666 1357
Website
Mrs Pho House is not a halal-certified eatery. 
Takashimaya Food Hall Guide: 21 Food Places Including Cheap Japanese Desserts, Okonomiyaki, And Set Meals In Orchard
Photos taken by Lim Yu Hui.
This is a media tasting at Mrs Pho House.
Mrs Pho House Review: Vietnamese-Style Hot Pot And Grill In Orchard
Mrs Pho House Review: Vietnamese-Style Hot Pot And Grill In Orchard -

8.5/10
Summary
Pros
– Well executed dishes
– Convenient location
– Delicious Crab Bisque Soup
Cons
– Slightly pricy
Recommended dishes: Pomelo Salad ($18.90++), Five Spice Young Jack Fruit Nuggets ($6.90++), Bun Cha ($15.90++), Crab Bisque Soup ($38++/$48++)
Opening hours: Daily 11:30am to 3pm, 5:30pm to 10pm
Address: 391 Orchard Road, #B2-36A, Ngee Ann City, Singapore 238872