Big Big Fries at NEWest Mall
Update: Big Big Fries has permanently closed.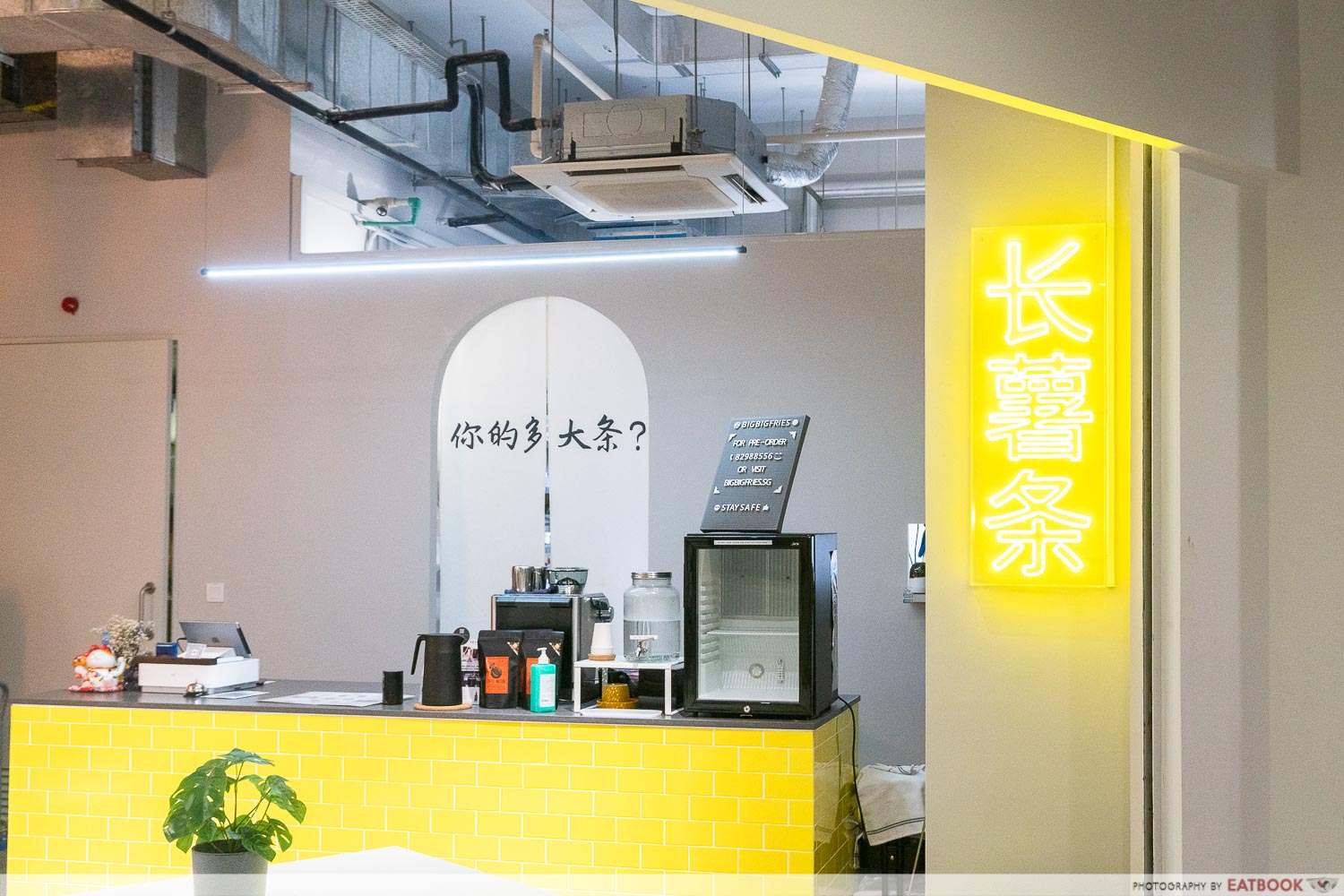 If you haven't heard of Big Big Fries, they first appeared in fairs such as ARTBOX and Chatuchak Singapore, before setting up a permanent stall at Chomp Chomp Food Centre. Big Big Fries is best known for its extra-long fries topped with different sauces. Their mentaiko sauce is one of their best sellers; in fact, many have been on the waiting list just to get a bottle of the housemade sauce.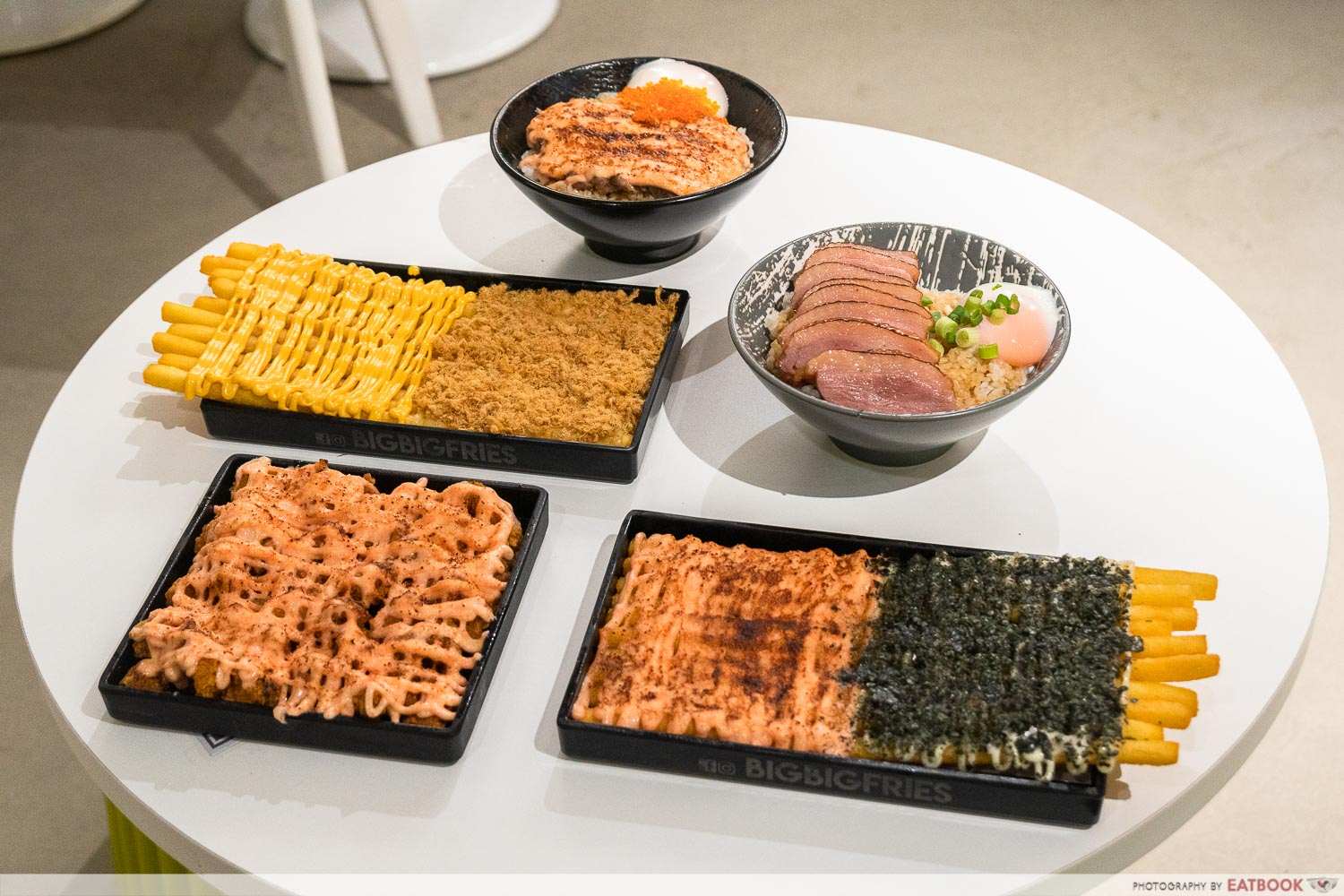 I've always wanted to try their fries, but never had the chance to. This time, they've opened a second outlet in West Coast, so I knew it was time for me to get my hands on the popular snack!
CHOP CHOP By Putien Opens At NUS With Everything Priced Under $8
Food at Big Big Fries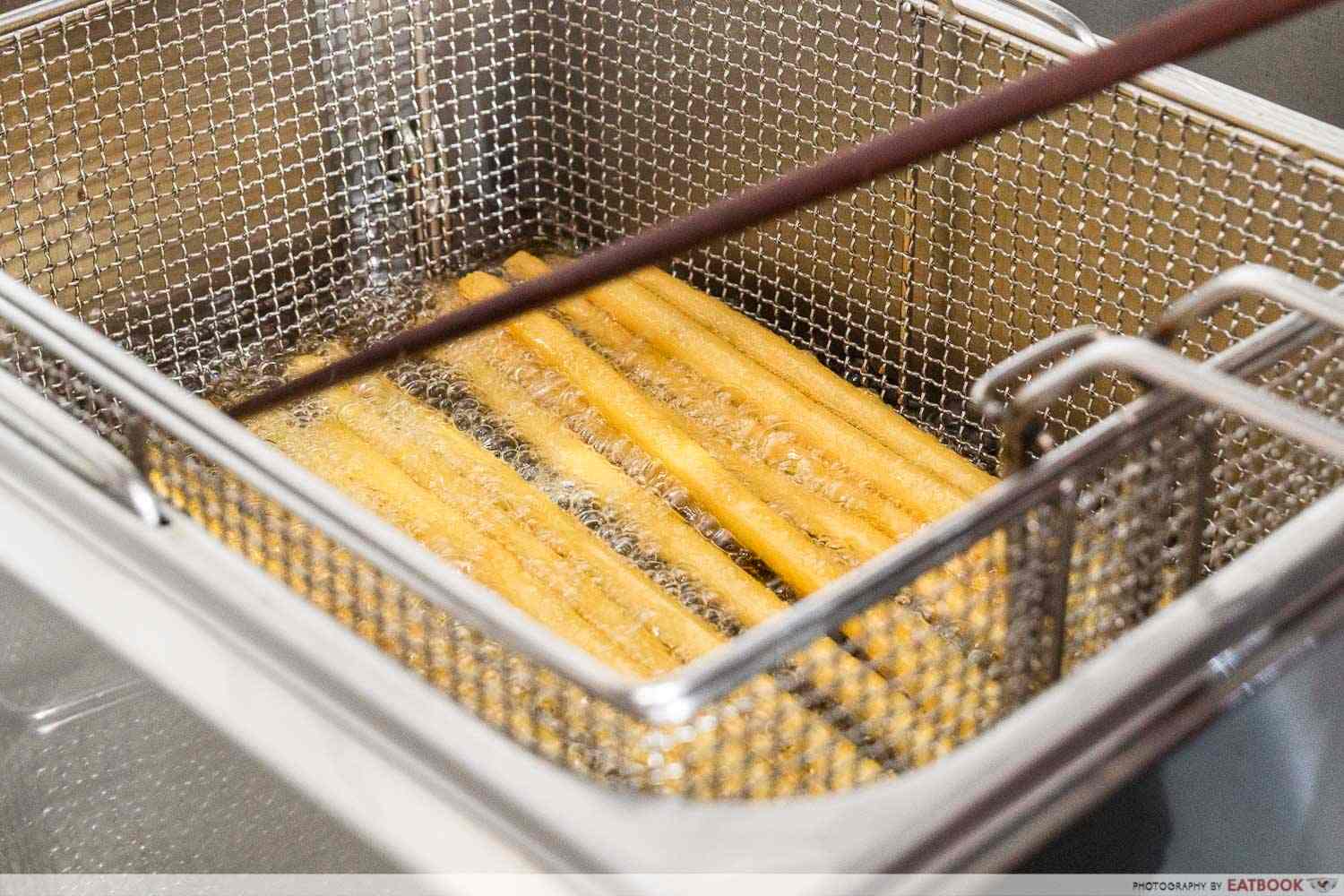 Luckily for us, the owners of Big Big Fries were at the second outlet, so we got the chance to view the cooking process in their kitchen. All their fries are fried to order, which means you're getting them fresh, hot, and crispy. My colleague and I decided to order two types of fries—one recommended by the owners, and the other chosen by us.
According to the owners, the most popular way of enjoying the fries is to have it with two sauces. Our first combo, which also happens to be their best seller, was the Mentaiko Mayo with Seaweed Mayo Fries ($8.90).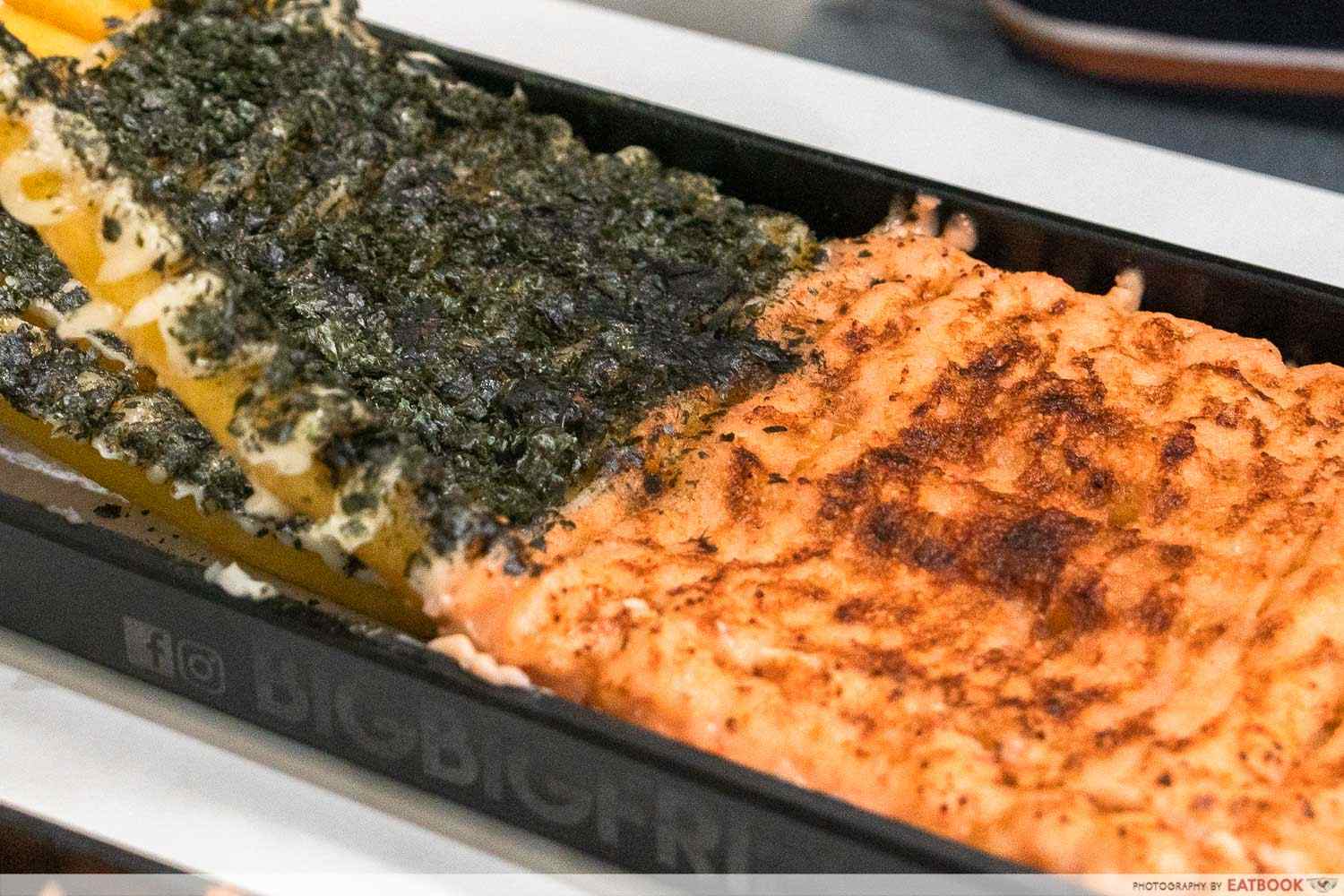 The mentaiko mayo was torched for a smoky flavour, and the seaweed mayo was light but not greasy. They tend to be quite generous with the sauce so it can get jelak after a while, but the seaweed mayo helps to counteract the richness of the mentaiko mayo.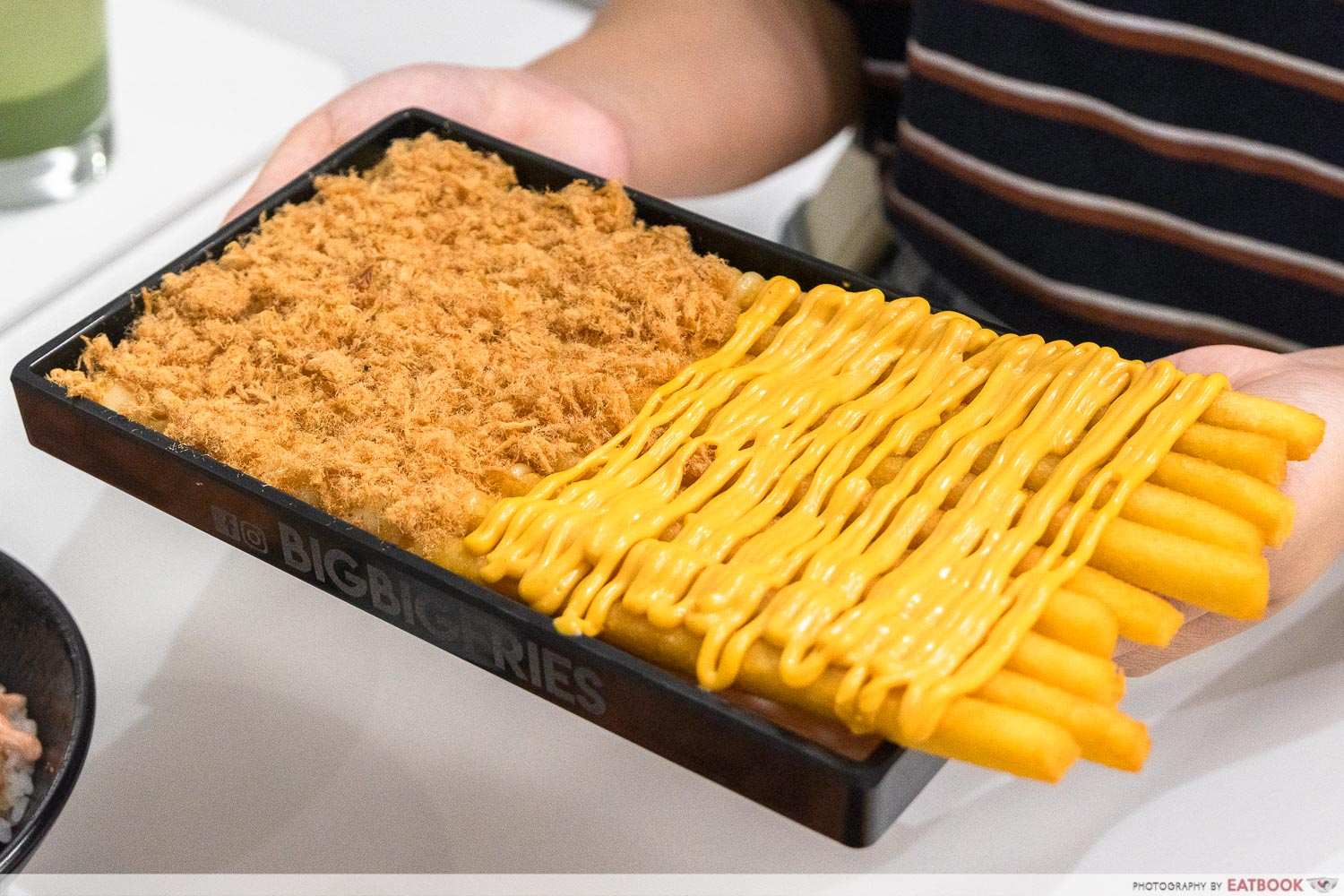 For our second combo, we decided to go with Pork Floss Special with Nacho Cheese ($8.90), which is exclusive to the West Coast outlet. It wasn't overly sweet as there's a savoury mayonnaise glaze underneath the pork floss. The nacho cheese had a smoky flavour and the right amount of saltiness, too.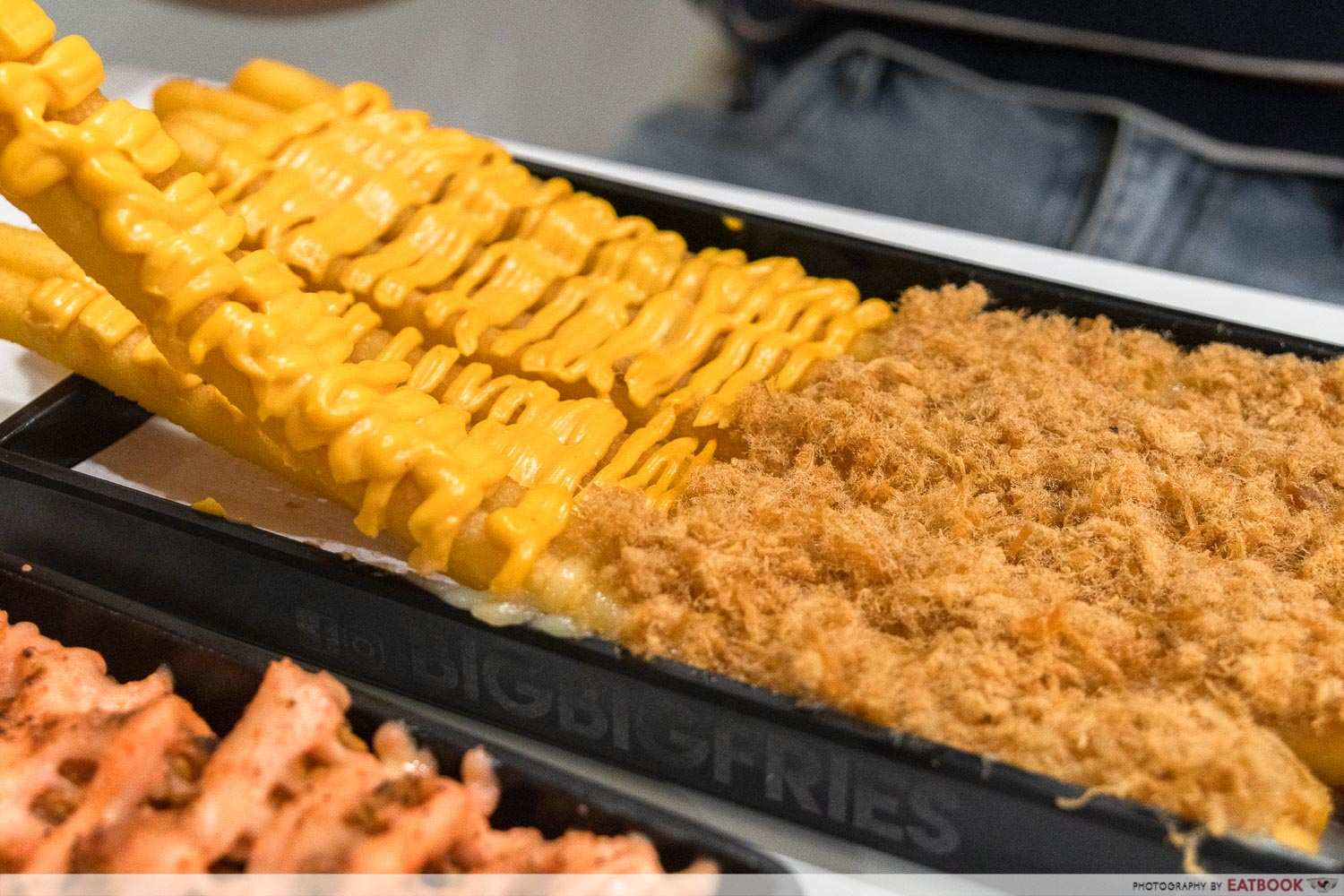 The nacho cheese flavour was quite strong, which helped to offset the sweetness of the pork floss. Unless you're a big fan of sweet and savoury, I personally didn't think that it was a great combo. I would order the nacho cheese and pork floss special separately as a single sauce, instead of having it as a combination. 
We also got to try a sample of their Truffle Mayonnaise sauce, which is said to go well with the Mentaiko Mayo. If you love truffle-flavoured snacks, I highly recommend getting this sauce. It was rich with a distinct truffle flavour, and was not greasy at all. It's definitely my personal favourite out of the others.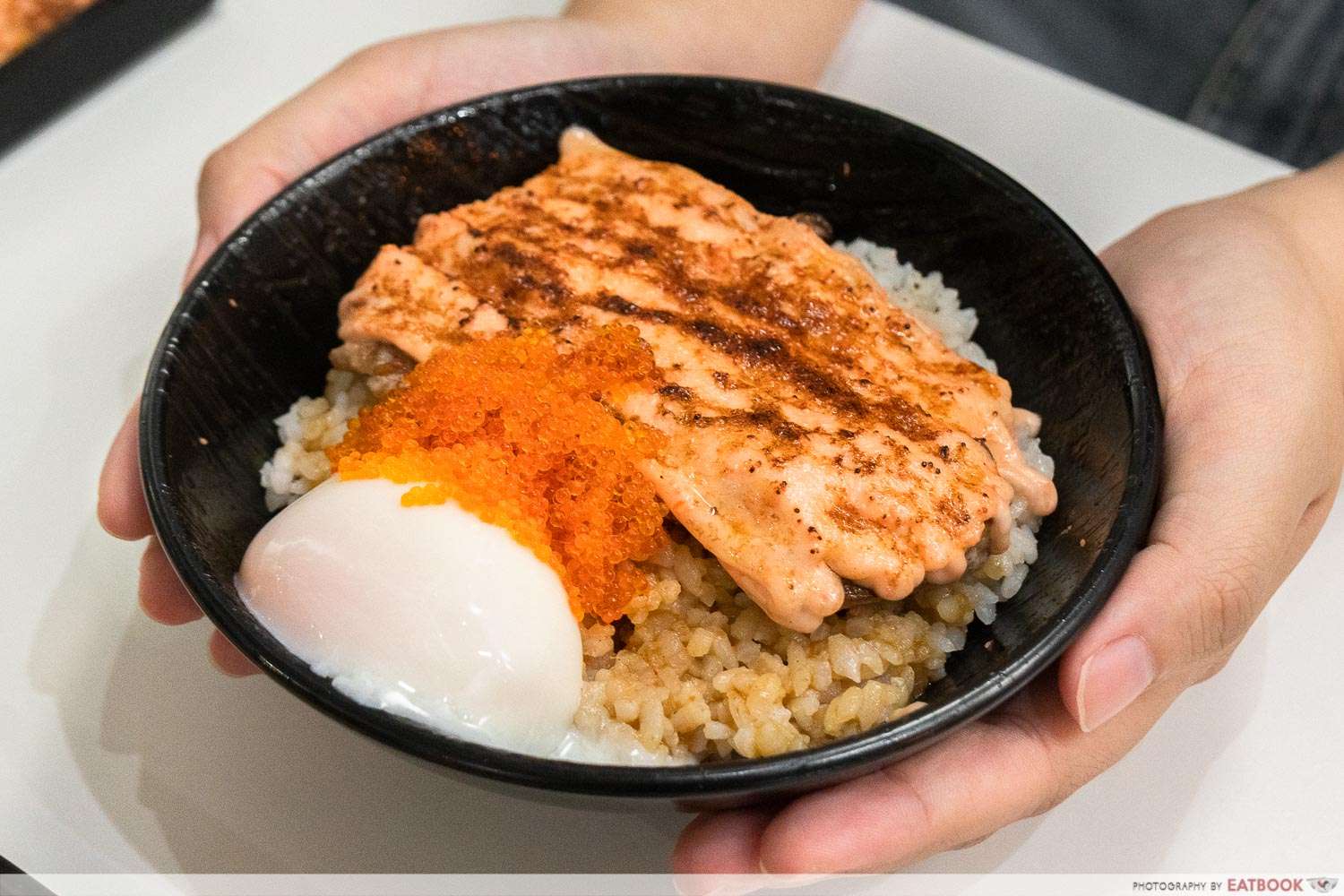 Next, we went for their rice bowls, which are exclusively available in their Clementi outlet. We got the Mentaiko Beef Bowl ($11.90), which came with torched mentaiko mayo atop the beef, as well as tobiko and an onsen egg on the side. The rice was also drizzled with their special Yakiniku sauce for extra flavour.
TORCHED Review: New Hawker Stall With XXL Meat Platters, Mentaiko Salmon Don And More At Clementi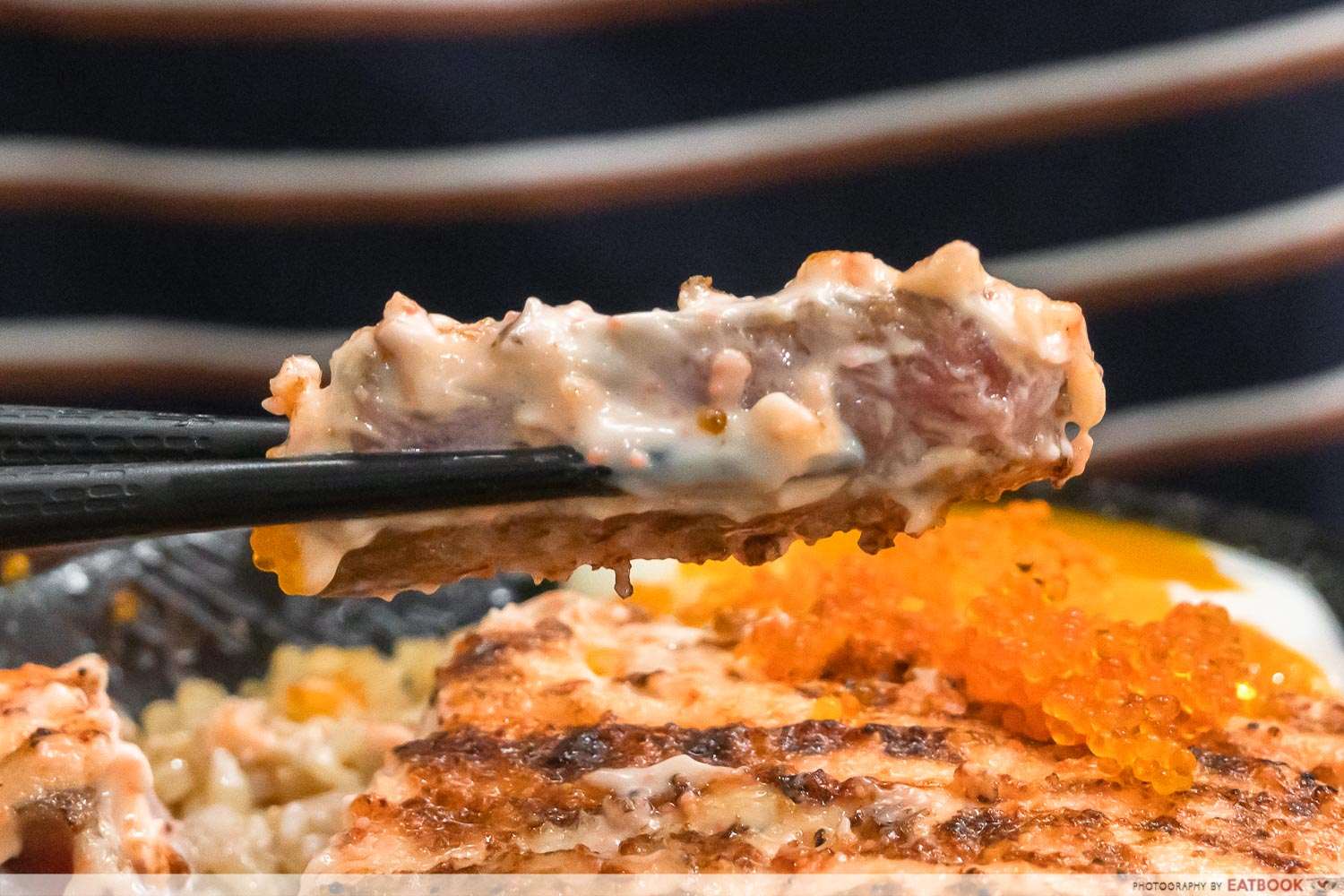 The beef came with a slightly pink centre, and it was tender and succulent. Having the beef and mentaiko mayo alone was a little too greasy for me, so I paired both with the rice, and it turned out perfect. For those who aren't a fan of beef, there's also a Mentaiko Chicken Cutlet Bowl ($10.90) that comes with the same sides as the beef bowl.
Another popular dish is the Honey Glaze Smoke Duck Bowl ($11.90). The duck was brushed with a honey glaze that's also lightly torched for a smoky flavour. I liked that it wasn't overly sweet, and that the duck didn't have a gamey taste. The meat paired well with the yakiniku sauce, the rice and the onsen egg, but I still preferred the beef bowl over this.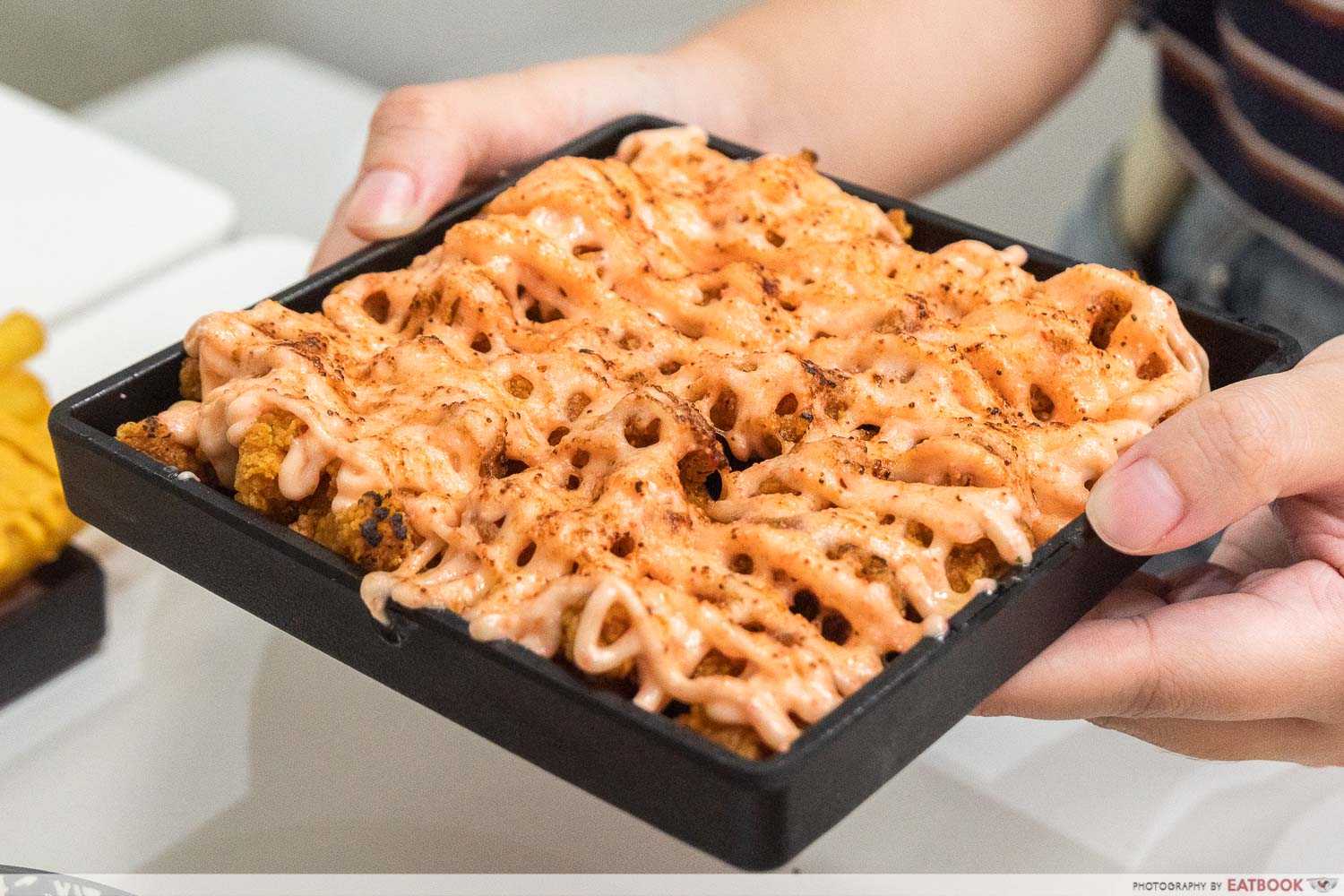 We also tried the Mentaiko Bomb ($7/$12), available at both outlets. I noticed that the popcorn chicken was completely covered in mentaiko mayo. Personally, I found it quite rich, but at the same time, it was also moreish and I kept going back for more.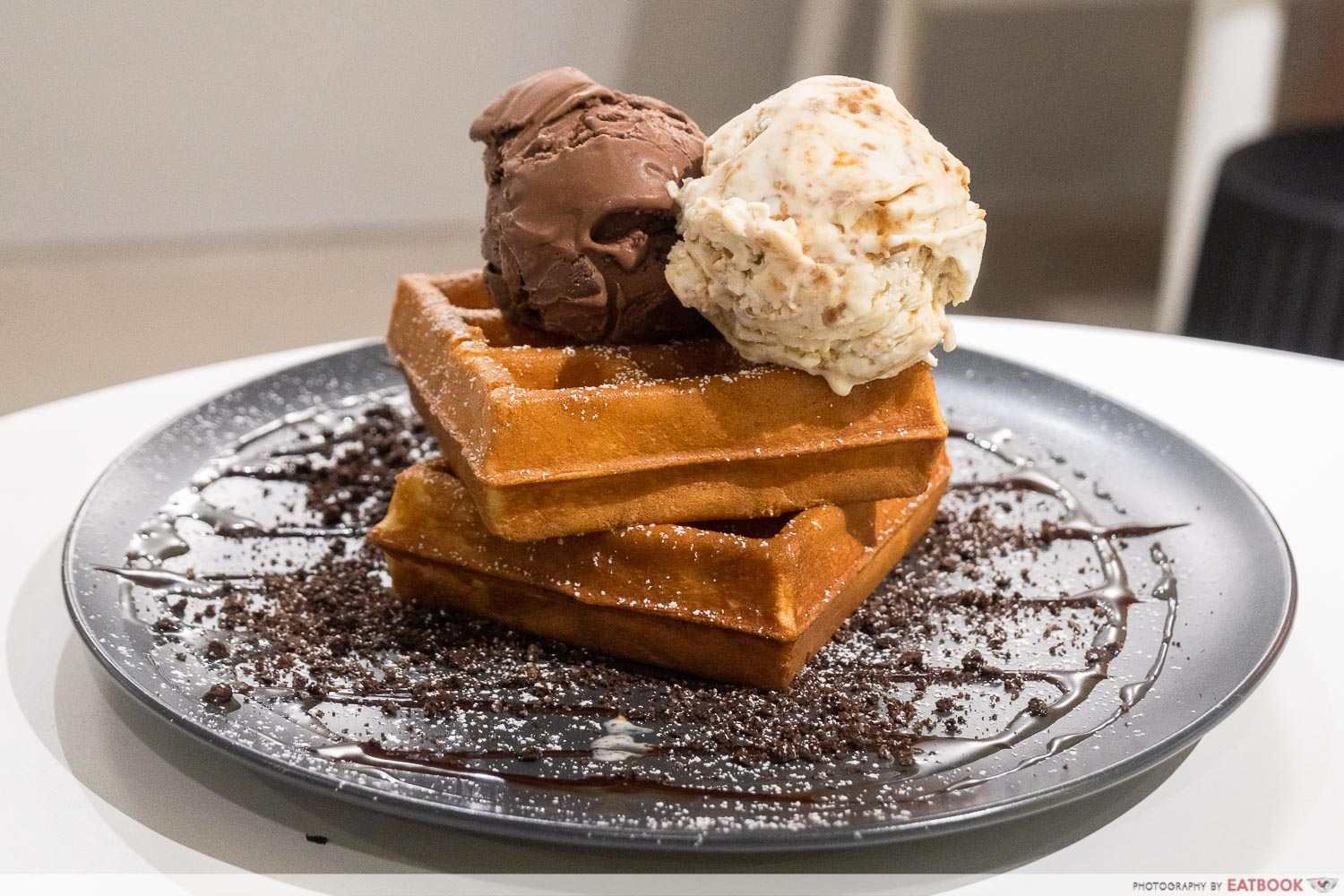 To complete our meal, we got their Pan-ffle ($6), which features a pancake mix, cooked in a waffle maker. It also comes with two scoops of ice cream. They have a total of four ice cream flavours to choose from—Dark Chocolate, Yogurt Speculoos, Roasted Pistachio, and Matcha Tea. We ordered the first two.
Glacier Review: Minimalistic Cafe Opens Till 1am With Mochi Waffles, Matcha Brioche And More
The panffle was what I would imagine a good waffle to be—crispy on the outside, and fluffy on the inside. Since it's made with pancake mix, there was a slight sweetness to it. The Dark Chocolate ice cream was bitter and rich, while the Yogurt Speculoos flavour was slightly tangy. Together, it was a well-balanced combination of sweet and sour, which I really enjoyed.

We were also informed that the panffle is only available during the weekends at the moment. 
From the drinks menu, we enjoyed the Uji Matcha ($5), and Uji Hojicha ($5). Both were rich in flavour, with a bittersweet aftertaste. 
Ambience at Big Big Fries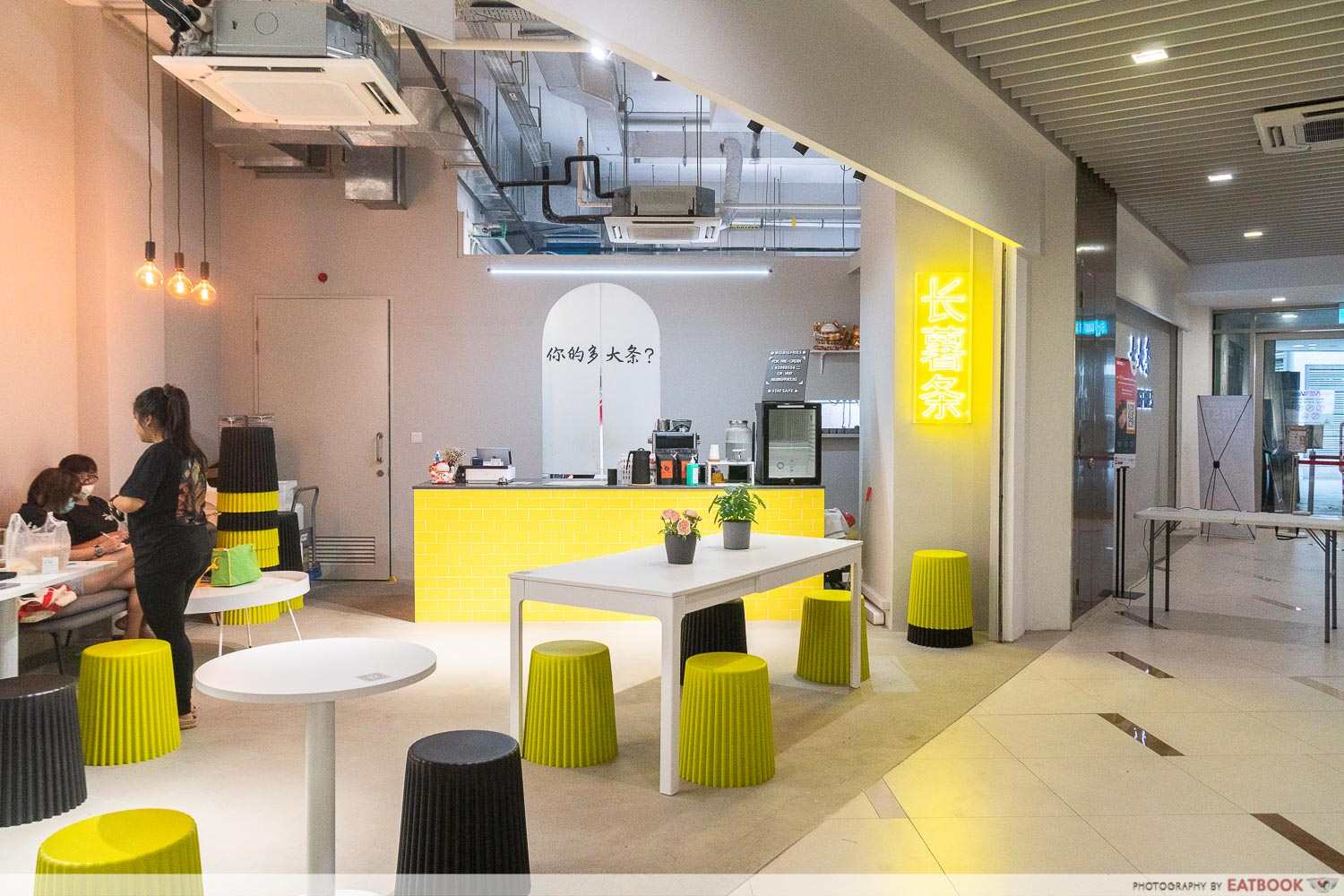 The cafe is located within NEWest Mall, which is a three- to four-minute bus ride from Clementi MRT Station. It was our first time here, so we were a little lost trying to search for the eatery. Upon entering the mall, turn to your left, walk all the way straight, and you should be able to locate the cafe just around the corner.
We were there on the eve of a public holiday, so there wasn't a big crowd. The open concept space is decorated with bright yellow chairs and signages, and white tables. Even though it looks relatively big, seating is limited due to social distancing measures. If you are planning to dine there, be sure to avoid the peak hours, especially during the weekends, so you can grab a seat.
The verdict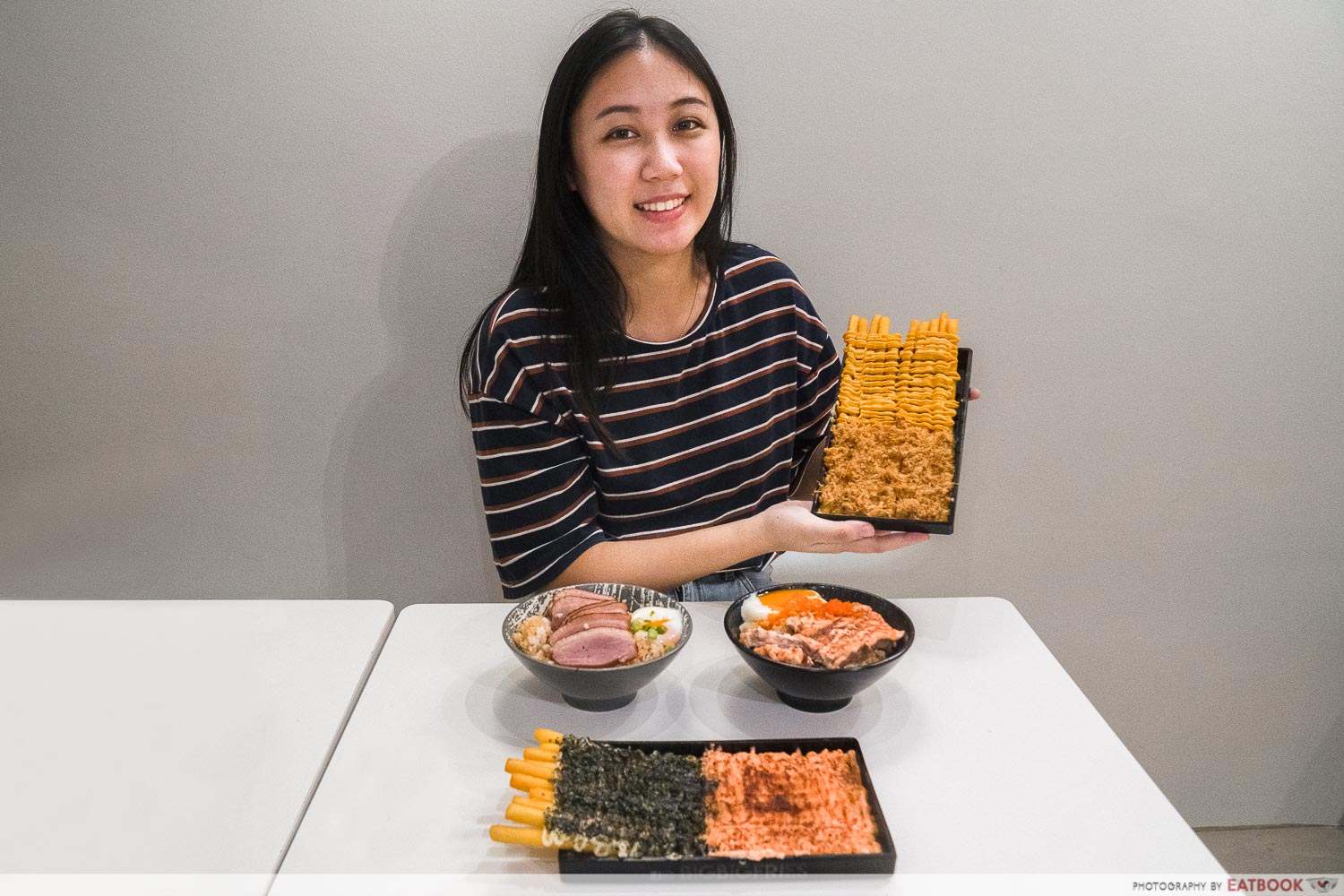 As compared to the menu at Chomp Chomp, I must say that Big Big Fries' second outlet offers a wider variety to choose from. I was quite impressed with most of the items we ordered, even though the prices may seem steep for some of us. I also wished that they were located somewhere more noticeable, as finding the shop was a struggle for us. Nonetheless, I would drop by again if I'm in the vicinity.
For food recommendations around the area, check out our Mee Bagus review for halal spicy volcano ramen and mee ayam. You can also read our Burnt Cones review for waffles and gelatos in flavours such as yam and pistachio.
Address: 1 West Coast Drive #01-65, Singapore, 128020
Opening hours: Mon, Wed-Sun 12pm to 10pm
Tel: 8298 8556
Website
Big Big Fries is not a halal-certified eatery.
Burnt Cones Review: New Clementi Cafe Open Till 12am For Waffles And Gelato Such As Yam And Pistachio
Photos taken by Emily Teu
This is an independent review by Eatbook.sg
Big Big Fries Review: Popular Chomp Chomp Stall Opens Cafe With XXL Mentaiko Fries And Pancake Waffles
Big Big Fries Review: Popular Chomp Chomp Stall Opens Cafe With XXL Mentaiko Fries And Pancake Waffles -

8/10
Summary
Pros
– Wide variety of food
– Comfortable seating
Cons

– Prices are quite steep if you're dining solo
– Difficult to locate the shop
Recommended dishes: Mentaiko Mayo with Seaweed Mayo Fries ($8.90), Pan-ffle ($6)
Opening hours: Mon, Wed-Sun 12pm to 10pm
Address: 1 West Coast Drive #01-65, Singapore, 128020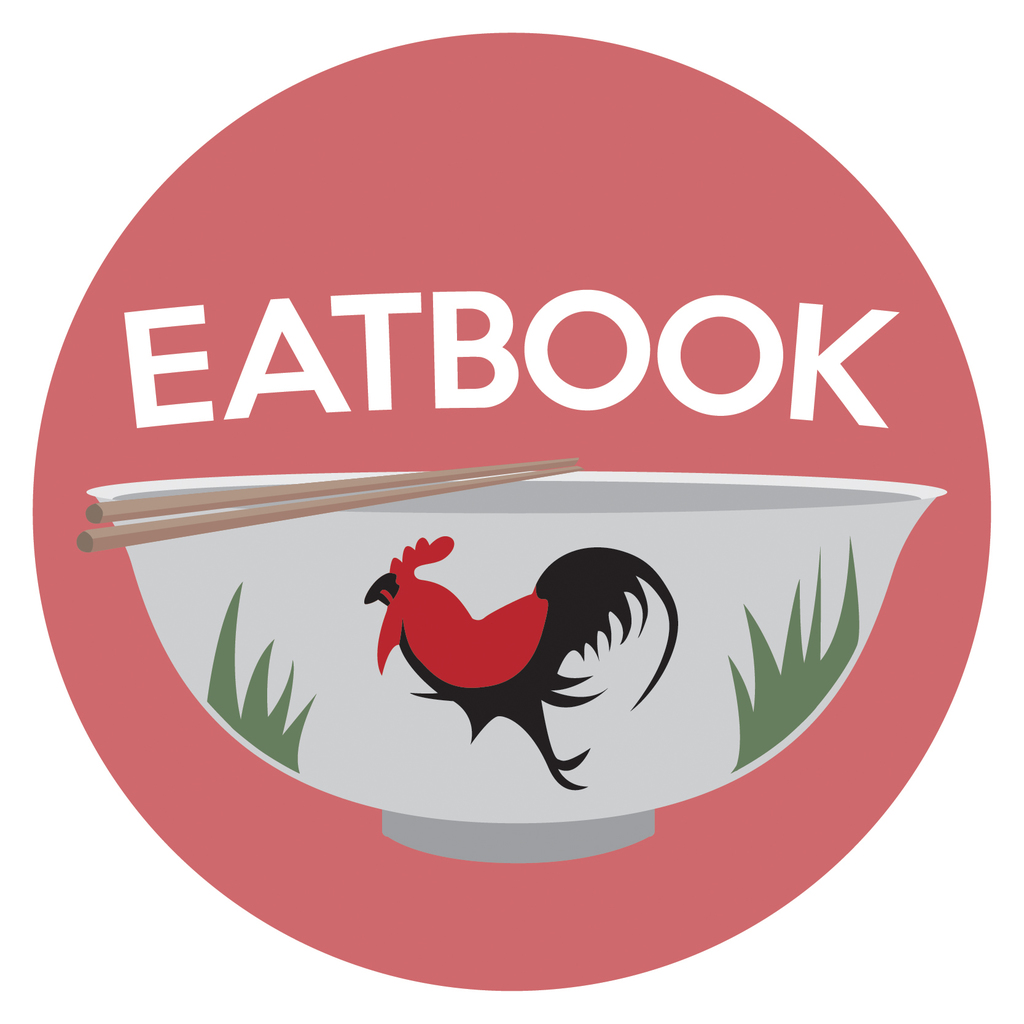 Drop us your email so you won't miss the latest news.