Mee Bagus in Kedai Kopi coffeeshop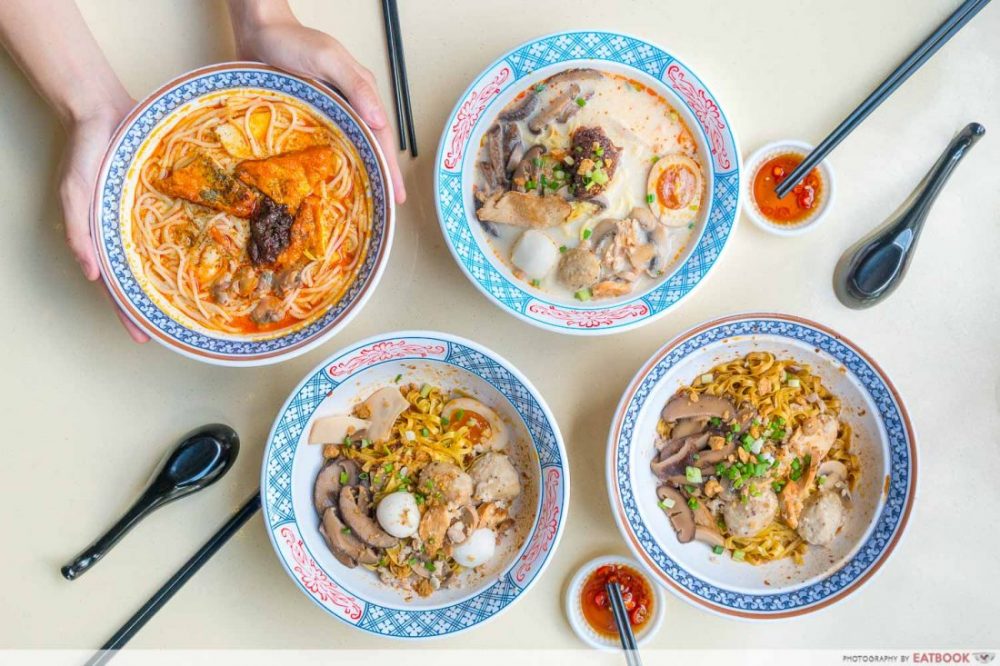 Nowadays, dining in a kopitiam can really give you atas vibes, especially at Kedai Kopi in Clementi, a collab between Tenderfresh Group and Kimly Coffeeshop. Giving new meaning to the phrase "coffee, tea, or mee", Mee Bagus is a stall in Kedai Kopi, selling renditions of local noodle dishes with a Muslim-friendly twist.
The stall is helmed by the same owners behind hip hawker stall Gimee Face, as they both have almost identical menus. Having opened its doors early this January, I wanted to find out how sedap their noodles were, together with a dining companion.
Gimee Face Review: Abalone Bak Chor Mee With Hanjuku Eggs At Boon Keng
Food at Mee Bagus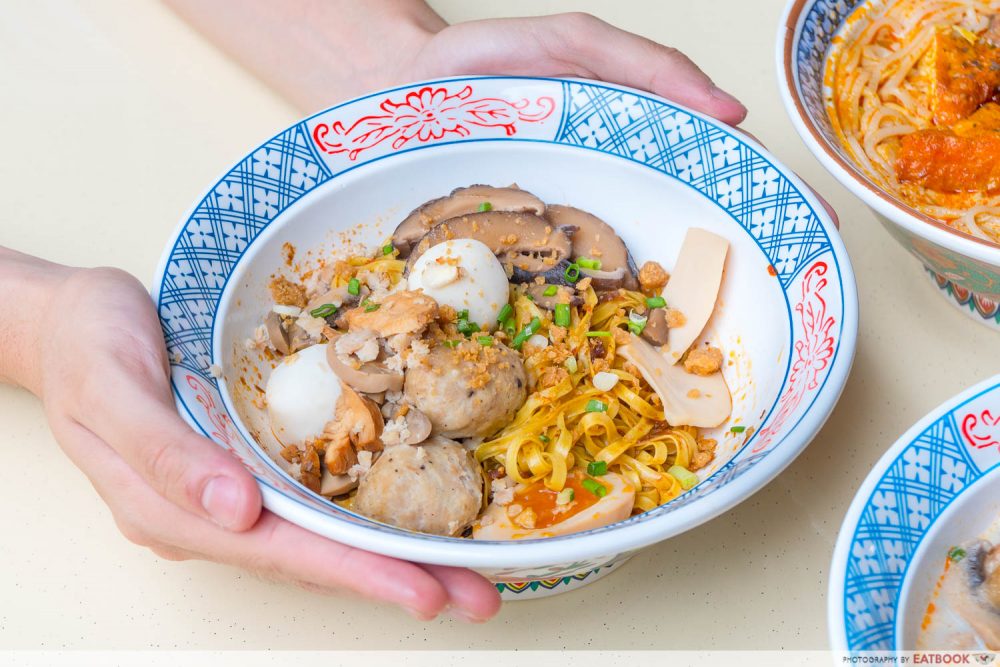 The show-stopper is their Mee Bagus Special ($6.30), their upgraded version of halal bak chor mee. We saw abalone squid slices, chicken breast meat, fishballs, ayam meatballs, button and shiitake mushrooms, and a lava egg, all drenched in chicken skin oil. My noodle choice was the slightly thick mee pok, very springy if done well. 
When tossed with the chilli and house-made savoury sauce, the noodles were well-seasoned with a slight kick. Seeing how other mee pok noodles can get dry and tasteless after a while, I was pleasantly surprised by how theirs stayed flavourful throughout.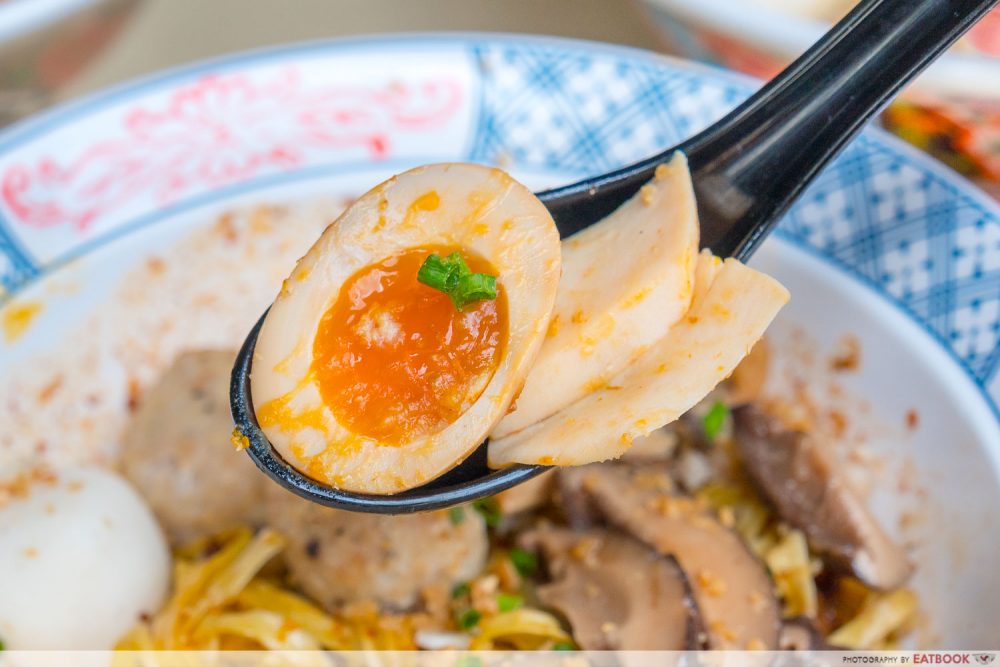 The lava egg added its share of umami, while the shiitake mushrooms and abalone slices injected a dose of sweetness that complemented the noodles nicely. The chicken breast was just too overcooked for my liking while the button mushrooms just didn't go well with such a dish. Yet, the ayam meatballs were a crowd favourite, as they were tender yet robust in flavour.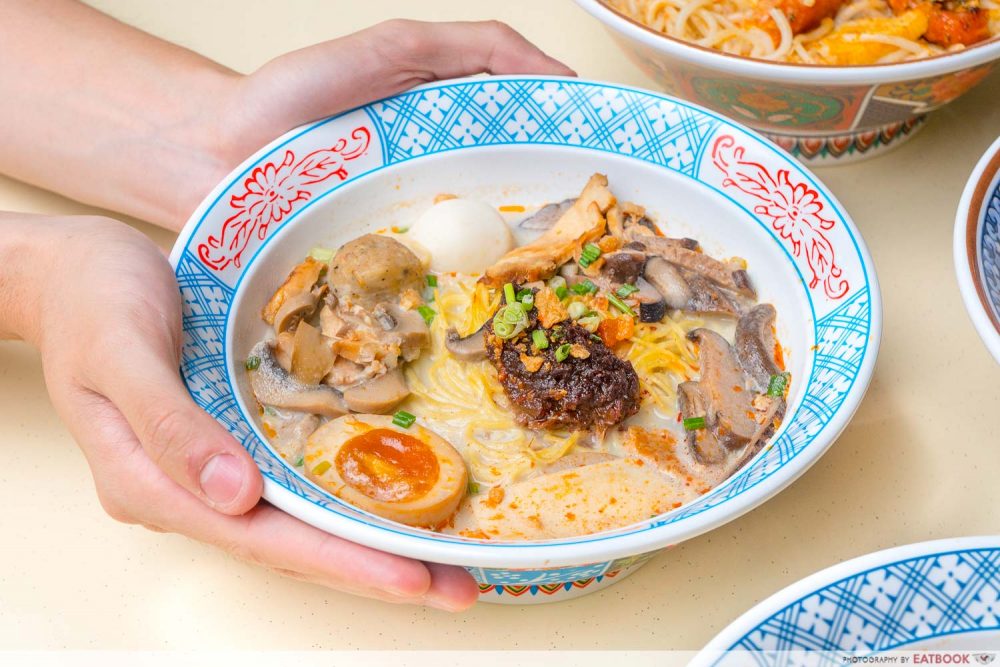 Looking more like a spicy karaka-men, the Volcano Ayam ($6.30) is a fiery, soupy bowl of their mee kia ramen noodles. This bowl was also packed with a multitude of ingredients, as I noticed minced chicken, sliced abalone, fishballs, meatballs, both types of mushrooms, and a lava egg too.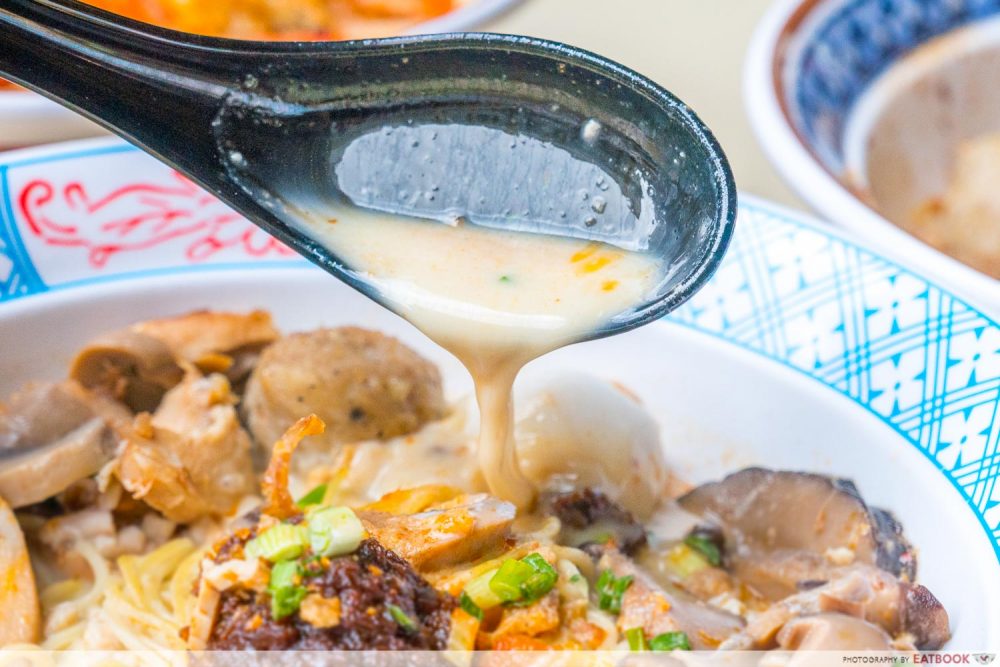 Personally, I enjoyed their mee kia more than their mee pok, as its thinner consistency was lighter on the palate, and soaked up the complex flavours of the spicy broth better. The bowl is served with a dollop of their volcano sambal that's meant to trigger your sweat glands. 
However, even for a weakling like myself, the chilli just wasn't as deadly as I expected, and left me in a puddle of confusion, more than one of sweat. Pretty bold proclamation to compare their mild and slightly salty dish to the fiery, blazing heat from a volcano.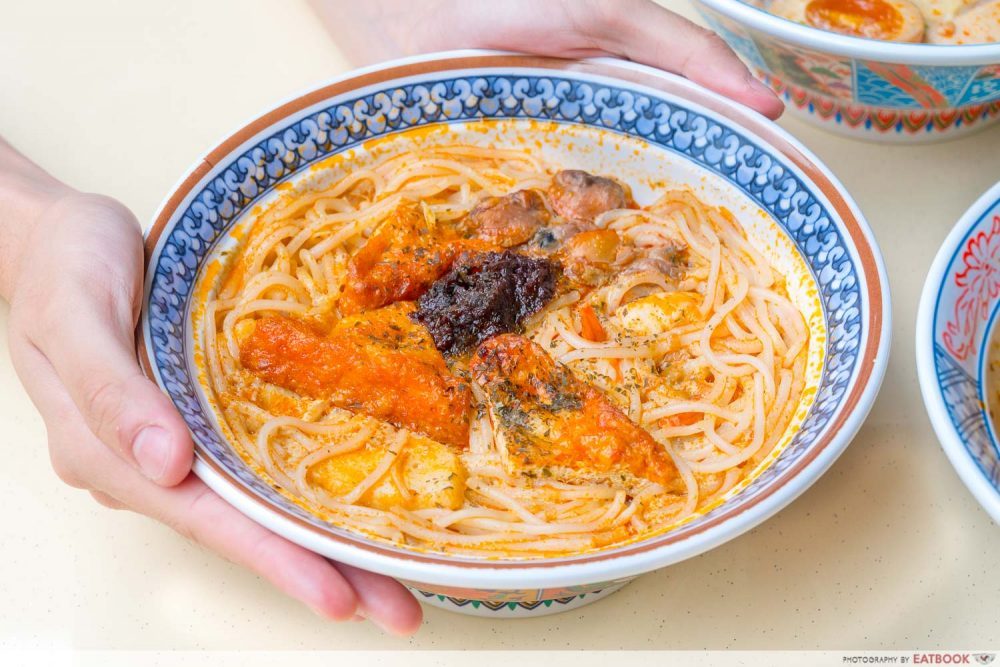 Always a sucker for a decadent bowl of laksa in Singapore with lots of hum, the decision to order the Seafood Laksa ($5.50) was a no-brainer. The bowl of creamy goodness came laced with three small prawns, tau pok, fishcake, and most importantly cockles. Although the prawns were small and less plump than I'd like, the fact they came deshelled was their saving grace.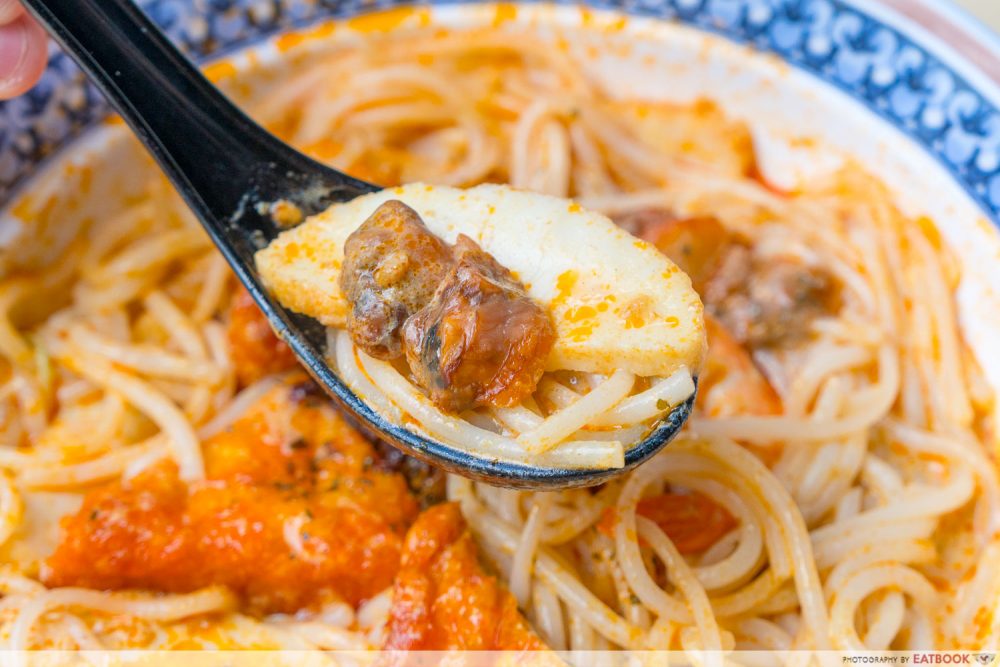 The laksa broth was gao enough, with a rich, coconutty essence that made it all the more lemak. The delicate prawns highlighted the sweetness of the dish, while the cockles introduced briny and salty notes, adding a new dimension of flavour. I was grateful for the presence of their sambal chilli, which applied a tangy finishing touch to each scoop of laksa.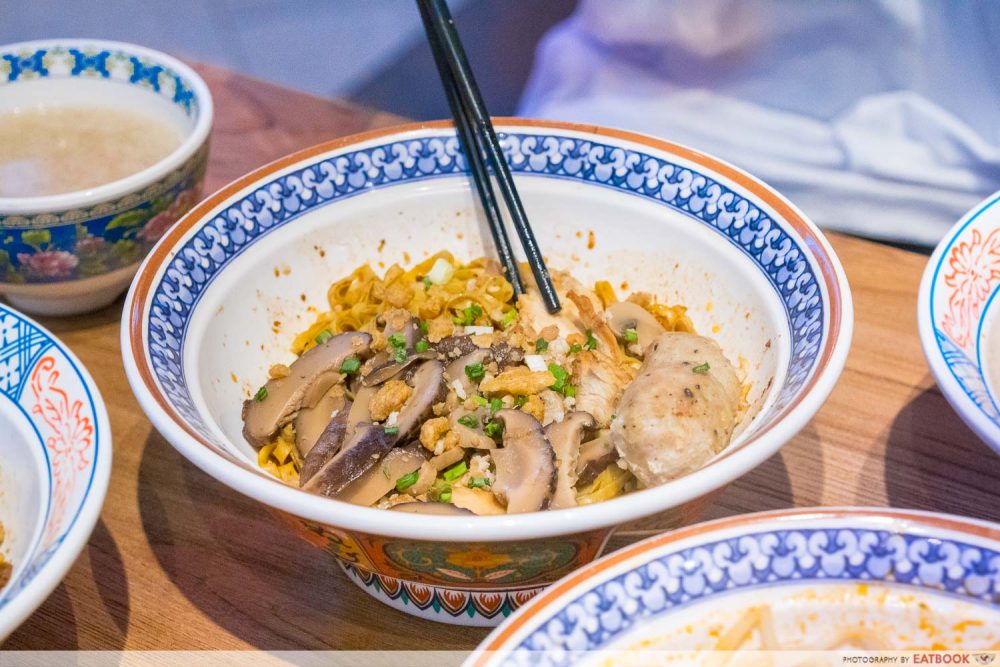 A quintessential Indonesian staple, the Mee Ayam ($3.80) is one of their more wallet-friendly menu options, but nevertheless hearty. Unlike its more zhnged-up sibling in the Mee Bagus Special, this dish comes with pretty much the same ingredients sans the abalone and lava egg.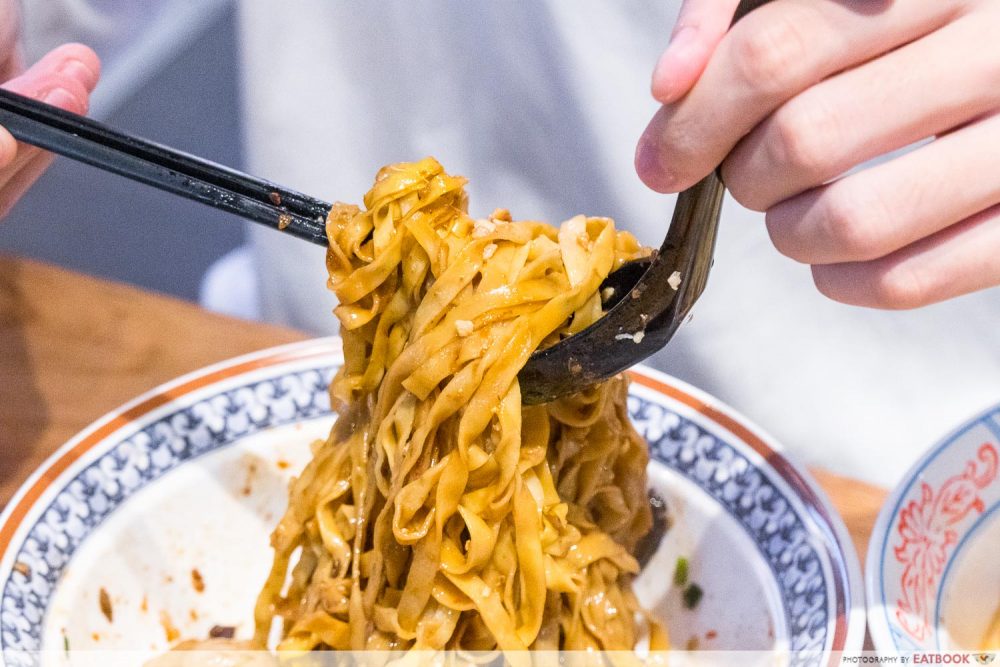 What really gave the oomph factor would be the abundance of chicken fat mixed with vegetable oil, which gave a slightly buttery aftertaste. A bowl of chicken broth was served alongside, but unfortunately, it was a tad too peppery for my liking.
15 Laksa In Singapore With Lemak Broth, Springy Noodles, And Fresh Prawns
Ambience at Mee Bagus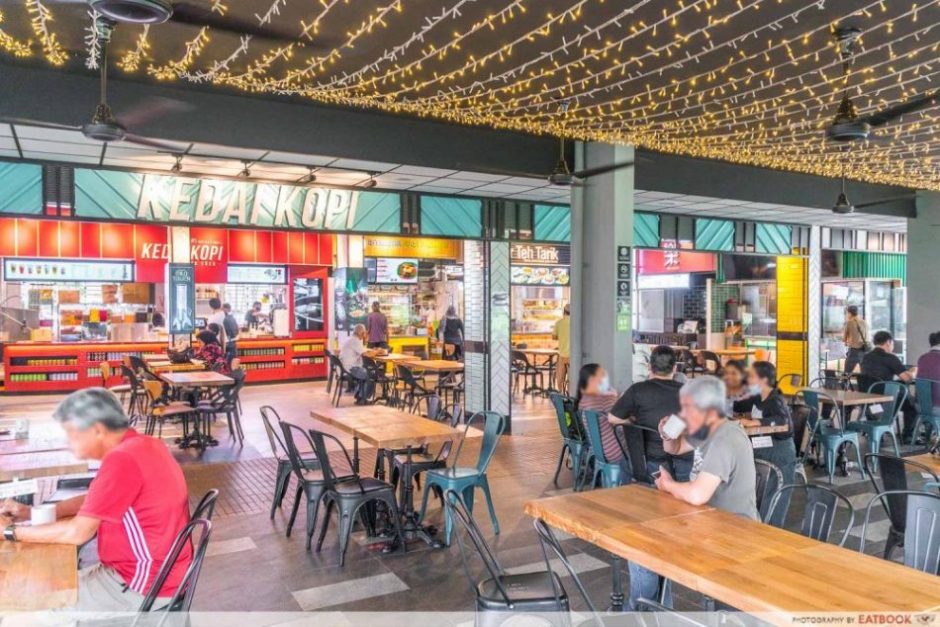 Dining at Mee Bagus doesn't really feel like you're in a traditional kopitiam, more like in a casual restaurant setting. Situated in the modern Kedai Kopi coffeeshop, you can choose to dine al fresco under the atmosphere of dazzling fairy lights, especially magical during dinner times. If not, the indoor dining area is spacious enough, with wooden tables arranged in a way that doesn't make you feel claustrophobic.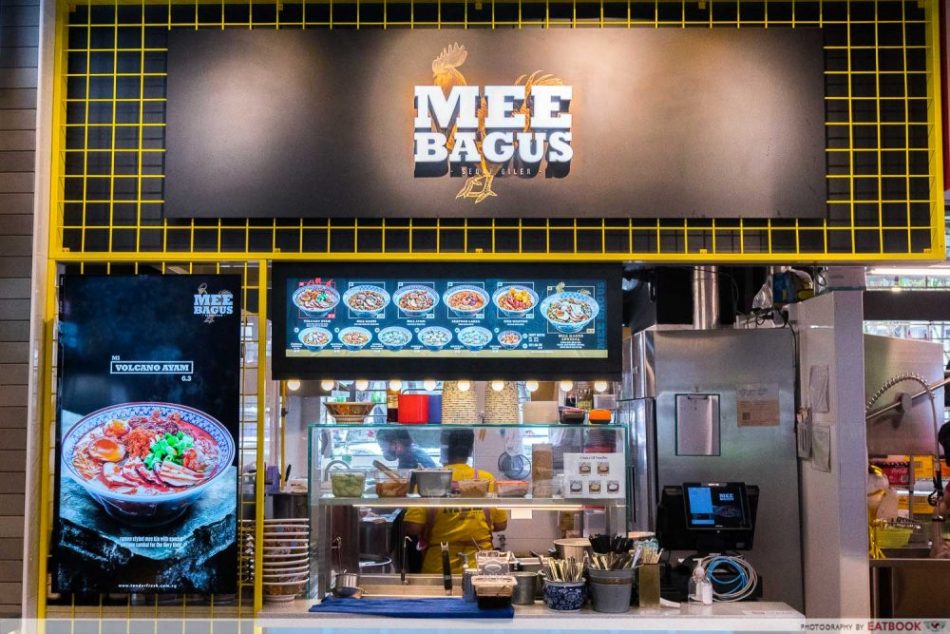 Mee Bagus is about a 15-minutes walk from Clementi MRT Station, located in the vicinity of Clementi Community Centre. Mee Bagus shares its premises together with other local favourites that might ring a bell for some, including Istimewa Nasi Padang, Mr Teh Tarik, and Tenderbest Fried Chicken among others.
The verdict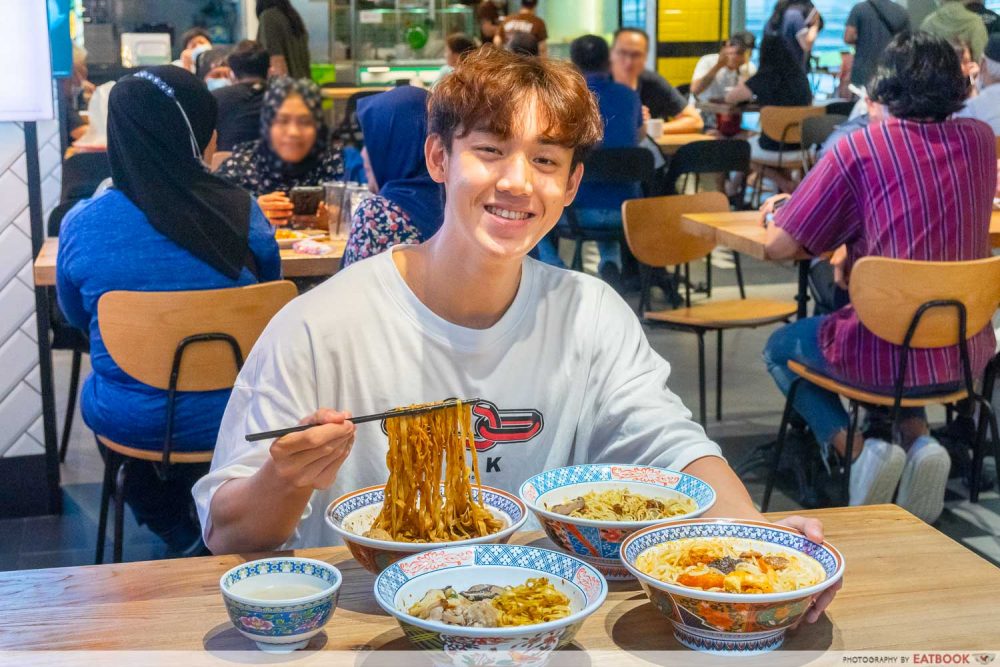 I'd usually turn to other conventional picks like nasi ayam panggang and gado gado whenever I crave Indonesian food. But, Mee Bagus has introduced the humble Mee Ayam dish into the mix with their version, and I'm grateful to them for that. 
Apart from that, their Seafood Laksa and Mee Bagus Special stood out more because of the abundance of ingredients given. The Volcano Ayam is an interesting take on the traditional Japanese ramen, though not being as stinging as I thought. With that, I proudly proclaim that Mee Bagus' delights are #mmmdap worthy.
If you're looking for other halal dining options around, check out our Brostern review for an affordable XXL platter and salted egg roti john at Hougang or our Picanhas' review for value-for-money steaks and mocktails in the CBD.
Address: 380 Clementi Avenue 5, Kedai Kopi, Singapore 120380
Opening hours: Daily 7am to 9pm
Website
Mee Bagus is not a halal-certified eatery, but is in the process of applying for halal certification and uses Muslim-friendly ingredients.
Brostern Review: Affordable Muslim-Owned Western Stall With XXL Platters, Salted Egg Roti John, And More
Photos taken by Keith Kok.
This is an independent review by Eatbook.sg.
Mee Bagus Review: Halal Spicy Volcano Ramen, Seafood Laksa And Mee Ayam In Clementi
Summary
Pros
– Modern and laid-back ambience
– Generous ingredients in their dishes
Cons
– Volcano Ayam wasn't as spicy as I expected it to be
– Diced chicken breast in Mee Ayam and Mee Bagus Special was overcooked and tough
Recommended dishes: Mee Bagus Special ($6.30), Seafood Laksa ($5.50)
Opening hours: Daily 7am to 9pm
Address: 380 Clementi Avenue 5, Kedai Kopi, Singapore 120380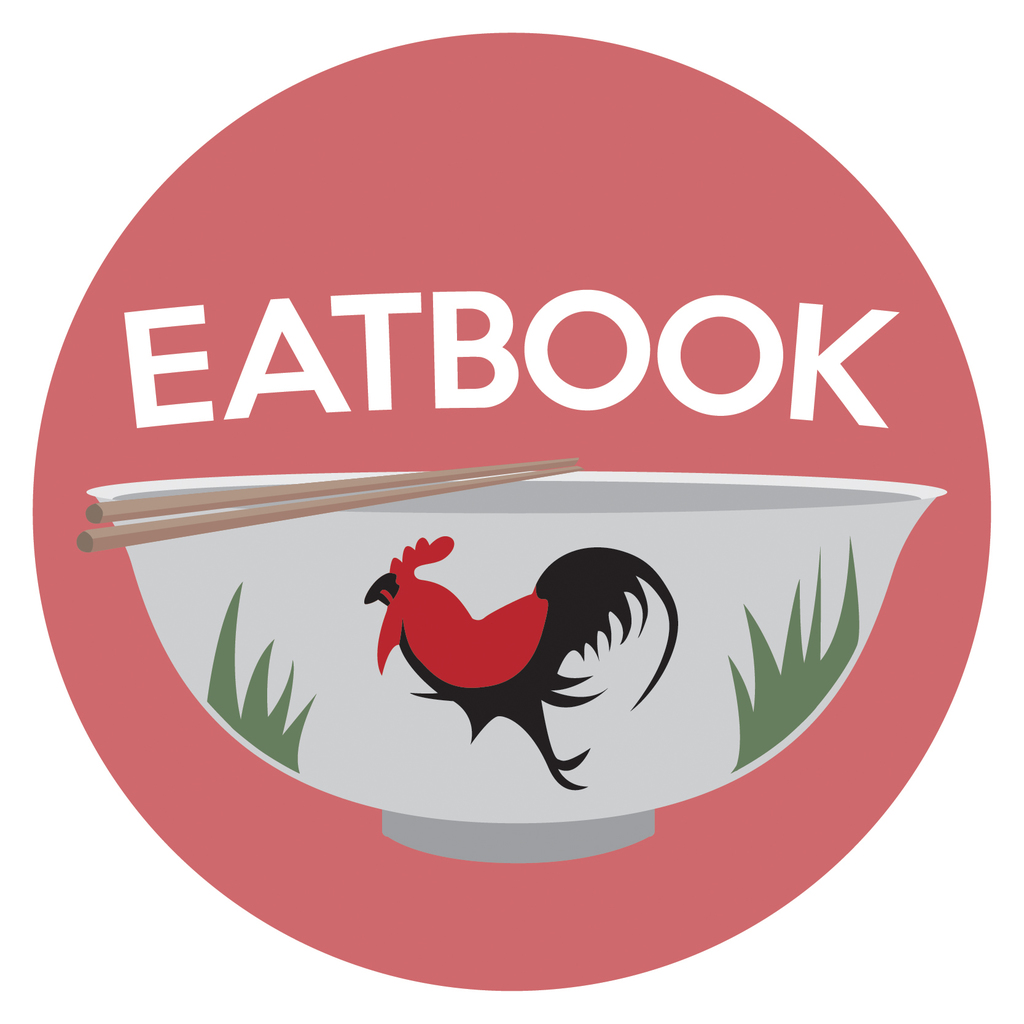 Drop us your email so you won't miss the latest news.