TORCHED offers quality meat and tasty rice bowls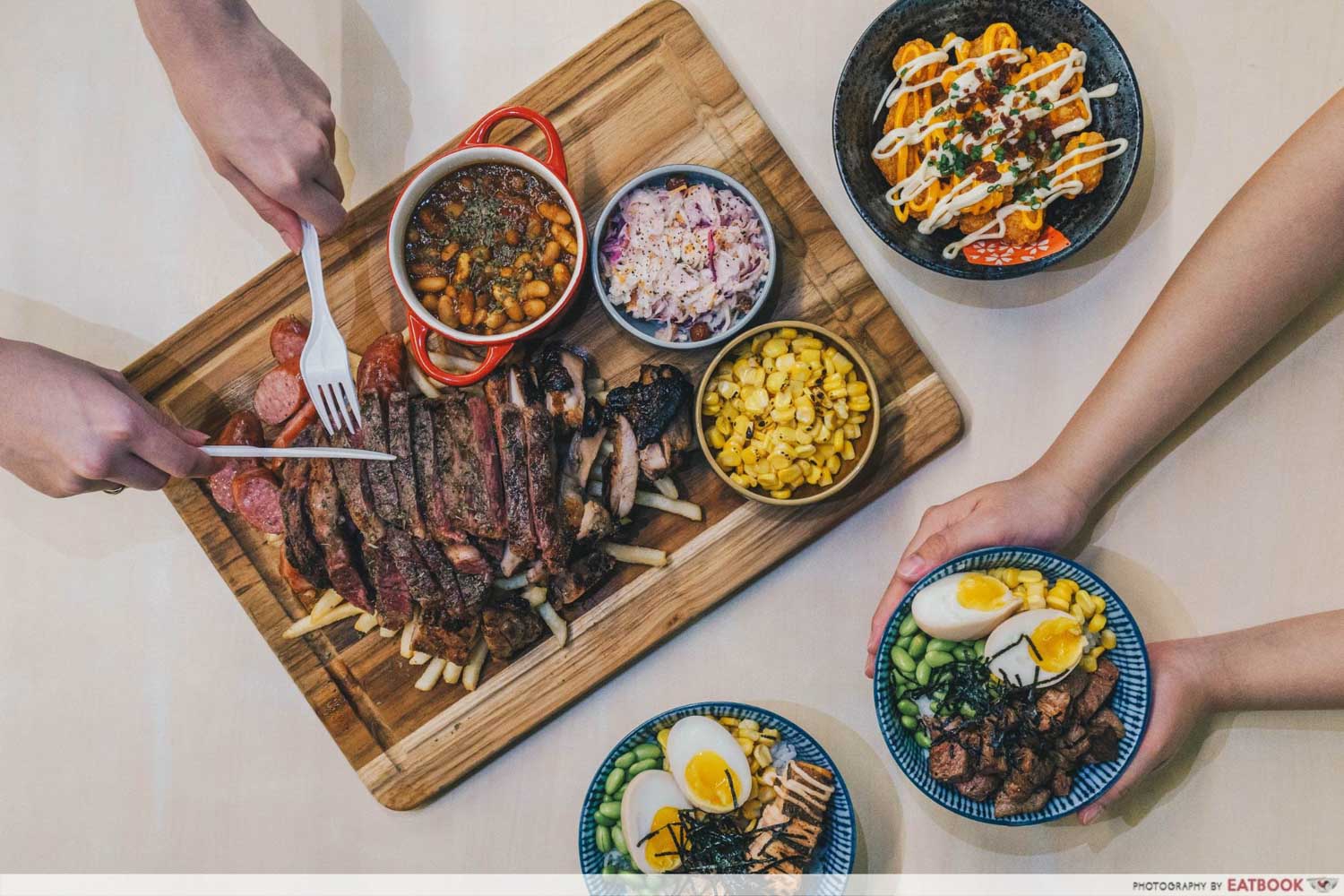 Settled inconspicuously in the neighbourhood of Clementi is TORCHED, a newly opened hawker stall selling quality flame-grilled meat platters, colourful rice bowls and more. Western food in hawker centres may not sound particularly special, yet TORCHED stands out with a record of 1,000 orders within just 20 days of opening.
6 Western Food Stalls At Kopitiams Or Hawker Centres With Huge Portions Under $7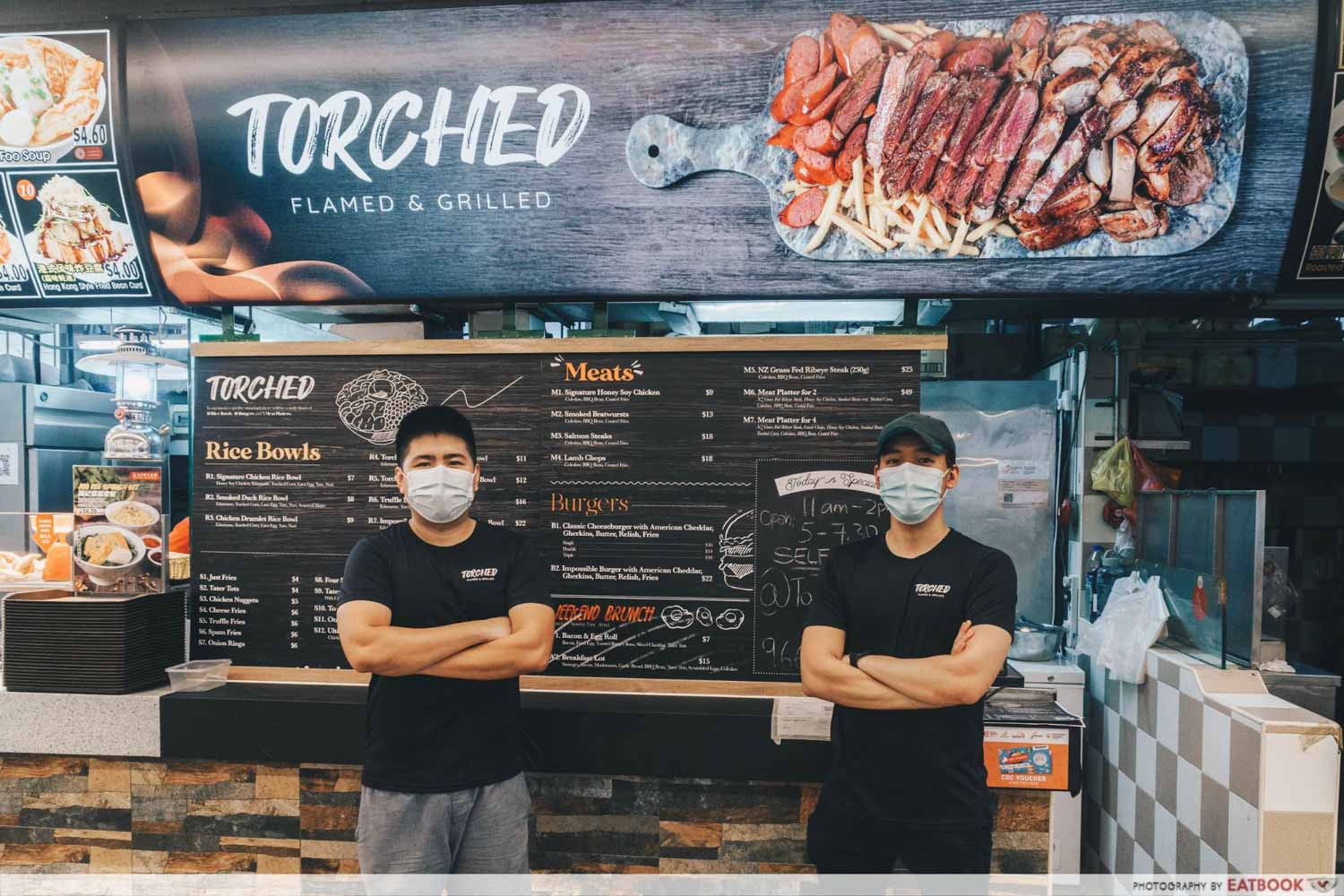 TORCHED was opened on 8 June 2020 by three owners, Gerald, Ian, and Xavier. They decided to open the stall because Circuit Breaker restrictions had pulled a stop to the operations of their main barbecue catering business, Sunday Roast.
The stall flame-grills and—just like their name implies—torches their meat for a nice char on the outside. Another point which impressed me was their attention to quality. The chefs actually handpick their produce daily!
Food at TORCHED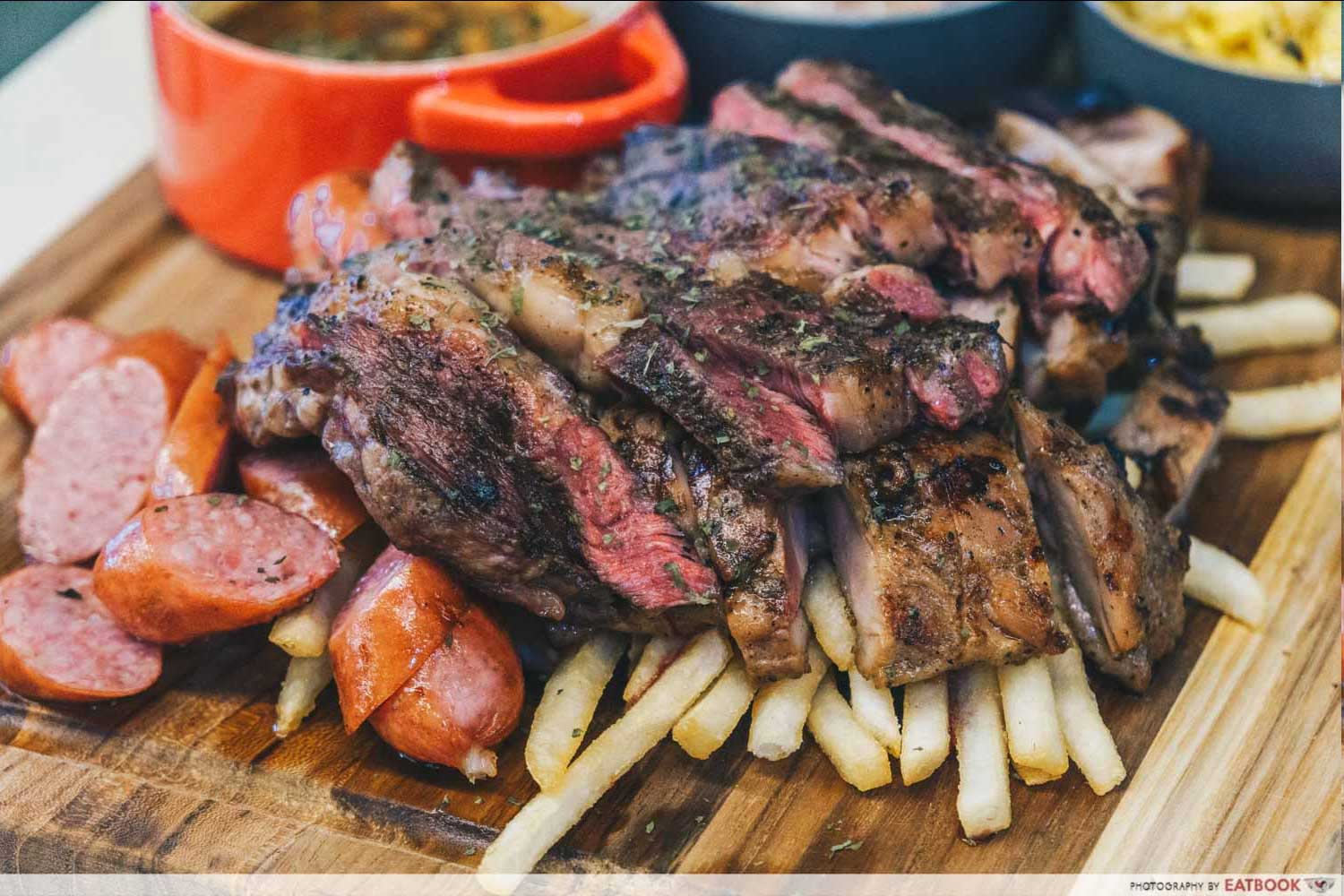 The Meat Platter for 2 ($49) was the first to catch our attention and I actually gasped when I saw how huge the portion looked.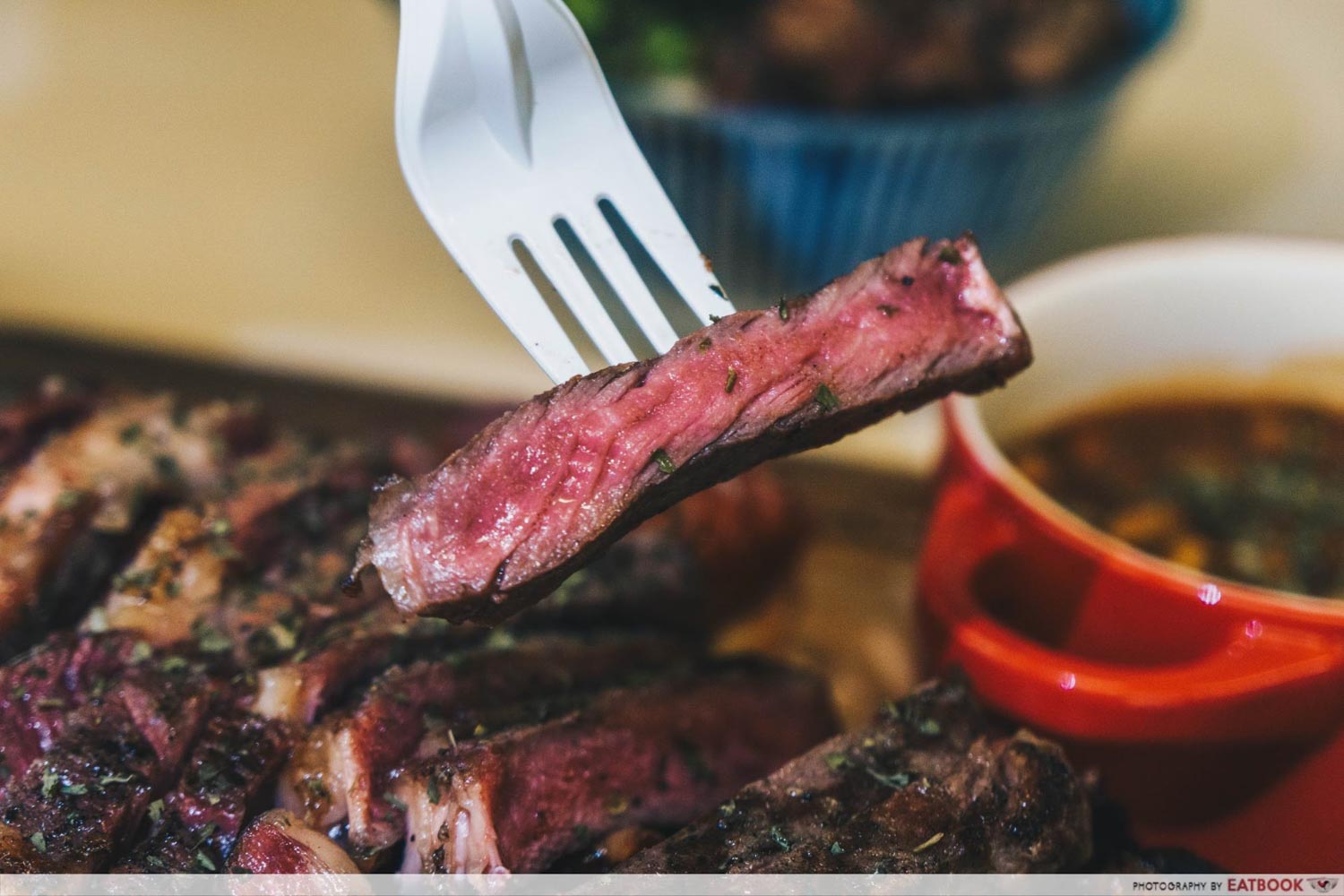 We went for the beef first, which was a glistening medium-rare. As I poked into a piece with the reusable plastic fork, juices flowed out. I bit into the chunk, but was pleasantly surprised to find it still juicy. There was a good mix of textures thanks to the soft, chewy centre, and the caramelised surface of the flame-grilled meat.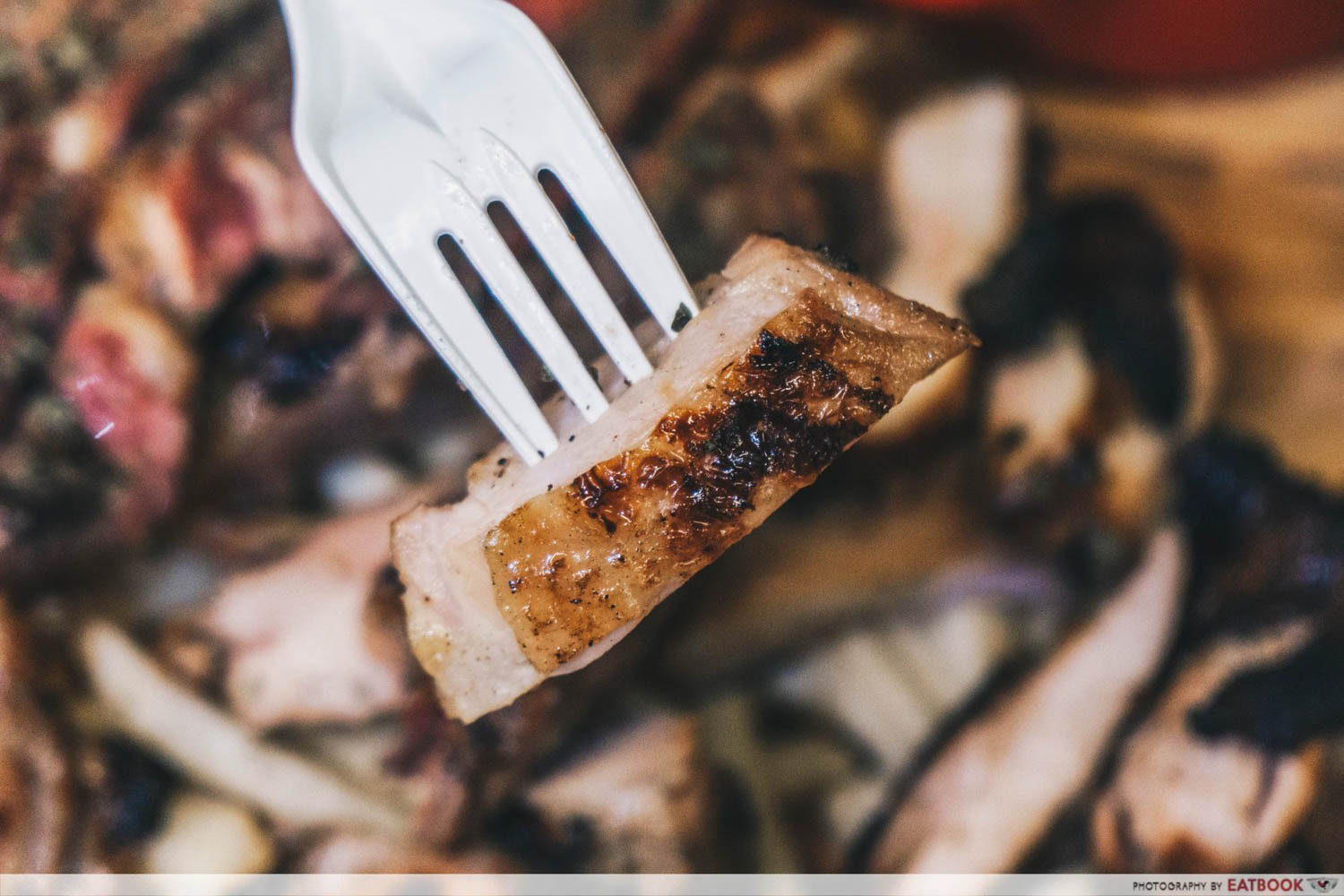 The next part of the platter we dug into was their chicken. I enjoyed the soft and tender meat which overflowed with sweetness from its honey soy marinade. Even though the crispy skin had a nice charred taste that was slightly bitter, I couldn't stop going back for more with my fork!
Ultimately, the soy chicken remained as my favourite meat on the huge platter and it proved itself worthy of being one of TORCHED signature dishes. You can get the Signature Honey Soy Chicken ($9) as a main dish on its own, something I'll definitely be getting for myself the next time I visit.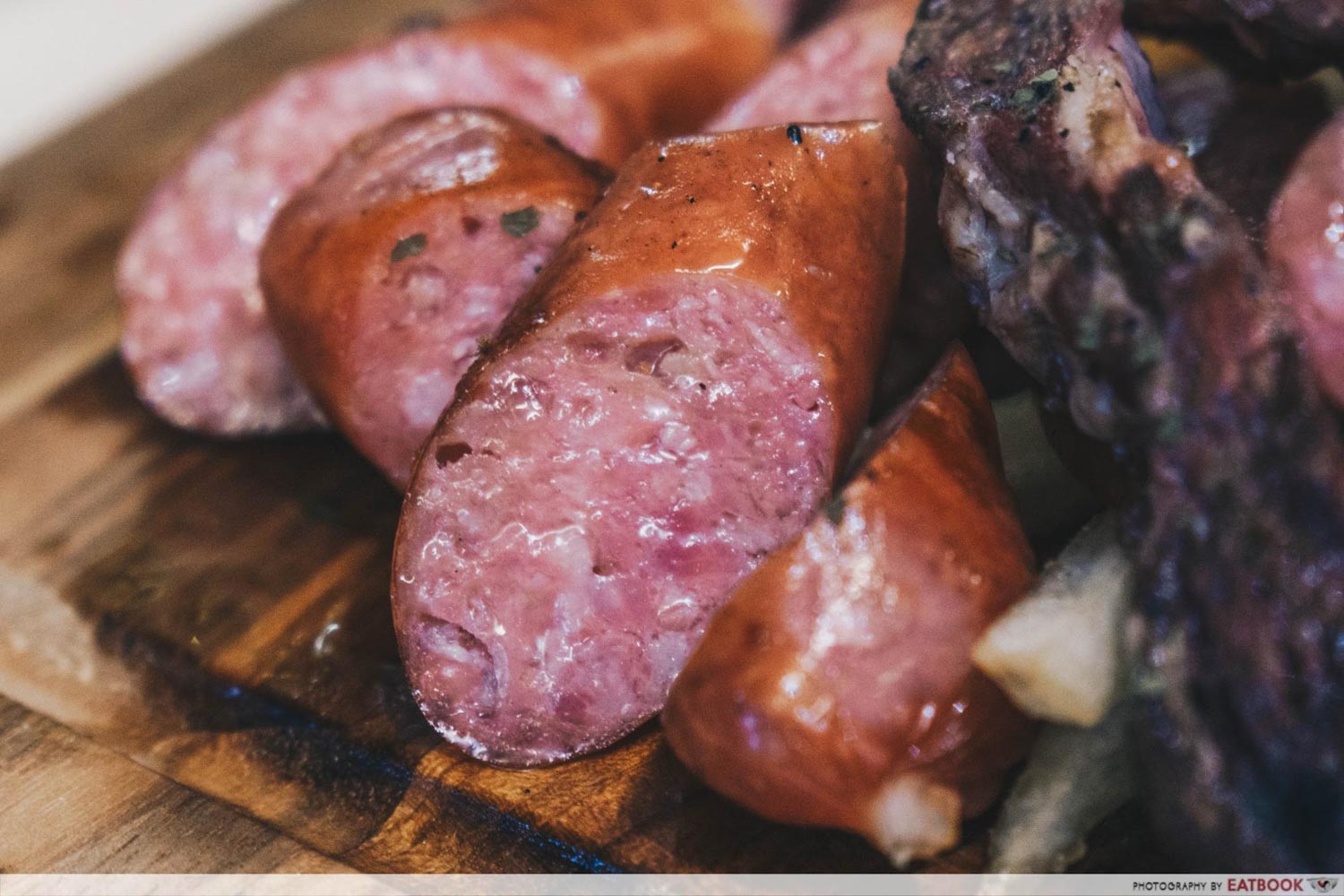 I went for the smoked bratwurst sausage next. The skin gave a slight 'snap' as I bit into the peppery and salty meat. With finely ground meat and bits of fat, the sausage was firm and juicy.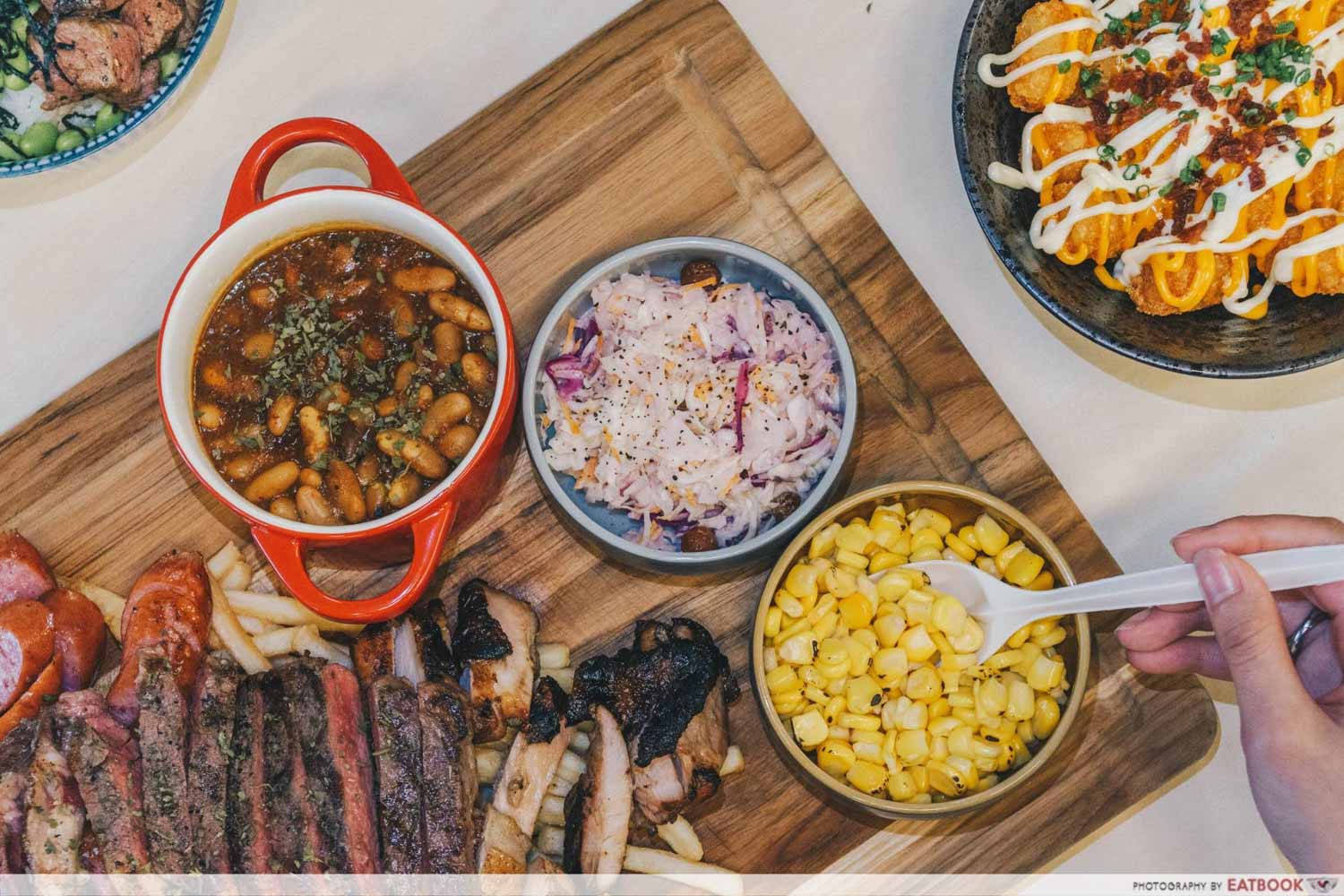 The fries and coleslaw which came with the platter were pretty ordinary. The portion of baked beans on the side was noteworthy, however. Instead of ketchup, these beans were made with a tangy BBQ sauce, mustard, and chilli. We also found bits of bacon which provided an additional flavour and chewy texture to the mushy beans.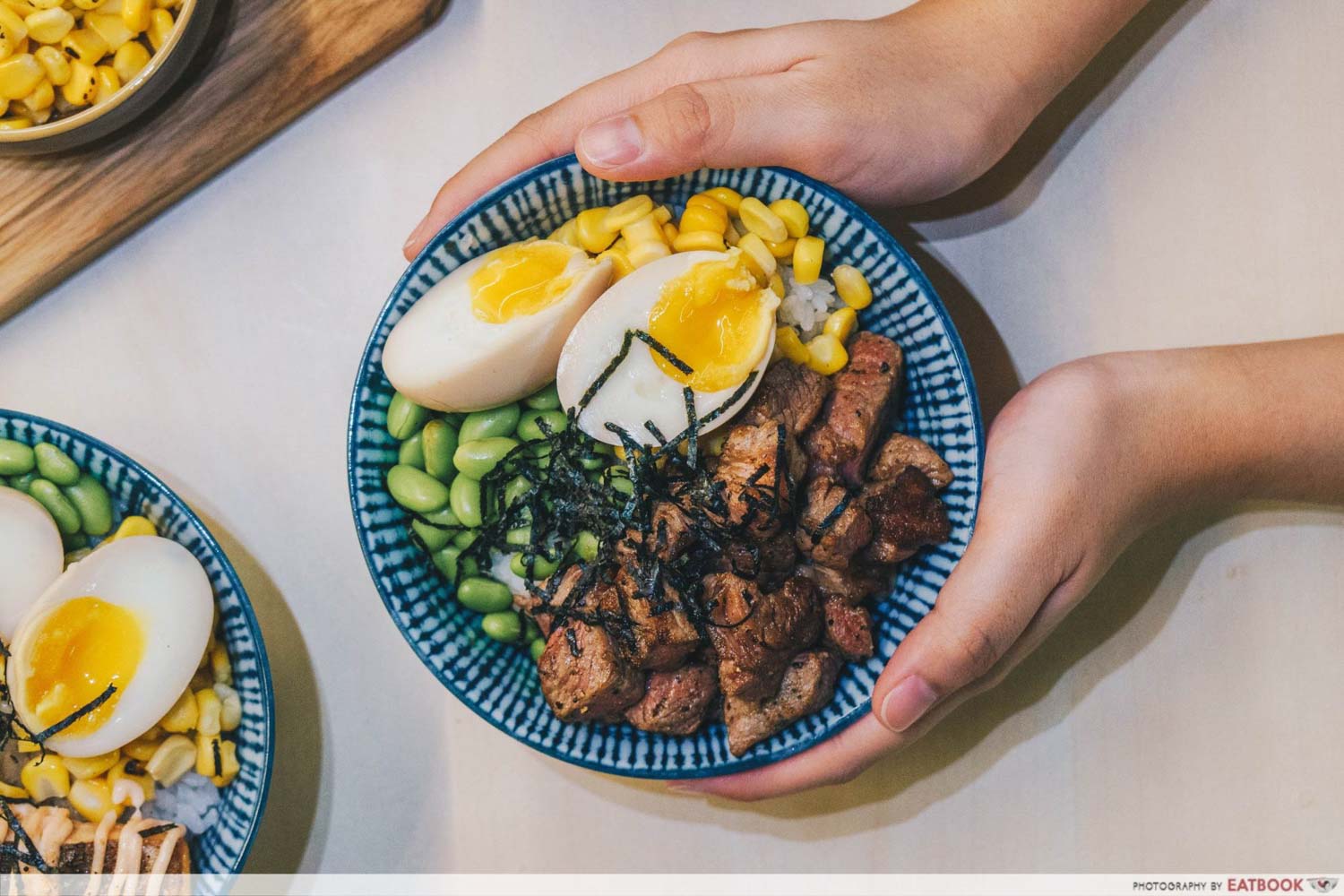 Other than meat mains, there are also rice bowls on the menu. We tried the Truffle Beef Rice Bowl ($16) which I found a tad pricey for hawker food.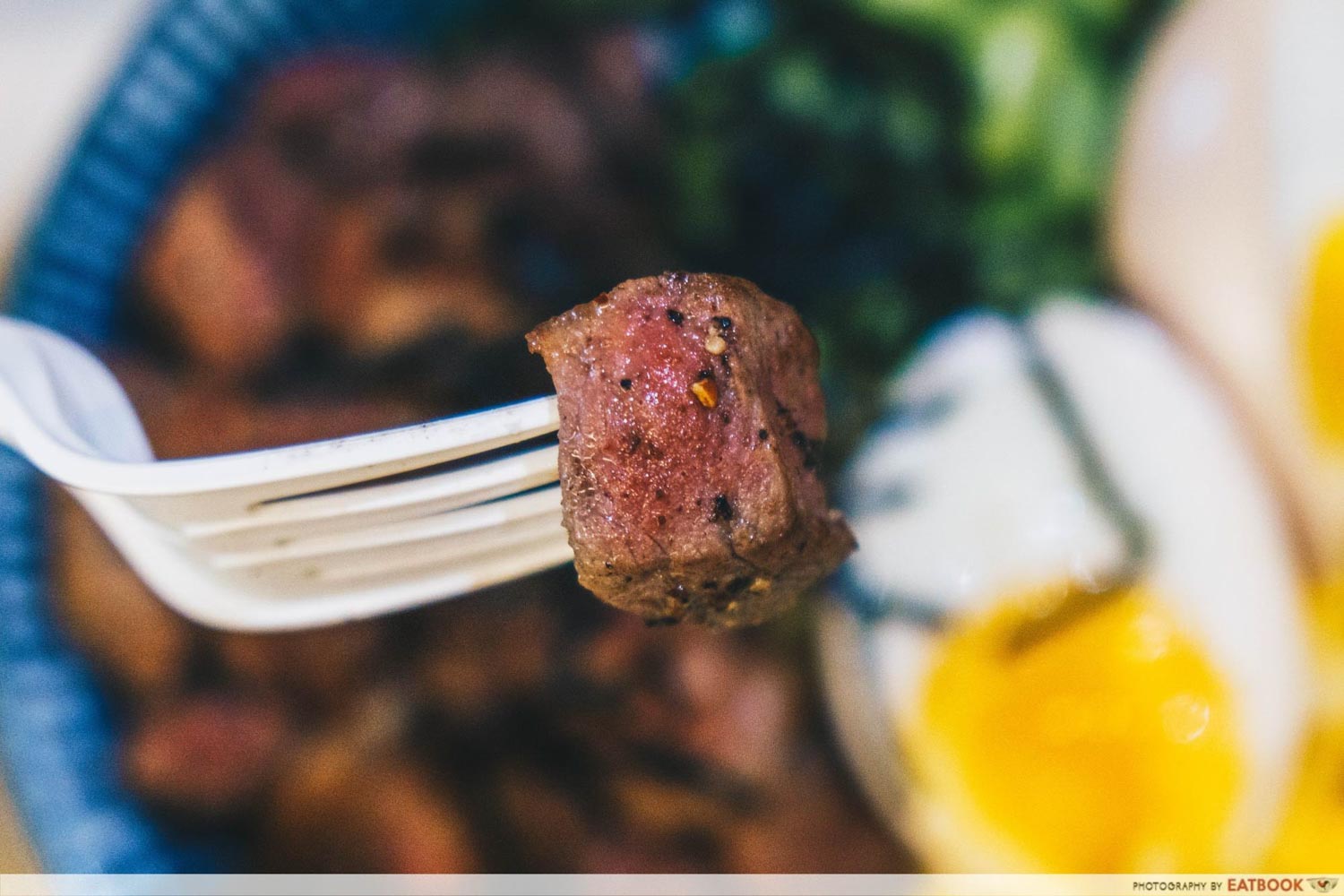 The doneness of the beef cubes was slightly uneven. While some cubes were pink all over, others were cooked till well-done. Moreover, the fragrance of truffle was not strong either, as it was only noticeable for the pieces on top.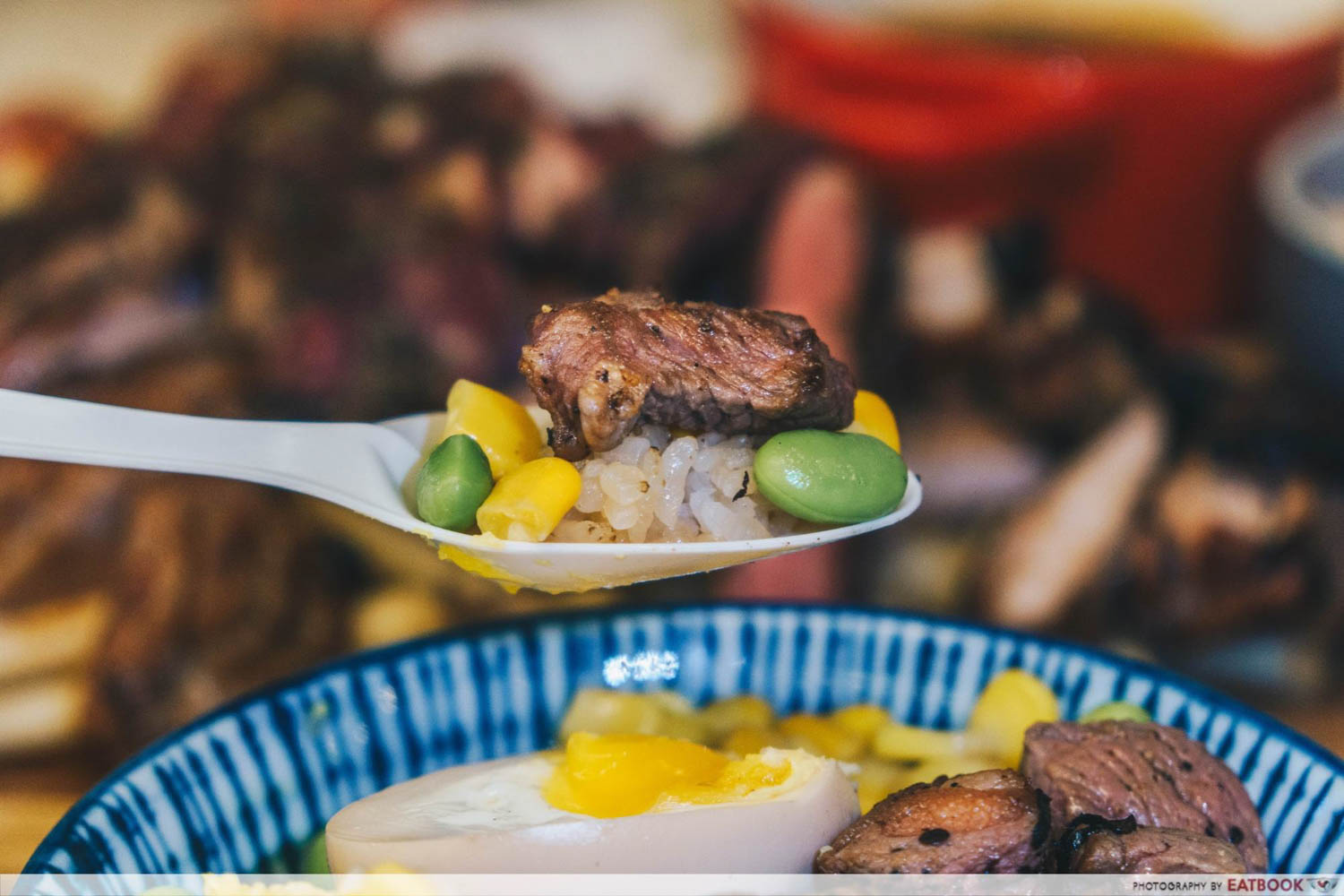 The rice was fluffy and sweet, thanks to a douse of their house-made sweet sauce. The firm edamame and juicy corn also gave the rice a splash of freshness and colour, complementing the sweet flavours of the sauce.
The rice bowl was accompanied with a melt-in-your-mouth ramen egg too. There was a faintly sweet taste to the creamy egg which surprised me, as I wasn't expecting a hawker stall like TORCHED to serve them marinated.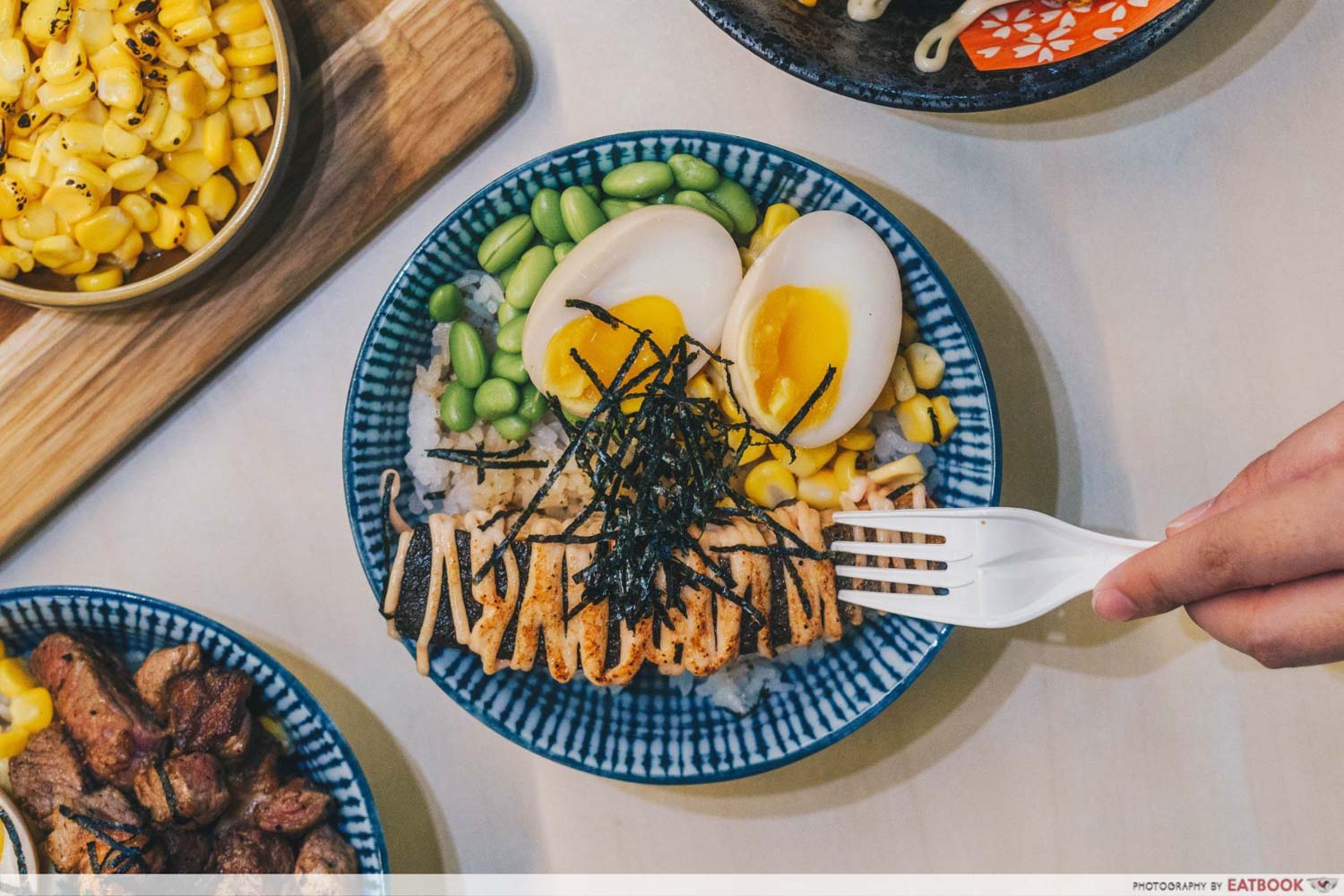 Having satisfied our truffle cravings, we went on to try the Torched Mentaiko Salmon Rice Bowl ($12). The lavish serving of mentaiko sauce was creamy and piquant, instantly reminding us of Genki Sushi's mentaiko series. If you're a fan of Genki Sushi's mentaiko series, this would definitely be worth a try.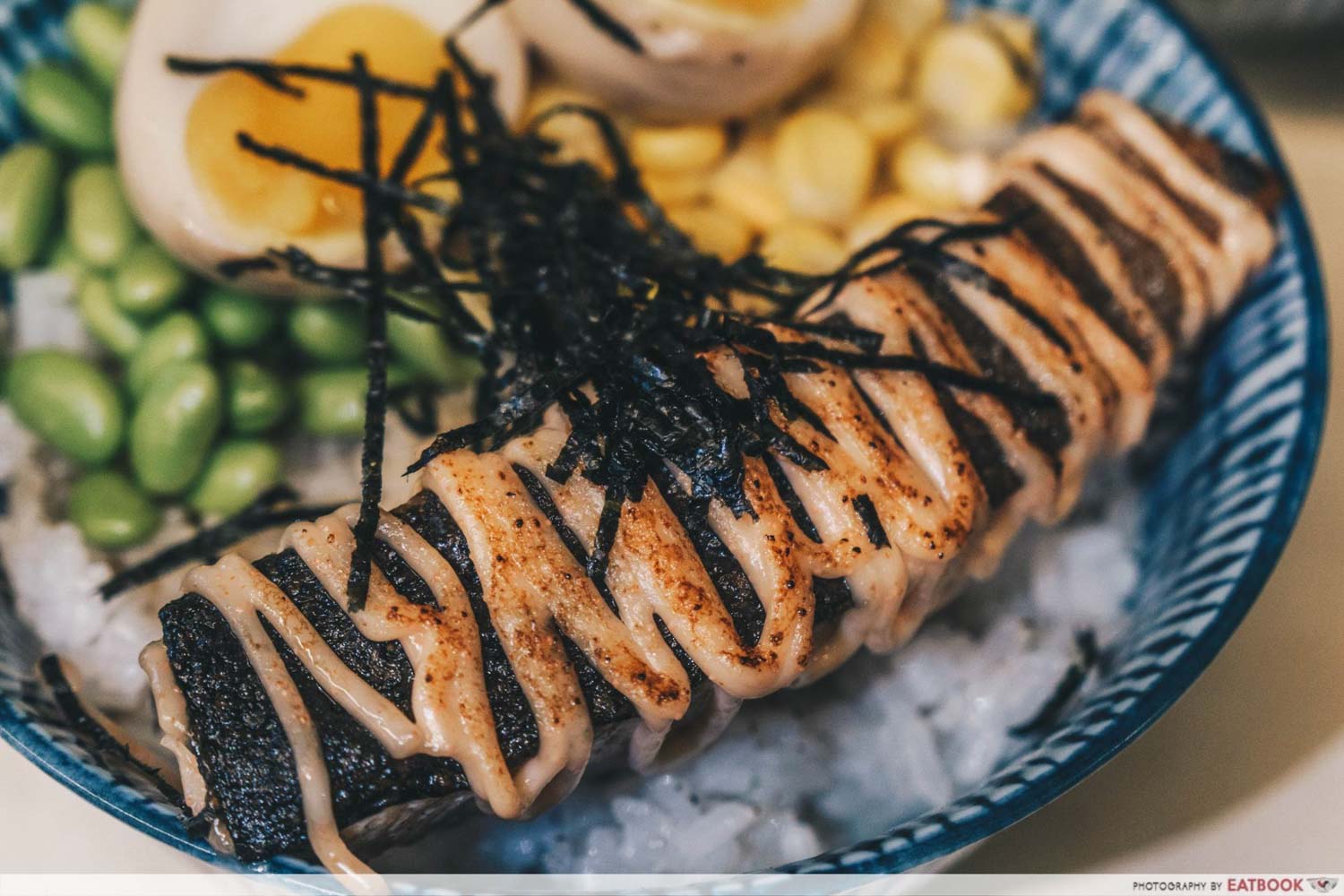 The salmon was slightly dry for me, and it crumbled as I cut into it. However, the rich mentaiko sauce and tare-drenched bed of rice did help reduce the overall dryness of the dish.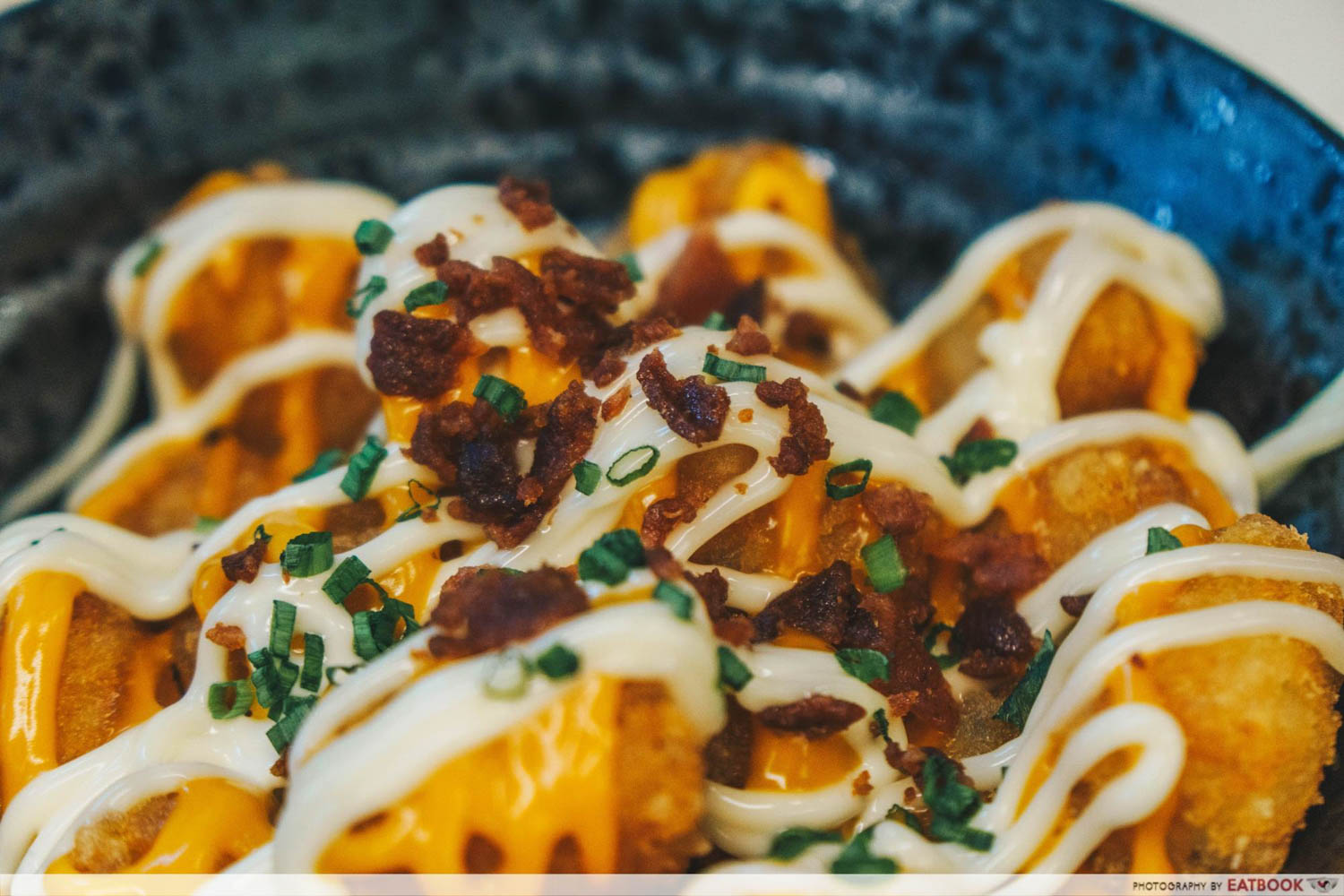 TORCHED also has a variety of sides on their menu. We got the Tater Tots With Cheese And Bacon ($6) which were colourfully lathered with nacho cheese and mayo.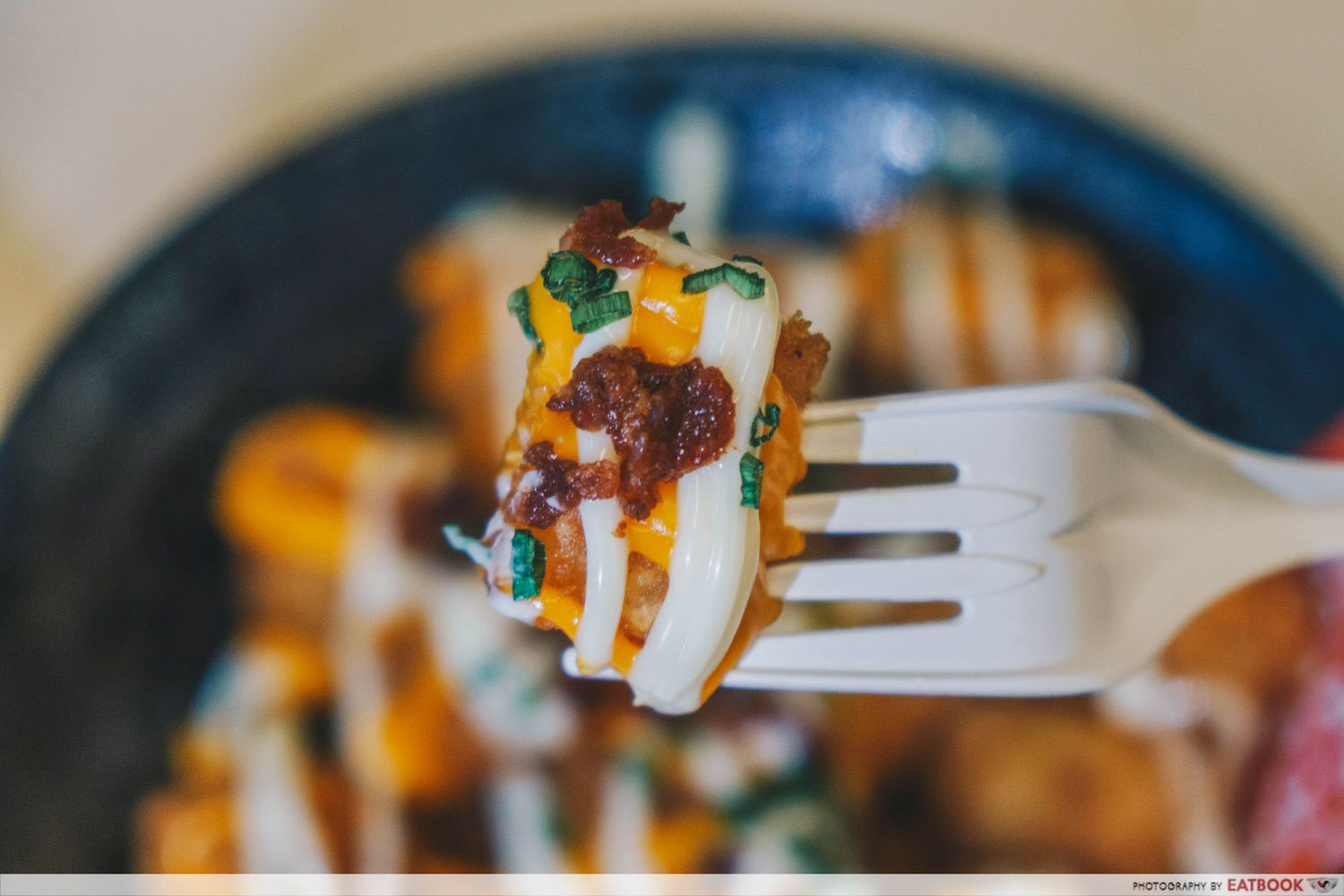 The tater tots were good as expected, giving nice crunches as we bit into them. Personally, the mayo and cheese combination is irresistible, so the tater tots were naturally a tastier alternative to fries.
Ambience at TORCHED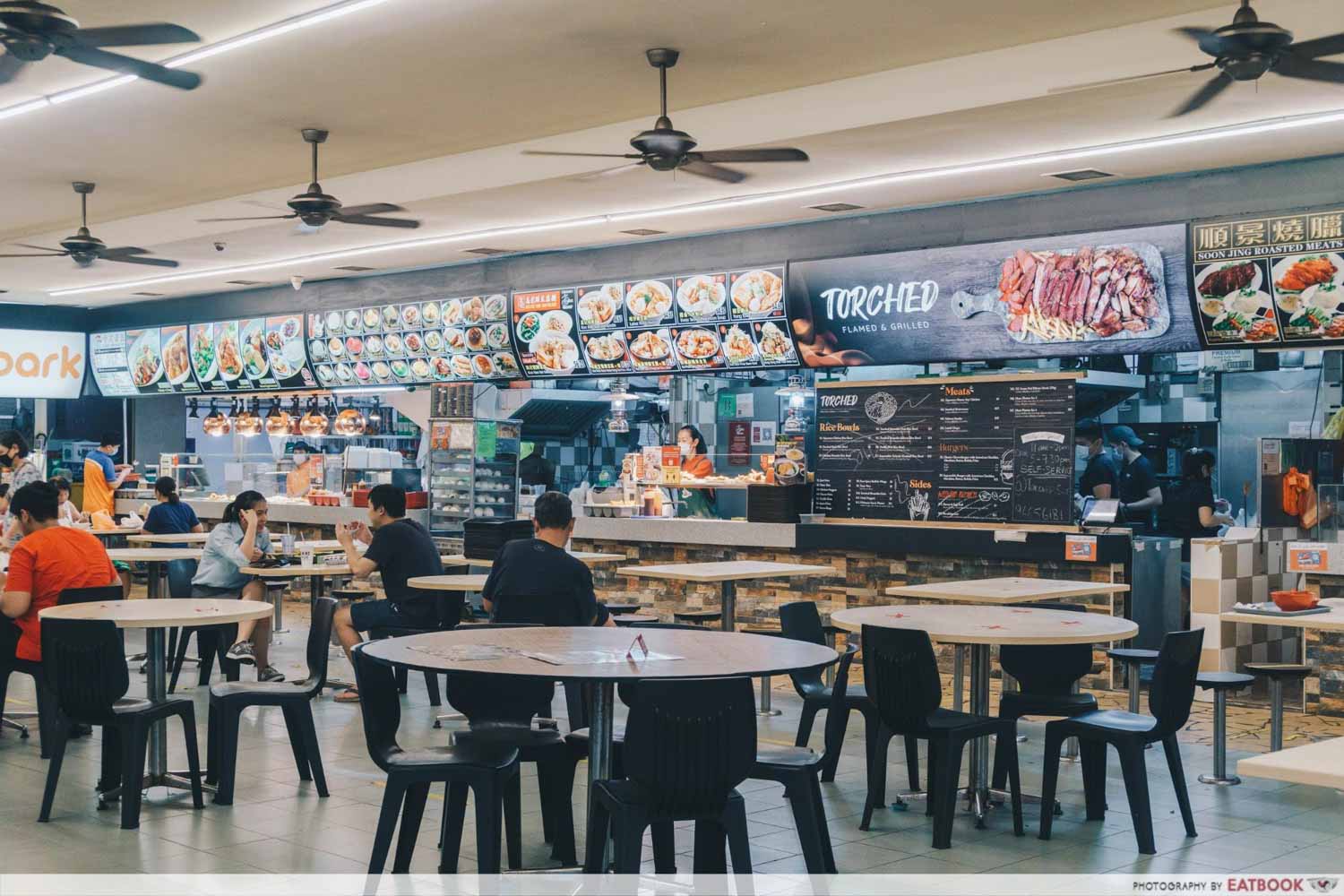 A ten-minute walk from Clementi MRT Station, TORCHED is snug in the middle of a hawker centre where we could easily find seats on a Monday afternoon. The place is not that well-ventilated, so it might help to find seats near the fans.
The verdict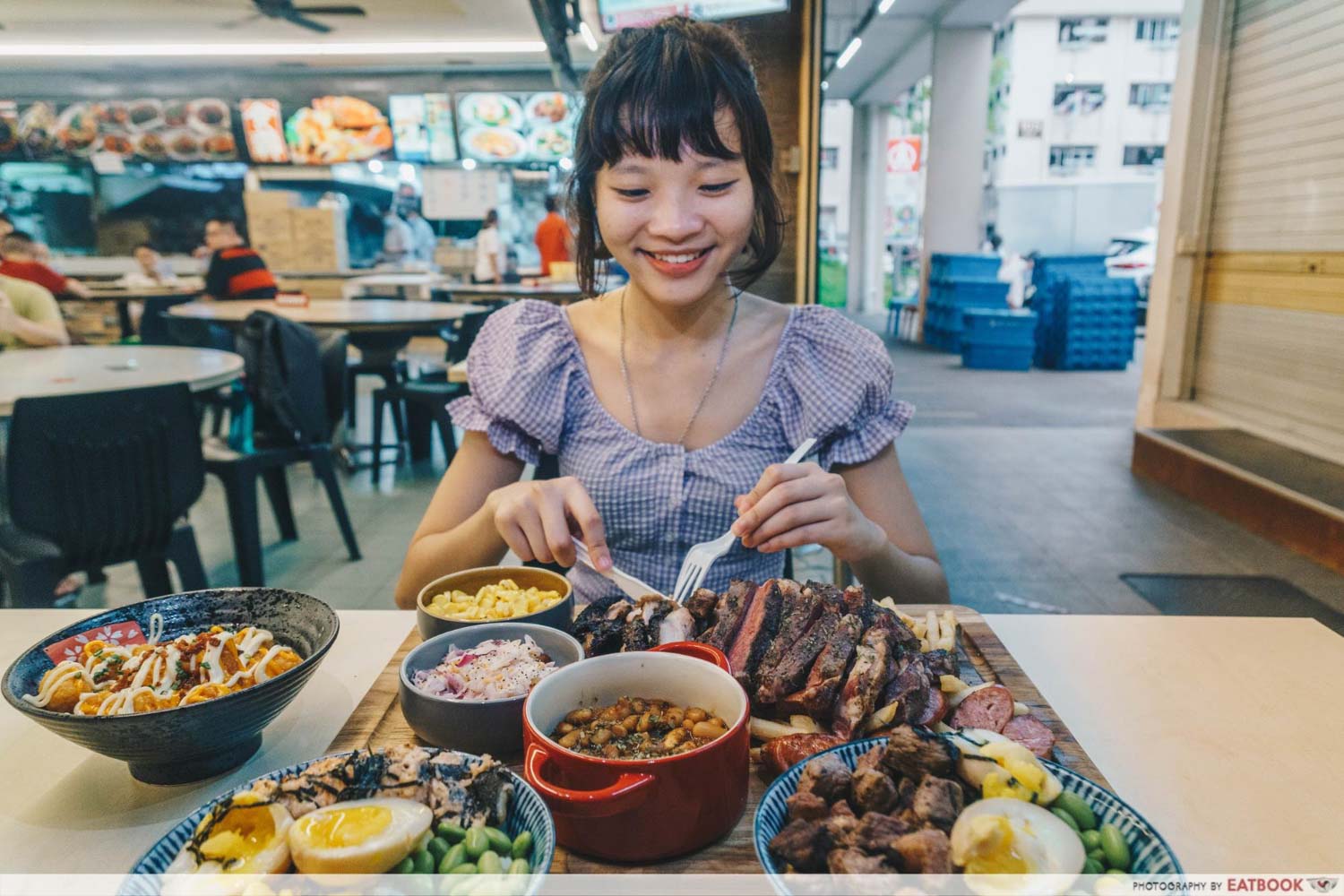 TORCHED has a wide array of dishes on their menu. Naturally, there are some dishes, such as their honey soy chicken, which I personally enjoyed more than the rest. The quality of meat is definitely noteworthy, allowing for decadent and flavourful mains. However, I can't seem to say the same for their salmon rice bowl.
Although the food is definitely well worth our money, it might not be as affordable as other hawker centre food. Reserve TORCHED for pay days, or when you are feasting with a small group of meat-loving friends.
For more large-sized foods, check out our list of XXL dishes.
Address: 107 Clementi Street 12, FoodPark, Singapore 120107
Opening hours: Daily 11:30am to 2pm, 5pm to 8pm
Tel: 9665 6181
Website
TORCHED is not a halal-certified eatery.
Photos taken by Hay Thi.
This was a media tasting at TORCHED.
10 XXL Dishes That Are Great For Family Dinners Including Giant Dessert And Meat Platters
TORCHED Review: New Hawker Stall With XXL Meat Platters, Mentaiko Salmon Don And More At Clementi
Summary
Pros
– Generous meat portions
– Good quality meat
– Rice is sweet and well-seasoned
Cons
– Prices are on the higher side for hawker food
– Salmon is slightly dry and crumbly
Recommended dishes: Meat Platter For 2 ($49), Truffle Beef Rice Bowl ($16)
Opening hours:Daily 11:30am to 2pm, 5pm to 8pm
Address: 107 Clementi Street 12, FoodPark, Singapore 120107