Sunday Roast brings the food to the party for you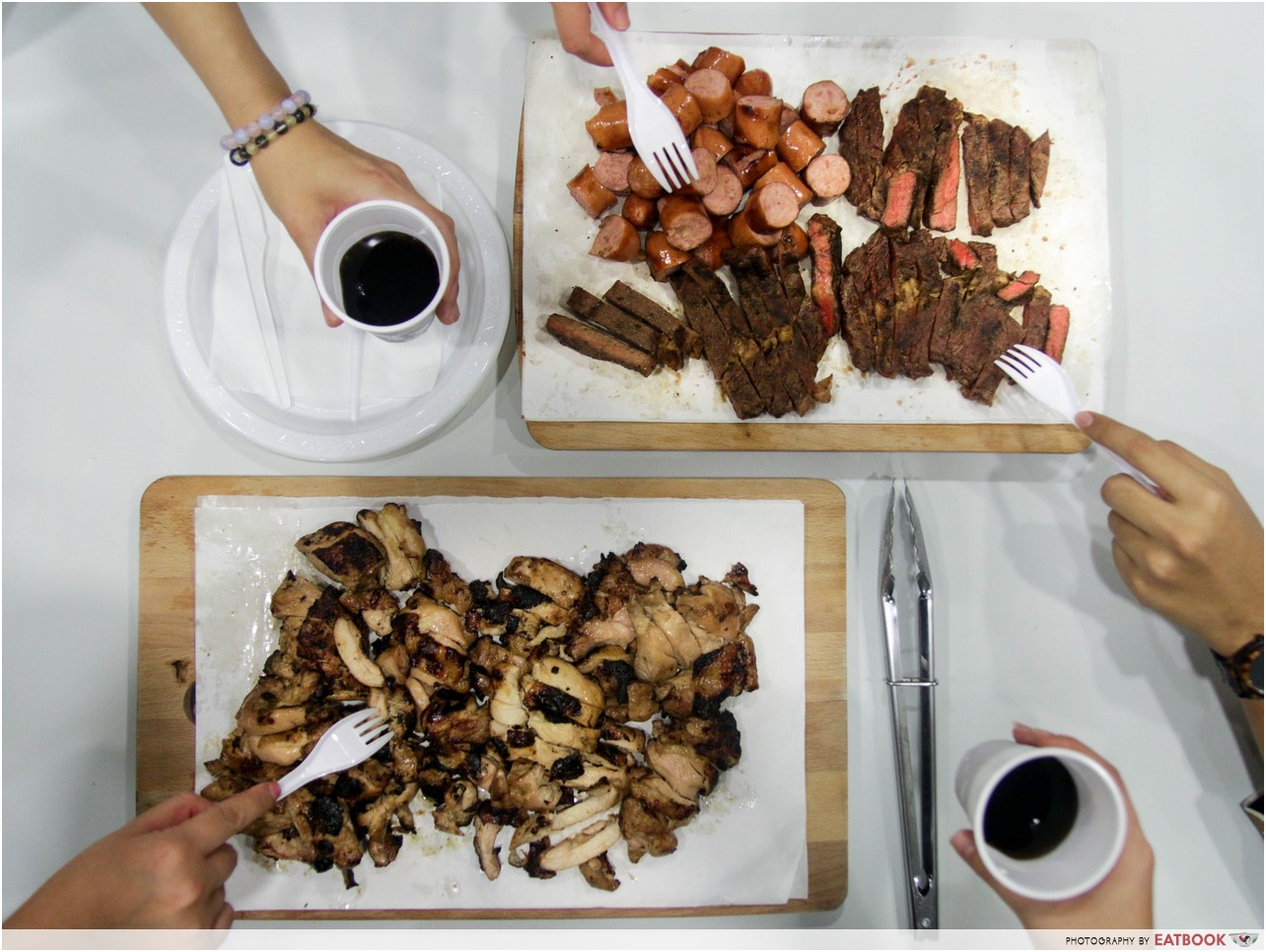 BBQ parties always remind me of class chalets, which "traditionally" begin with roasted marshmallows, lots of satay sticks, and some burnt chicken wings. We'd fight off sleep to play games till, one by one, just a few of us would be left awake, still talking softly through the night. For those few hours, we would pretty much be the closest of friends, exchanging secrets we swore to never tell. A part of me would hope those late-night conversations would mean more than a memory, and I wonder if they hoped so too.
What happens before a barbeque is usually a dreary delegation of "who buys what", and "who brings what". But the biggest question of all is, "Who do we sacrifice to the BBQ pit?" Thankfully, this time round at our team dinner, Sunday Roast completely took the hassle of preparing our food off from us. The BBQ catering service brought the raw meats, roasted up a storm, and sliced them for us to hungrily devour.
Food at Sunday Roast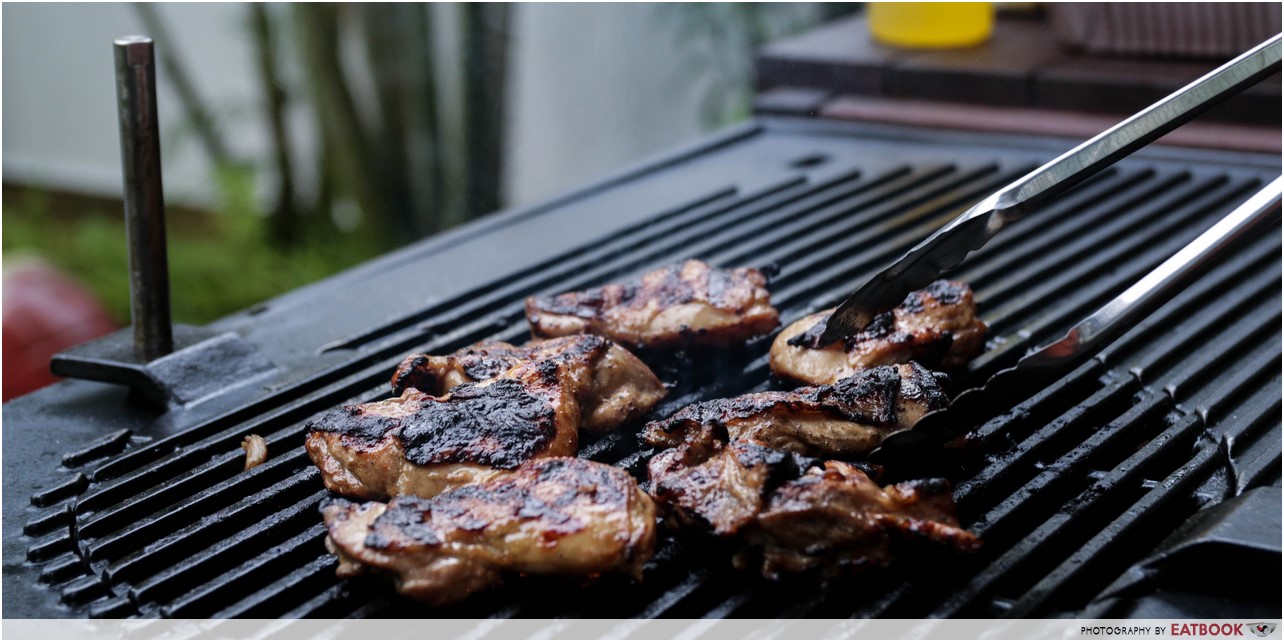 Sunday Roast's omakase service made things super convenient, since we just had to show up for the food. Omakase is Japanese for "I'll leave it up to you", and we gladly passed over the food selection to them, instead of going a la carte and doing a poll within our group.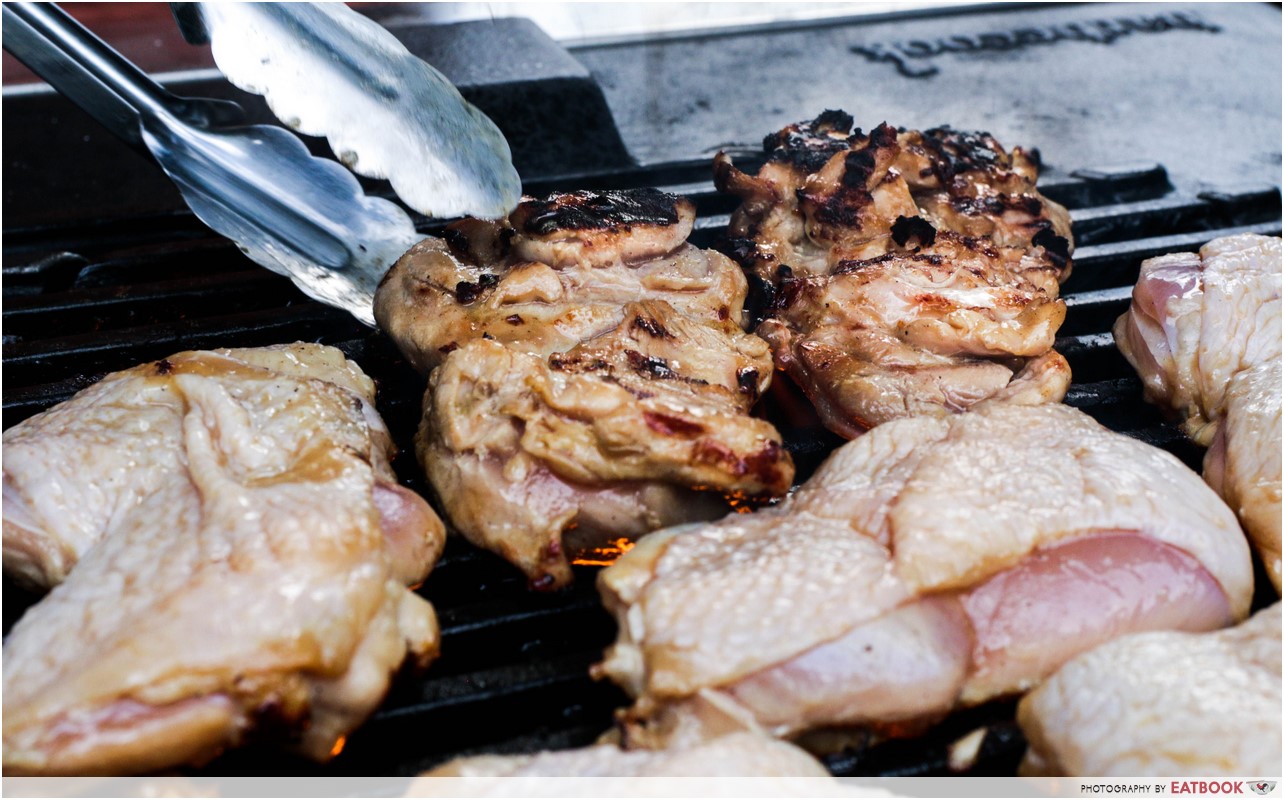 They roasted tender pieces of Signature Honey Soy Chicken Leg ($19.90 for 1kg, 7 to 8 pieces) till the grill charred both sides of the chicken with black lines. Sliced pieces were served on a wooden board that was lined with parchment paper.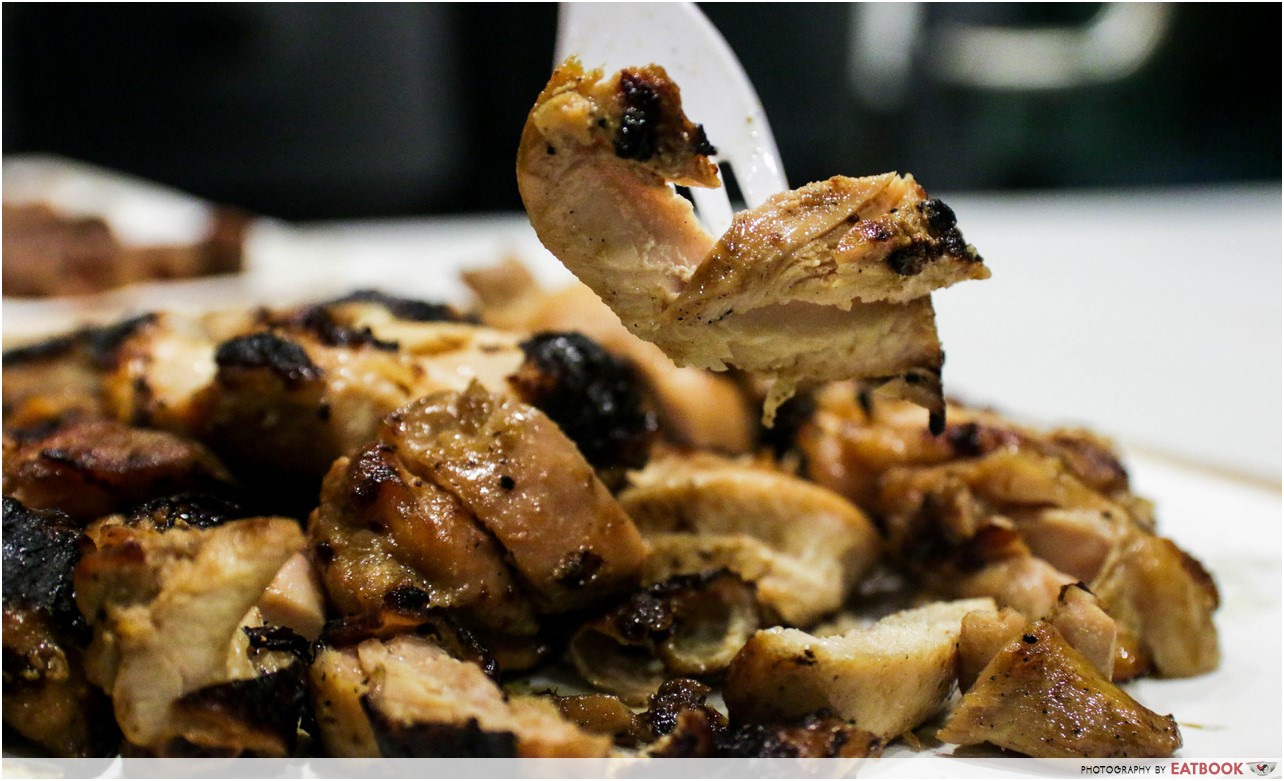 A bite into my first piece tasted salty, and its sweet honey soy marinade immediately reminded me of bak kwa. Yet, it wasn't very strong, allowing the chicken's savoury flavours to come through.
I loved it more for its textures though. The slices were just thick enough for it to feel meaty, and the chicken skin was soft and chewy, while the burnt bits were crispy. Mixed together as I chewed, the meat felt almost silky.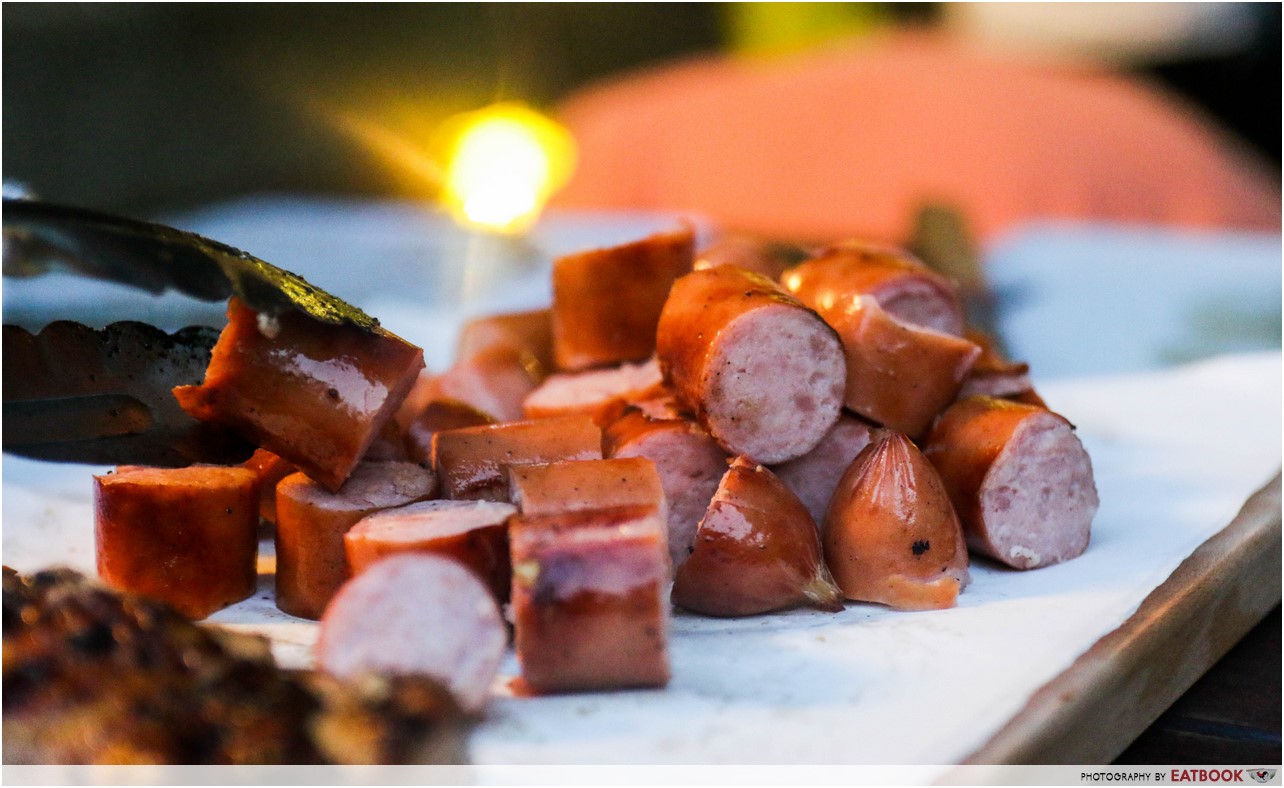 Smoked Pork Bratwurst ($17.90 for 500g, 6 pieces) was cooked till slightly brown before being cut into chunks. I'm not a fan of sausages, but it didn't have a strong, porky flavour. It was bouncy with a fine texture, and didn't taste very salty.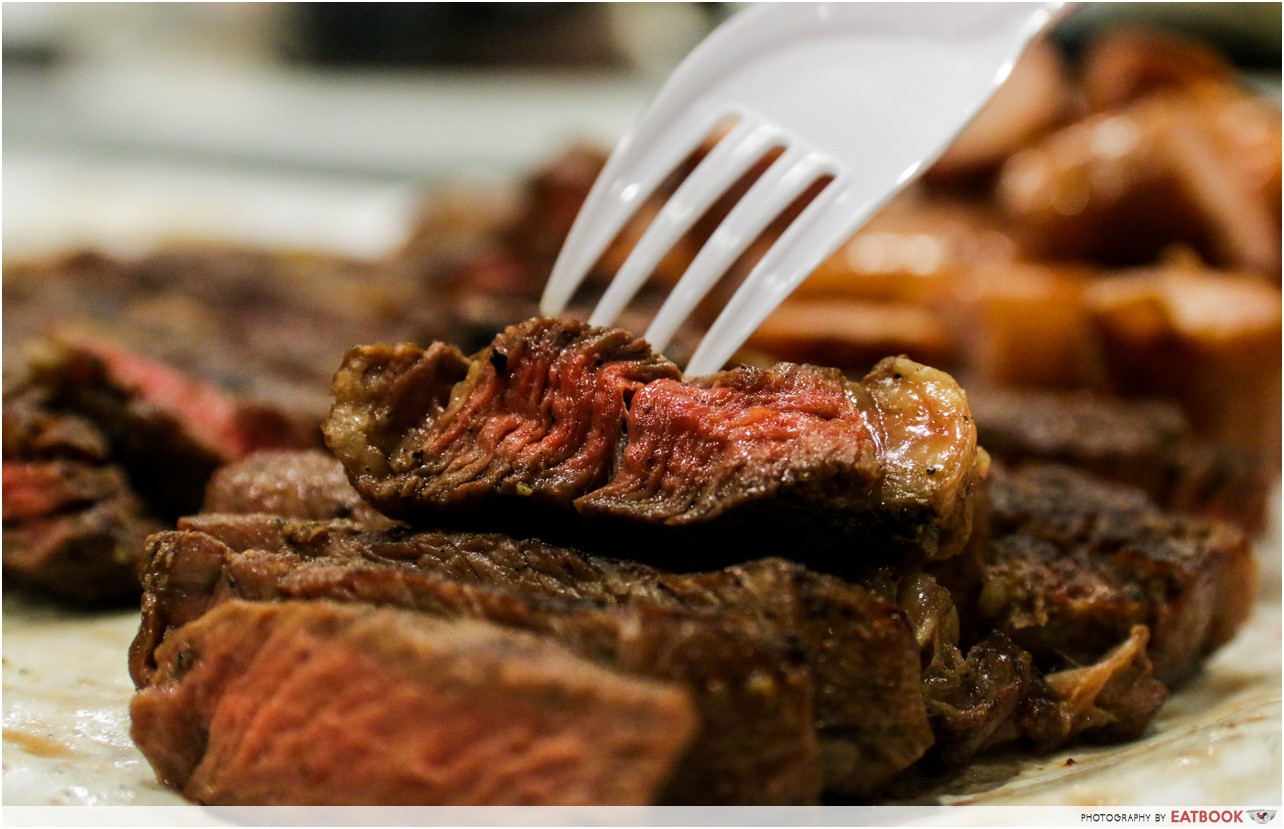 Slices of 100% Grass-Fed Prime Steer Beef Ribeye ($15.90 for 250g, 1 piece) were reddish, which revealed its medium-rare doneness. This cut of beef has little marbling, but the chef's skilled roasting kept it moist. It was slightly chewy, with the rough texture of beef.
Their steaks are rubbed with their secret recipe of seasoning, and salted. It was saltier than the earlier meats, and chewing it made its flavours ooze out. We finished this the quickest yet, leaving only traces of its red juices.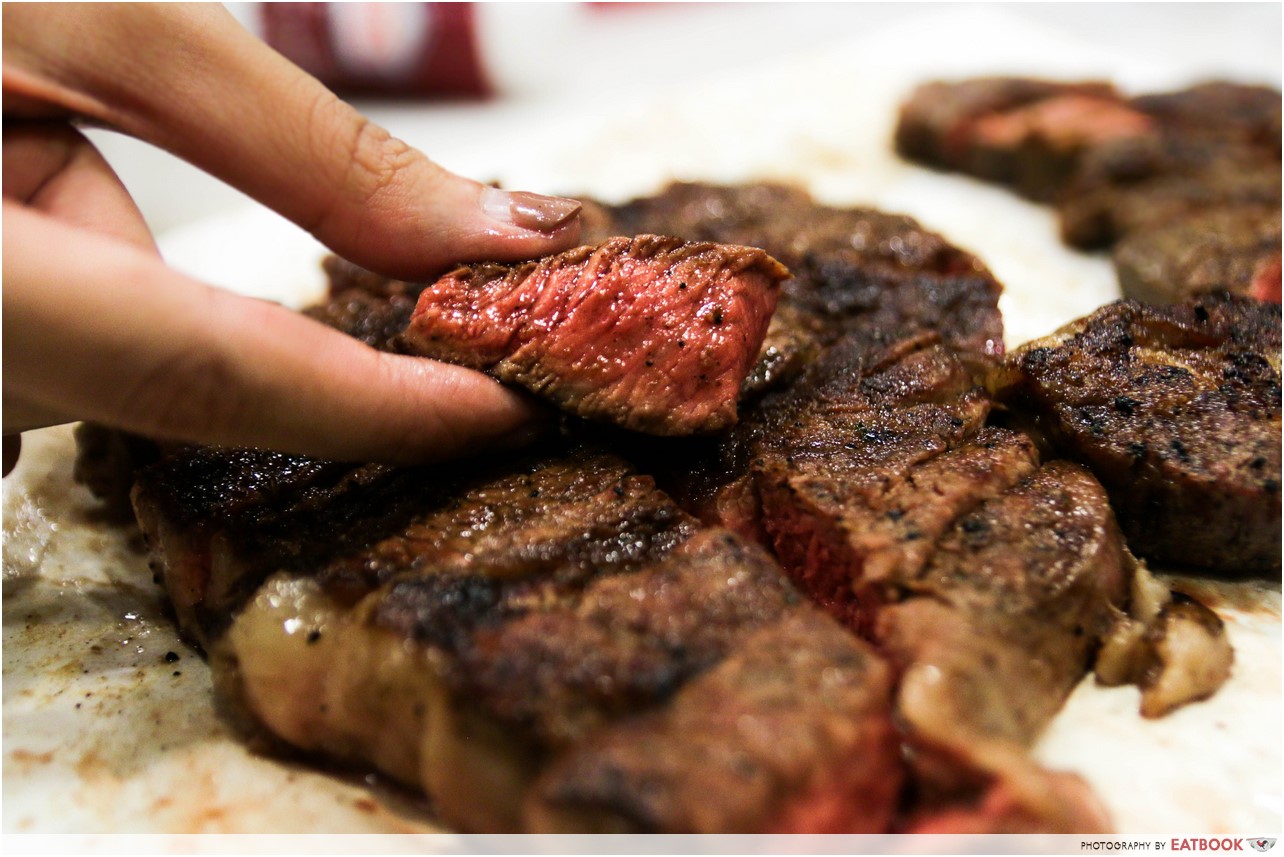 The yummy start made me eager for New Zealand Ocean Angus Beef Ribeye ($32.90 for 400g, 1 piece), which they promised would be thrice as tasty as the Prime Steer. After the first three meats, we were barely a quarter through our game of Codenames when they were ready with the beef, fresh off the grill.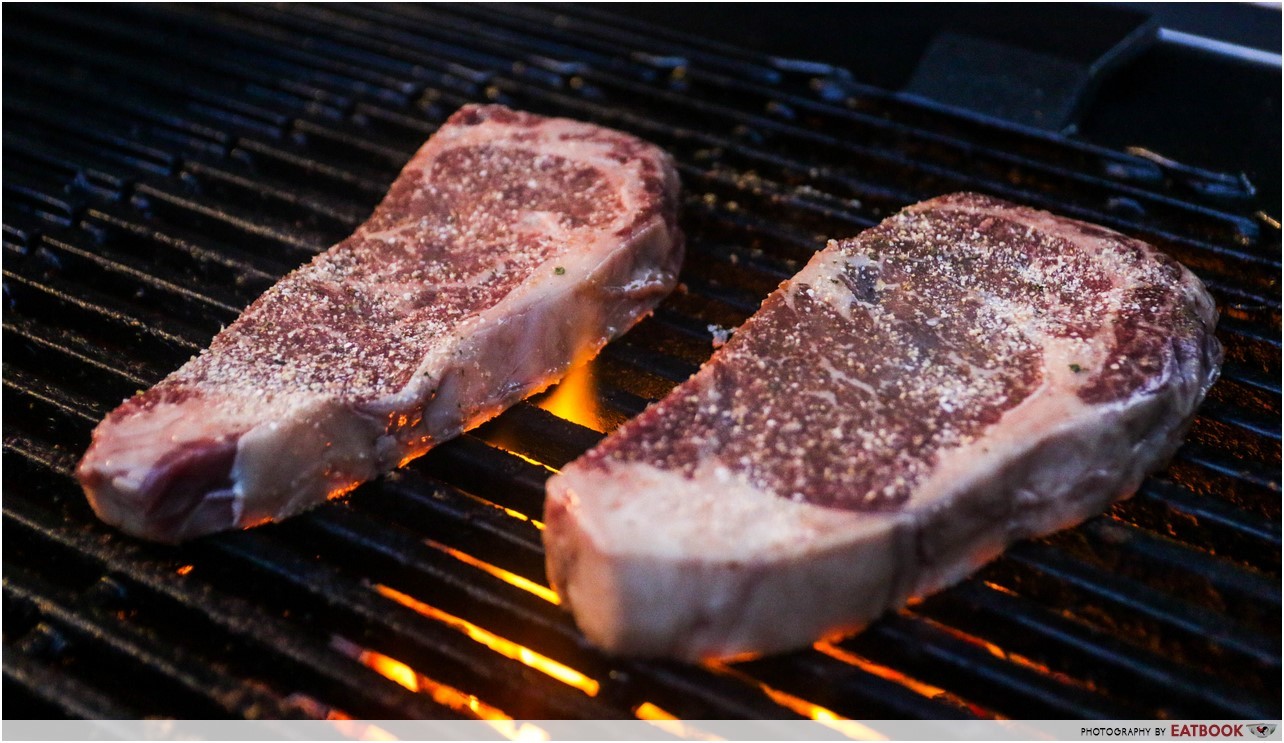 I saw the uncooked slabs marbled with much more fats, but seeing the translucent parts glisten after being cooked made my eyes shine. The beef was an even deeper red, and the meat looked more juicy.
I went straight for it without finding a fork and used my fingers to pick up what looked to me like the most enticing piece. That warm whole slice in my mouth felt juicier, much more tender, and saltier. It seemed to melt a little as I chewed, releasing its depth of flavour.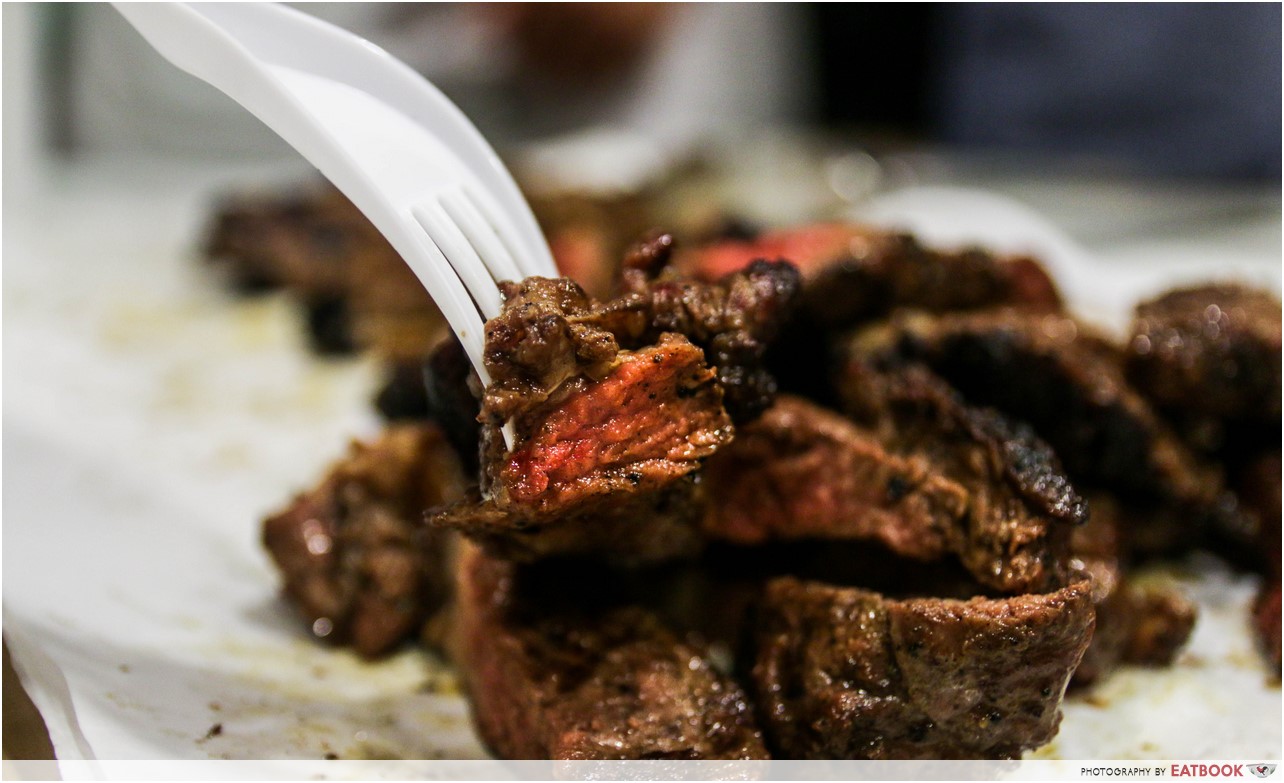 The best was definitely saved for the last, as their New Zealand Lamb Rump was my favourite. It's usually only reserved for their omakase packages and even then it depends on availability. It was salted the most liberally, and was very soft and savoury, with no gamey odour.
After tasting all the types of meats they brought, they left the decision of what to cook next to us. I spent the rest of the night repeatedly asking them to cook more lamb.
Ambience at Sunday Roast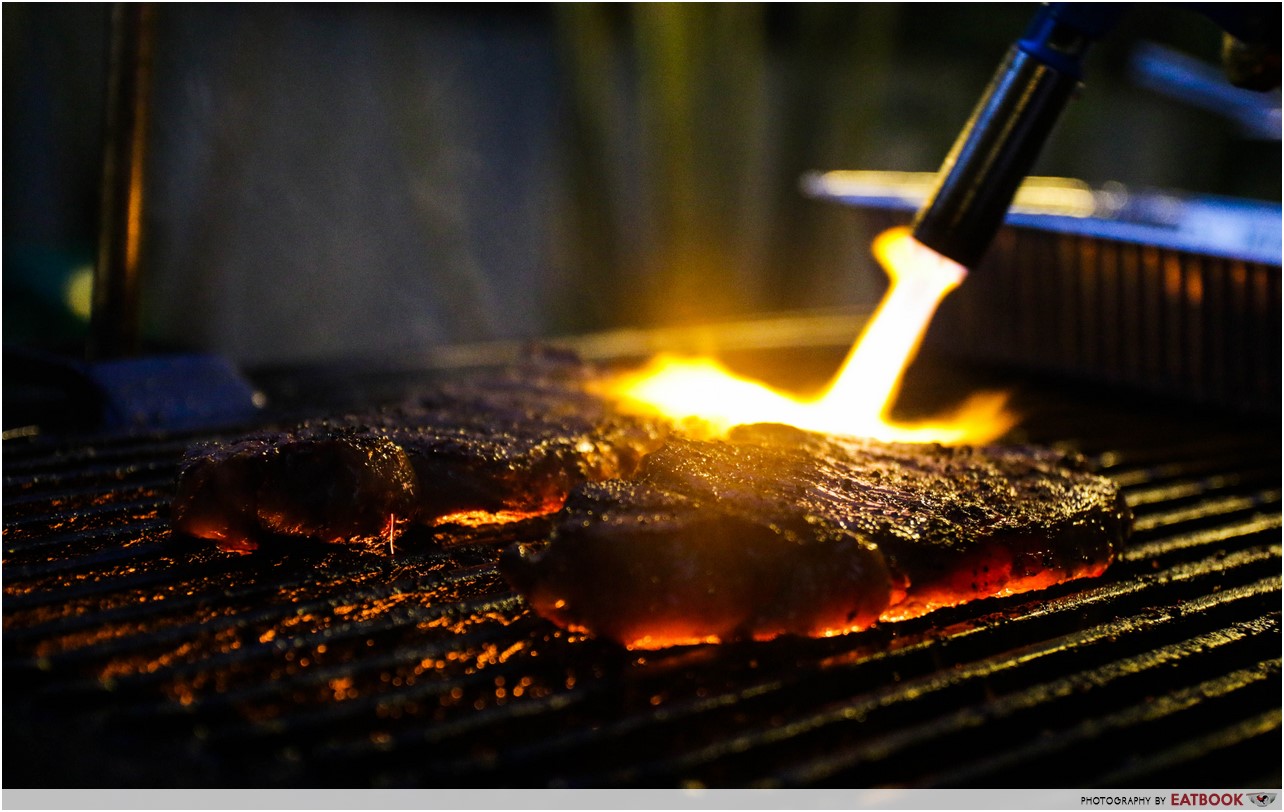 We booked a sheltered BBQ pit at one of our teammate's condominium to chill at. Conversations with the Sunday Roast staff came naturally over music, games, and food. They had two chefs at our barbeque, and two photographers who didn't interrupt us. The young staff blended in quite well with our party, which was a plus.
If you'd like to explore their a la carte options, their website is easy to navigate. Their more affordable omakase package costs $30 per person, featuring one to three items, with add-ons depending on the size of the group. At $60, it's four to five items with add-ons, and their most pricey package is $90 per person. They can take care of the cooking for you too, for $300.
The verdict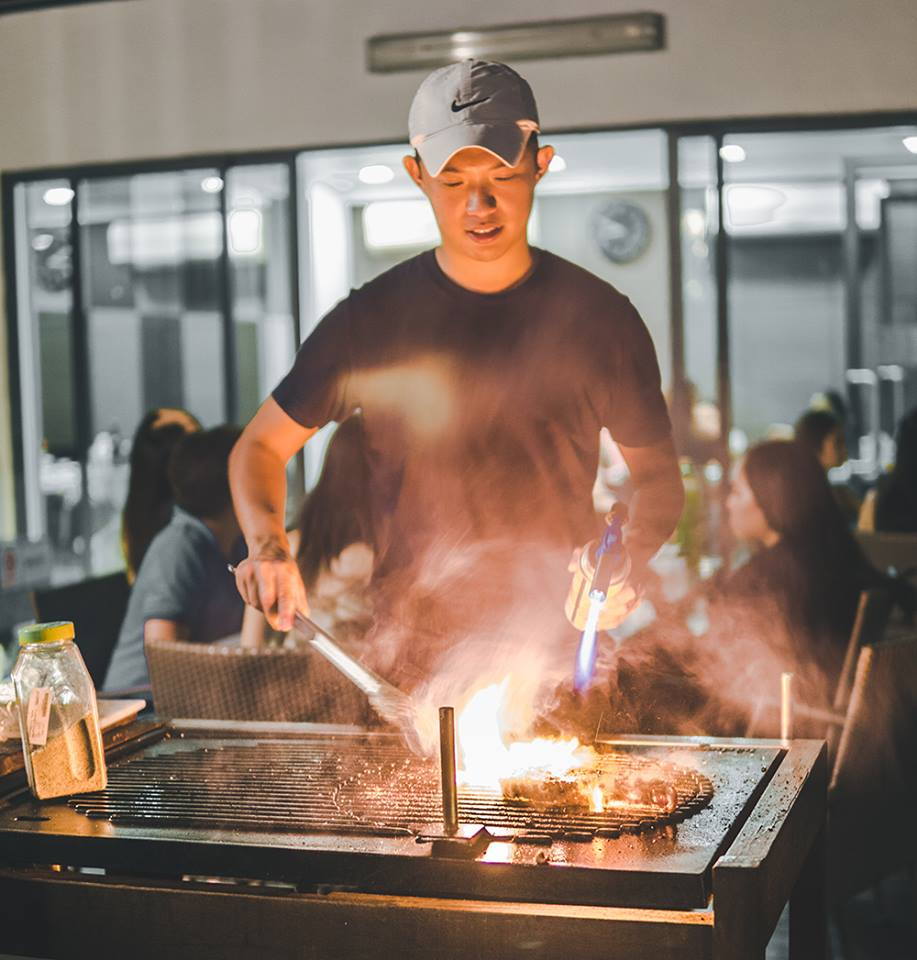 Image credit: @papa.gab
I can't say it's the best meats I've savoured but it's definitely a BBQ to remember. Their team was young but energetic, and it's easy to understand why they already have returning customers and referrals for both private and corporate events. Passion was shining when the main chef began to explain meat quality and cooking when I went over to watch him roast more delicious lamb. Though he was self-taught, our dinner was delicious. Sunday Roast's edge was not just in their unique service, but the quality of meat they serve. If you're looking to have a quick BBQ meal at a restaurant, check out Lang Nuong or Hao Lai Wu instead!
Tel: 9721 7472
Website
Omakase menu
A la carte menu
Sunday Roast is not a halal-certified company.
This was a sponsored BBQ by Sunday Roast.
Summary
Pros
– Convenient for BBQ parties
– Little delay in finalising plan
– Punctual
– Cutlery provided
– Website is easy to navigate
– Friendly staff
Cons
– Customers cannot keep leftover raw meat
– Drinks and desserts not included
Recommended Dishes: Signature Honey Soy Chicken Leg ($19.90 for 1kg, 7 to 8 pieces), New Zealand Ocean Angus Beef Ribeye ($32.90 for 400g, 1 piece), New Zealand Lamb Rump (omakase only)
Tel:
9721 7472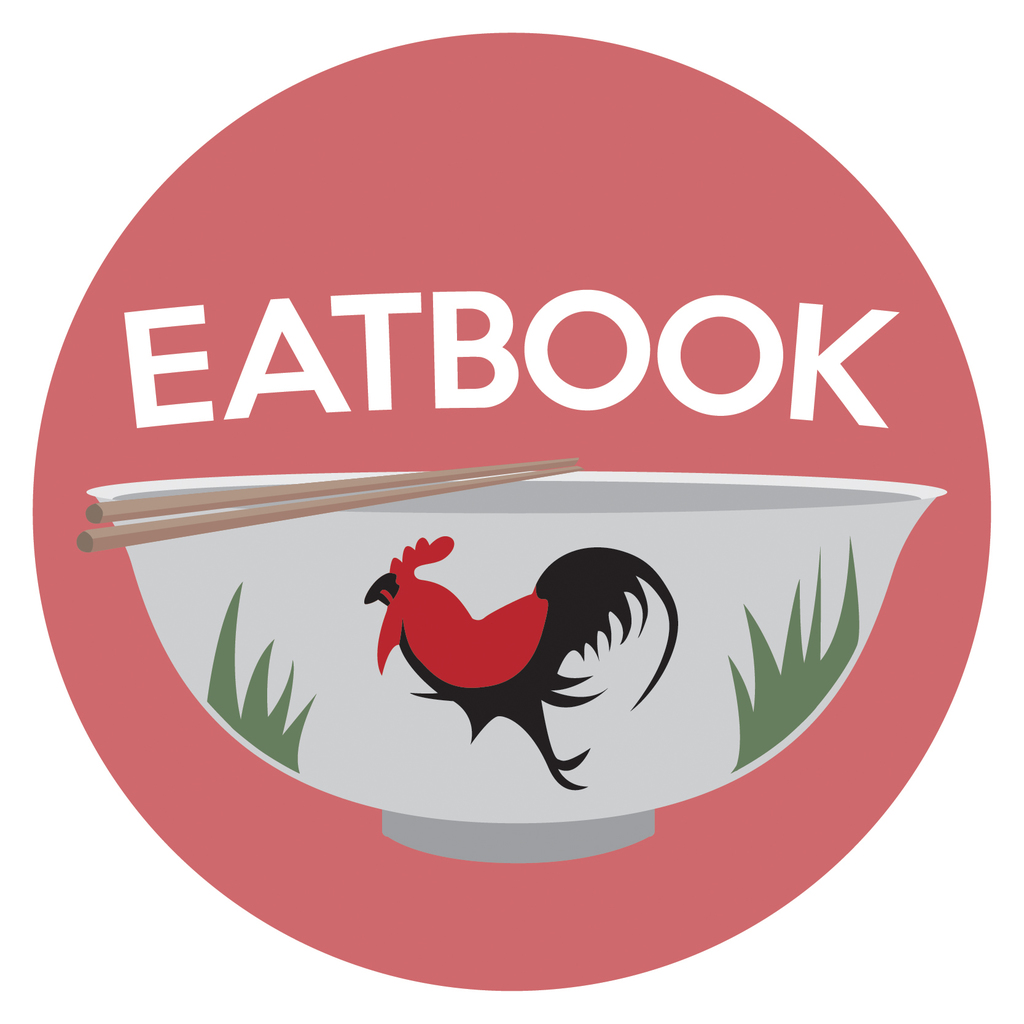 Drop us your email so you won't miss the latest news.