---
Famous Japanese food stalls at Changi Airport
---
Boasting a stretch of famous Japanese food brands in both Changi Airport Terminal 1 and 2, Japan Gourmet Hall SORA has brought Japan to us, without even having to leave the country. Explore the various prefectures, including Hokkaido, Osaka, Fukuoka, and Tokyo, through dishes such as premium fatty tuna donburi, chicken broth ramen, and thick pancakes when you're here! 
---
Terminal 1
---
1. Yoshimi
---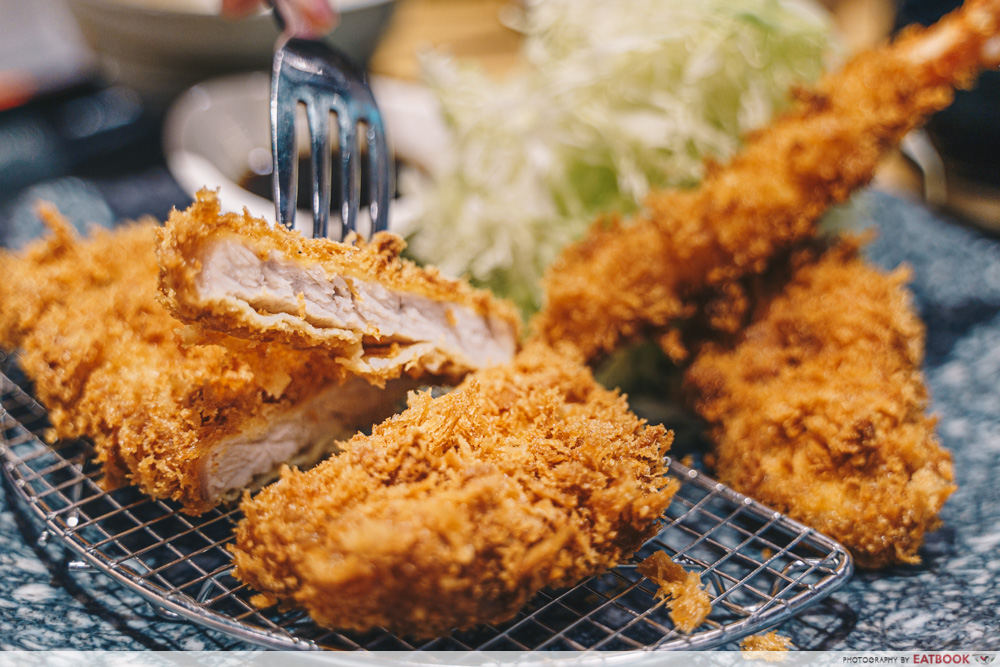 Not to be mixed up with fusion wafu dishes, yoshoku refers to "Japanised" Western food such as curry rice, sandwiches, and pancakes. Hailing straight from Sapporo, Yoshimi at Terminal 1 serves hearty yoshoku dishes ranging from Omurice Curry ($16) to Mix Katsu Set ($29.80), each with large portions.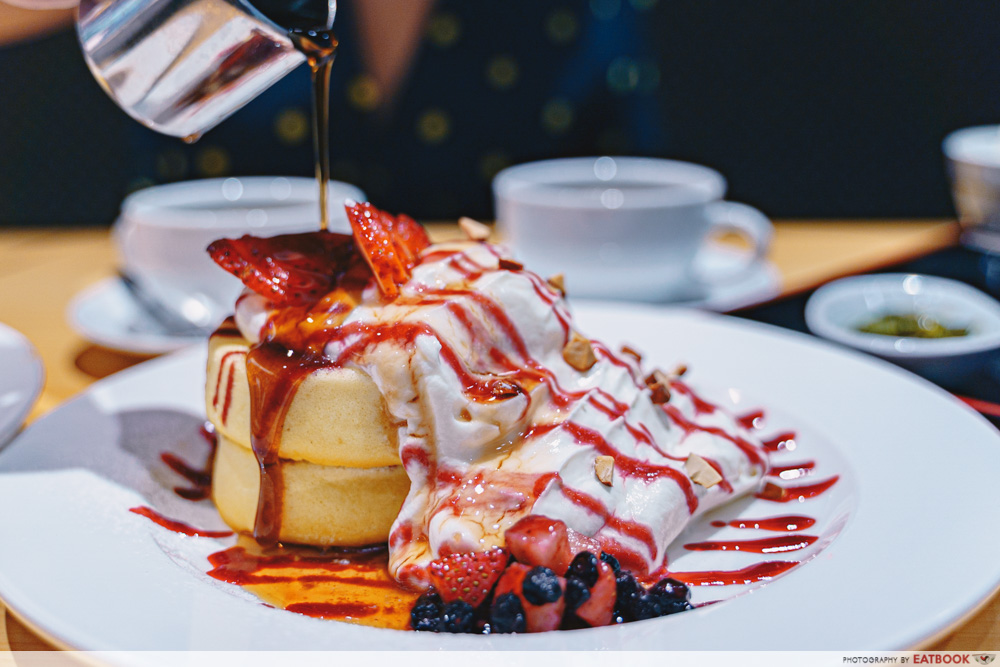 If you're here for breakfast, sink your fork in their dense and buttery Mixed Berry Pancake ($19.80). Dressed with an abundance of whipped cream and chopped almonds, these pancakes are thick, but that doesn't mean you will be willing to share. 
---
2. Megumi Maru
---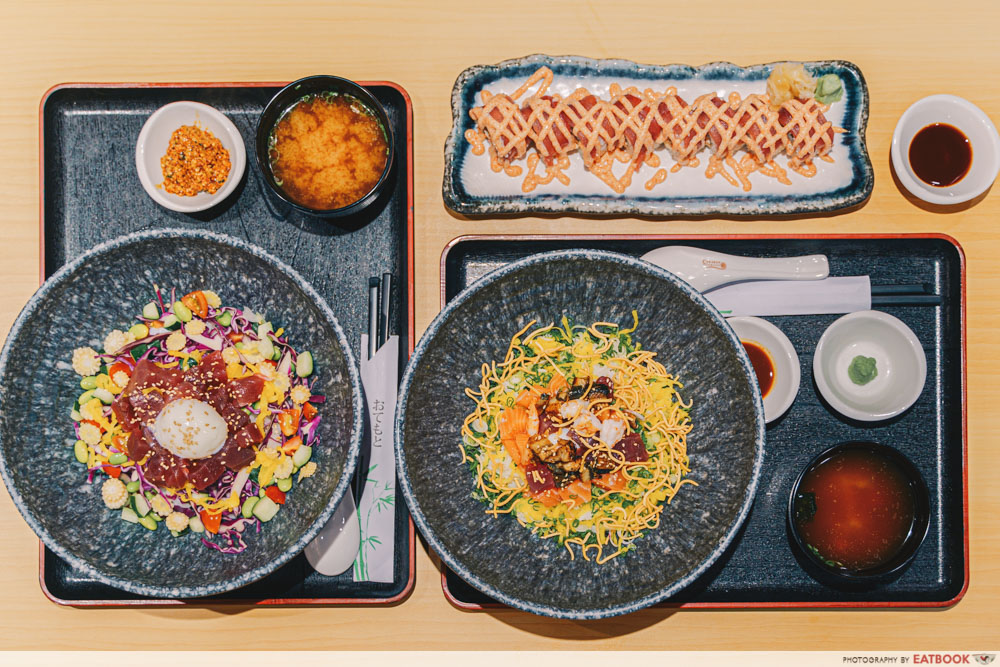 Megumi Maru highlights bluefin tuna, also known as maguro, with its colourful menu of maki rolls and rice bowls. The tuna here is imported from Kanagawa, which is famous as a fishing port town. The diced raw tuna is paired with a smorgasbord of toppings and rice to become an ultimate meal-in-a-bowl.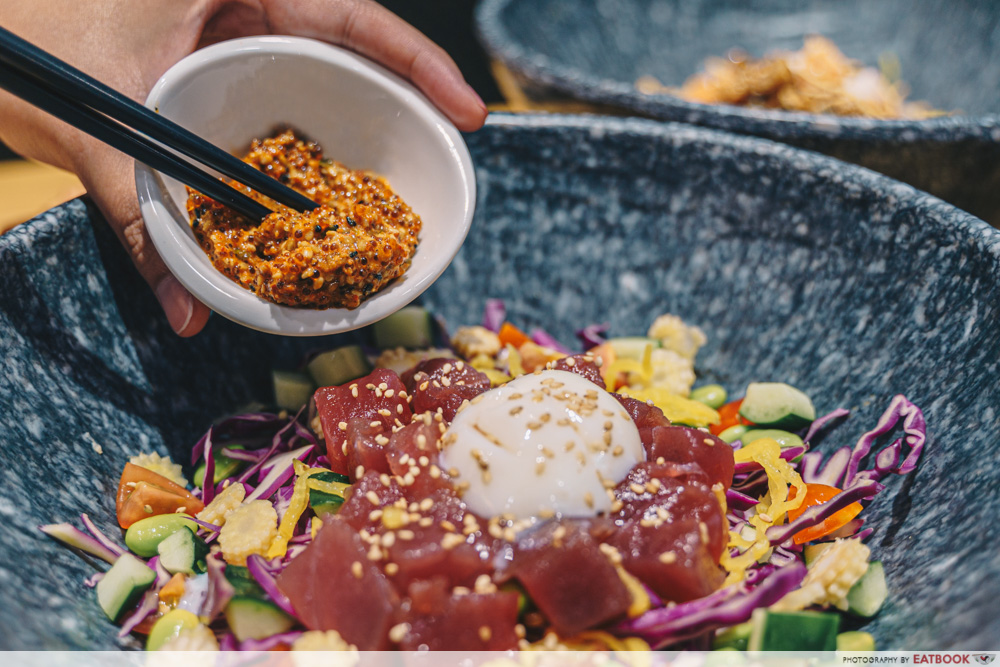 Their maze don, which translates to mixed rice, is a fun concept for those who love their carbs. You won't go wrong with the Spicy Maguro Maze Don ($16.90), which comes with a dangerously addictive spicy sauce. Made with tobiko, sesame, mayonnaise, and a clever addition of fermented chilli beans, the sauce coats and elevates the fresh flavours of every ingredient. 
---
3. Ikkousha
---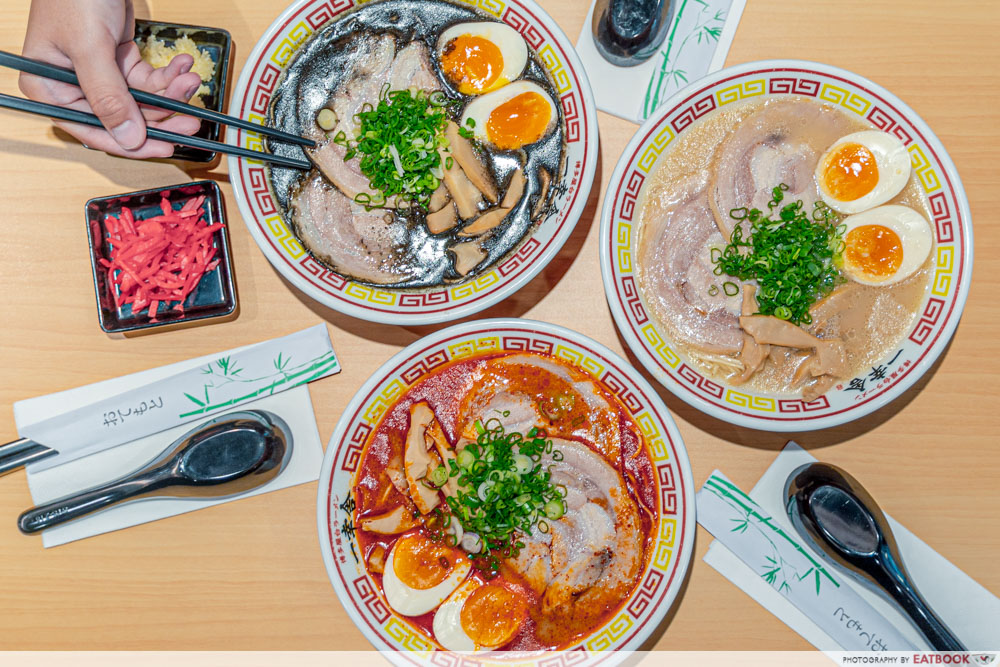 You only need to pay $14.70 for a basic Tonkotsu Ramen from Ikkousha to warm up your soul. The pork bone soup is opaque with an intense porky flavour. Top it up with Cha-Shu ($3.50 for three pieces) and Soft Boiled Flavoured Egg ($2) to go along with the silky ribbons of ramen noodles.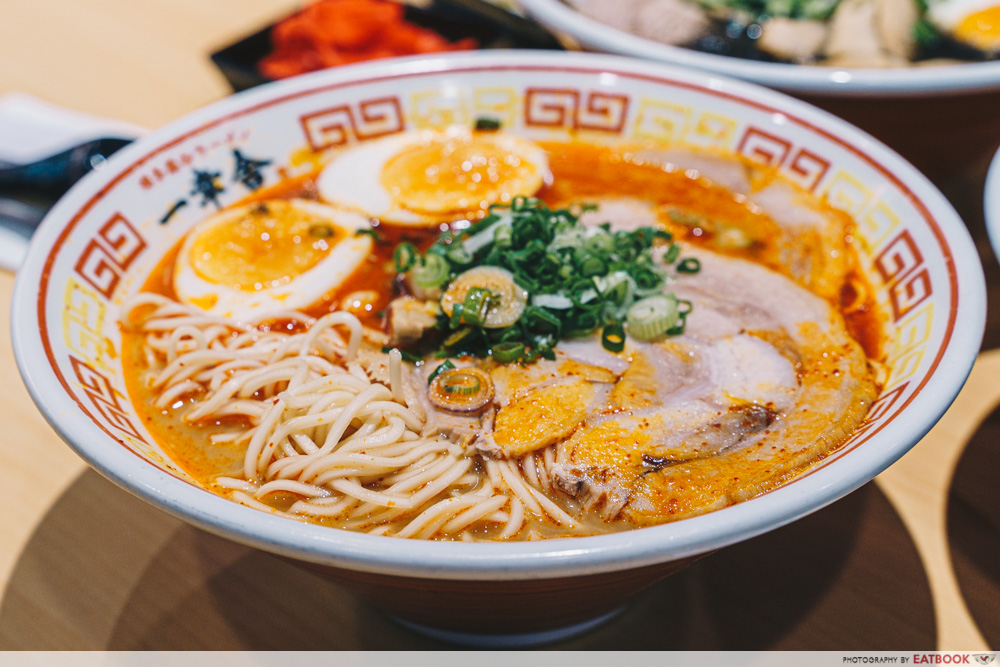 The Red Chilli Ramen ($16) is a blissful affair for those who walk on the spicier side. The slick of red oil makes the broth richer, with added warmth and depth. Alternatively, opt for the Black Garlic Ramen ($16) which lifts and tempers the creamy broth with its slightly piquant flavour. 
---
Terminal 2
---
4. Japoli Kitchen
---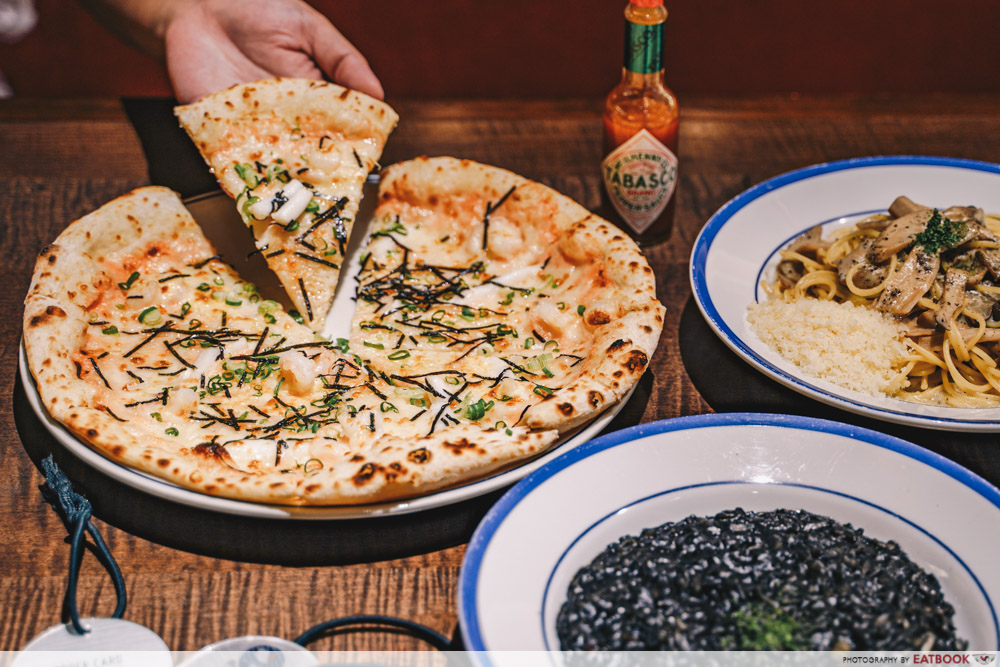 Traditionalists might shake their head in disapproval, but wafu dishes made up a huge portion of my meals when I was in Japan. I absolutely love my wafu Japanese food, even in Singapore. Japoli Kitchen is the only stall in SORA at Terminal 2 which has an entire menu of Japanese-style Western dishes such as pasta, risotto, and pizza.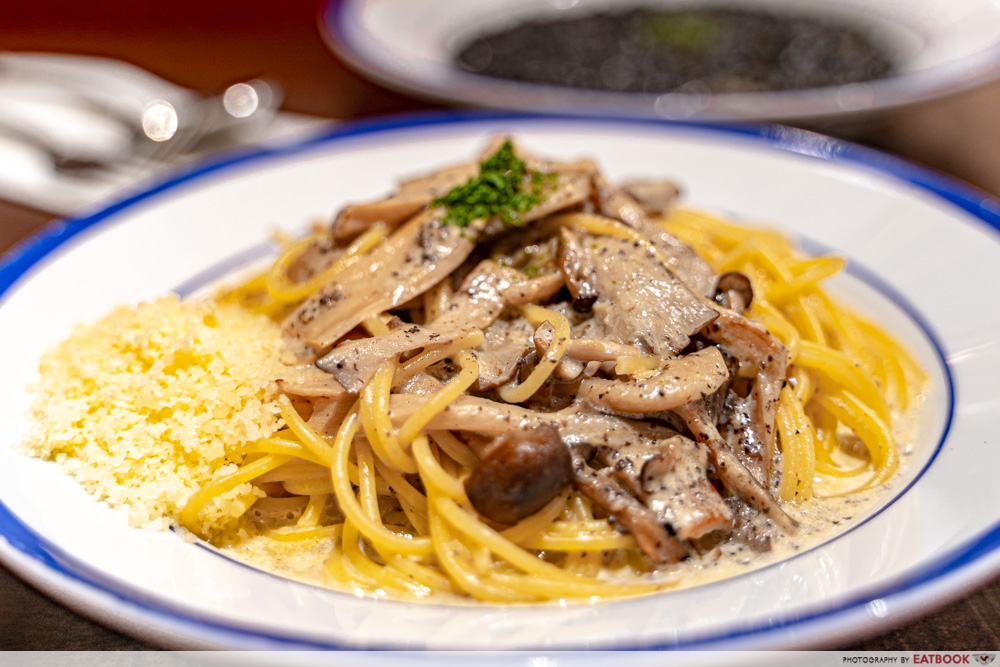 Enjoy mentaiko-drenched seafood pizza with their Mentaiko Pizza ($16), or their aromatic Truffle & Mushroom Pasta ($16). Armed with a heavy sprinkle of parmesan cheese and truffle oil, the flavourful pasta will be a hit with those who love cream pasta.
---
5. Menya Takeichi
---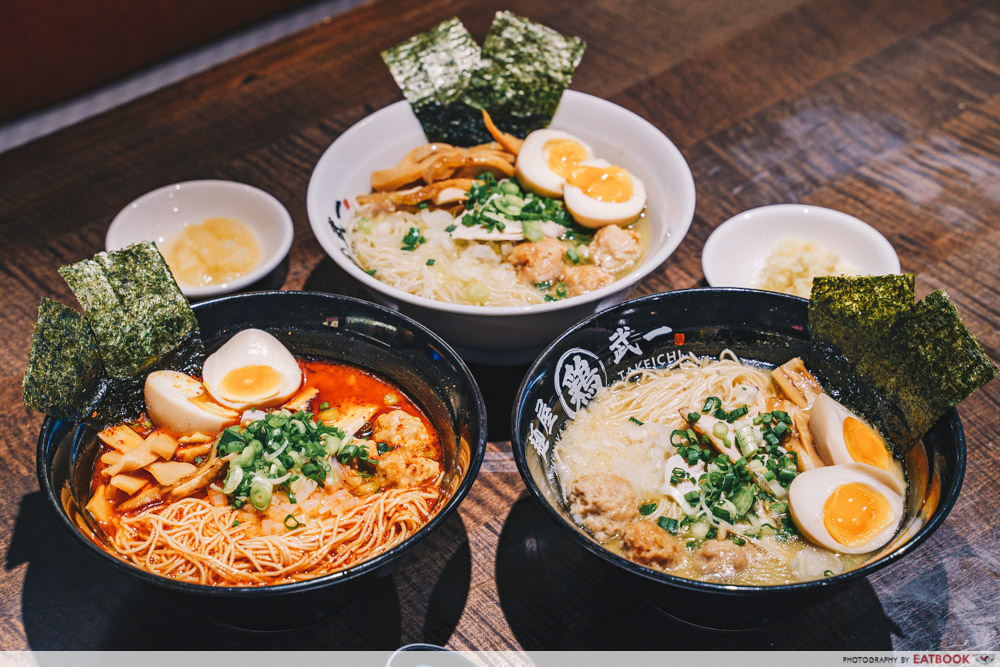 There's no denying the appeal of a warm bowl of soup and noodles—whether it's enticingly creamy or light yet rich. The latter describes the chicken broth ramen from Menya Takeichi. Even without the use of any pork or lard, the broth is extremely tantalising and has managed to gain popularity in Tokyo.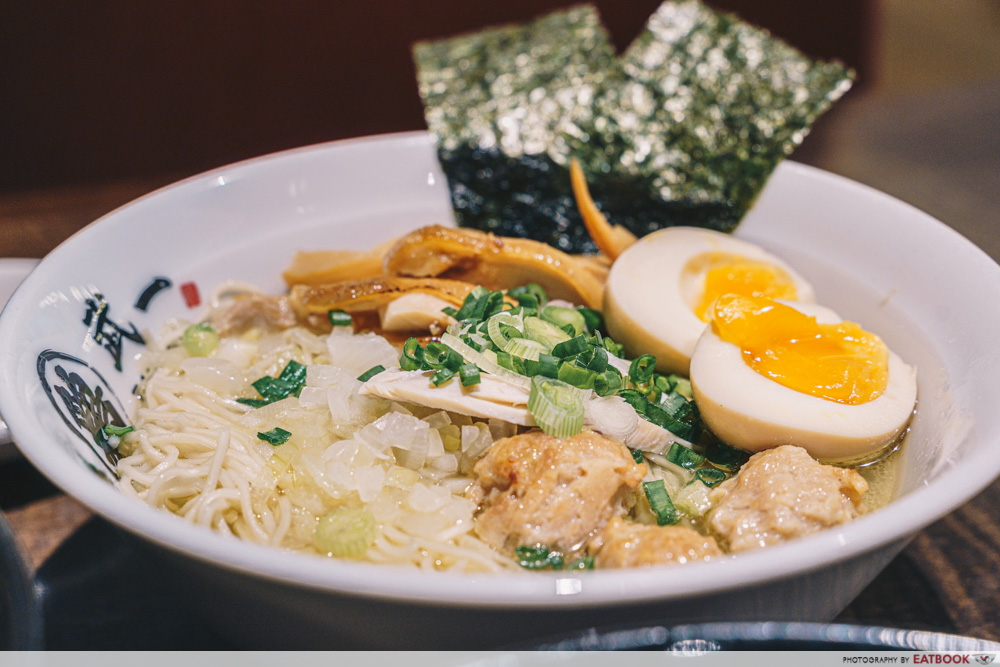 The Clear Shio Ramen with Special Toppings ($16.90) was a clear winner for me. The collagen-rich broth had a full-bodied taste, peppered with a touch of sweetness from diced onions which are sauteed till translucent. Order the Rich Shoyu Ramen ($$13.90) or Spicy Clear Miso Ramen ($13.90) if you're looking for stronger flavours. 
---
6. Kuro Maguro
---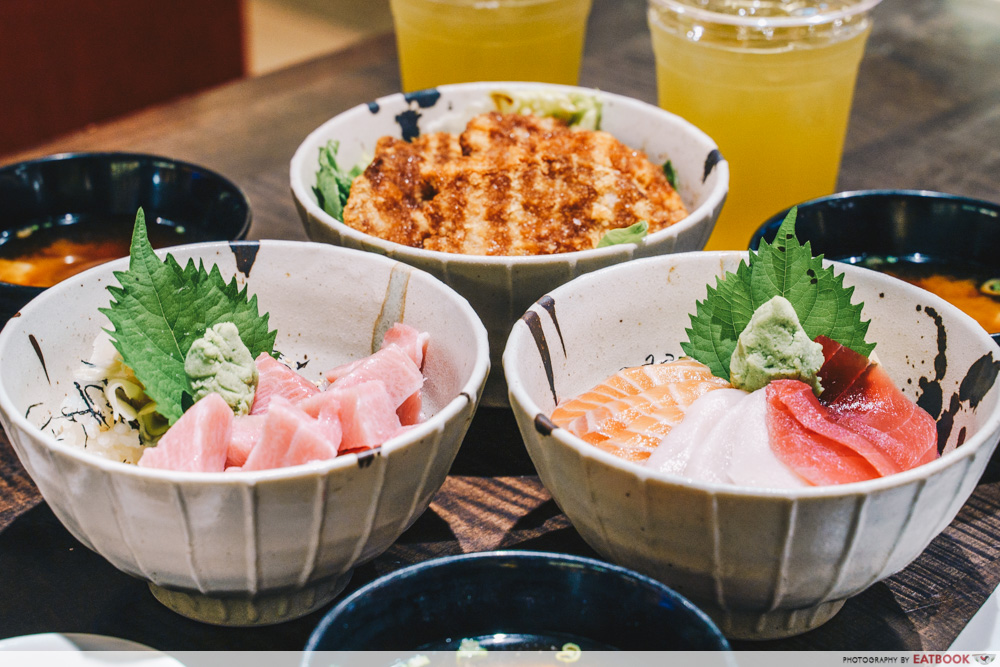 Prepared in exciting ways, such as flame-torching, the tuna-focused dishes at Kuro Maguro are the stars of the menu. They ship their tuna directly from wholesalers in Japan, thus keeping quality in check while making sure you get value for money.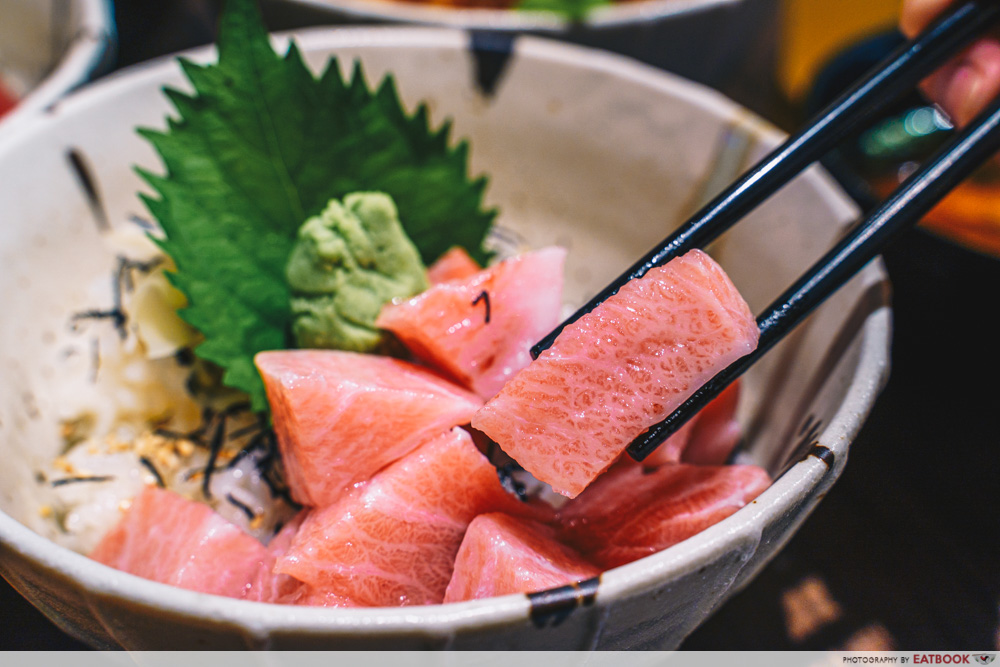 Prices range from $19.10 to $29.80, and each rice bowl is served with miso soup. A must-have for maguro fans would be their Toro Butsu Meshi ($29.80), which features thick cubes of melt-in-your-mouth bluefin tuna, embedded with fats that are evident by a luscious marbled appearance.
---
7. Tendon Kohaku
---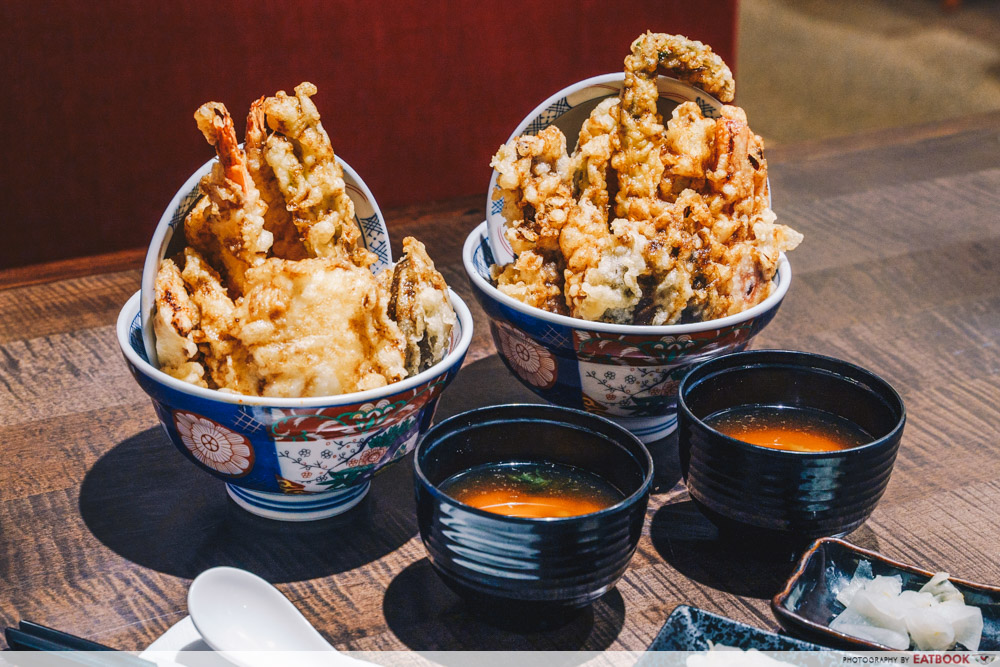 Tendon Kohaku offers four kinds of tendon sets. They have the signature Kohaku Tendon ($17.70), Spicy Kohaku Tendon ($17.70), Vegetable Tendon ($16.60), and Spicy Vegetable Tendon ($16.60). Every bowl is filled with a mountain of stacked tempura, belying their price tags.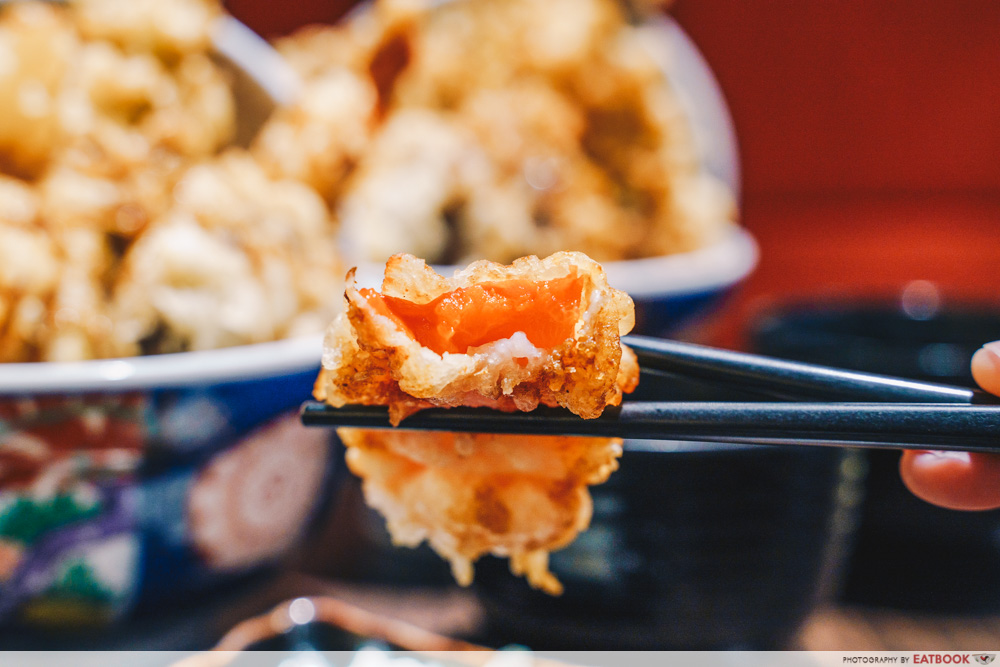 An additional small bowl is needed to contain the overflowing amount of tempura in their signature Kohaku Tendon. There is a mix of tempura, namely fish, chicken, prawns, and a medley of vegetables. Juicy yet encased in a crunchy batter, the vegetables exude a natural sweetness.
---
8. Tsuruhashi Fugetsu
---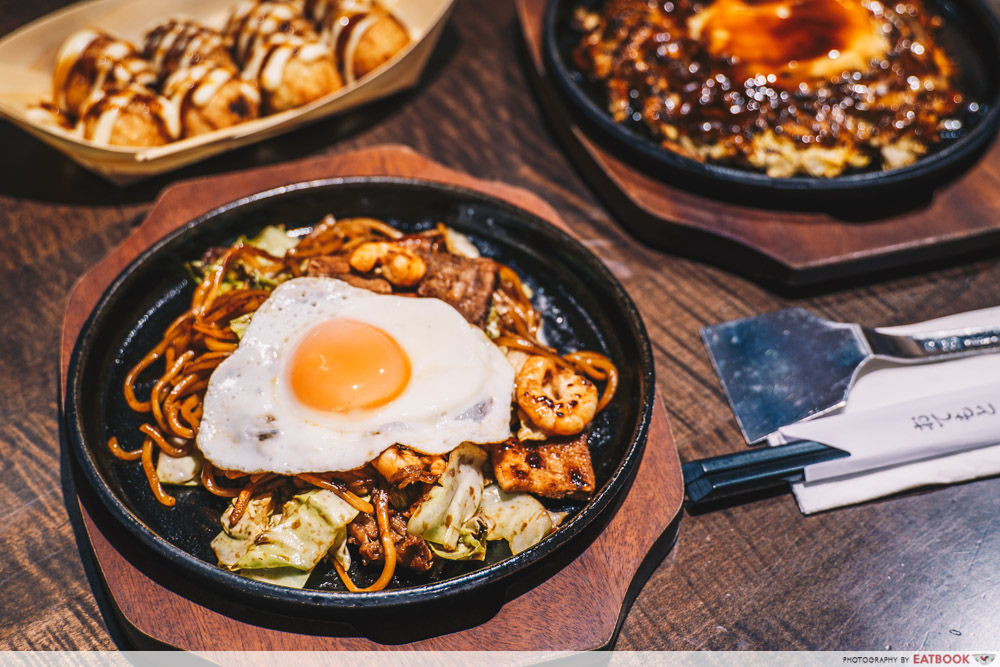 Dubbed as one of the best okonomiyaki restaurant chains in Osaka, Tsuruhashi Fugetsu's menu features both okonomiyaki and yakisoba. Expect to tuck into a range of pork, seafood, or mixed okonomiyaki and yakisoba, priced from $13.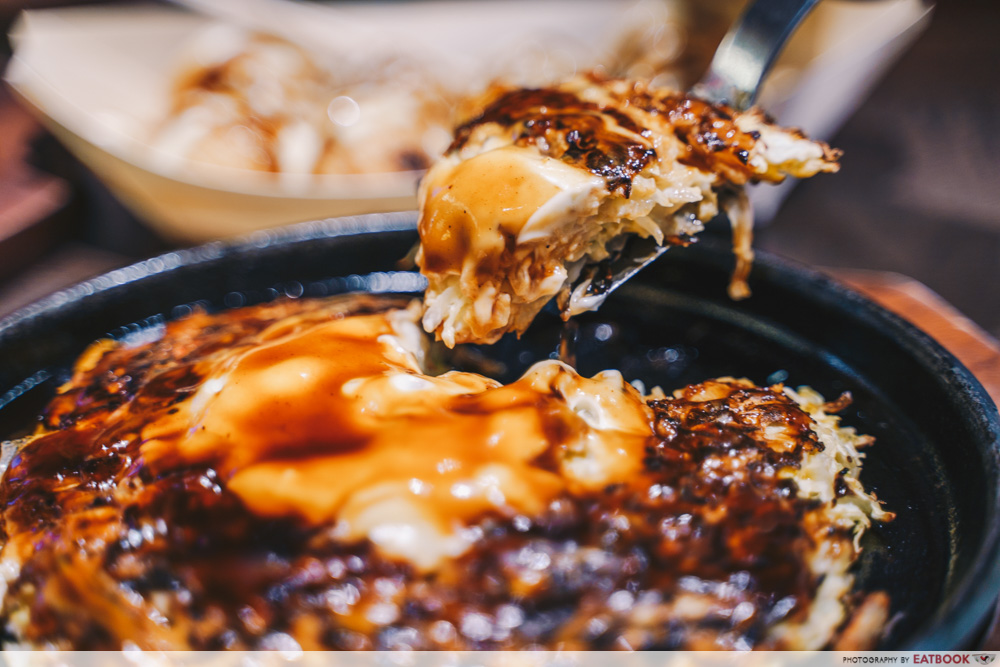 My go-to comfort food is their tasty Buta Tama Okonomiyaki ($13). The finely julienned cabbage base marries well with the savoury pork slices, with a sidekick of tanginess from the Worcestershire sauce. Top-up $3 to have a mix of both cabbage and egg noodles as your base. 
---
9. Tokyo Sundubu Express
---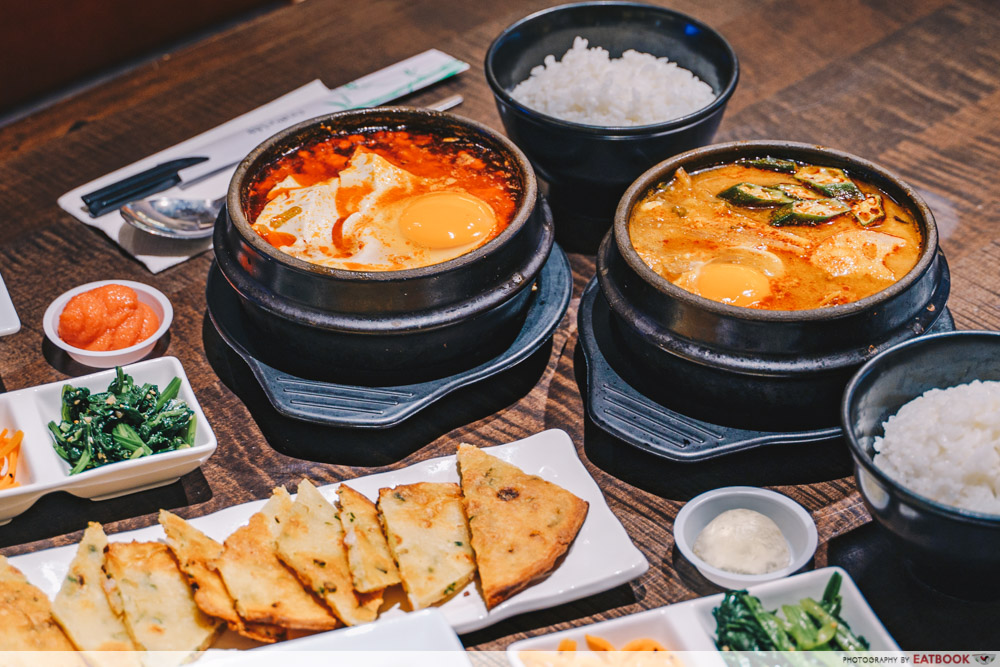 Get a meal suited to your taste buds at Tokyo Sundubu Express. Choose from three soup bases—namely Salt & Ginger, Japanese Miso, and Non-Spicy—followed by four spicy levels and rice for any sundubu (soft tofu) ordered.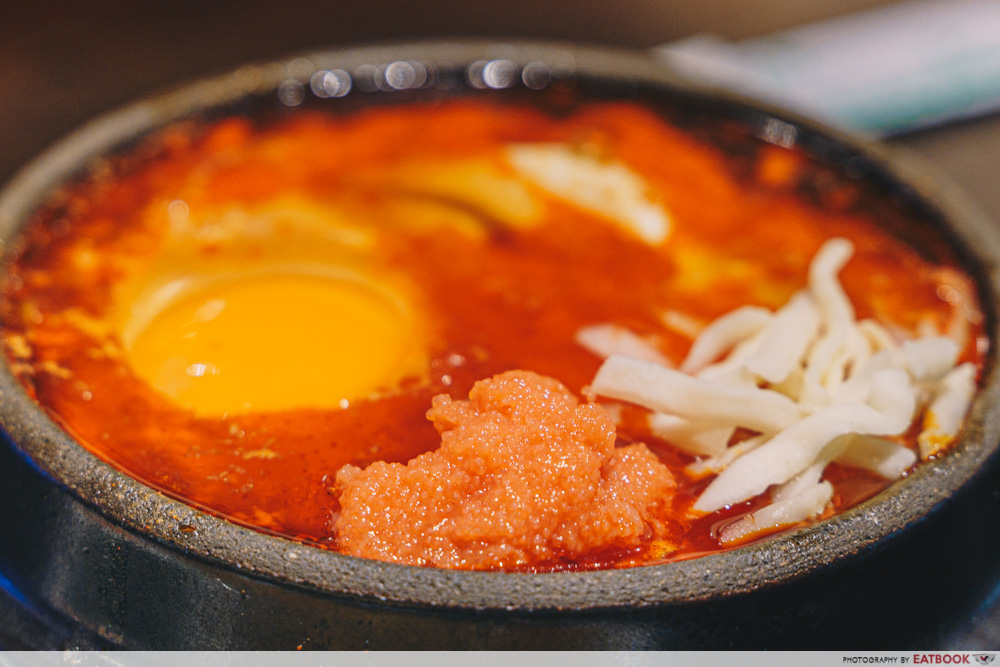 Every hot stone pot is chock-full of nutritious ingredients including soft tofu, Asari clams, prawns, egg, and deep-fried tofu. Go for the basic Chicken Mushroom Sundubu ($19.50), or try more interesting options such as the Mentaiko Cheese Sundubu ($22.90) and Miso Butter Sundubu ($19.50).
---
Japanese food for comfort
---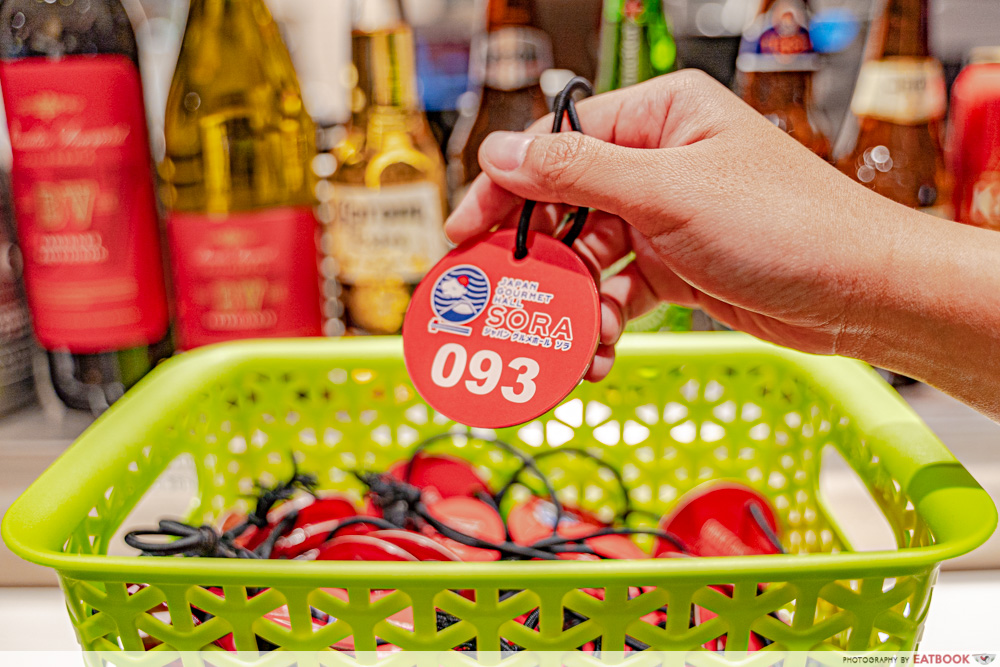 Grab a tag when you enter Japan Gourmet Hall SORA at either Terminal 1 or 2. It allows you to go cashless and order seamlessly between any of the stalls in the food halls.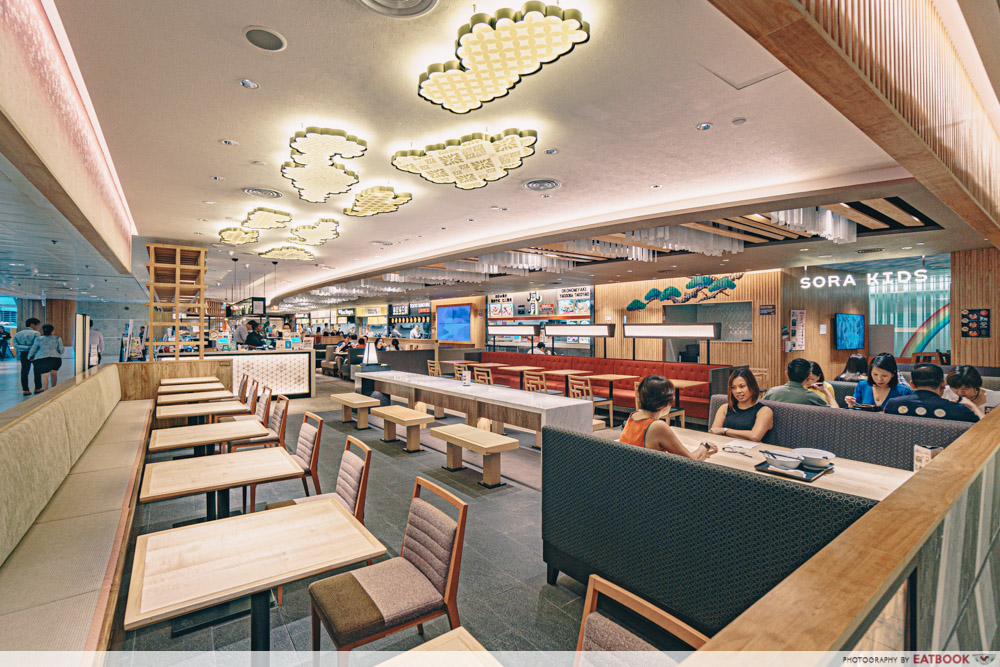 The food halls aren't your traditional sushi restaurant. Instead, a soft and comfortable glow lights the spacious seating area as diners choose from a wide variety of well-curated Japanese food. You will be glad to know that sharp elbows are not required to jostle with the crowd, thanks to the large space.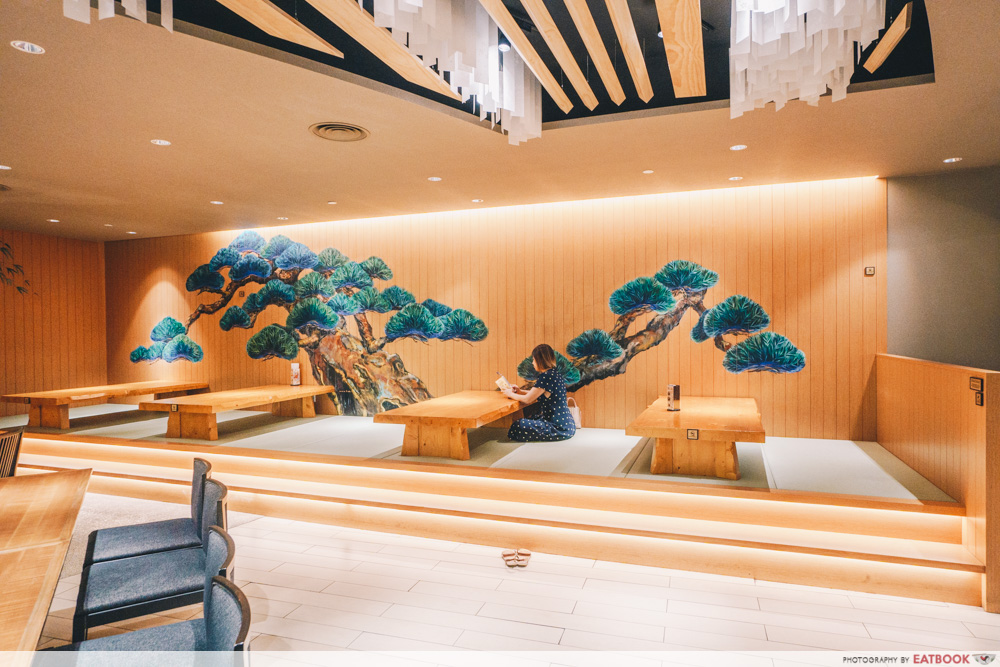 There's even a section located in Japan Gourmet Hall SORA at Terminal 2, featuring low tables set on a comfortable tatami flooring, making you feel like you're dining in a traditional kaiseki restaurant. This is a great place to hold large group gathering, as you get delicious Japanese food in a jiffy, with an equally immersive and roomy ambience.
Terminal 1
Address: 80 Airport Boulevard, #03-21, Changi Airport Terminal 1, Singapore 819642
Opening hours: Daily 10am to 11pm
Tel: 6242 9087
Terminal 2
Address: 60 Airport Boulevard, #036-058/059, Level 3, Changi Airport Terminal 2, Singapore 819643
Opening hours: Daily 10am to 11pm
Tel: 6386 7005
Photos taken by John Lery Villanueva.
This post is brought to you by Japan Gourmet Hall SORA.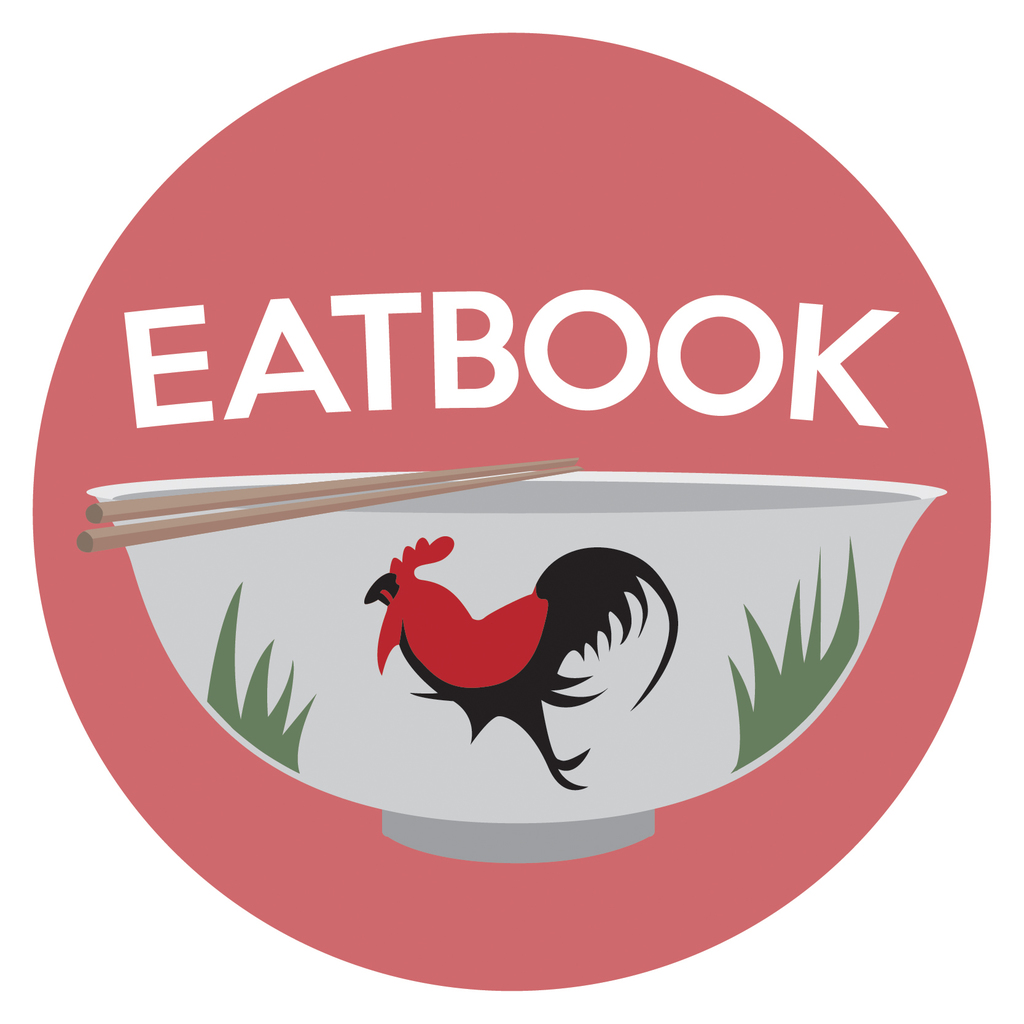 Drop us your email so you won't miss the latest news.