---
Underrated Japanese dishes to tick off your foodie bucket list
---
I'm someone who can eat Japanese food for days and not get sick of it. Just recently, a close friend of mine complained that I consume too much ramen and commented that I'll grow bored of Japanese cuisine at this rate. This motivated me to go on a food hunt for underrated Japanese dishes, to prove my point that the Japanese cuisine boasts such a wide variety that I will never get tired of it! #Challengeaccepted
---
1. Okonomiyaki
---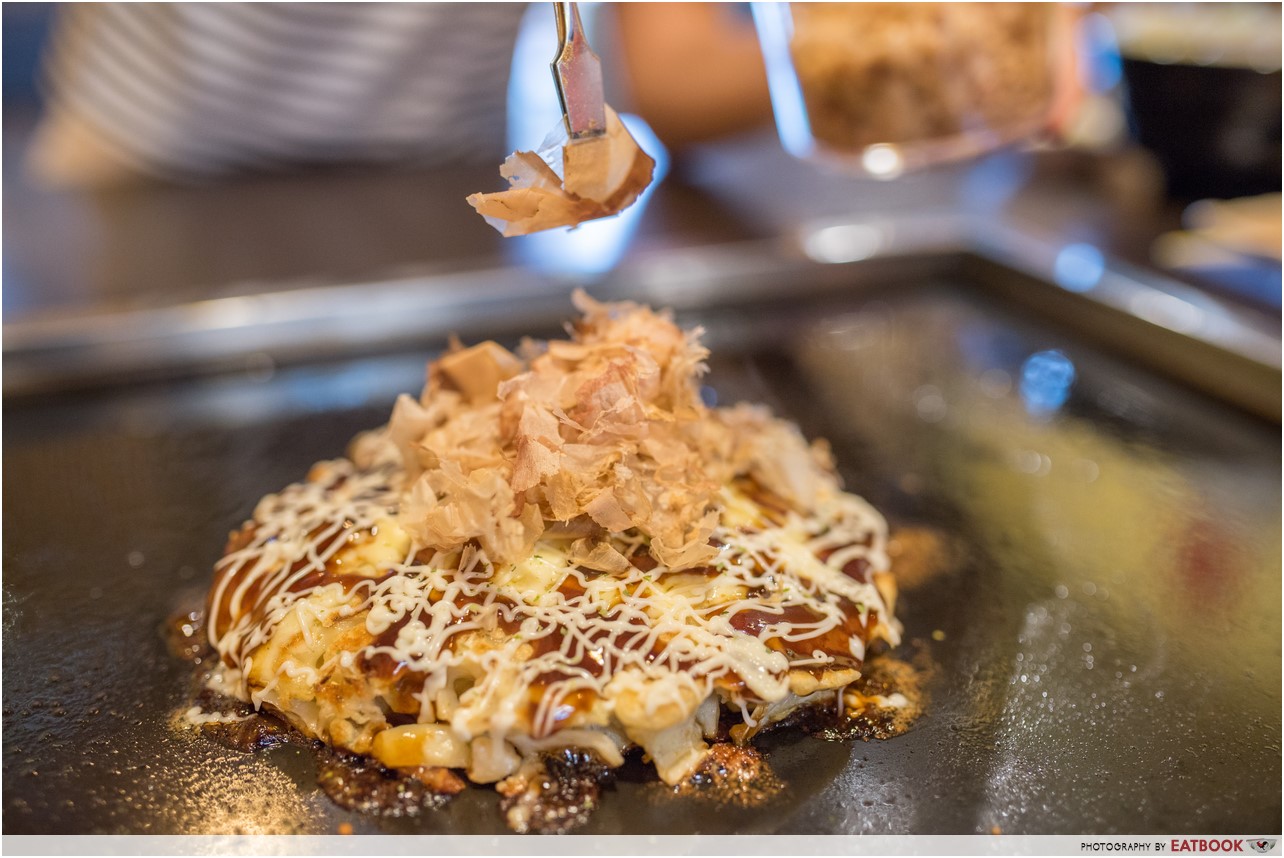 Think of okonomiyaki as a Japanese savoury pancake made with a base of chopped cabbage, eggs and batter. This dish is highly-customisable to include your preferred ingredients, and is usually topped with a generous squirt of Japanese mayonnaise, okonomiyaki sauce and bonito flakes. If you want a shot at cooking your own okonomiyaki, head over to Seiwaa Okonomiyaki & Teppanyaki Restaurant, which allows customers to DIY their own pancake. Stick with the classic Pork Okonomiyaki ($10+) that comes with bacon slices.
Pro-tip: order a side of cheese (+$3) to go with the Pork Okonomiyaki for extra creaminess and flavour!
Address: 72 Dunlop Street, Singapore 209400
Opening hours:Daily 11am to 11pm
Tel: 6291 6084
Website
---
2. Monjayaki
---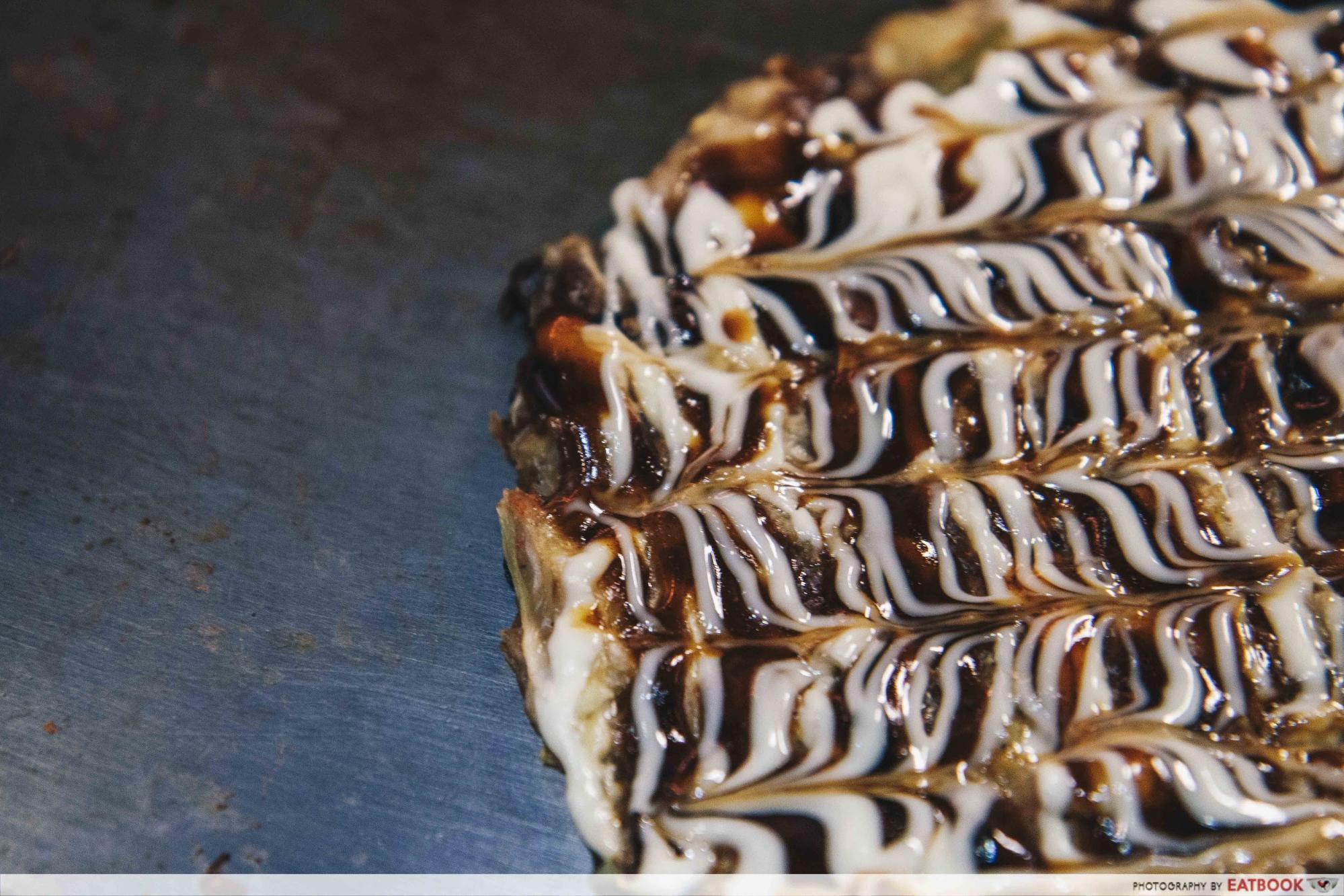 The lesser known sister of okonomiyaki is called monjayaki – a flatter and runnier version of its counterpart. While okonomiyaki is usually cut into pizza-shaped wedges, you'll need a mini metal spatula to scrape the monjayaki off the grill and enjoy it as it is, crispy on the bottom yet gooey on top. Ajiya Okonomiyaki Restaurant dishes up both okonomiyaki and monjayaki, but do call in a day in advance if you want the latter. If you cannot decide on a monjayaki flavour, Ajiya's Combo ($16+) would be the best bet. It comprises of a choice of meat, seafood and veggie!
Ajiya Okonomiyaki Restaurant Review: DIY Okonomiyaki Near Beauty World MRT Station
Address: 104 Jalan Jurong Kechil, Singapore 598603
Opening hours: Tue-Sun 12pm to 2:30pm, 5:30pm to 9:30pm
Tel: 6463 3461
Website
---
3. Maze Soba
---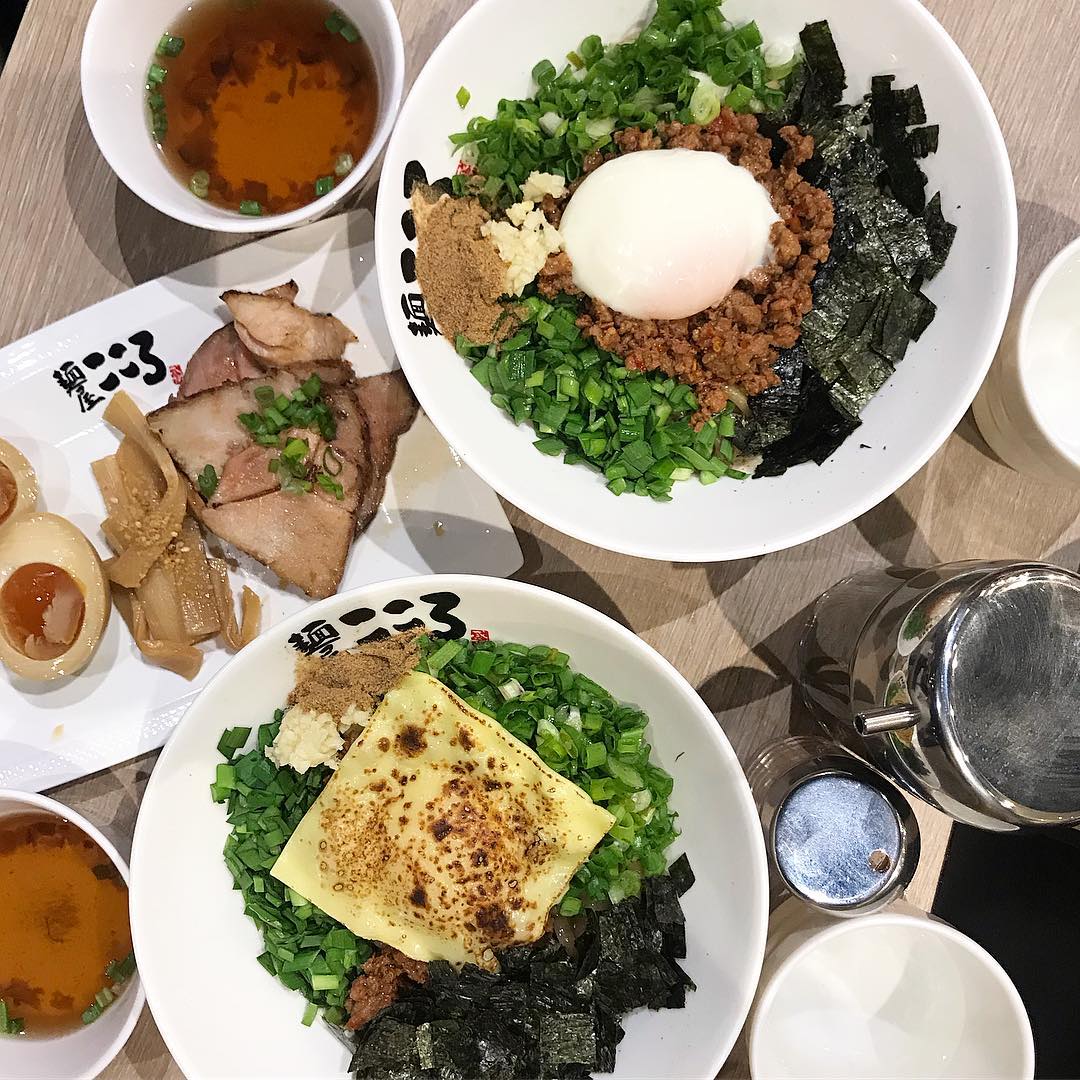 Image credits: @__zhihui.lim
I never thought it was possible to think about a Japanese dish so much, until I had a taste of maze soba. Think of maze soba as a Japanese version of dry bak chor mee, with thicker, chewier ramen noodles, onsen egg and marinated minced meat.
Menya Kokoro serves up a bangin' bowl of maze soba. And if you're like me and love your bak chor mee extra spicy, you'll definitely enjoy the Spicy Maze-Soba ($11.80++). Each bowl is served with mushroom kombu soup and a small portion of Japanese rice. The rice is added to the remaining flavour-laden gravy once you're done slurping up the noodles.
Address: 3 Temasek Boulevard, #03-313, Eat At Seven, Suntec City Mall Tower, Singapore 038983
Opening hours: Daily 11am to 10pm
Tel: 6235 3386
Website
---
4. Ochazuke
---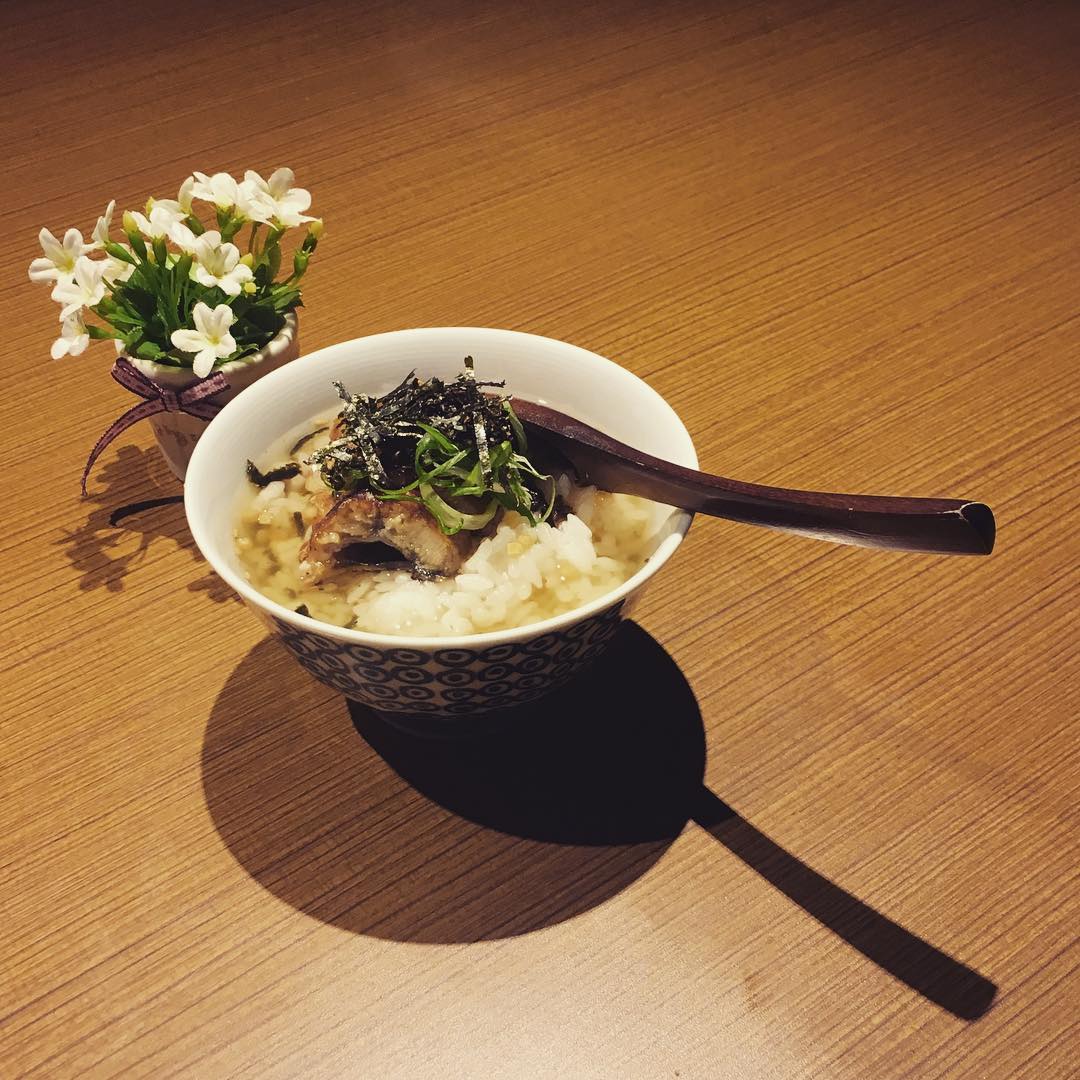 Image credits: @froggyappleton
Ochazuke is like the Japanese's rendition of Teochew fish soup. Here, rice green tea is added into steamed rice and an assortment of savoury ingredients. Hanashizuku serves up this fuss-free and comforting dish three ways: ume (plum), salmon and roe. Each bowl is priced reasonably at $9++.
Ochazuke makes for a light starter if you have other dishes coming your way, or as a main dish if you're feeling under the weather.
Address: 5 Koek Road, #02-01, Cuppage Plaza, Singapore 228796
Opening hours: Mon-Fri 11:45am to 2:30pm, 5:30pm to 11pm, Sat 5:30pm to 12am, Sun 5:30pm to 11pm
Tel: 6733 7498
Website
---
5. Hitsumabushi
---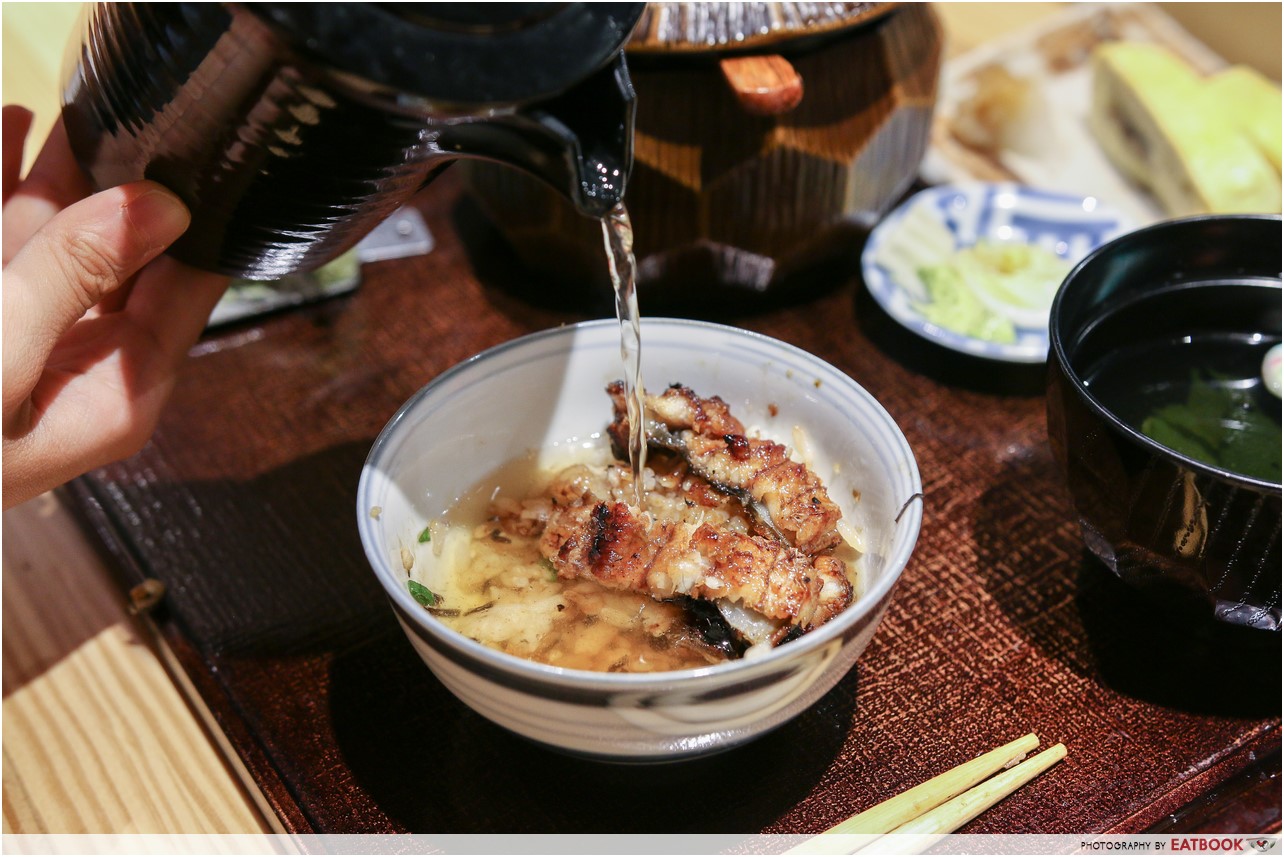 Hitsumabushi is a special Nagoya-styled unadon that allows you savour grilled eel on rice three different ways: on its own, with garnishes, or soaked in dashi broth. The dashi broth is my favourite method to enjoy the dish, as it completely transforms it into an umami-packed soup, accompanied with plump rice grains and crispy pieces of unagi.
Man Man Unagi's Hitsumabushi ($26.80+) is one of the best ones in Singapore, each bowl is cooked on demand with live eels imported from Japan. It doesn't get any fresher than that.
Man Man Review: Live Unagi Grilled And Prepared Right Before Serving
Address: 1 Keong Saik Road, #01-01, Singapore 089109
Opening hours: Mon-Sat 11:30am to 3pm, 6pm to 10:30pm
Tel: 6222 0678
Website
---
6. Hamburg Steak
---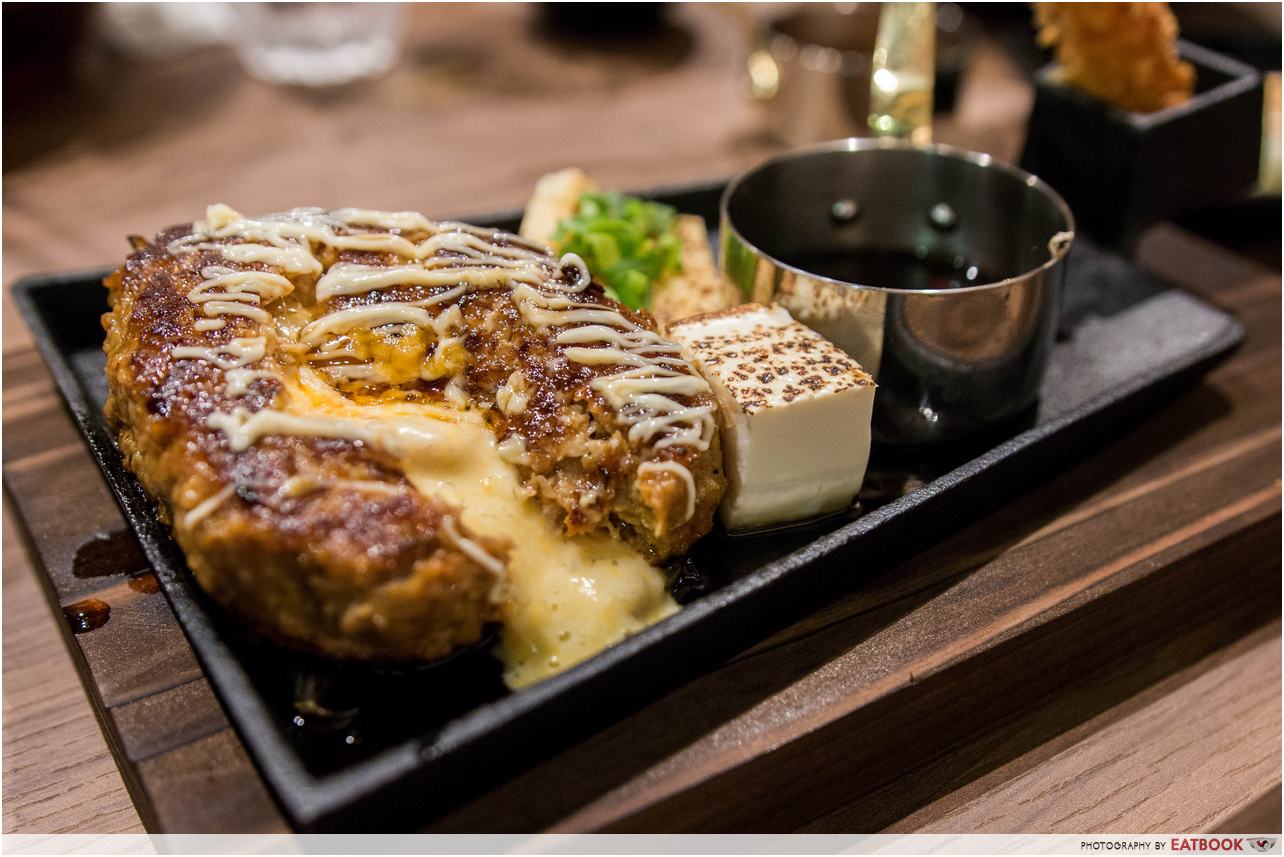 I've always preferred hamburg steak over regular steak because the ground beef patty seems to be even juicier. Hamburg Steak Keisuke offers only two hamburg steak on their menu: Keisuke Prime Beef Hamburg Set ($19.80++) and Triple Cheese Prime Beef Hamburg Set ($21.80++).
Opt for the latter if you want a creamy lava cheese core made of the magical trio of cheeses – cheddar, mozzarella and parmesan. Each set comes with a bowl of rice, ebi fry, tofu and your choice of sauce. There's also an unlimited salad bar and egg counter which you can unlock with every set ordered. The Sapporo Ramen Salad and plain omelette are two stellar sides you've got to try!
Hamburg Steak Keisuke Review: Japanese-style Beef Hamburg Steak With Hidden Cheese Lava
Address: 72 Peck Seah Street, Singapore 079329
Opening hours: Daily 11:30am to 2:30pm, 5:30pm to 10pm
Tel: 6908 4348
Website
---
7. Hokkaido White Curry
---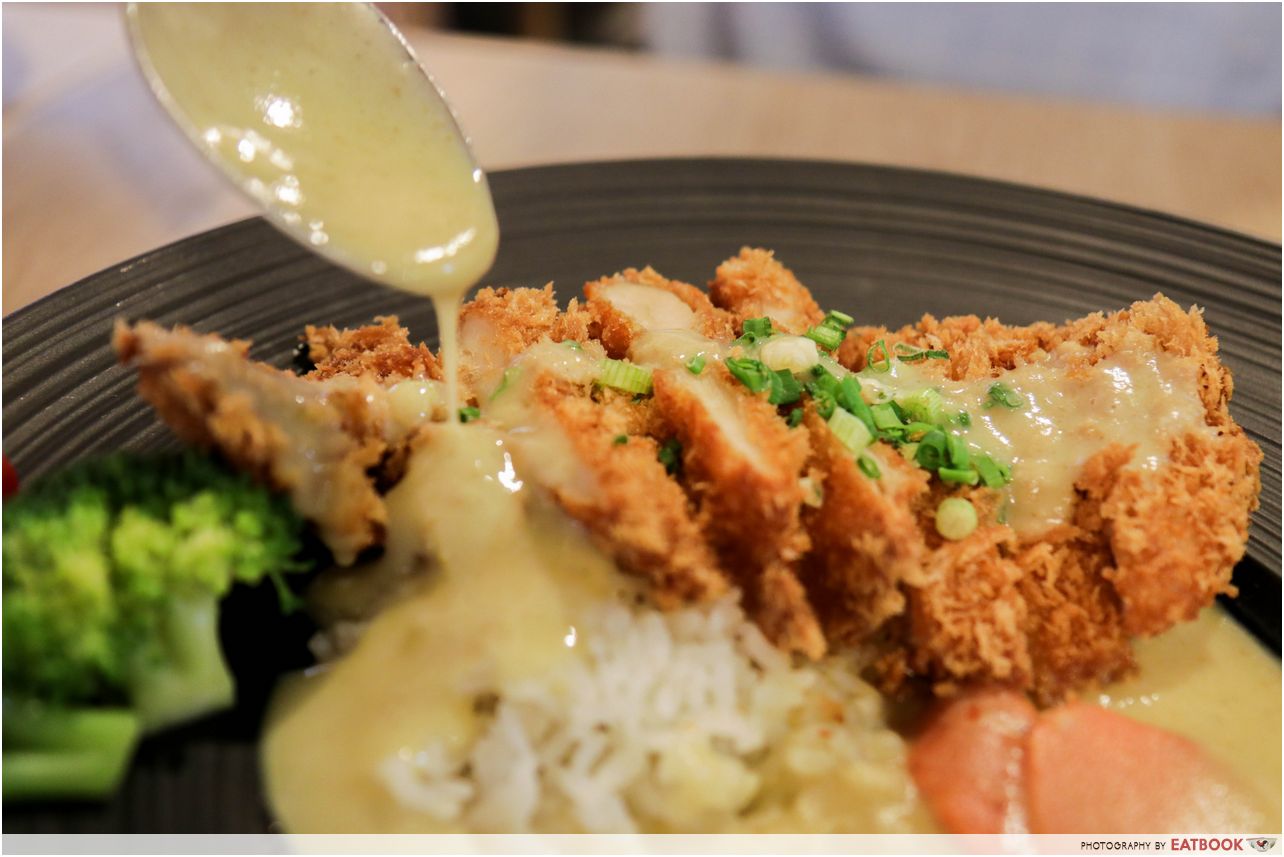 If you want a change from the usge, start by swapping out the familiar dark brown Japanese curry rice for white curry rice. Tengawa Hokkaido White Curry infuses their curries with premium Hokkaido milk. This gives the curry a pale colour, along with a smoother and creamier texture.
My favourite of the three dishes they offer would be the Crunchy Chicken Katsu White Curry Set ($15.80++). The katsu had the perfect meat-to-fat ratio, retaining its succulence, despite being breaded and deep-fried till crisp and golden-brown. FYI, the white curry is refillable at zero cost, so don't skimp and dunk each piece of meat generously in the curry!
Tengawa Hokkaido White Curry Review: First Japanese White Curry Rice In Singapore
Address: 9 Raffles Boulevard, #02-16, Millenia Walk, Singapore 039596
Opening hours: Daily 11:30am to 10pm
Tel: 6265 1314
---
8. Omurice
---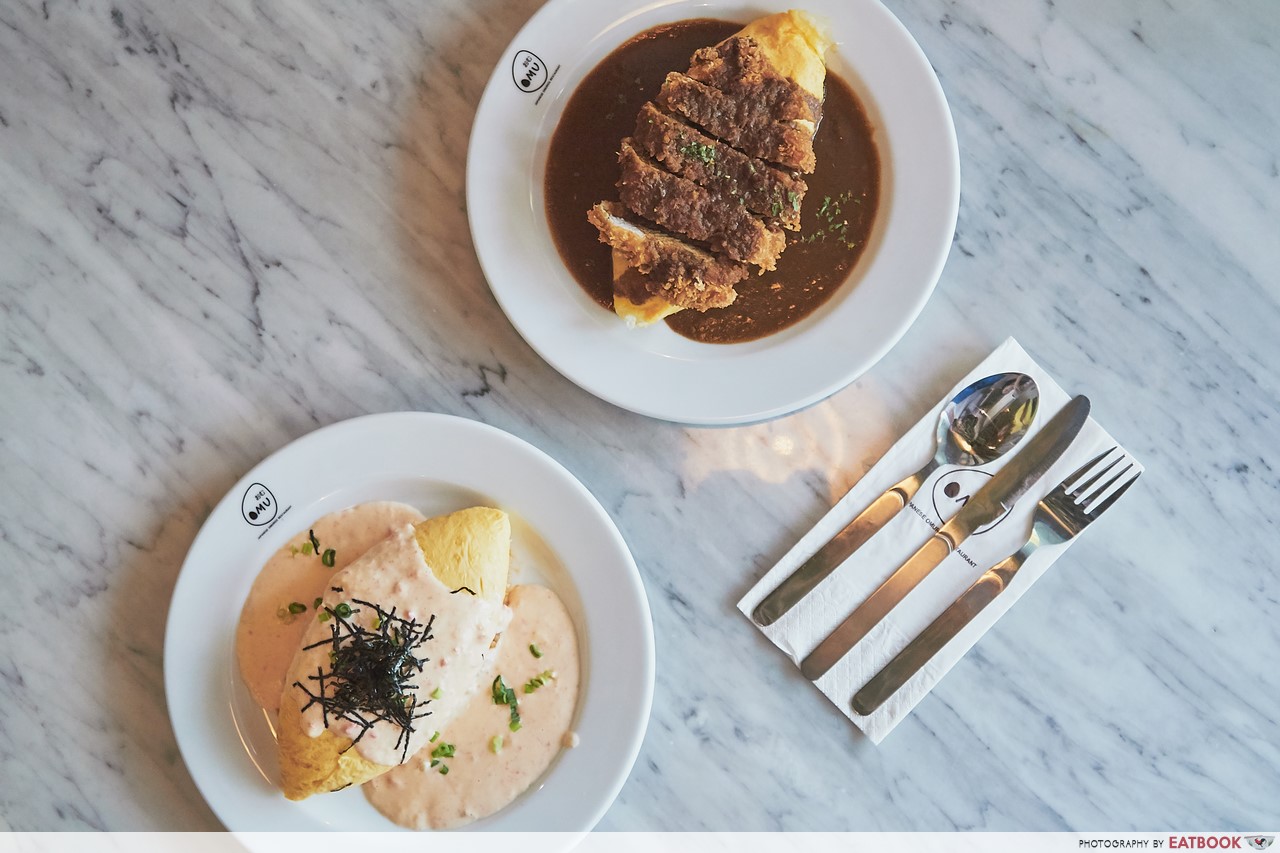 OMU is the closest restaurant in Singapore that dishes up lava-style omurice similar to that of Kichi Kichi Omurice in Kyoto. Customise your omurice by choosing from a variety of sauces and opting for either the ordinary omelette or the lava-style ($2++) omelette.
Mentaiko Cream Sauce Omurice ($14.80++) boasts a mixture of tartness from the tomato fried rice and umami flavour from the creamy mentaiko sauce. The molten lava egg adds another dimension of texture to the dish and is only lightly seasoned, hence minimising the jelak factor.
OMU Review: Viral Lava-Style Omurice That Took The Internet By Storm At Suntec City
Address: 3 Temasek Boulevard, #01-301A/301B West Wing, Suntec City, Singapore 038983
Opening hours: Daily 10am to 10pm
Website
---
9. Fugu Sashimi
---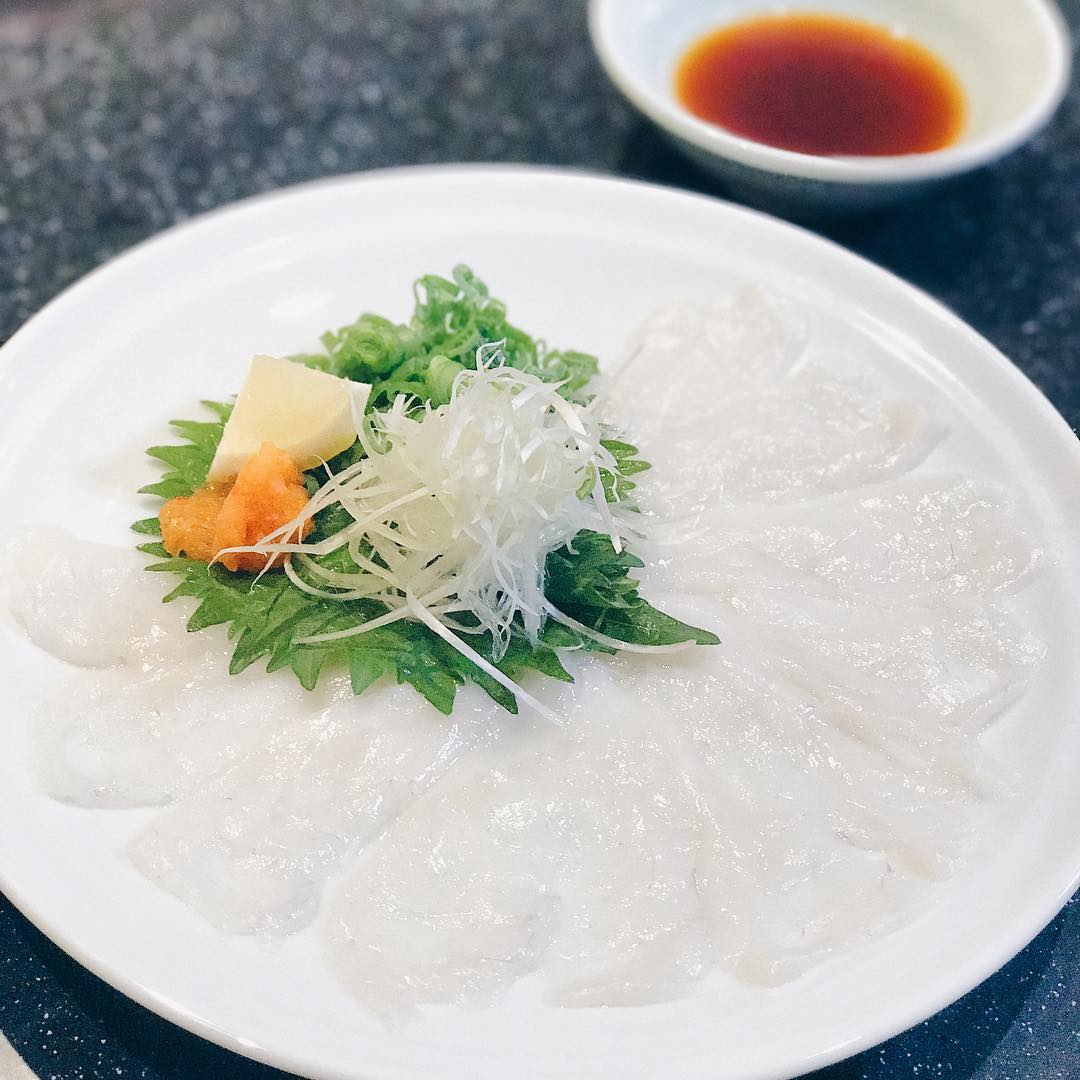 Image credits: @rachaelwong
Known to be one of the most poisonous fishes in the world, it is no surprise that fugu (pufferfish) is one of the most underrated cuts of sashimi. Guenpin Fugu & Snow Crab Japanese Restaurant is one of the few restaurants in Singapore that serves up this delicacy.
Thin Sliced Pufferfish Sashimi ($28++ for ala carte) is the restaurant's specialty, with fugu sashimi sliced so thin, it's translucent. Naturally chewy, with a dense texture, the fugu flesh is best enjoyed when dipped into a ponzu sauce. If you're worried about the safety of this dish, rest easy knowing that this restaurant has over 30 years of experience preparing fugu, with more than 90 outlets in Japan!   
Check out other unique raw foods to eat when salmon sashimi gets too passe!
Address: 32 Maxwell Road, #01-06, Maxwell Chambers, Singapore 069115
Opening hours: Mon-Fri 12pm to 3pm, 6pm to 12am, Fri-Sun 5pm to 12am
Tel: 6634 2916
Website
---
10. Oden
---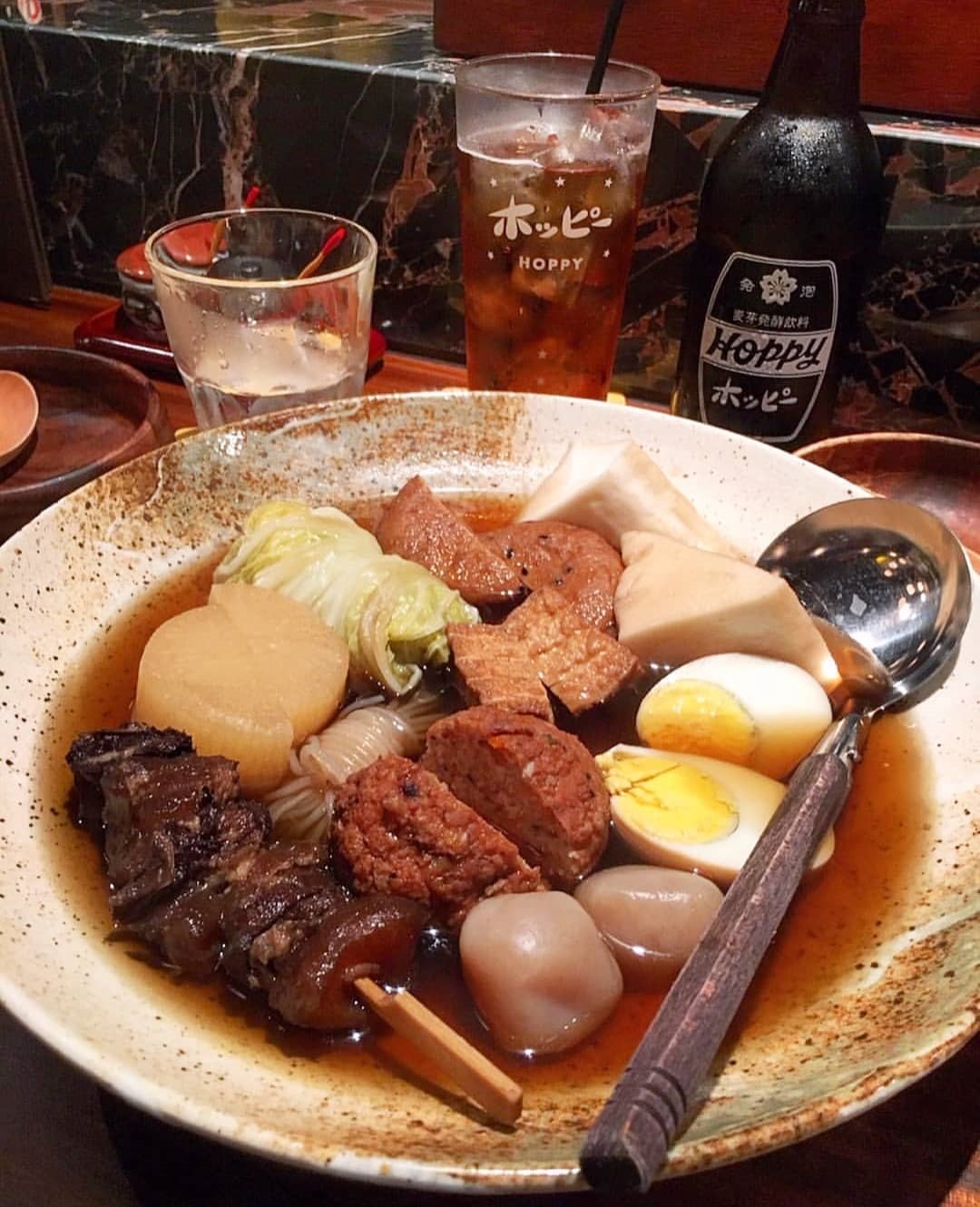 Image credits: @mr_foodie_loki
One of my fondest memory of Japan would be scurrying down to the nearest FamilyMart in the dead of the night, and dabao-ing a bowl of piping hot oden for supper. The Public Izakaya offers this simple yet comforting dish that comprises of a dashi broth and a variety of ingredients such as konyaku, daikon (simmered white radish) and my favourite – hanpen, or what I like to call it, fuwa fuwa fish paste pillows.
If you're new to this dish, I suggest ordering the Mizutaki Chicken Oden ($10++ for a portion). It comes with daikon and hand-formed giant chicken meatballs. This dish makes for a great appetiser for sharing, or as a meal if you're craving something light yet hearty.
Address: 100 Tras Street, Singapore 079027
Opening hours: Mon-Fri 11:30am to 2:30pm, 5:30pm to 12am, Sat-Sun 5:30pm to 12am
Tel: 6604 9622
Website
---
Be a pro at Japanese cuisine
---
Suggest these places for future foodie outings the next time you and your friends are craving Japanese food. Drop us a comment if you've tried other underrated Japanese dishes and let us know where we can find them in Singapore.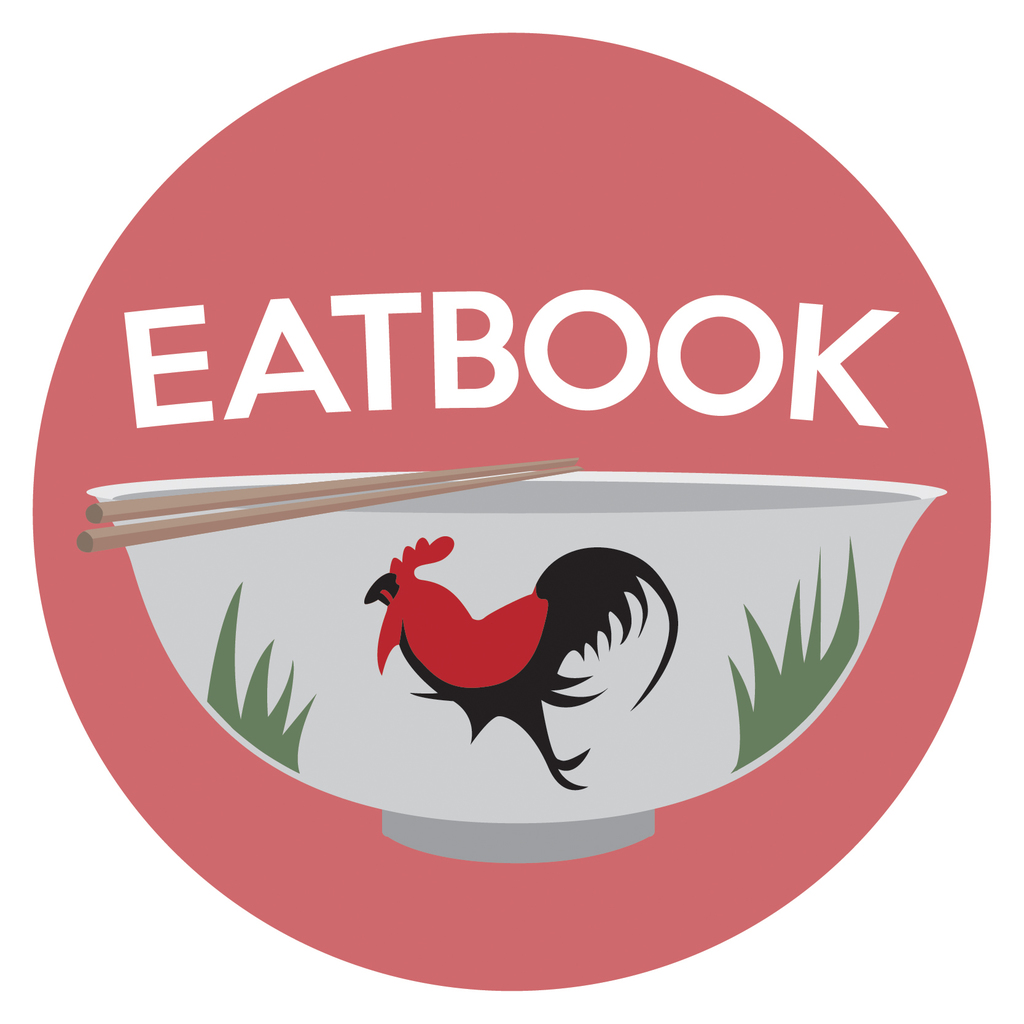 Drop us your email so you won't miss the latest news.